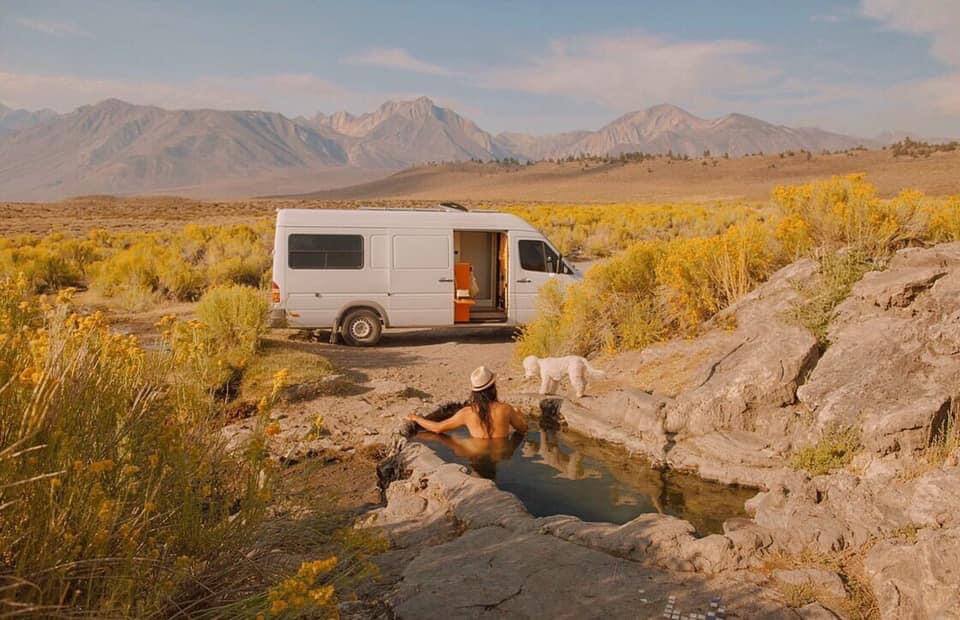 California Campervan Road Trip: Cruising Up Highway 395 from LA to Lake Tahoe
You've heard of Route 66. You know about Highway 1. But what about Highway 395? Highway 395 is our family's favorite roadtrip in California. It is the road that parallels the Eastern Sierra's and provides access to some of the best hiking, lakes, and hot springs. And the fact that this area is not as well known or as highly visited as other parts (like Big Sur, Yosemite,…) is part of the allure.
I'd take a week at minimum to do this route, but you could cut out some stops for a weekend version. Since the Eastern Sierra can get really hot during the summer, I'd recommend doing this trip in early spring, late fall, or even winter.
Day 1: From Los Angeles to Red Rock Canyon State Park (120 miles – 2 hours)
First stop on this Highway 395 road trip is Red Rock Canyon State Park. This park features scenic desert cliffs and dramatic rock formations in spectacularly vivid colors.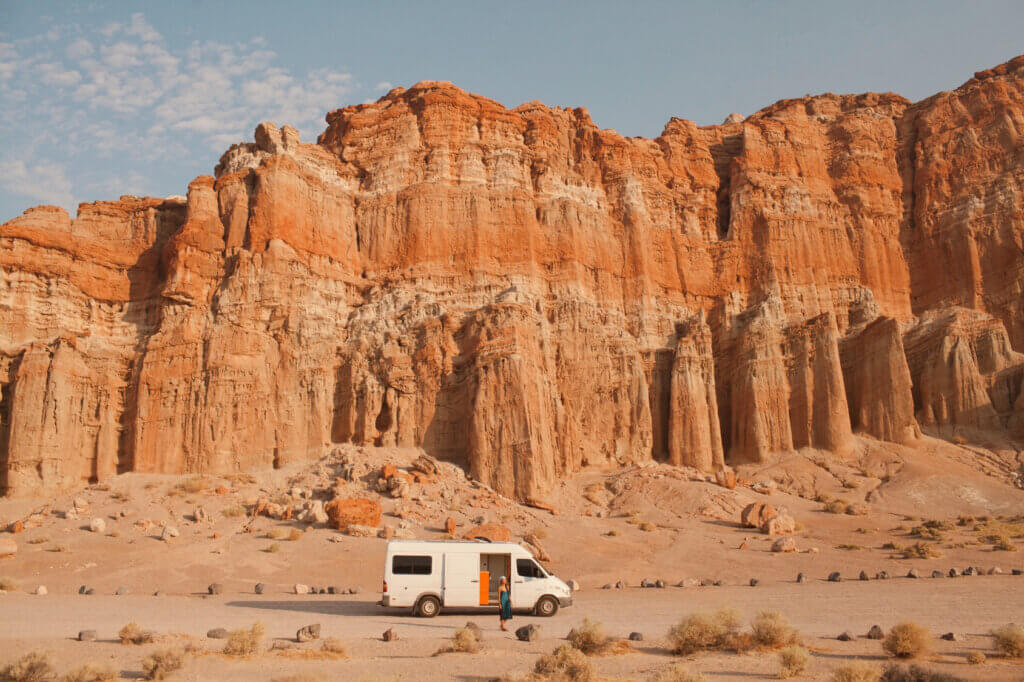 Apart from the deep-colored rock formations that give the park its name, it's especially well-known for being a superb place to stargaze. The park is open from sunrise to sunset for day use however the campground is open 24 hours.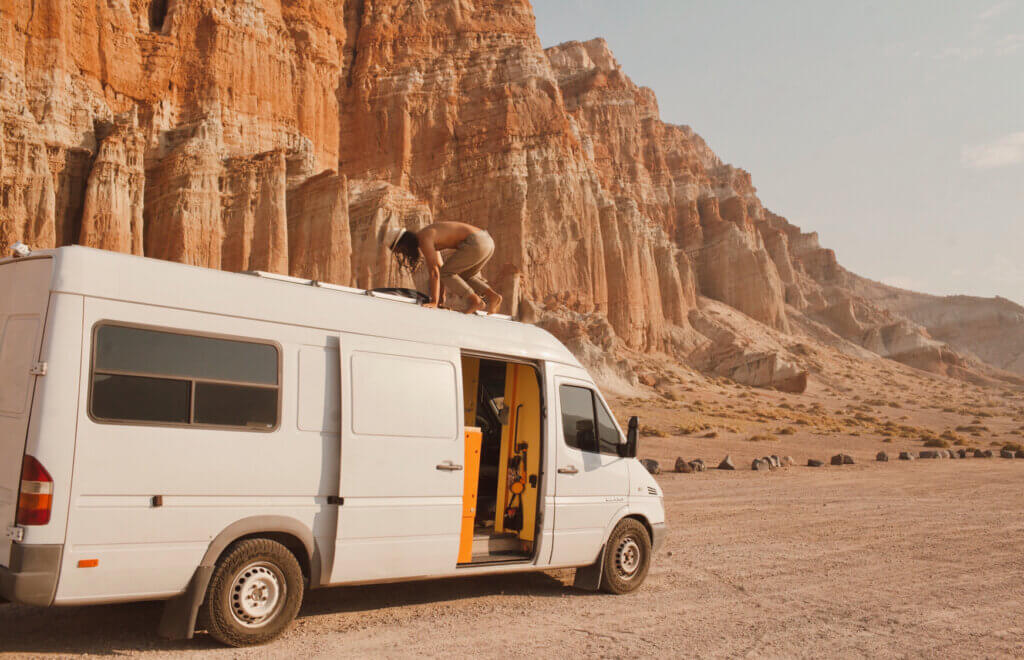 Day 2: From Red Rock Canyon State Park to Bristlecone Ancient Pine Forest (155 miles – 3 hours)
The Ancient Bristlecone Pine Forest is home to the world's oldest living tree. I'm surprised that this forest of ancients hasn't risen in popularity to levels that places such as Sequoia and Yosemite National Park.
After the long drive full of S-shaped turns we parked by the visitor center. There are two main hiking trails that will take you to see the unique, twisting trees: Methuselah Walk and Discovery Trail.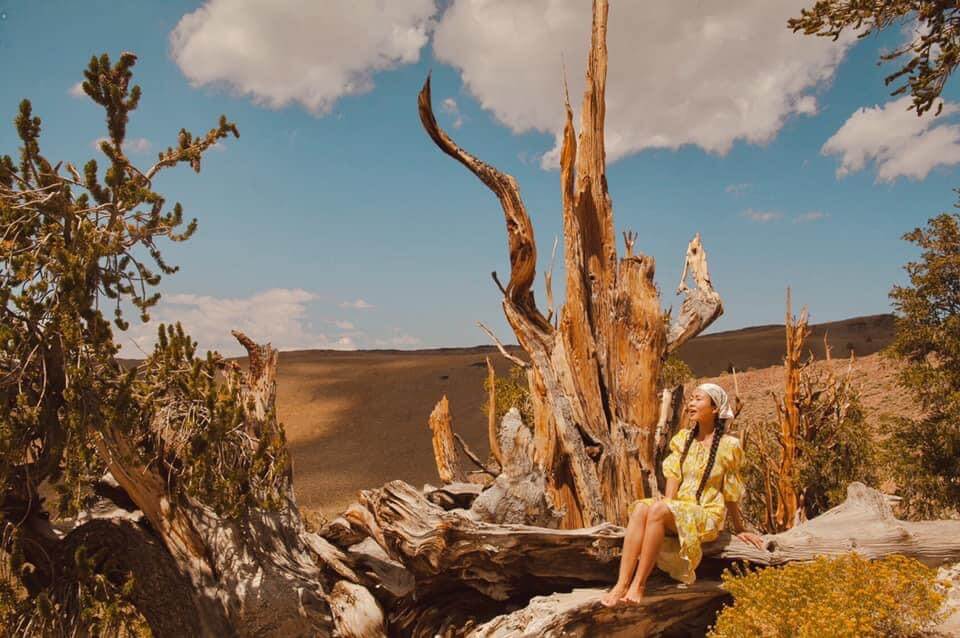 Methuselah Walk is the longer of the two hikes at 4.5 miles roundtrip. It ascends higher in elevation, and makes a south east loop. Discovery Trail is only a mile long and is where the Methuselah Tree located.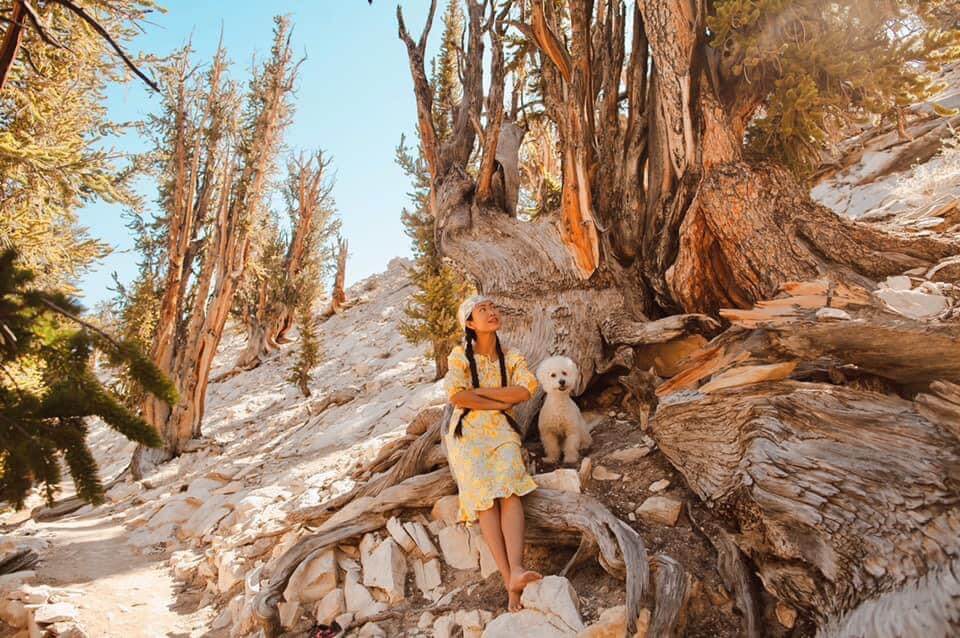 Day 3: From Bristlecone Ancient Pine Forest to Whitmore Hot Springs in Mammoth Lakes (181 miles – 3 hours)
I have to say Mammoth Lakes really has the best natural hot springs that I have ever seen! All of these hot springs are small pools that are the size of a hot tub or jacuzzi with water temperatures ranging from 95 F to 105 F.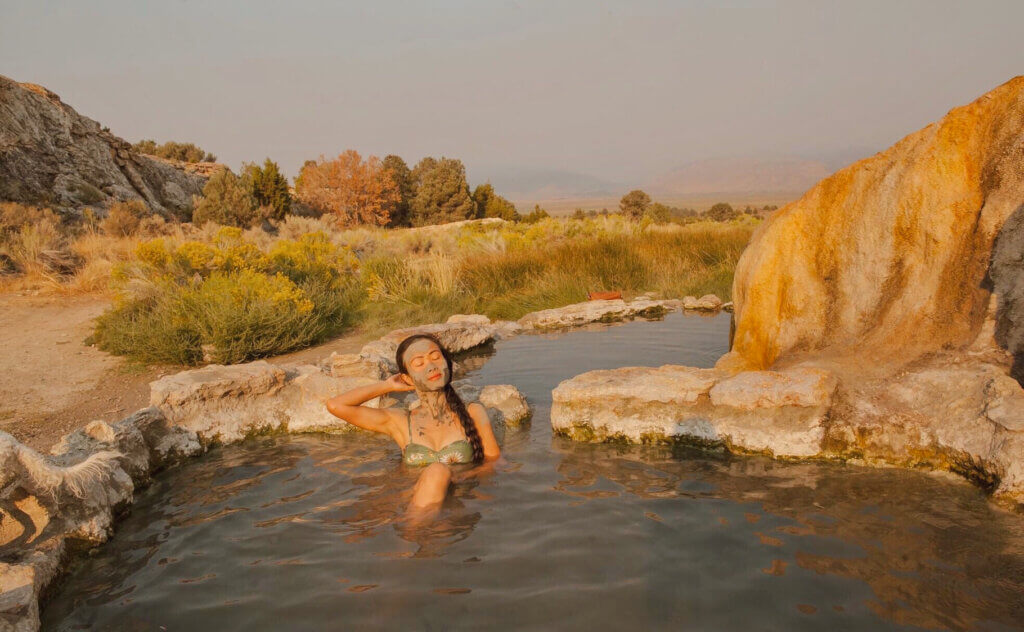 They are the result of an ancient volcano's explosion and mostly concentrate in the area between Bridgeport and Mammoth Lakes itself.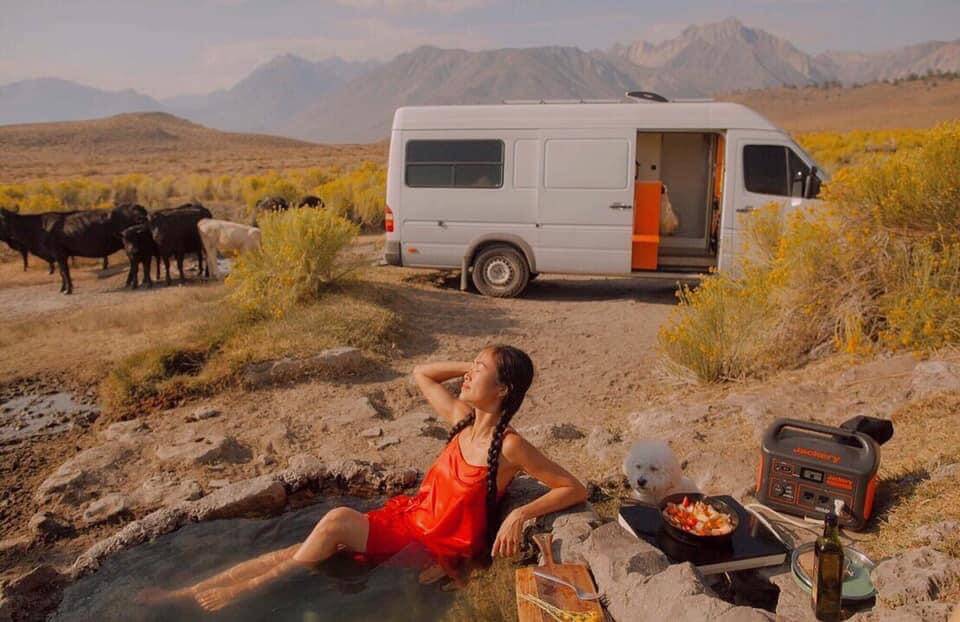 Soaking in a natural hot spring out in nature is one of the most soothing and incredible experiences. I had quite a bit of fun searching for and soaking in a number of hot springs near Mammoth Lakes!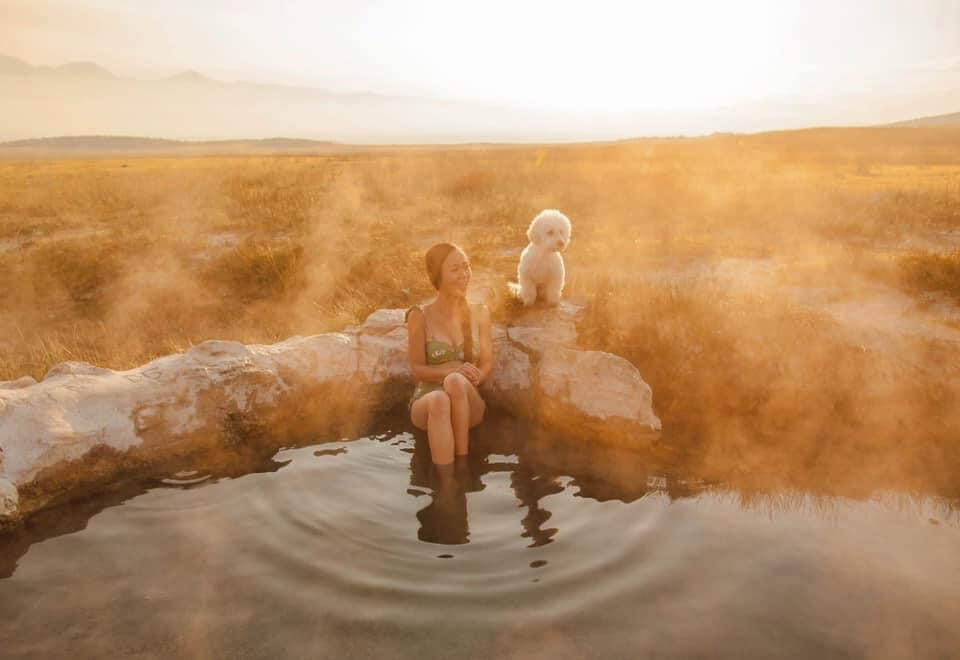 Some hot springs are easier to find than others. The ones that are easier to find are of course, more popular and more crowded, like Wild Willy's Hot Springs (we woke up around 5am to have the hot springs all to ourselves; otherwise this place is always packed!)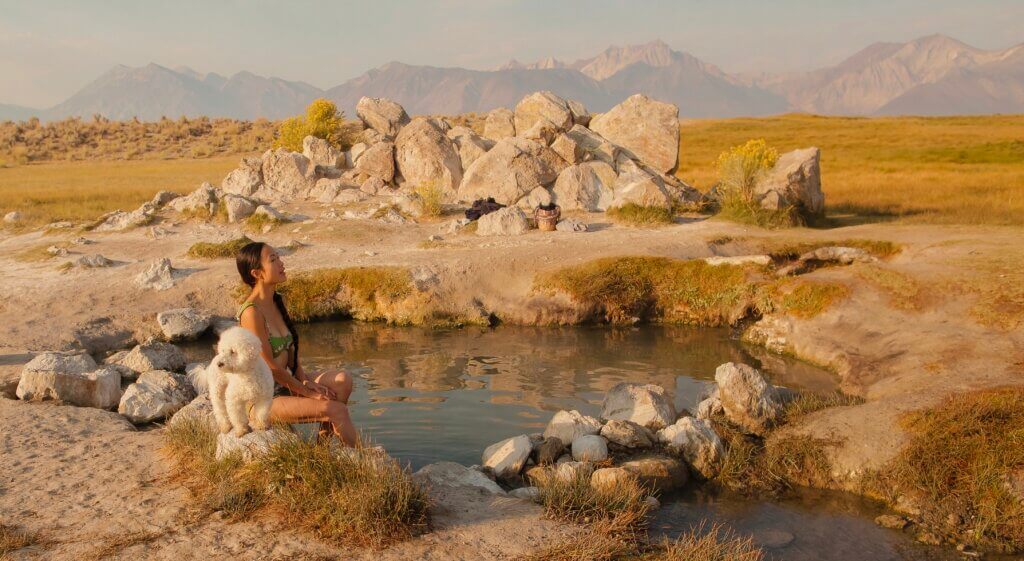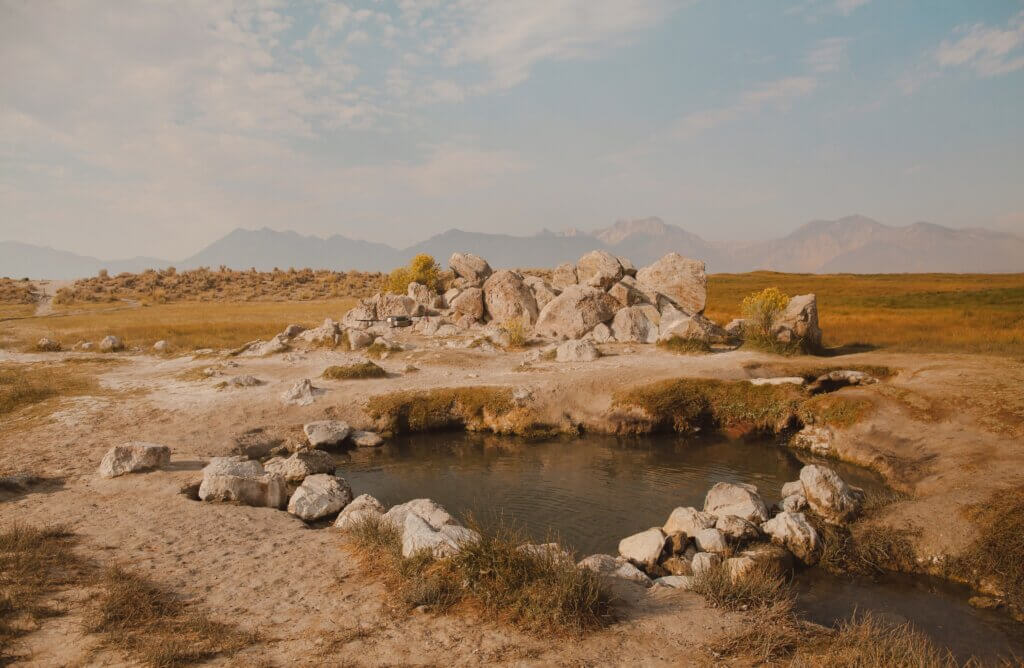 We ventured out a bit further and found this private tub. This tub is pretty small, and really only meant for two.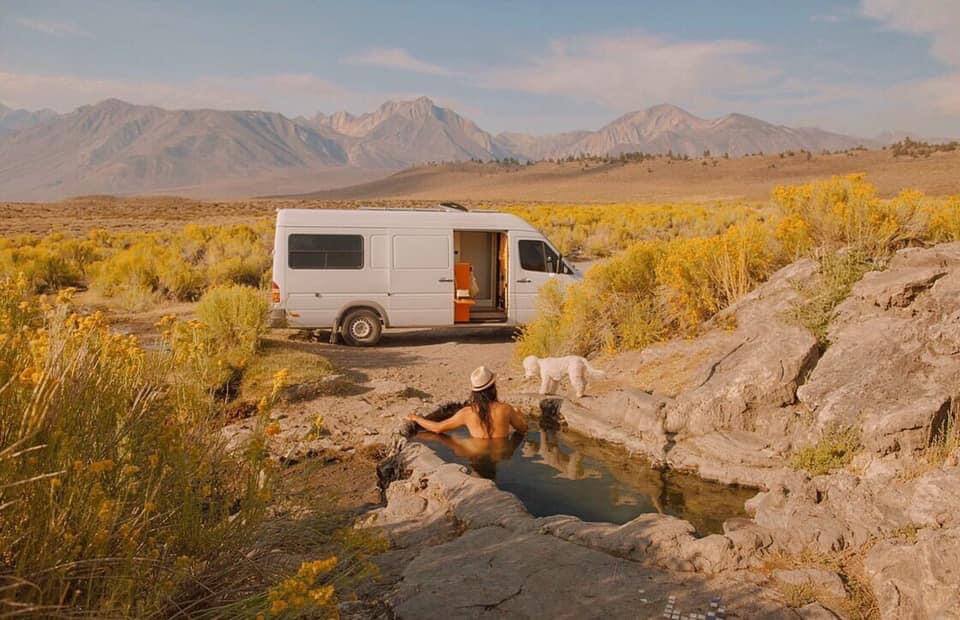 Day 4 : Explore Lake Mammoth area
When most people think of geothermal areas they automatically think of Yellowstone National Park. However, one of the other impressive geothermal areas is right here in California's – the Hot Creek Geological Site.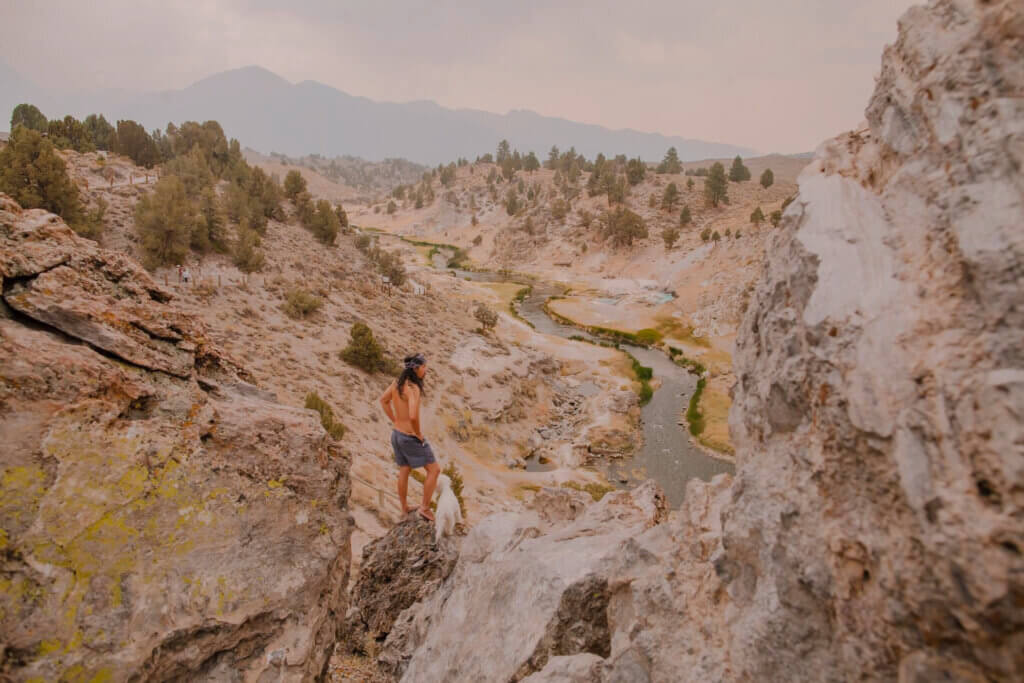 A visit to Hot Creek Geologic Site, located just outside of Mammoth Lakes, is a great and easy family adventure. From the steaming hot spring pools to the clear blue waters of Hot Creek, the gorge is a true natural marvel.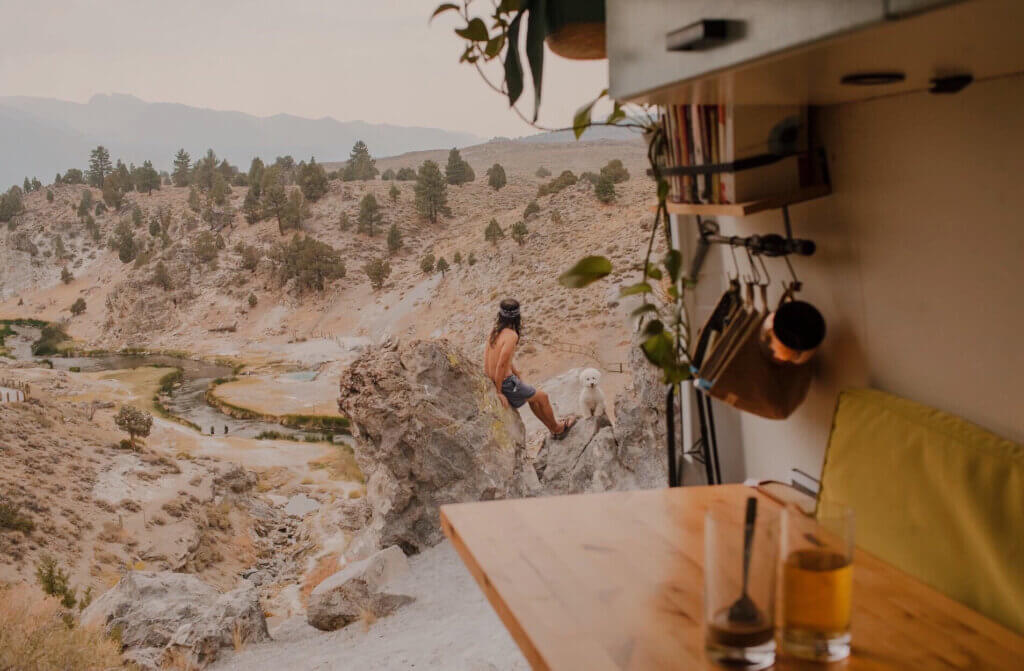 After a quick visit to the Hot Creek geo site, we travelled further north of the Hot Creek Hatchery Road to the Hot Creek Crossing. One thing about the Hot Creek Geo site is that you can not get close to the water; the park put up a fence around the hot creek to prevent people from swimming here due to the rapid fluctuation of temperatures associated with the variable discharge hot springs (water temperature changes of 200F degrees over seconds have been recorded within the stream). If you want to find a spot that you can dip your feet into the hot creek, find "Hot Creek Crossing" in your google map.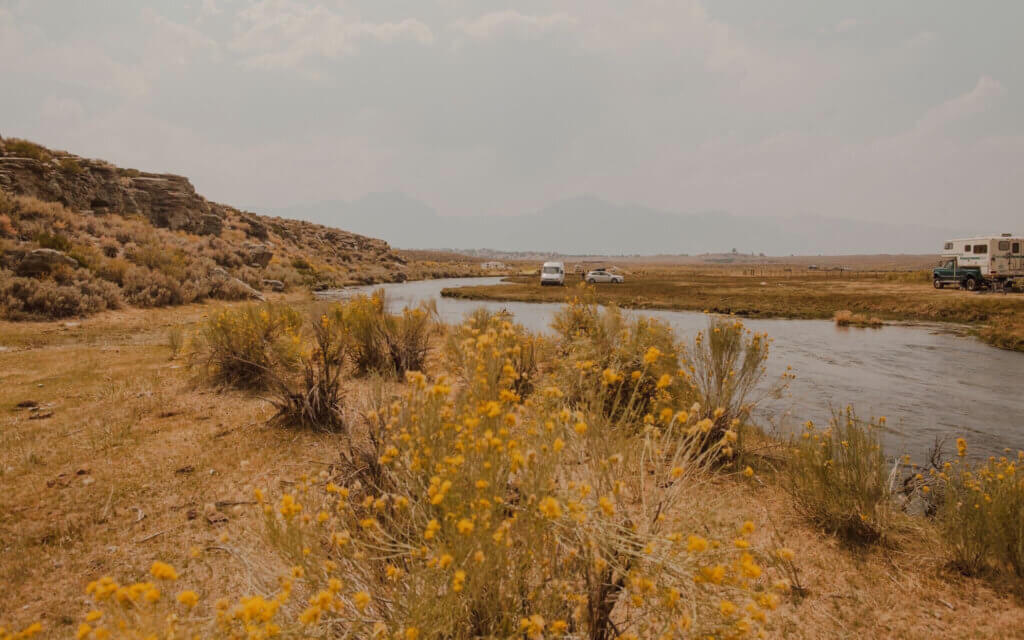 We were delighted to see many campervans were parking at the Hot Creek Crossing. Such a great spot for boondocking and enjoying the hot creek.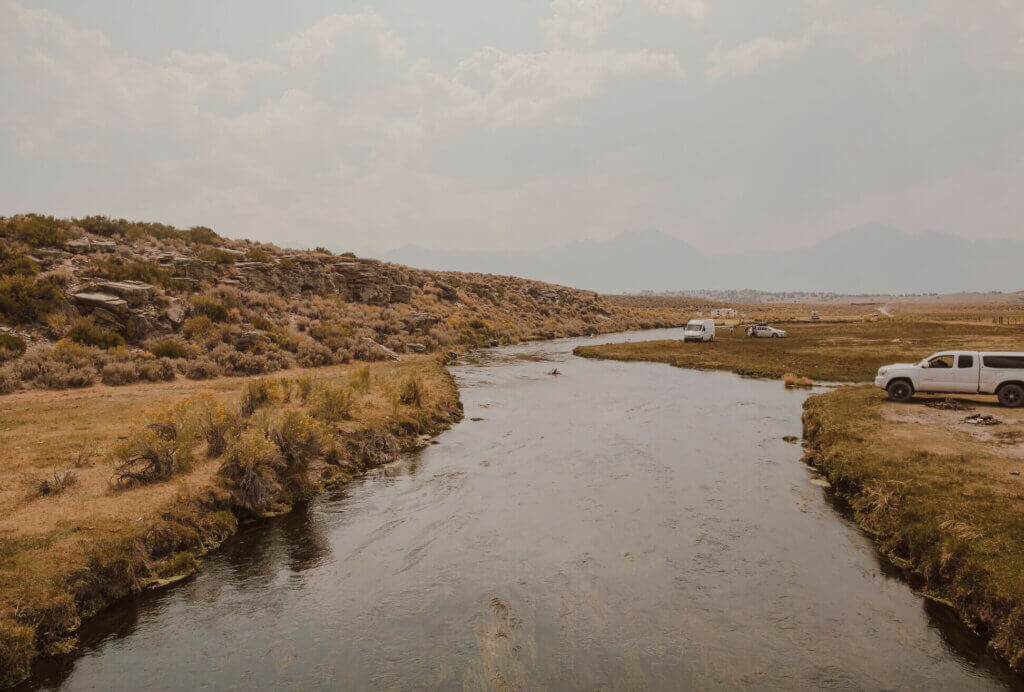 One of our favorite spots in Lake Mammoth is June Lake. It's sometimes referred to the "Switzerland of California". There are actually four lakes in the area – June Lake, Gull Lake, Grant Lake and Silver Lake, each very different from the next.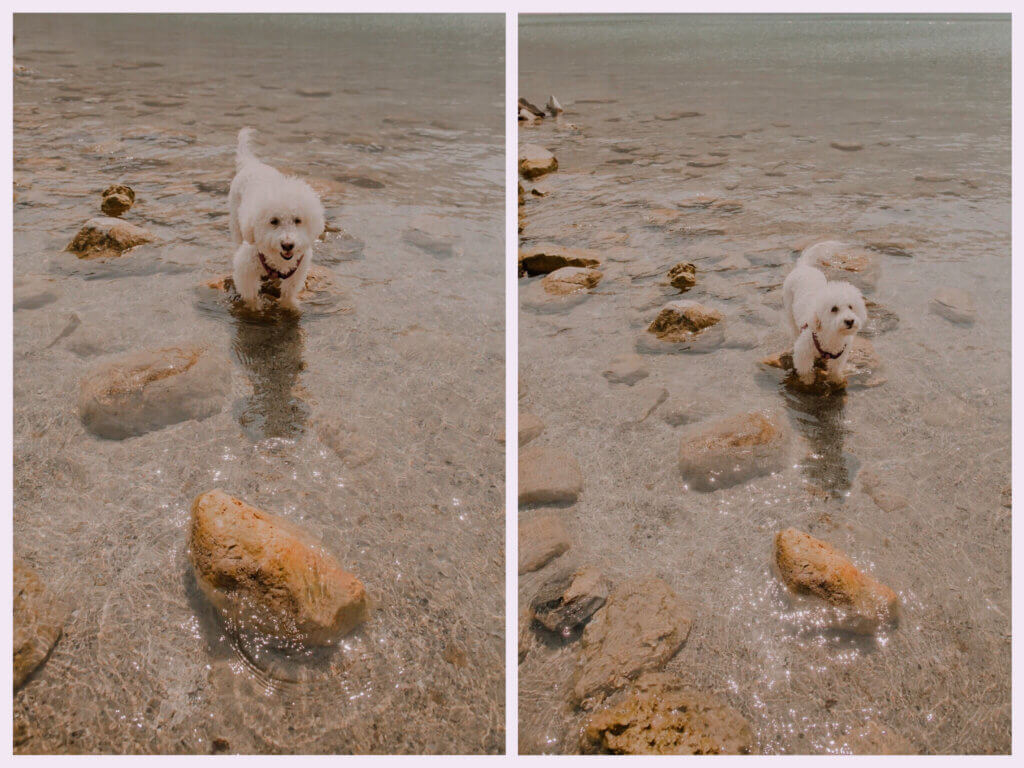 There's also plenty of hiking trails and campgrounds dotting the shores. The proper June Lake Loop distance/drive is just under 16 miles.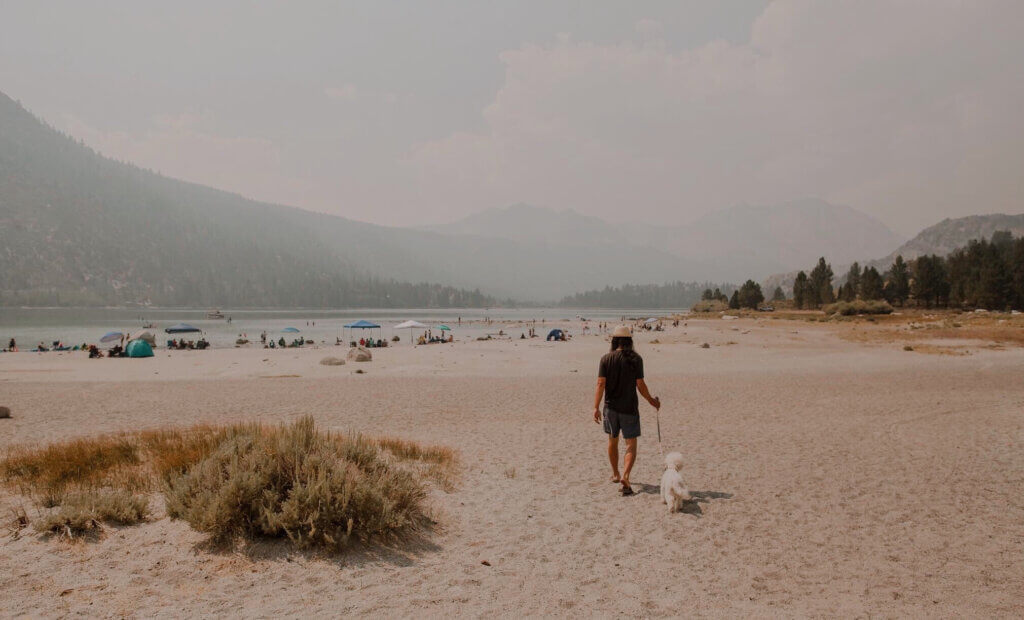 Another hidden gem that you can explore in Mammoth Lakes area is Mono Lake. This lake is located just outside the town of Lee Vining and is easily accessible from Highway 395. Mono Lake is one of the most extreme environments for living things on the surface of the entire planet. Not only is the water in Mono Lake three times as salty as in the ocean but the water is also laced with the poisonous element arsenic while its pH of 10 makes it very alkaline. Few living things can survive the toxic conditions present at Mono Lake.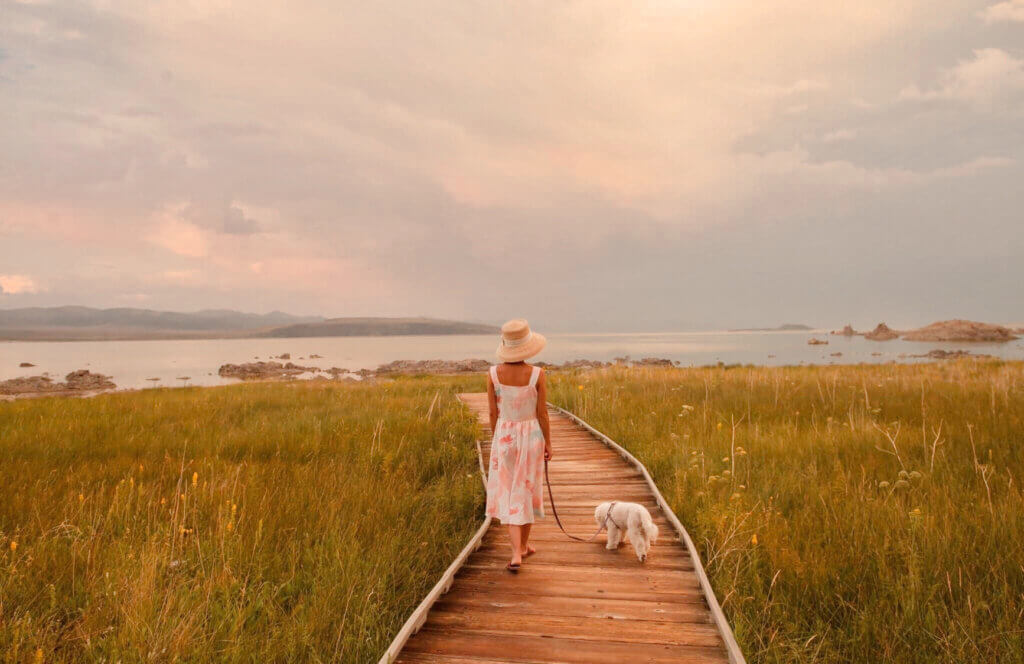 What makes Mono Lake special are the unusual tufa rock formations that emerge from the water, formed by the precipitation of carbonate materials in water. Some of these tufa towers can grow up to thirty feet in height, which occurs over a great period of time.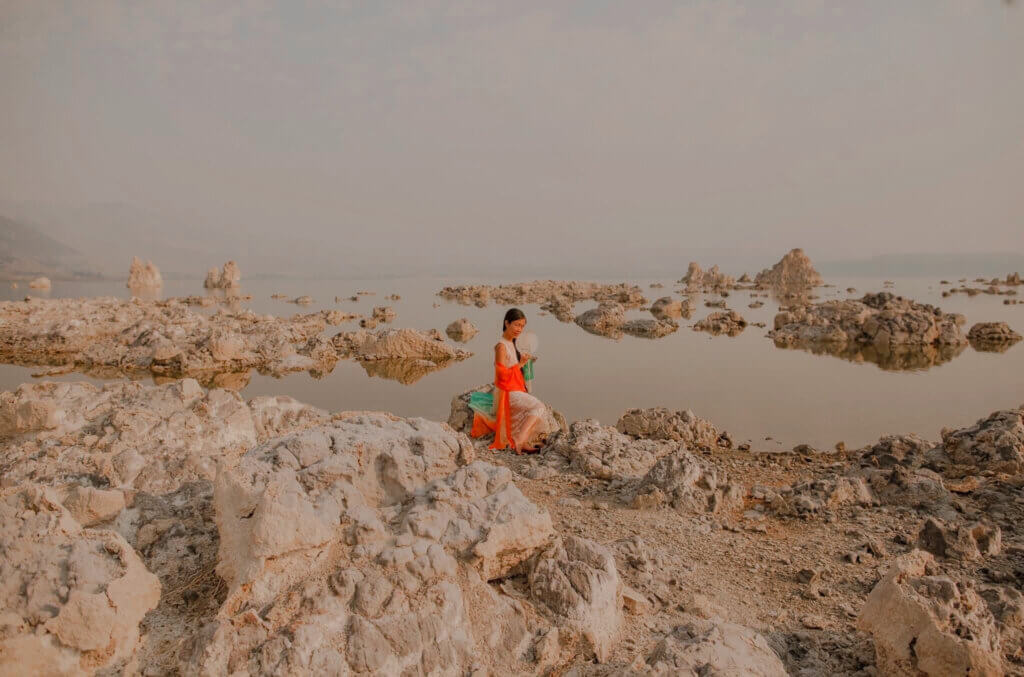 Sunset and sunrise at Mono Lake were both different and worthwhile, but if you have to choose, go for sunrise. It's magical to see as the sun goes up the towers silhouetted against the sky as it changes from pink to orange, and the tufa towers glow and are reflected in the still water.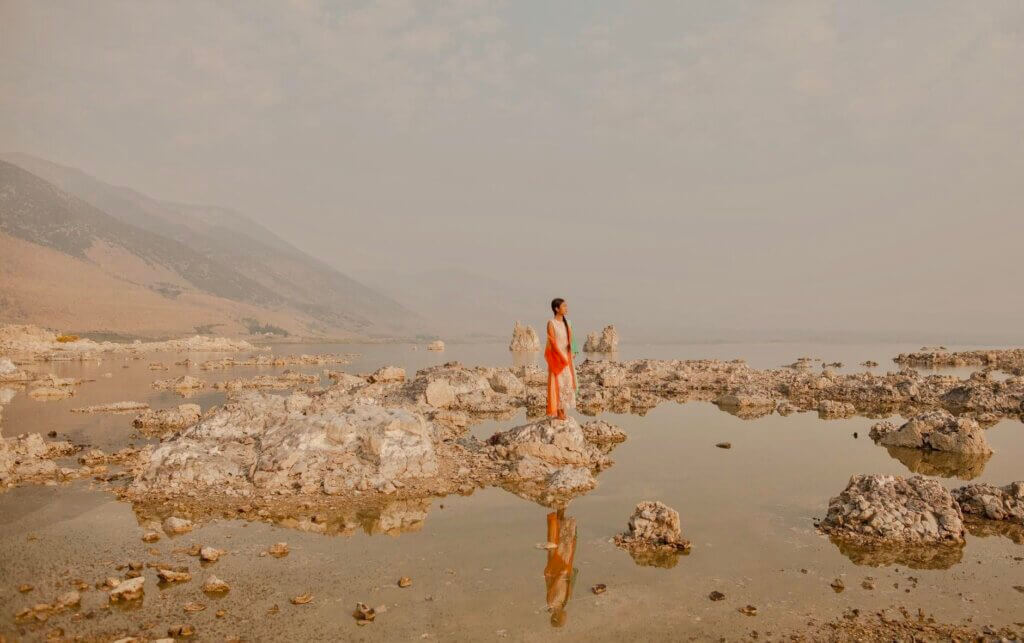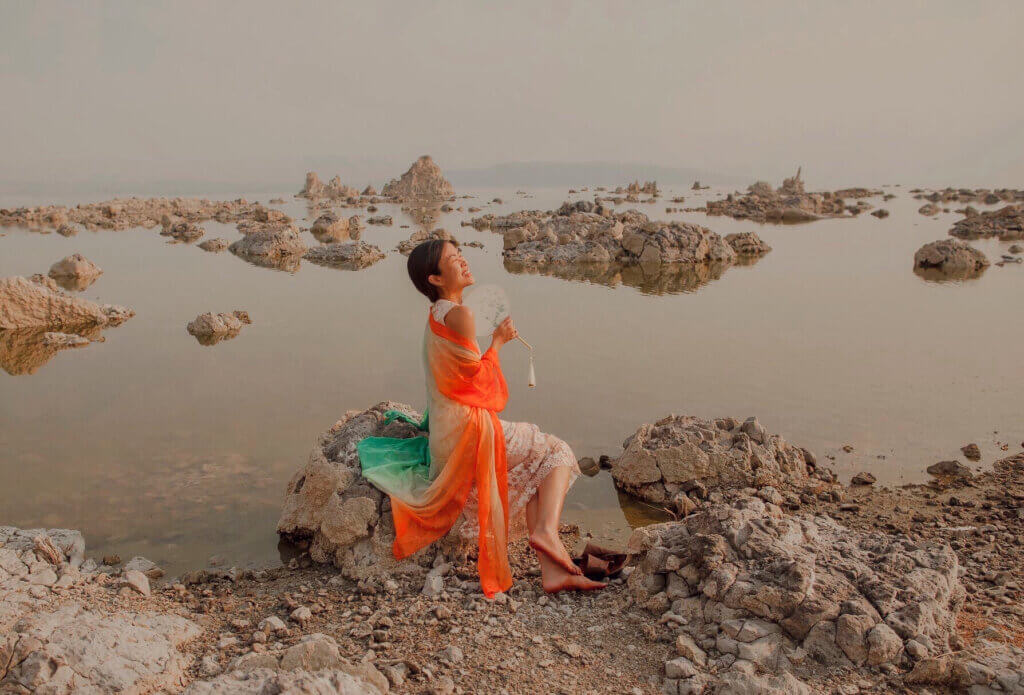 Day 5: From Mono Lake to Wylder Hotel Hope Valley (100 miles – 2hours)
We decided to take a break from our #vanlife and enjoy #yurtlife. My husband and I had always wanted to try glamping in a luxury yurt and I was thrilled to discover that Wylder Hope Valley Resort stepped up their glamping game with new yurts. This iconic 165-acre resort welcomes visitors to an outdoor escape with 30 uniquely built cabins, vintage Spartan trailer, 7 custom yurts, and expansive campgrounds for tents and RVs. You can find the full review of our stay at Wylder here.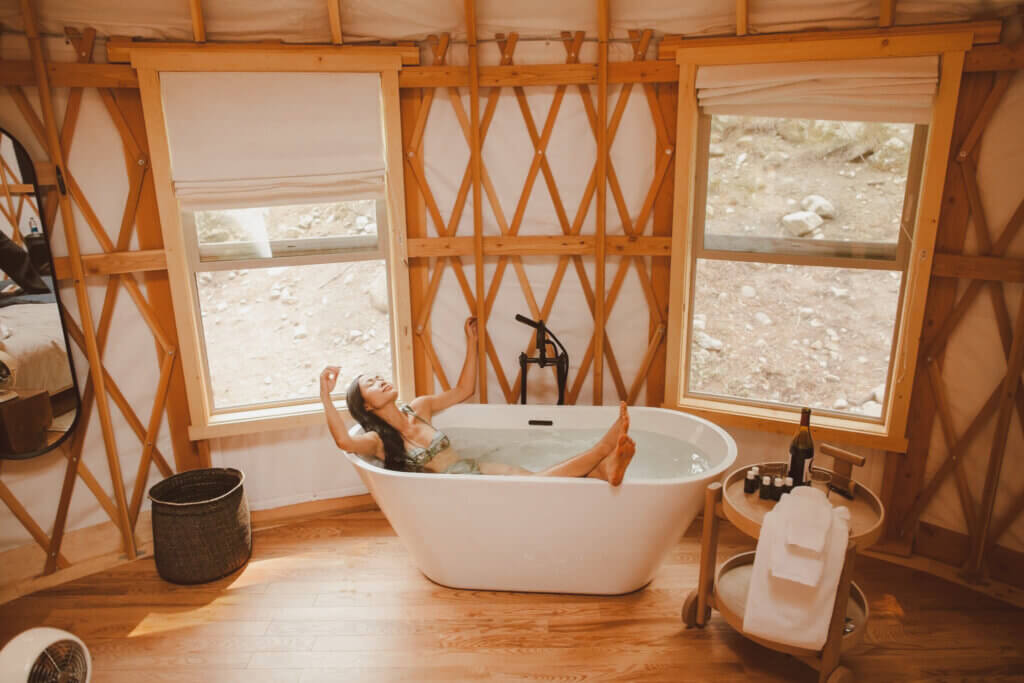 This is our first time being in Hope Valley and it was great! Being from Southern California, you really can't get this type of air, scenery, and the night time view of the stars! Our yurt, which is located about 1/4 mile down the road on the campgrounds, provides the perfect amount of rustic comfort and it comes furnished with fireplace, king size bed, oak floor, and oversized soaking tub.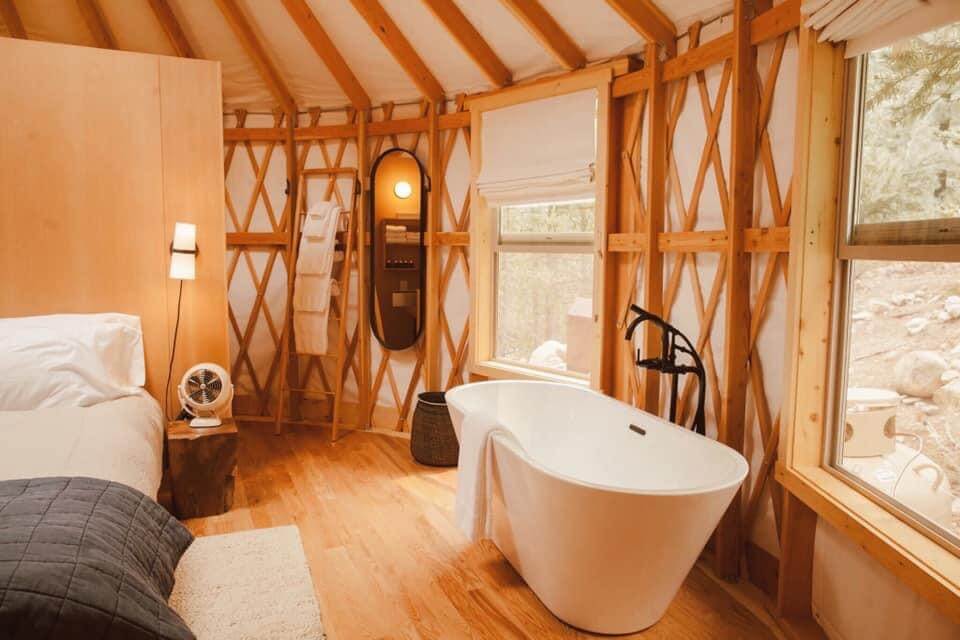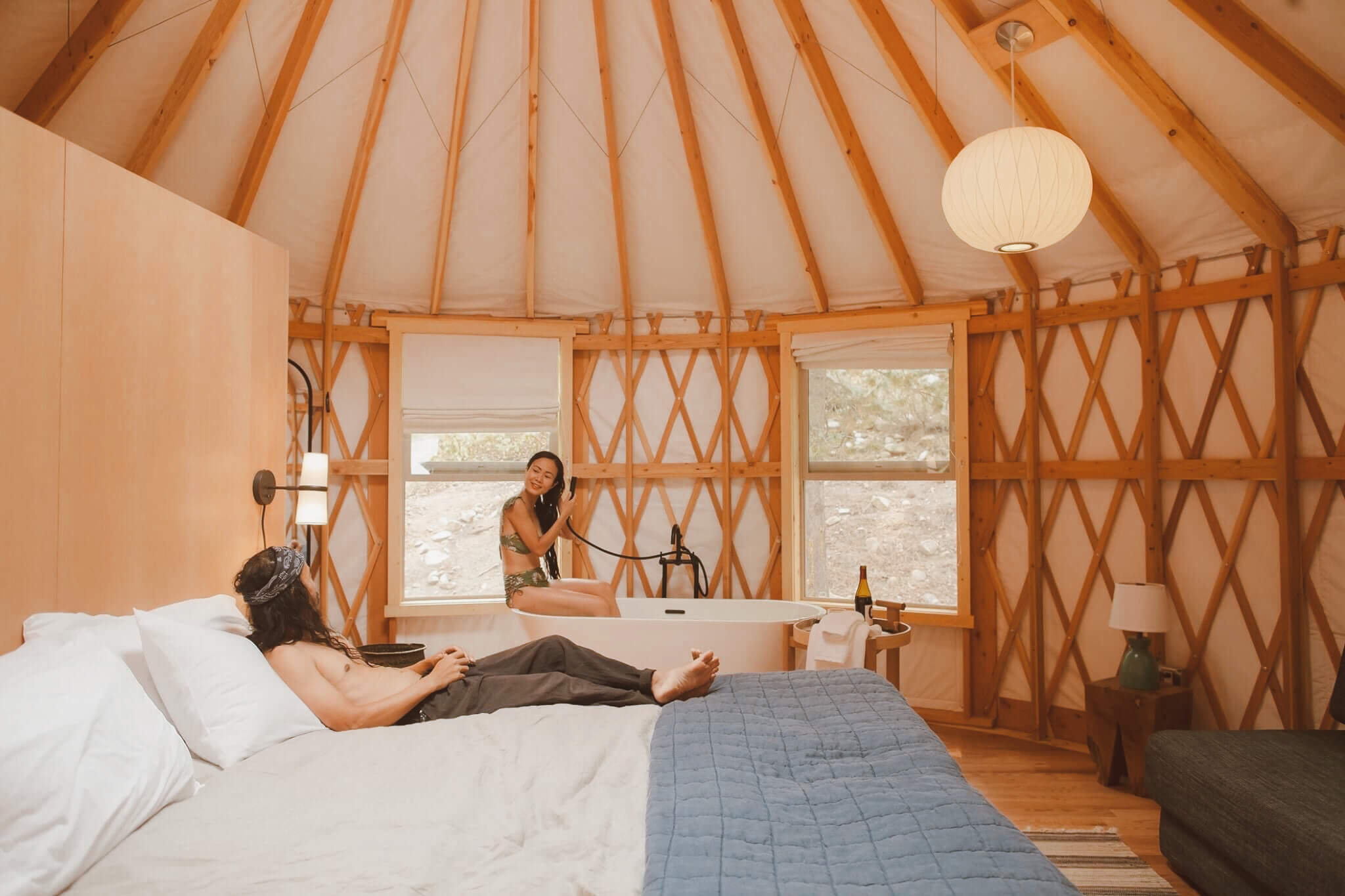 Day 6: From Wylder Hotel Hope Valley to Sand Harbor Beach, Lake Tahoe (42 miles – 1hour)
"The air up there in the clouds is very pure and fine, bracing and delicious. And why shouldn't it be? — it is the same the angels breathe." – Mark Twain, writing about Lake Tahoe in Roughing It.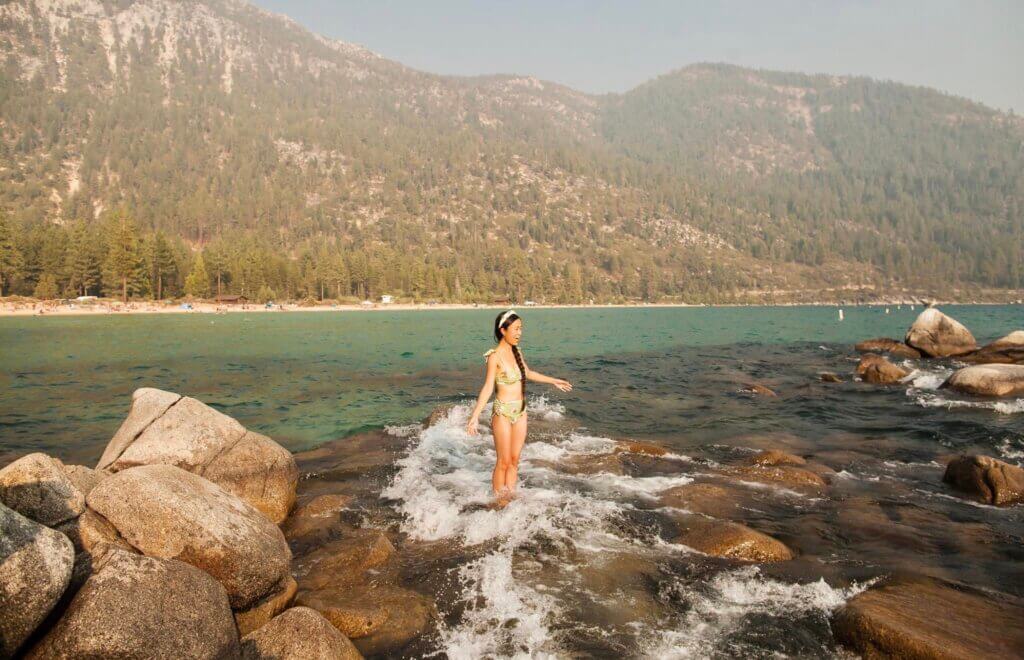 The waters of Lake Tahoe are unlike almost any other lake in the world – vibrant, blue, and crystal clear, and Sand Harbor is one of the best beaches in Lake Tahoe to take a picture from sunrise to sunset.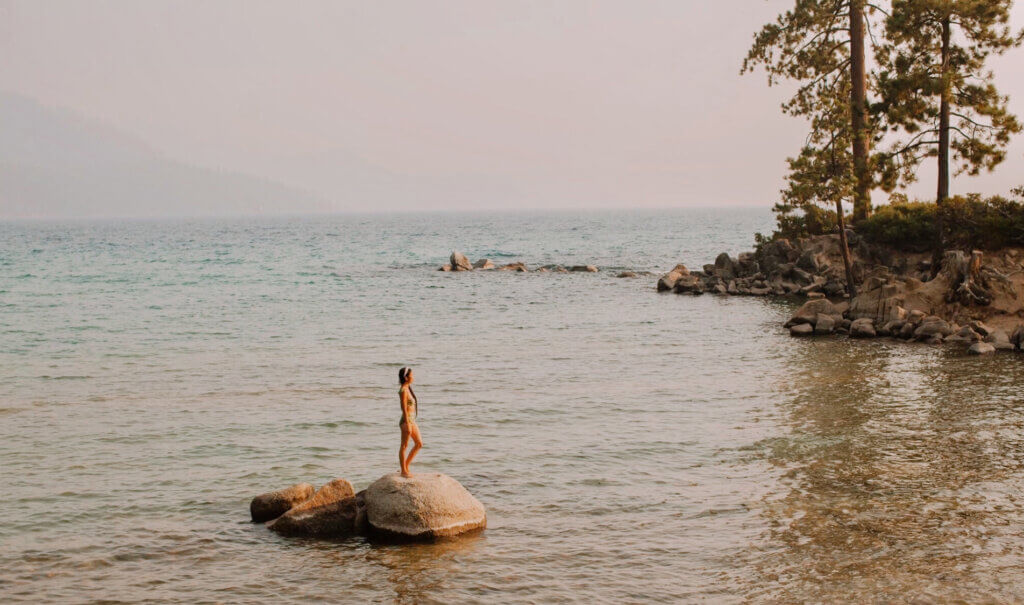 Sand Harbor point looks across the lake with some of the best rock formation surroundings. It's a perfect spot to take that unique Tahoe picture to post on Instagram.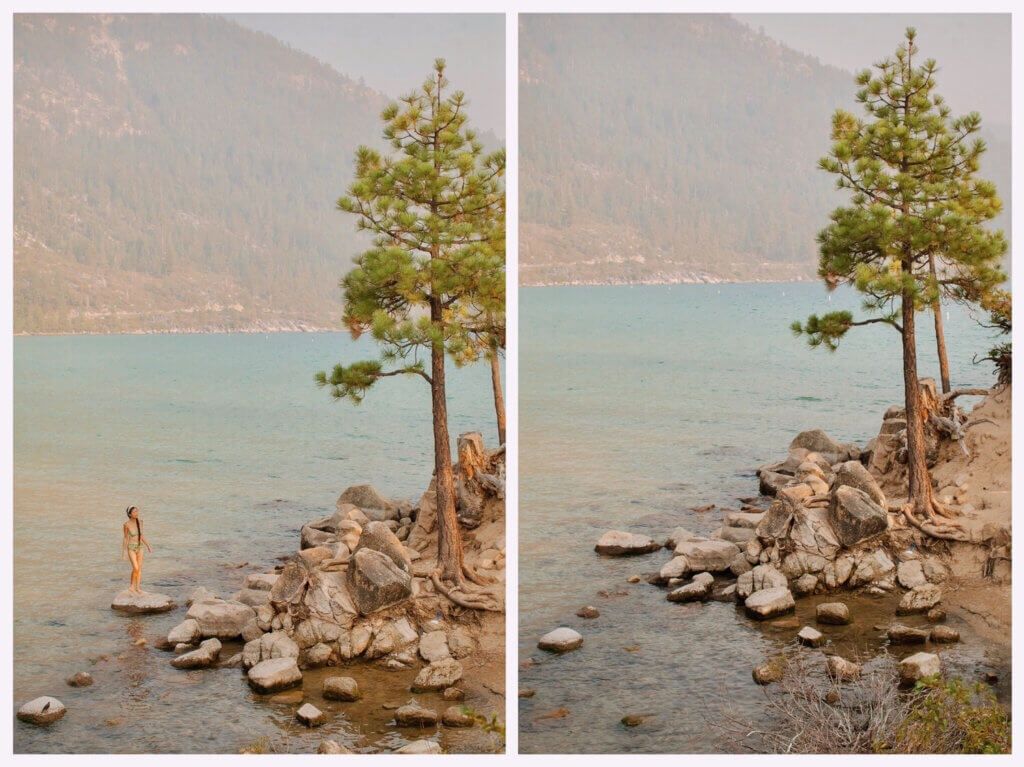 Day 7: Explore Lake Tahoe
South of Sand Harbor you can find a handful of awesome beaches like Chimney Beach, Skunk Harbor, and Secret Beach. Each one of the beaches is a great summer spot guaranteed to be less crowded than Sand Harbor Beach.
Lake Tahoe has many beautiful coves and beaches surrounding its stunning blue waters. However, Secret Cove is one particular location that stands apart, providing a picturesque boulder-laden cove and spectacular views. Be aware that this is a nude beach. Once you reach the beach, you will probably want to take photos, but please be respectful of anyone taking advantage of the clothing optional rule.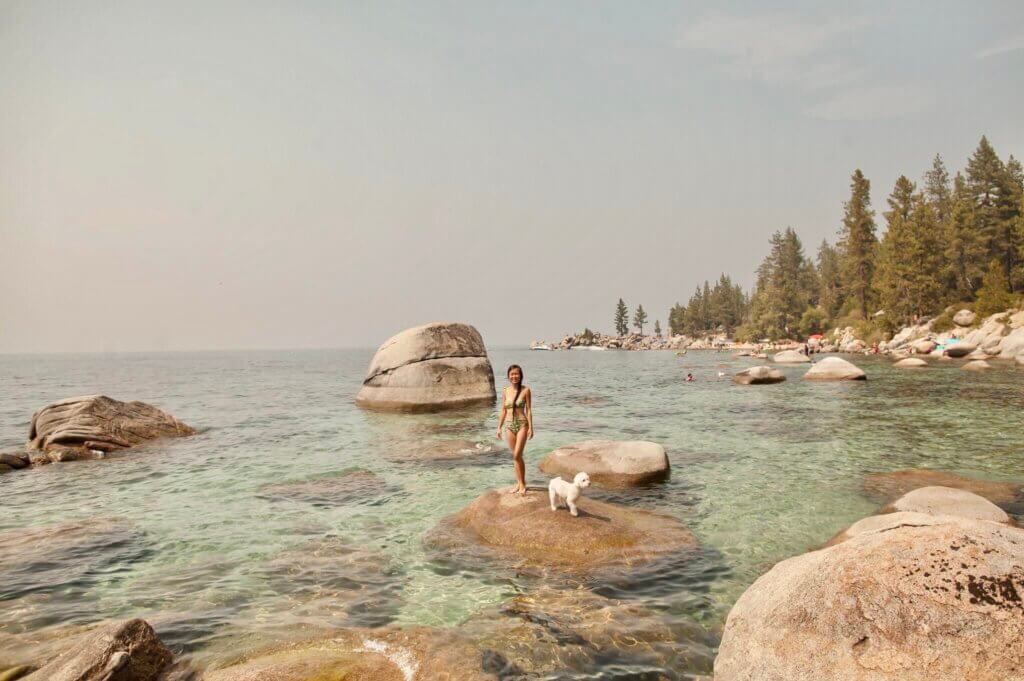 Road tripping is one of the best ways to explore someplace new and if you've never been to the eastern Sierras it's definitely worth the trip. The entire route is filled with desert, lakes, soaring peaks, ancient trees/volcanoes, and hot springs. This side of California is so uniquely beautiful and doesn't really get the attention it deserves, maybe that's why it's one of my favorite places.