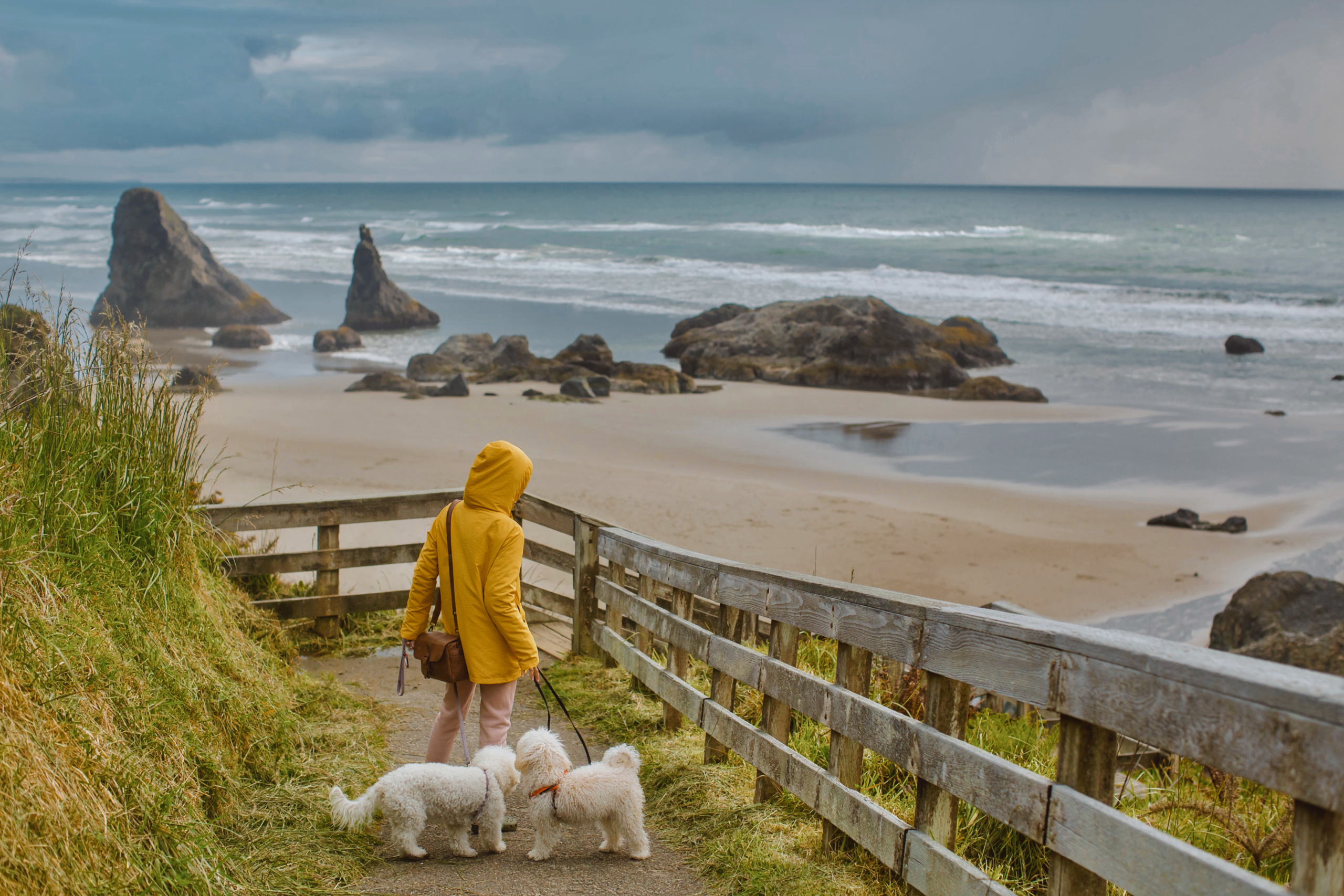 The Ultimate Oregon Coast Road Trip Itinerary
Foggy, damp, vibrantly green, and filled with tiny fishing villages, the 364 miles of Oregon Coast is famous for its rugged and rocky landscape, beautiful nature trails, epic lighthouses, and charming coastal towns. It's possible to do the Oregon coastal roadtrip from end to end in a day (with Astoria in the north to Brookings in the South) along the region spine, Route 101. But why would you want to do that? You'll find the the Oregon Coast highway goes through many small towns and communities each with its own character, so build time into your daily drive to enjoy unplanned stops and epic views. I think a week would give you enough time to see the main sights and explore the area's abundant nature.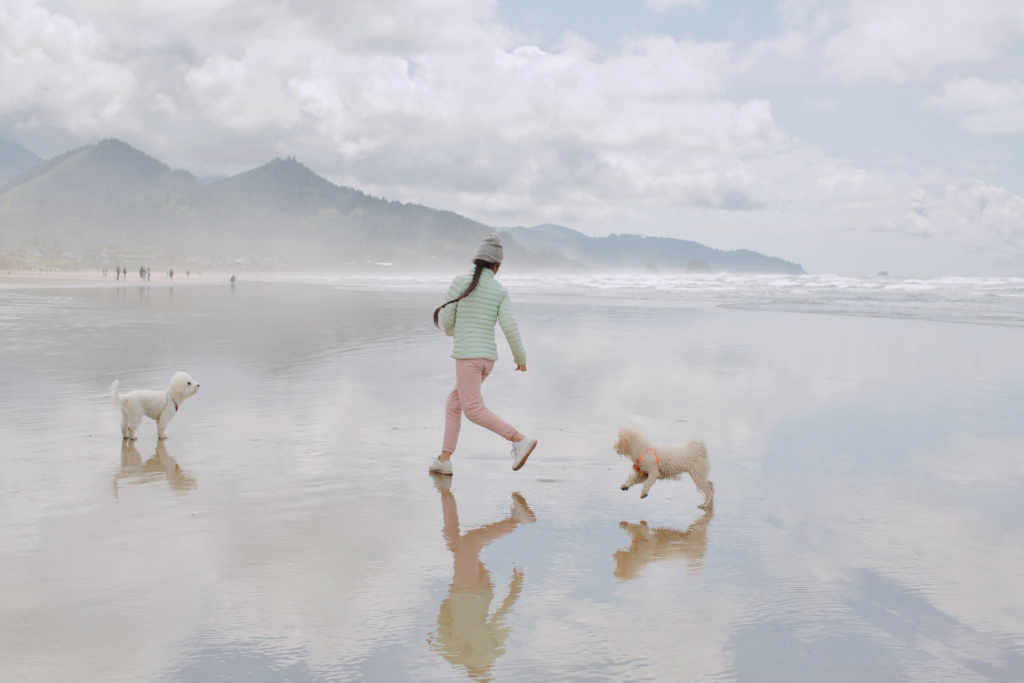 During our recent roadtrip down the coast, we bounced from town to town, taking nature hikes, visiting local breweries and creameries, and consuming our weight in clam chowder and other locally famous seafood dishes.There are hundreds of things to do along the Oregon Coast – which can make it extremely overwhelming to plan an Oregon Coast trip, so I have devised the Ultimate Oregon Coast Road Trip that has a healthy mixture of nature and culture. Like with any itinerary, take this one with a grain of salt and update it for your own travel style. There's no wrong way to do a road trip here. Road tripping is all about fun and new experiences and the Oregon Coast is no exception!
Day 1: From Astoria to Cannon Beach (26 mi – 37 mins)
Cannon Beach is one of the most iconic things to see along the Oregon Coast. Home to the famous Haystack Rock, Cannon Beach is just as breathtaking as it is in photos.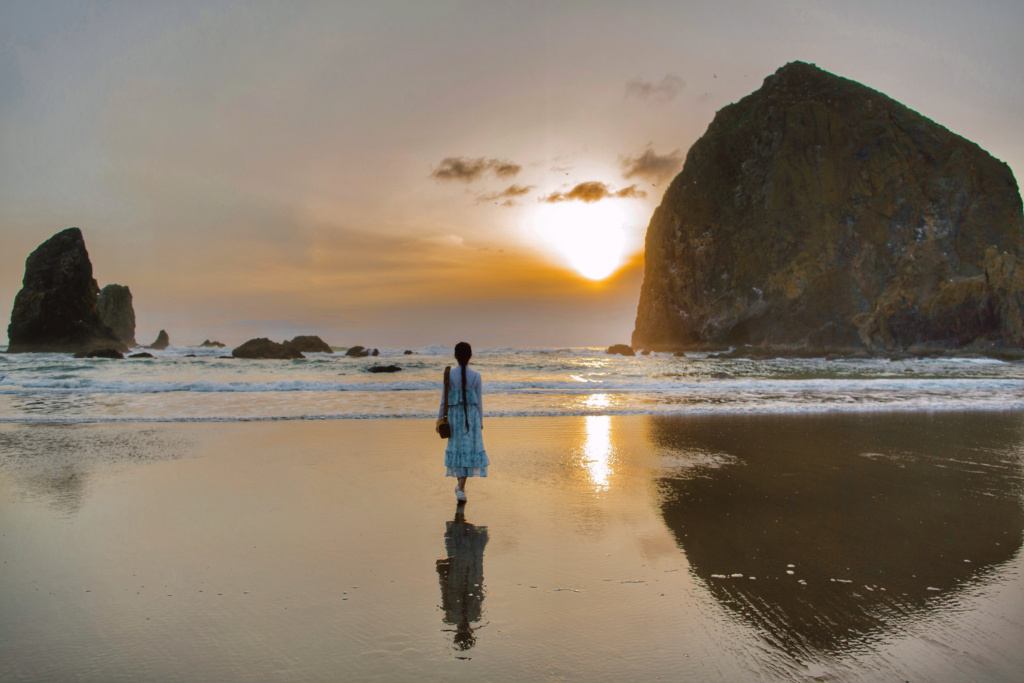 When we arrived at Cannon Beach, it was just about dinner time, and the sun was quickly sinking into the ocean. Haystack Rock, bathed in golden rays, took my breath away from the moment I saw it.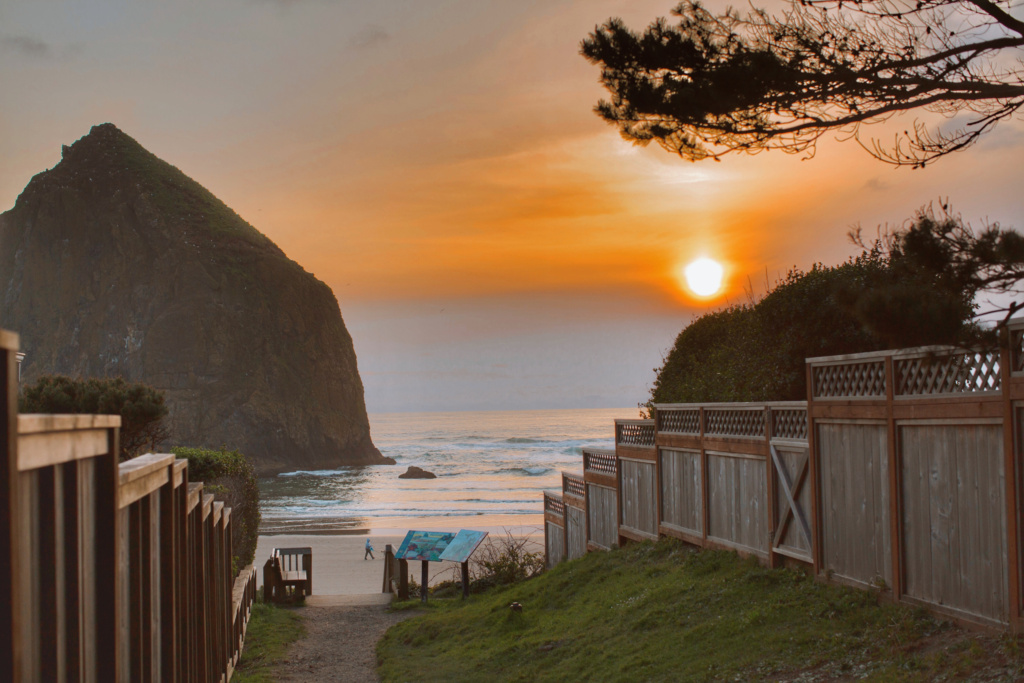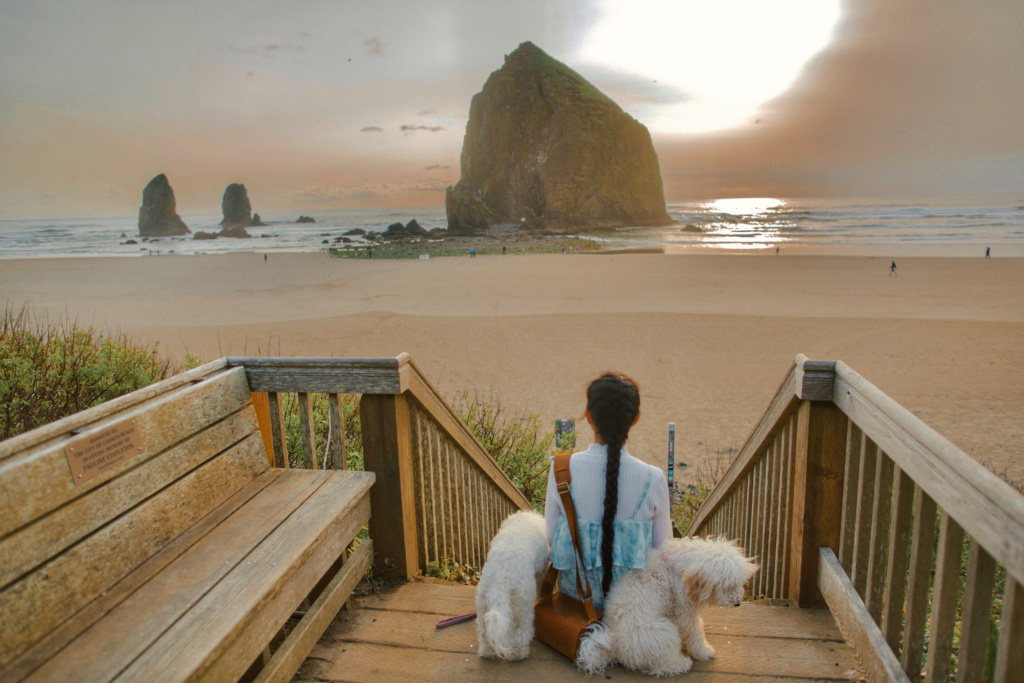 It's all that it's hyped up to be, especially at sunset. When you are here, make sure to snap some photos of the unique and recognizable rock formations.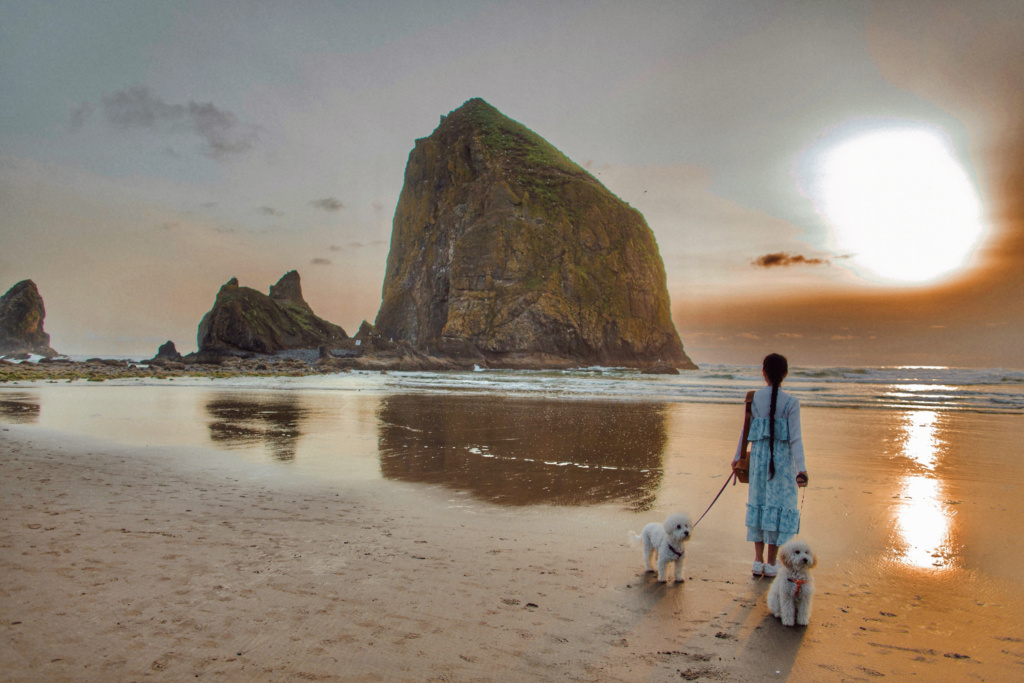 We were visiting at the end of April; it was still low season and the town felt sleepier than expected. Cannon Beach town itself is so cute, with independent boutiques, holiday homes, seafood restaurants and local shops and galleries to explore.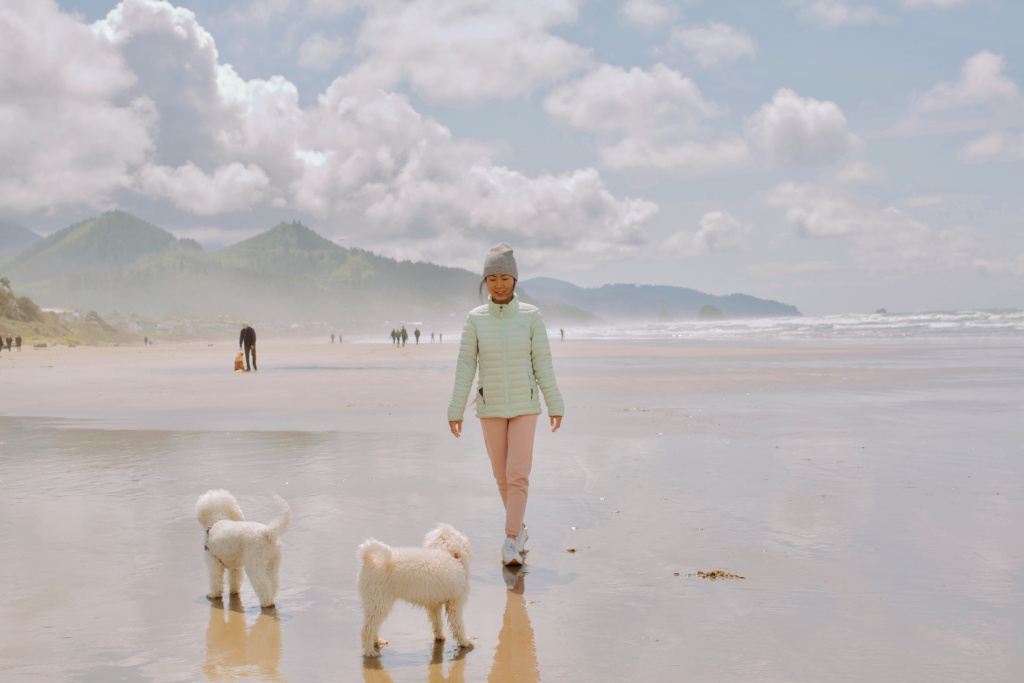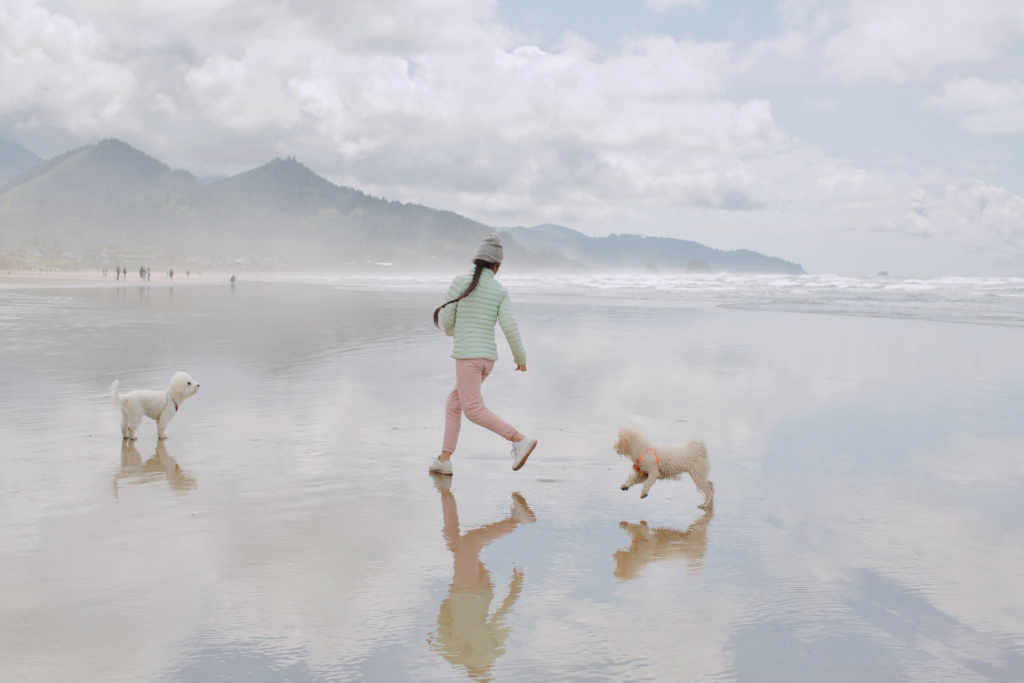 This was our first stop on our Oregon coastal roadtrip so we were very excited to try out the signature coastal dishes. We had heard that no trip to the Oregon Coast is complete without a big bowl of delicious clam chowder to warm the heart from the cool, ocean air. And we decided to try the local favorite : Mo's Restaurant.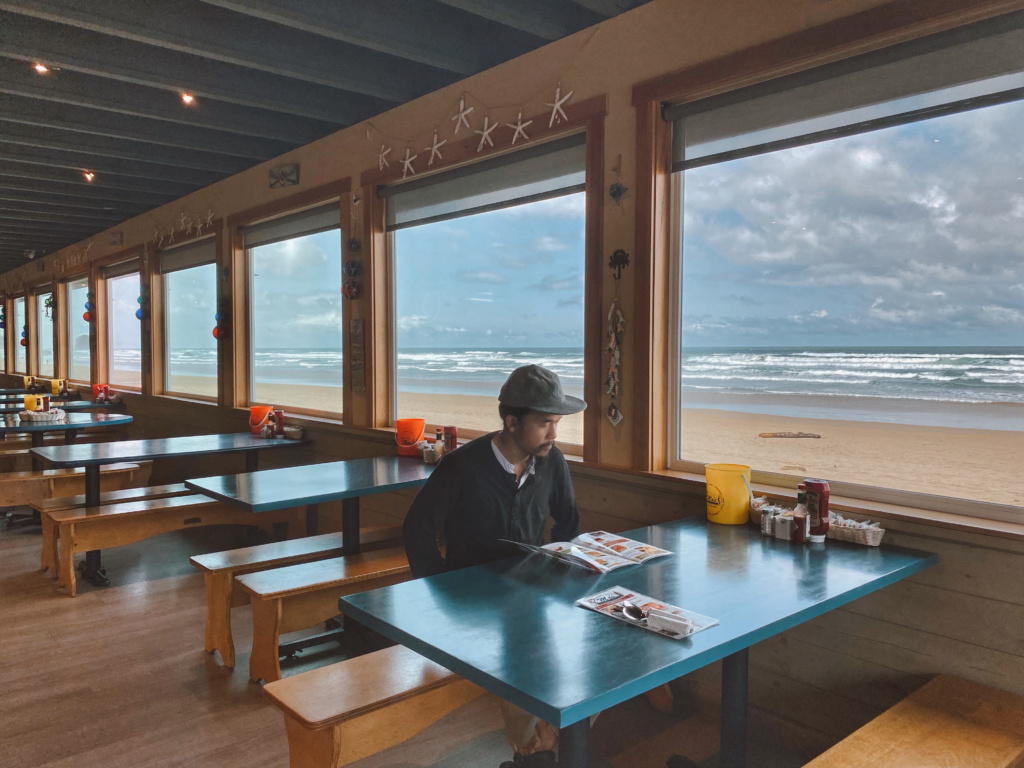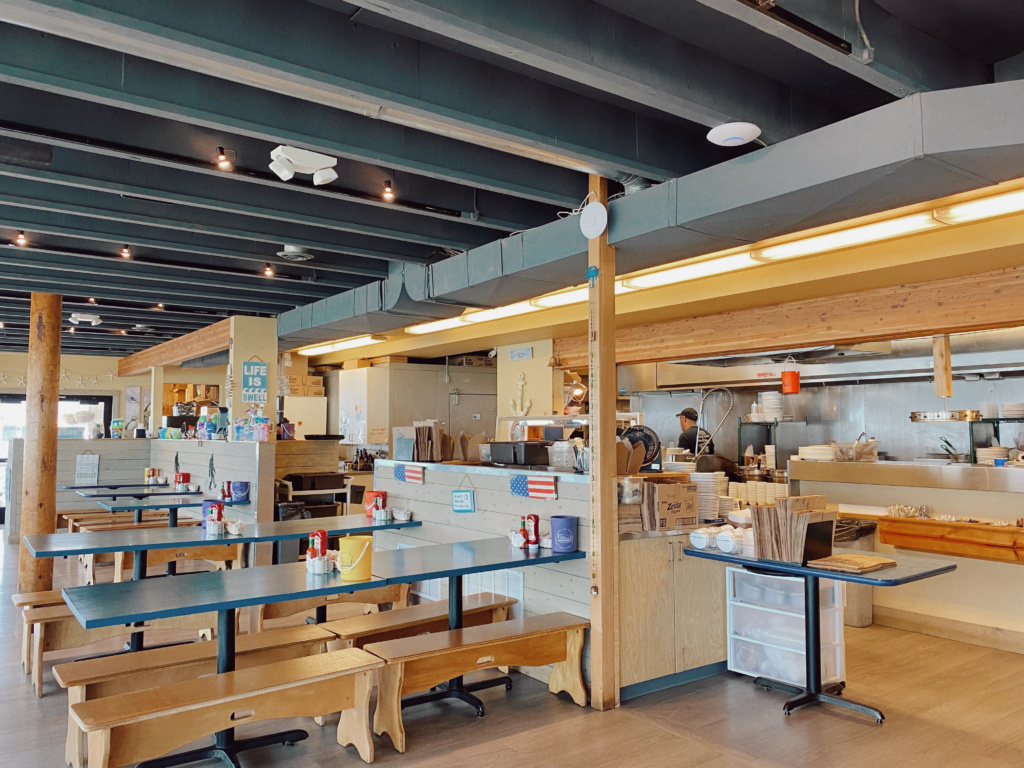 Famous for its chowder and the legendary legacy of Mama Mo Niemi, Mo's chowder is a household name up and down the Oregon Coast. The creamy, New England-style chowder features a homemade and treasured recipe. You can order it with home baked bread, garlic cheese bread or in a sourdough bread bowl. It is described as creamy, fresh, tasty with quite the beautiful texture and balance and perfectly paired with a dark beer. Mo's chowder meets the lips of tasters with a clam broth with spices that are out of this world.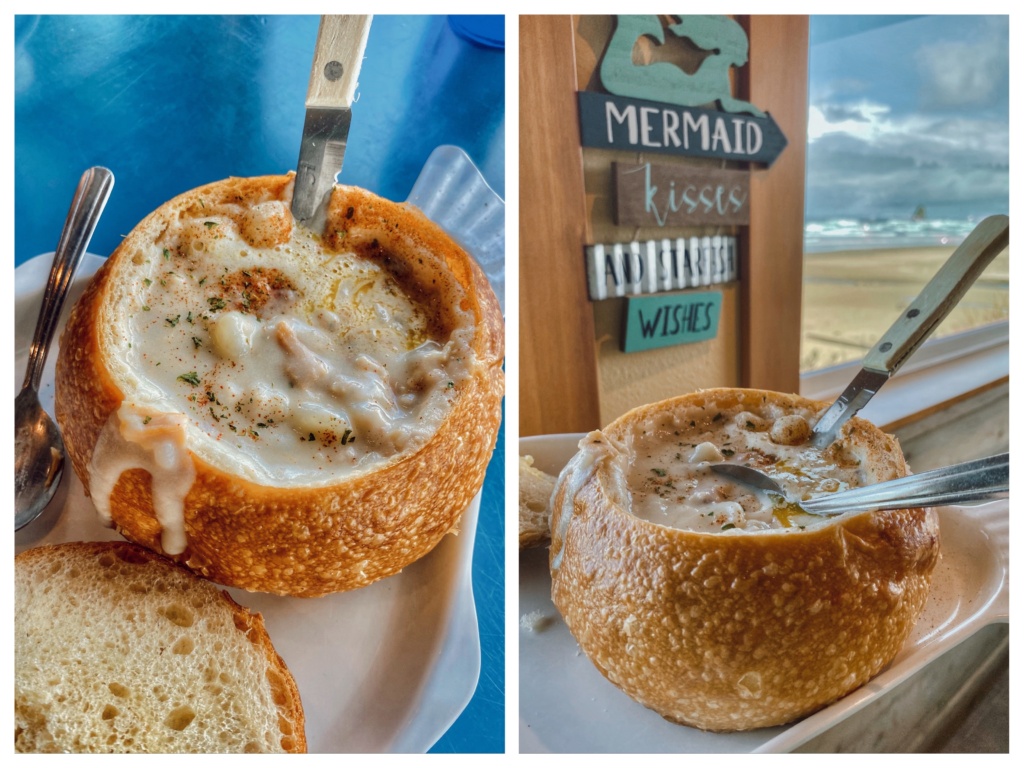 A gorgeous panoramic view of the Pacific and a bowl of tasty clam chowder was just what we needed after a long walk on Cannon Beach. If you are a clam-chowder fan, this is the place to try!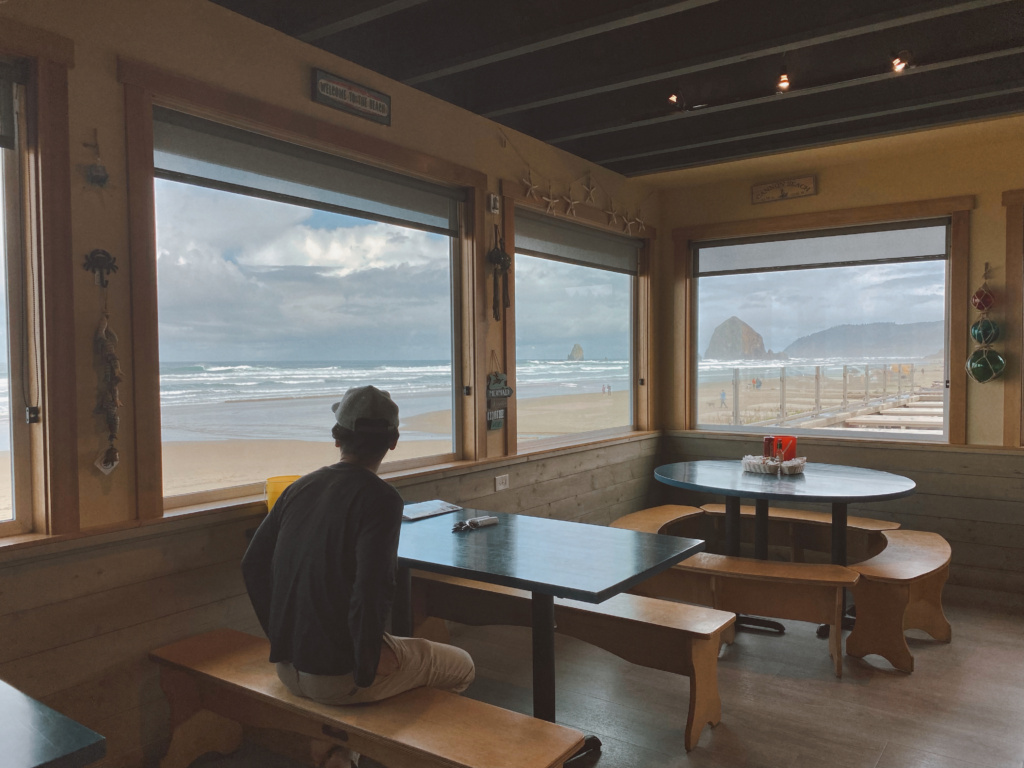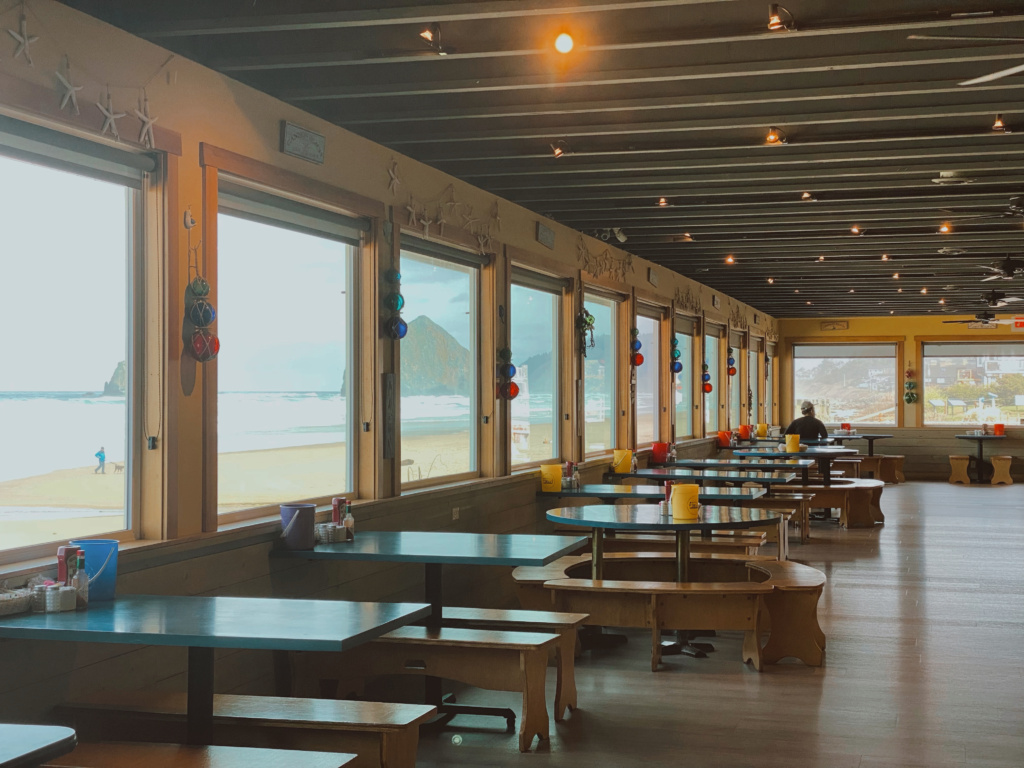 Our next favorite dish of Oregon coast is the humble meal of fish and chips. From seafood shacks to upscale restaurants, the fresh fish over french fries is to die for in Oregon. Whether you're splurging on halibut or cod, it's most likely caught locally or at least regionally. The Oregon Coast is spoiled with an abundant supply of great-tasting rockfish, halibut and lingcod. The firm, flaky, white flesh makes some of the best fish and chips anywhere. There are many ways to take on this classic dish, but usually this is how the locals do it: thick chunks of fresh fish are lightly beer-battered and fried, laid on a bed of thick and crispy fries.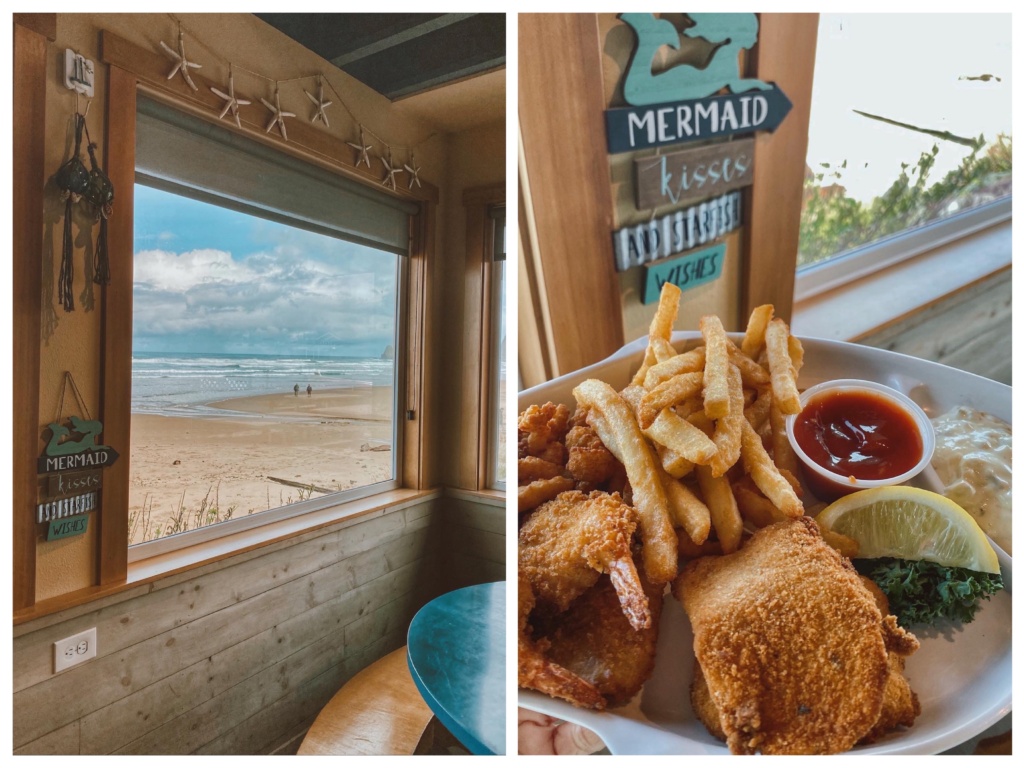 At Mo's we ordered the halibut fish and chips; the two massive pieces of halibut were beer battered lightly and perfectly crisp without overpowering the tender and buttery fish that absolutely melted in our mouth. Instead of doing the big hunks of batter-fried Pacific cod, halibut, wild salmon, or tuna, you can also choose large prawns, calamari, razor clam for your fish and chips basket. To summarize, Fish and Chips, Clam Chowder, Fresh Halibut, Dungeness Crab, and Smoked Salmon are famous local dishes that have people lining up at restaurants along Oregon coast.
Day 2: Cannon Beach – Tillamook (38 miles – 49 mins)
One would never think that a cheese factory/creamery would be a go to when you are out on a fun sightseeing trip through the Oregon coast. But I am here to tell you that it is well worth the stop. This is where "dairy done right". After a few minutes of taking a free self-guided tour around their facility, you would totally understand why their cheese and cream totally live up to their slogan.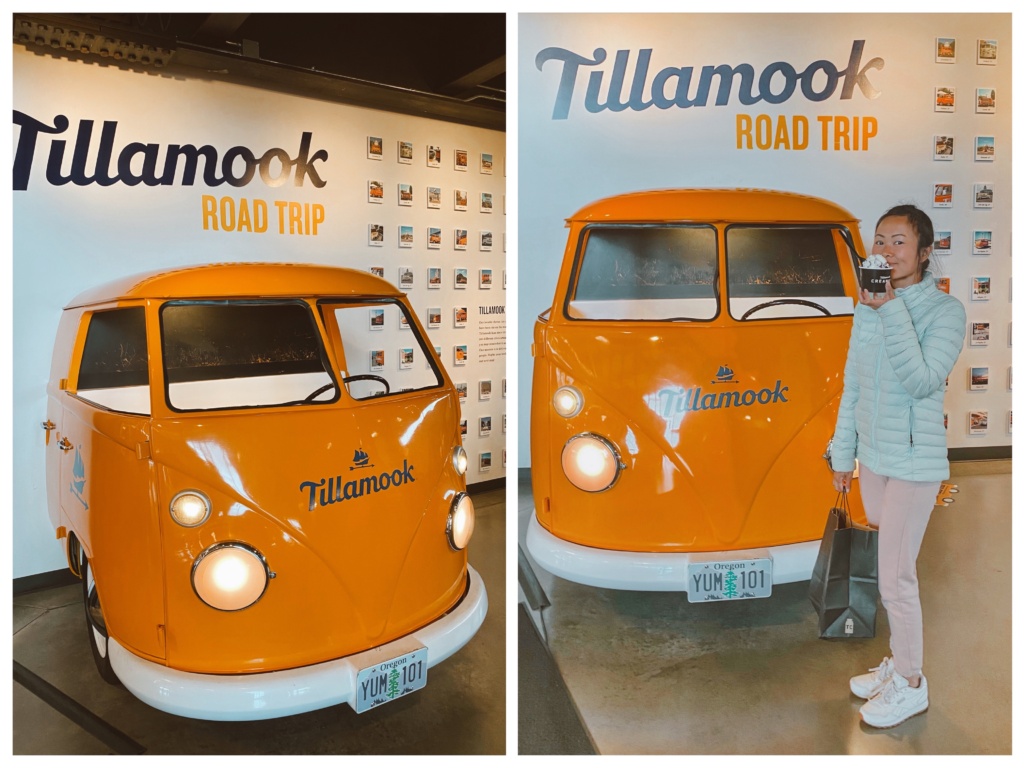 Tillamook is most widely known for its dairy industry. The Tillamook area has been in the dairy business since mid-19th century, and the Tillamook Cheese Company has been around since 1909. Today it is a co-op creamery made of over 100 farmer families. For a true glimpse of how the production of cheese happens, all the way from the dairy farm to your table, nothing is better than a tour of the Tillamook Cheese Factory.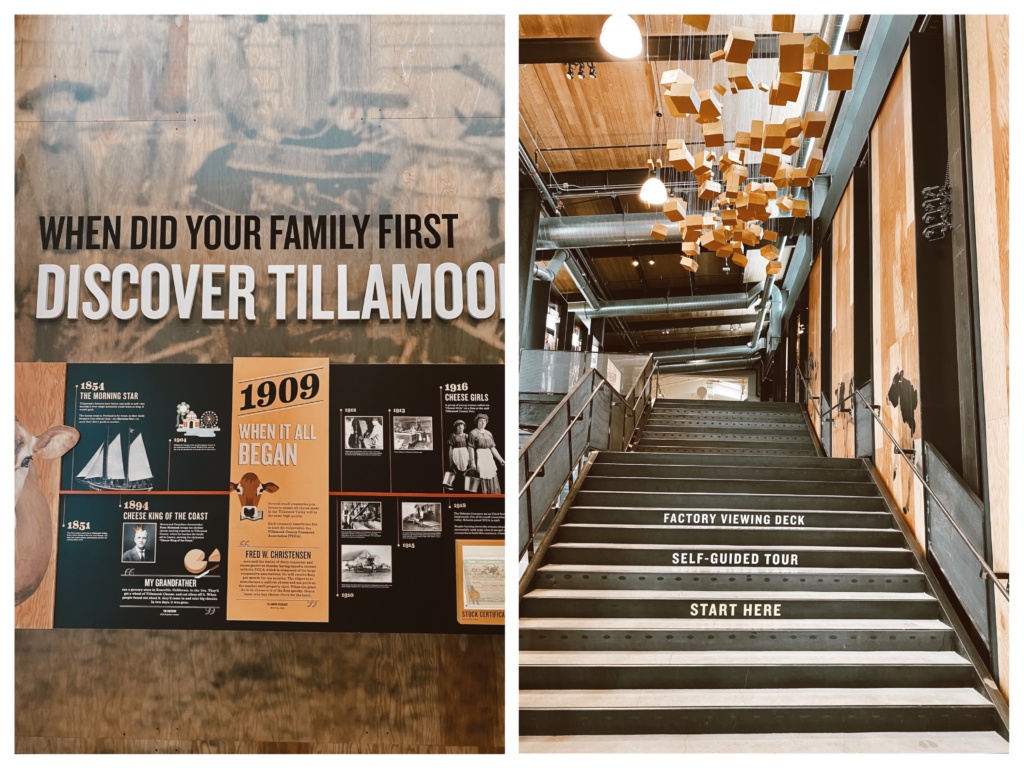 The exterior of the factory has a somewhat modern flare, with metal beams, contrasting against a blond vertical wood siding in some parts. Black, beige, white and wood seemed to be the theme. The second floor of the creamery has loads of information on cheese-manufacturing from step one to the packaging and distribution.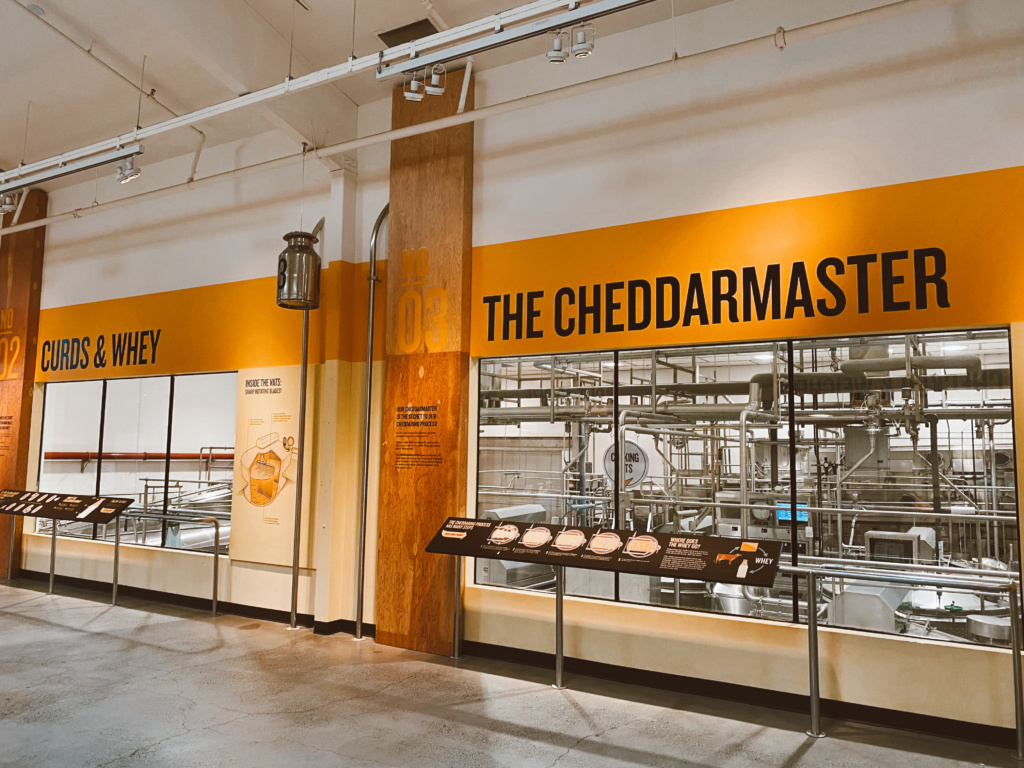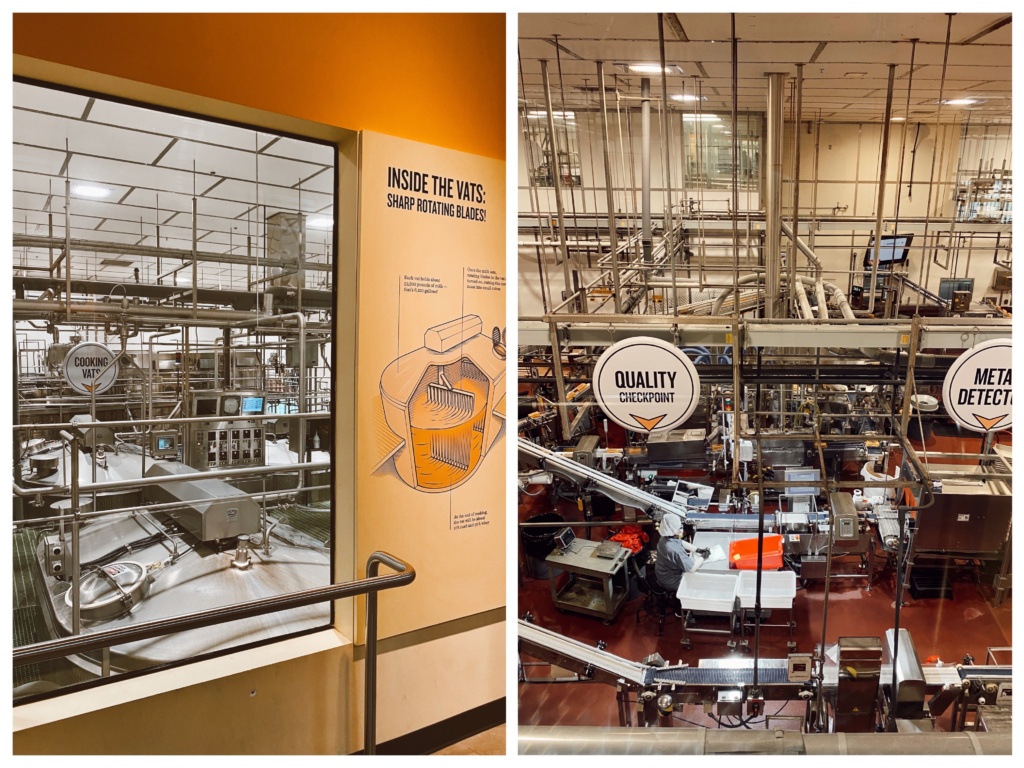 Visitors can observe the Tillamook Cheese manufacturing process through windows from a walkway above the production lines.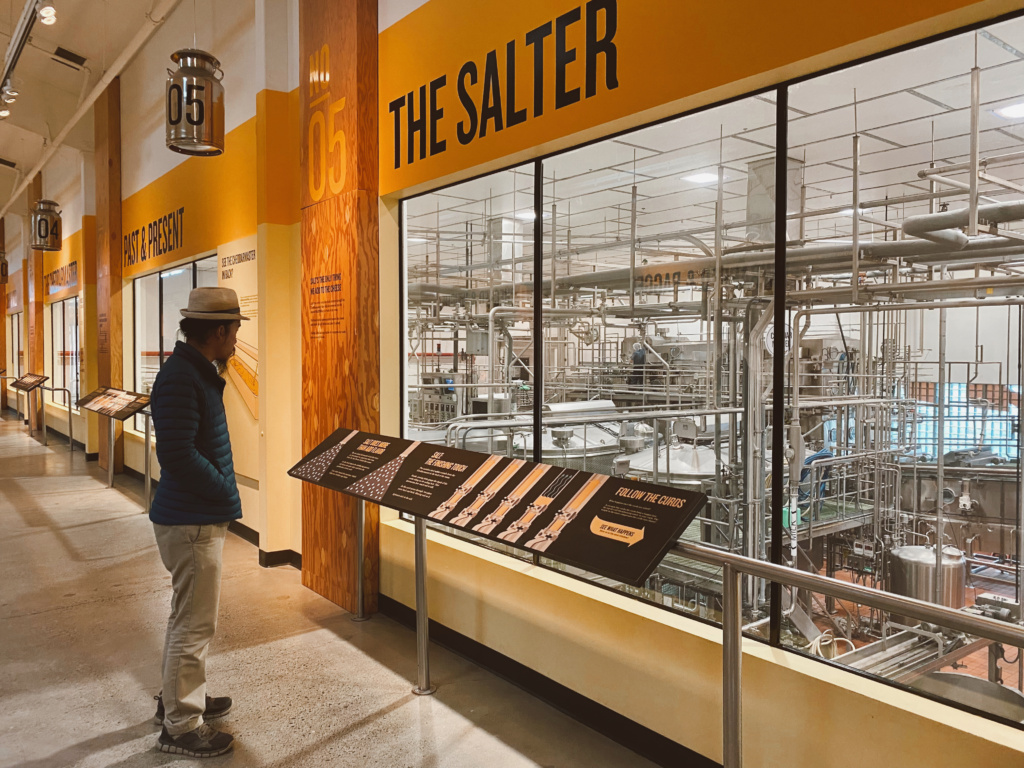 After learning about cheese manufacturing, there is a station with free samples for visitors to try several varieties of Tillamook cheese. On the bottom floor of the Tillamook Creamery, there is a large gift shop that sells all sorts of locally-made products. The shop has every kind of Tillamook cheese imaginable, including aged cheeses not available anywhere else and, my personal favorite, cheese curds. Here we picked up a jar of Kelly's Marionberry Habanero Pepper Jelly to pair with Tillamook cheese and right now we wish that we had picked up 10 jars at least; that's how good these locally made jams are! It's rare to see jams and fruit preserves all natural with perfectly healthy ingredients (no artificial flavors, no preservatives, and no coloring agents).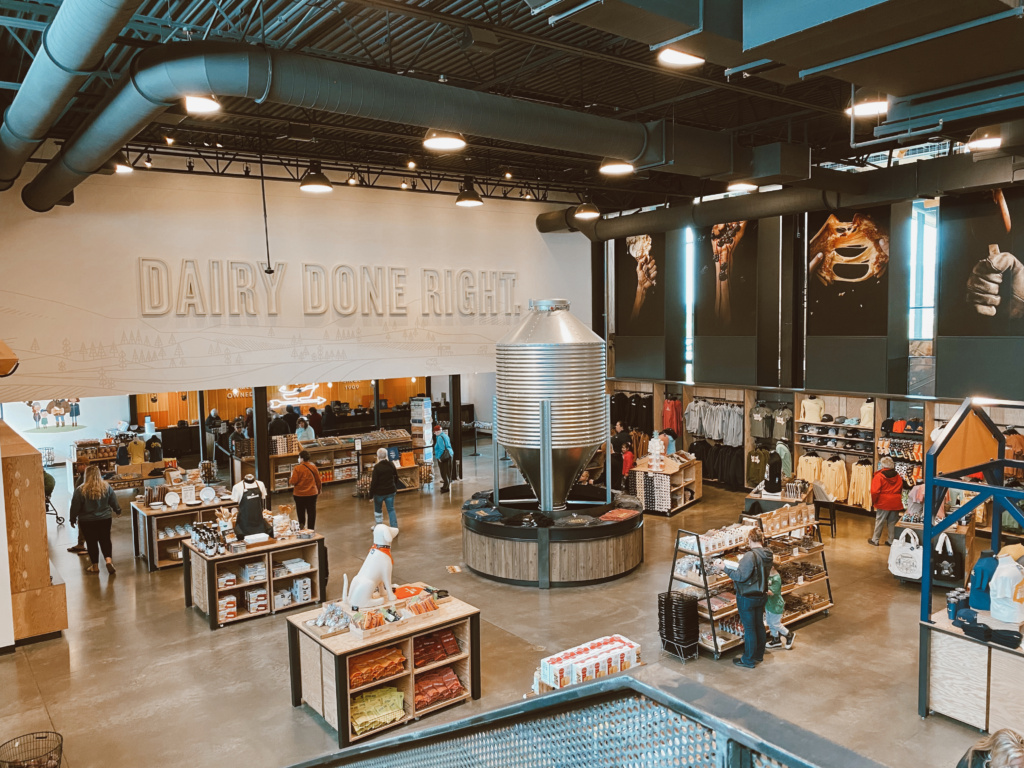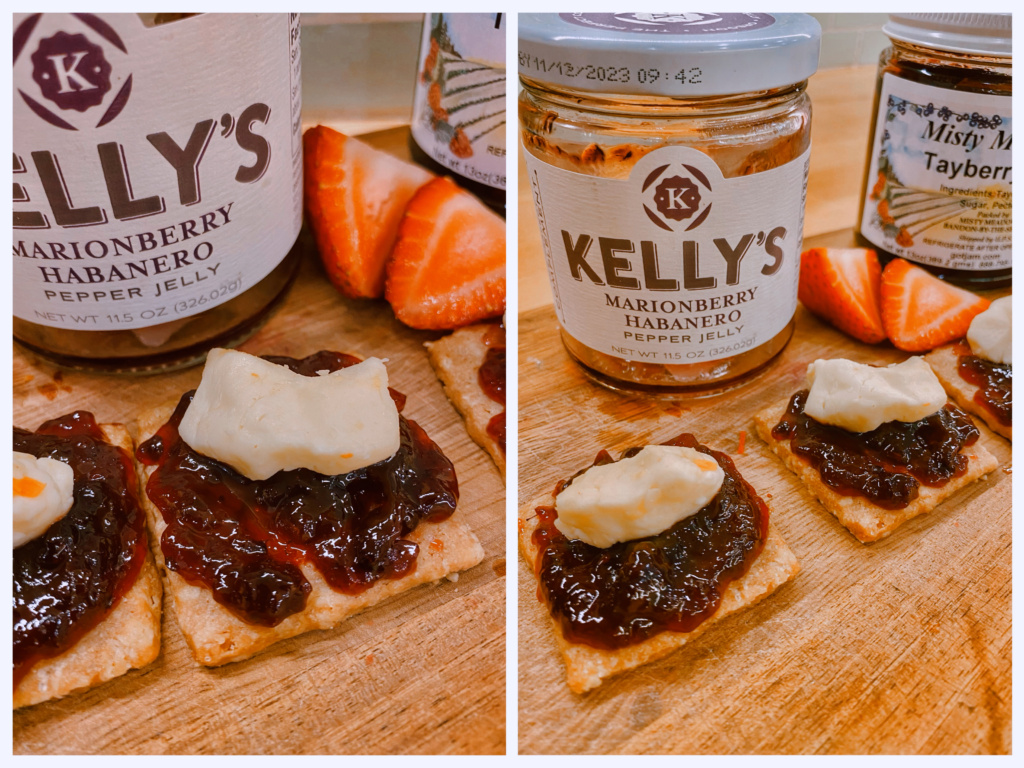 Opposite the gift shop on the ground floor is the restaurant and ice cream shop. The restaurant has a wide variety of options, each incorporating Tillamook cheese like Tillamook Cheese Burger or Tillamook fried cheese curds. The ice cream shop has dozens of options and we had the most difficult time deciding between all the delicious flavors! Finally we were settled for these two heavenly delicious flavors: Mountain Huckleberry and Salted Caramel! (Highly recommended!). This was the best ice cream on our entire Oregon coastal roadtrip!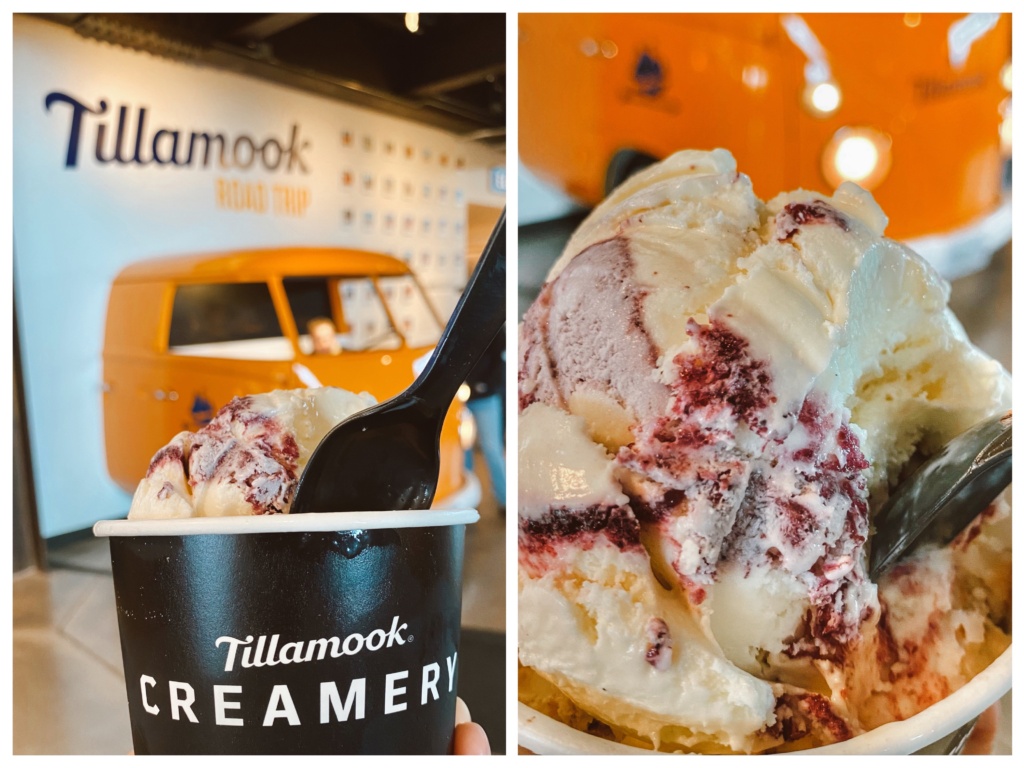 Day 3: Tillamook – Cape Kiwanda (25 mi – 34 mins)
Cape Kiwanda State Natural Area is located just under a mile north of Pacific City, about half way between Tillamook and Lincoln City on the Oregon Coast. Cape Kiwanda is one of three capes along the Three Capes Scenic Route, which also includes Cape Meares and Cape Lookout.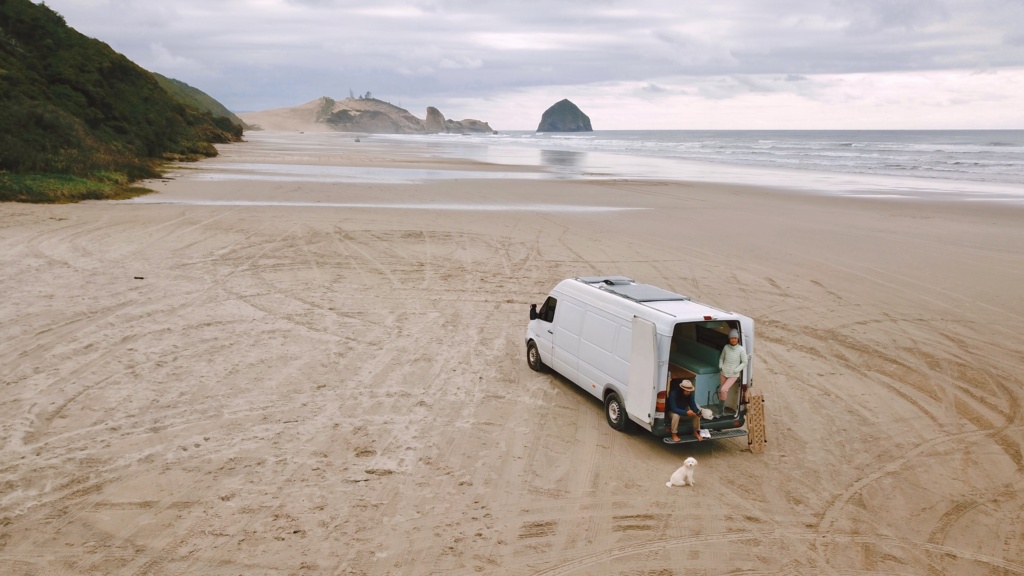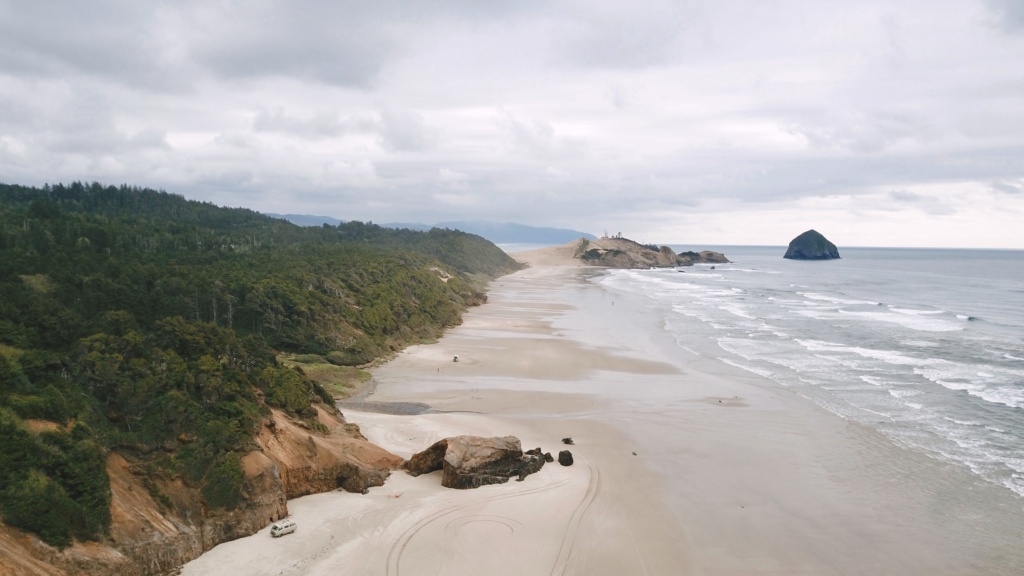 Unique sandstone formations meet sandy beaches – a total dream spot!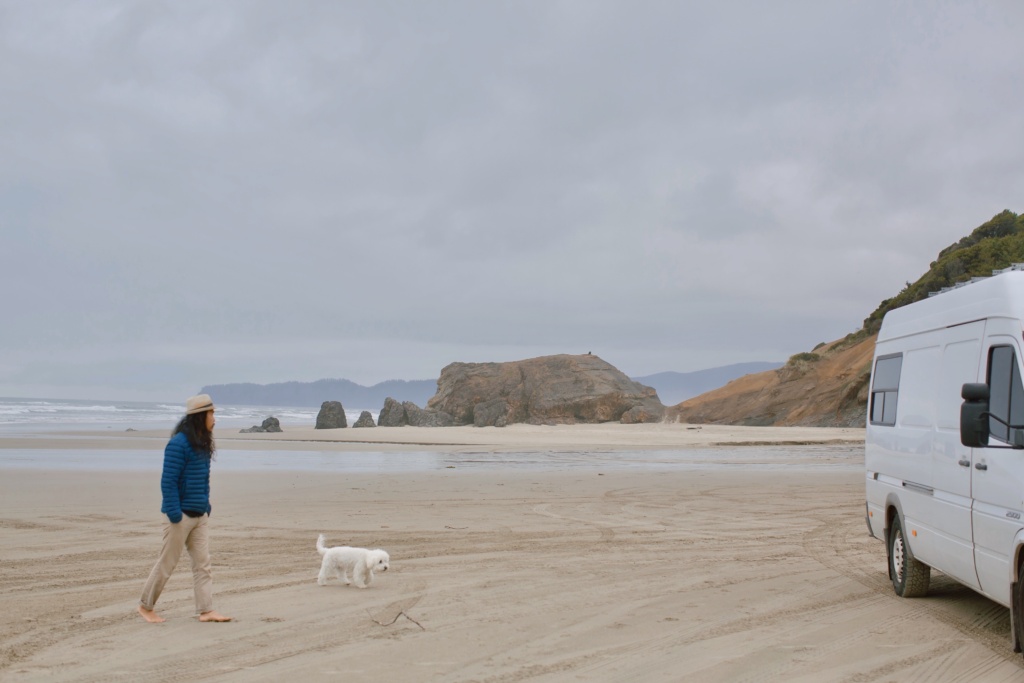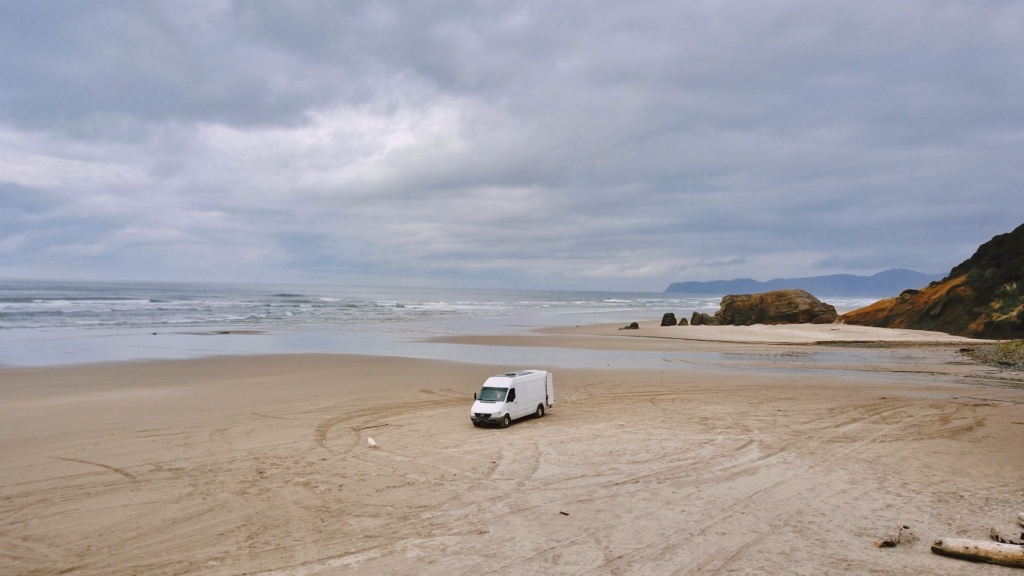 Here, you can take some good old fashioned long walks on the beach, or get a little more adventurous driving your van on the beach. If you are a vanlifer, this place is the photo spot for that dreamy shot "van on the beach"!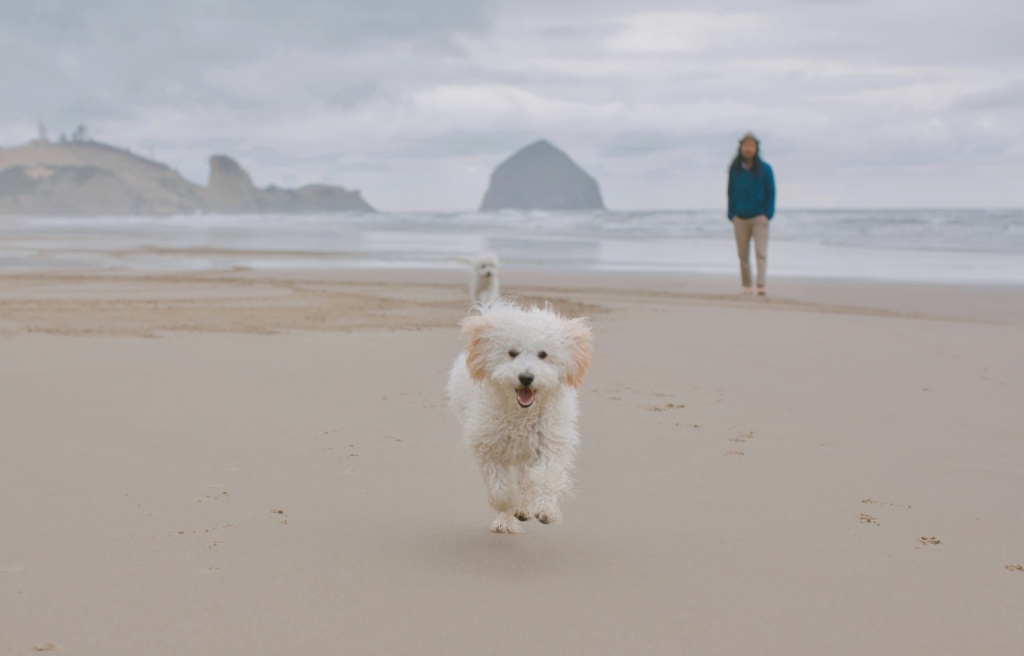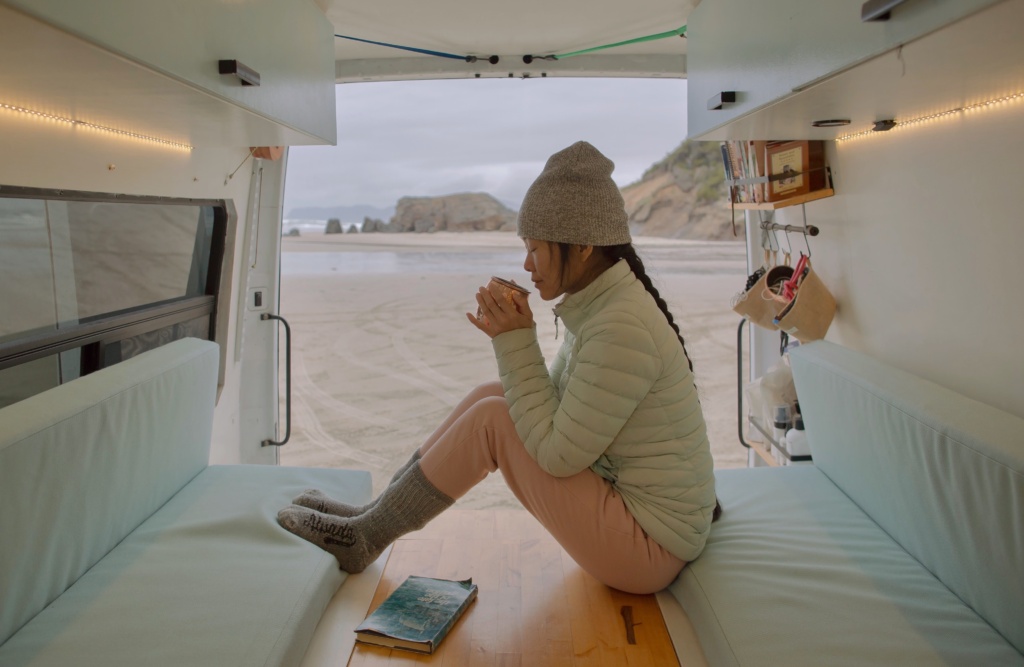 There are two places where you can access the beach by vehicle. There's an access point on the south side, right across the bridge on Pacific City Avenue, or the north side of Pacific next to Pelican Brewing Company.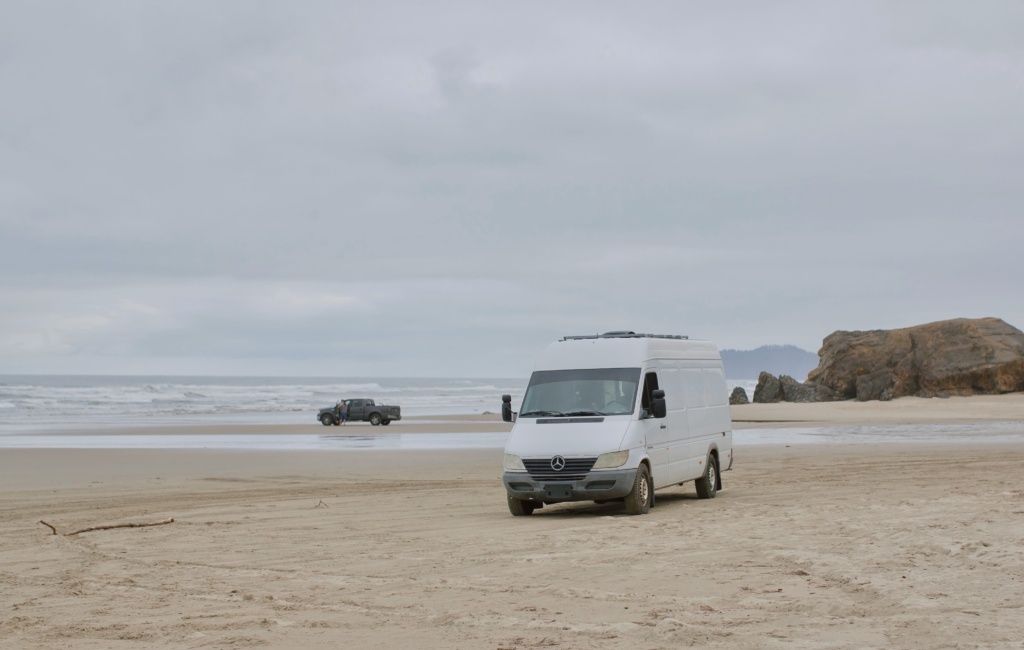 Here you will see another Haystack Rock. This one is 327 feet above sea level, the tallest of the three Oregon coastal Haystack Rocks. (The other two are at Cannon Beach and Bandon's Devil's Kitchen Wayside.)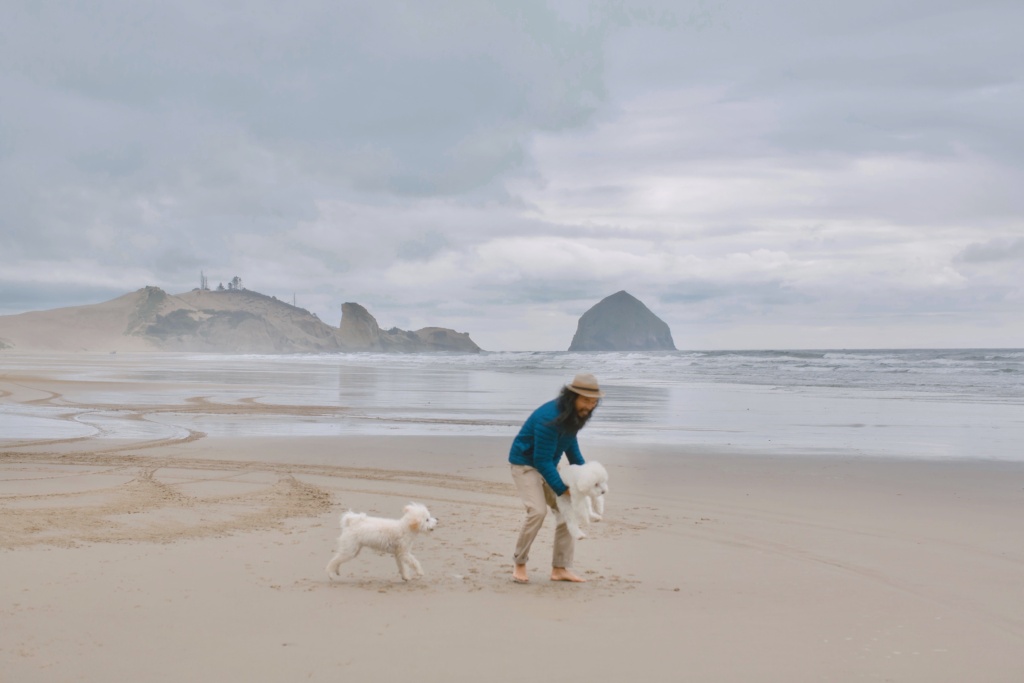 Day 4: Cape Kiwanda – Cape Perpetua (74 mi – 1 hour 35 mins)
Midway between Newport and Florence, Cape Perpetua is called the "Gem of the Oregon Coast" for a reason. It has everything the Oregon Coast is famous for craggy cliffs, spouts, coves, and tide pools full of life!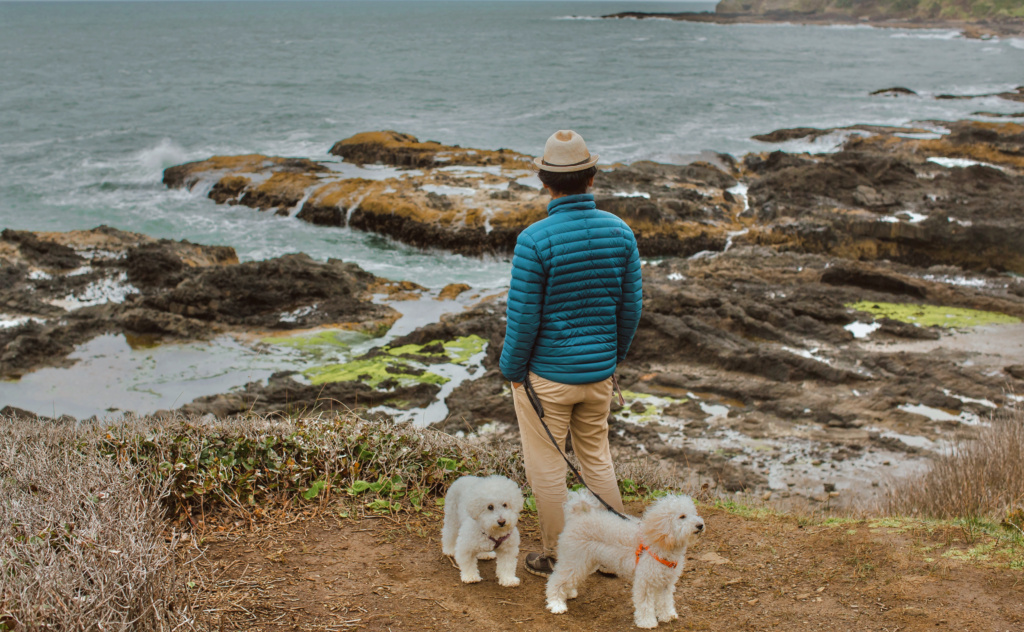 It's a popular stop to take on any Oregon Coast road trip to stretch your legs and take one of their many short trails. Many trails are just less than a mile to stunning landscape: coastal trails, spouting rock formations, and a collapsed coastal cave.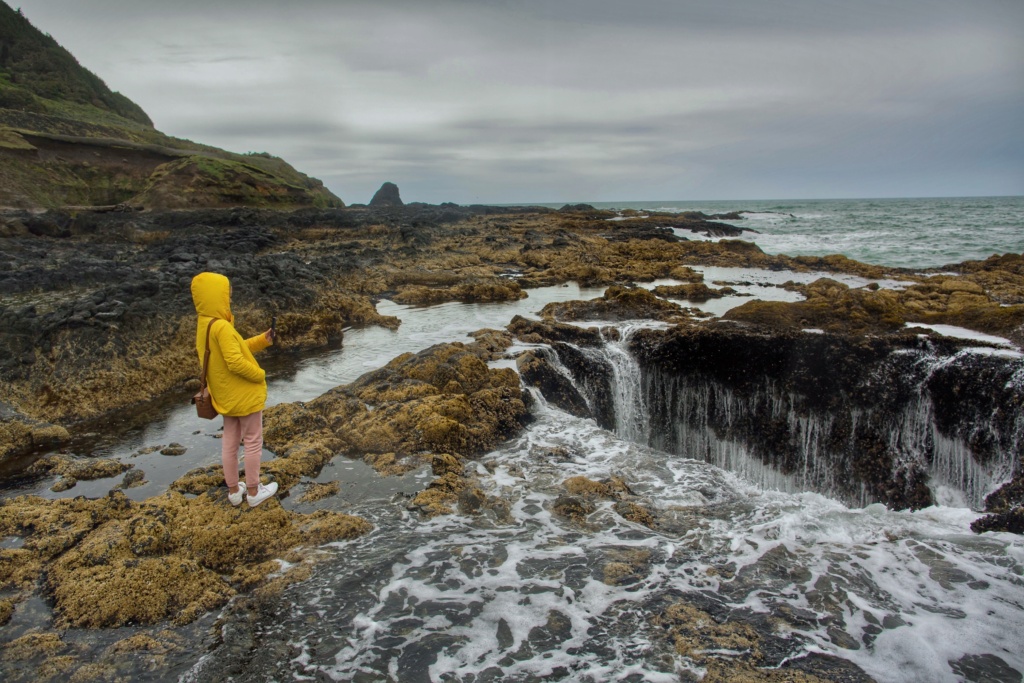 One of the highlights of our visit to Cape Perpetua is Thor's Wells. Thor's Well has become a highly-sought photographic spot for the deep sinkhole look. When conditions are right, this little hole in the rock can look like the drain of the Pacific Ocean!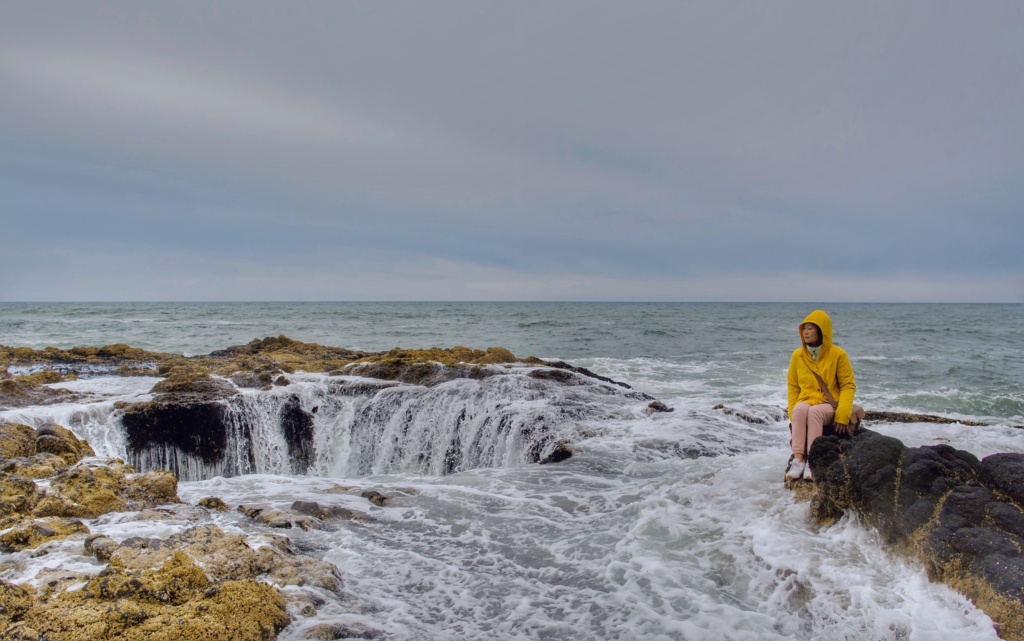 When the tide is high or the weather stormy, the waves of oncoming tides surge water under the bowl shaped hole filling it from underneath. After a few seconds the bowl overflows and sprays water over the surrounding rocks creating a very unique sight. It's almost like Thor's Well is draining the ocean and shooting it back out!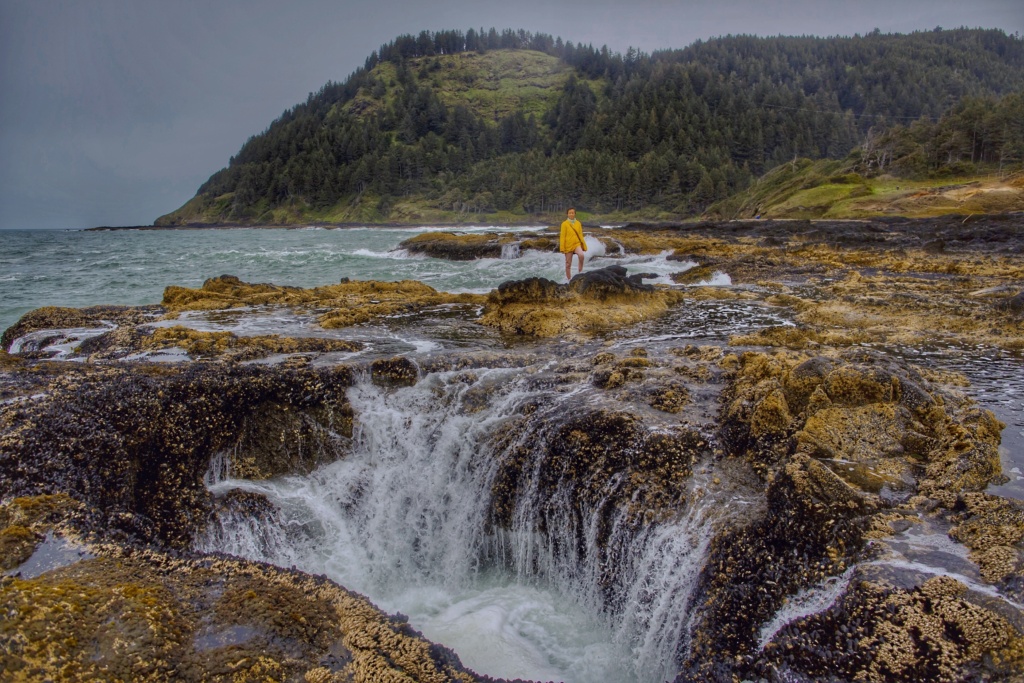 Your visit to this natural wonder will come with plenty of risk and plenty of reward. Carefully planning for your visit to photograph Thor's Well is essential to having a safe and successful outcome. I've put together this guide on Thor's Well, including the best time to visit and how to capture some amazing photos of nature at its best. Click here to read!
Day 5: Cape Perpetua – Florence (23 mi – 29 mins)
While there are numerous beautiful beach towns that line Oregon's coast, Florence may not be the most popular or touristy one but it is one of my absolute favorites.
Coming from Cape Perpetua to Florence, you should stop by to visit the Heceta Head Lighthouse.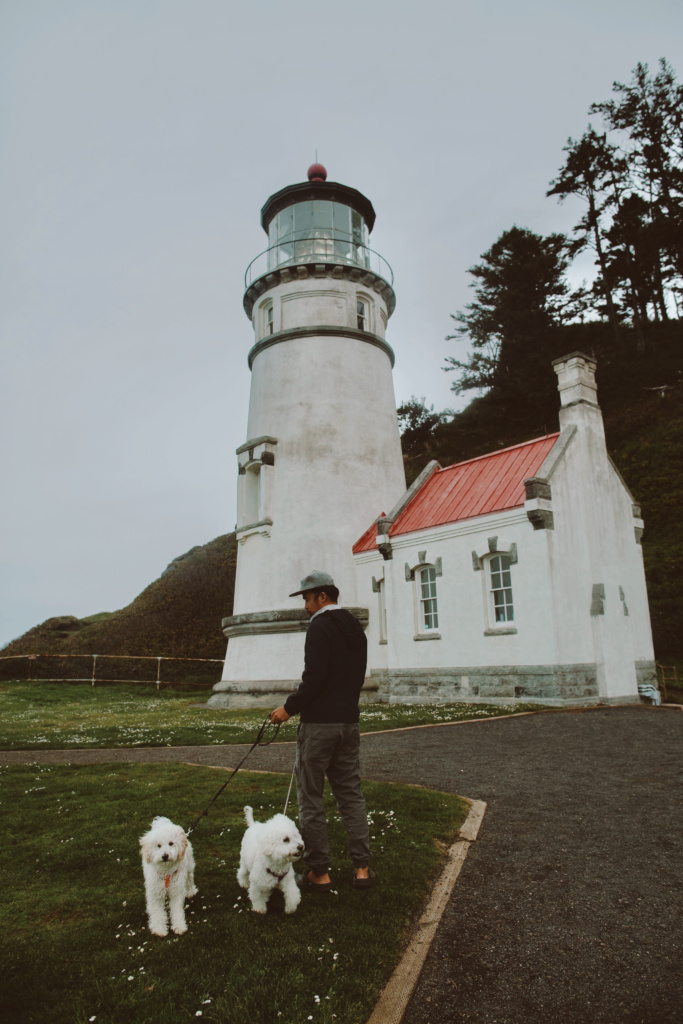 When it comes to beautiful lighthouses, you can't find many that are more beautiful than the Heceta Head Lighthouse on the coast of Oregon in the United States. There is a dedicated parking lot next to the beach and a hiking trail that will take you up to the lighthouse.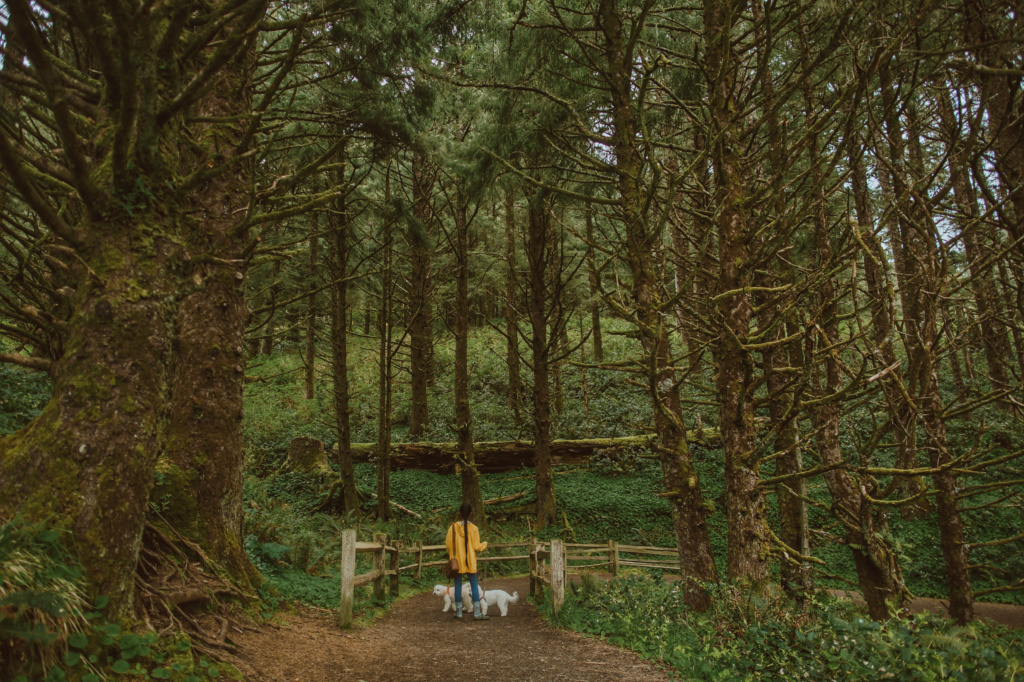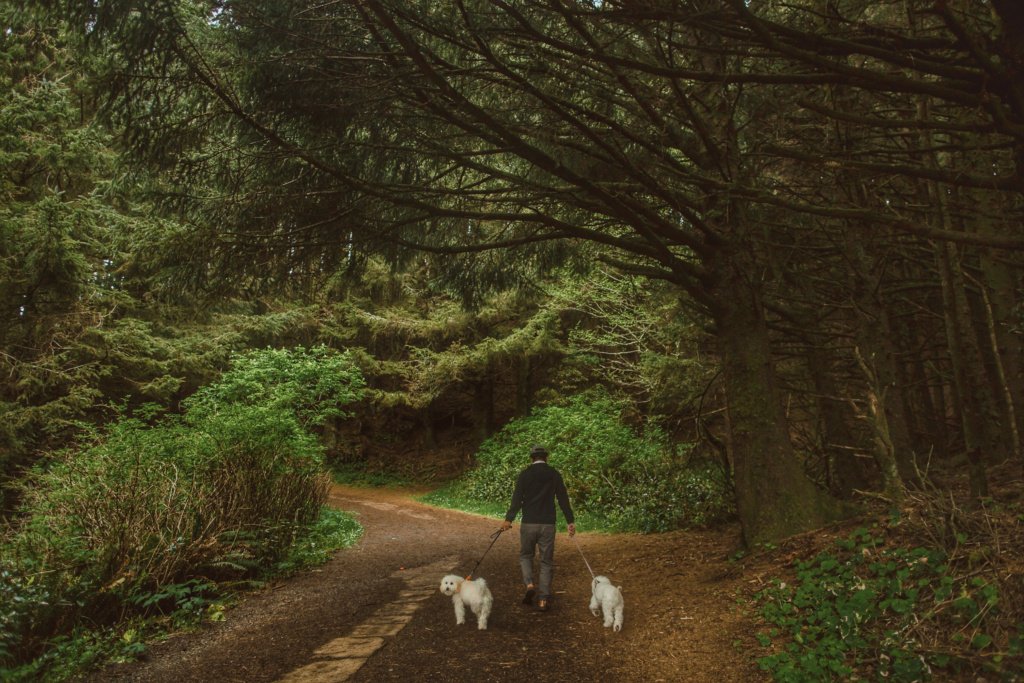 The former Lighthousekeeper´s home, now "Keeper´s House" is perched on the cliffs of Heceta Head State Park, overlooking the Pacific Ocean and the sandy Cape Cove below.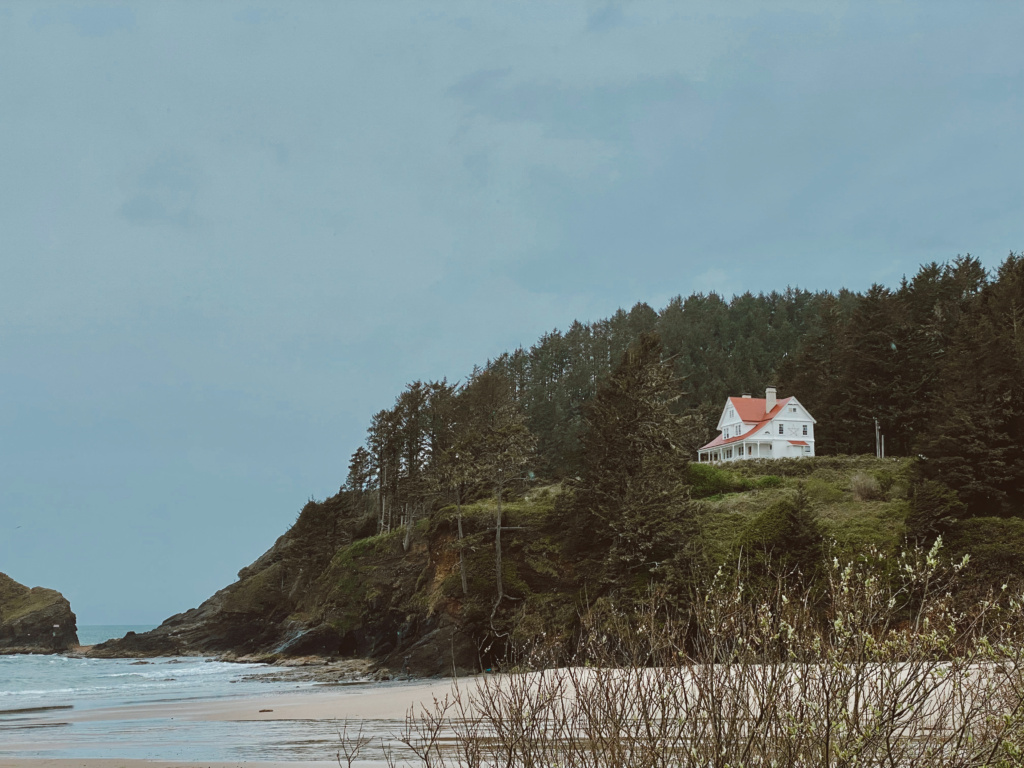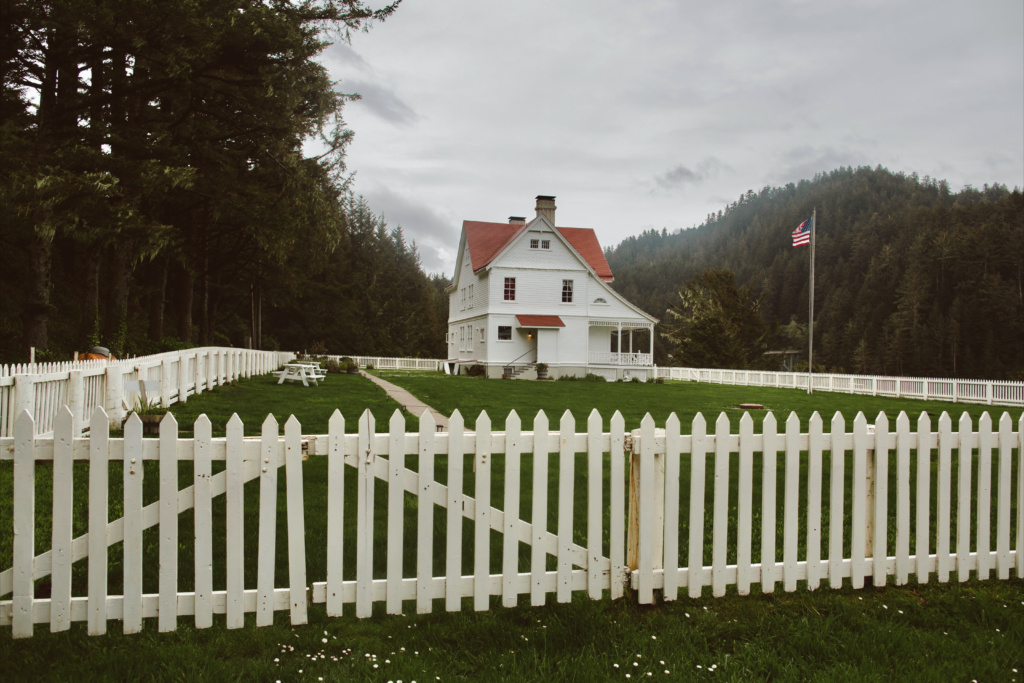 The lighthouse itself rises 205 feet / 62 metres high above the ocean and its light is still shining along the Oregon Coast today. It's said to be the brightest light on the entire Oregon Coast and considered one of the most beautiful lighthouses in the US. It is especially pretty at sunset or when large waves are crashing against the rocky shore.
The charming Old Town district in downtown Florence, Oregon is tucked away under the bridge and nestled along the Siuslaw River. The district is lined with a handful of quaint shops, restaurants, art galleries and coffee shops.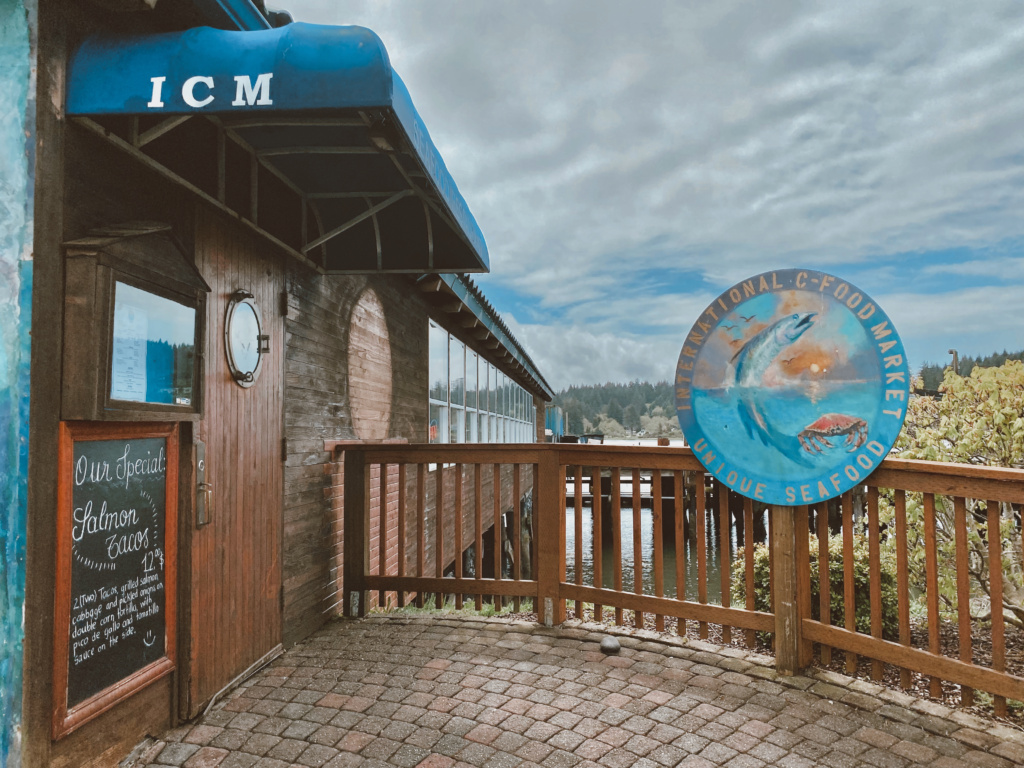 One of the best ways to explore the Old Town is with an ice cream cone in hand – and BJ's Ice Cream Parlor is the perfect place to pick up your sweet treat. Boasting dozens of handmade flavors, BJ's has been in business in Oregon for five generations.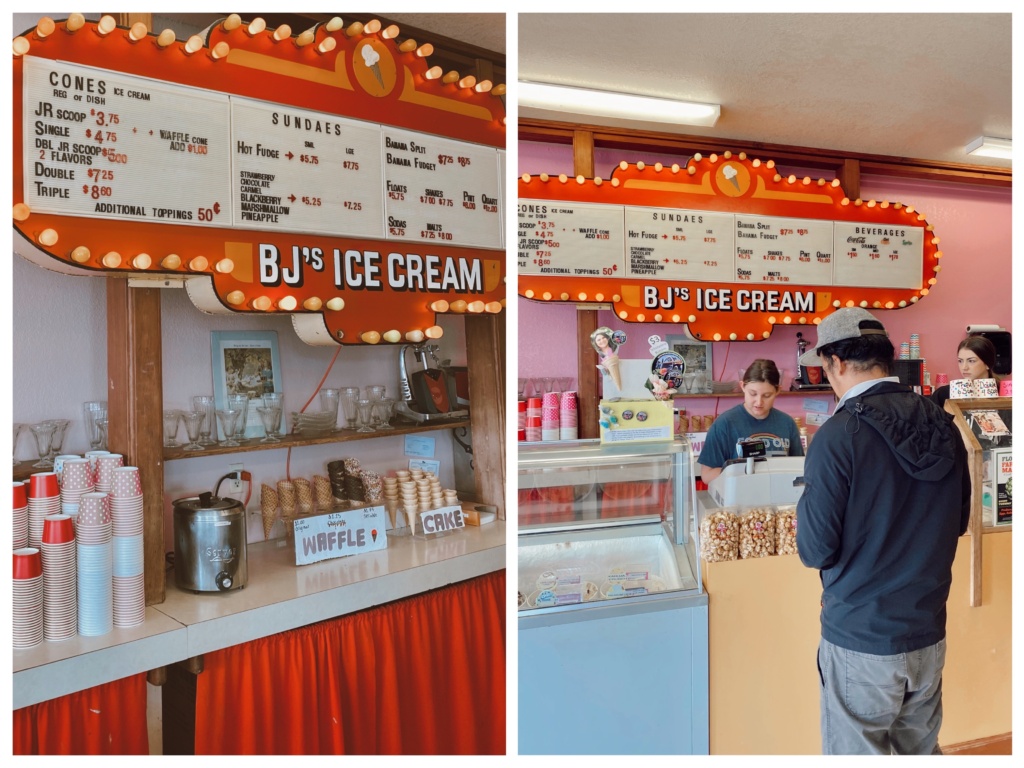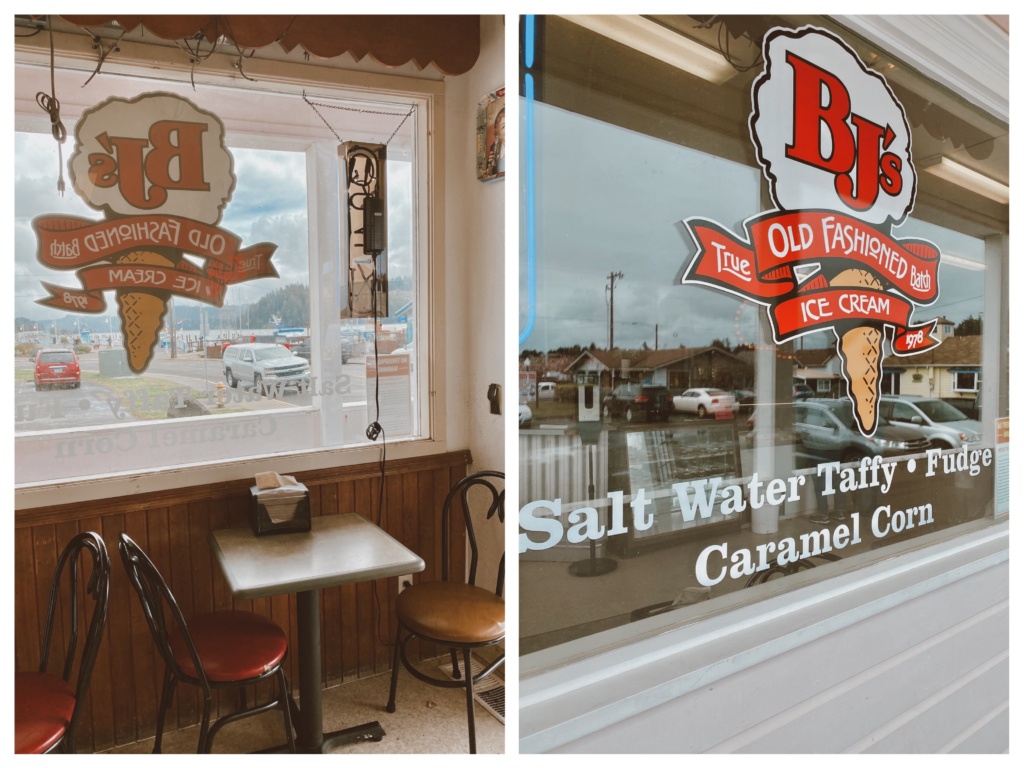 This place is a classic and very much a local favorite. I went with their pistachio and salted caramel ice cream and it was delicious!
When it comes to seafood restaurants in Florence, there is plenty of choice. Mo's and International C-Food Market are two prominent restaurants at the end of Bay Street.
However, for the absolute best seafood in Florence we recommend getting a bowl of award-winning crab chowder from the family-owned Novelli's on the dock. At the floating crab shack, they only sell what they catch, so you should get there early!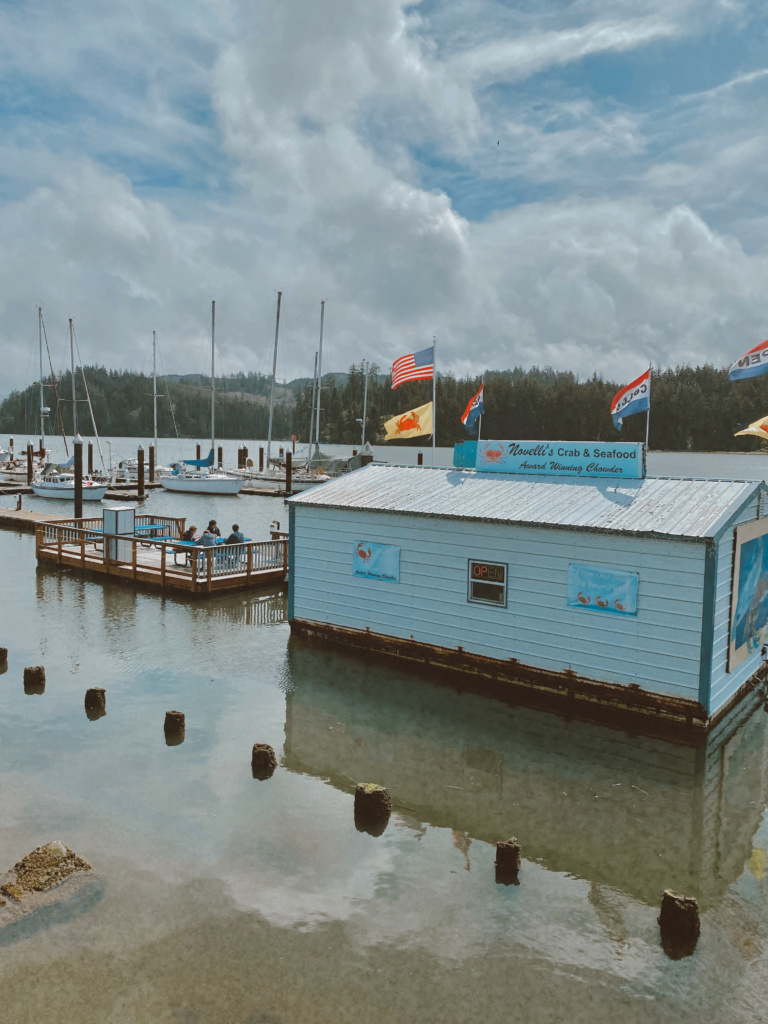 Walk down onto the docks and pull up a seat at the floating outdoor counter then dig into "boat-to-bowl" crab chowder. The owners catch all their own crab, selling it live or cooked right there on the docks, and serving up crab cocktail too.
And now this is a piece of information that my fellow vanlifers will be very interested! Right at the heart of Florence you can find a place to do your laundry while taking a long hot shower at 37th Street Coin Laundry. Their bathroom is very clean and spacious. For $4 you get a super hot 8-min long shower, plus they will provide you with towels and shampoos/conditioners. Florence is a perfect stop for vanlifers to refresh, organize your van, do some laundry while taking in the historic charm of an old coastal town.
Day 6: Florence – Bandon (73 mi – 1 hour 28 mins)
Unlike other popular towns along the Oregon coast, Bandon does not have a built-up waterfront area. Our first stop on our tour of Bandon was at Face Rock Creamery to grab some ice cream. Inside, they have a lot more than ice cream. There are cheeses, jams, soaps and many more local treats. The place is a working factory, so you can watch the workers sorting through cheese through large glass windows.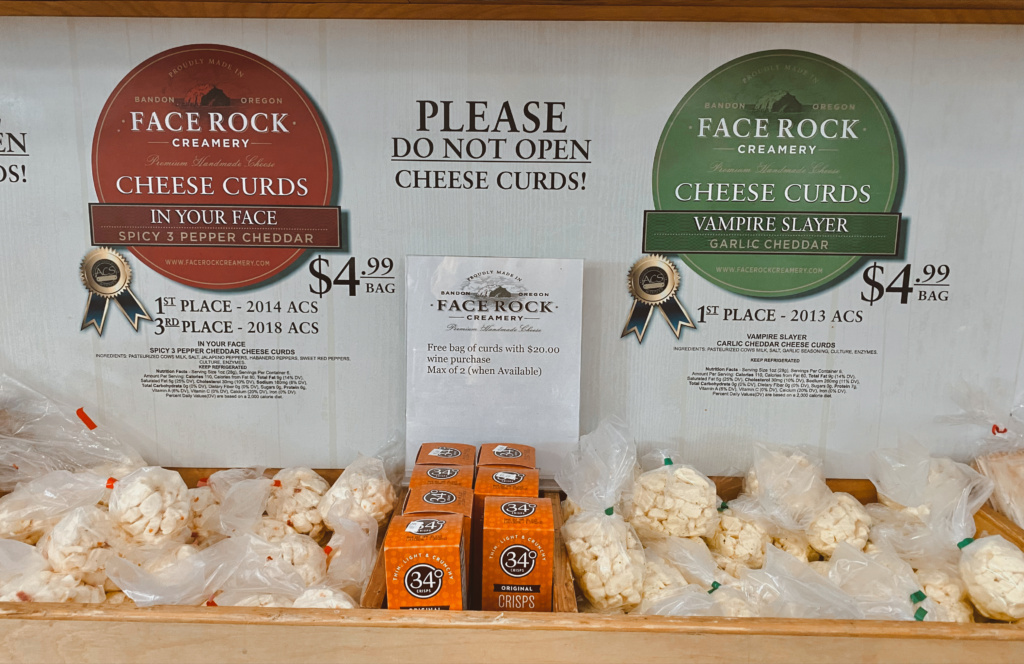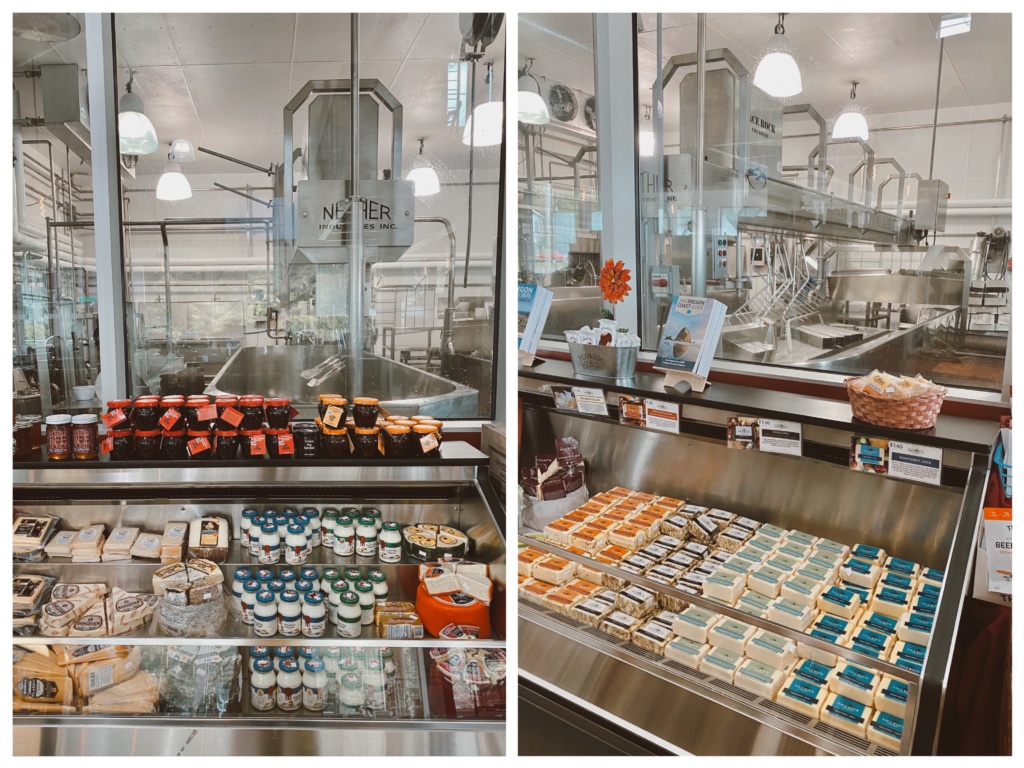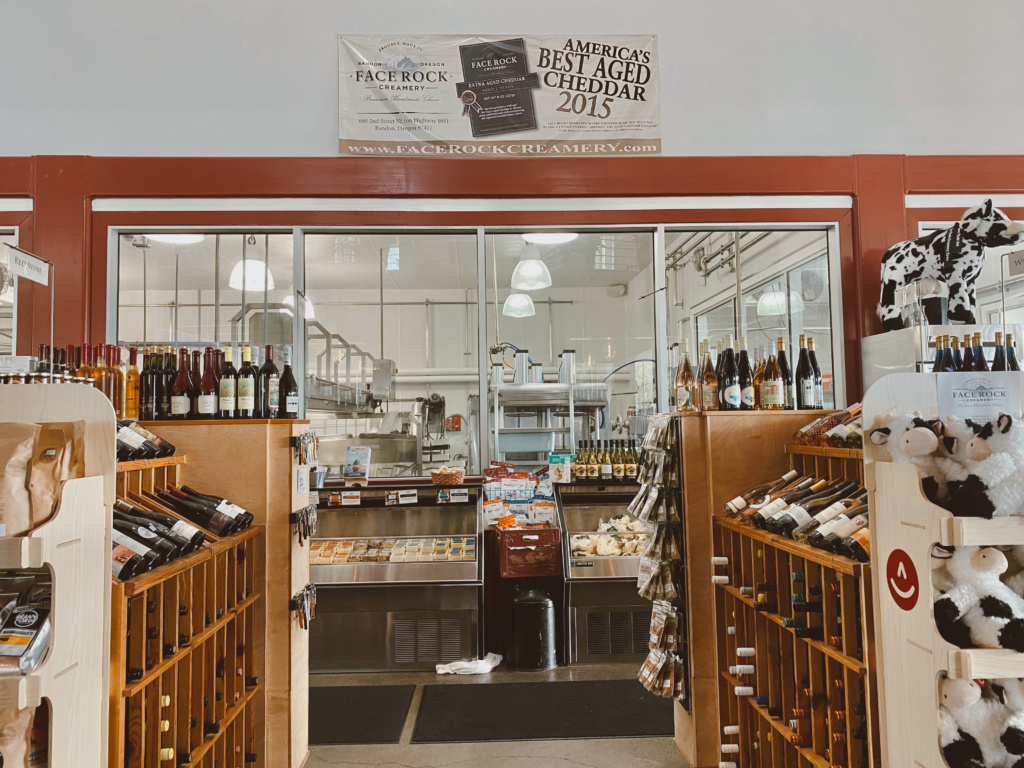 One of my favorite parts about visiting small coastal towns like Bandon is the chance to enjoy a delicious seafood meal. It's less expensive than what we find in California, and it's a lot more fresh. One of the most popular spots here is Tony's Crab Shack and Fish & Chips Chowder House. They're located on the north end of Old Town, right along the Coquille River.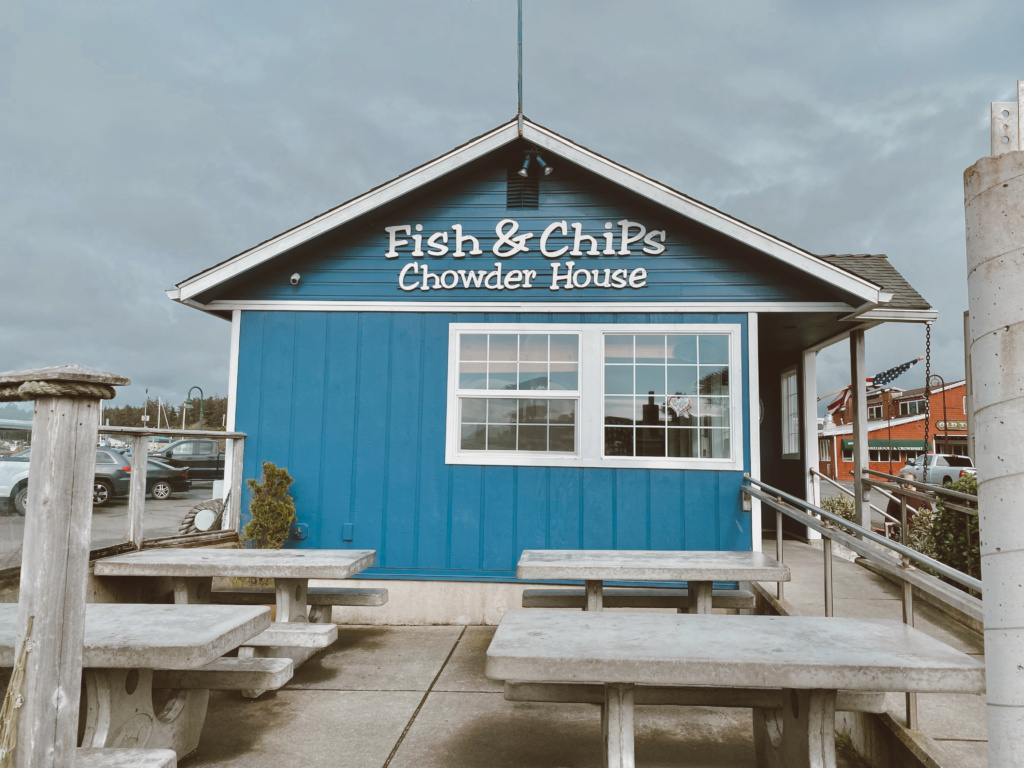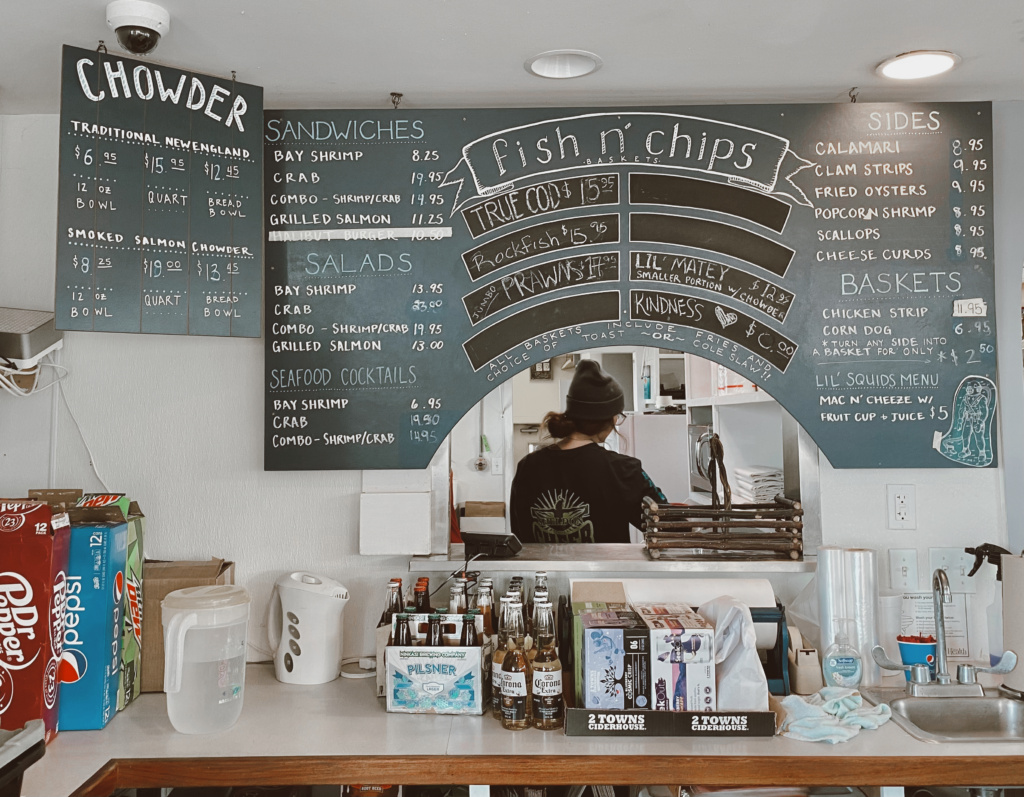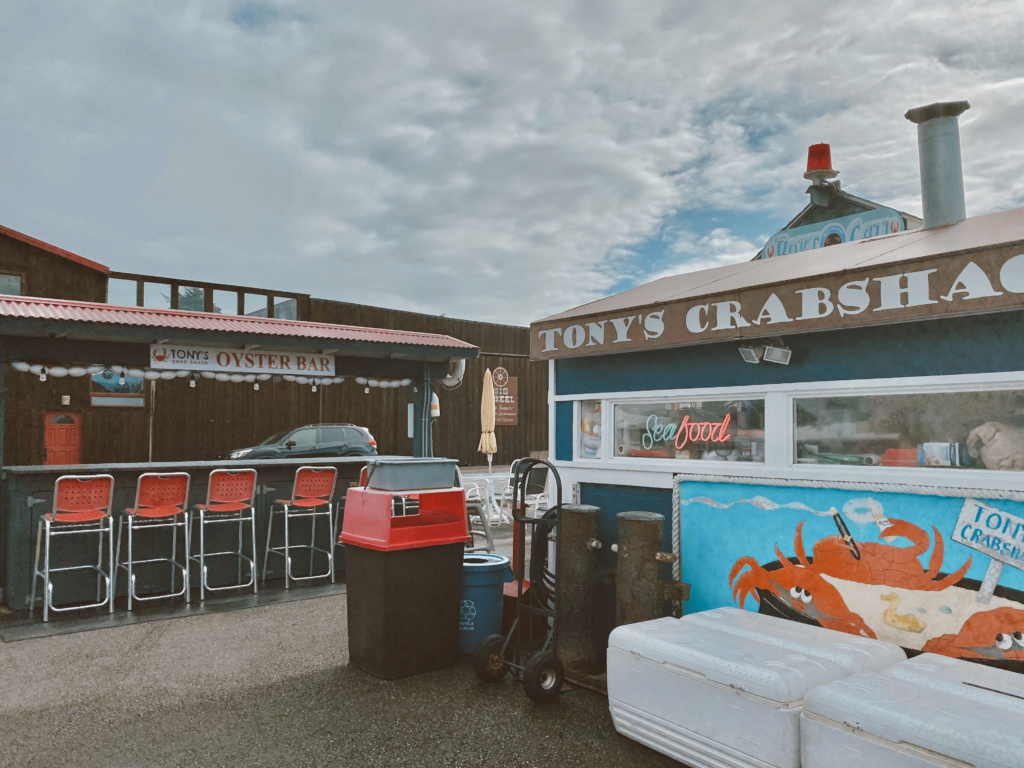 We visited Face Rock State Scenic Viewpoint & Beach in the afternoon and it was gorgeous. This is one of those places where you drive up and it takes your breath away.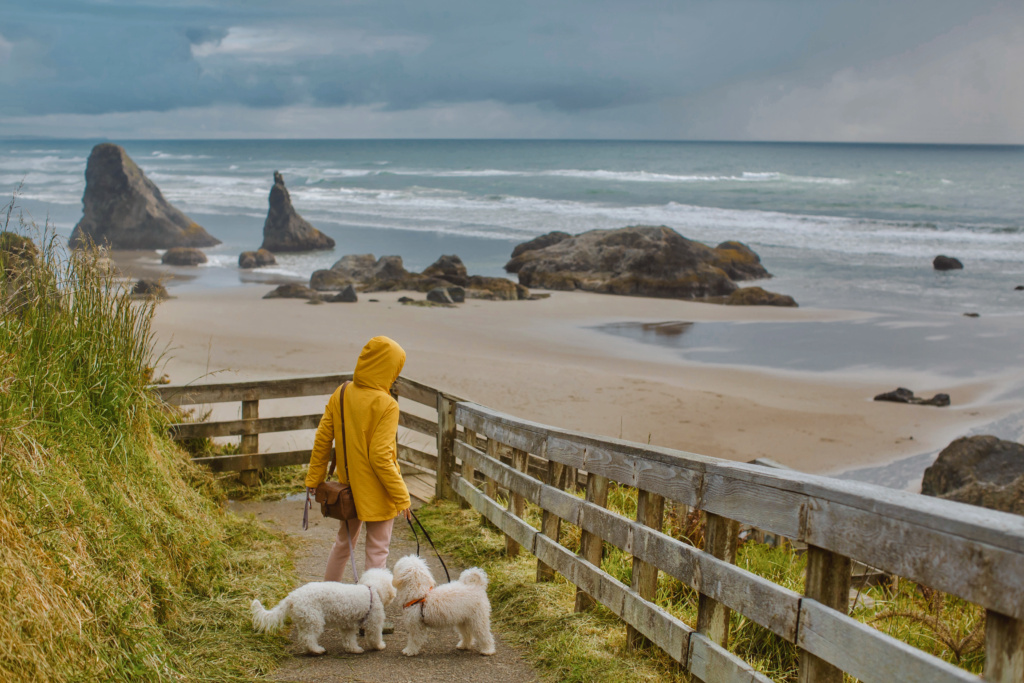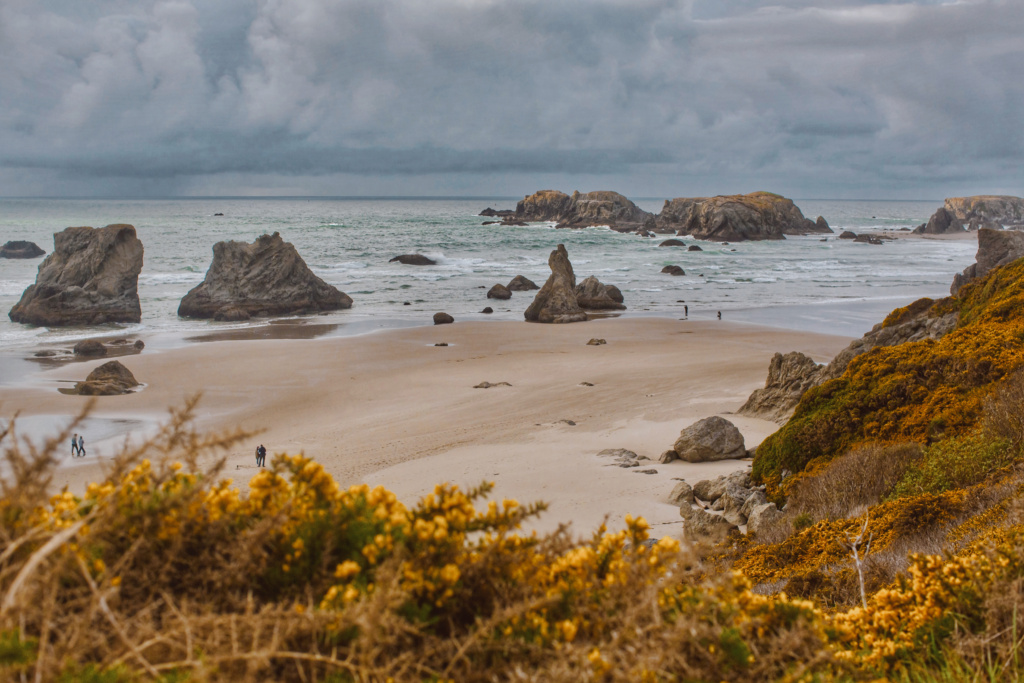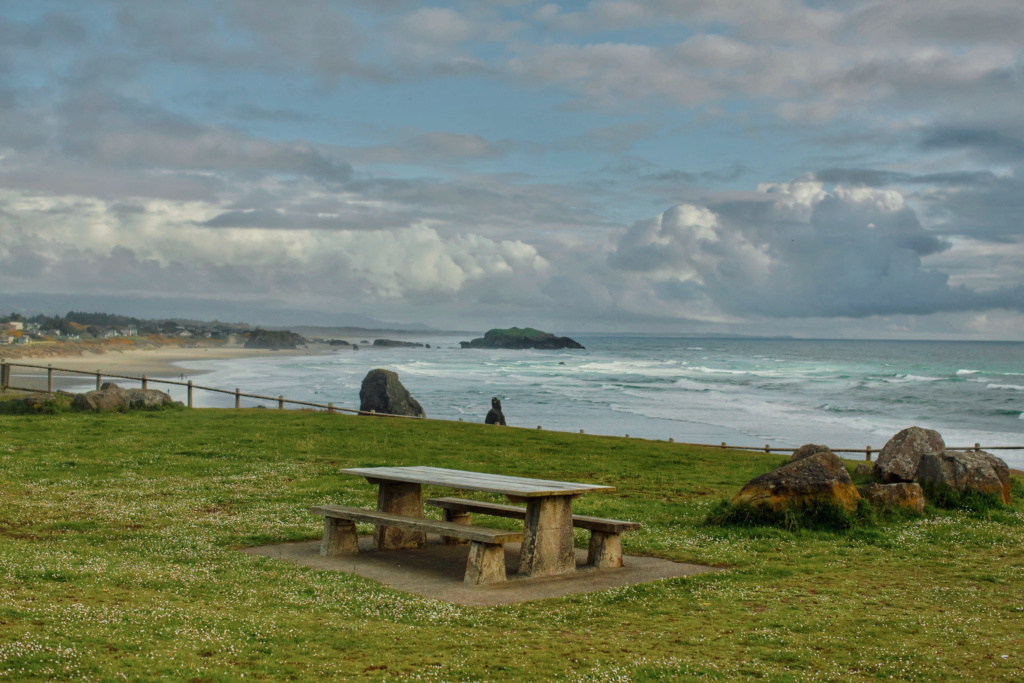 Bandon has been blessed with a surplus of sea stacks. These isolated rock towers take on a variety of shapes and sizes. Though none are as formidable as Haystack Rock off of Cannon Beach, the collection found here creates an equally grand impression. Some are tall and slender, some are triangles, and others are gigantic domes with small sea caves and rooms inside.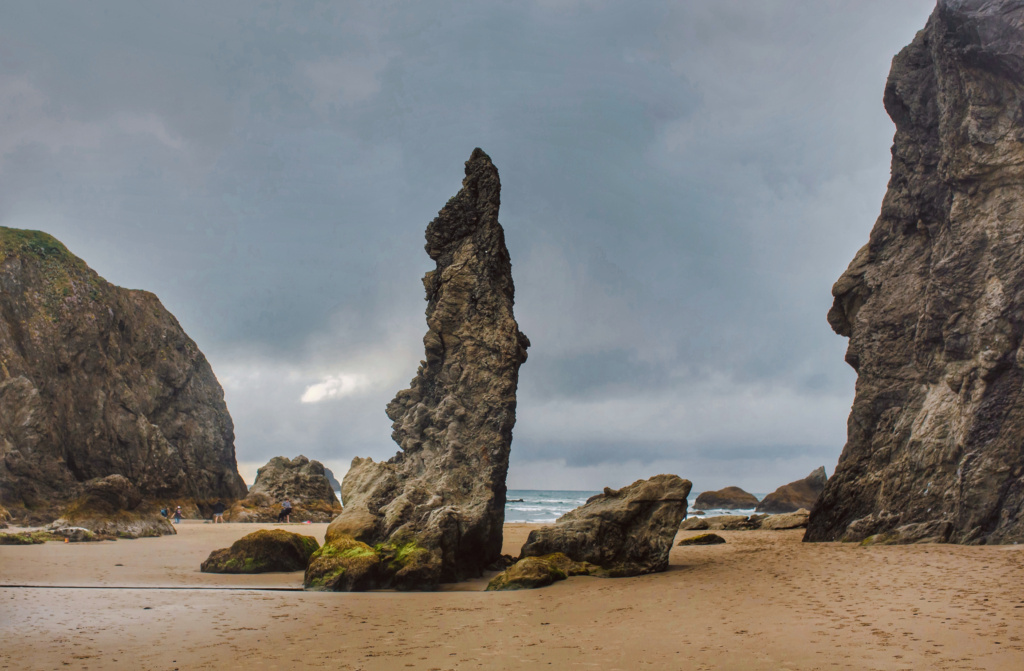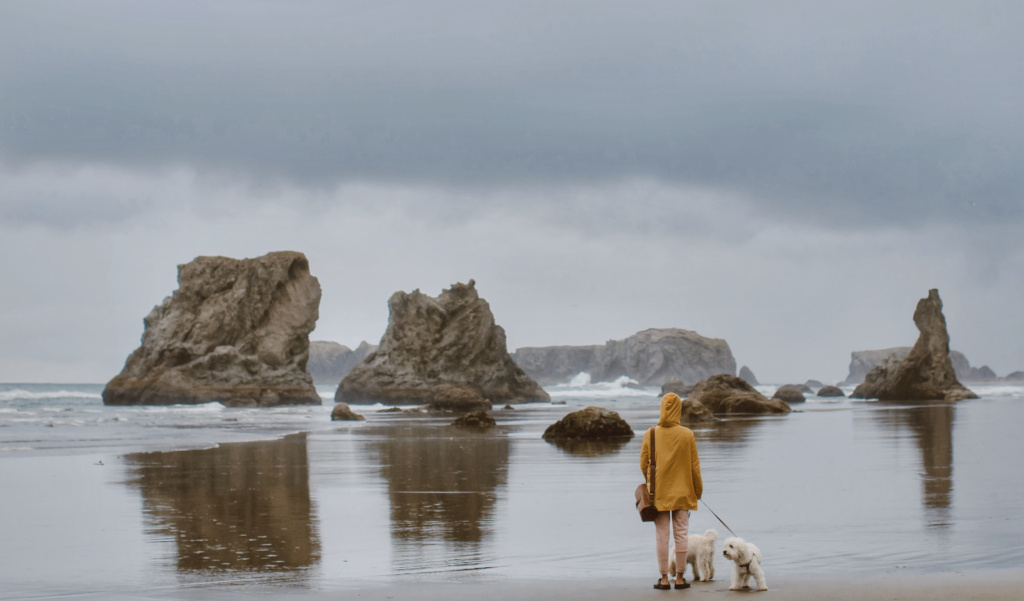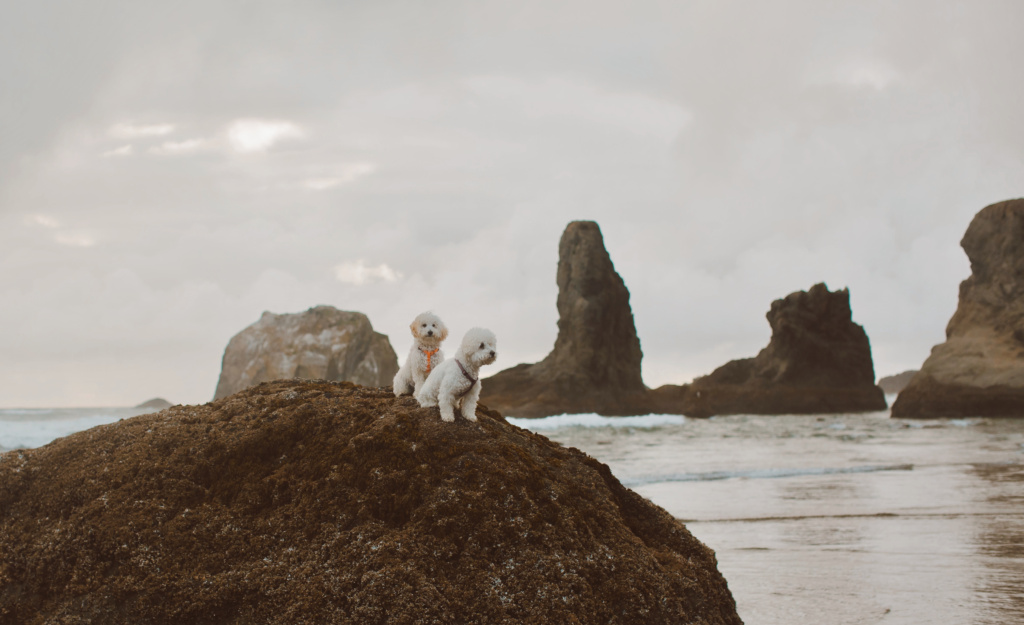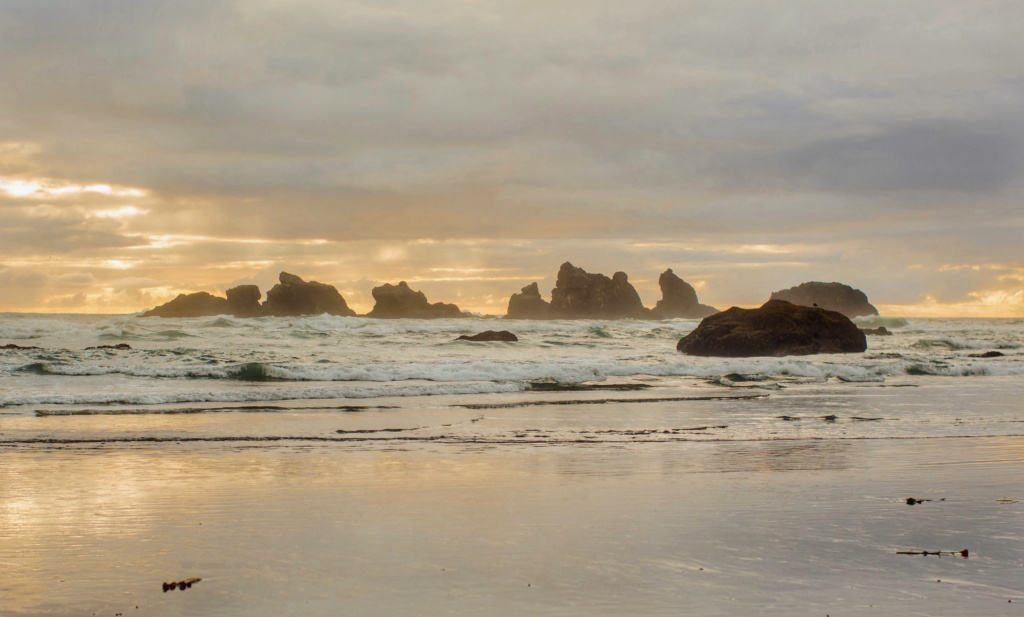 If your dream is riding a horse along the ocean at sunset, Bandon Beach is the place to make your dream come true. The Bandon Beach Riding Stables has been in business since 1979. The family owned and operated business offers amazing riding experiences entirely on the beach; the horse ride features tide pools, creek crossings, beautiful rocks and caves, and of course views of the Pacific Ocean. The beach is not a terribly crowded one, and at times, riders feel they are the only ones there.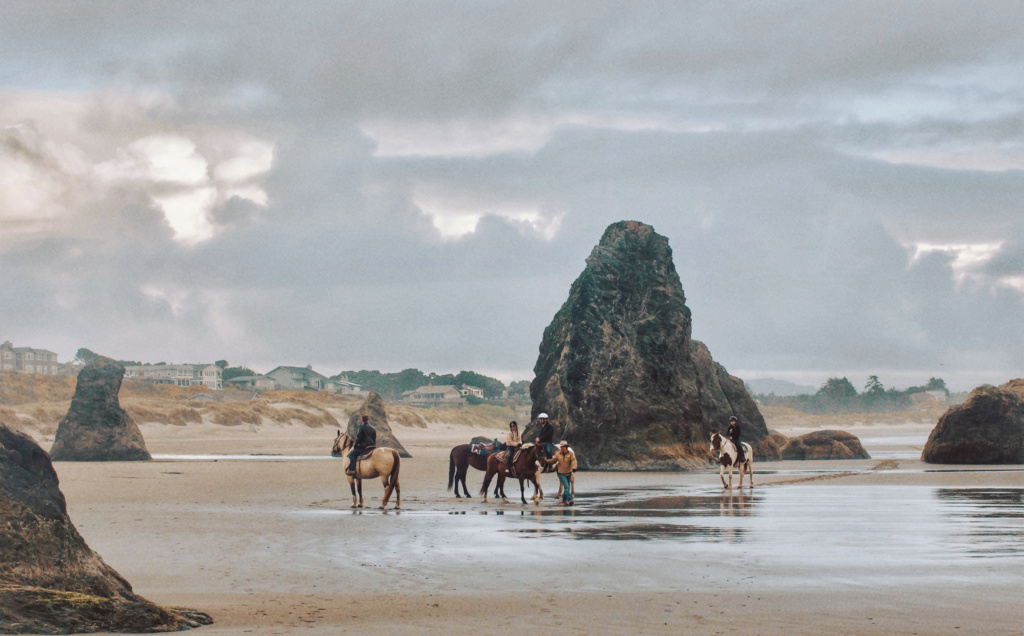 Day 7: Bandon – Brookings (83 mi – 1 hour 35 mins)
Samuel H. Boardman is like a spectacular condensed version of the entire Oregon coast, meaning it's got a little bit of everything: gorgeous sea stacks, and stunning viewpoints. The corridor stretches 12 miles along the coast and the area is full of huge Sitka spruce trees, rugged coastline, and small sandy beaches.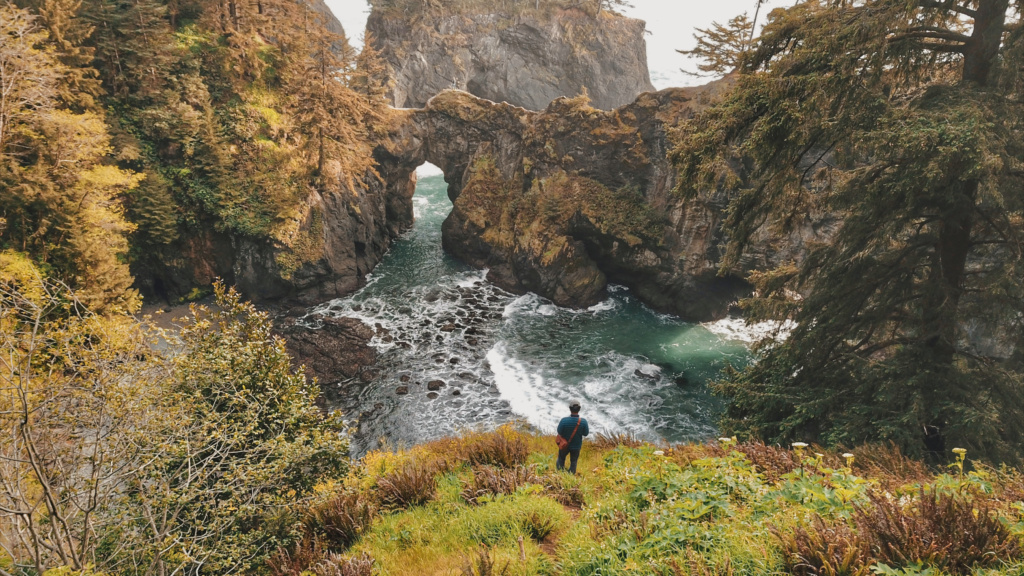 Most of the hikes here are short and easy. The parking lot usually takes you directly to the viewpoint platform.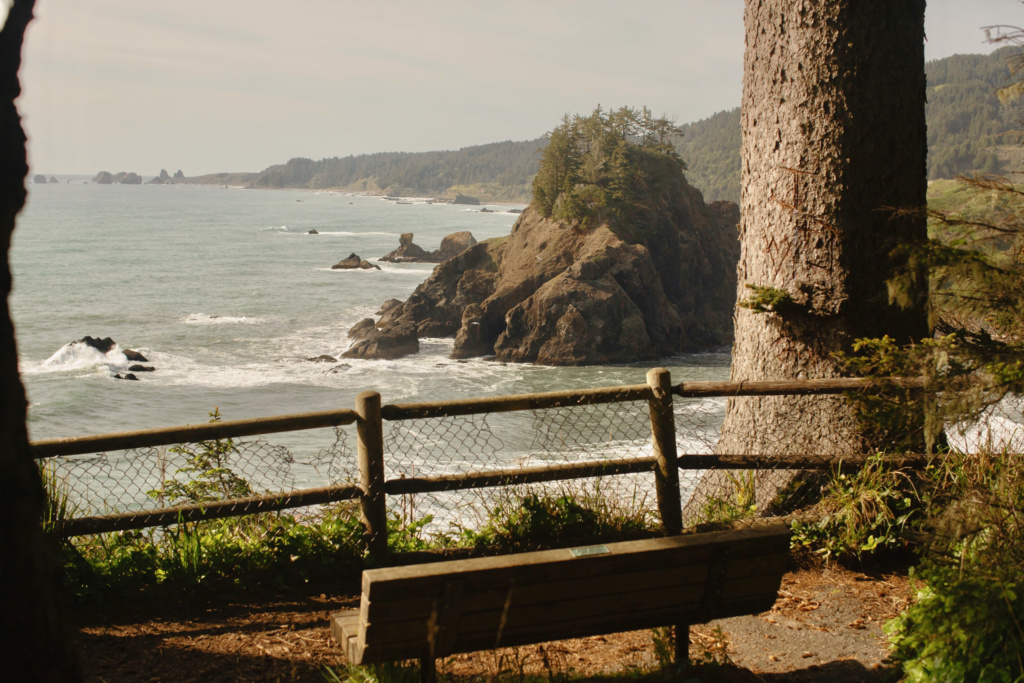 However, the path to the famous spot that is all over Instagram is a bit more secretive. The hike to this spot is steep, tricky, and many hikers consider it as dangerous. Here are the step-by-step directions to get this famous IG spot.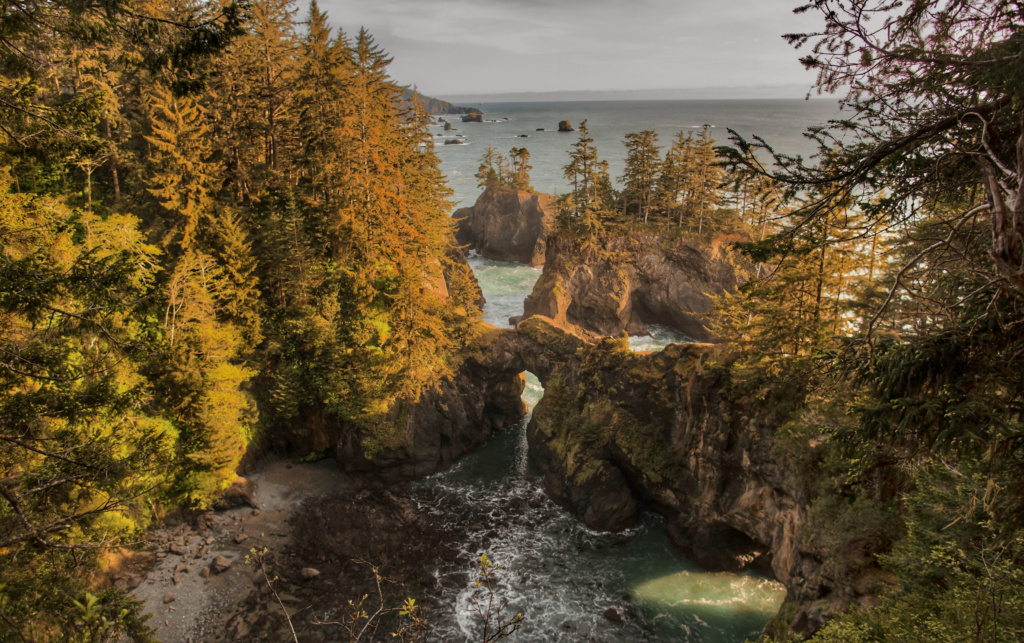 From the car park is the paved walkway to the viewing platform on your left as you face the ocean. Instead what you need to do is go to the right hand side of the car park. Here you will find a small dirt path through the undergrowth and trees and this is what you need to follow.
Take the LEFT at the first fork.
Take the LEFT at the second fork
Hike down the super steep and scary-looking dirt road on your LEFT.
Once you get down to the edge, you'd get a good view of the bridges and the cove, but you'd need to keep hiking down.
Follow the same steep trail as it will lead you to the top of the arched bridge. Just head LEFT and pick a safe path to get down to the top of the arched bridge.
Hike back the same way that you get down.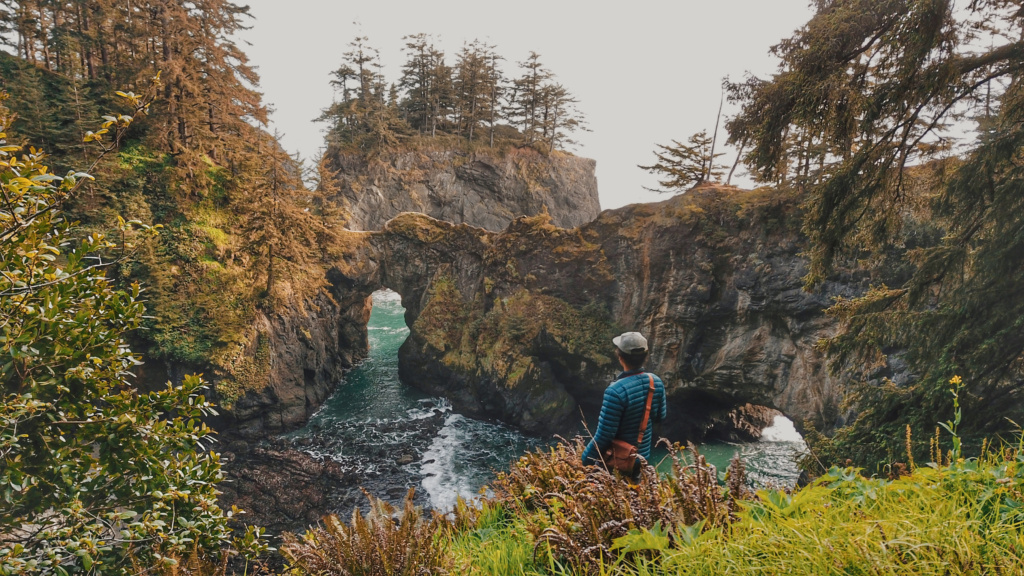 The best time of day to visit the Samuel H Boardman Natural Bridges for the best photography is at sunrise or sunset when the sun rays beam through the arches.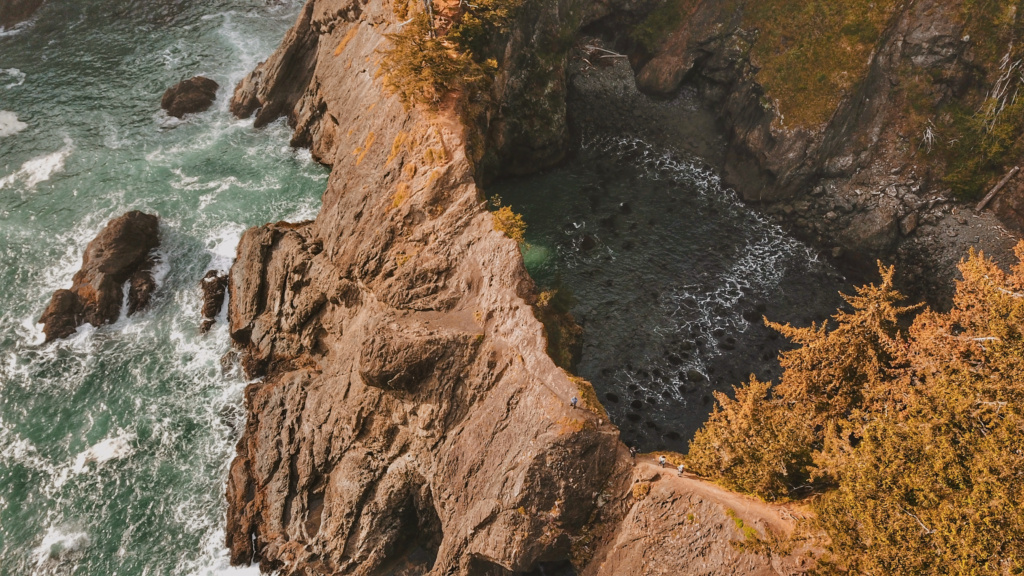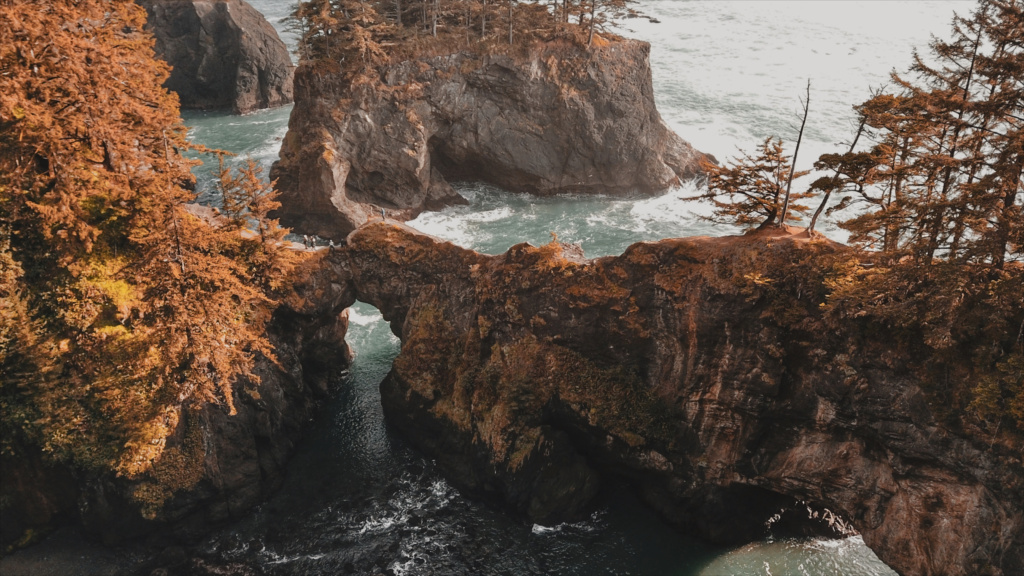 Our second favorite stop at Samuel H. Boardman is the Arch Rock. Arch Rock is the first stop you will recognize after entering Samuel H. Boardman Scenic Corridor (when driving from North to South). From the parking lot it's only a 5 minutes walk before you reach the viewpoint where a huge sea stack with a hole in its middle opens up right in front of you.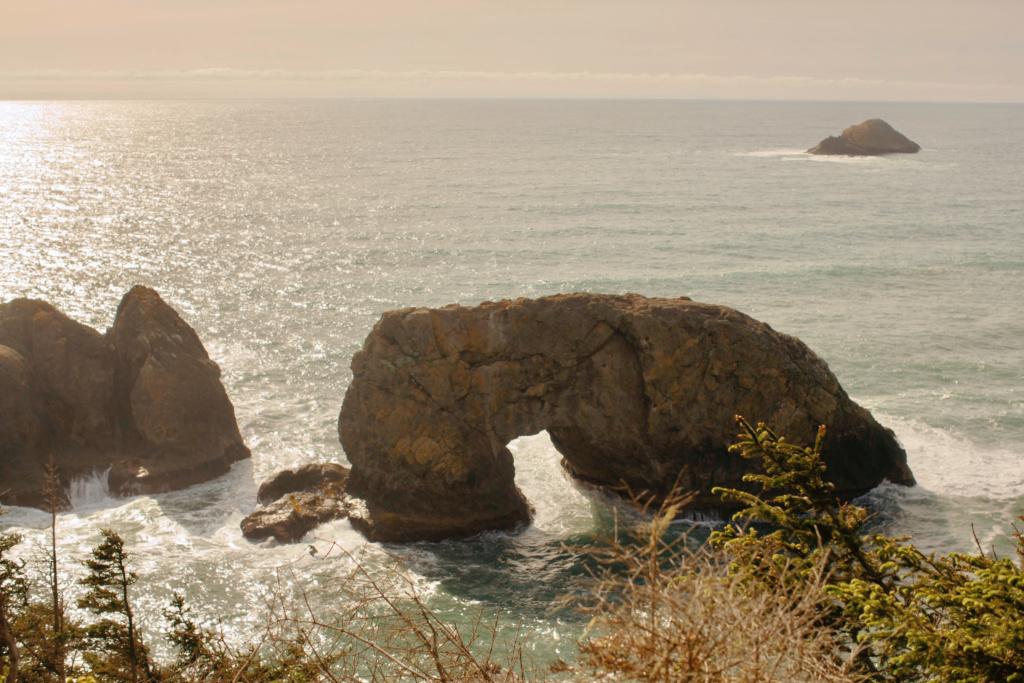 This easy 0.2-mile loop trail, with plenty of picnic tables for you to hang out at and enjoy the scenery is an excellent trail option for families, because it's very short, with a very huge payoff!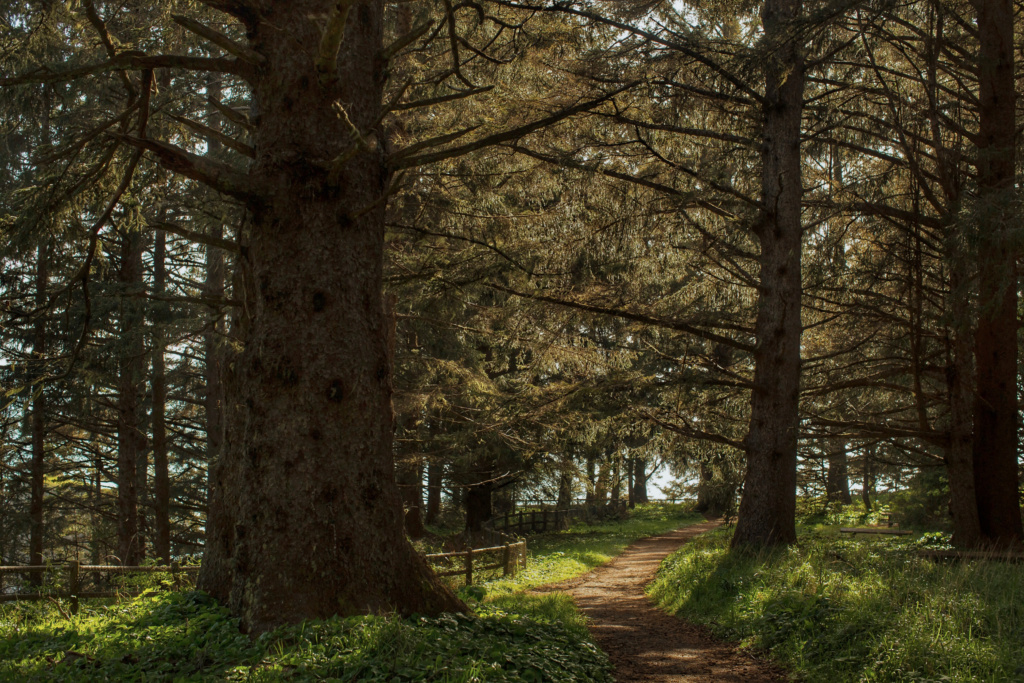 And for our fellow vanlifers, the parking lot at the Arch Rock trail is the spot if you want to open the back door of your van to the beautiful view of the ocean and haystack rocks.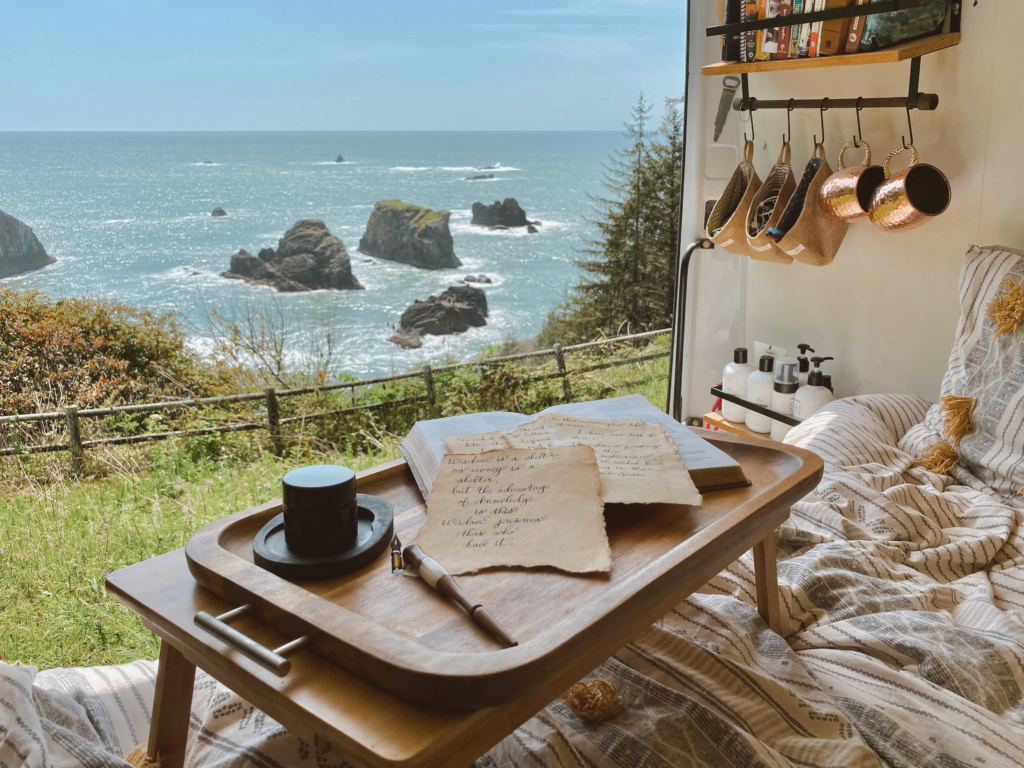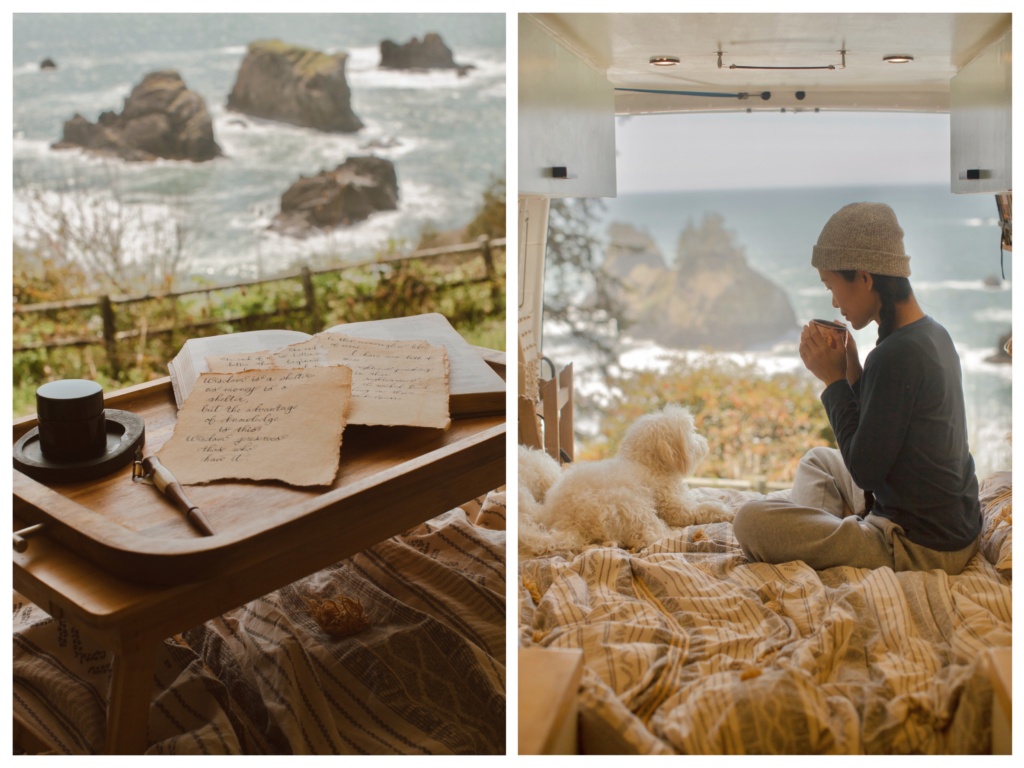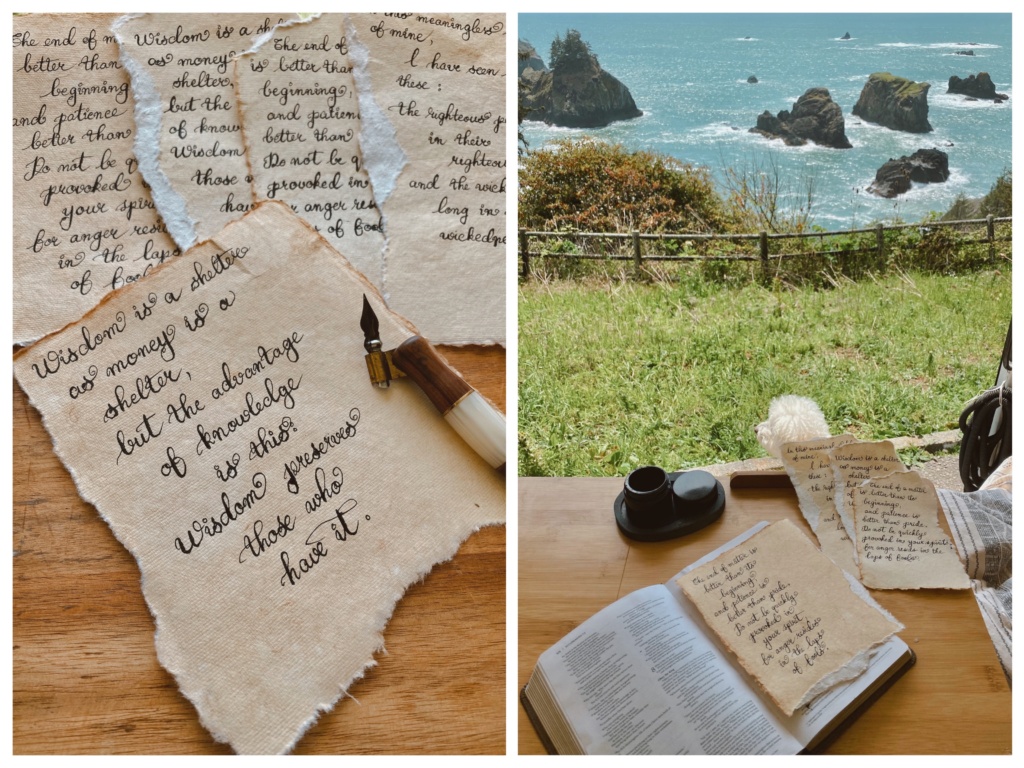 Only 14 mins from Samuel H. Boardman is the lovely coastal town of Brookings. Umpqua ice cream and seafood at the Brookings Harbor are musts when in Brookings.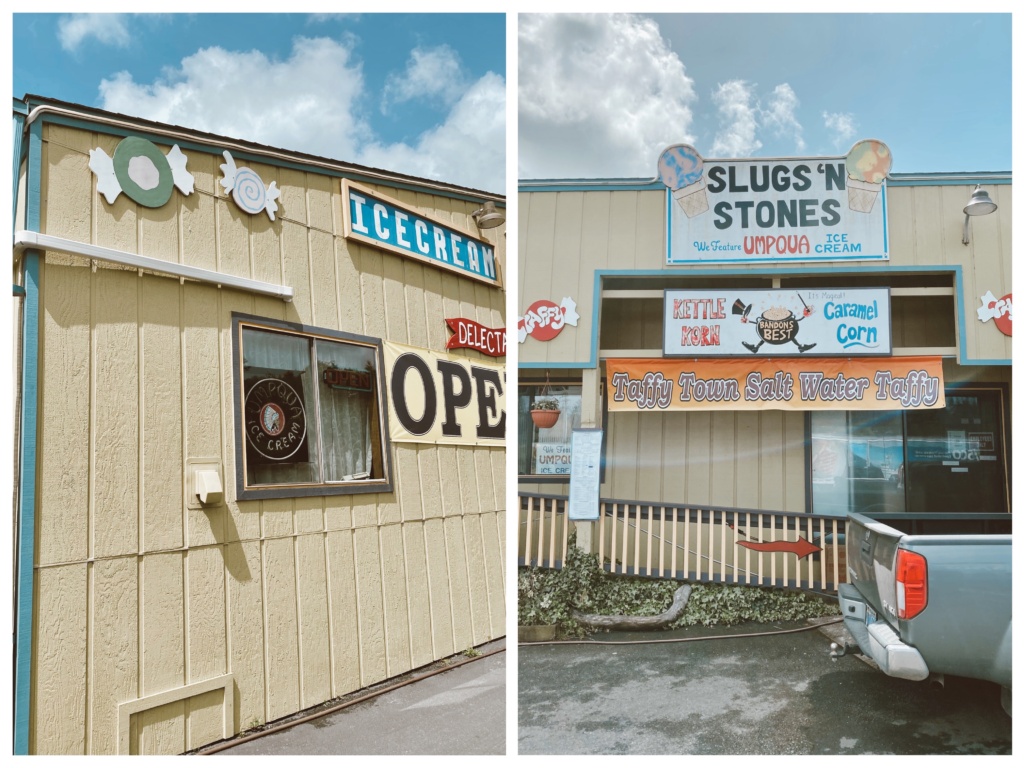 Slugs 'N Stones 'N Ice Cream Cones is the ice cream shop we recommend, selling Umpqua Ice Cream, an ice cream made locally in Oregon!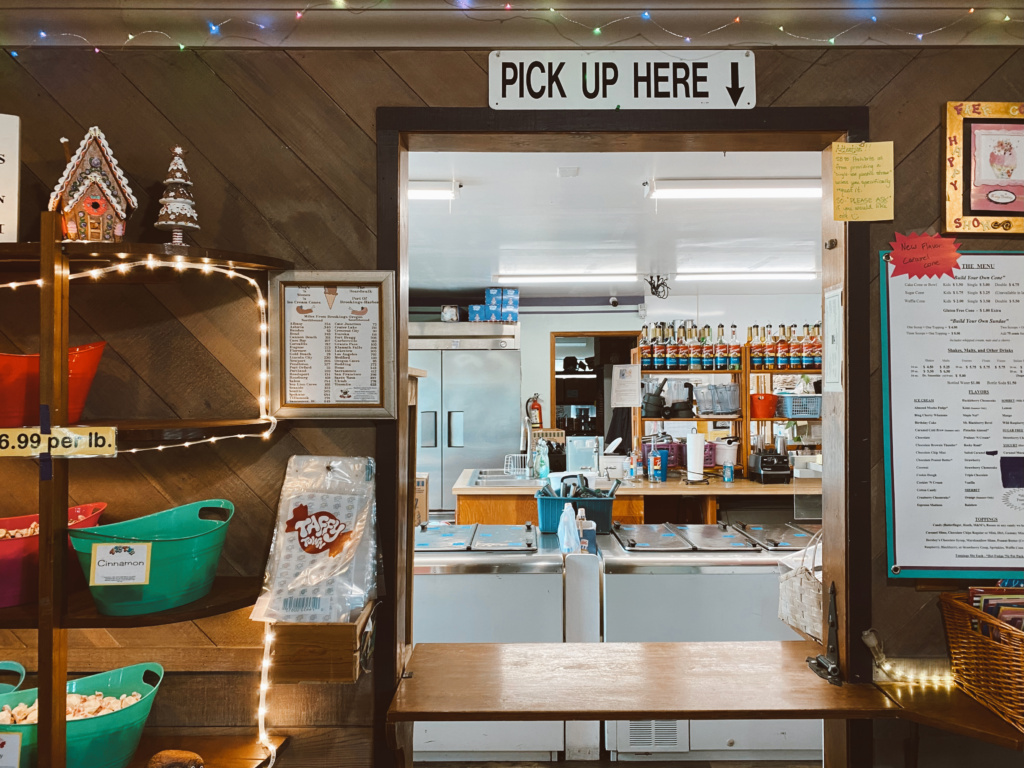 For seafood, head to the Hungry Clam. The Hungry Clam is really cute inside. Lots of windows made it bright and cheery. And the decor had that wonderful, laid back, beachy vibe.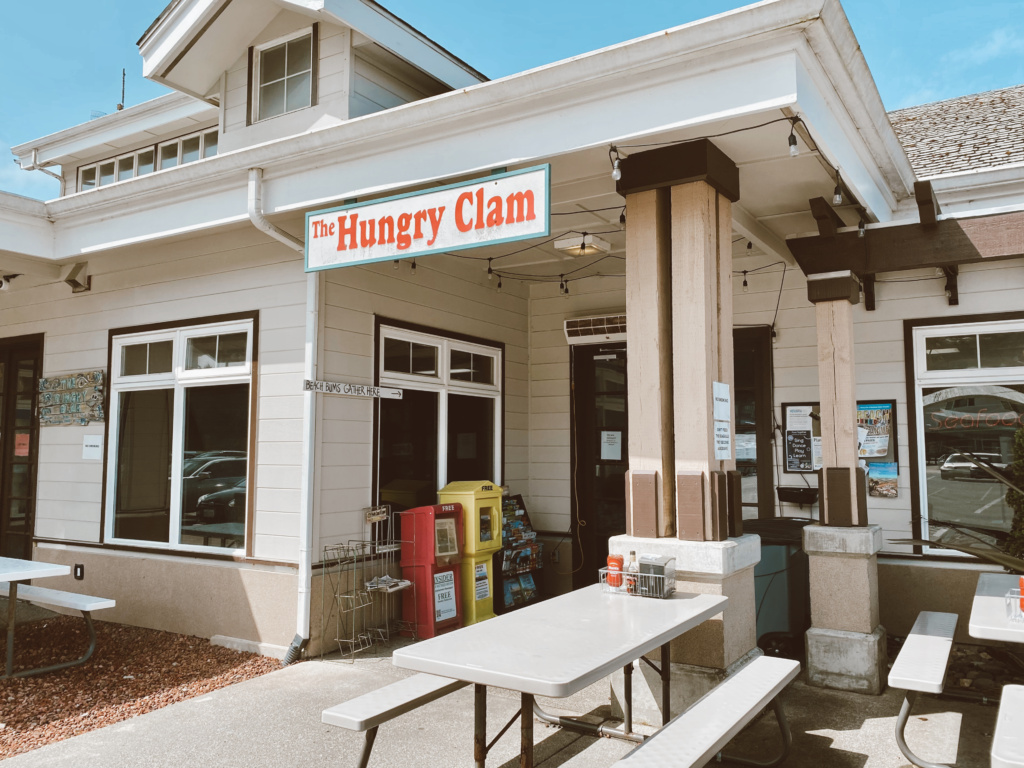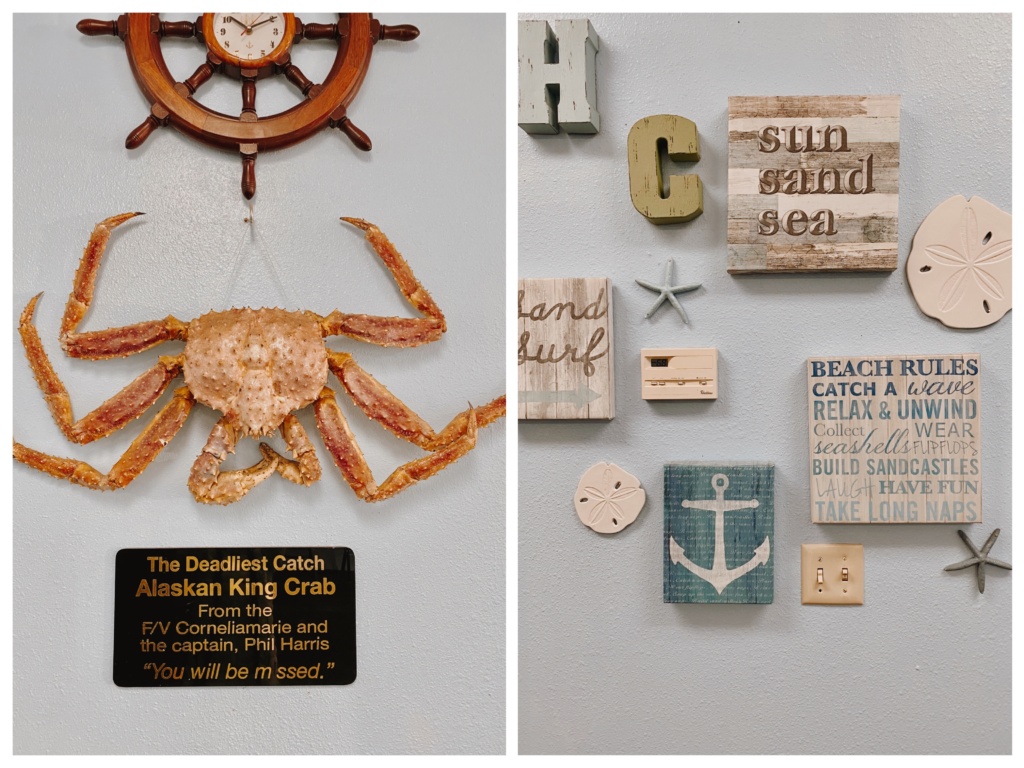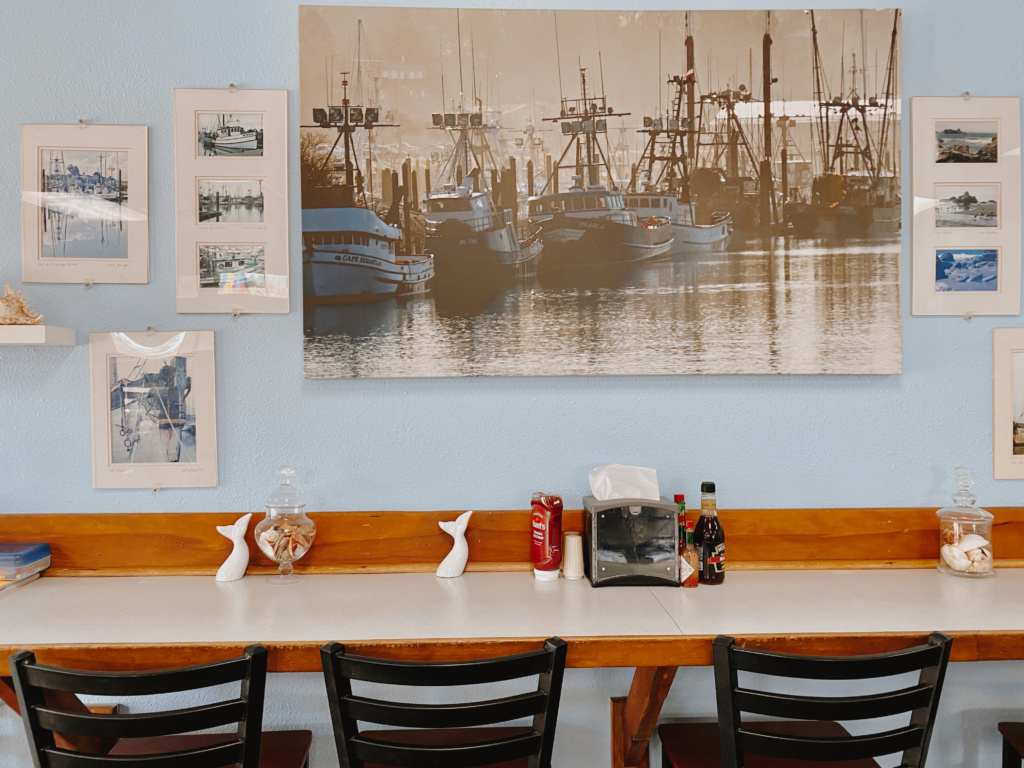 Our fish and chips basket and fish tacos were delivered to the table in cheerful paper lined baskets. The food was piping hot and not greasy at all! The tender fish were very well seasoned and cooked to perfection. The crinkle cut French Fries were nice and crunchy. And the portions were huge! They also have a great clam chowder that's perfect on a cold coastal day!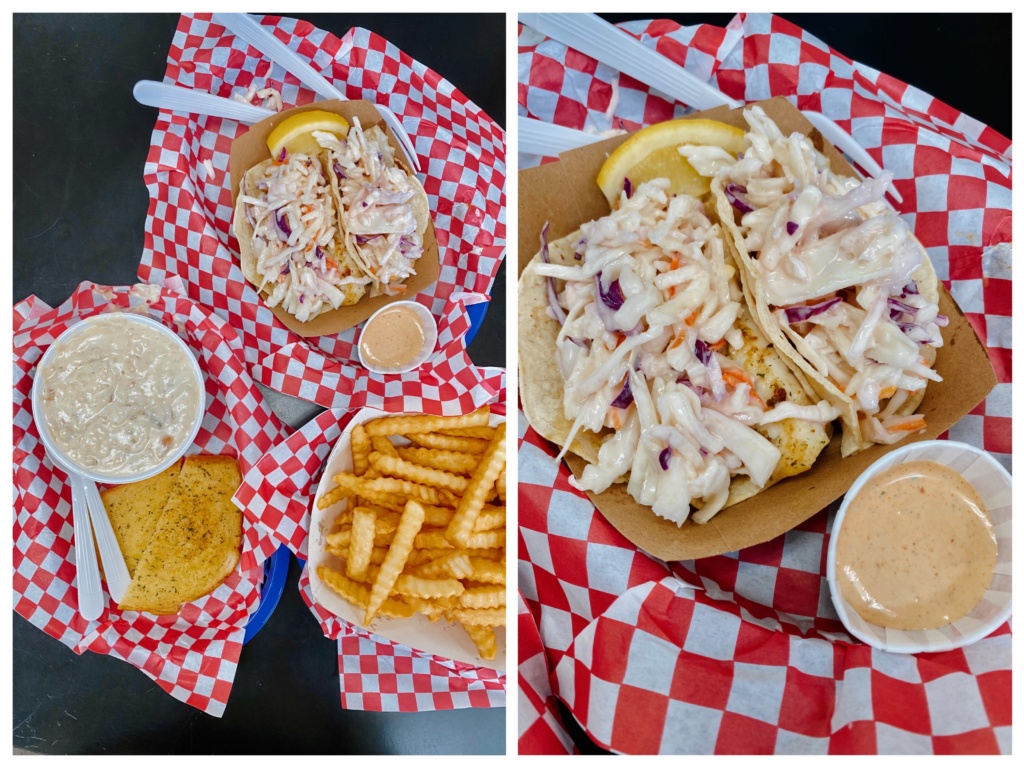 And there you have it – my Oregon Coast roadtrip must-sees! Are you ready to plan and enjoy your full Oregon Coast road trip?!? We could do this route any time of year and have a blast, but late spring or September are the best times to go.
Pin any of these photos to save this Oregon Coast road trip guide for later!