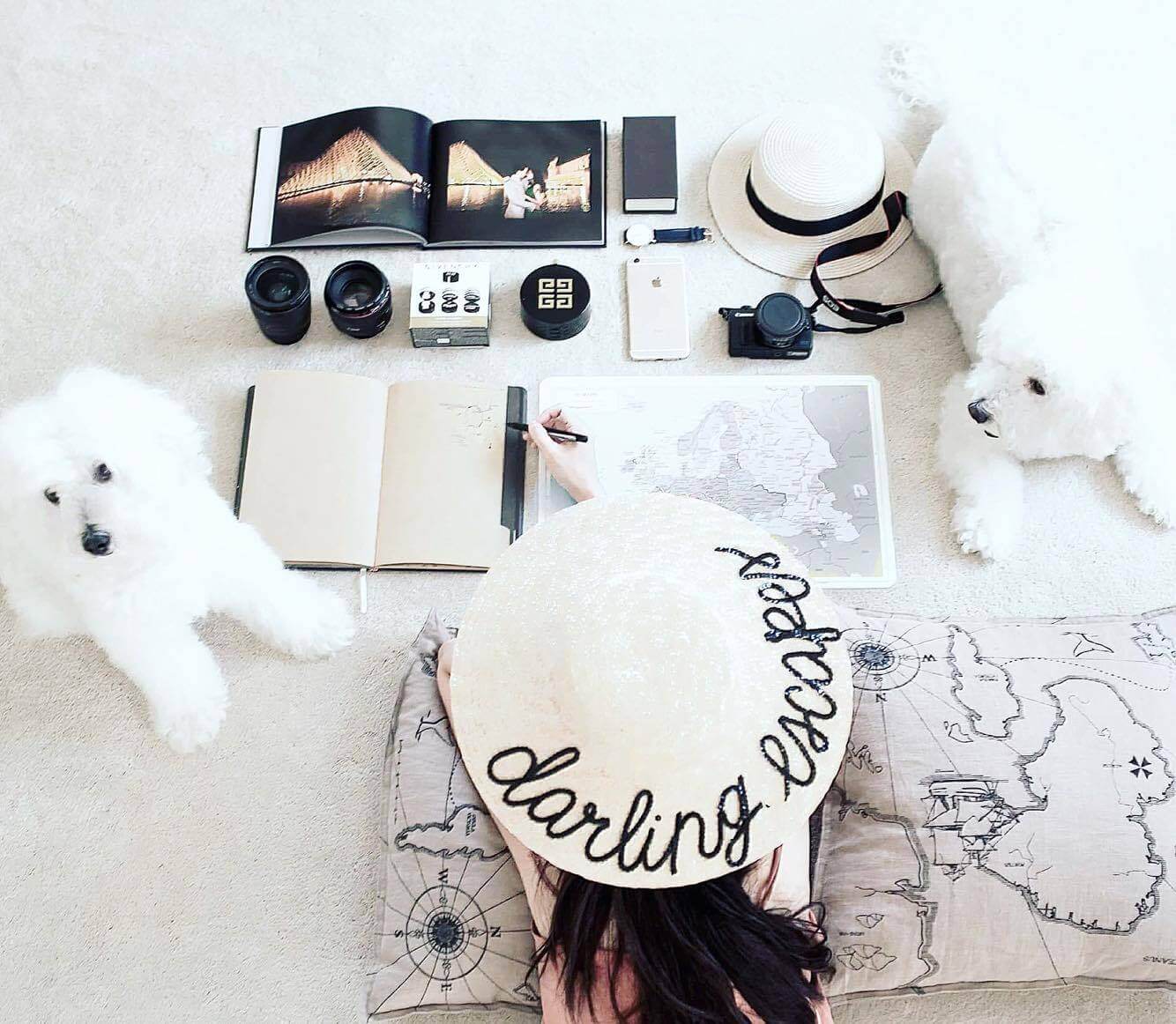 It has been 12 years since we started our adventures around the world and throughout our globe-trotting journey traveling light (but fashionably!!!) is always our priority. Avoiding added fees from airlines, the hassle of baggage claim, and the lugging of a bunch of heavy suitcases  will make your vacation much more enjoyable.
Even though it appears that I have lots of outfits (dresses, bags, shoes,…) as you can see in all of my Europe pictures, we always travel light with only one medium suitcase and one light carry-on for both my husband and me. My husband's travel items fit nicely in the carry-on, so you must have wondered how a girl (with excessive amount of wardrobe like me) fits everything from beauty products to clothes in a medium suitcase. I, too, struggled with this the first time I packed but after 12 years of traveling I learned a lot and I hope these packing tips will help make the process a bit easier for you.
1.Make a written list
Write down the basics for what you'll need and follow your list to ensure you don't overpack. Be realistic about what you'll need and what you'll actually wear—and know yourself.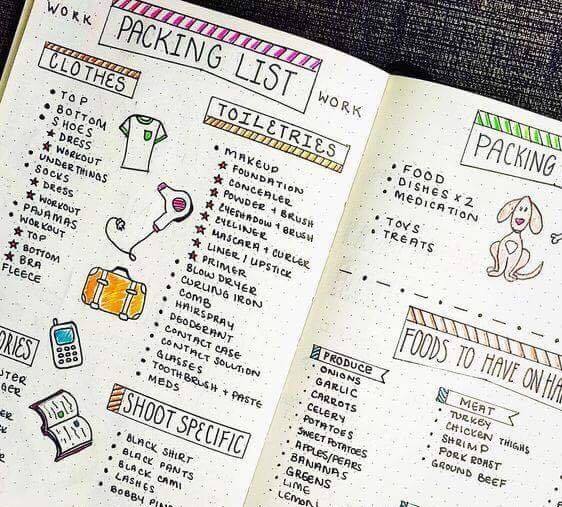 I am kinda a chronic "obsessive" organizer so I actually plan out everything bottled down to where to go every day (at which hour!!!) and plan my outfits accordingly. For instance, when I was planning my trip to Budapest, I knew exactly on the second day in the city I would go to the Fisherman Bastion during sunset and therefore I was setting out a long sexy backless yellow dress for that specific location. So if you are like me, you should lay out everything you want to bring and plan the outfits according to a specific day for your intended destination.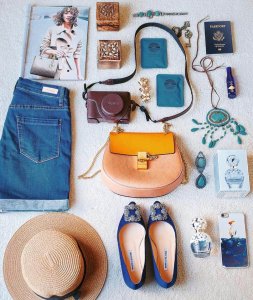 2.Beauty Products
One of the biggest challenges for traveling light is that ladies you have to include all your beauty products. You'd be amazed at how much space they take up in a suitcase, but if you plan ahead you can minimize their impact on your space. With that in mind I'm sharing with you how to organize your beauty and skin care items so they will take up as little space as possible.
***Make up:
When I pack for a trip, one of my main goals is to get more mileage out of fewer products. That means packing multi-use products like a moisturizer with SPF so you don't have to carry a separate moisturizer and a sunscreen in your luggage. One of my major staplers is Laneige BB Cushion. It acts triple duties as my long-lasting foundation providing brightening for my complexion while fading blemishes, my sunscreen with SPF50+ that protects my skin against harmful UV rays, and my moisturizer that provides deep soothing and refreshing for my dry skin. With Laneige cushion I don't need to bring 3 separate products and that saves me a lot of space.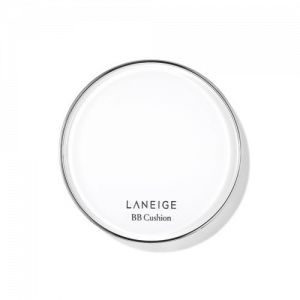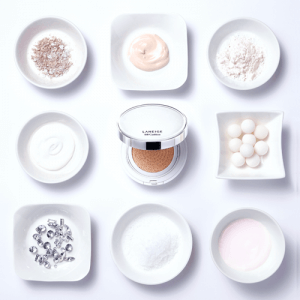 Usually when I travel I don't put on a lot of make up, just basic eyeliner/eyeshadows and lipstick so I prefer travel sized makeup palette that comes with just about everything I need. My favorite pocket-sized beauty compact is "Givenchy Glamour On The Go Makeup Palette" which features three tier compact housing one mascara, eyeliner, gloss, face powder, blush and seven complimentary eyeshadows. And this one palette is all I need for my vacay!!!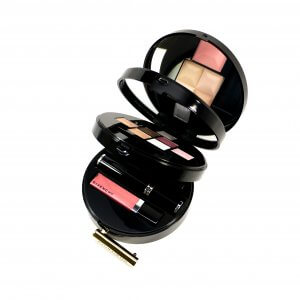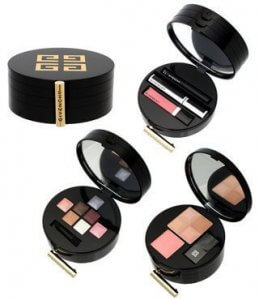 ***Skin Care:
If you have a favorite skincare brand whose products you love, they may have a trial-size travel/sample set that you can purchase, like this Laneige 6-piece Hydration Trial Kit.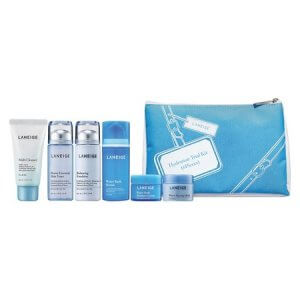 This set has everything I need for my skin care routine on the go from deep-cleansing to intensive revitalization. This six piece, travel-size kit in its own zippered pouch includes: Multi Cleanser, Power Essential Skin Toner, Balancing Emulsion, Water Bank Serum, Water Bank Moisture Cream, and Water Sleeping Mask.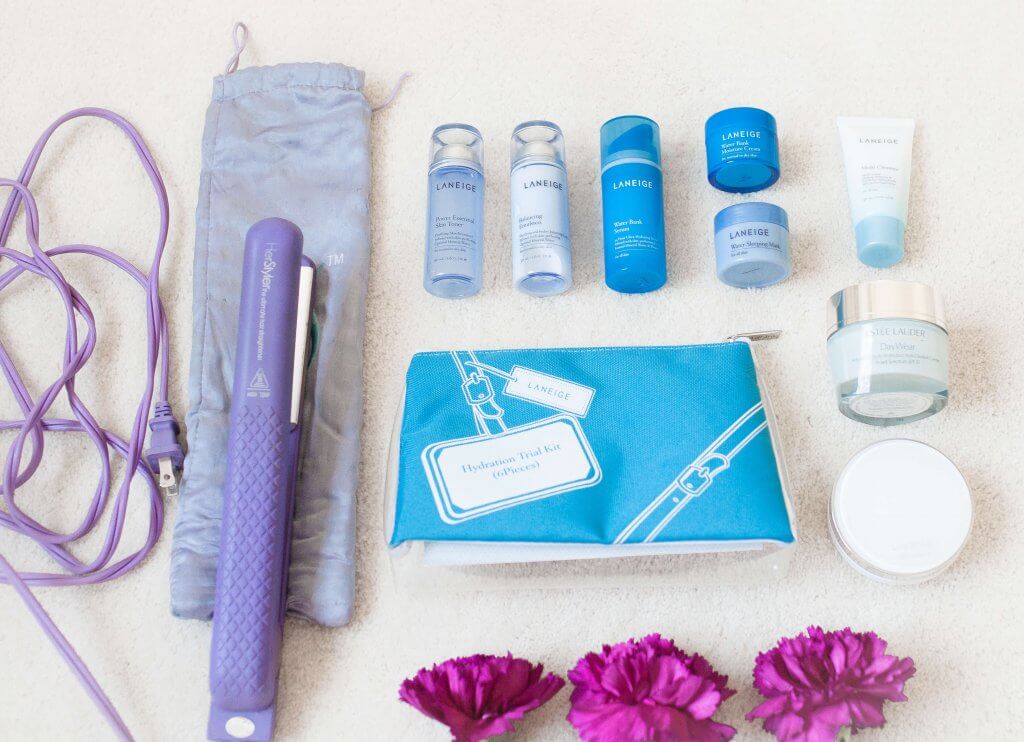 ***Liquids: 
Liquids have always been a pain-point for me, especially with how long my hair is. Although the toiletries where I stay are not usually bad, I still prefer to pack my own Shampoo, conditioner, and leave-in conditioner.
If you have your favorite brands for shampoos and conditioners, pick up some samples at their stores or  maybe they have sample-size products that you can purchase. Save some of them in a separate makeup bag dedicated for travel. That way you will always have your favorite brand mini shampoos, conditioners, moisturizers, etc. on hand.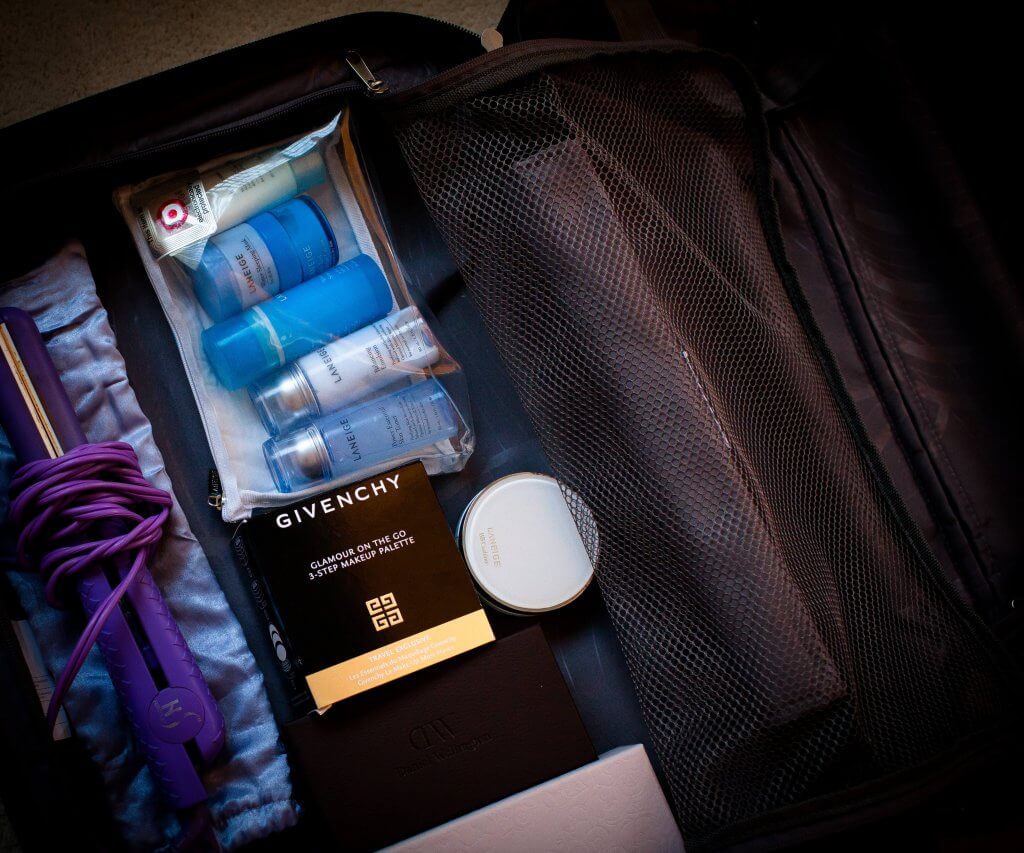 Another way for me is when I stayed at 5-star resorts and their toiletries is exceptionally fine like Pelican Hill Resort has BVLGARI or Sofitel Marseille Vieux Port has Hermes, I usually get some extra and save those for my next destination.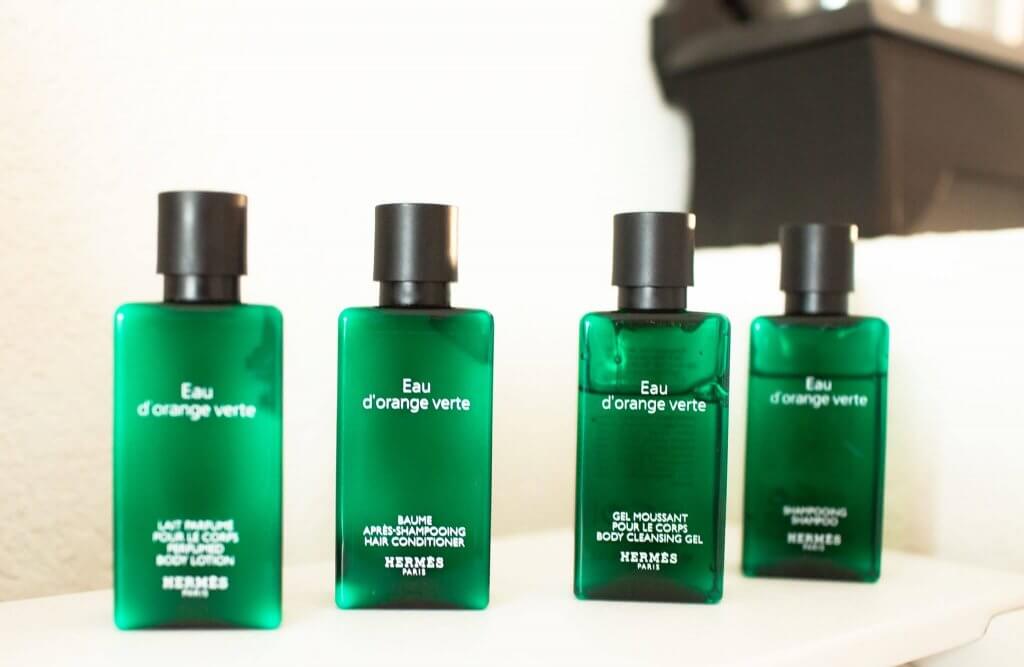 3. Outfits:
Plan your outfits ahead of time. Ask yourself: What's the weather going to be like? Are there any formal evening events involved? Is there room to recycle outfit pieces? Those answers should help shape the contents of your packing strategy, along with employing a level of self-restraint. It'll help you to not go overboard when you start digging into your wardrobe.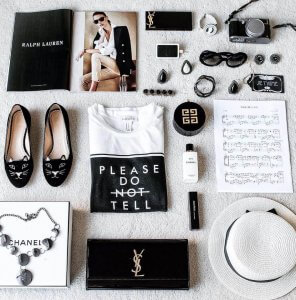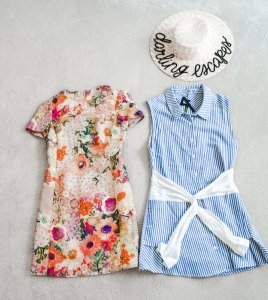 Do roll your clothes instead of folding them. First of all, it minimizes wrinkles and therefore you don't have to worry about the quality of your hotel iron. Second of all, it frees up a lot of space for other traveling necessities.
Limit the number of pajamas. If you're planning an extended trip, research where you'll be staying to find out whether you'll have access to (and the time to use) laundry facilities—if so, there's no need to pack a pajama for each day. For me, I only bring my two favorite comfy oversized sweatshirts "First I need coffee" for pajamas since the in-room laundry services wherever I stay will make sure I have fresh clean pajamas everyday.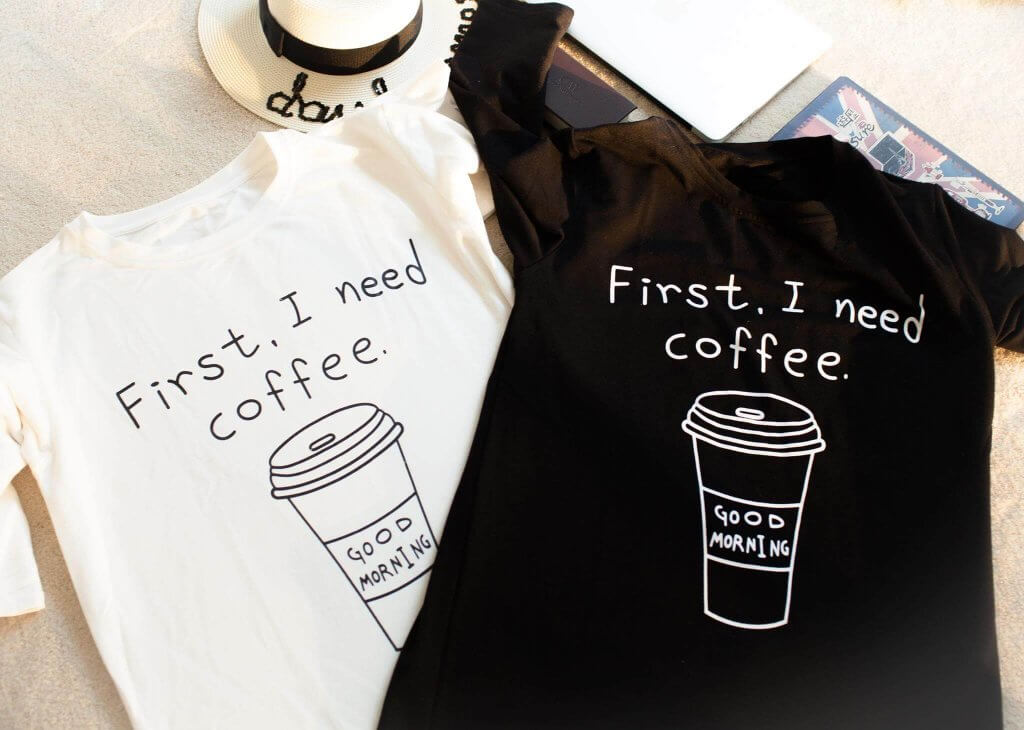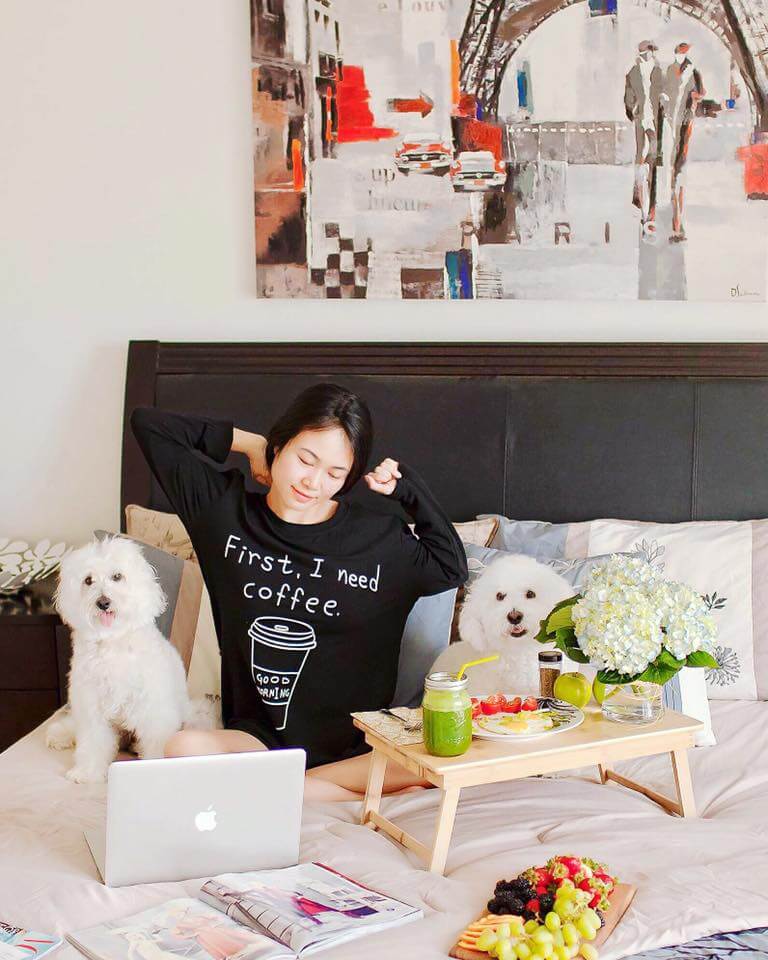 For shoes, focus on comfort and versatility—no one wants to get sidelined by aching feet on vacation. This will also help you cut down on the number of shoes in your bag (which can take up a lot of space and weight). For Europe trips which require a lot of walking, I only bring a pair of flats and a pair of sandals (sometimes I squeeze in a pair of heels in case for formal events).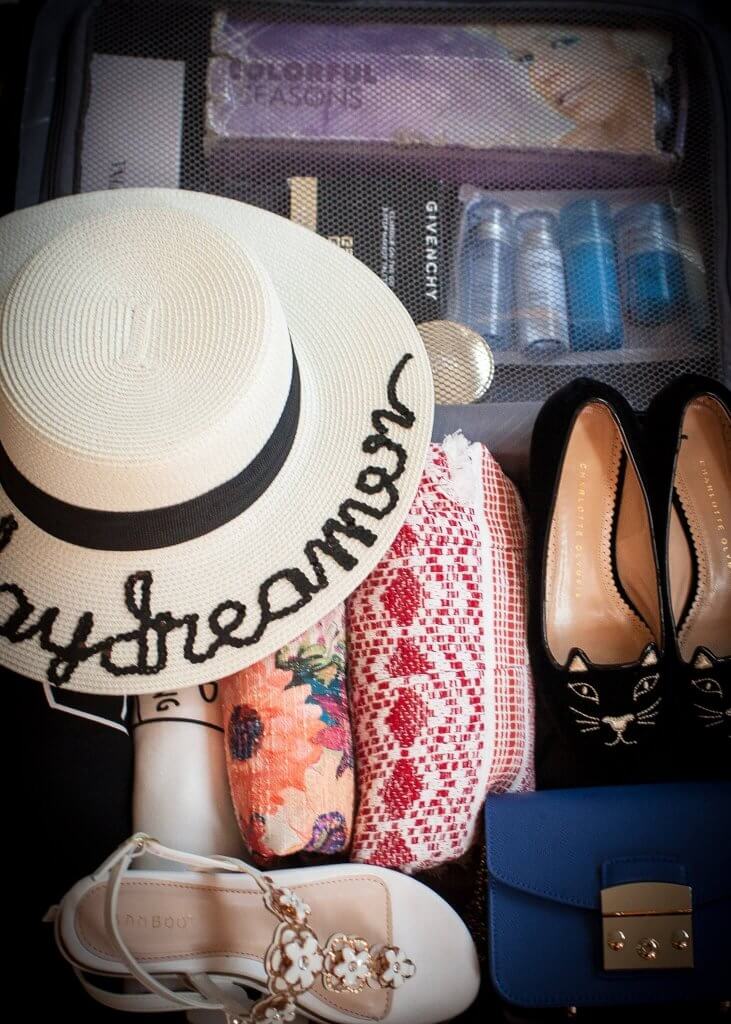 I hope this helps you get a little extra room in your suitcase for your vacay. While every single method isn't perfect for everyone, I've done this every time and always have ample room to spare.
Do you have any tips for packing light like a pro?
Leave them in the comments below and happy travels everyone!
September 21, 2016
SHOP MY FINDS