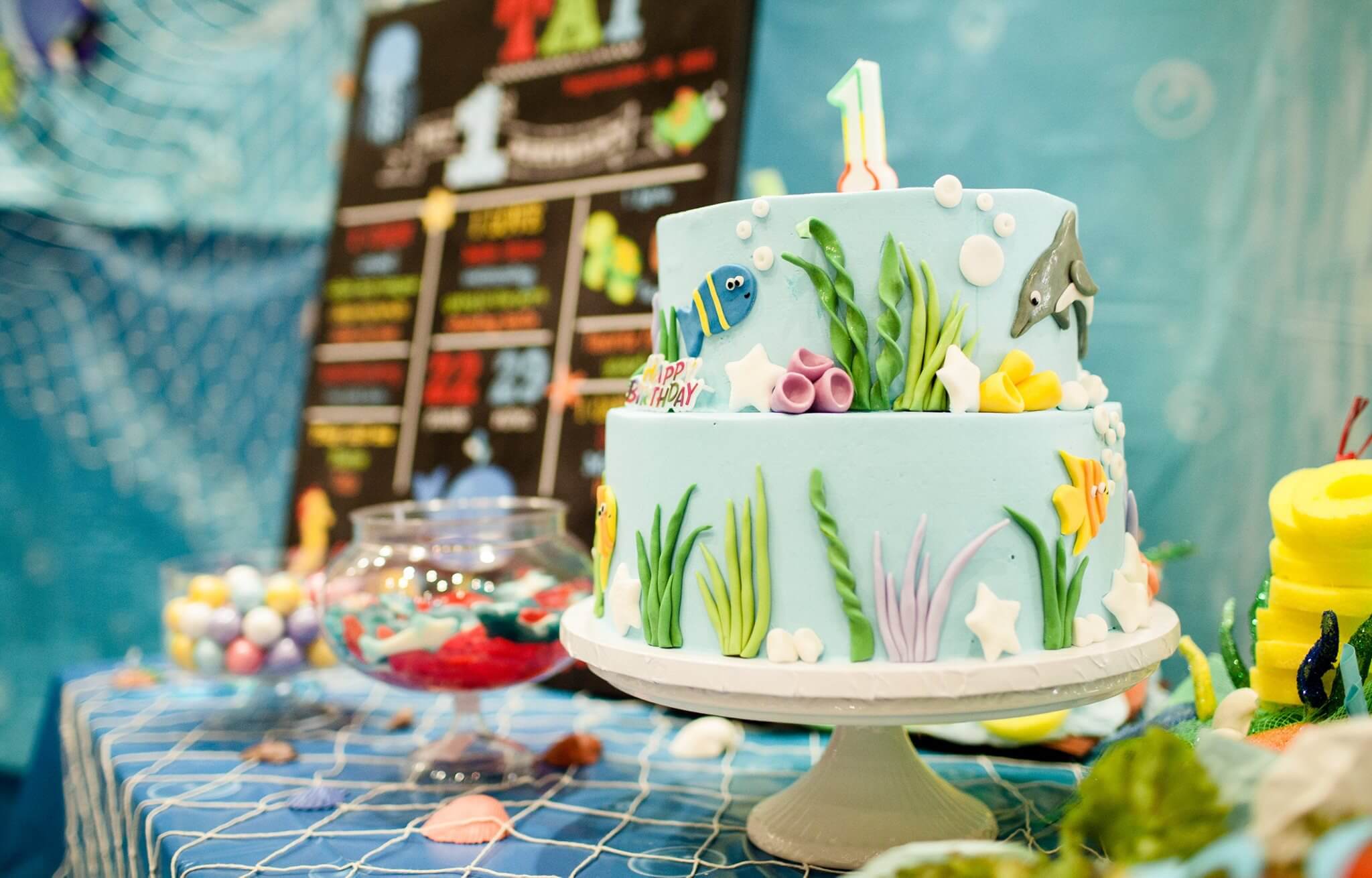 I'm so blessed to know so many talented and inspiring ladies who are such a natural when it comes to planning events. Last year when I was living in SaiGon, I had a chance to plan several kid birthday parties with my best friend who was a mastermind behind so many fun themes that boasted an abundance of creative and unique ideas. This year back to the states I was invited to an awesome Under the Sea Themed First Birthday planned by my talented girlfriend for her son-Baby Tai. In this blog I'm sharing with my readers some useful tips when planning a fun and simple Under The Sea Themed Kid Birthday!
Ocean Party Theme Colors: 
Themed kid birthday parties are popping up everywhere these days, and right now, Under the Sea  is one of the most popular. The thing that accentuates the theme of your party is that you choose a color palette and commit to it—basically it's most ideal that you can see the theme colors in all the details of the party. Using a specific color palette is an easy way to infuse a theme throughout your party. You can go all-out and match your food and drink colors to your decor.
For instance, my friend used turquoise and blue for the party colors to give everything a nice soft natural ocean-like look.  She used turquoise table cloths, napkins, plates, and utensils.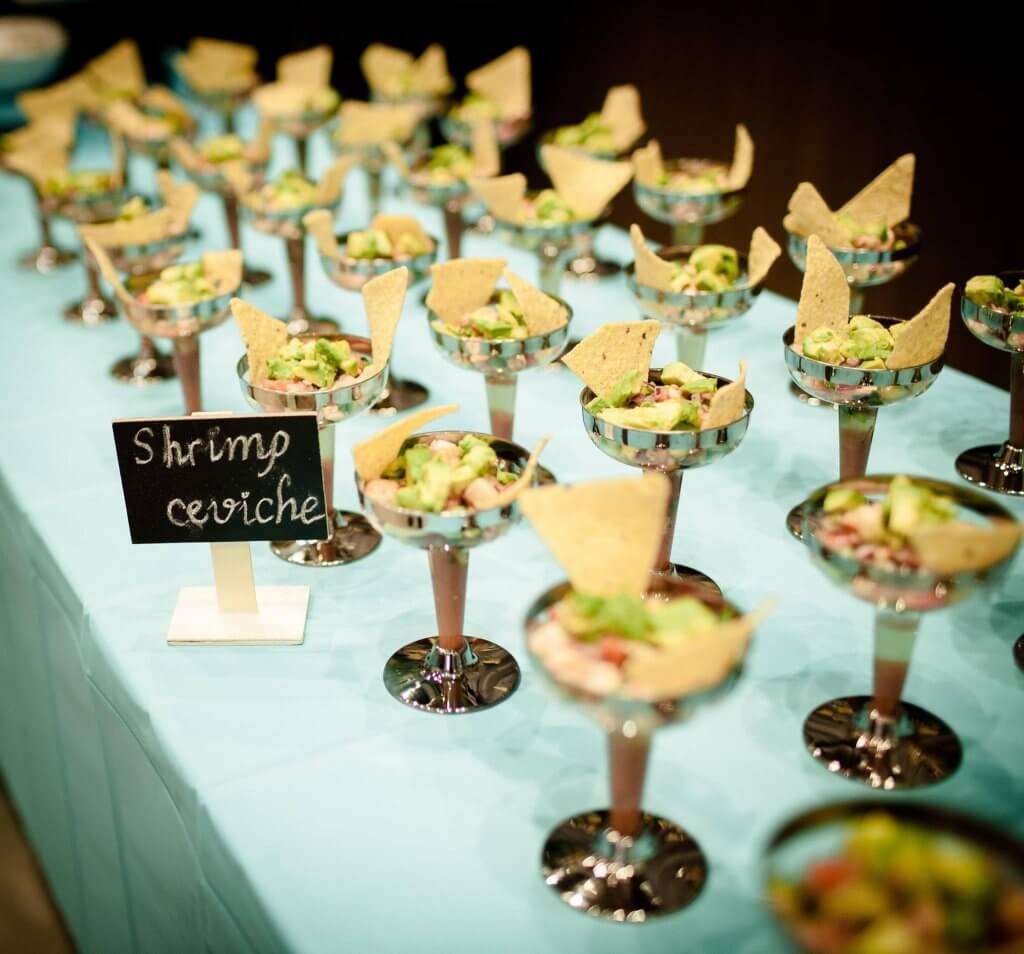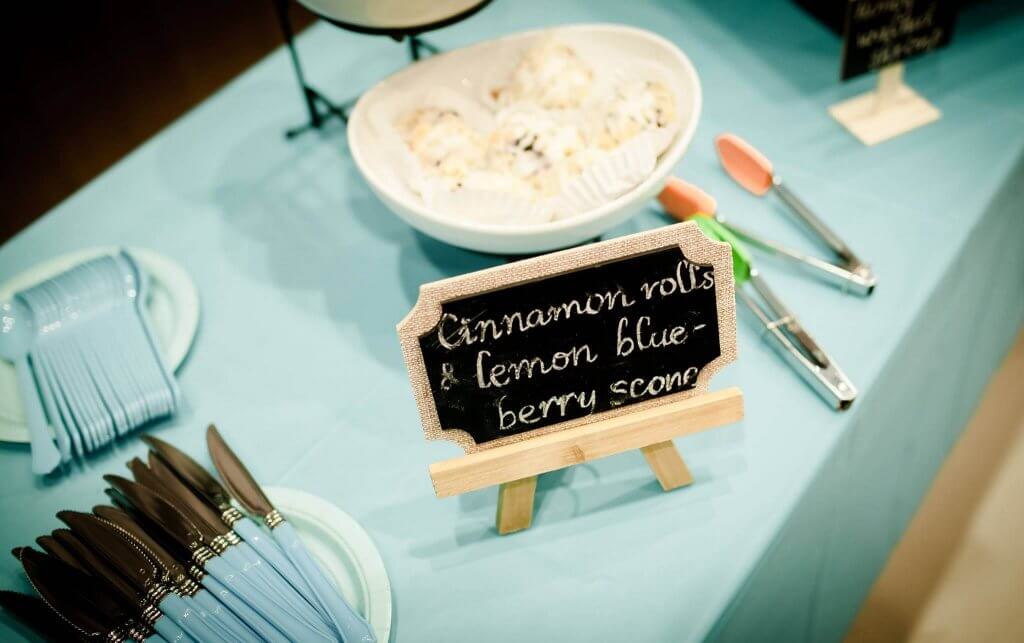 Ocean Party Decorations: To provide your guests with a true under-the-sea experience, consider these options for decorations
***Backdrop: Using various shades of blue crepe paper, my friend created a simple sea-inspired backdrop, complete with sweet little hanging fishing net and colorful paper cutout fish. We didn't hang the backdrop too perfectly or straight, just kind of random like real waves would be. We were under the sea after all!!! And adorned on the fishing net was a sweet personal touch-the string of baby Tai's pictures from 1-month old to 12-month old.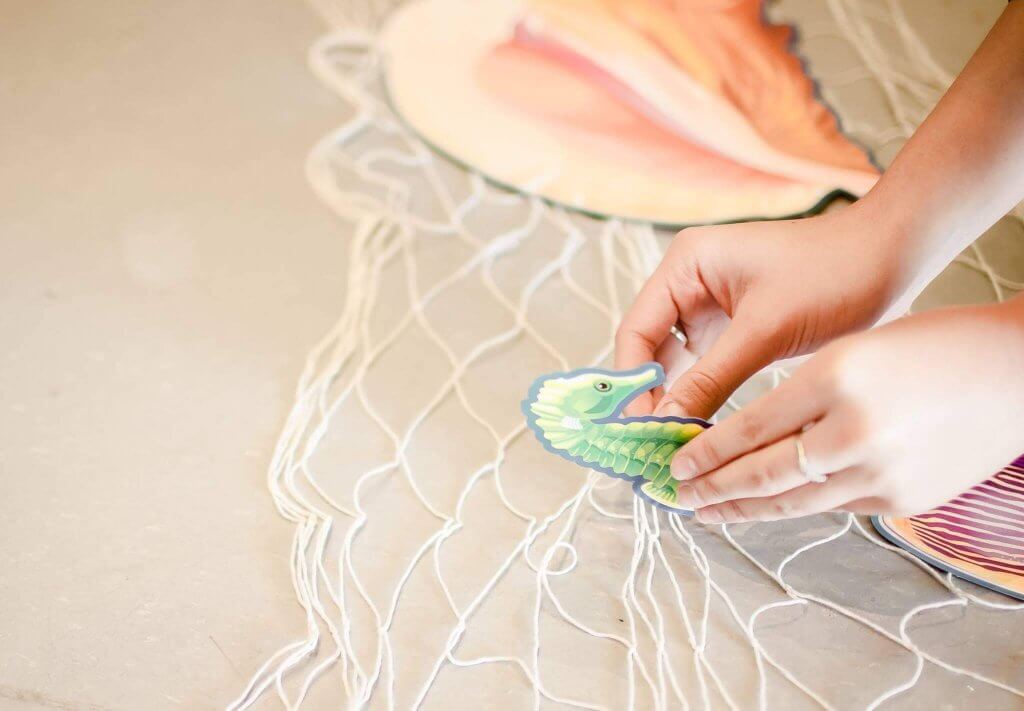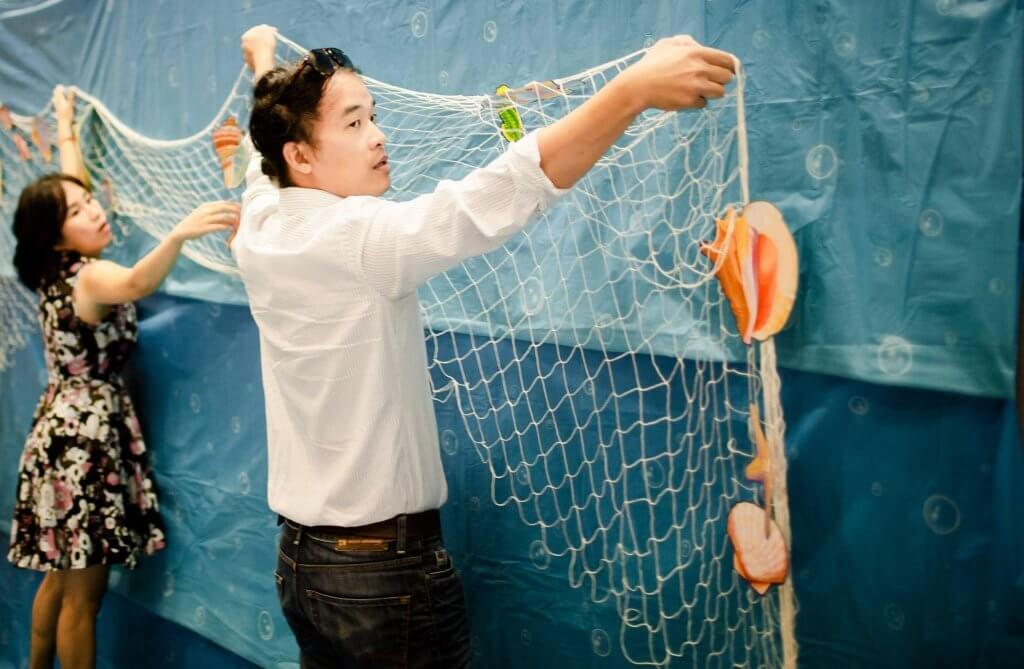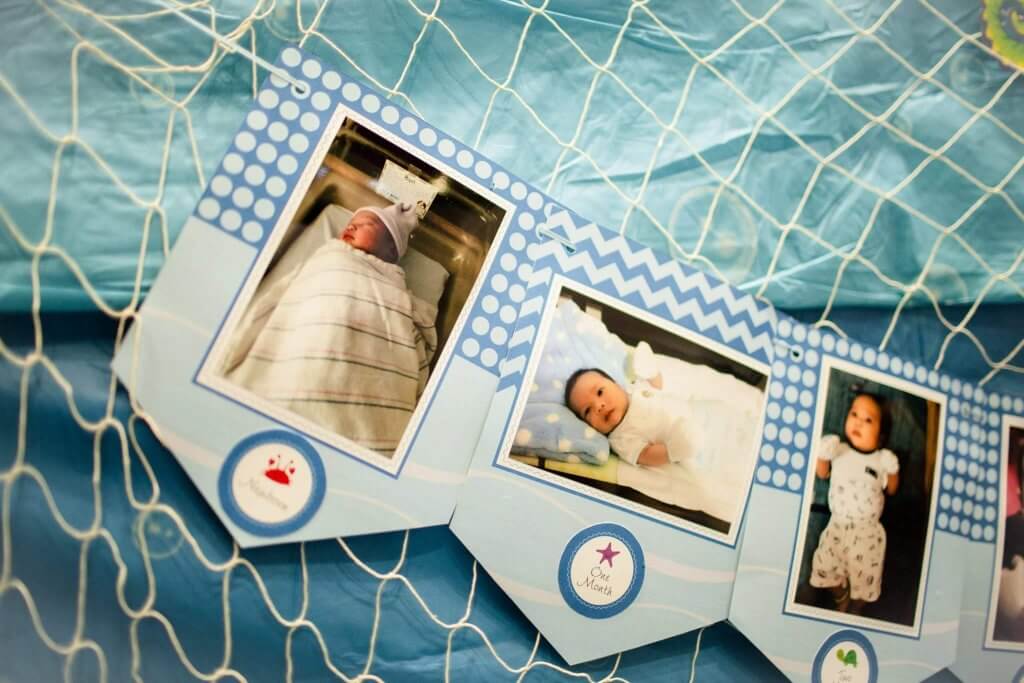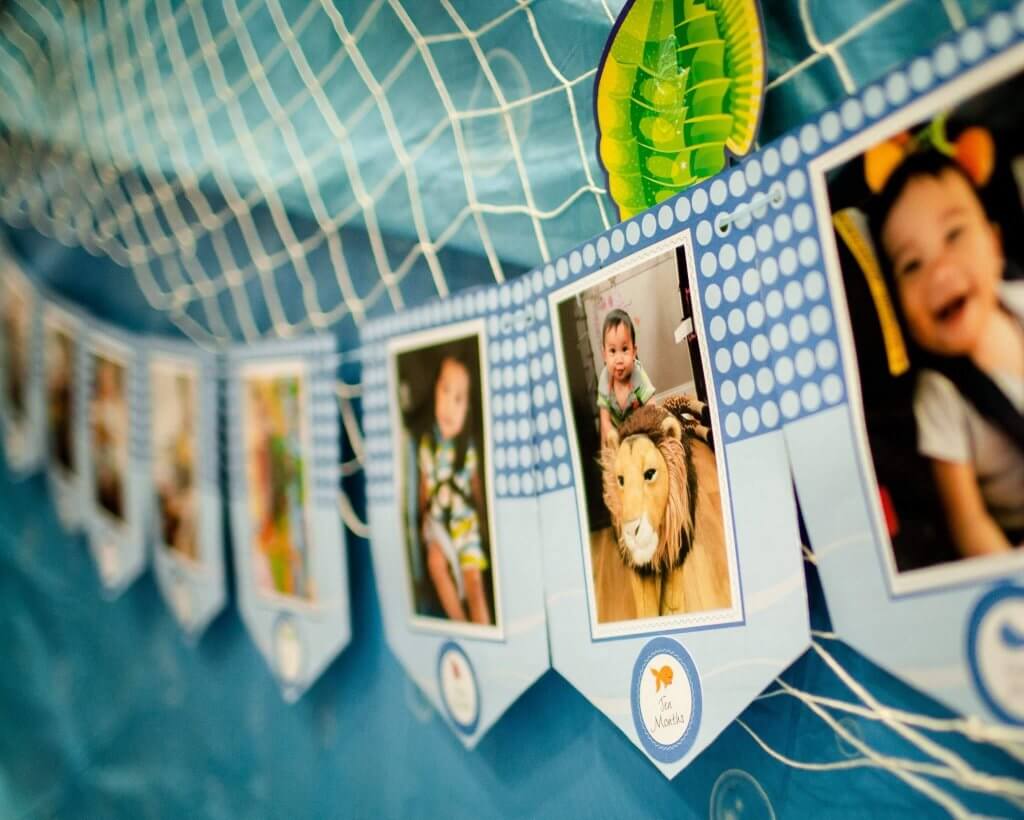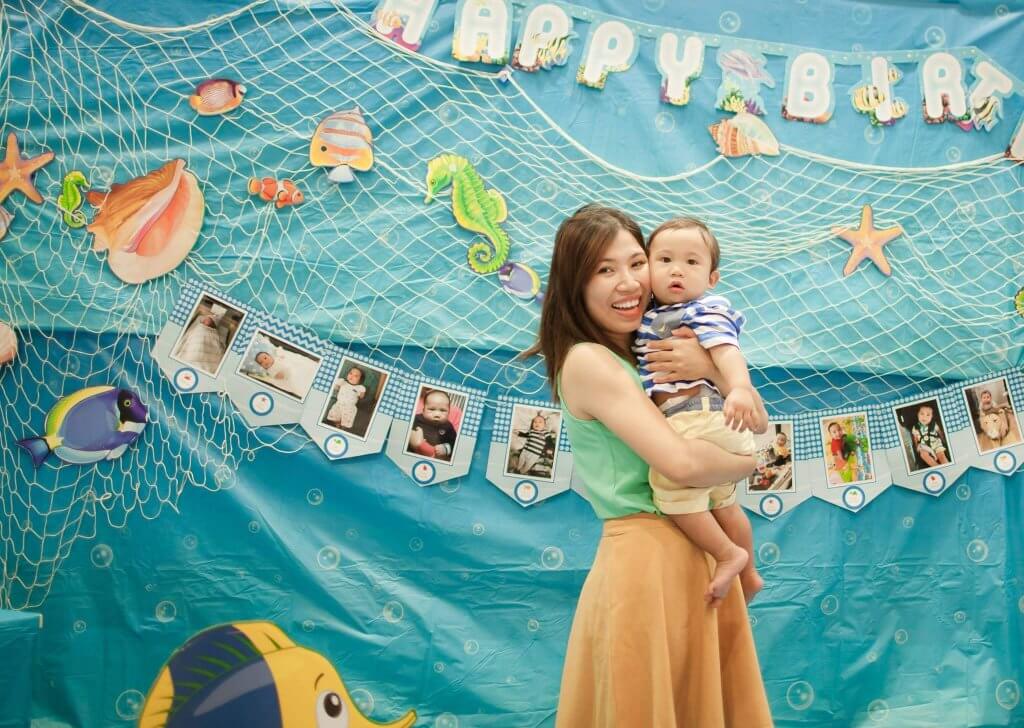 ***Ocean-themed chalkboard: personalized with the birthday boy's information: age, weight, height, hobbies, favorite food, favorite songs,…(The information on the chalkboard were later used in the games for guests; guests had to answer certain questions about the birthday boy in order to win gift cards!!!)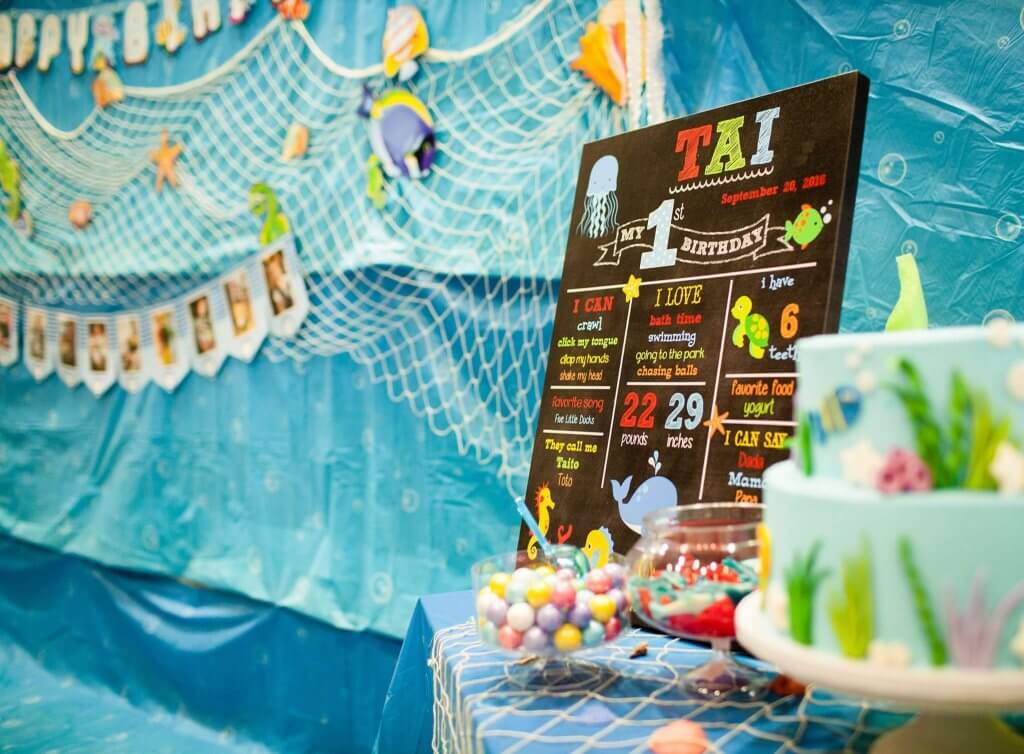 ***3D paper cutout ocean scenes: scatter these 3D around your backdrop which create a beautiful depth and perfect props for your guest pictures.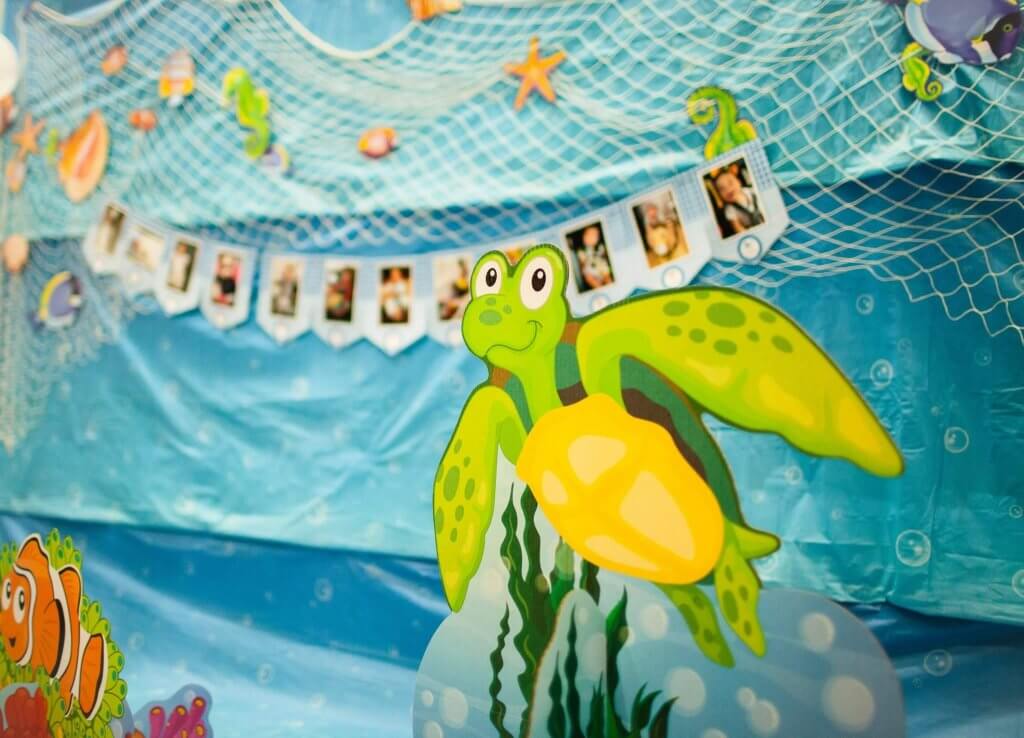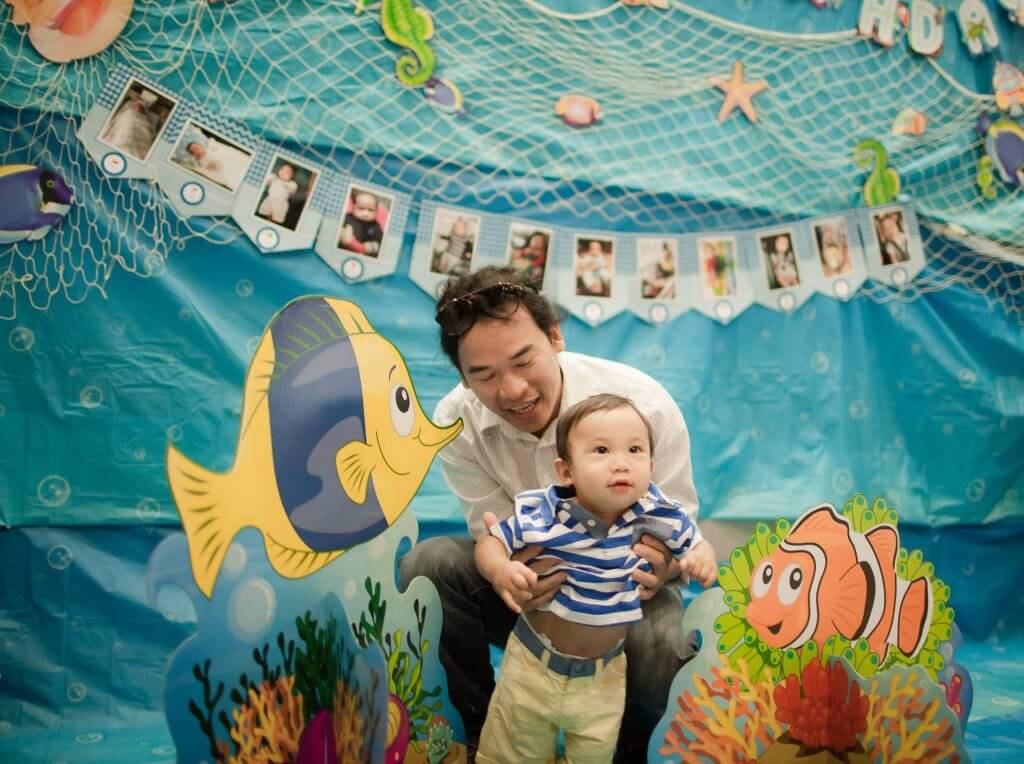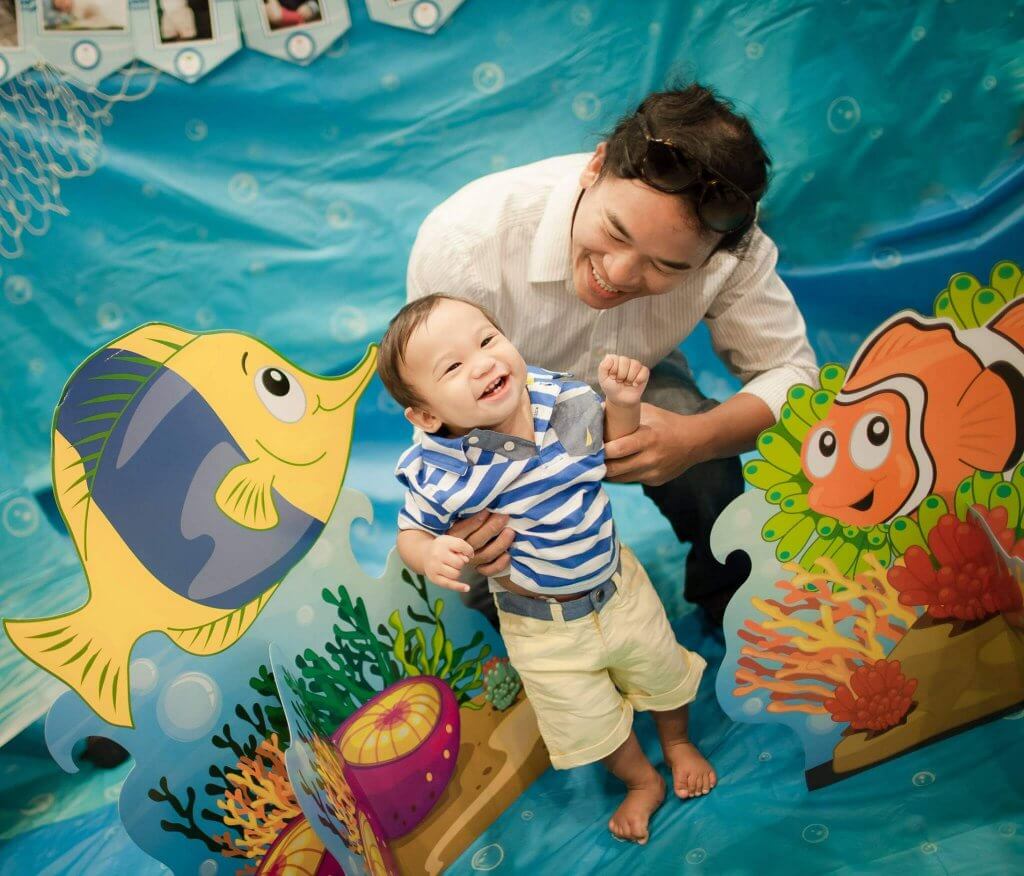 ***The Birthday Cake: My friend ordered a bright and cheery Under the Sea Birthday Cake frosted with the shades of blue and turquoise frosting. All the details on the cake were made from fondant.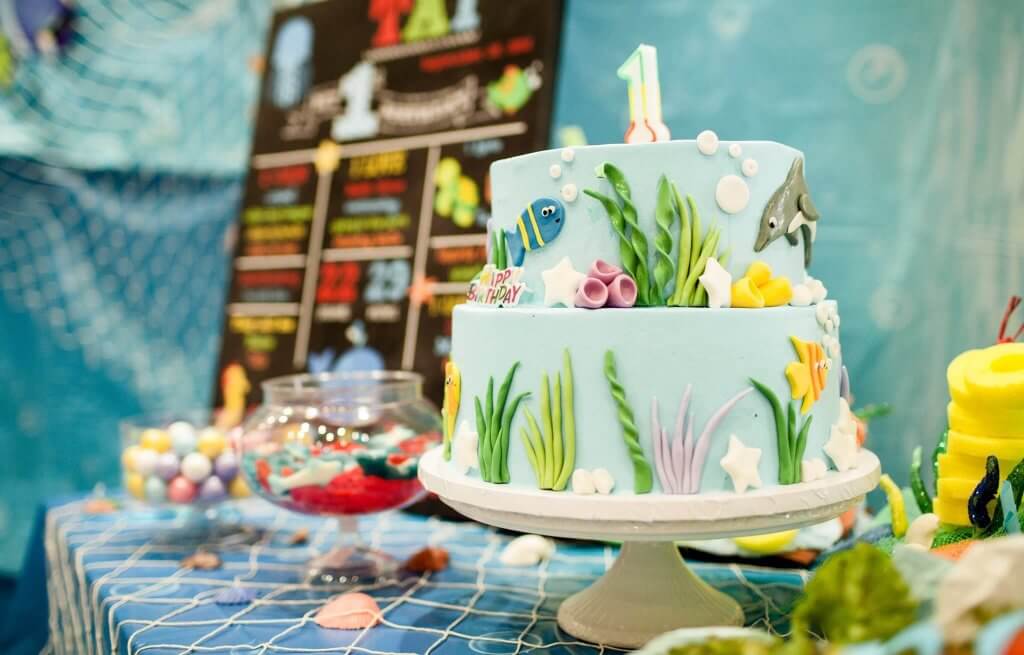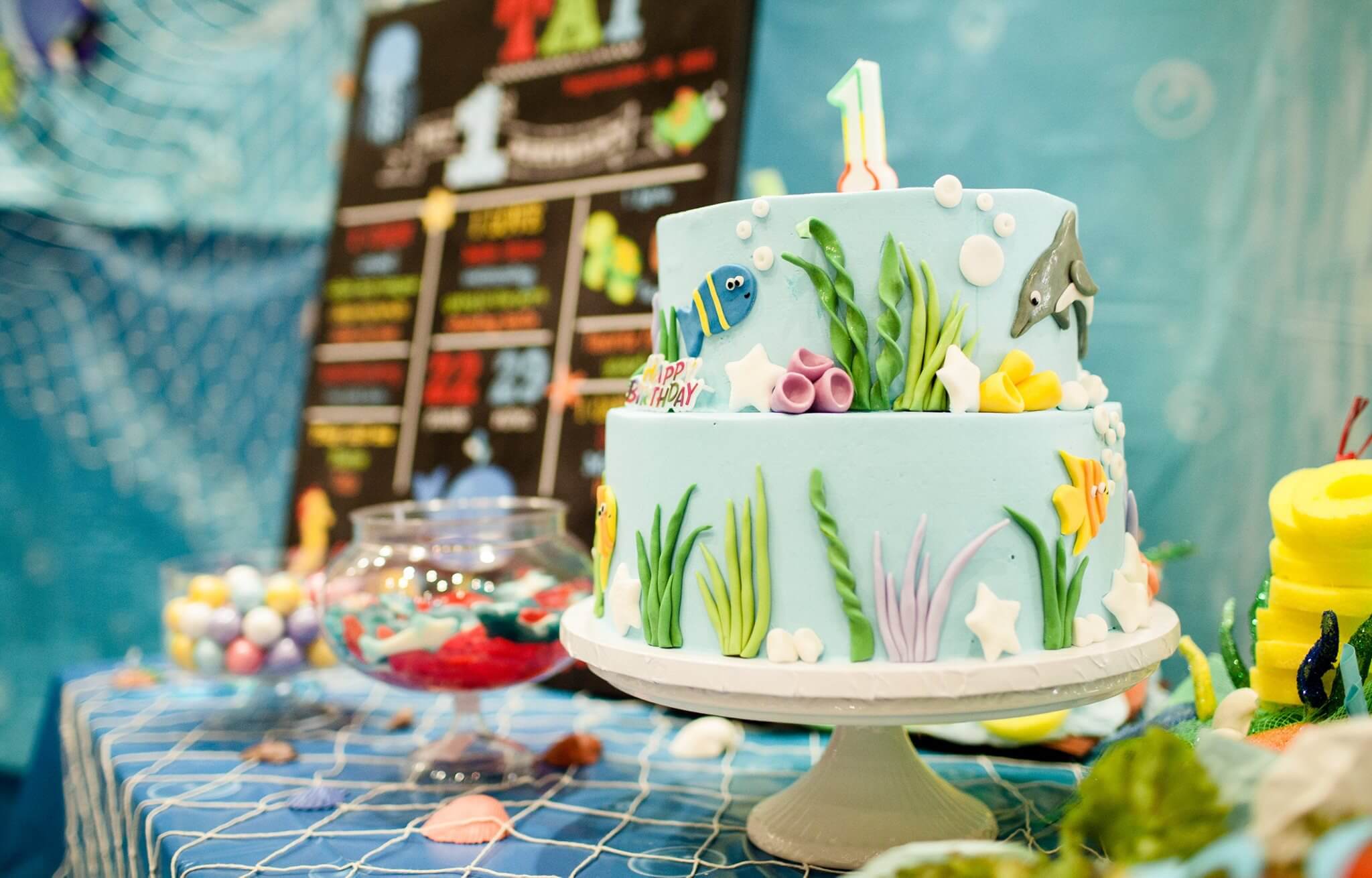 ***Table Centerpiece: my friend created a simple but fun centerpiece for each table. She scattered sea shells, starfish, and small flat round glass marbles over a fishing net.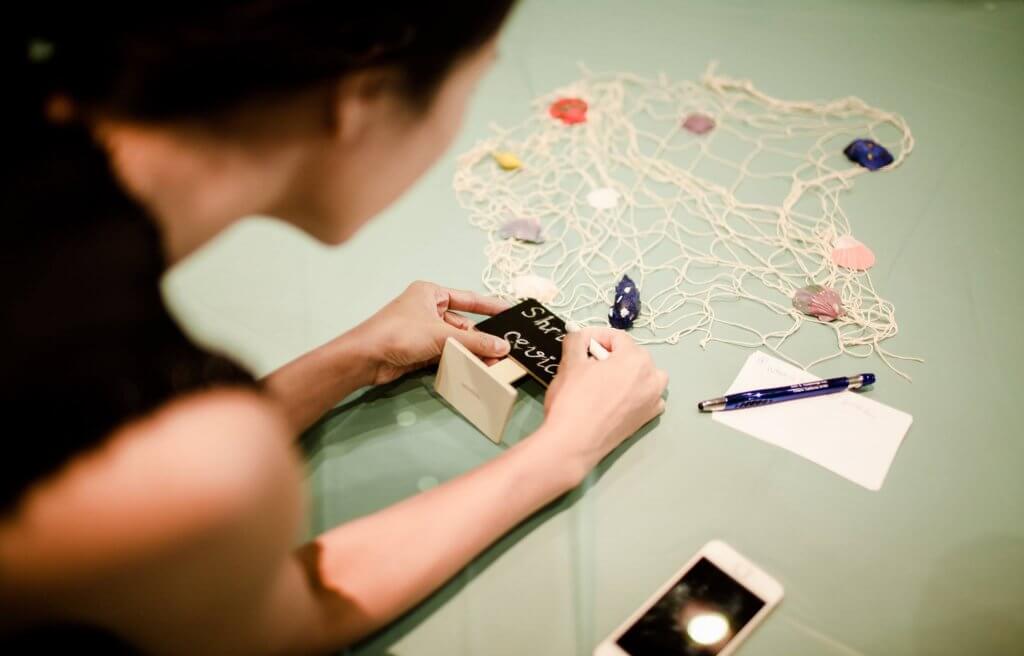 Ocean Party Food Ideas: It can be fun for the host and the guests to include theme-specific treats during the party. For example, serve goldfish crackers, Swedish Fish, gummy sharks, and sour gummy fish for treats and for main dishes you can cook seashell-shaped pasta and spinach linguini.
It's easier if you have your party catered so you can focus on other aspects of your party and alleviate your burden of running around worrying about food. The party is fun for your kids and should also be fun for you. Hiring a caterer is always a safe option.  A great caterer knows exactly what you'll need and allow you to enjoy more of your party. So that's what my friend did!!! She hired Panda Inn Catering and they took care of all the main food in the party. My friend just spent time focusing on making the perfect sea-inspired appetizer, Shrimp Ceviche which is one of her specialty dishes. She made it better than any Mexican restaurants that we've been to. Fresh shrimps, fresh avocados, fresh salsa,…and served in elegant cocktail glasses. Birthday Boy's mommy certainly knew how to create a personal touch and Shrimp Ceviche was the highlight of the party!!!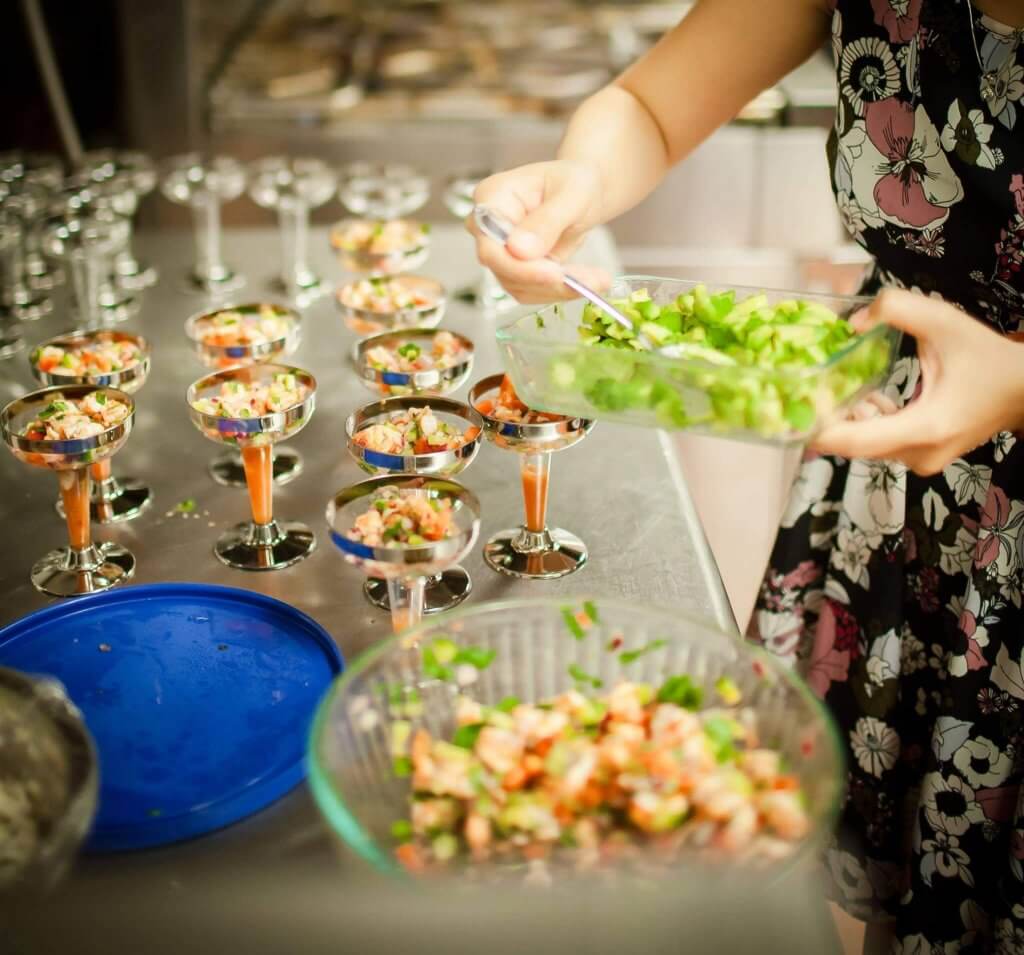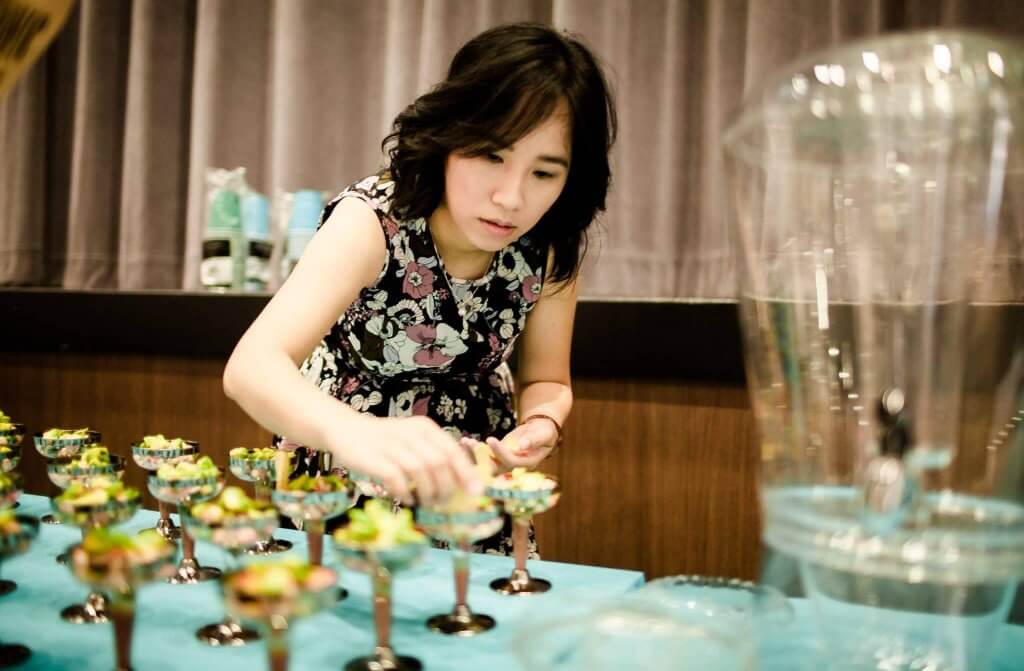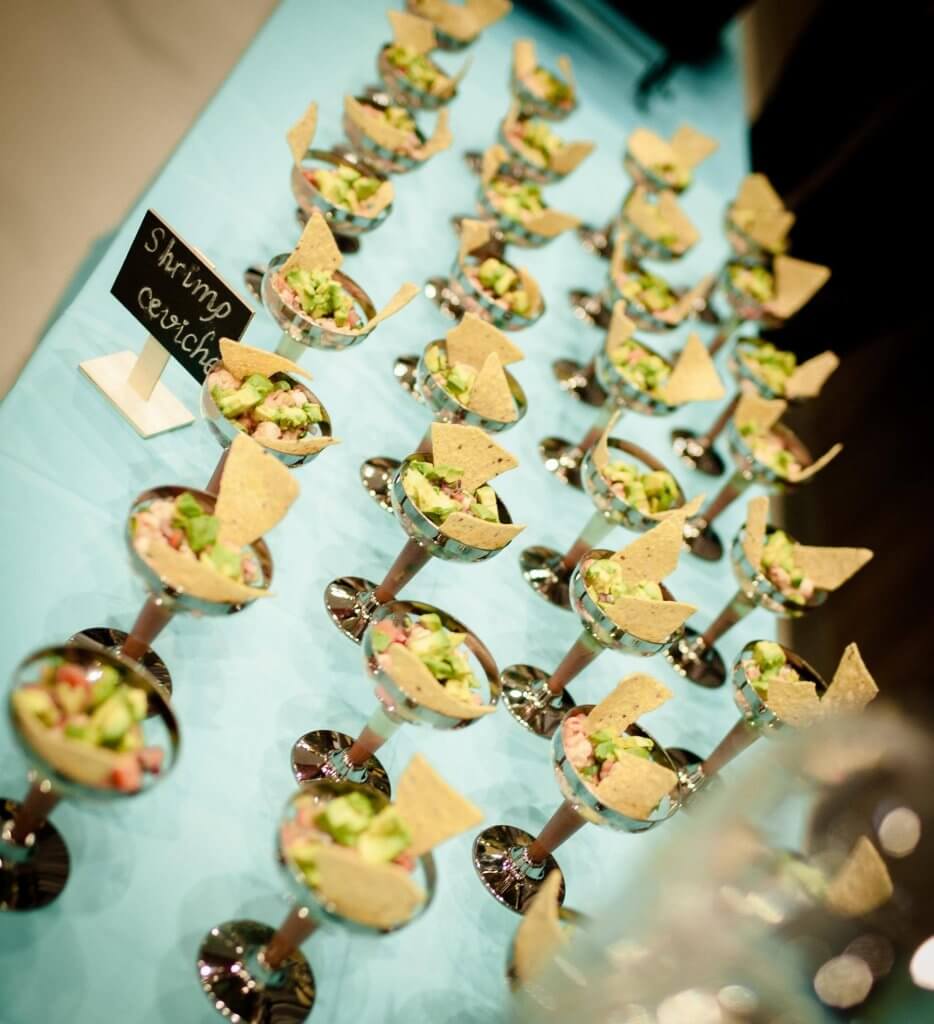 My friend made these cute mini chalkboard signs and placed them in front of the food to inform the guests name of each dish.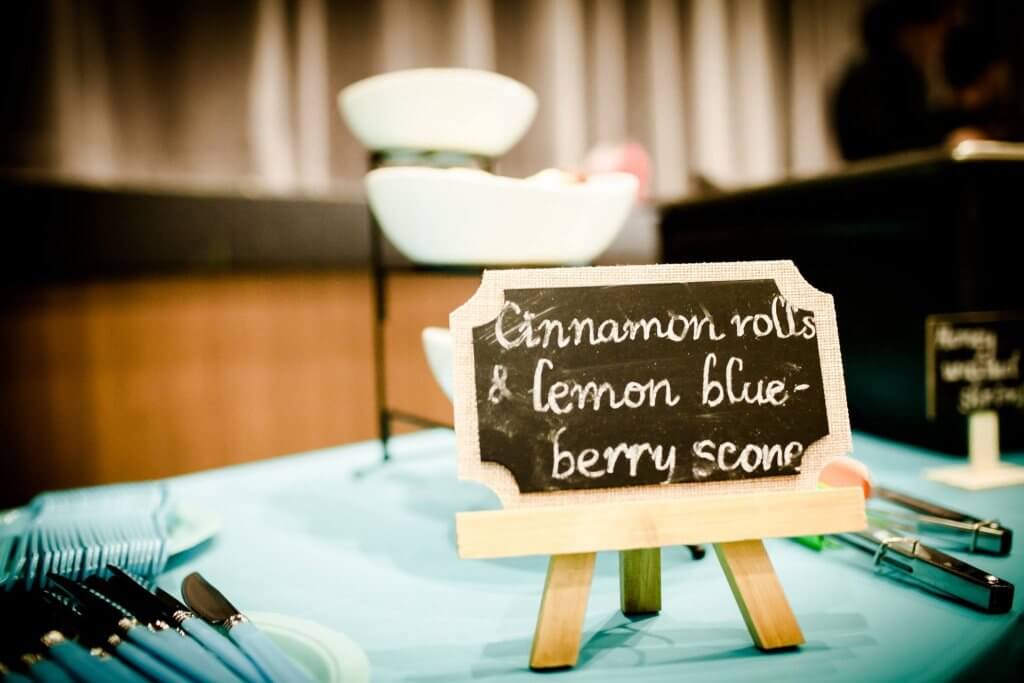 The dessert table was beautifully covered with blue table cloth, fishing net adorned with colorful seashells and starfish, and filled with apothecary jars of sea-inspired sweet treats like gummy sharks.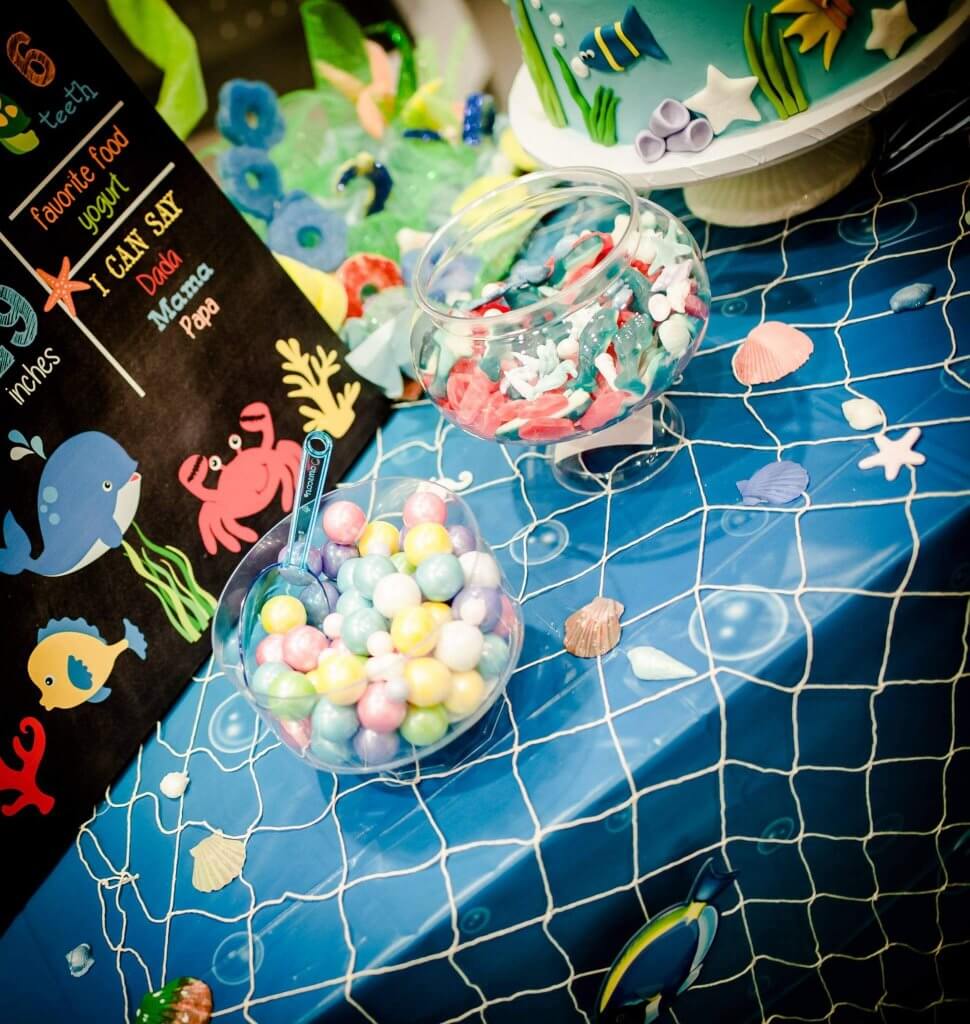 The party was such a huge "splash" and all the guests were "o-fish-ally" impressed!! Thanks everyone for reading! Hope these tips will be helpful for your next planned birthday parties for your kids!!!!
Check out my posts on other themed kid birthday parties!!!
–> How to Plan a Safari Themed Kid Birthday
–> 10 Ideas for Planning a Dreamy Pastel Fairy Kid Birthday Party
–>How to Plan "My Little Pony" Kid Birthday Party
–>5 Ideas for Royal Prince Themed First Birthday Party

SHOP MY FINDS