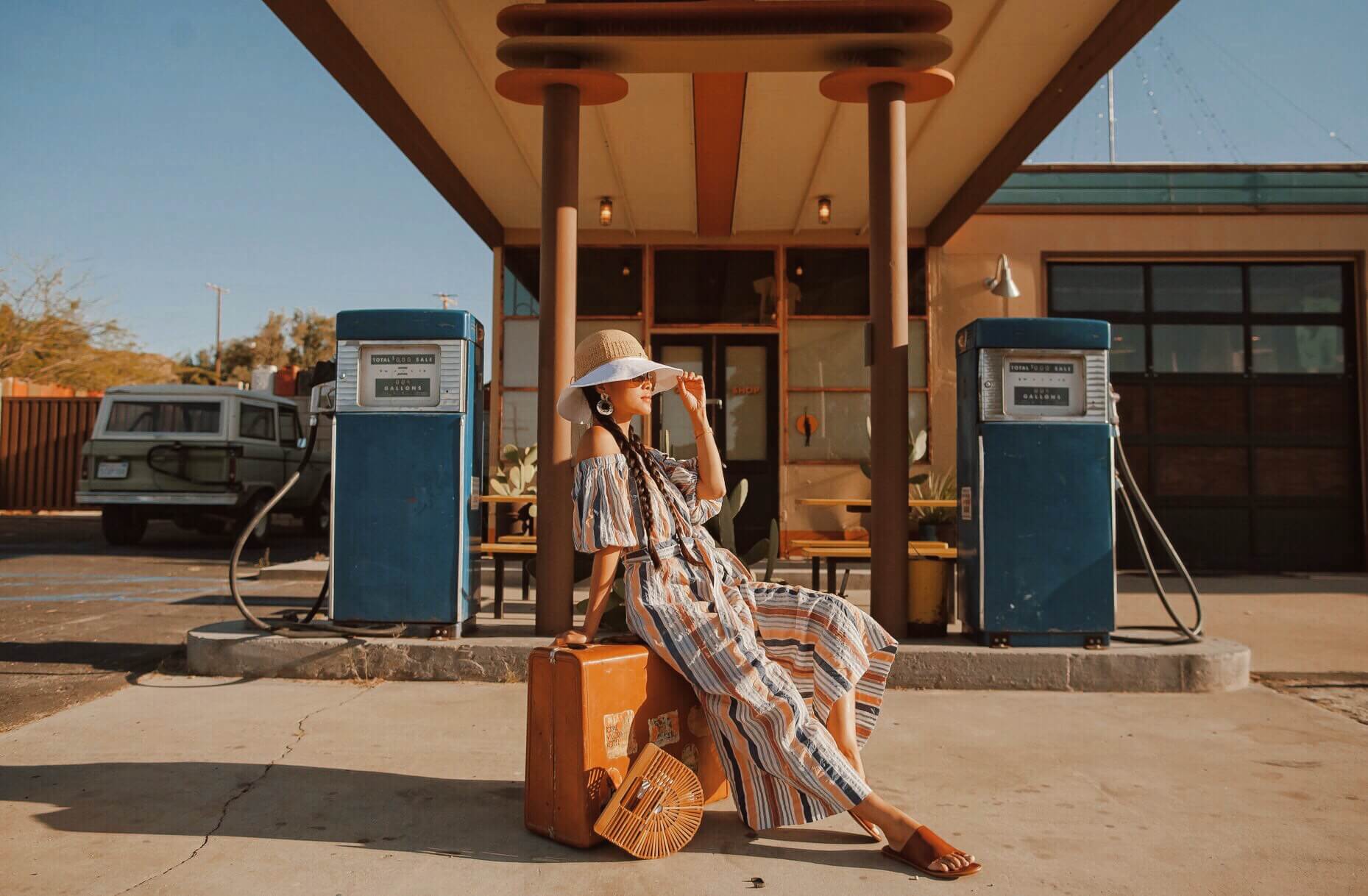 Why I'm Loving Trunk Club
While traveling the world can be an adventure of a lifetime, preparing for a trip can be an agonizing process. Did you know that 1/3 of Americans say they pack 24 hours or less before a trip? And according to a recent Trunk Club study, on average, Americans don't wear 24% of what they pack while traveling! But the good news is Trunk Club is a great partner to solve your packing woes in the most stylish way possible. Trunk Club helps alleviate the stress of packing by providing tips and tricks on what to wear during your travels.
You can find my full review of Trunk Club here. There I mentioned that after signing up online + filling out a style profile, I was paired up with my personal stylist – Katherine. She was an absolute dream to work with and we have very similar style. I told her that I had a desert road trip planned (Joshua Tree + Palm Springs) and described what I was looking to wear for the trip.
We had a few back and forth conversations through Trunk Club's messenger app about what I was looking for and price points. I told her my style was more bohemian and relaxed, rather than dressy or work appropriate. She was so helpful and nice and it was really great to be able to talk to a real person. Within a day, she sent me my online Trunk to review which was filled with items that she hand picked out to send to me. She nailed what I needed and sent me some of my favorite brands like Free People, Vince, and Reformation.
After receiving your Trunk, you have the ability to approve or deny each piece, or ask them to swap it for a different one. Since I loved every single piece that Katherine chose for me, I decided to keep my Trunk as is. Probably what I love most about my first Travel Trunk experience is that my stylist sent me pieces that I never would've thought to pick out for myself, but I ended up loving. I loved how everything turned out and loved mixing things up a bit, while still staying true to my style!
HERE'S HOW I WORE MY TRAVEL TRUNK OUTFITS ON MY JOSHUA TREE/PALM SPRINGS ROAD TRIP….
The stylish little SoCal city of Palm Springs is known for desert heat, palm trees, and lots of dreamy colors. Palm Springs in April is warm and sunny; the daytime temperatures don't require much. All I needed were proper spring capsule wardrobe essentials – something colorful and something light. So that's exactly what Katherine picked out for me: a floral print skirt, a chiffon camisole, a light blue suede platform wedge, an elegant canvas hat, a pair of hoop earrings, and a pair of aviator sunglasses. These Trunk Club Travel items really elevated my Palm Springs style.
With spring unofficially in Palm Springs, it's the perfect time for the desert oasis's rusty reds and poppy yellows to inspire my next outfit: a flowy midi dress in a sweet floral print and a pair of toe loop sandals. This outfit really took carefree style to the next level!
Joshua Tree is one of my favorite weekend getaway destinations. It is famous for its twisted, bristled Joshua Trees, which are literally everywhere. Scattered with a few cacti and other desert flora, big rocks for a dramatic impact and endless roads that simply disappear into the horizon it makes for quite the stunning scenery. Spring is a fantastic time to visit, when the season's soft light illuminates the vast landscape and rock formations. For my Joshua Tree boho outfits, I wore these items from my Trunk: a lightweight linen-blend jacket and a wide-leg cotton jumpsuit.
Joshua Tree is also one of my favorite photo spots. It's like stepping back into the 1950's with vintage stores, old gas stations, and gold-mined ranches. As we passed by a Joshua Tree Gas Station, this outfit from my Travel Trunk fit perfectly for the setting: an off shoulder airy seersucker jumpsuit, a bamboo mini ark handbag, my favorite pair of loop sandals (I wear these sandals a lot…so chic and comfy!), and the canvas hat (this hat with extra-wide canvas brim finished with a raffia top is super flattering for summer-ready style)!
I'd give my first Trunk Club experience five stars and would use it again for both vacation wear and casual clothing needs in the future. From beginning to end, the online stylist interaction was friendly and personable, while still remaining professional. No matter what style dilemma you're facing, Trunk Club can help you solve it. And I think Trunk Club would be especially helpful when packing for a trip. If you guys want to try it out for yourselves, here's a link to sign up for Trunk Club.
***Thank you to Trunk Club for kindly sponsoring this post. All opinions are 100% honest & completely my own.