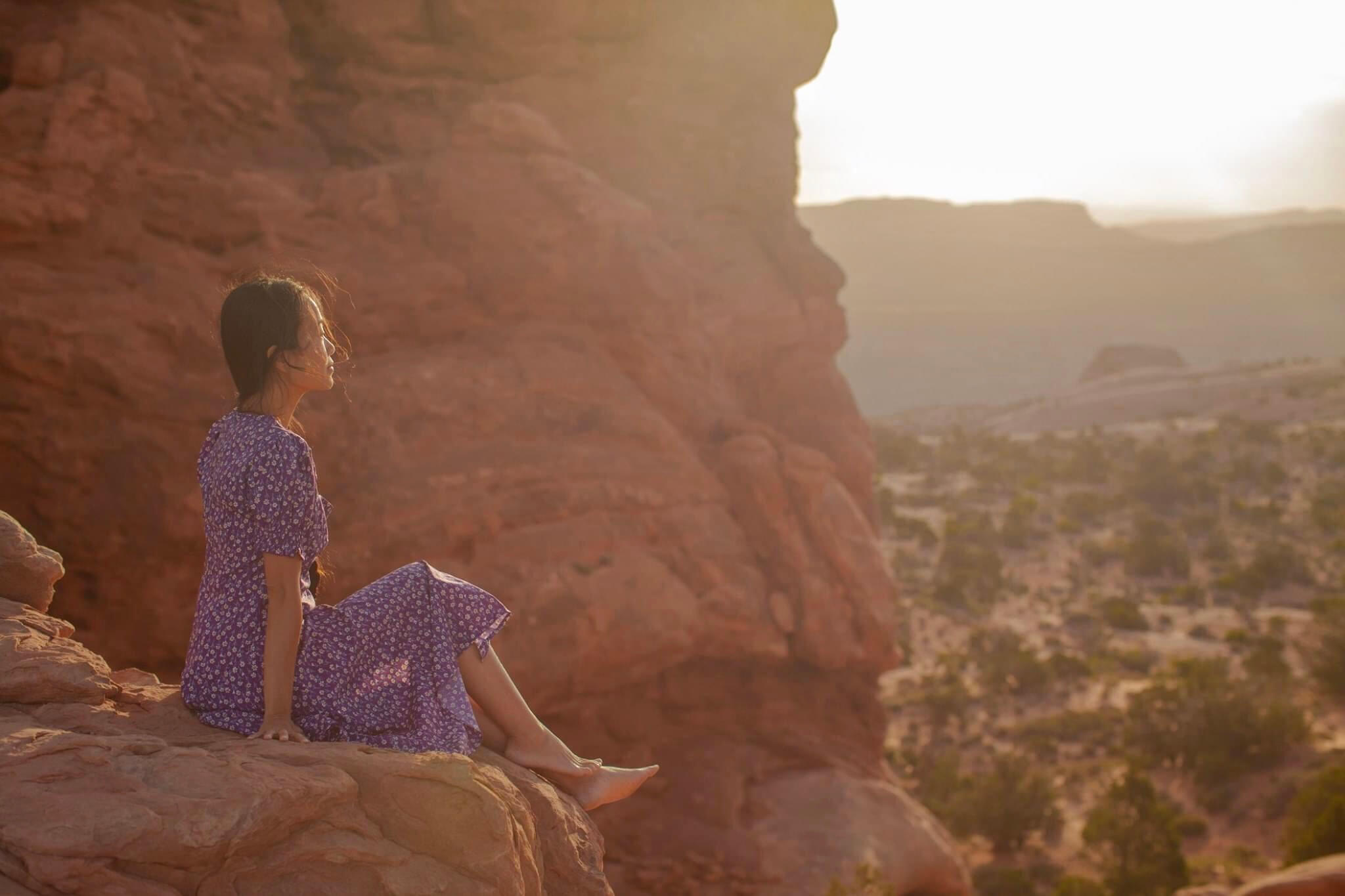 A 7-Day Utah Campervan Road Trip Itinerary for Pet Lovers
One of #vanlife perks is that we get to choose our own adventure, no pressure – see as many or as few of the sights as we like. Skip some landmarks and make the trip shorter, add some and make it longer – it's totally up to us. We love cruising along, wind in our hair, not a care in the world,…And Utah is a rad place to drive around; it has everything: stunning red rock scenery, twisting slot canyons, dramatic viewpoints, spectacular waterfalls, and some of the coolest national parks in the US (known as Utah Mighty 5). We did our Utah roadtrip in 10 days in our newly built campervan, sleeping under the stars in some epic locations, and not booking any campground in advance (you know…during Covid time everything is so uncertain so we just go with the flow!)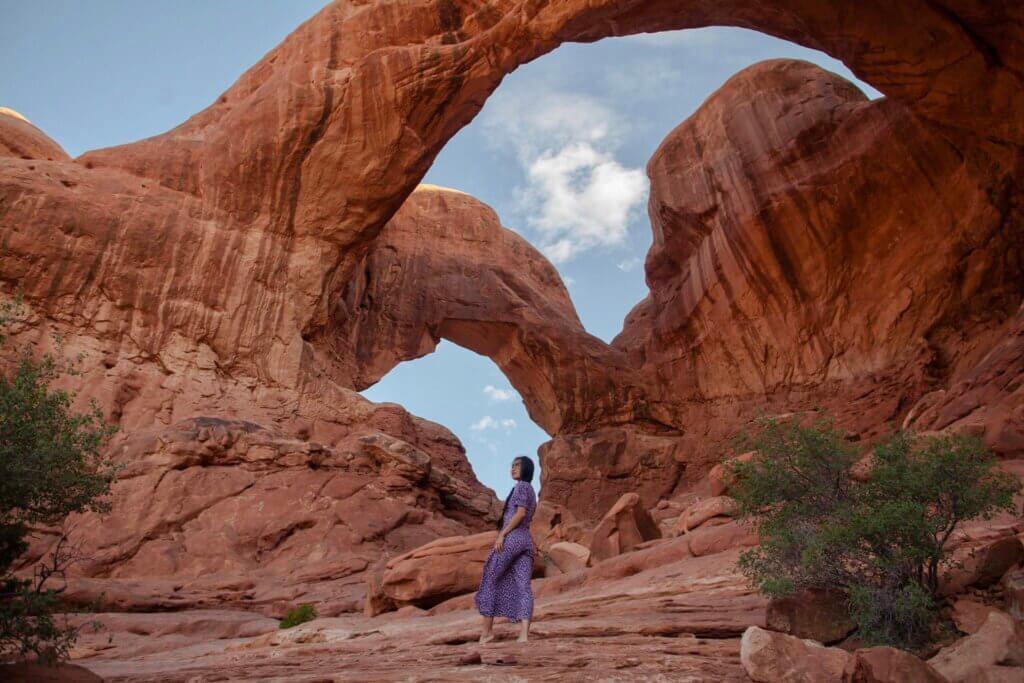 Here's how you can also plan a campervan Utah roadtrip with your pets like I did. I'd recommend at least a week – but if you have two weeks, that would be even better. In this Utah road trip itinerary, I'll share our favorite dog-friendly hikes and the best spots to stop along the route.
Day 1: Drive from Las Vegas to Zion National Park (160 miles – 2.5 hours)
We started driving from Las Vegas at 5am and arrived at the park around 9am (Time zone change: Las Vegas, Nevada is 1 hour behind Zion National Park). Due to Covid-19 the Scenic Drive and most of the major trails were closed so the park didn't collect the entrance fee (usual fee: $35 per vehicle). It was perfect for us actually since most of the trails at Zion don't allow dogs, so we didn't plan to do any serious hiking here. We went straight into the park to go to Canyon Overlook Trail. The view from here is breathtaking!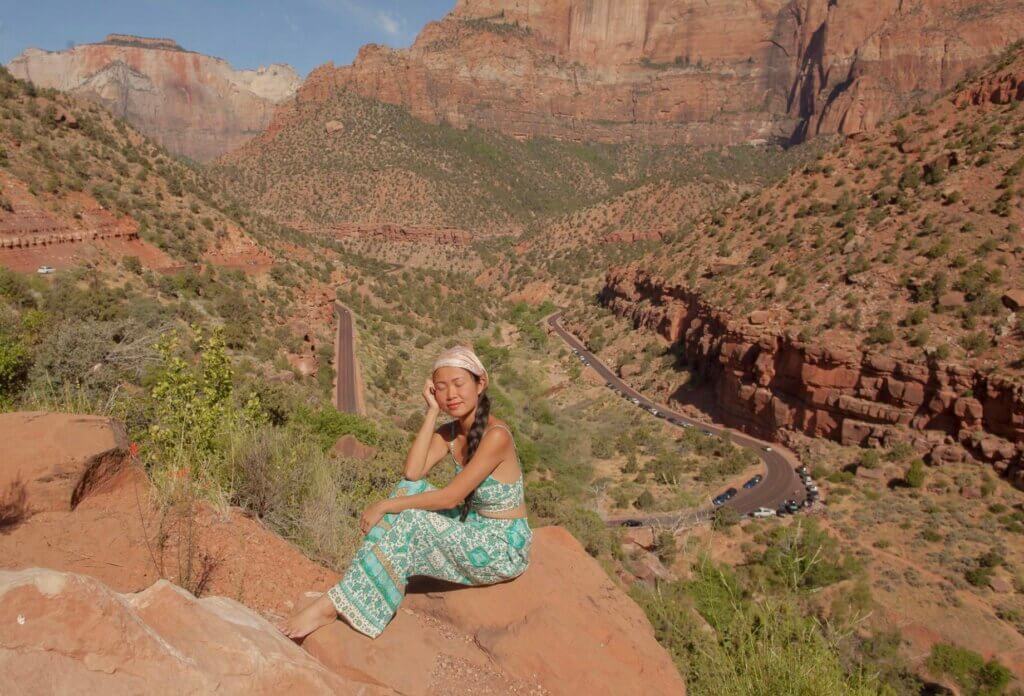 Zion was Utah's first National Park, and you'll see why. The park features high plateaus, a maze of sandstone canyons and incredible trails with easy access.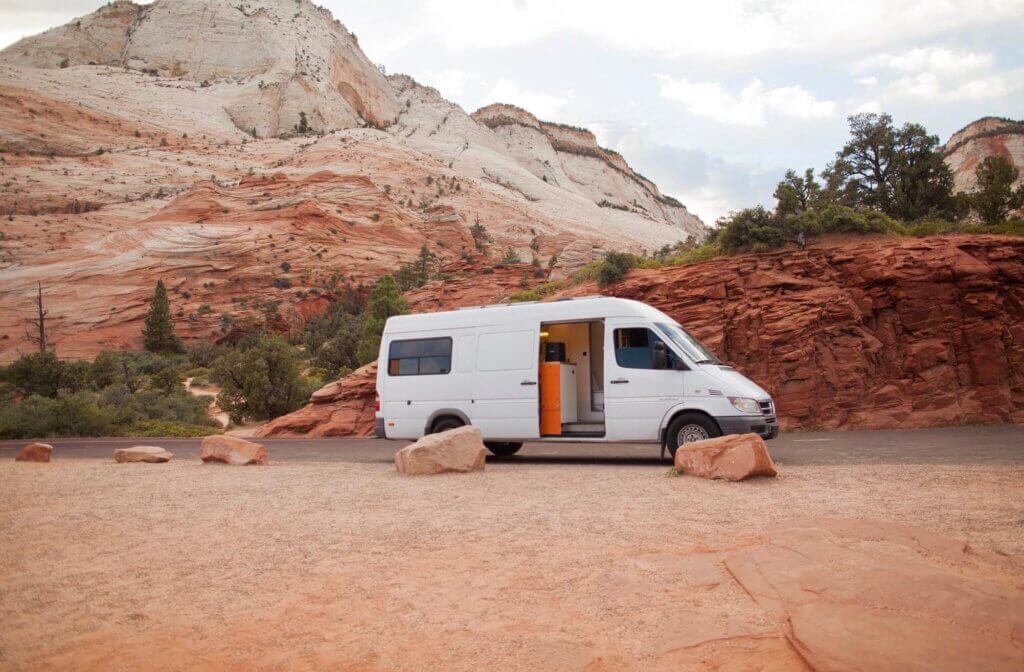 At Zion the only dog-friendly trail is the Pa'rus trail. It is clearly marked as pet friendly and extends for 1.7 miles along the banks of the Virgin River. But it was summer days and it was super hot to hike with our dog so we decided to skip the hike and just spent the entire day relaxing by the river, swimming and staying cool. Although it was 90F degrees at Zion that day, it felt like 80F in shades near the river (the river was icy cold)!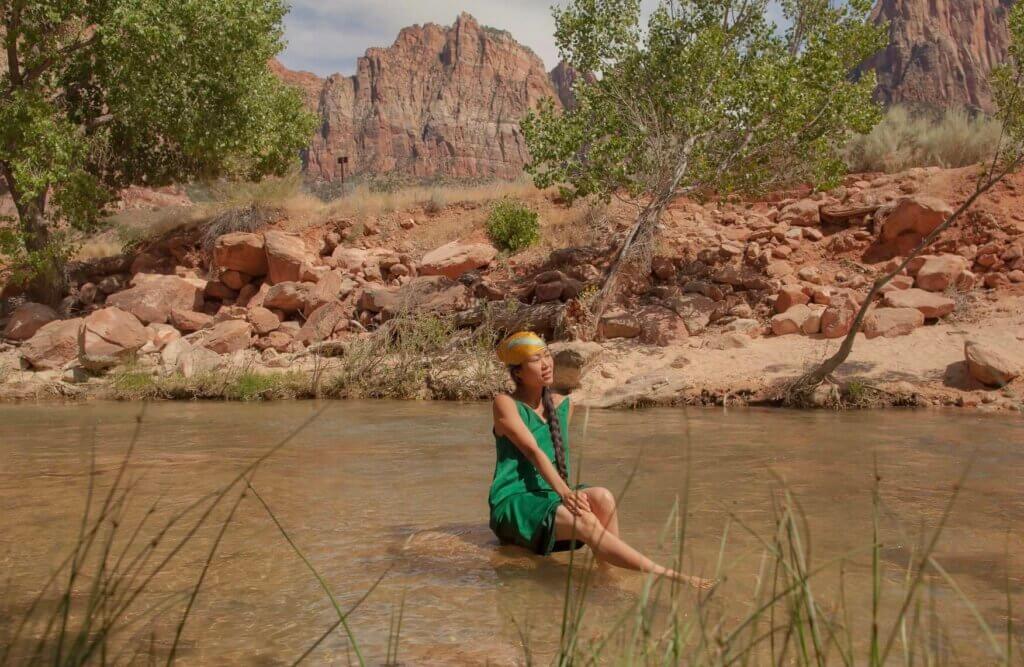 Later that afternoon we found a quiet spot in the park with no one around and set up our picnic table to enjoy our dinner with a breathtaking view of red rock formations and sunset.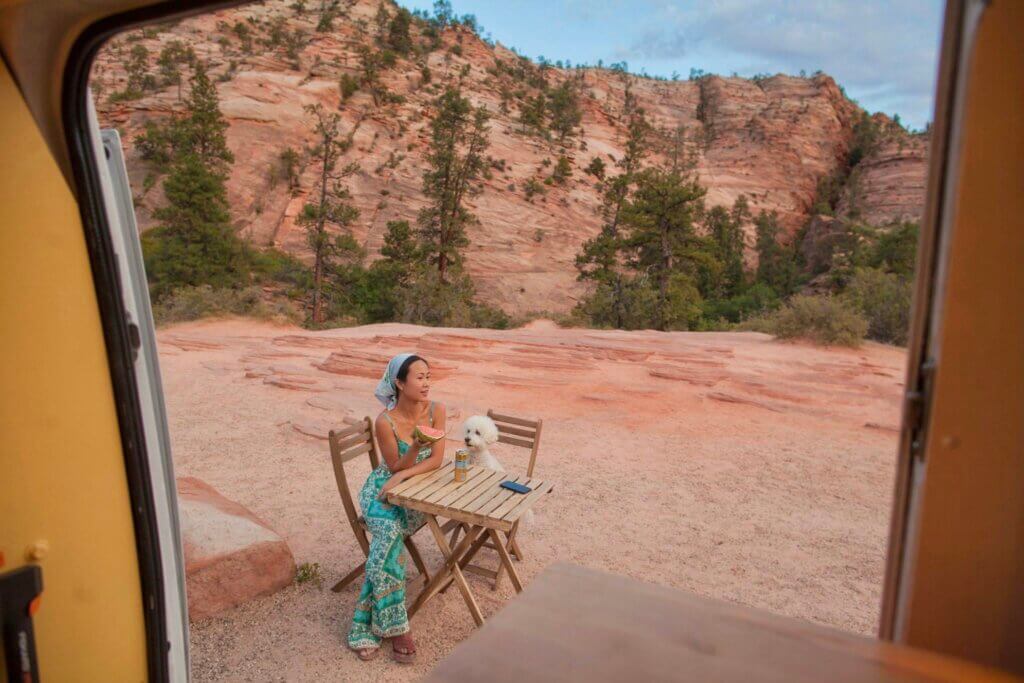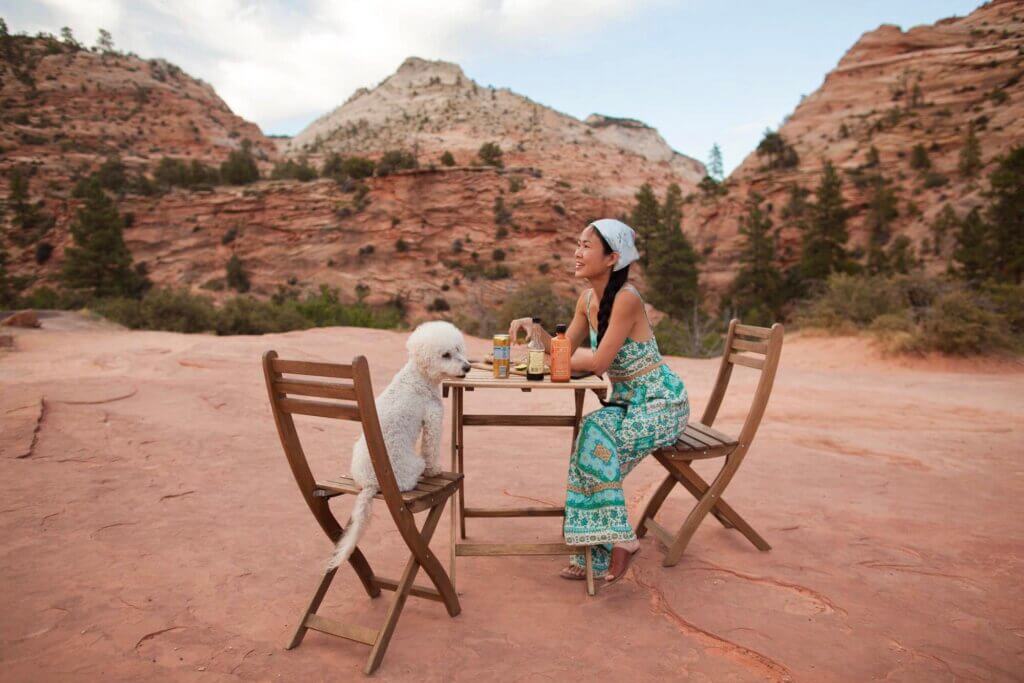 Day 2: From Zion National Park to Bryce National Park (72 miles -1.5 hours)
We woke up around around 6am, made some breakfast, then headed into Bryce around 8am. Bryce Canyon is famous for its hoodoos – sandstone columns each uniquely shaped by erosion.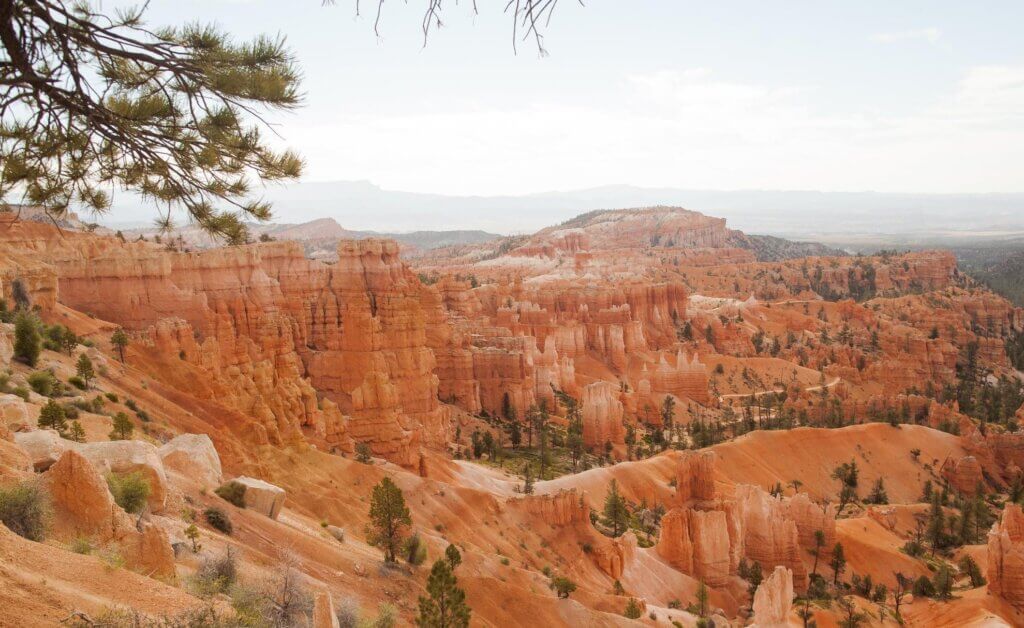 The contrast of the red sandstone hoodoos against the green trees and blue sky is breathtaking. As someone who loves photography, this park is undoubtedly my favorite park to photograph.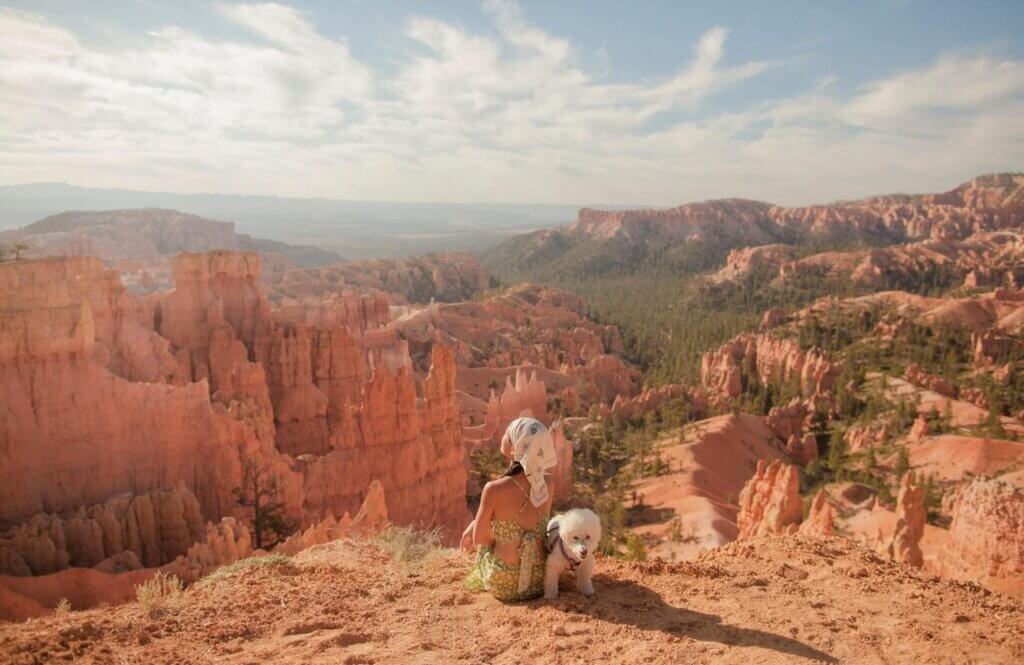 The main way to explore Bryce Canyon is from a series of overlooks and trails along the top of the rim. Our first stop was at Sunset and Sunrise Points. These viewpoints are also where the trail heads for the Navajo and Queen's Garden loop trails.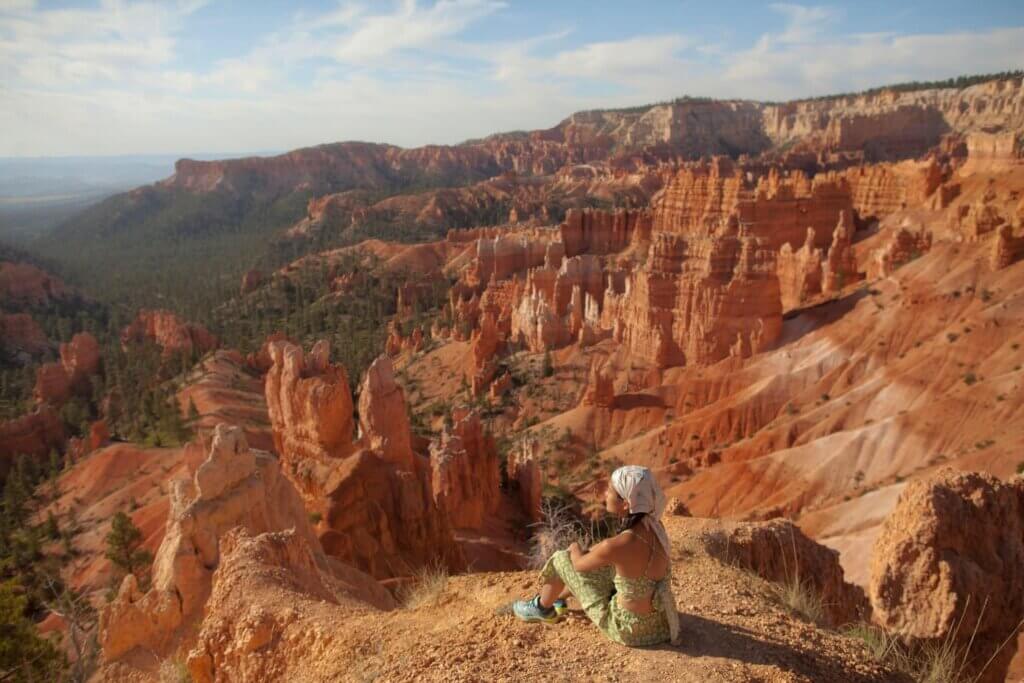 A nice stroll along the rim of the canyon between the Sunrise and Sunset viewpoints (part of Rim Trail) is one of the shortest and most popular hikes in the park and is also dog-friendly.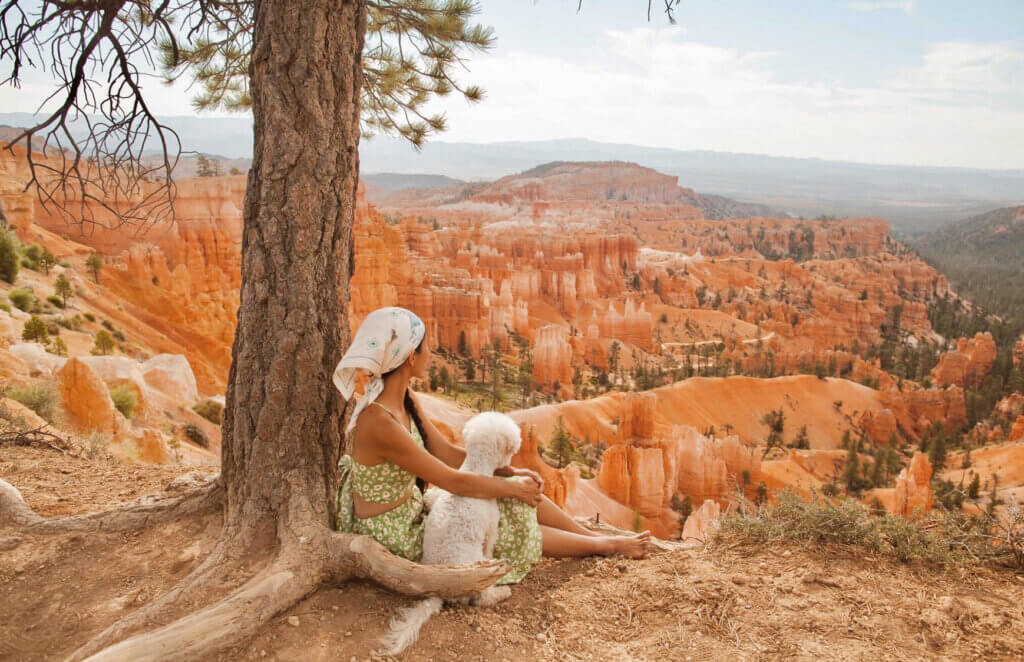 If you want to get close or among the hoodoos and see them from different perspective, there are several hiking trails which take you into the canyon.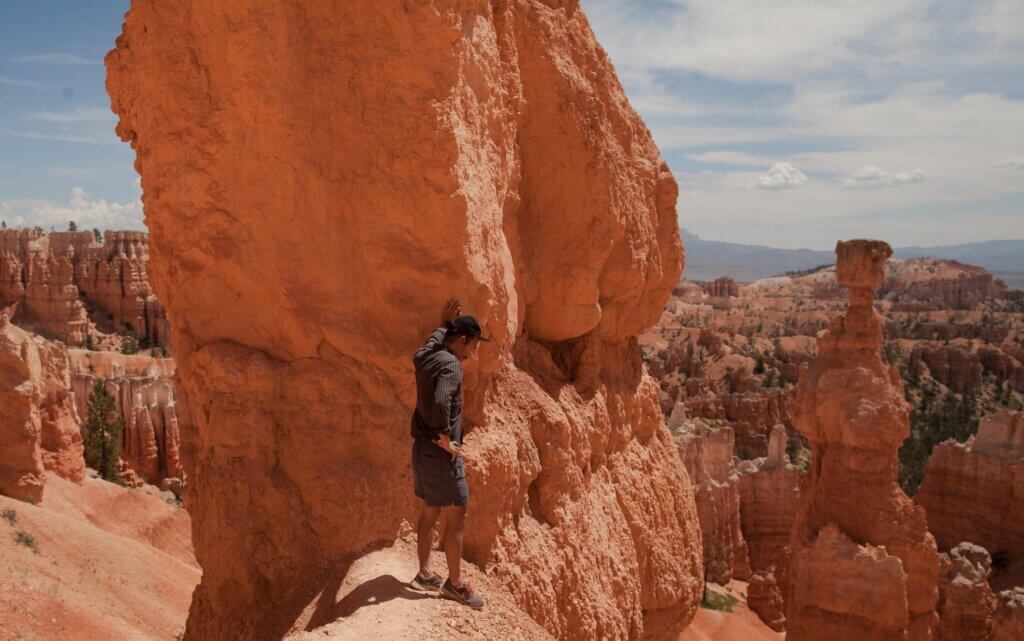 There was a campervan family who parked next to us and their kids wanted to play with Chloe. So they babysat Chloe for us to explore some of other hiking trails. We headed back to Sunset Point to the start of the Navajo Loop Trail. The trail isn't an extraordinarily long hike, but it is a moderately strenuous one. This short 1.3 mile hike includes 550 feet of elevation change.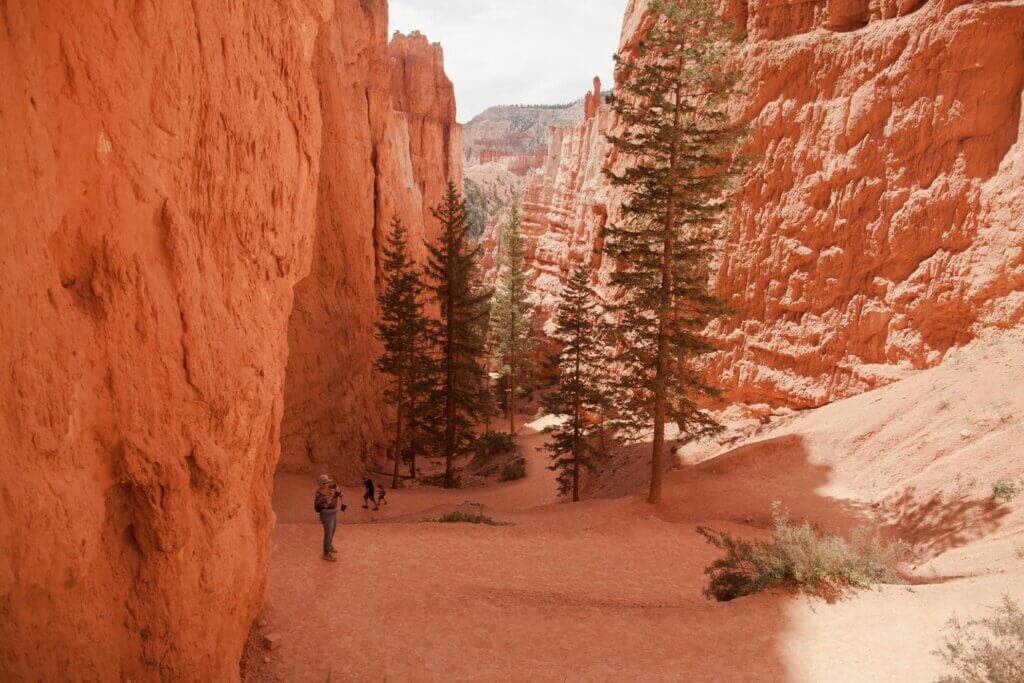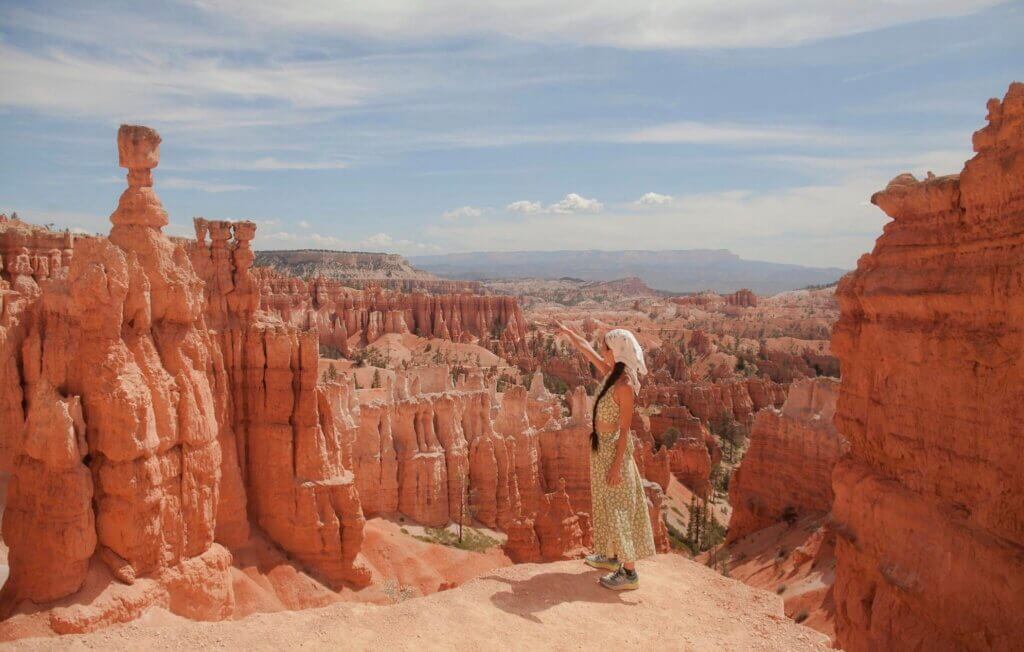 You'll get to see Thor's Hammer, Two Bridges, and Wall Street canyon on this trail. Here you can see up close the intricate detail of the patterns that erosion has left on the hoodoos.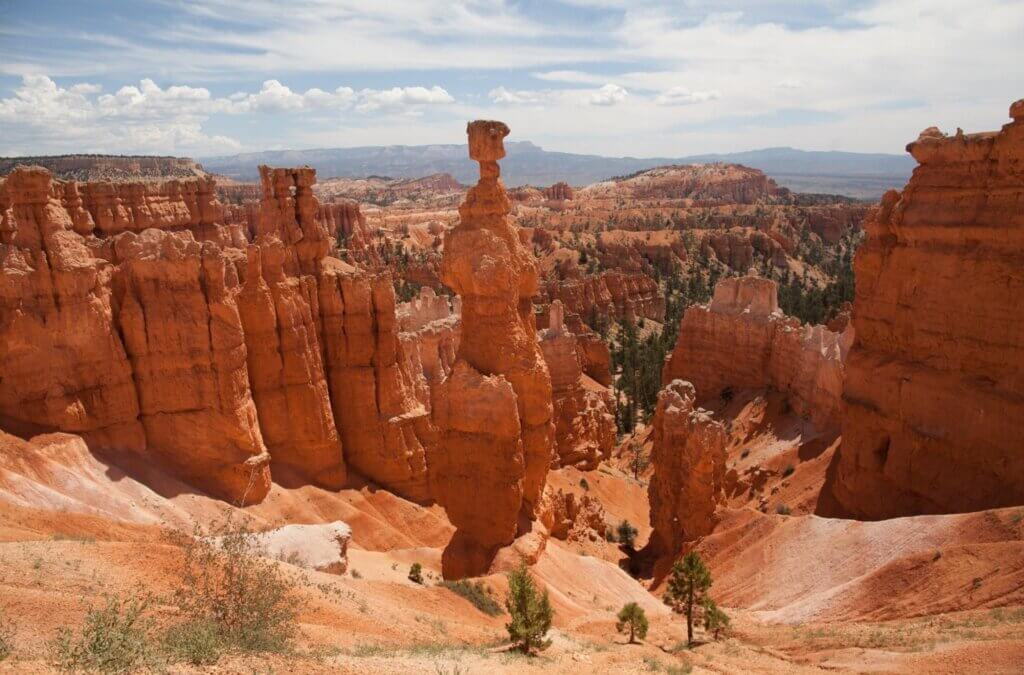 Inspiration Viewpoint is my favorite viewpoint in Bryce Canyon National Park. This viewpoint is comprised of three different levels of viewing platforms, each gaining elevation and providing more spectacular view.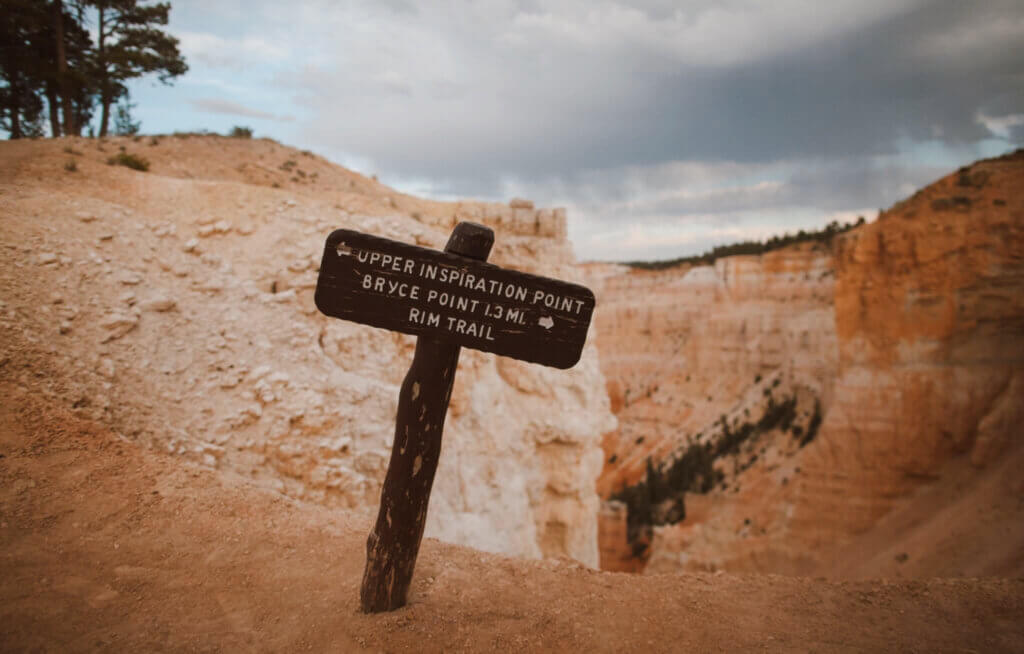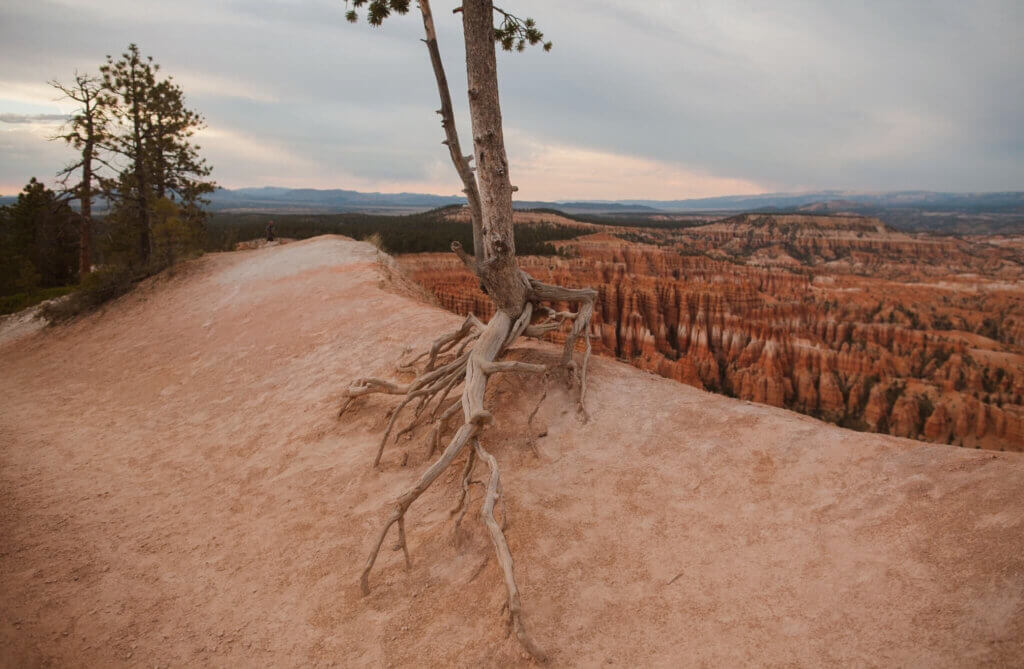 From these viewpoints you can see some of the areas of Bryce Canyon with the most dense concentrations of hoodoos.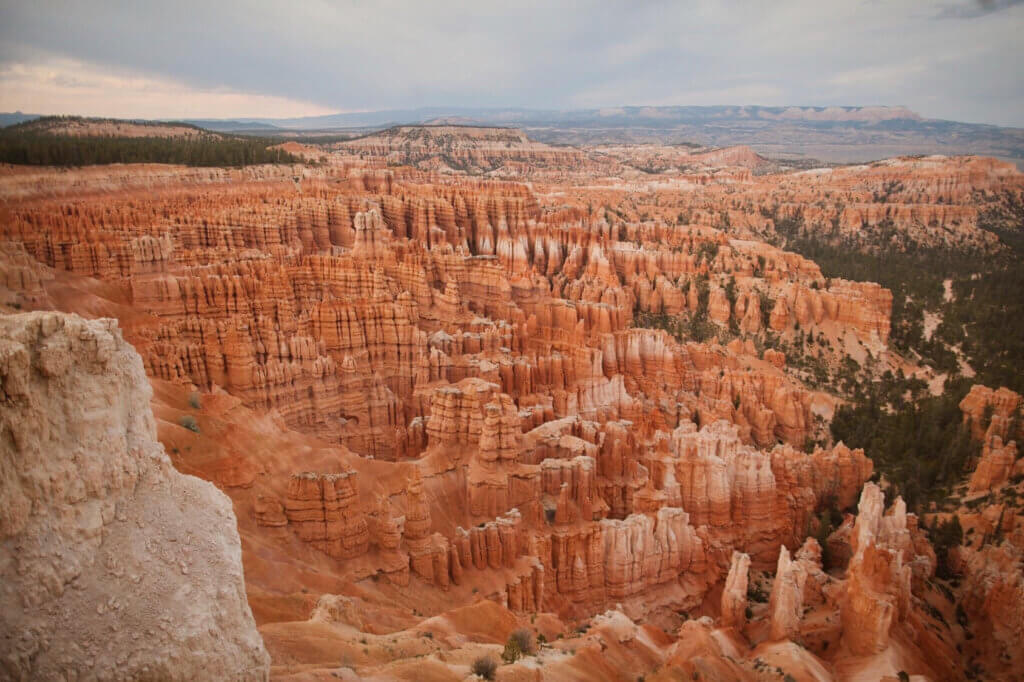 Day 3: From Bryce National Park to Grand Staircase Escalante National Monument
There is so much beauty in this remote area of Utah. We are learning more and more that if we can get off the beaten path, we are able to find some pretty epic places!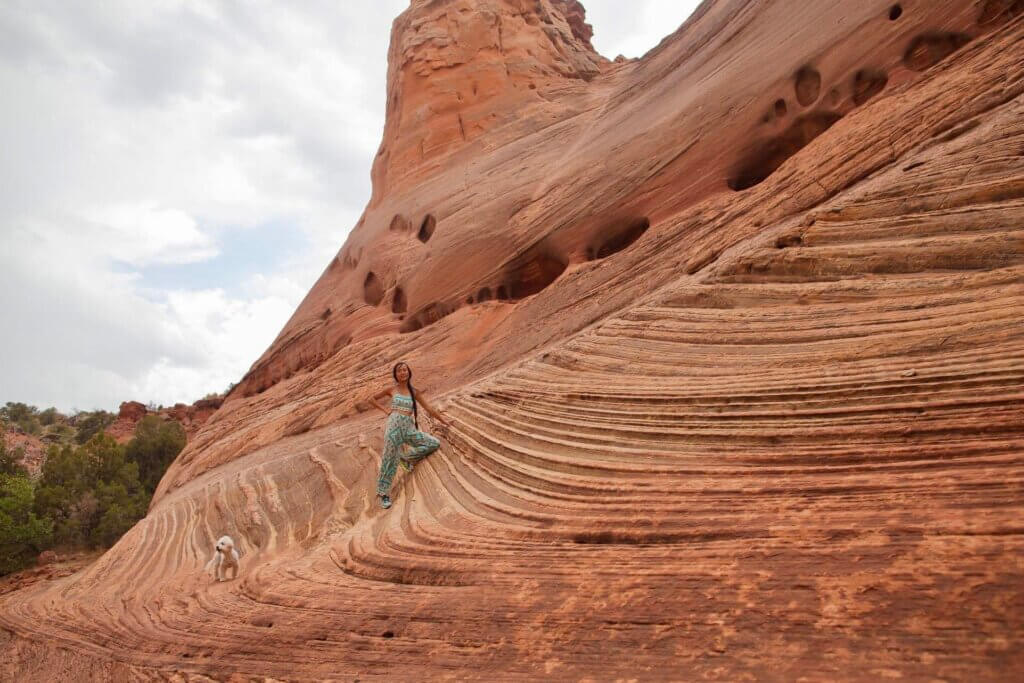 Grand Staircase-Escalante National Monument is one of those places in Utah that a lot of people have never heard of. It often gets overshadowed by the places with National Park status such as Zion, Bryce, and Arches. This monument is often overlooked because most tourists find it to be too remote. Being that I am normally drawn to adventures that are remote, I researched the area and landed on three hikes for my itinerary: Devils' Garden, Zebra Slot Canyon and Lower Calf Creek Canyon.
Our first stop here was Devil's garden. The hiking is easy and flat. There is no specific trail to follow–just a pathway winding around the various formations. It made a perfect quick stop on the way to Zebra Slot Canyon.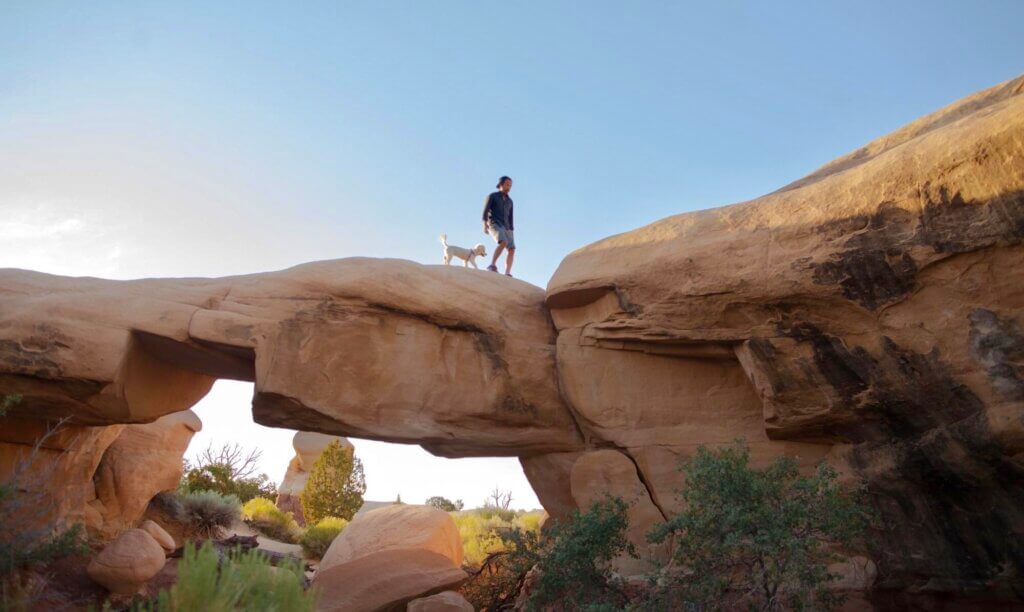 With hoodoos, crazy rock formations, and arches this place is more about wandering than hiking from point to point.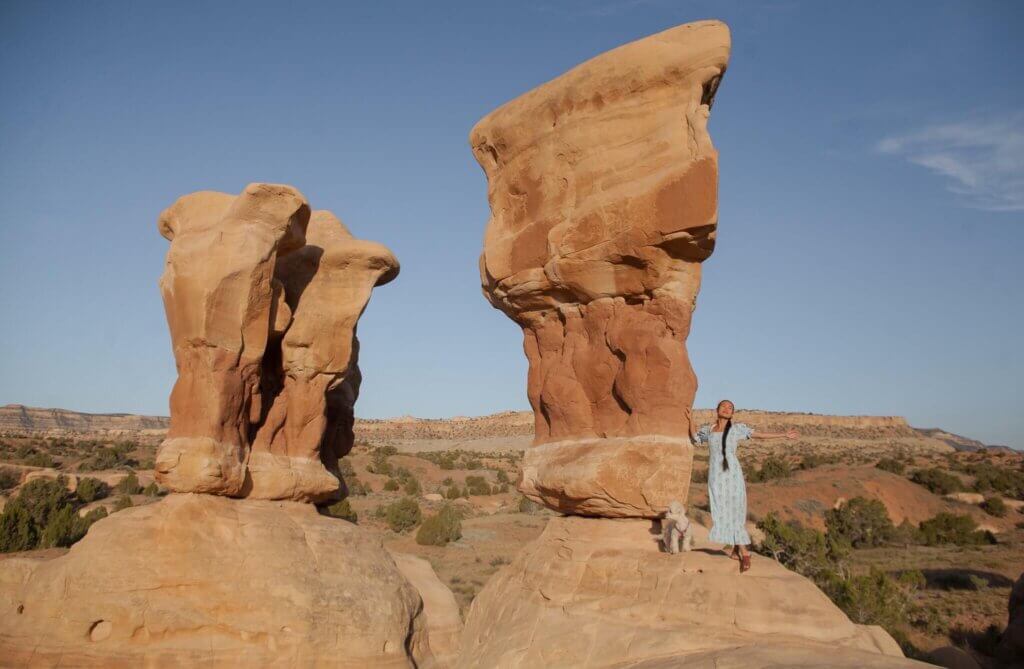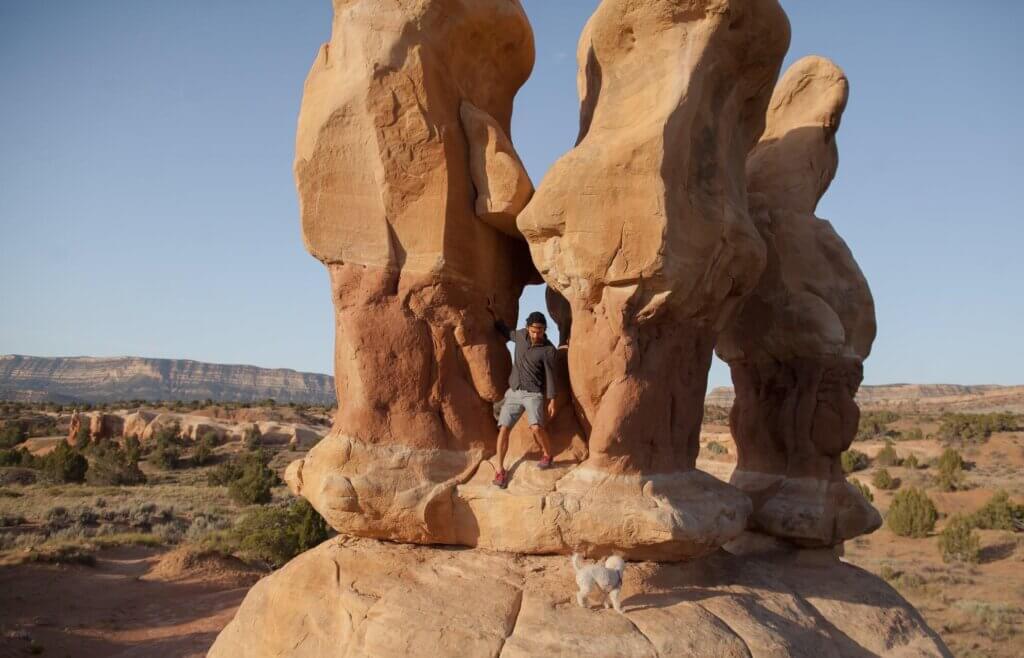 The most popular formation at Devil's Garden is Metate Arch. The arch is made up of two pillars connected by a small stretch of sandstone, barely larger than the average person.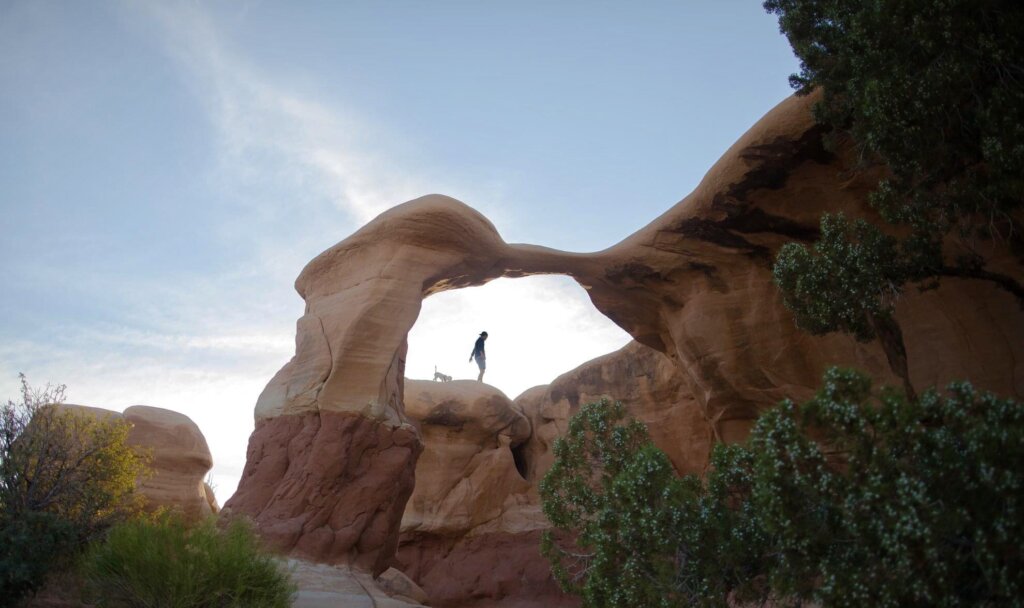 After Devils' Garden, we headed to the Zebra Slot Canyon Trailhead which is only 8 mins away. If you are looking for a slot canyon experience comparable to the famous Antelope Canyon but don't want to deal with the crowds or scheduling a tour? Zebra Slot Canyon is the perfect alternative (bonus: dog-friendly).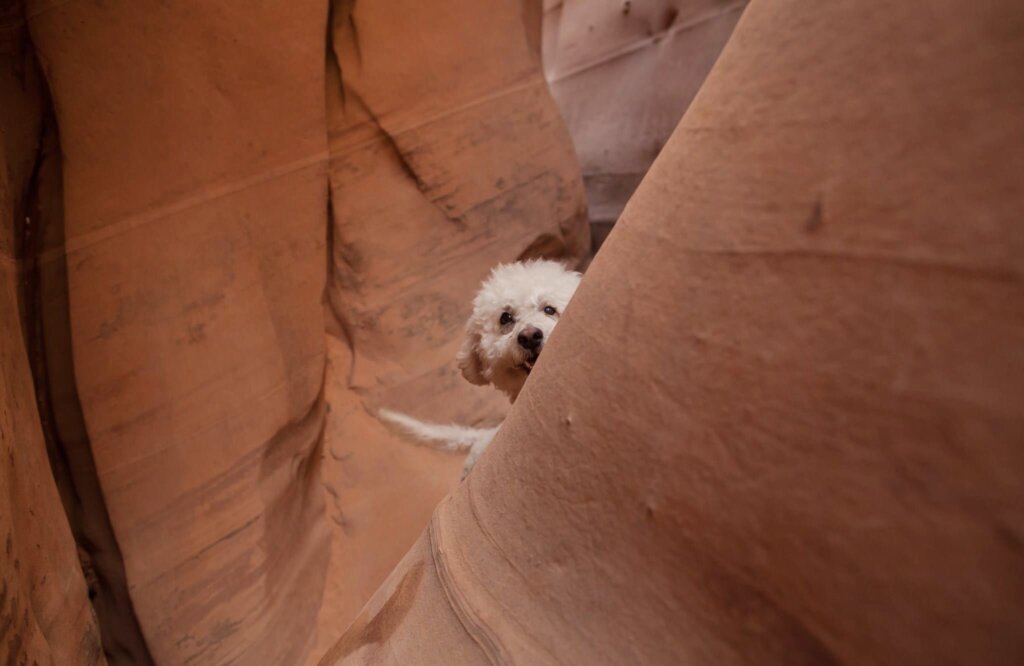 The hike to the canyon is short (6 mile roundtrip) and easy! From the trailhead, cross the road and find a well-traveled hikers path on the north side of the road. The trail is well traveled, but if you do accidentally follow the sandy wash rather than the trail, the only consequence is some winding back and forth.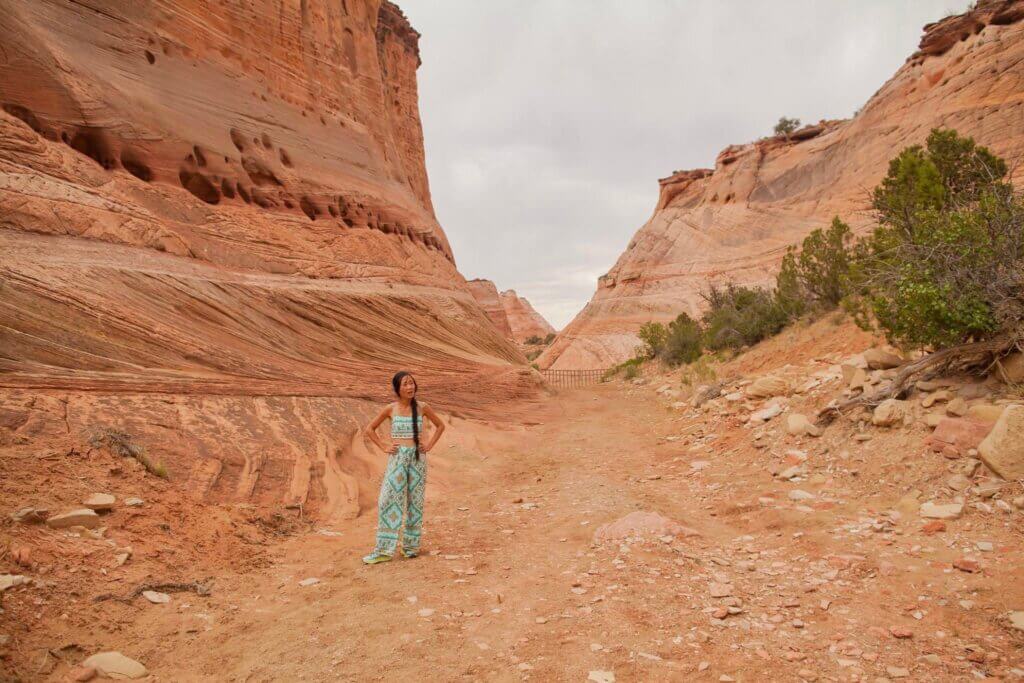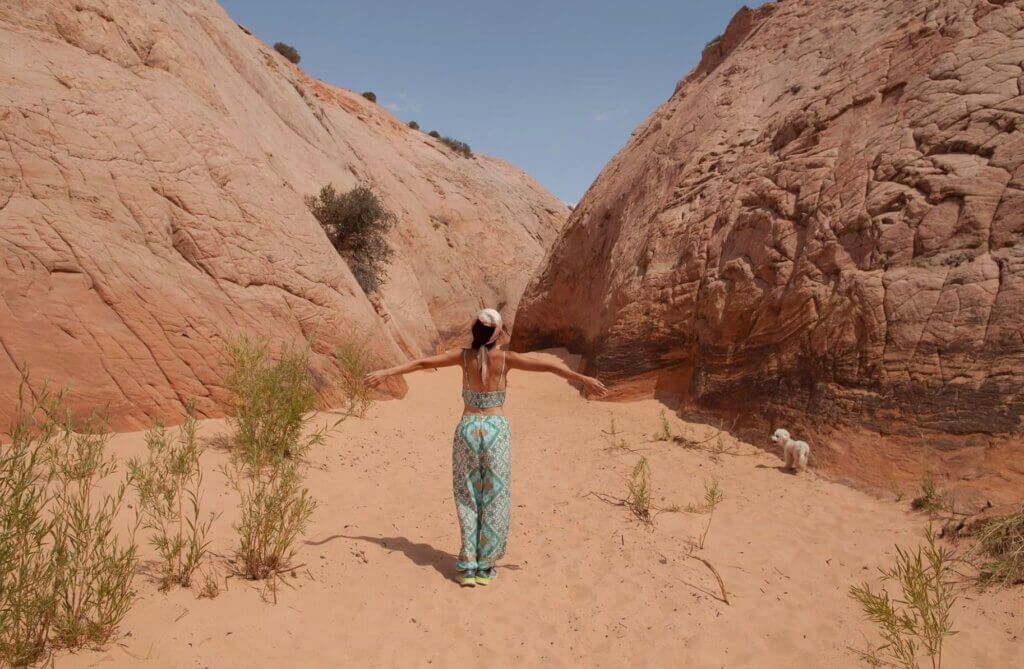 The challenging part is the hike through the canyon. Not because it requires endurance, but because it requires some scrambling and some climbing in very narrow (10 inches wide or less) passages.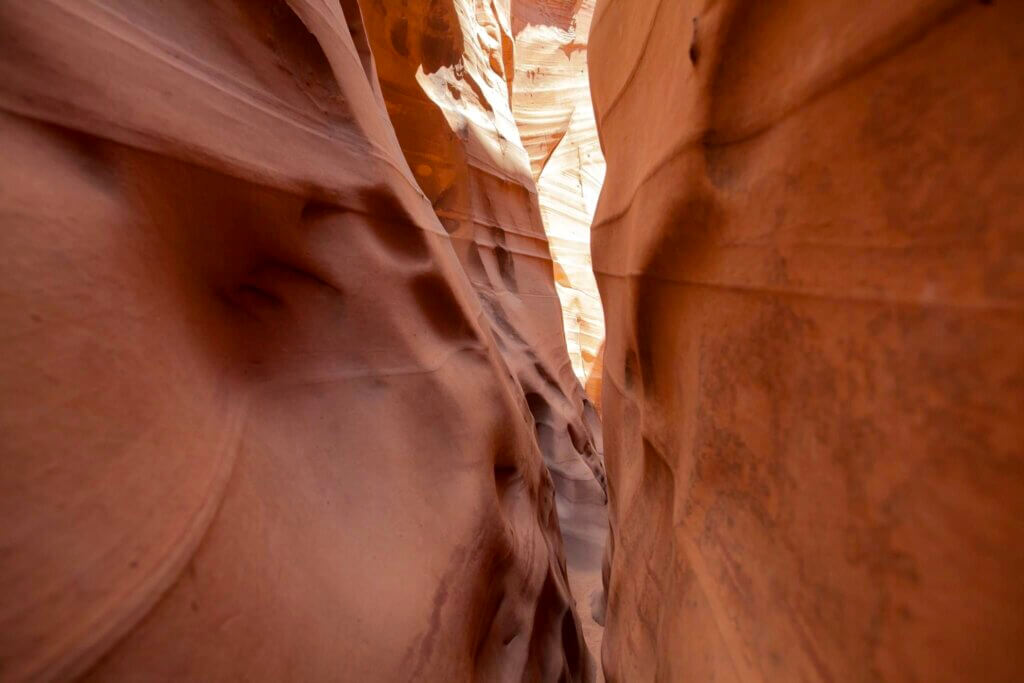 I can barely fit into some gaps, and Derek has to climb over. Chloe (our 16-lb bichon) can't make it through some gaps and I had to pass her to Derek to bring her inside "by air".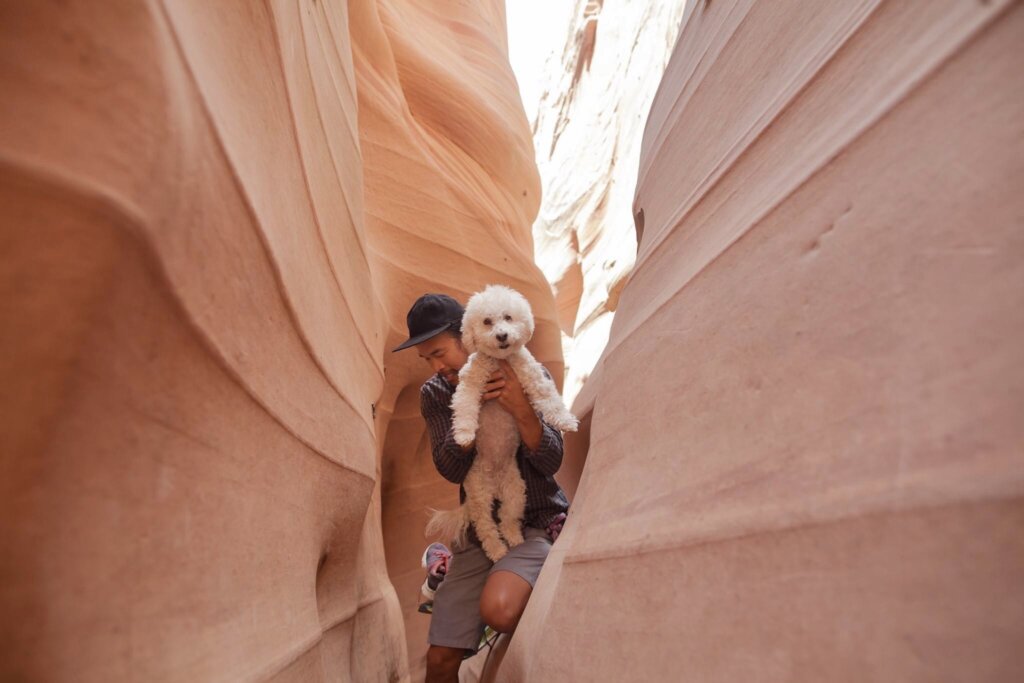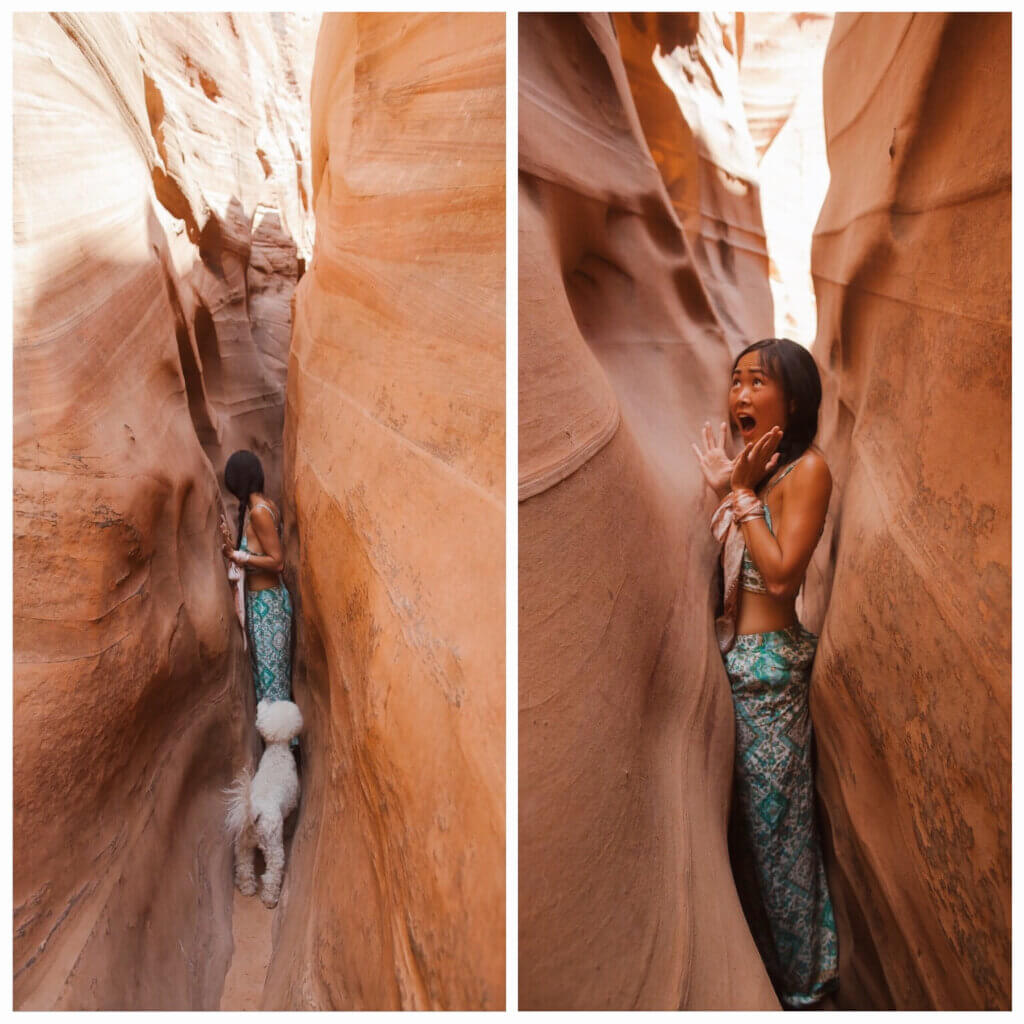 The truth is most of the hikers gave up after the first gap and just took pictures near the entrance of the canyon. We were one of a few that made it through the end of the tunnel.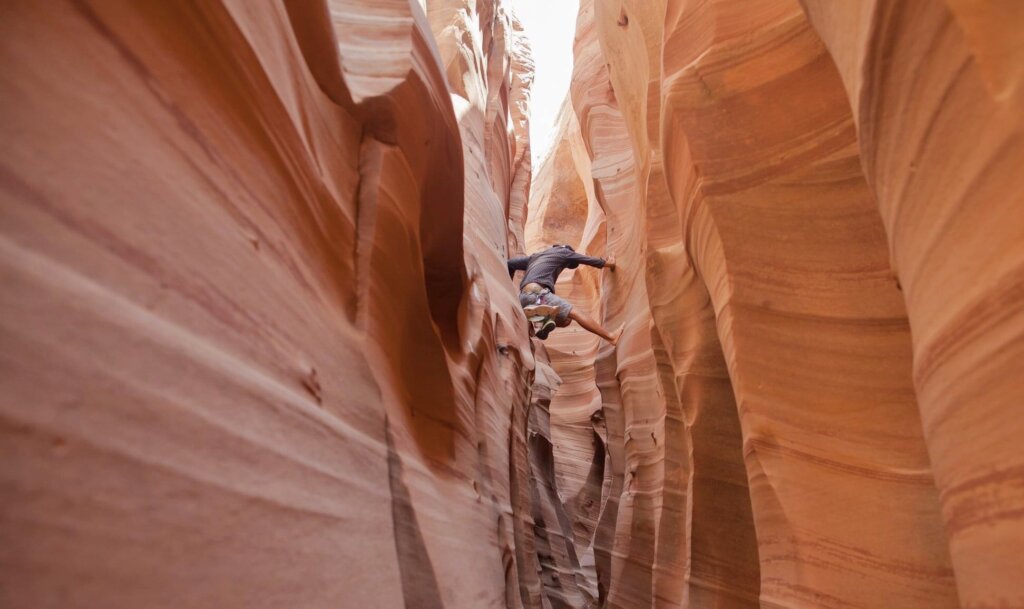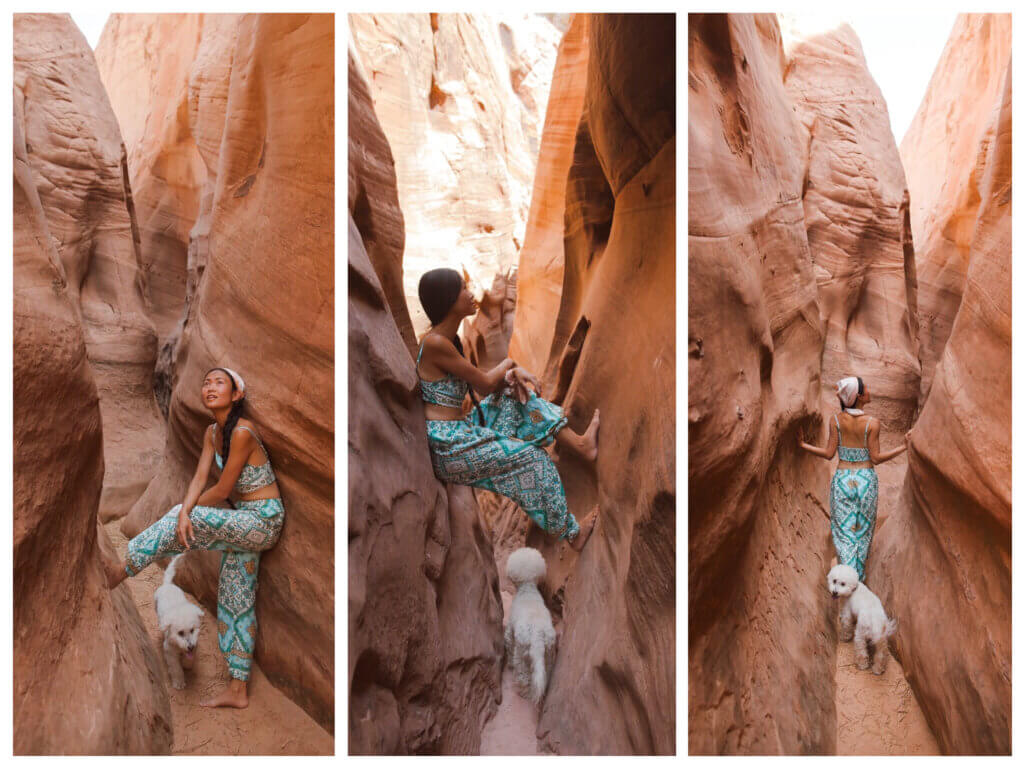 The reason we prefer Zebra Slot Canyon to the famous Antelope Valley was that we wanted to be able to do it at our leisure without feeling crowded and pushed through. We took photos when we wanted and we rested when we needed. Moreover we gotta experienced this canyon with our dog.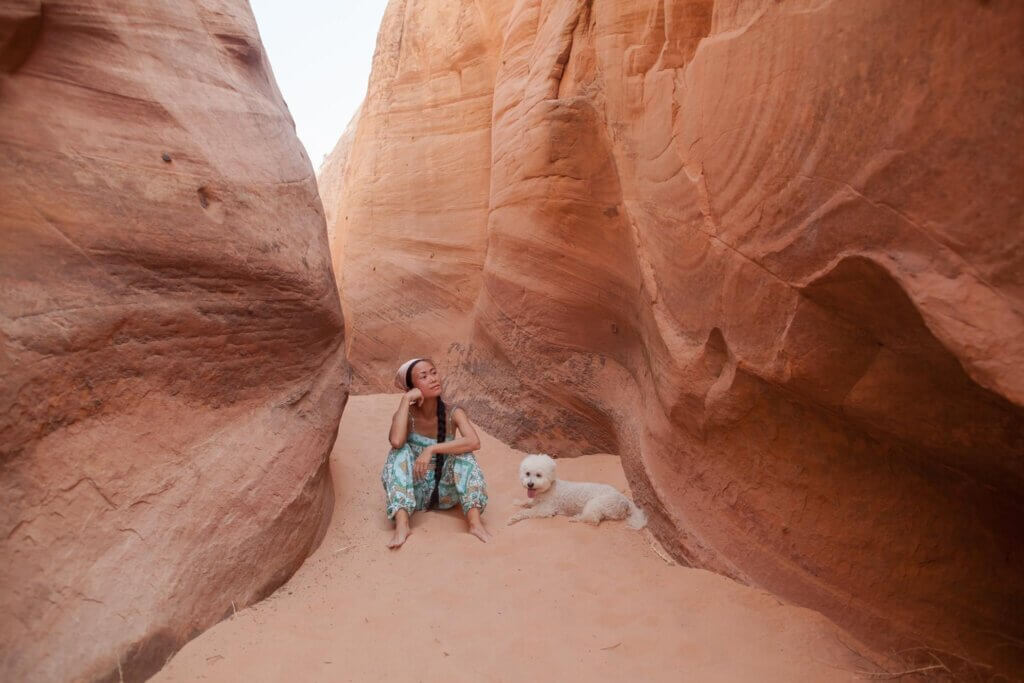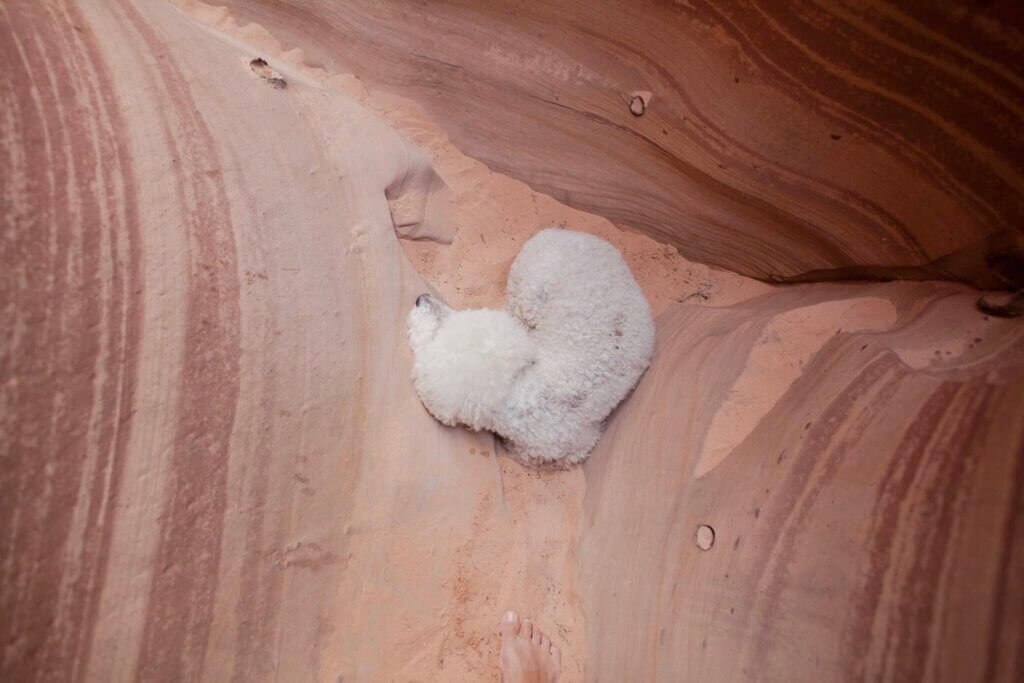 Although the hike to this canyon is quite easy, I would not recommend this hike on summer days (too hot, no shades). We were lucky with Utah summer weather; instead of its famous summer scorching heat, Utah welcomed us with breezy/stormy/windy/rainy weather. However, we were only hiking during sunrise (5-8am) and sunset (6-9pm, yup! sunset here is 9pm). We had a pleasant (mild, cloudy, windy) hike to Zebra Slot Canyon, but nature was just being extra nice to us that for the first time we witnessed rain in the desert on the way back.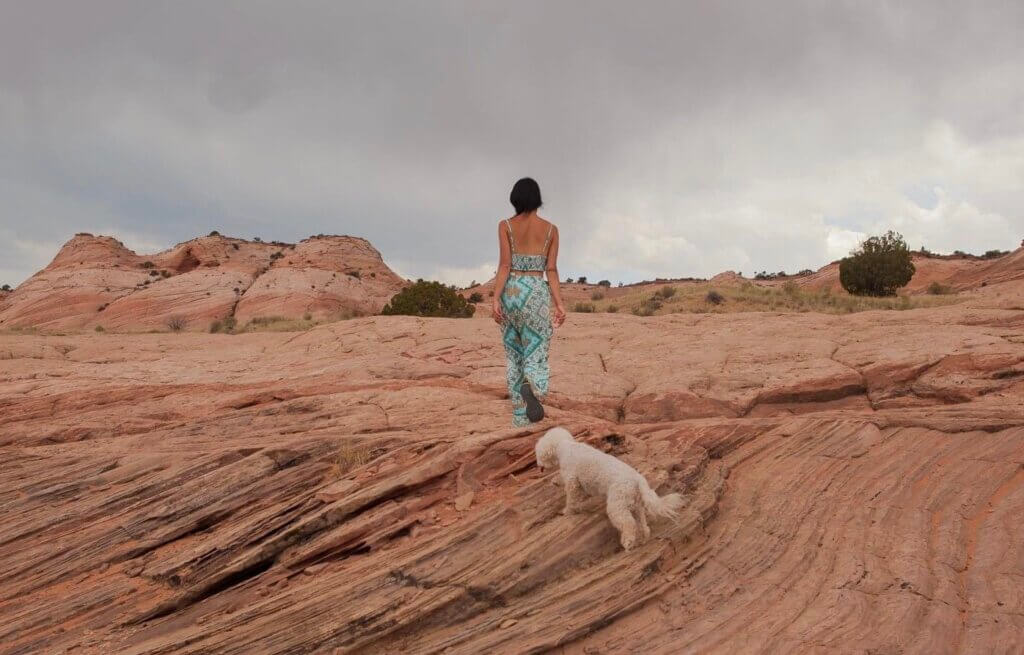 After this hike, we drove to Lower Calf Creek Falls Trailhead. The camping ground was full but the camping host allowed us to stay in the day-use parking area. The fee for for camping is $15 and $5 for day-use.
Day 4: Exploring Lower Calf Creek Falls
We woke up around 6am, had breakfast and started hiking to the falls. Given the harsh environment of the desert, we wanted to get a pretty early start to minimize exposure to the desert heat, plus avoid crowds.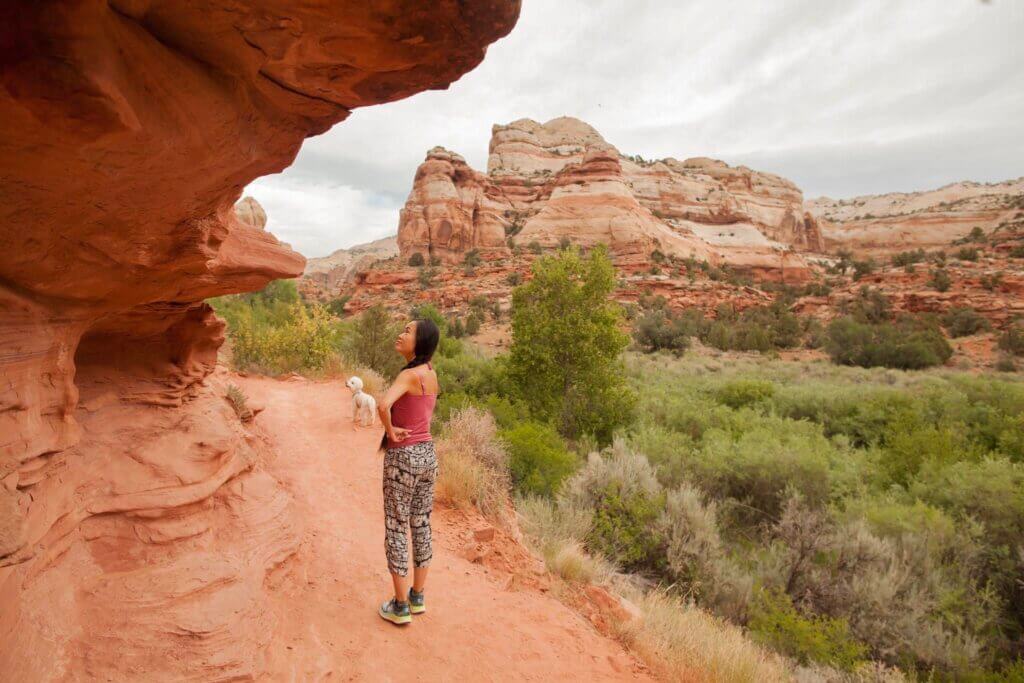 It's a mostly flat 6-mile round-trip hike. The trail will be mostly over sand, which makes going a little more tiring, but the hike gains less than 300 feet of elevation over three miles, so it is pretty pleasant. The trail is partially shaded, and after about 1 mile, you will walk beside the small Calf Creek, which has tiny fish darting around.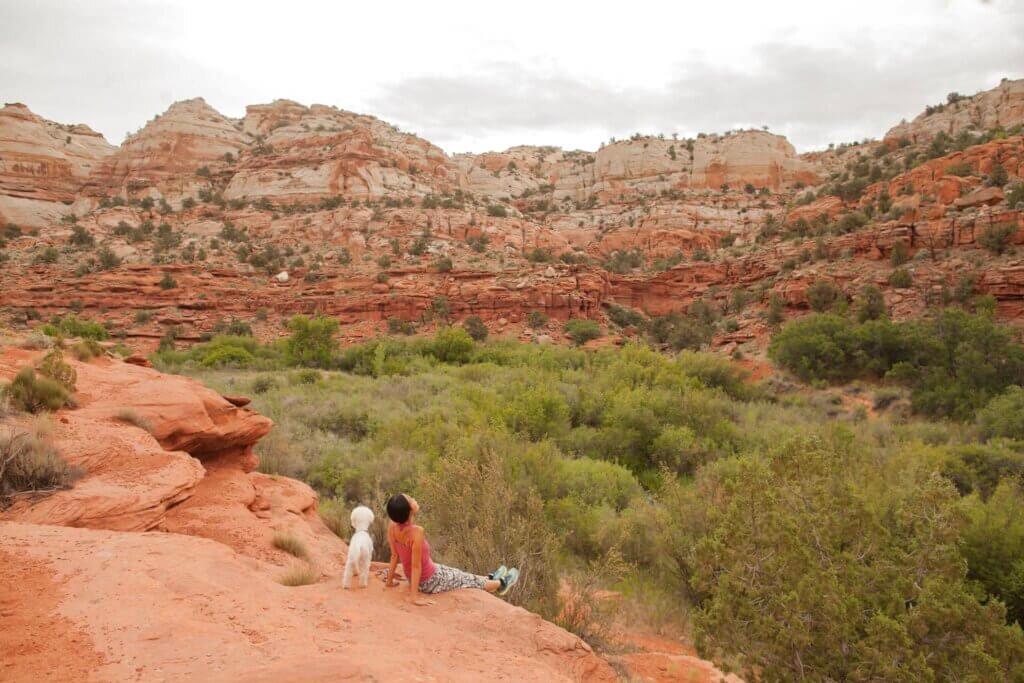 After hiking a little over 3 miles from the trailhead, we reached the pretty Lower Calf Creek Falls, which plunged over the canyon walls into a blue-green reflection pool.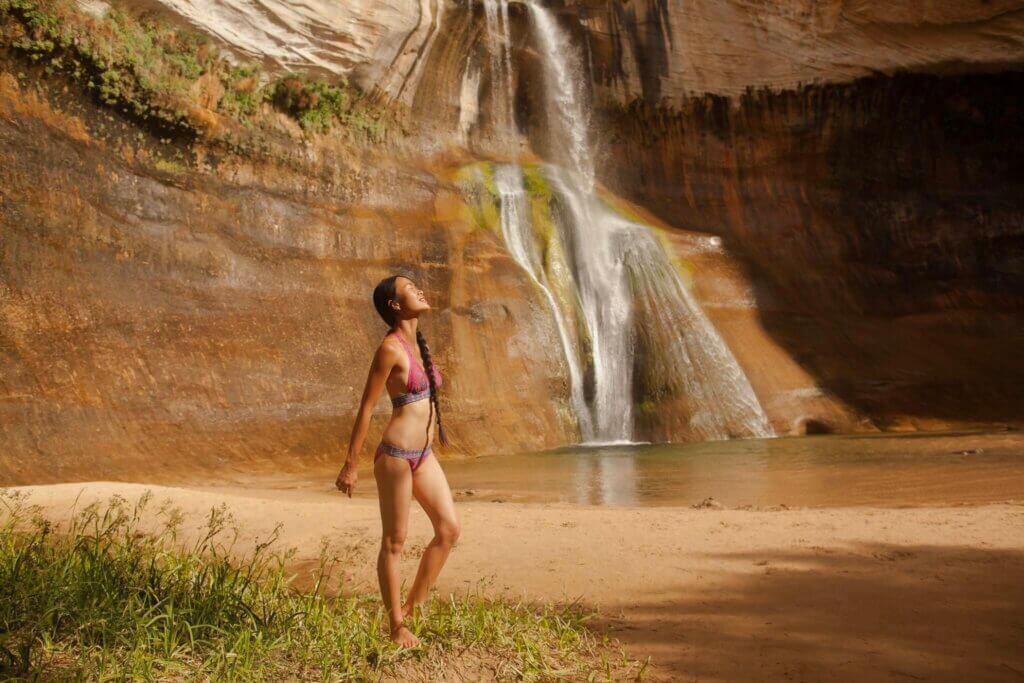 The color of the blue water makes for a very stunning contrast with the red sandstone rock and the colorful algae behind the falls combined with clear blue skies really made this waterfall photogenic.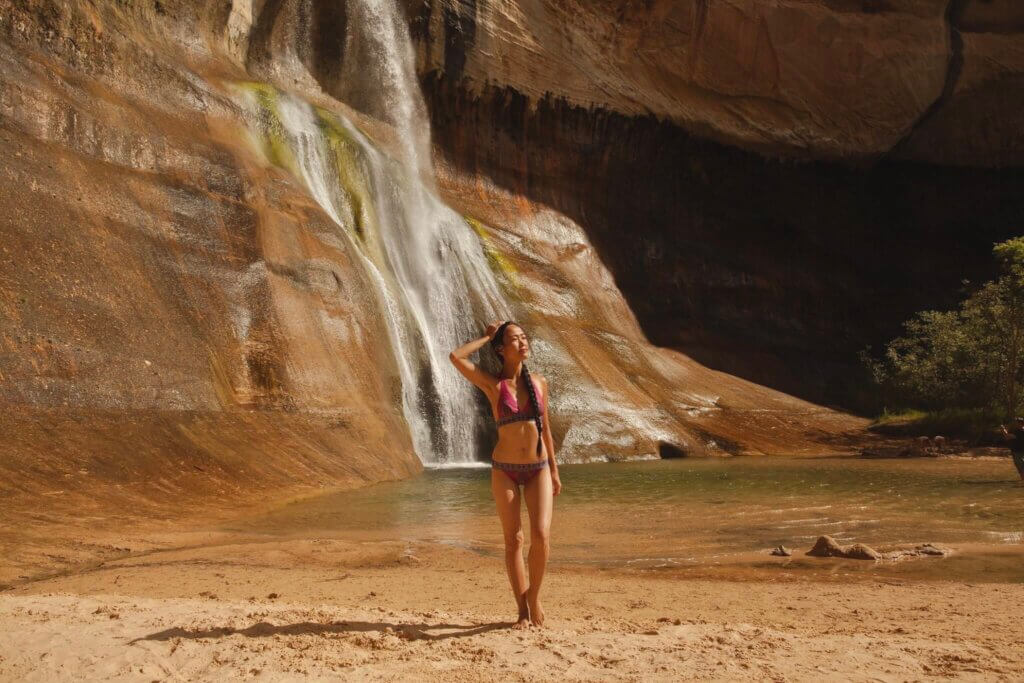 The early start had the added benefit besides pleasant temperature is us being one of the first people at the falls. It also meant that the morning sun would shine directly on the falls, which really brought out the colorful sandstone wall underlying the waterfall itself for great photographs.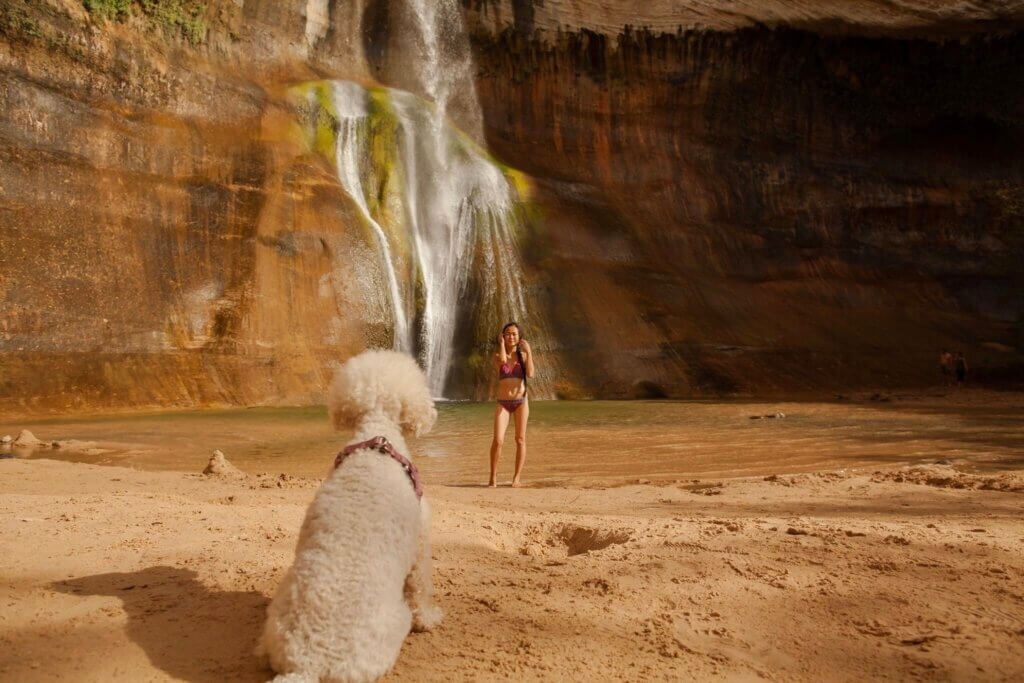 The pool below the cascades is cold even though it may be 90 degrees outside. The oasis-like cove was a great place to wade in the very cold plunge pool to offset the desert heat.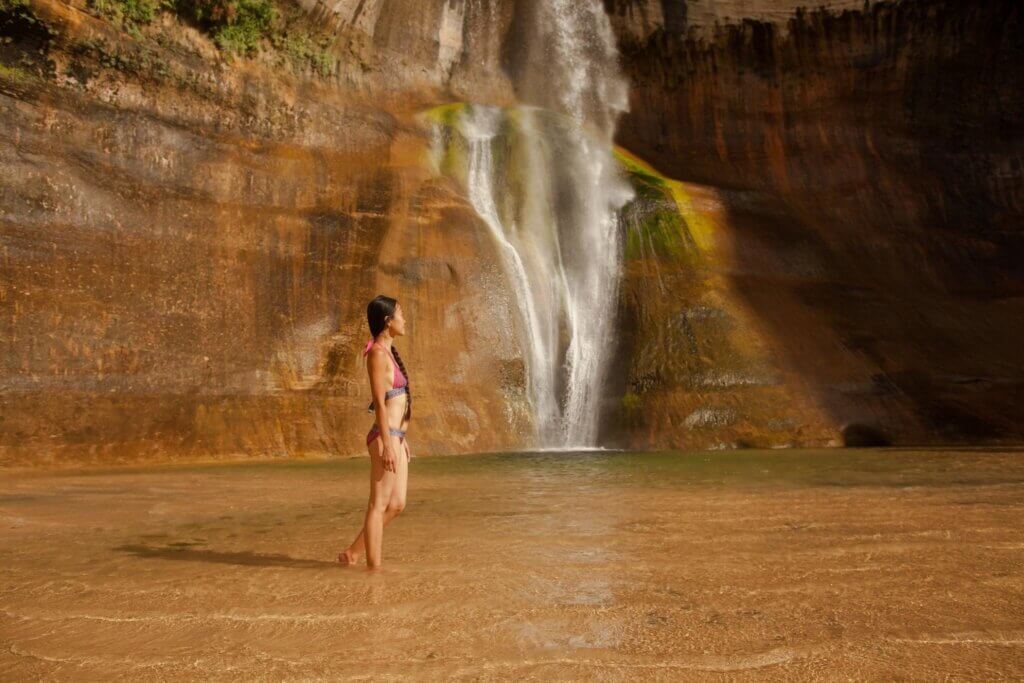 Day 5: From Lower Calf Creek to Arches National Park (196 miles – 4 hours)
On the way from Lower Calf Creek to Arches Nation Park, we made a quick drive through the Capitol Reef Canyon. Capitol Reef is a lesser-visited national park that is home to a multi-colored sandstone rock formed into canyons and reefs.
One of the things that make Capitol Reef so easy to visit is that you can see a bit of everything from your car. With a highway that runs through the center of the park (highway 24) and lots of scenic pull off you can visit some of the most beautiful spots without stepping out of your car.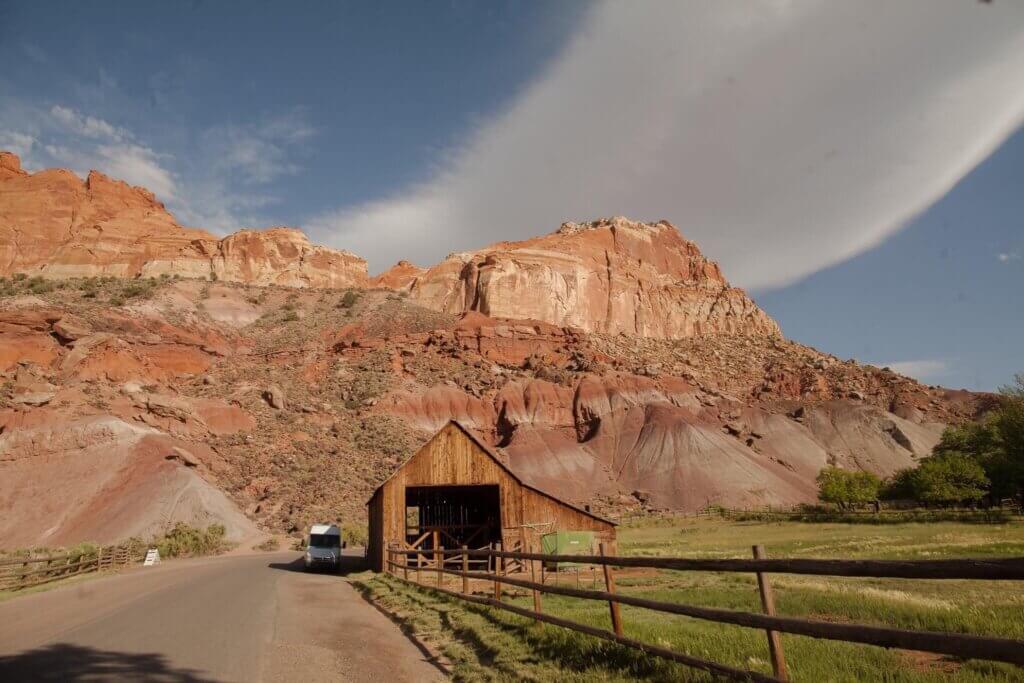 Capitol Reef is also home to Historic Fruita – a community established in 1880 by the Mormon pioneers. One of the few remaining Fruita homesteads is the iconic Gifford Homestead, comprising of the main house, a smokehouse and a barn, which is one of the most photogenic national park buildings in the USA.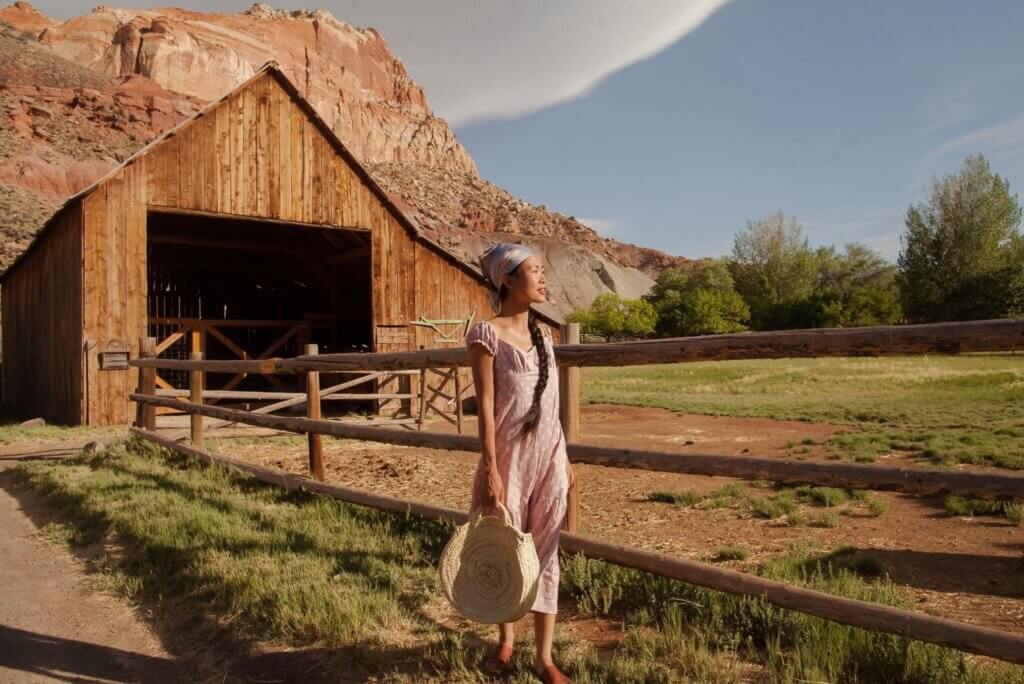 We arrived at Arches National Park at night time, got settled in, and just enjoyed the starry sky.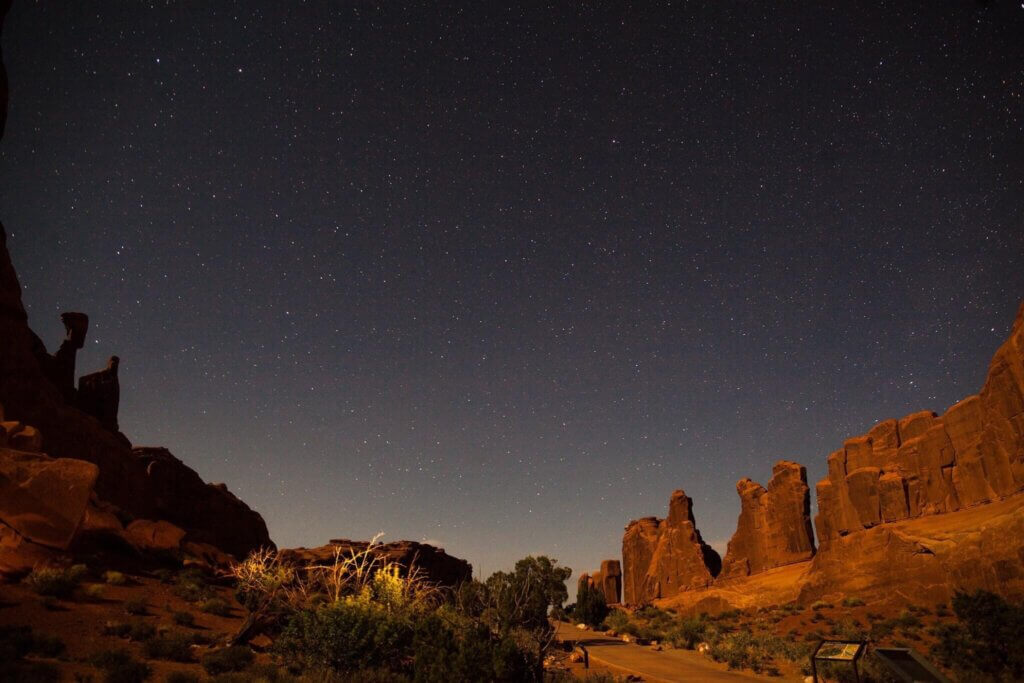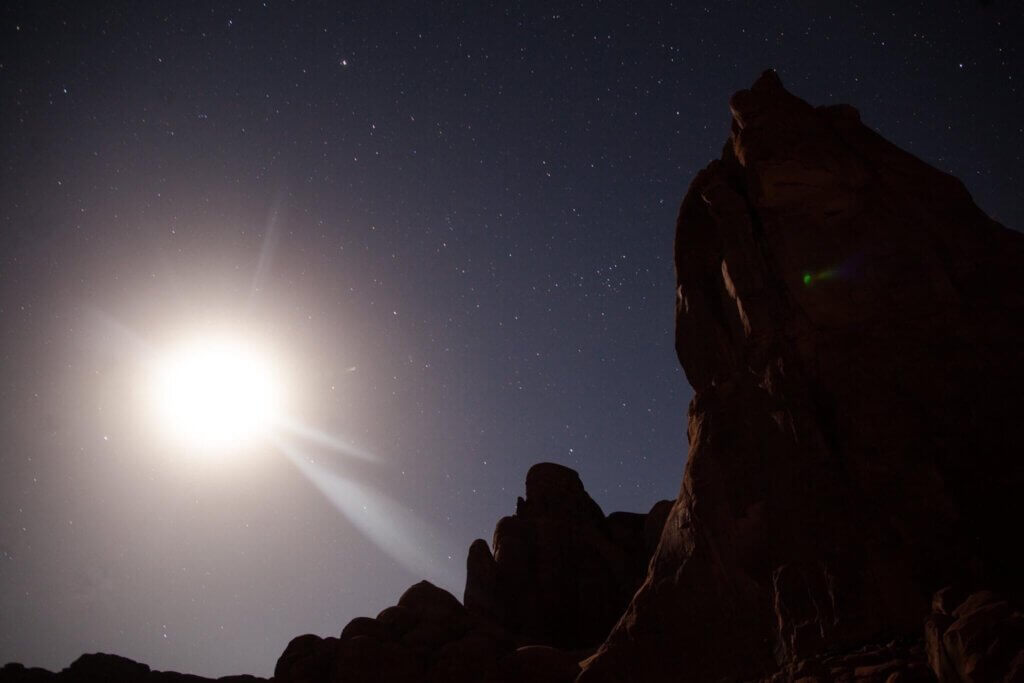 Day 6: Exploring Arches National Park
Since Arches National Park is not dog friendly (dogs aren't allowed on any trail), we decided that we would only spend a day here. The park is full of amazing views and many of these views are accessible from the main park road.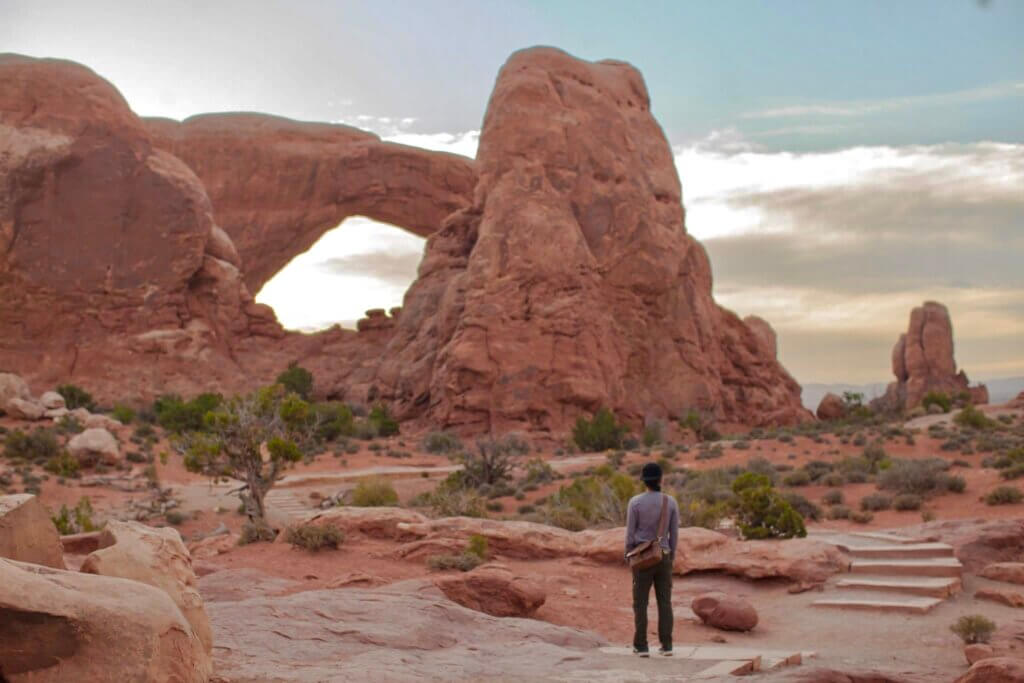 The best hikes in Arches National Park range from a number of easy hikes to more difficult hikes. Depending on the weather and time of year, visitors to Arches really have a ton of options for all types of hiking capabilities. We chose the easy and short one: the Windows Trails (1-mile roundtrip) and the Double Arch Trail (0.5 mile round trip).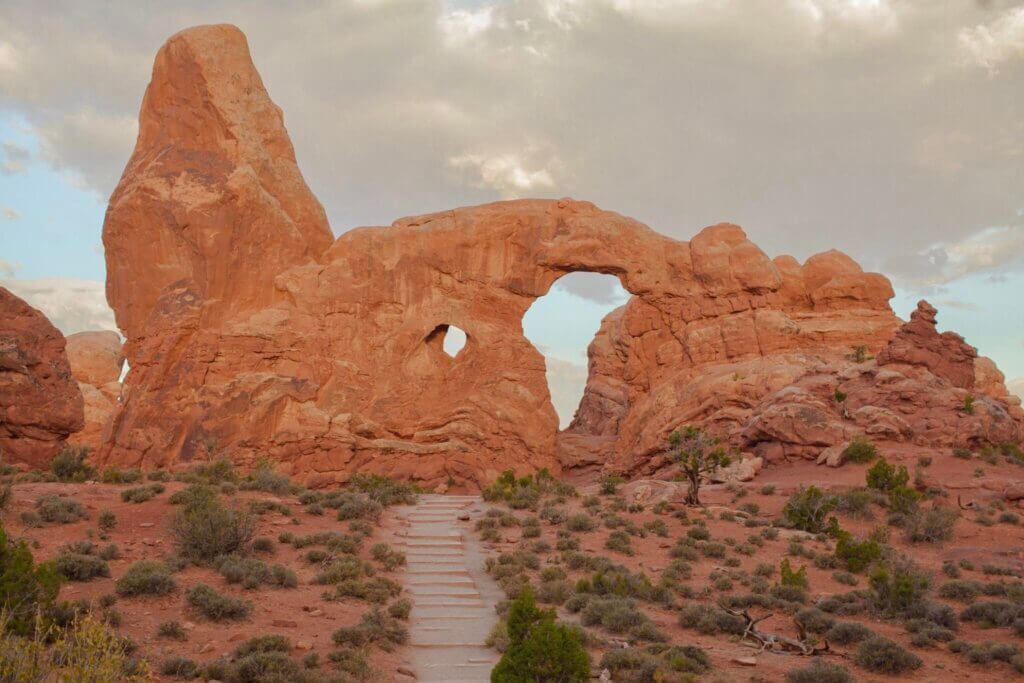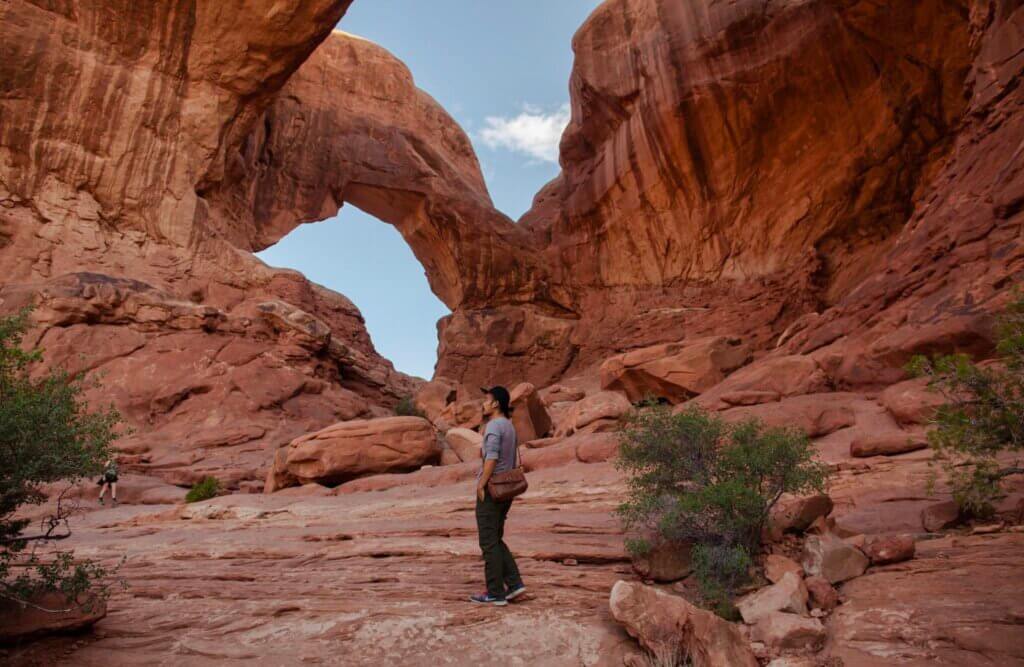 The Windows section of Arches is a must-see. Walk the easy uphill trail to see North and South Windows and Turret Arch.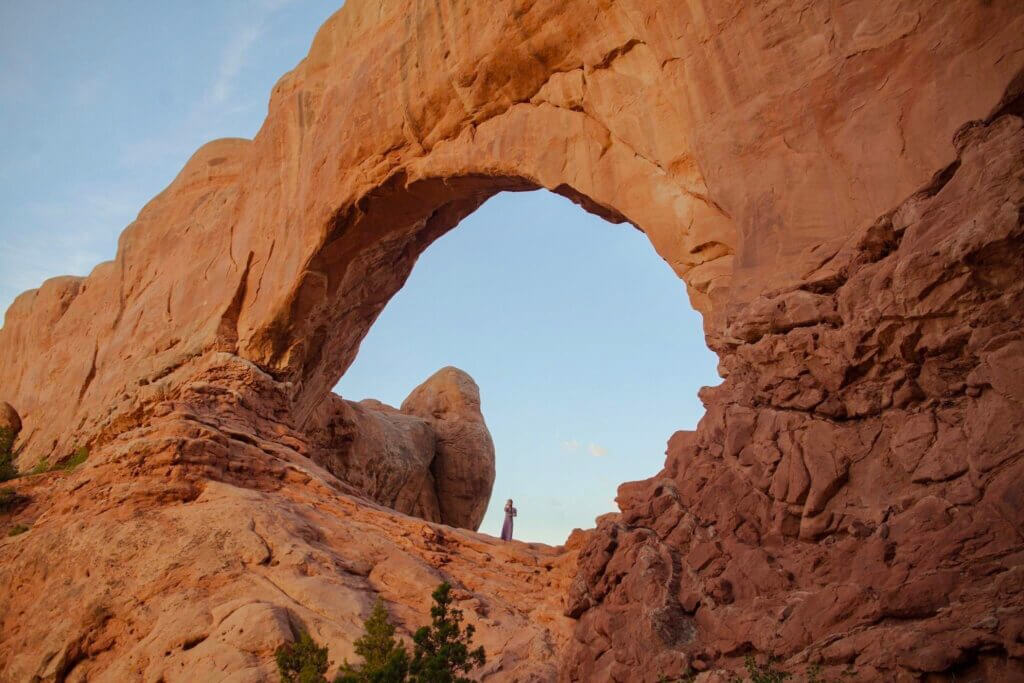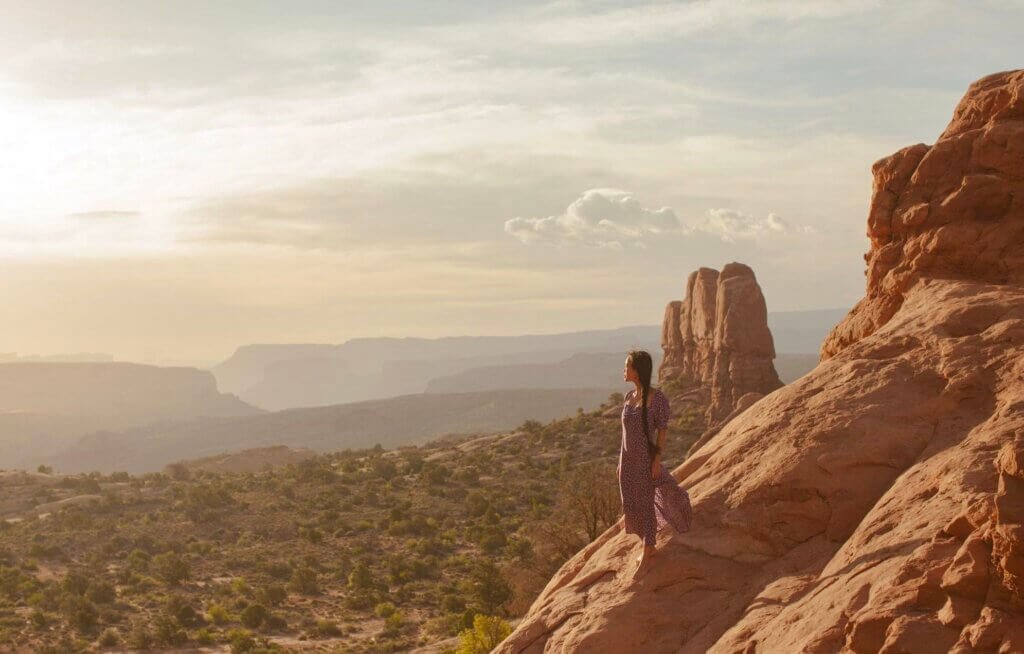 The sunlight is best in the early morning hours, making the windows a solid choice for sunrise photoshoot. This is one of the most popular areas in the park so visiting during sunrise can also avoid crowds.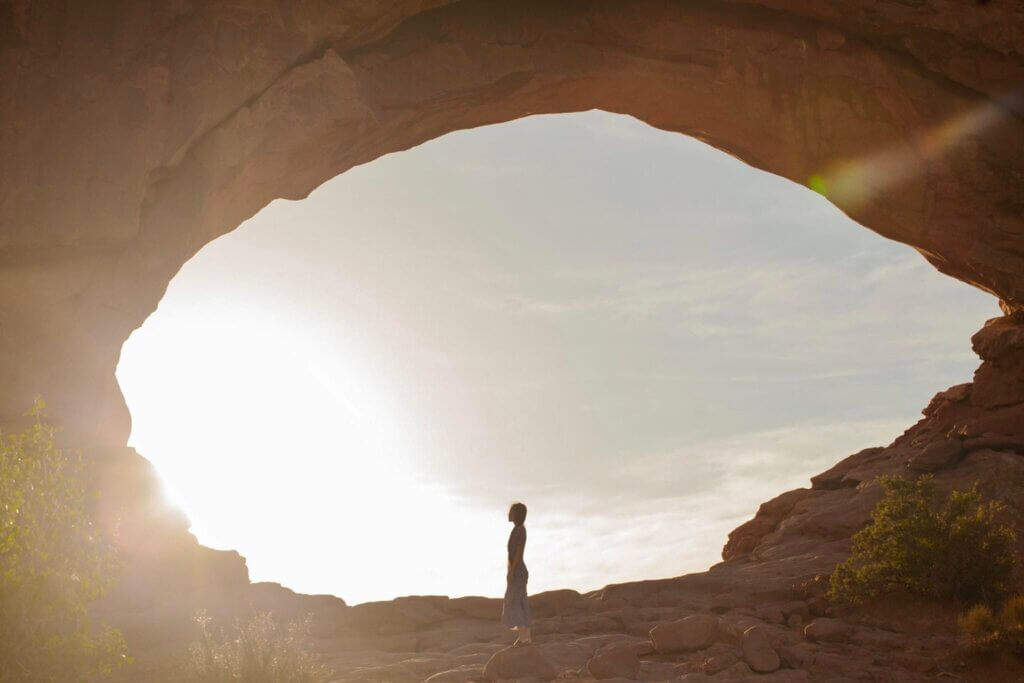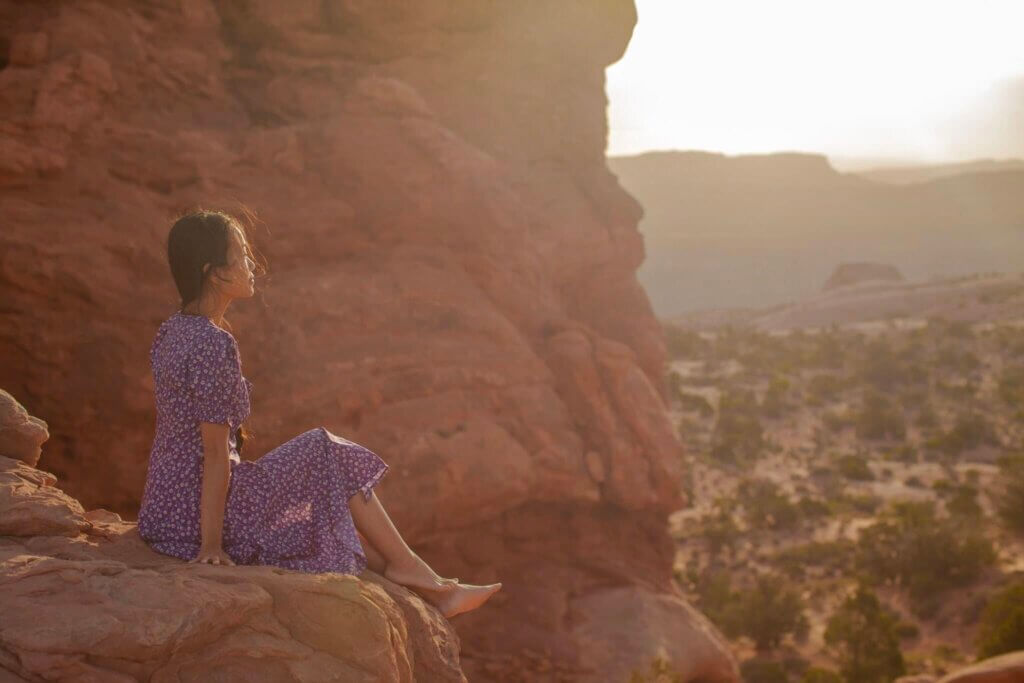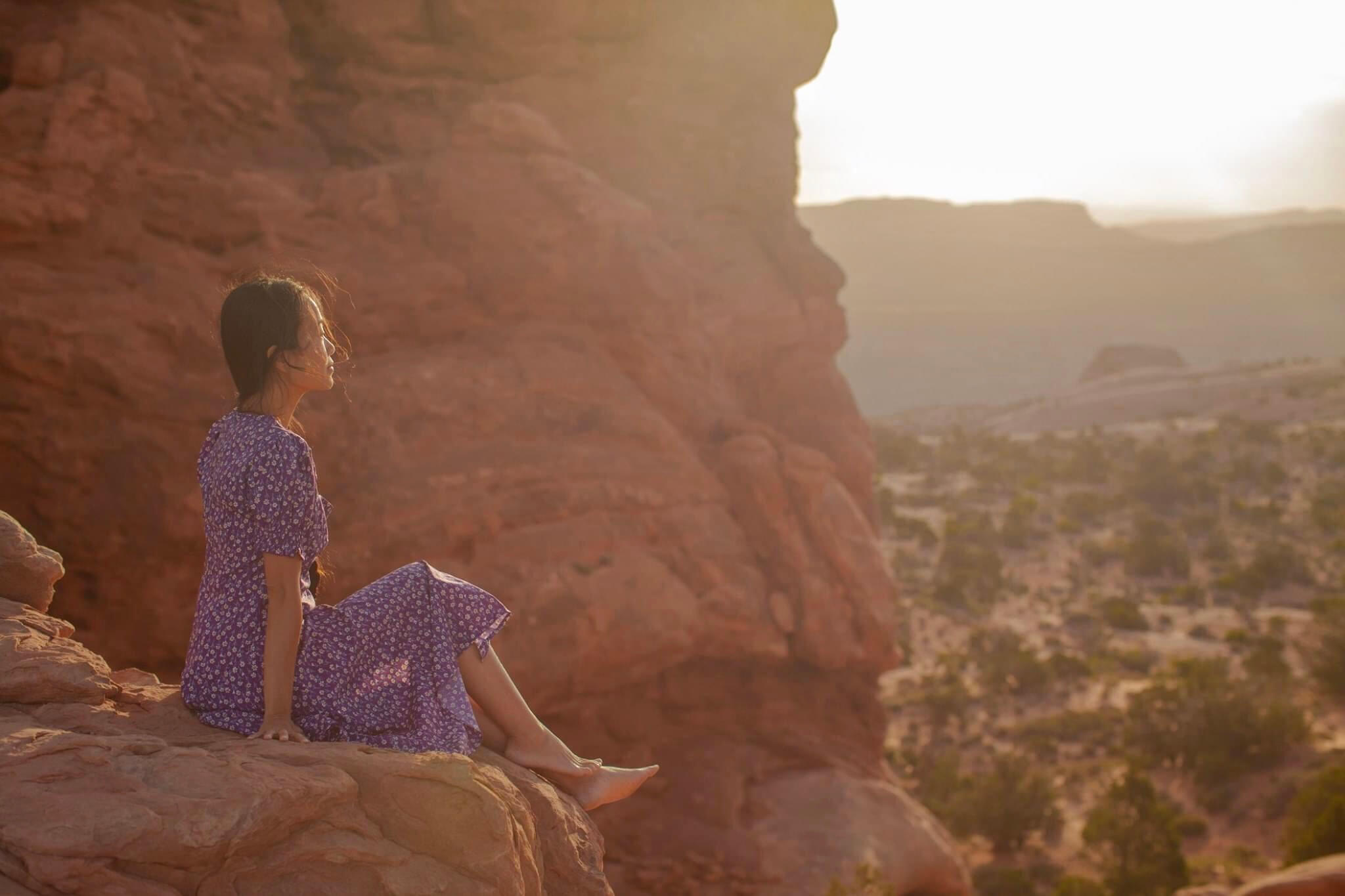 Double Arch is across from the Windows Arches and is just as it sounds, 2 arches connected at an end. Double Arch's claim to fame is a starring role as the setting of a scene in an Indiana Jones movie!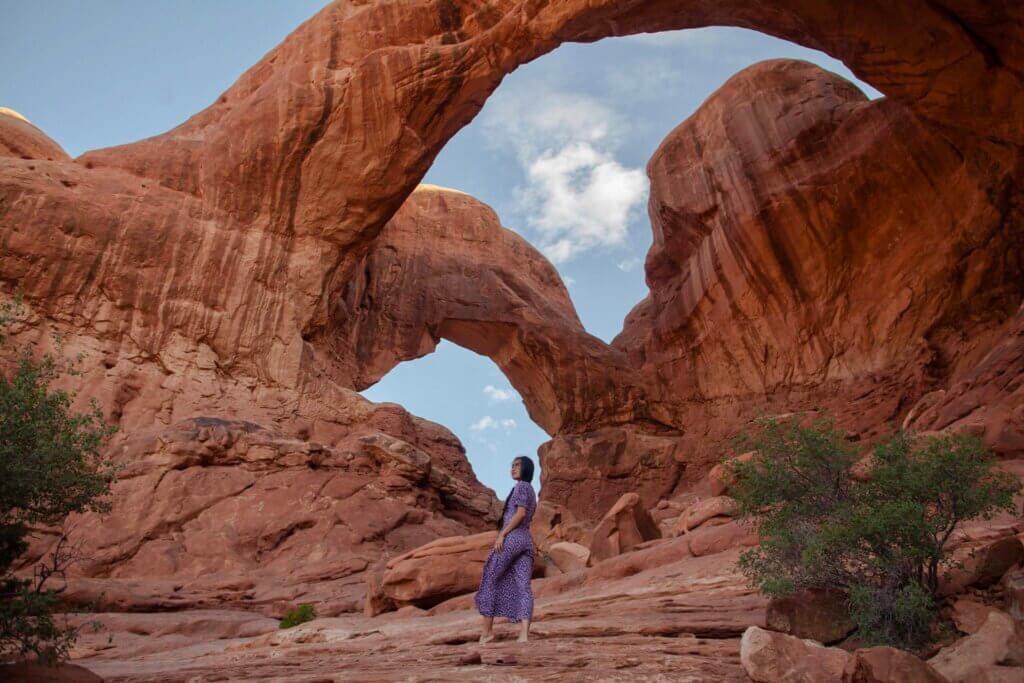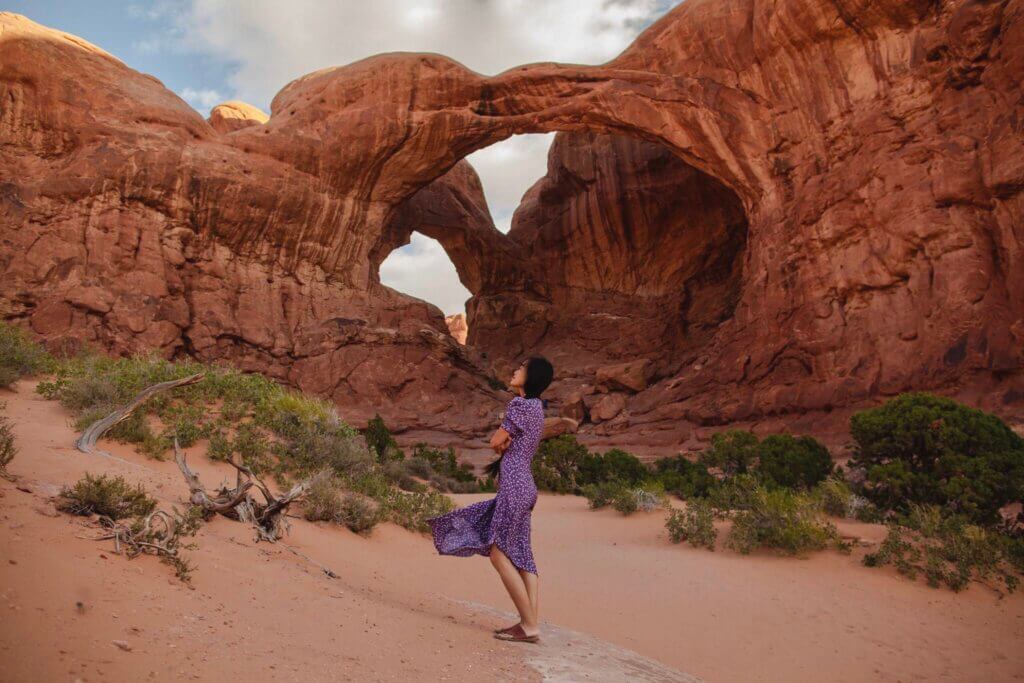 After these two easy hikes, we came back to our van which was parked at Double Arch parking lot and prepared lunch. We just took it easy for the rest of the day, enjoying lunch and coffee over the view of arches.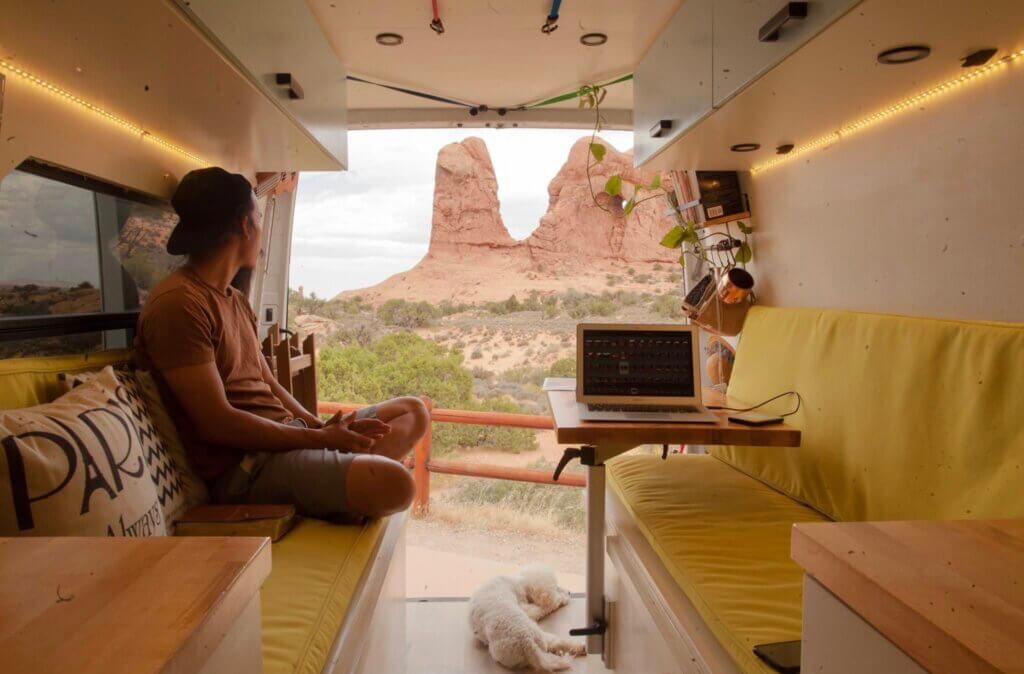 Day 7: From Arches National Park to Lone Rock Beach (290 miles – 5 hours)
This was the longest drive in our roadtrip so we stopped to rest at Forest Gump Point near Monument Valley. If you've ever seen Forrest Gump, you know the setting well. At the location in the Navajo Reservation, with majestic Monument Valley as a backdrop, Forrest Gump suddenly finished his cross-country marathon of more than 15,000 miles in the 1994 movie starring Tom Hanks.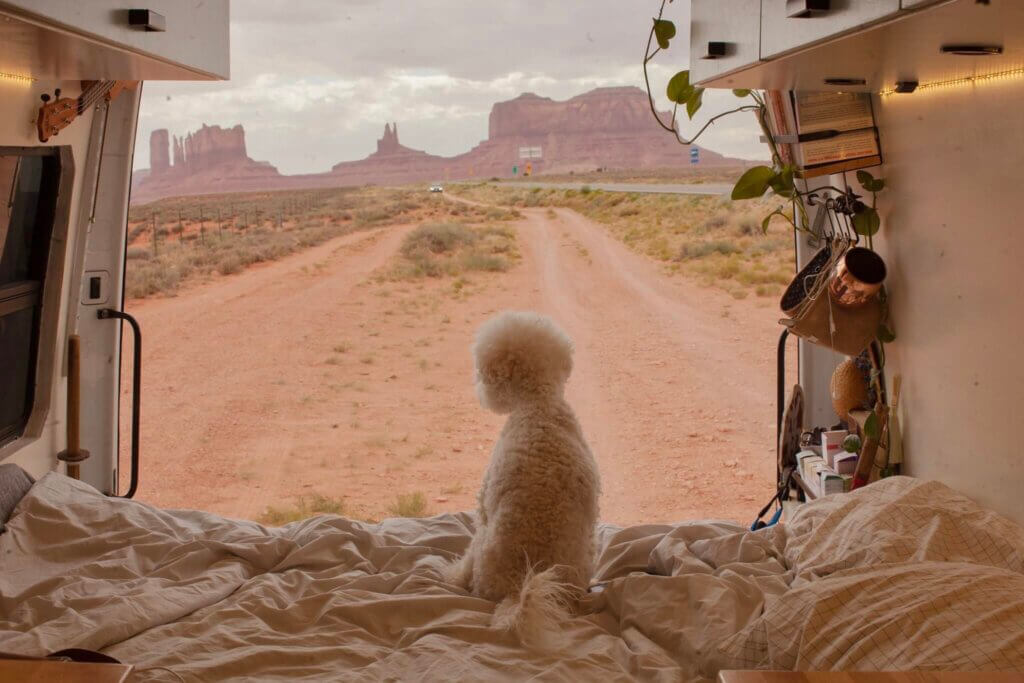 It's Highway 163, mile marker 13 in Monument Valley. This is one of the most iconic landscapes in all of the United States, and a bucket list location for many photographers.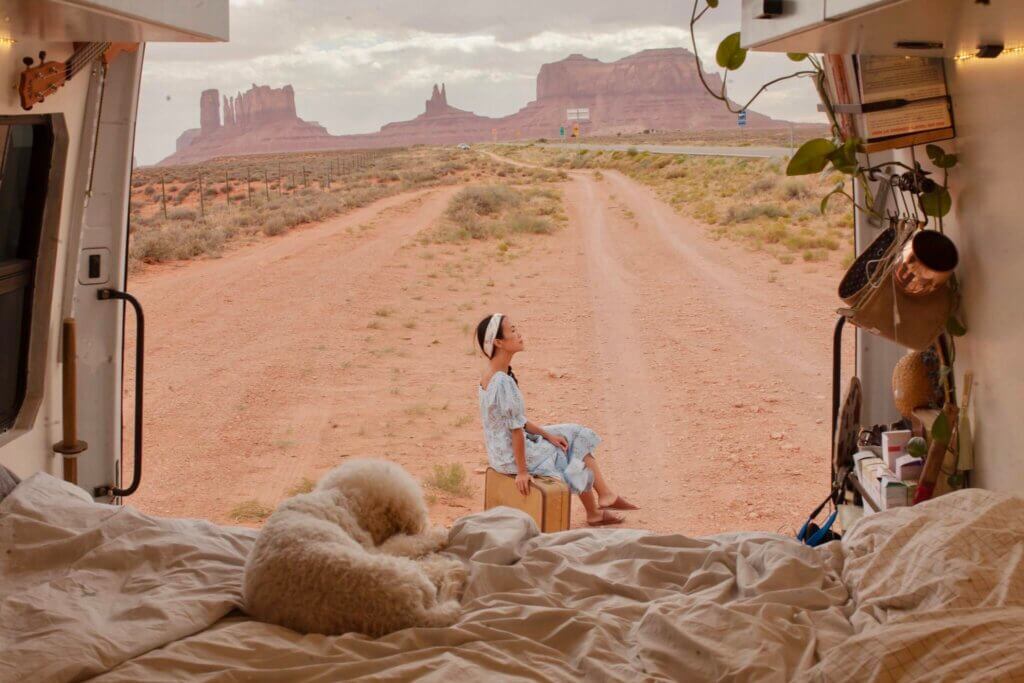 After taking a bunch of photos at this famous spot, we continued our journey to our next stop, also our last stop of this roadtrip – Lone Rock Beach.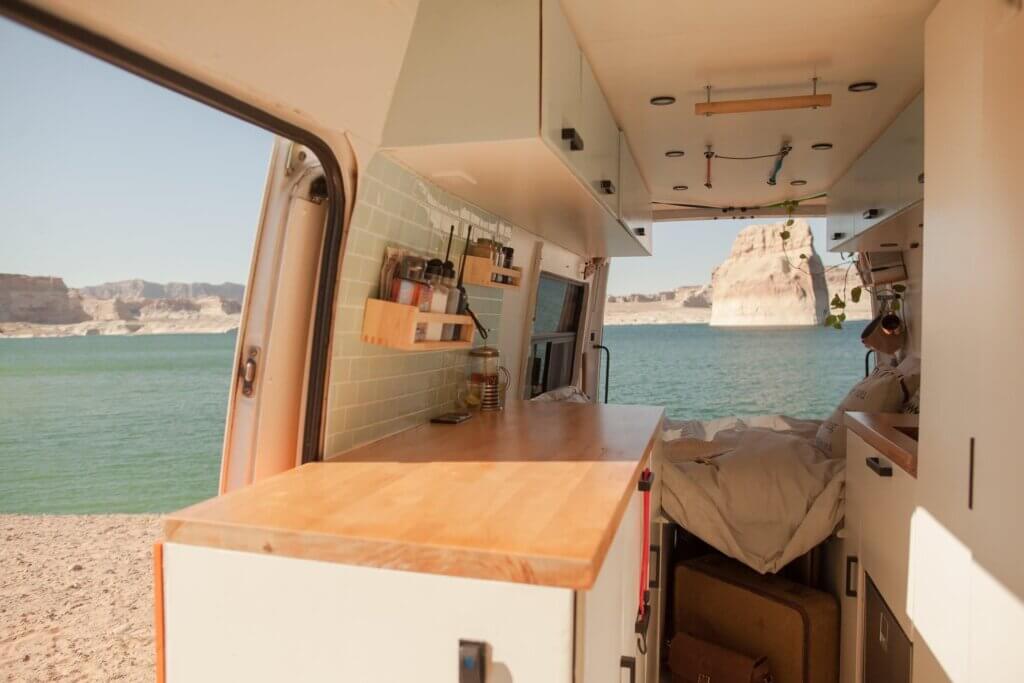 We were both excited and nervous about this location because the Lone Rock Beach Campground is literally right on the beach (one of the few areas in the US that you can drive to the water edge and camp on the shoreline). Upon arrival, we quickly realized that it's much more challenging than we thought. There are signs everywhere stating, "Deep sand ahead! Drive at your own risk!" (only if we had a 4×4 campervan)! But parking on sandy beach with an unobstructed view of the massive, monolithic rock – the Lone Rock is just too epic to skip. So we decided to risk it. As expected, we got stuck; a lot of the sand is packed pretty hard, but there were areas of soft, thick sand that got us into trouble. As I ran off to the park rangers to ask for help, Derek with a shovel and a carpet somehow got the van out and drove to the beach. Looking down from uphill, i knew the hardest part was over (not really….just relax now until we had to drive up again!)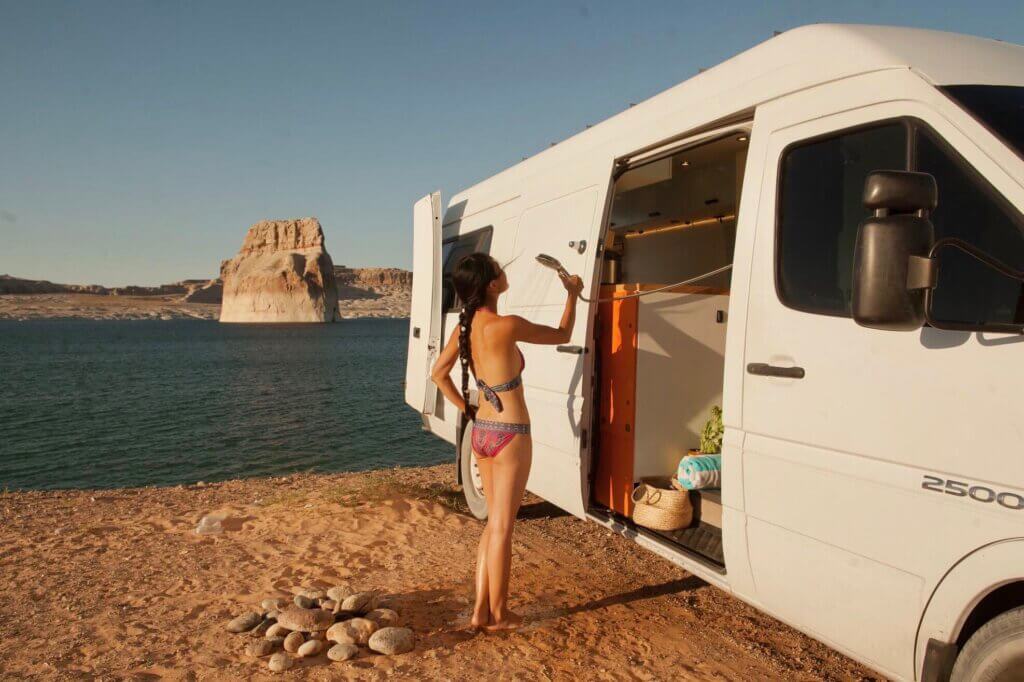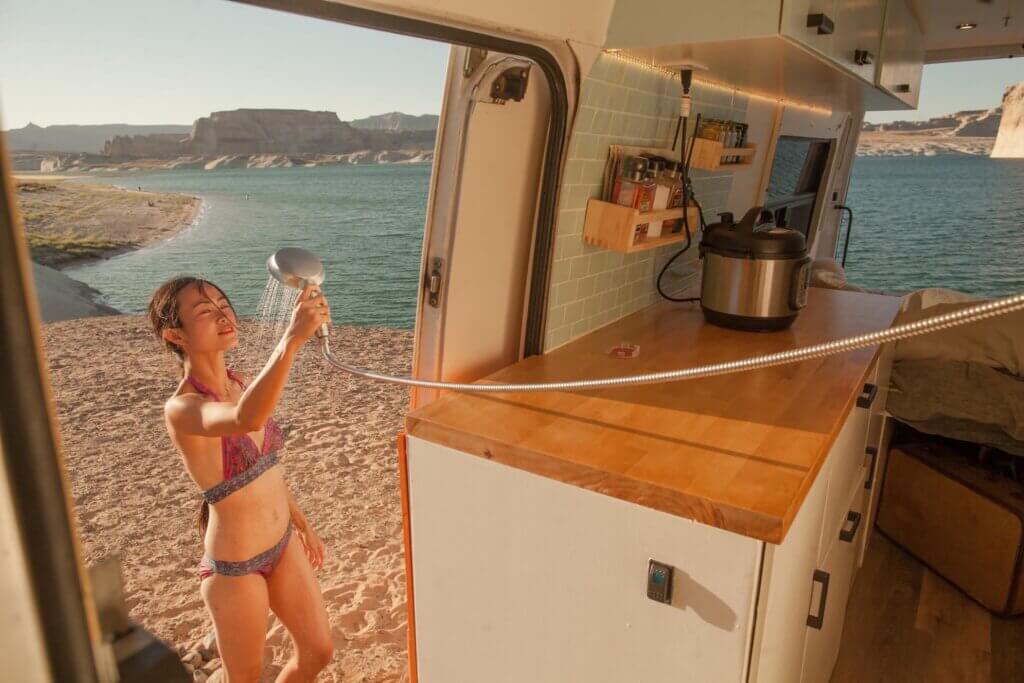 Lone Rock Beach made a perfect stop for our Utah roadtrip. We found an awesome spot on the beach to park our tiny home and he scenery of the area is absolutely incredible with Lone Rock staring at us every morning.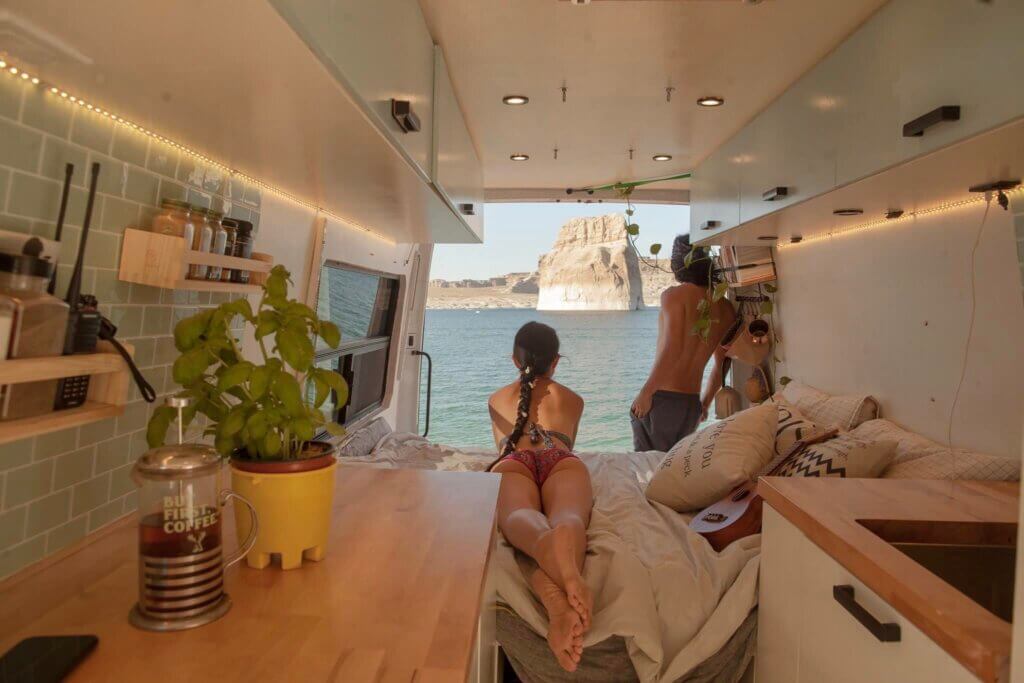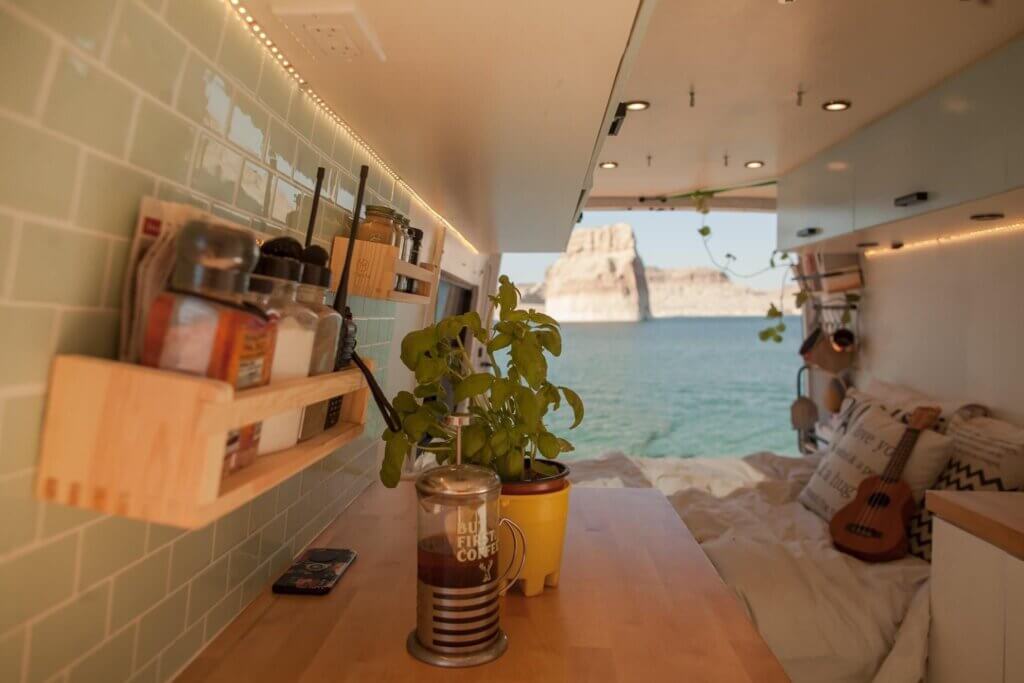 You can launch motorized boats or kayaks here. Often, many people can be found swimming in the cool blue waters together. This is also a free-for-all type of atmosphere where dogs run free and people are constantly walking through your site. If you like privacy, this is not the campsite for you!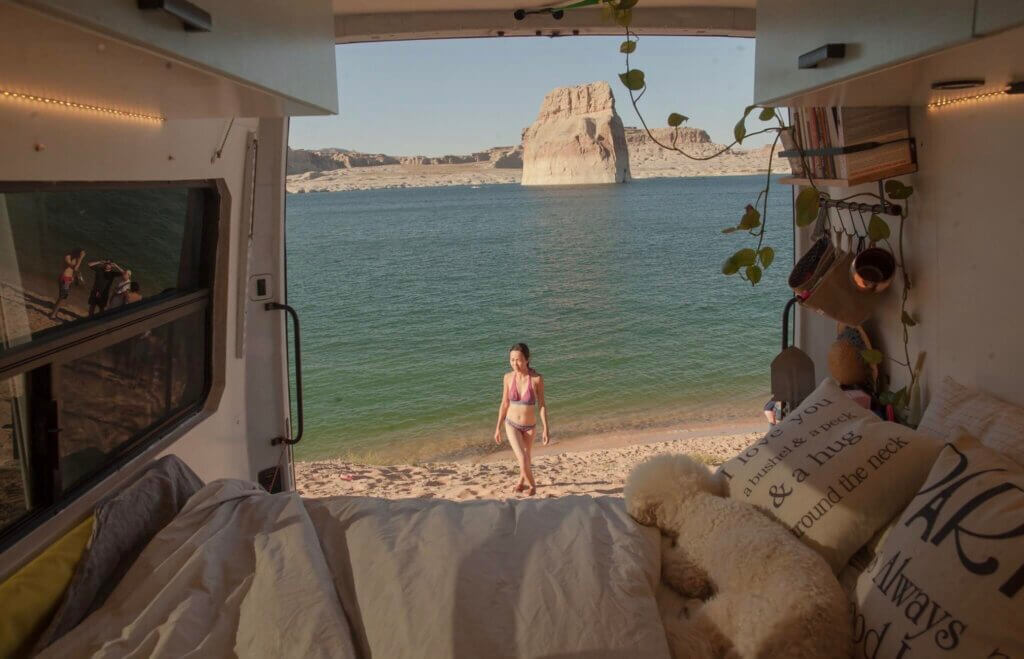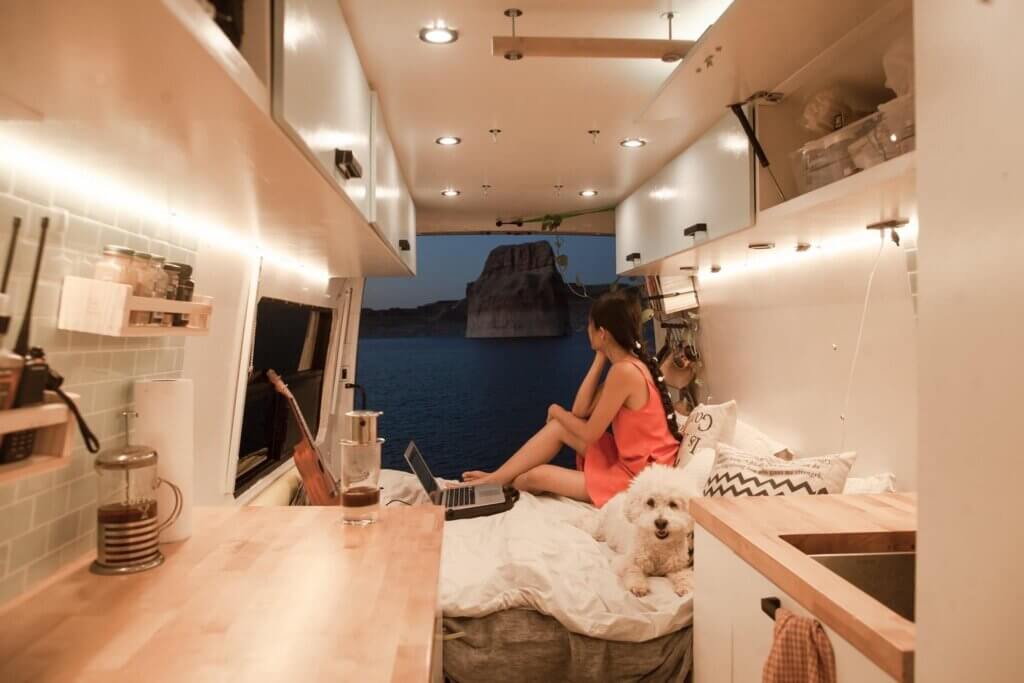 We hope you have a fantastic time on your Utah road trip itinerary. Please let us know how you got on and if you went to any of the places we suggested in this itinerary!