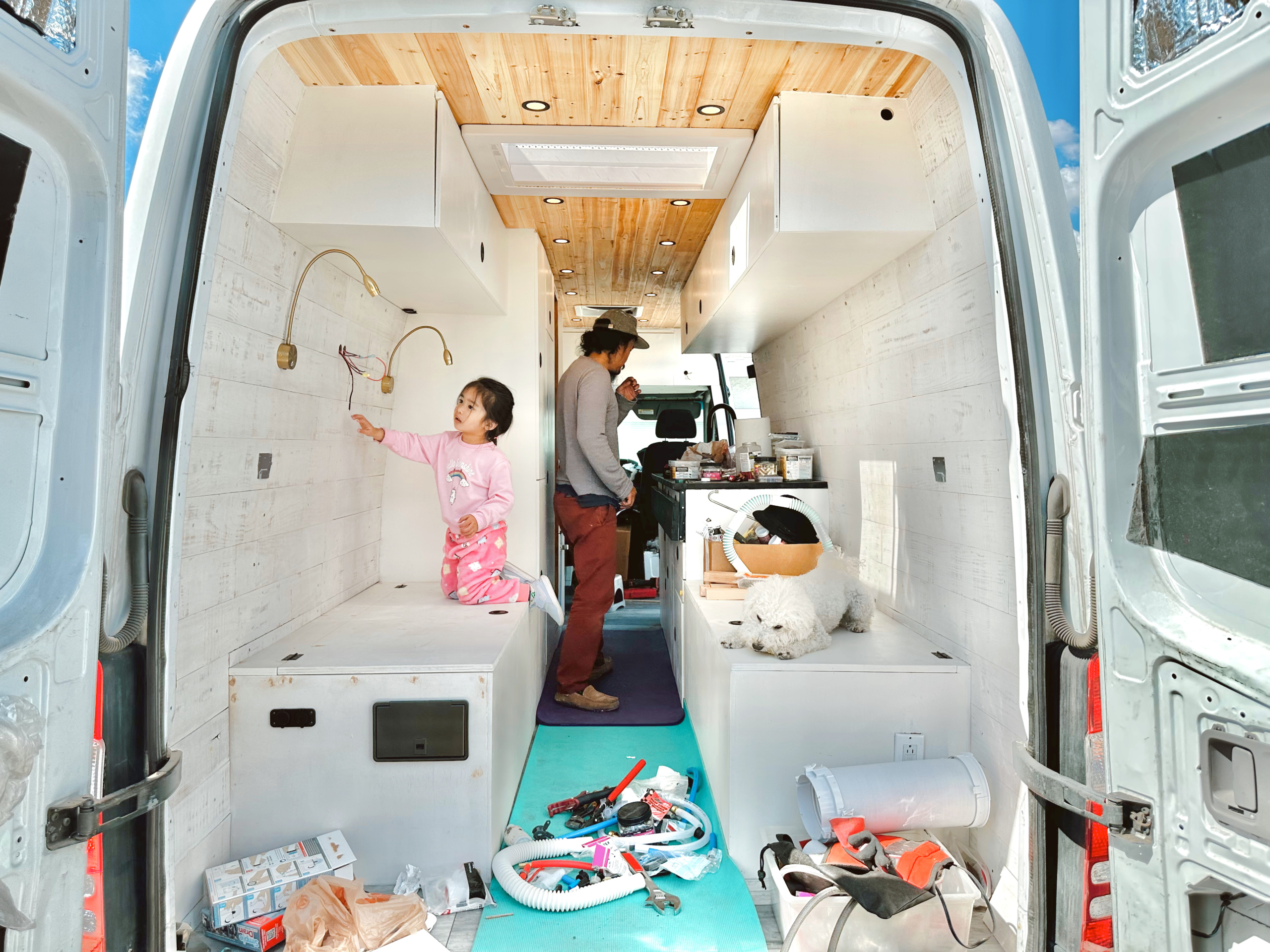 DIY CAMPERVAN CONVERSION: FLOOR, CEILING & WALLS
At this stage we already finished insulating our campervan. And now it's time to get started with the floor, ceiling and walls. This step really makes you see how the van will look like in the end!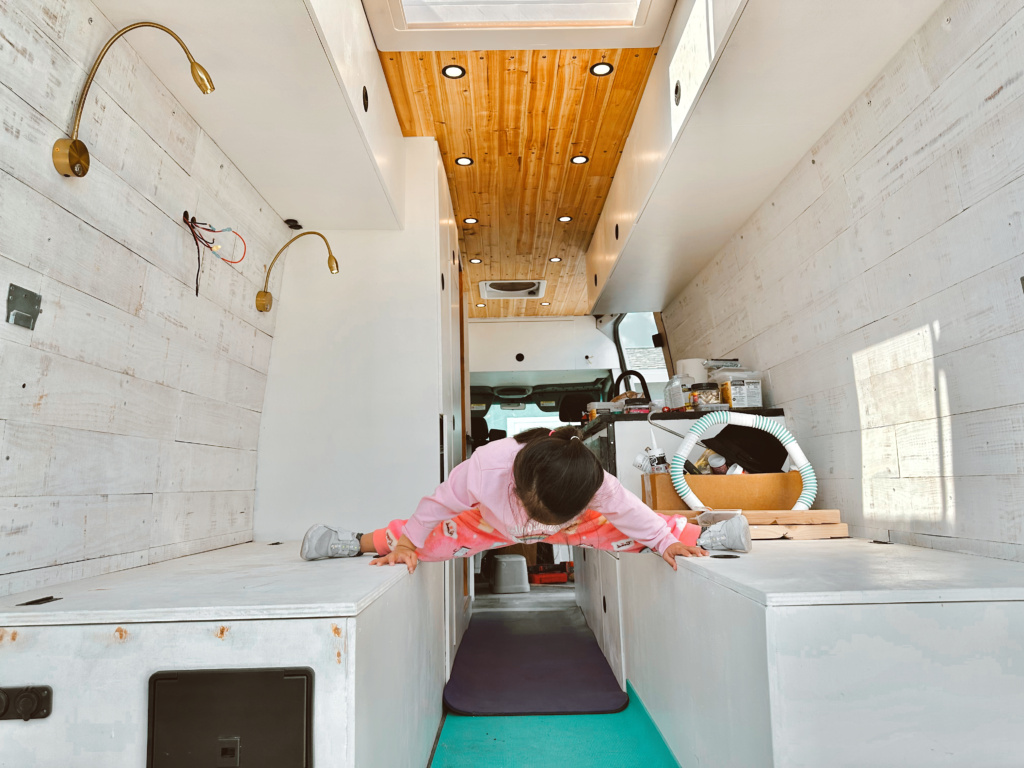 Walls, ceiling, and floor take up such a large amount of a van's real estate and they are one of the first things people see when entering a van for the first time. Stunning ceiling, walls, and flooring truly brings together an entire build. That's why it's worthwhile to spend the time and the research to choose the materials. Are you after a bright and airy look? Do you want it to feel like a cozy wooden cabin? Walls, ceiling, and flooring is a big deciding factor when it comes to the overall look of your camper van.
When you have finished insulating your campervan, the order of things gets a bit difficult. For example, you want to start your electricity works simultaneously with the floor, ceiling and walls. That said, there is no standard order in which to do these things and it depends on your particular van. Some parts will need more work than others. Think logically, prepare the work and the puzzle should come together.
Ceilings
While there are different types of wood to use for a van ceiling, cedar wood is a great choice as a ceiling material for a number of reasons. Cedar plank wood is lightweight, durable, insect repelling, beautiful colors, cost effective, and easy to install/maintain. Many cedar planks come in a 'tongue-and-groove' format, which makes installation easy and clean.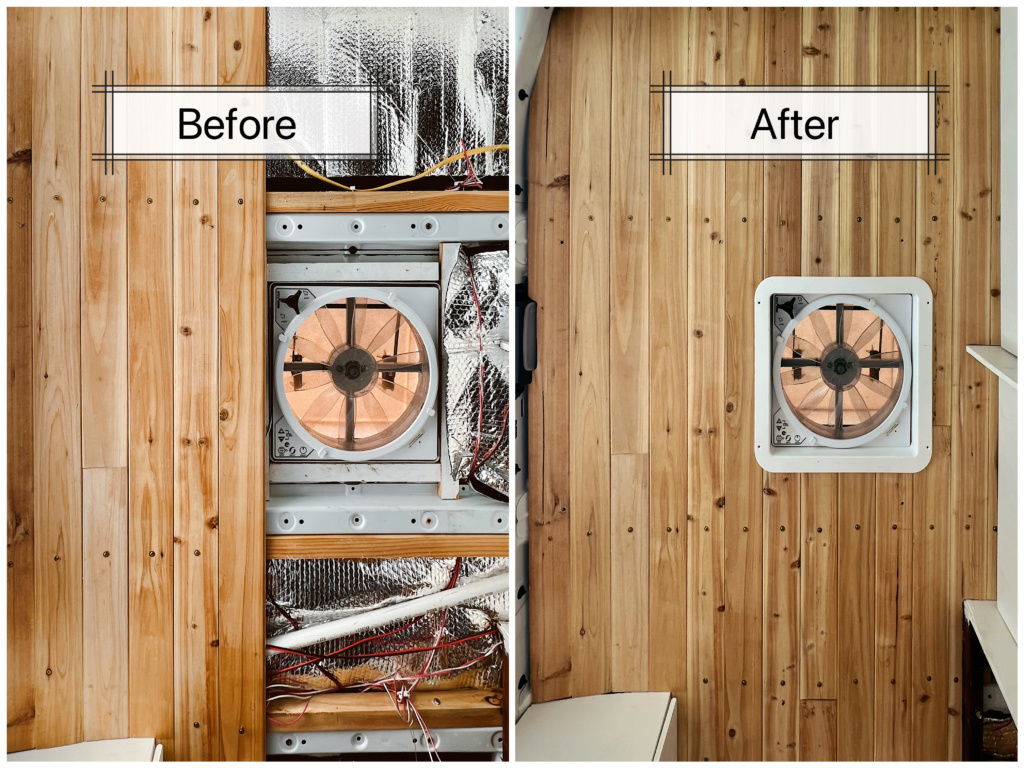 We used 1/4 in. x 3-1/2 in. x 96 in. Cedar V-Plank from Home Depot. These Cedar Planks readily take paint or stain for a custom look. Tongue-and-Groove cedar planks are common building materials. If you're in the USA, you can purchase cedar planks at most major big box hardware stores like Home Depot and Lowe's.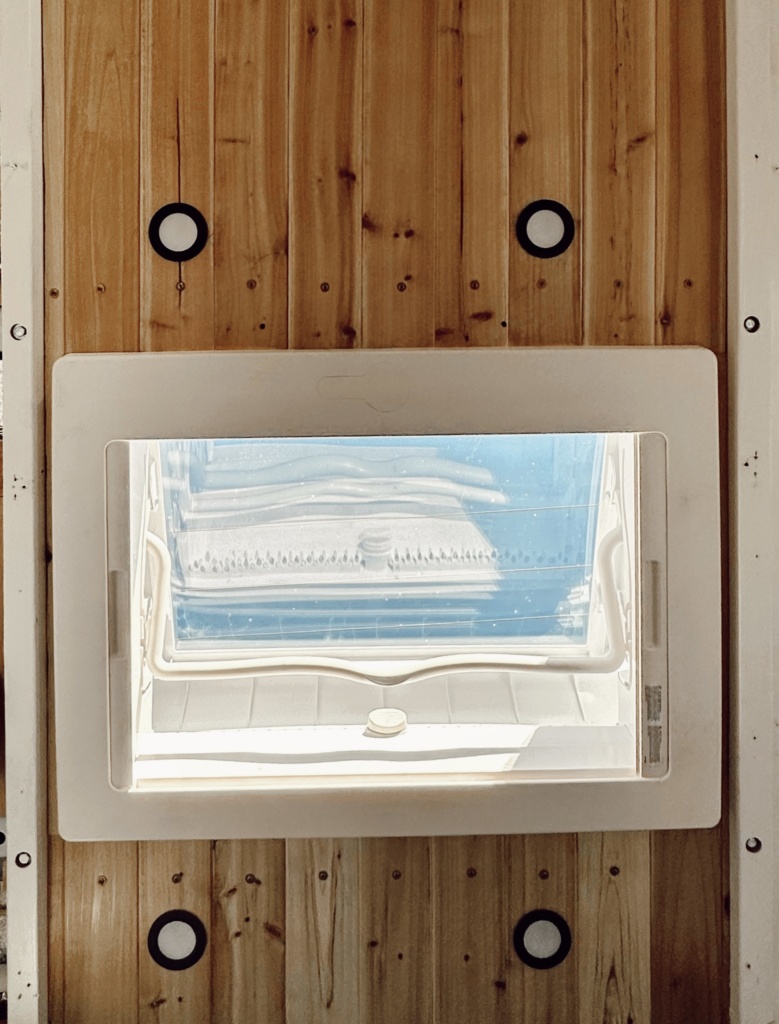 Before you install your ceiling, you should already have your wiring done by this step. You will want to install any overhead lighting that you desire during ceiling installation.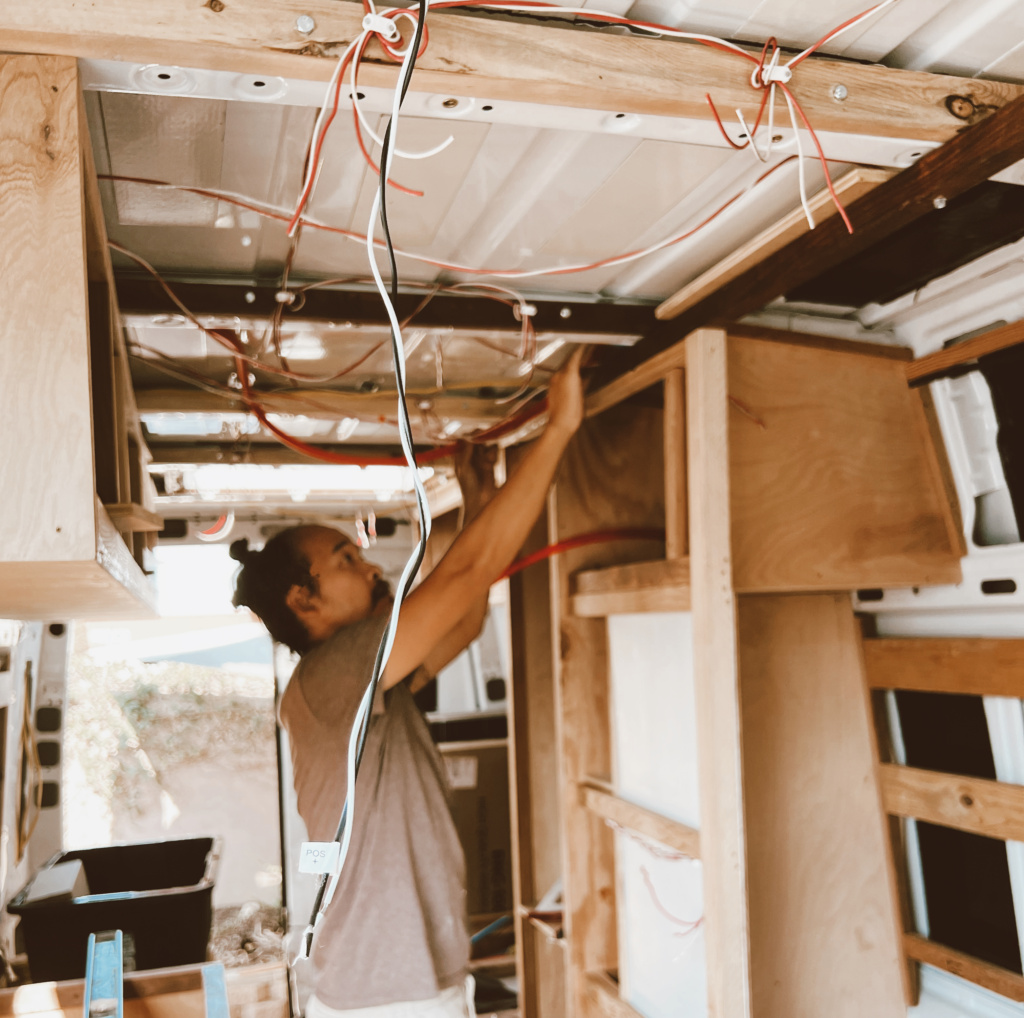 12-volt LED puck lights are the most popular ceiling lighting solution for camper vans. We use 12 of these puck lights in our van and are very happy with them. These lights are easy to install and wire. But best of all, each light only consumes 2-watts of power, ensuring that your batteries (no matter their size) can easily support these lights for hours.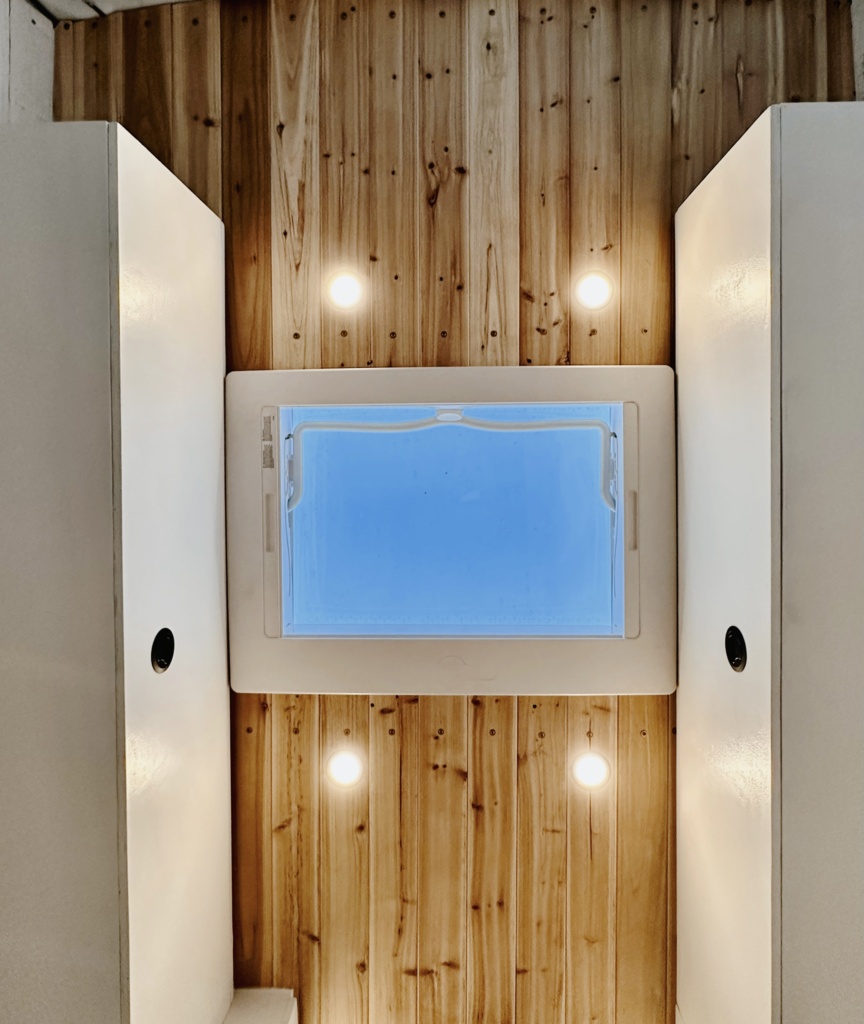 To install these particular LED lights, you will need a 2-3/8″ hole saw. This saw attaches to your power drill and allows you to make precise, clean cuts in your ceiling wood boards to install your lights.
Walls
The next step was installing our walls. Deciding how you are going to install your wall coverings is a huge part of any van build. The van panels truly are where building out a van comes to life, as the walls quite literally transform from a metal shell to a home.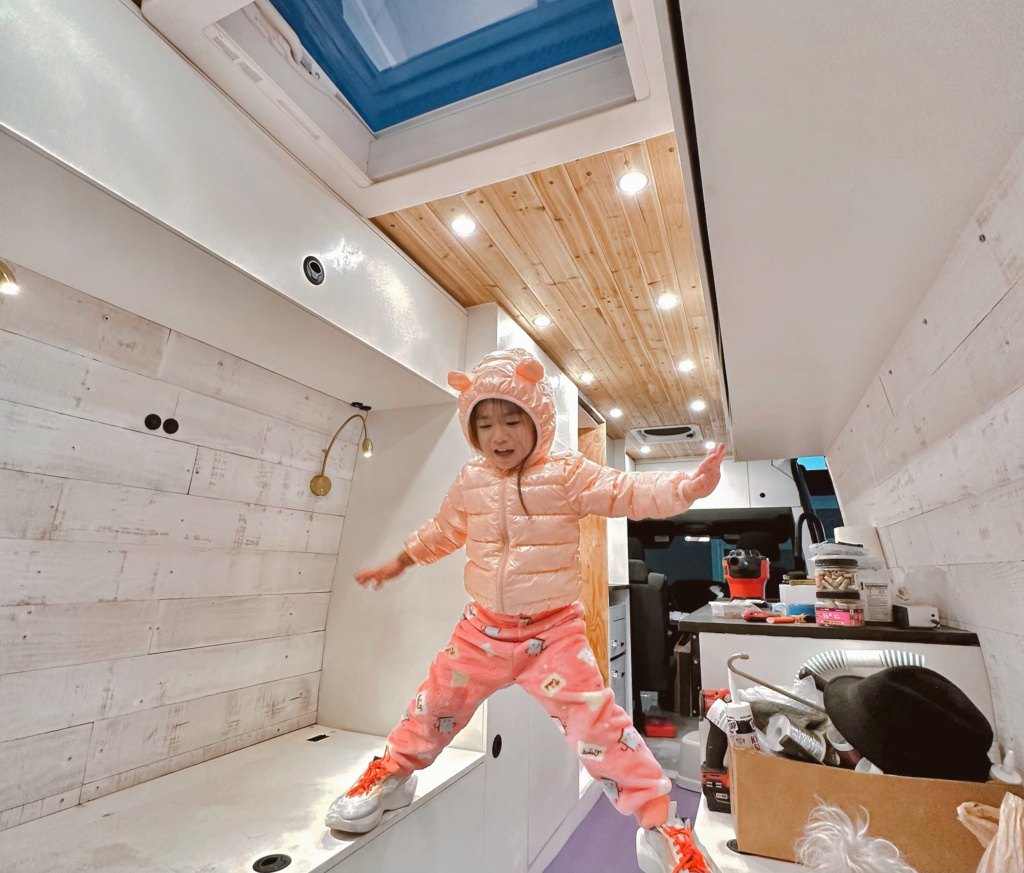 While the feeling and look of turning a van into a home are different from person to person, the steps in the design and installation process are the same.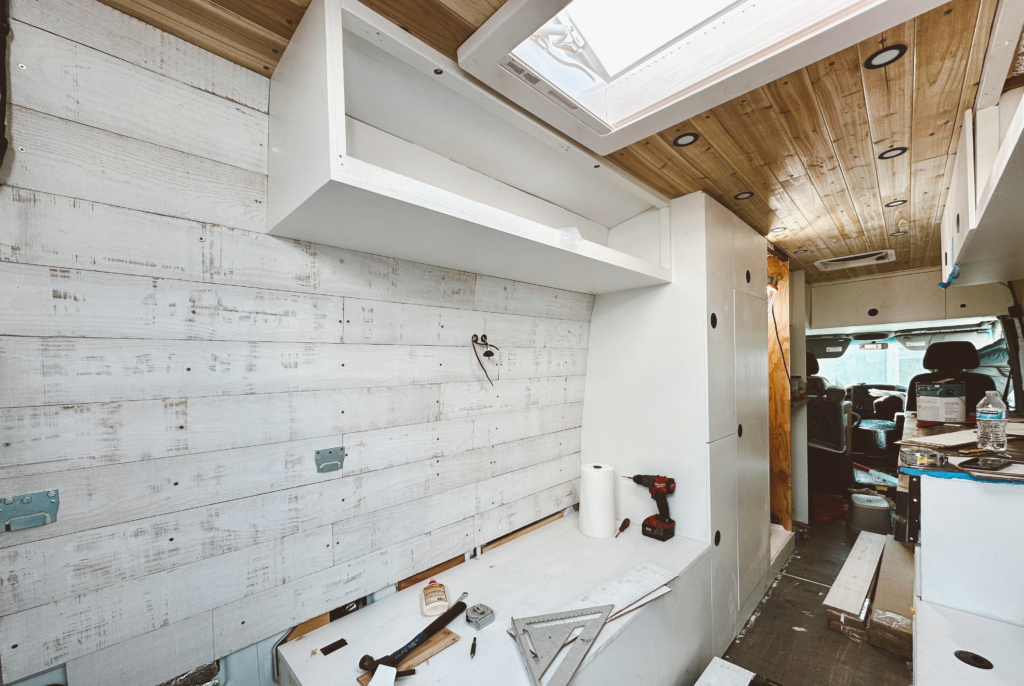 There are several options for covering your walls depending on the look you want. You can use luan, shiplap, wood planks, or melamine panels. We opted to install thermo-treated 1/4 in. x 5 in. x 4 ft. White Barn Wood Wall Planks from Home Depot. The product is domestically made from American lumber. The thermo-treatment process accelerates the aging of wood to make it similar to 350-year-old lumber and eliminates all moisture, resins, sugars, organisms, and bacteria in the wood.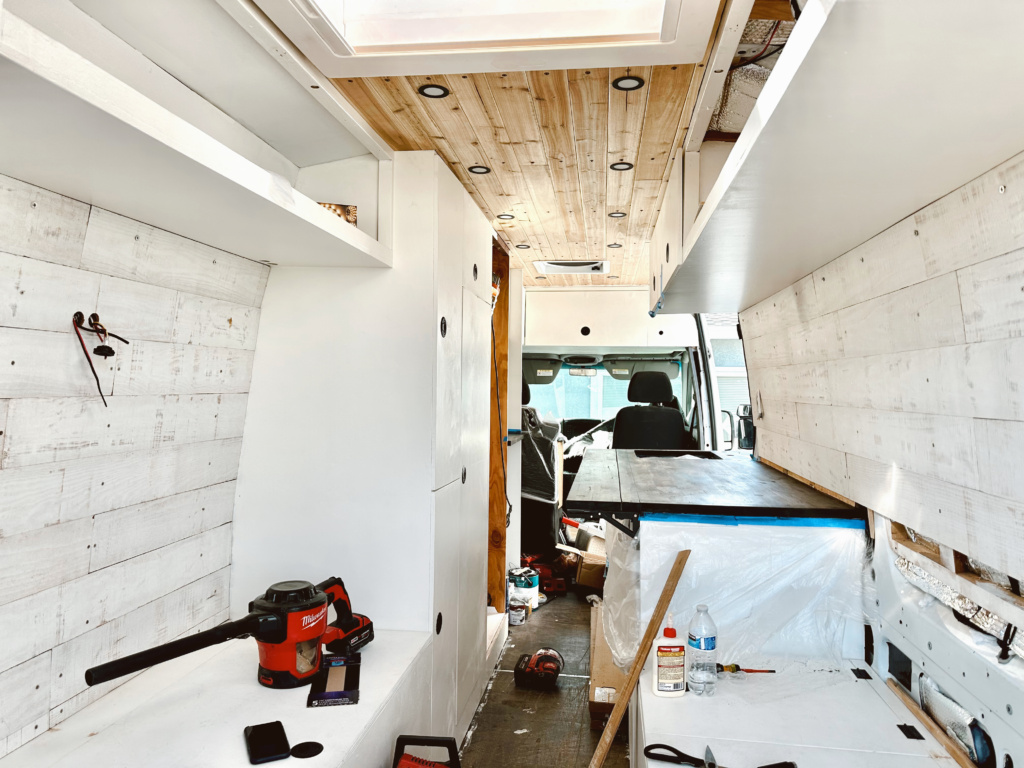 You need to insulate the walls before installing the wall planks. You can read about how we insulated our van walls here.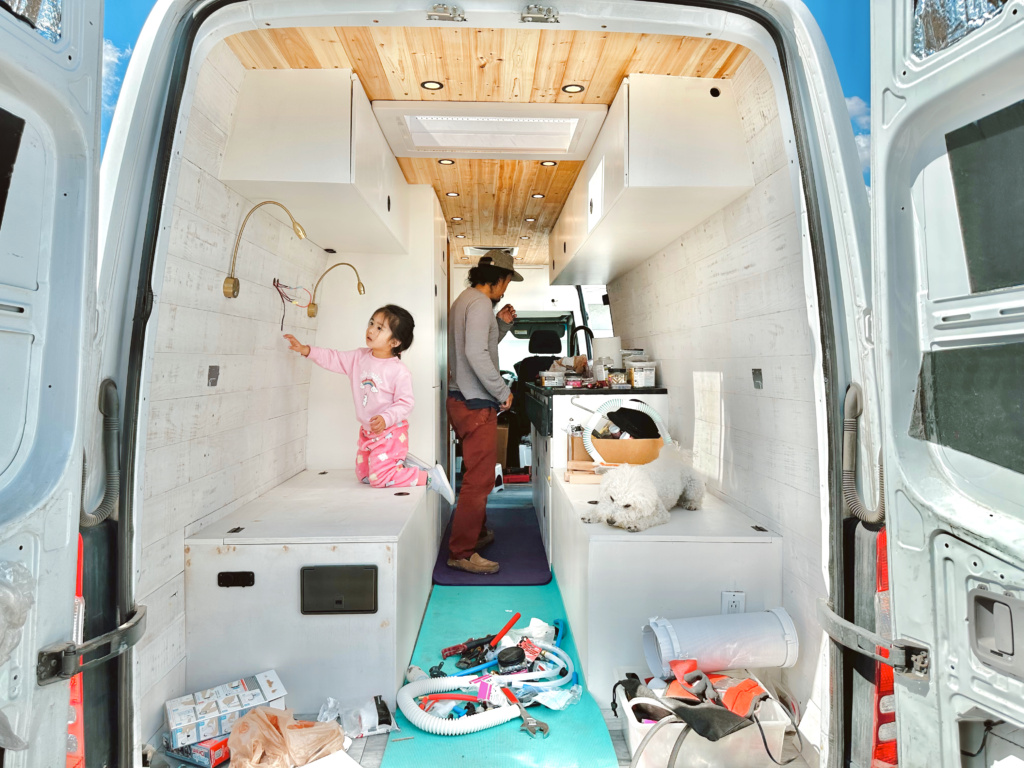 Flooring
We built the flooring in our camper van conversion for stability and longevity to "stand" the test of time. From bottom to top, our van flooring is comprised offive layers:
1. HushMat 10400 Ultra Black Foil Floor glued to the van metal floor.
Hushmat is a product designed to offer sound deadening and thermal insulation properties to the inside of your van. It's made from dense rubber and has a self-adhesive backing, which makes installation a breeze.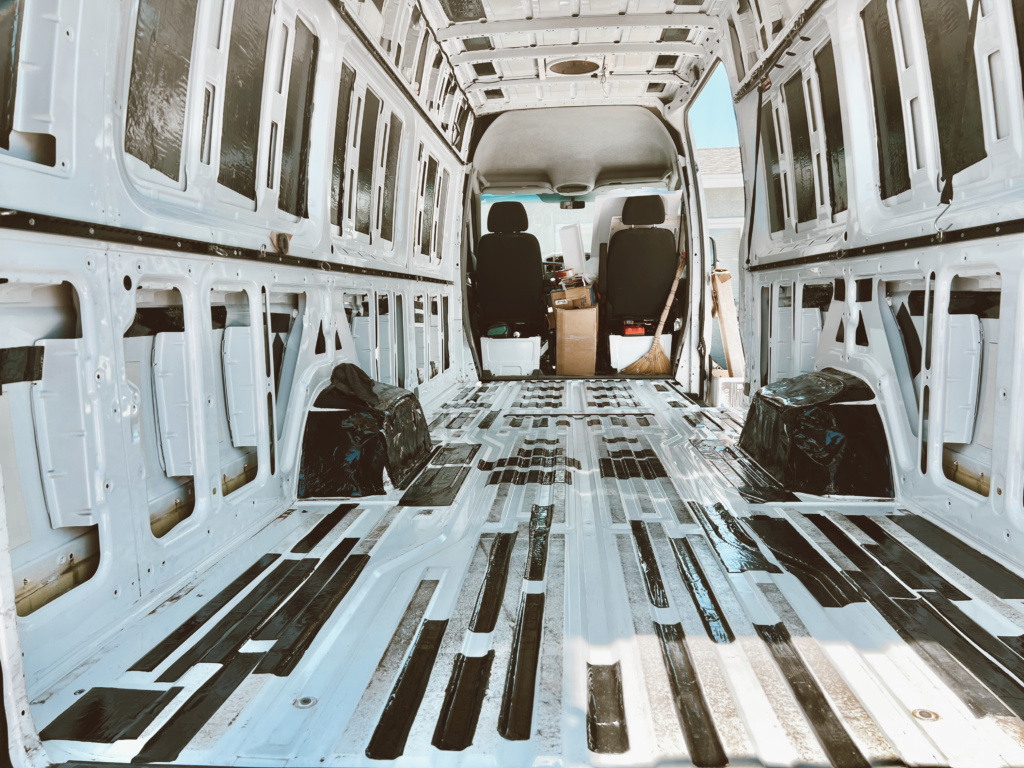 2. The second layer of our sub-floor is GMCraft Building Paper.
GMCraft is asphalt saturated building paper, which is designed to resist water and moisture intrusion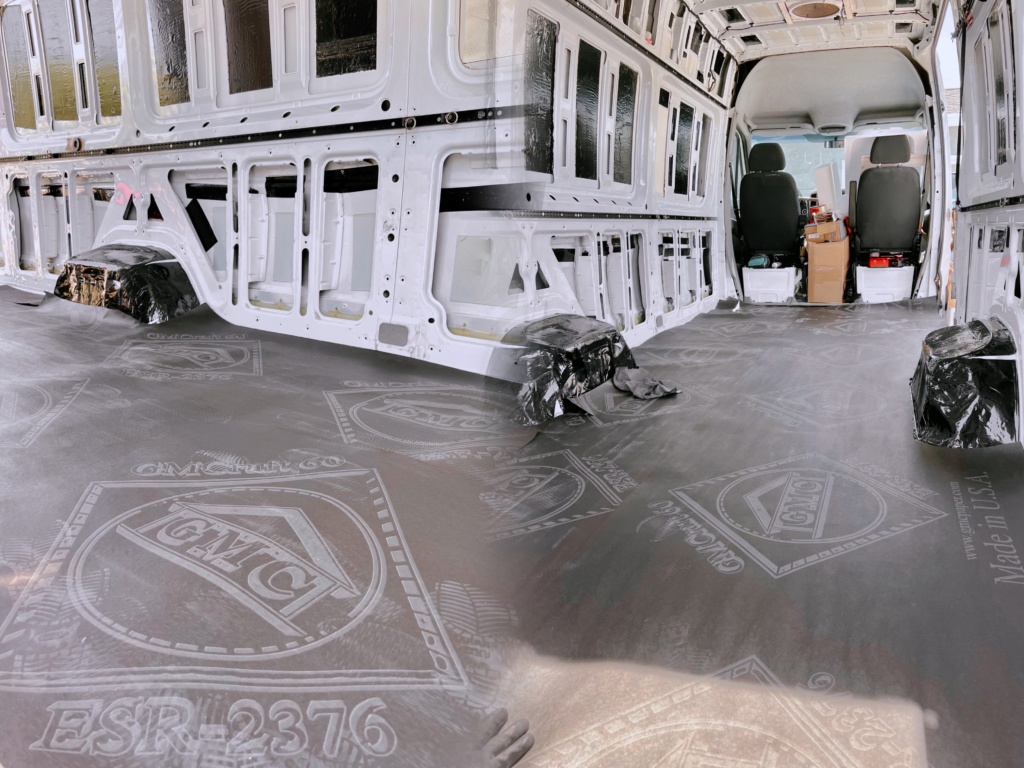 3. The third layer is our floor insulation.
We used 3M™ Thinsulate™for our floor insulation. Some people with constrained head heights skip floor insulation, but we have enough head height to lose an inch or so, and in tiny house world, floor insulation is a really important component of keeping warm.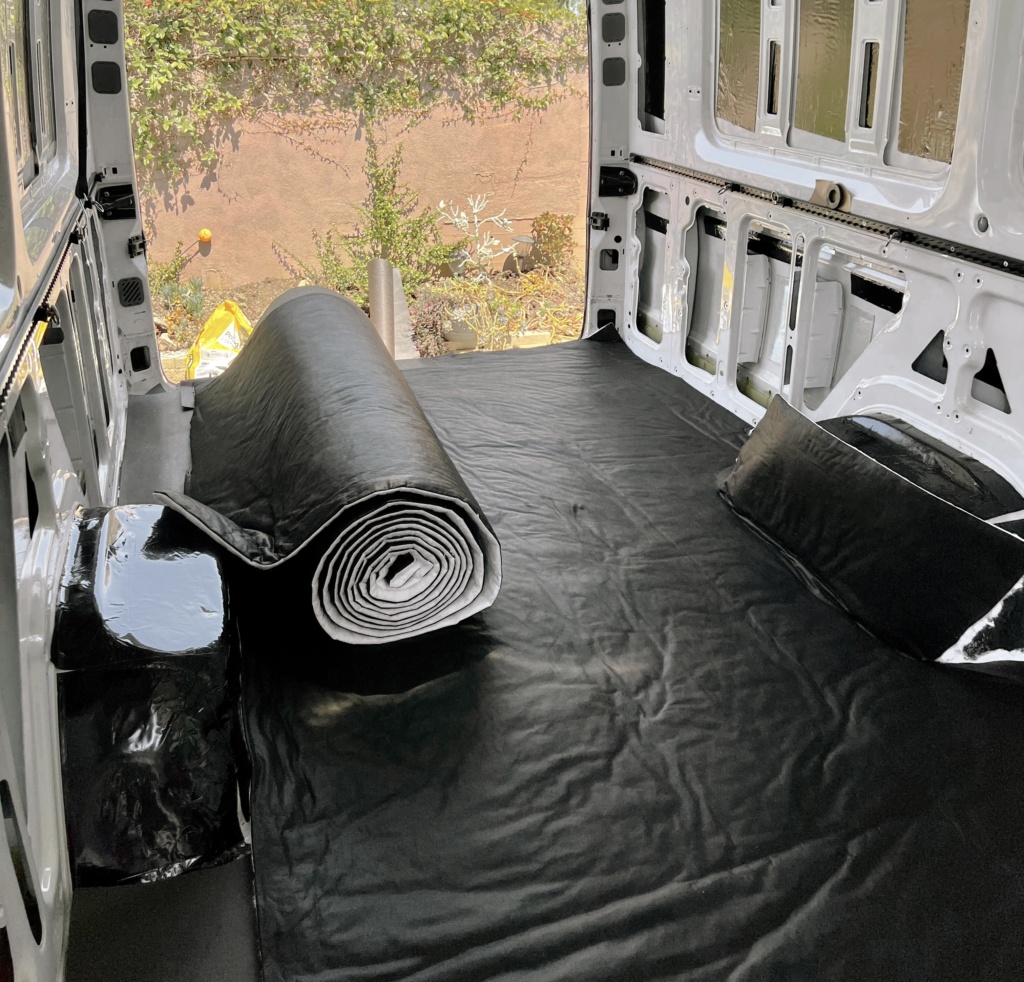 When people think about insulating a van, the roof and walls are the first areas that come to mind (the sun is hitting directly on those parts of the van). However, heat rises from the bottom of the van to the top. Also, in the winter that means very cold feet when you are walking around in the van.While most van resources say that you can safely skip floor insulation, insulating your van floor can make a huge difference in your comfort when you camp. In addition to helping to regulate the temperature, it will also add soundproofing to help cut down on external road noise and the empty sound.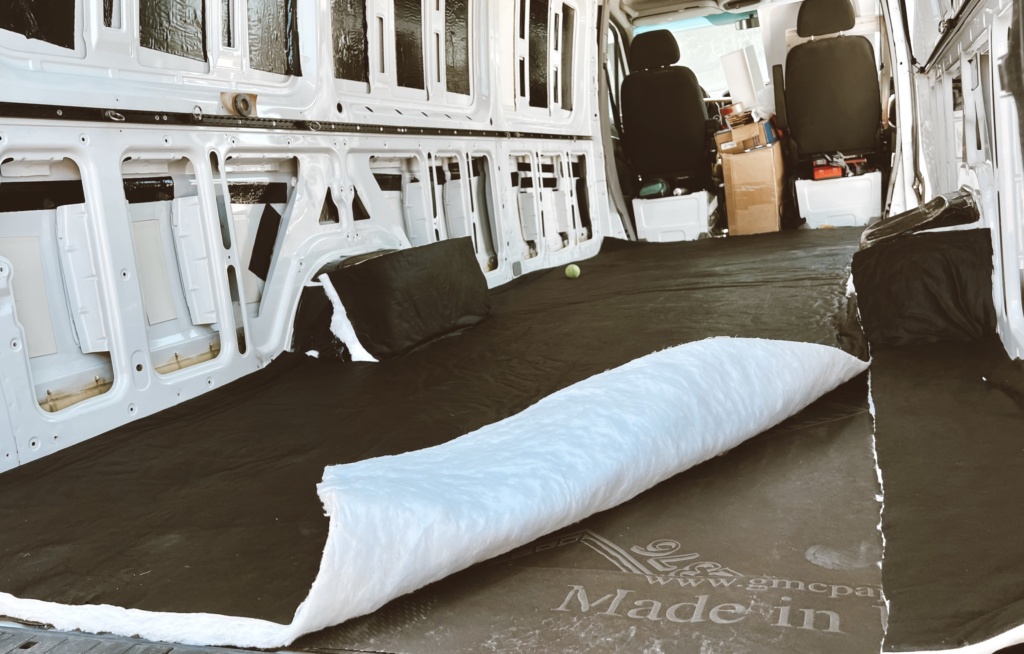 4. The fourth layer of our floor is Reflectix Insulation
Reflectix insulation is a reflective bubble wrap insulation that provides a slight conductive benefit and also creates a radiant barrier. Unless Reflectix has a gap between the space where it's insulating and its reflective surface, it won't work as a radiant barrier. So if you install Reflectix directly against your van wall, it won't work the way it's supposed to.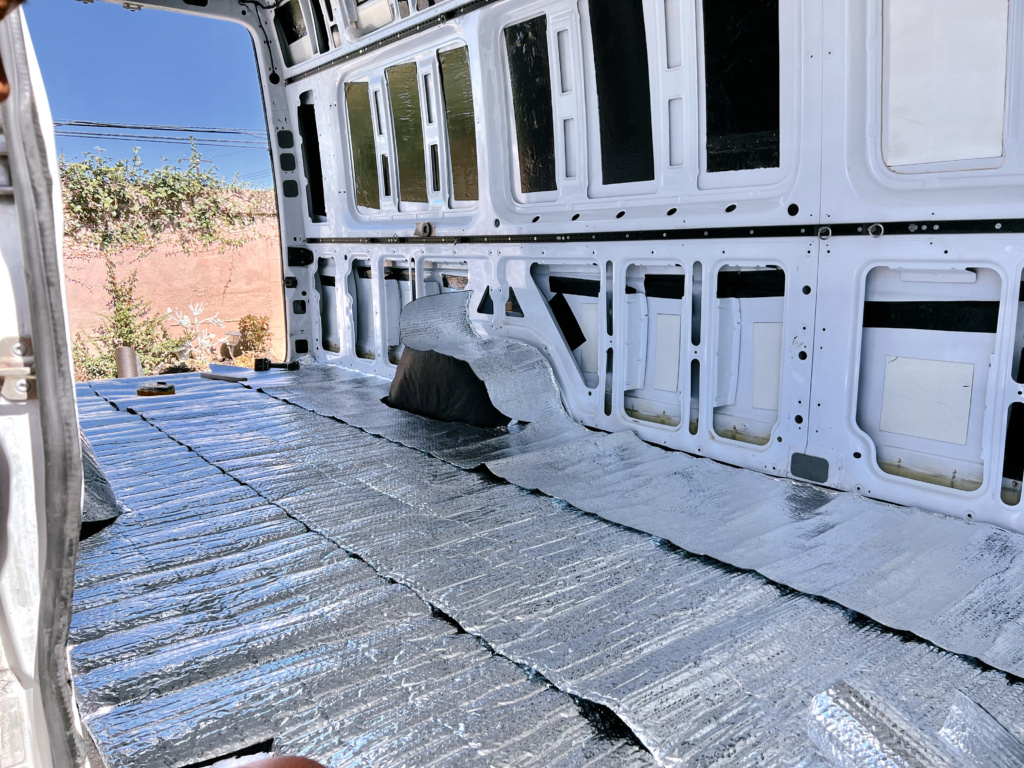 Since the metal floor of the van has ridges in it (creating a lot of spaces), these natural gaps make the floor the perfect place to use Reflectix insulation. So Reflectix is OK for below the subfloor, but not OK for sticking it all over the walls. This insulation seems to have the greatest effect when we are parked on hot asphalt; it helps reduce the amount of heat that comes into our van from below.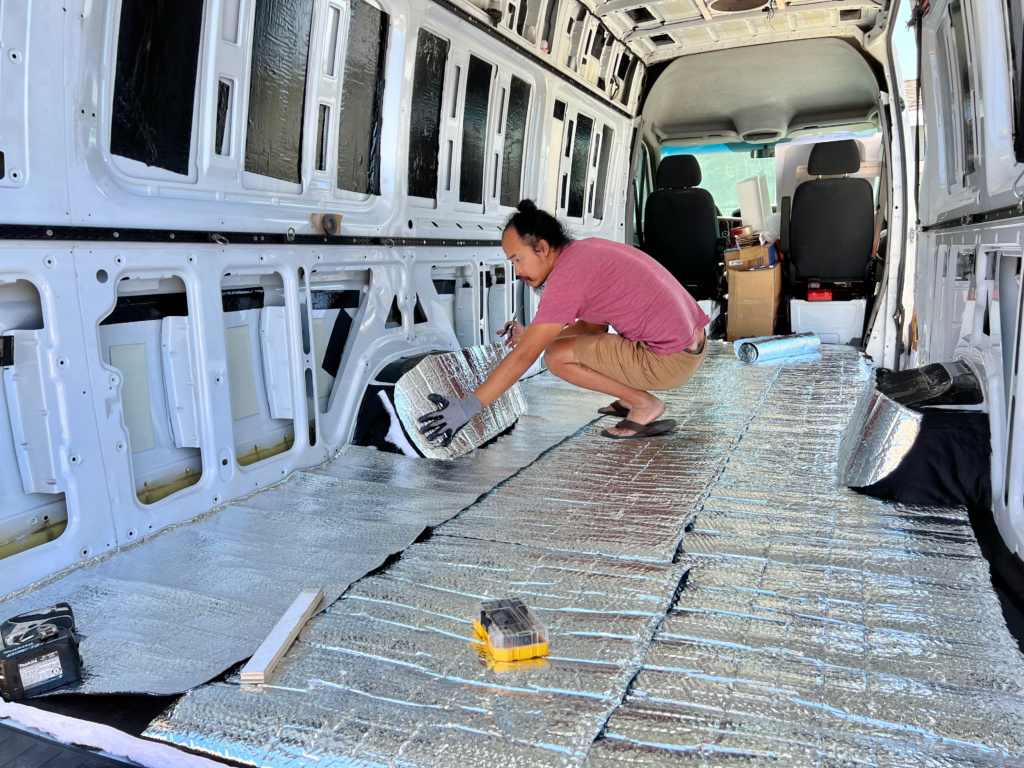 5. Subfloor
Our van came with a very good factory floor already in it, so we will resuse the factory floor as a subfloor underneath our finish flooring.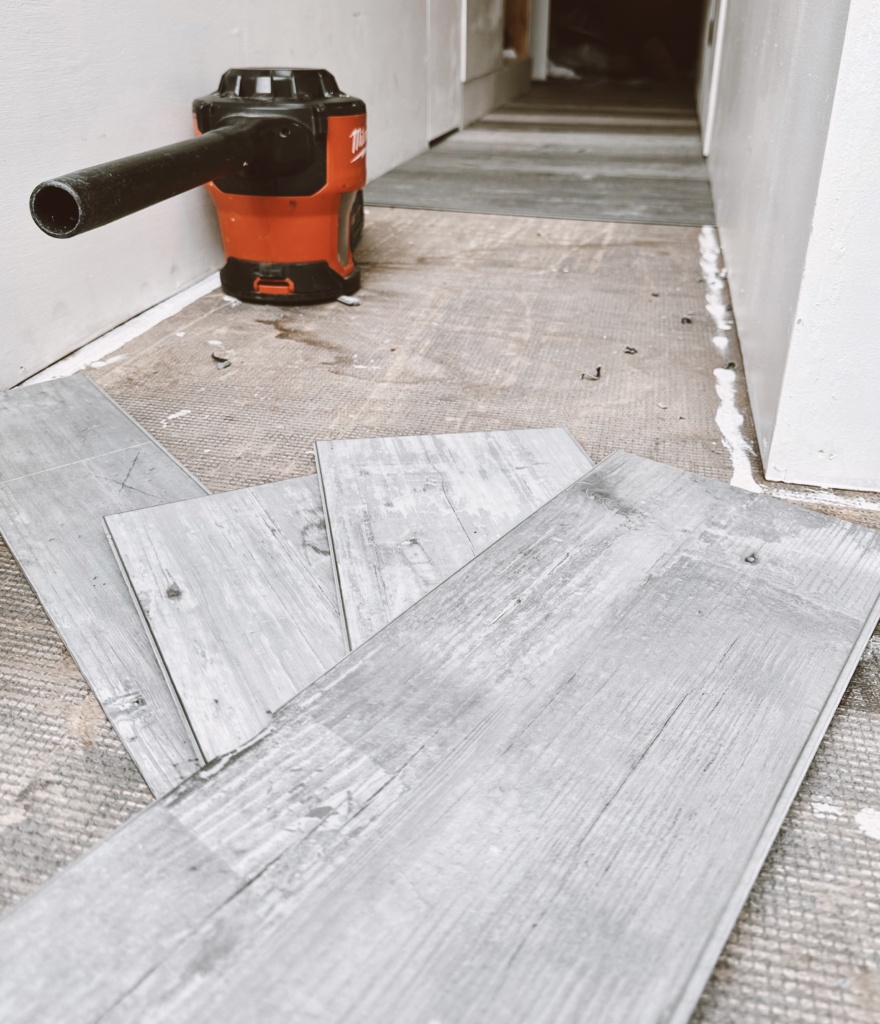 6. Finish Floor
Once you have your subfloor installed, then comes the top layer of flooring – the one you'll be standing on and looking at every day. Although your subfloor need to be installed early on in your build, you can decide whether to install your top layer in the beginning or later (once you have other key pieces of your build installed). We decided to install the top layer of flooring after our bed/kitchen/cabinets/bathroom installed. Although it's a bit more work to install the top layer later on, it does protect our van flooring from spills and scratches during construction, and it will save money since we will only be covering the floor where you will see it. The downside of installing later on is that you will have to make more custom cuts of your flooring to fit the layout of your van.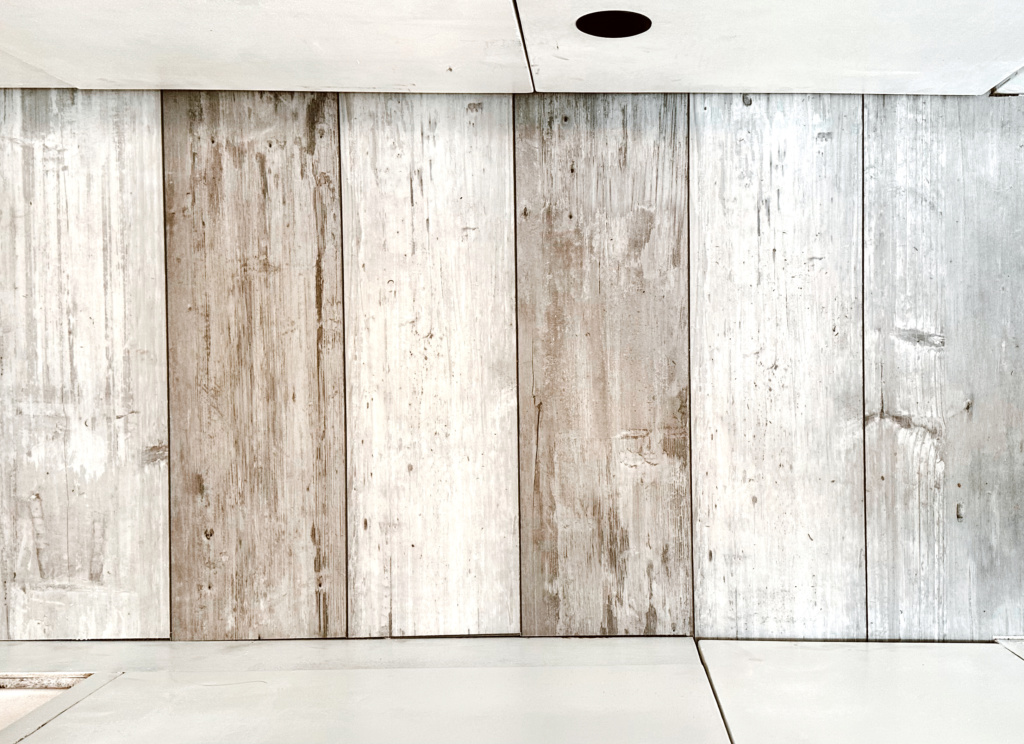 We used Piedmont Harlan Gray 7 in. x 48 in. Luxury Vinyl Plank Flooring from Home Depot. It has the appearance of wood but provides the affordability and easy care of vinyl. The planks have a 20 mm wear layer and are 100% waterproof and scratch, dent and stain resistant for long-lasting beauty. Vinyl plank comes with a pre-attached underlayment for an easy installation process.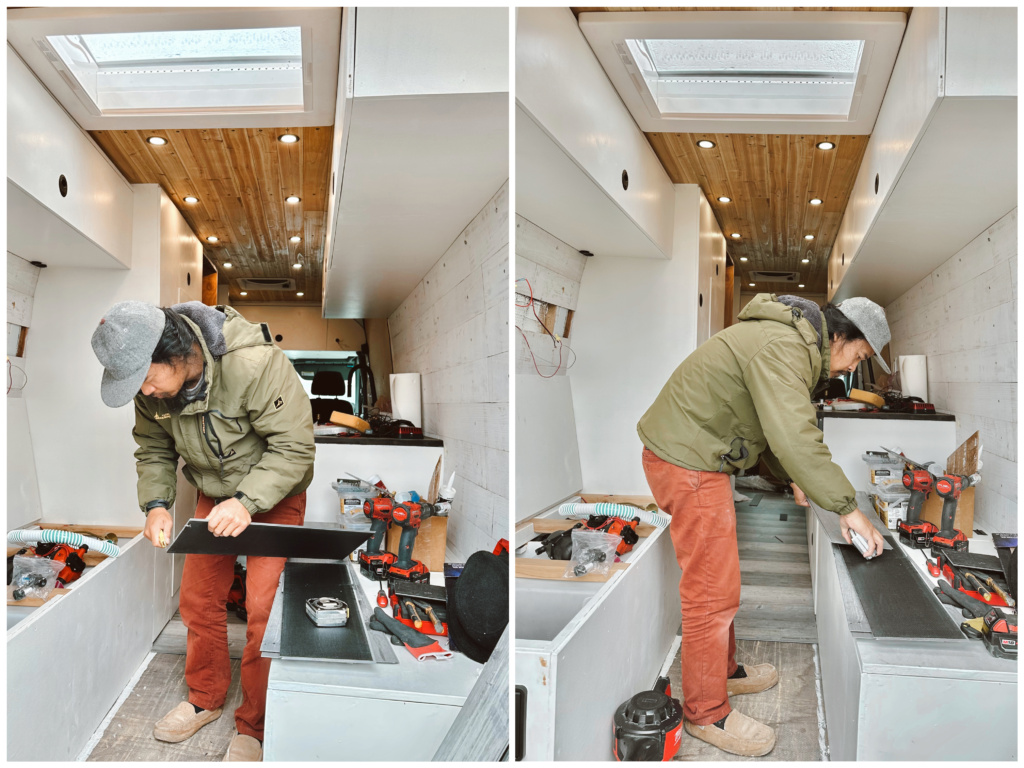 After this stage was finished, you could really see the van coming together.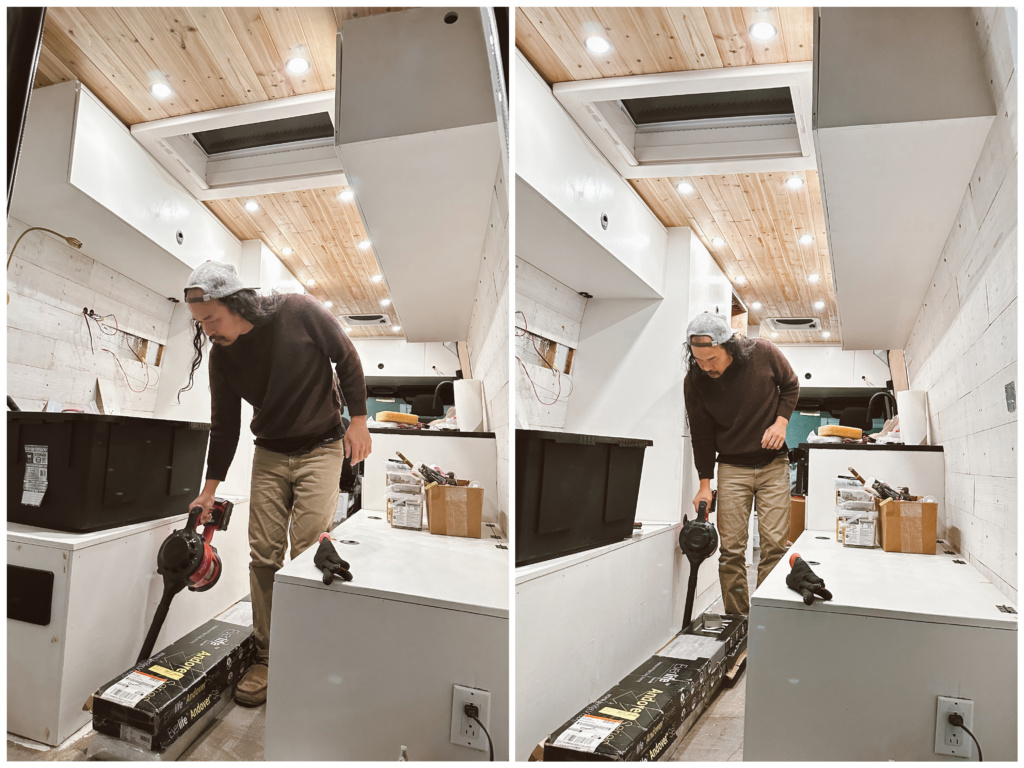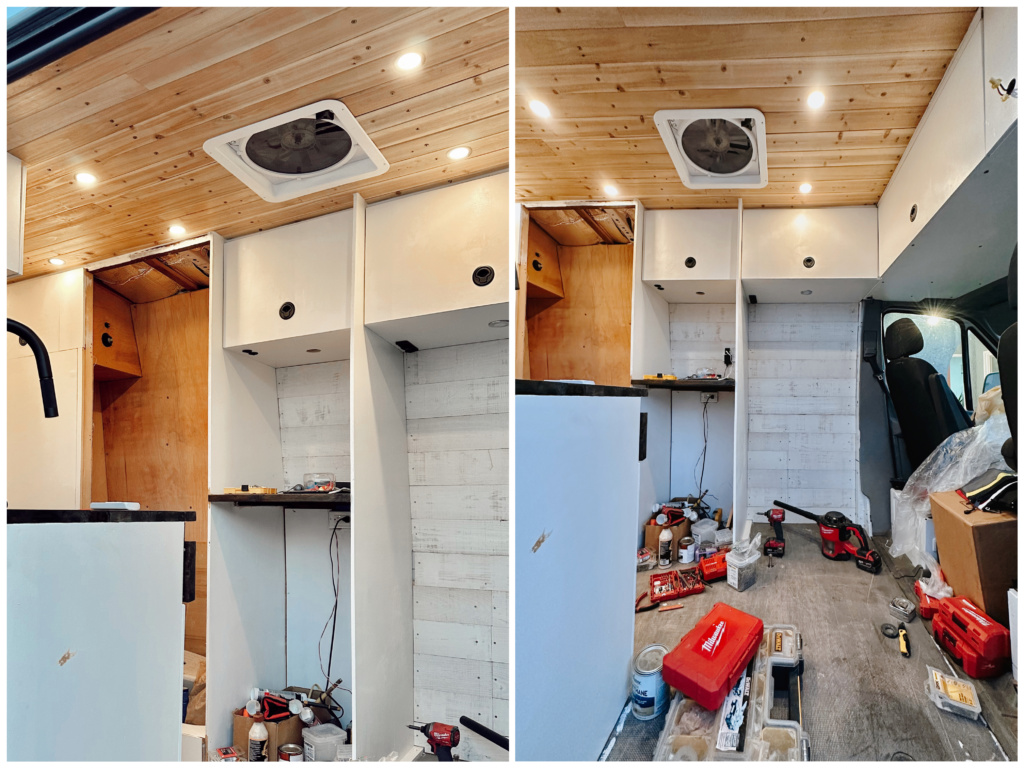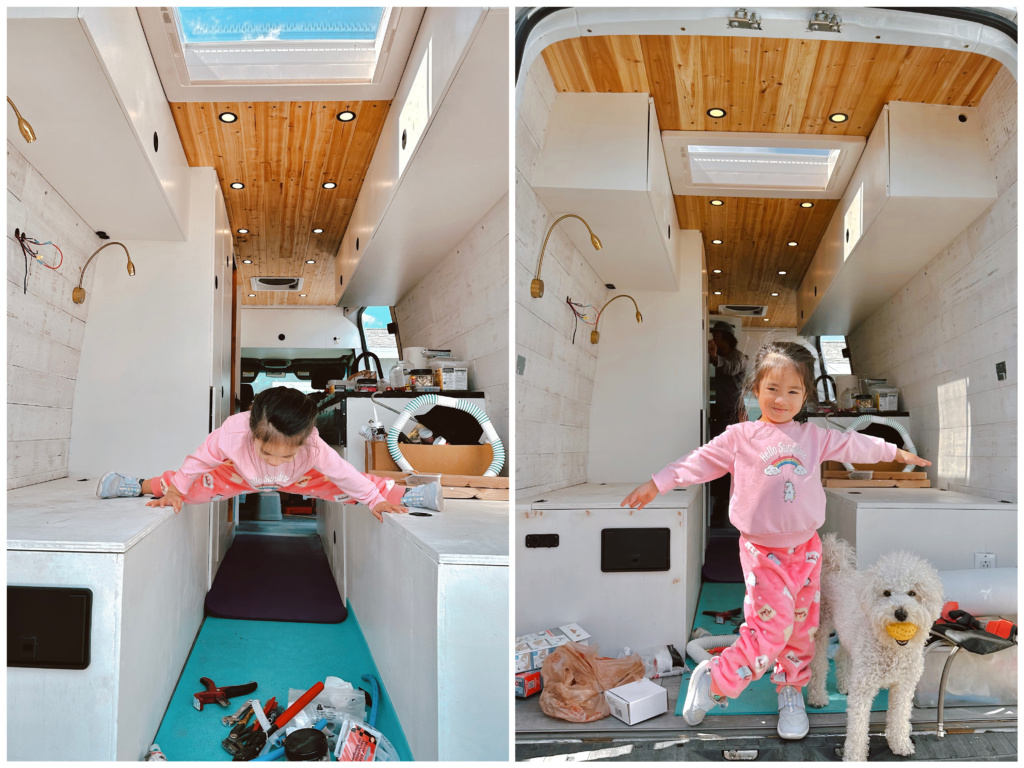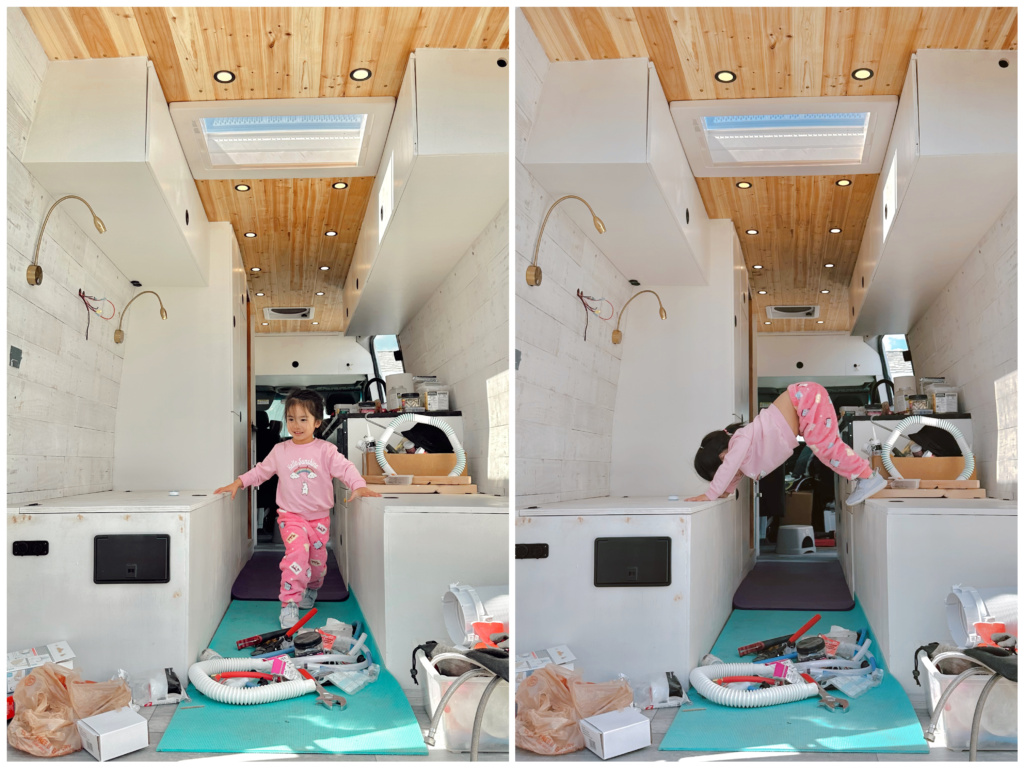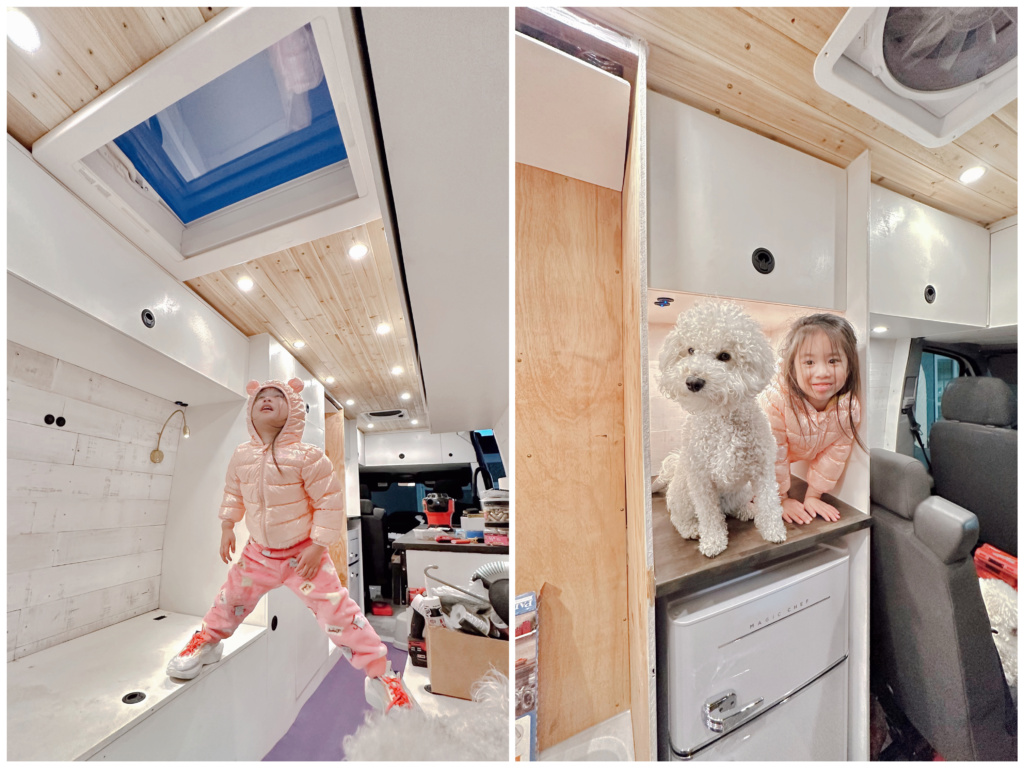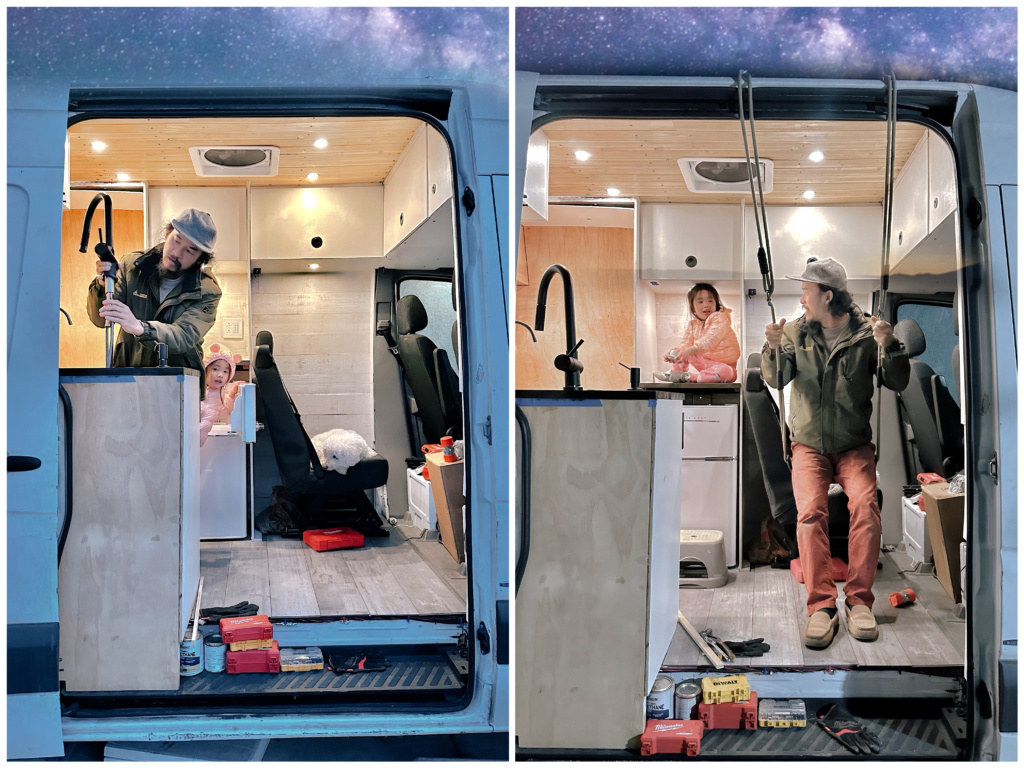 PIN THIS POST FOR LATER!