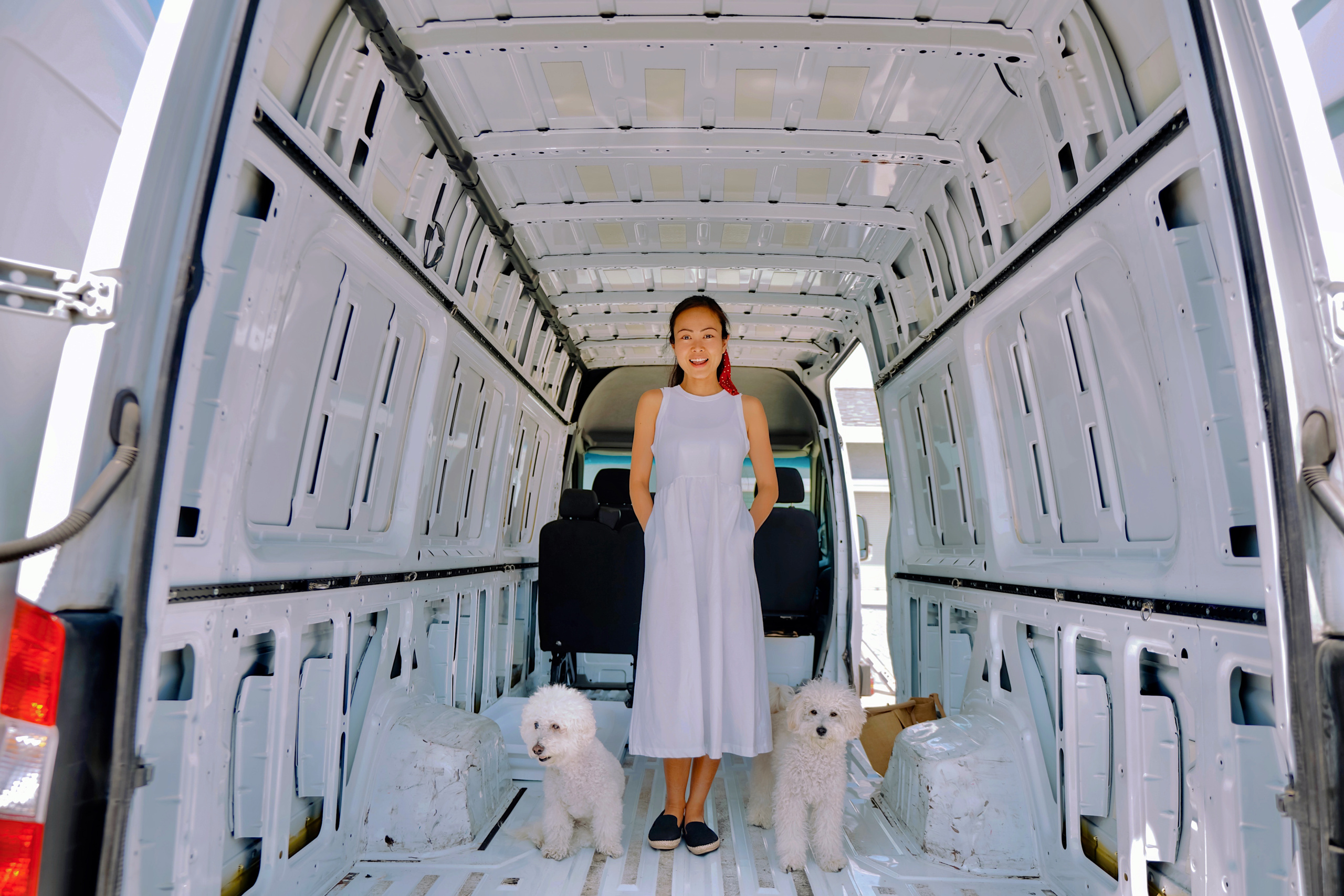 HOW TO PREP YOUR SPRINTER VAN BEFORE CONVERSION
More and more people are converting their own camper vans. With the increased availability of parts, tools and used vehicles for van conversion you can build your own camper van at a fraction of the cost of buying a professional conversion.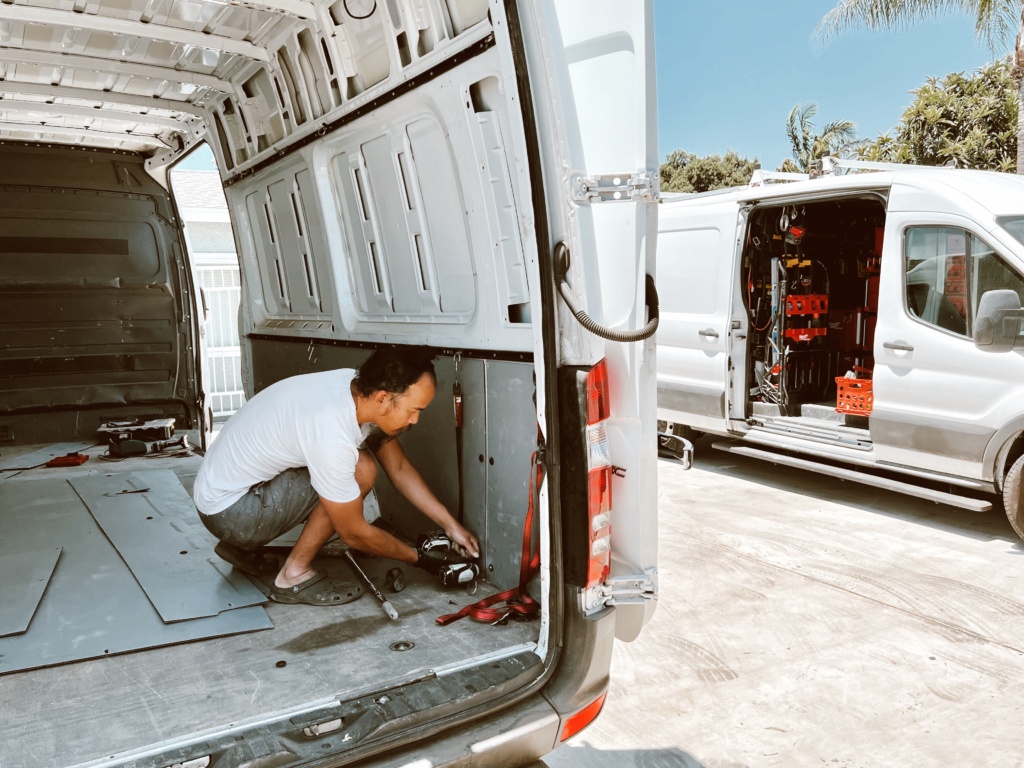 Building your own camper van can be a hugely rewarding project, but it can also be a daunting task. It requires a broad range of skills from carpentry to electrical. But when you break it down into ordered steps, it helps to make the job seem more manageable. This year (2022) marked our third van conversion and by this time we got a pretty good idea of how to manage our van conversion more efficiently. In this blog is our Week 1 Van Conversion Progress which we show you how we prep our van before conversion.
Step 1: Mechanical Check and Repairs
Before starting your van conversion you must have your van checked by a mechanic. You don't want to go through the whole process of converting a van, only to find out it has serious mechanical or structural issues. So take your van to a qualified mechanic and see if anything needs fixing. Afterward, you will feel much more confident about the money you are spending on the conversion.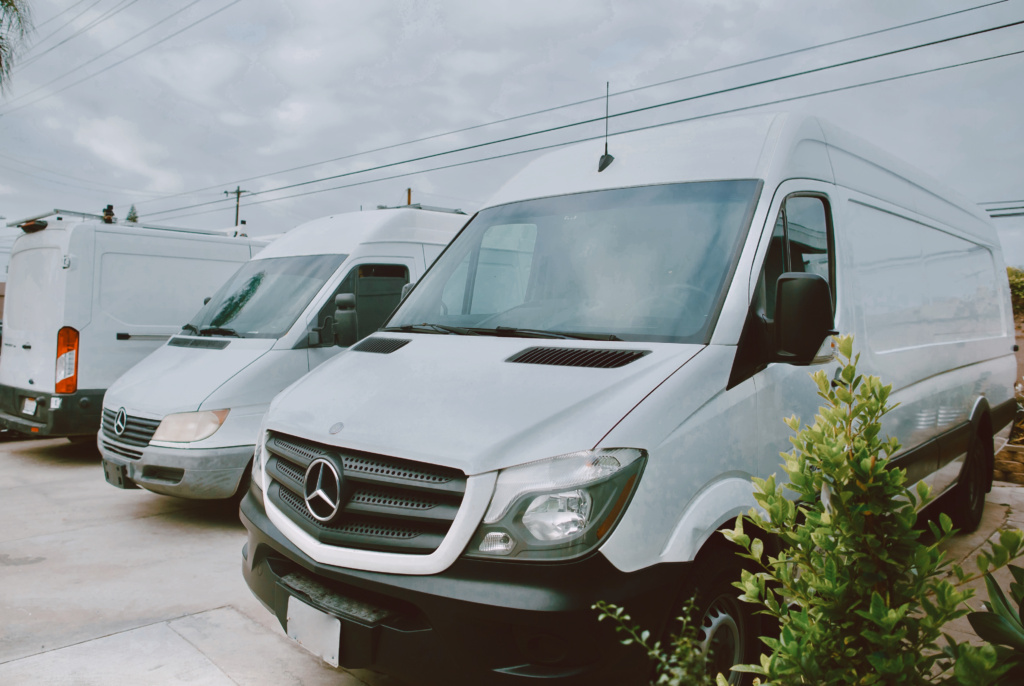 Step 2: Stripping Out the Inside
When doing your own campervan build, you need to start with an empty shell. Stripping out your van for conversion is an essential part. It is at this stage where you will be able to assess the van's condition and decide what to do next. When planning your van conversion, allow at least a week for this part of the job.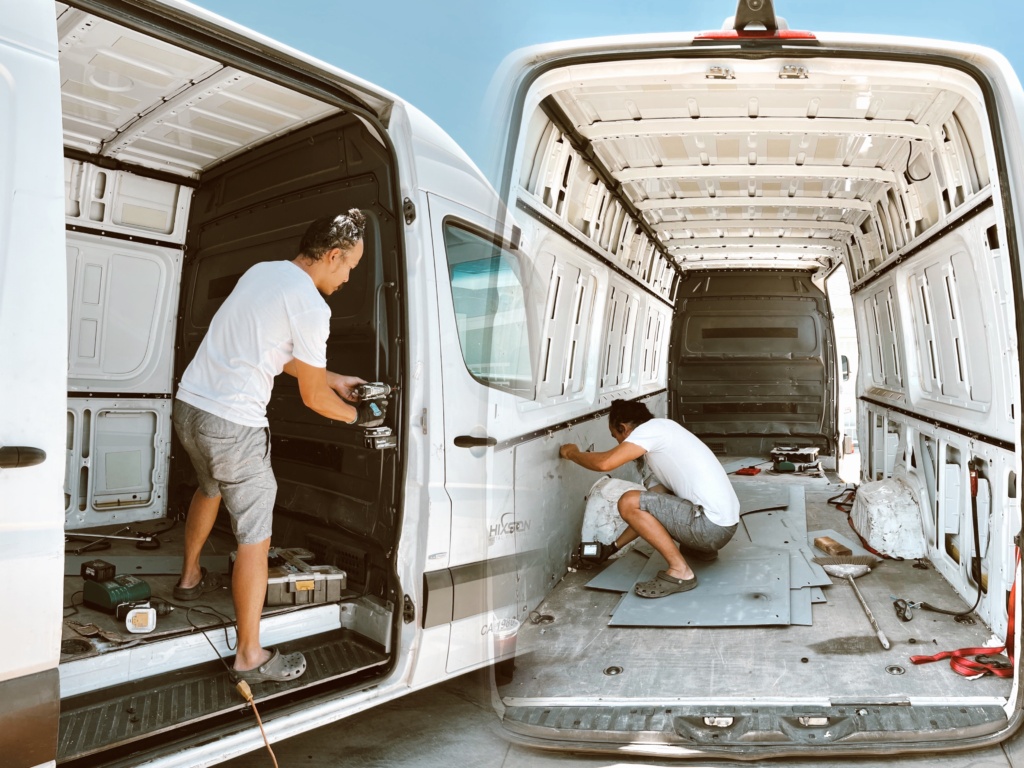 Our first day's task was stripping the van down to its bare metal.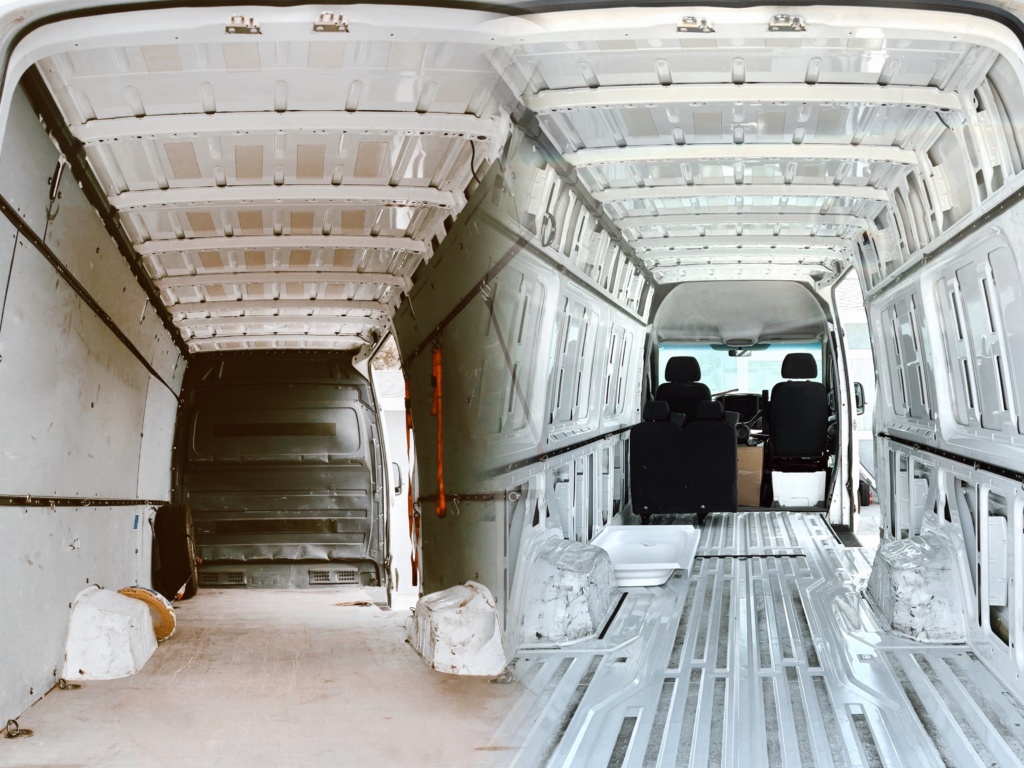 One of the things you should consider at this stage is whether the factory floor should be removed or not. Removing the factory floor depends on whether you are insulating your floor. In all of our van builds we always insulated the floor. Our first campervan had no heating system but we never felt cold due to the thoroughly insulated floor.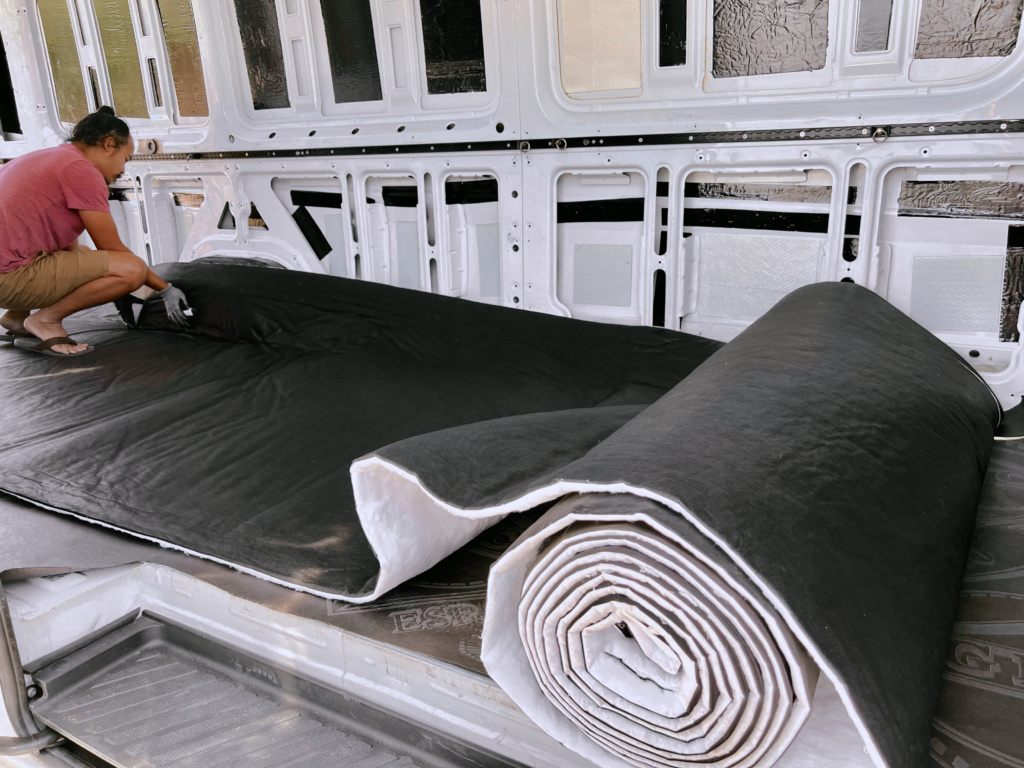 No doubt under the floor will be a lot of dirt and random rubbish. Once the floor was removed, we cleaned the floor with warm water, heavily scrubbing to remove all dirt and grime. One of the best purchases we made early on, was Milwaukeet M18™ Compact Vacuum. It is the best for cleanup of drywall dust, wood/metal shavings, and common jobsite debris. This was definitely a worthy investment.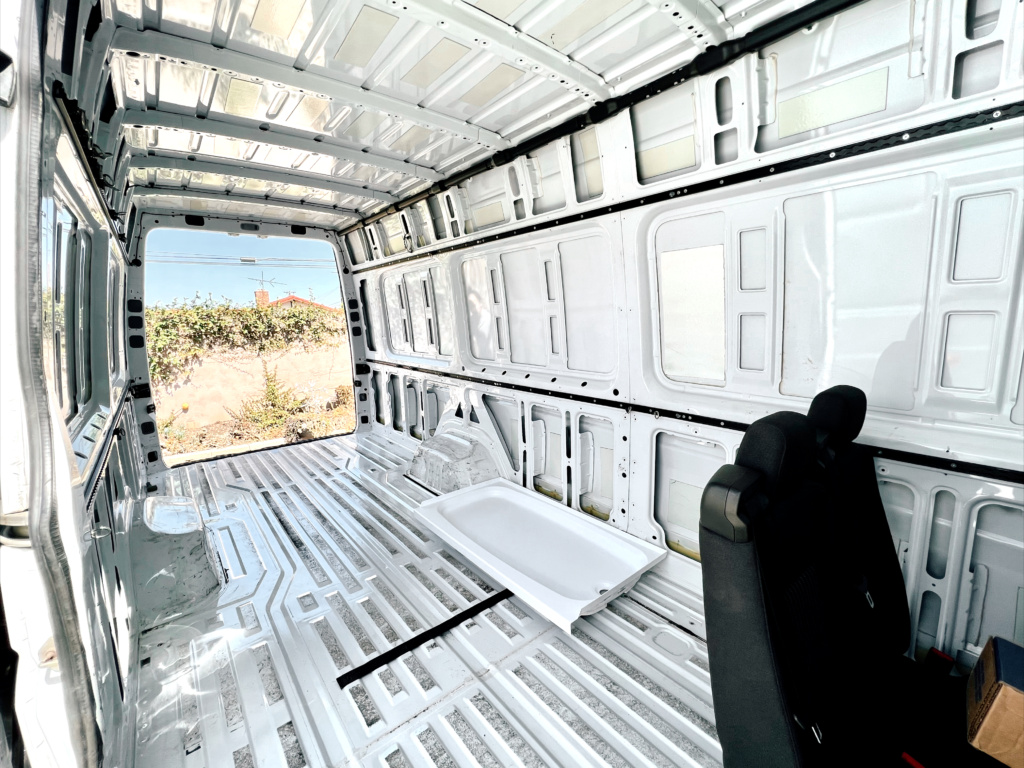 A dustpan and brush was also useful, as well as a hard bristle cleaning brush for more stubborn things. It's amazing how dirty the vans can get so make sure you thoroughly clean every little nook and cranny insure. It's also a really good way of checking for any rust or corrosion. If you find any rust on the interior of the van it should be treated. This must be dealt with now because you won't be able to access these areas once the conversion is completed. Once stripped and cleaned, the van seems so much bigger inside and you can start to get a feel for the space you have to work with.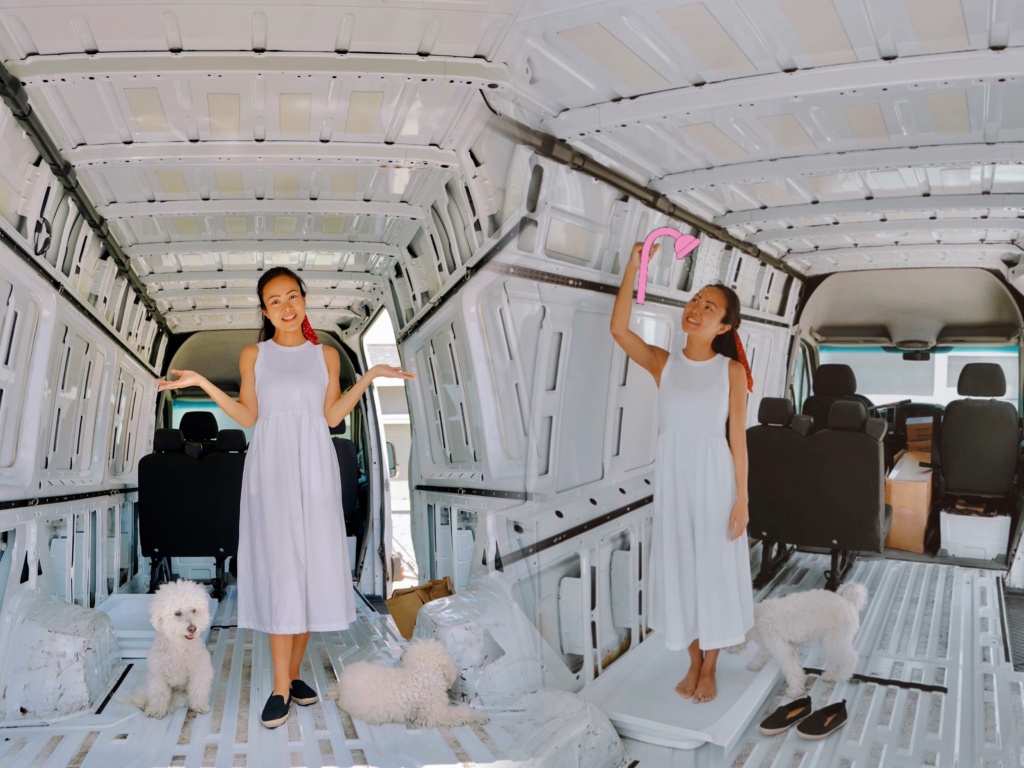 Step 3: Floor Layering and Materials
Now the van is completely stripped out, sealed and protected from rust. Next we focused on layering our van floor.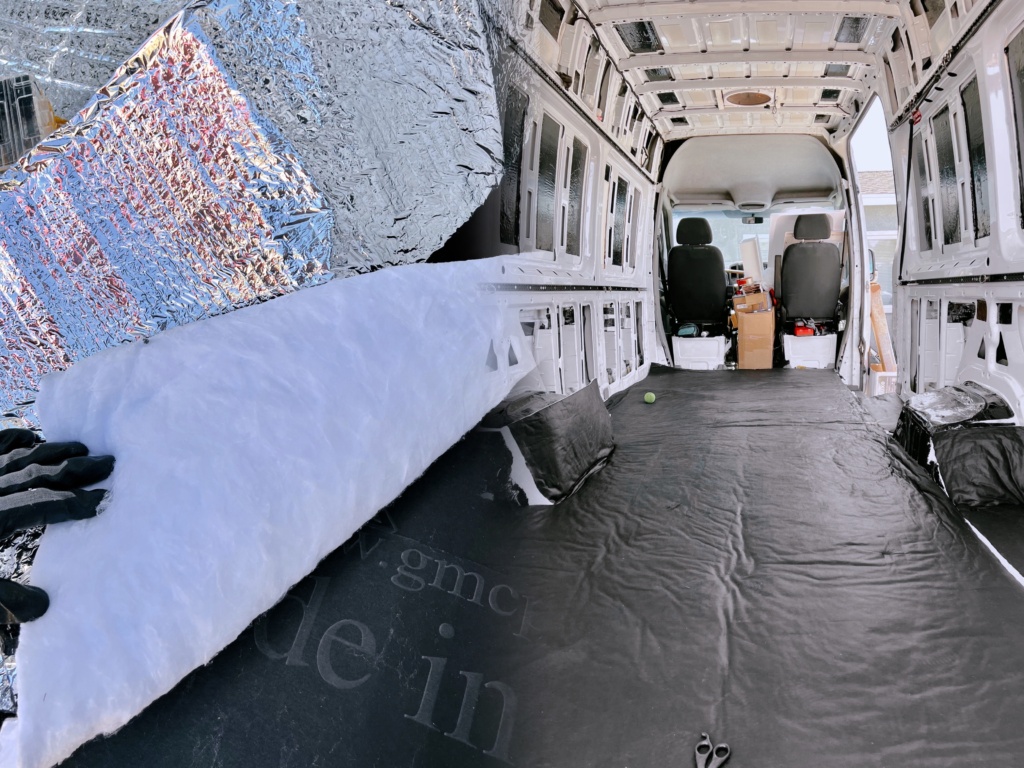 We built the subfloor in our camper van conversion for stability and longevity to "stand" the test of time. From bottom to top, our van flooring is comprised offive layers:
1. HushMat 10400 Ultra Black Foil Floor glued to the van metal floor.
Hushmat is a product designed to offer sound deadening and thermal insulation properties to the inside of your car. It's made from dense rubber and has a self-adhesive backing, which makes installation a breeze.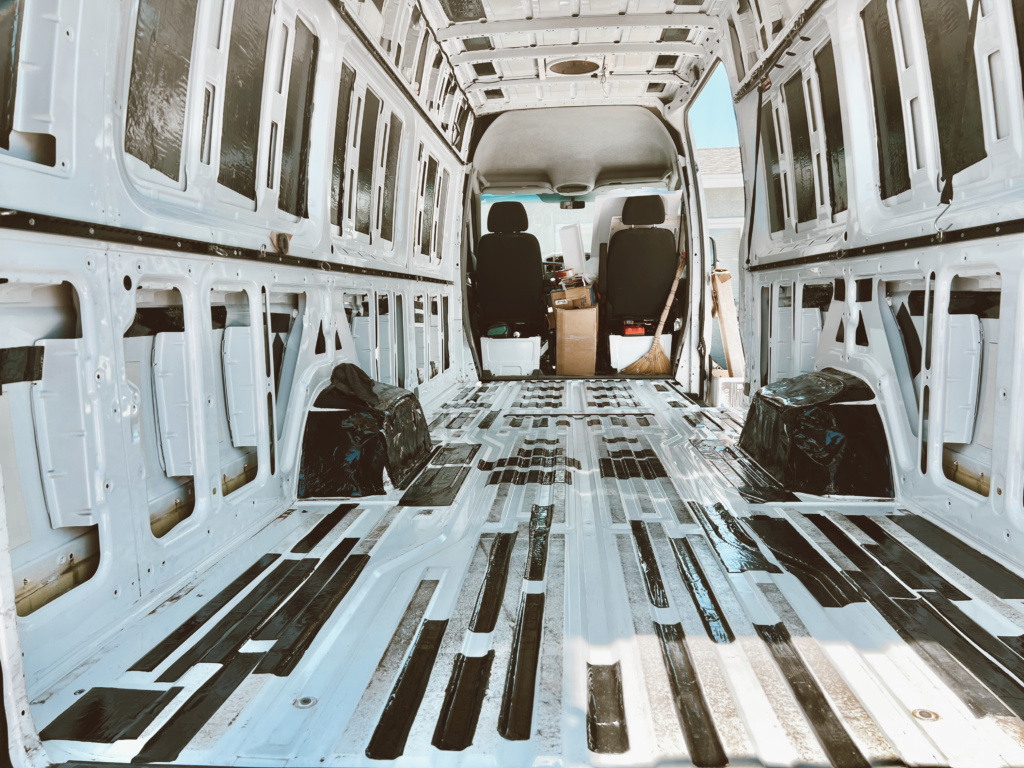 2. The second layer of our sub-floor is GMCraft Building Paper.
GMCraft is asphalt saturated building paper, which is designed to resist water and moisture intrusion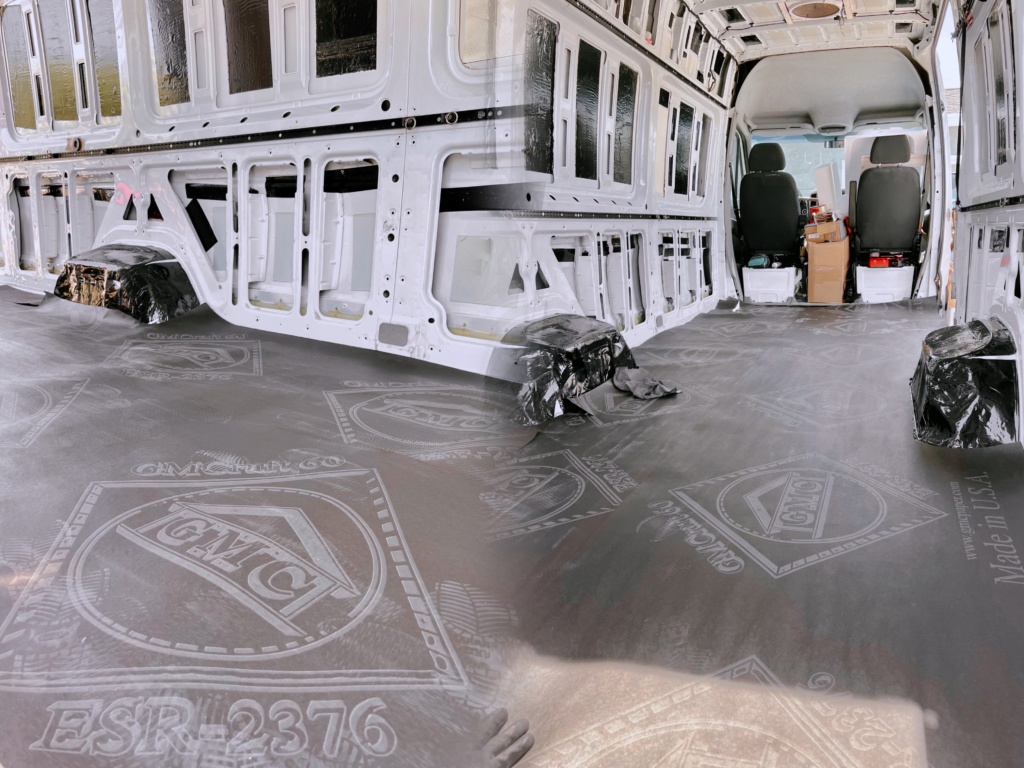 3. The third layer is our floor insulation.
We used 3M™ Thinsulate™for our floor insulation. Some people with constrained head heights skip floor insulation, but we have enough head height to lose an inch or so, and in tiny house world, floor insulation is a really important component of keeping warm.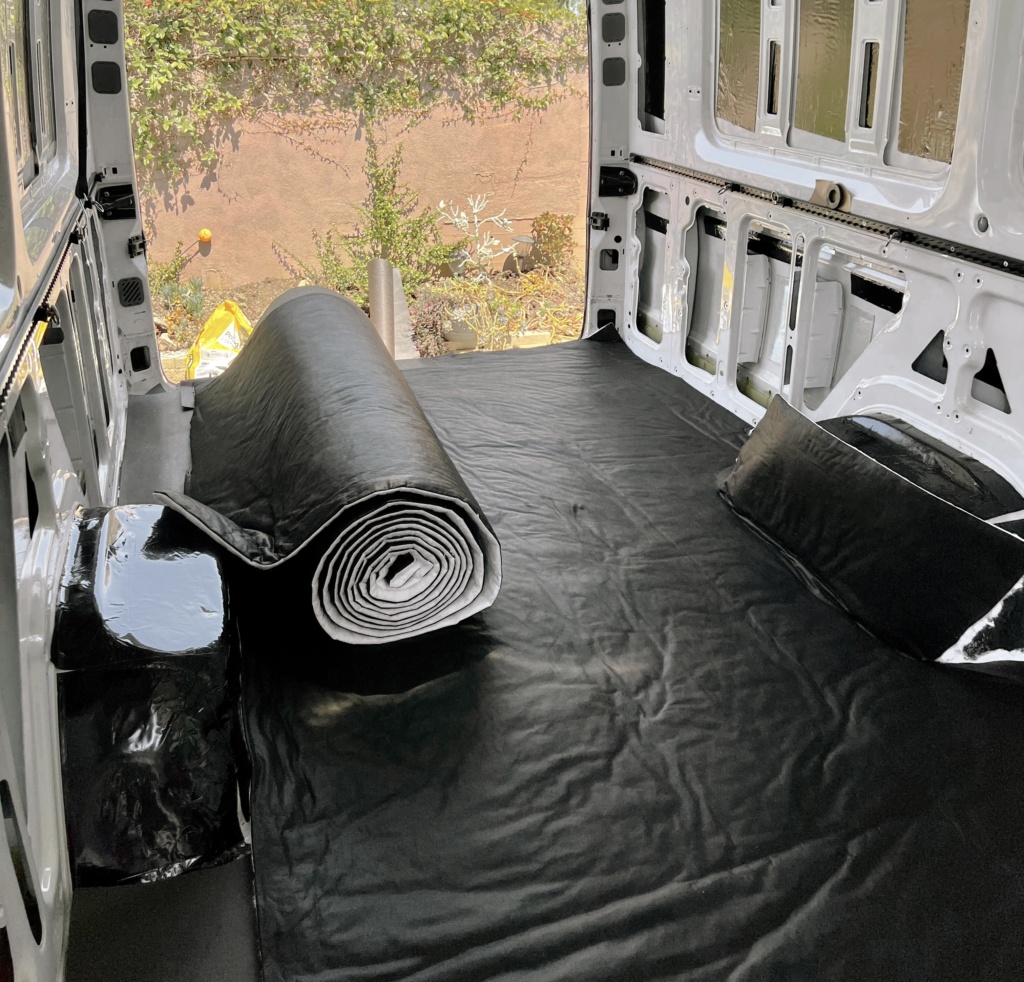 When people think about insulating a van, the roof and walls are the first areas that come to mind (the sun is hitting directly on those parts of the van). However, heat rises from the bottom of the van to the top. Also, in the winter that means very cold feet when you are walking around in the van.While most van resources say that you can safely skip floor insulation, insulating your van floor can make a huge difference in your comfort when you camp. In addition to helping to regulate the temperature, it will also add soundproofing to help cut down on external road noise and the empty sound.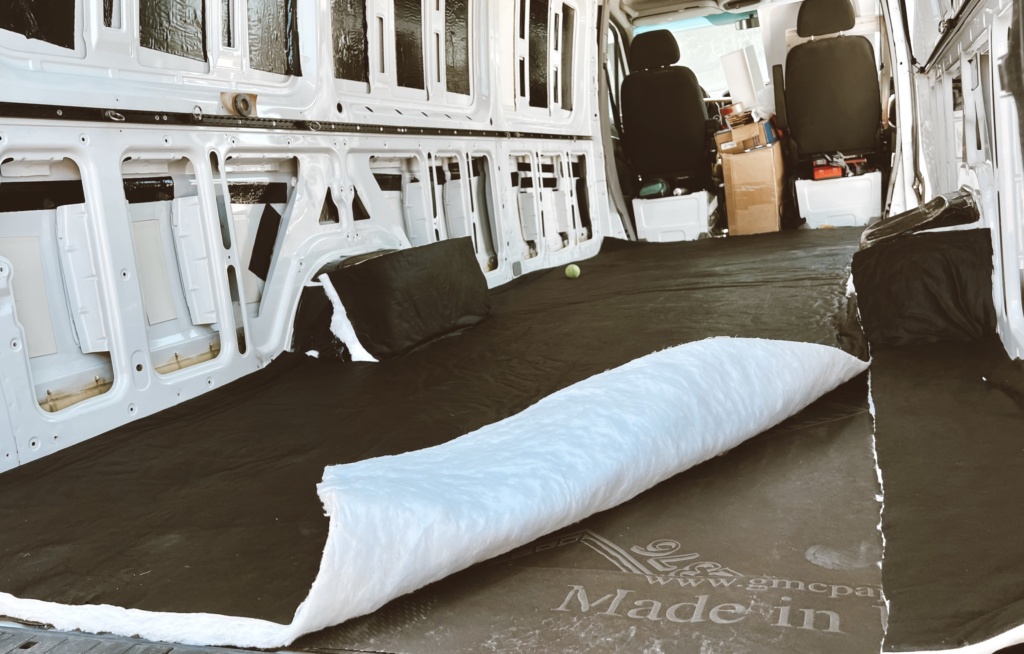 4. The fourth layer of our floor is Reflectix Insulation
Reflectix insulation is a reflective bubble wrap insulation that provides a slight conductive benefit and also creates a radiant barrier. Unless Reflectix has a gap between the space where it's insulating and its reflective surface, it won't work as a radiant barrier. So if you install Reflectix directly against your van wall, it won't work the way it's supposed to.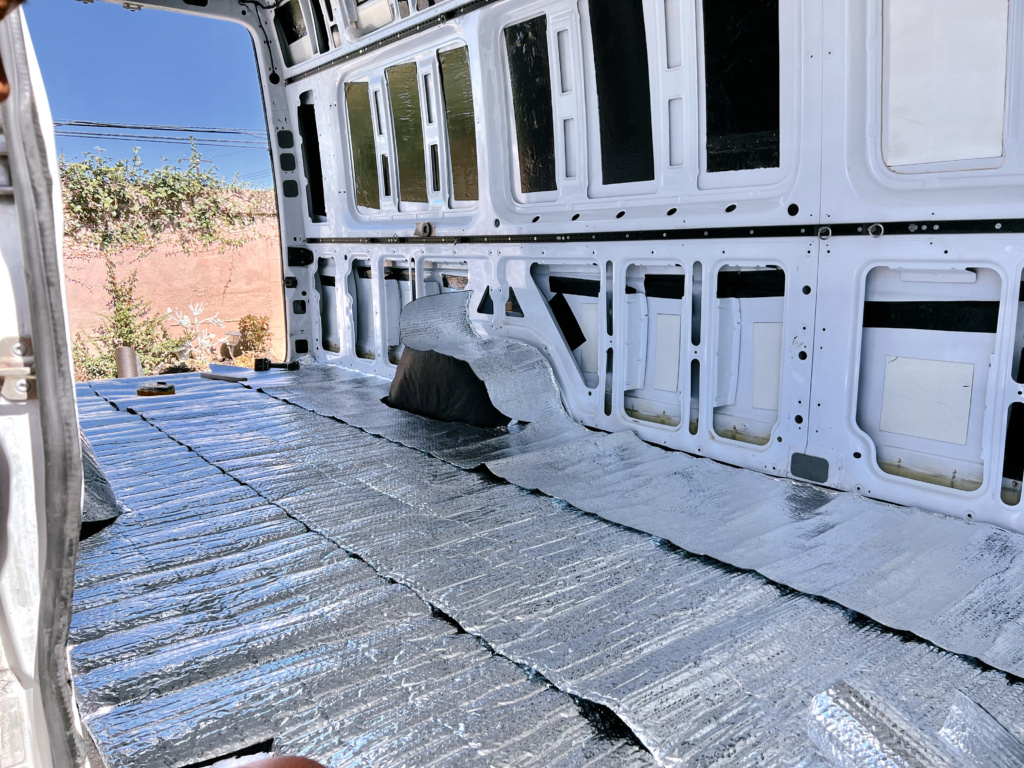 Since the metal floor of the van has ridges in it (creating a lot of spaces), these natural gaps make the floor the perfect place to use Reflectix insulation. So Reflectix is OK for below the subfloor, but not OK for sticking it all over the walls. This insulation seems to have the greatest effect when we are parked on hot asphalt; it helps reduce the amount of heat that comes into our van from below.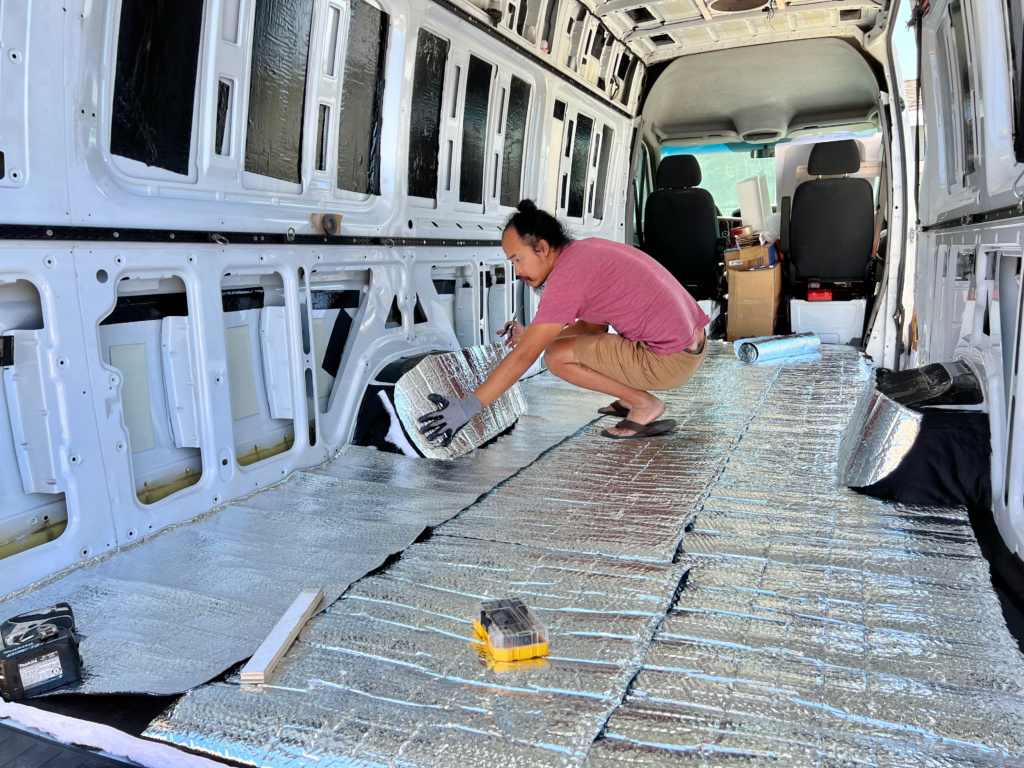 5. Subfloor
Our van came with a very good factory floor already in it, so we will resuse the factory floor as a subfloor underneath our finish flooring.
6. Finish Floor
Once you have your subfloor installed, then comes the top layer of flooring – the one you'll be standing on and looking at every day. Although your subfloor need to be installed early on in your build, you can decide whether to install your top layer in the beginning or later (once you have other key pieces of your build installed). We decided to install the top layer of flooring after our bed/kitchen/cabinets/bathroom installed. Although it's a bit more work to install the top layer later on, it does protect our van flooring from spills and scratches during construction, and it will save money since we will only be covering the floor where you will see it. The downside of installing later on is that you will have to make more custom cuts of your flooring to fit the layout of your van.
***Keep in mind here, everything you build into the floor and ceiling will reduce the overall standing space in the van. If you're tall, pay attention to the thickness of the materials you're using.
Step 4: Sound Proofing
Road noise quite can be quite horrible which can make it feel like you're on the inside of a tin can. Thankfully it's an easy fix! Sound deadening material will reduce road noise and sounds coming from the outside world as you're trying to sleep. They are very effective in isolating noise outside while retaining sounds inside, so you may enjoy the quiet inside the vehicle and be less readily heard from the outside. They are generally placed directly on top of metal van walls.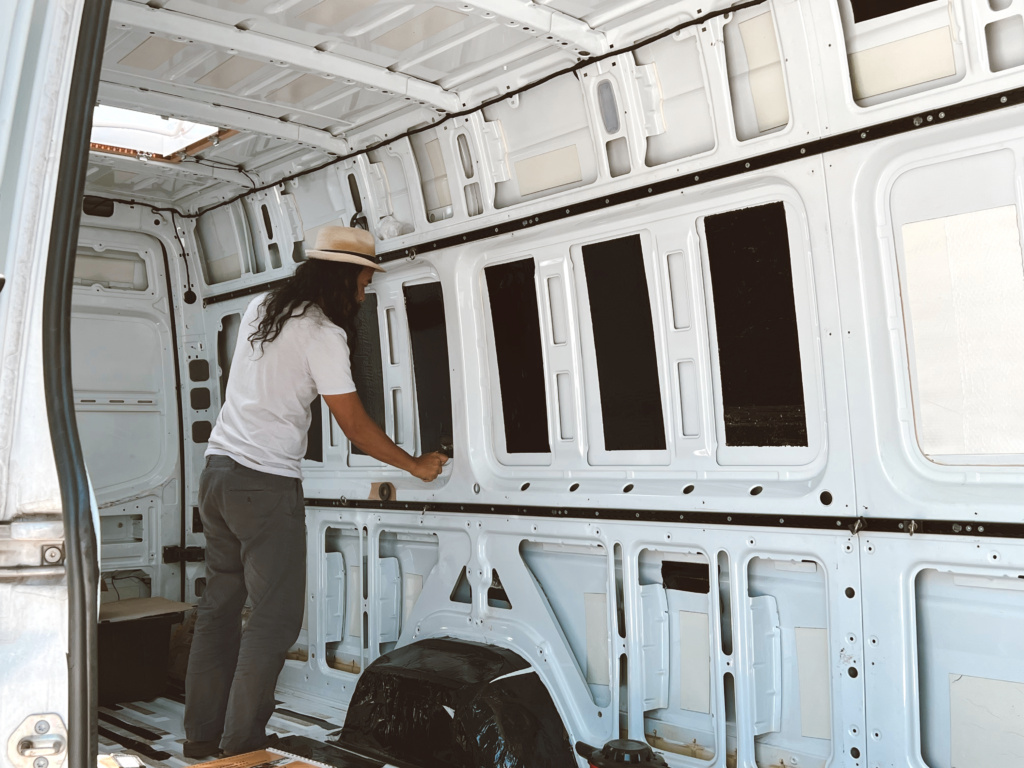 We use Hushmat for all of our van builds. Hushmat is a product designed to offer sound deadening and thermal insulation properties to the inside of your car. It's made from dense rubber and has a self-adhesive backing, which makes installation a breeze. Since this is a peel and stick application, you want to make sure you clean the surface of the van before you install the Hushmat. All you need to do is peel it off and stick it down!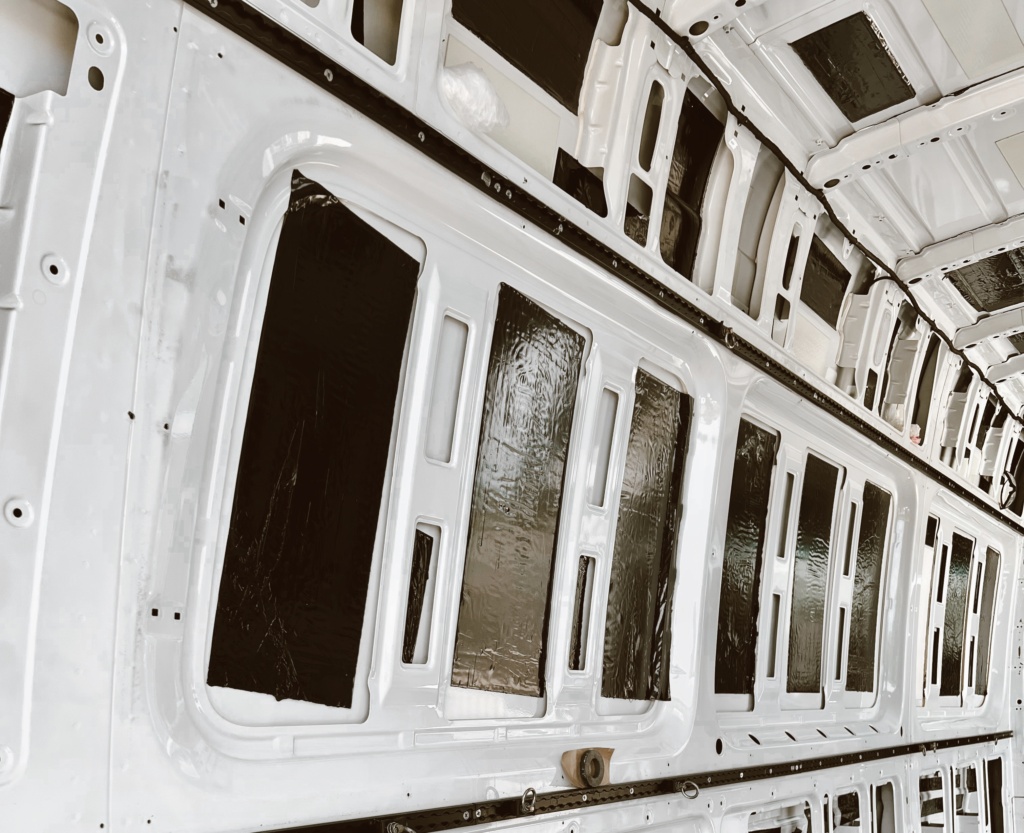 To function correctly, deadeners must be firmly installed. You need to take a roller (a lot of companies do give you one if you order over a certain amount of material) and press all parts of the material against the van metal. Using a roller is recommended as the foil edges are razor sharp and using your hands won't get the same contact as a roller.
To effectively sound deaden you need to cover 25-30% of an exposed panel. You do not need to cover the entire panel. This won't actually improve the effectiveness, it will cost you 300% more to do so. Soundproofing your campervan is not necessary, but for less than $150 you can greatly improve the comfort of your vehicle!
Step 5: Cutting Holes
One of the scariest steps in a van build comes next: cutting some giant holes into the metal of your van. If you plan to install windows or fans, you will want to do this now. We opted not to have windows in this van conversion for many reasons; we like the privacy, it makes this campervan slightly more stealth.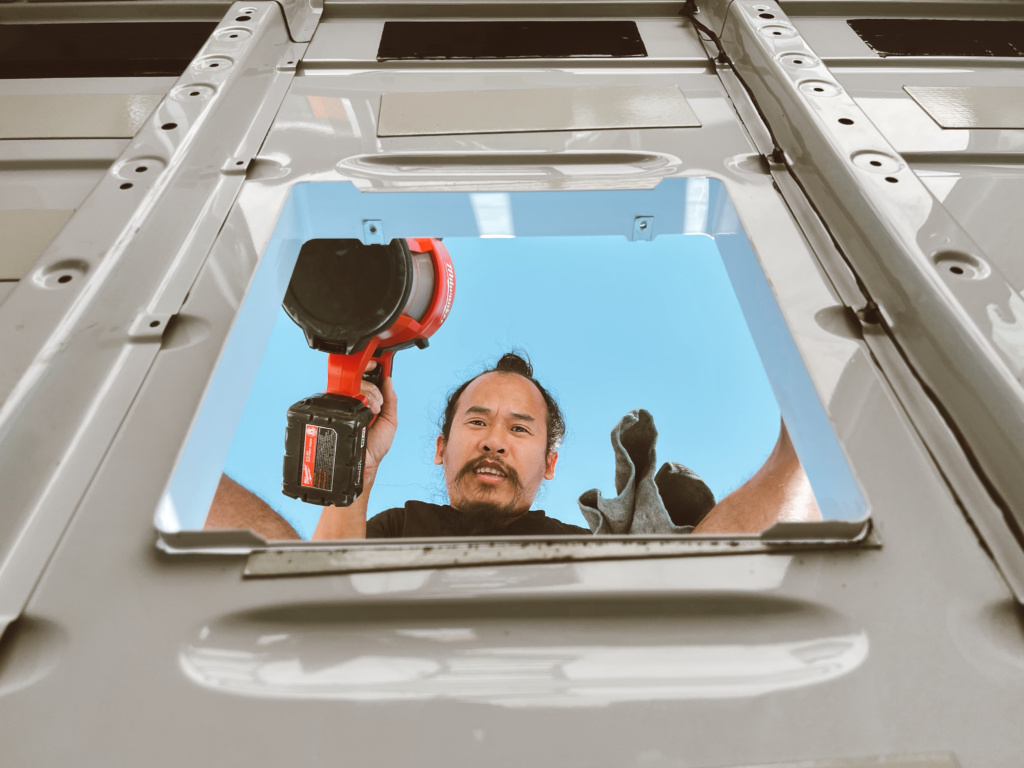 Instead we decided to install a skylight. Skylights are basically just opening windows for your roof but they are amazing. They let lots of natural light into your van without compromising your privacy and they let lots of fresh air into your van without compromising security. Plus, a powered roof fan and an opening sky light can get you an awesome cross breeze through your van.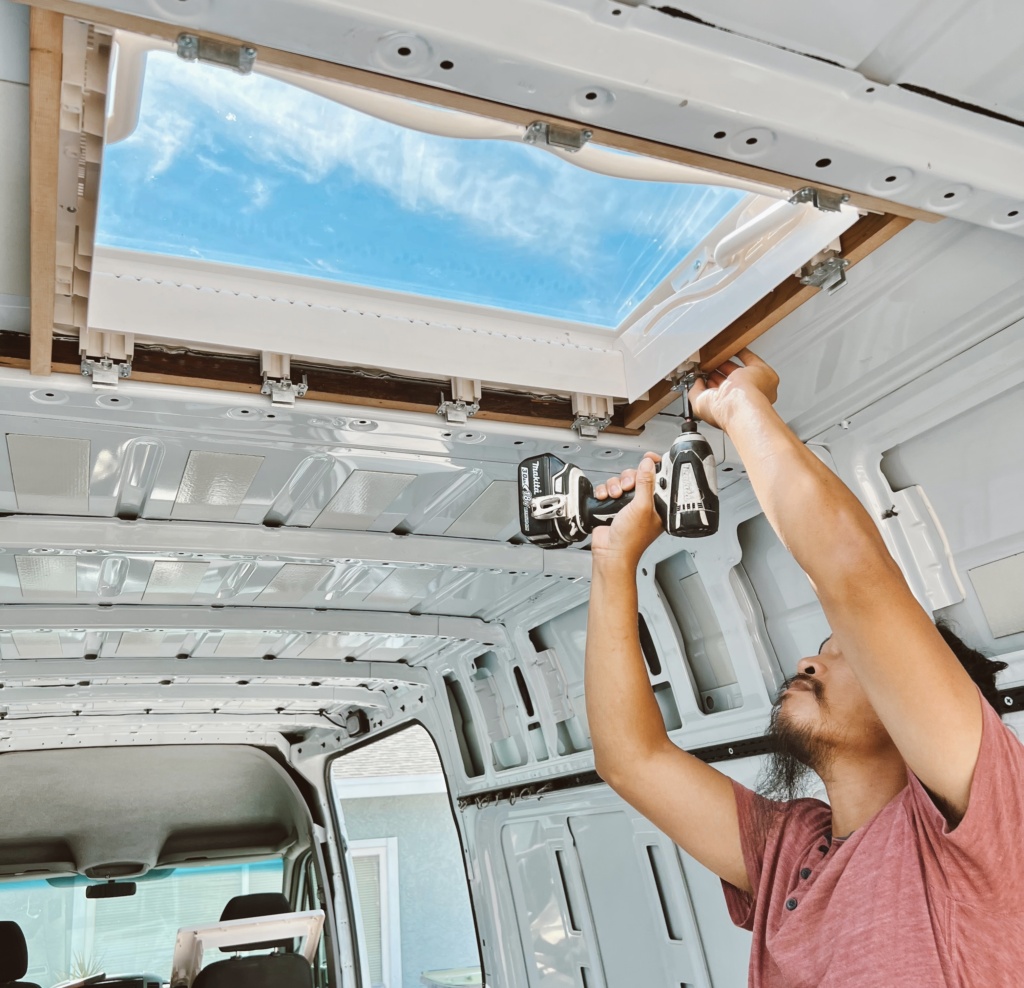 Best skylight for van conversion is Midi Heki skylight. Having a sprinter camper van with a skylight over the bed would be awesome (enjoy looking up at the stars!). You will also want to add your fans at this step. RV roof fans help to keep moisture, smells, and heat out of your vehicle. They can also somewhat replace air conditioning. While all vent fans are going to make a difference in the amount of fresh air in your vehicle, there is one brand that stand out among the rest: Maxxair.
Anytime you cut a hole in your van, make sure to clean up any metal shavings and paint bare metal to prevent rust.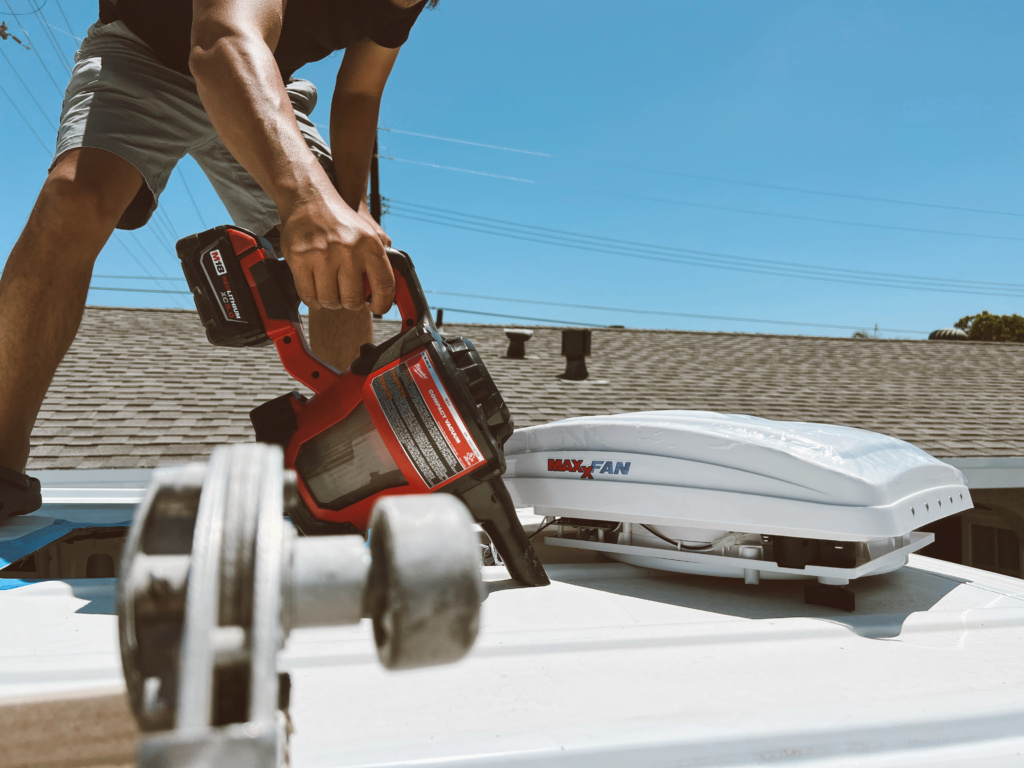 Step 6: Planning, Measuring, and Framing
Now take precise measurements of your van's interior. You will need these measurements to plan your conversion. Use markings on the floor to mark out where everything will be in your vehicle.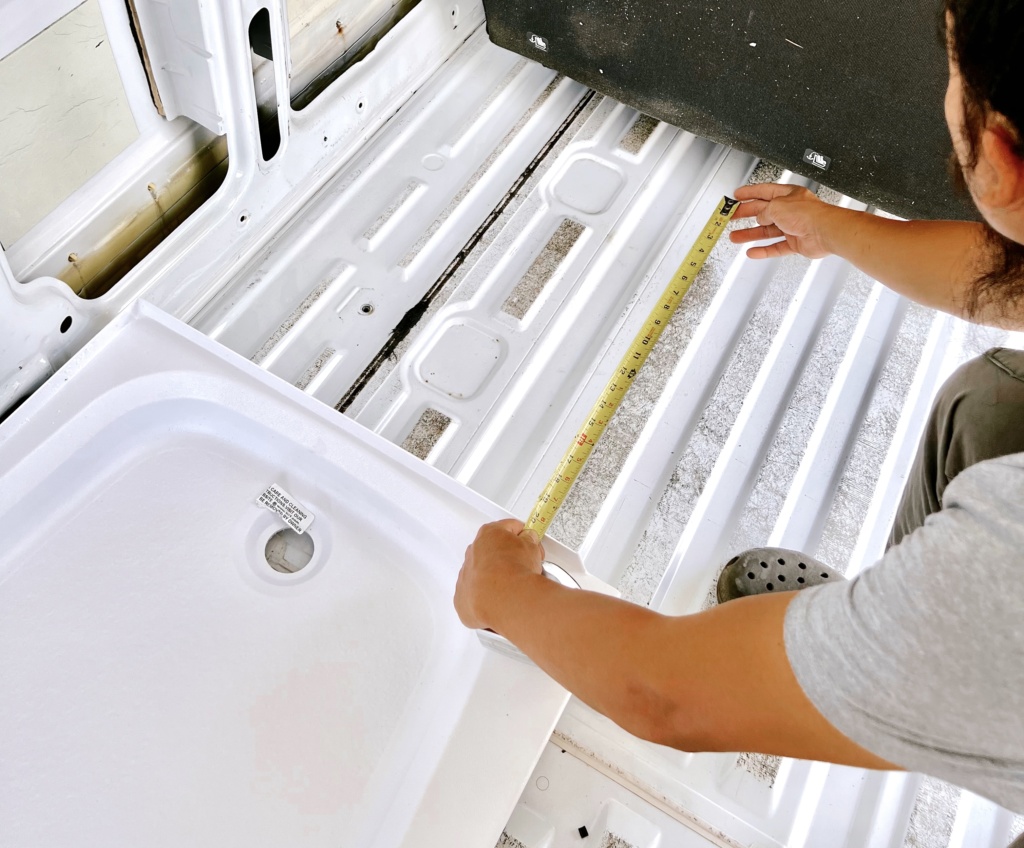 The frame is the skeletal structure of your van build. Planning out exactly how you want to arrange these bones is very helpful in visualizing the livable space and how things will actually work in the van. Cabinets, closet, battery box, bed frame, and countertops will all need a structurally sound foundation. This stage of the build sets the precedent for all of the following stages.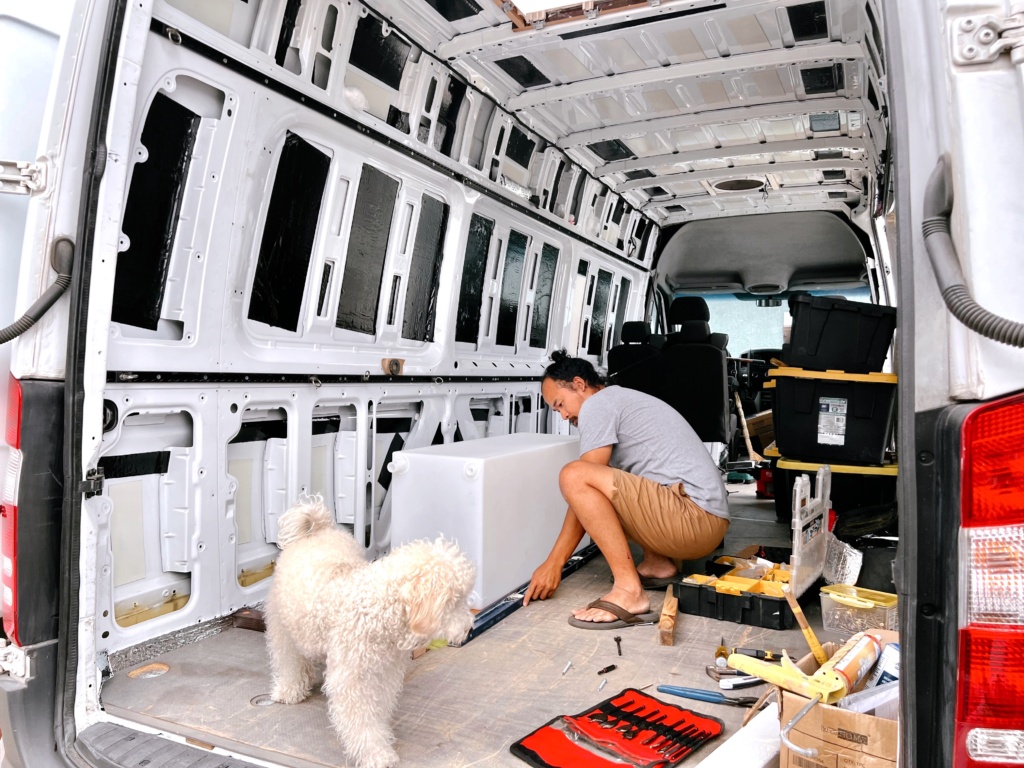 In our first week, we started installing the foundation for our cabinetry. We used rivnuts and bolted 2×2's to the wall where we wanted our cabinetry and shelves to be anchored. This provided us with a really solid foundation and our cabinetry was installed solidly.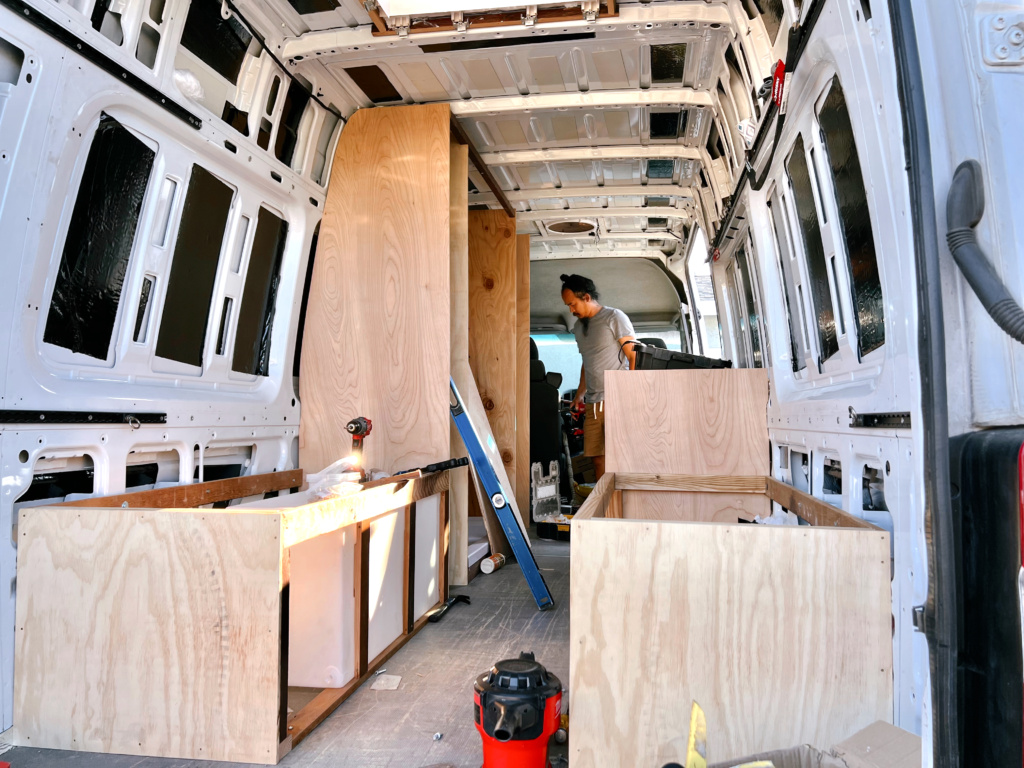 In our first week we built the frame for the bathroom. First we started installing the shower pan. We built a frame that the 46″ long by 24″ wide shower pan sits on. The bathroom is made of three walls: 1) front – facing the cab, 2) rear – facing the rear doors and 3) the back wall – the one up against metal frame wall. (The door to the opening aka the forth wall will be the Nautilus shower door.)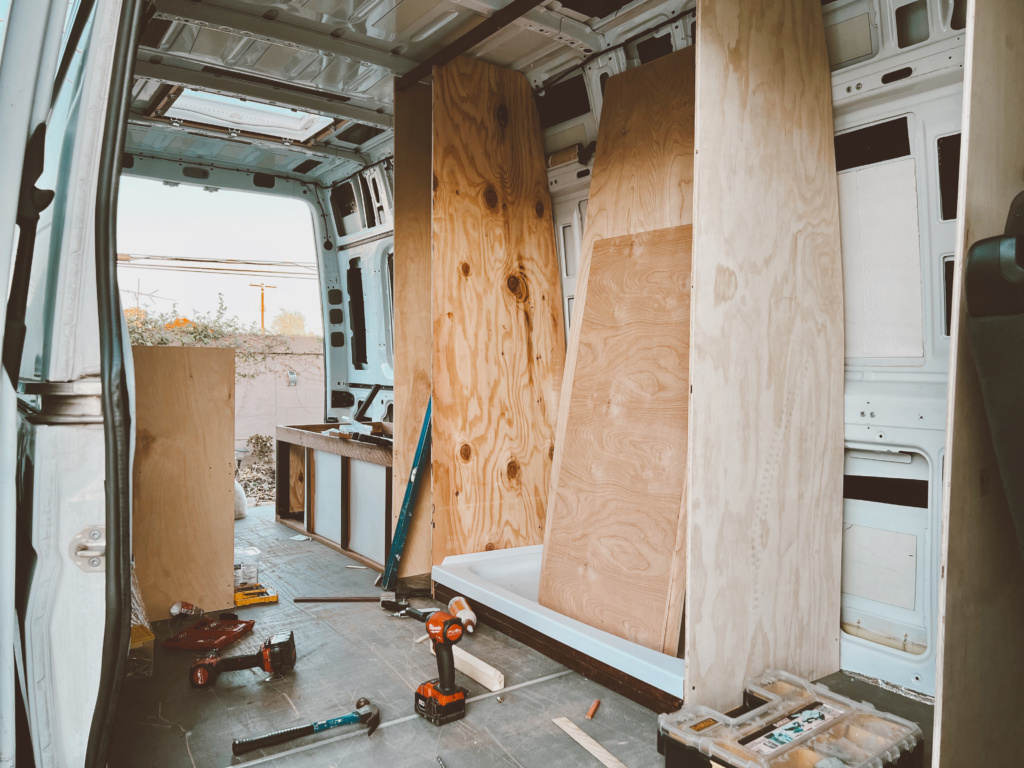 The forward and rear walls are framed with 2″ x 4″ and 2″ x 2″ lumber. The vertical framing is attached to the van floor and upper metal "ribs" on the van with metal angle brackets. Next we attach 1/2″ plywood to the front and rear walls. These walls are "straight" on the side facing the opening/door and curve to meet the "back" wall on the other side. We used a piece of 1/4″ plywood to be used for the back wall and screwed into into the wood framing. The 1/4″ plywood was flexible enough to conform to the curve of the van but sturdy enough to feel solid.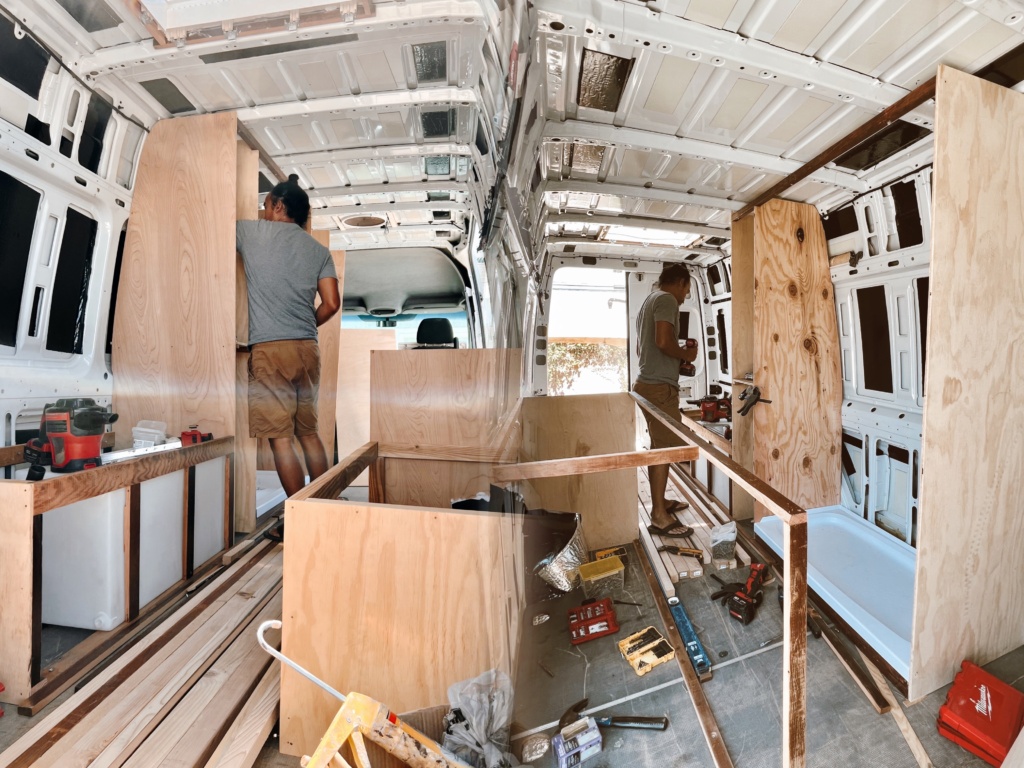 Next we built the frame for our fresh water tank. Fresh water tanks are an essential component of any camper van's water system. These tanks help you to store water to drink, to prepare meals, wash dishes, and shower. And without proper containers to hold fresh water, it can be difficult to travel to more remote places and to boondock for extended periods of time. After 2-year full time living in our van we understand the importance of having large water storage capacity. For this van we chose to install a 40-gallon fixed water tank.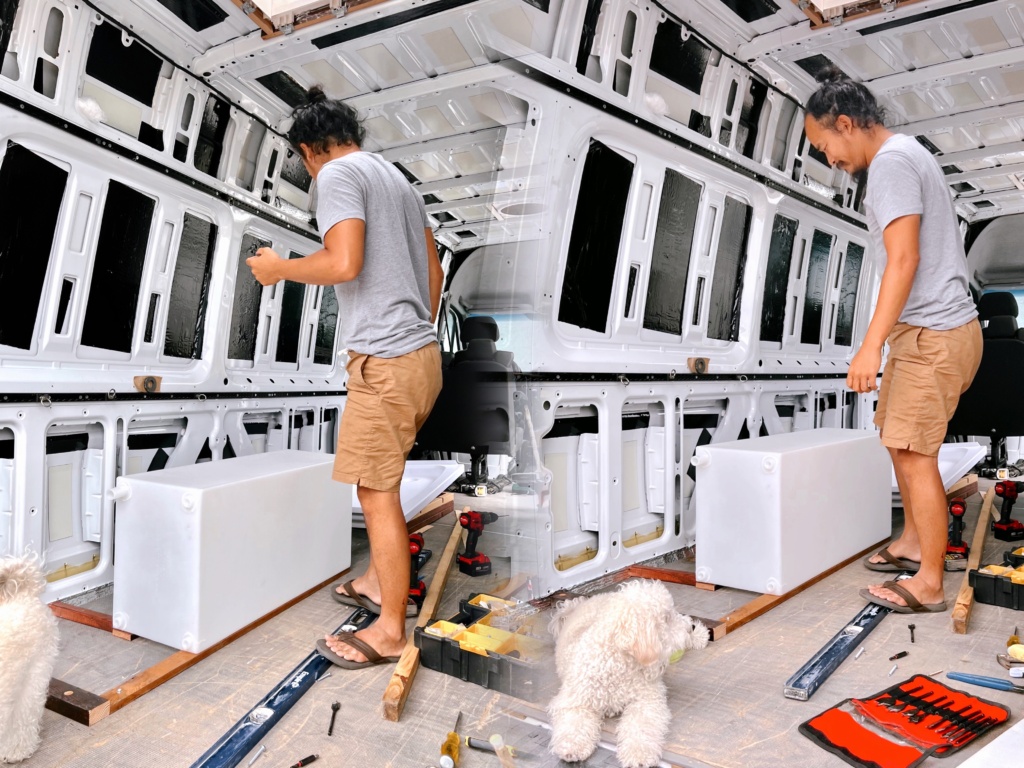 These tanks are built with high-grade, UV-stabilized, medium density polyethylene (MDPE), which is a great material for storing potable drinking water. One of the largest benefits of these fixed tanks is total capacity. Online you can easily find water tanks ranging anywhere between 5 and 75 gallons. Therefore, these tanks are an ideal water storage solution if you intend to install a shower system in your van.
So there it is! The first week's progress in our van conversion. Van build preparation is especially important for a DIY van conversion. Just like a house, your foundation will determine its overall longevity and health. Once the epic clean up, rust treating, hole cutting, sound deadening, and framing are done, you can relax knowing you've done all to be well-prepared for the next step!