It is that time of year again – It's Family Reunion season! The cool weather (if you don't live in LA like I do), the amazing smells (cinnamon, pumpkin, bonfires and marshmallows), the holiday music, and the beautiful scenery (changing leaves) really set the mood for a fun outdoor gathering. With so many great reasons to throw a party this fall, all you need to do is start planning. Whether you have a large family spread out over the globe or a small bunch nearby, planning a family gathering can be stressful. That's why it's important to plan ahead to stay organized and keep things running smoothly.
If you're in need of some real-life inspiration, I'm here to help! In this blog post I'm partnering with some local vendors to pull off the ultimate guide to help you plan a memorable outdoor gathering this fall that will certainly impress your family members! So when the day arrives, you'll be able to enjoy the party, knowing you're well prepared for the celebration.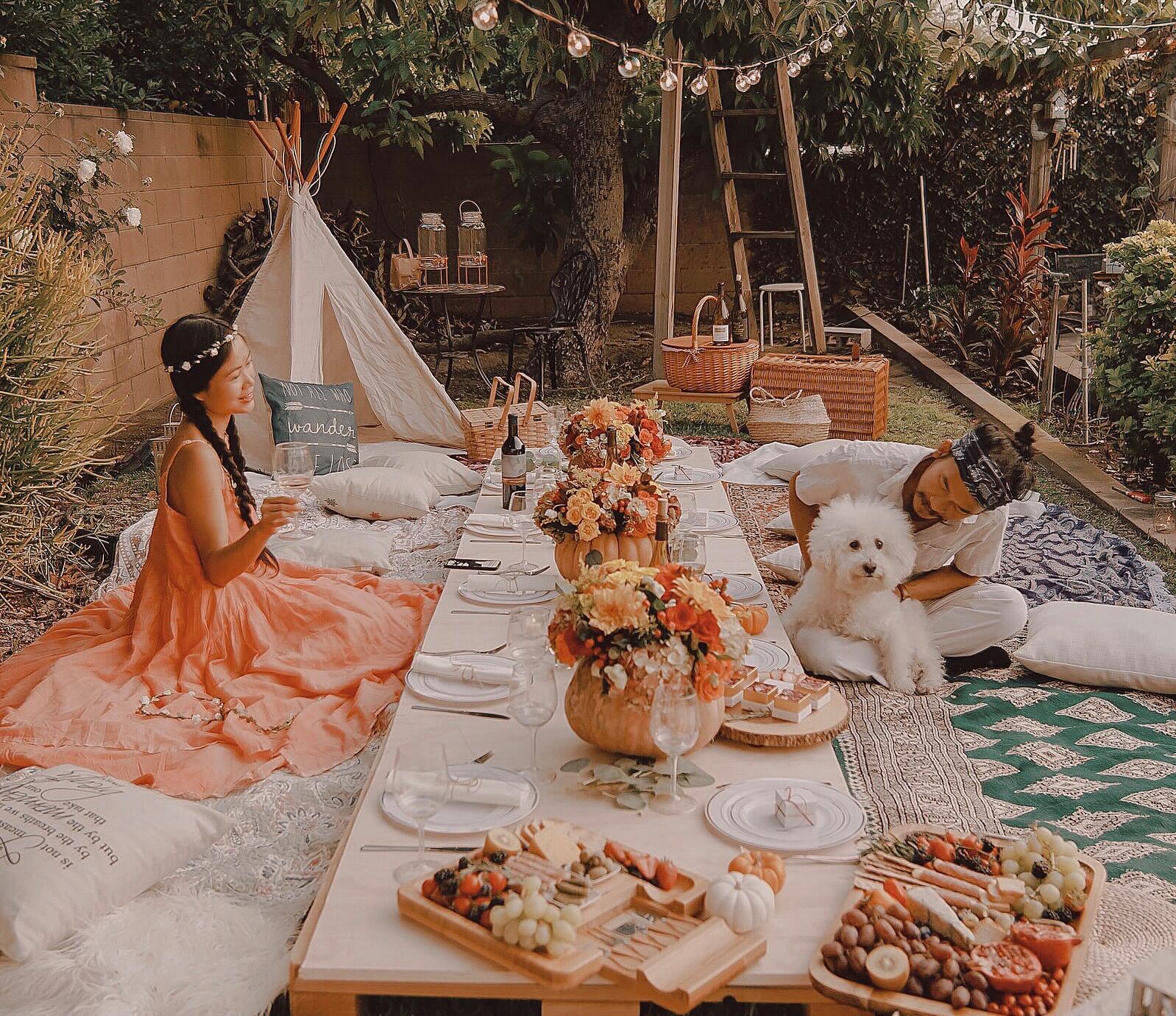 Choosing the Venue
The season gives you an excuse to consume all things pumpkin and revel in the beauty of nature. So it seemed only right to take full advantage of our backyard and enjoy time together with friends and family outdoor. For me, this party was a way to do all the things I love doing (planning events/decor/entertaining), and given the LA weather in November is still warm I must make the most of every moment.
Although sitting bohemian style on the ground is a pretty "revolutionary" concept for Asian families (my mother and mother-in-law had a little bit of trouble adapting), it was something new for us and was fun to experience together.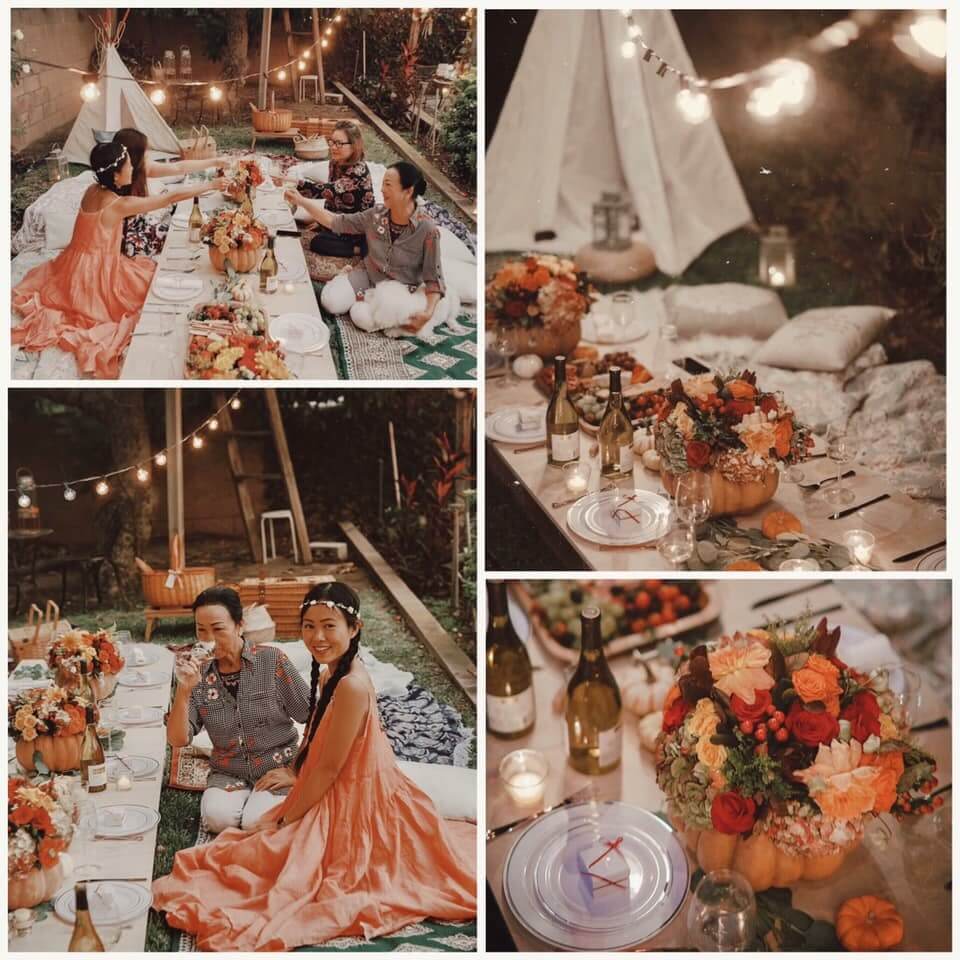 How to Decor the Outdoors
Lighting
Lighting is a must, indoors or out. The illumination you choose for your ceremony and reception set the tone for the event, and add a layer of magic to the entire event. A few strings of lights or carefully-hung lanterns can be all it takes to transform a shadowy backyard into the perfect party space. If you're planning a party at dusk or in the evening, be sure to illuminate the path with candles set inside mason jars.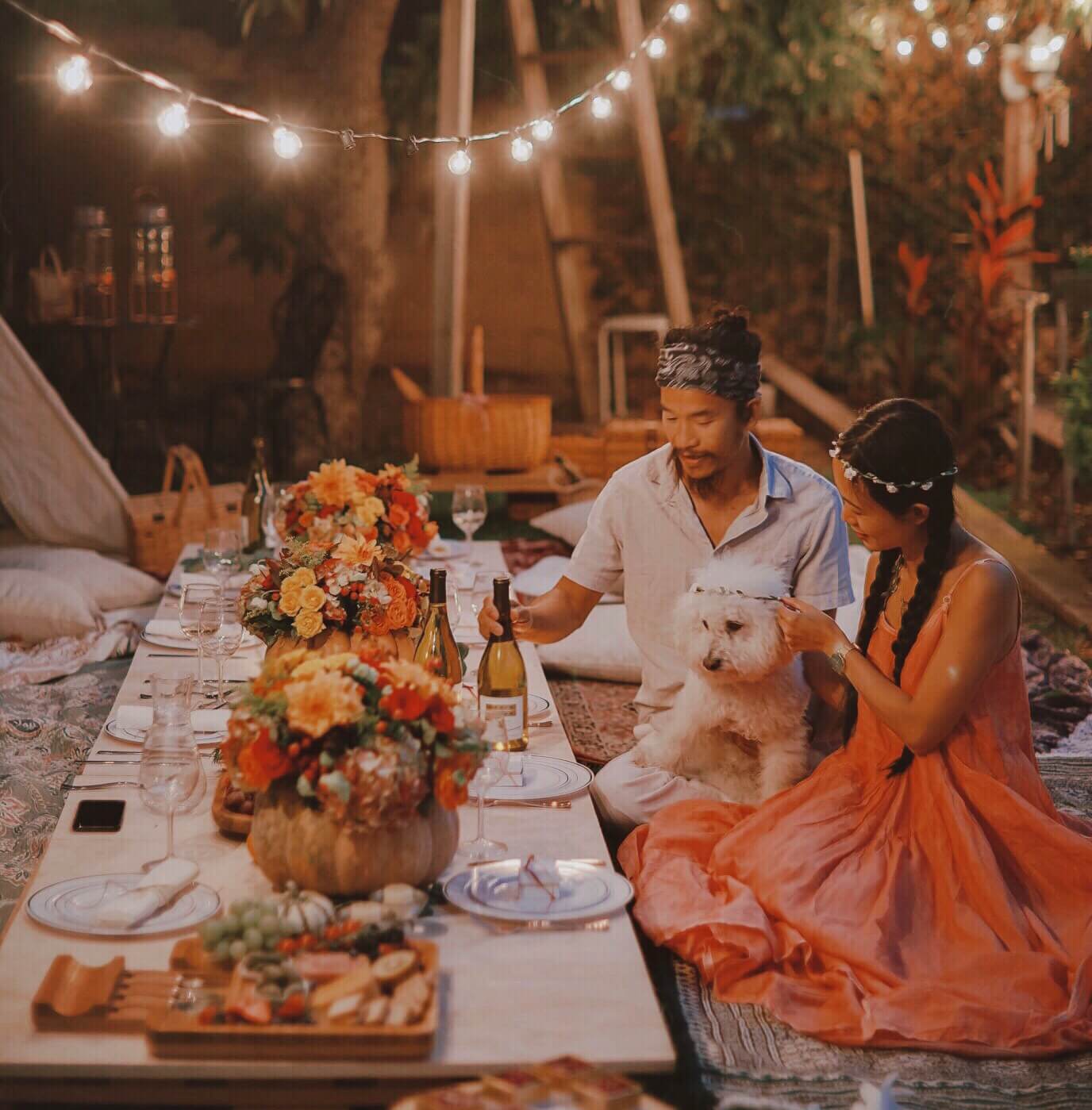 DIY a Floor Table
Nowadays, DIY is the trend anywhere! Gone are the days when anything handmade are considered cheap or low-class. Now, the perfect words to describe it are practical and creative. So opt for handmade invites, place cards, napkin holders, and just about anything you think you can make yourself including your main table.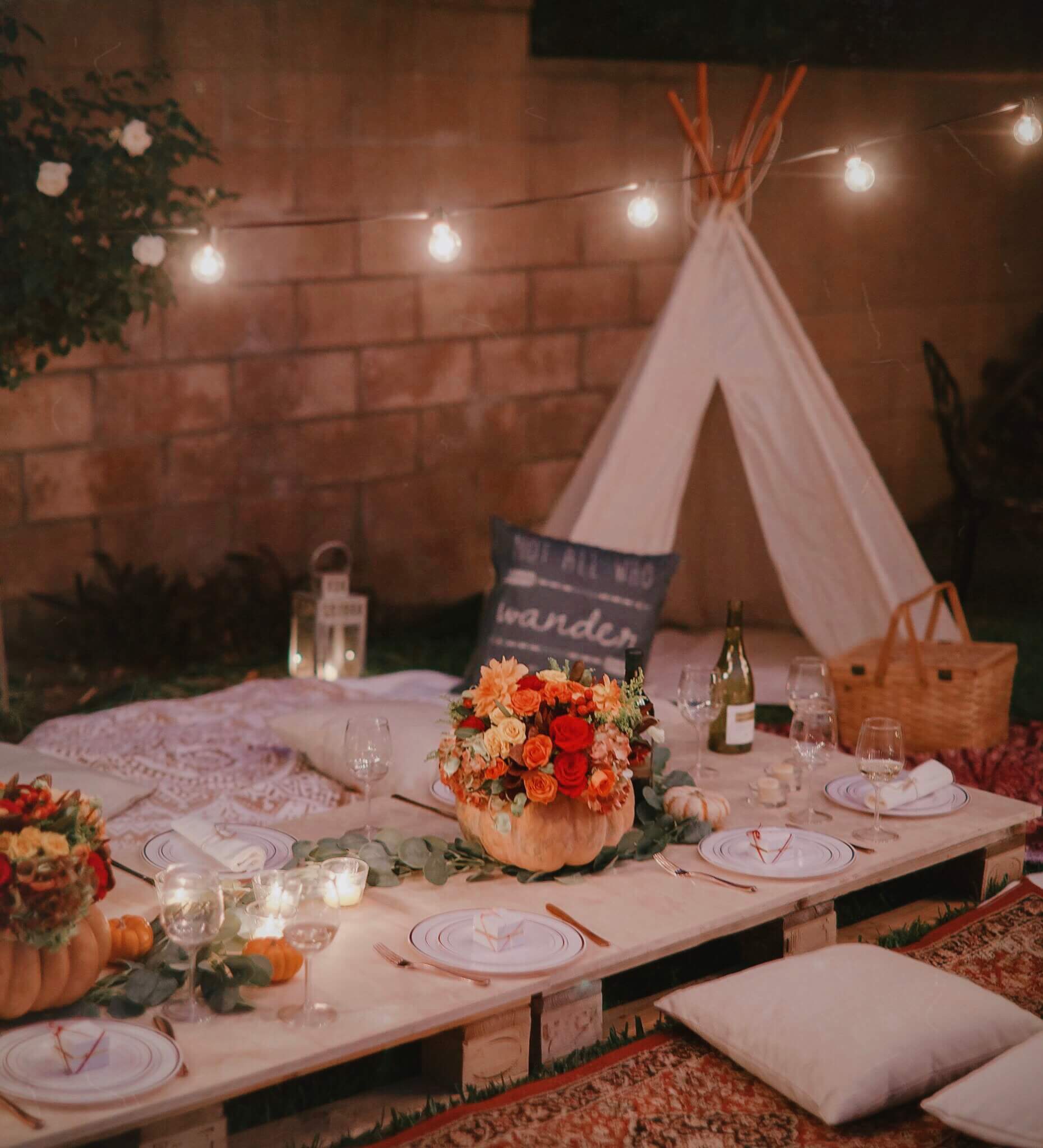 Low tables make for a casual and relaxed dinner vibe and you can literally make one! My husband constructed wood table tops which were then placed on wooden crates. Simply add throw pillows to make a cozy and relaxed atmosphere. Add a few rugs for extra comfort too. Exquisite carpets don't just belong over hardwood… they add an elegant and cozy touch to your outdoor event. I successfully convinced my sister-in-law to let me borrow her $850 Turkish rugs to decorate the space.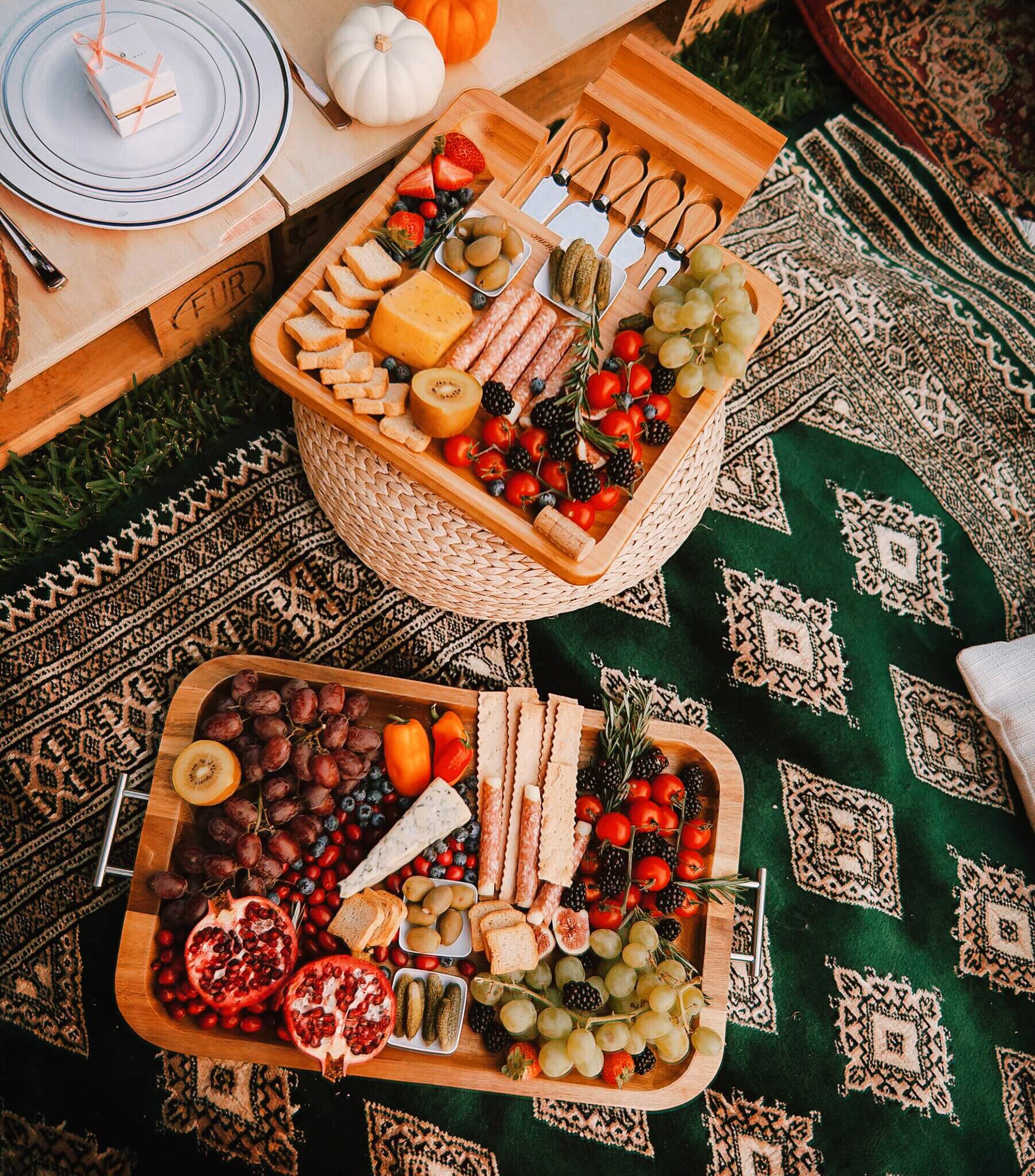 Teepee
And of course we had to have a teepee in the spirit of Thanksgiving! Teepees come in two sizes.  The magical teepee is the largest and then the midi which is slightly smaller but just as beautiful. If you have children attending your fall gathering, this will be a private nook where the kids can enjoy seclusion, play, and maybe sleep. A teepee may be a great idea for adults, too, if you need some relaxation and privacy, and if you love boho decor.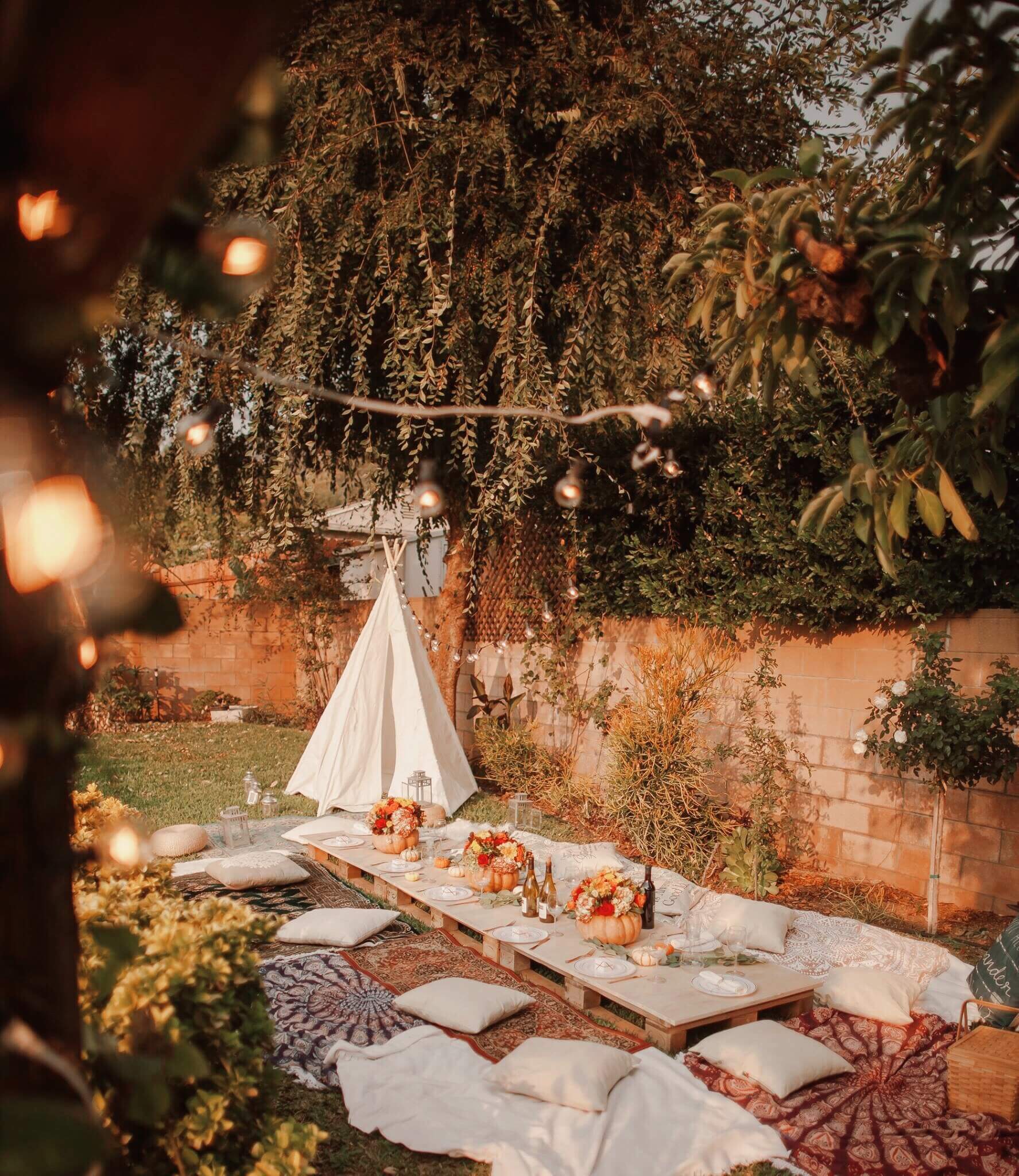 My teepee and all of my picnic supplies that you might see in all of my Instagram posts (picnic baskets, cheese platters, picnic blankets,…) are from inPicnic -a brand specialized in the design and manufacture of high quality yet budget friendly picnic sets. Their Large Cotton Canvas Teepee Tent is my favorite. It's made of 100% natural, non-toxic, and unpainted cotton canvas. The tent poles are made of sturdy pinewood and are free of chemical odors and harmful substances.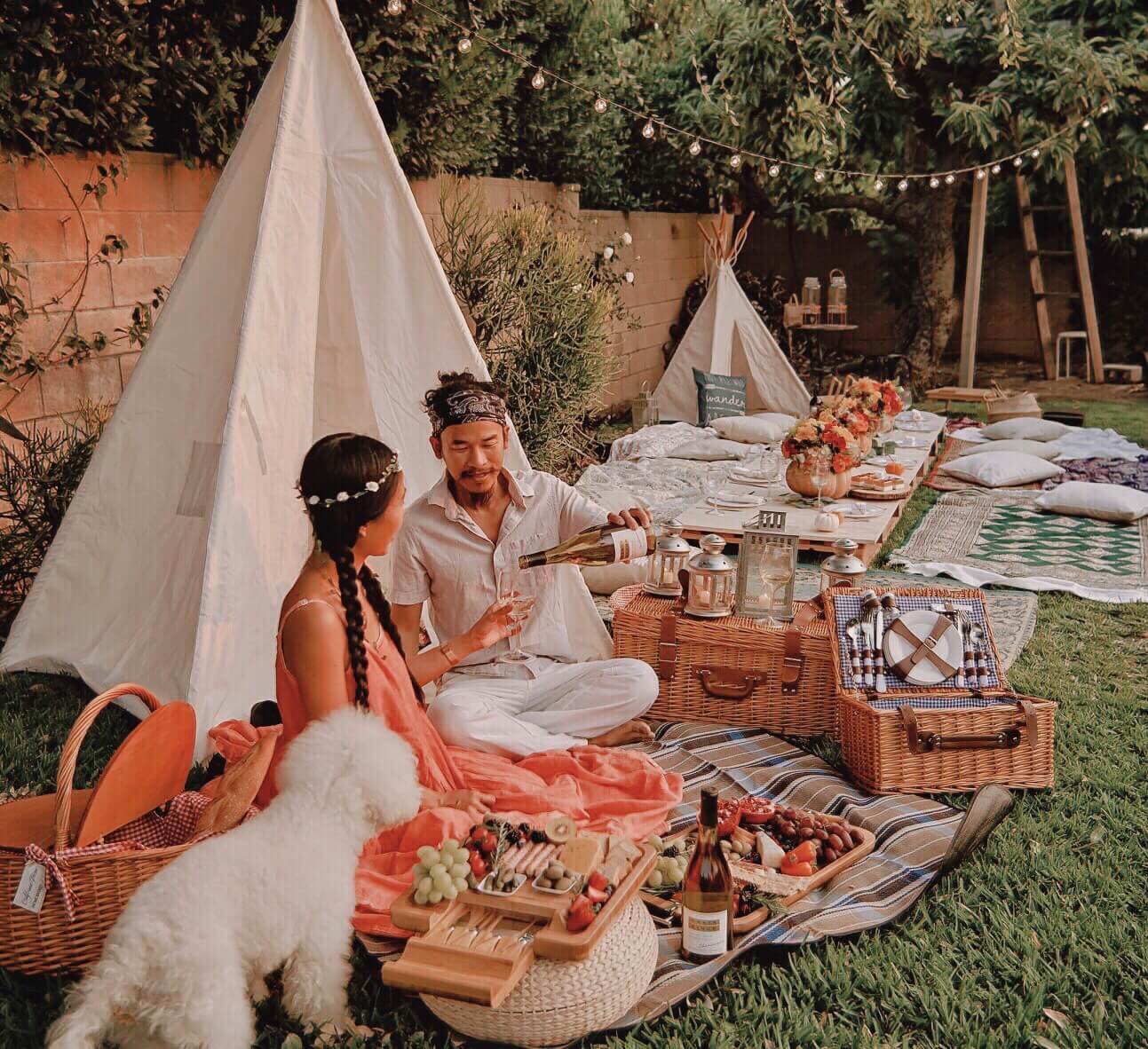 How to Style the Perfect Fall Tablescape
Decorate with fall décor
Your fall festivity won't be complete without some autumn-themed décor or seasonal plants. Whenever I design a tablescape, I like to pick a color palette first. It helps me define the mood of the table and narrow down the materials I want to use. This year I wanted to use traditional fall colors like oranges and reds and go for a rustic vibes. I dressed up the table top with eucalyptus garlands and miniature gourds and pumpkins.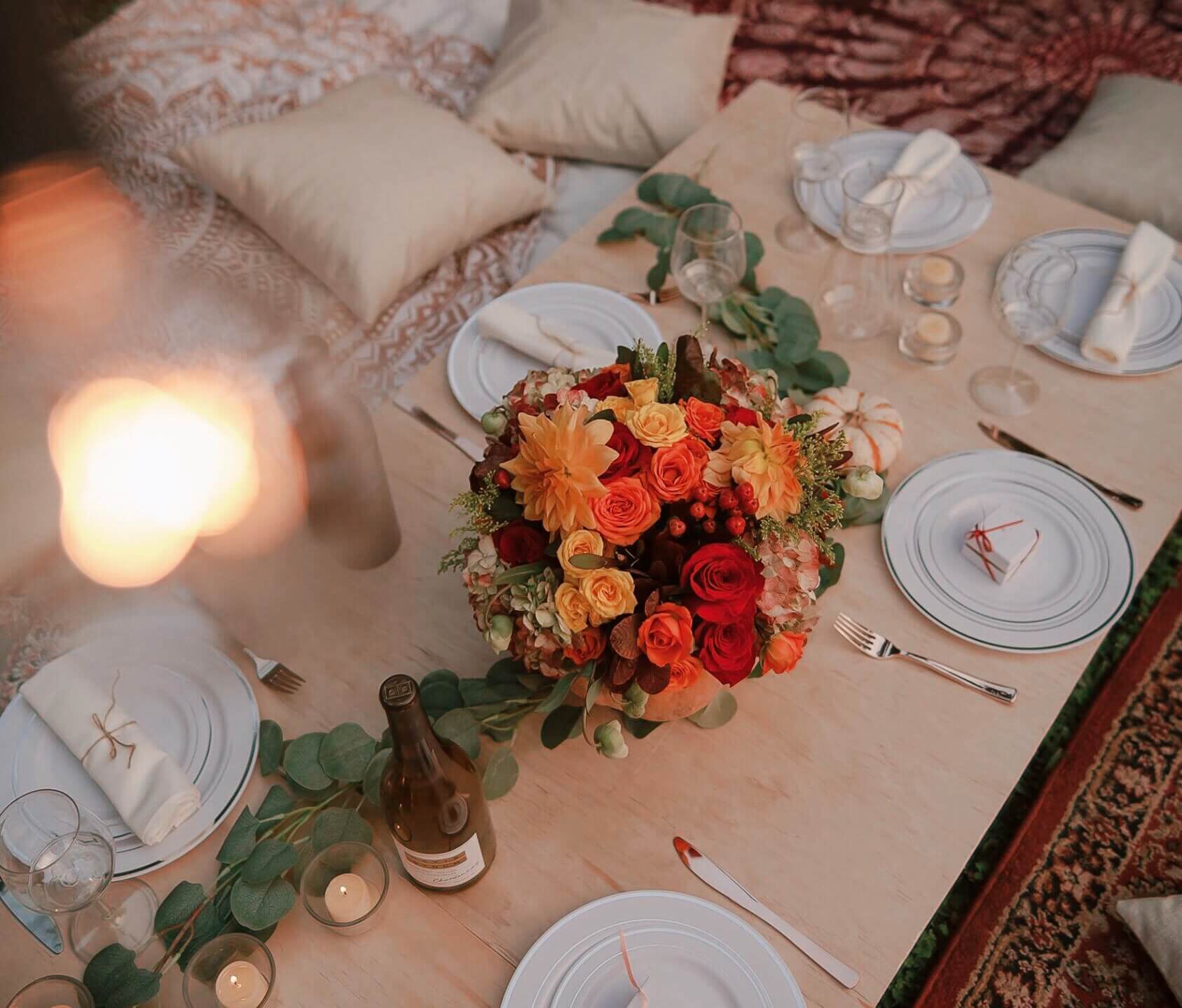 Centerpiece
Fresh flowers are the easiest and prettiest way to add a special and festive feeling to party decor. Before my event I kept seeing these gorgeous pumpkin flower arrangements on Instagram. A collection of blooms tightly packed into a bright orange pumpkin just screams "fall." It's an elegant take on fall decorating. So I contacted J'Adore Les Fleurs – my favorite florist in LA and they created perfect fall floral arrangements in 3 mini pumpkins that were exactly what I had imagined.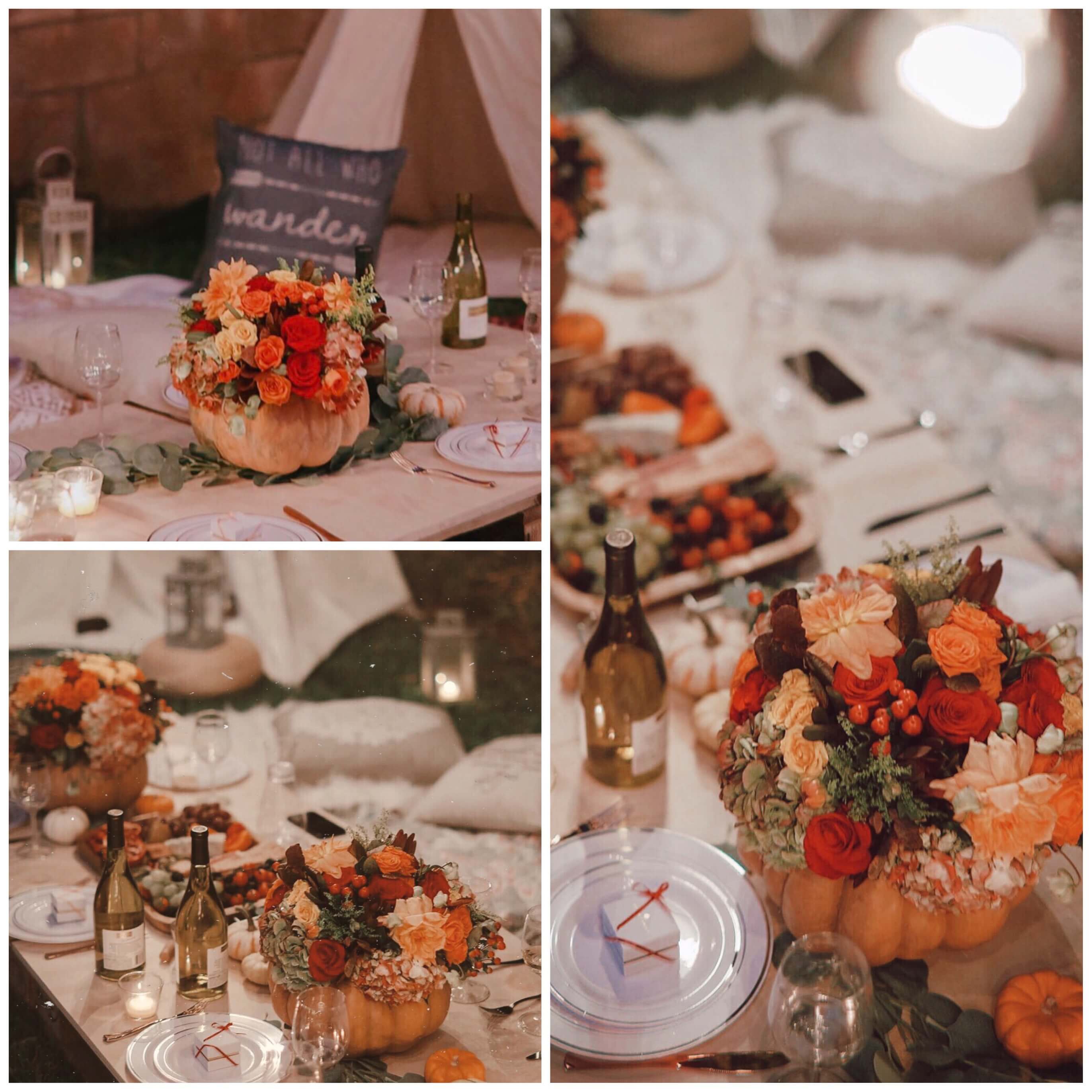 Plate Setting