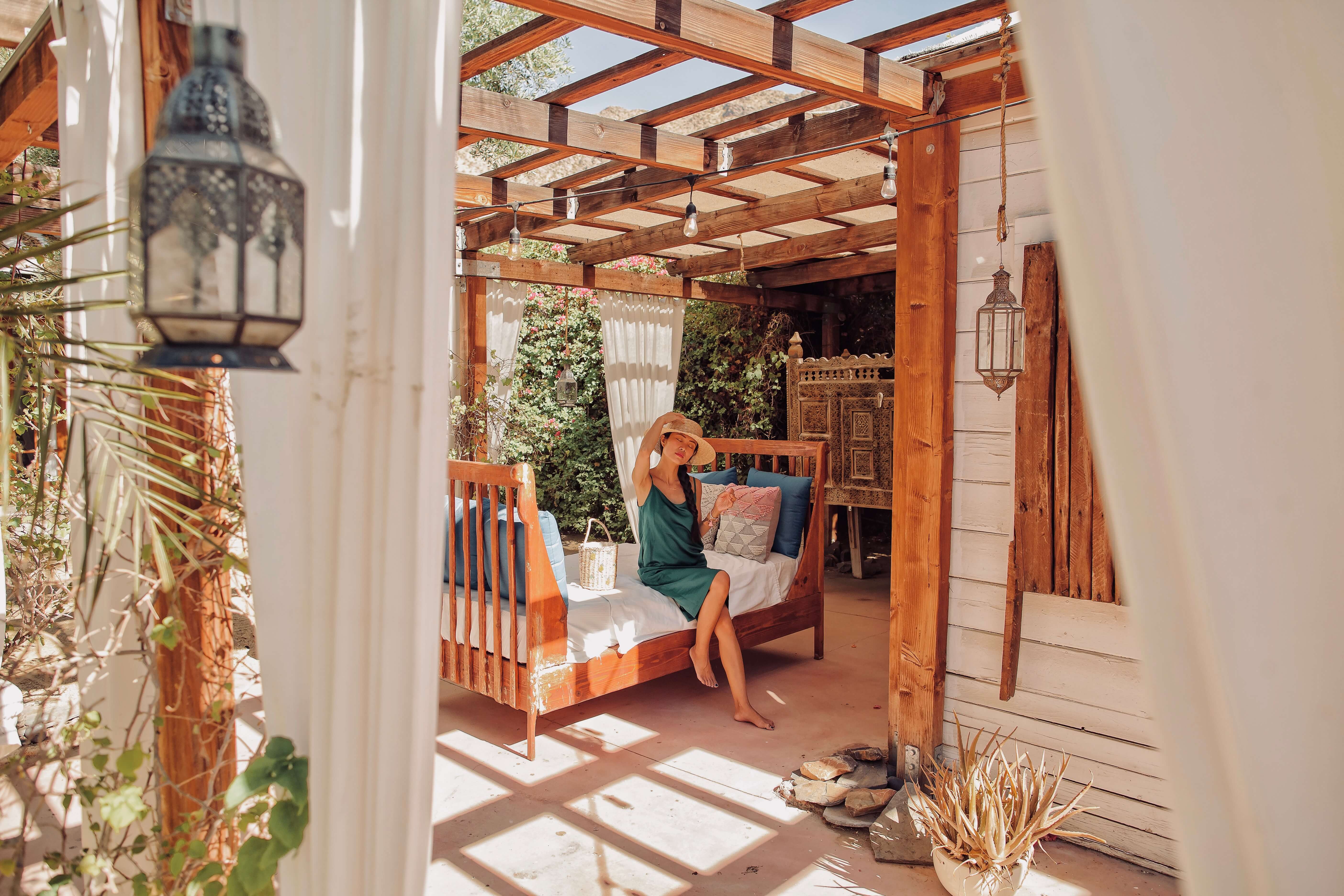 DISCOVER INSTAGRAM-WORTHY SPOTS IN PALM SPRINGS, CALIFORNIA
It's no secret that I am completely obsessed with Palm Springs. For years Palm Springs has been a California desert retreat, known for its modern and chic style. Palm Springs is one of the best places to visit all year long, whether you're coming to party at Coachella or just want to relax by the pool in the sunshine. It's a lifestyle photographer's dream location with so many Insta-worthy photo spots, restaurants, and neighborhoods. My Palm Springs City Guide gives you everything you need to know to plan for your upcoming vacay, from things to do, where to stay, and all of my favorite Instagramable spots!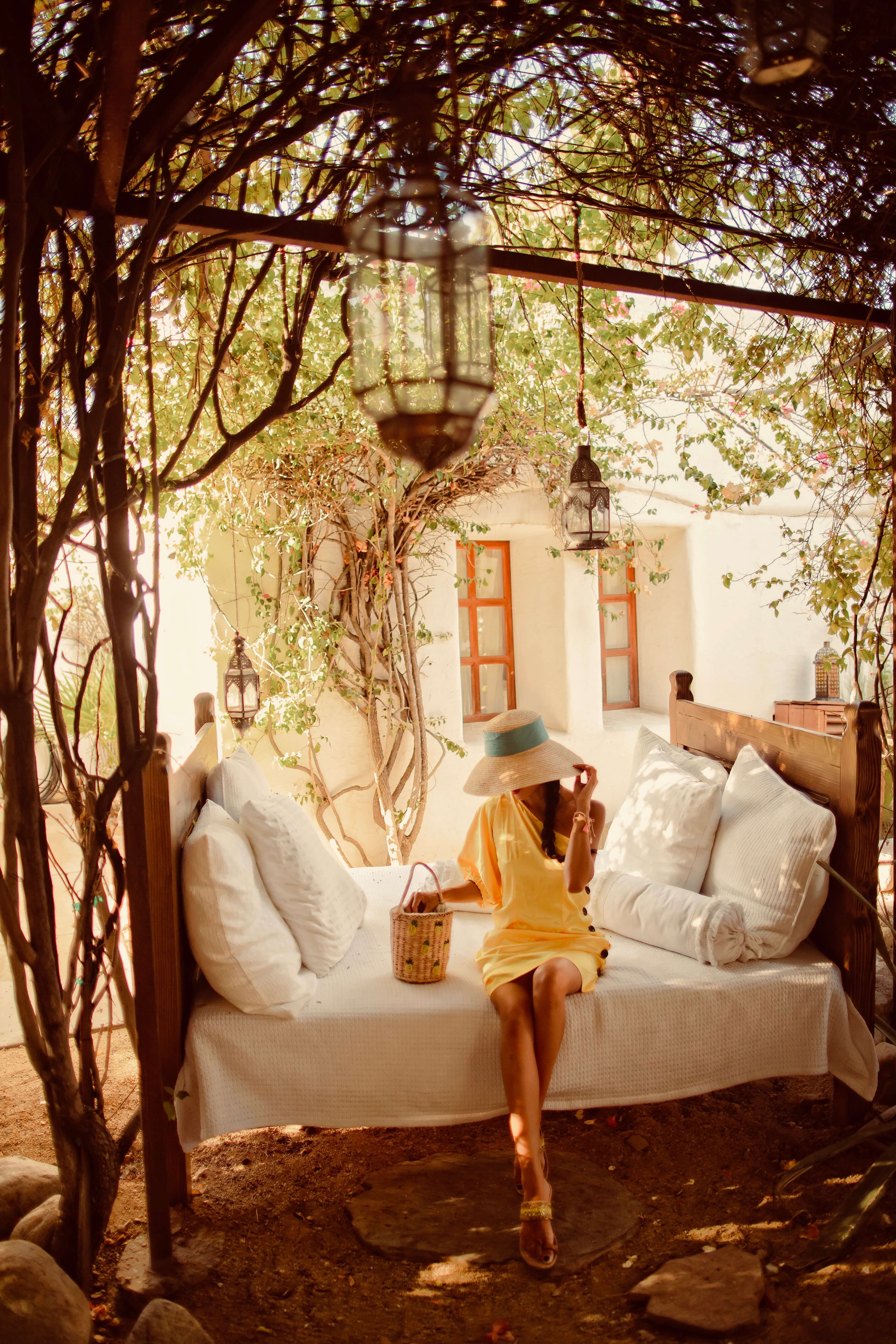 When To Go
Summer in Palm Springs could be pretty unbearable unless all you plan on doing is floating in the pool. So my advice is that you want to plan your Palm Springs vacay in March/April or October/November for warm days without the severe heat. Make sure you avoid the Coachella festival weekends in April, as hotel prices soar.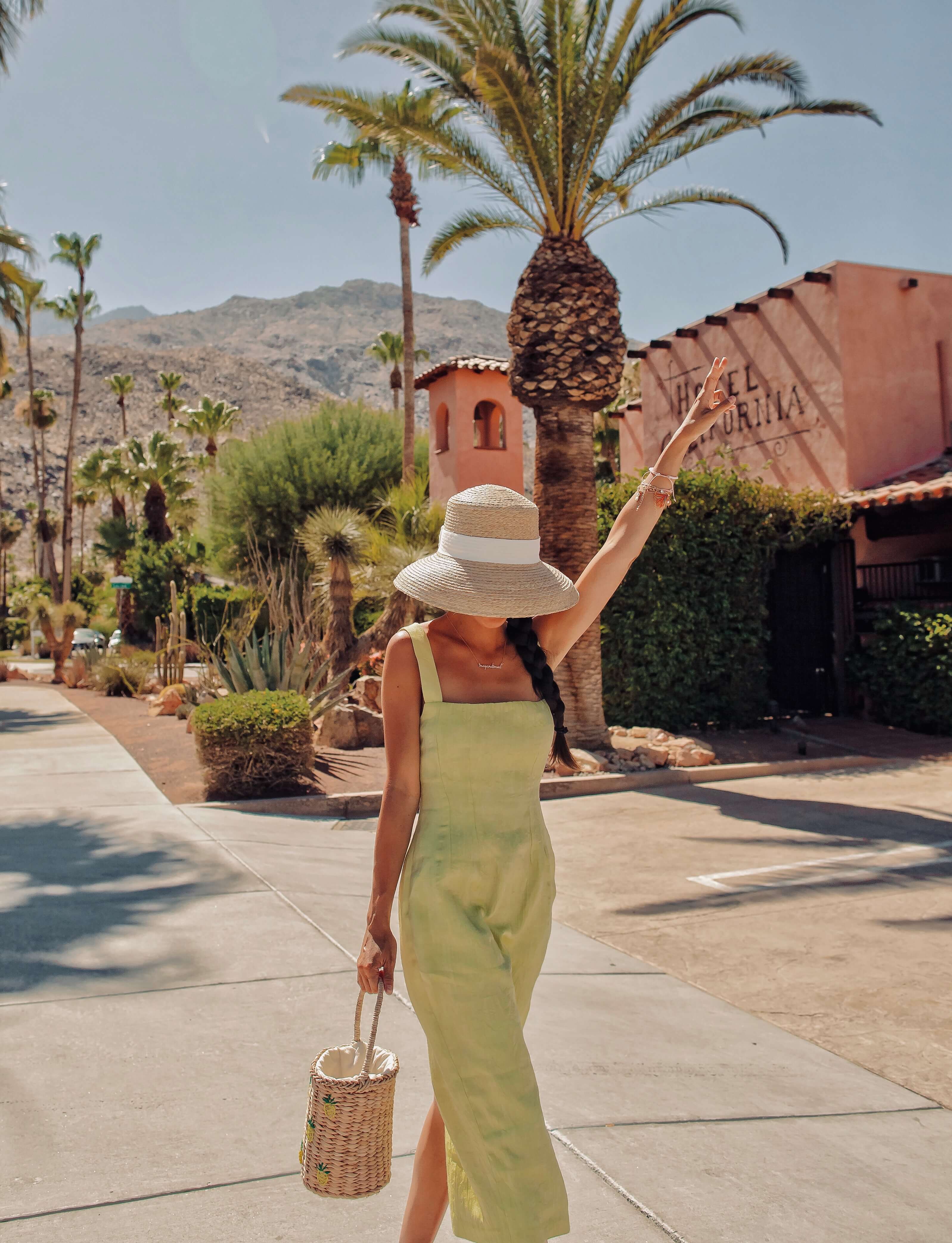 How to Get There and Around
We drove from LA which took around 2 hours. There is also an international airport in Palm Springs. Getting around the downtown area of Palm Springs is incredibly easy, and a lot of the shops, bars and restaurants are concentrated on Palm Canyon Drive. There are plenty of taxi and Uber options around too. If it's not too hot, you can rent a bicycle and explore Palm Springs that way.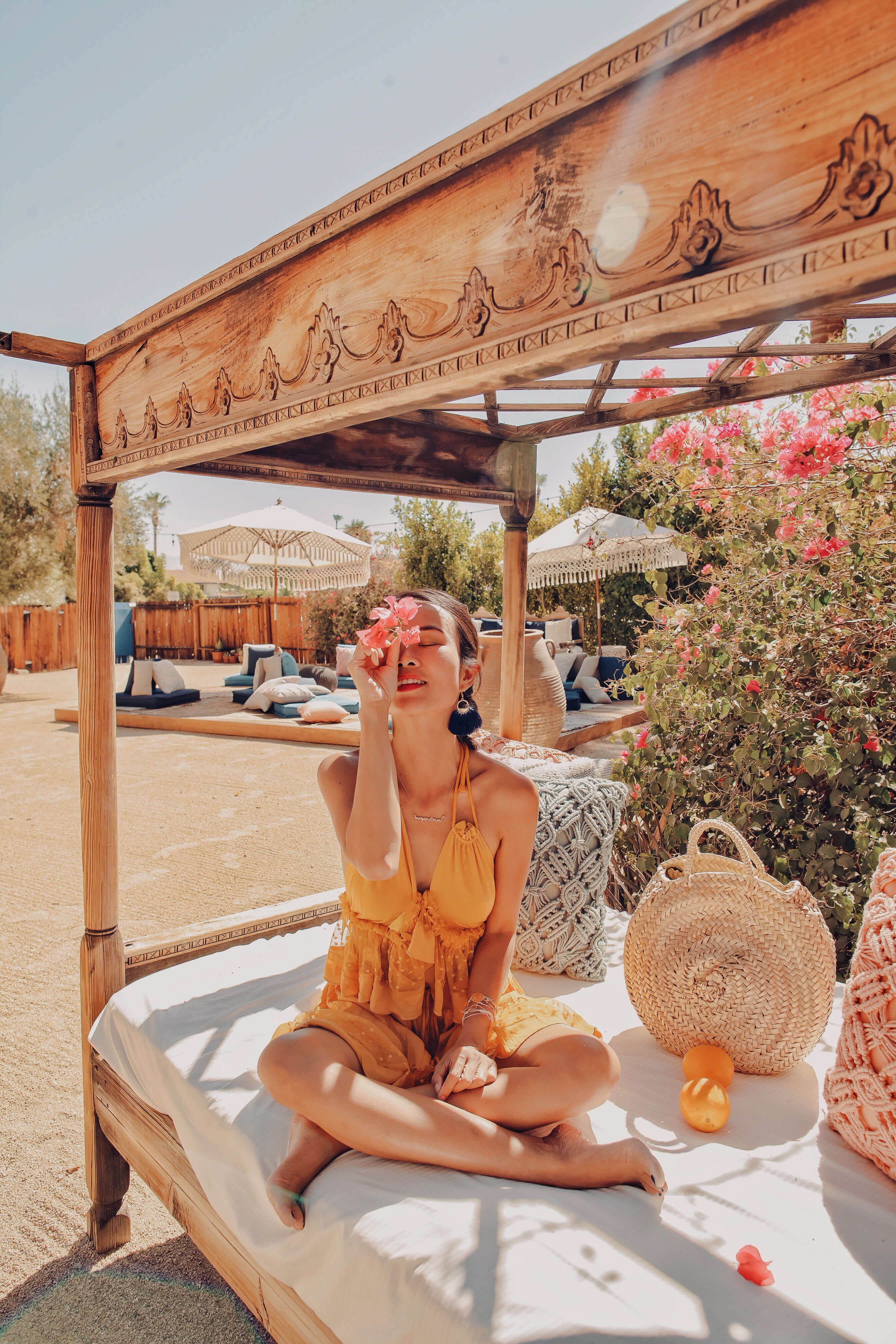 Where To Stay
I highly recommend a stay at Korakia Pensione if you're looking for a quiet retreat or a romantic weekend. It's one of my favorite places to stay in Palm Springs. Located in a quiet residential neighborhood at the base of the San Jacinto Mountains and a short five-minute drive from downtown Palm Springs, Korakia Pensione is best suited for those seeking an off-the-beaten-path, romantic escape. Korakia is one of "America's sexiest hotels" according to The New York Times, with bougainvillea climbing the walls of lovely bungalows, luxurious Moroccan-style rooms, multiple swimming pools, gardens, and fountains.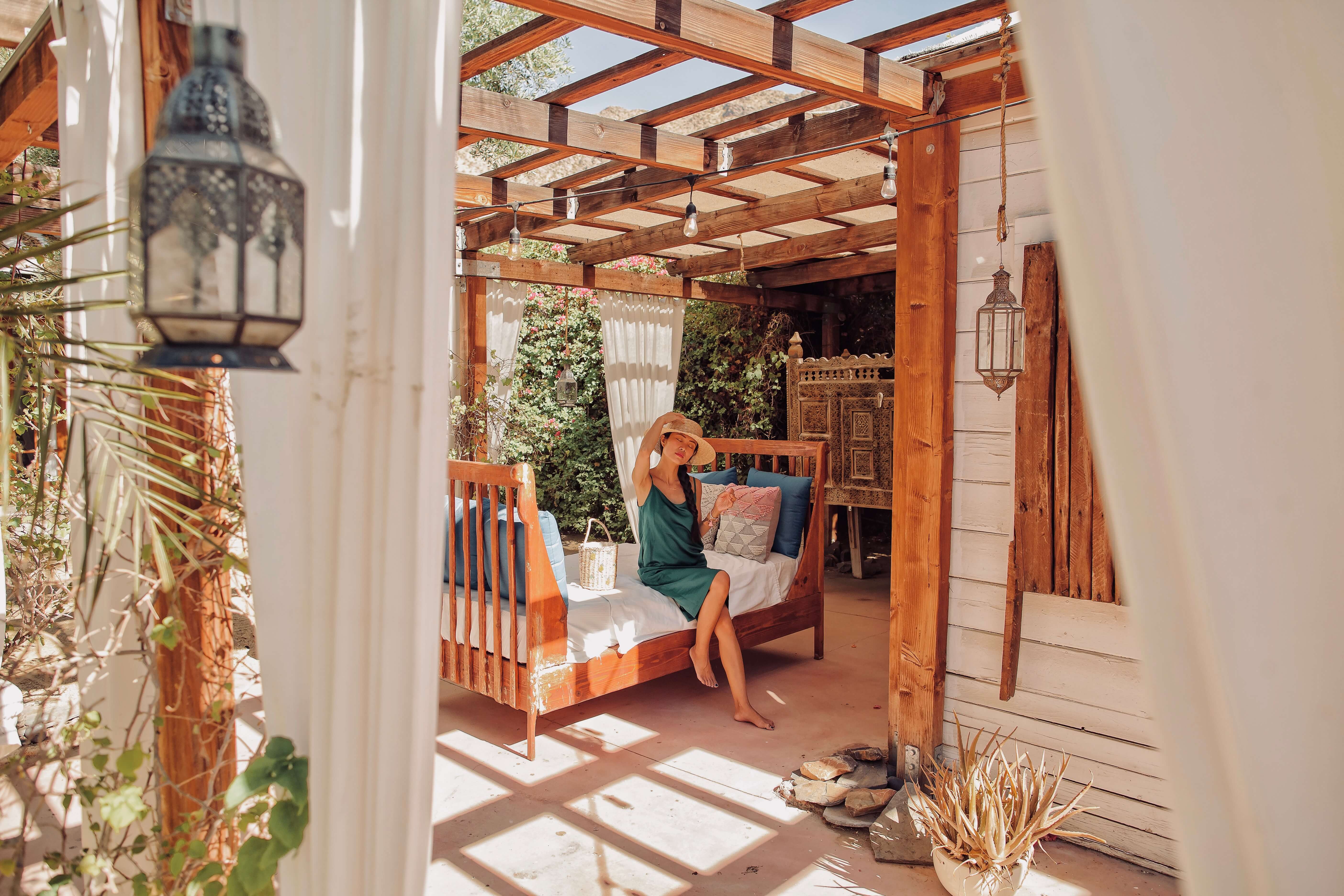 It's important to know that Korakia isn't a typical hotel — it's more like a bed & breakfast. It's minimally staffed, there's no on-site staff overnight, and there's no on-site restaurant from which to order lunch, dinner or room service.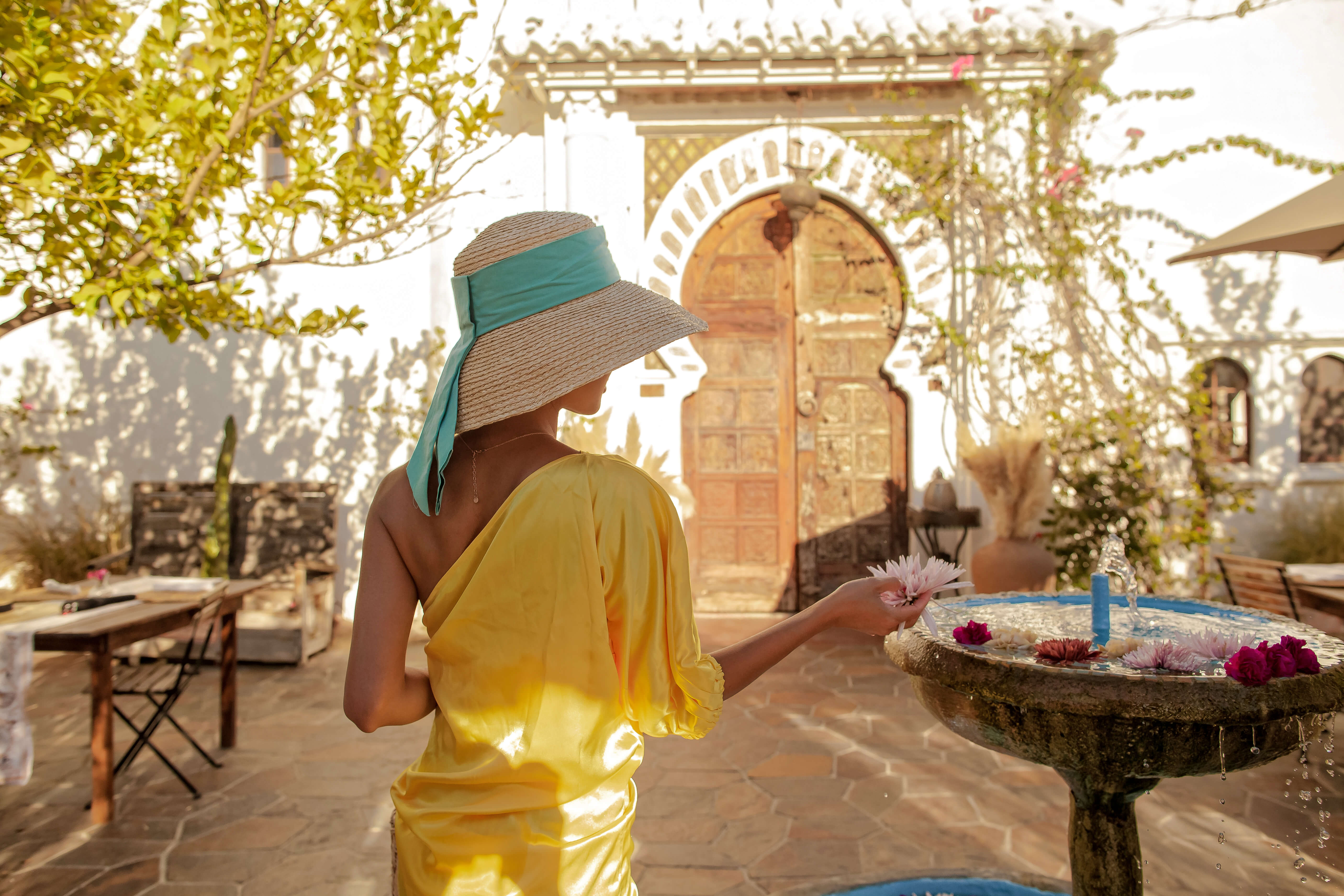 A delicious daily breakfast is included in your nightly rate and served on Korakia's beautiful Moroccan courtyard. I miss most complimentary hotel breakfasts, but I've never missed breakfast at Korakia!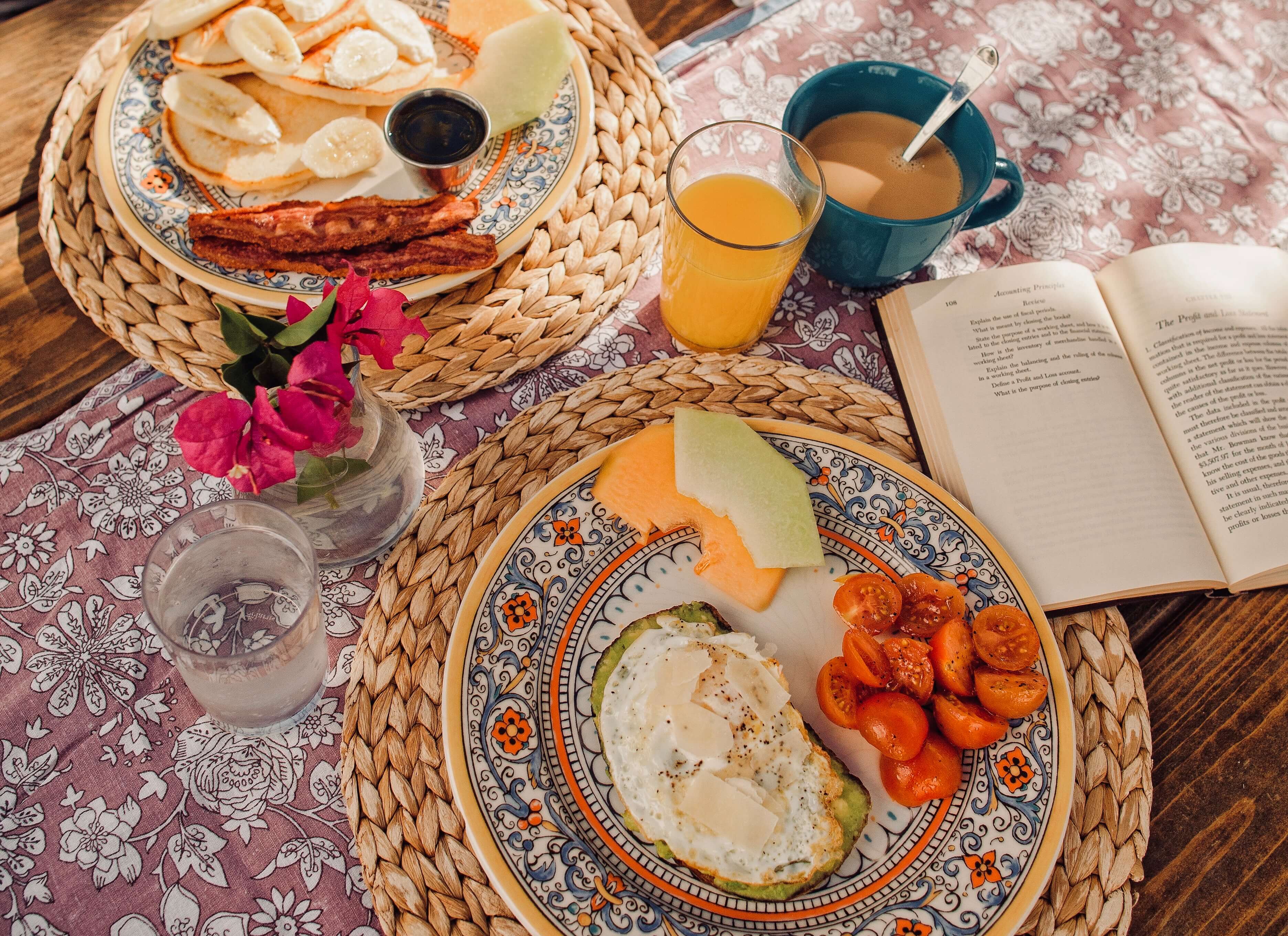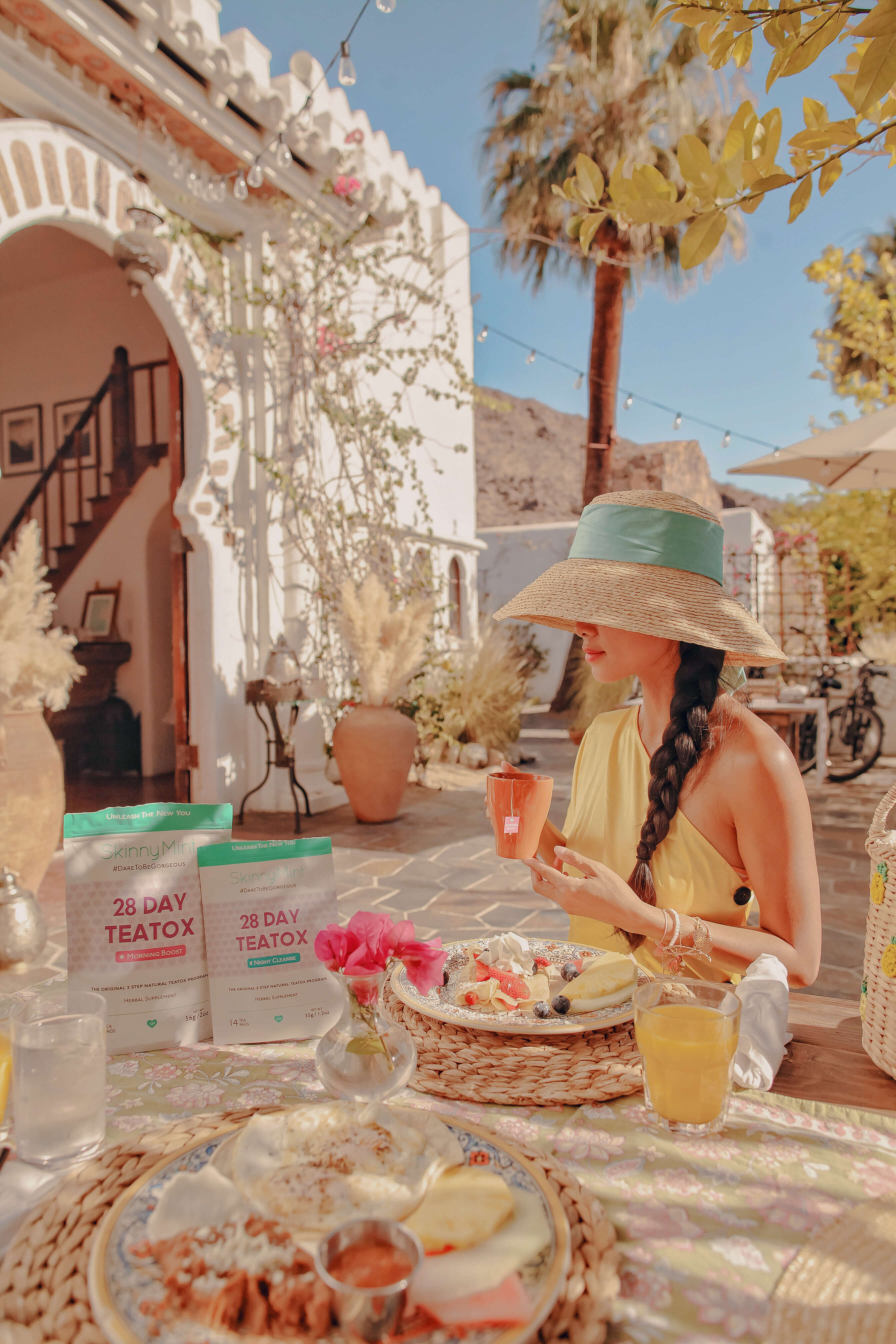 Korakia is split into two parts. The Moroccan rooms are located on one side of the street and the Mediterranean rooms are located on the other. Each side has a pool, but the pool on the Mediterranean is sexier. There's quite a few loungers around the pool as well as a cute outdoor bed, perfect for afternoon napping.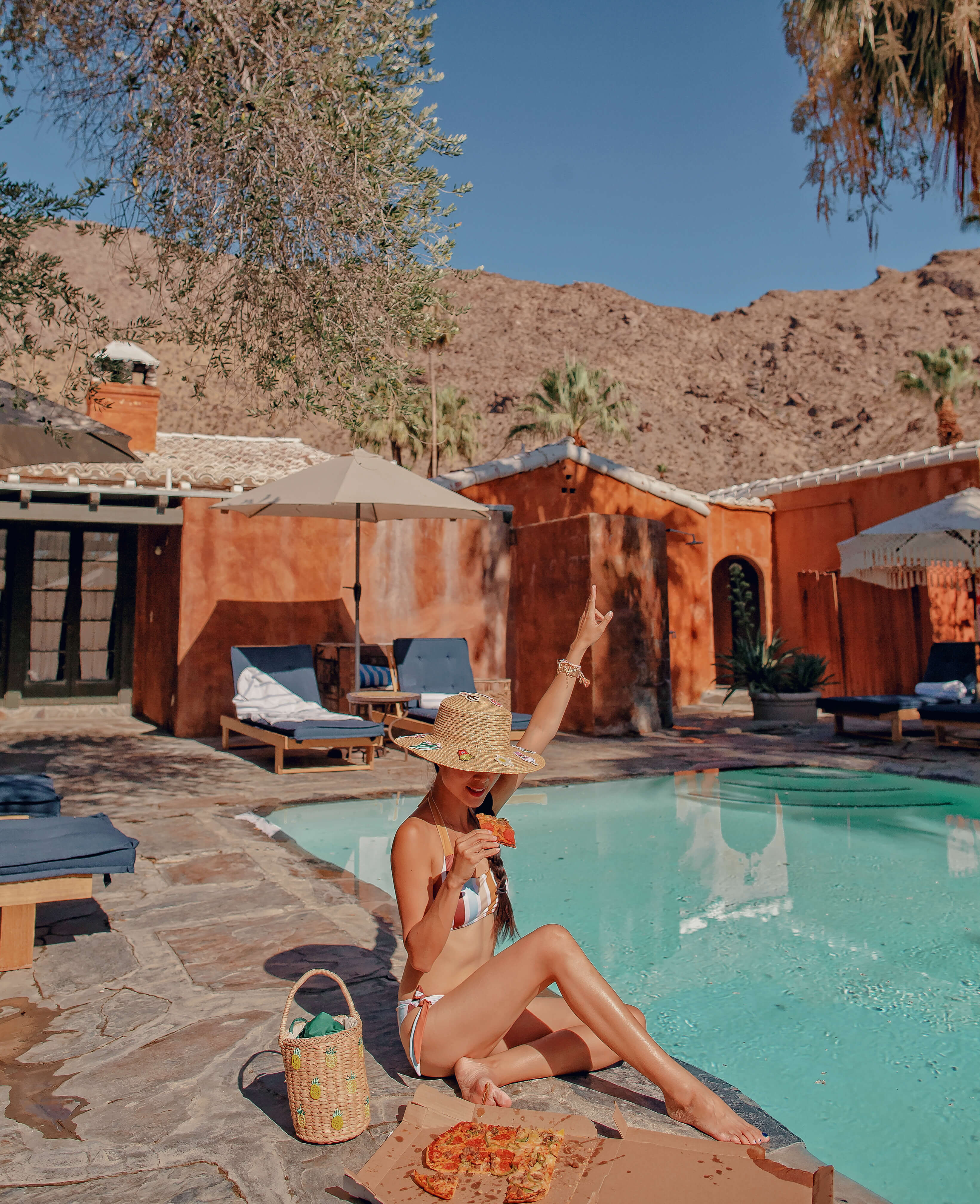 At night, staff lights a ton of candles, lanterns, and fire pits around the property and really illuminates the property! Vintage movies are shown on the yoga deck. And the pools are open 24 hours and it's an awesome way to end a hot evening after dinner with a quick dip in the pool.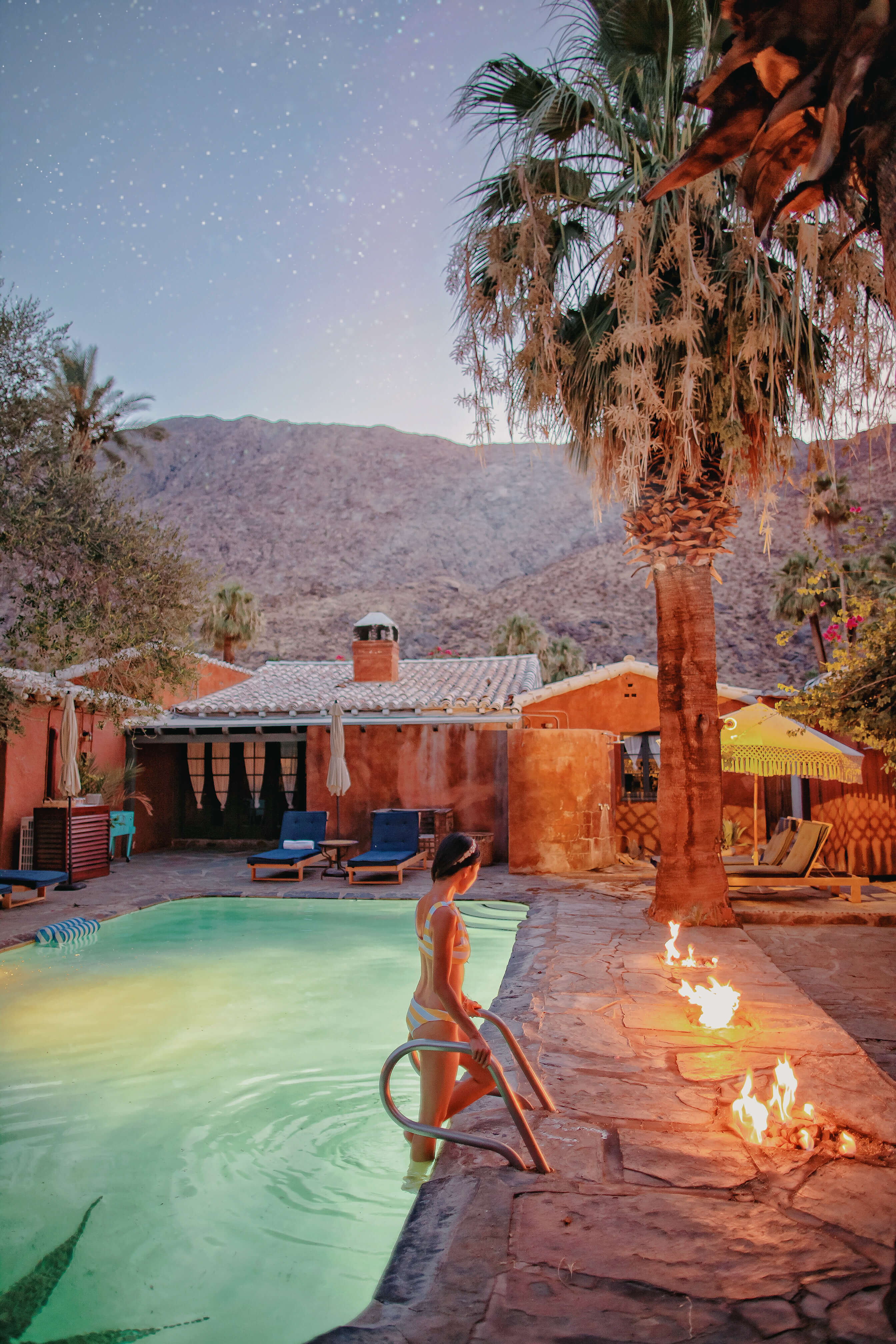 If you're looking for character, seclusion, peace and quiet, and to stay in what is arguably Palm Springs' most unique and Instagram-worthy property, you're in the right place. In other words, if you stay at Korakia you should want and expect to be left alone.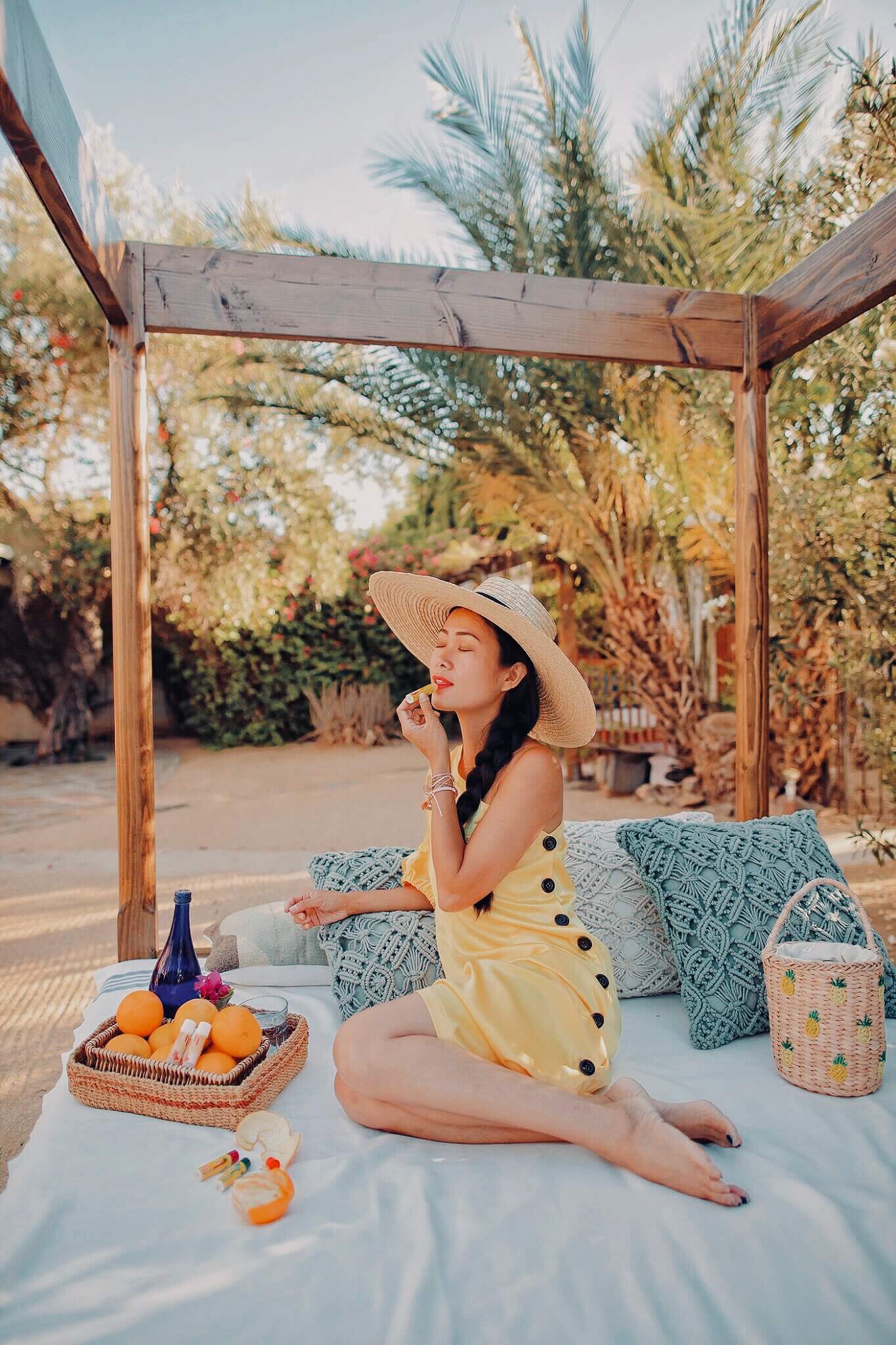 My Favorite Insta-Worthy Photo Spots In and Around Palm Springs
Indian Canyons
Located at the end of South Palm Canyon Drive is Indian Canyons, whose creeks and breathtaking scenery are worth a visit if you are in the neighborhood.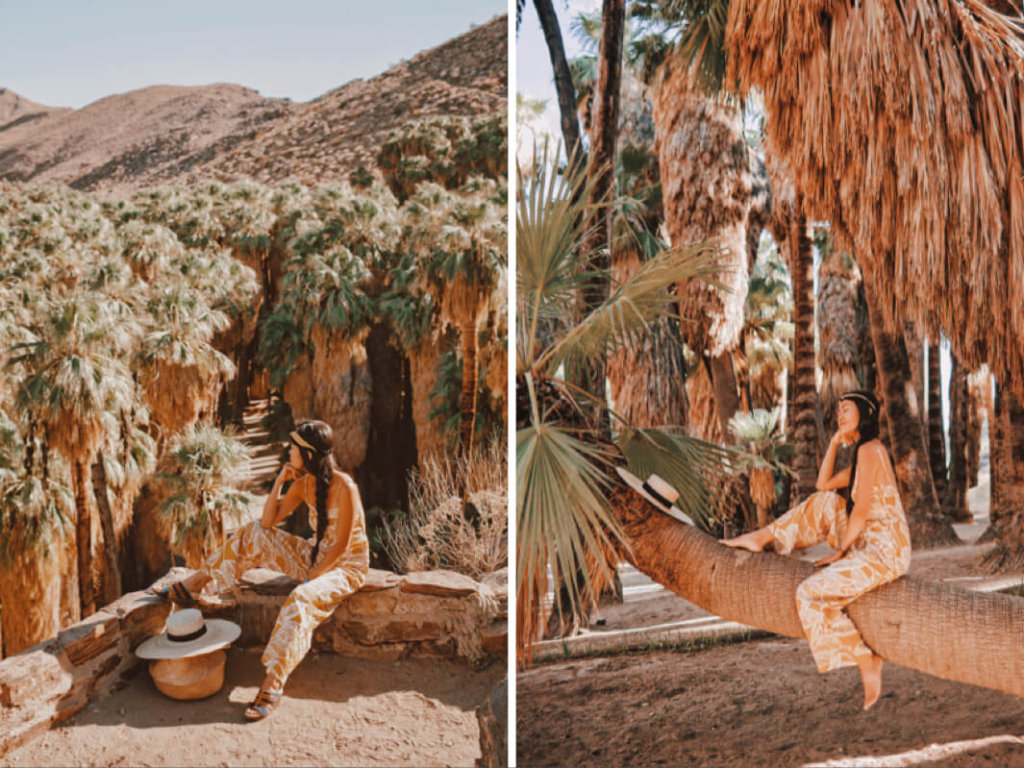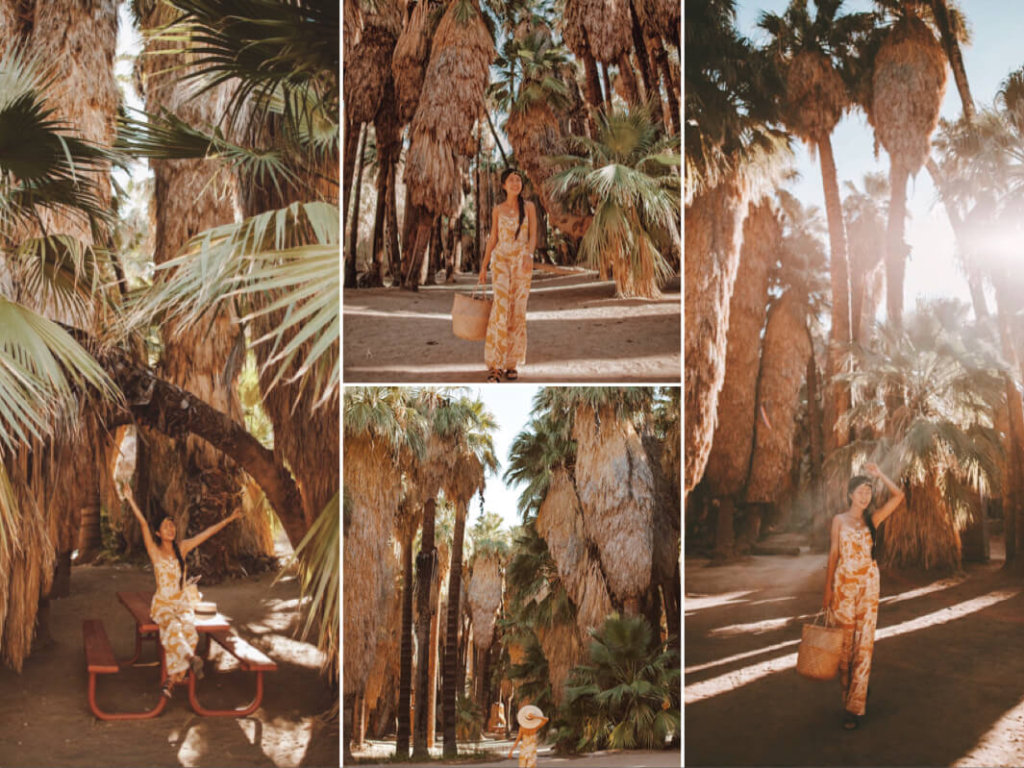 Home to dense stands of towering California fan palms, these canyons are places of surprising life and beauty.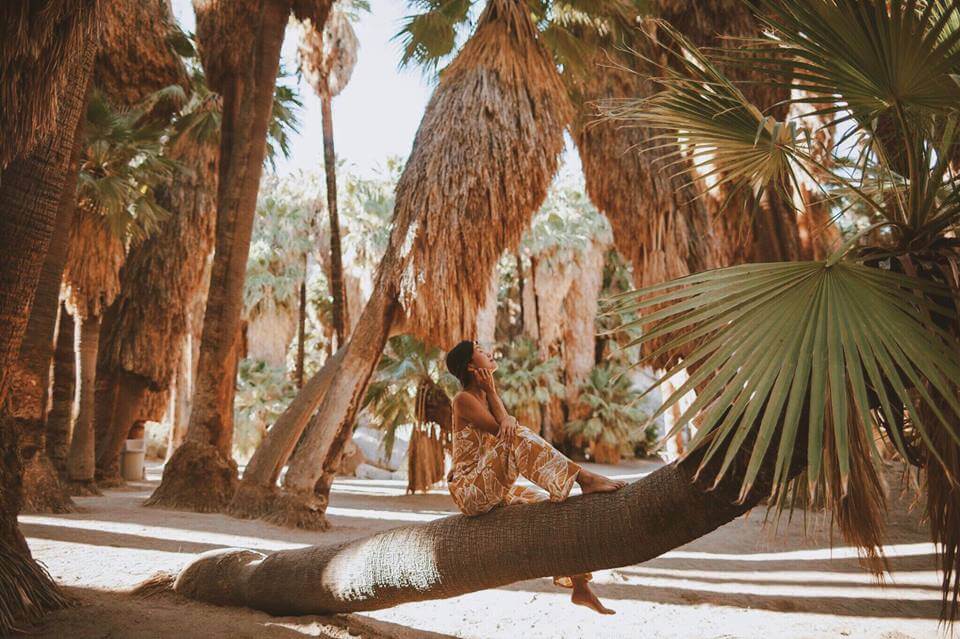 Moorten Botanical Garden & Cactarium
Where: 1701 S Palm Canyon Dr., Palm Springs, CA 92264
The Moorten Botanical Garden and Cactarium is located in the heart of Palm Springs. The garden is a family-run operation established in 1938 and features over 3000 types of desert cactus.
It costs $5 for entry and tours run between 10:30am and 12:00pm and are free with the price of admission. There's a little greenhouse inside the garden which makes an awesome photo spot because the light is diffused. The garden has been an Instagram favorite location for a while now and it's no surprise why, the colors and textures make for amazing photos!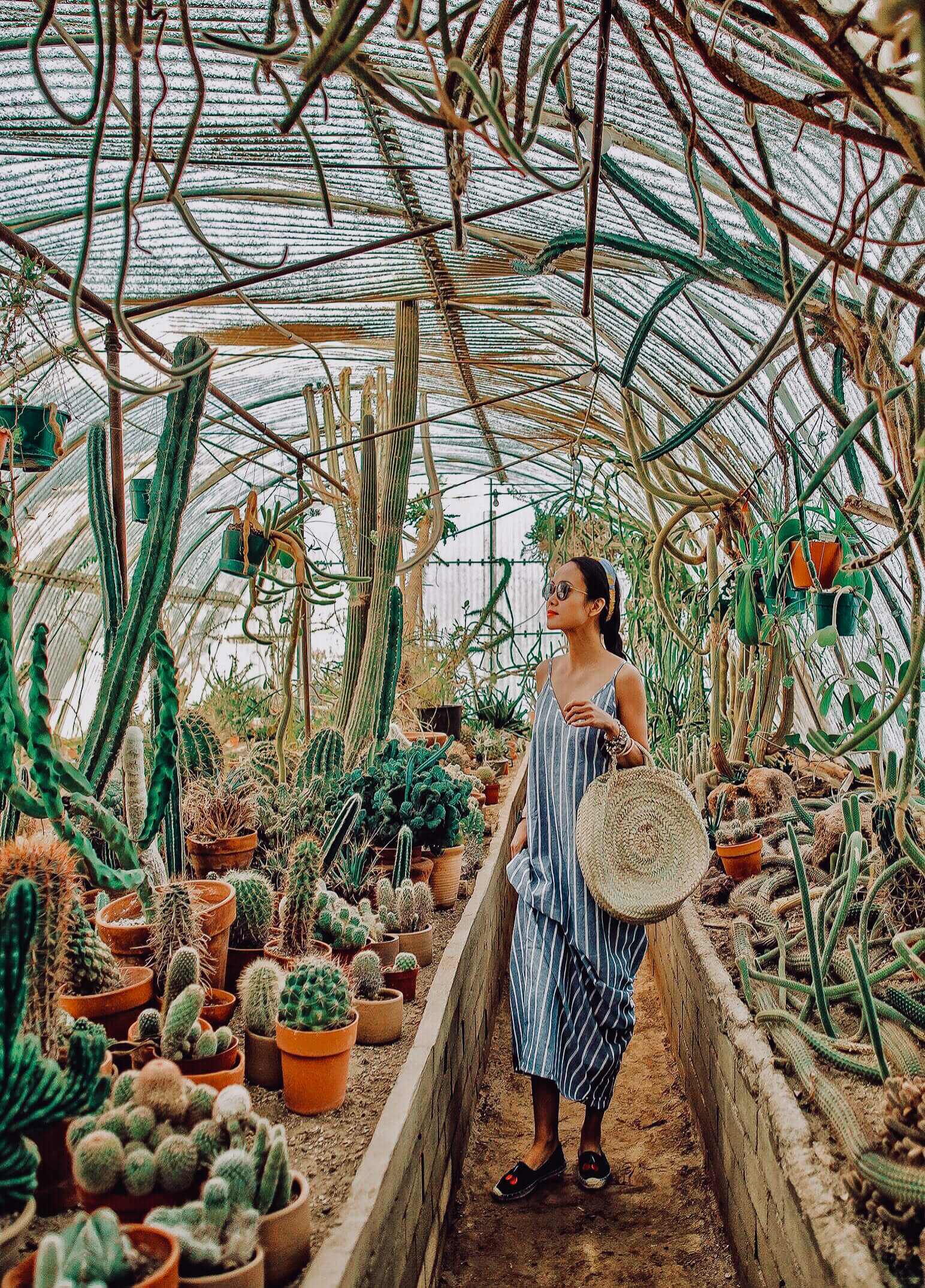 Reservoir
Address: 1551 N Palm Canyon Dr b, Palm Springs, CA 92262
Can you say floor goals???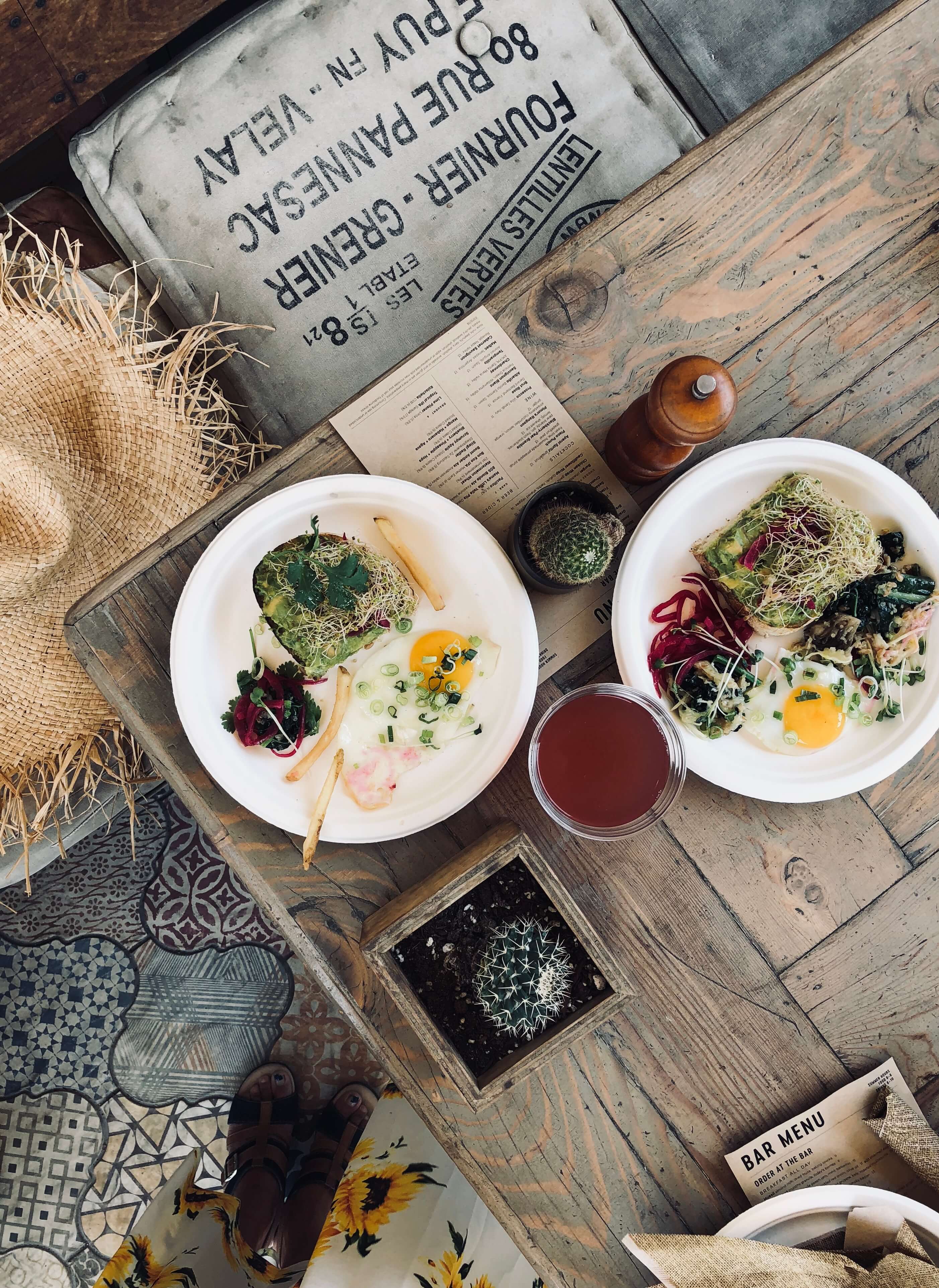 Reservoir is a chic all-day eatery at the Arrive Hotel offering mountain views & Southern California fare. The outdoor patio has perfect photography lighting and a blogger's favorite mosaic tile floor.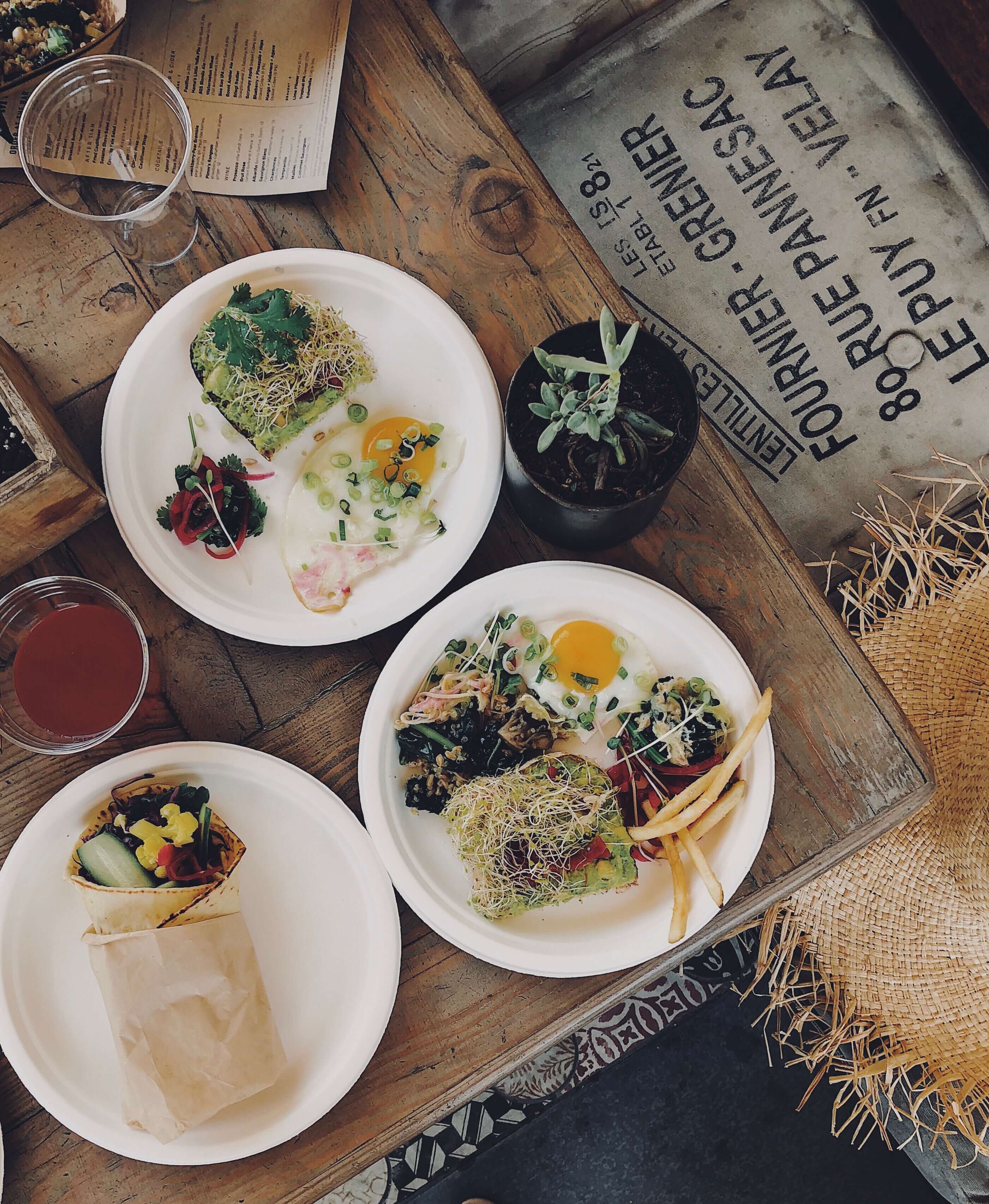 Hotel California Sign
Where: Hotel California, 424 E Palm Canyon Drive, Palm Springs, CA.
This is a family-owned boutique hotel with Spanish architecture. The sign of the hotel is very iconic and definitely makes you start singing you-know-which-song at the back of your head!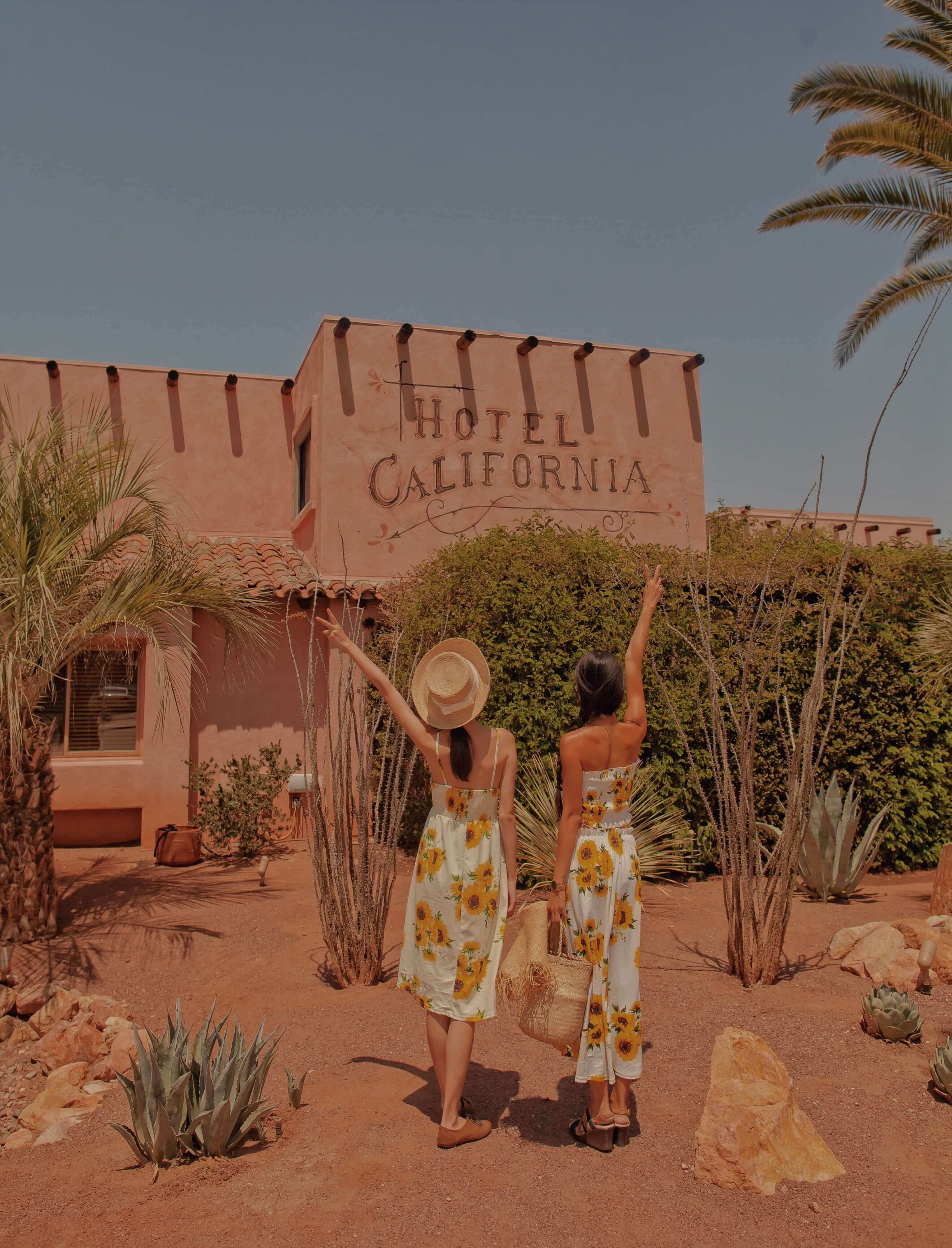 The Windmills
Where: Palm Springs Windmill Tours, 62950 20th Avenue, Palm Springs
When driving into Palm Springs, California from Los Angeles along Interstate-10, the first sign that you've arrived in the desert is the row upon row of windmills along both sides of the highway. There are some windmills tours in the desert which can give peoples close-up views of the windmills while answering various questions about the mills.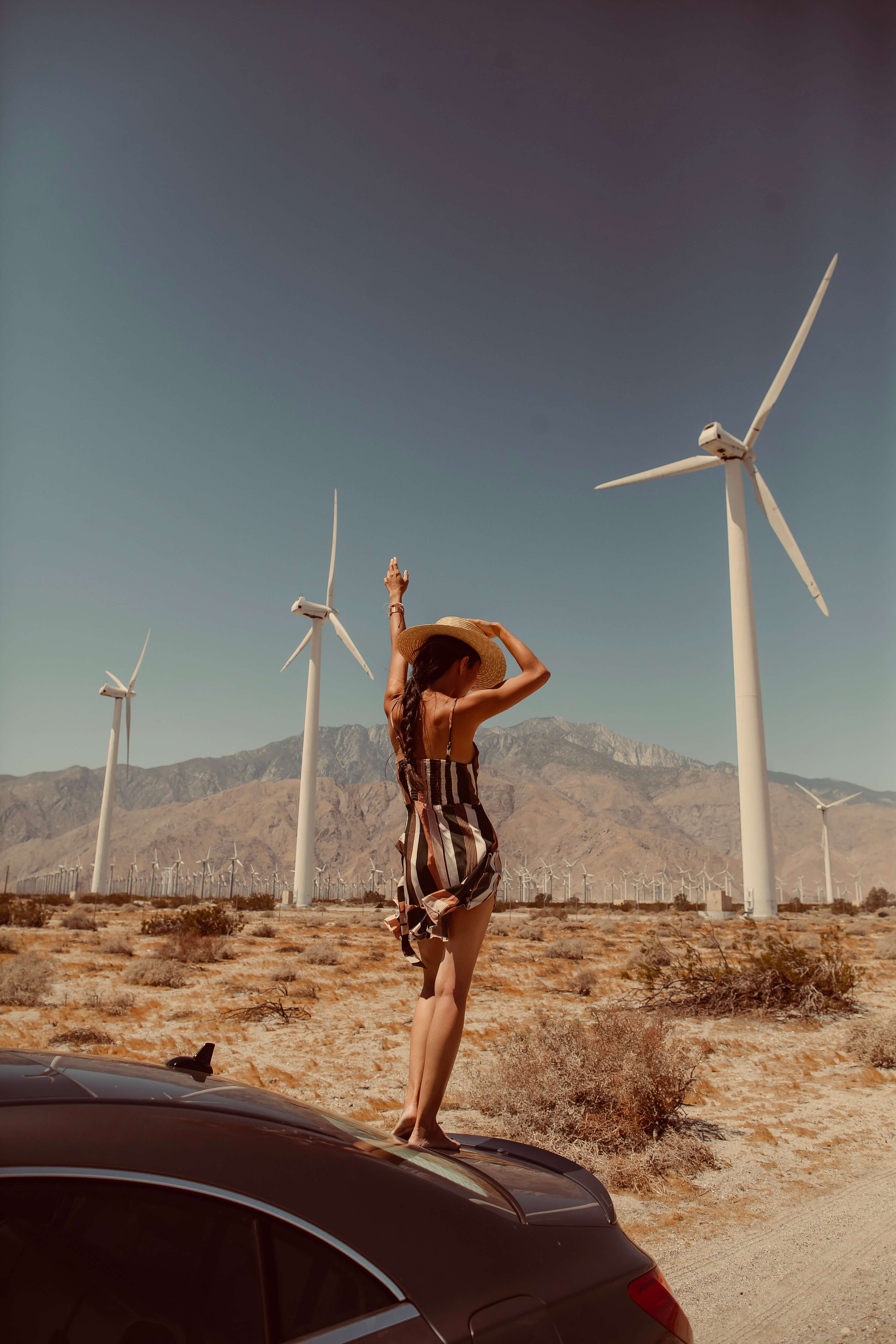 The key to getting the best photos at the windmills is to go for sunset! Golden hour here is so magical against an open desert landscape. The mountains will have a misty glow that makes for some amazing photos.
That Pink Door
Where: 1100 Sierra Way, Palm Springs. Just down the road from the Ace & the Botanical Garden
By far one of the most popular things to photograph in Palm Springs are the fun and colorful doors. In fact, it is so popular that there are dedicated door tours which will drive you directly to the houses with the most colorful doors. And of all the beautiful door, the pink door is the most famous!
It's rare that the door of a house has its own hashtag #thatpinkdoor. The midcentury architecture and design in Palm Springs is so dreamy – and this house in particular is famous for its large bubblegum pink door and blue agave plants. It is a private property so just remember to be respectful!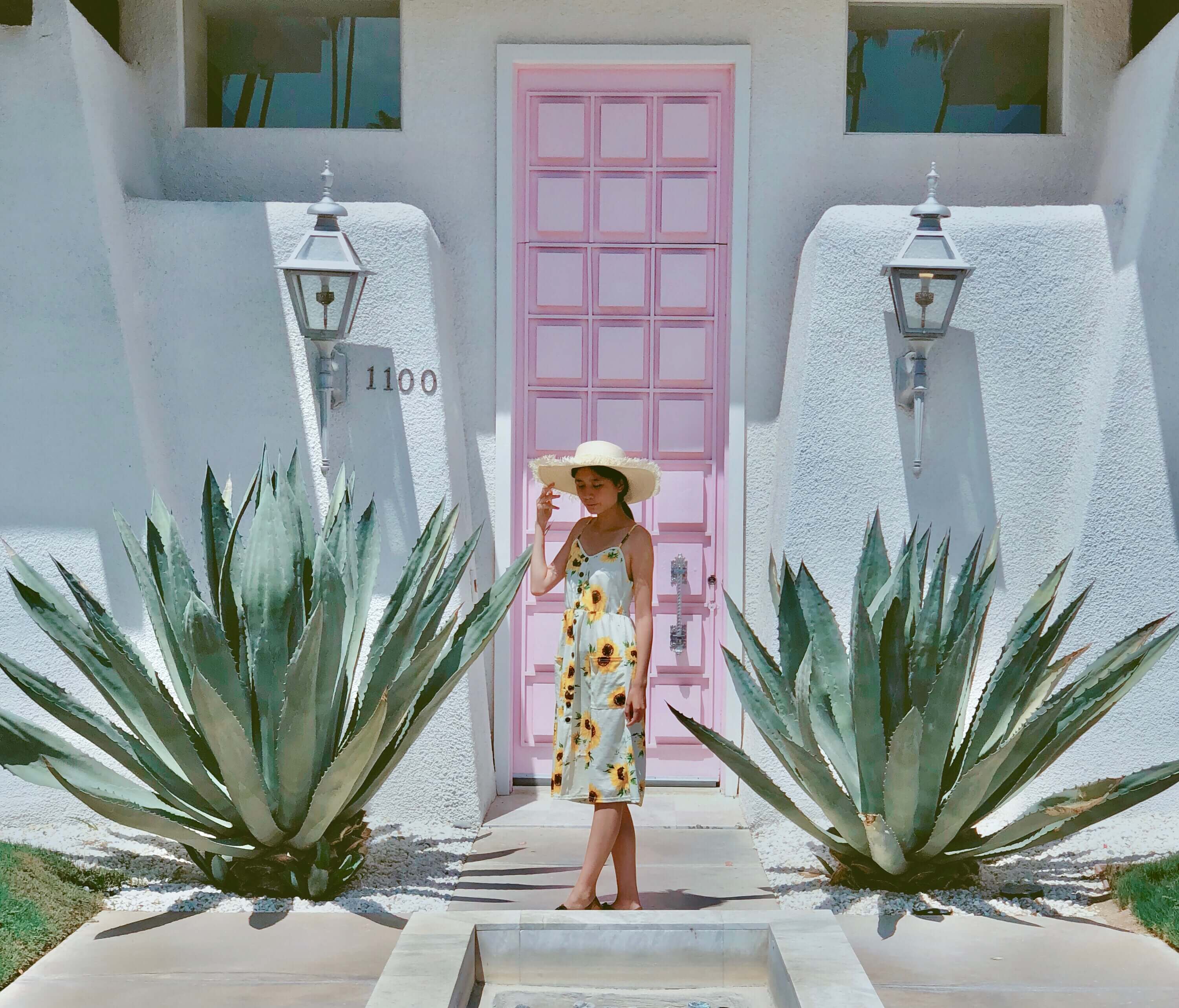 Although not in Palm Springs, these photo opps are worth the drive!!!
Salvation Mountain
About an hour and a half outside of Palm Springs is a one-of-a-kind sight called Salvation Mountain. Leonard Knight created Salvation Mountain as a tribute to God and this place is super unique and colorful.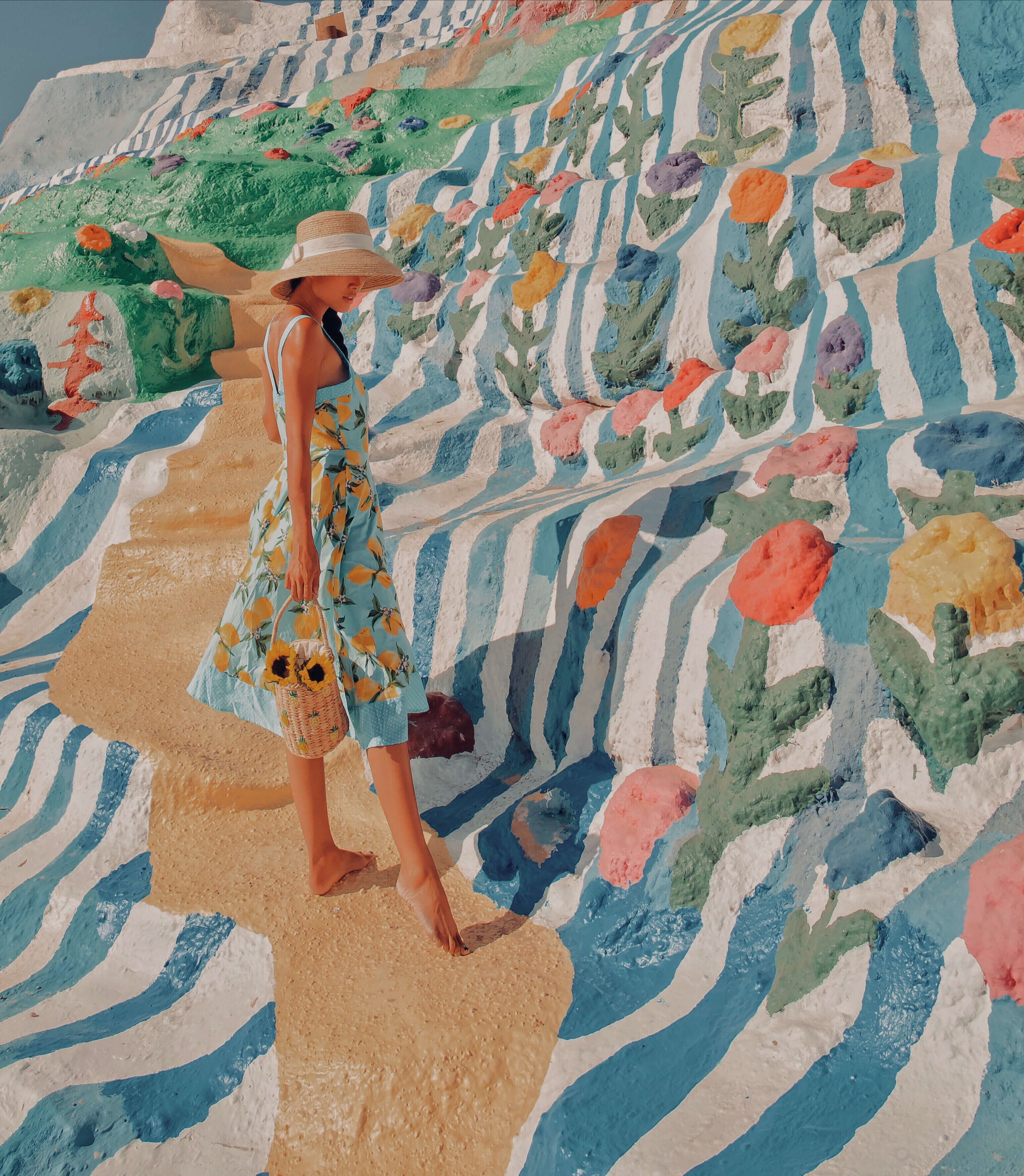 The colorful mountain is covered in religious words and general messages of love as well as colorful nature scenes. The five-story-high Salvation Mountain is a 150-foot wide art project where one finds painted arts of hearts, birds, trees, and flowers.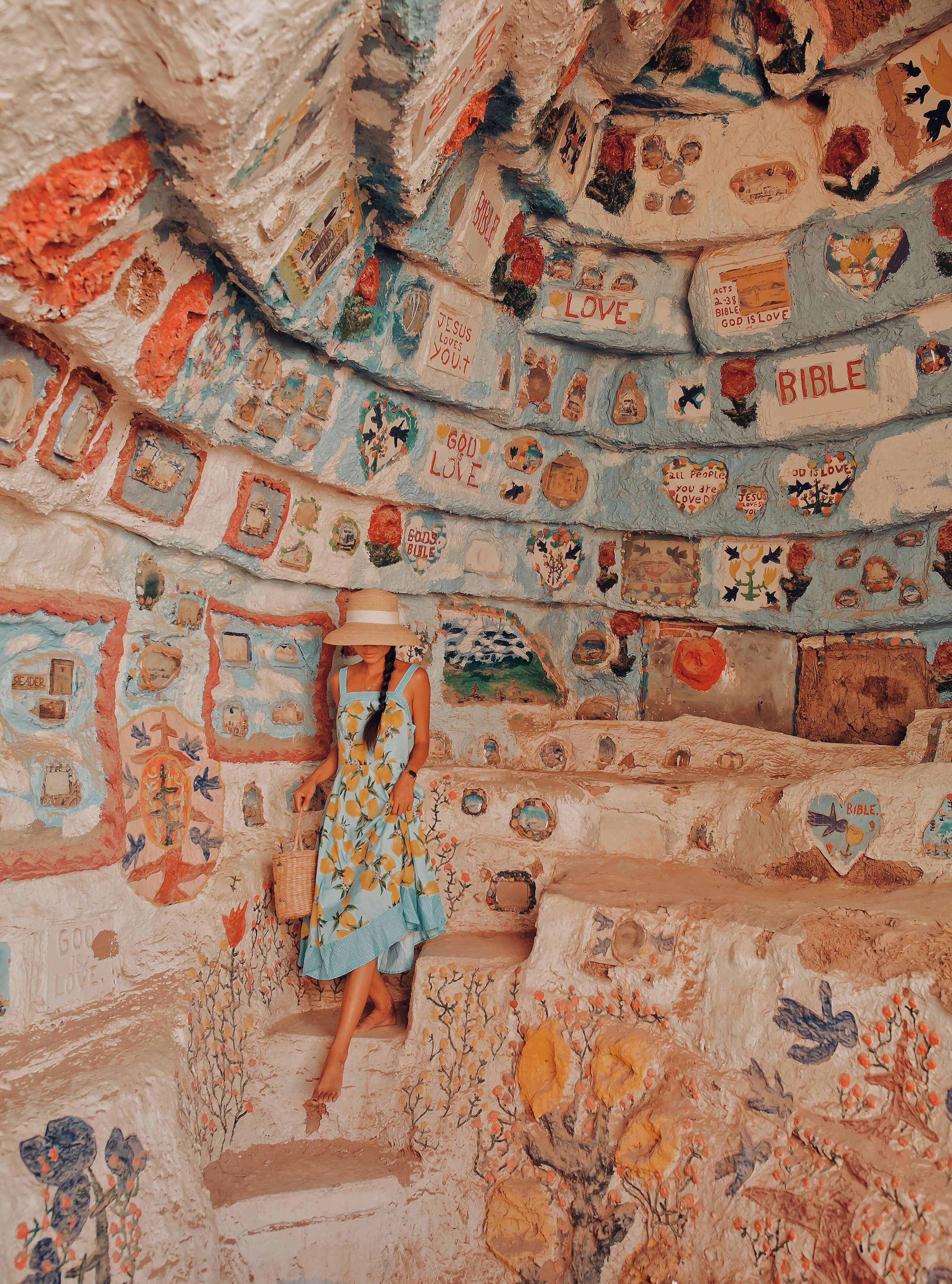 Joshua Tree National Park
When you're ready for a change of scenery from lounging by the pool, head to Joshua Tree National Park, about an hour away from Palm Springs, for some outdoor adventures.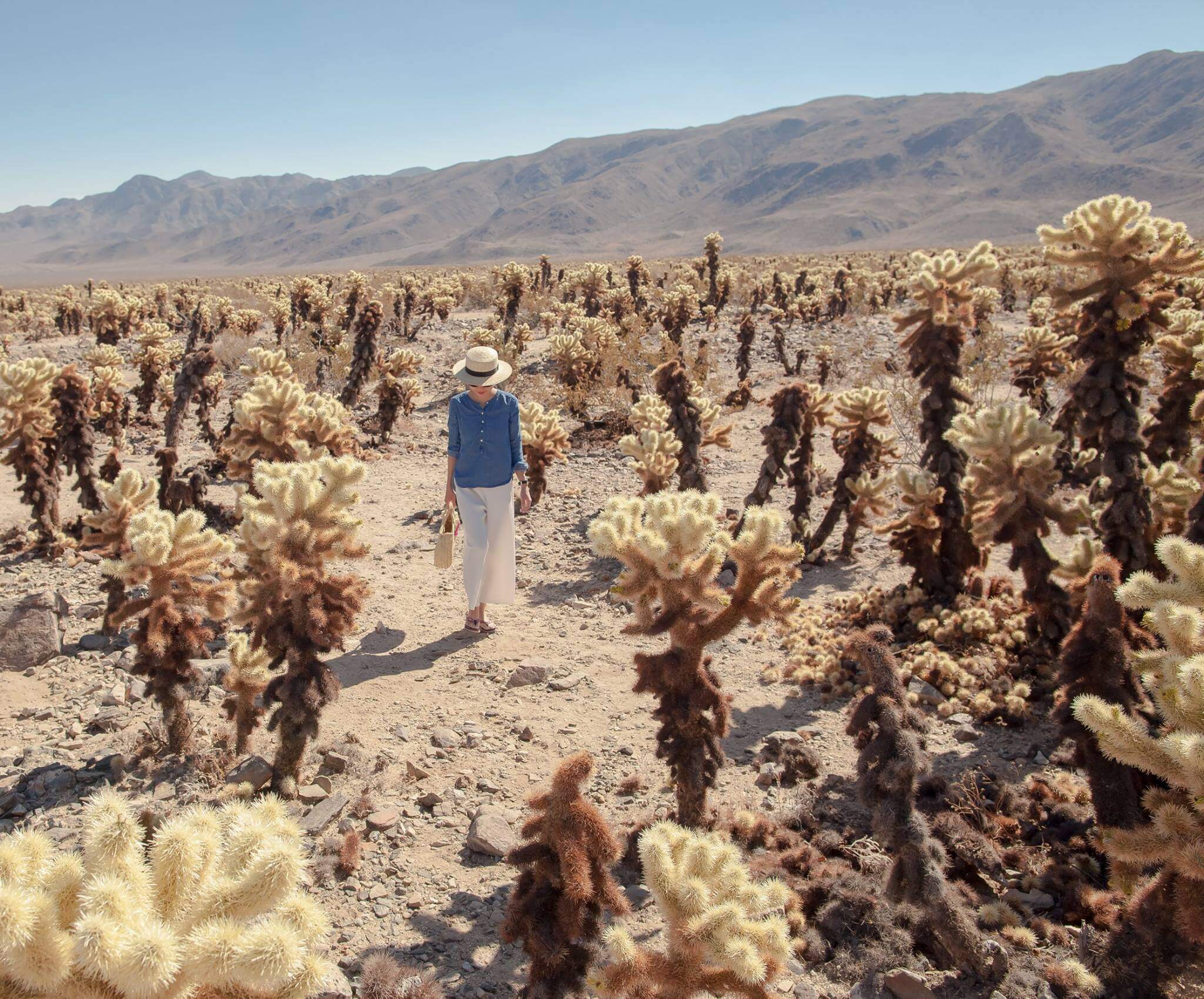 Joshua Tree has been well known for its Wild West vibes of the modern-day frontier. This region has long been a haven for artists, writers, performers, and musicians….but lately Joshua Tree has attracted more people and become the new hip destination in SoCal. There's something about the barren landscape that brings a sense of peace and solitude and, at the same time, provides endless opportunities for adventures!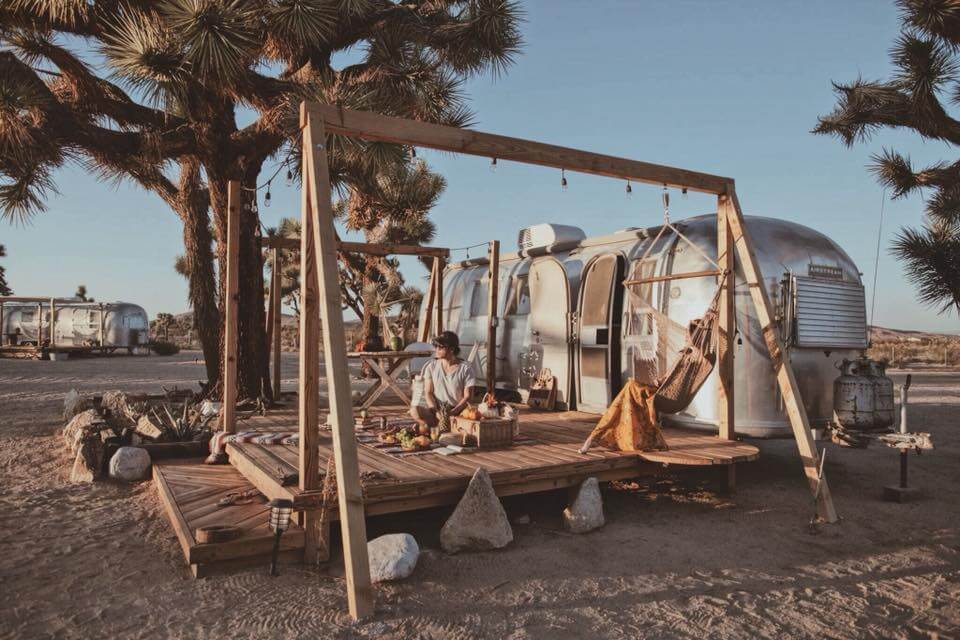 Joshua Tree National Park has more than 500,000 acres of California desert and is one of California's most beautiful – and less-visited – natural treasures! Its spectacular landscape is filled with beautiful Joshua "trees," which aren't trees at all, but tree-like members of the yucca family.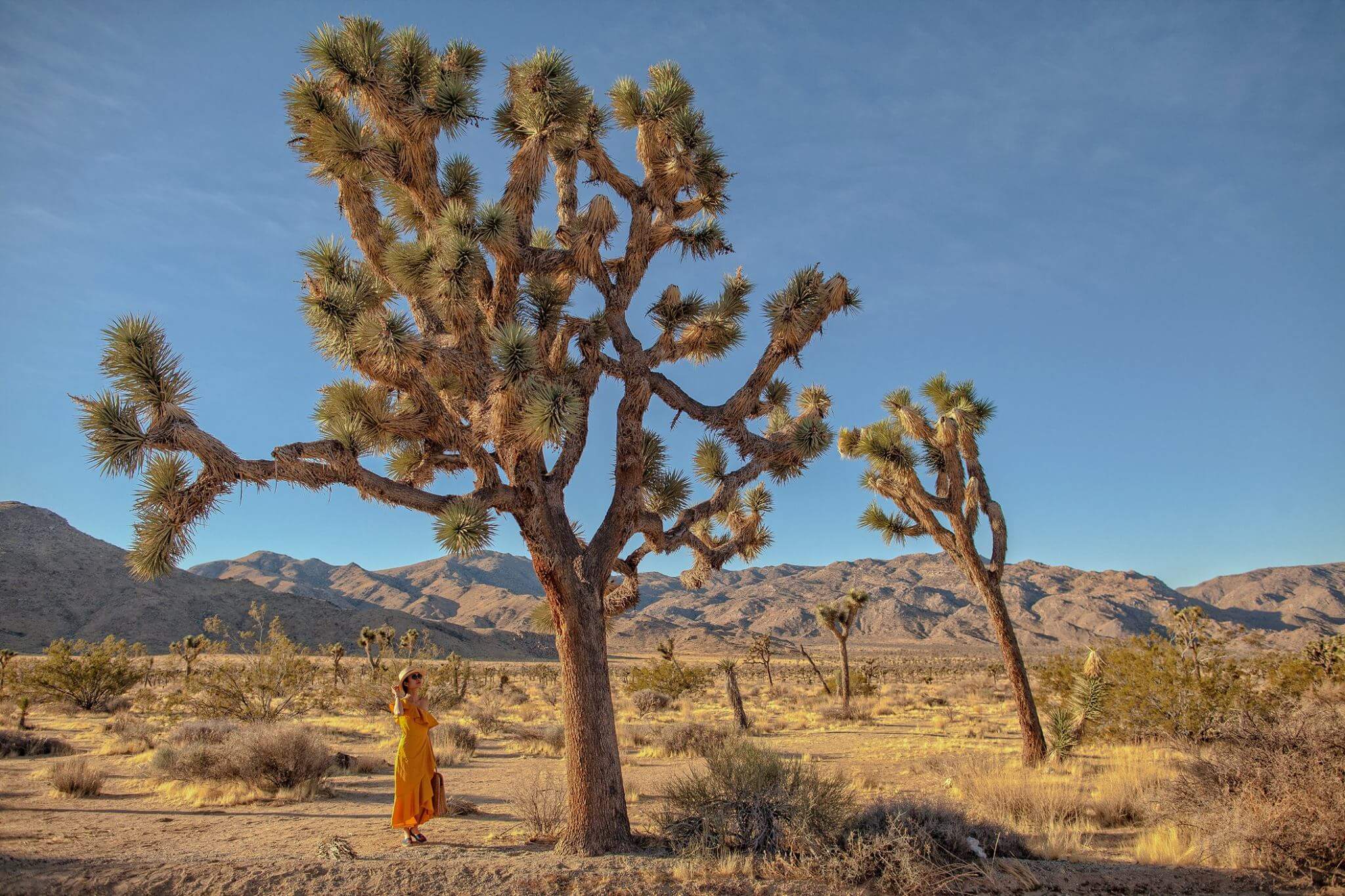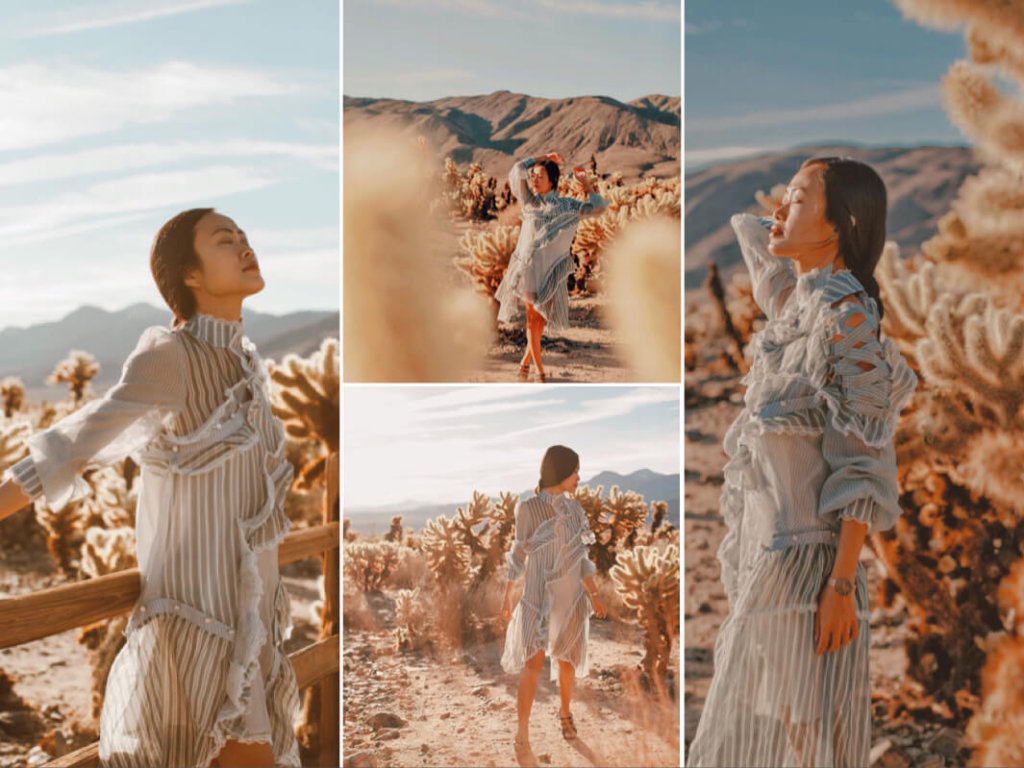 I wrote two blogs about Joshua Tree area. Check them out here and here.
Imperial Sand Dunes
From Palm Springs, it takes about 2 hours to get to the Imperial Sand Dunes. From Los Angeles, the Imperial Sand Dunes are about 3 hours away.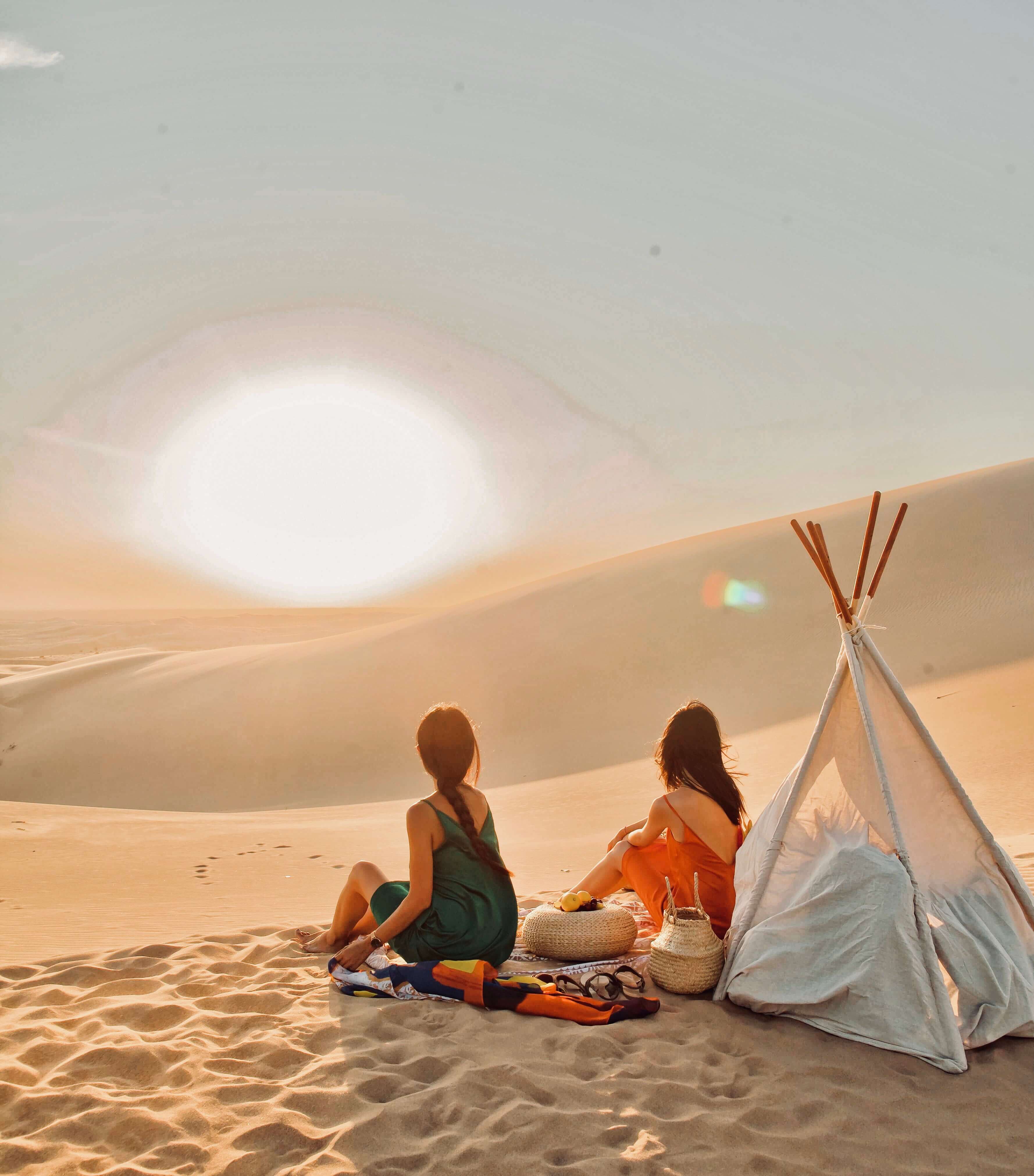 You don't have to travel to Africa's Sahara Desert to be surrounded by miles and miles of breathtaking sand dunes! The Imperial Sand Dunes (Algodones Dunes) is a perfect day-cation escape from Palm Springs or LA. And of course, they make great Instagram pics.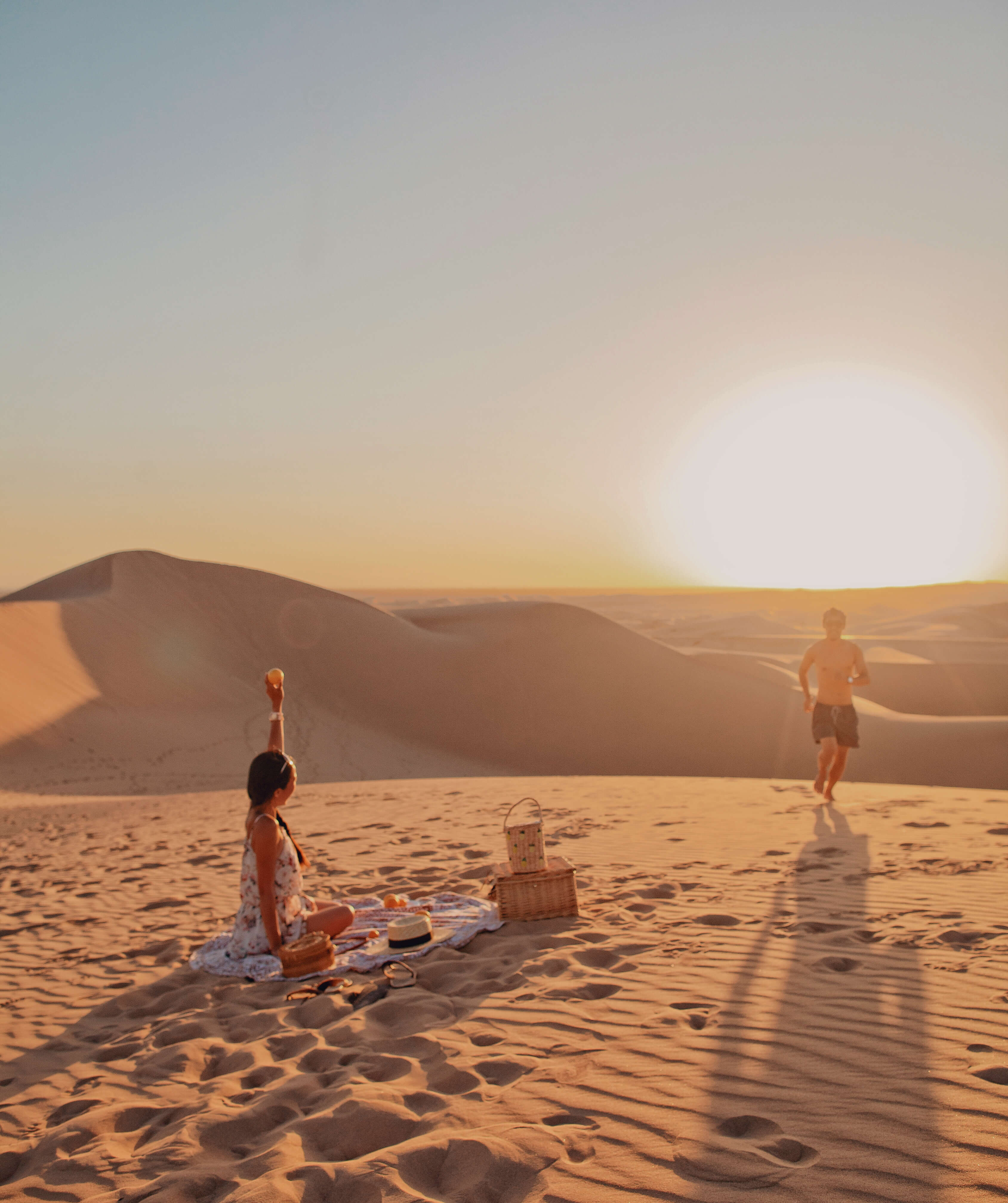 Here are my top pieces of advice for a successful visit:
Avoid going at peak sun times. Aim for the early mornings when the air will be more cool, or sunset for stunning colors in the sky.
Bring sunscreen.
Bring water.
Don't wear boots. They're will get filled with sand. In fact, any shoe you wear will probably get filled with sand. Take some sandals.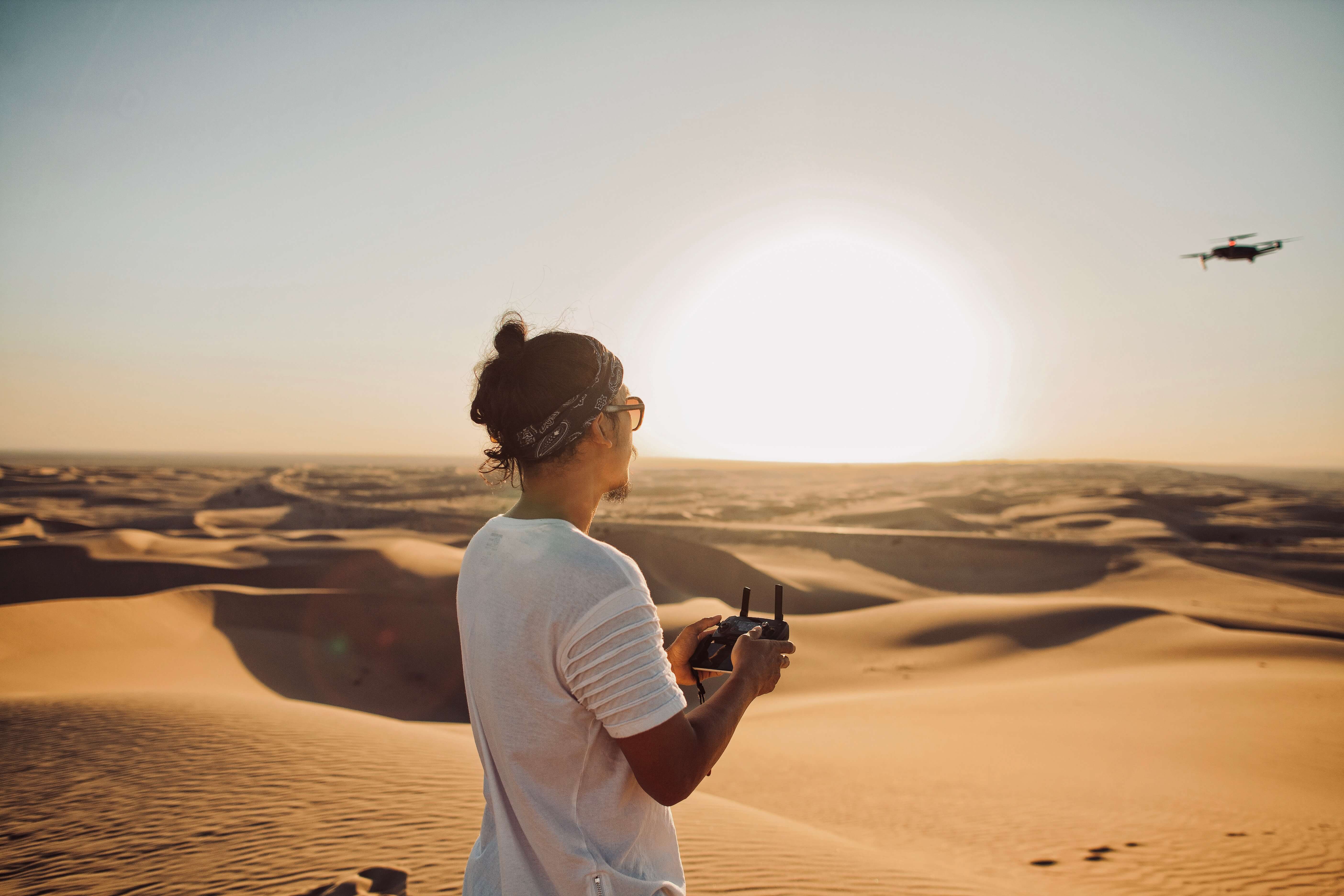 Palm Springs lures in locals and travelers alike. Not just for some fun times, relaxation and great experiences, but also for some of the best photography spots in California. There's no question that Palm Springs, California is the perfect spot for instagrammable material!
What are your favorite Insta-Worthy places around Palm Springs? Let me know in the comment below. I'd love to hear your suggestion!