GLAMPING IN JOSHUA TREE, CALIFORNIA
Glamping is the perfect combination of outdoor living and hotel comfort. Featuring all of the best bits of camping with a little luxury and glamour thrown in, glamping is suitable for those who look for a getaway in nature with some comforts of home. My husband and I love being outdoors and experiencing nature in as many ways as we can, but not always roughing it! So this Halloween we decided to try out glamping in Joshua Tree National Park! Vintage 1964 airstream, magical starry sky, spooky coyote howling,…all made our first glamping experience unforgettable! There's no question about it: Joshua Tree National Park has some of the best camping sites in Southern California. There's something about the barren landscape that brings a sense of peace and solitude and, at the same time, provides endless opportunities for adventures! In this blog I'm sharing with you what to look out for if you are planning your own luxury camping/glamping holiday in Joshua Tree National Park.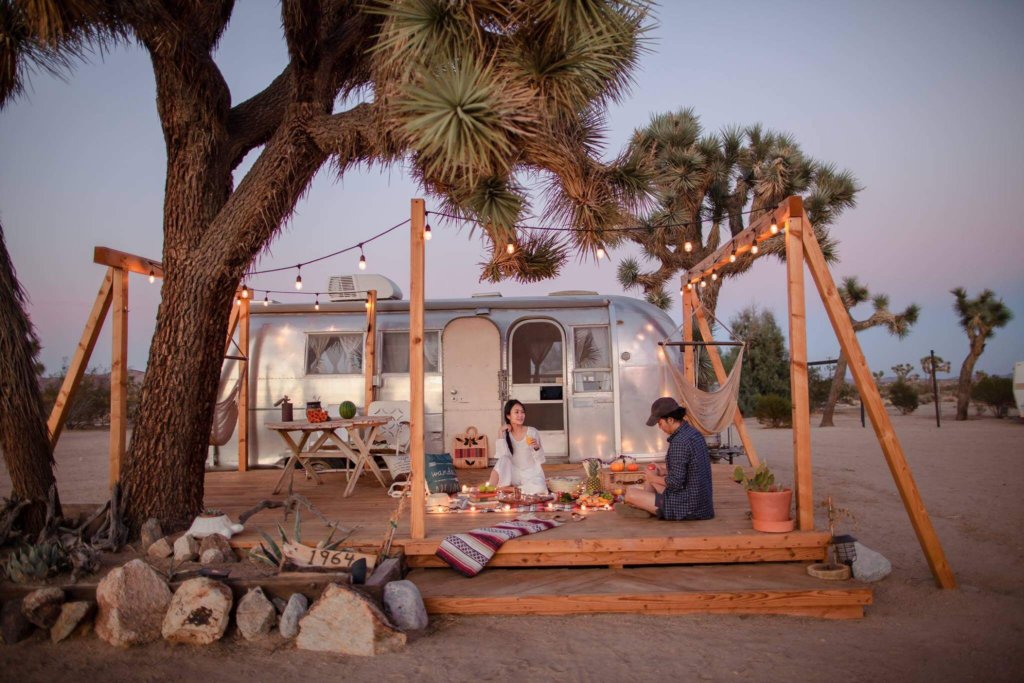 Where is Joshua Tree National Park?
Just two and a half hours (140 miles) east of Los Angeles on the 10, the park is close enough for a weekend getaway! Joshua Tree National Park has more than 500,000 acres of California desert and is one of California's most beautiful – and less-visited – natural treasures! Its spectacular landscape is filled with beautiful Joshua "trees," which aren't trees at all, but tree-like members of the yucca family.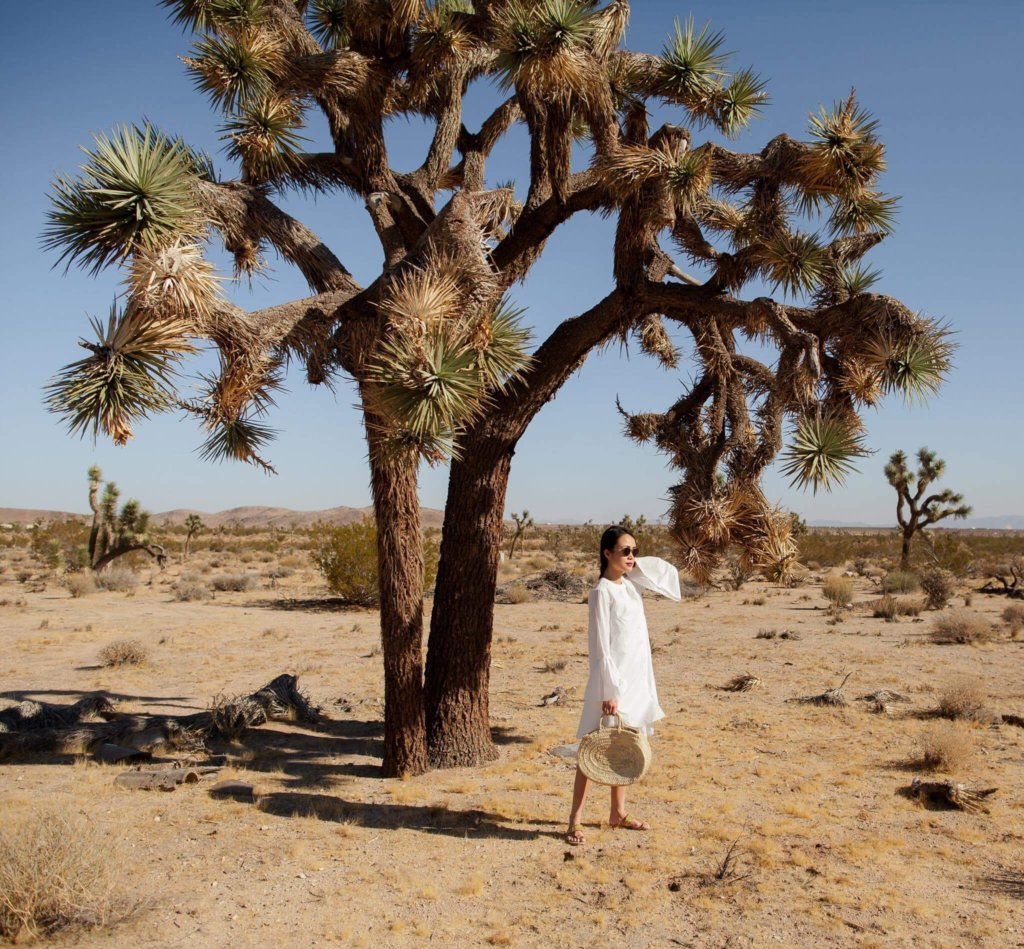 What's the best time of year to visit?
Spring and fall have the best weather when highs run about 85°F and lows around 50°F. Summer can be scorching with high of more than 100°F, and it won't get much below 75°F at night. Winter days reach 60°F (15°C) with freezing nights.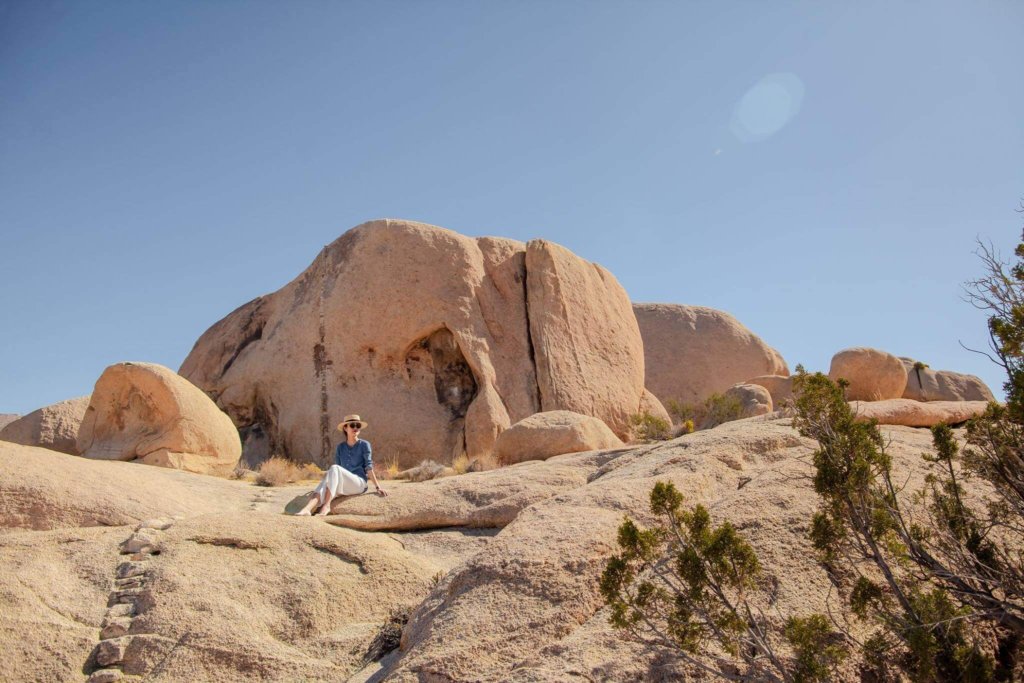 Where to Stay
You have a few options. Since visiting Joshua Tree is really an experience of being close with nature and the surroundings, camping is the best way to do it! Joshua Tree's nine developed campgrounds have approximately 500 campsites. Most are first-come, first-served! Camp sites without water are available for booking at just $15/night and those with portable water available are $20/night.
Or you can have so many cute options on Airbnb from rustic desert homesteads, mid-century tiki huts, teepees and airstreams. Since road tripping in airstream has been always on my bucket lists, I was so happy to find Joshua Tree Acres on Airbnb!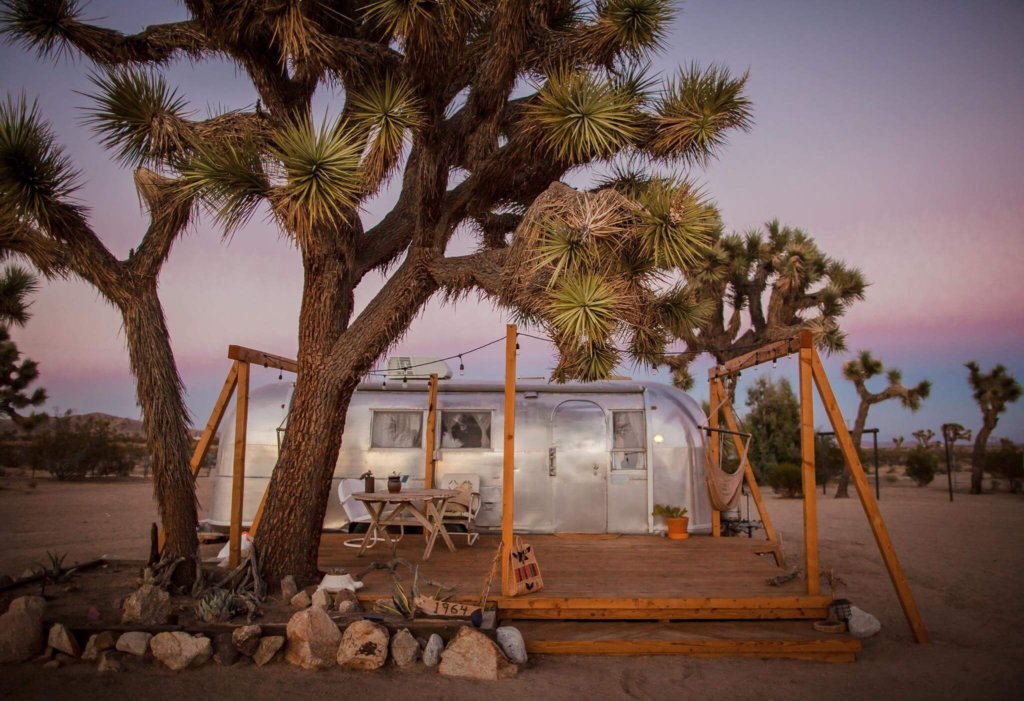 Many of us are familiar with Airbnb for renting rooms or vacation homes, but did you know that there are quite a few Airbnb airstream rentals as well? The great thing of experiencing an airstream through Airbnb is that you get all of the benefits of an airstream without having to hook it up, drag it around, and maintain it.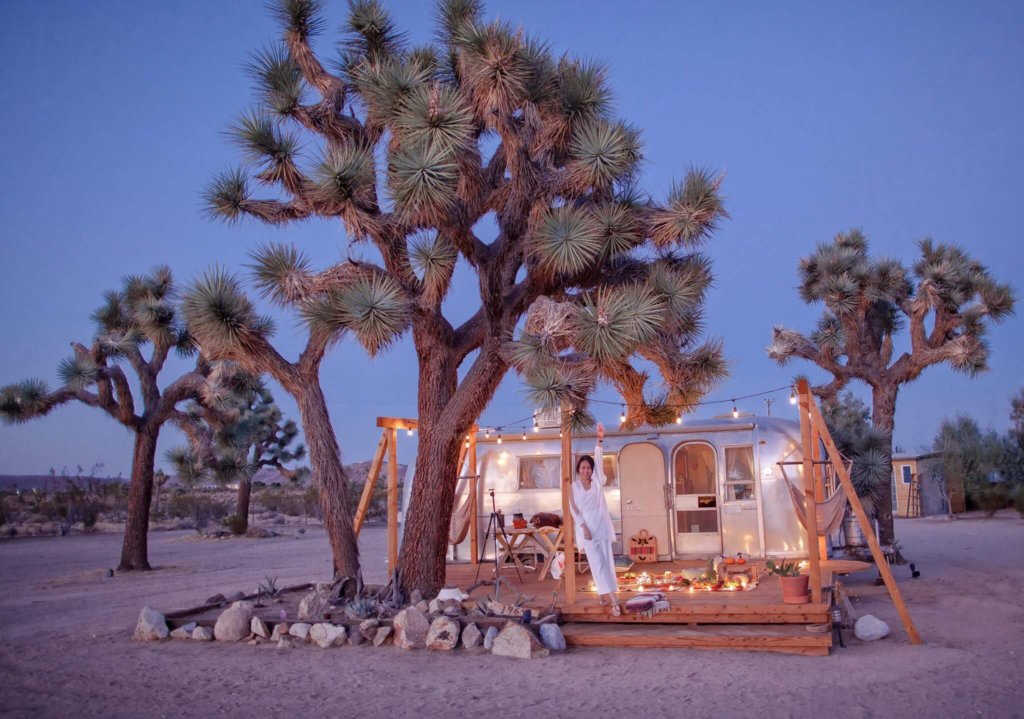 Here's my review of my glamping experience at Joshua Tree Acres! 
The Sound of Silence 1964 Airstream is surrounded by beautiful whimsical joshua trees on 5 private acres of desert land!  Conveniently located 10 minutes from the village, Joshua Tree Acres is a a desert oasis that offers travelers a chance to reconnect spiritually with the beautiful natural world from majestic sunsets to enchanting starry sky!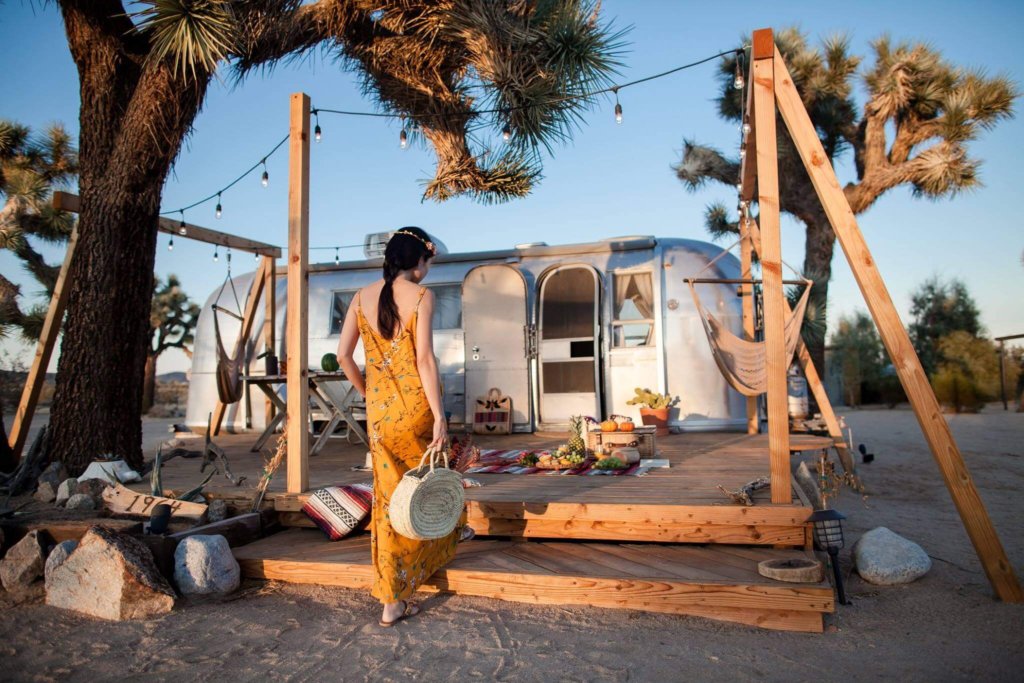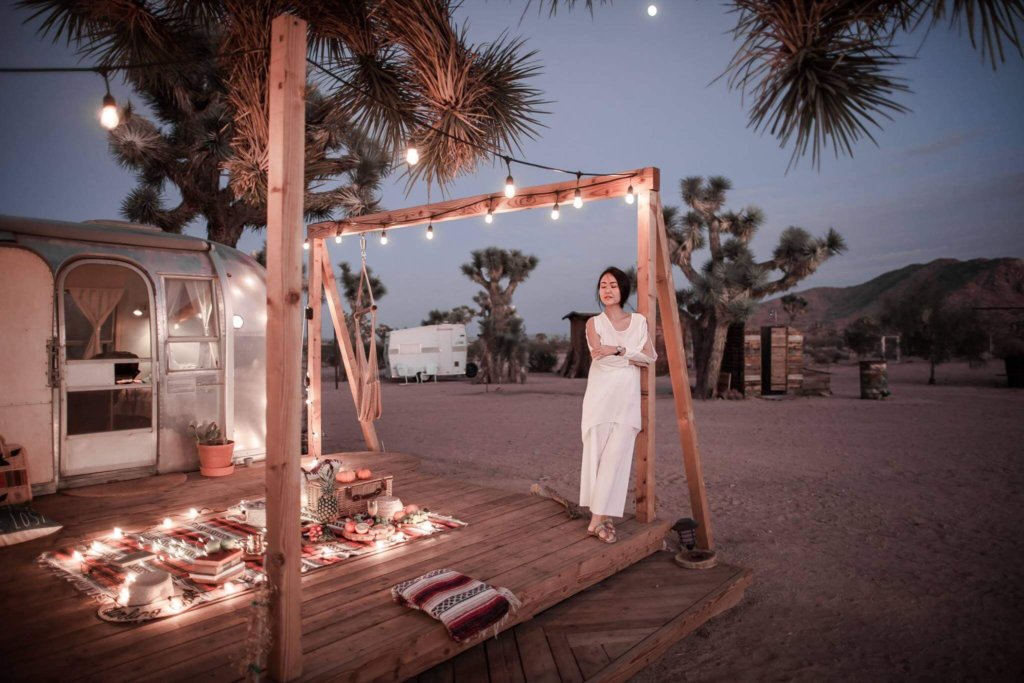 Our 1964 Airstream has the nicest patio with two Joshua trees on either side and two lying hammocks. Inside our 1964 Airstream has a two seater couch and a king sized bed. The owners have taken the time to restore the most unique features while adding modern comfortable touches!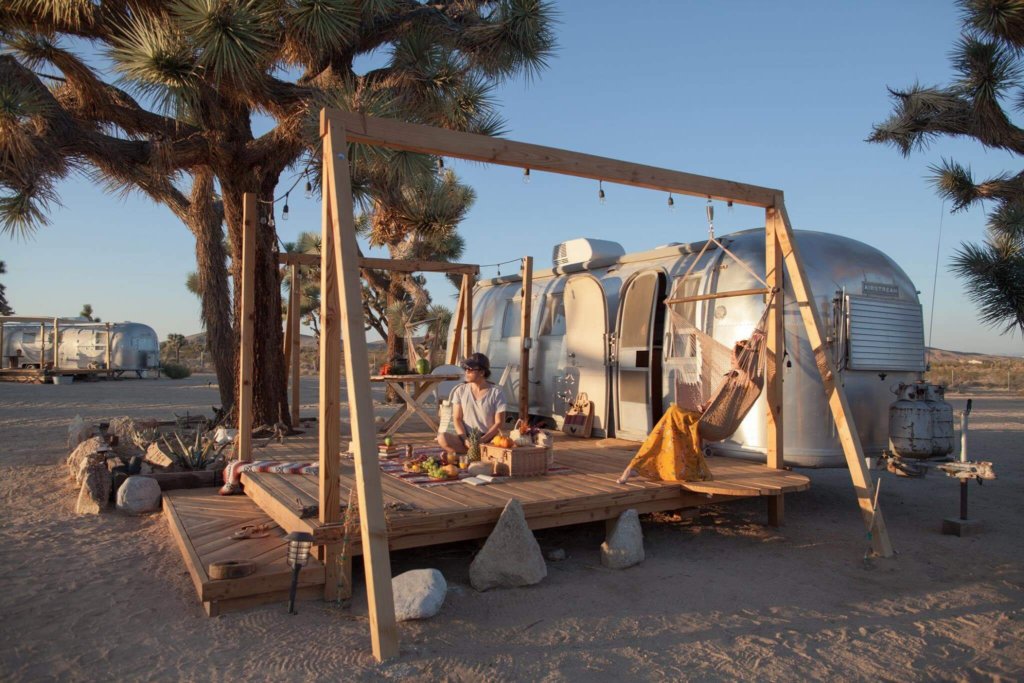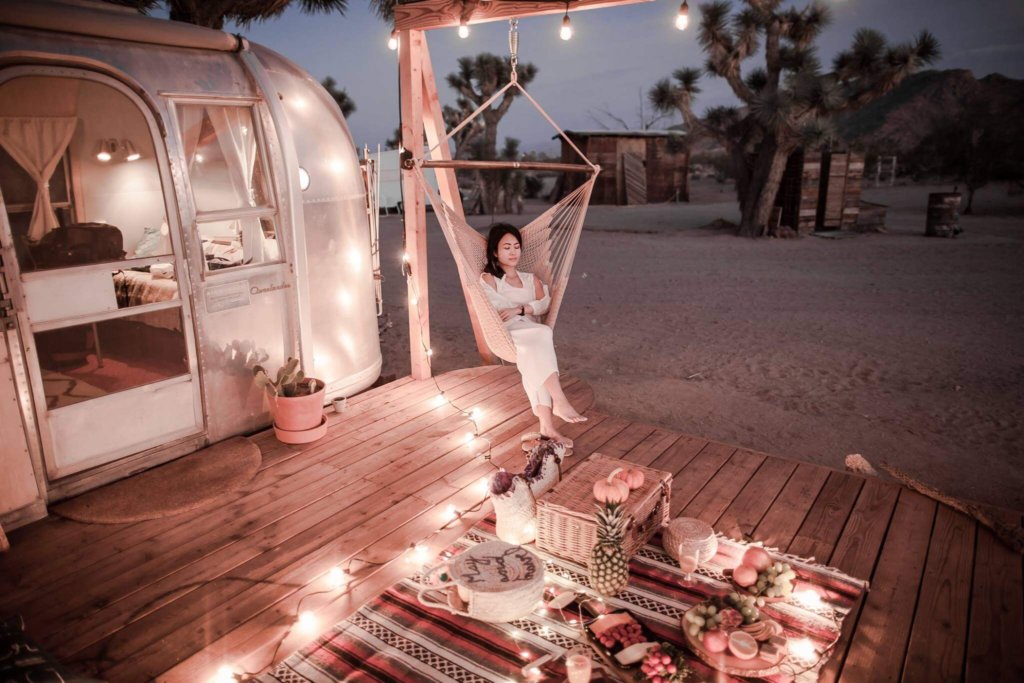 The clubhouse where guests gather to cook, eat, get clean and meet other desert wanders has a lounging area, kitchen, outdoor BBQ, dining space and restroom with a shower!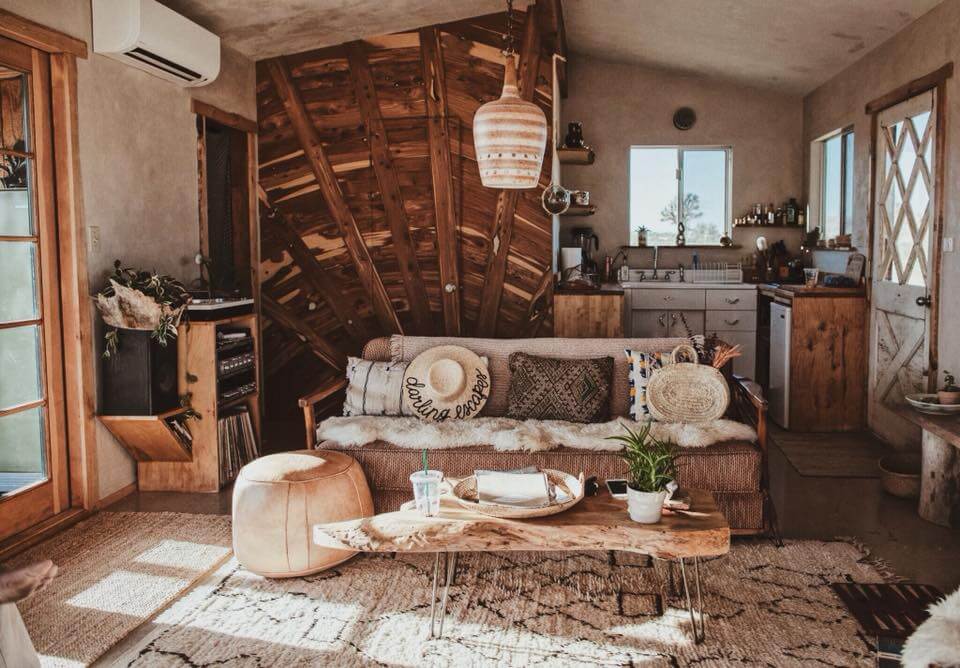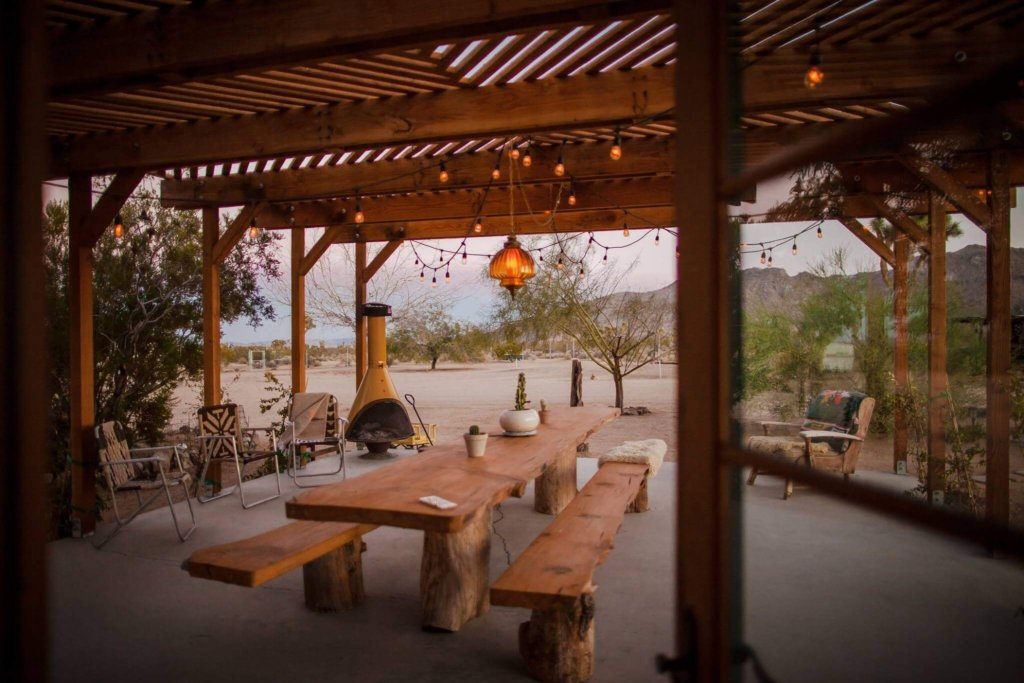 It has a rustic vibe, adorned with Moroccan pillow shams. sheepskin rugs, unique reclaimed wood furniture pieces and succulent plants.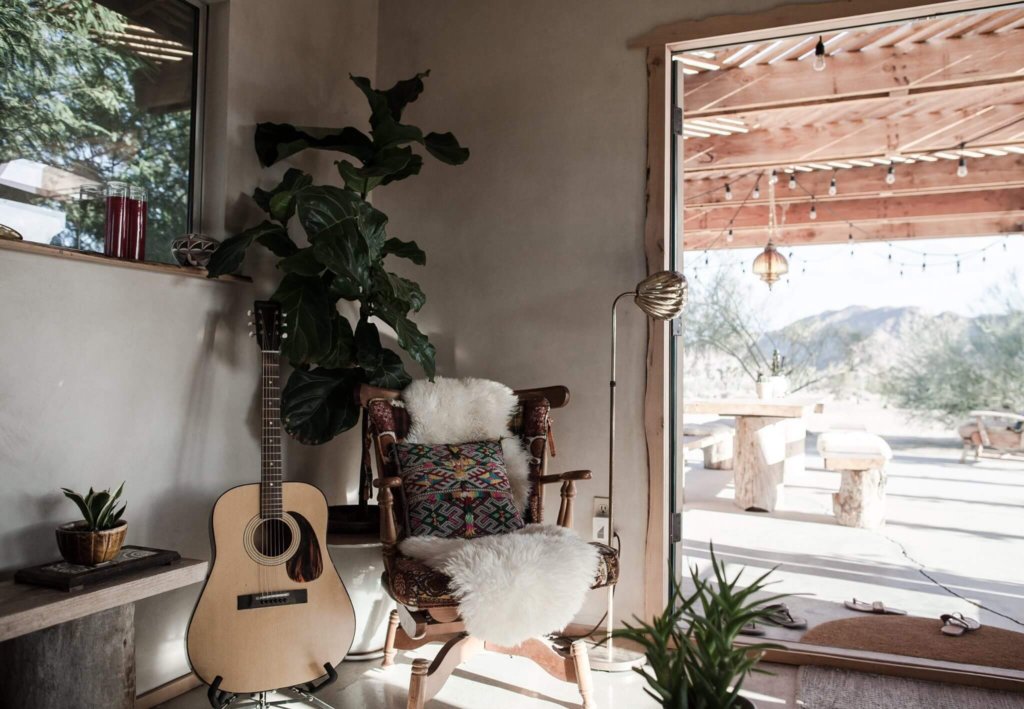 They also have other lovely communal spaces including the outdoor hot tub, the outdoor solar shower, and the communal hammocks!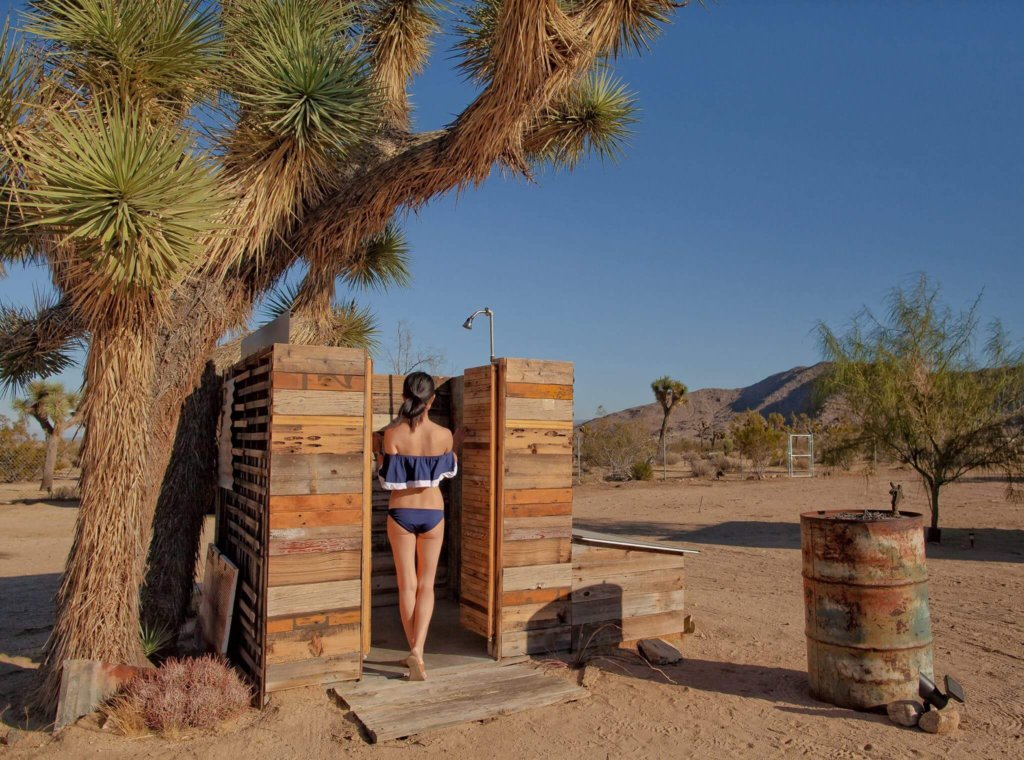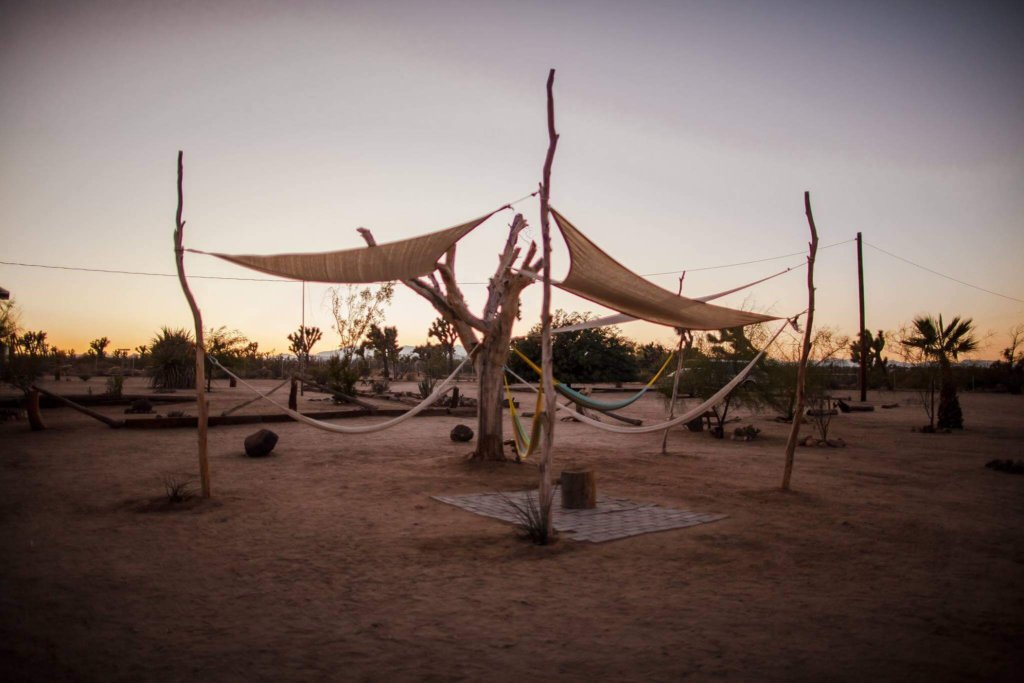 What To Do
1.Sunset Picnic
Bring some blankets and get ready for a reminder of the spectacular beauty. My favorite thing to do was picnicking in the middle of desert under Joshua trees watching the sunset across the wide landscape of the park and then seeing the stars and moon appear. The sunsets in Joshua Tree are the most amazing sunsets I have ever seen! The pinks, the purples, and the blues of the sky are so dreamy and magical!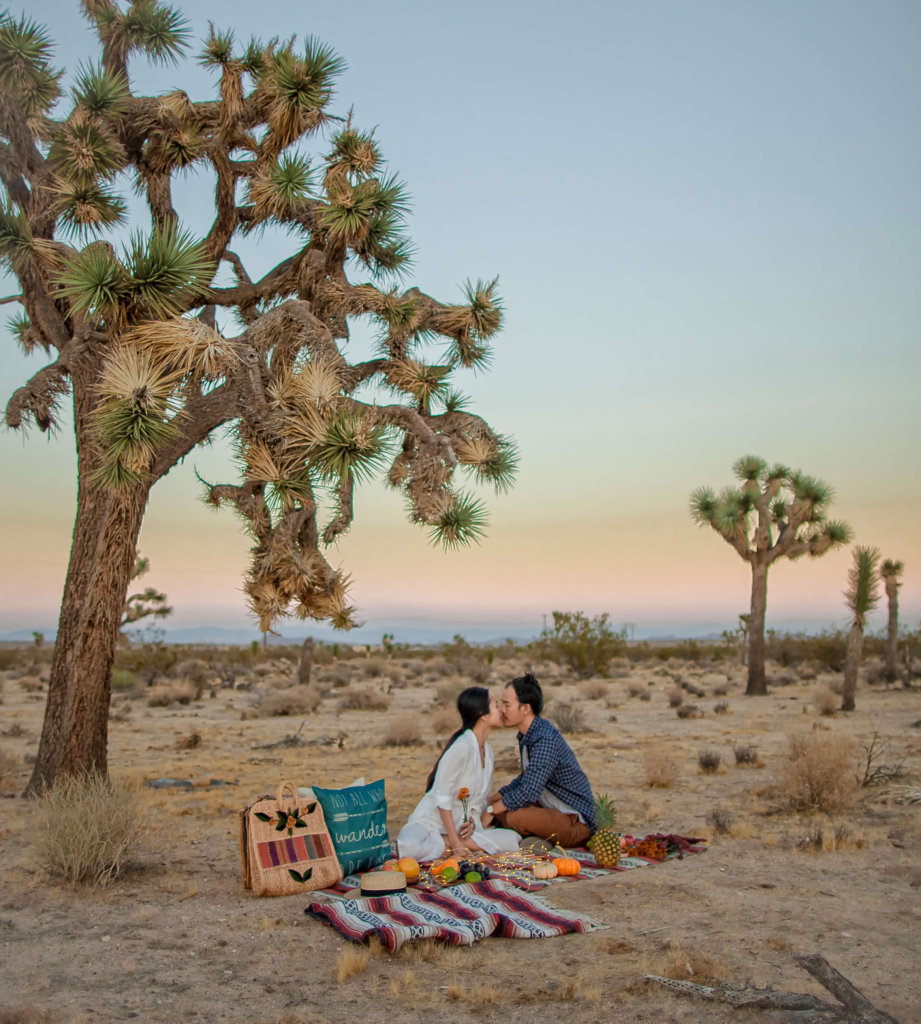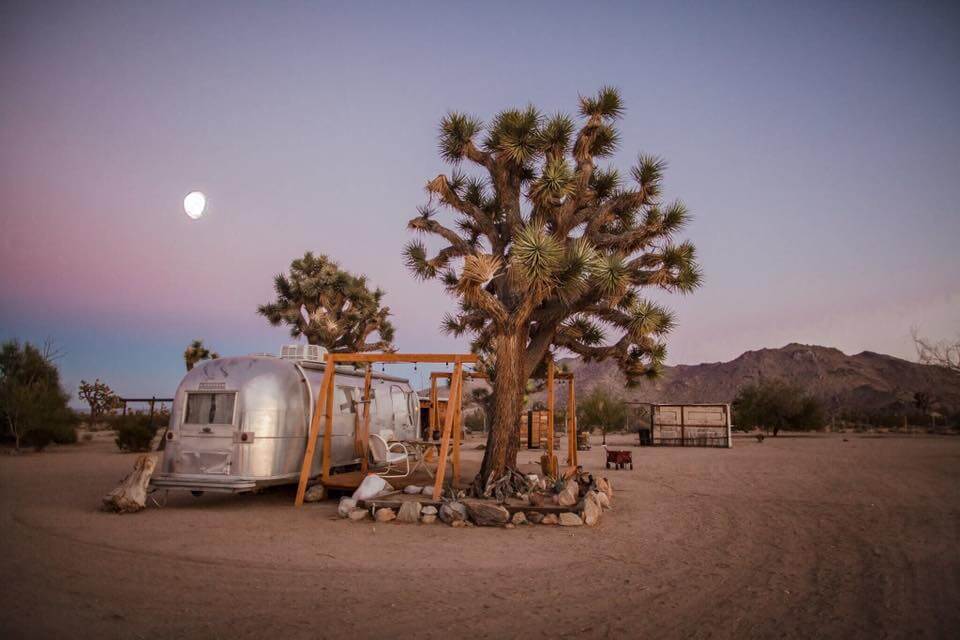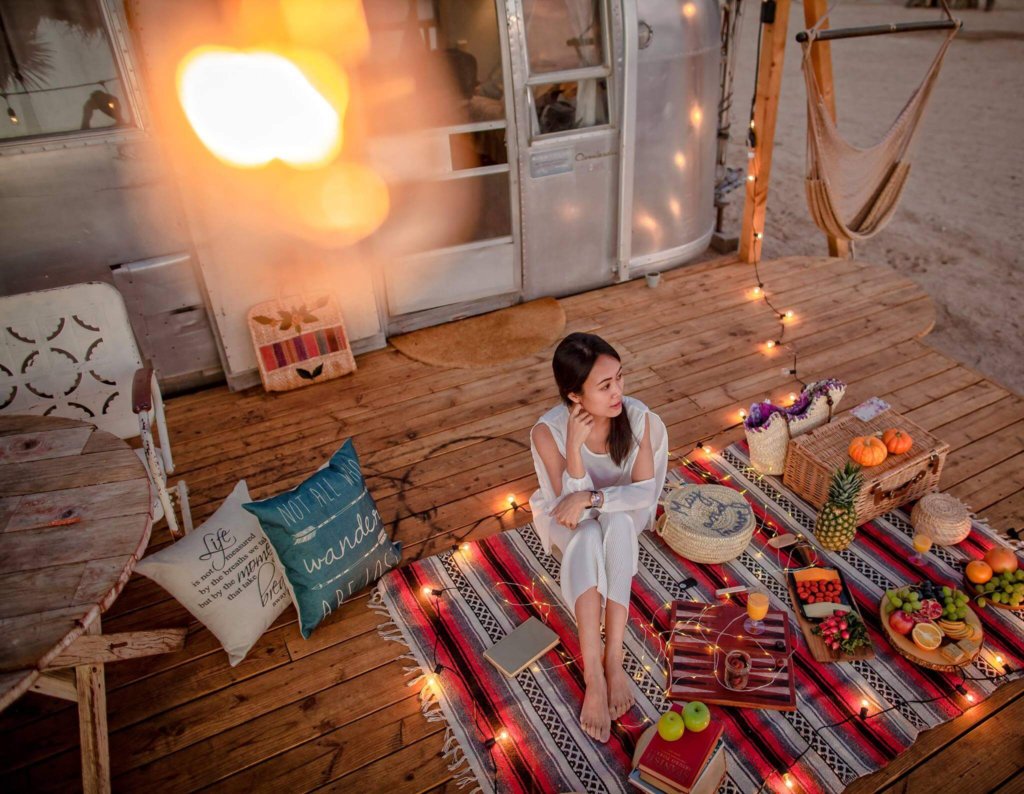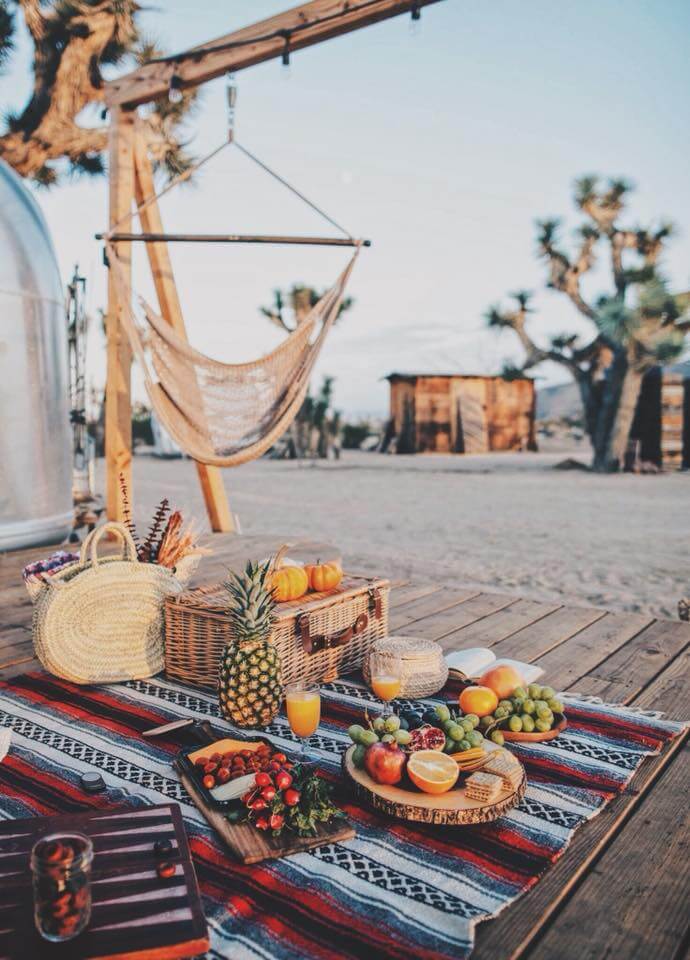 2. Visiting Cholla Cactus Garden
The Cholla Garden is one of the most striking stands of vegetation in Joshua Tree National Park! This unique landscape full of prickly cactuses is an amazing sight to witness and makes for great photos and views of desert nature.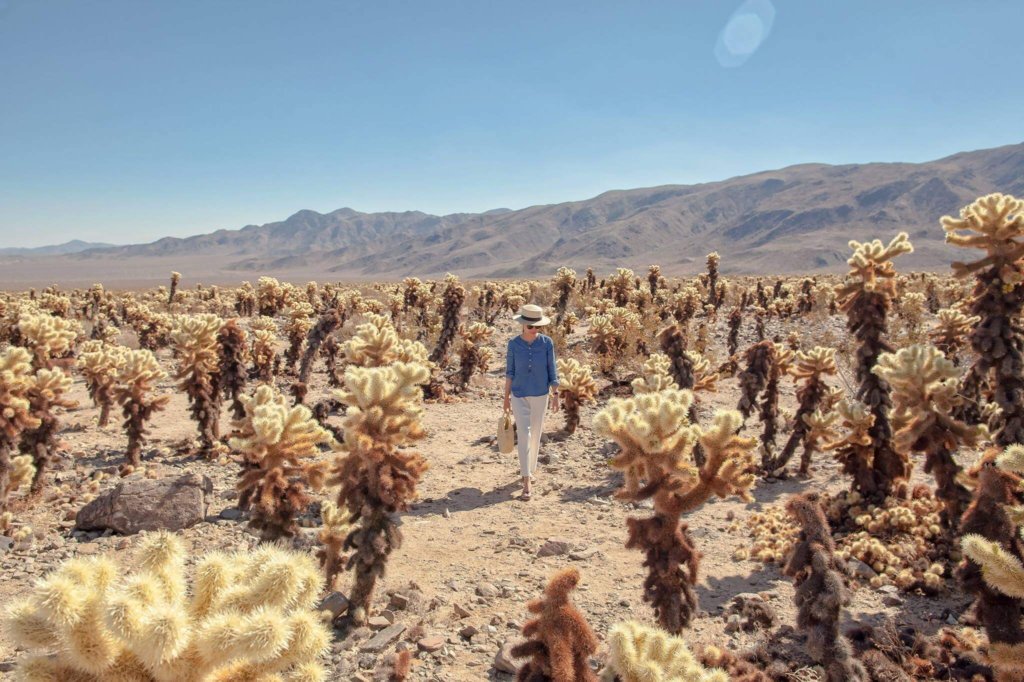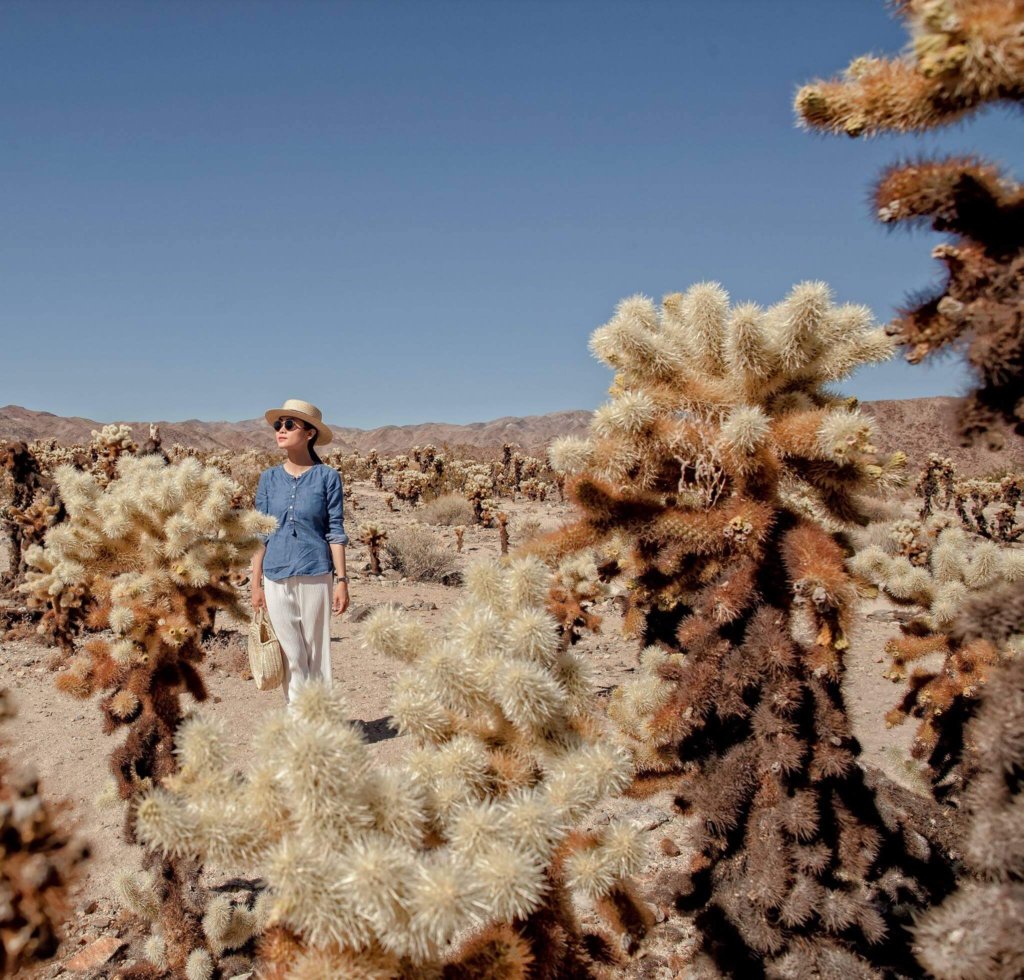 3. Visiting Skull Rock
Located in Jumbo Rocks Campground. It's easy to see how this unusual rock formation near Jumbo Rocks got its name. Erosion led to the creation of two hollowed-out sockets in this rock creating the appearance of a skull.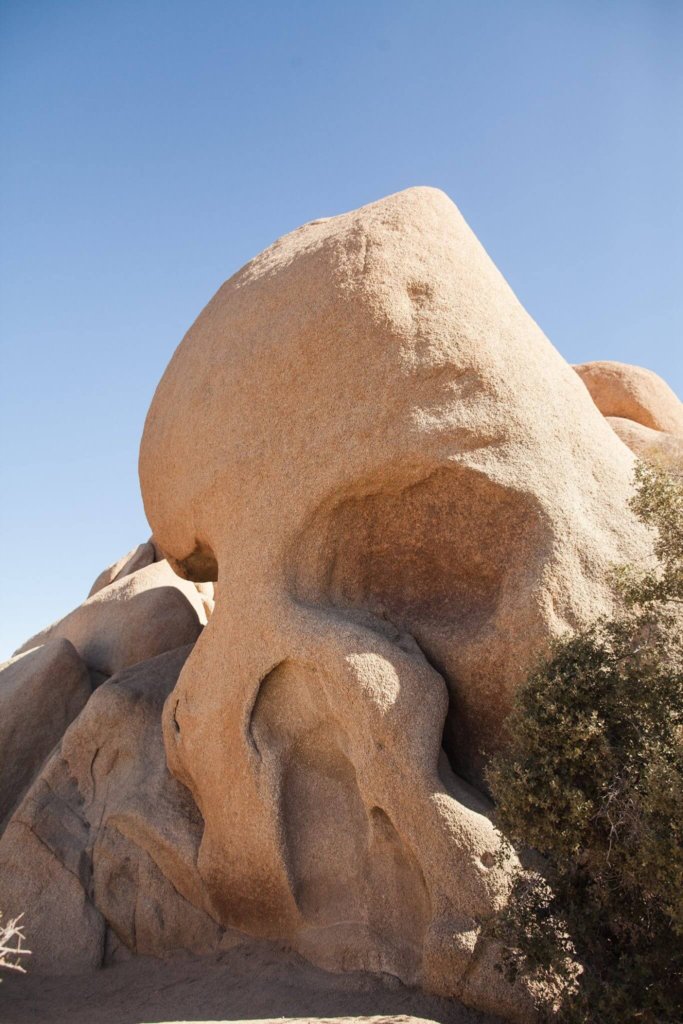 4.Take a Hike
With 191 miles of hiking trails and 32 trailheads, there are plenty of places to explore during your time in Joshua Tree National Park.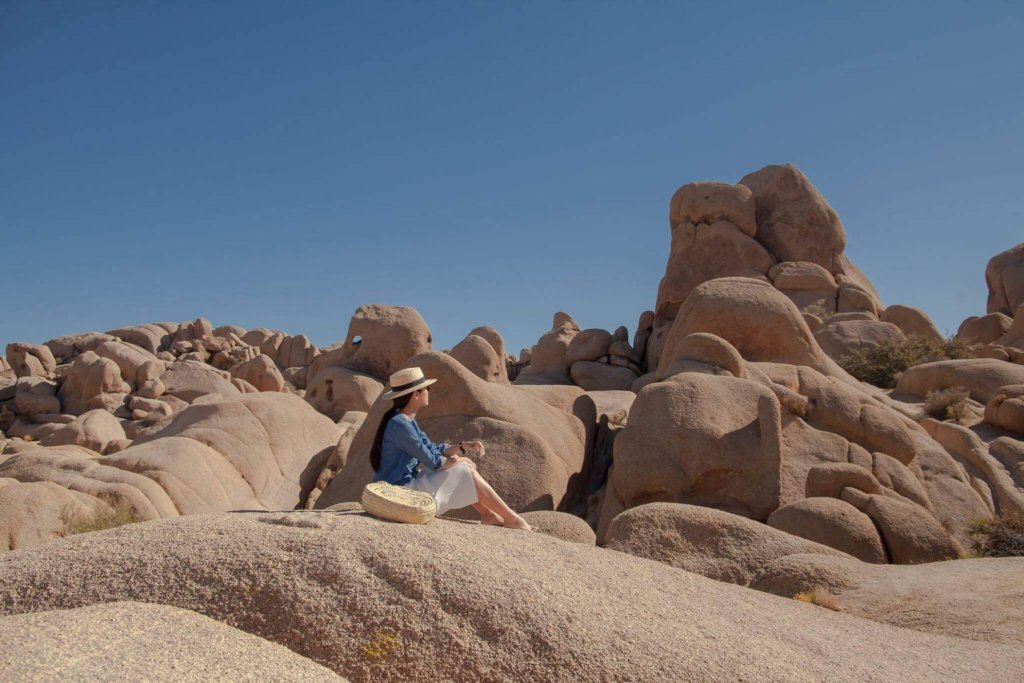 Whether you've scheduled time for a quick nature trail walk or a long, strenuous hike, you'll find those types of trails and more within the park!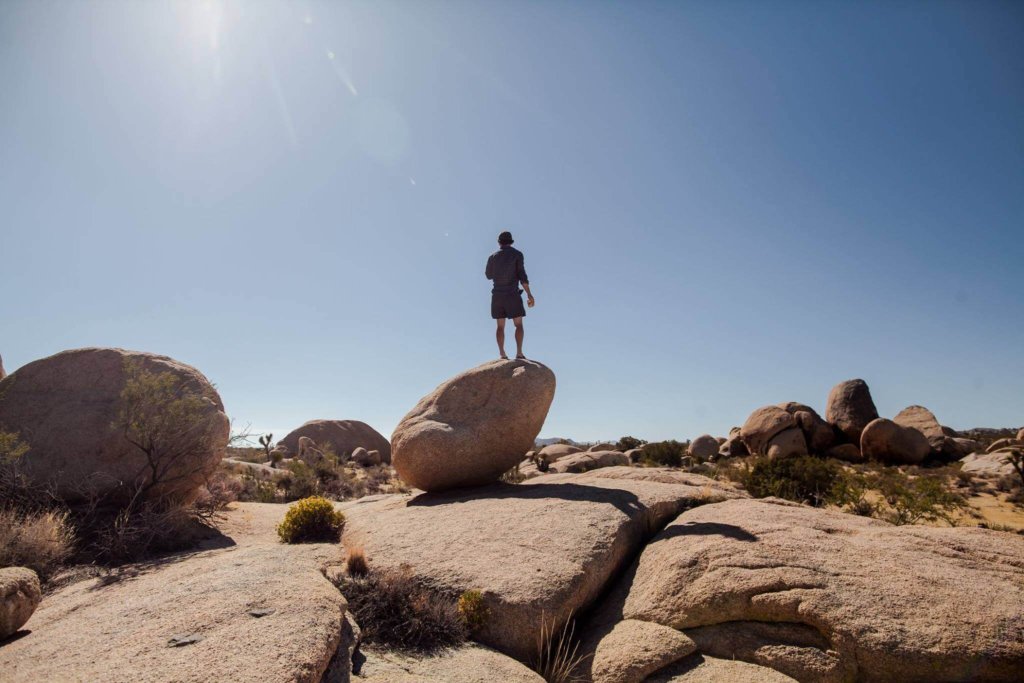 If you're just going for a day hike, your best options are the Hidden Valley Hike (a one-mile loop that takes you through a small valley surrounded by boulders), 49 Palms Oasis Hike (a three-mile hike to a small oasis and amazing views), or the Ryan Mountain Hike (a three-mile hike with amazing views of the desert from 5,000 feet).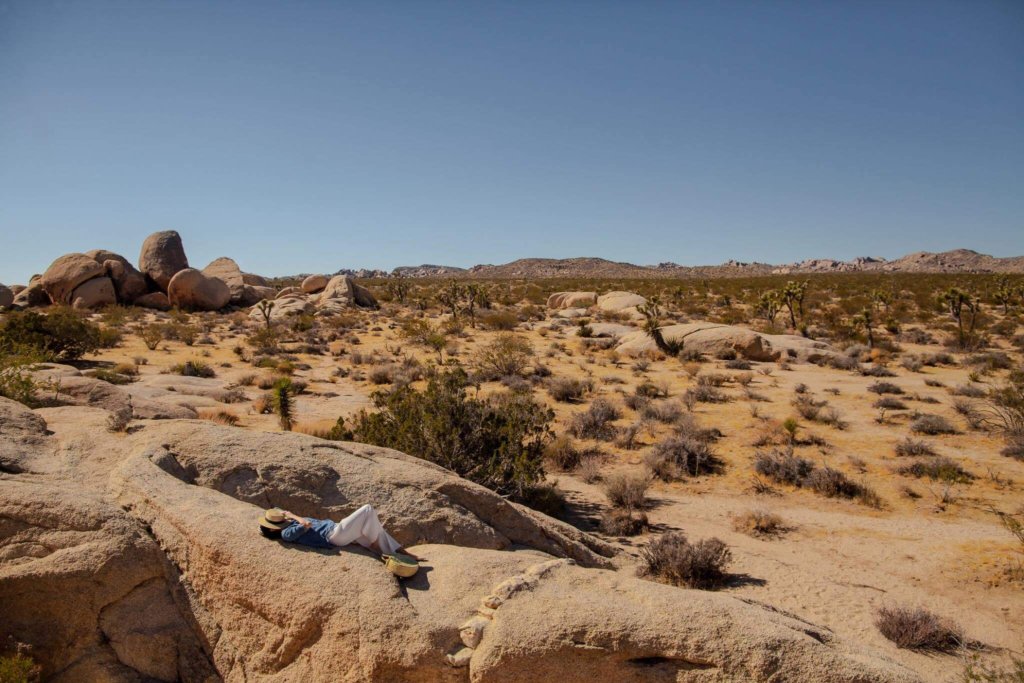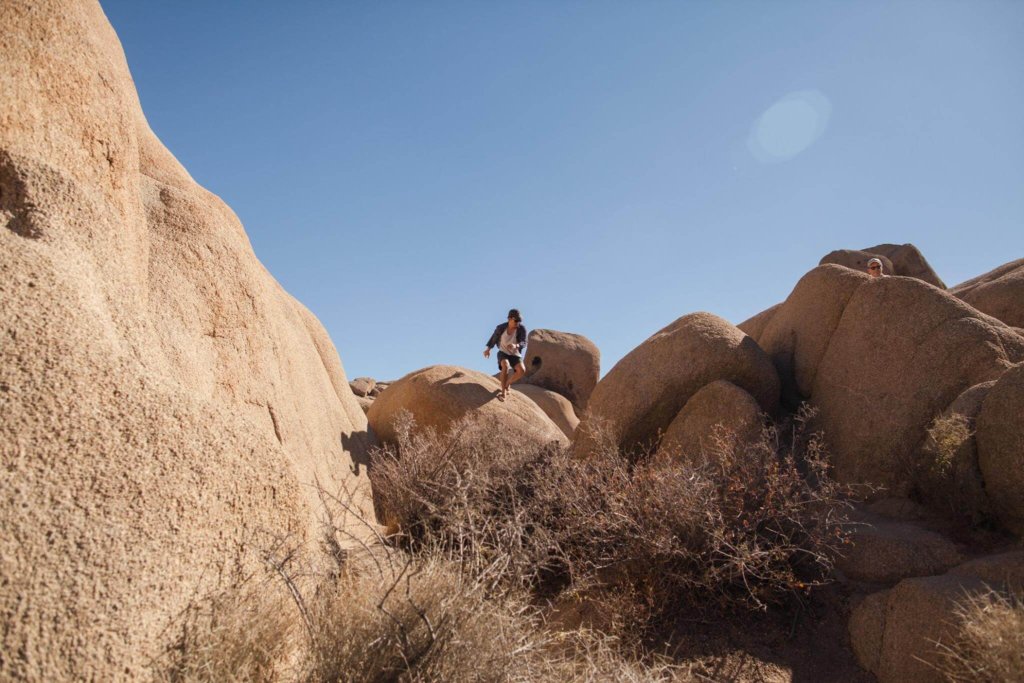 5. Driving Tour of Joshua Tree
We also saw a lot of great photo ops for Joshua Trees along the main road in the park.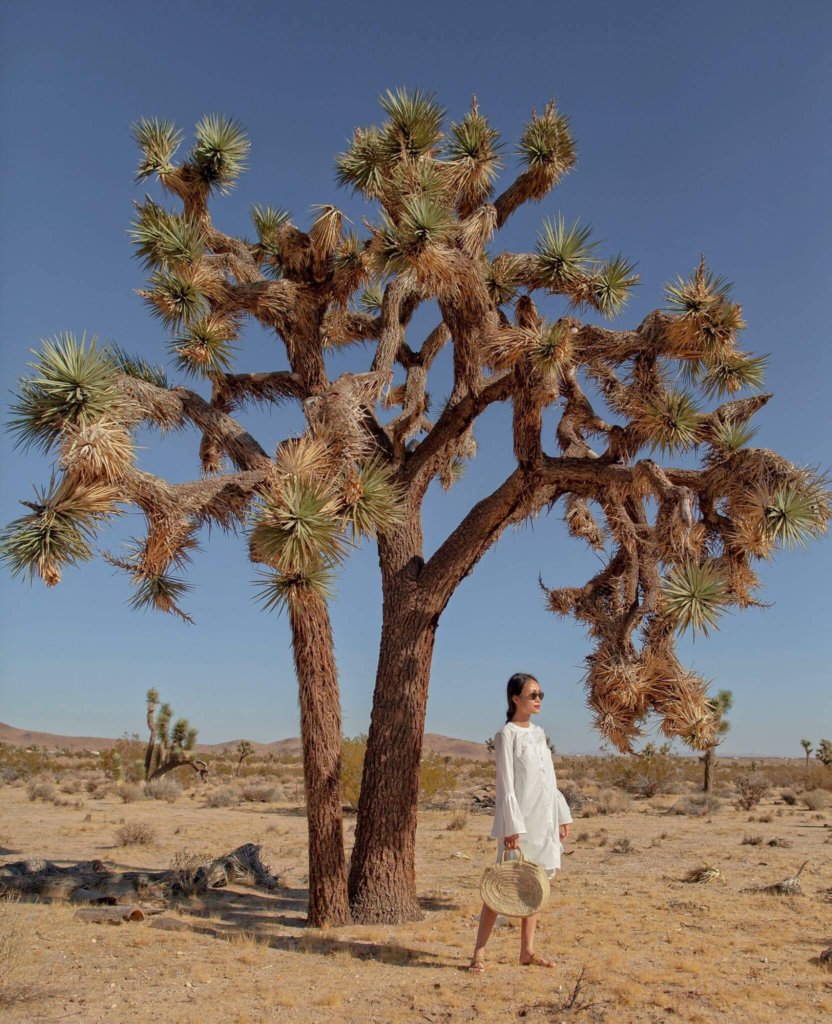 Helpful Tips:
Getting there: East on the 10 freeway towards Palm Springs. Then take 62 East to Joshua Tree.  The Joshua Tree National Park is easily accessible off Highway 62 via Park Blvd.
The entrance fee for the JT National Park is $25 per vehicle but includes reentry for 7 days. If you happen to be arriving on foot, motorcycle or bike, the fee is $10. On top of that, you'll pay $15 per site per night, or $20 per night per site at the three campgrounds with portable water.
There's no cell service or WiFi within the park.
Be Mindful of Desert Dangers! Dangerous plants – Cactus, Joshua trees, and yucca plants all have dangerous spikes, spines, or thorns that can be really painful if they come in contact with your skin.
There is very little water available in the park, so it's important to fill up at visitor centers or buy lots of water before you come into the park!
RELATED POSTS