Marrakech, Morocco: The Complete Travel Guide
The ancient city of Marrakech is an absolute must see destination for many travelers. It is an enchanting city of bright colors, exotic spices and tea, bustling souks, colorful textiles, gold lamps, leather tanneries, and so much more. This is the place where donkey-carts loaded with groceries share the narrow alleyways with whining mopeds and where gypsies, snake-charmers, herbalists, magicians, and folk singers wander on the streets. Prepare for all of your senses to be awaken at once! It's an enthralling and exciting place to be, but it can also be a tad overwhelming at times. People like to talk about these enchanting aspects of Marrakech, but rarely mention how difficult it can be to visit. It's not easy to be a tourist here. So here's my ultimate guide to Marrakech to ensure you have fun exploring this wonderful world of colors and chaos without feeling too intimidated!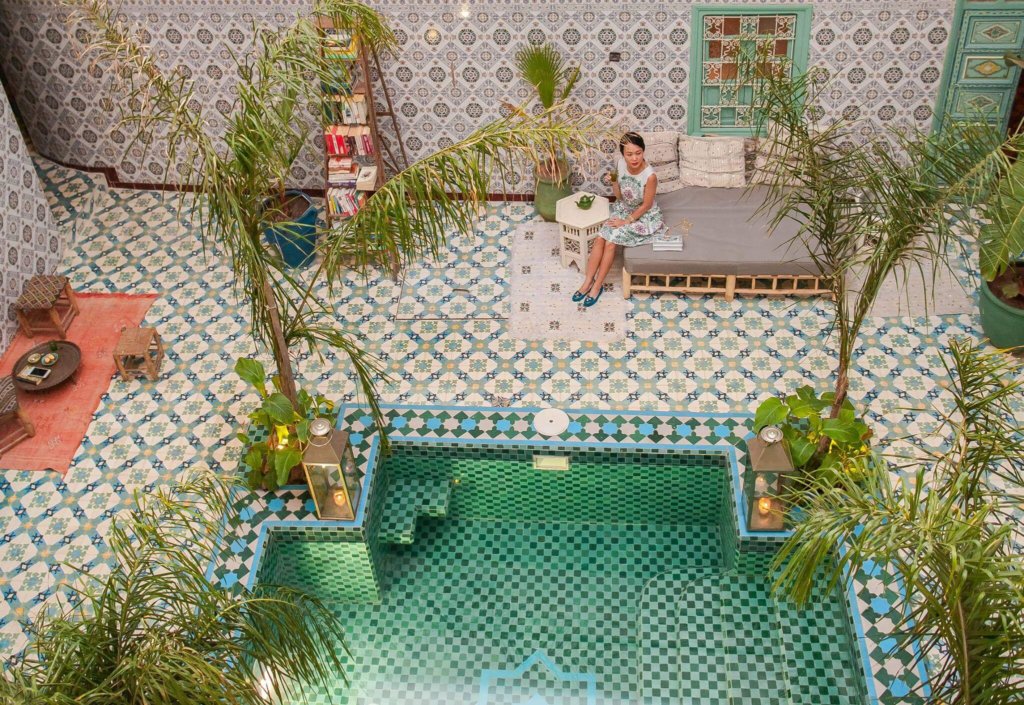 WHEN TO VISIT
The best times to visit Marrakech are from March to April and from October to November when the weather is in the 70°F range. These shoulder seasons offer desirable weather and lower hotel rates. The months of December and January can be very cold, but warmer compared to the rest of the country. Between June-August it can be brutally hot, reaching over 100°F average many days and the city sees a large influx of tourists and expats.
It should also be noted that during Ramadan, which occurs during the 9th month of the Islamic calendar, people of the Muslim faith will generally fast during the day. Many restaurants are closed during this time, especially during sunlight hours. Many tourists avoid visiting during this time of year.
TRANSPRTATION
Airport
First things first, before you arrive, be sure to have your hotel arrange airport transfer for you. Cabs are available, but after having sat in a plane for hours and having passed passport desk and visa control the last thing you want to do is negotiate with a foreign driver!
If you do not yet carry Moroccan Dirham with you, you should get at least a small amount of money directly at the airport — either at one of the official exchange offices or at one of the four ATMs inside the terminal building. I strongly advise that you have some cash ready before stepping out of the airport. In Morocco, cash is key, and it can be very tricky to locate an ATM around the medina and you don't want to be left asking locals where the nearest ATM is. You want to exchange for a lot of small bills to shop at the souks. ($1=10dirham)
Getting around
Fortunately, most travel within Marrakech can be done quite easily on foot. However, there are some journeys that you may prefer to make by taxis! Some drivers are fair and pleasant, but other taxi drivers will try to charge as much as they think they can get away with.
If you don't want to negotiate and then having to fight over the overpriced taxi fares or have misunderstandings with the taxi driver about where you want to go,  the best way is to arrange your taxi journeys through your riad staff. That way your driver will be able to speak basic English, the taxi will have air conditioning, the driver will know where you are meant to go to and if you have any problem you can contact your riad.
But if you prefer picking up taxis on your own, remember these tips:
Don't pay with large bills: if you pay with a 200-dirham bill for a 20-dirham ride, most likely your taxi driver will not have change!
Arrange the price before getting into the taxi: most taxis in Marrakech don't turn on their meter or even have one
Most taxis do not have air conditioning 
WHERE TO STAY
There are two major types of accommodations that are common: riads and hotels. For luxury and 4/5 star comforts you will choose one of the hotels outside the Medina, but it you want to get the real Marrakech experience, book a riad inside the medina because these are the most exciting and atmospheric places to stay.
What is a riad? Riad is a traditional house in Morocco. The riads are made from old, large and traditional house that have been restored. It is characterized by having an inner courtyard or a garden as the central element of the building. From the outside these lodgings look like any other old residential houses but step inside and you will find a relaxing oasis away from all the hustle bustle!
Riads are centrally located and usually run like intimate guest houses. A typical riad has only about 5-7 rooms. This allows individual attention from the owners and the staff. The rooms are decorated in the traditional Moroccan style and have a private bathroom. Within walking distance from the medina and with their room rate starting from around £50 per night these riads make great-value city bases.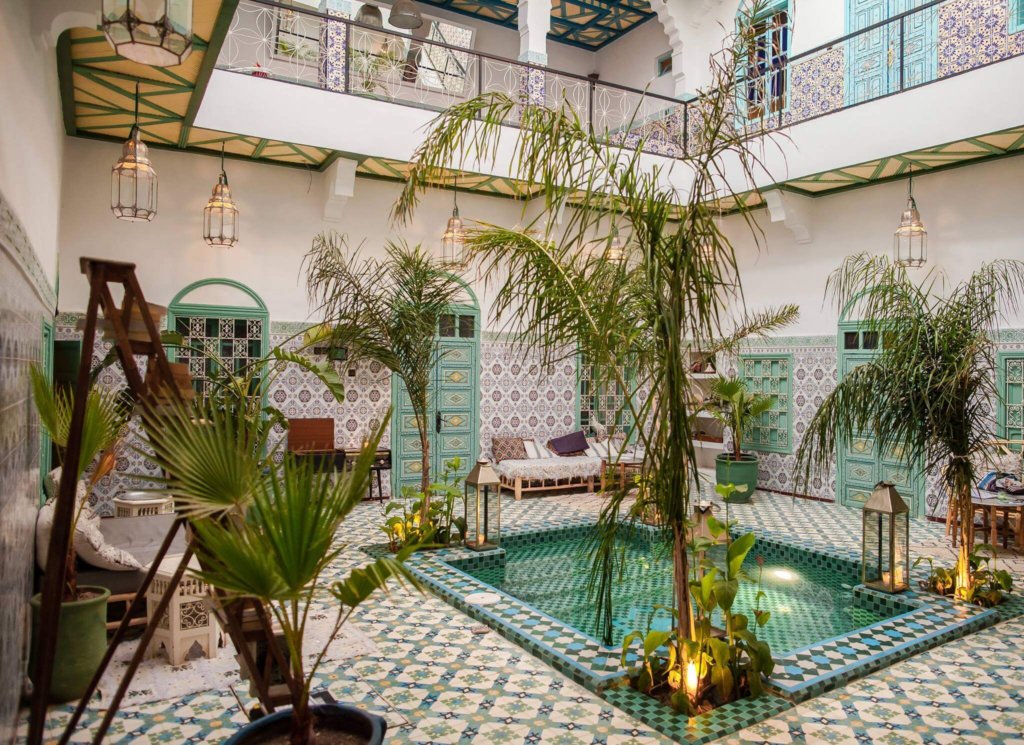 Of course, a riad isn't always suitable. Many of them are far from the main roads or difficult to get to. So hotel is the other option! Hotels are found in the New City, which means that they are in the more modern part of Marrakech. Unlike the riad, you can always drive to your hotel. The rooms are decorated in a more European fashion and are very comfortable. Most hotels have gyms, pools, and other essential facilities. The pros of staying in a hotel are the conveniences; you will always be well cared for and have standard amenities/services that you're used to. The cons are that you will not have the full authentic experience of staying in Morocco.
During our stay in Marrakech we stayed in both riads and hotels. Here's the list of our favorites!
Riad BE Marrakech: The boutique hotel is located near Jemaa el Fna in the middle of the souk in the old historical medina.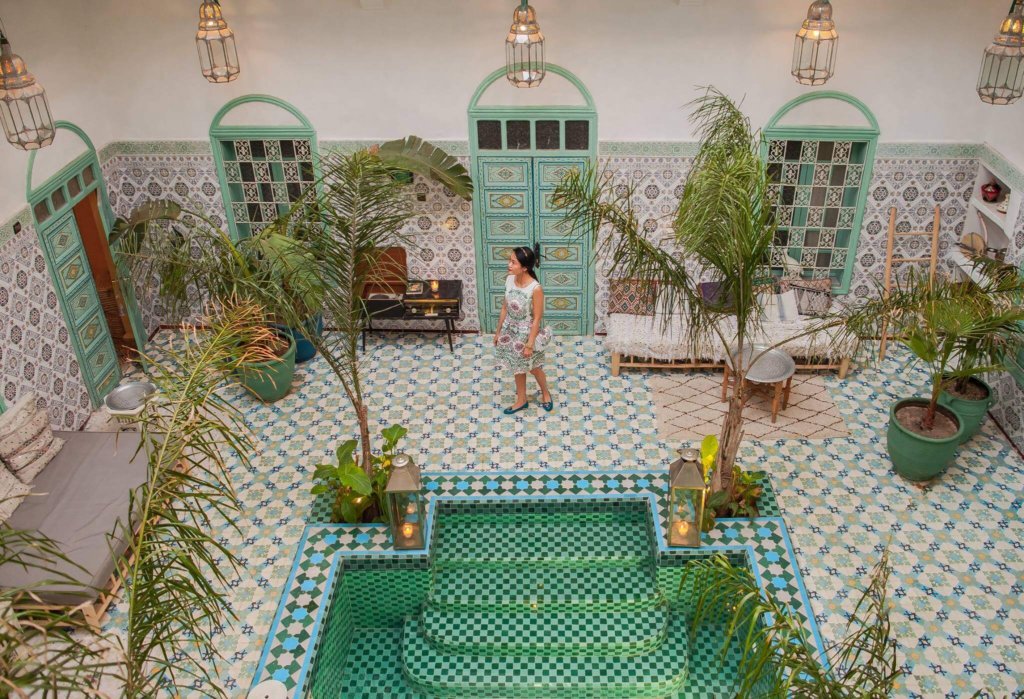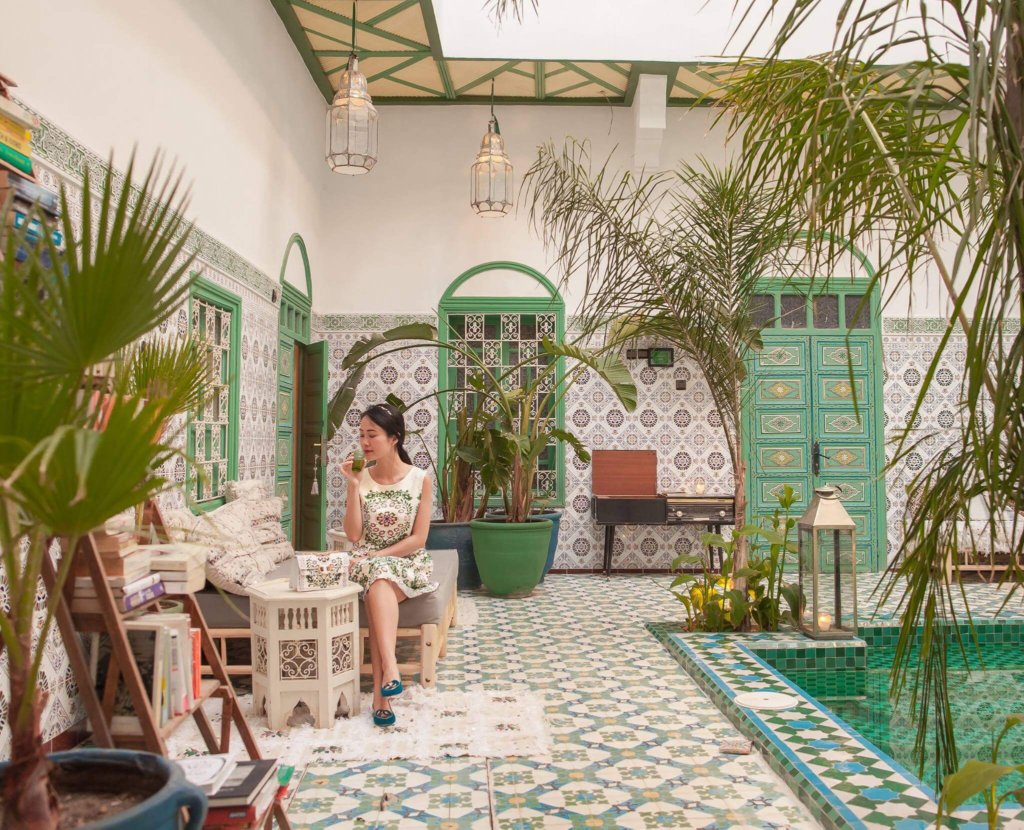 Riad Yasmine: Although this riad was on top of my must stay list, it was overbooked when I planned my trip (due to its high popularity on IG). So I will use pictures of the riad that I found on their website!
Riad Ambre et Epices: located in the heart of the old quarter of Dar El Bacha and very close to the famous Souks. This old house was renovated with respect for Moroccan art and tradition!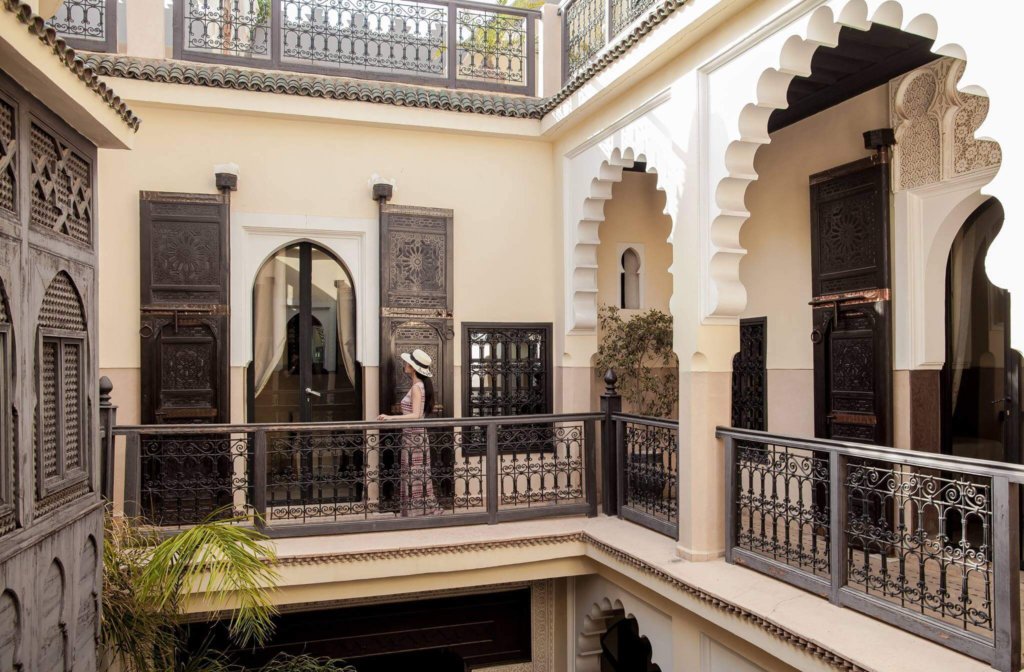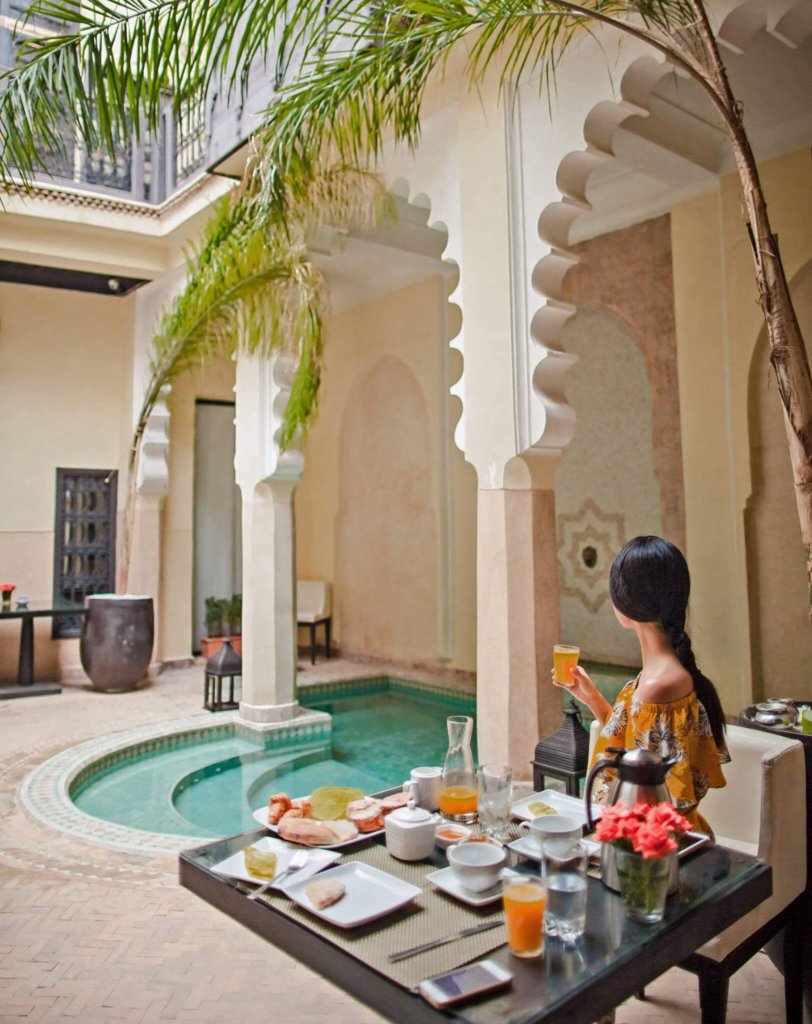 La Mamounia Palace Hotel :Located near the center of Marrakech, it's only 10 minutes from the airport by car, La Mamounia is truly one of the most exquisite hotels I have ever been to. The environment is regal in every detail, and the interior design is stunning!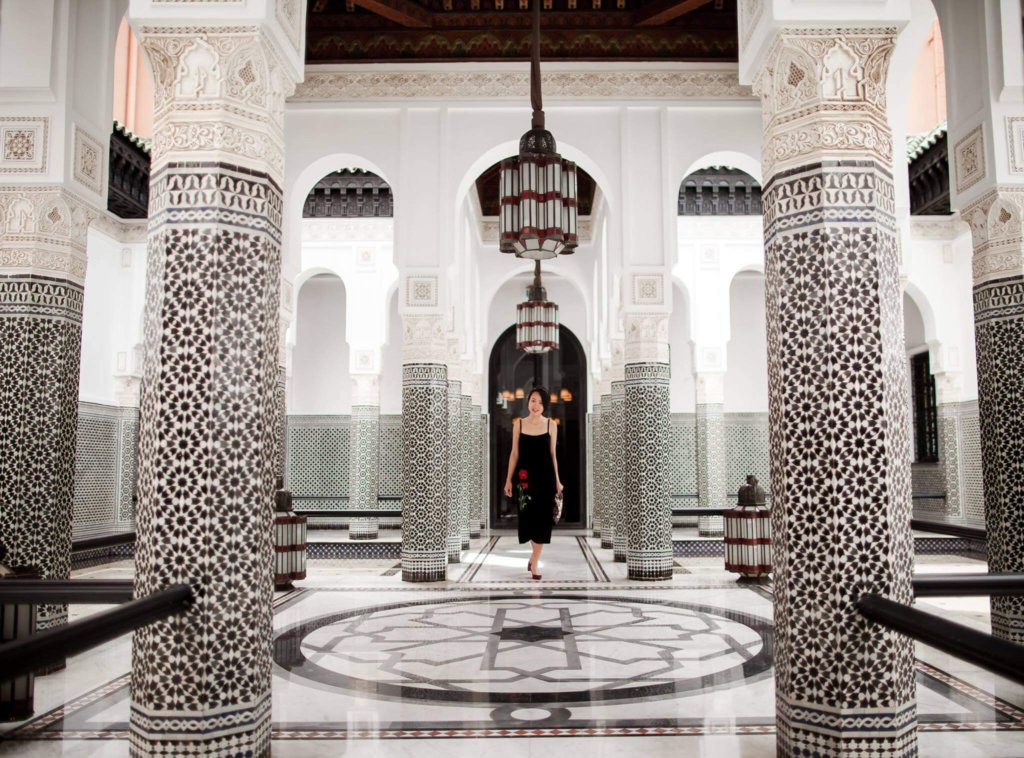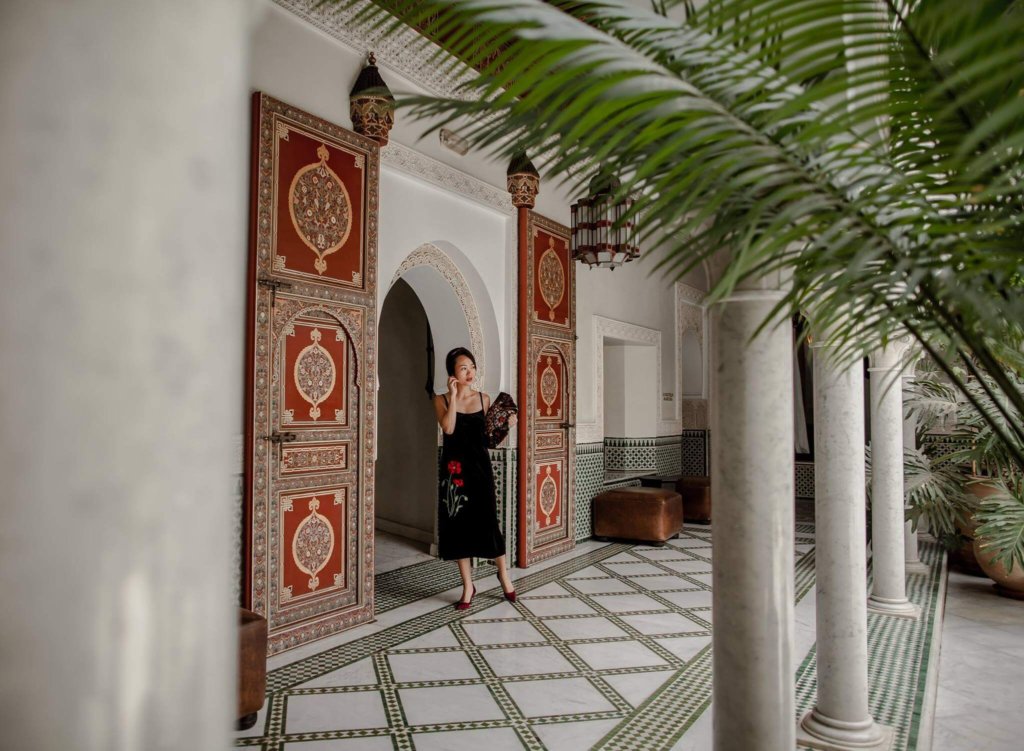 Royal Mansour:  set within the walls of Marrakech's old city, is an oasis of elegant riads, quiet courtyards and intimate restaurants. There are three restaurants: French haute cuisine, traditional Moroccan and the international La Table.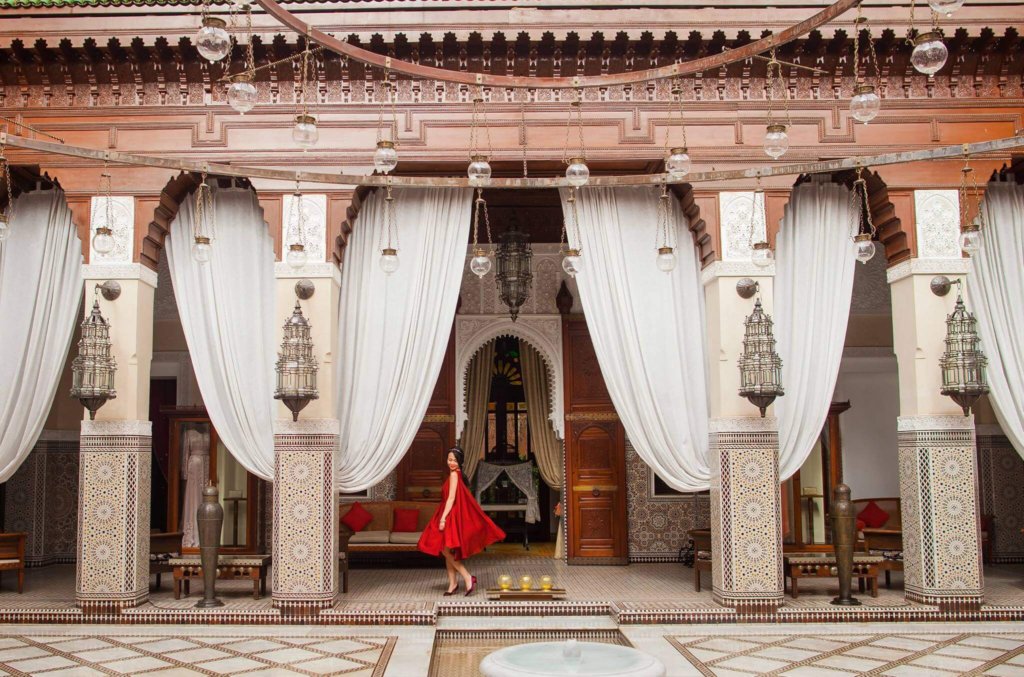 SURVIVING THE SOUKS IN MARRAKECH
Marrakech is a city with great colors and vibes. It is well known for its markets and shopping in the Medina (old city). The souks (markets) of Marrakech are situated right in the heart of the Medina (the area inside of the main wall) where no cars or public transportation can fit up. You either have to walk or ride motorbike and it's full of narrow alleys that all look the same. You'll have people shouting at you, staring at you, following you up the street, and pulling you to their shops. So here are my tips to help you experience the souks more pleasantly!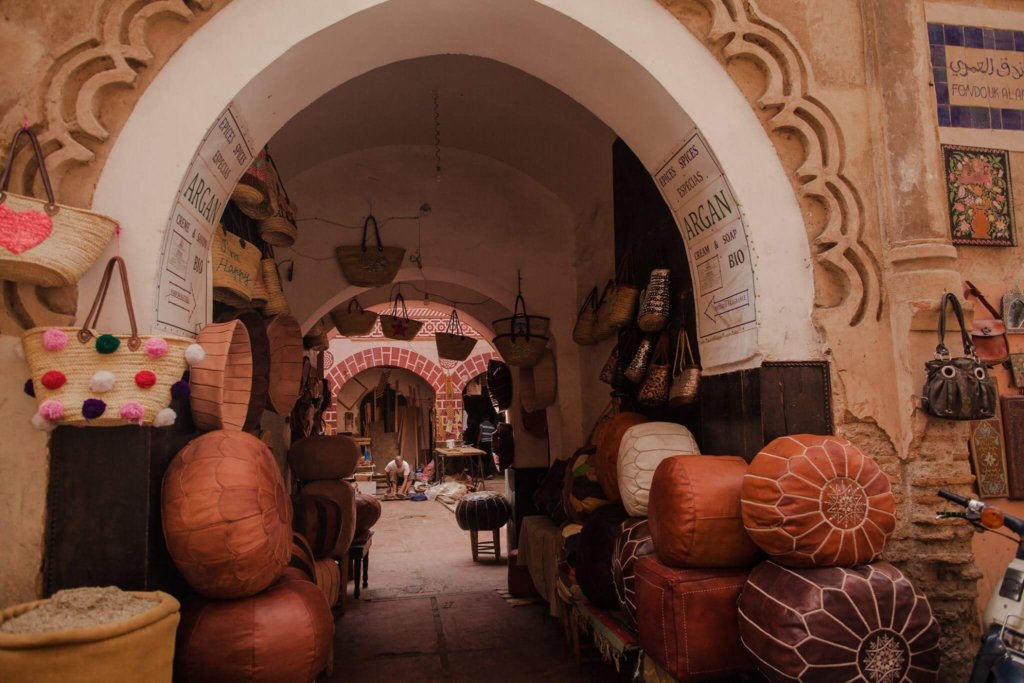 Learn to say No: Moroccan vendors can be very persuasive. Give them a firm NO so they give up on pulling you into their shops!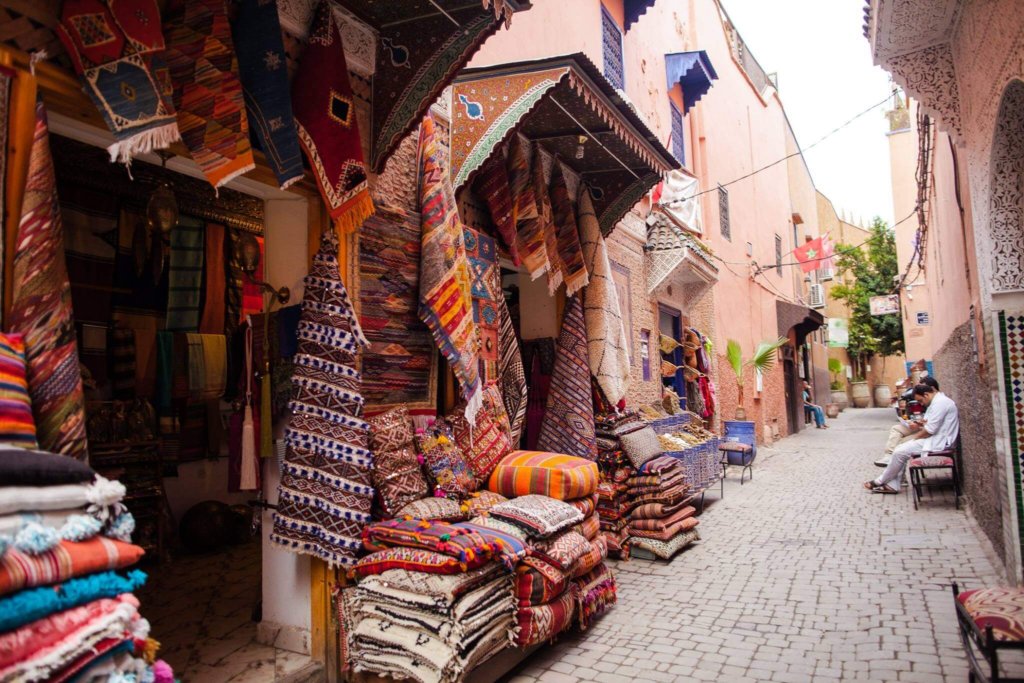 Bargain: Assuming you have found something you want to buy, the next step is to bargain- it is the norm. Shop owners expect you to do so and they start off the proceedings accordingly. Work out in your head how much you would be willing to pay for it and then reduce that figure by around 30% – 50%. It's also a good idea to do a bit of research first – ask the price at a few different stalls to get an idea of what the going rate is.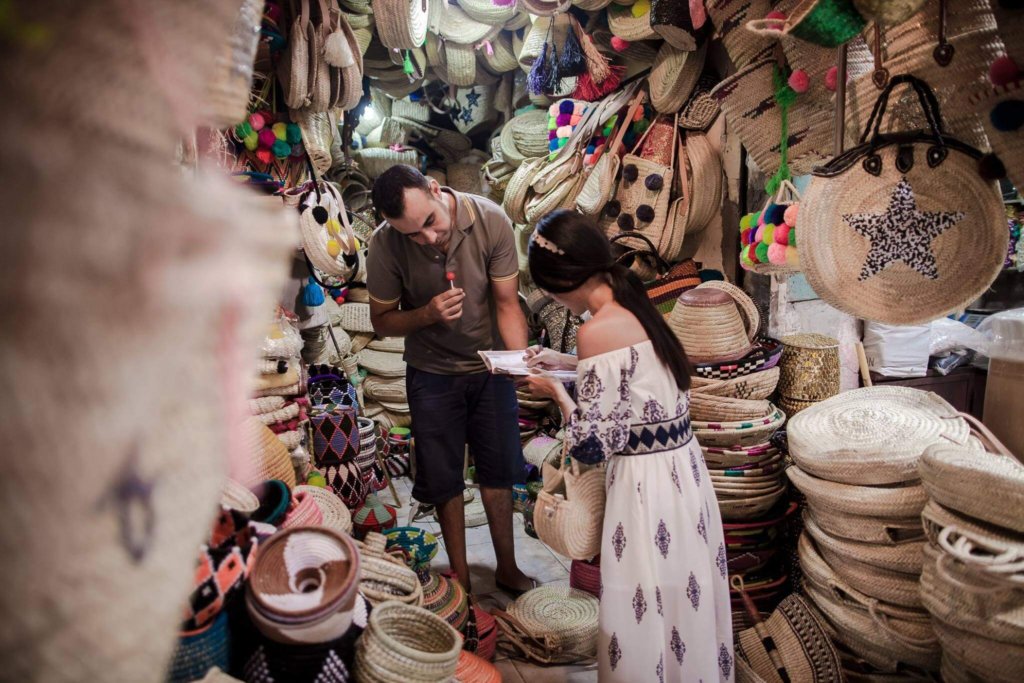 Caution with photography: you will find that some people in the souks really don't like you taking their picture. Or if you do they will ask for money after. If you want to take a picture of someone in particular ask them first!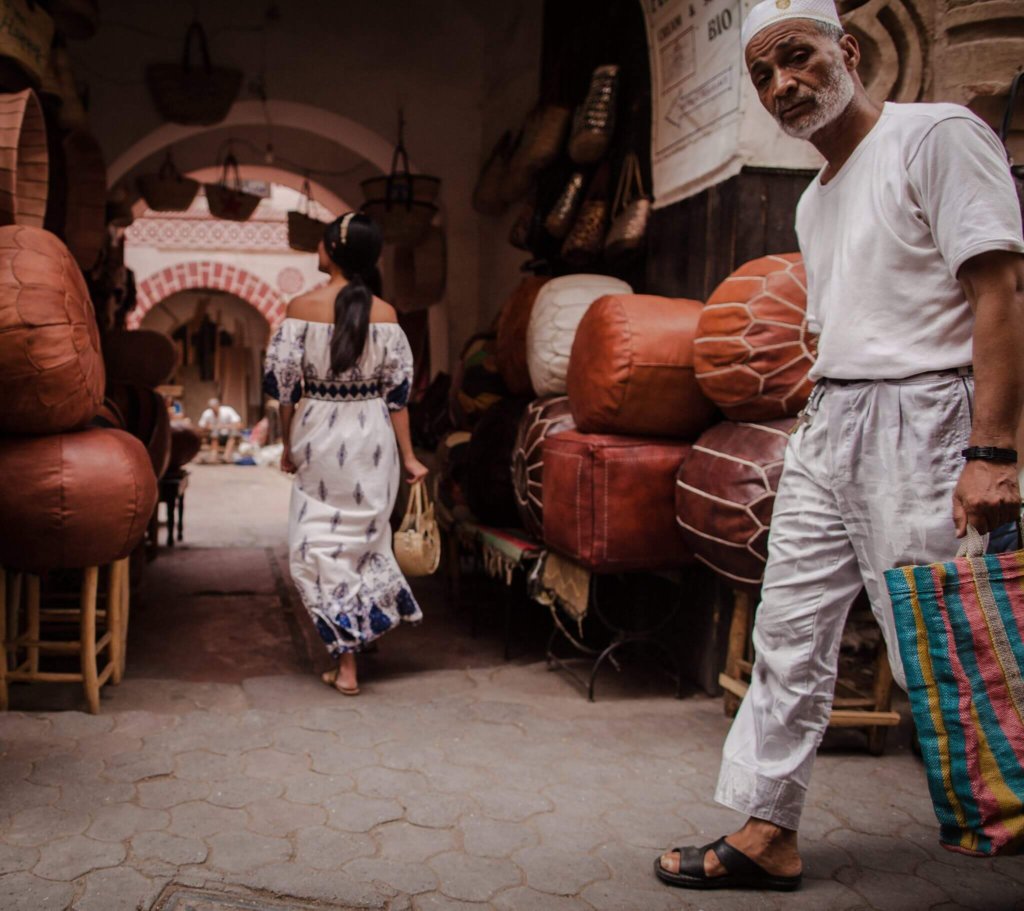 Stay Alert: make sure you keep an eye on what's happening around you. Those narrow alleyways aren't just used by people; these alleys are shared with motorbikes, carts, and donkeys. And keep an eye on your belongings!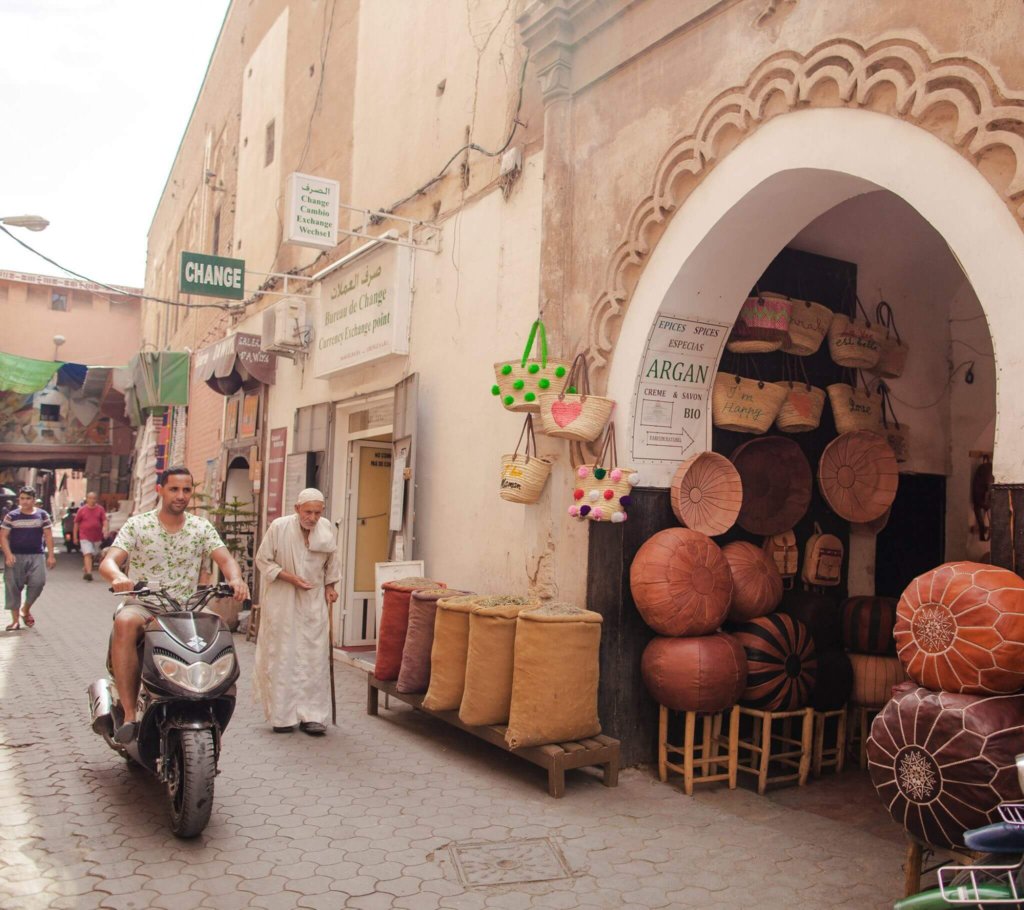 What to buy: The most common items you'll spot in the souks include leather goods, bags, shoes, slippers, carpets, rugs, lanterns,..And if you are more foodie-inclined, the olives, nuts and dates are not to be missed.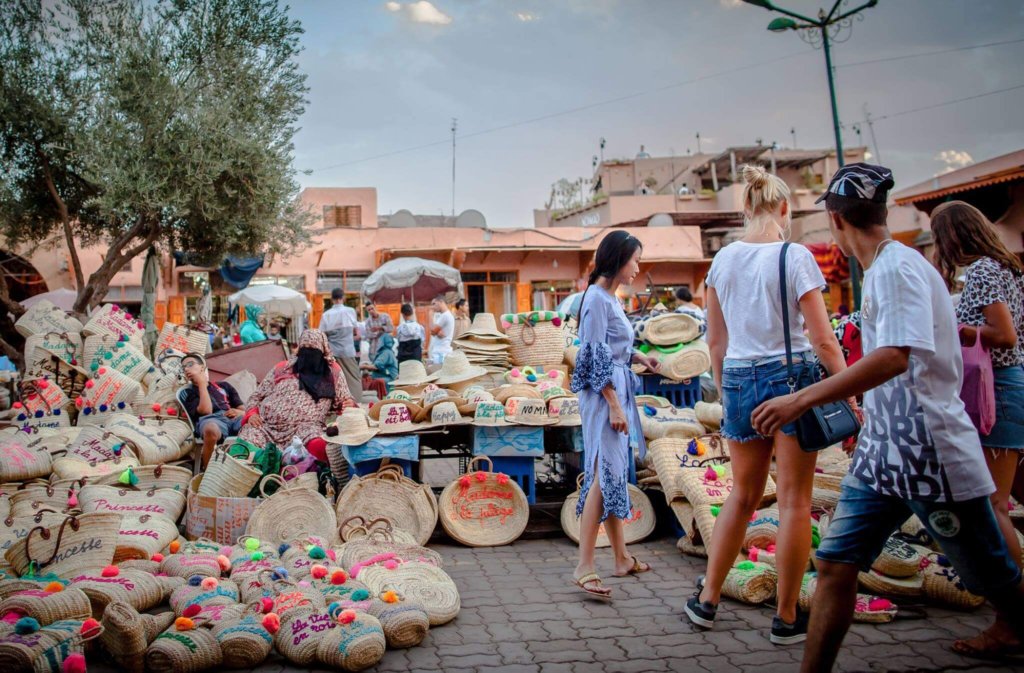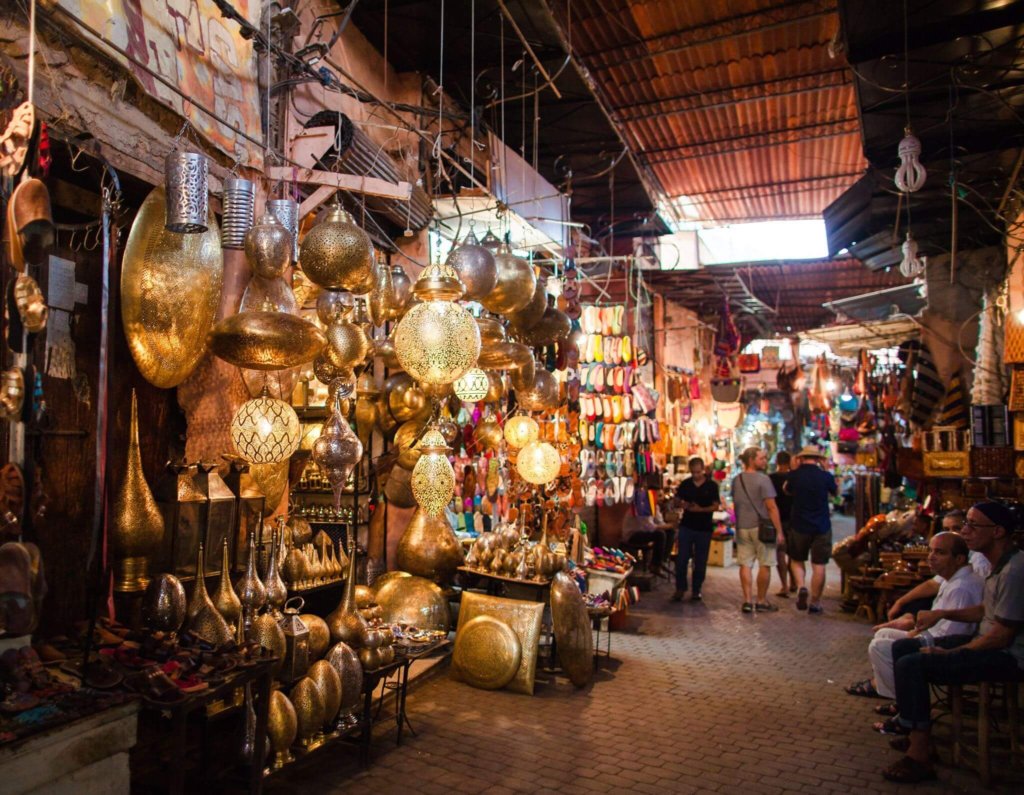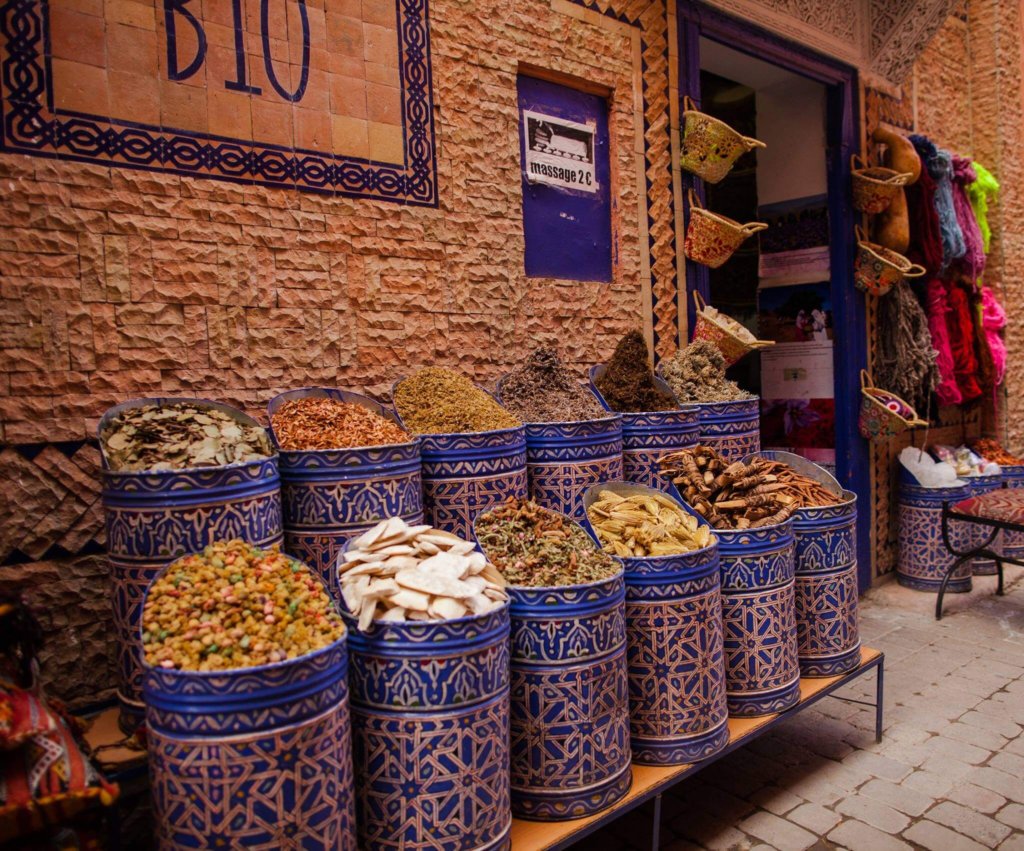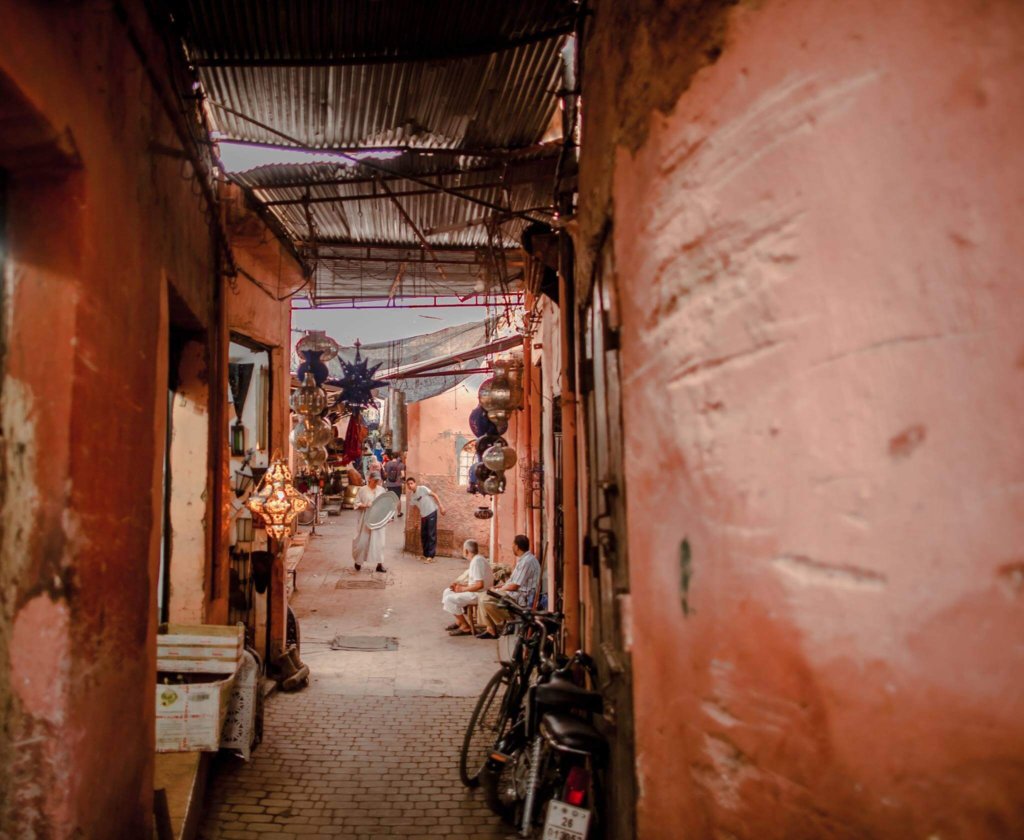 Have Dirham notes at the ready: It's expected here that if someone helps you out then you should give them a tip. This includes when they walk you to your hotel, hostel, or wherever you are going. It would be wise to have a lot of small notes ready if you are about to walk into this area.
Top Things to See and Do in Marrakesh
Besides exploring and getting lost in the souks, there are many more things to do and see in Marrakech:
Visit the Ben Youssef Madrasa –was an Islamic college founded in the 14th century. It was at one time the biggest college in North Africa. It is greatly admired for its beautiful tile and woodwork, colorful mosaic walls, and Italian marble. The main courtyard has some stunning tile work and makes for wonderful pictures. It's open from 9am-7pm with abbreviated hours in the winter. Admission costs 20 MAD.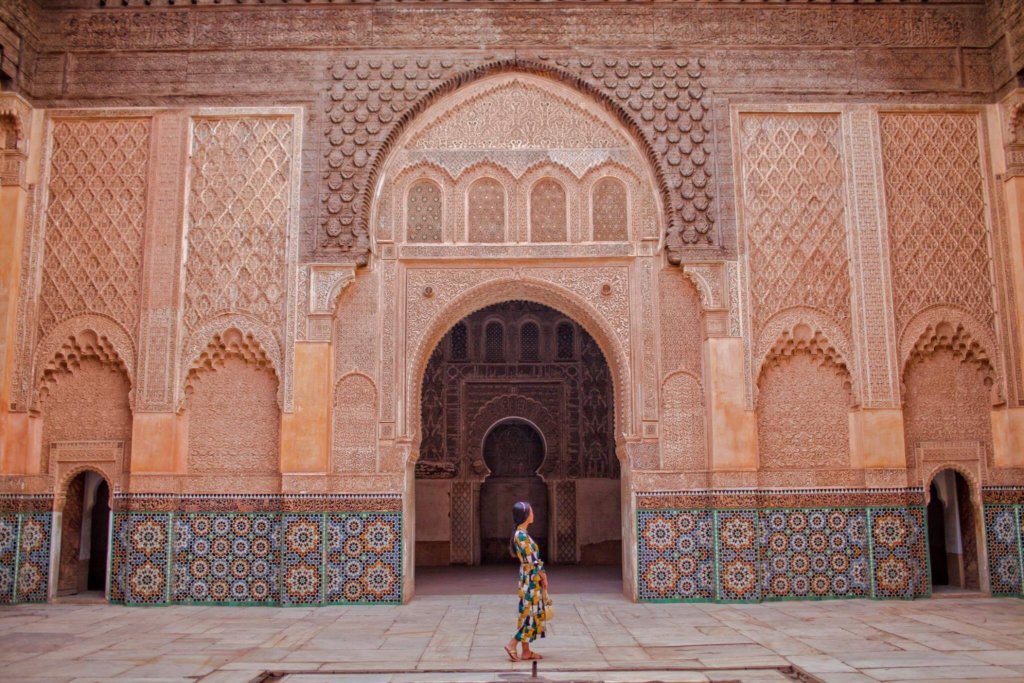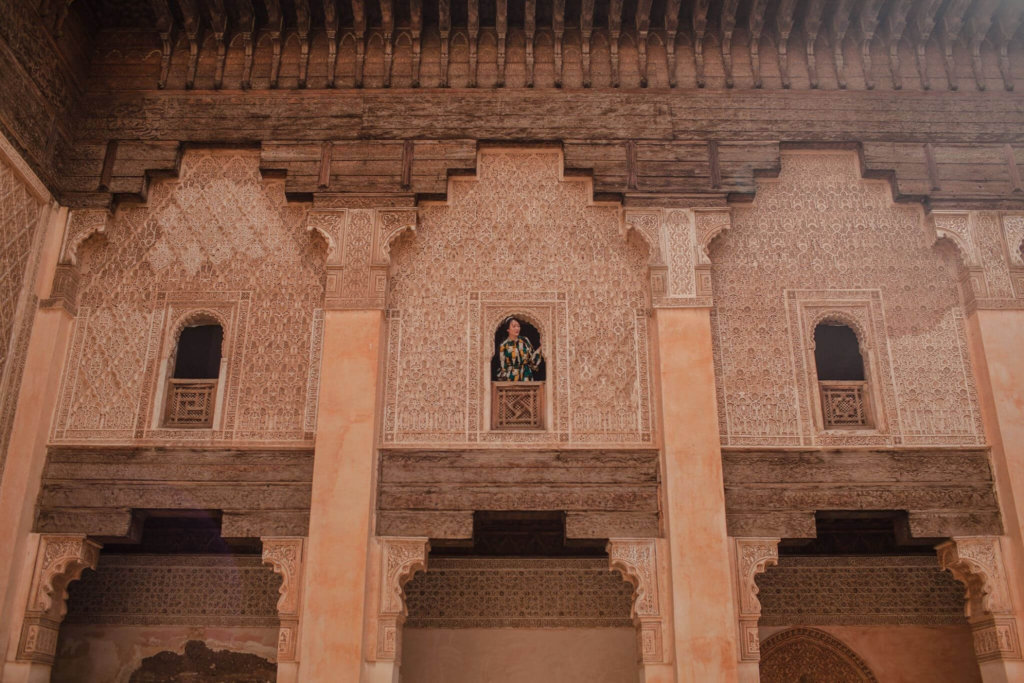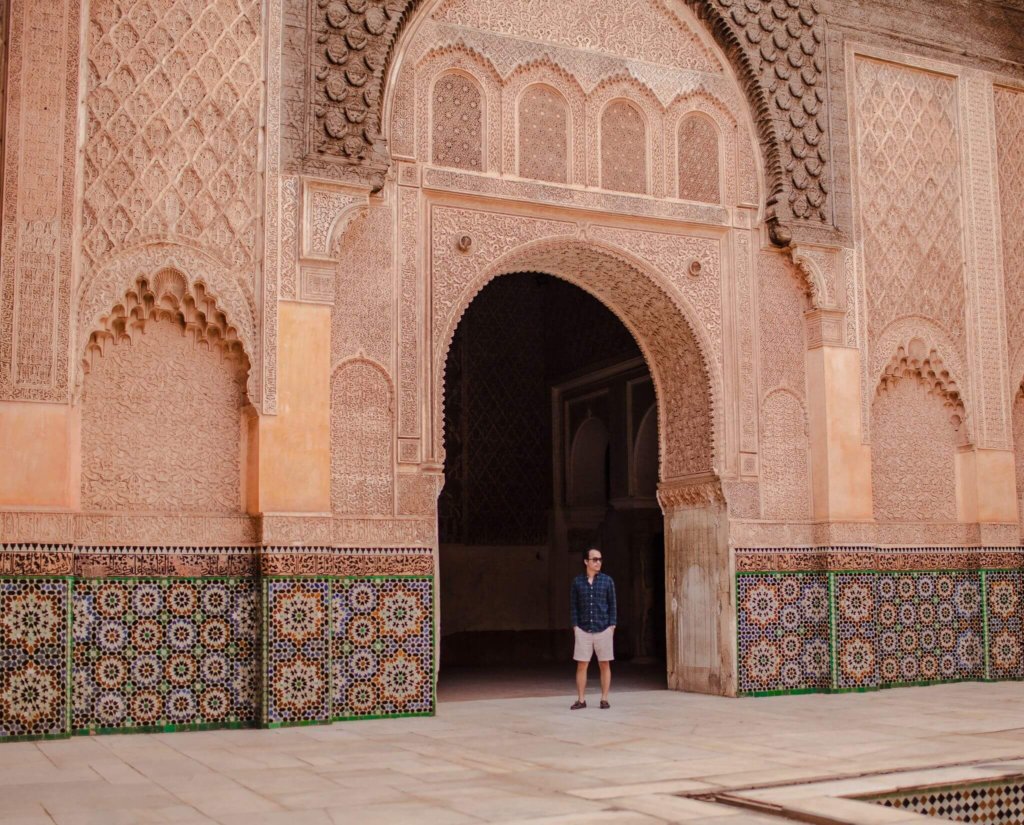 Get lost in the Jardin Majorelle –In the midst of the hectic Marrakech, there is an Eden-like garden restored by Yves Saint Laurent. A fabulous ensemble of plants, colors and materials, this fascinating oasis will enchant you as a great place to relax.The garden is famous for its china blue that goes back to the French Jacques Majorelle, who created this little paradise in 1923. In 1964, Saint Laurent and his partner Pierre Bergé bought the electric-blue villa and its garden and keep it open to the public. There is a 70 MAD entrance fee for the gardens, and a 30 MAD fee for the museum. It's open daily from at least 9am-5pm.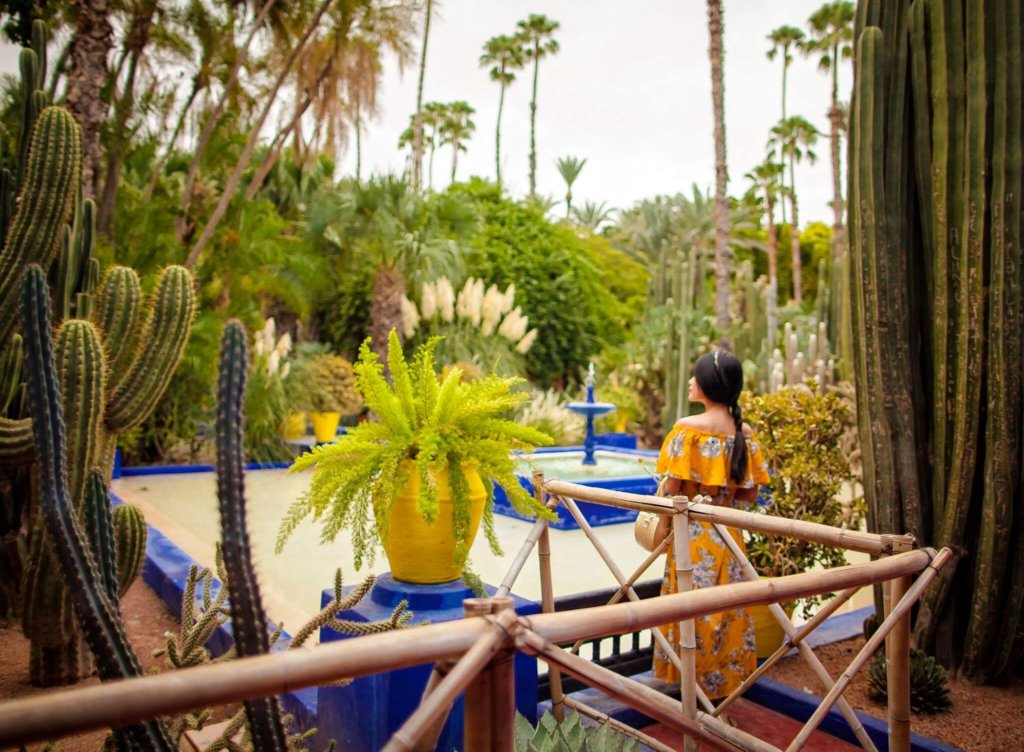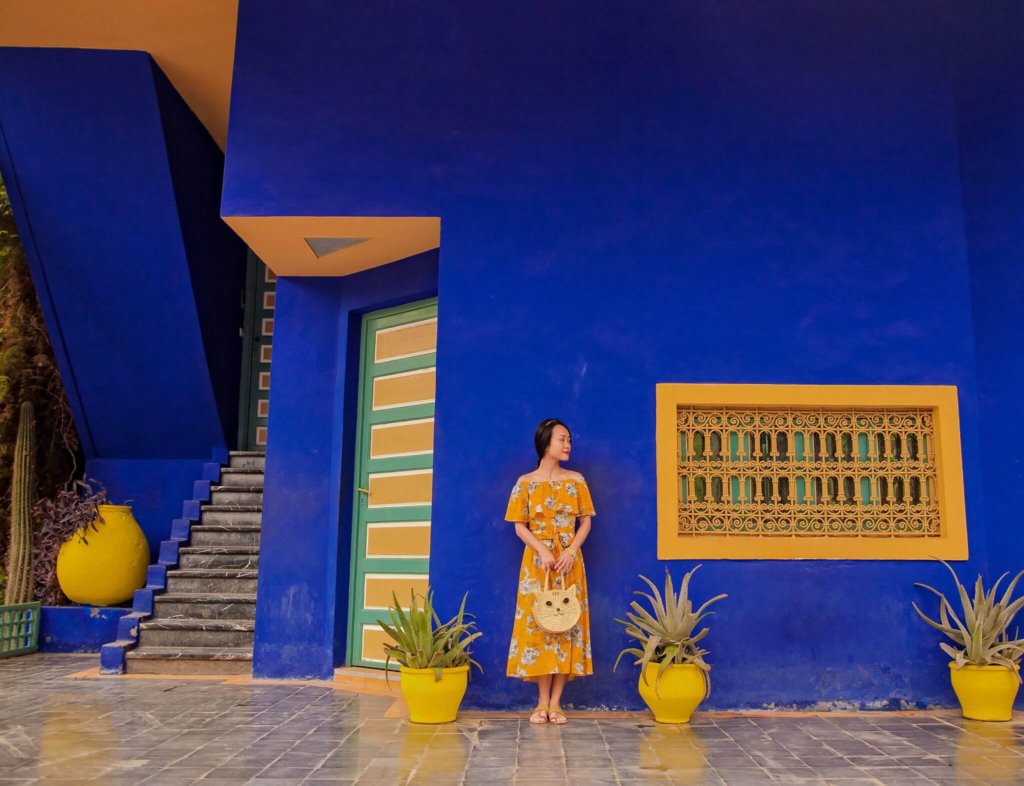 Visit the Bahia Palace – La Bahia, "the beautiful," was built by Morocco's most noble artisans over the course of 14 years. Although the palace has 150 rooms, only a fraction of it is open to the public. Entrance is 10 MAD.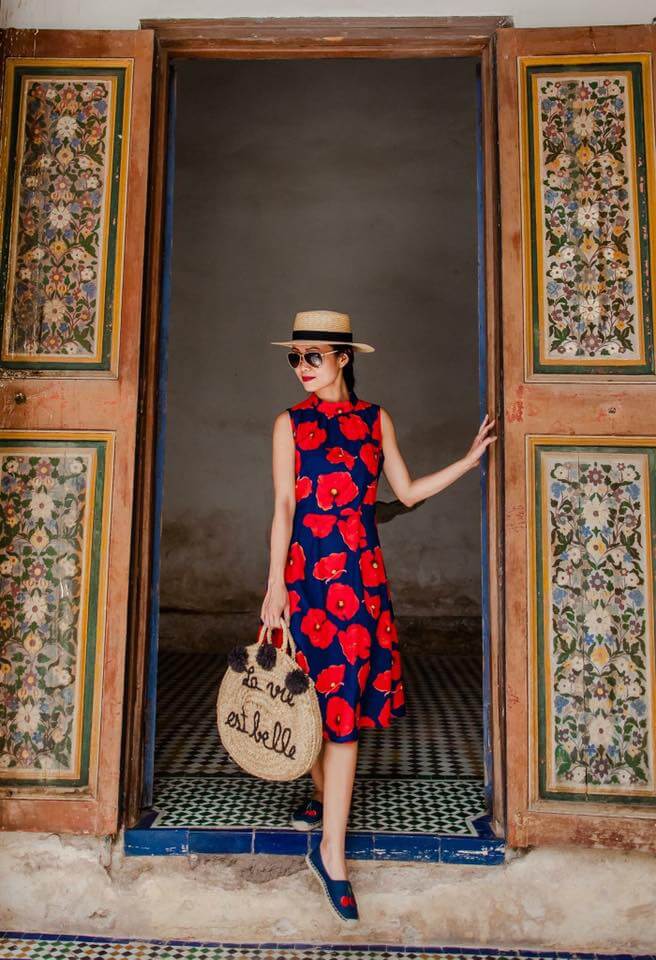 Visit the El Badi Palace: The palace complex consists of a large rectangular-shaped courtyard, the center of which was laid a pool of 90 m by 20 m in the center of which stood a monumental fountain with two superimposed basins and surmounted by a water jet.Open daily 8.30am-11.45am and 2.30-5.45pm; 10dh (75p).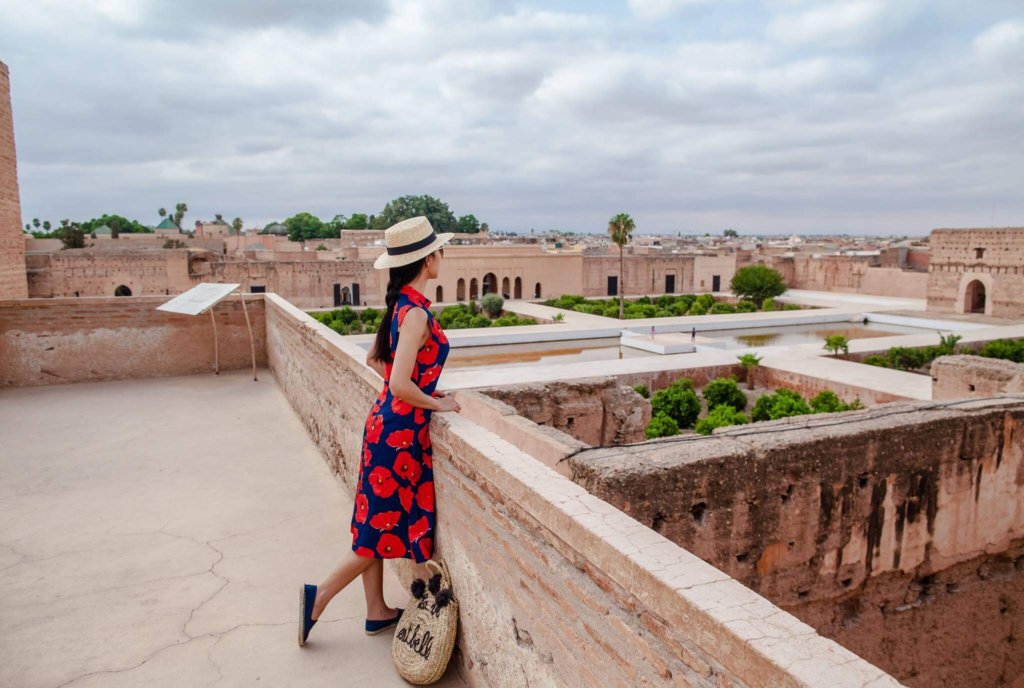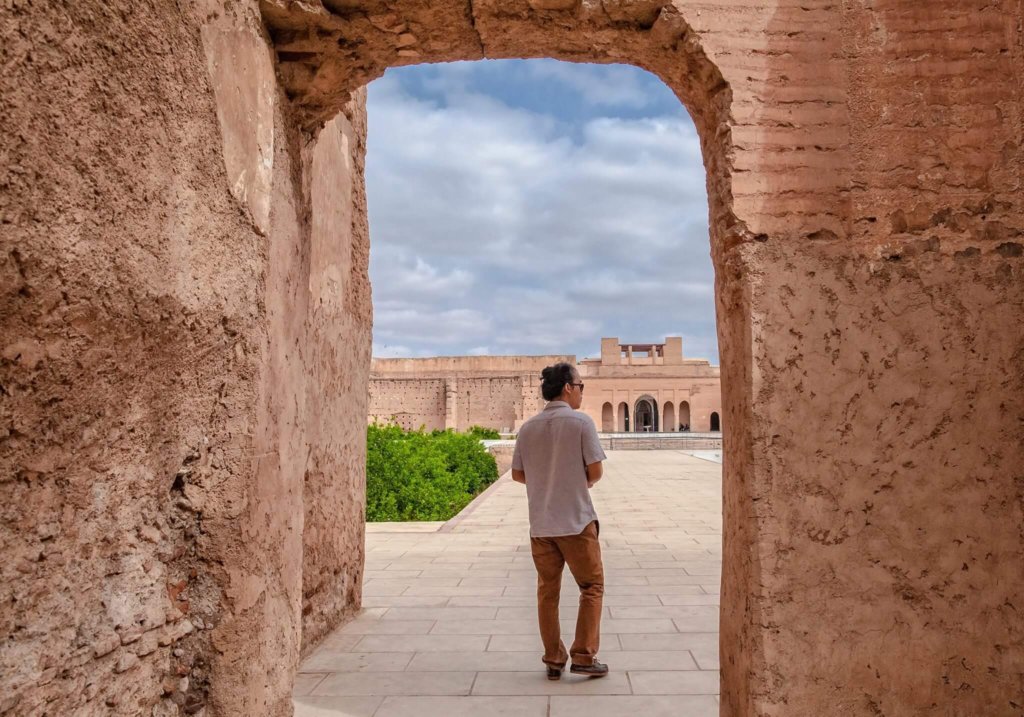 Explore the town square – Spend some time in the Djemaa el-Fna ("Assembly of the Dead"), Marrakesh's main square. Djemaa el Fna is the heart of Marrakech. It encompasses fine Moroccan food, culture, and crafts. Here you can find exotic street performers of varying talents including snake charmers, monkey owners, tattoo artists, musicians, and chefs.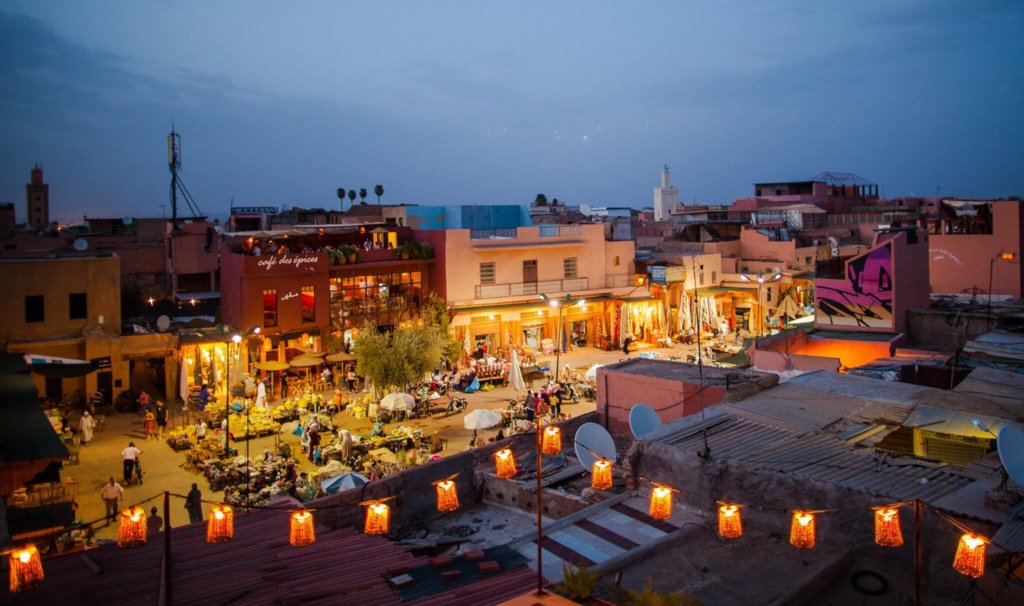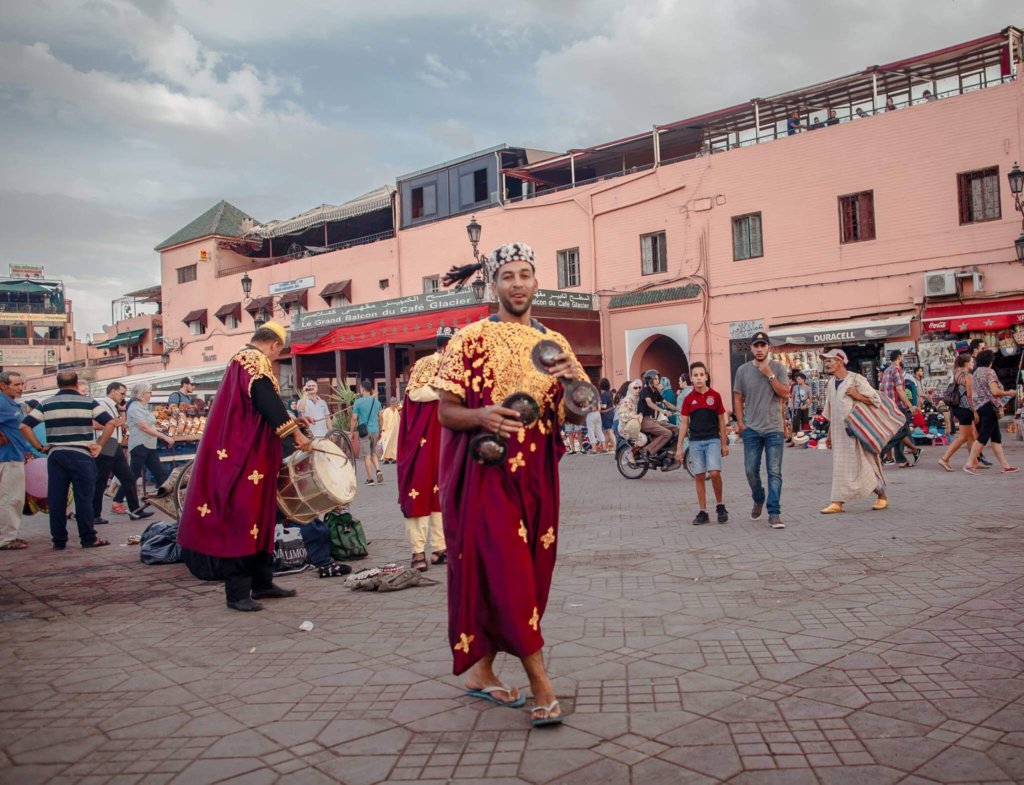 But the real action was at the food stalls, each selling an array of Moroccan cuisine such as tagine, meats, kebabs, and snails. The food stalls are cheap, cheerful and full with both tourists and locals alike. Take a stroll round the stalls and see which food appeals most. Popular with both Moroccans and tourists, dinner in Jemaa el Fna is a magical experience, full of the excitement!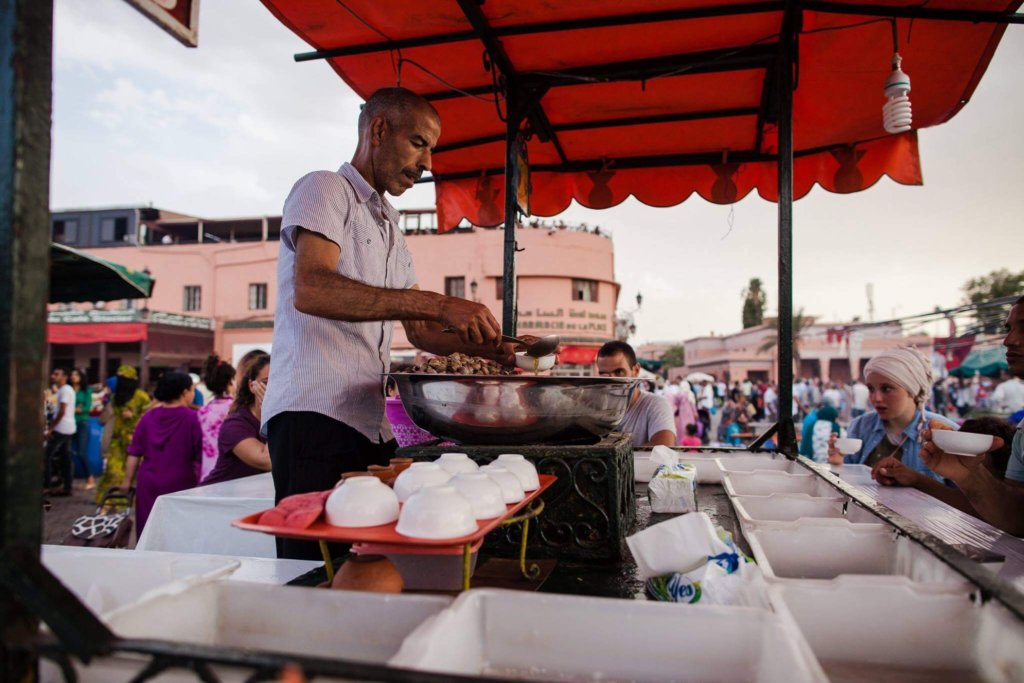 Cafe Culture
Marrakech has a vibrant café culture.  Perhaps it's because of the French colonial heritage. What I like most about the cafes in Marrakesh is that they have so much light and air, plants, wood, and bright colors. Most cafés have terraces either on the sidewalk or on the rooftop! Finding a quiet roof top bar with panoramic views to sit back and relax in this bustling city is a must-have experience. And this enchanting city has an amazing choice of cafes and here are my favorites:
Café des Epices: Right in the midst of the spice souk (hence the café's name) Café des Epices is the best place in the medina to watch the world go by.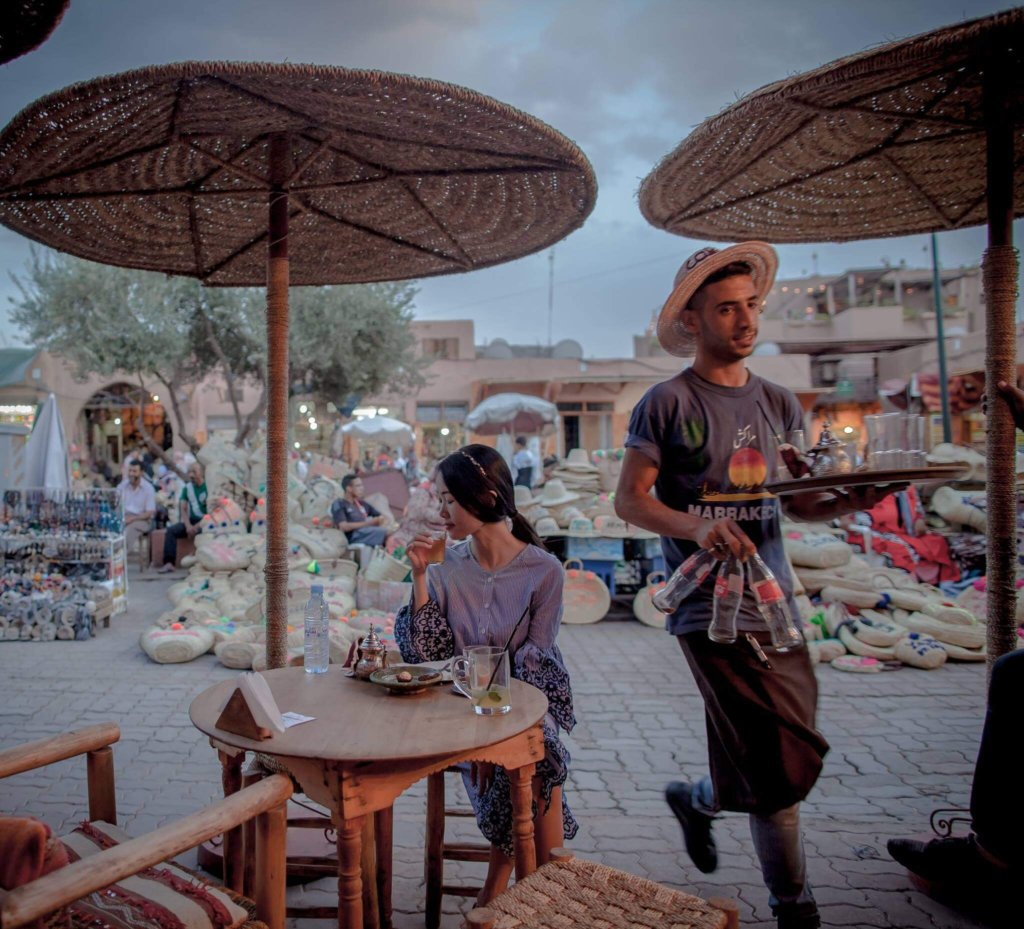 Atay Cafe-Food: in the heart of the medina (old town). The rooftop of the restaurant boasts and incredible view over the city!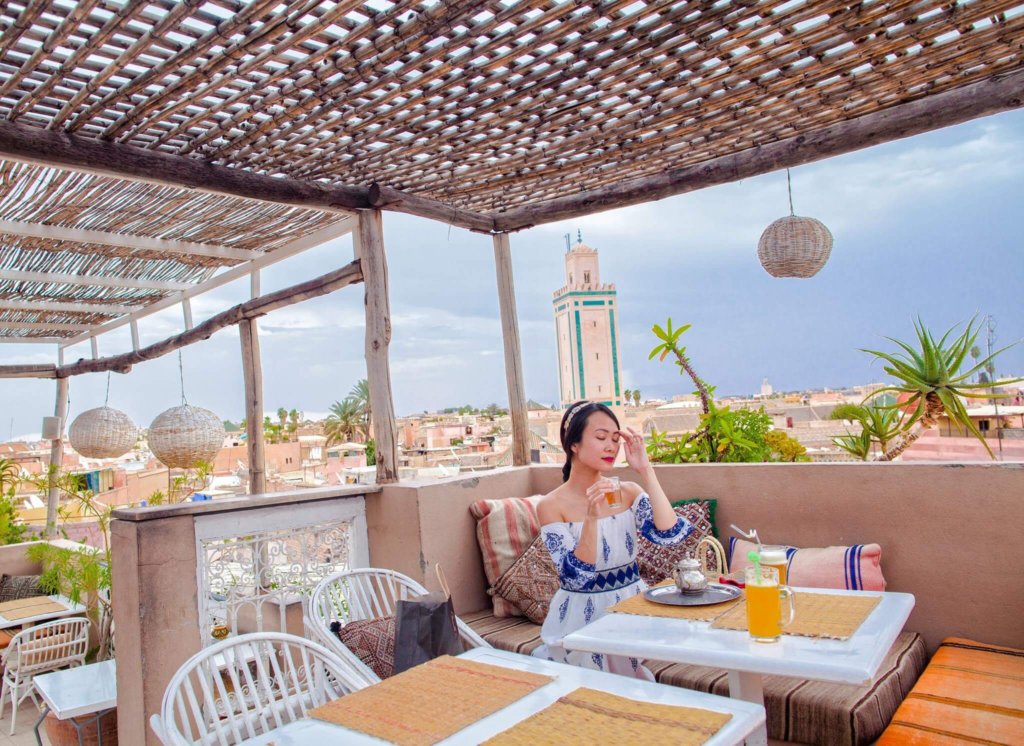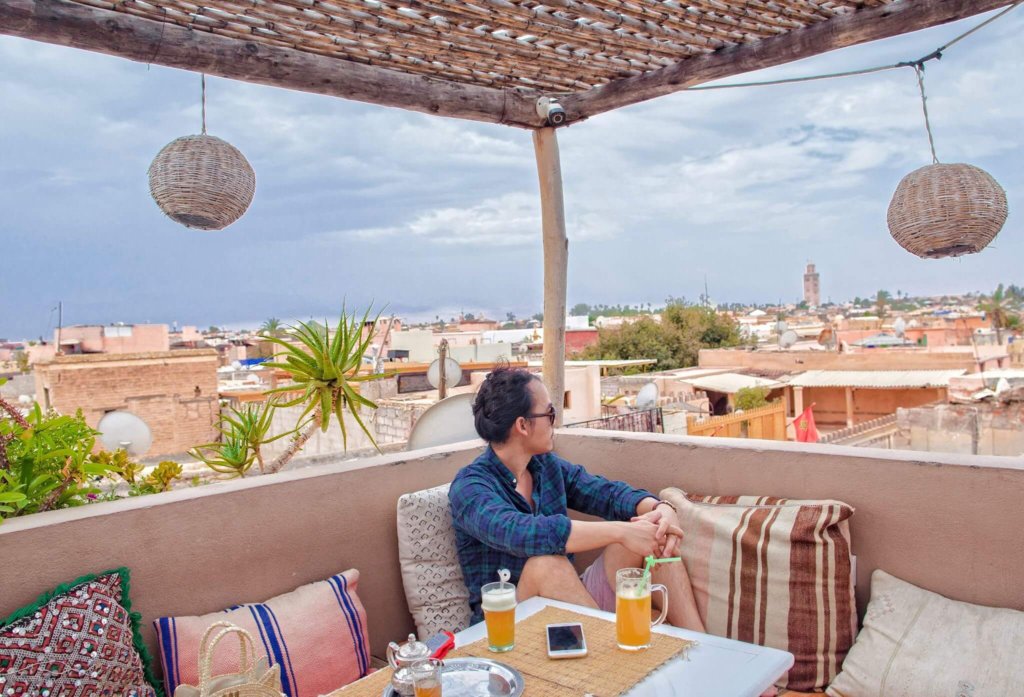 Nomad: a modern Moroccan restaurant popular with trendy instagrammers holidaying in Marrakech. Its contemporary and chic interior is made up of tiled floors, neutral banquettes for enjoying views of the spice souk below and typical beige walls.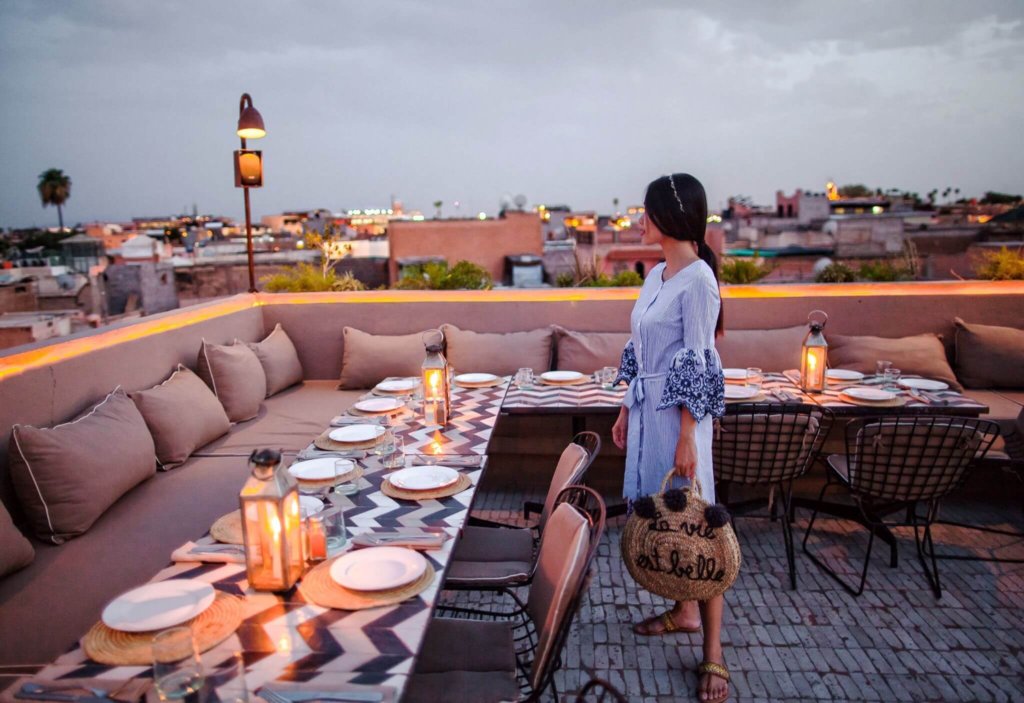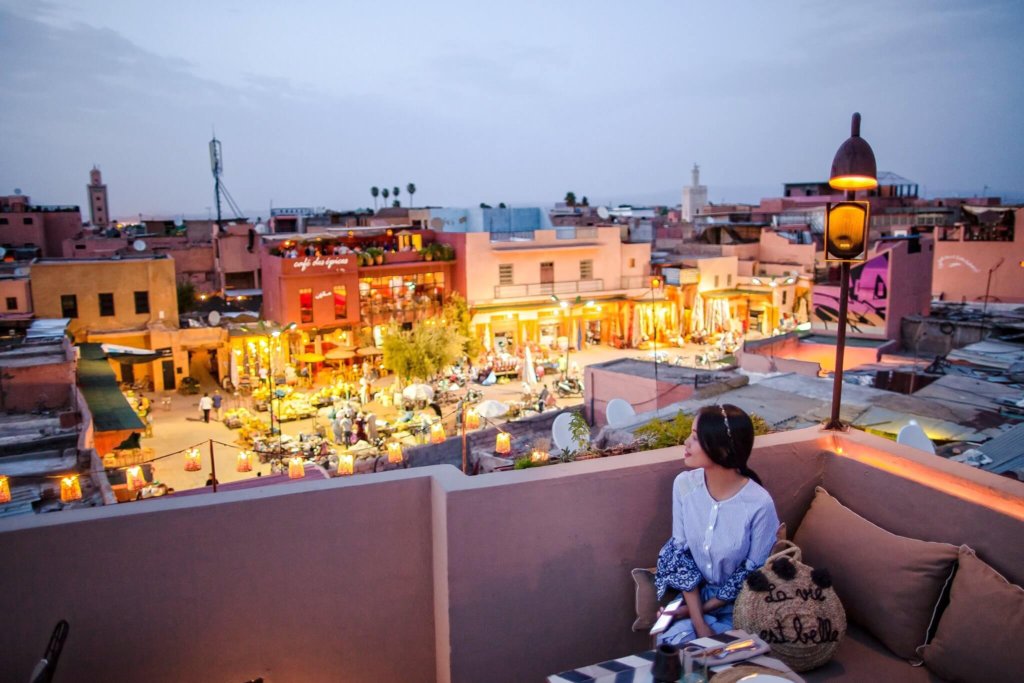 Dar Cherifa: If you are in the mood for a quiet spot to read a book or just escape from the medina, there is no better place to enjoy a cup of tea and Moroccan pastries.
Limoni was one of my favorite places in Marrakech! It serves delicious Italian dishes in a lemon tree filled courtyard. The atmosphere is nice with subtle music and modern decor! Quite a walk off of the beaten path, but it's truly worth it when you find this hidden gem!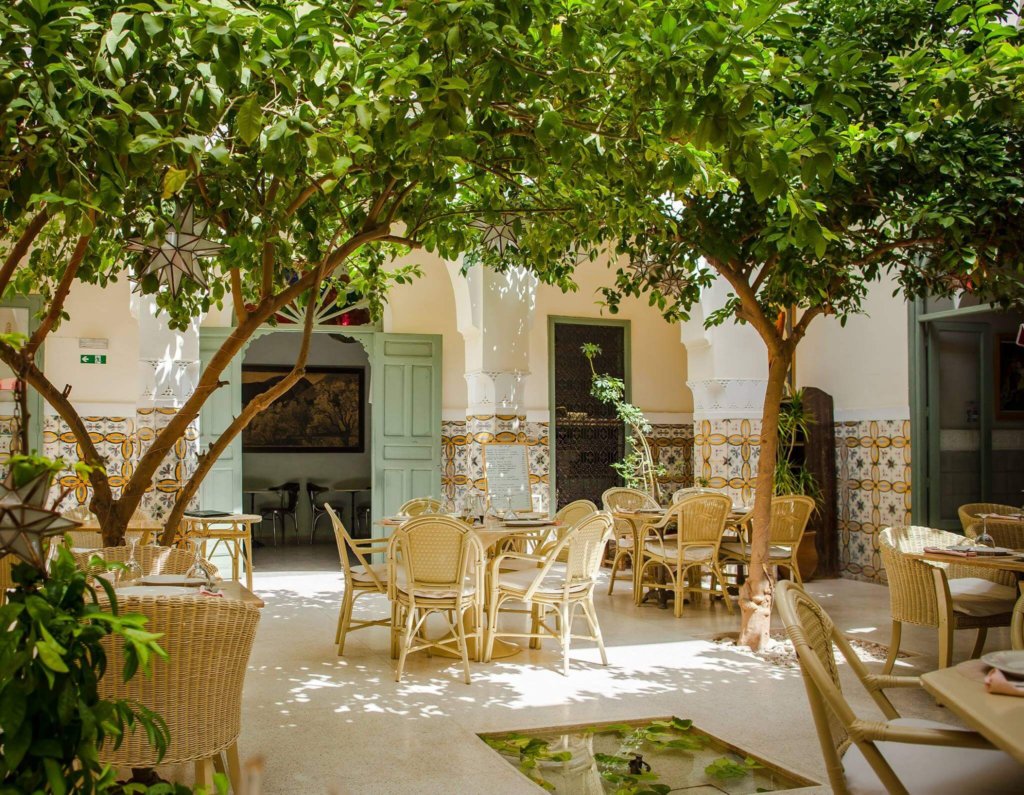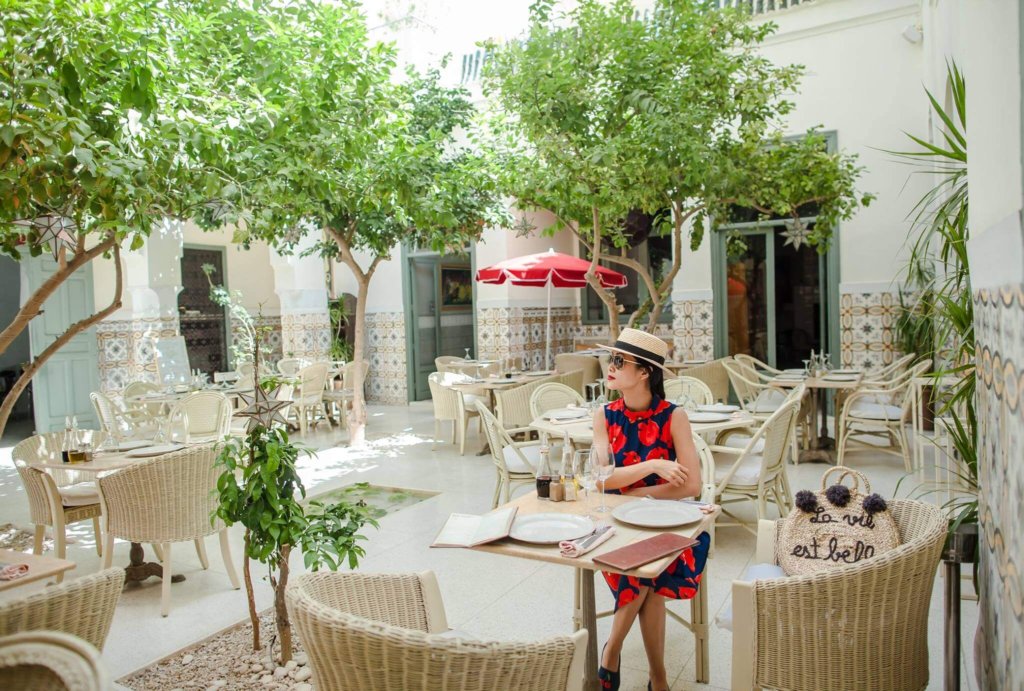 TIPS FOR WOMEN VISITING MARRAKECH
DRESS APPROPRIATELY
This is just common sense in a Muslim country. Dress modestly. It's expected for women to cover your shoulders and knees, and avoid low-cut tops altogether. Marrakech is not as strict as other Muslim countries in terms of dress, so if it is hot outside, people will generally understand seeing your shoulders. But you should pack many scarves (which can be bought in the Souk) will help you cover up!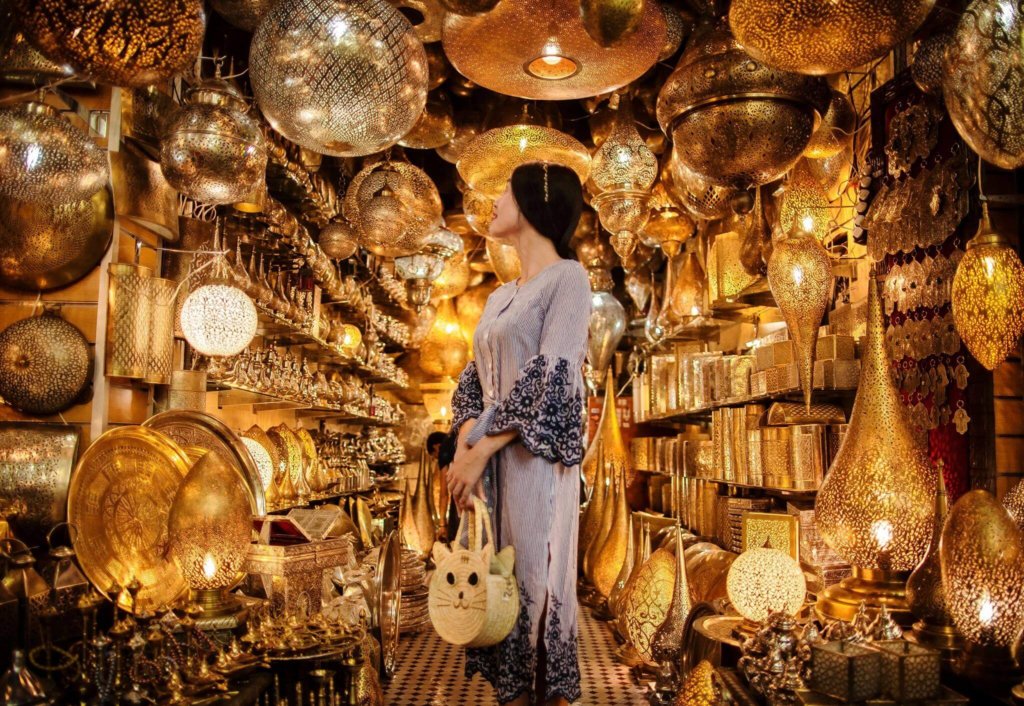 DON'T WANDER THE STREETS AT NIGHT TIME
The quiet streets that look so lovely and safe in the day can have a really different vibe in the dark of the night. Especially if you are staying in the old town/ medina. Those quiet streets can create perfect hangout spots for local criminals and opportunistic thieves, who know that tourists will be returning to their riads after dinner in town. Night-time Morocco is just unsafe.
IGNORE THE COMMENTS
Some comments are innocent, perhaps complimenting you or exclaiming how beautiful you are, but it'll get annoying after a while. My tip is to simply ignore. Keep your smiles to a minimum! No contact is best! Wearing dark sunglasses is good for avoiding eye contact!
Marrakech can be very overwhelming but it is the perfect mix of colour, energy, and vibrance. Hope you will find my travel guide useful when planning your trip to this magical city!
RELATED POSTS:
–>The Ultimate Guide to Traveling Dubrovnik, Croatia
–> Sapa Vietnam – A Complete Travel Guide