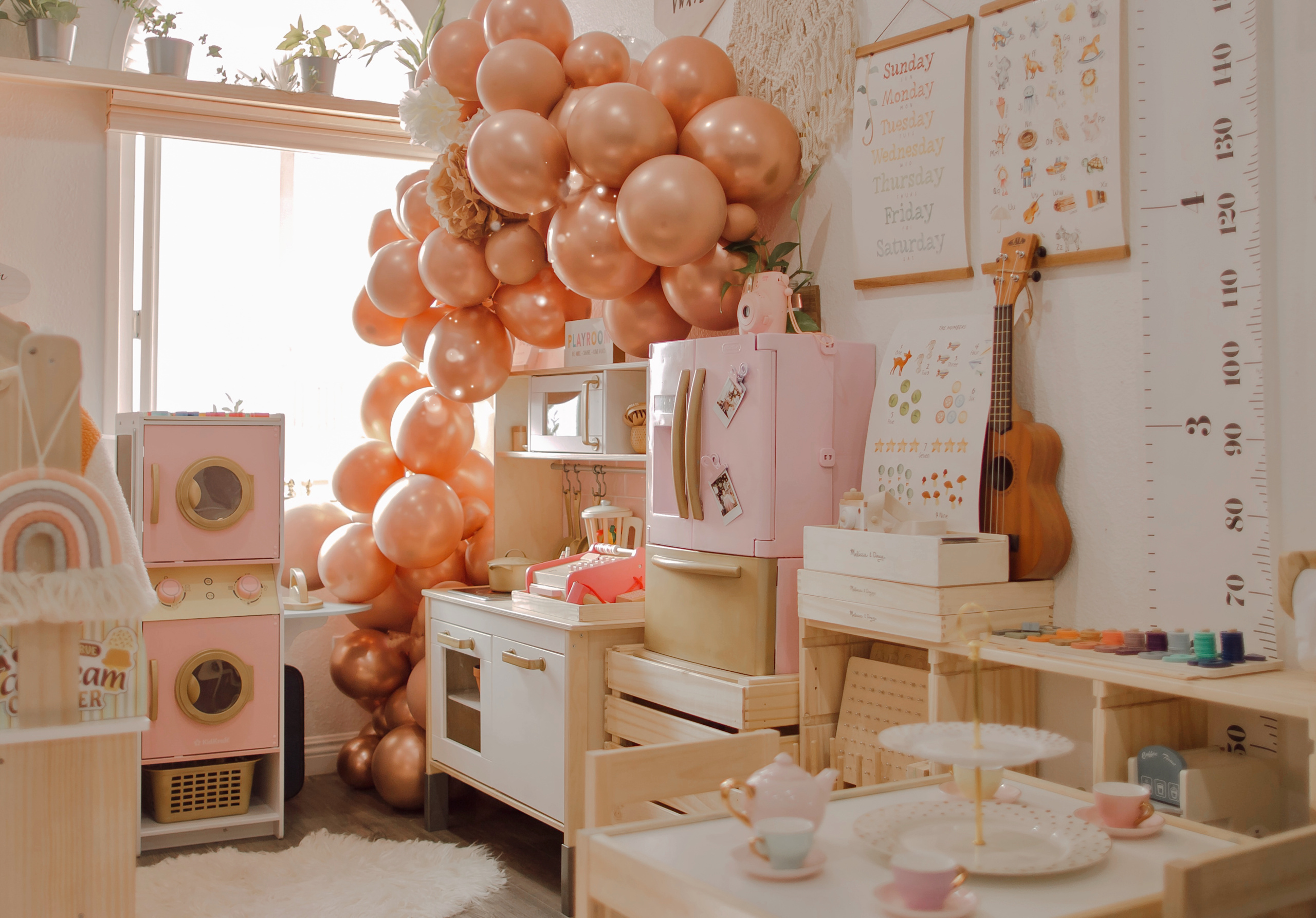 Are you ready for all things feminine and pink? I hope so! A few months ago, I created a neutral beige minimalist playroom for NyNy – a 3-year-old girl toddler (click here to read about this transformation) and around Valentine's Day (2023) I decided to change up the color theme a bit. Color is key when designing a creative space that kids will love. We all know pink is for a girl, but what about a different kind of pink … What about rose gold pink? It's more modern than the tradition pastel pink pops of colour you're normally used to seeing, but it still has an elegant and somewhat traditional and old-fashion touch about it. The overall goal was to create a bright, airy and whimsical space in soft pink with accents of gold – something completely dreamy!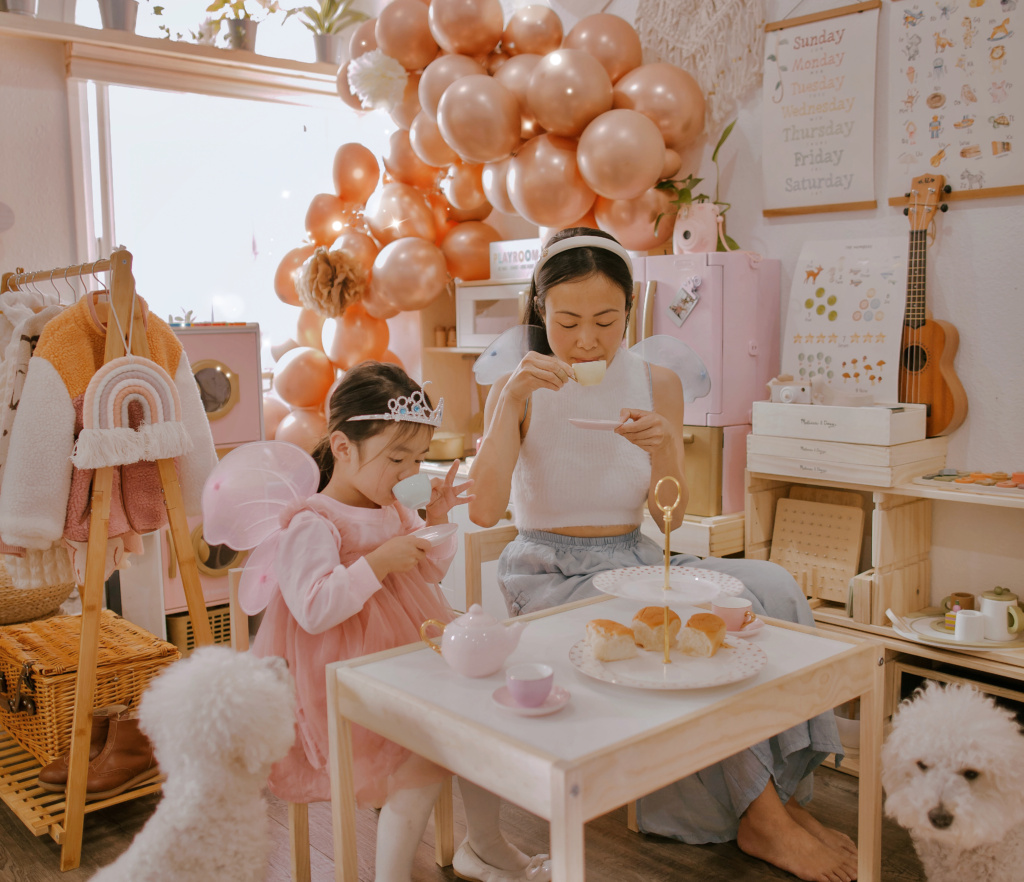 The transformation was complete just in time for Valentine's Day (2023), and I couldn't be happier. Here is the step-by-step guide how we created this rose gold playroom.
The first thing we always keep in mind when decorating a kid's room is that children change, and they change fast. As they're growing, they're figuring out their hobbies and interests, what they like and don't like, and those things are going to change many times over the next few years. So, we are not adding any new play sets/toys/furnitures to our new playroom design. Instead we just spray painted some of our play sets to make them match with our rose gold theme.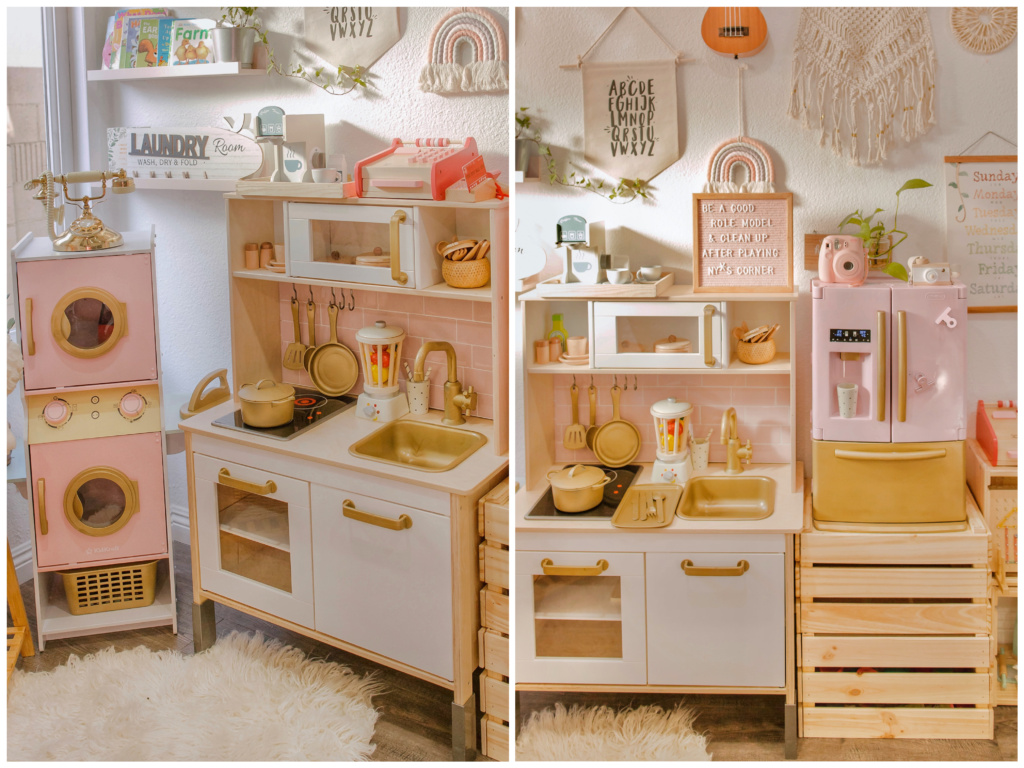 That way you can do any makeover or renovations to your kids' playrooms without spending much and leave room in your budget in a few years to change it as time progresses and your kids grow up (without having to do a total redesign!). That's why I highly recommend that you look for classic wooden pieces that will stand the test of time and wear and tear like kitchen or laundry play sets; with just a few minor changes to these permanent pieces you can change the interior decor of your playroom frequently or seasonally (Christmas theme, Valentine's theme,…). I wrote about why we choose wooden toys/play sets on another blog, click here to read.
1. Ikea's Kitchen Playset Makeover
The first step is give our Ikea Duktigplay kitchen a complete makeover. We decided to spray paint the faucet, sink, and hardware with gold color using Rust-Oleum Metallic Pure Gold.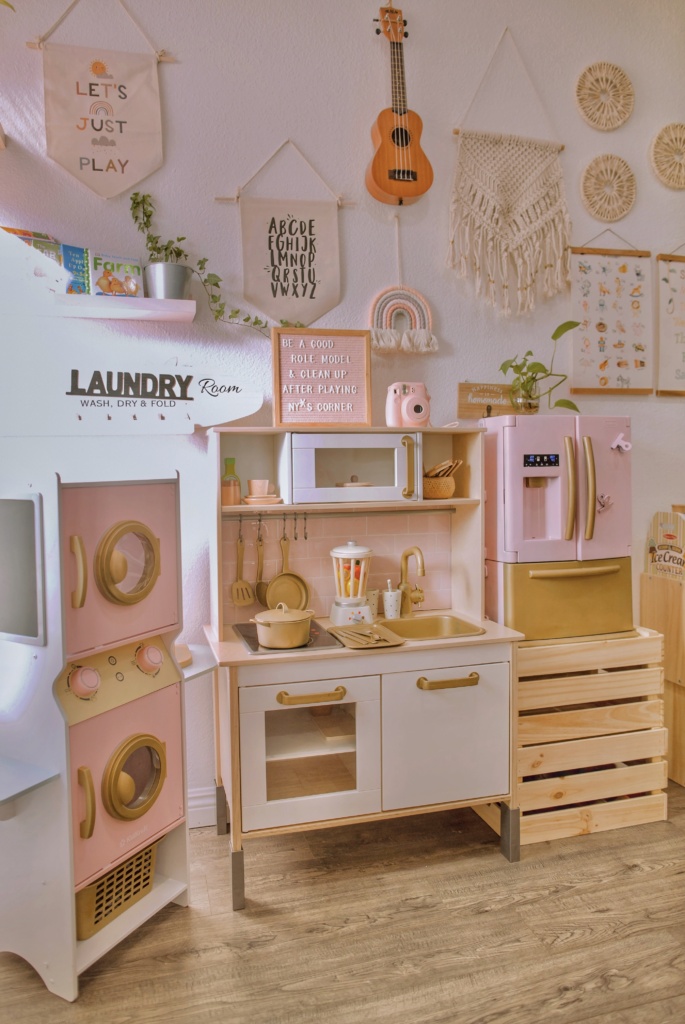 You will want to lightly sand each of the plastic pieces. This allows the spray paint to adhere to the plastic. After sanding we did 2 coats of the Rust-Oleum Painters Touch 2x Flat White Primer and sanding between layers only if we saw uneven areas. Once primed we added 2-3 coats of spray paint in the color of our choice.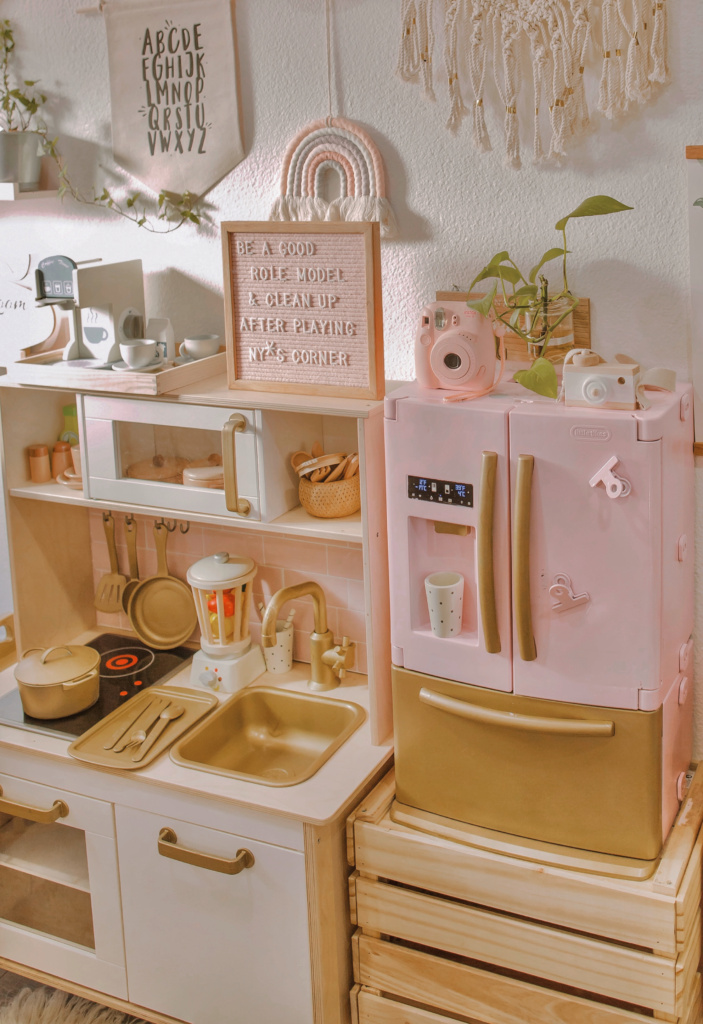 The steps above can be used for painting any of the plastic parts of the play kitchen accessories including pots, pans, and utensils.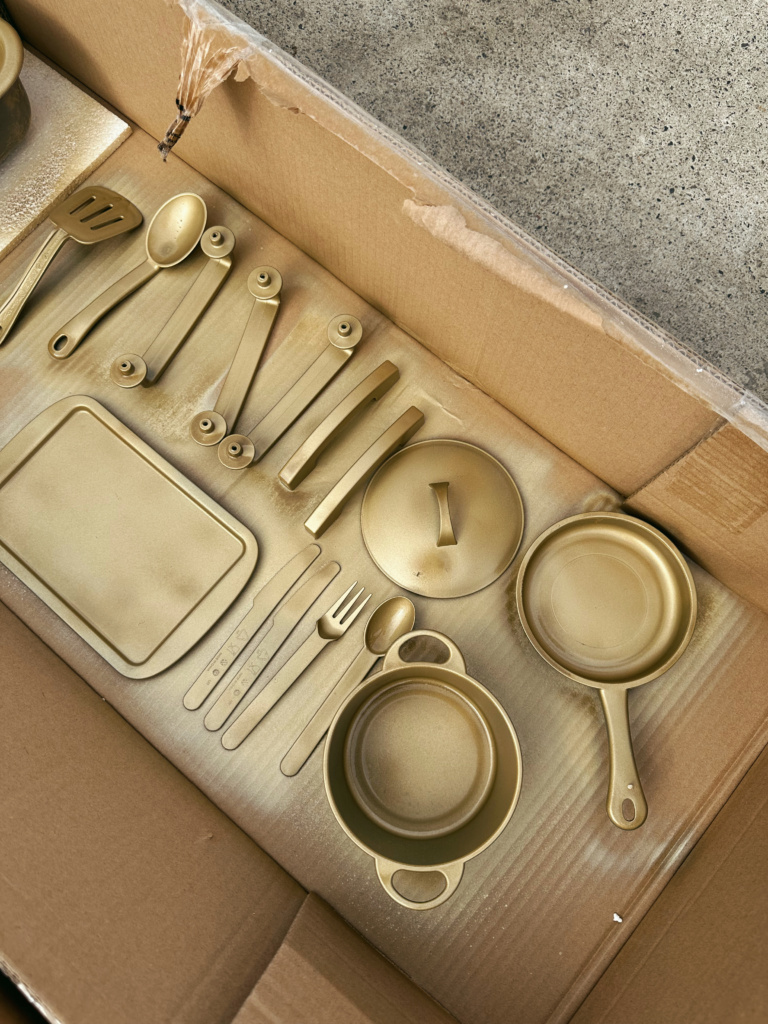 The next step was installing the backsplash. You will need to measure the opening on the Ikea kitchen and cut a board to size. Ours ended up being 26.75 in x 12.5 in. We used an inexpensive hardboard from Home Depot.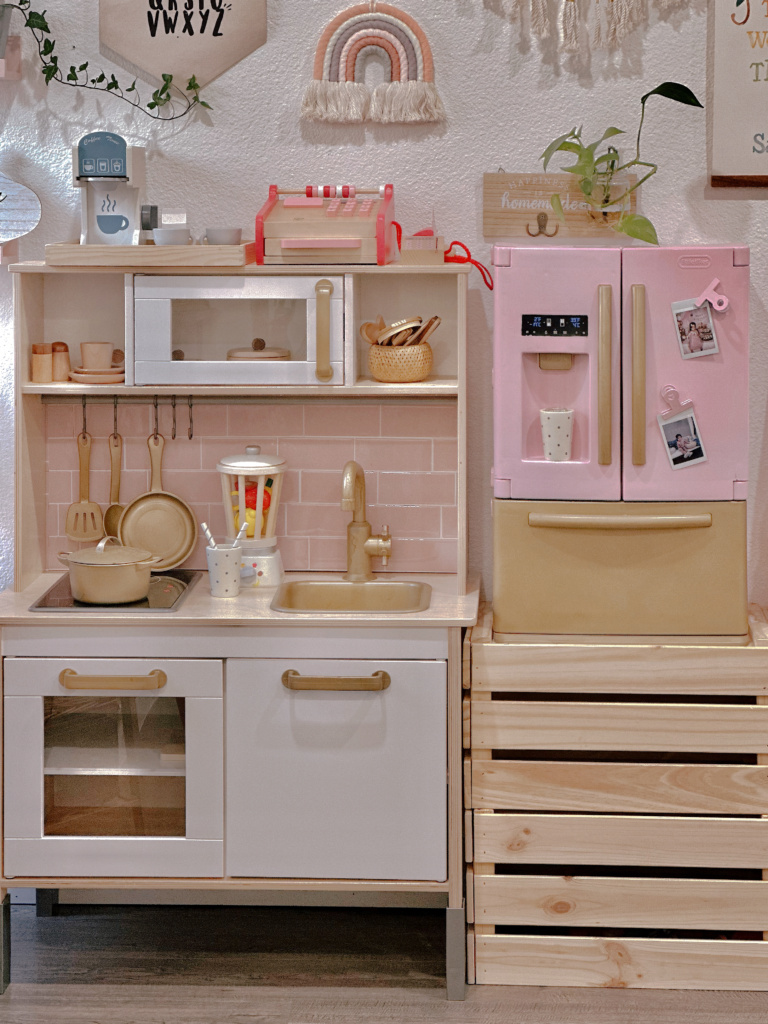 We went with  SMART TILES Peel and Stick Backsplash in pastel pink color. They came in a pack of 4, 11.56″ x 8.38″ sheets for only $26. You can use any board you would like, but be sure to read the directions on the peel and stick tiles. They do have surface requirements. The final step is to screw the board into the back of the kitchen.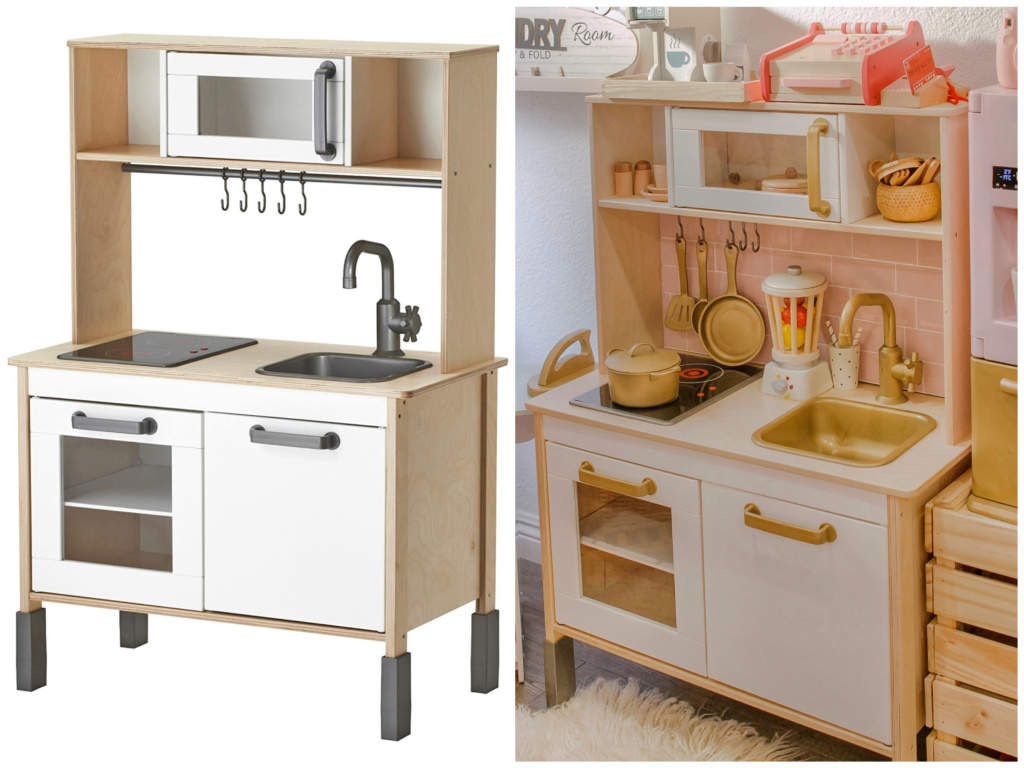 2. KidKraft's Laundry Set Makeover
The KidKraft laundry set came in pink and green color. I decided to fix it up a little bit so that it would blend in well with our rose gold playroom.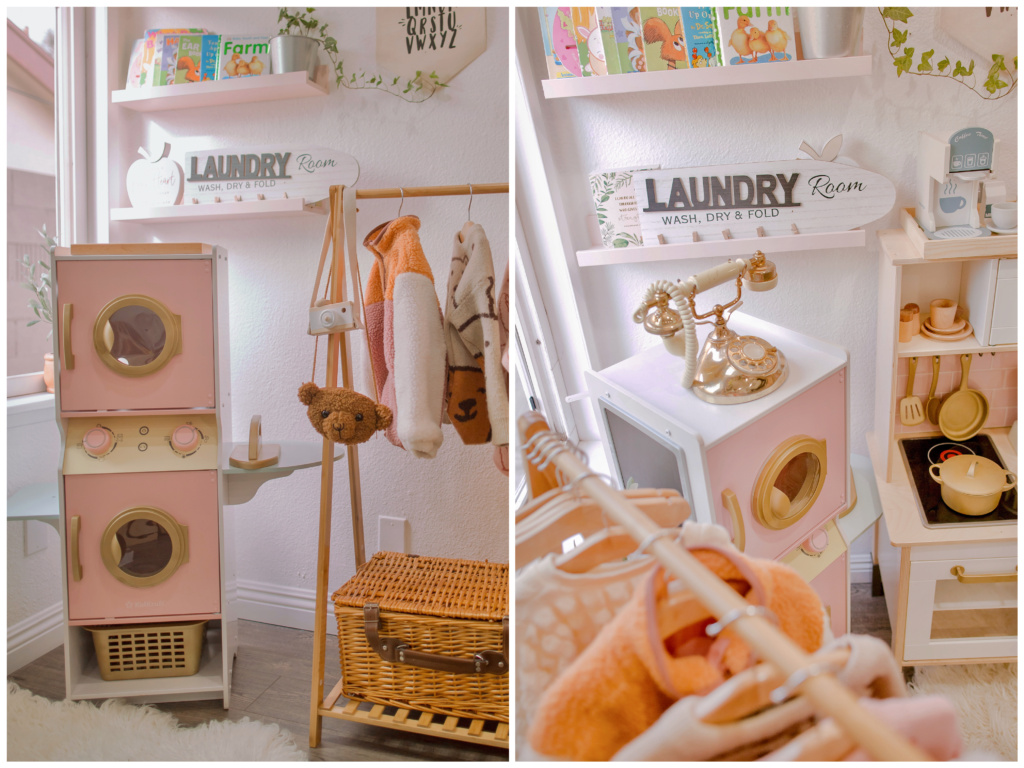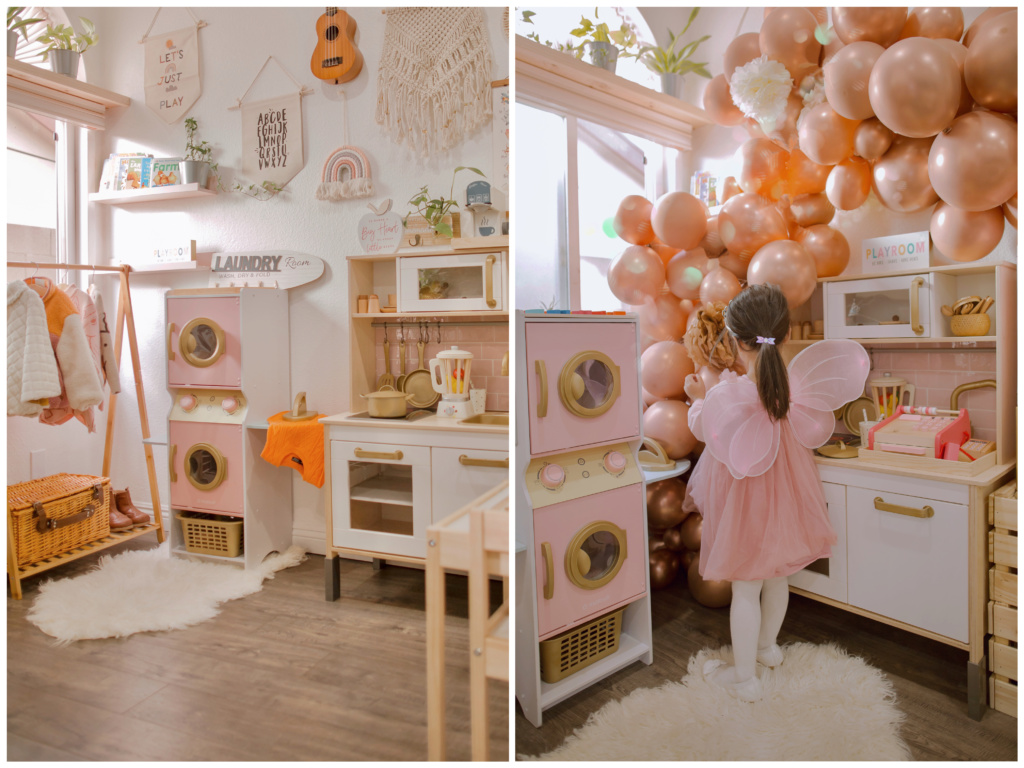 We just needed to gold spray paint any parts that are green including door knobs, windows, irons, and laundry basket. And again we were using Rust-Oleum Metallic Pure Gold.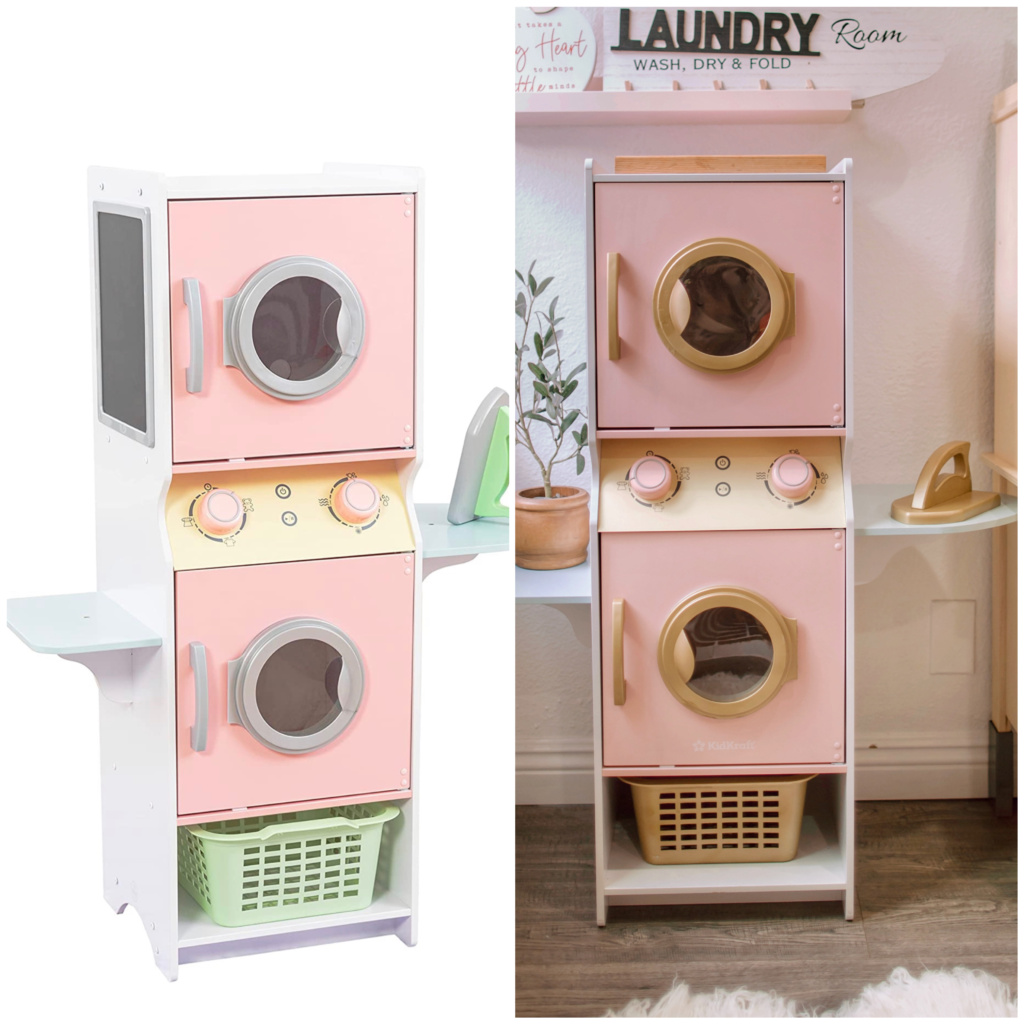 3. Little tikes' First Fridge Makeover
This piece is the only thing plastic in our playroom. If you have ever done a search for a wooden toddler fridge you will see that there are only a few options available from premium wooden toy companies like Milton and Goose and the price can range anywhere from $300- $800 for a play fridge! Although beautiful we couldn't bring ourselves to spend that much on a toy, but I also didn't want to budge on the overall aesthetic.
So we decided to go with Little Tikes First Fridge. We love the sleek, modern look of this pretend play fridge with a working 'ice' dispenser, dual French doors, a separate freezer drawer, and working fridge lights.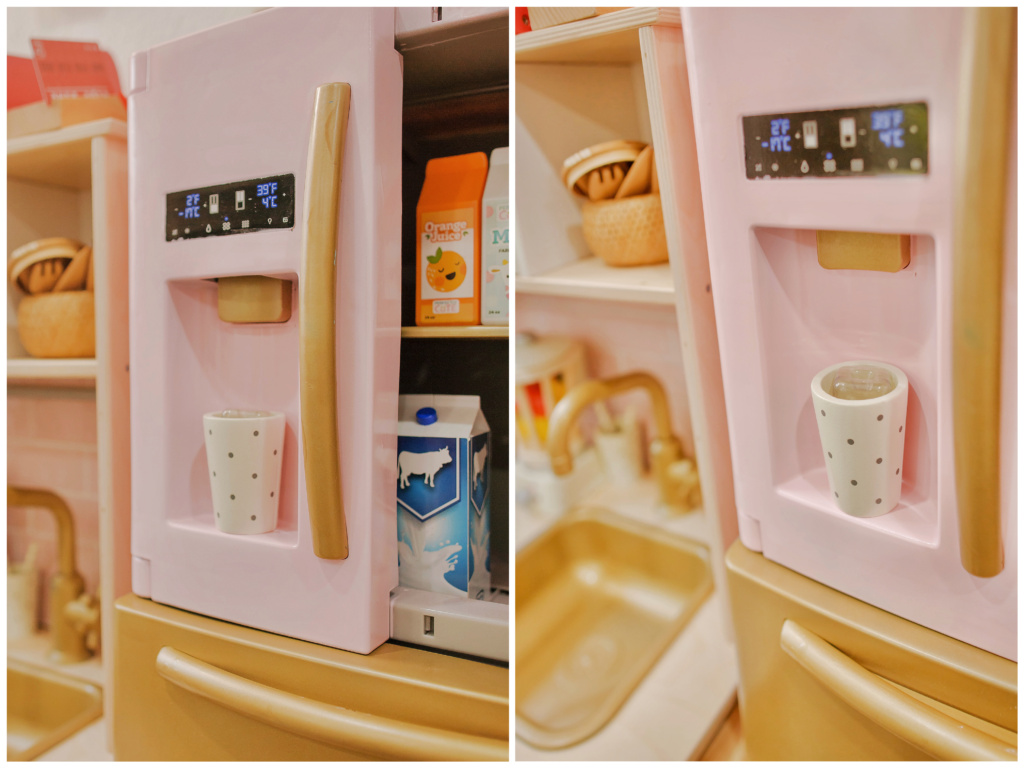 To match it with our rose gold theme, all we needed to do was spray painted the fridge doors in pink color and all the door knobs/handles/freezer drawer in gold color.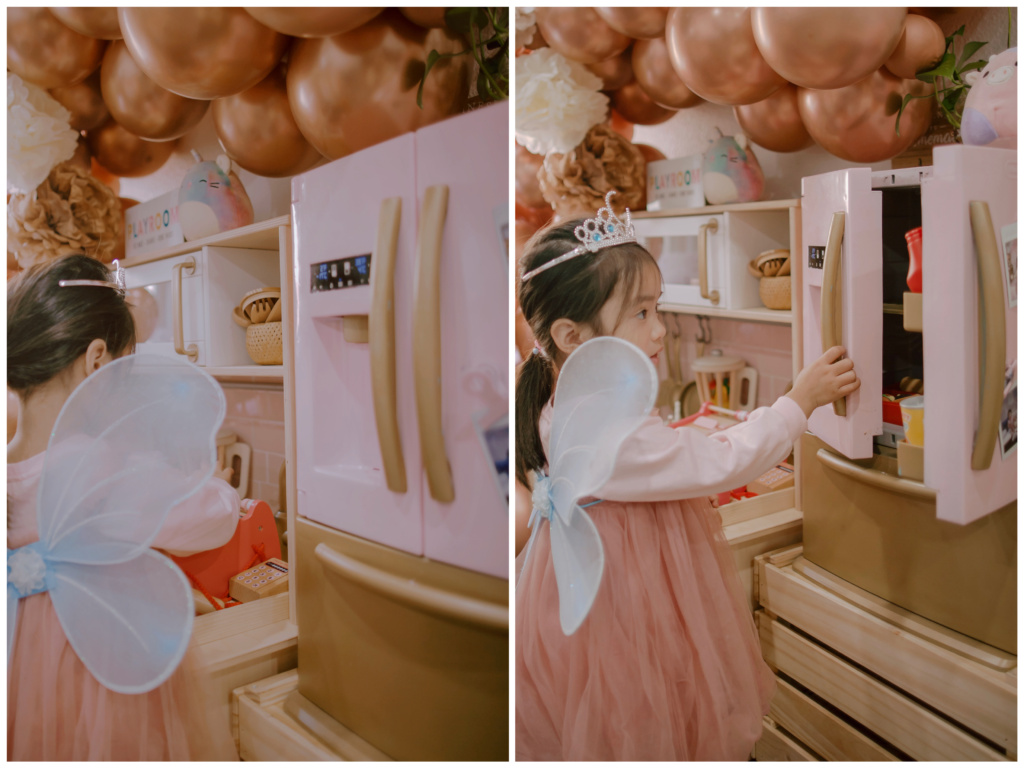 4. Some final touches
Since this rose gold transformation was for Valentine's Day (2023), we added a rose balloon arch over our play kitchen to tie the whole look together.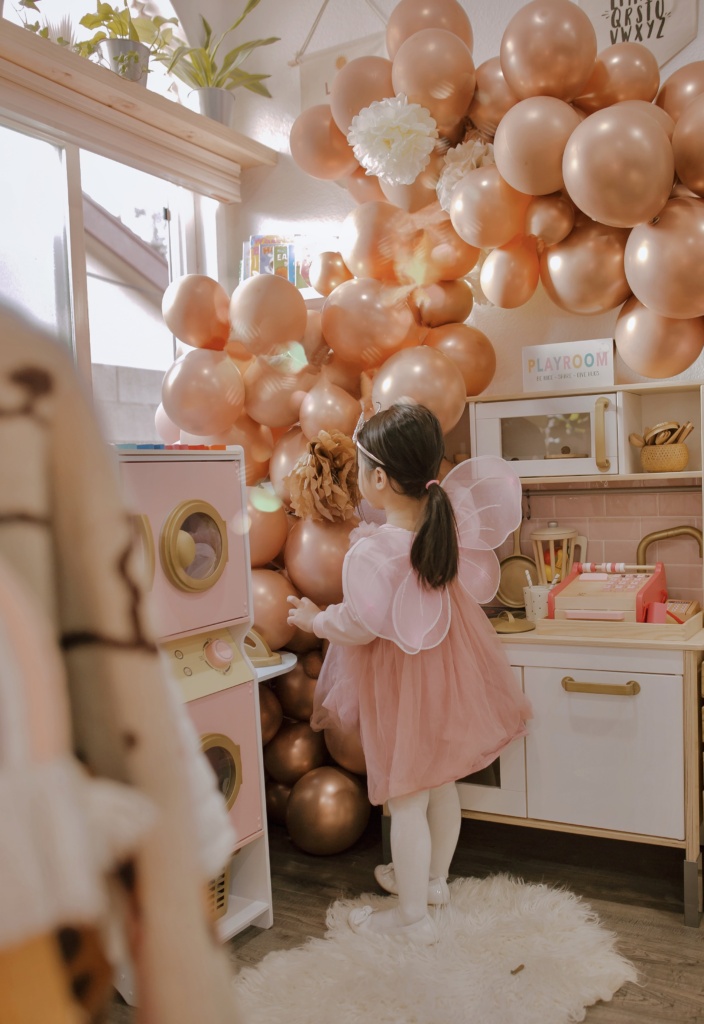 On the counter of our play kitchen we added some pops of pink like the wooden cash register from Hape Toys.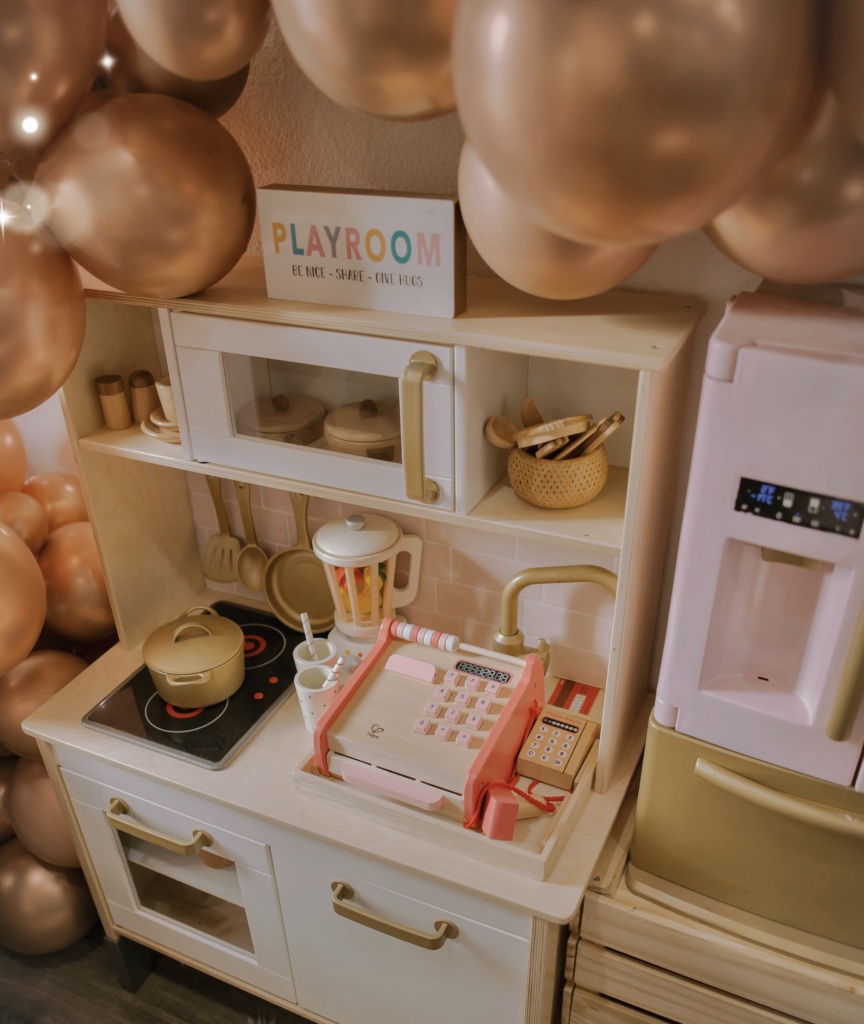 Little NyNy loves dressing up so a sweet little dress up corner was created for her to hang her special dresses and fairy wings as well as house her growing collection of accessories. For Valentine's Day we hanged some pink/white outfits on the wooden clothes rack for NyNy to choose to dress up for her Valentine's Tea Party.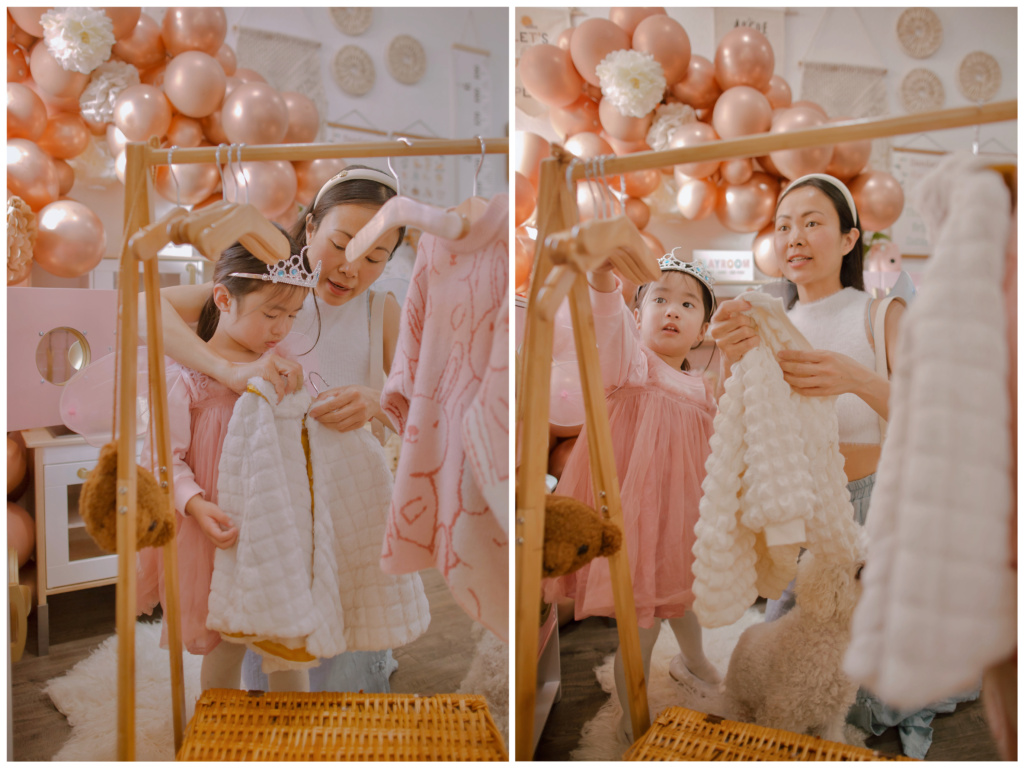 For our tea party, we used the pastel hand glazed ceramic tea set from FAO Schwarz.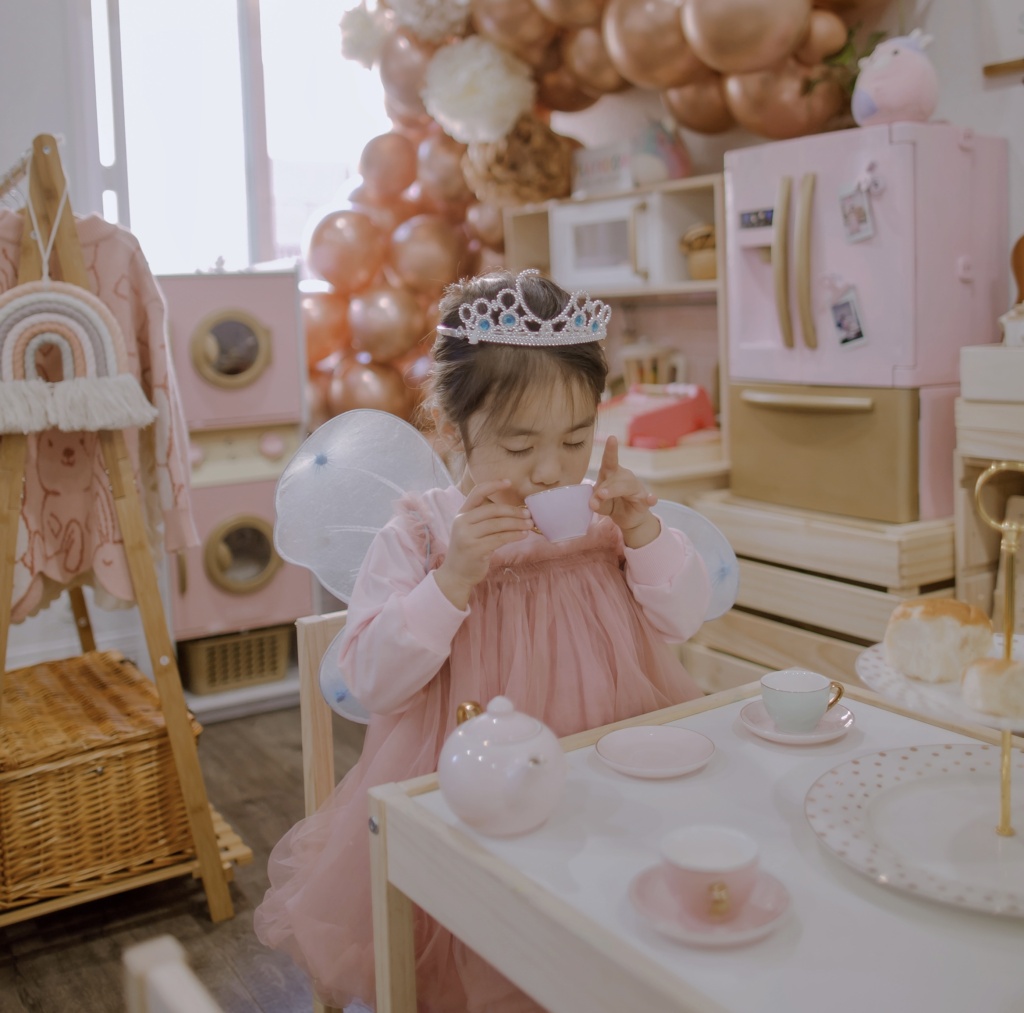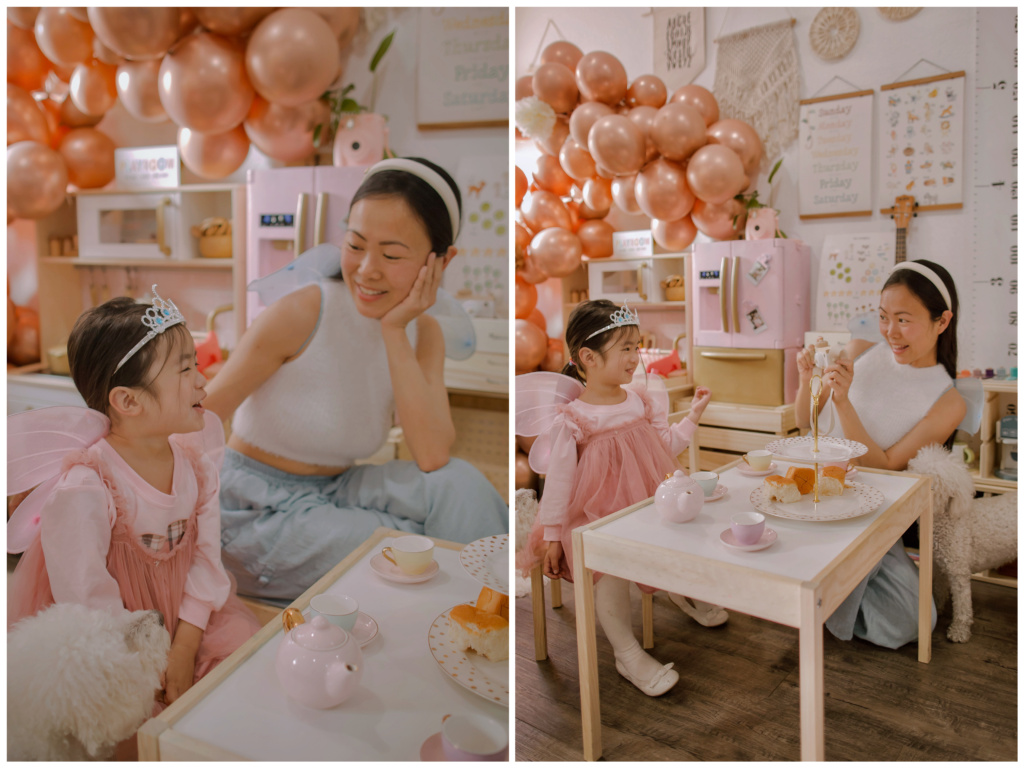 The rest of the room took cues from the rose gold play sets. To tie in with the theme we added pops of rose pink throughout our design including a pink felt letter board, a blush pink Fujifilm Instax Mini 11 Instant Camera (that we used to develop credit-card-size prints instantly to hang on our play fridge), and a pastel hanging woven rainbow.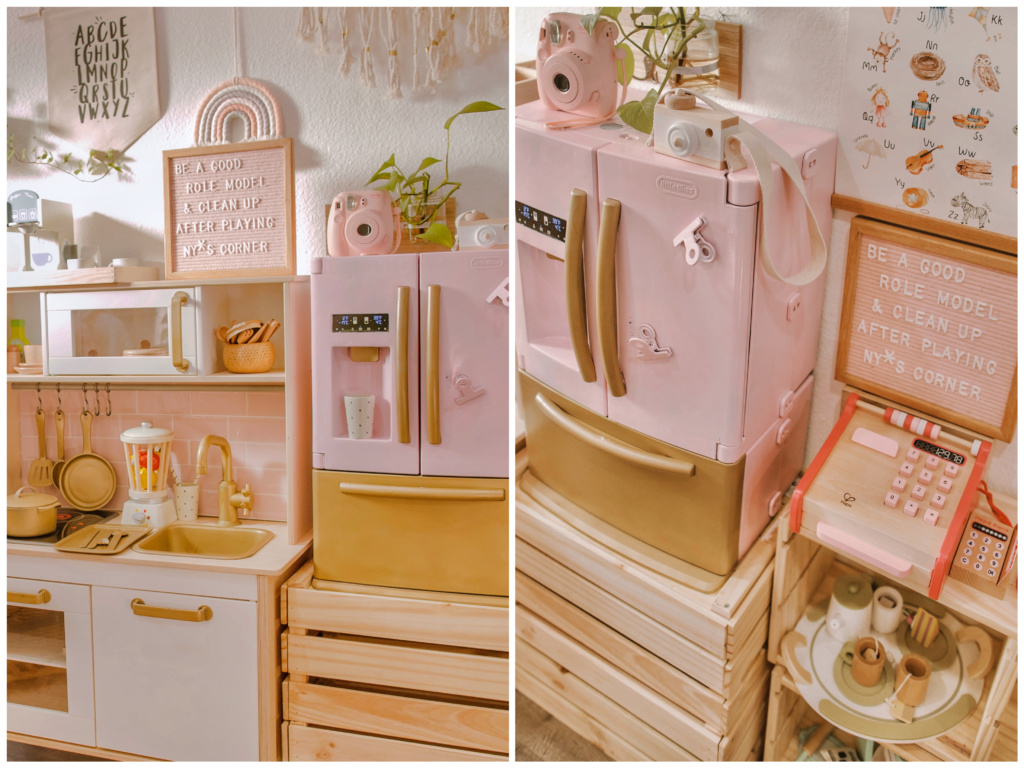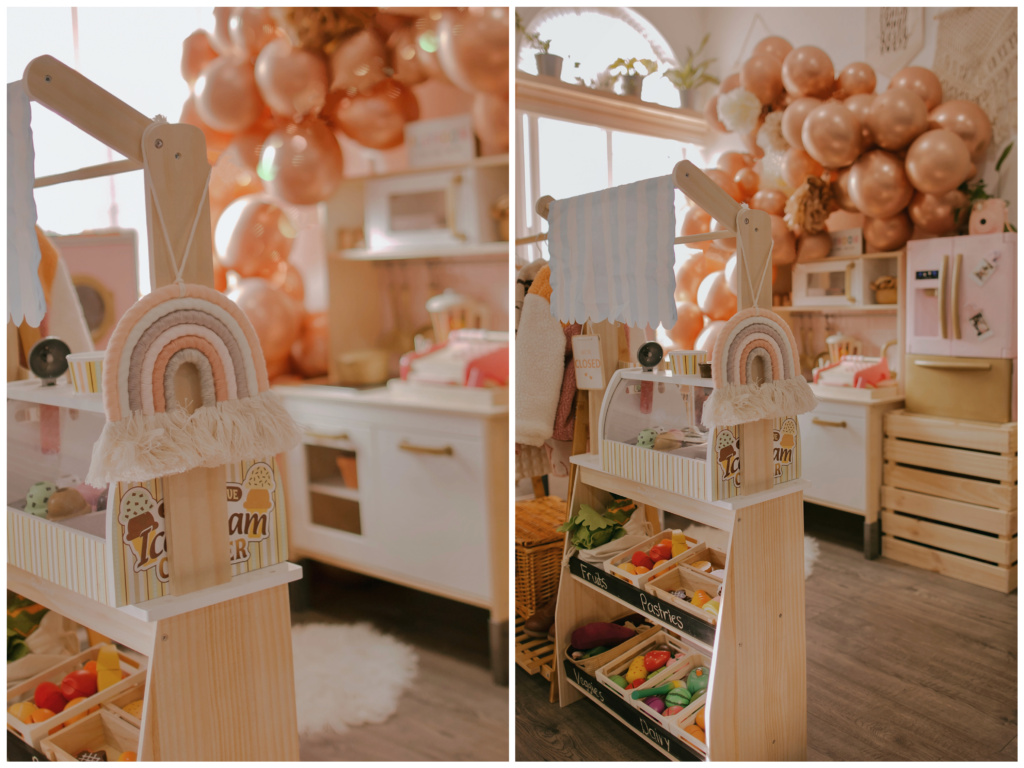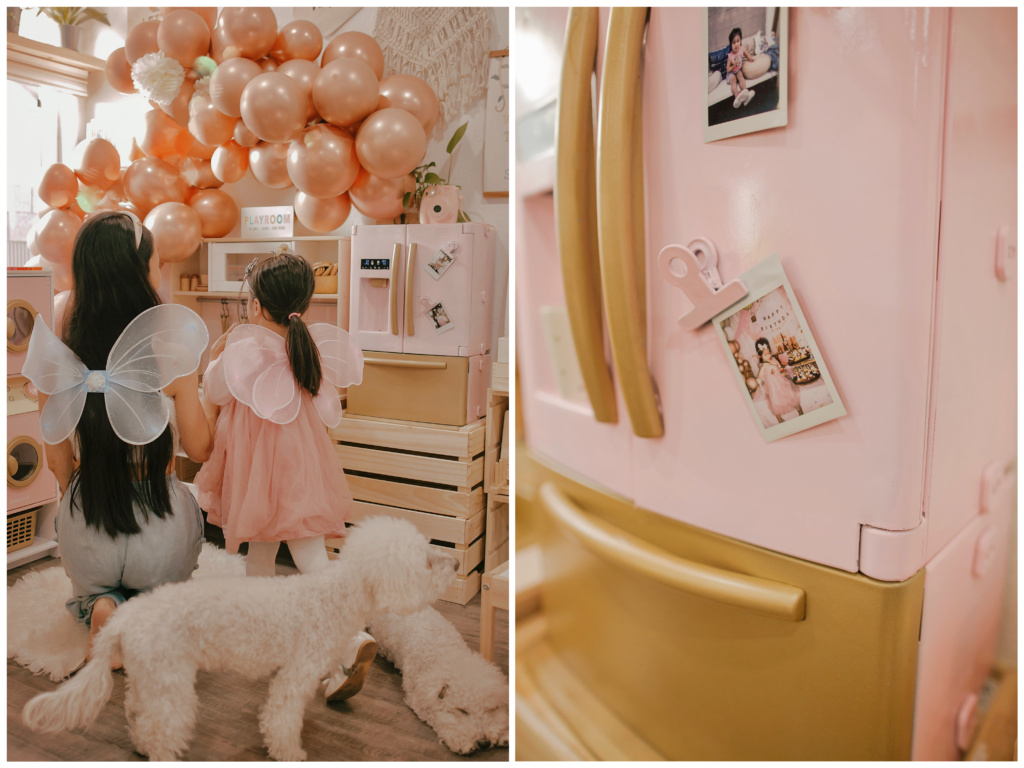 5. Final words
When a playroom done right, it will be the stunning backdrop for many events in your kids' life. Many of us, when it comes to planning a kid event like a birthday party, have spent so much money on finding a venue and hiring a party planner to host a memorable event. But kids' playroom, when designed not only to be a place to put toys away but also a place with all classic wooden beautiful pieces that parents are proud to show off to guests, can be the perfect venue for many kids' events including Christmas get-togethers, birthday parties, Valentine's tea time, or Easter egg-hunts. Plus, it holds many precious memories of your kids' daily pretend plays. In short, just investing in a few classic permanent pieces can help create a special place that encourages your kids' creative play and a stunning backdrop for many of your kids' future events. Here are some more photos of our rose gold playroom tour: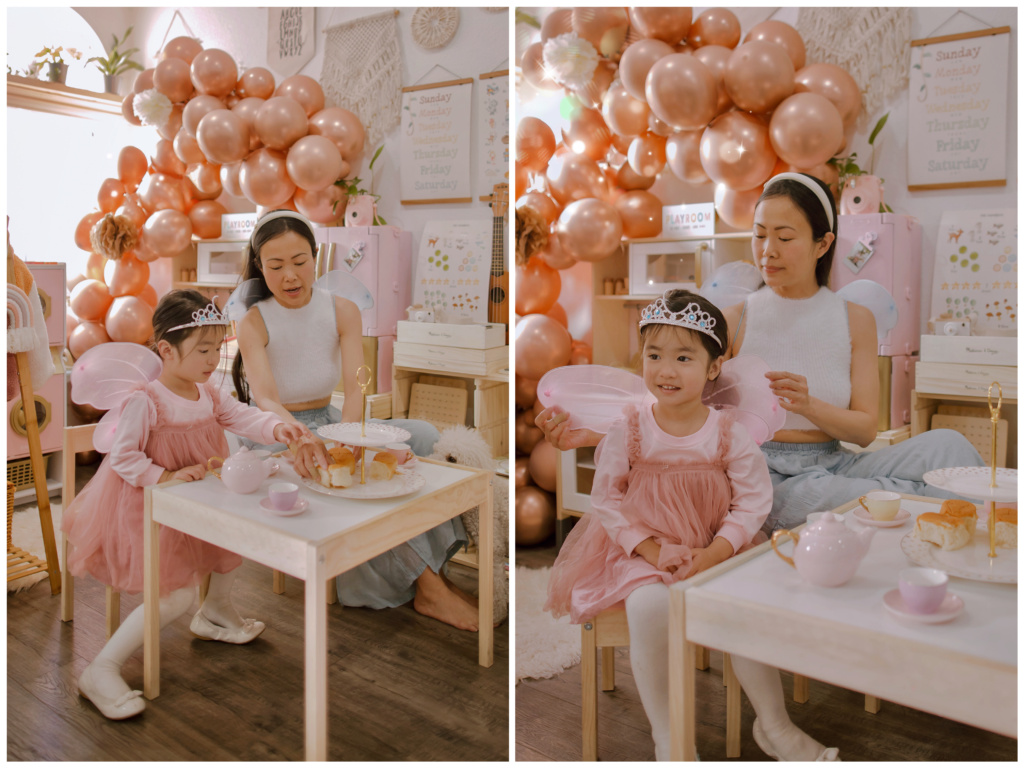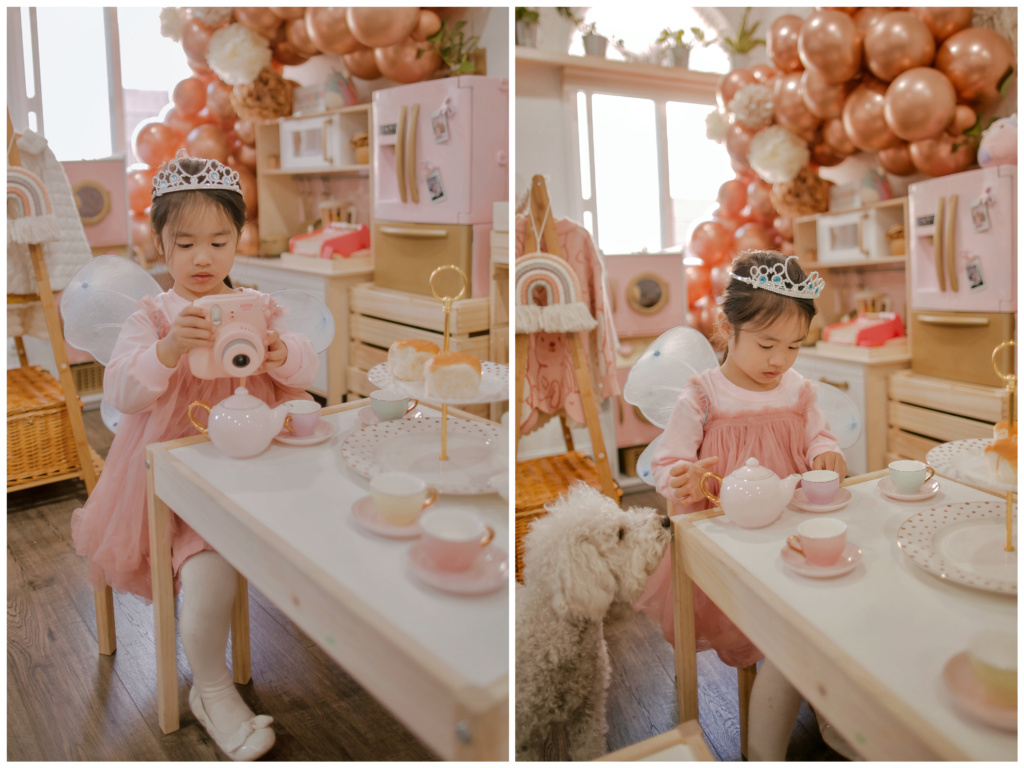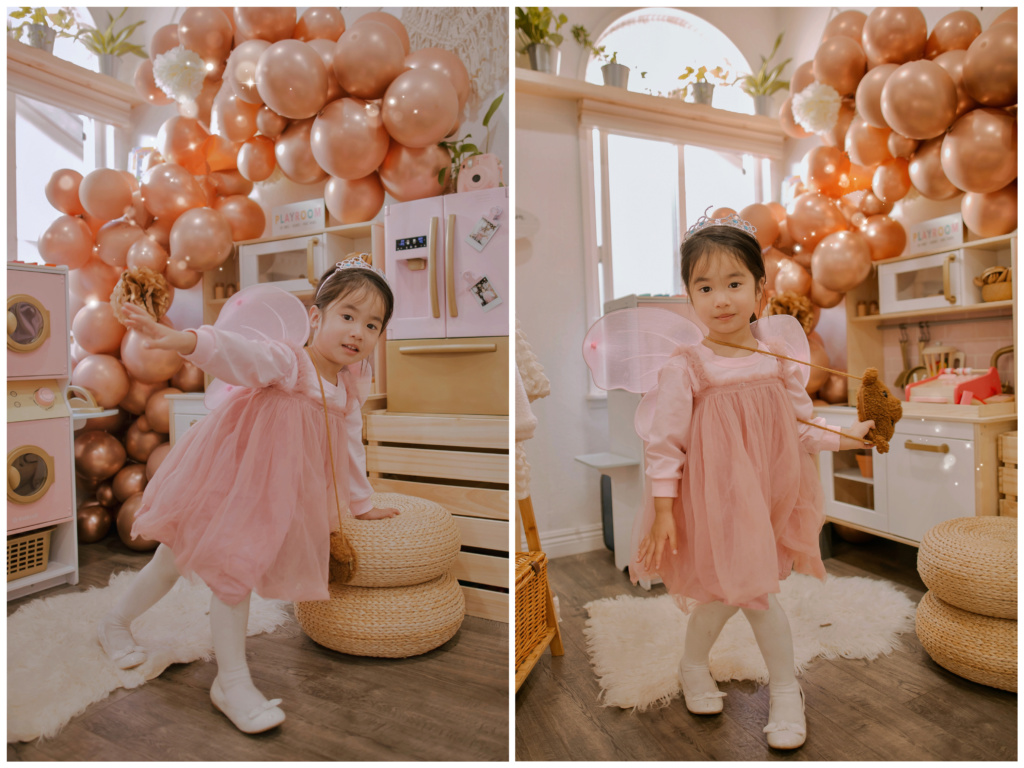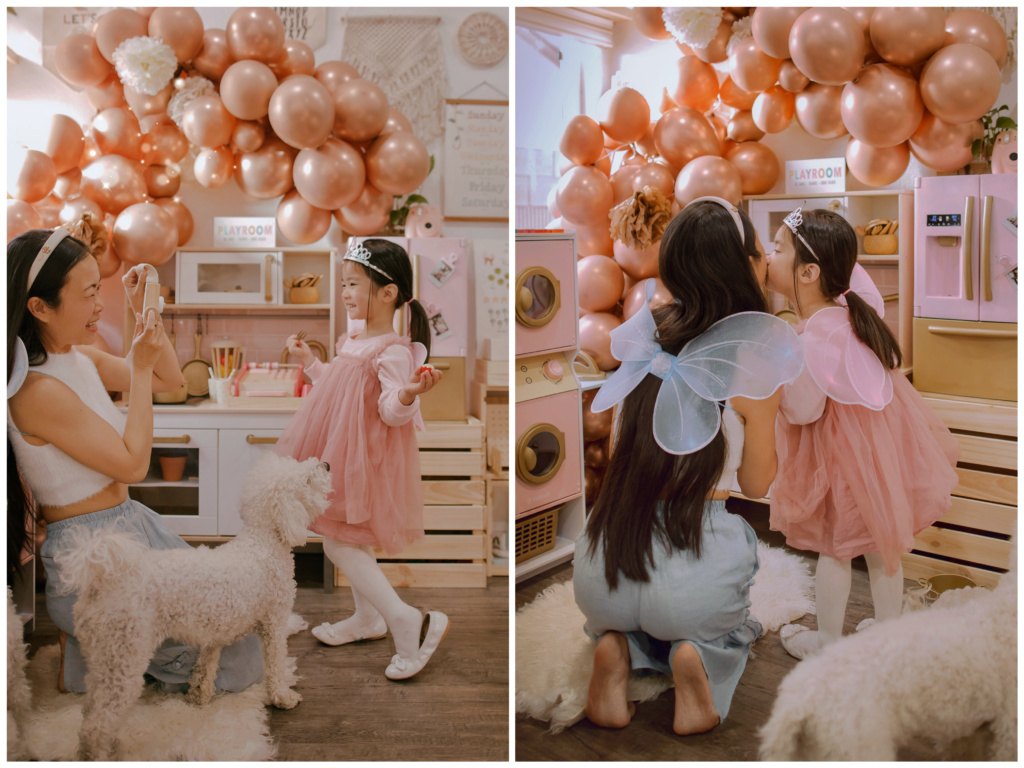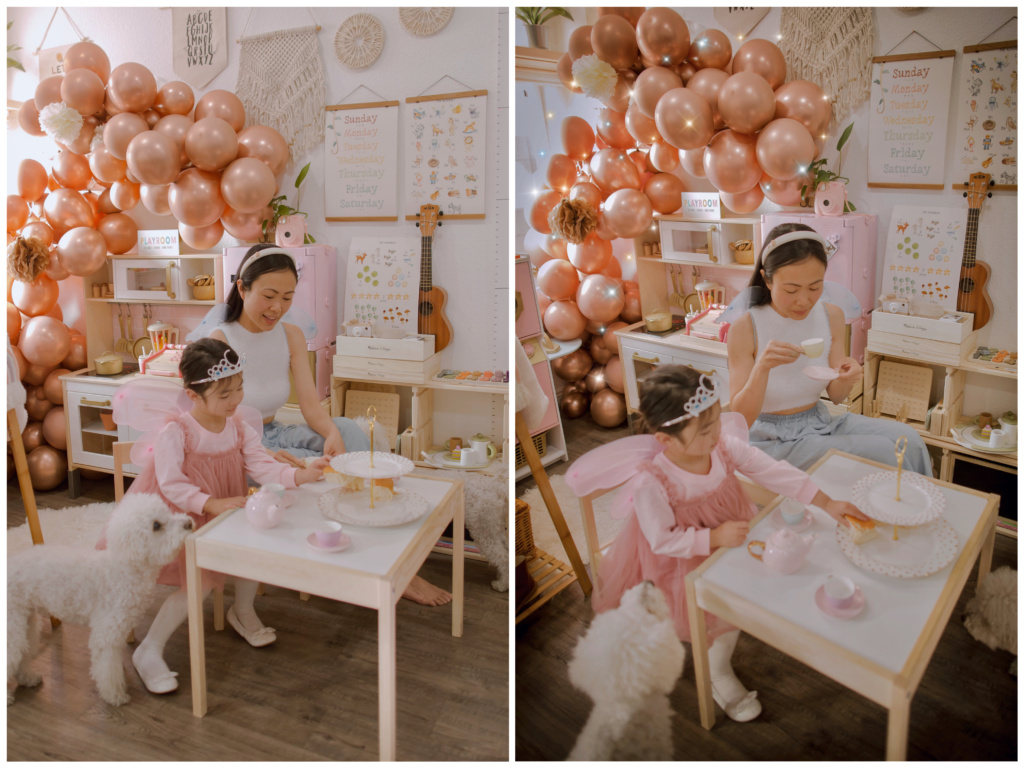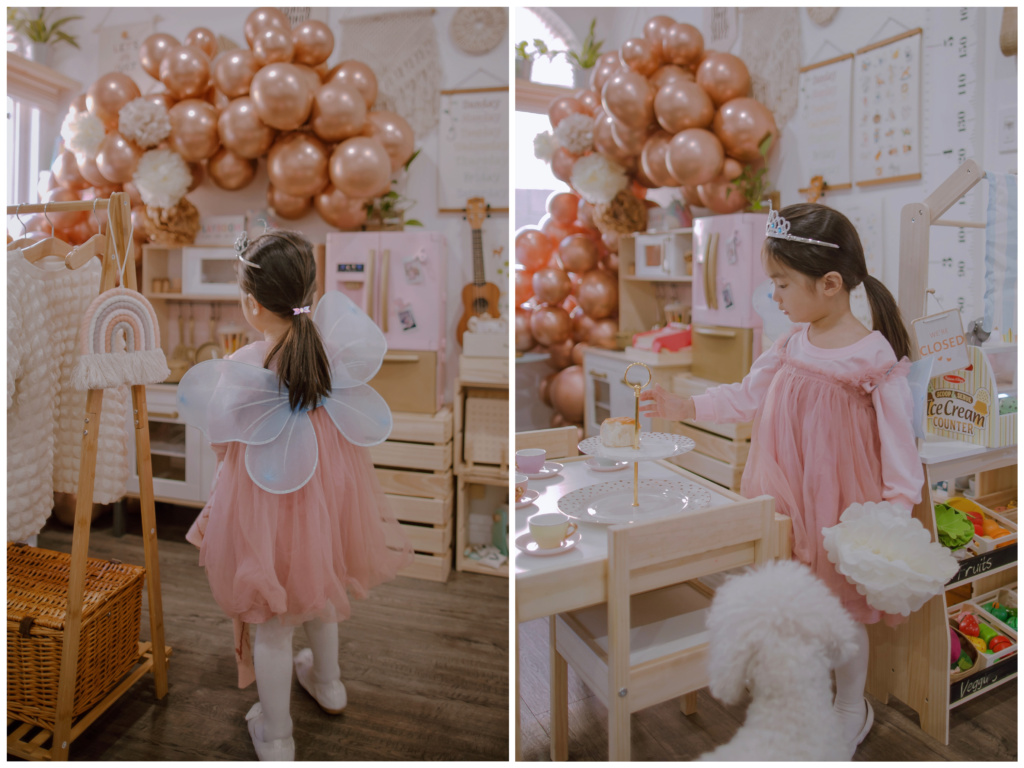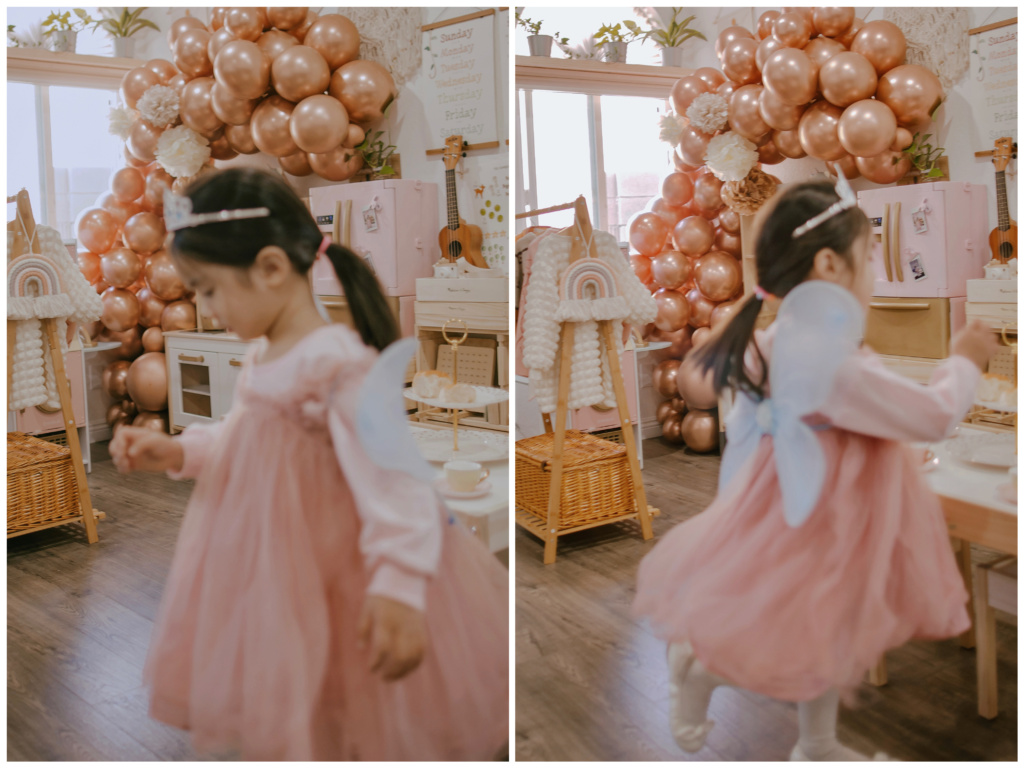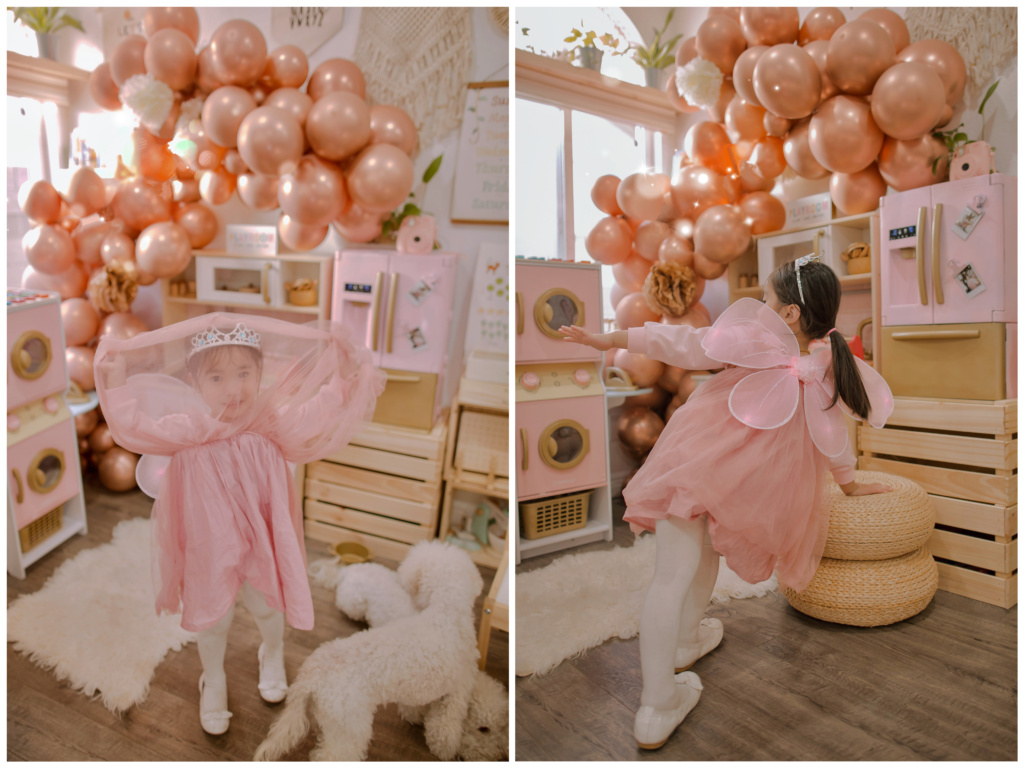 Want to save this for later? Post this Rose Gold Kid Playroom Makeover to your favorite Pinterest Board!