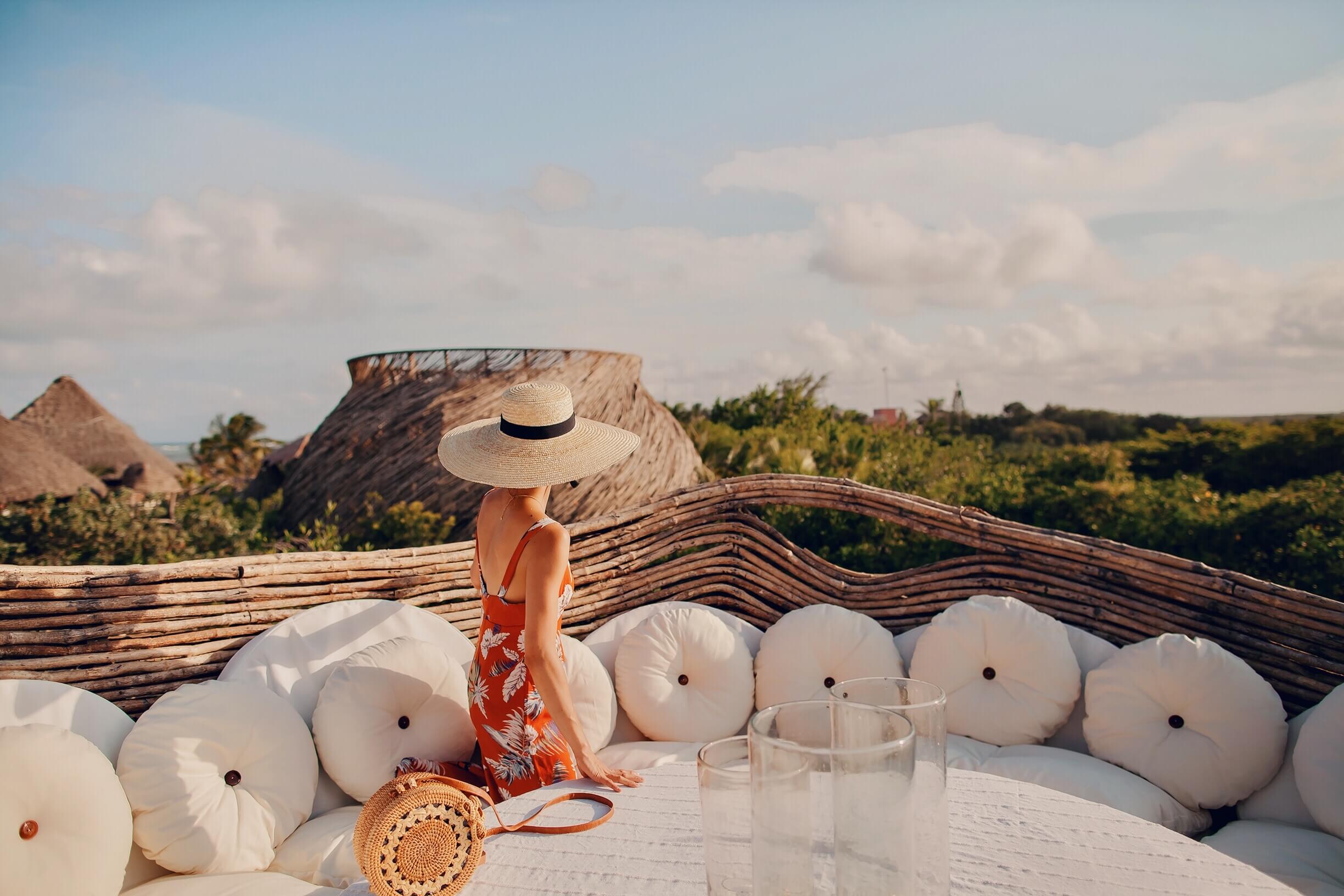 Located south of Cancún – on Mexico's Yucatan peninsula – Tulum is now on your Insta feed multiple times a day. Tulum is undeniably a hotspot for Instagrammers and bloggers. Everywhere you turn, there's a stylish, Instagram-worthy spot awaiting you. It's truly an Instagrammer's paradise.
Tulum was the perfect mix of chilling on those turquoise Caribbean beaches, eating incredible food, and exploring Mayan ruins. Once a laid-back beach destination, Tulum has made its mark as a holistic, yoga-filled, free people, and vegan dreamland. Heading to the pristine beaches and the balmy breezes of Tulum? My Tulum travel guide covers the best things to see and do, where to eat, what to pack and where to stay in Tulum, Mexico.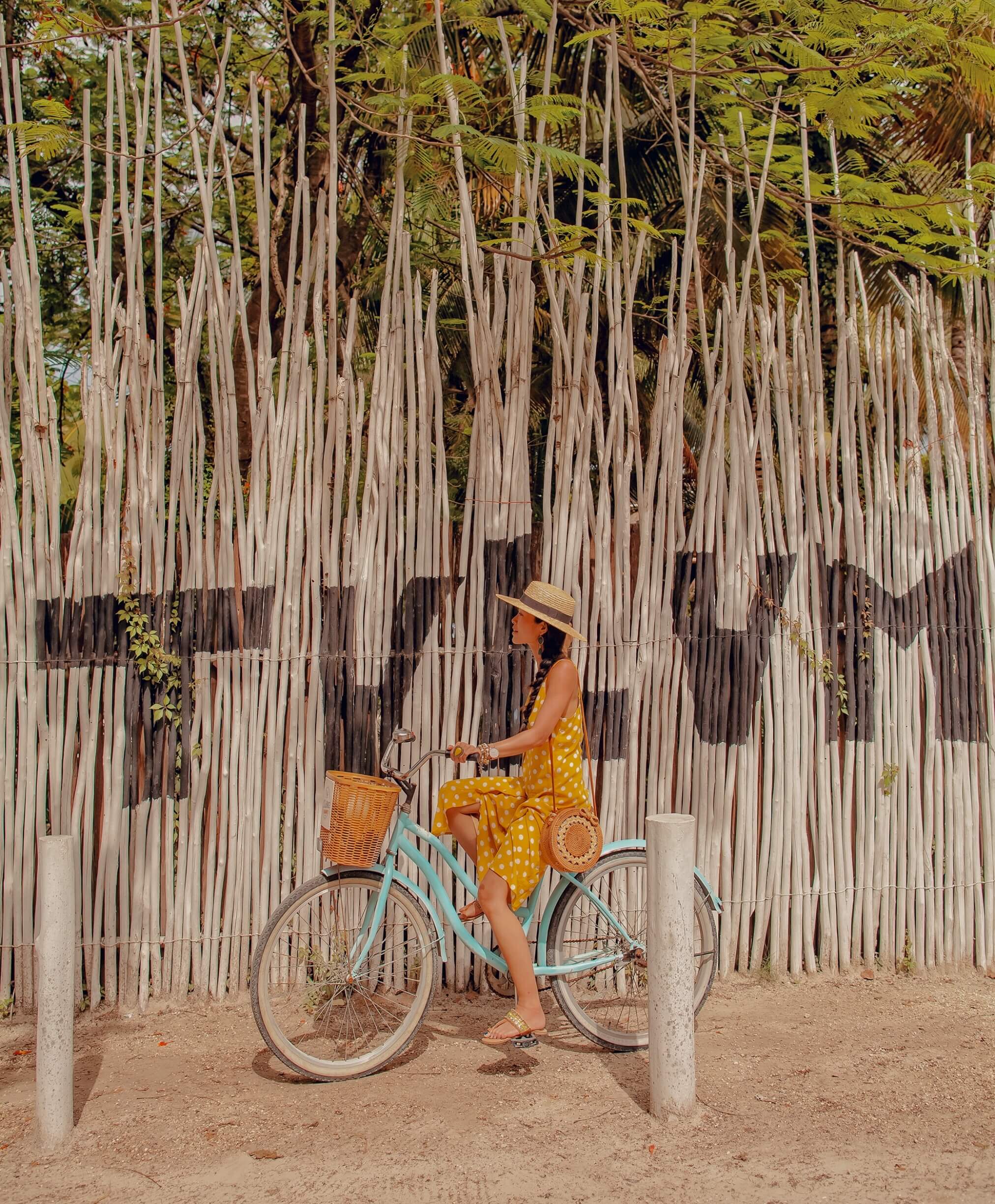 Tulum Quick Facts
Tulum is situated on the Caribbean coastline of Mexico's Yucatán Peninsula, in the Riviera Maya district. Located only 131 km south of Cancun (1 hour and 46 minutes driving time) and 65 km south of Playa del Carmen (less than one hour driving time), Tulum is a popular destination for travelers. In recent years, the town has become more high-end, due to wealthier travelers flocking in, so prices in Tulum are more expensive than similar resort areas in the Yucatán.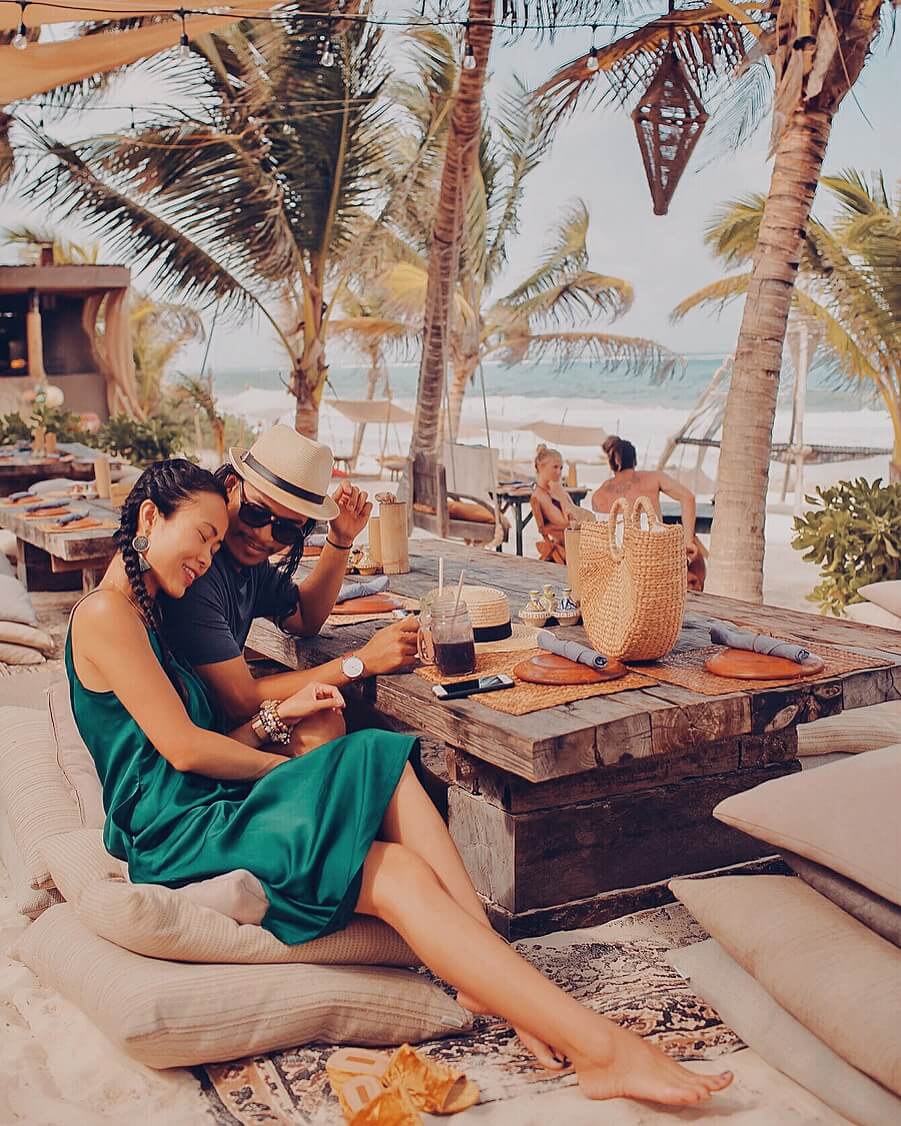 Language: Spanish is the main language spoken by the locals, although most working in the tourism industry will also speak English relatively well.
Currency: The Mexican Peso is the local currency in Tulum. Bring cash – both dollars and pesos. Most of the restaurants are cash only (they accept US dollars) but the taxis like you to pay in pesos. The ATMs in Tulum are pretty unreliable, so take out enough for your trip beforehand.
Safety: Tulum is extremely safe. You are fine to walk around at night, just use your street smarts and be aware of your surroundings.
Best time to go: Tulum tends to have warm weather all year round, with highs staying well within the 70s and 80s. Tulum's rainiest months are June, September, and October. The three-month stretch from October to December is the best time to visit, when hurricane season is over and the weather is warm but not very hot. January through March see the biggest wave of tourists, so avoid that time if you're not a fan of crowds.
How to get to Tulum
Tulum doesn't have an airport, so you'll have to fly into either Cancun Airport or Cozumel. If you're flying into Cozumel, you will need to take a ferry and a taxi to get to Tulum, so grab a taxi to the ferry terminal and take a ferry to Playa del Carmen. From there, walk over to the ADO bus station to grab the next bus to Tulum
If you are flying into Cancun, there are three popular ways to get from Cancun Airport to Tulum:
ADO public bus
Private transfer service
Renting a car
ADO Public Bus
There is no direct bus between Cancun and Tulum. You will have to take a bus to Playa del Carmen(1 hour), followed by another bus to Tulum centre(50 minutes). This should cost you around 228 Pesos.
From the Cancun International Airport – When you exit the terminal, turn to your right and keep walking for a little ways until you see the big red and white ADO buses in a parking lot next to the airport. You can purchase tickets for the ADO buses either at the ticket booth in the middle of the aisle-way as you are exiting the terminal, or at a small booth directly in front of the ADO buses. The journey from the airport to Playa del Carmen takes one hour and then it is an additional one hour from Playa del Carmen to Tulum.
Colectivo
These white shuttle vans are how the locals get from town to town. They are cheaper and smaller (holds about 10-12 people). They don't operate on a fixed schedule. Instead, they just leave whenever the bus is filled up. These vans are usually air conditioned, although they are often full of people and are not the most comfortable methods of transportation but they are very cheap (perfect for budget-conscious travelers) and work well for shorter journeys like this one.
Private Transfer
A private transfer, especially if you have multiple people in your group is your best option. Especially since they will take you directly to your hotel or rental house. This can be arranged through the hotel or on your own. The price for a round trip ranges from USD$135-$200.
Rent a Car
We rented a car from Alamo; they were right on time with an airport pickup and shuttled us to the rental car, which was in great shape. The drive into Tulum is a straight shot, on one road — you can't miss it.
Where to Stay in Tulum
Deciding where to stay in Tulumcan be a super hard choice. All the hotels in the beach and downtown zone offer a diverse reasons to stay there, each property seriously has its own personality.
First off, Tulum is divided into two areas: the town (pueblo) and the beach (playa).
The main town (pueblo) runs along Highway 307 and it is where the local lives. Almost everything you need is located along the main avenue, from convenient stores, pharmacies, ADO bus stations, bike rental shops, to authentic local restaurants and bars.
The beach (playa) is 15-20 mins drive from the town. If you're looking for the pretty bohemian hotels and cute Instagram spots, this is where you want to be. The long strip runs along the coast, with hotels on the left facing the ocean, and shops and restaurants on the right.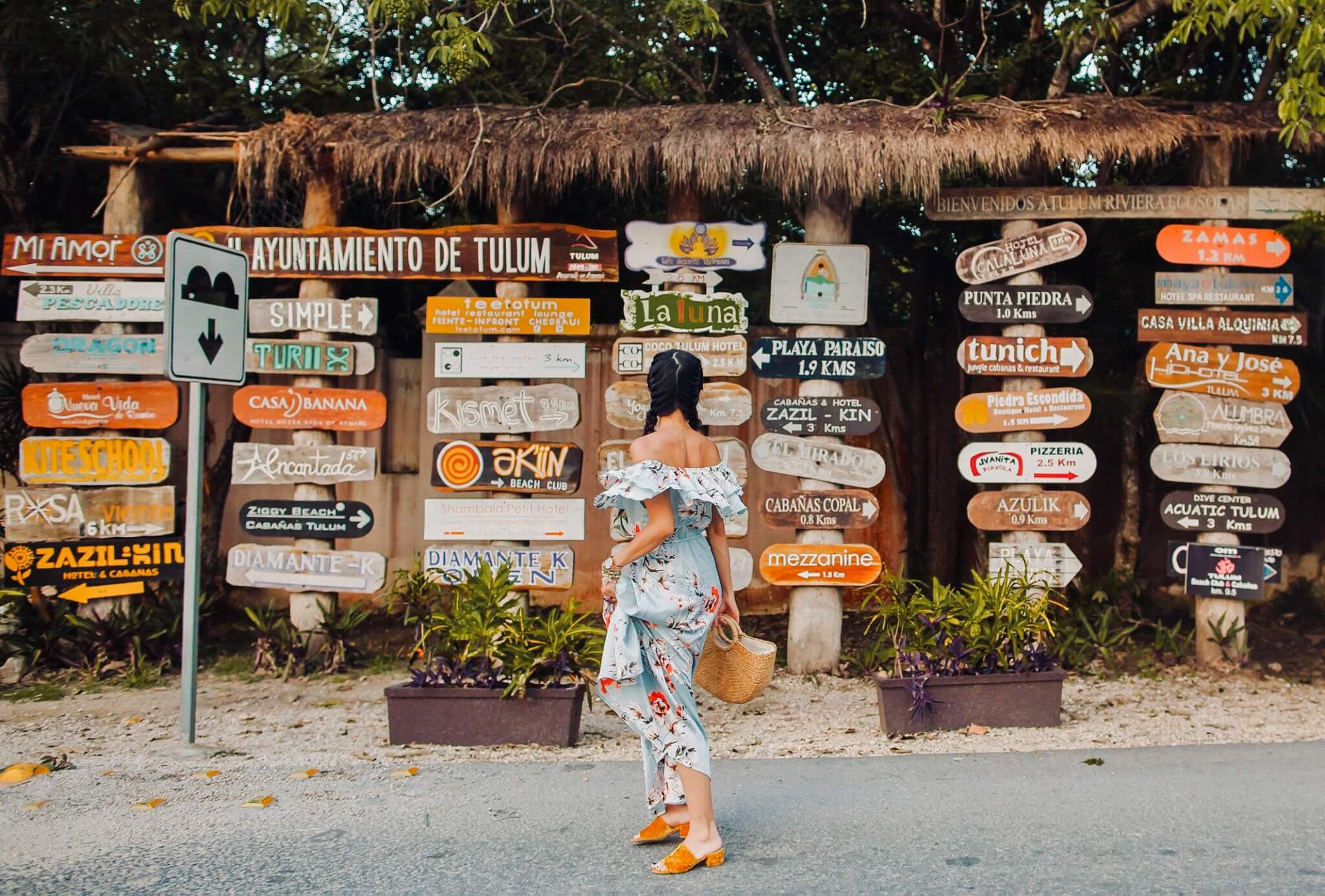 Downtown will generally be cheaper and is better for adventure seekers while the beach starts at moderate prices and climbs all the way to ridiculously expensive prices (over $500 and "eco" meaning no TV, no AC, and some no WiFi). Most of these are pretty small, boutique spots with just a few rooms and can get a little pricey. Some great hotel options include: Ahau, Be Tulum, Coco Tulum, Luv Tulum, Nomade & Papaya Playa Project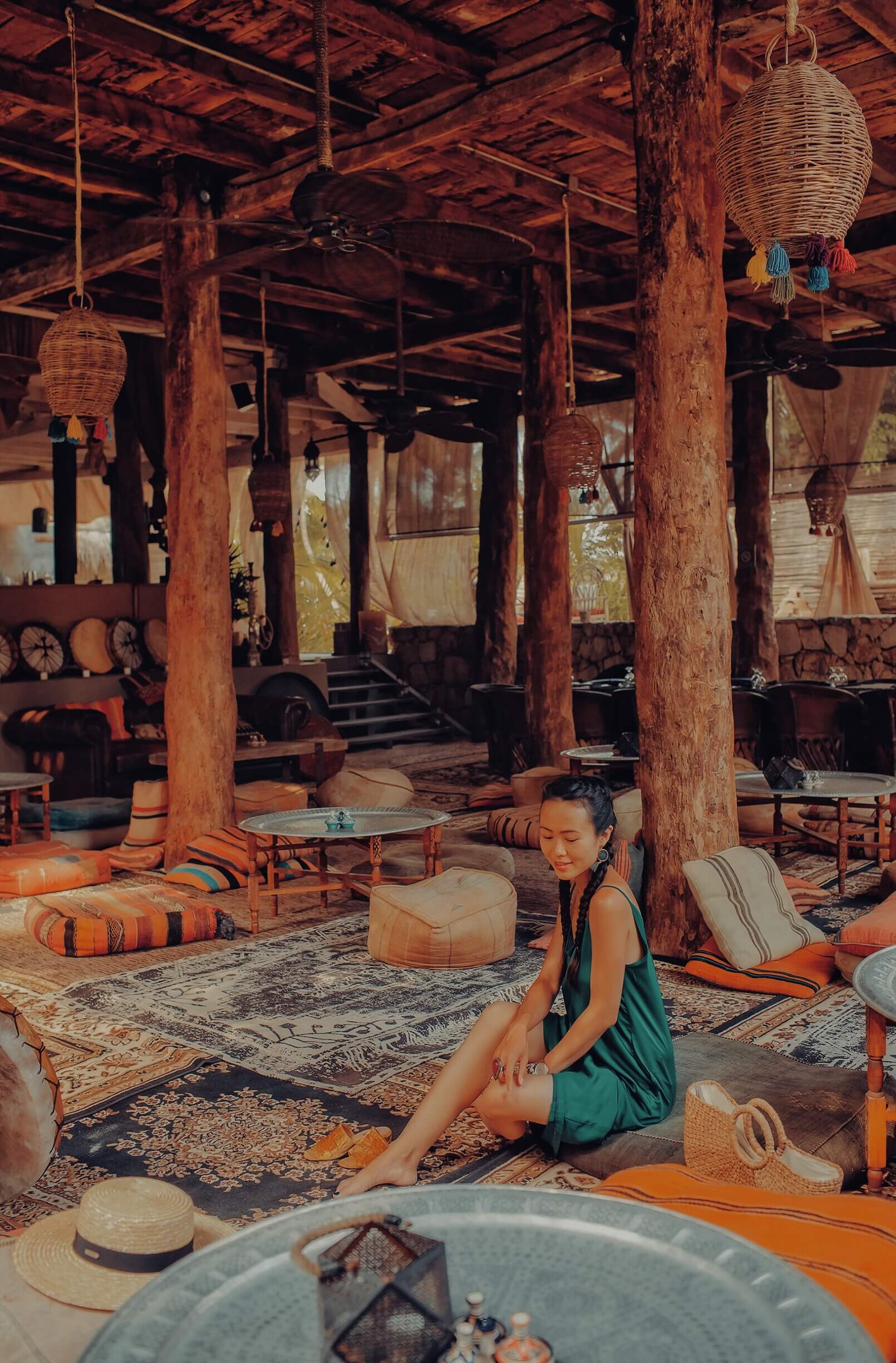 The Nomade is (pictured above) where I stayed. It's super rustic, but so so beautiful. The Nomade Hotel is a Boho lovers dream come true! I actually loved the decor of the entire hotel, it gives me a very Moroccan vibe.
There are plenty of amazing hotel options but I highly suggest choosing one along the hotel zone with beach front cabanas. I have never stayed at Be Tulum (it's very expensive) but I have heard amazing things. Wherever you decide, there's absolutely no reason to do an all-inclusive resort kind of thing in Tulum — small boutique hotels and eco-chic guest rooms are available in all price ranges. Even at the high-end places, it's bohemian luxury, so don't expect air conditioning, WiFi or room service. It's more low-key than that.
AIRBNB: There are many Airbnbs to rent in Tulum, which would be a great way to go if you have a larger group or are traveling with kids. There aren't many of them along the beach, but there are a few in town. Some of them have private pools, some of them have air conditioning. There are quite a few condo complexes popping up in the jungle, where you can stay with twice the space for about half the cost of staying on the beach.
There are plenty of taxi's so you will not have an issue getting around. Tulum is also bike friendly so you can always rent a bike at the hotel and explore the town.
Best Places to Eat in Tulum
Raw Love: If you're into raw vegan food, check out Raw Love. This discreet cafe serves delicious smoothies and acai bowls that will keep you energized for the rest of the day! The small cafe is located on hotel property so just ask a helpful staff member to point the way, as its a bit hidden. Lots of hammocks and swing seating!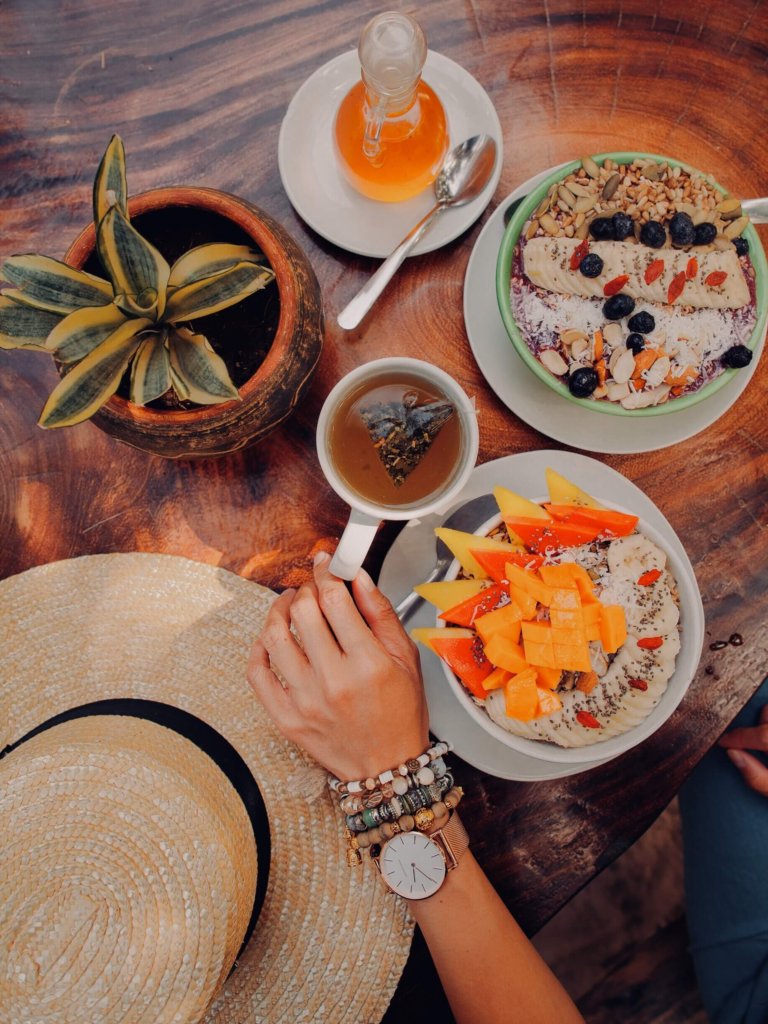 Posada Margherita: a restaurant that essentially feels like a beautiful, warm, rustic and meticulously decorated home, with Italian food at its core.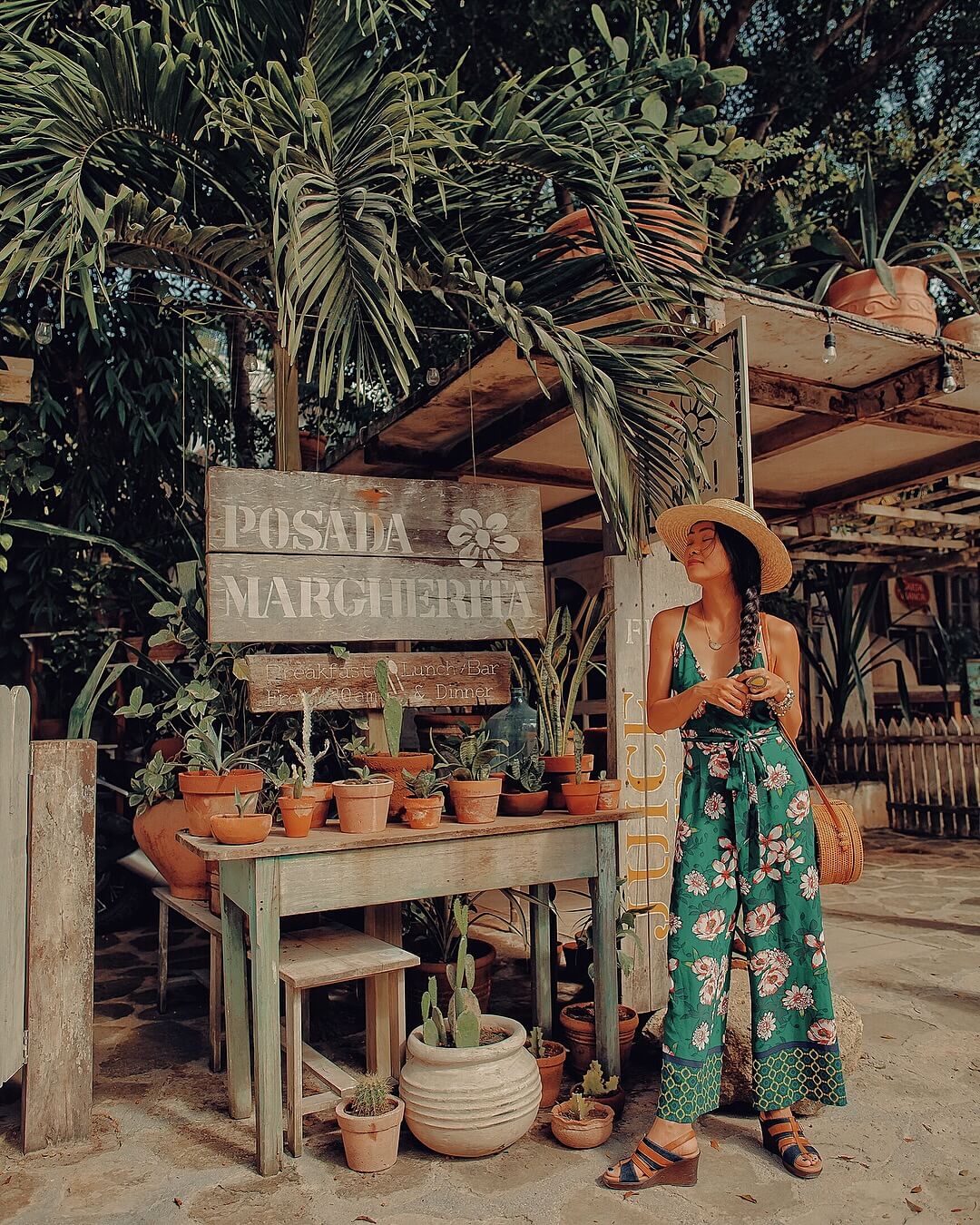 Like so many others in Tulum, the setup is open-air and the turquoise Gulf waters hover at the end of your line of site, making the space even more breathtaking than it already is. An art-deco kind of garden out back, and a boutique store in the front.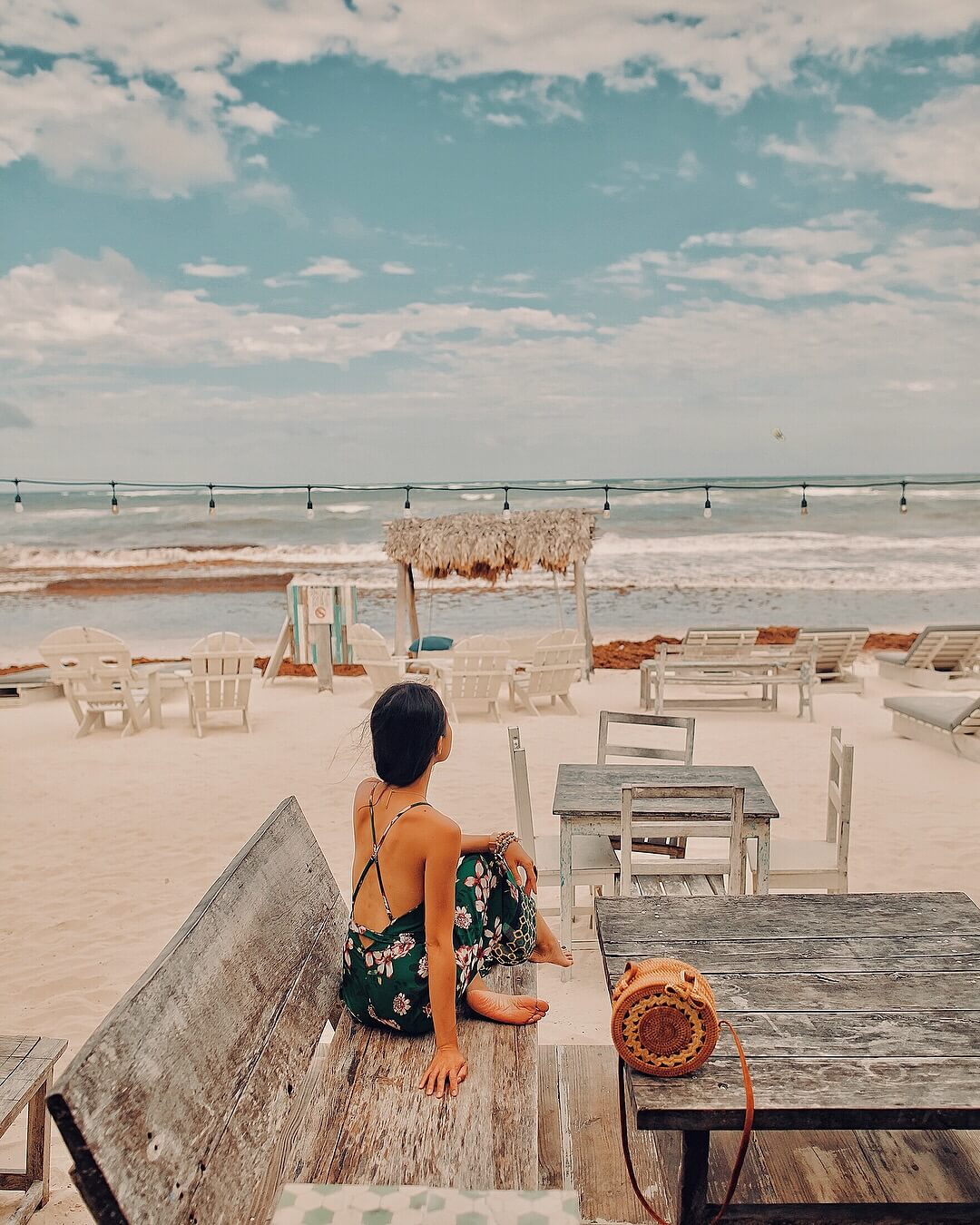 El Capitan: You must eat here! It was the best seafood we ate in Tulum. I love love their shirmp tacos. It was grilled shrimp with some secret sauces and a spinach-cabbage slaw — perfection. Definitely order those tacos and any kind of ceviche they happen to have. The portions will be enormous. My husband and I ordered one ceviche and one order of tacos to share and we couldn't finish everything!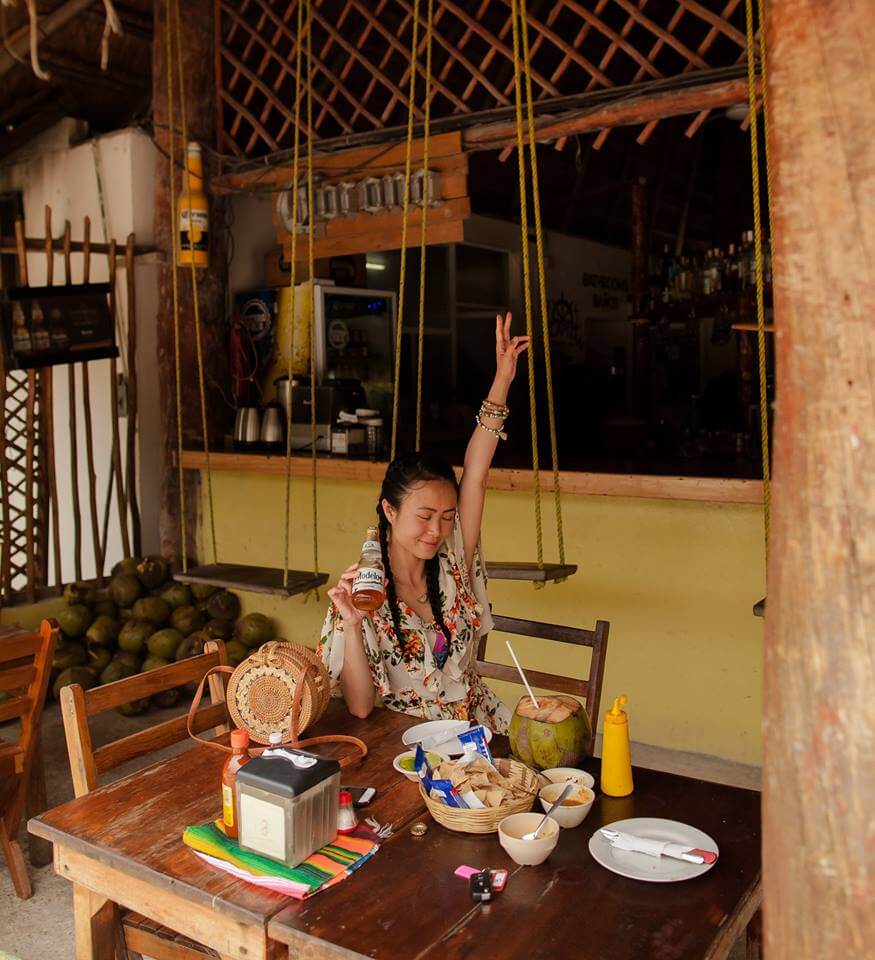 Matcha Mama: I bet if you Instagram search Tulum, Matcha Mama coffee shack will be in the top photos. Rustic shacks with smoothie bowls and raw foods, retro-inspired mezcal bars in the jungle, boho beach bars with thatched roofs and wooden swings,….Instagrammer's paradise! Most people probably come here for the photo shoot. But every one stays and raves about their smoothies.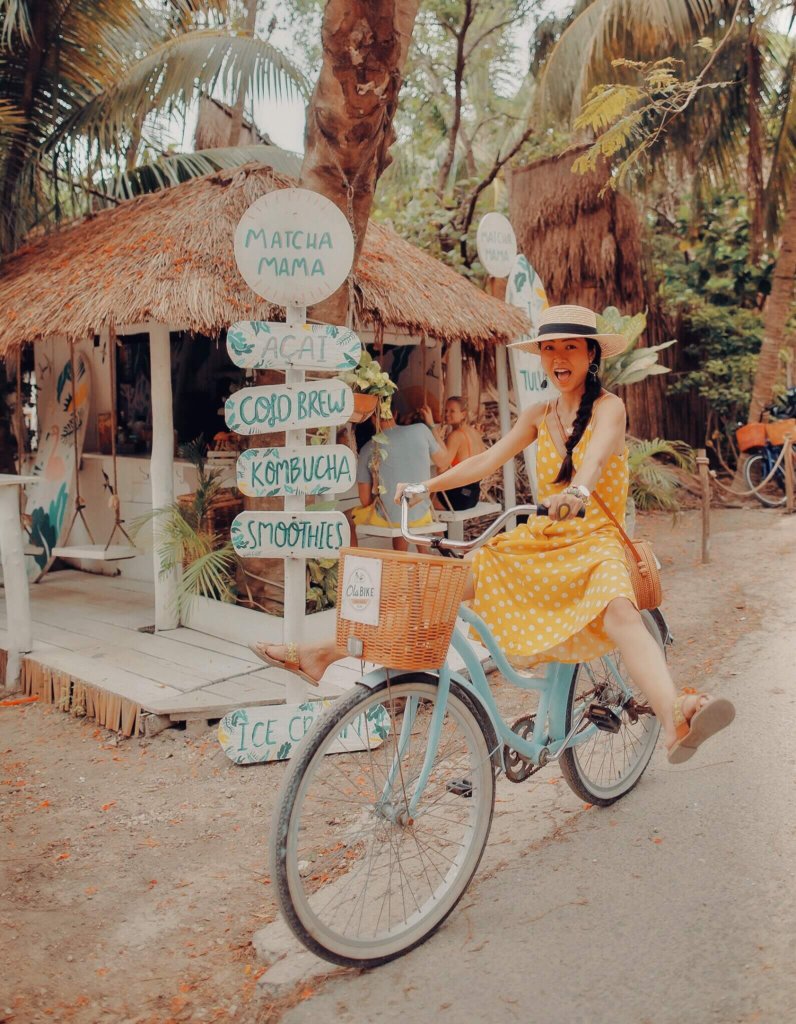 Nomade: Fresh, delicious food made from the surroundings. A bit pricey. They are open daily from 7:30 AM till 10 PM.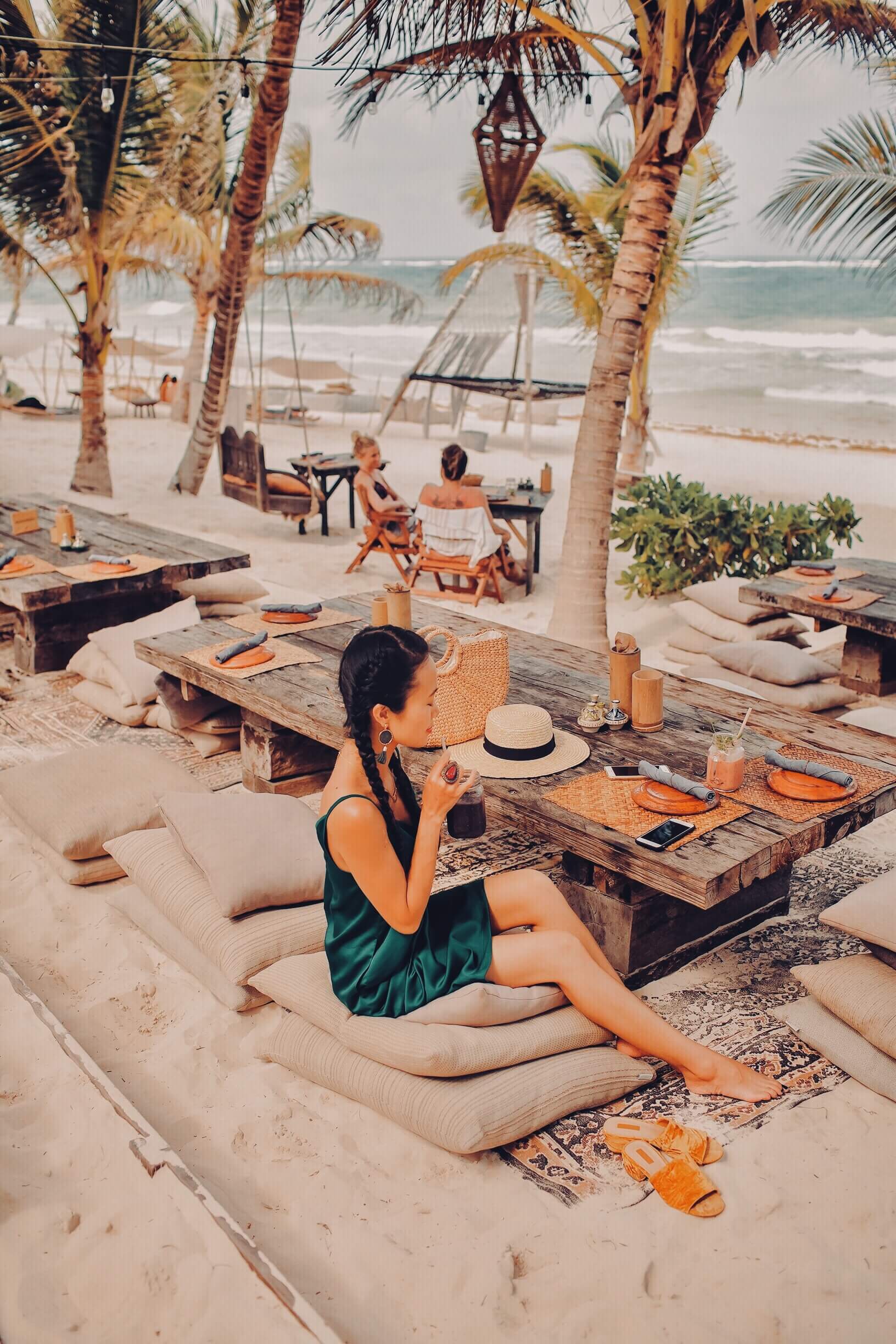 Kin Toh: Let´s say that this restaurant is taking advantage and embracing the jungle that surround us. It creates the most wonderful and relaxing vibe and provides absolute exclusivity to visitors. It looks like a tree house straight out of a fairy tale, and it offers one of the best views of the jungle in all of Quintana Roo.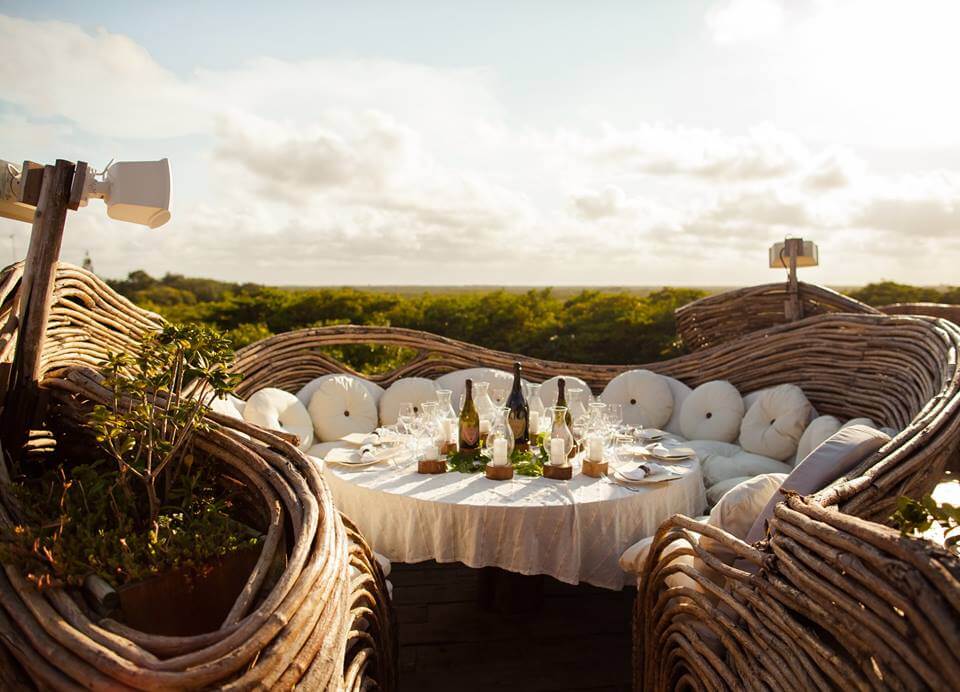 There's something so charming and down-to-Earth about a restaurant that offers fresh, raw foods, in a setting such as this, it's truly indescribable.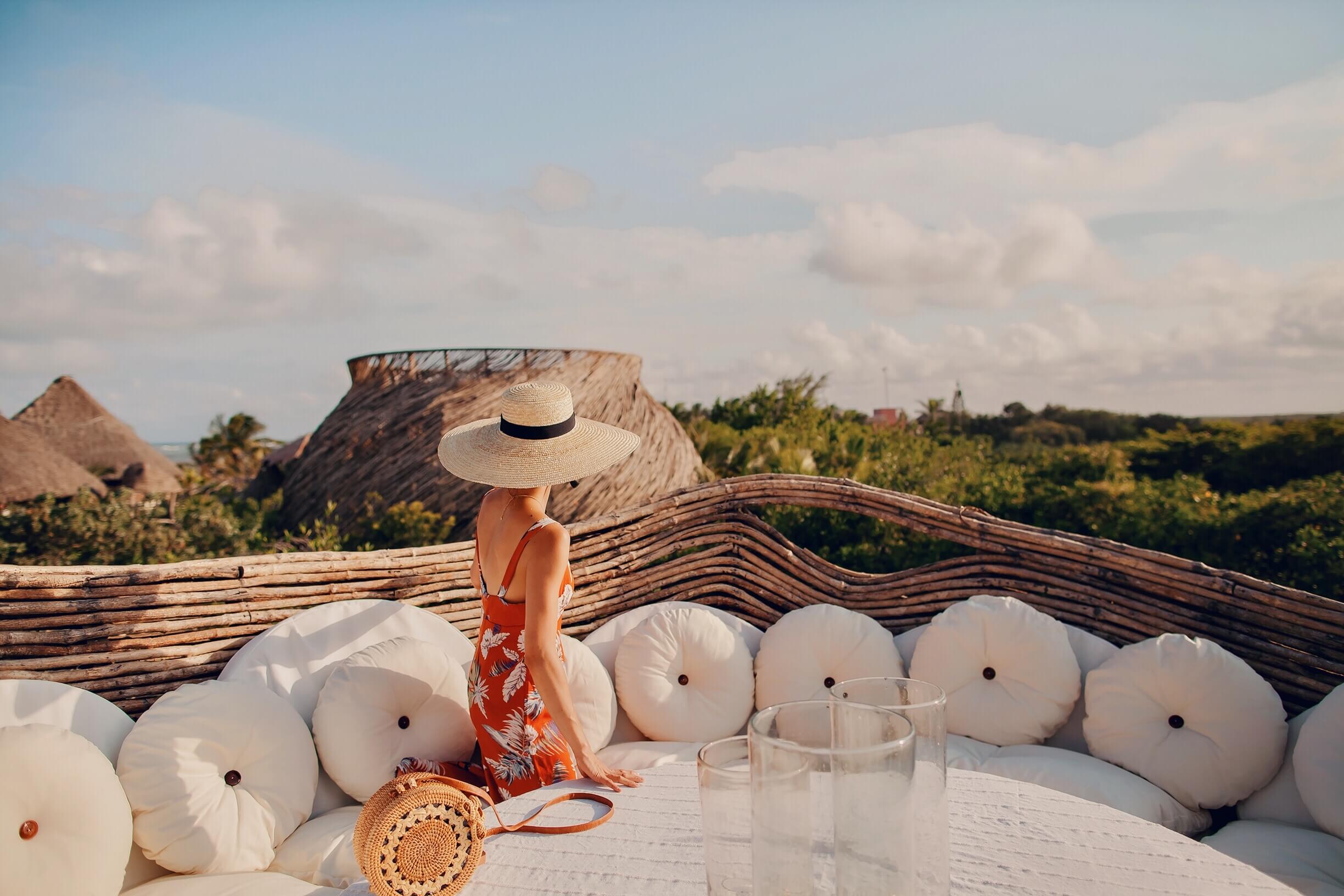 The minimum age to visit the restaurant is 18 years old. They start serving cocktails from 5:00pm to 6:30pm and from 6:30pm to 11:00pm it´s dinner time. The dress code specifies that ladies should not wear swim suits, and men no tank tops or bathing suit shorts. They take walk in´s but only under first come first served basis. Kin Toh restaurant is located on Tulum beach road and you can access through Azulik Hotel entrance. It is definitely a unique way of dining!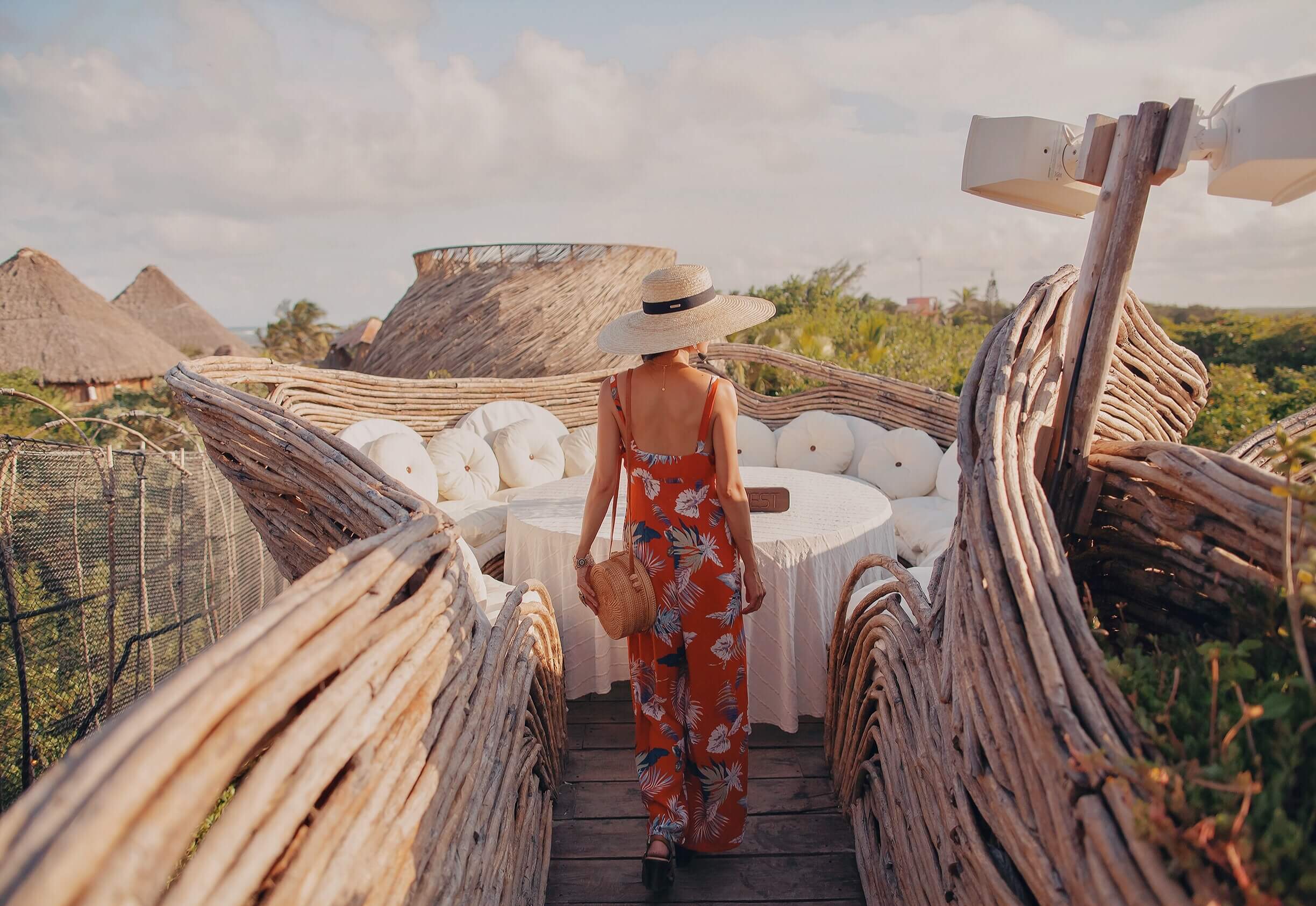 Estancia Jujeña: We love that Estancia was a little different from the majorly boho Tulum vibes. This restaurant has more of a colorful shabby chic old world thing going for it. All the different colors, textures, and plants make it the perfect place to snap a picture. Also, they have beautiful colorful plates and cups that make a nice addition to your picture. It is probably one of the busiest place to eat and drink on the Tulum beach road. It's mostly down to its fabulous drinks and the overall ambience. However, I found that the menu is catered more towards tourists with burritos, fajitas and burgers on it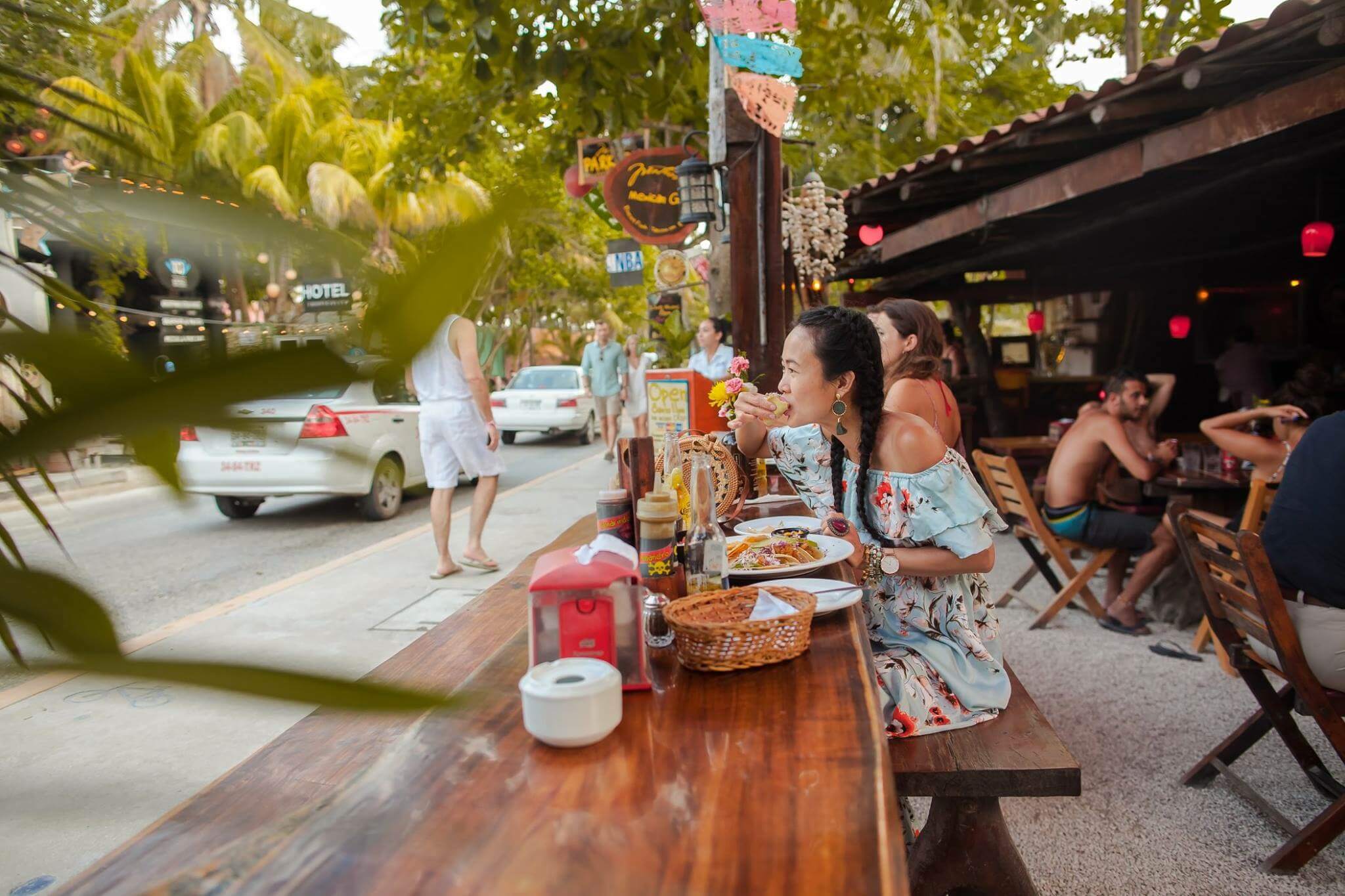 THINGS TO DO
Swim in cenotes
Your trip to Tulum is not complete without a visit to a cenote. Cenotes are freshwater sinkholes with clear blue water, perfect for swimming, snorkeling and diving! The Yucatan Peninsula in Mexico has an estimated 12,000 cenotes, many of which are easily accessible from round Tulum.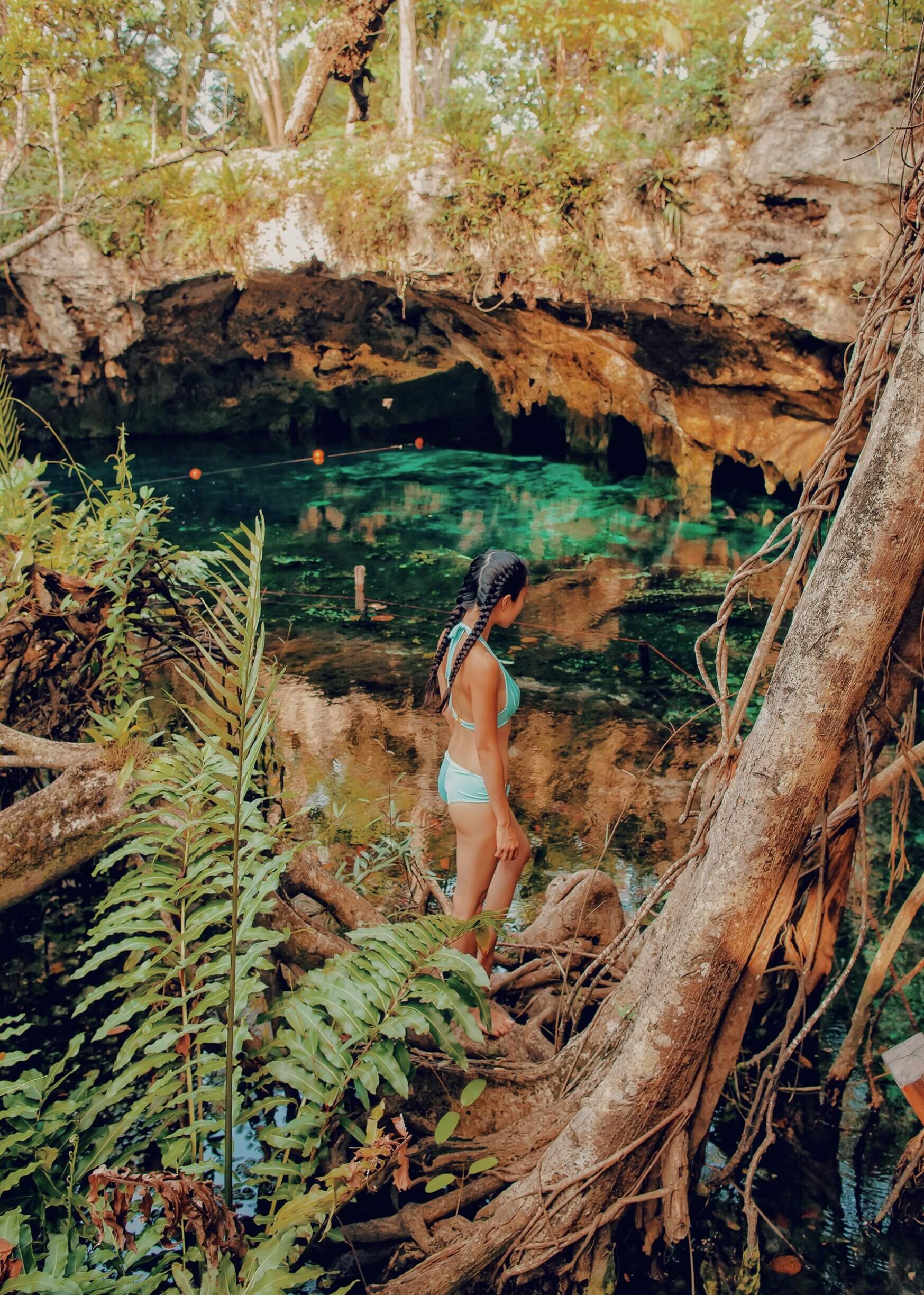 Grand Cenote is the one nearest to Tulum. It is filled with small fish, turtles, and caverns with stalactites and stalagmites formations. Grand Cenote is open from 8:10 am to 4:45 pm and the entry fee is 180 Pesos. Even if you don't bring your own snorkelling gear, it is possible to rent one for 80 Pesos. Remember to shower off before you go in, because most sunscreen and bug repellants are banned from the cenotes to protect the fragile ecosystem.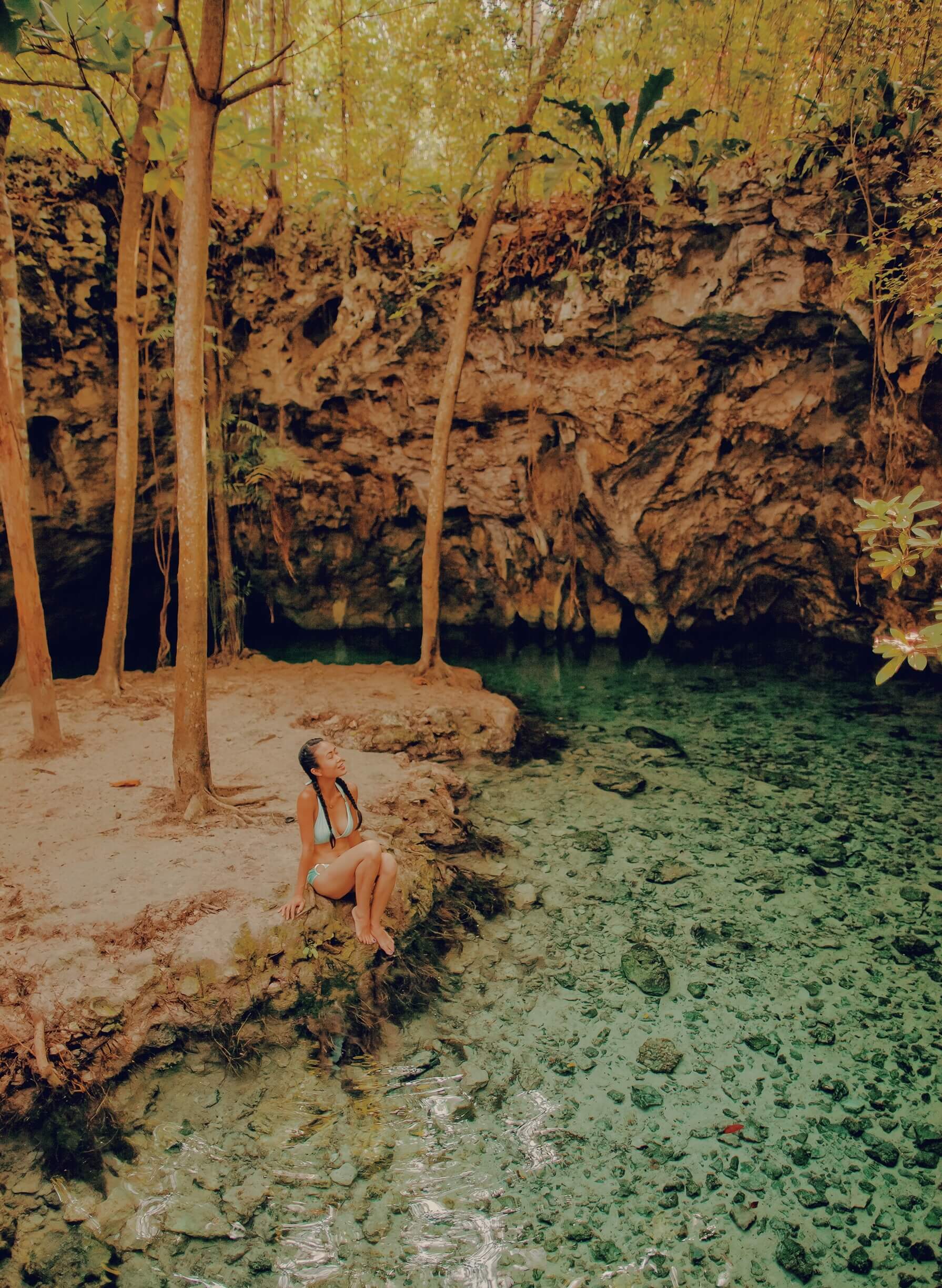 Cenote Calavera (also known as the Temple of Doom): We walked through the dry, desolate surroundings until we came to something that we really weren't expecting – an exotic little swimming pool which looked like a portal into another dimension.
You can jump into the refreshing water below or there is a slippery wooden ladder you can climb down. There is a rope in the middle of the cenote where you can chill out without having to tread water!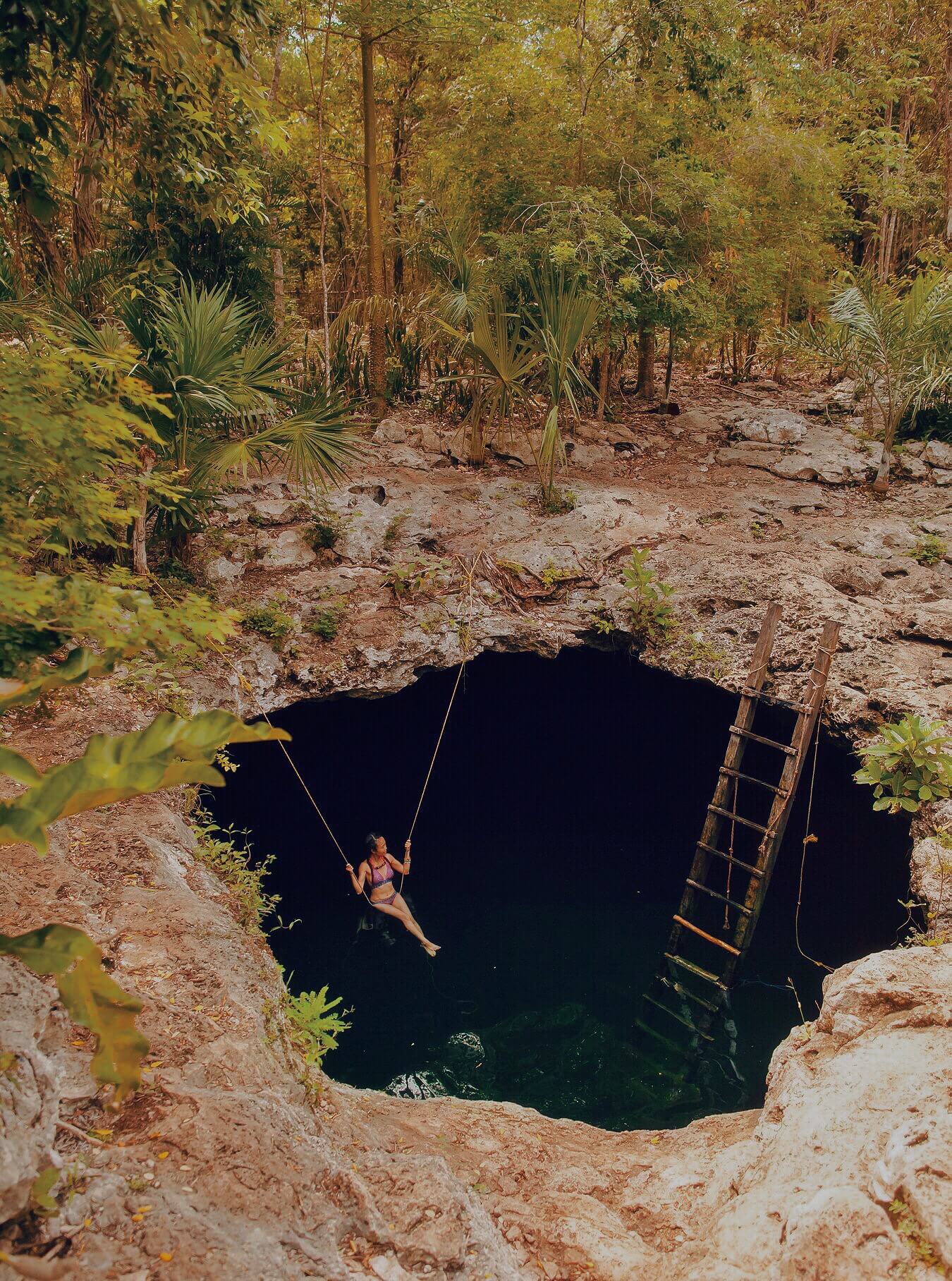 Cenote Suytun is fast becoming iconic because the fact it is a beautiful cenote but also the walkway to the center and the shaft of light coming down. You can find this cenote near to the colonial city of Valladolid Yucatan.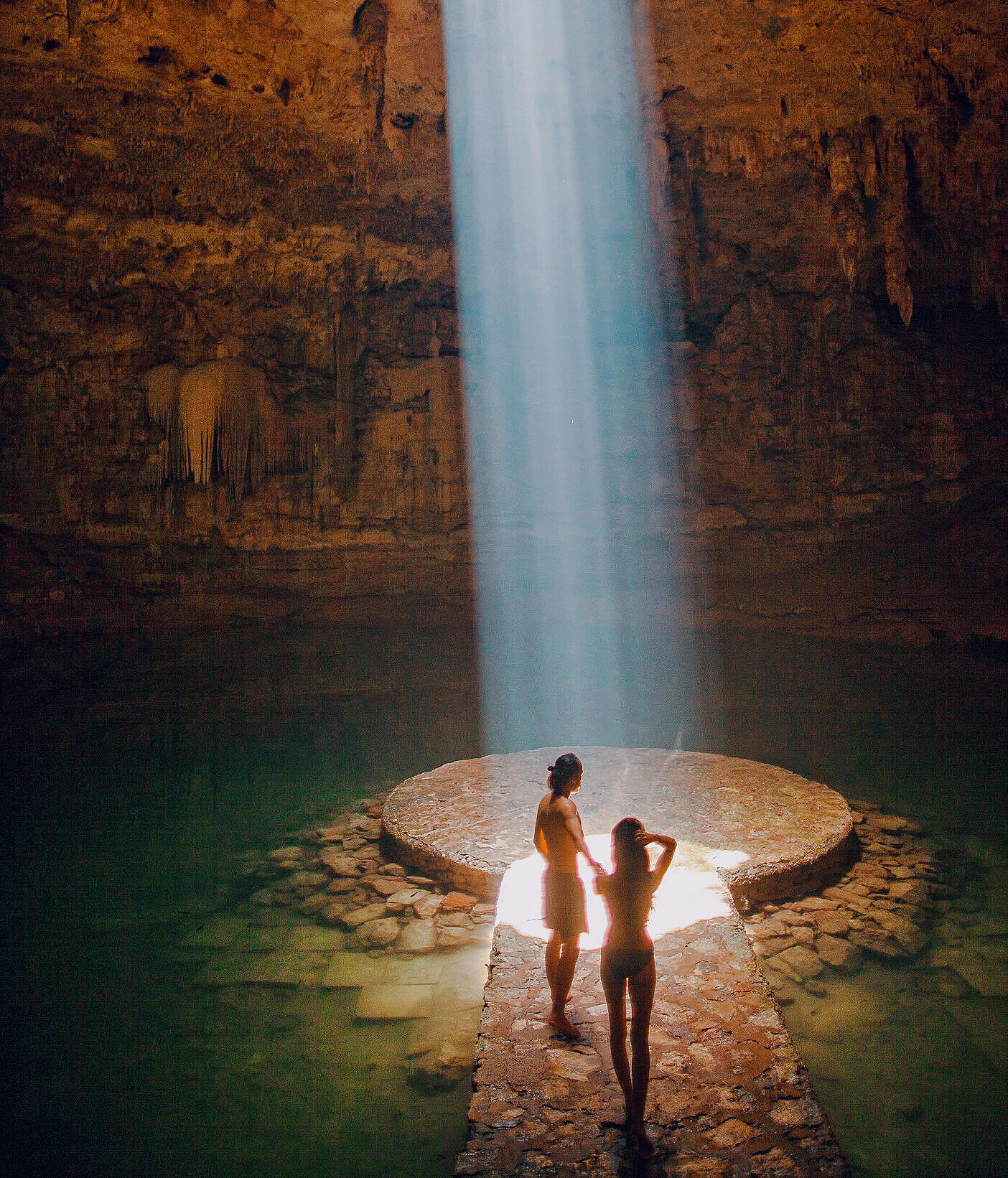 You will pass down stone stairs and come out in this marvelous cave. At the top of the stairs you will get your fist glimpse of the cenote. Ancient stalactites decorate the ceiling and in the center a hole lets light in. The water is not that deep here and you can swim in this cenote.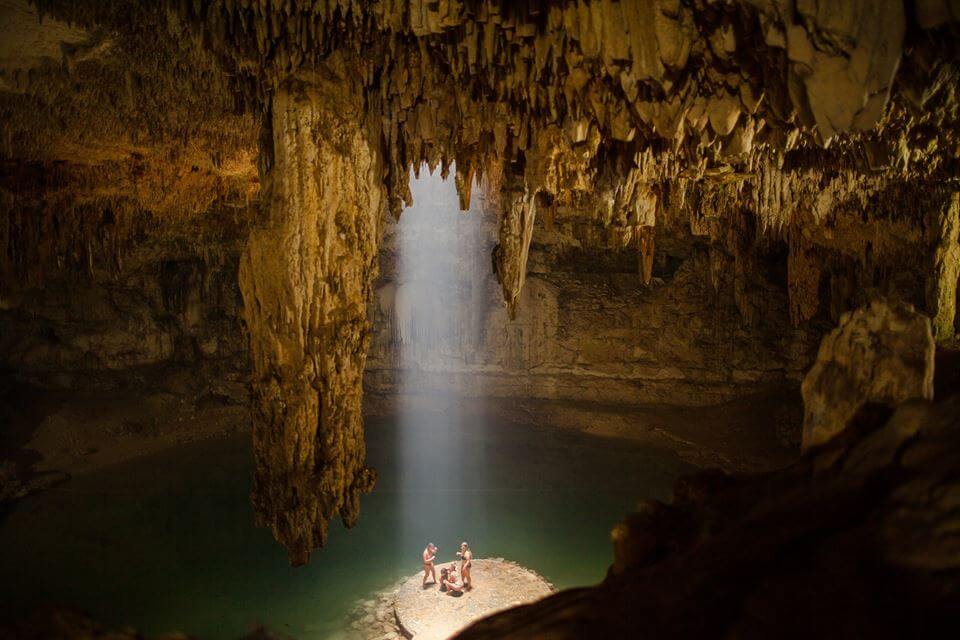 If you want to try a different cenote, there are many within easy driving distance from Tulum: Cenotes Labnaha, Cenote Zacil-Ha, Cenote Naharon, Cenote Zazil-ha & Cenote Dos Ojos!
Go shopping in Tulum Town
Looking to buy a straw hat, a pair of sunglasses, or souvenirs to bring home? The best place to shop is in the town, not on the beach strip. In comparison to the beach strip which is filled with expensive local designers shops, the shops in town are more budget-friendly. You can find anything from handbags to hammocks.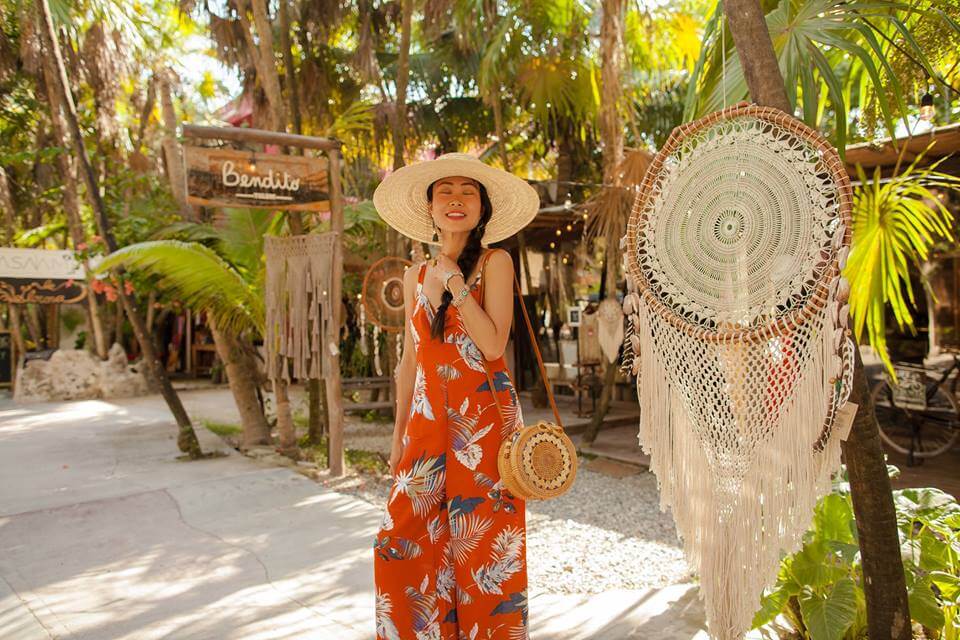 Visit Tulum Ruins
Perched on a rocky bluff overlooking the turquoise Caribbean Sea, these ruins were once a majestic walled city built and inhabited by the Maya sometime around 1200 AD.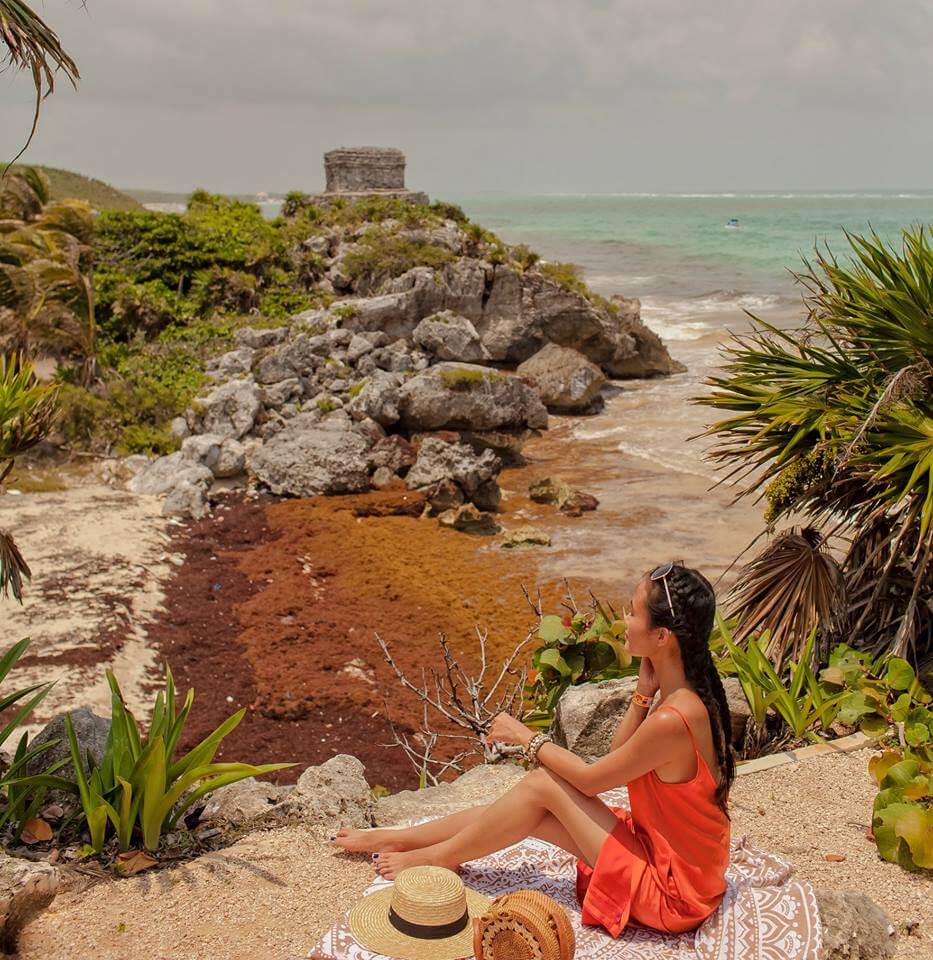 If you're traveling during the busy season, definitely arrive early in the day. I was surprised to see tourist buses unloading there as early as 9 am. Admission is $70 pesos and the site can be accessed by bike. You can also opt to pay 20 pesos per person to ride a shuttle train to the ruins site from the entrance to avoid walking the kilometer. You can hire a guide if you like!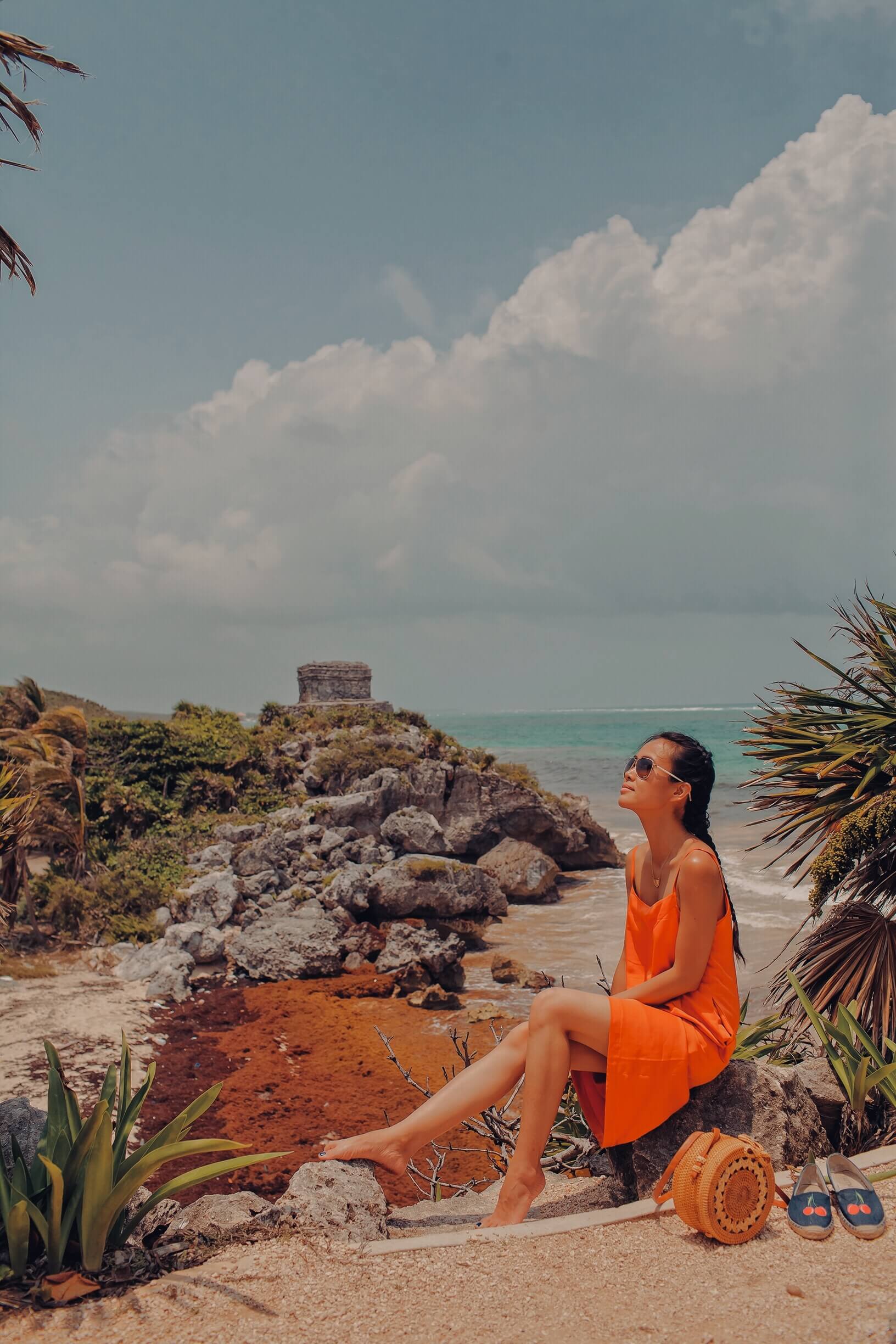 Chichén Itza
Chichen Itza is the biggest and most popular ruins in Mexico, this UNESCO World Heritage site was named a 7th Wonder of the World in 2007. Chichen Itza is approximately 2 hours from Cancun and Tulum, 3 hours from Playa del Carmen,90 minutes from Merida and just 45 minutes from Valladolid. Between the cities you'll either be driving or taking public transport.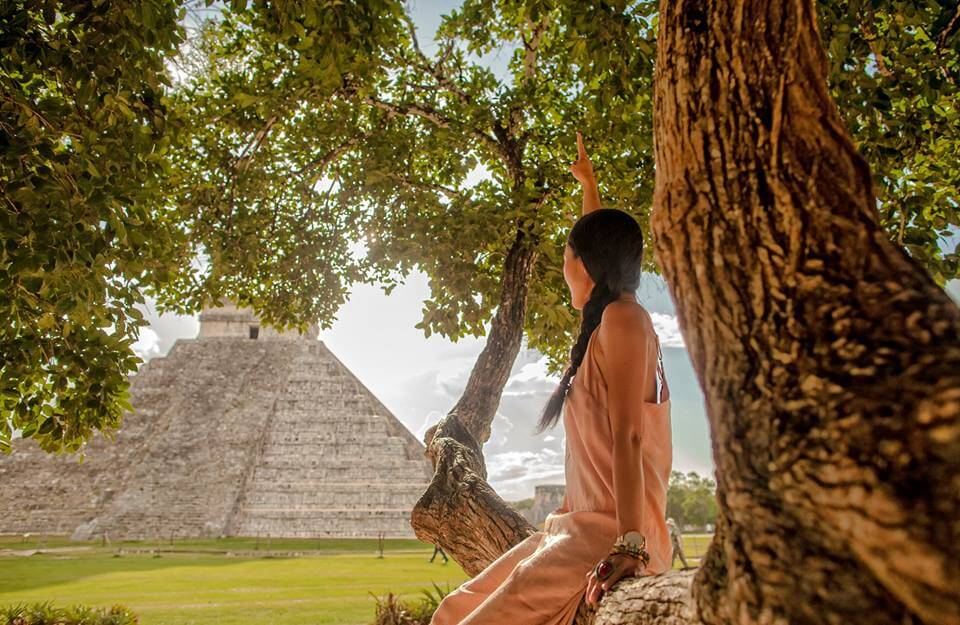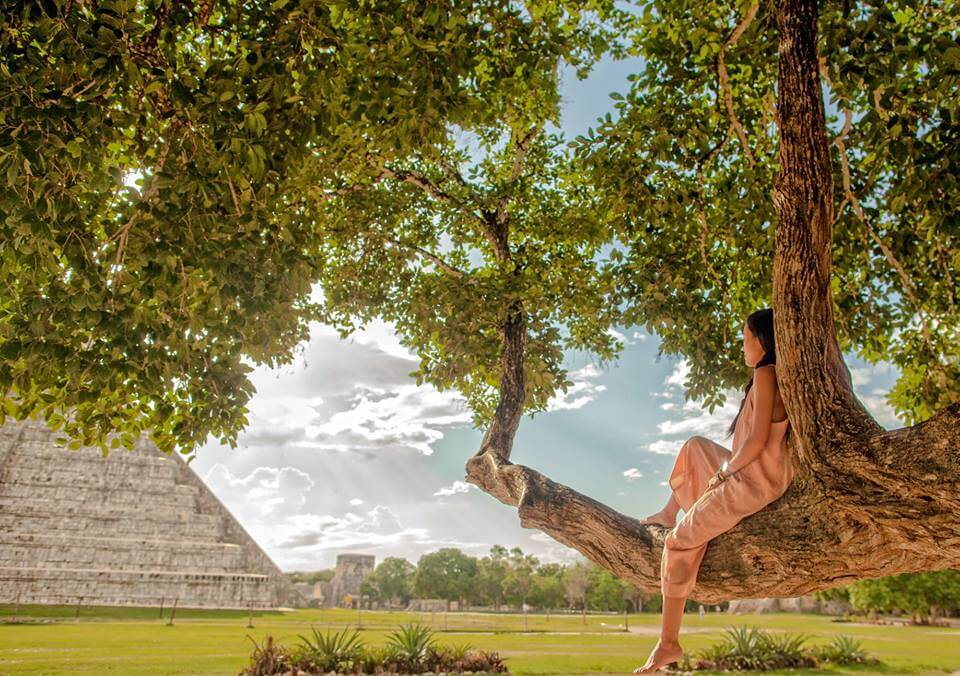 Search for Inspiring Signs and Cute Walls in Tulum
Tulum's beach road is a wonderland for lovers of all things hippie and bohemian. My recommendation? Bike adventures in Tulum. It's such a fun way to get around especially if you're traveling from the beach to the main town. Along the way, you'll pass gorgeous hotels, restaurants, and lots of street arts/cute signs/murals that you saw on your Instagram feed!
I Scream Bar– The Blue Tuk Tuk: The famous blue tuk tuk that has been moved several times! While I was in Tulum the blue tuk tuk is right in front of the bar. We actually stopped early afternoon before it became crowded, tThe light probably was not the best due to the shadows from the palm trees, but either way I got my Instagrammable shot!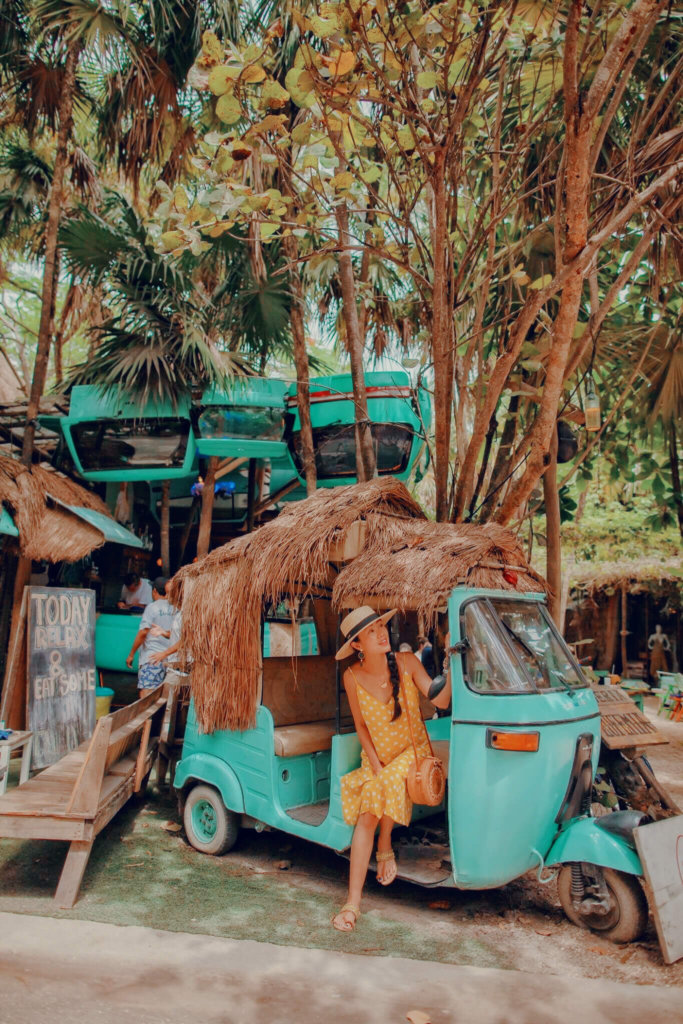 Inspiring Signs:As we pedaled onward while local taxis and rental cars passed us by, we began to see the signs everywhere Like "Follow that Dream" and "Live in the Present". Many signs we see in our everyday lives are trying to advertise products and sell things to us. The sight of uplifting and encouraging messages was very refreshing.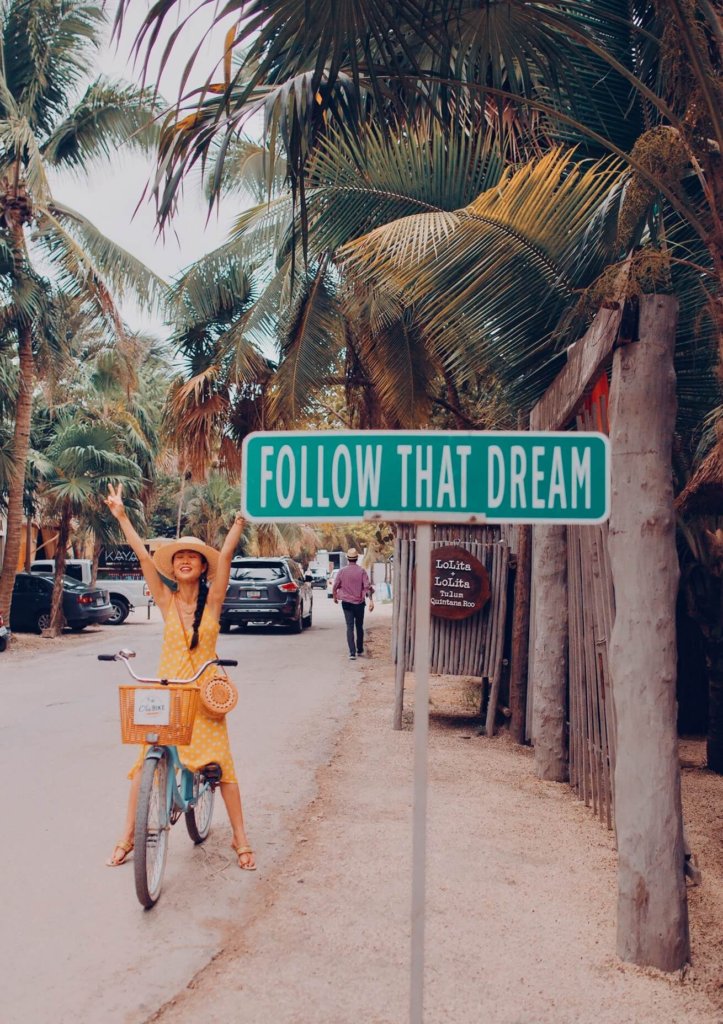 That was the beauty of Tulum! Hidden messages were everywhere: behind plants on the curbside, on restaurant posts, inside shops, and even on the beach,…ready to be given to those ready to receive them.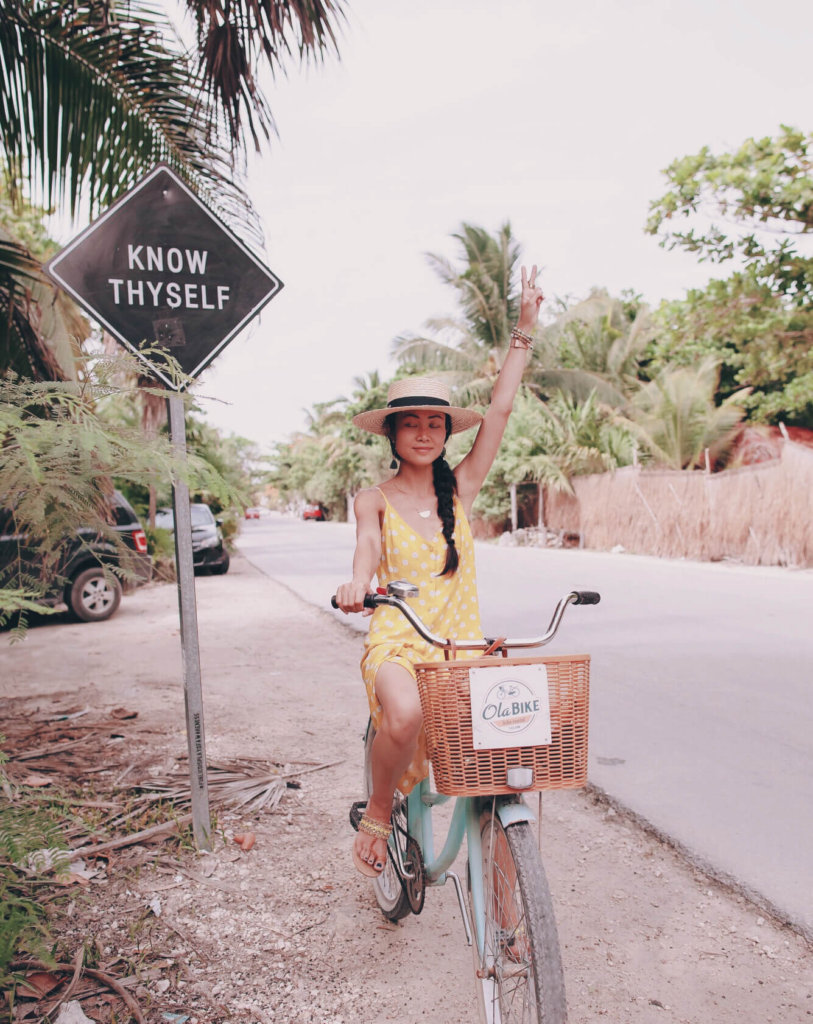 Murals/Street Arts: Tulum is developing it's own more recent history of art, and local culture. The "new walls" of Tulum have become a new canvas in this city! Many local artists have expressed their art in murals and wall graffiti throughout the town and beach road areas. Tulum is full of colorful characters; it's no wonder that the colored walls have become an artistic trend.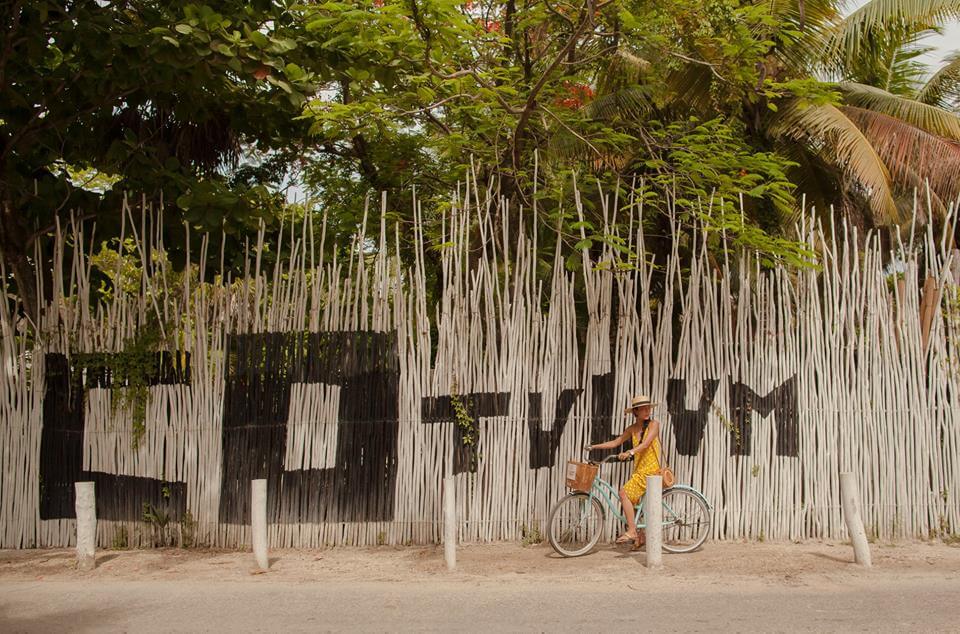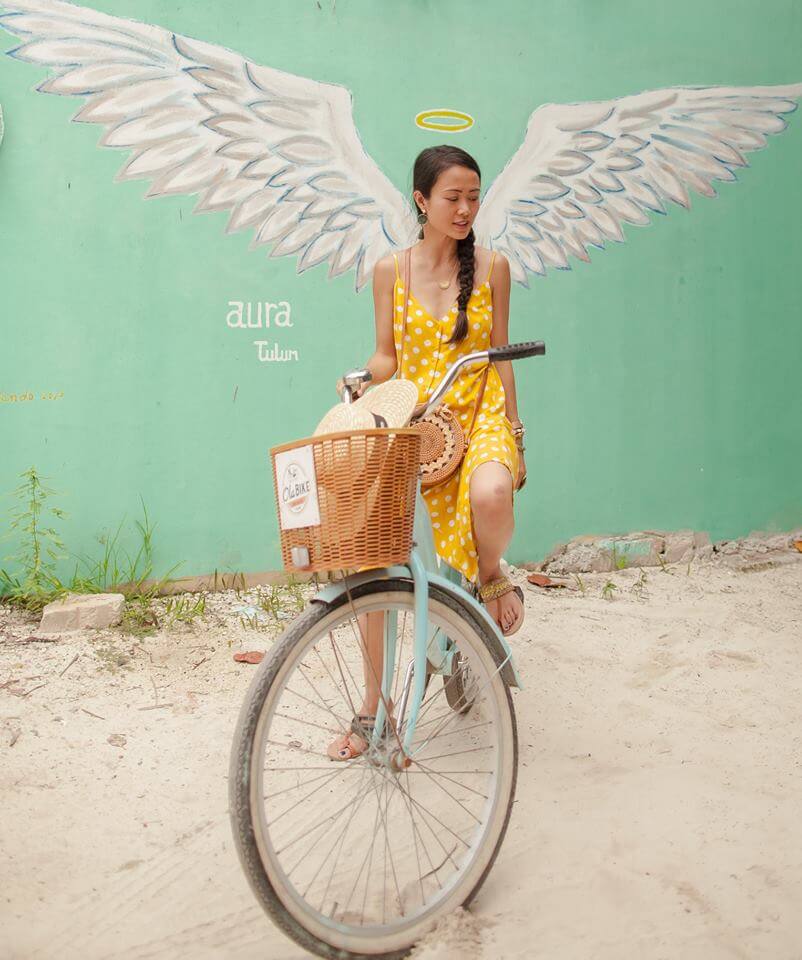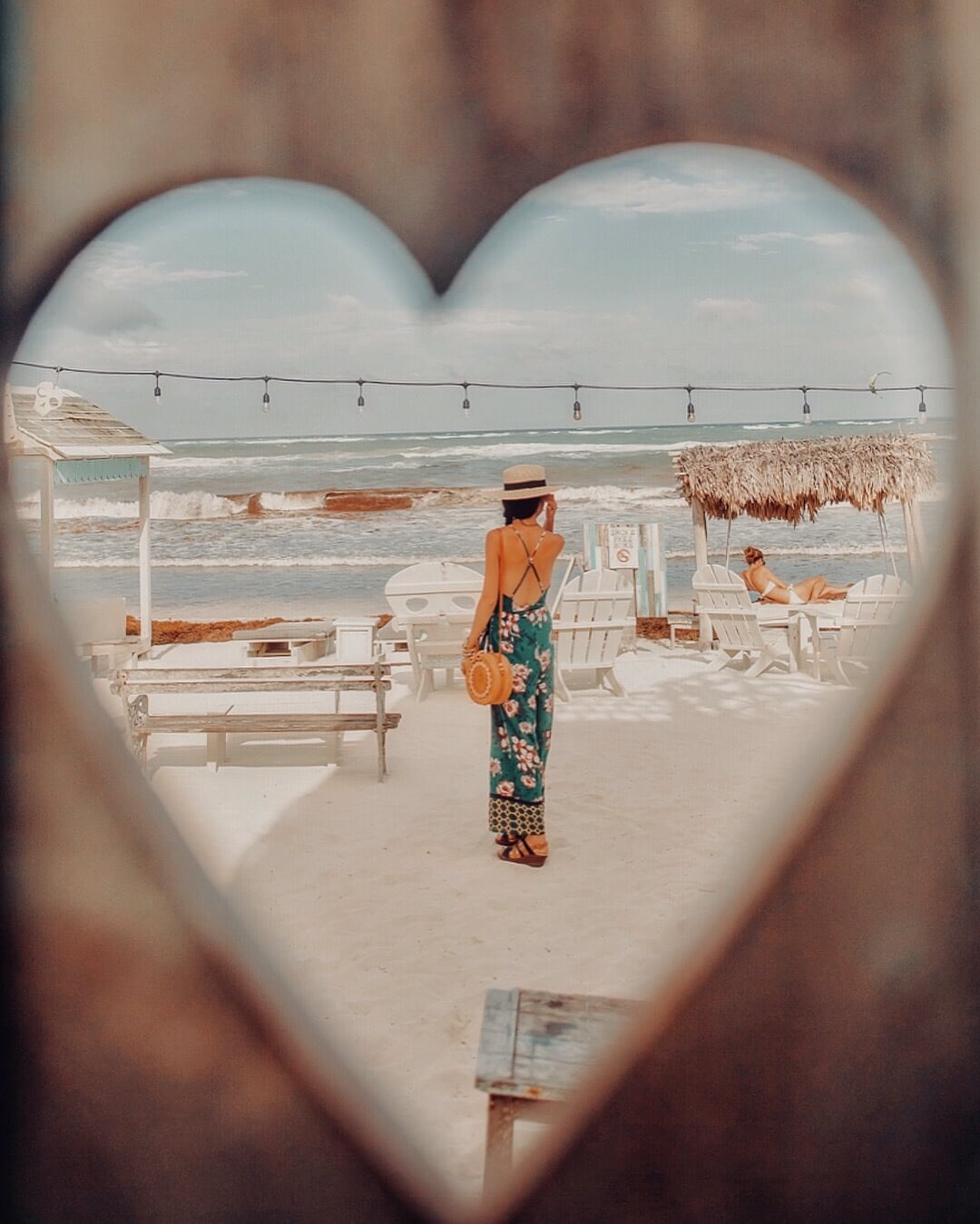 Other Advice
Tipping: You are expected to tip 10% at restaurants and bars.
WiFi: Be ready to disconnect because WiFi connectivity is slow in Tulum. Some places don't even get cell service.
Always have cash! ATMs have high fees and many of them were broken when we tried to use them. Most places do not accept credit card! U.S. Dollars are accepted at many restaurants and shops
You may want to rent a car if you like exploring on your own
Best time to go is from October-December as weather is still nice but hotel prices are low
I had my share of mosquito bites so don't forget to bring Insect Repellent!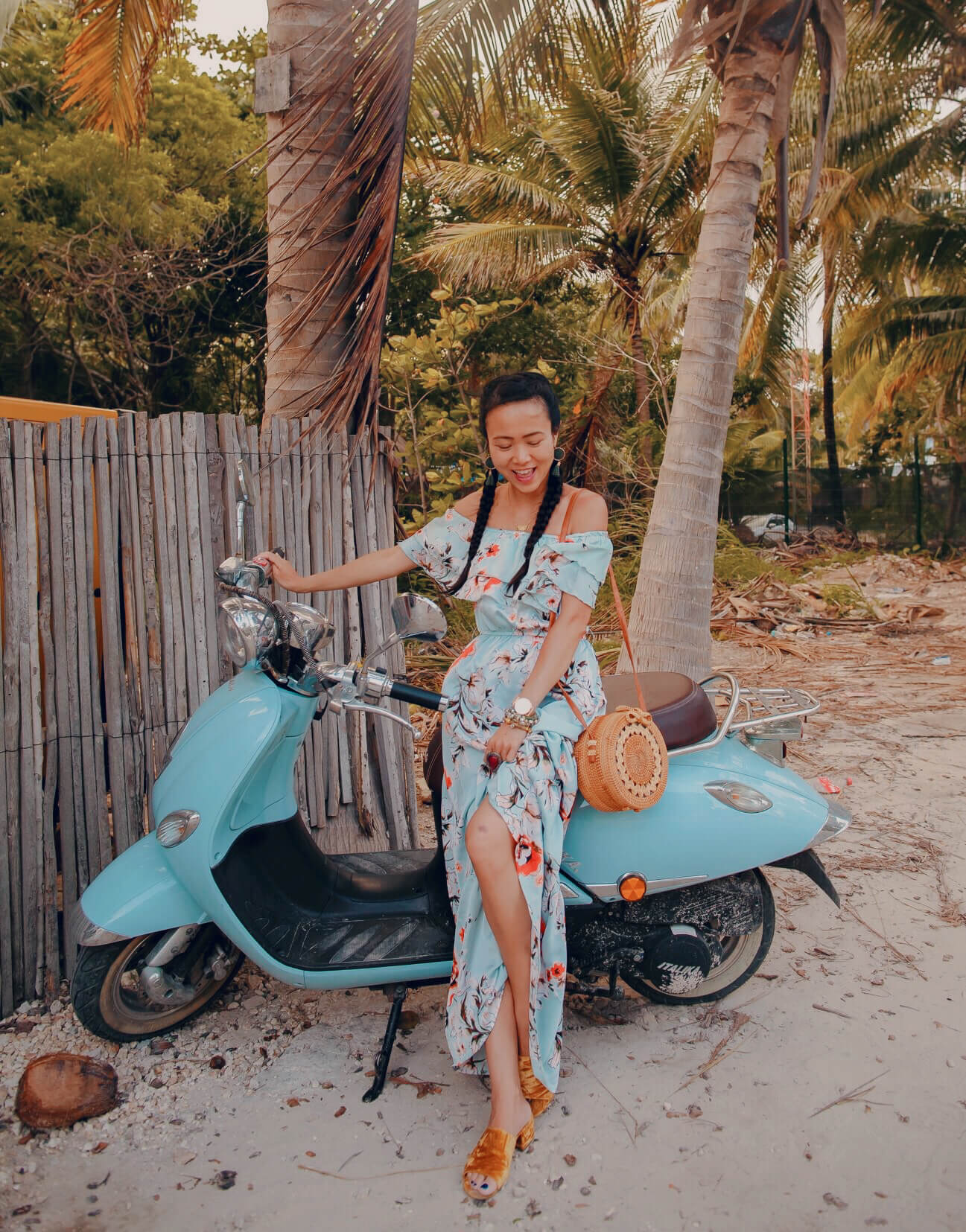 This guide sums up everything you need to know about Tulum. I hope you find it helpful and informative for your planning. Have a wonderful trip to Tulum!
RELATED POSTS:
Marrakech, Morocco: The Complete Travel Guide
The Ultimate Guide to Traveling Dubrovnik, Croatia
Exploring the Hidden Gems of the Dominican Republic: Samana to Punta Cana