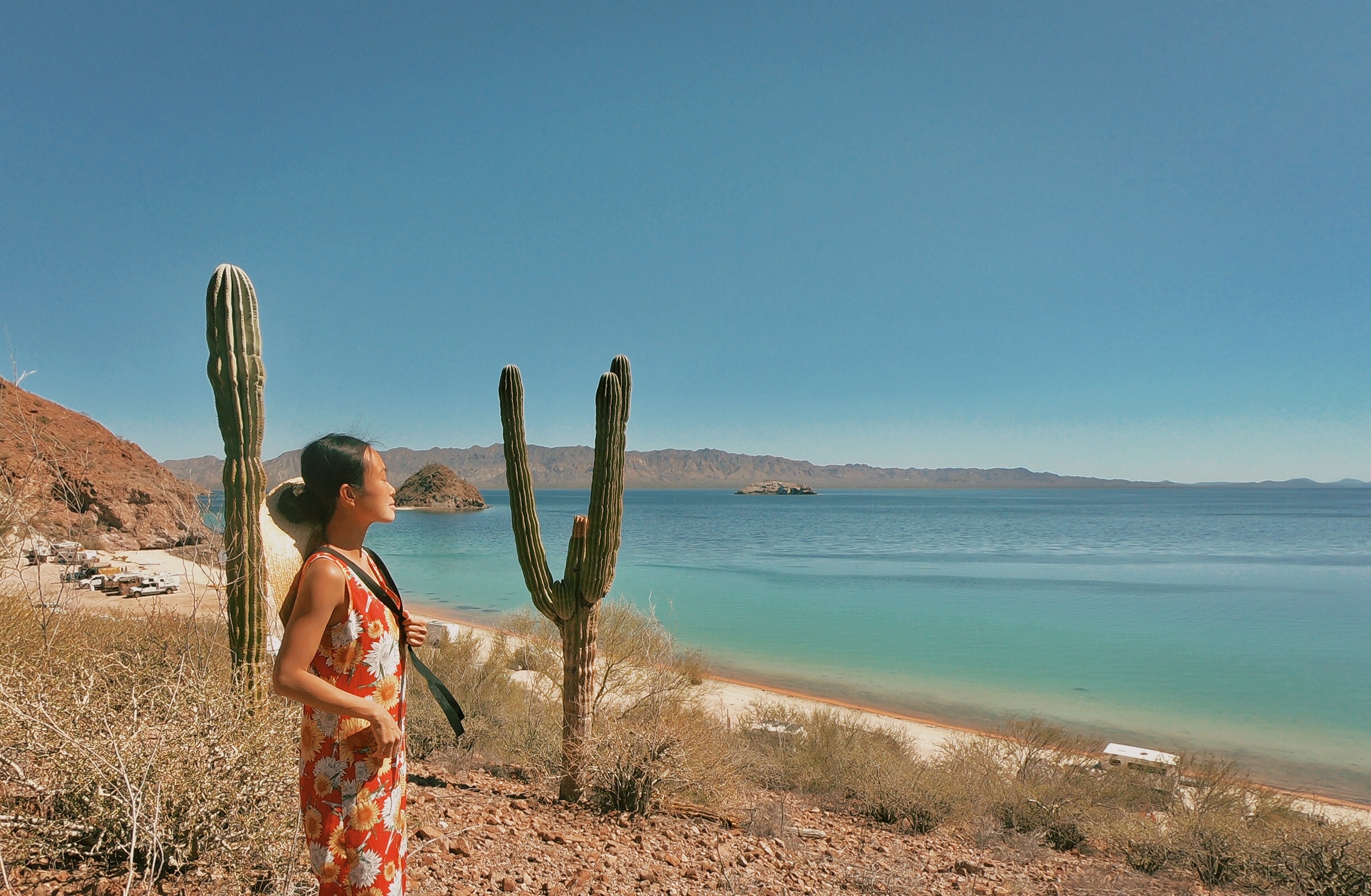 YOUR ULTIMATE BAJA PENINSULA ROAD TRIP ITINERARY
This Baja Peninsula road trip was a dream come true for our vanlife family. We can't believe that it took us this long (we have been on the road for 2 years) to cross the border. We were mostly afraid of a "dangerous" Mexico. But after 2 months in Baja, I can confidently tell you that this part of Mexico is very safe. The best thing about the entire Baja Peninsula is that it is perfect for road trips. The roads are mostly well taken care of compared to other roads around Mexico. The nearly 1,000 mile-long peninsula offers pristine tropical beaches, wine country, and lush palm-fringed oasis.
In this blog, let me take you on an adventure filled with fish tacos, long winding roads, secluded white sandy beaches, and cobblestoned town squares. Baja Peninsula road trip is definitely the most scenic and easiest road trip in Mexico. This guide will provide you with many helpful recommendations on the best sights to see along the way, all of my favorite boondocking spots for vanlifers, and some key tips to plan your road trip.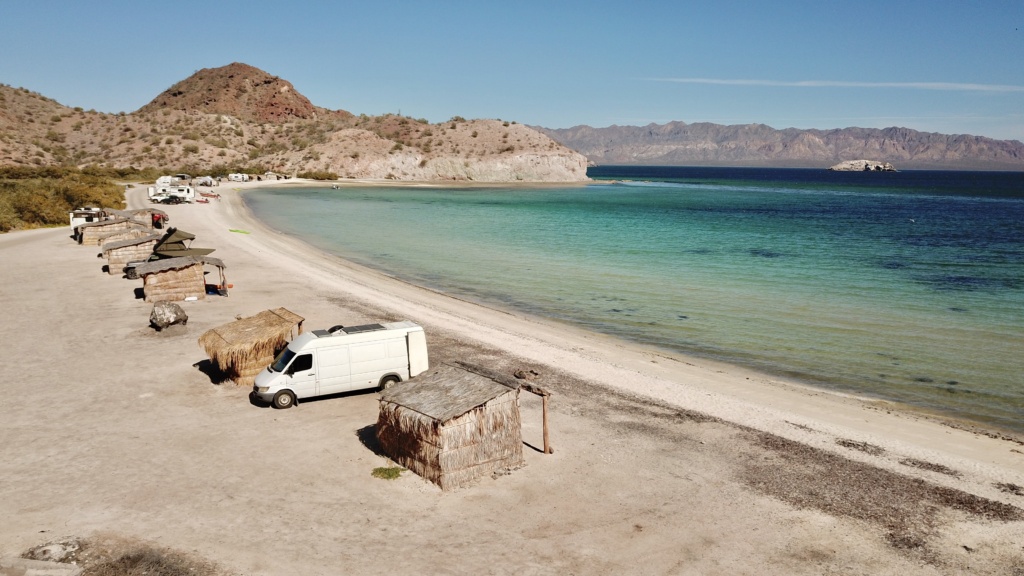 Day 1: Tijuana – Ensenada (100 km – 1 hour 30 mins)
If you're coming from the USA, Tijuana is likely to be the starting point for your Baja California road trip. This city is often what scares road-trippers away from the idea of ever exploring Mexico. The city is a little rough. But it took us just 15 mins to maneuver around the town and follow signs to "Ensenada Scenic Route" which took us out along the coast, and then to a toll road.
Between Tijuana and Ensenada there is a beautiful stretch of paved highway. This is the Scenic Highway. It's not only the fastest route to Ensenada but also the easiest for drivers unfamiliar with Mexican roadways. It is a toll road so be prepared to pay 40 pesos ($2) three times on your way down the coastline.
Just about an hour south of Tijuana is this little fishing village called Puerto Nuevo. If Ensenada is for ceviche lovers, then Puerto Nuevo is paradise for lobster lovers. So we stopped by for a lunch break to try their famous lobster.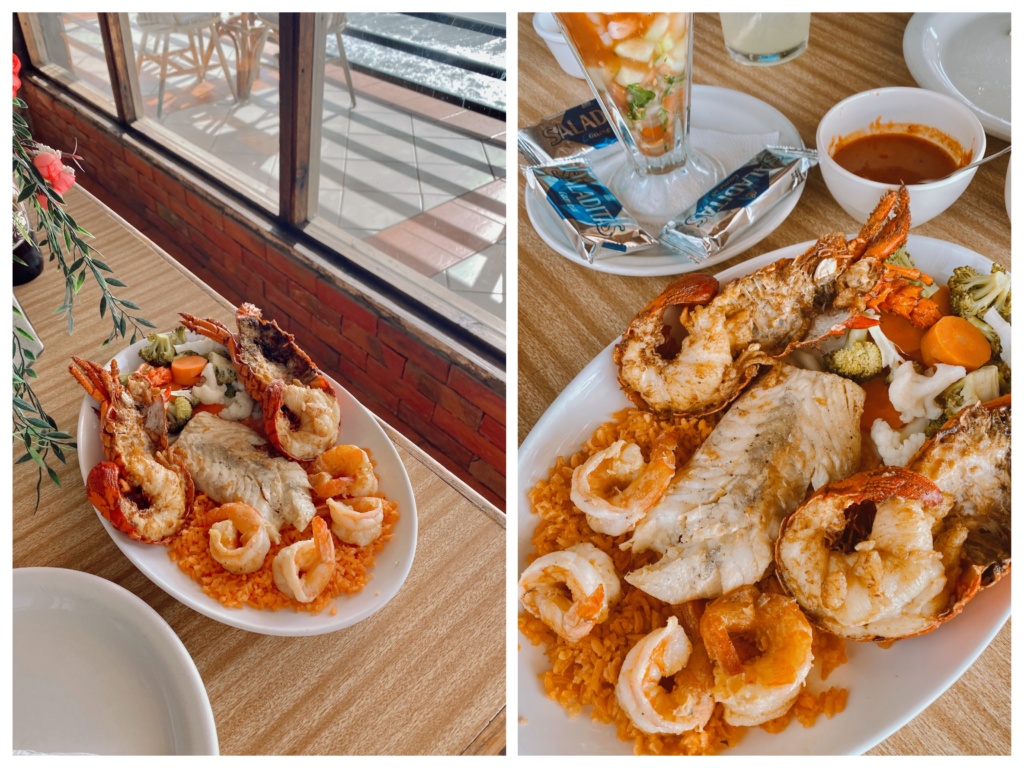 Puerto Nuevo has their own style of making a sweet lobster. The popular way to cook a Puerto Nuevo lobster is by chopping it in half and throwing it in sizzling hot oil for a good fry. This really softens the lobster and makes it extra flavorful while crunchy on the outside.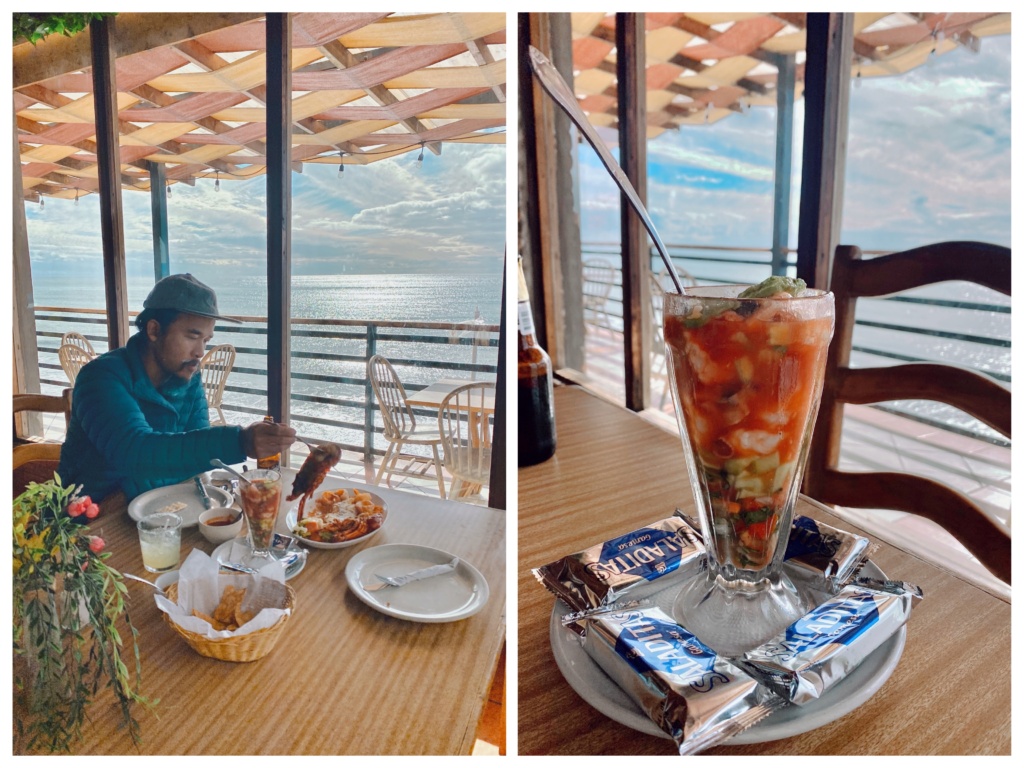 Some of the popular restaurants in this small town are Restaurant Puerto Nuevo #1, Restaurant Villa Ortega's,… but we opted out for Siete Mares which doesn't have a huge online presence but it was perfect for us. Here the grilled seafood platter, which includes lobster, various types of shrimp, fish fillet, octopus, crab, guacamole, rice, beans and flour tortillas, serves at least four and cost only $70 (with a breathtaking ocean view).
After the delicious meal of inexpensive fresh lobster we continued our journey to Ensenada. We had booked a lovely oceanfront Airbnb at Playa Hermosa as a home base to explore Ensenada.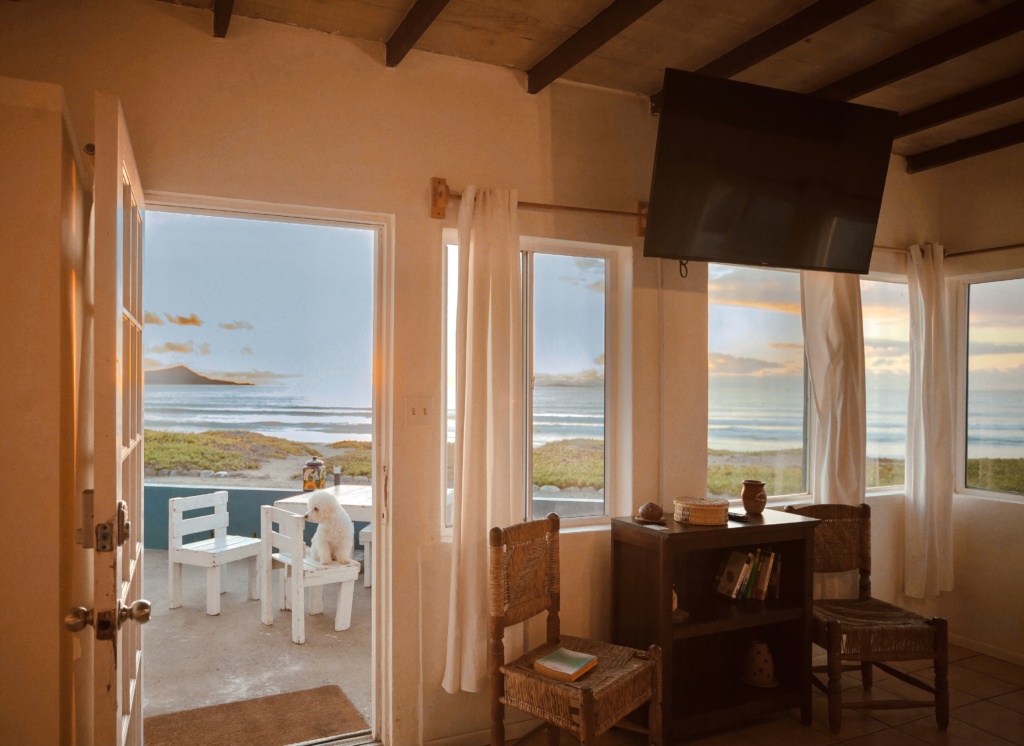 We have heard great things about the street seafood stalls in this town so we needed at least 4 days to try them out. But for the practicality of this roadtrip for other vanlifers who have a limited budget of time, in this itinerary I would pretend I only have one day in Ensenada.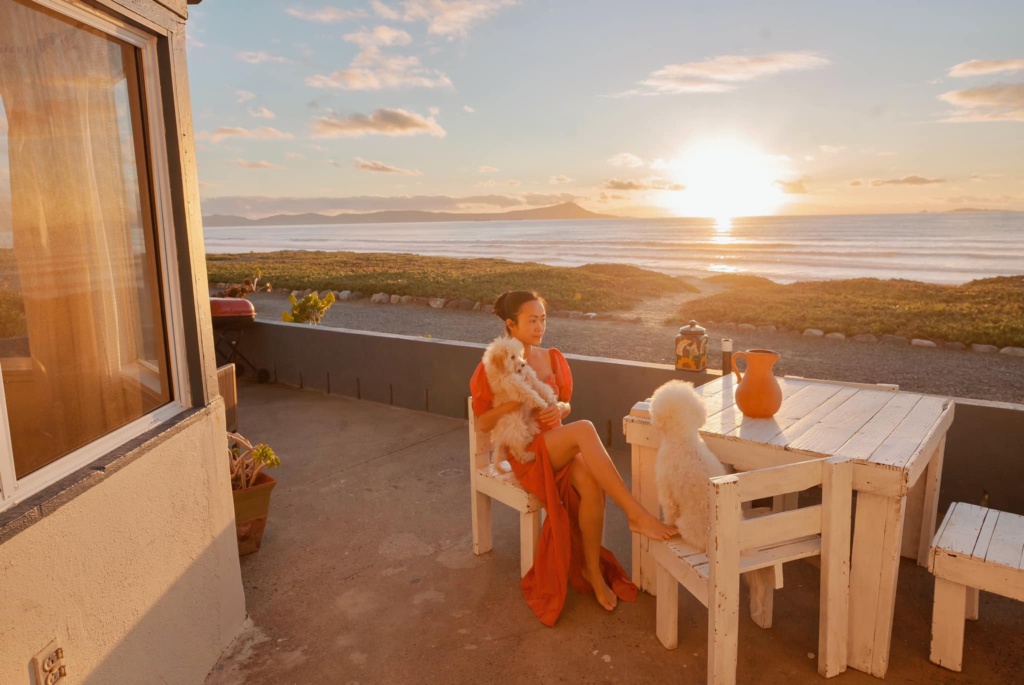 Our Airbnb – Casa Cactus is a beachfront house (only 5 steps to the sandy beach ) located within a quaint safe gated neighborhood.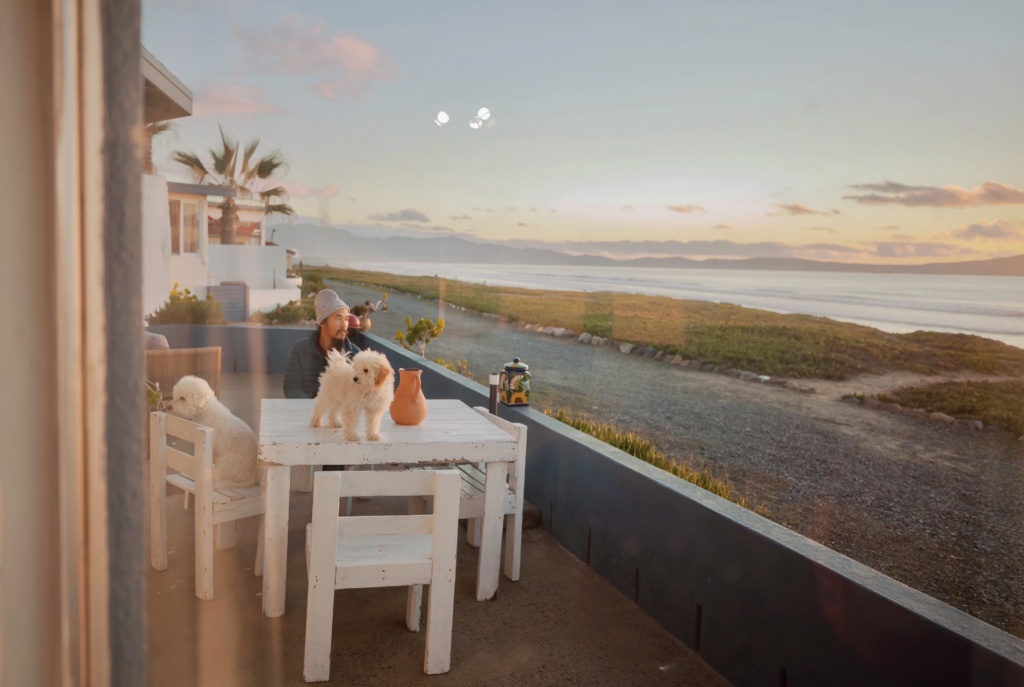 The house features an open layout with the kitchen, dining room and living room being all open to each other and boast 270 degree view of ocean, beach and harbor.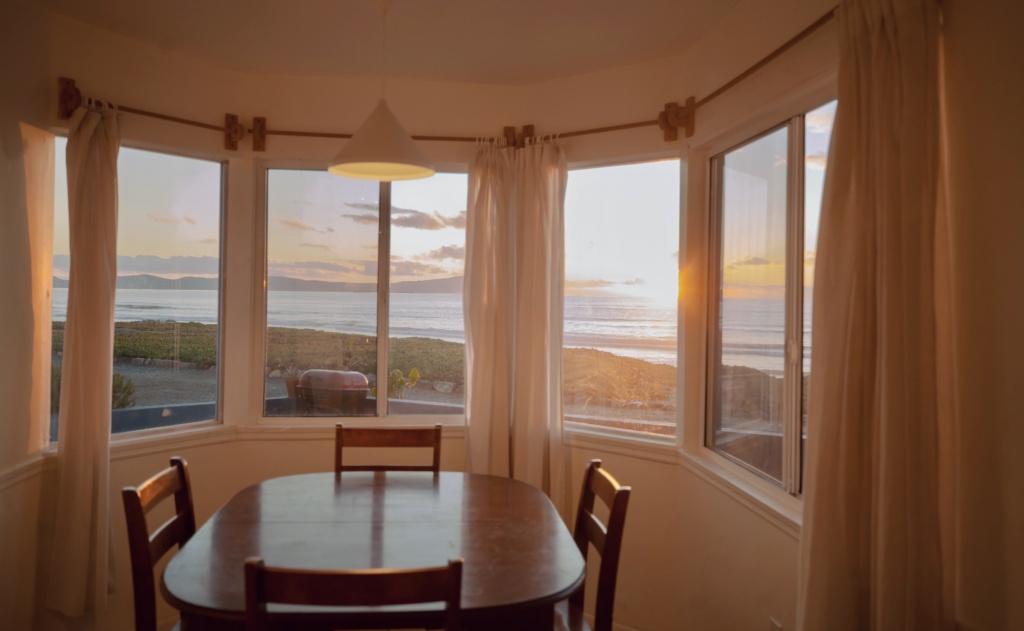 Click here to book this Airbnb!
Day 2: Explore Ensenada
Ensenada street seafood is on par with some of the best. Are you sure? (Is it sanitary? Fresh? Stomach issues?) To ease your concern, here's our answer. We did not expect to have seafood as fresh and sumptuous standing on a busy street corner eating with our fingers. But it turned out to be one of our best seafood experiences. And we had our fair share of experiences with seafood around the world from Mercado Boqueria in Barcelona to the little fishing village in Procida.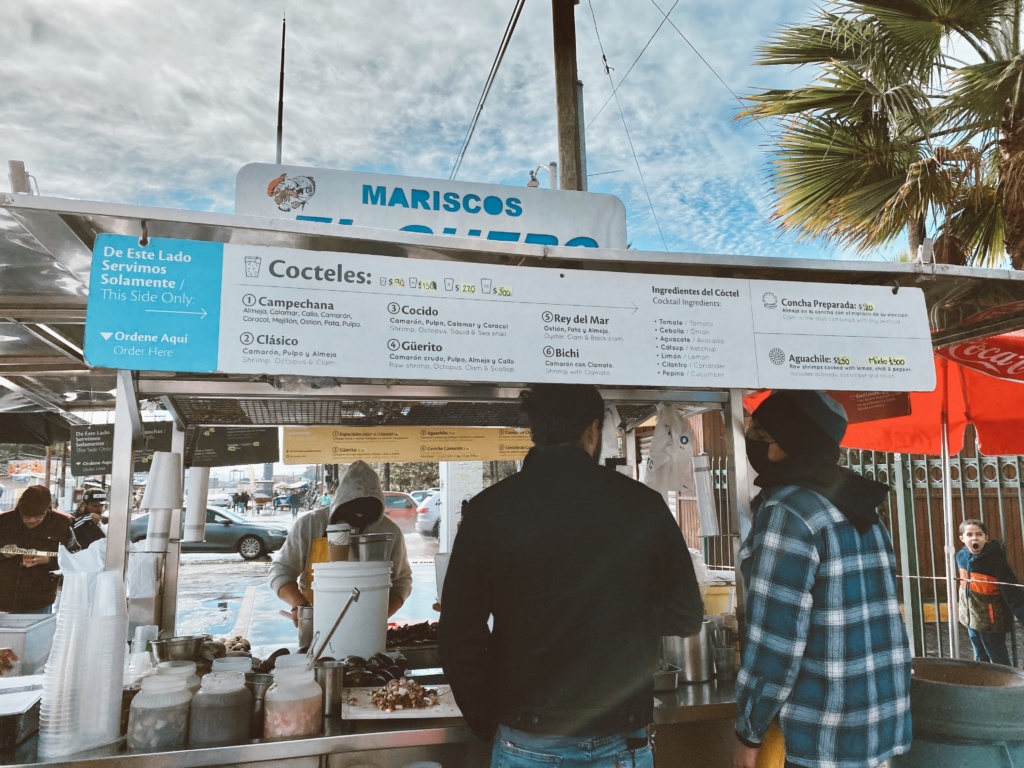 Here in Ensenada seafood stalls can be found on every corner and they serve seafood that was caught just hours ago; ceviches/tostadas/cocktails/campechana…are prepared from start to finish right in front of us. It's as fresh as it can get (what Tokyo's Sukiyabashi Jiro is to Japanese sushi, Ensenada is to ceviches). You'd be charged top dollar for this quality of seafood in a US fine dining restaurant, but in Ensenada it's simply the freshest catch served to working people (only $3-$4 for an order of tostadas packed with seafood, and the experience is on par with high quality premium sashimi).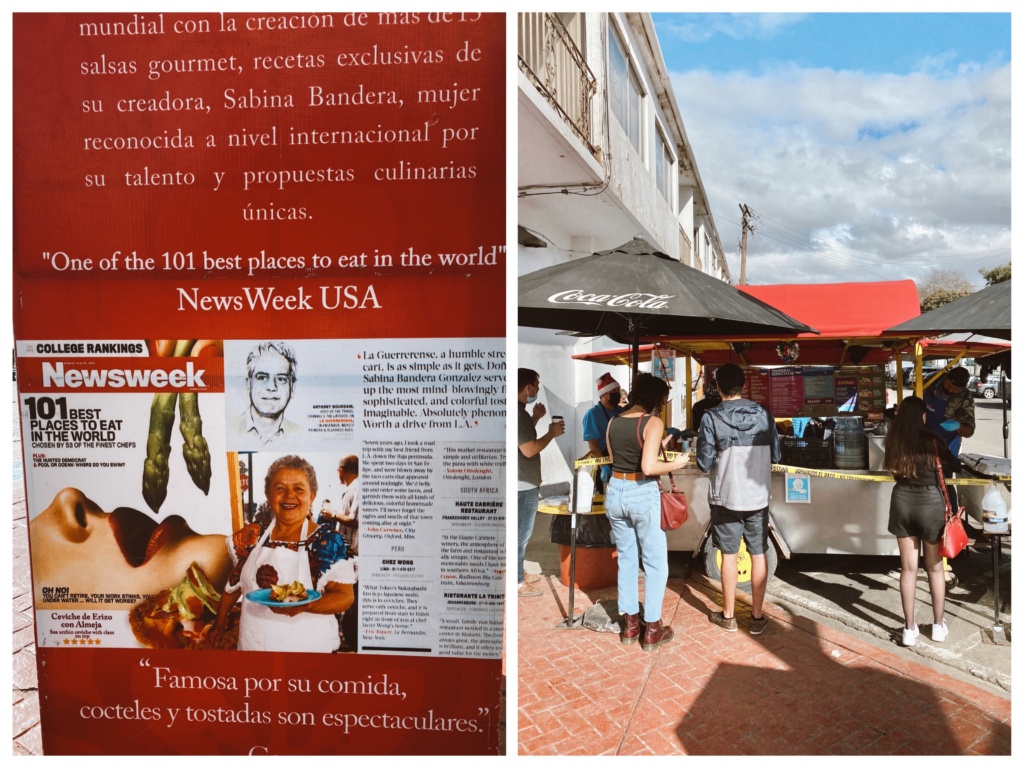 This is why you'll see small crowds of people gathered around tiny carts munching on oysters, chocolate clams and shrimp cocktails as early as 10am in Ensenada. So if you visit Ensenada, you can leave your fears of street food and feel free to enjoy this seafood paradise destination. Ensenada is for true gastronomes at heart.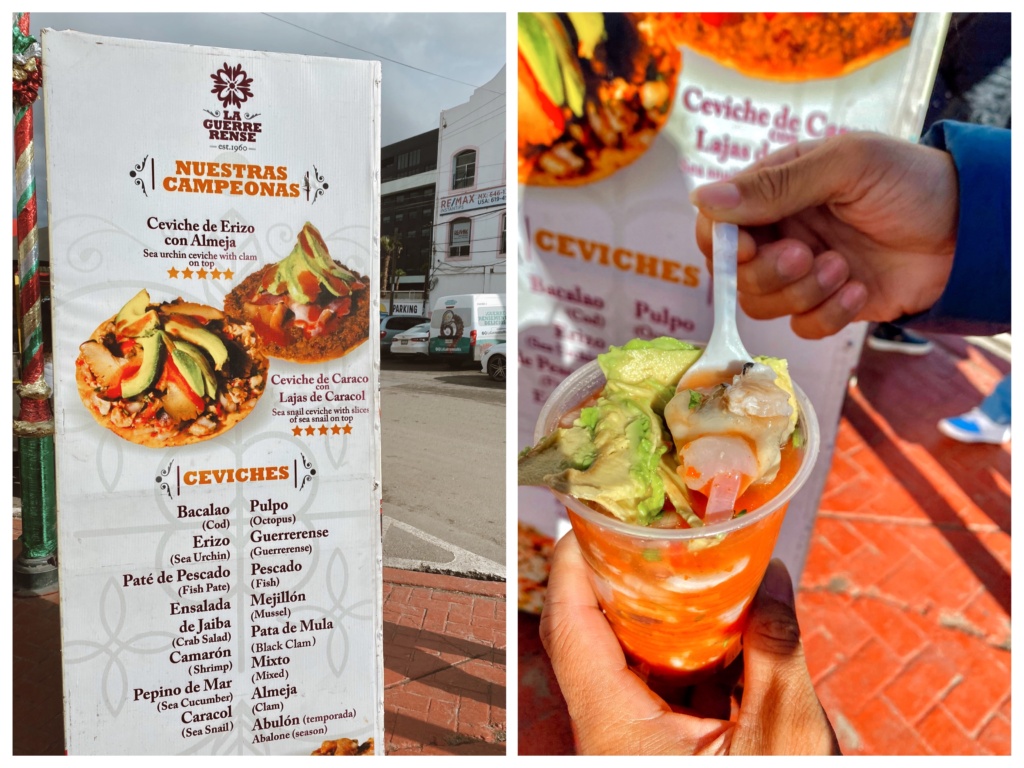 Following the footsteps of Anthony Bourdain in his episode "No Reservation" we visited some of the best seafood places in Ensenada:
*** La Guerrerense: This mariscos made it to Newsweek's list of the "101 Best Places to Eat In the World" and has won multiple awards! Bourdain called their signature dish (sea urchin, pismo clam, avocado, chile sauce and peanut tostada) Michelin quality seafood in the street.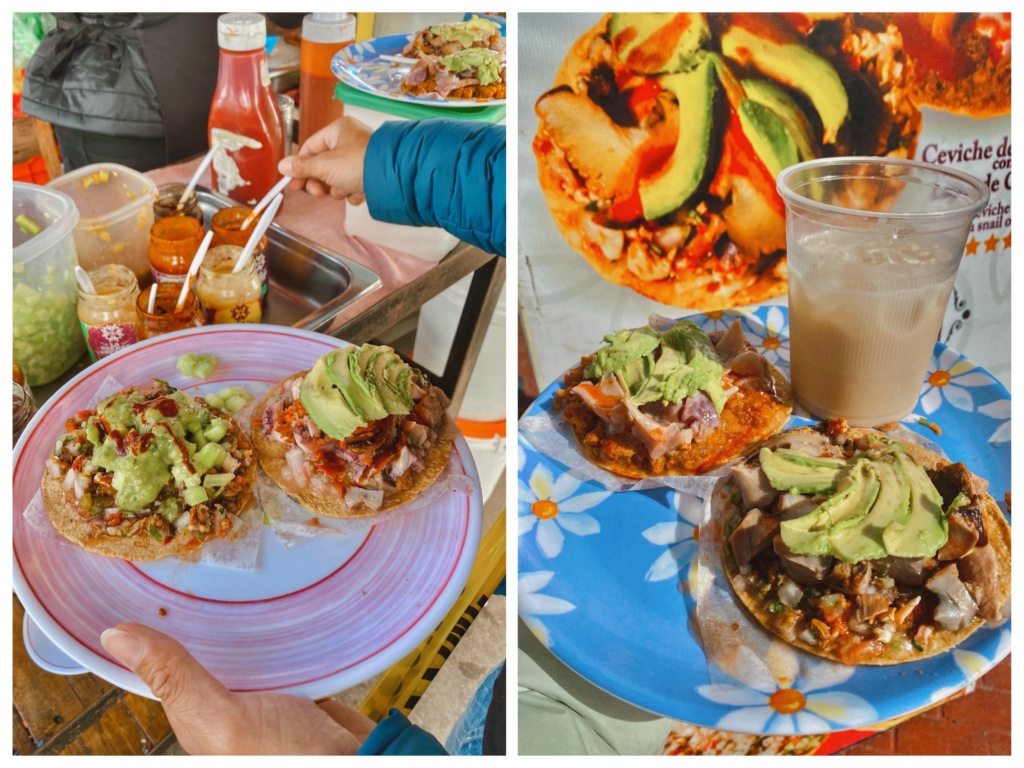 This seafood stall was started in 1960; their signature dishes include seafood tostadas, seafood cocktails, and raw shellfish dressed with house made salsa. Two of their special dishes that help them win the first place in World Street Food Congress in 2013 are their sea urchin ceviche with clam on top and sea snail ceviche. The award-winning creative tostadas are clearly marked on the menu to make it easy for us to decide. Those are more pricey, but the simplest ones like mixed ceviche or clams are equally delicious.
Everyone knows the protocol: Get a sea urchin tostada and a salt cod tostada to start. Then dress the tostadas with guacachile (spicy guacamole) and chiles de mi jardin (toasted chiles in vegetable oil with peanuts). Next order a campechana (mixed seafood cocktail)!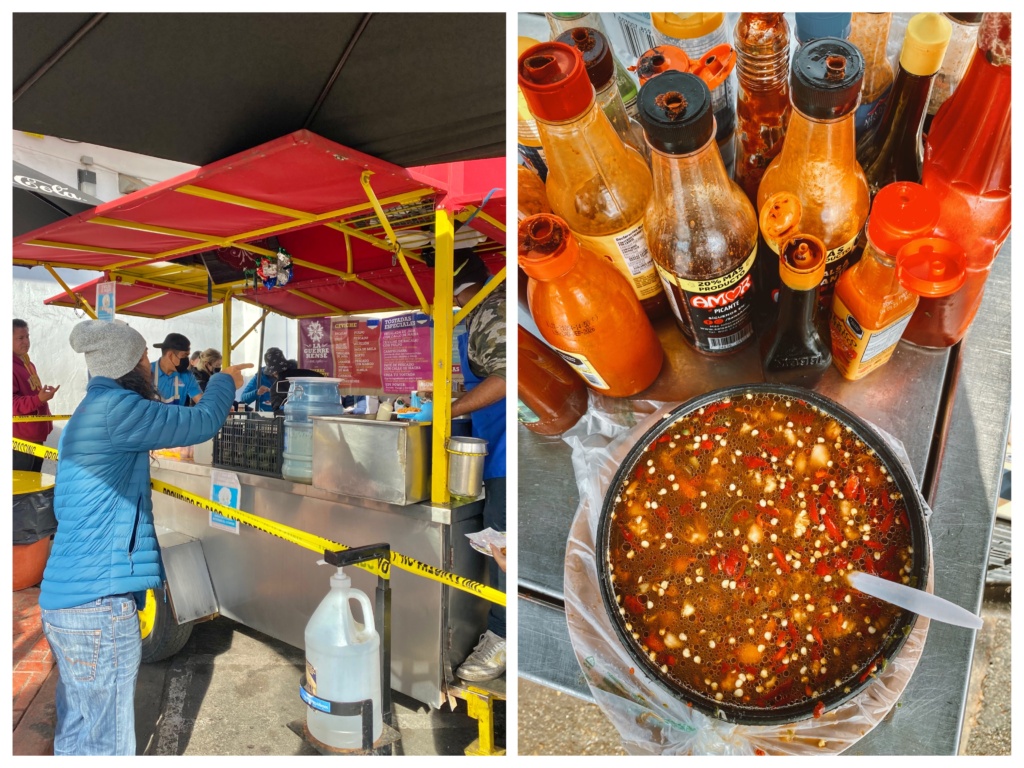 *** Mariscos El Güero: One of the hottest mariscos cart in town is Mariscos El Güero and it totally lives up to the hype. Chocolate clams are something you have to try in Ensenada. These clams are, in our opinion, best eaten in simple escabeche style (served cold, lightly marinated).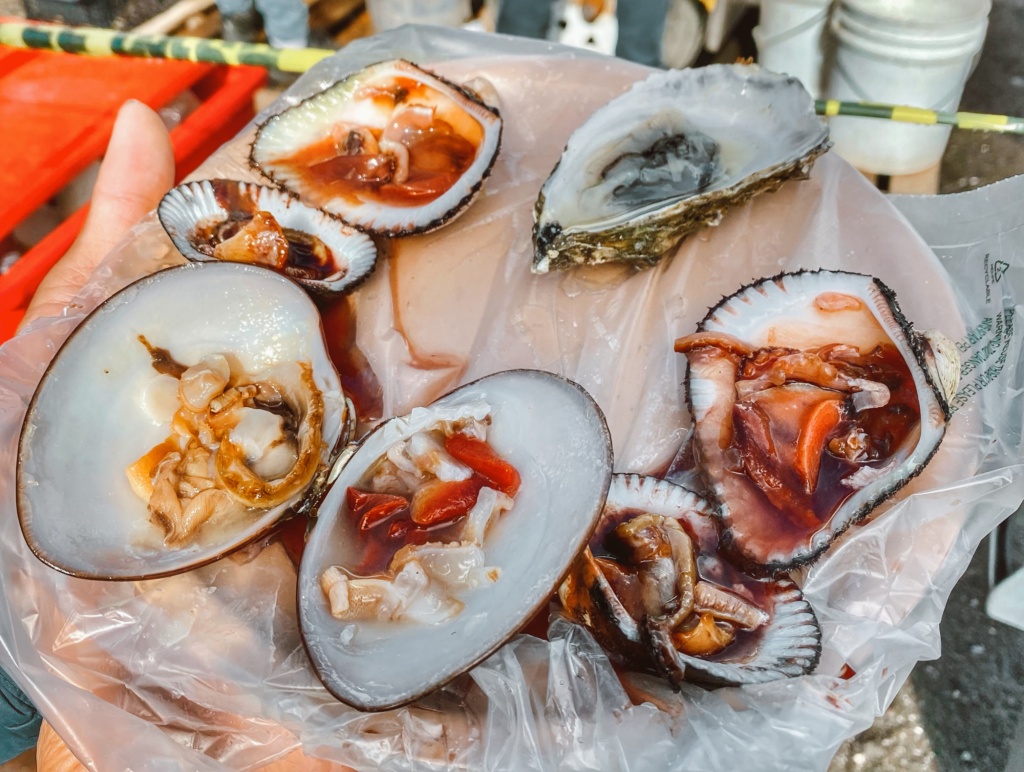 After the clams, we ordered a mixto tostada backed with chopped seafood (squid, octopus, pen shell clams, and raw shrimp lightly cooked in lime). Creamy and savory, with a touch of heat from their hot sauce. This was my favorite of all the ones I've tried. This masterpiece of culinary simplicity was just under $5.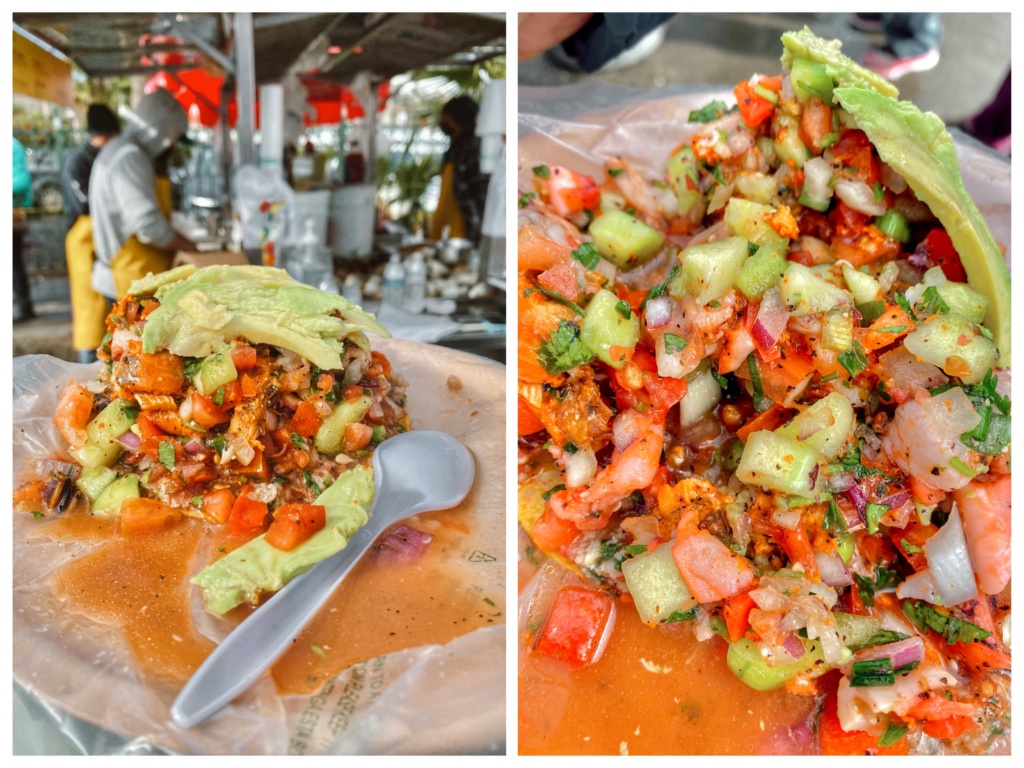 *** Mercado de Mariscos (also known as Mercado Negro) is one of the most famous markets in Mexico (on par with Japan's Tsukiji market). Here you can find everything from octopus, shrimp and clams, to fish, mussels, crabs and abalone.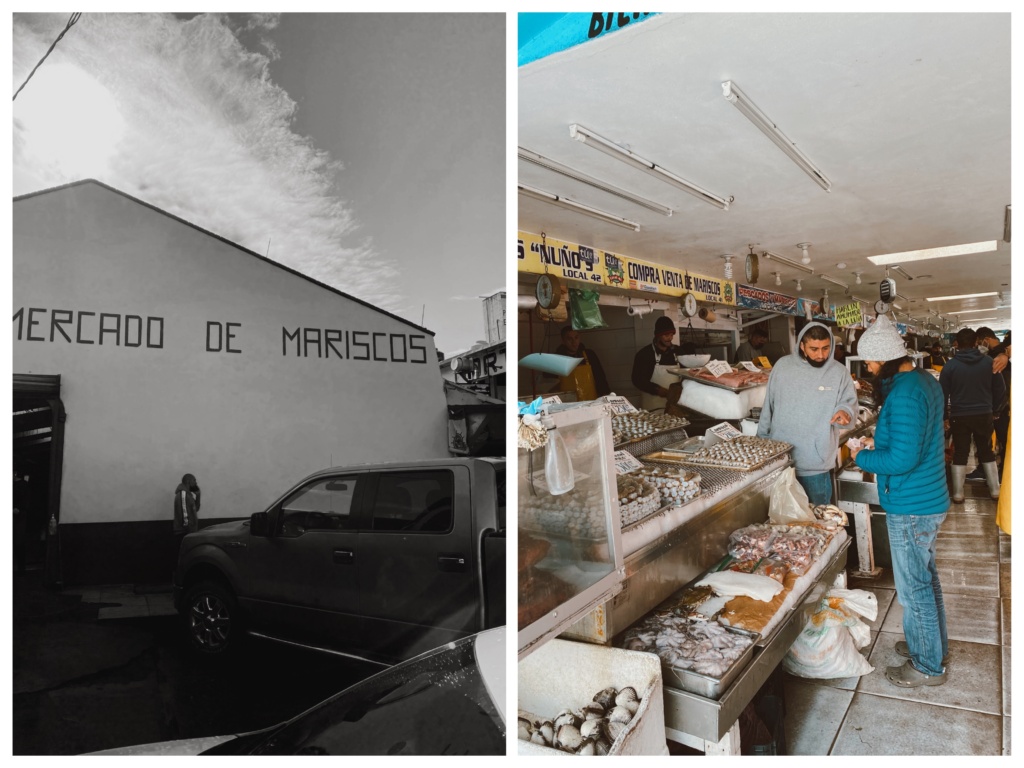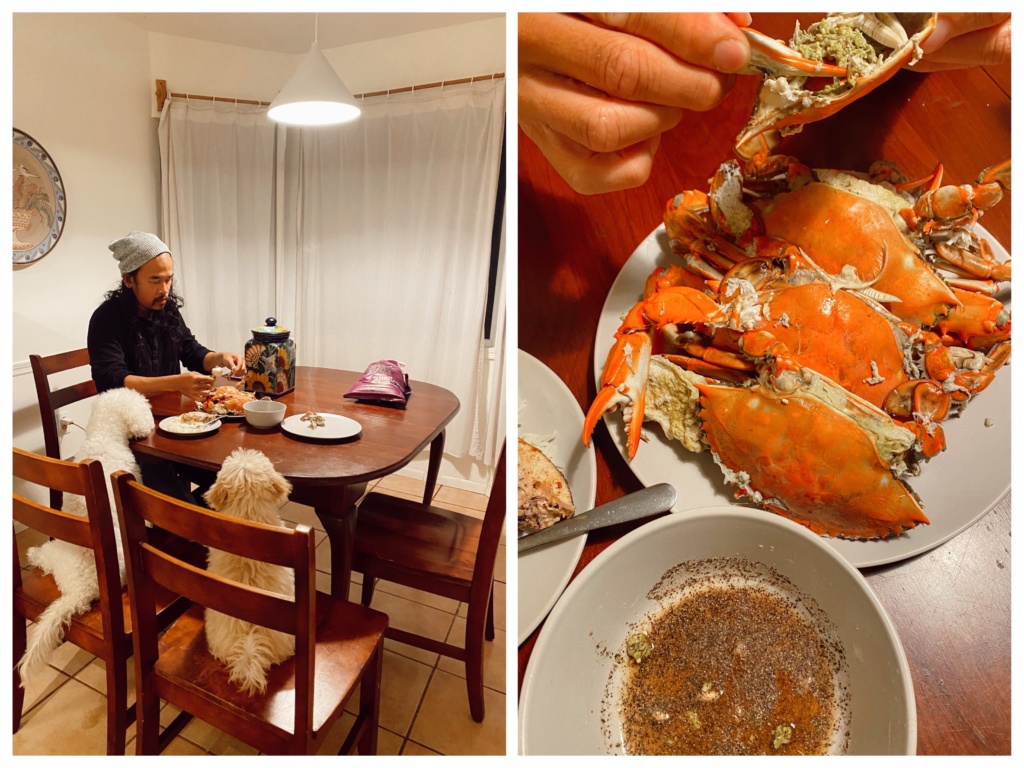 Fish tacos are the specialty of Ensenada and legend has it that Mercado Negro is where the fish tacos were born. After buying some sentinel crabs and marlins at the Mercado, we stopped by Tacos Lucero to try this famous specialty.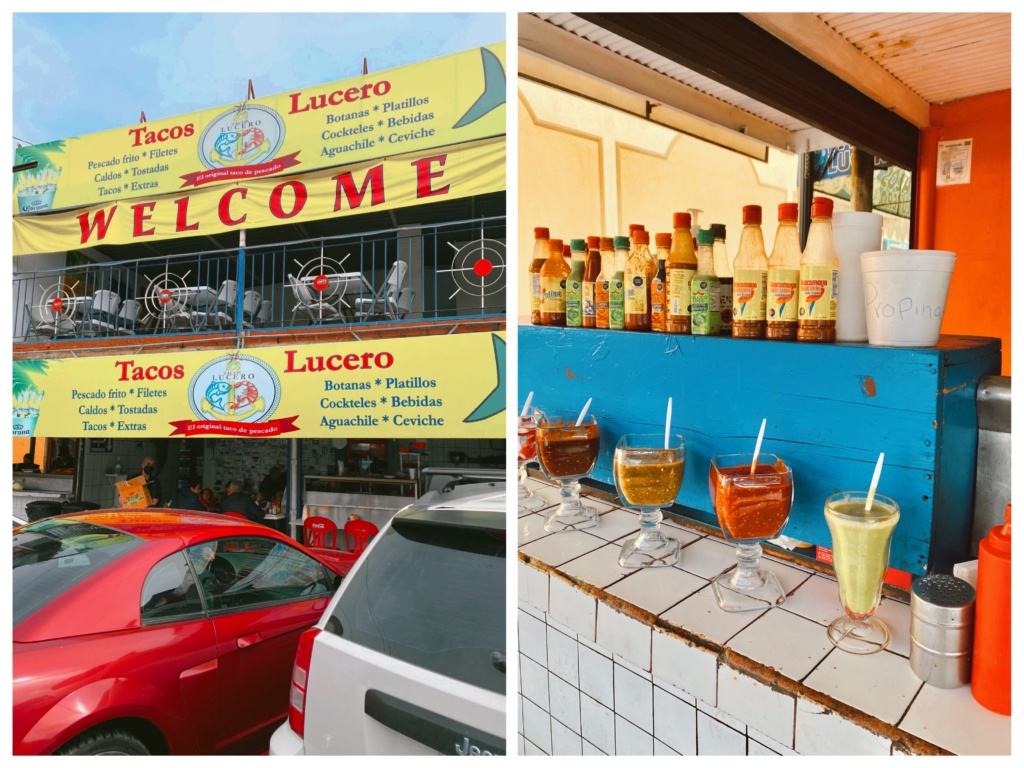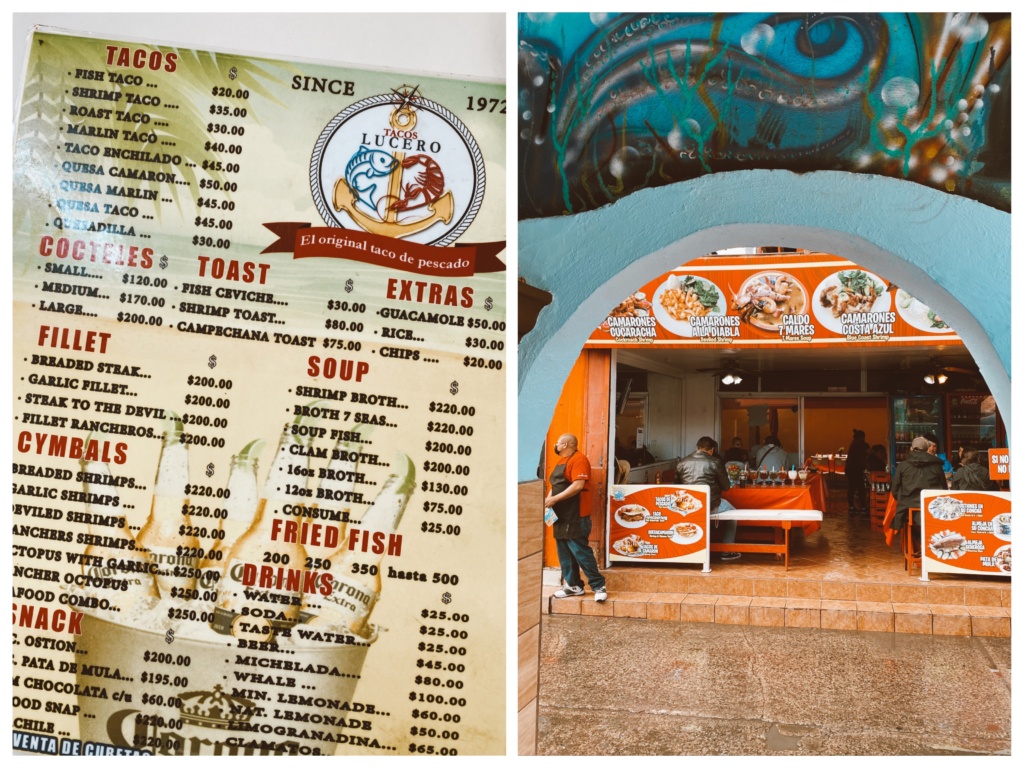 Hand cut strips of fish are dipped in a flour batter, sometimes lightly spiced with garlic or cumin, and deep-fried, tempura-style. Served in white corn or flour tortillas, they are garnished to taste with an array of salsas, pico de gallo (chopped tomato/chili/onion), a sour cream-mayo mix and crispy shredded cabbage or lettuce.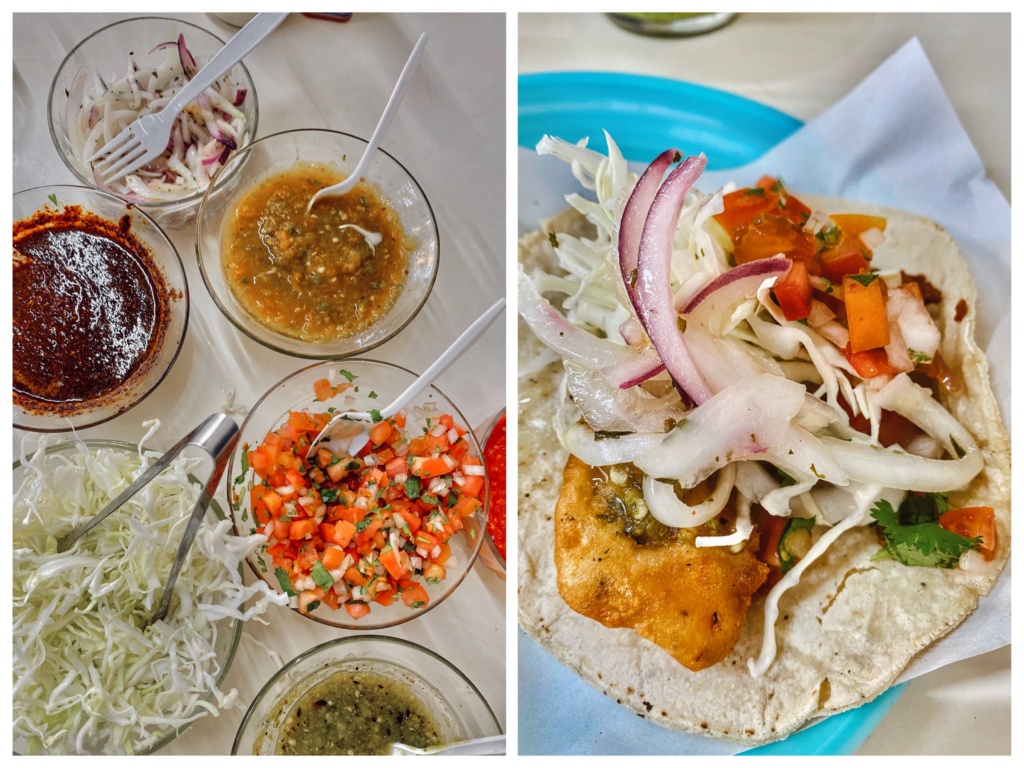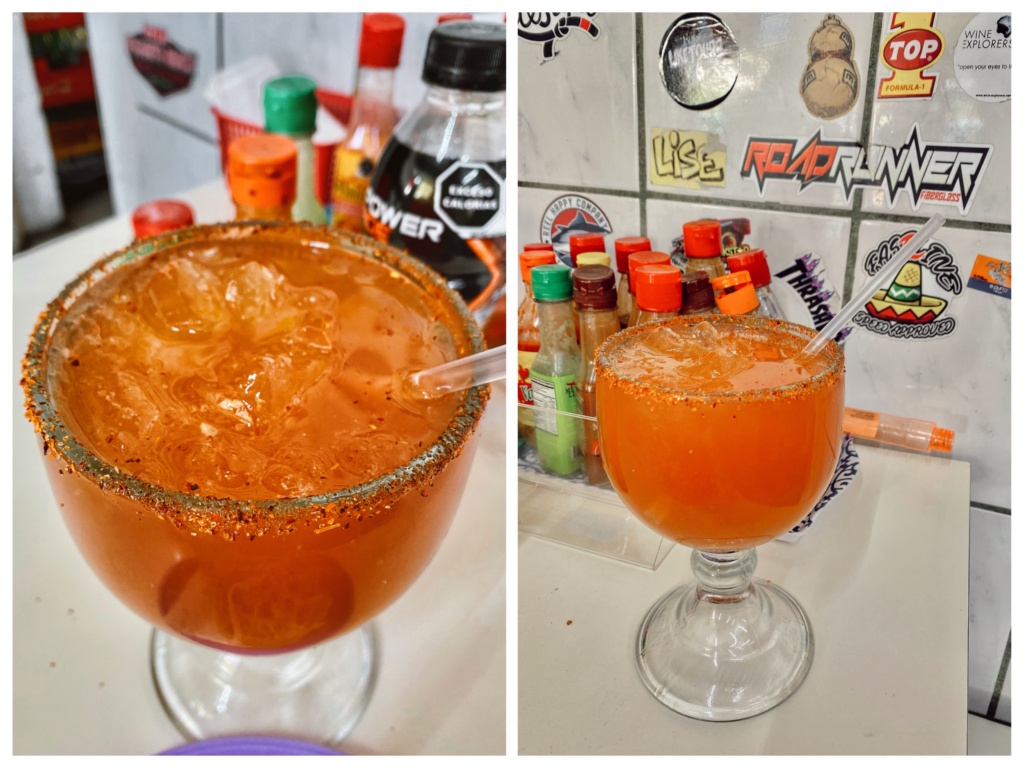 After our gastronomic seafood-culinary experience in Ensenada, I don't think we can ever go back to the states and spend money on fine dining seafood which is not as fresh and 5 times more expensive than what await for us only 90 miles south of downtown San Diego (in fact many visitors cross borders for short day trips to reach these fishing towns for inexpensive seafood feasts – giving the region the busiest land-border crossing in the world.). But if you are thinking, "Wait, isn't Tijuana dangerous?" Just remember that this chaotic city which resembles much with any big city in the US like New York City, Los Angeles and San Francisco (hotbeds for violence, drug, thieves, homeless,..) is only stop one on your Baja excursion. Once you cross the border, make your way out of Tijuana, and travel further south, you will treat yourselves to a beautiful wine country (Valle de Guadalupe) that feels like Tuscany. In fact Ensenada is attracting a large number of ex-pats/retirees and this is fueling an increase in international cuisine and culture. If my post is not convincing enough for you to take on this adventure that will surely awaken all your culinary senses, watching Anthony Bourdain's Baja episode of "No Reservation" will make you to cross the border immediately.
Day 3: Ensenada – La Bufadora (36 km – 47 mins)
Less than an hour south of Ensenada lies our favorite sliver of the far north: Punta Banda peninsula. This is where the famous La Bufadora geyser is located.
La Bufadora is a marine geyser. The water jumps are a combination of a cave with the waves, which when hitting, are thrown upwards. At high tide, this blowhole shoots water up to 90 feet in the air!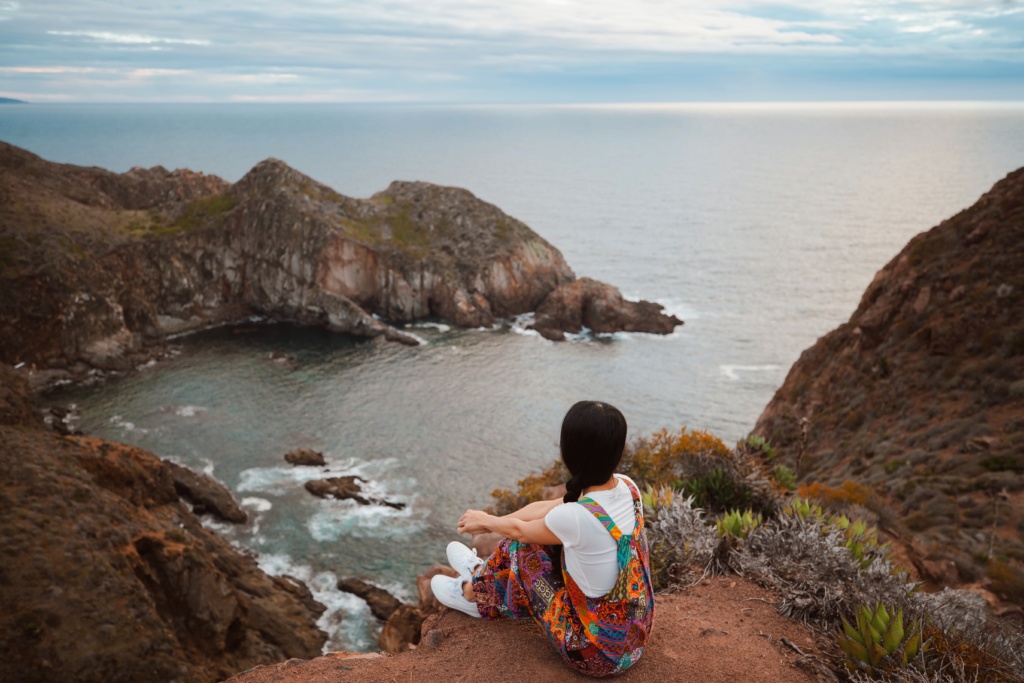 At the tip of Punta Banda peninsula, we found a campground on a mountain spine that drops to the sea and the La Bufadora.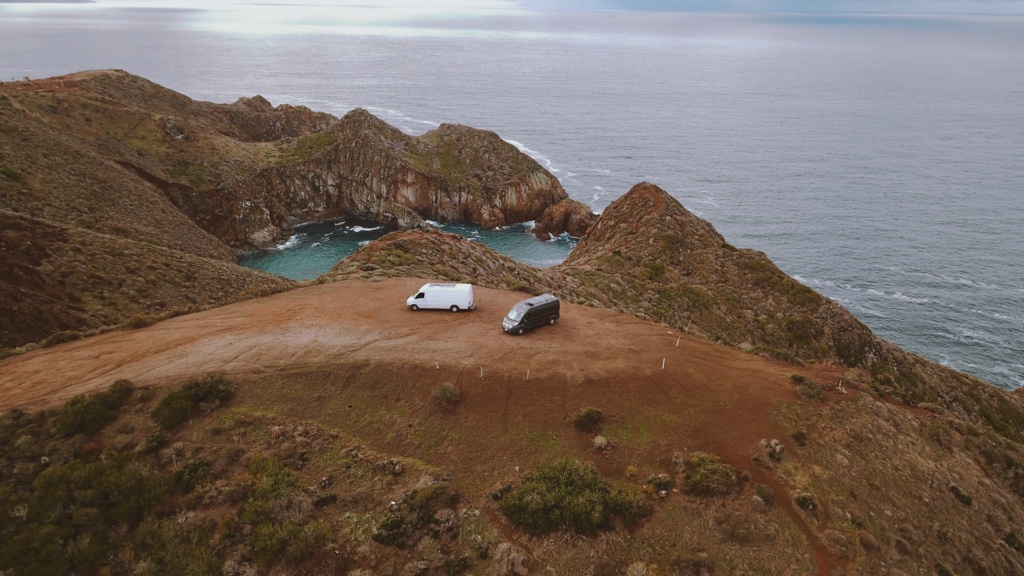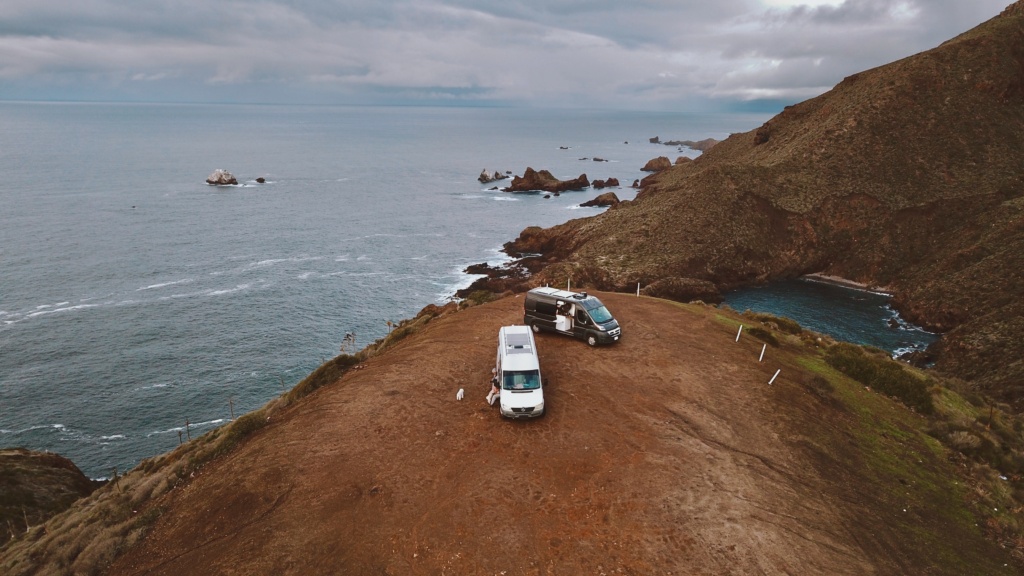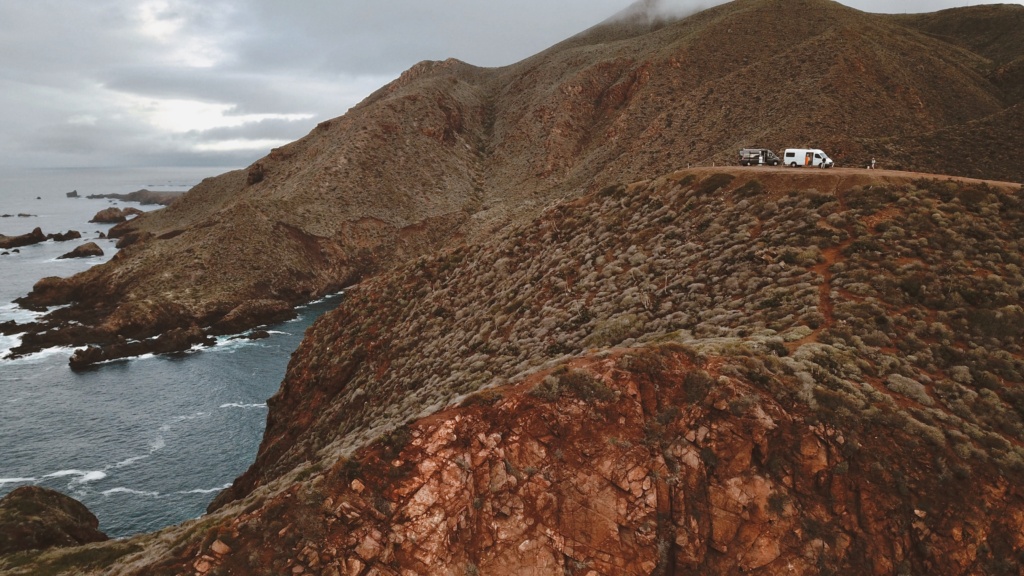 Right next to our campsite is the Punta Brava trailhead. It's a gorgeous hike through coastal succulent gardens!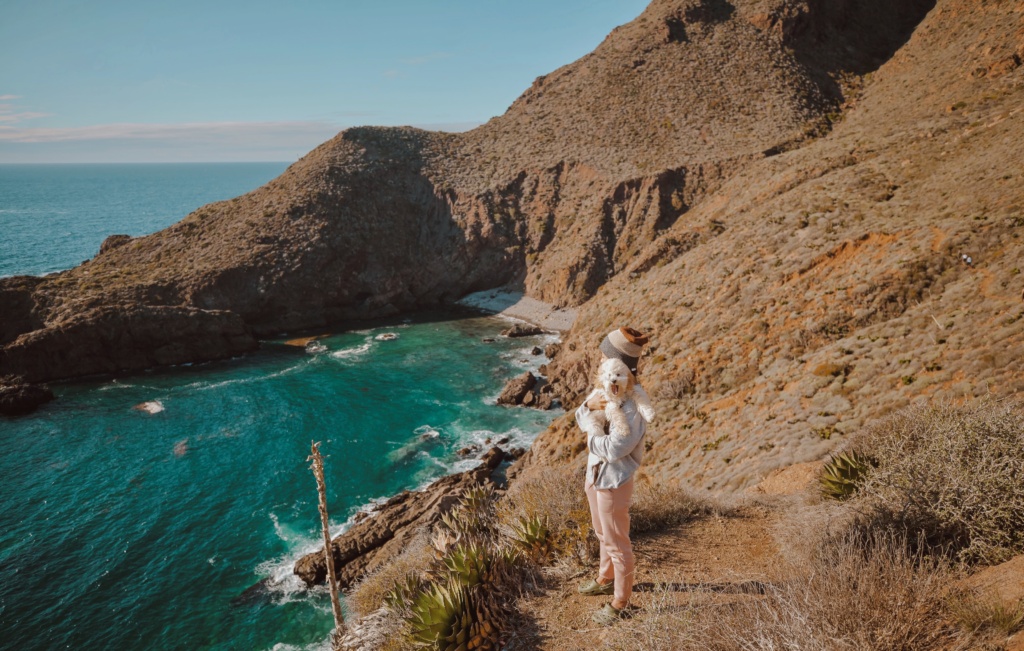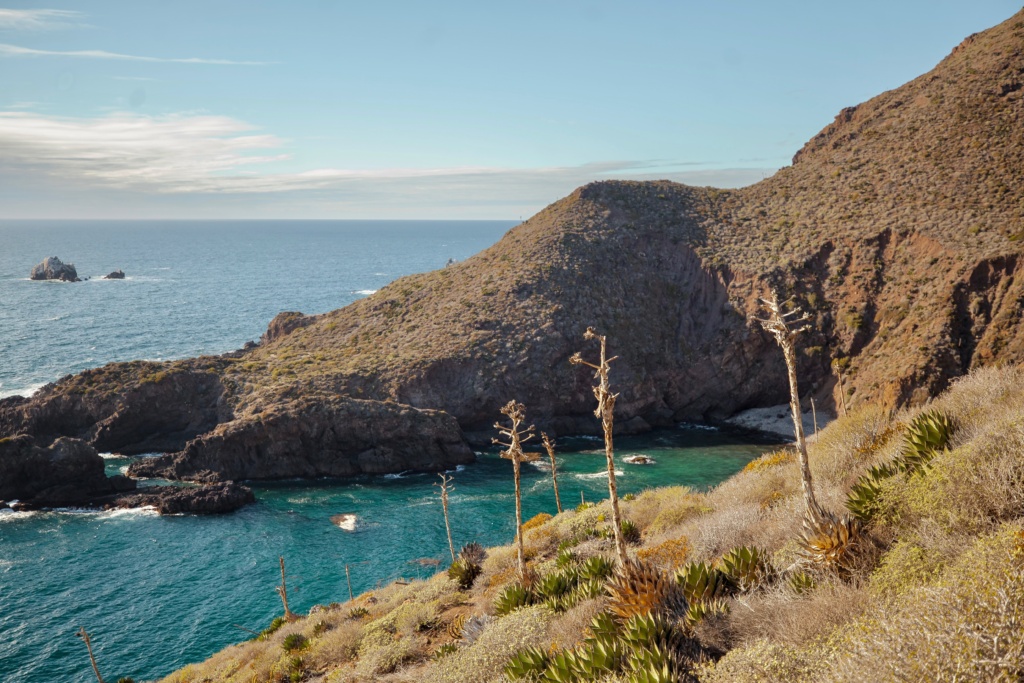 Day 4: La Bufadora – San Quintín (187km – 2 hours 30 mins)
As we drove to south of San Quintin on MEX 1, it's mostly empty road with views of agricultural valleys and the old wine country. We stopped by San Vincente for a delicious lunch break at El Charly Pollo.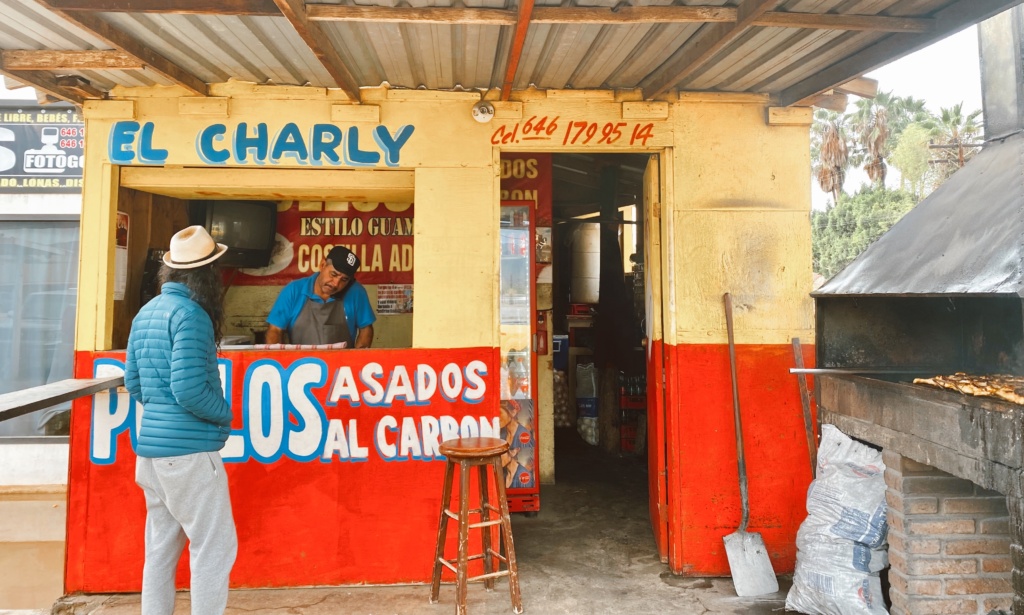 Their specialty is charcoal- grilled chicken. Tender, smoky, and full of flavor… the best chicken we had in the entire trip. It cost only $7 for the whole chicken, with lots of condiments (soup, rice, beans, salad, and salsa).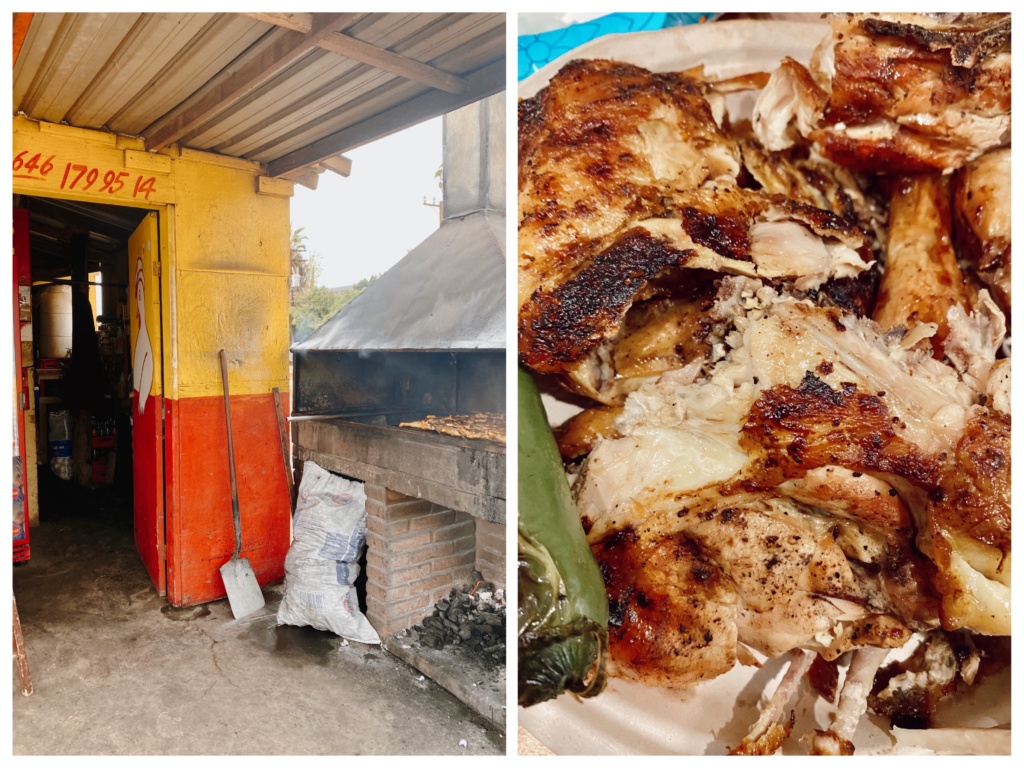 We camped at El Pabellon RV park, south of San Quintin. It was New Year Eve and we had the campsite all to ourselves. Cost was $10 for the night (great cell coverage).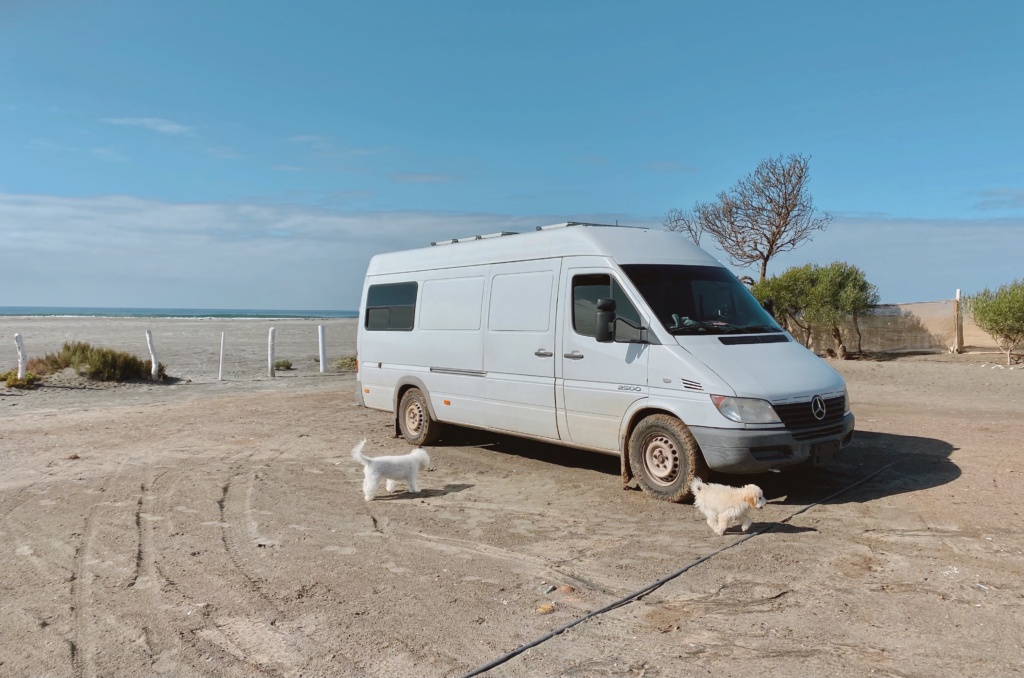 Day 5: San Quintín – Cataviña (183 km – 3 hours)
Continuing on MEX-1, we stopped at El Rosario to top up our gas. El Rosario will start the long stretch through the uninhabited desert. There are no gas stations for 250 KM. Sometimes you can find random locals selling gas from barrels on the side of the road but there's no way to guarantee it's good gas for your vehicle. Just fill up at El Rosario and you'll be fine.
After filling up gas, we stopped by Mama Espinozá for lunch. Here we got to enjoy Mexican authentic home cooked meal with the best fish tacos.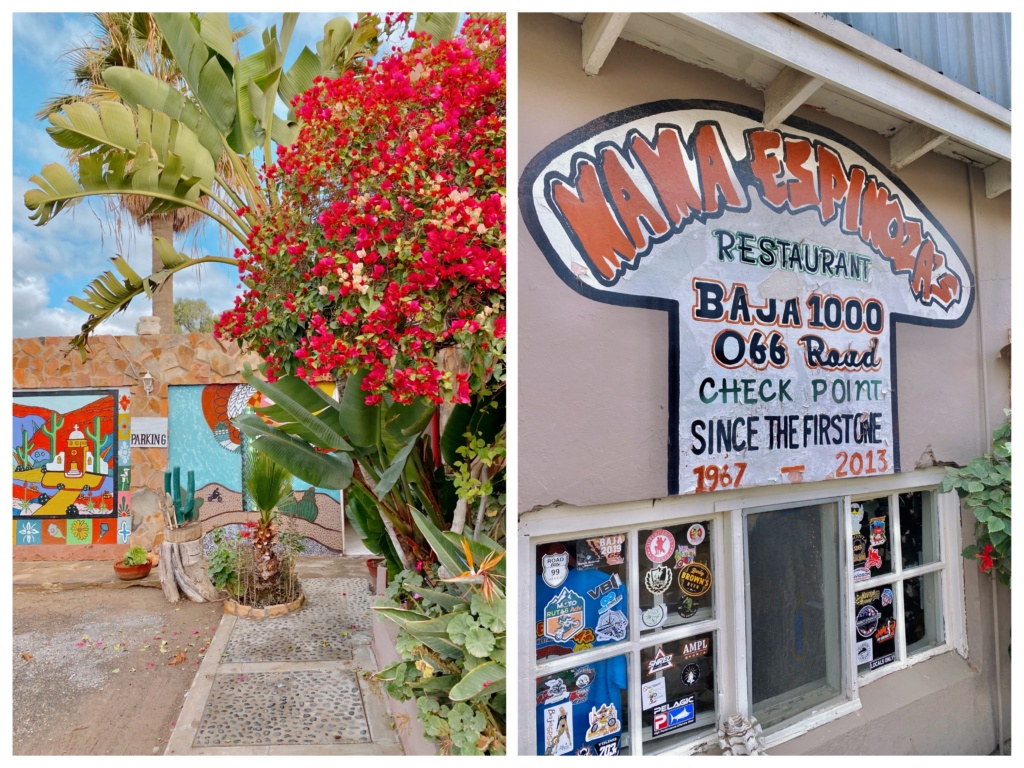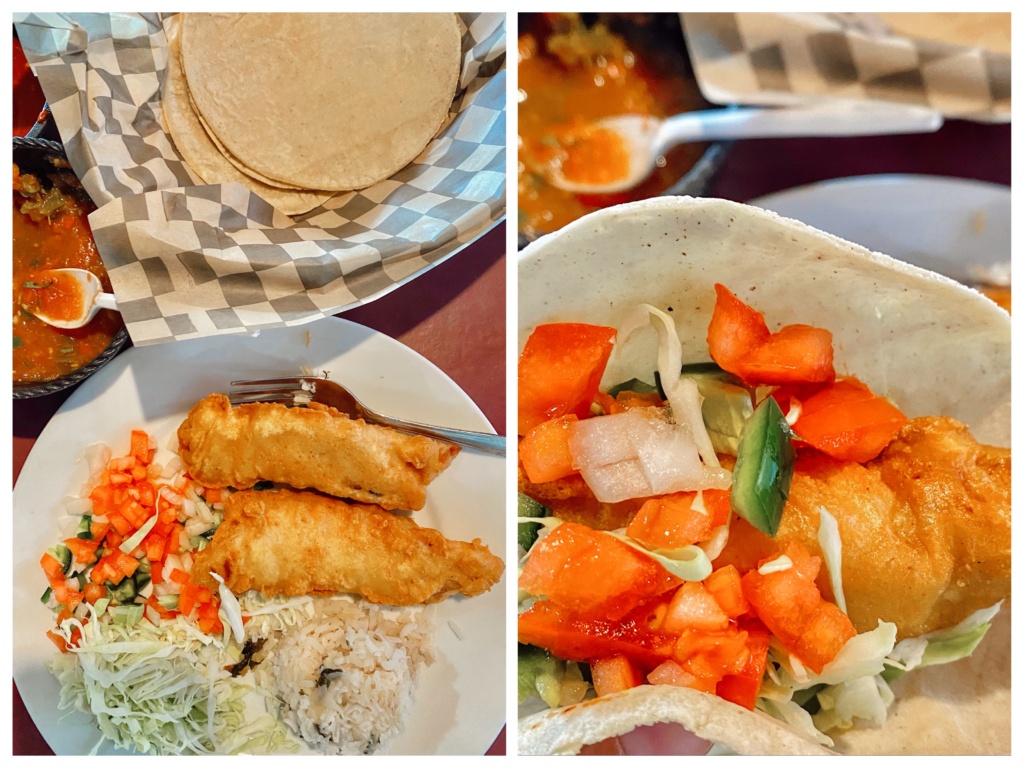 After El Rosario we drove for about an hour before reaching the Valle de los Cirios – the second largest protected natural area in Mexico. In this valley towns vanish and cacti are the new skyscrapers. Fifty-foot tall cardons, cirios plants, pink barrel cacti, and boulders remind me of Joshua Tree National Park and Saguaro National Park in Tucson.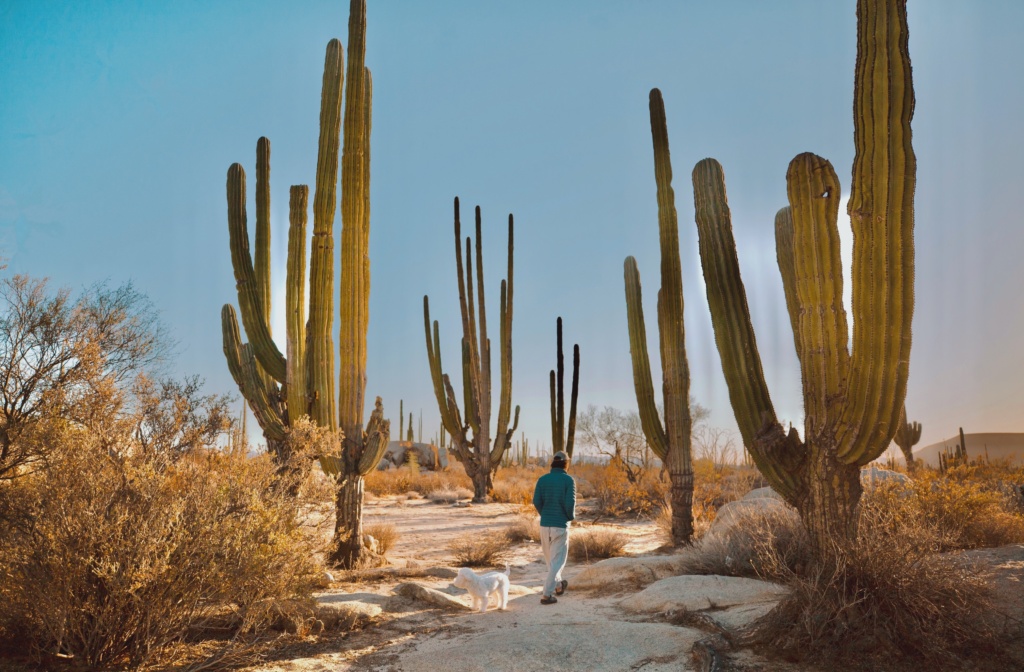 We were heading to Cataviña to our designated campsite for the day, but then we found a beautiful cactus oasis just 6km before getting to Cataviña, not far from Highway 1. Here we were boondocking among giant cacti and boulders. Very quiet and safe.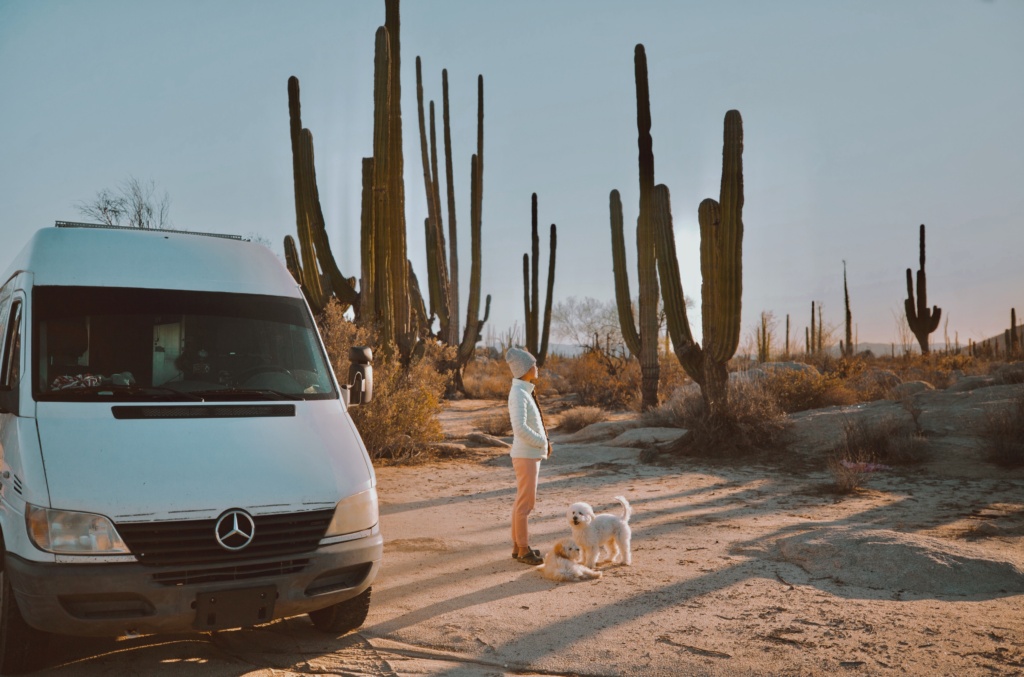 How do we find these amazing boondocking spots? It all thanks to the iOverlander app. This app led us to a variety of gems, from cactus oasis to restaurants that let you stay in exchange for buying dinner. The app also maps out where to find propane, fresh water, showers, dump stations, and more with their handy filters.
Day 6: Cataviña- Guerrero Negro (240km – 3 hours 45 mins)
Guerrero Negro is the best place to see whales. But since we traveled with our 2 dogs, we can't just leave our campervan and fur babies to take these fun whale tour. So in Guerrero Negro, we just took it easy and did some grocery shopping.
We stayed at Malarrimo Hotel Restaurant and Bar. They let us park in their front parking lot for free in exchange for buying dinner. From Malarrimo it's only 10 min walk to the nearest local market. A convenient place to spend the night with good food and great cell coverage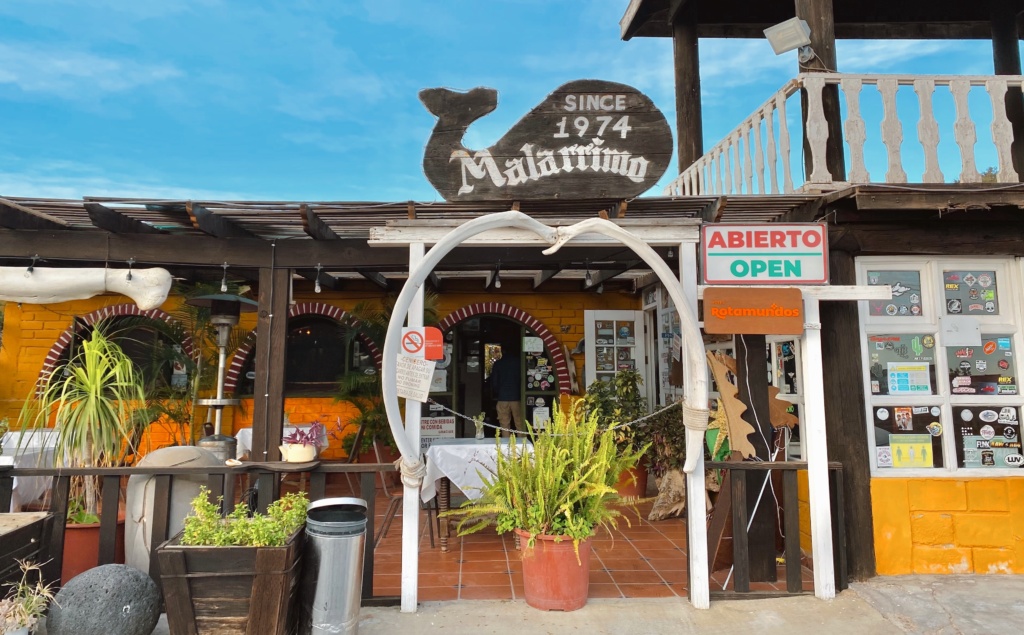 Day 7: Guerrero Negro – San Ignacio (150km – 1 hour 50 mins)
San Ignacio is a tiny mission town set on a lagoon. This town is a true oasis in the desert.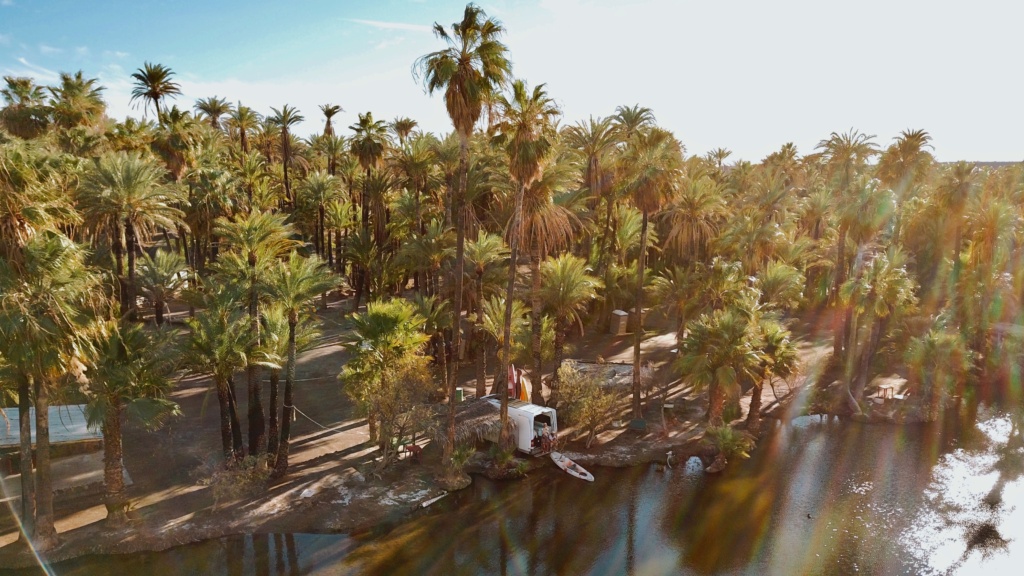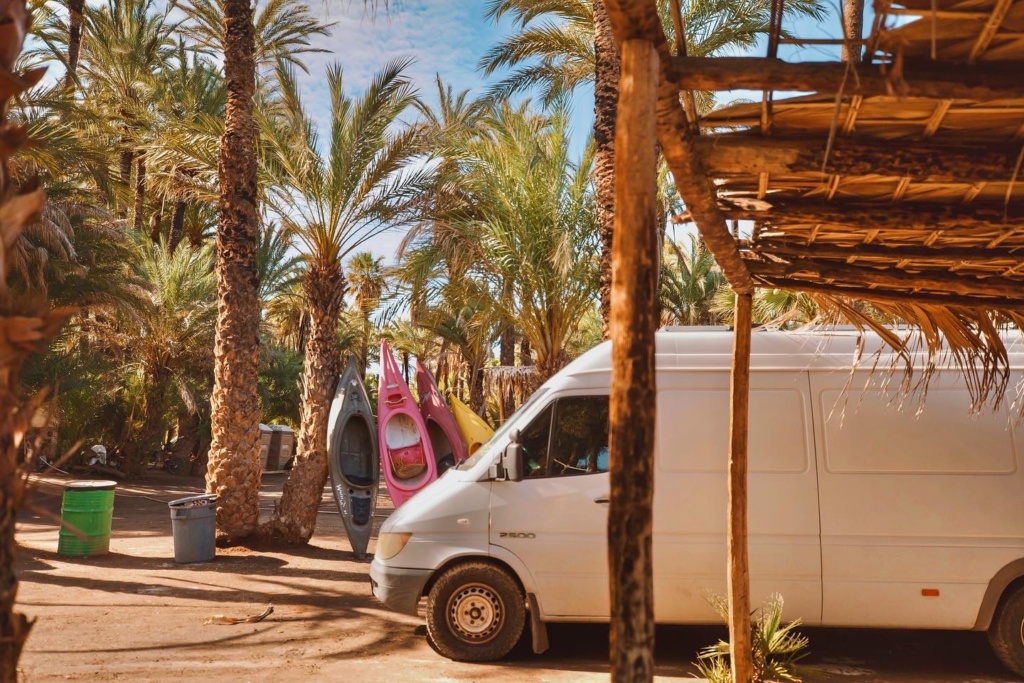 Here we camped at "Camping y Ecotours Los Petates". This campground is nice, clean with beautiful scenery amidst date palms, lots of birds and wildlife.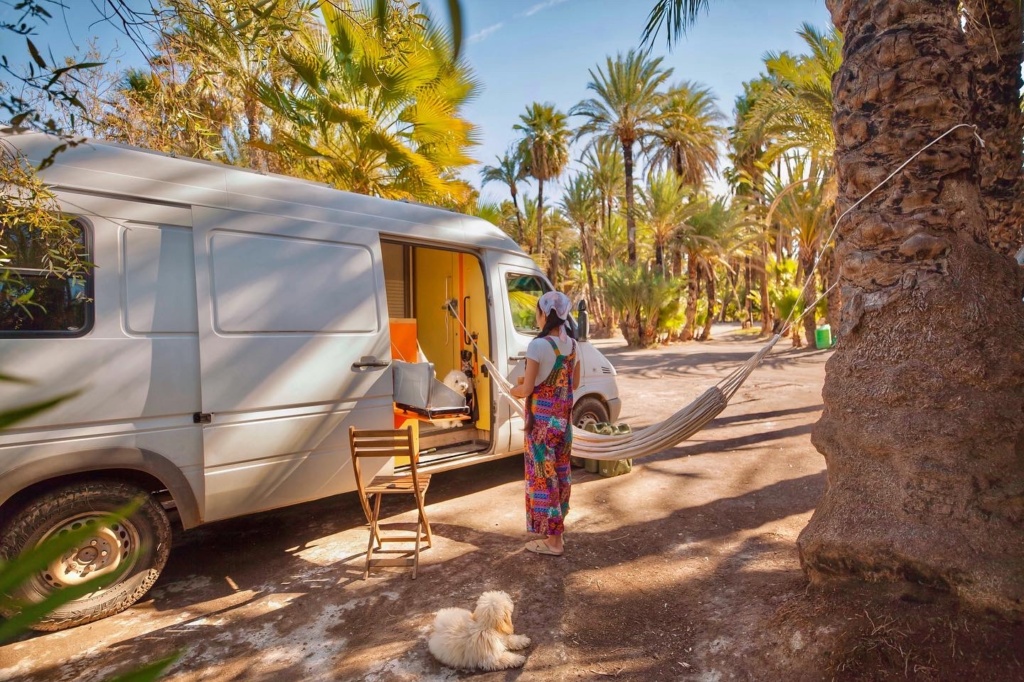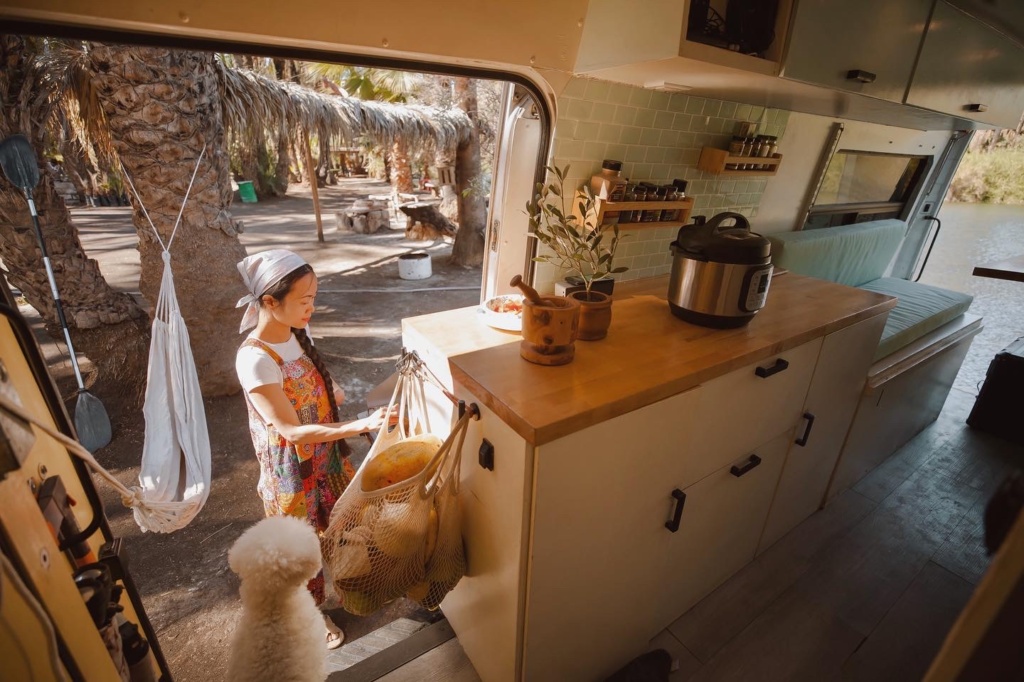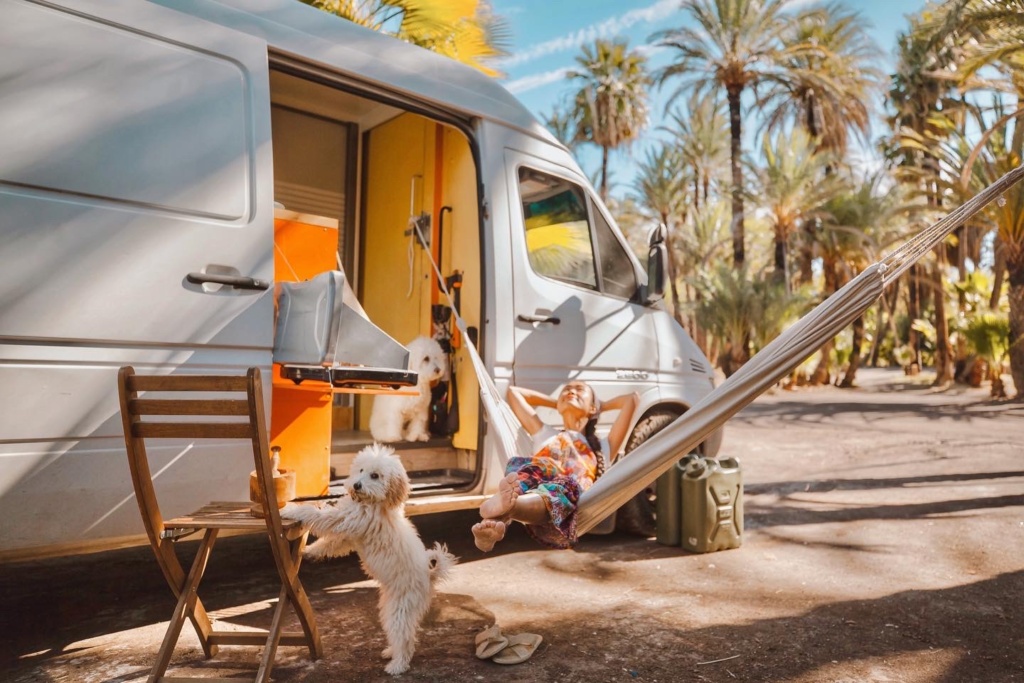 We got to park our van right near the water and from our spot where we can kayak around the little lagoon.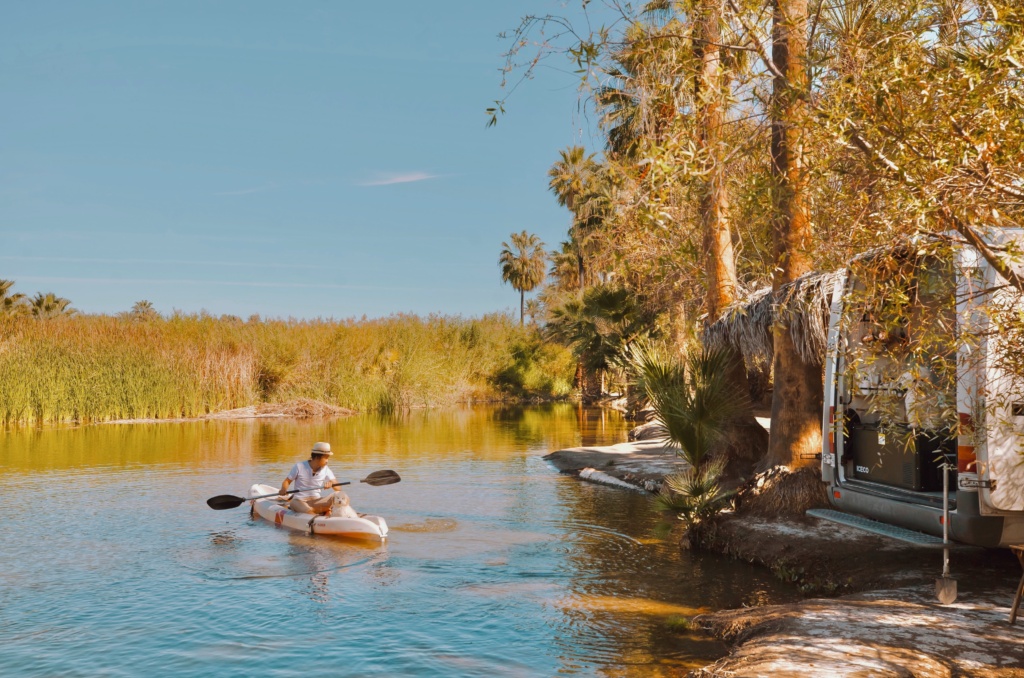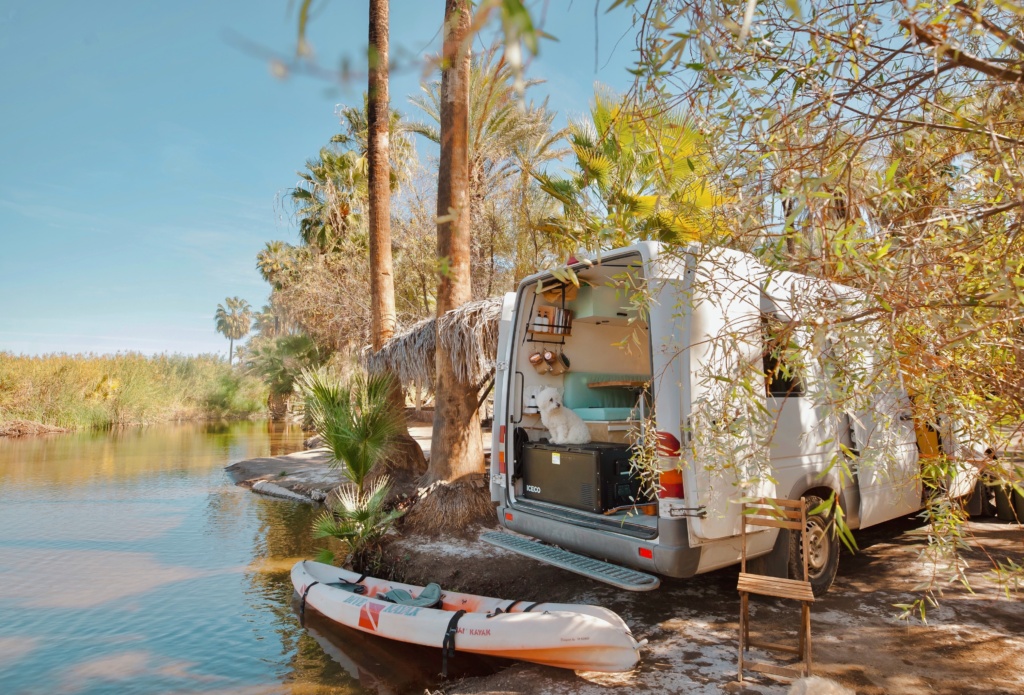 The man who runs this campground is very friendly and helpful. When we were there, there was no one else and he let us to rent the kayak for only 100 pesos for the whole day. For only 250 pesos a night, you got to park among the palm tree oasis, on the water with warm/hot shower and other amenities. It's such a great deal!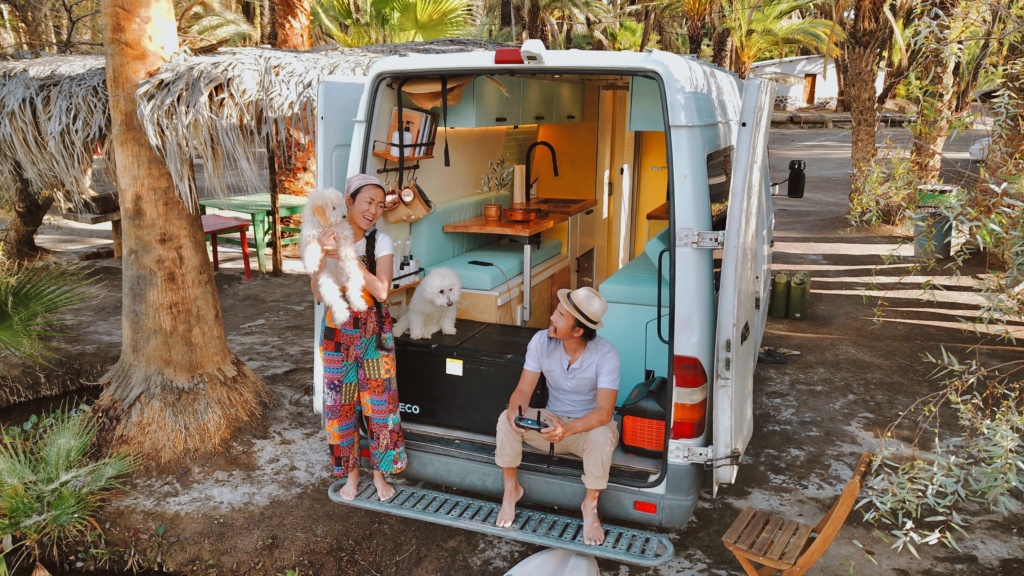 The town square is very charming with cobbled stone streets, overlooking a massive Spanish missionary church.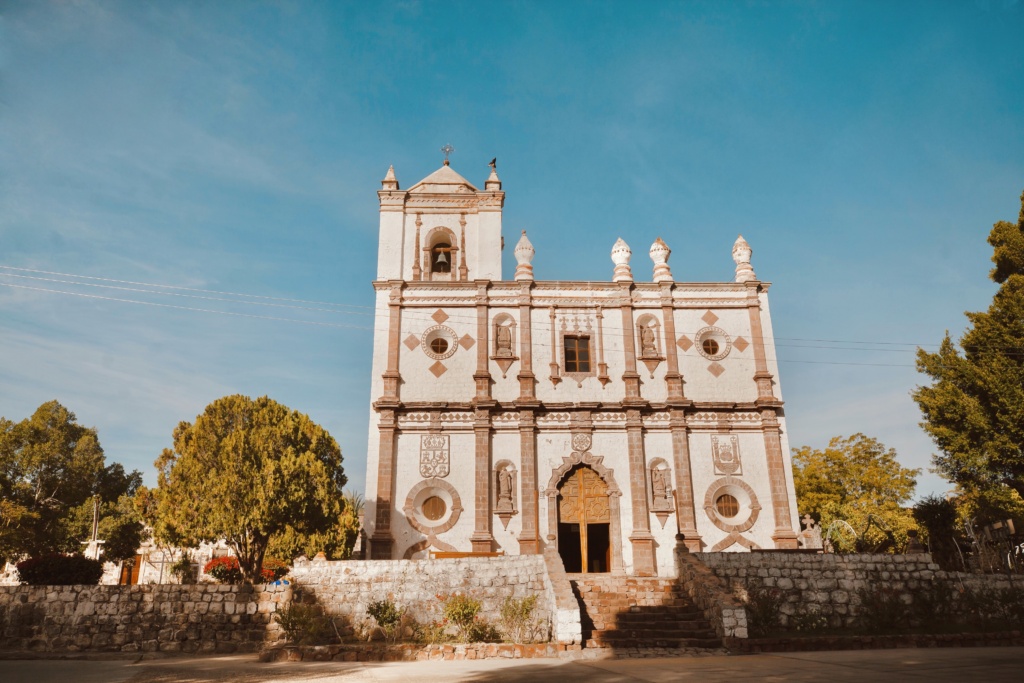 There are many restaurants around the town square that offer date-flavored dishes related. Everything here is date-flavored from milkshakes, bread to chicken.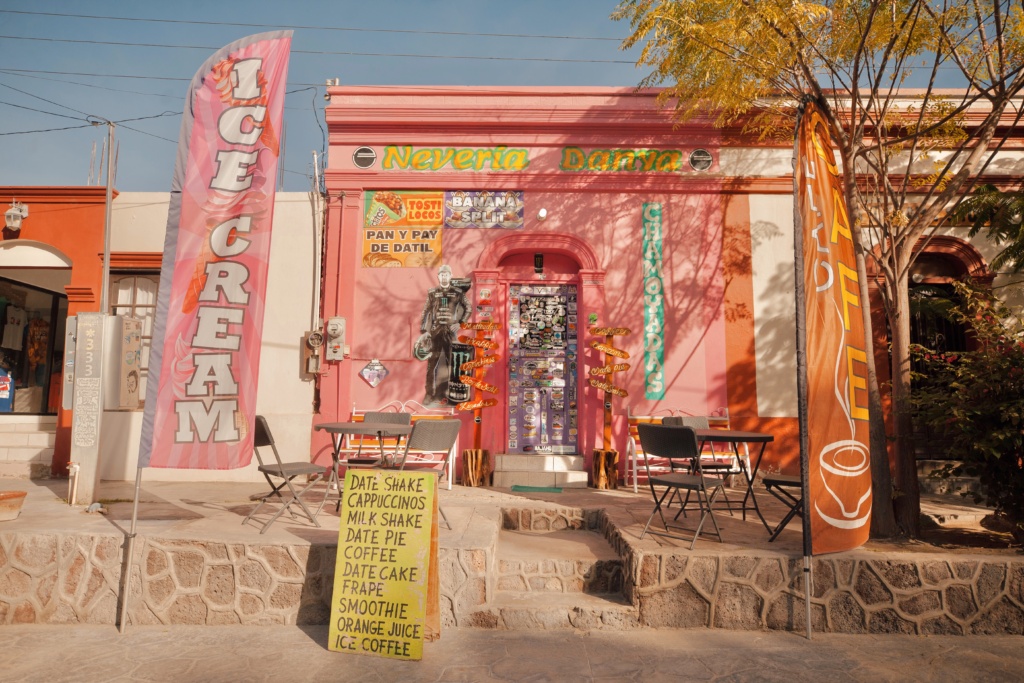 Day 8: San Ignacio – Mulegé (138km – 2 hours)
On the way to Mulegé we stopped by Santa Rosalia to visit the best bakery in Baja – El Boleo. It's rare to find a historic bakery from turn of the century with heavy French influence. For around 80 pesos we bought one of each of their signature pastries. All of them were delicious.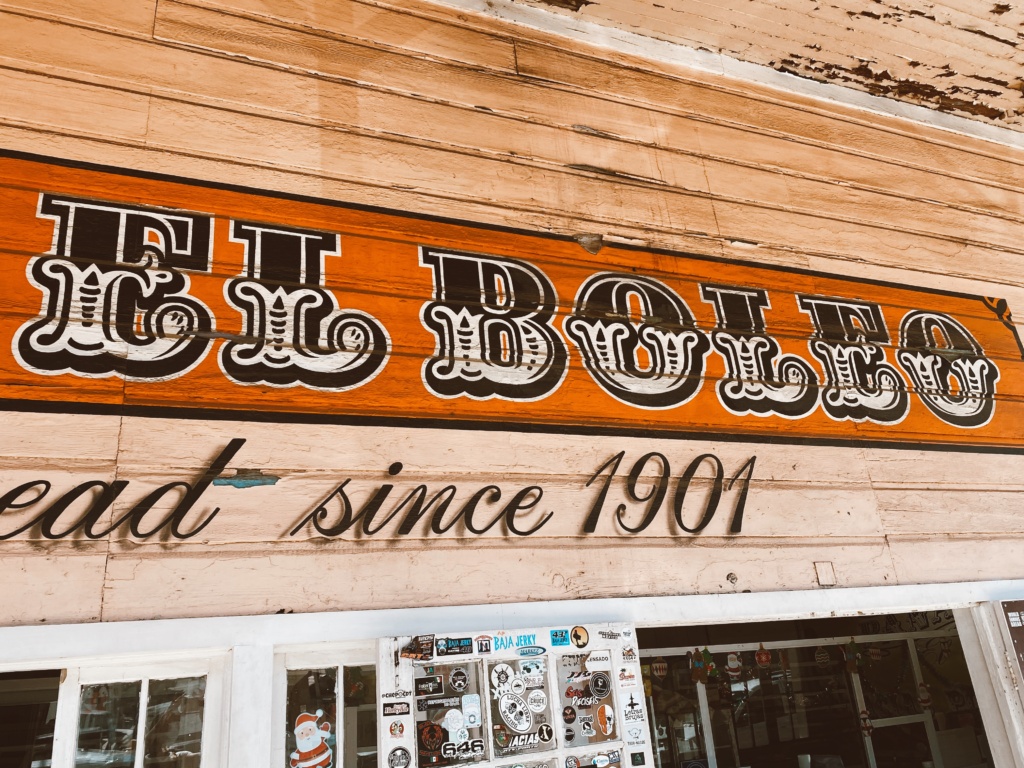 Mulegé is the beginning of Baja's best beaches. Before beginning our days of camping on sandy beaches we rented a lovely airbnb in Mulegé to refresh, and do some laundry.
Casa de Plumeria is in a quiet retirement community named "The Oasis Rio Baja". Located along the river and only a short drive to town/beaches, this cute house is a wonderful spot to recharge from days of driving.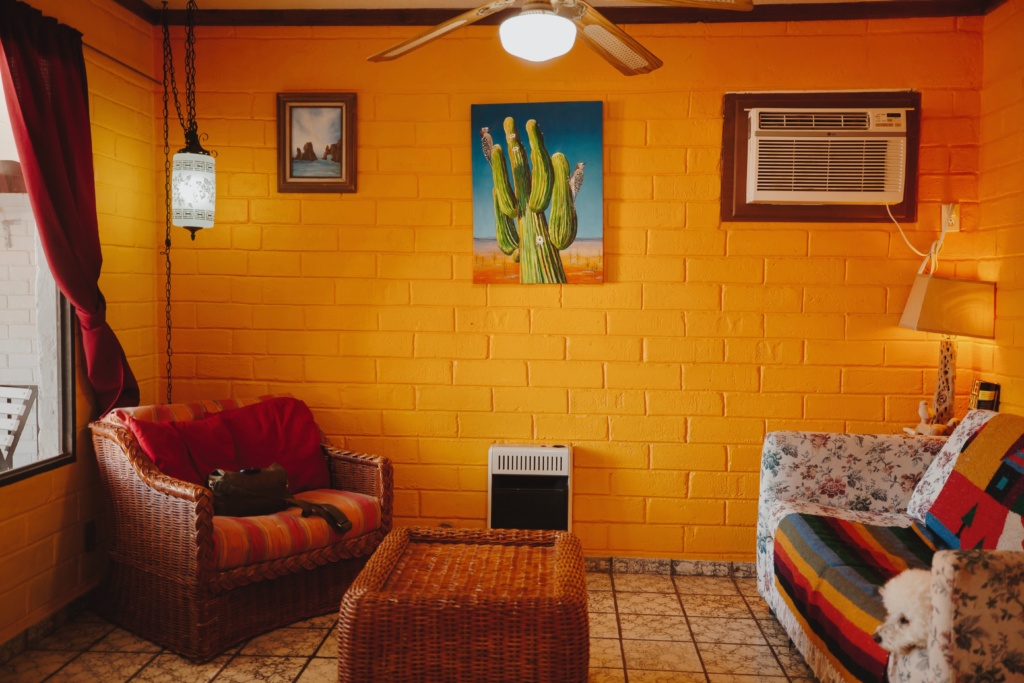 This house has such a charming walled backyard overflowing with plants and flowers (lots of plumeria).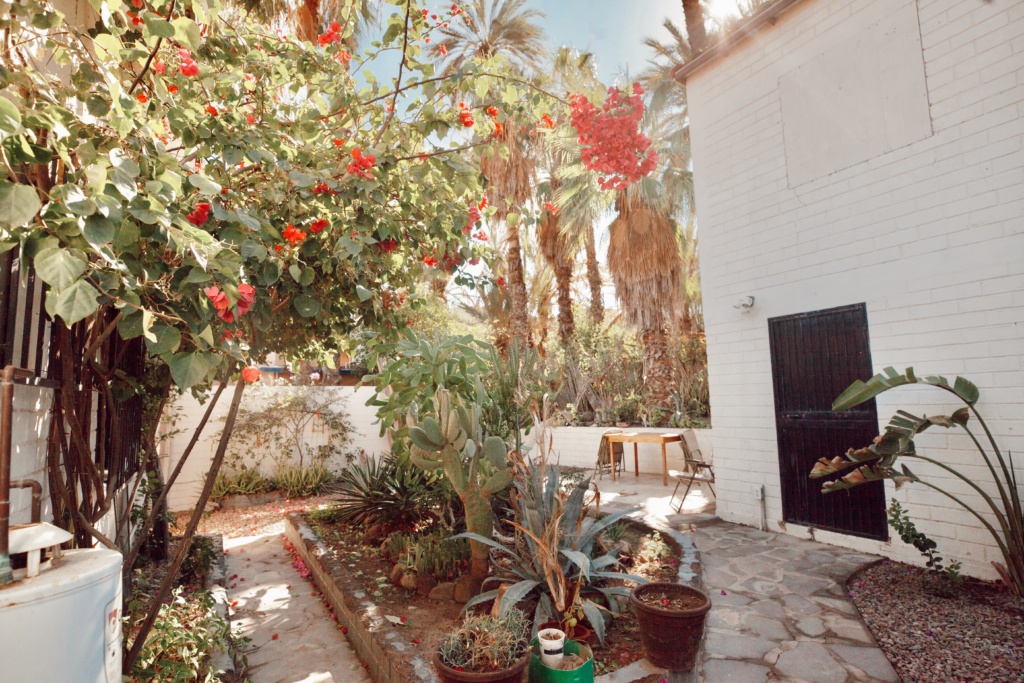 Click here to book this Airbnb.
Day 9: Mulegé – Playa Santispac (22km – 22 mins)
There are some places in this world that are so magical, so incredibly beautiful, that you can't help falling in love. For us, that place in Baja California was Bahía Concepción.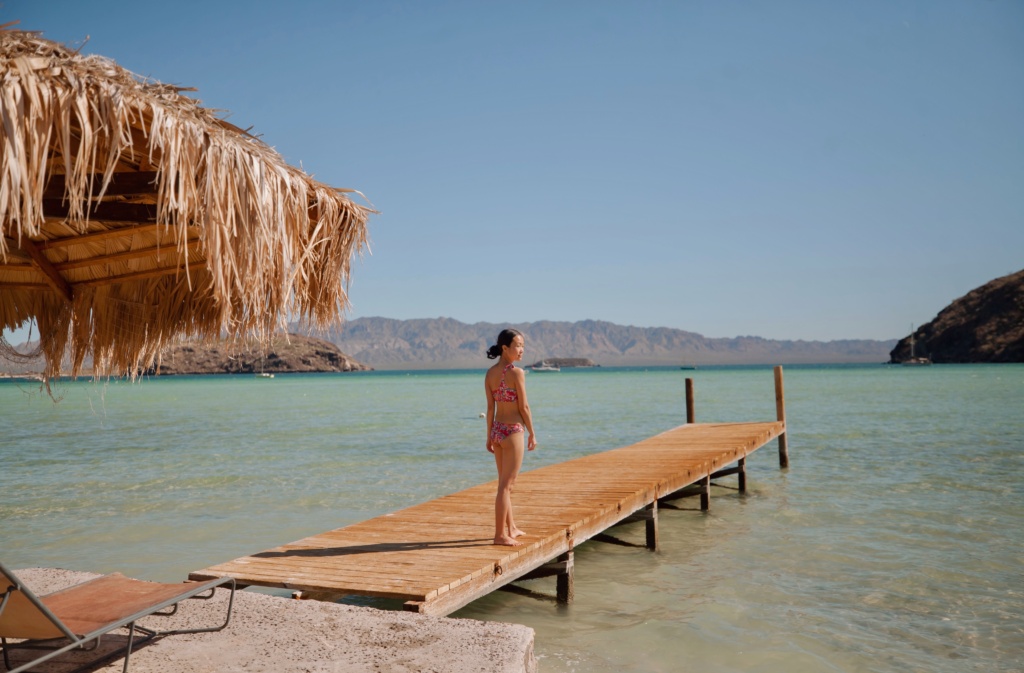 If you didn't know these bays were here, you'd likely just keep driving on the road between Loreto and Mulege. But I'm here to let you know that these incredible beaches in Bahía Concepción should not be skipped. When you see those idyllic photos of Baja with turquoise waters, cactus-studded islands and white-sand beaches, it's probably somewhere along Bahía Concepción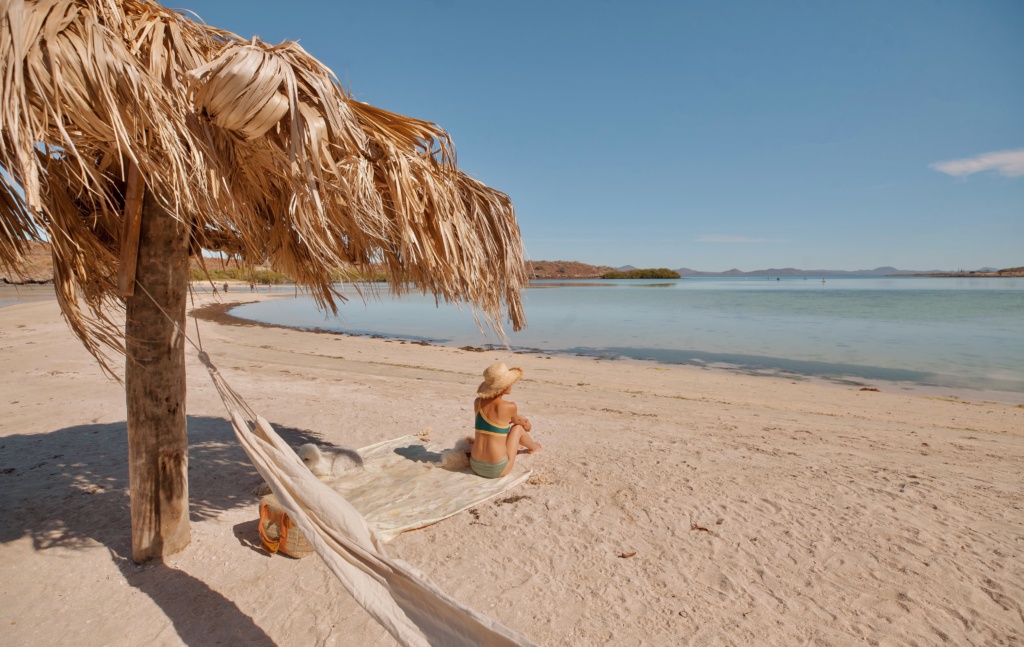 The coastline around the bay was made of multiple smaller bays with spectacular coastline views where the desert meets the sea. You can't believe the calm, turquoise waters that go on for miles and miles!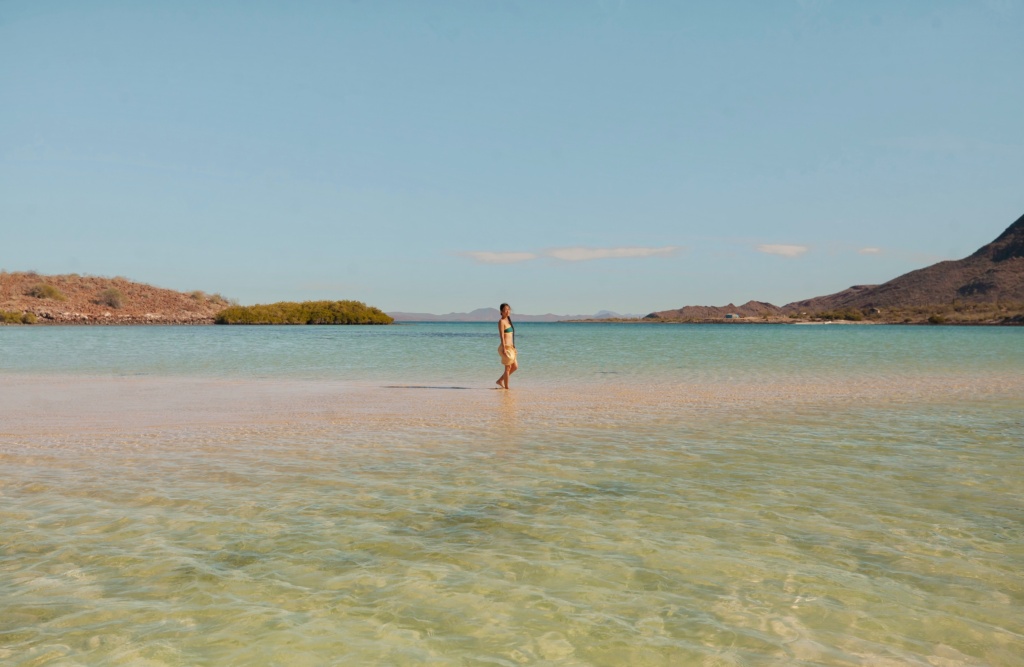 We decided to take it slow and explore all the beaches in Bahia Conception. One of our favorite beaches here is Playa Santispac.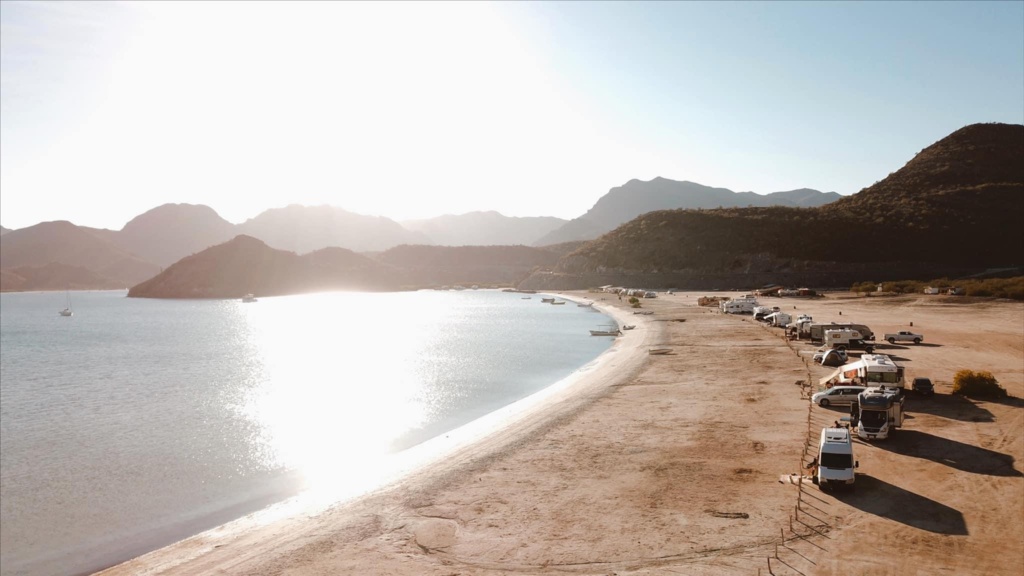 Playa Santispac is like a little village made of motorhomes from retired people, the majority from USA or Canada who decided to spend their time off work driving around Baja or just hanging out here. Our loose plan was to stay one night at one of these beaches, but we changed our minds after making friends right on our first day at Playa Santispac.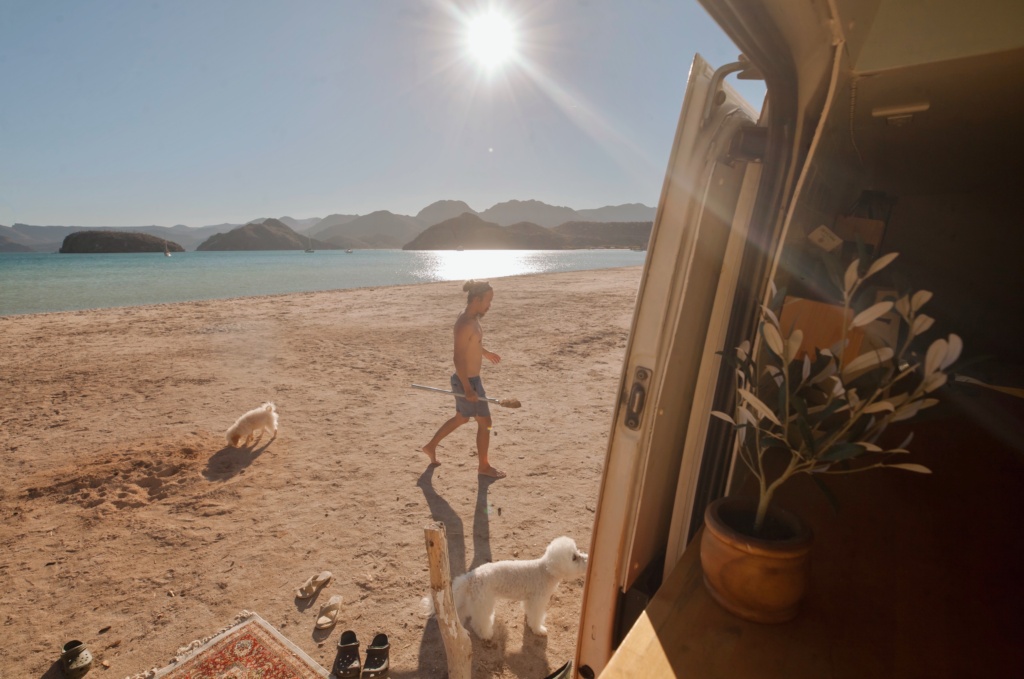 The "locals" (aka our RV friends who had camped at this beach for 4 months) told us that despite being remote without cell service, there is no shortage of goodies coming your way in the form of local vendors. Everyday there's a guy who sells filtered water to people who camp along the beach. There is a "seafood" lady who comes every Friday to bring you all kinds of seafood: scallops, prawns, clams,…There is a "fruit and vegetable" guy who comes every Thursday to sell you the freshest broccoli, lettuce, cucumber, tomatoes,…(just like Amazon Fresh delivered to your front door). We were woken around 7am in the morning by the call of the tamale ladies. As we savored the taste of homemade tamales, the "juice" guy kept us in check with our daily routine of juicing with his no-sugar, no-water grapefruit juice. Besides the marine life, the food vendors are the real MVP in Bahía Concepción!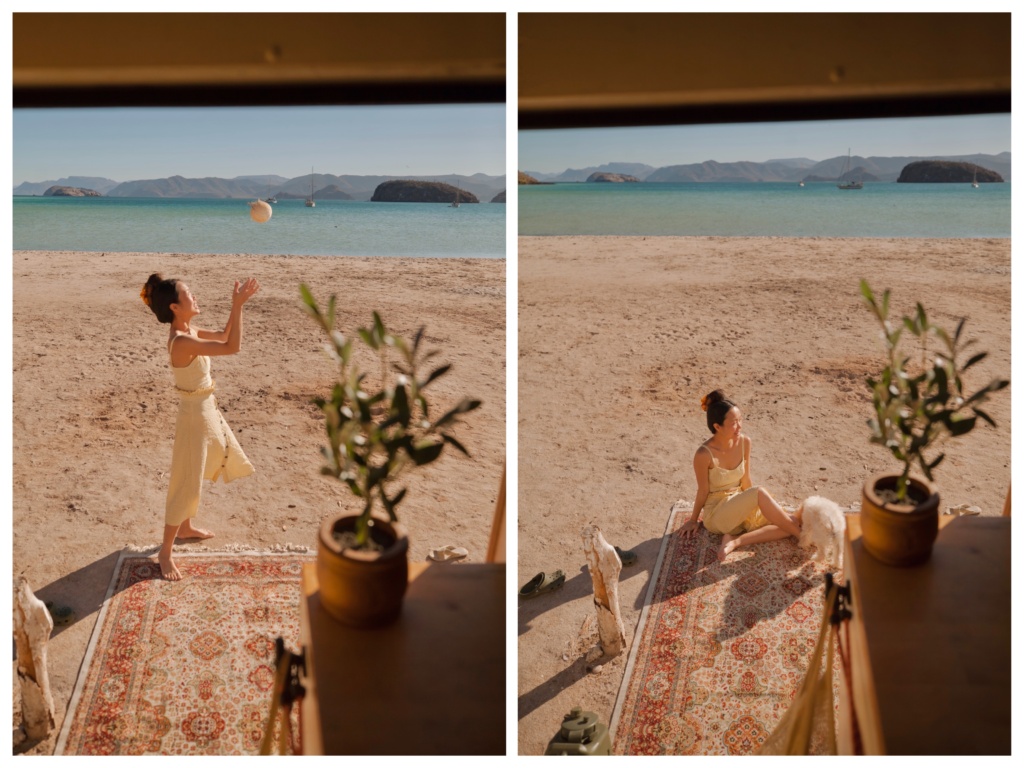 Our RV friends had so much time in their hand that they started building a fence around their RV from palm leaves and cactus wood (sold and delivered to the campsite by the local vendors) and they had plenty of fresh water that they started building a little garden.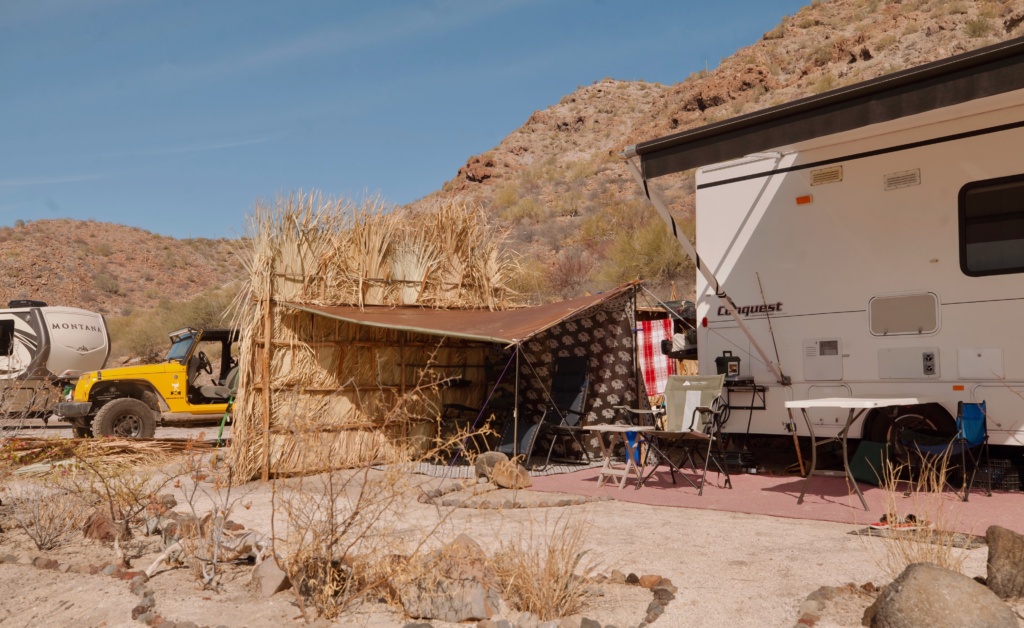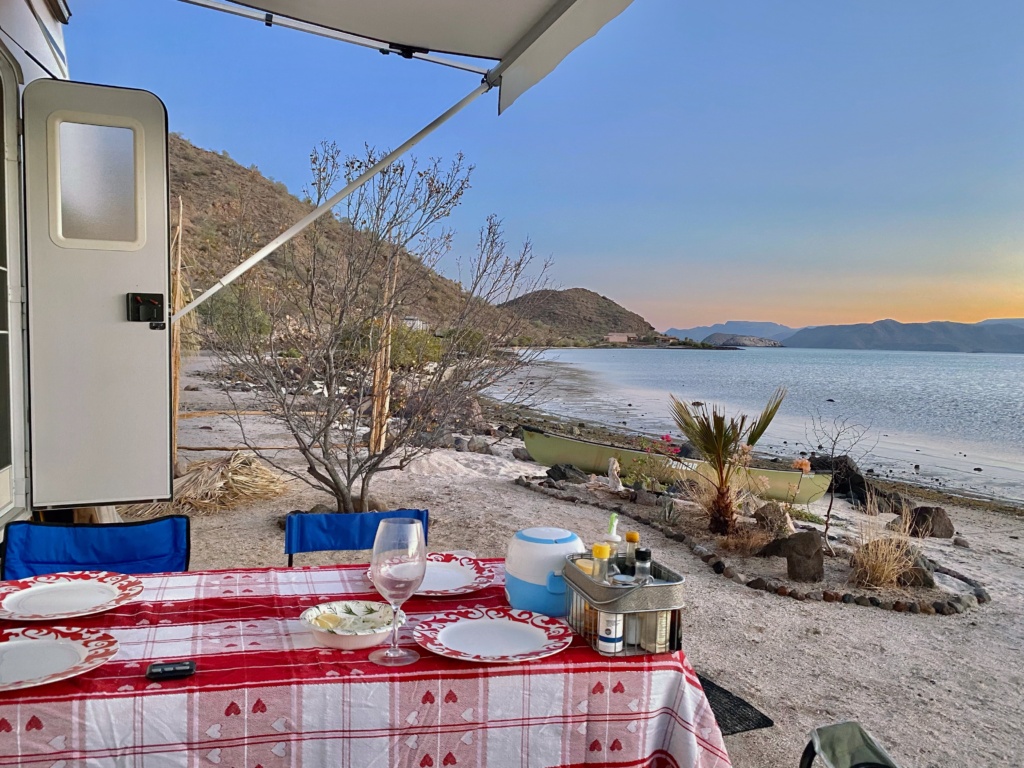 Admiring their long commitment to this beach, we changed our original 1-night-per-beach plan to 2 nights just for Playa Santispac. And all of these wonderful "amenities" are only 200 pesos per night for camping fee (=$10).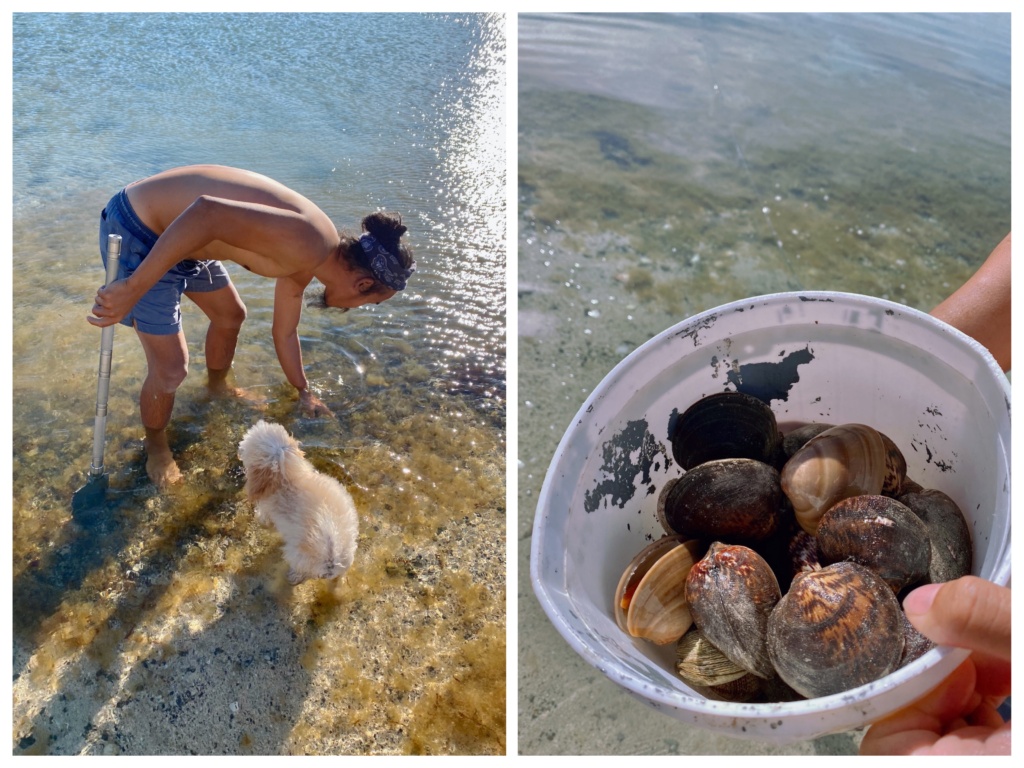 Plus there is one restaurant on this beach that serves the best fish tacos that we have ever eaten. It was so good that within only 2 short days of our stay we came back 3 times to this restaurant to order this dish. The waiter told us that all of the fish dishes in their menu are from triggerfish. That's the yummiest fish ever then!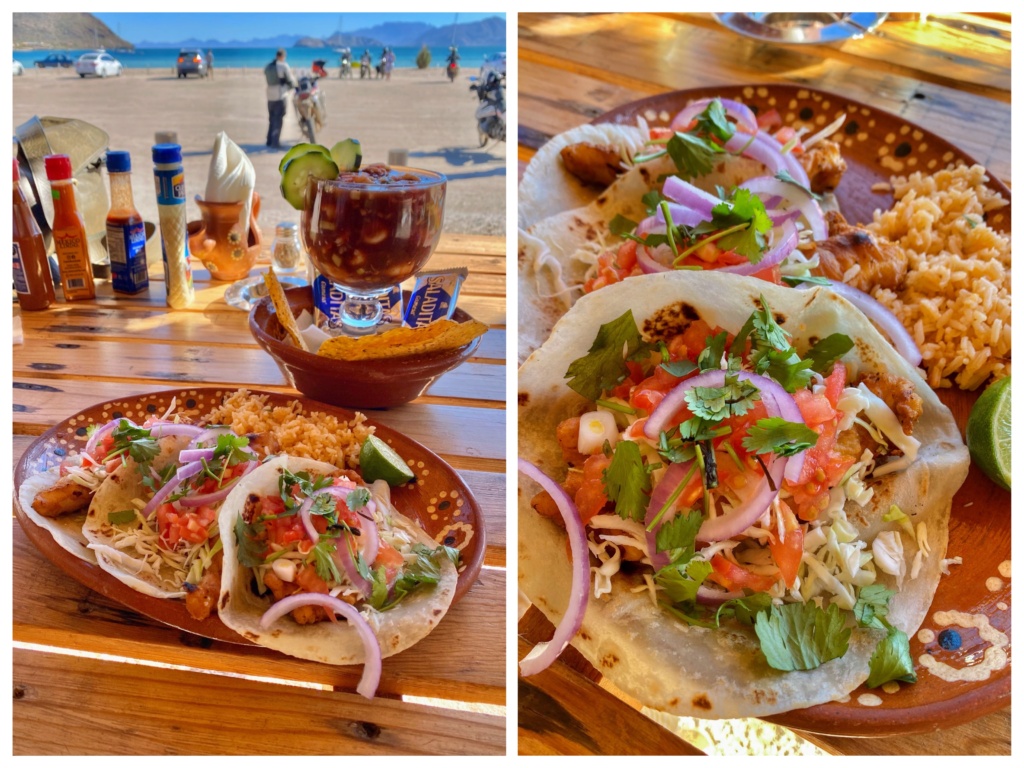 This beach is completely protected from the waves. Great for early morning paddleboarding or kayaking!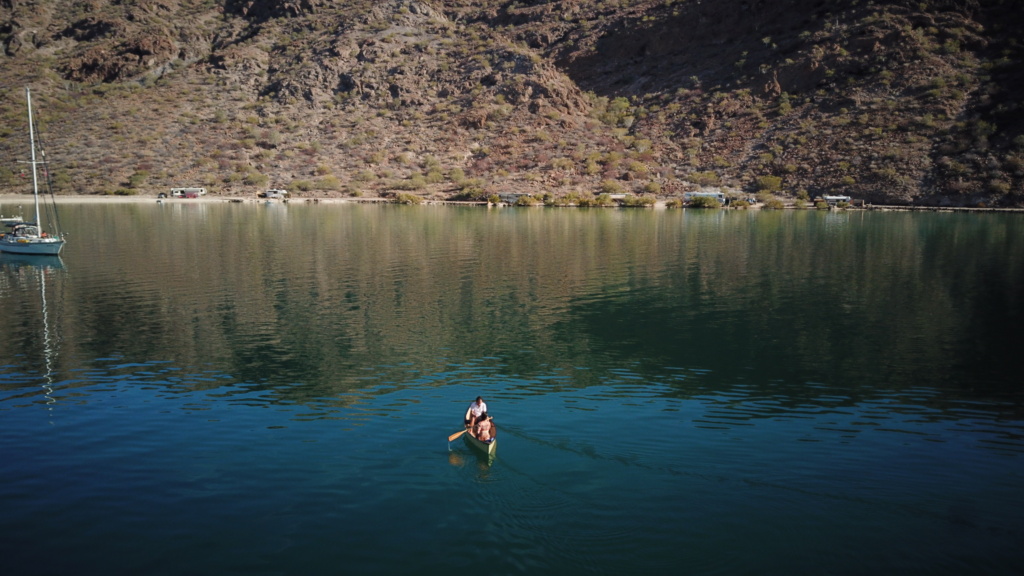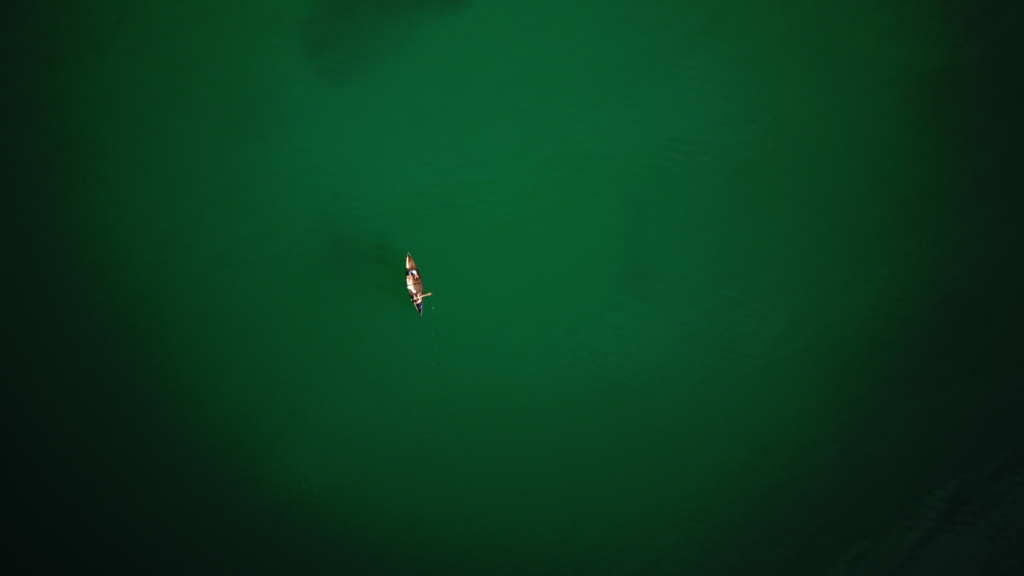 It was too cold to swim, but we were told that there are many natural hot springs right on the ocean. Following our friends' instructions, we canoed to a nearby hotspring. Some locals already built rock pools to separate the ocean water from the hot spring source; all we needed to do was bringing a bucket to fill the pool with ocean water to make the temperature right since the hot spring is scalding hot.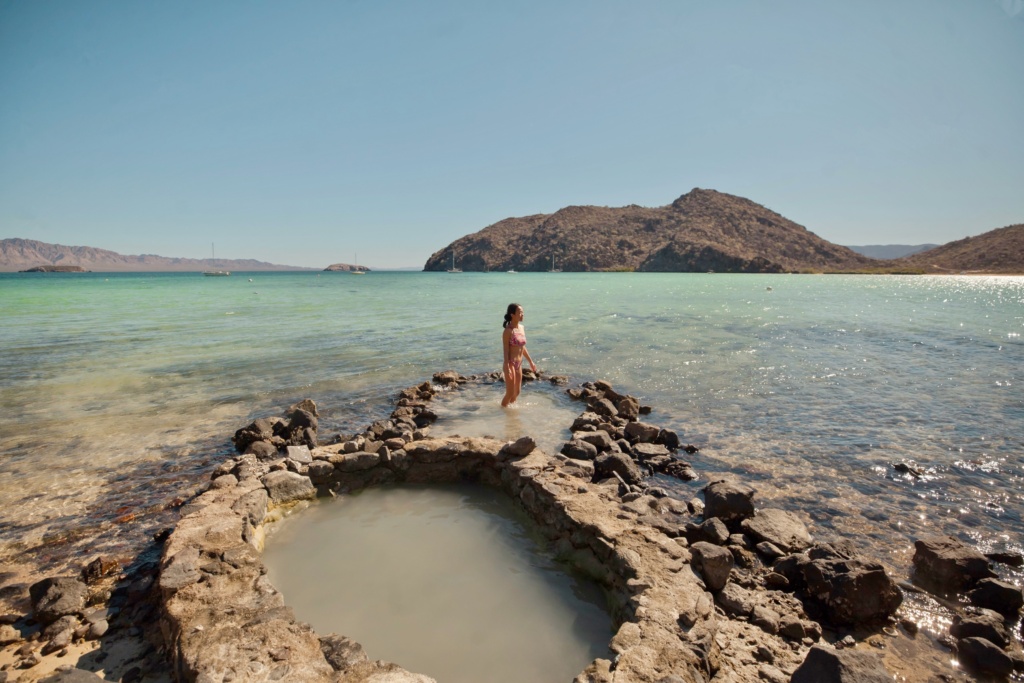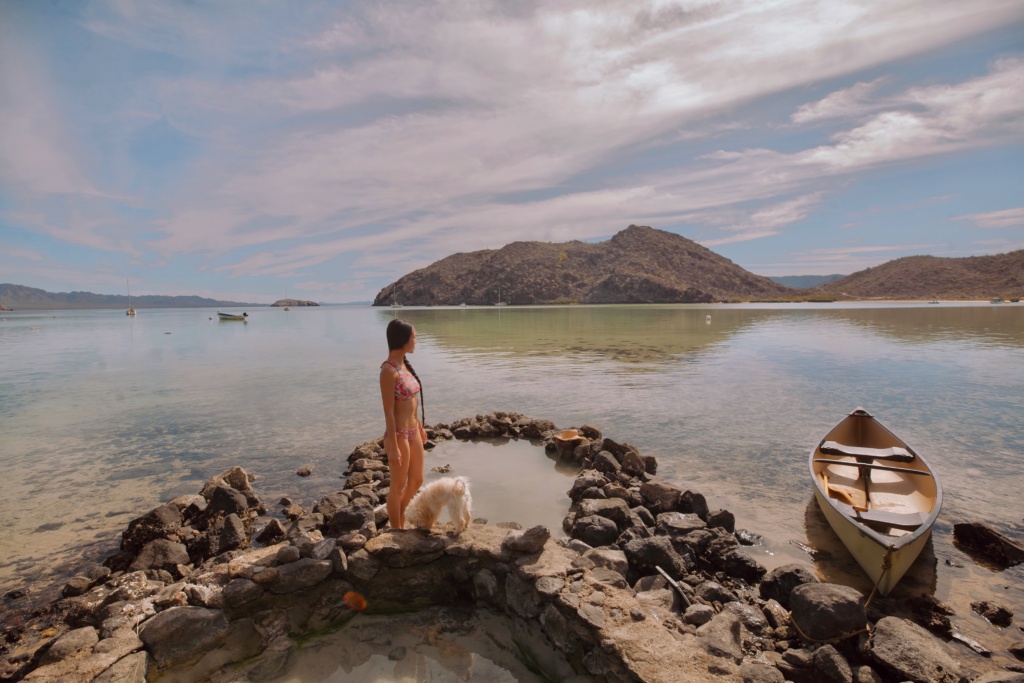 We have experienced all kinds of hot springs back in the states from hot springs next to a river to hot springs over a cliff, but hot springs on the ocean are just epic. I can imagine it would be too hot to soak in summer months, but for winter months when the ocean is too cold and windy to swim this seems just perfect.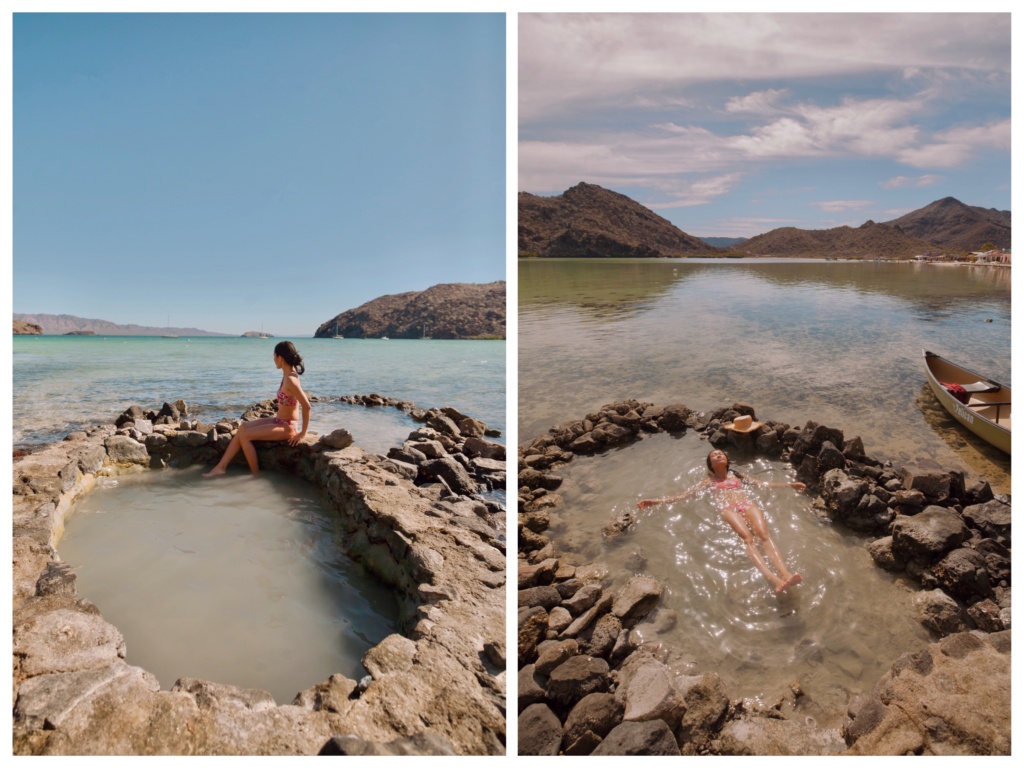 Near this hot spring is a retirement community with ocean front colorful houses priced at $300,000USD. A dream spot that's very affordable for retirees!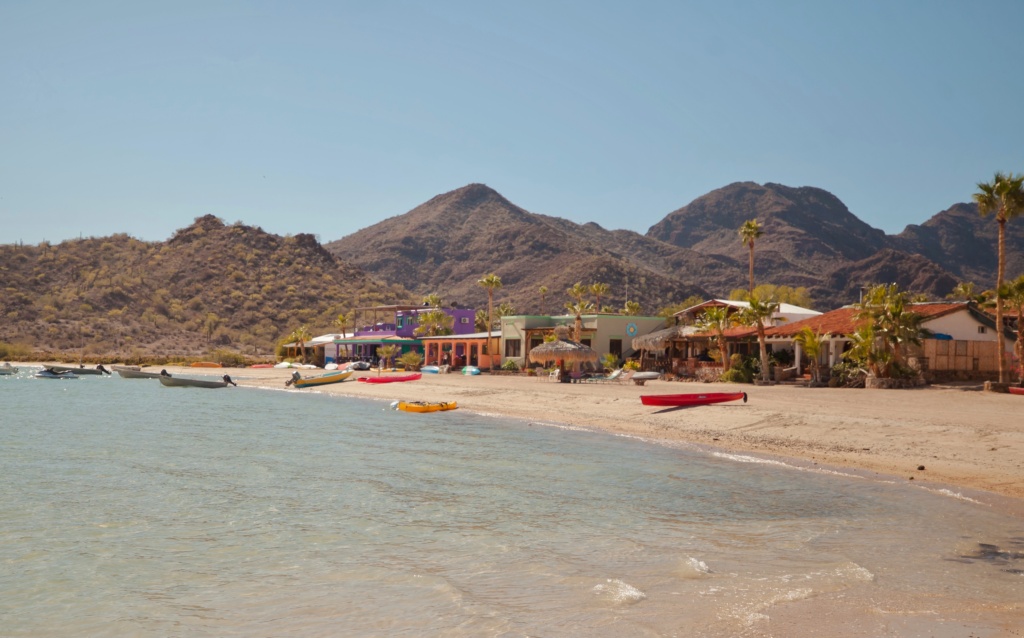 At a distance from our canoe this little community resembled so much a colorful village in Positano. I can imagine 10 years from now this stretch of beach will be more popular and more expensive. But right now it's still a hidden gem.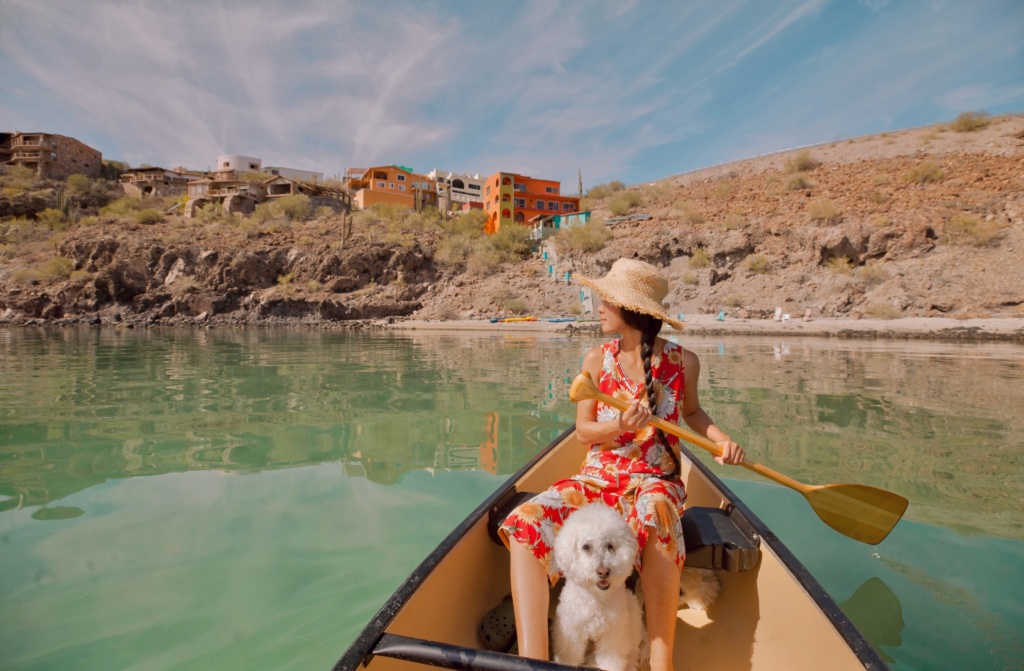 When it's time to leave Playa Santispac, we were kinda sad to say goodbye to our new friends so soon but at the same time we were excited to explore other beaches in the area
Day 10: Playa Santispac – Playa el Requeson (22km – 22mins)
For something more chill along Bahía Concepcion, Playa El Requesón is the secret beach of Baja California Sur. Where else in the world that you are able to camp on a sand bar between the beach and an island just offshore?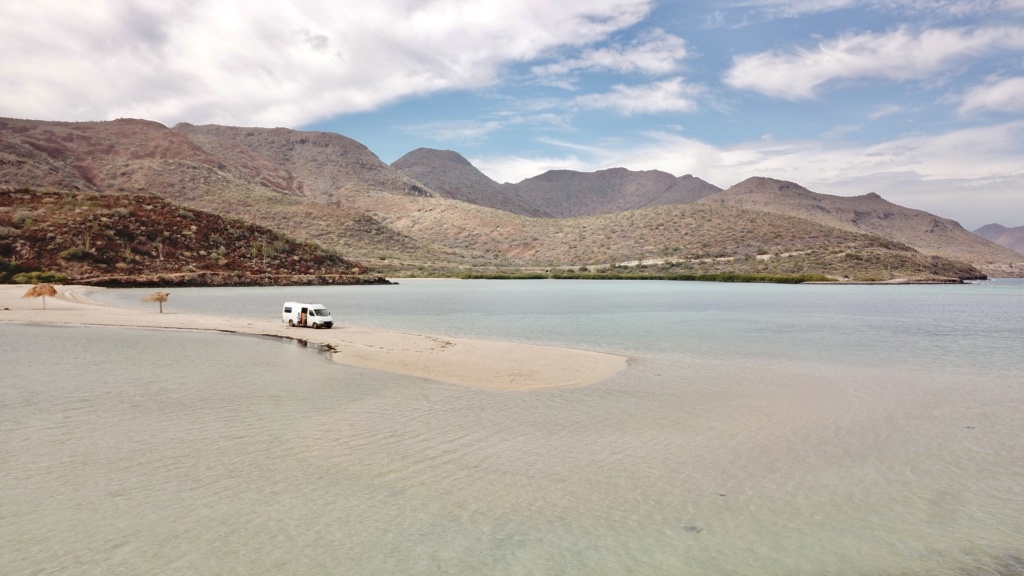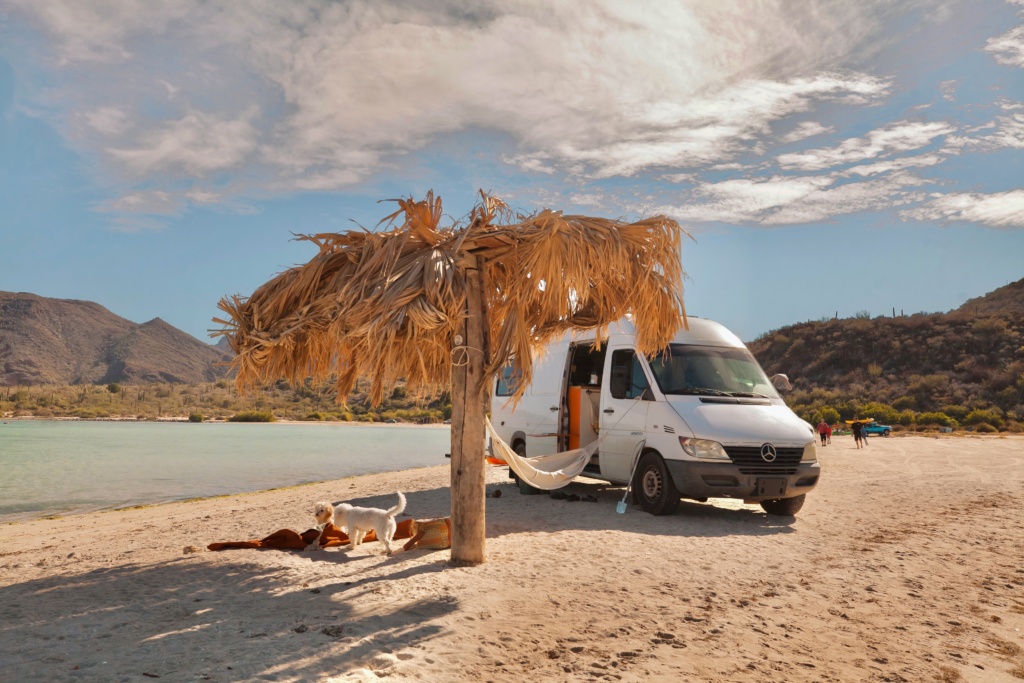 Here, the water is shallow, calm, and crystal clear (remind us of the Caribbean), but the most magical part of the beach comes out at low tide. When the waters flow out of the bay, a strip of land appears and connects the beach to a small island.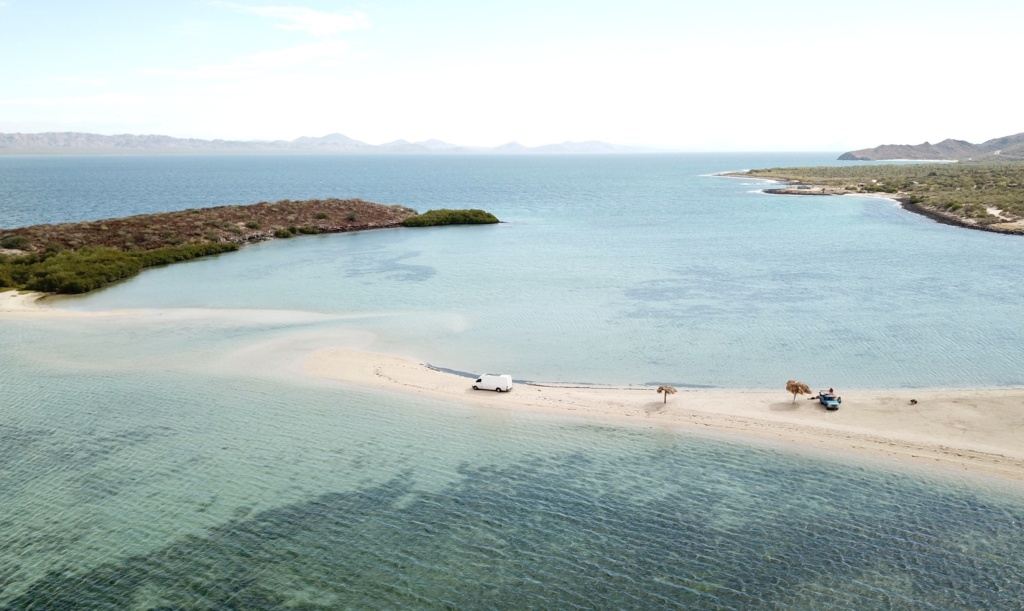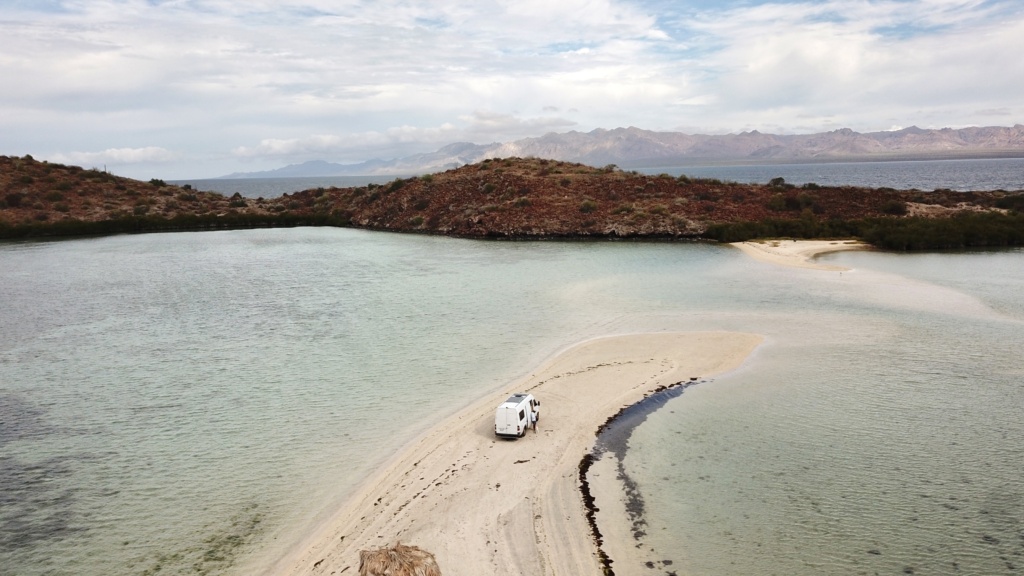 What we love most about this beach is although we park in the middle of nowhere, there are local vendors who delivered the freshest chocolate clams to our front door. The name of this special clam comes from the rich chocolate color and silky texture of their shells and these clams can only be harvested along the Pacific coastal region of the Baja Peninsula. We bought chocolate clams from the vendors and had ourselves a little street "mariscos" Ensenada-style stand right on the beach.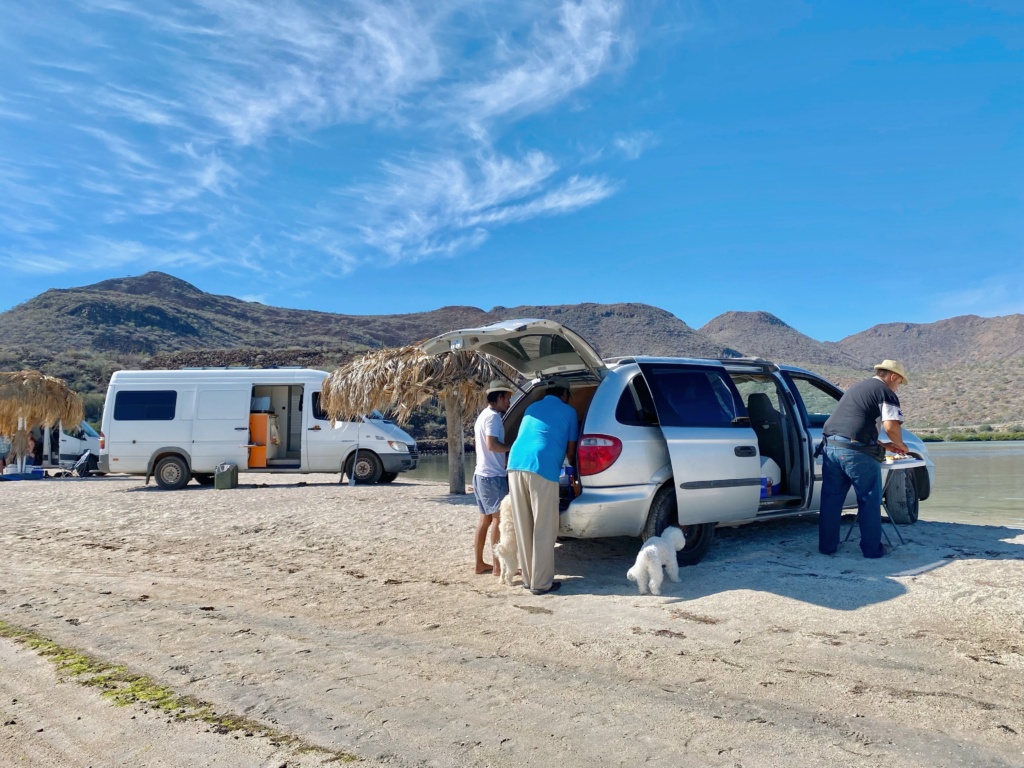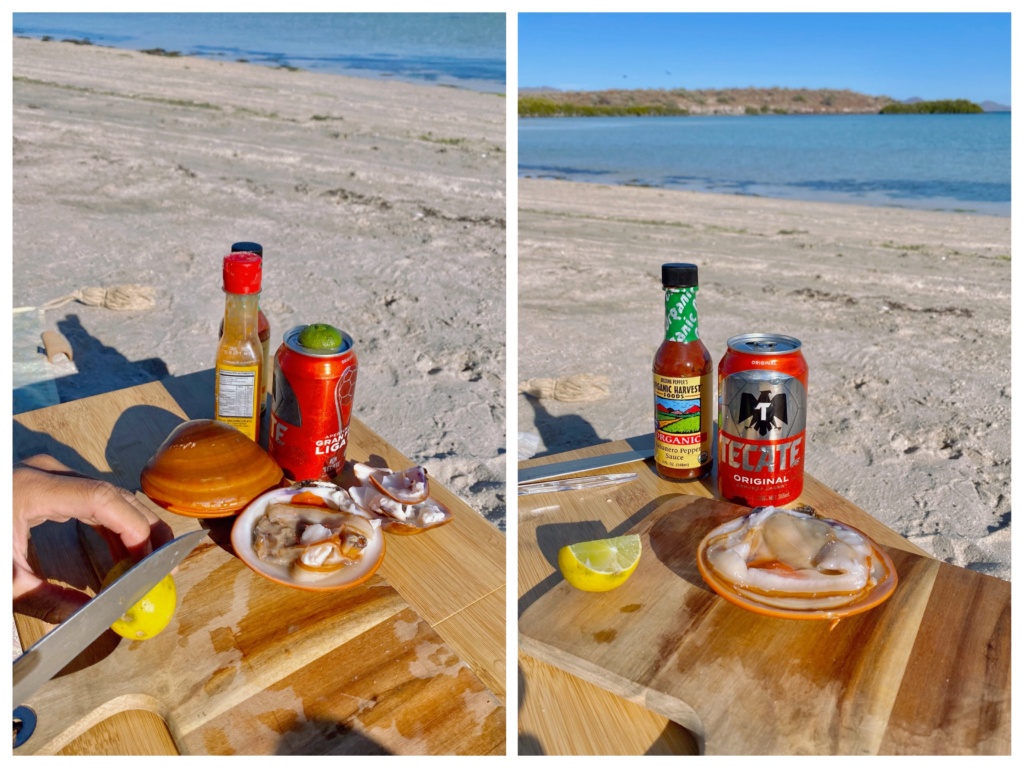 These clams are, in our opinion, best eaten in simple escabeche style (served cold, lightly marinated), and Derek became so masterful at cracking the clam shells, cutting the meat in sashimi style and have them served on the half shell with some hot sauce and lemon.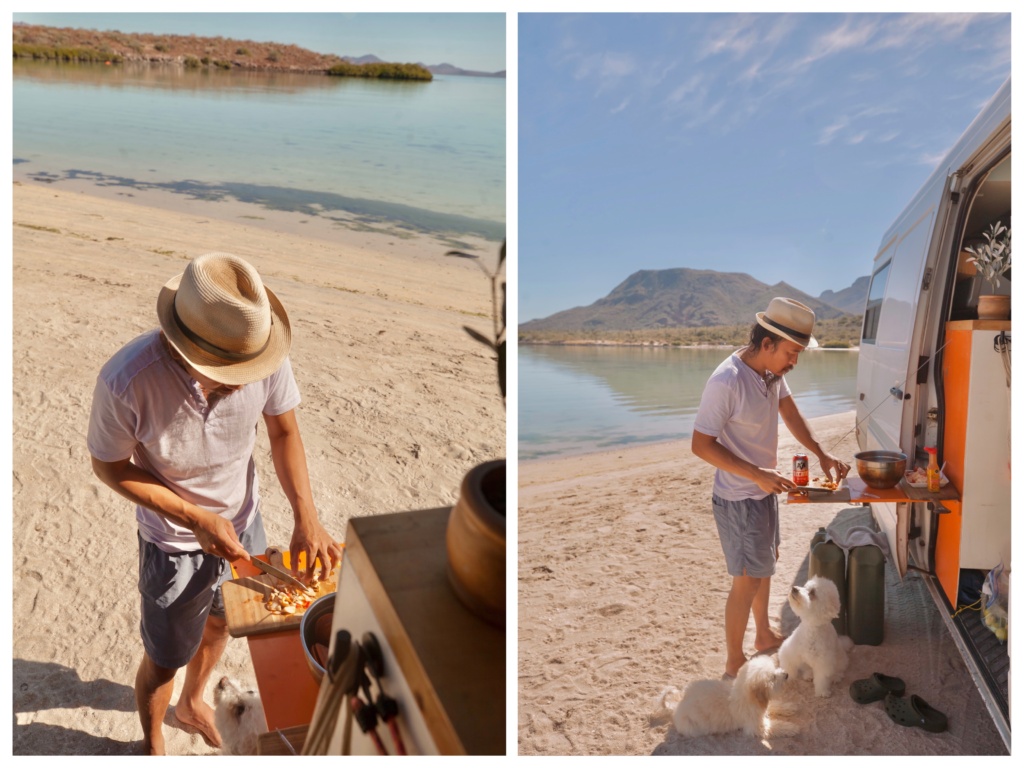 When not buying seafood, we waited for low tide to start digging for clams; within a few minutes we had a bucket full of clams. Just simple seasoning with garlic, white wine, and butter we had ourselves a little Capri style clam linguine.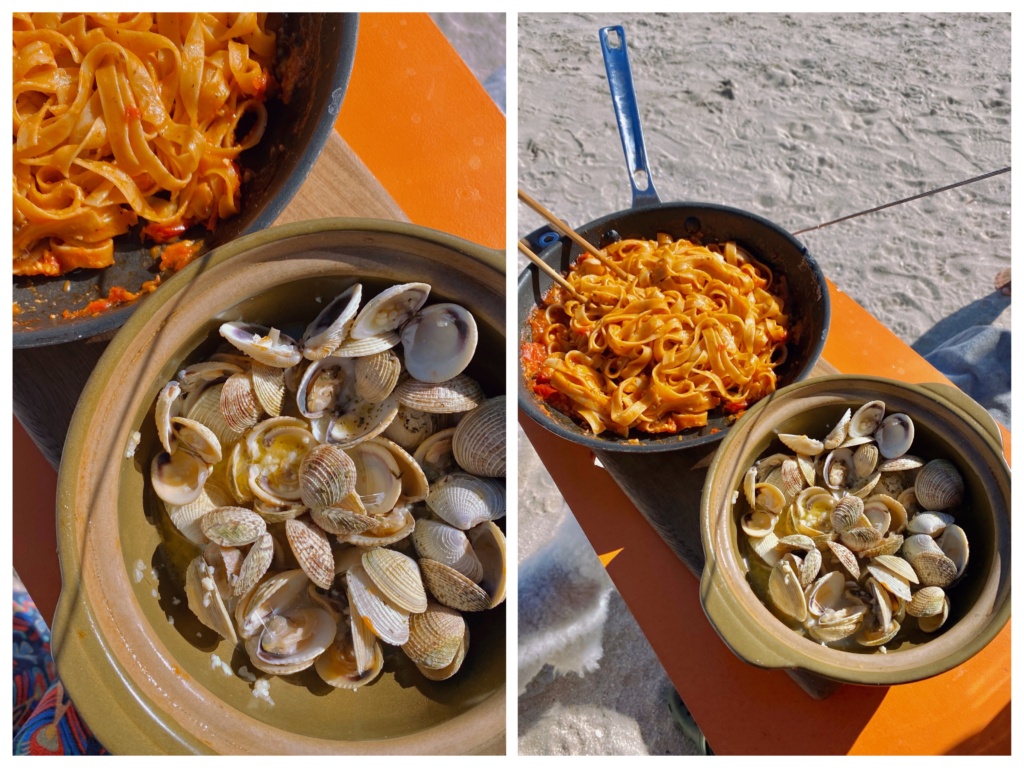 Sunset hours at this beach is one of the most magical colors we have ever seen. This beach is truly a vanlifer's paradise.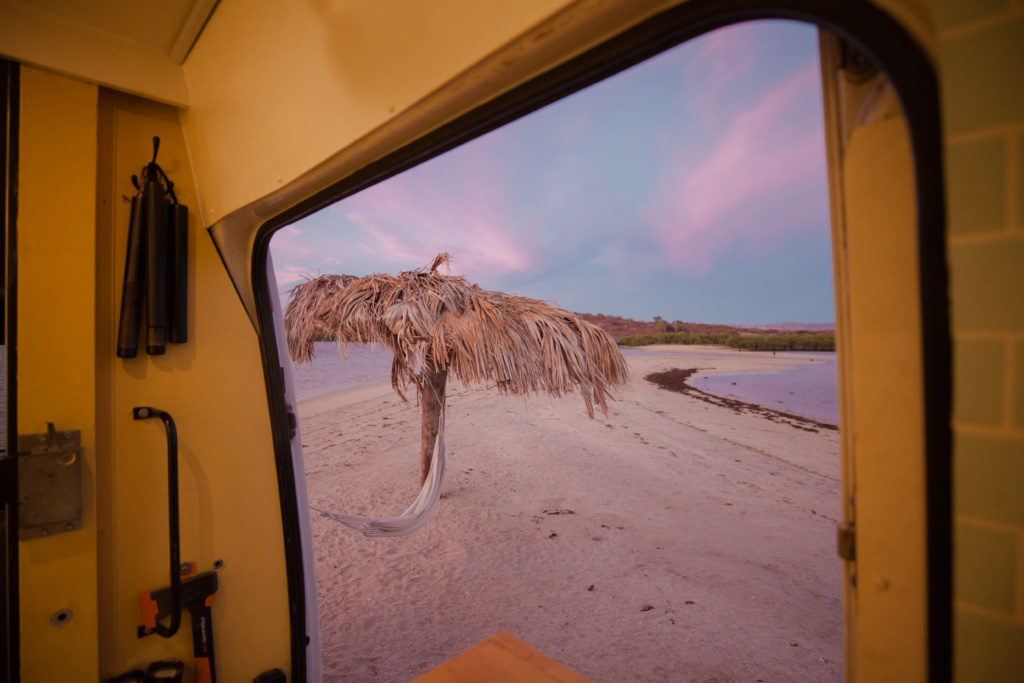 Day 11: Playa el Requeson – Loreto (92km – 1 hour 30 mins)

If you want an authentic Mexican experience in an idyllic location, look no further than Loreto in Baja California. The problem with many popular tourist destinations in Mexico today is that they're simply too "American". Cabo and Cancún have become so popular with ex-pats and tourists that they no longer give off that Mexican vibe.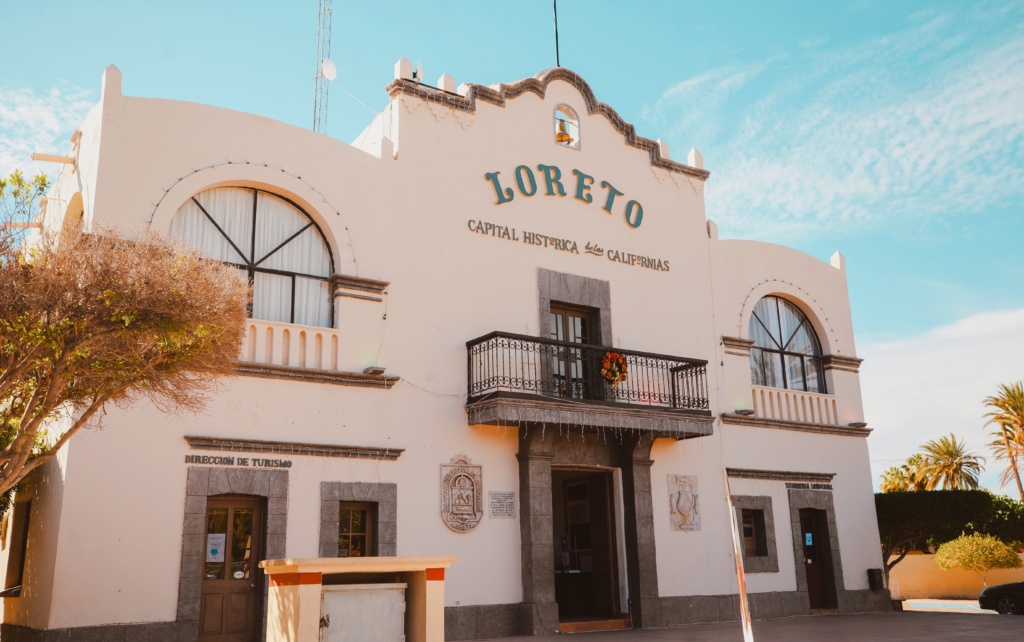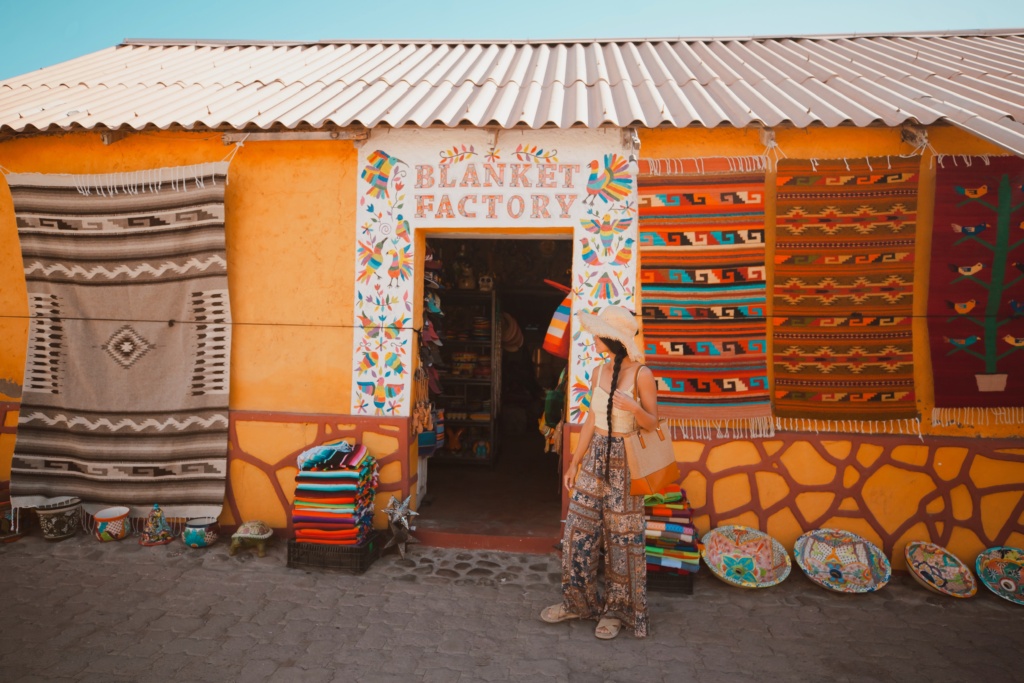 The charming small town of Loreto is the perfect place to experience the warmth of Mexican culture. Missionaries moved into Loreto in the 1600s and there is a real sense of history as you wander around the old town. This historic town features breathtaking mountain, sea, and island vistas.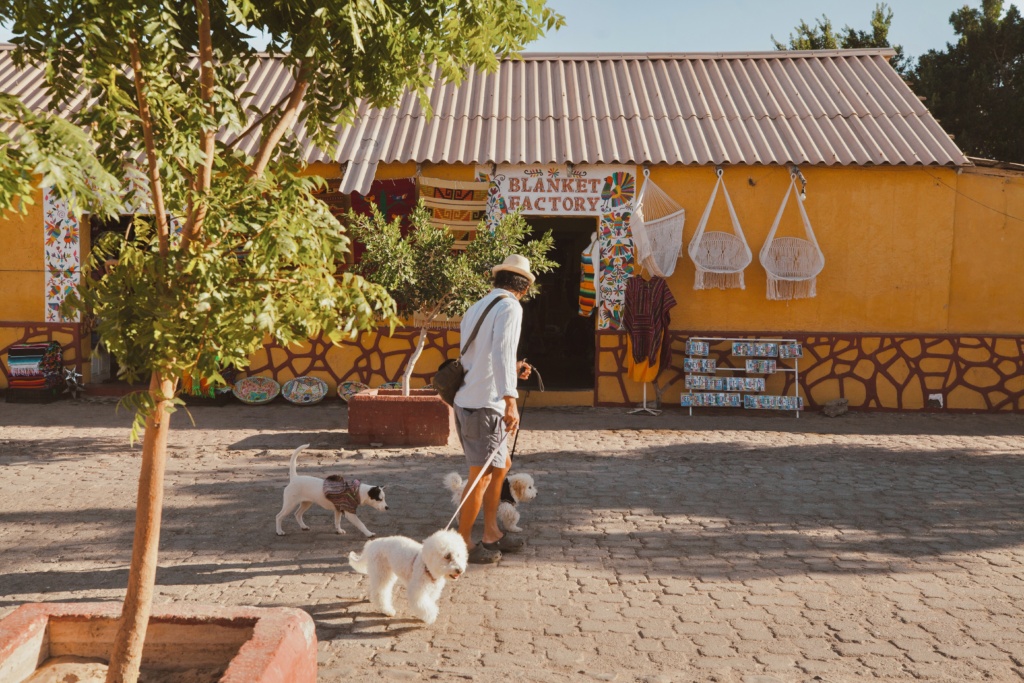 We loved wandering the plaza, admiring the cobblestoned alleys and storefronts, and visiting the Mission Loreto – a church that's been a focal point in the plaza since the late 1600s.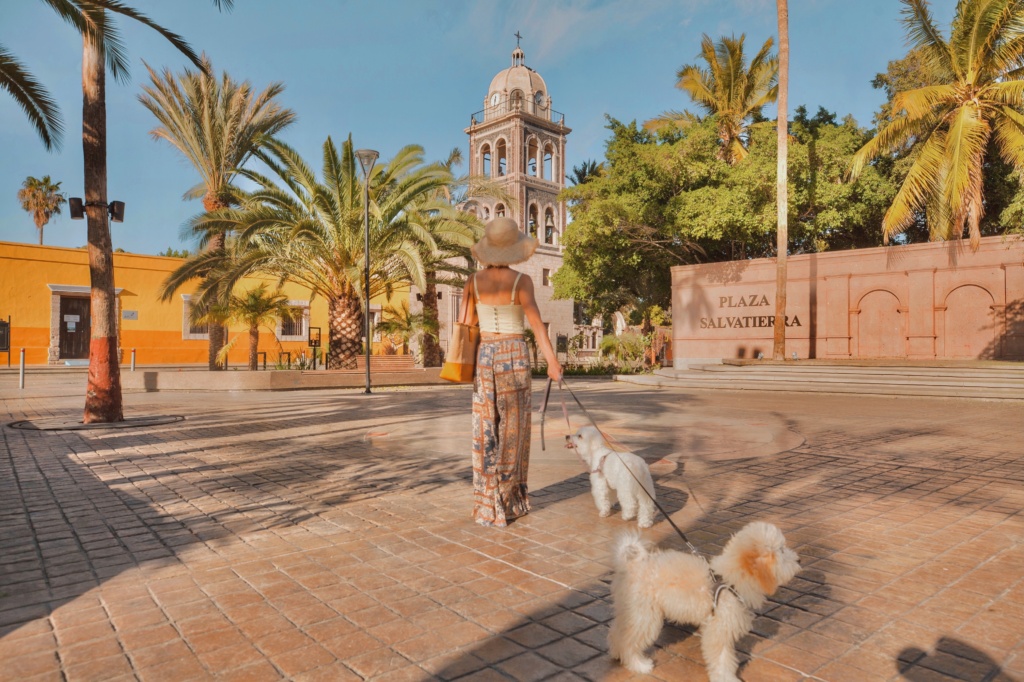 Right beside the Mission, you can find the Posada de Las Flores, situated in a beautiful colonial building with elegant antique furniture and finishing. With a great location in the heart of town, this classic hotel is like an enchanted garden. Walkways are overflowing with plants, and decorated with fountains.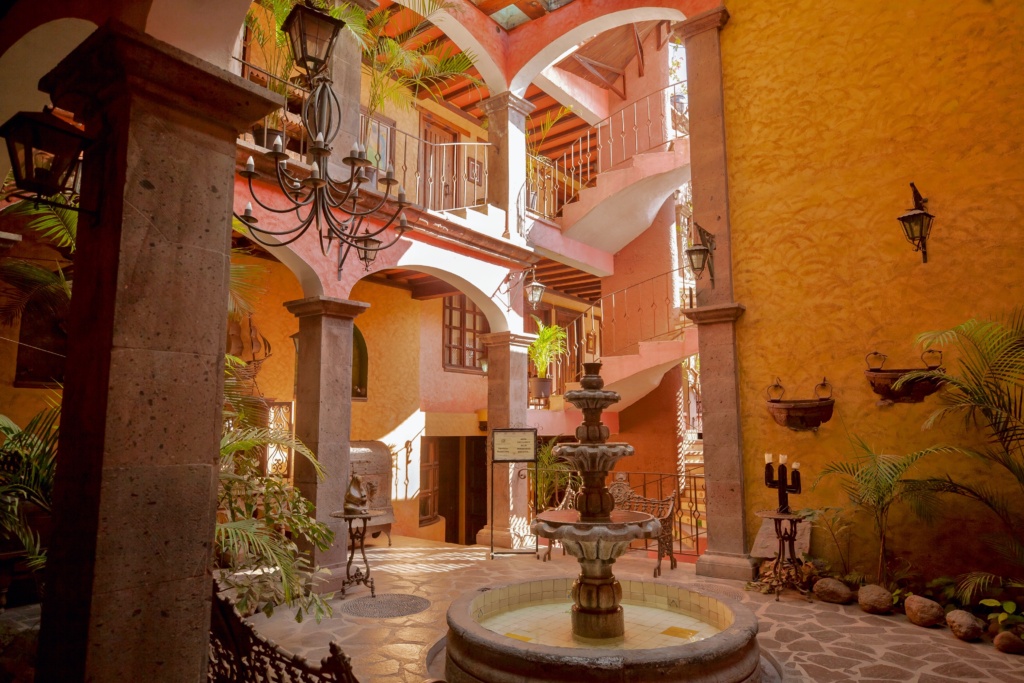 The most important order of business while in Loreto? Find the ice cream shop. Loreto's local heladeria did not disappoint. The toughest decision we had to make was which flavor to choose.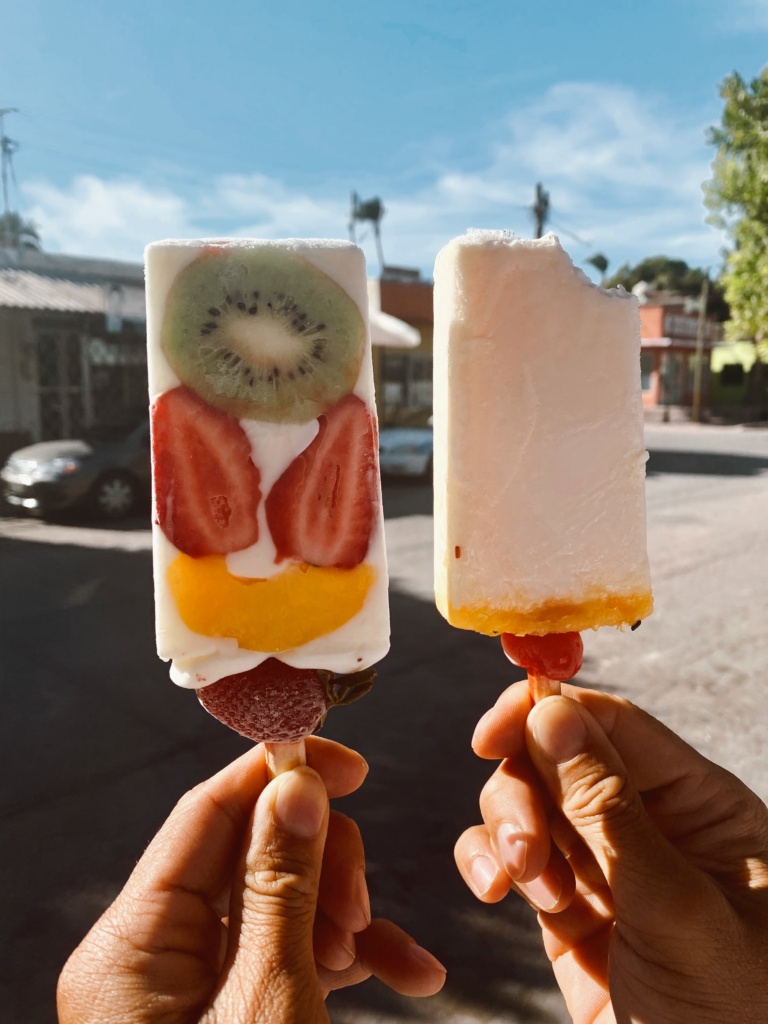 We stopped by Orlando's Restaurant for a quick lunch as recommended by a local and it didn't disappoint. The restaurant is decorated in a traditional Mexican style with colorful banners. We ordered their signature combination dish with flank steak, coconut shrimp, fish,… for only 400 pesos.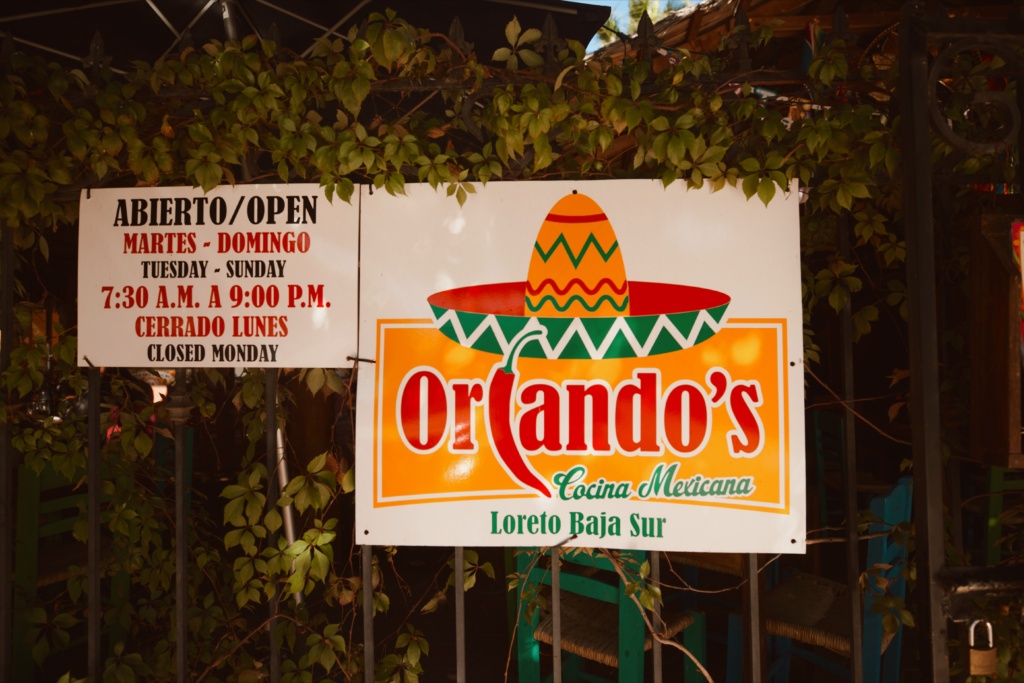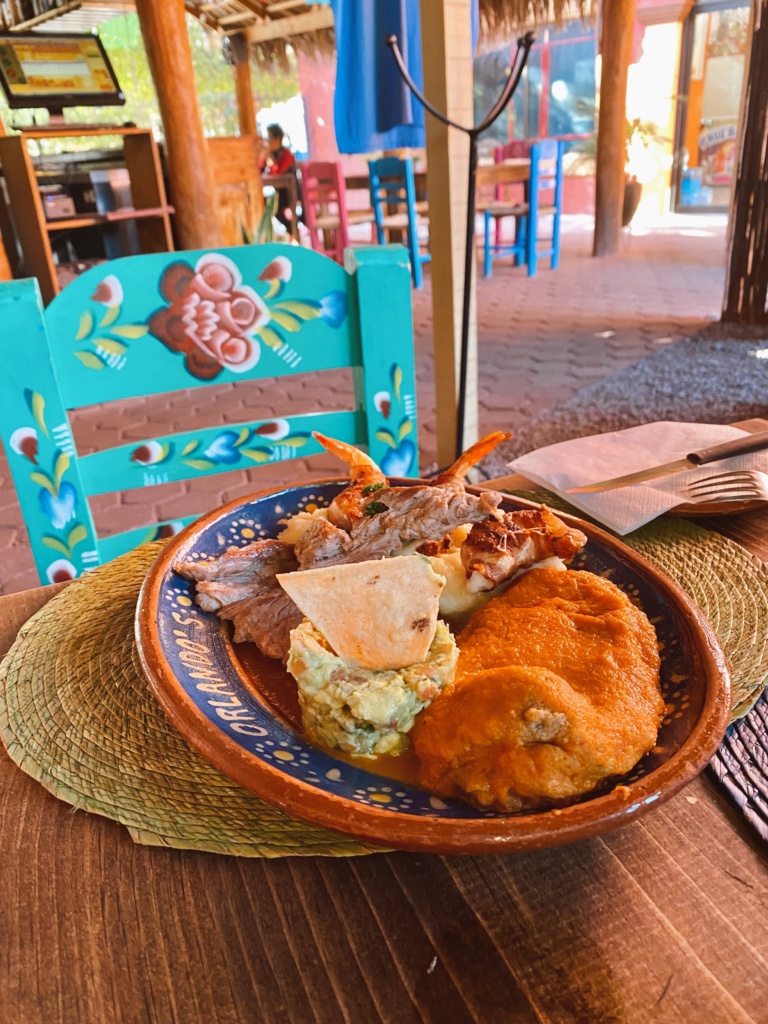 If you are looking for an under-appreciated and authentic location with a long list of things to do, you can't go wrong with Loreto in Baja California Sur!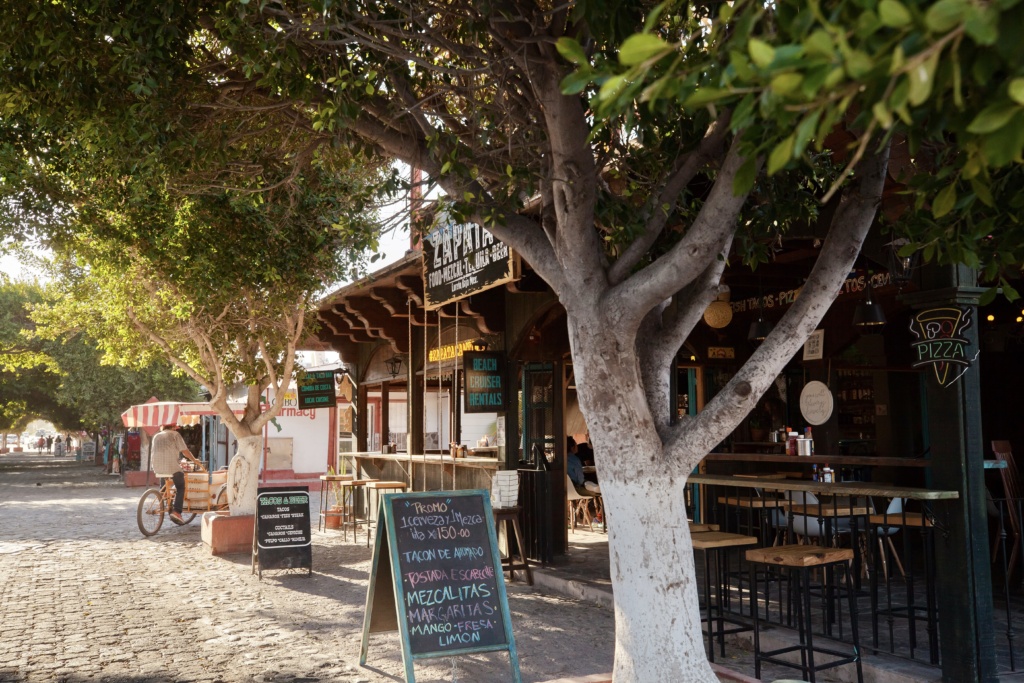 Day 12: Loreto – La Paz (356km – 4 hours)
It was a long drive to go straight from Loreto to La Paz so we decided to look for a nice campground to refresh. And we were so glad that we found Campestre Maranatha. Although up until this point we had parked at so many epic campgrounds from Mulegé to Loreto but besides the epic views and scenery these campgrounds are mostly primitive with little to none amenities. There were some campgrounds that offered showers but after reading reviews (weak water pressure, cold water, dirty,…) we'd rather skip it and just shower in our van. But Campestre Maranatha is a totally different story.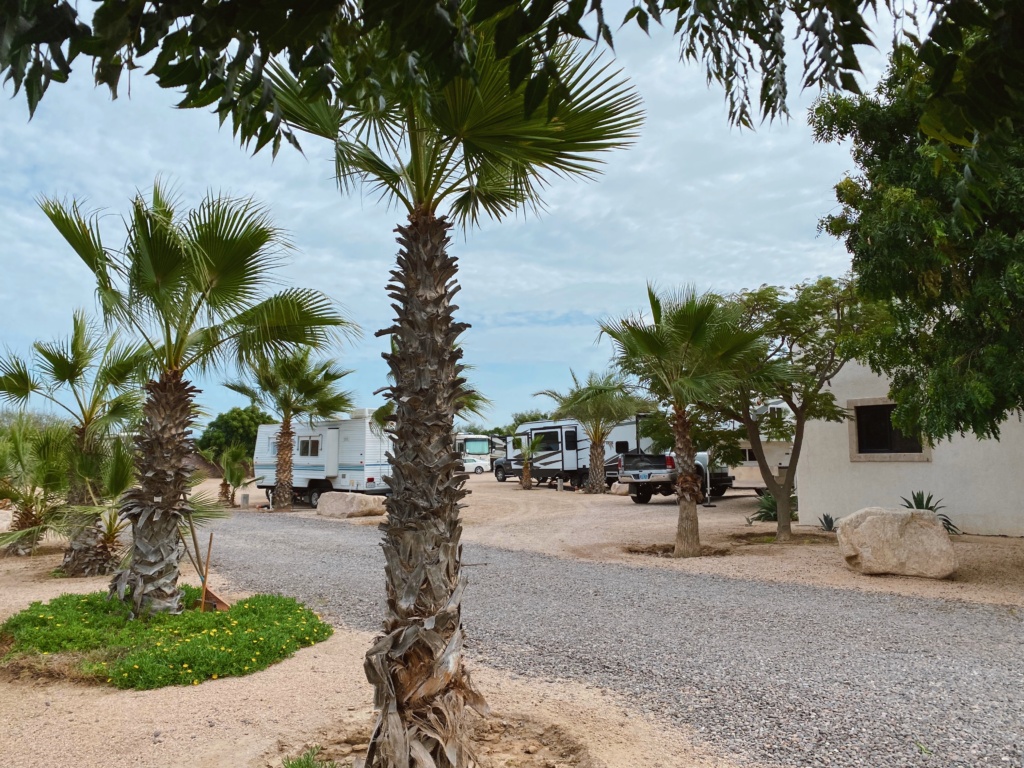 I have to say this RV campground must be the best in the Baja Peninsula. It's even better than many RV parks in the states. Everything was spotless. The showers and bathrooms are super clean. The staff were constantly working to keep the whole place so pleasant. They have a nice pool, a kids' playground, a beautiful garden and volleyball/basketball courts. And it's the first campground in our entire trip that has laundry room (washer and dryer); here in Baja even if you stay at AirBnb you don't often see a dryer. Campestre Maranatha has multiple washers, driers and even a lovely garden for people who prefer to hang their clothes dry.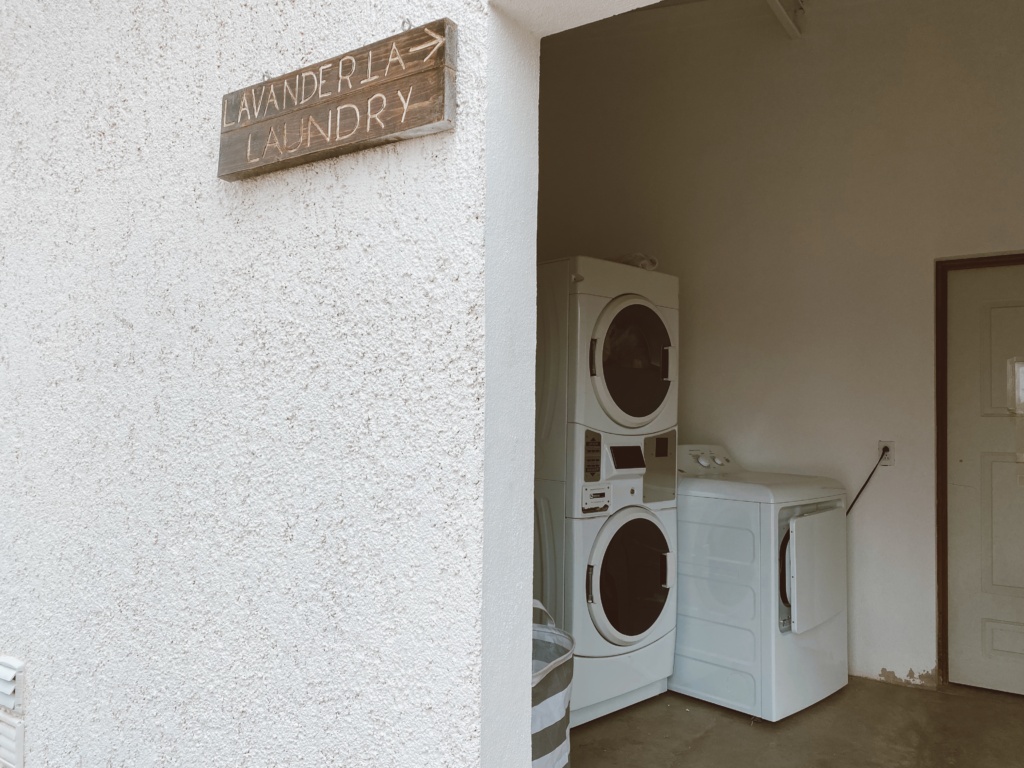 Their WiFi is super fast. We paid 300 pesos for dry camping. Full hookup with personal dump station at each spot is 500 pesos. It's an excellent overnight stop for vanlifers like us to clean up and organize before heading back out. On their property is the Exquisito Cafe which has many delicious options for breakfast/lunch, yummy pastries and excellent coffee.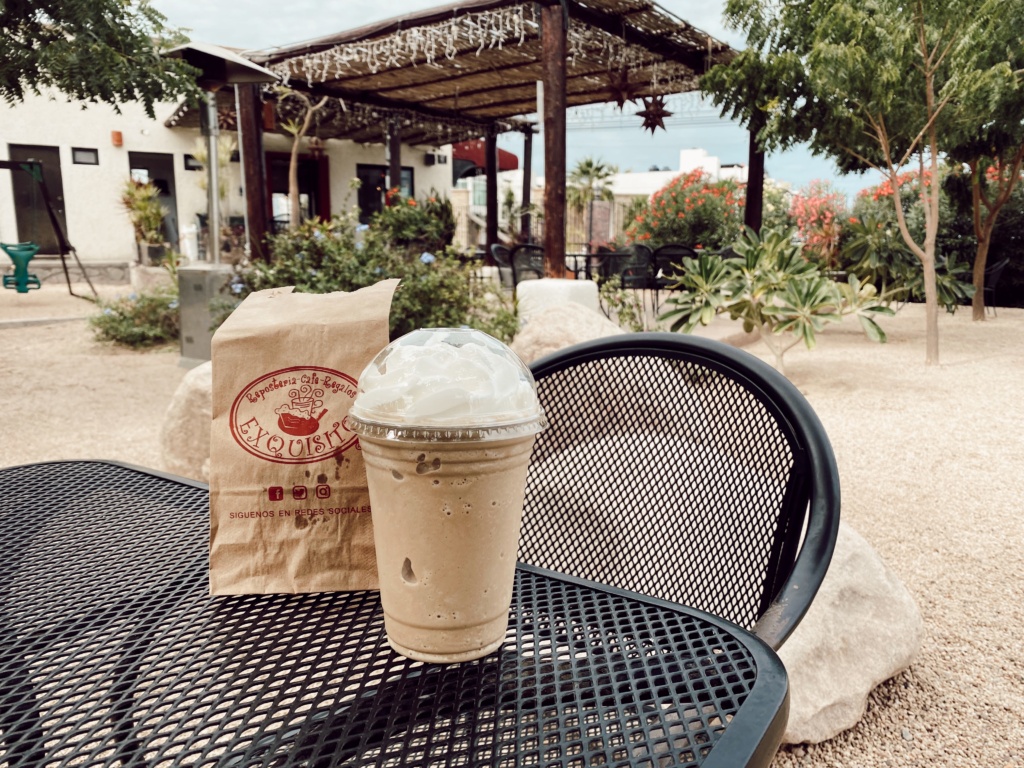 Day 13: Explore La Paz Beaches
La Paz is the capital of Baja California Sur and is home to some of the most beautiful beaches in Mexico. Most of the beaches in La Paz are protected by bays, so the waves are nearly non-existent. If you need to choose one beach to visit in La Paz, Playa Balandra is a must-see. Balandra Balandra is considered one of the most beautiful beaches not only in Mexico but in the entire world (known as the Aquarium of the World).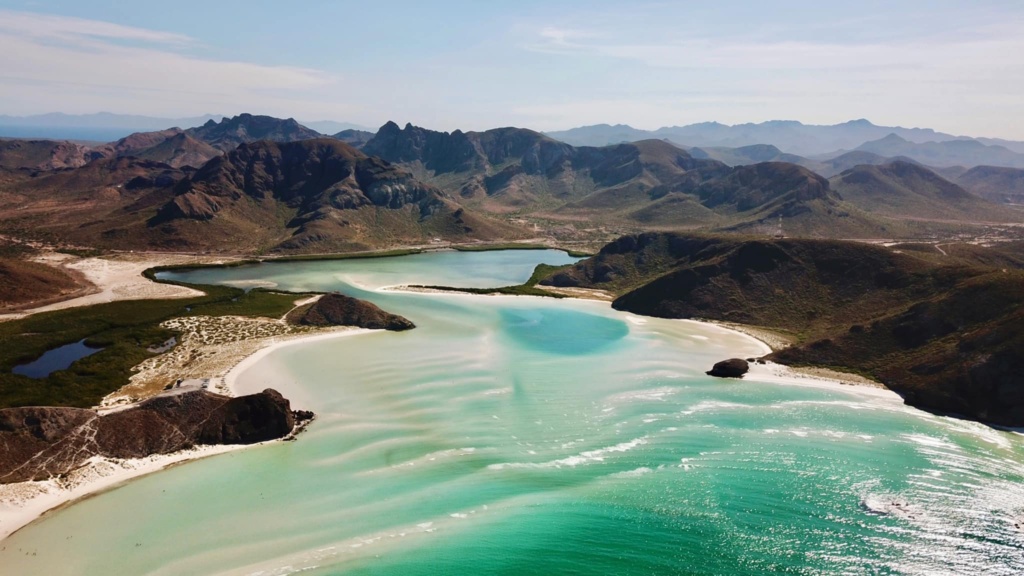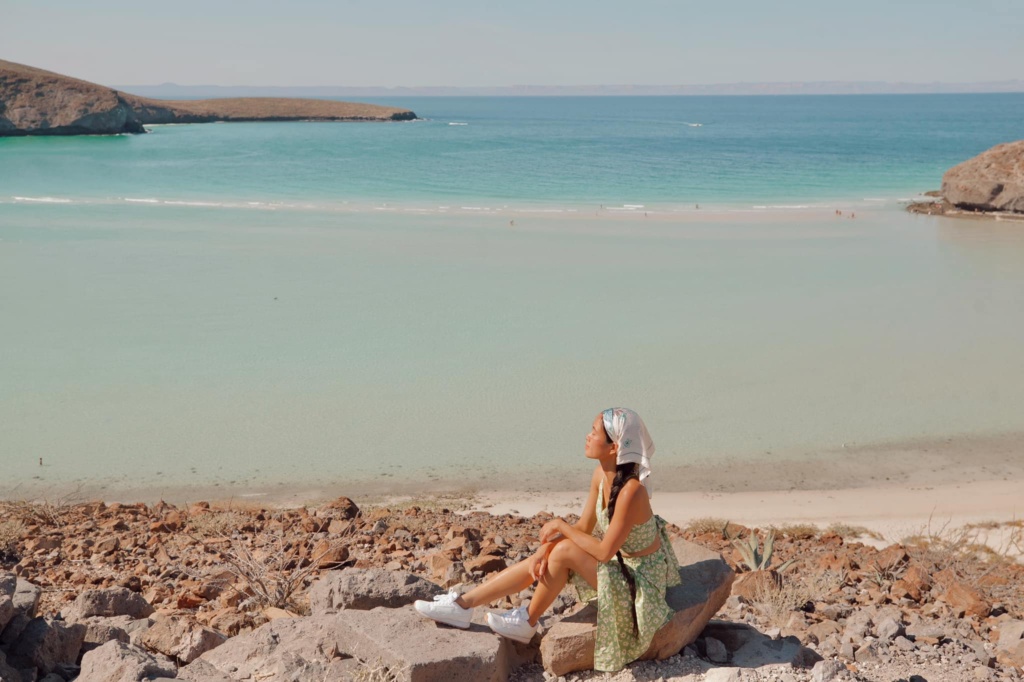 Its crystal-clear turquoise waters and white sand dunes are set to a desert backdrop of red-hued hills and prickly cardón cactus. It sits in a little bay where the water never comes up past your waist. You can literally walk through the water from one sandy spot to the next.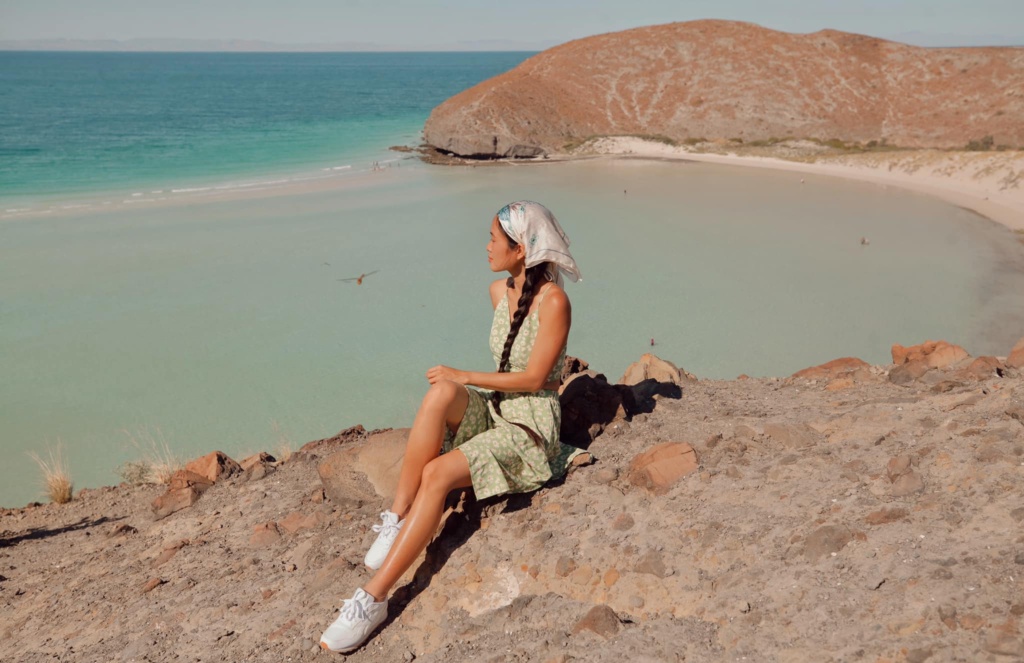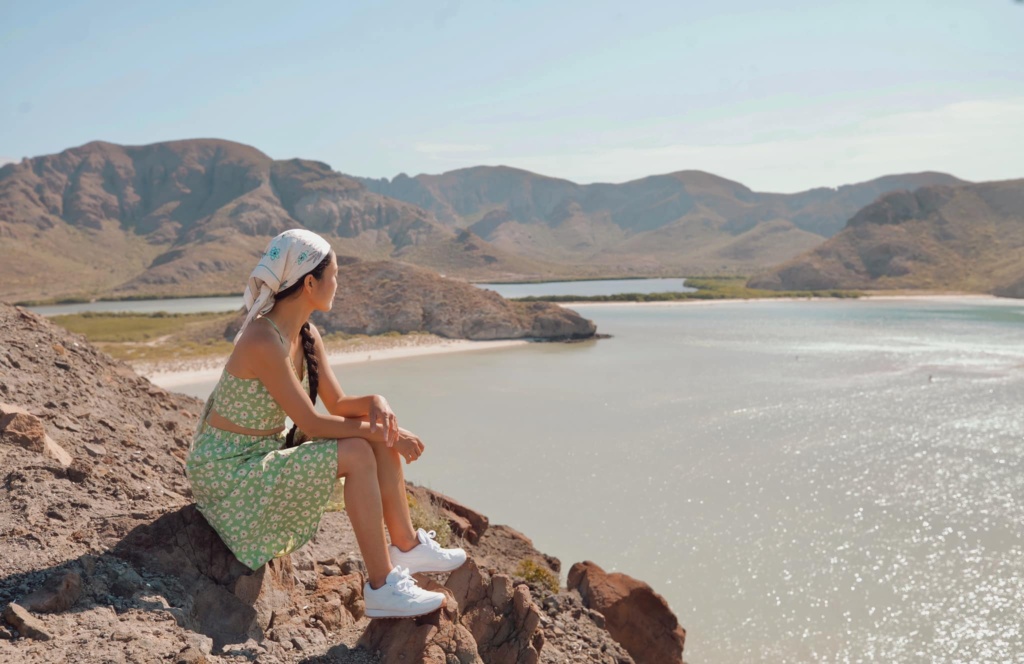 It's amazing to see Balandra Beach while the white sand beaches are still empty. Besides the dirt parking lot and a few palapas on the main beach, Balandra appears untouched.
If you park in the small dirt lot in front of the main beach, there's a small hill where you can get an amazing view over the whole bay. Follow the rocky trail to see Balandra Beach from above!

Day 14: Explore La Paz Beaches
Balandra Beach is definitely beautiful but it's not our favorite. First, the officials limited the number of visitors per day (150-200) so be prepared to get your car in line at 7am to be able to get in. And when we were here, there was one officer going around telling people that everyone had to clear out by 2:30pm. These restrictions are because this area was decreed by the environmental authorities as a Natural Protected Area. Once slated for resort development, it was saved by local citizens and activist groups who wanted to preserve its unspoiled landscape. Thanks to their efforts, it's now a natural protected area, but as a beach for vanlifers like us it's a little bit tricky to stay around. 
That brings us to the next beach – Playa Tecolote. It's about 5 minutes away from Playa Balandra and has more parking and amenities. So if you miss your turn to be accepted into Balandra when the visitor quota for the day was reached, you can go to Telecote for the day and wait until the next day to try your luck again.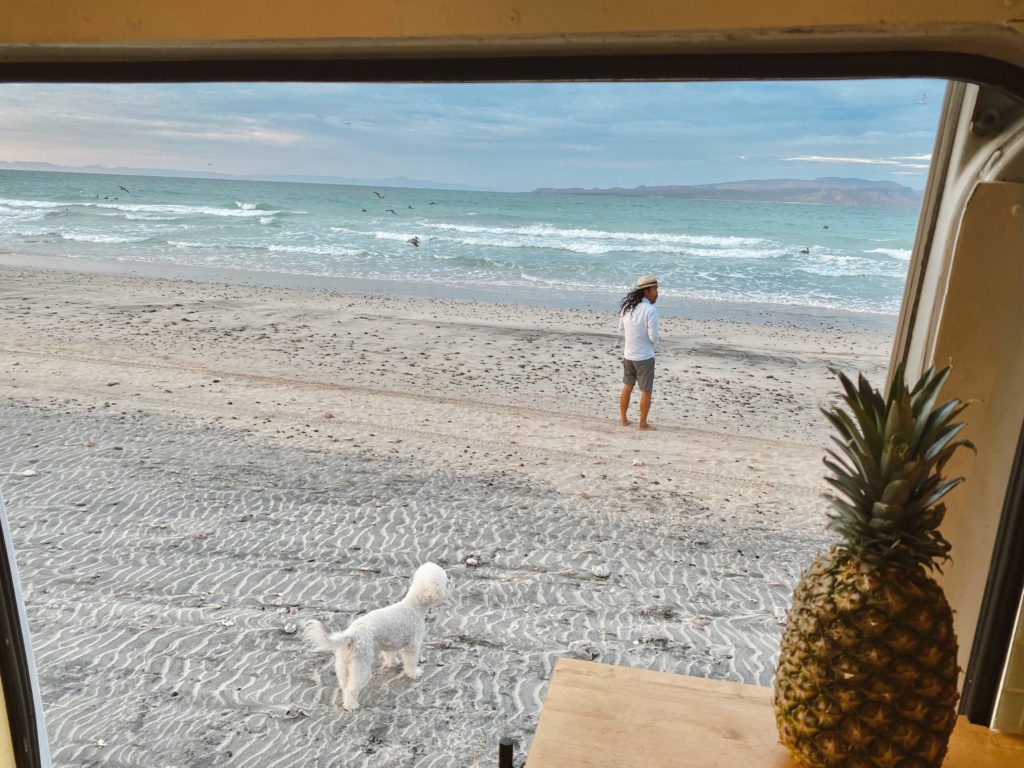 There are restaurants, bars, shops at Playa Tecolote where you can buy coconuts, beer, umbrella and chair rentals. We had the best ceviche at this beach (Only $10 and the ceviche was packed with shrimp and octopus)!
And there was no fee to camp here overnight. Before our arrival, Google reviews told us that it cost 200pesos/night for camping but when we were here no one came out to collect the fee.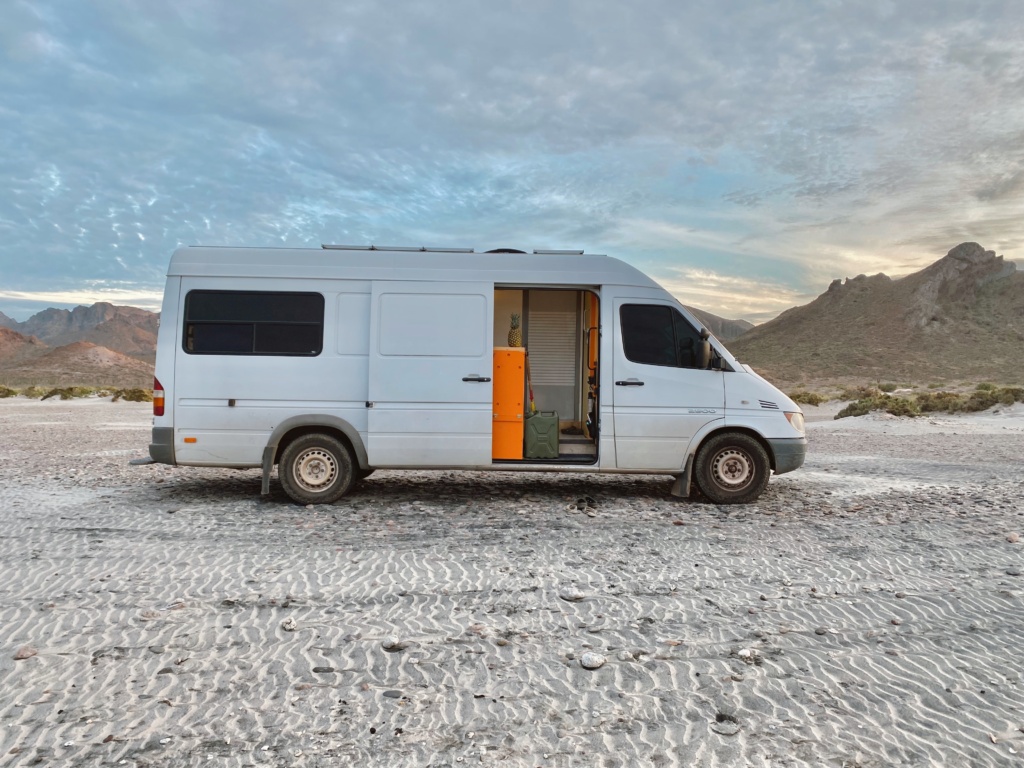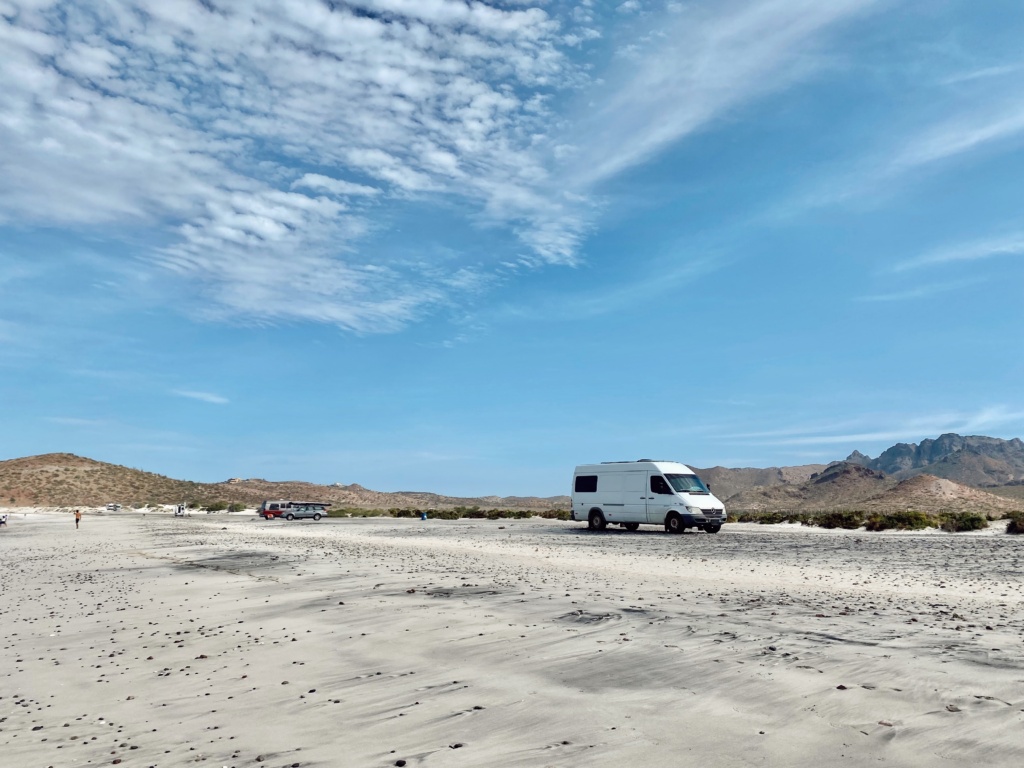 We also love Playa Pichilingue which is located near the port and has a parking area, restaurants, palapas and kayaks available for rent. Playa Tecolote is nice but has no cell reception. Playa Pichilingue has super fast cell coverage (my Telcel got 4 bars).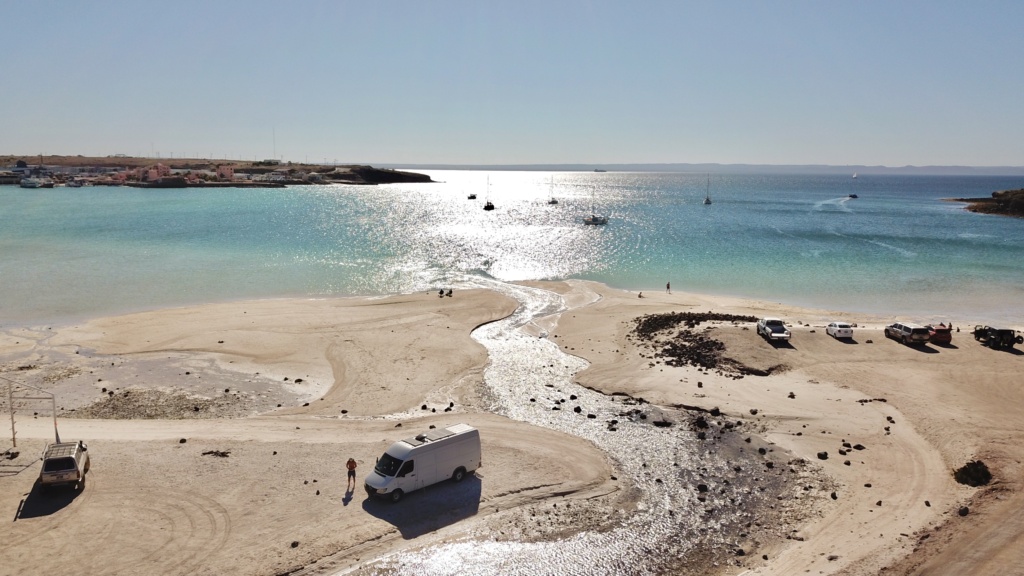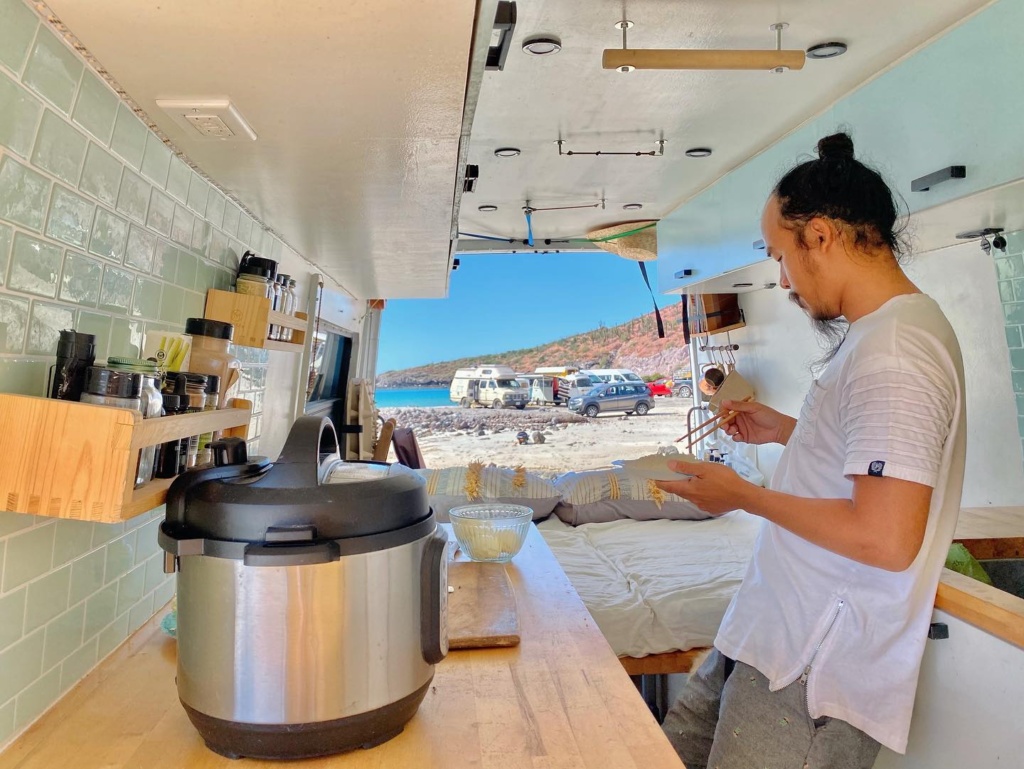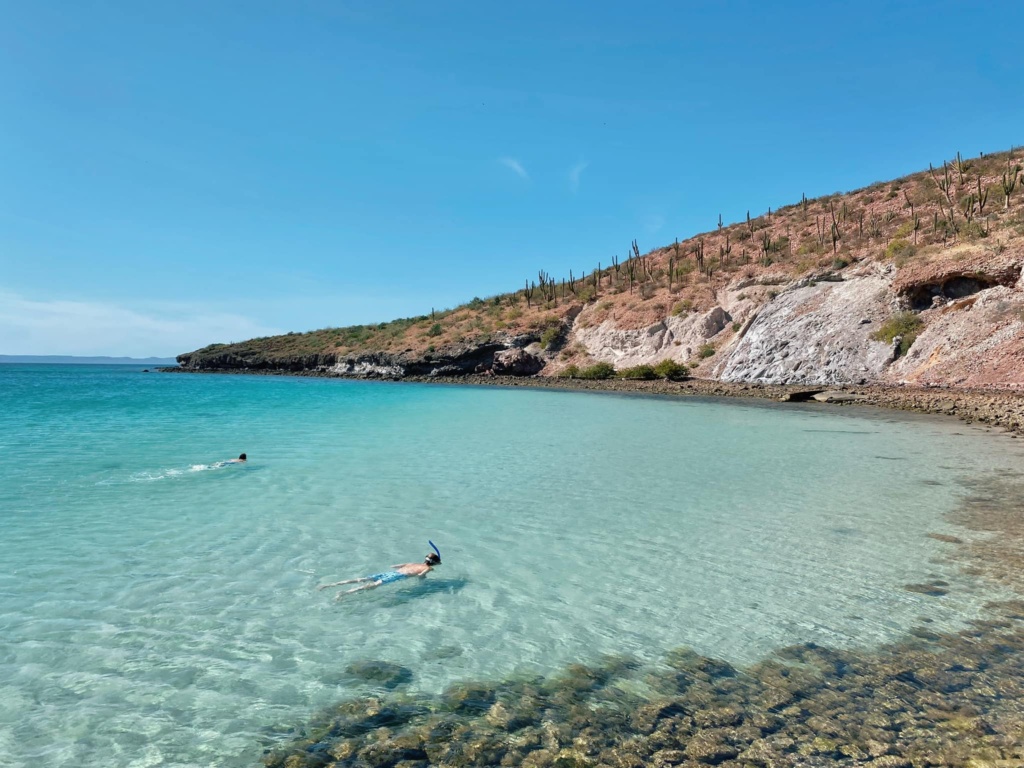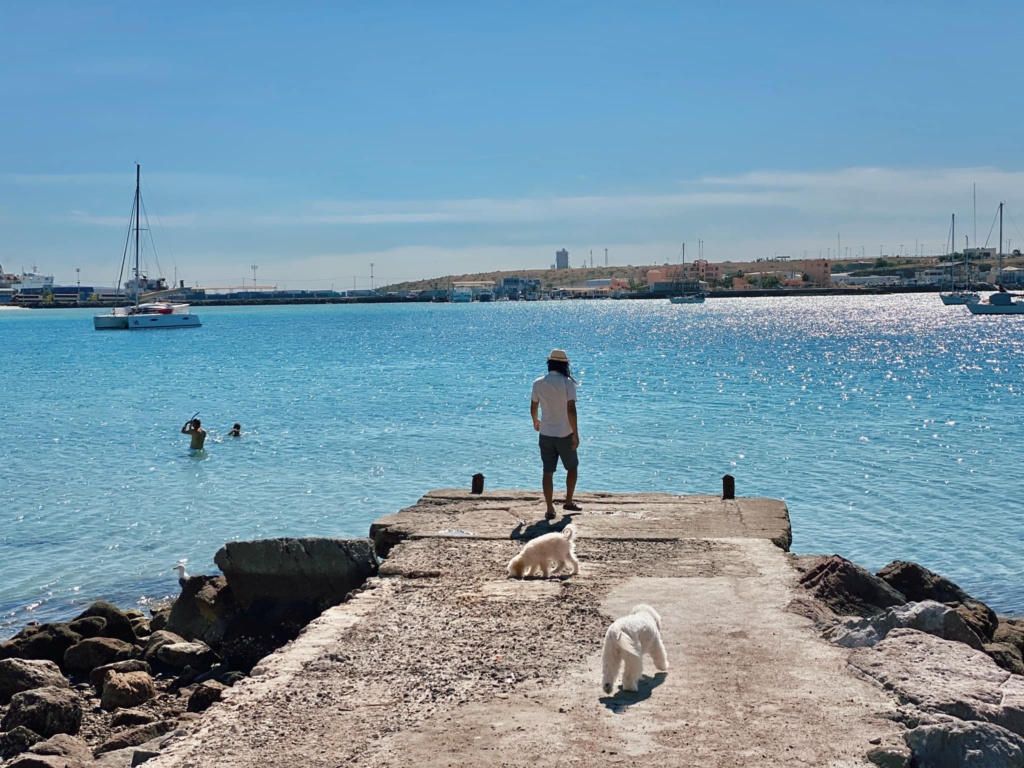 Day 15: Explore La Paz Central
With dazzling sea, white sandy beaches, vibrant colorful towns, traditional Mexican tile works, colonial architecture, and laid-back old-world water-front malecón with courtyards and squares, La Paz truly feels like something out of a vintage film. Not only sprawling and bustling, La Paz owns a hidden ancient beauty, romance and a wonderful mixed culture. This city reminds me much of the French Riviera.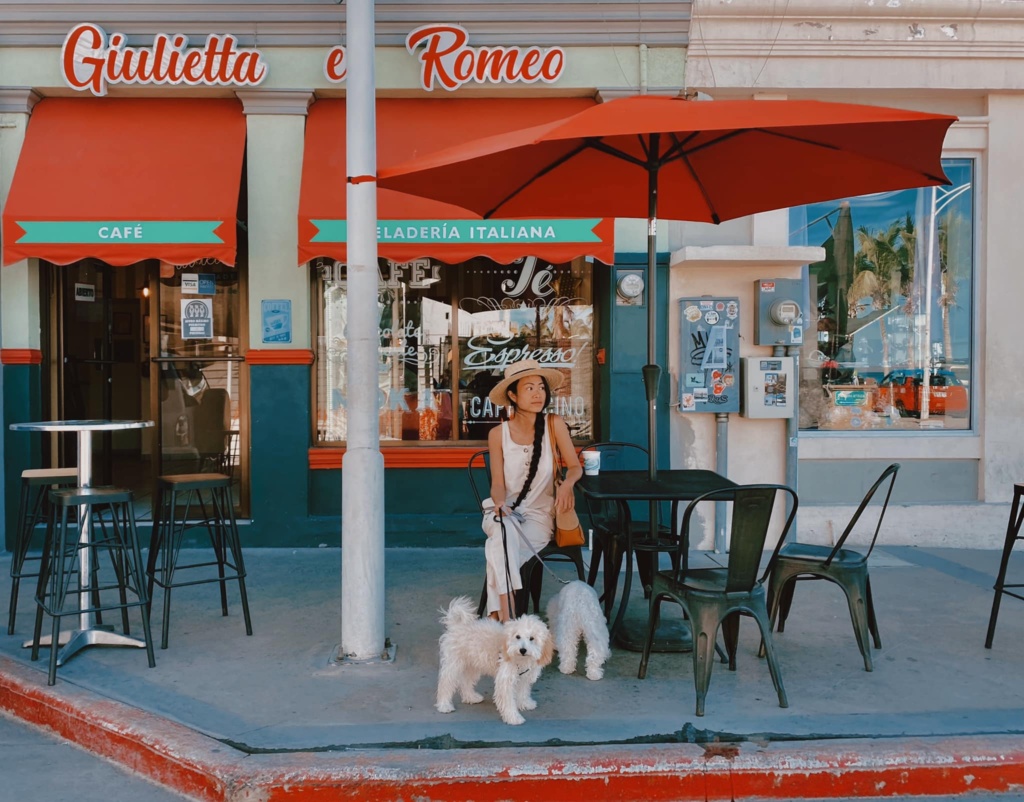 We love strolling along the Malecon, the promenade by the sea, where palm trees line the sidewalk and palapas dot the picturesque beach. The malecón is a place of street food carts, modern coffee shops, artisanal tasting rooms, high end restaurants… where basically everything happens. Derek and l truly enjoy slow travel with our campervan, fully immersing ourselves in places for longer periods of time. That really allows us to better understand the culture. And the coffee culture in La Paz is very similar to the ones we experienced in Hoi An. Walking around a bustling La Paz we noticed the sheer number of modern/minimalist/vintage/chic coffee shops tucked in small alleyways or springing up on crumbling sidewalks (some of which double up as lifestyle stores or co-working spaces, similar to L'usine in Saigon). Here you'll find a diverse crowd of locals catching up, backpackers/vanlifers looking for WiFi, which give it a homely yet authentic feel. For many travelers/expats, coffee shop is an integral part of experiencing local ways of living.
One of our favorite places for coffee in La Paz is La Mäsa Panadería, located in a quiet street next to the malecón. It's hand down the best coffee shops in town with fresh and delicious bread and pastries. It's our family's favorite spot to enjoy ice lattes and blueberry scones after our morning walk along the malecón – a place to chill, escape from the hustle and bustle, make new friends, sit and people watch,….It felt like we were in Nice once again.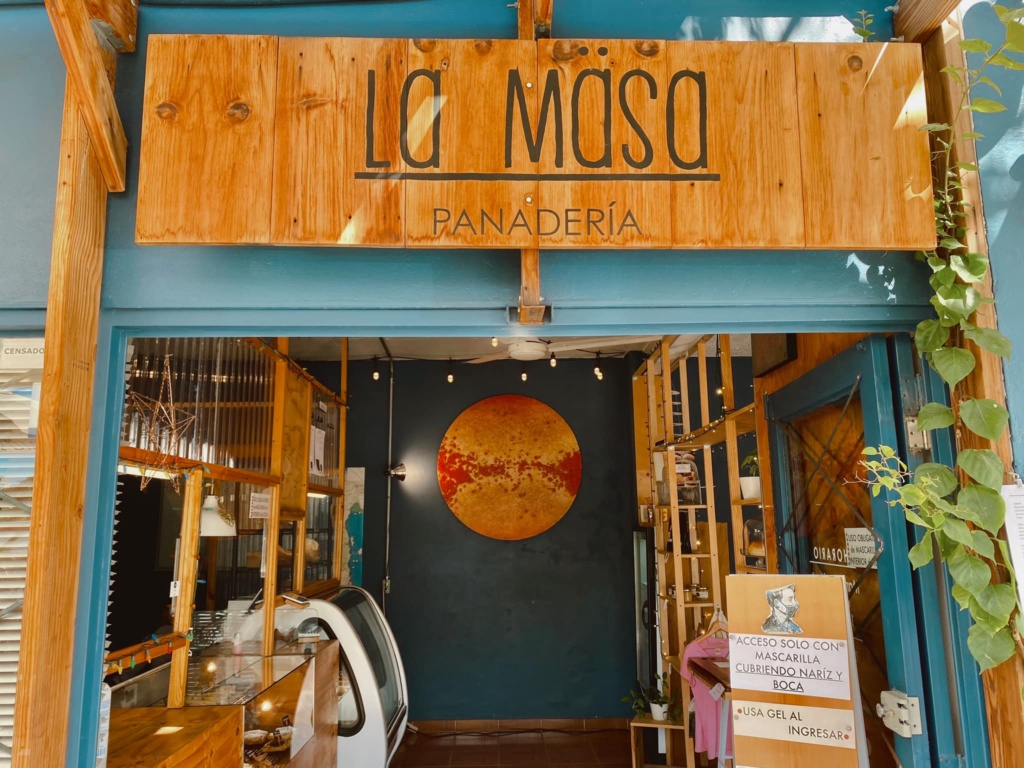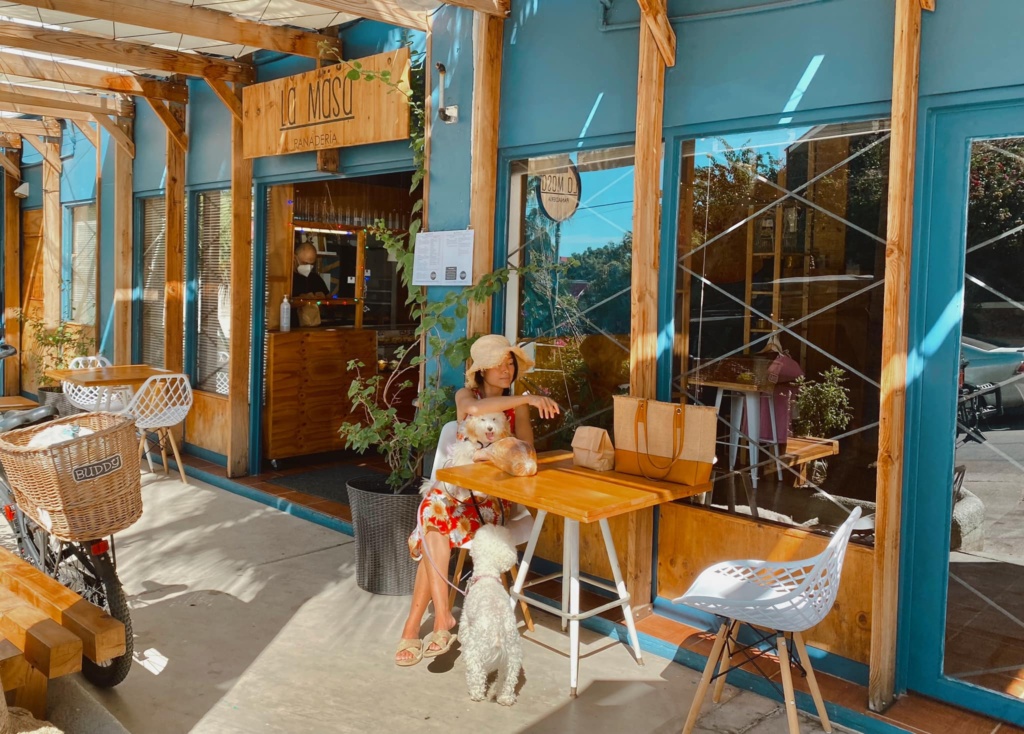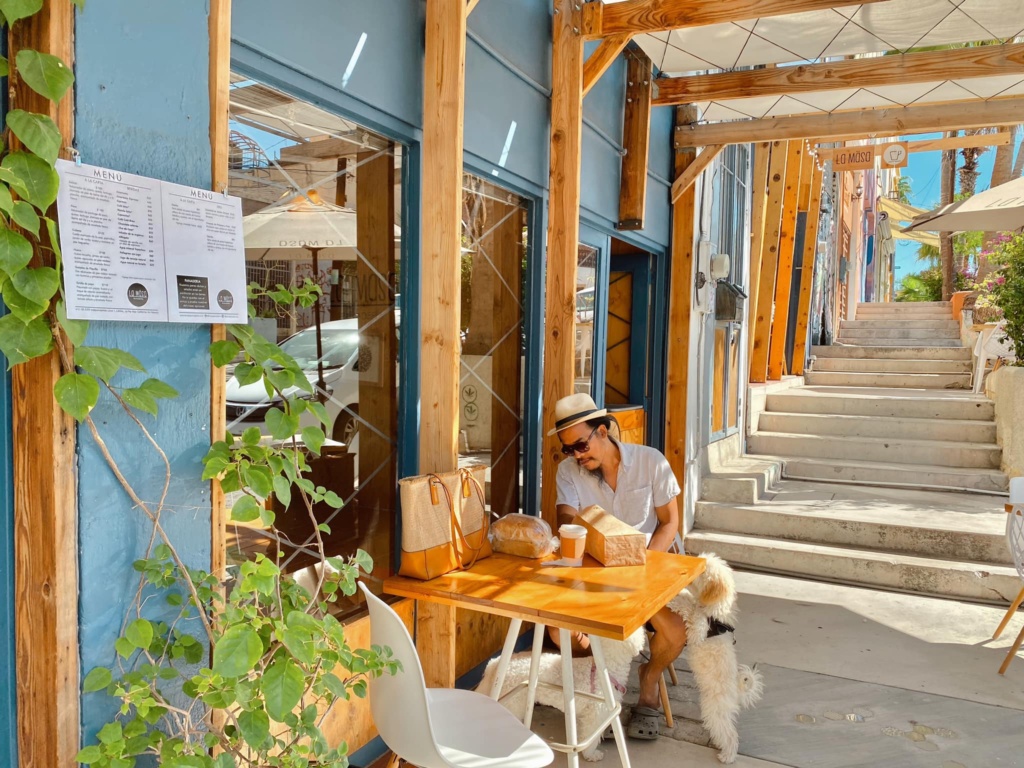 We are planning to spend at least 2 months roadtripping the entire Baja Peninsula, and La Paz itself deserves at least 3 weeks. If you love walking barefoot on the sandy beaches, strolling along the picturesque old-world seaside promenade, enjoying the shade of palm trees, and watching the sailing boats bob on the sparkling water, La Paz is definitely your vacation dream!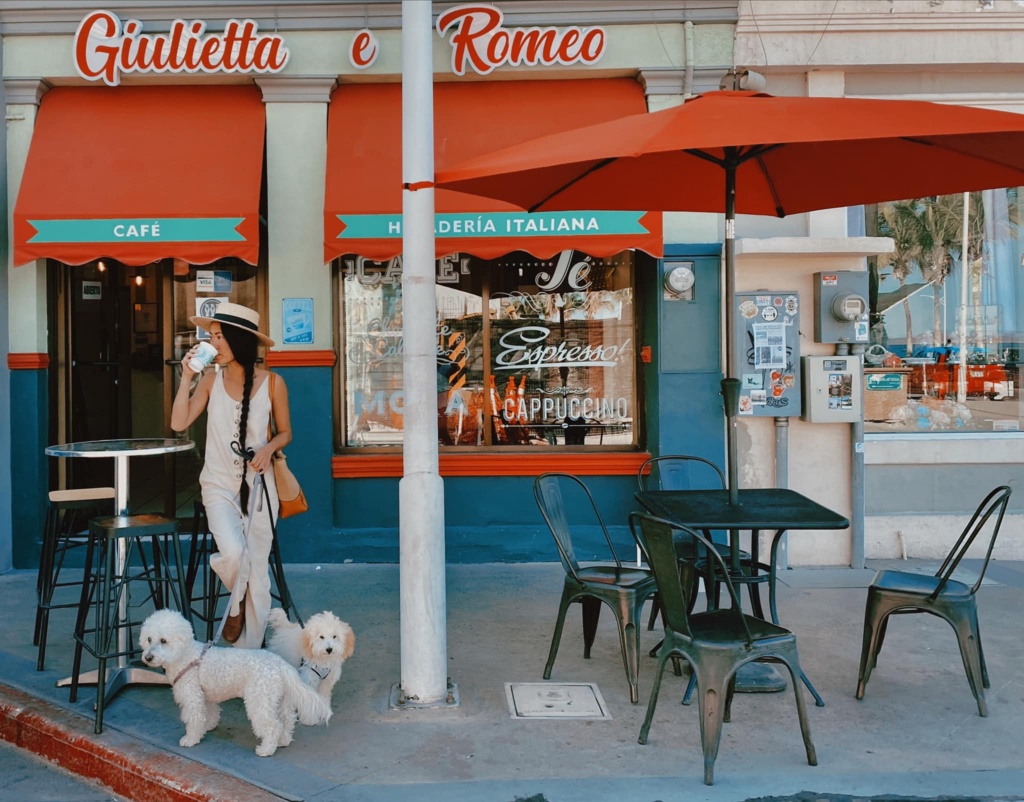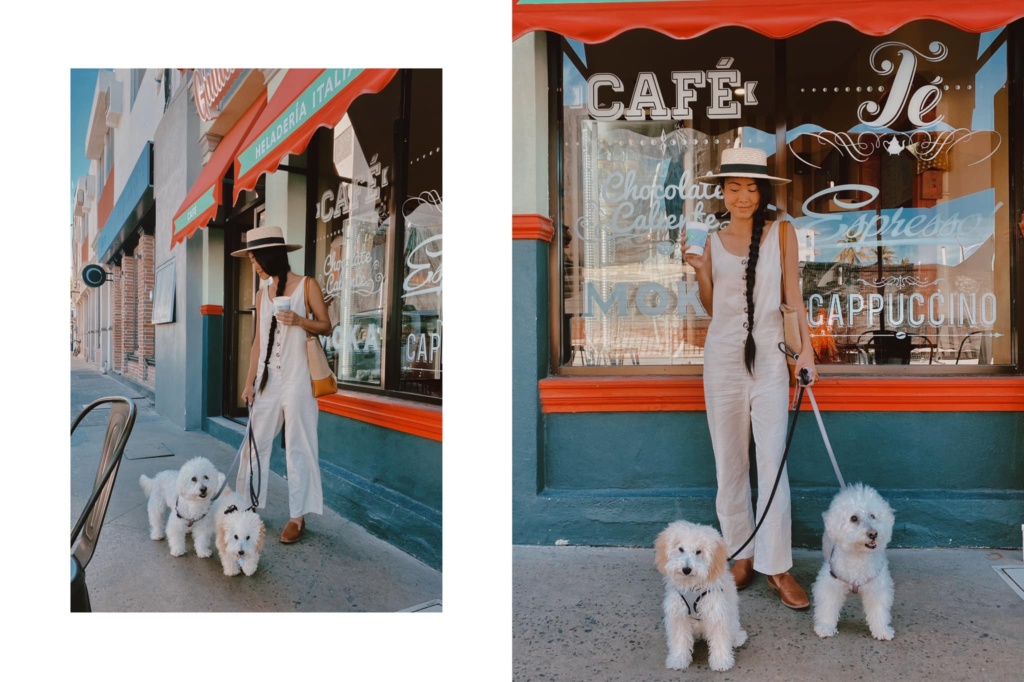 One of the things we love to do when exploring a new city is visiting their local farmer market. From savoring produce at the peak of freshness to meeting the people who grow your food, there are countless reasons to support farmers markets. So when we were in La Paz we decided to visit its farmer market to get some fresh produce. One great thing about farmer market is that the food you buy here is seasonal. It is fresh and delicious and reflects the truest flavors.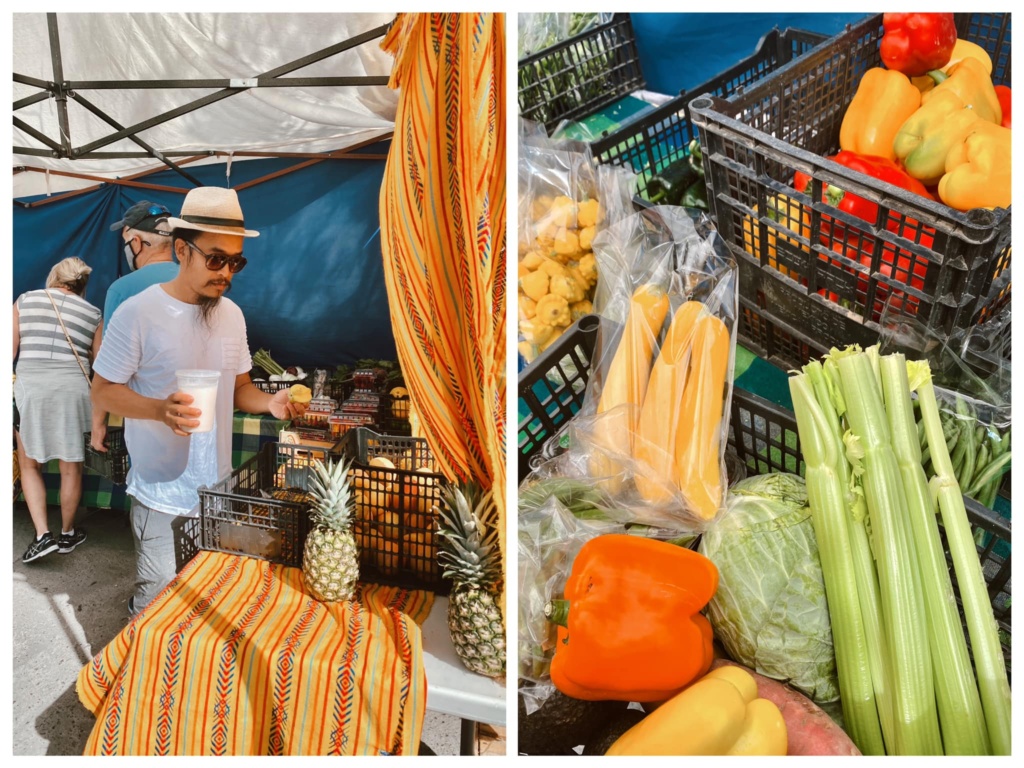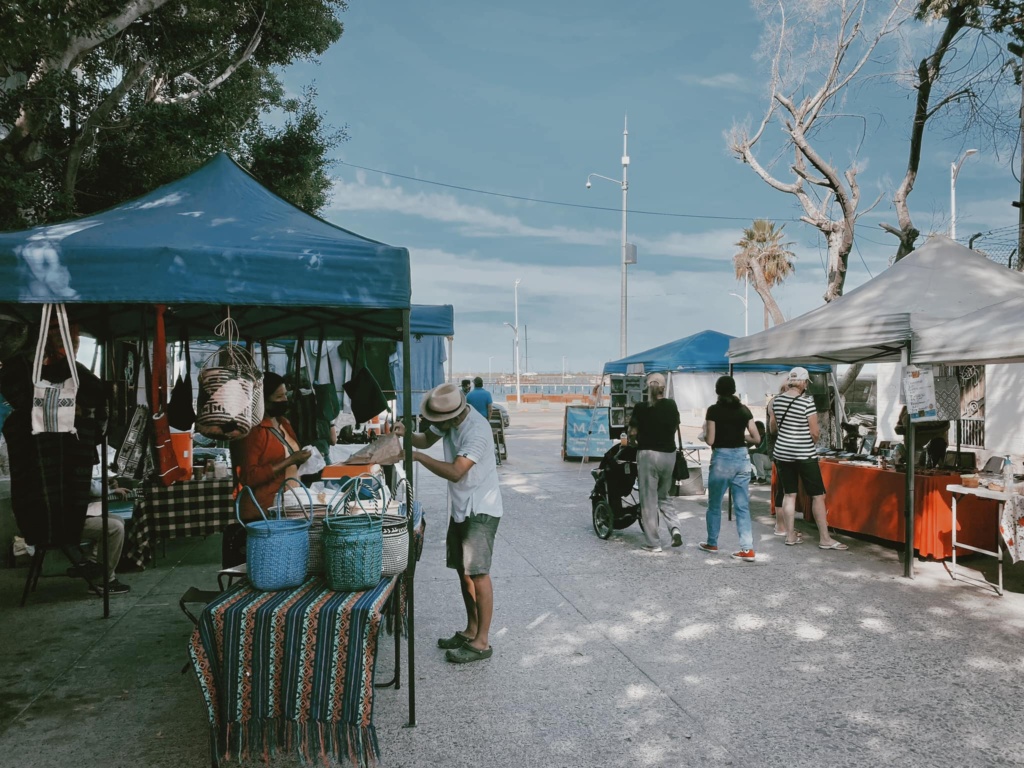 The La Paz Farmers Market has an assortment of vendors that sell organic produce, baked goods, other home-made foods and some crafts on Madero Street between 5 de Mayo and Constitución. The market is Tuesday and Saturday from about 9am to noon, all year round!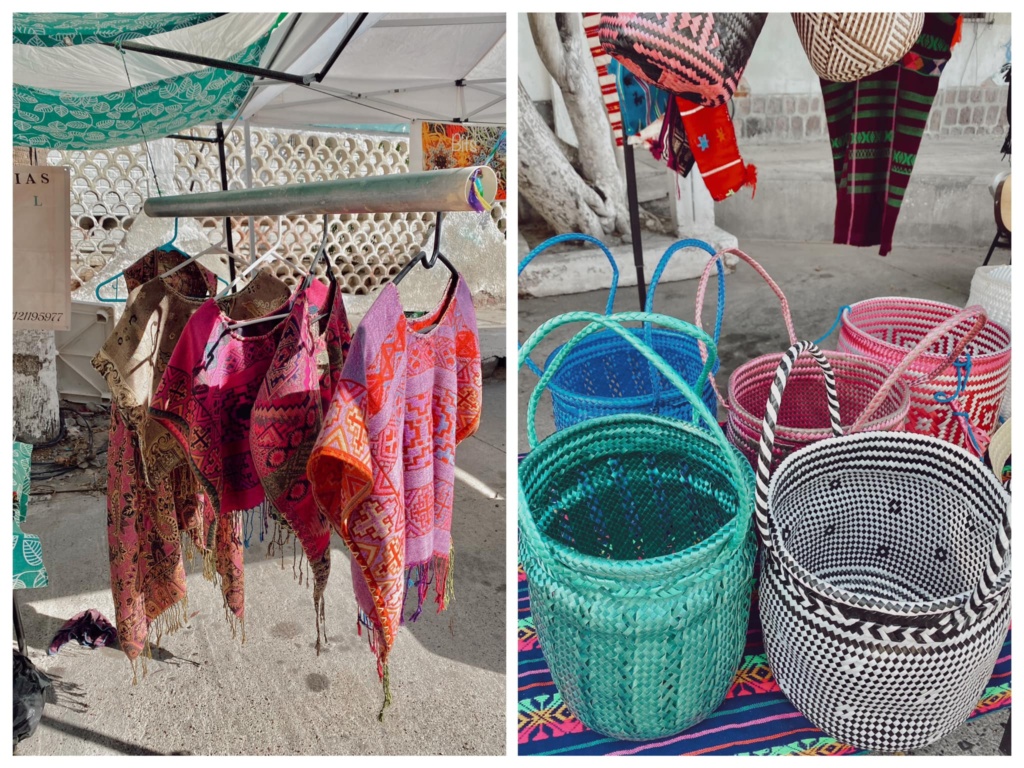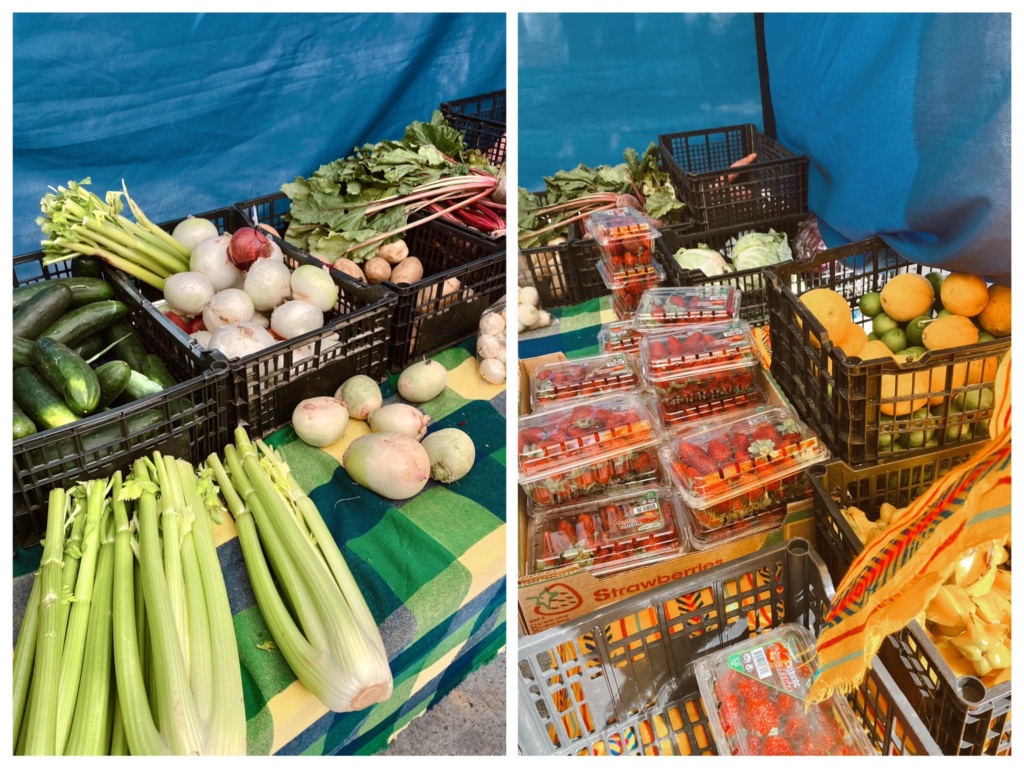 Here we filled our bag with fresh produce and treats— okra, ginger, celery, bell peppers, zucchini, strawberries, sweet potatoes, bright yellow starfruit,…all for less than $15.We stopped and talked to many vendors. One of our favorite vendor here is Pulques Finos "Mayahuel". Pulque is a Mexican traditional drink that is made from the fermentation of the sap which is extracted by hand from the heart of the agave (known as honey water).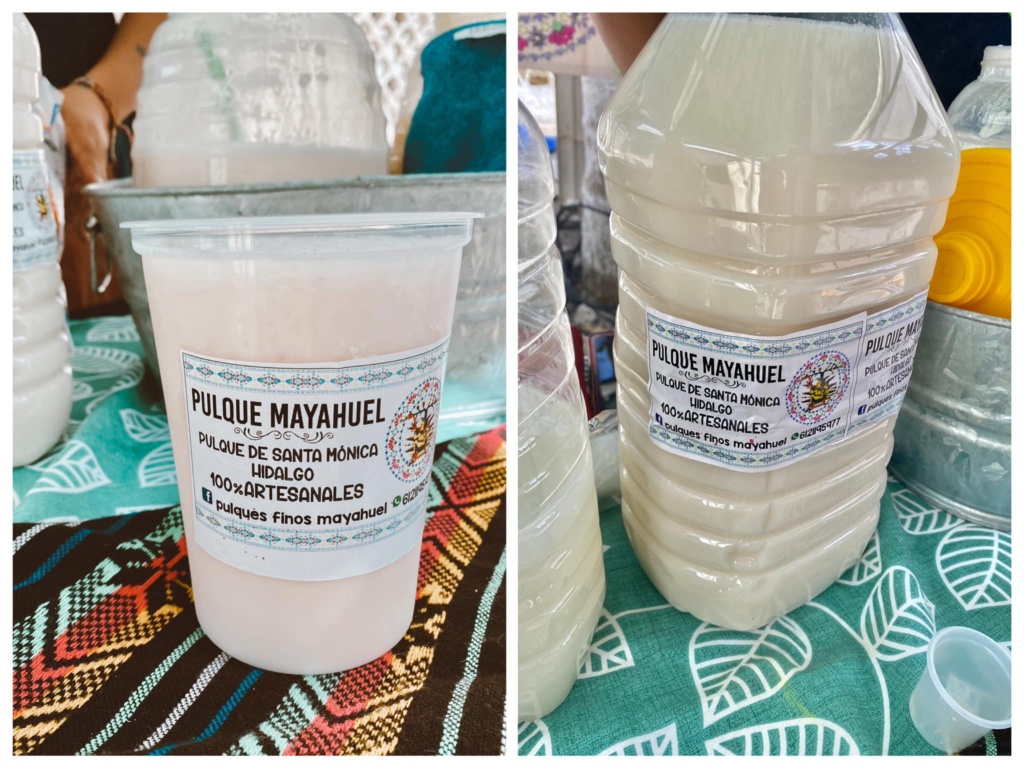 This vendor let us sample all of their popular flavors from coconut, pineapples, to cactus. They are all so yummy and refreshing. We got a little bit tipsy sampling these heavenly drinks because pulque produces 100% natural drunkenness. Although it doesn't contain any added alcohol, it's a living drink with probiotics and its fermentation is all natural. After tasting these wonderful homemade concoction we bought a one-litter container of cactus pulque. It's creamy, sweet and yogurt like. It's one of the vendors that you must try at this market.
La Paz is ground zero for mariscos (Mexican style seafood) in Baja California Sur. Most local restaurants buy from aquaculture farms, fishing cooperatives, the town's seafood market, or directly from Sea of Cortez fishermen—who stop by every morning with the catch of the day. According to every local we spoke to, Mariscos Toro el Güero is the best seafood restaurant in La Paz. As we drove further and further away from the malecón, we felt like we were lost, leaving the confines of downtown La Paz into the lesser known neighborhoods. When we arrived at the famous block-long, palapa-shaded restaurant, it was packed with locals and seafood lovers.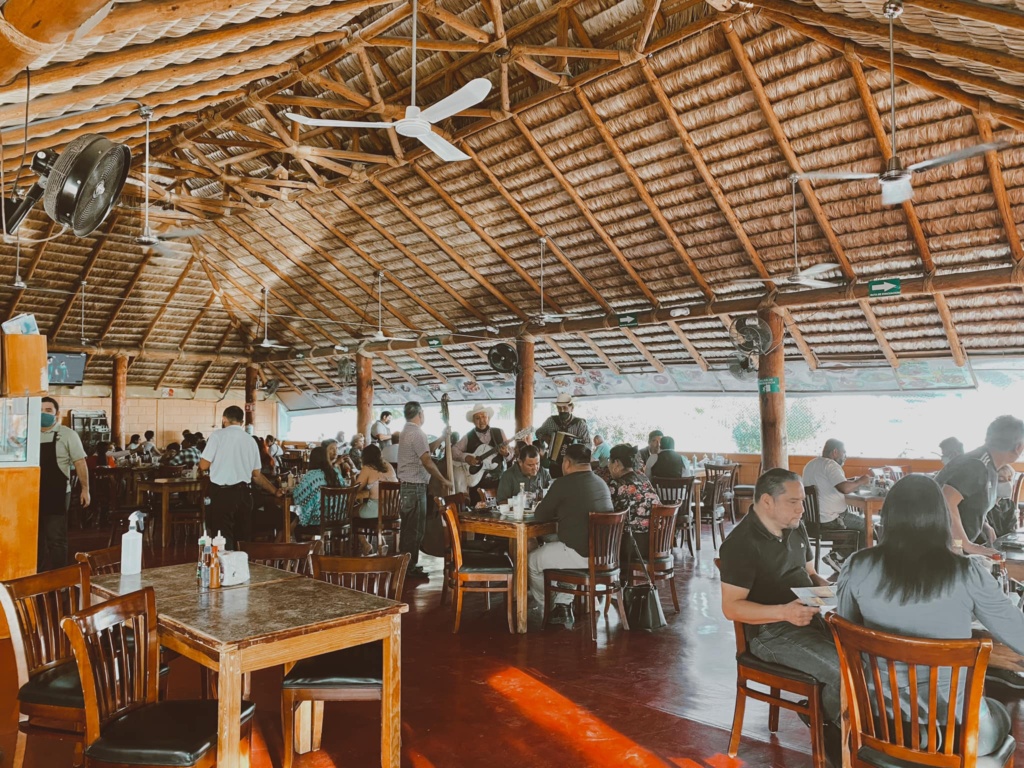 Obviously we have found THE place to eat in La Paz. The seafood is fresh, tastefully prepared and served in abundant quantities. We ordered the "pescado frito" (fried fish). It comes with rice, salad, and mashed potatoes for $15. I must admit I was surprised about the prices, by Mexican standard, are too high. But when the fried fish came to my table, I totally understand why. The portion was so big that we almost couldn't finish the fish and was thinking about having half of it for to go.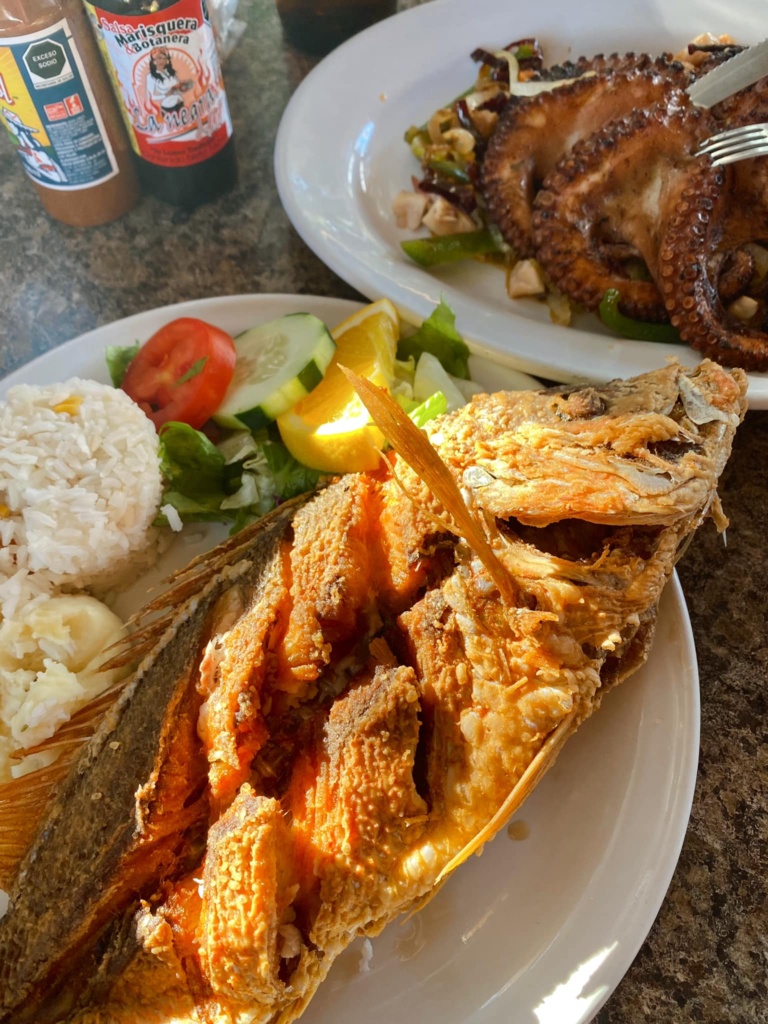 We ordered their signature dish – the Pulpo atropellado (grilled octopus). It's the most tender and flavorful octopus I've ever had and for only $15. We deeply enjoyed the food and understood why this seafood restaurant is always packed with clientele, who are seafood fanatics.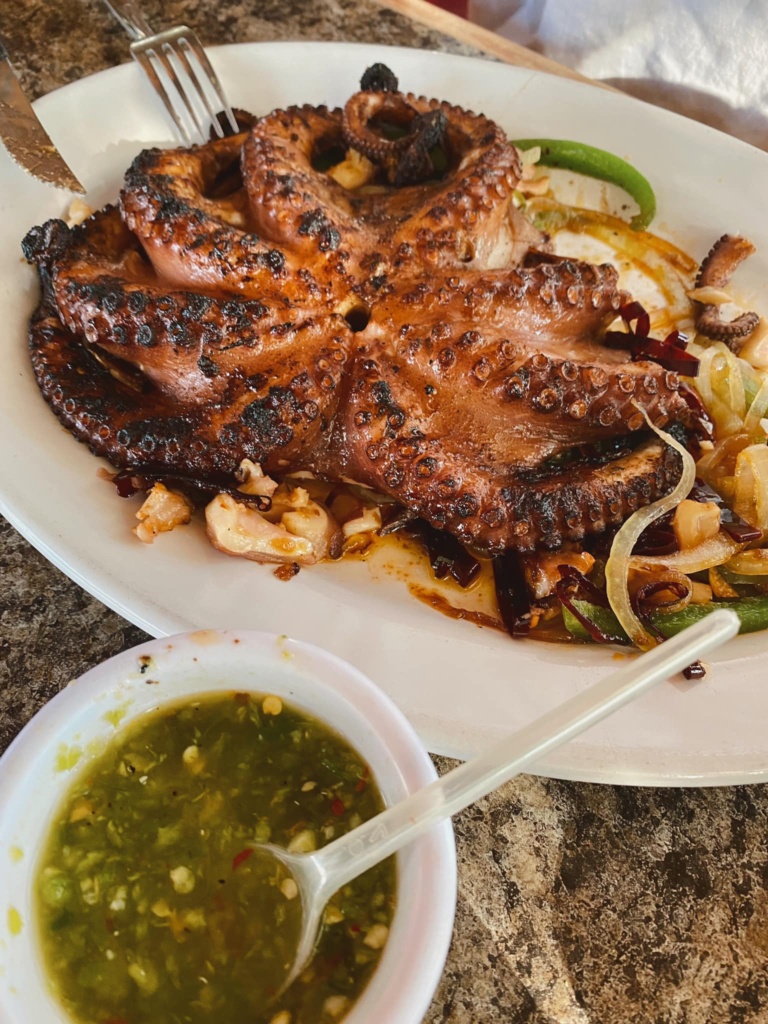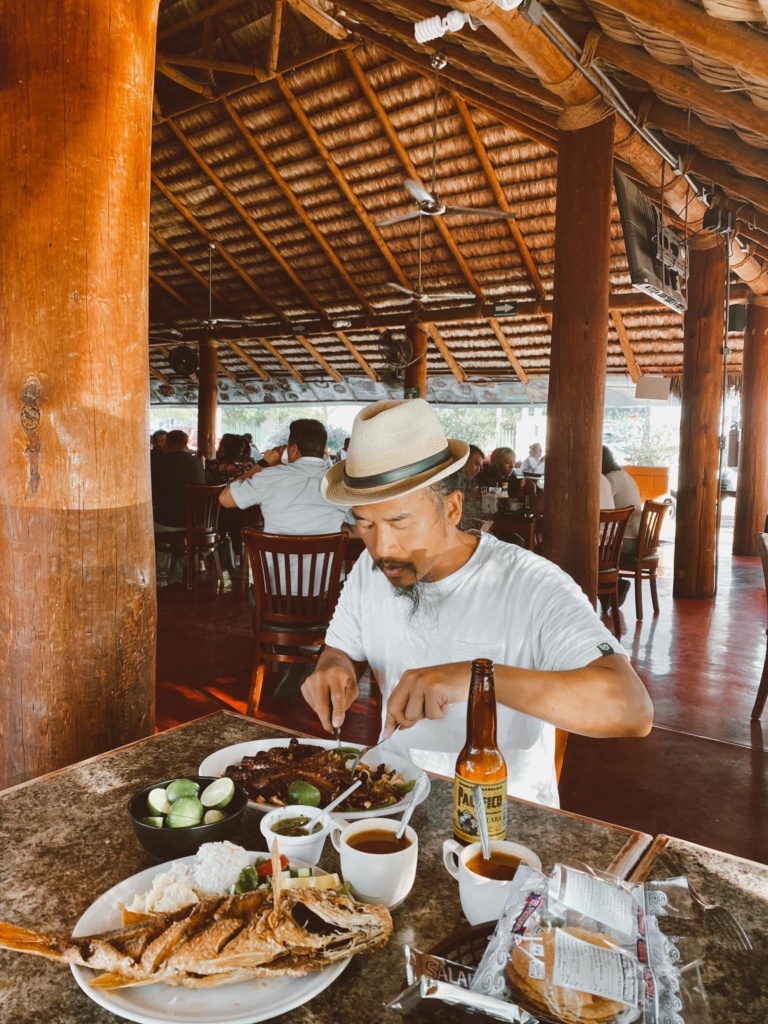 Day 16: La Paz – Todos Santos (51 miles – 1 hour 10 mins)
Todos Santos has been designated as a "Pueblo Magico" (aka a Magical Town) by the Secretary of Tourism of Mexico in 2006. That designation is reserved for only about 120 towns in Mexico that are special in terms of their natural beauty, richness in culture, and cuisine. The colonial architecture, cobblestone streets, art galleries, gourmet restaurants, organic farms, and pristine beaches altogether are what make this town so special.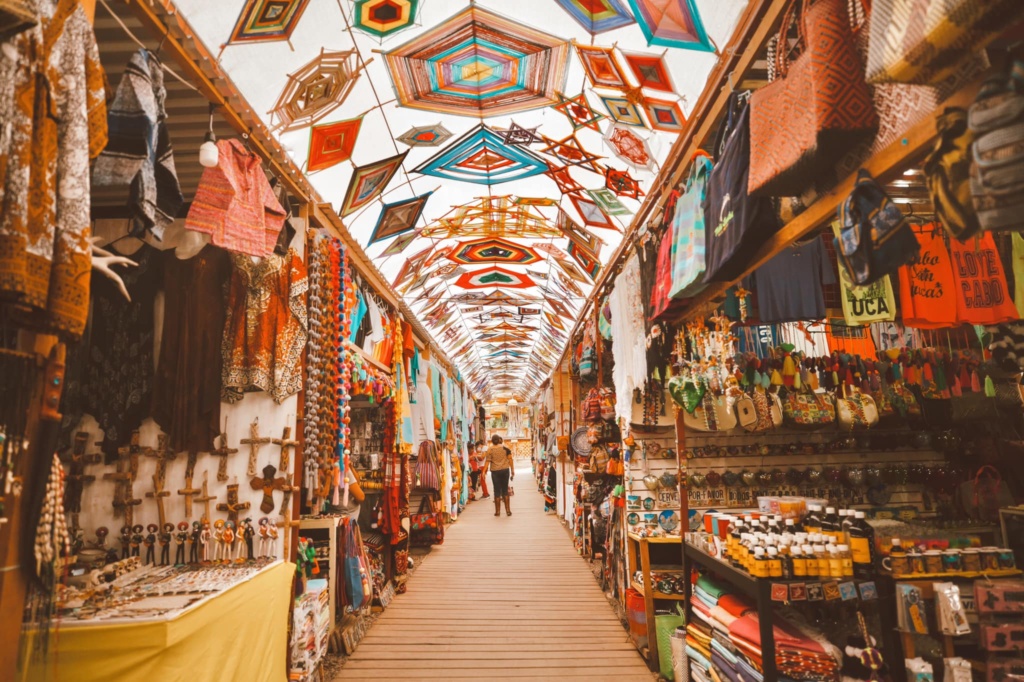 People sometimes call #todossantos "Tulum of the West Coast", but for me Todos Santos is way more special. As Tulum has become a mega destination, Todos Santos remains a sleepy and low key town. The community, largely made up of environmentally conscious expats and local farmer families who have been very protective of the area and its heritage, have rallied against any large-scale resort project. Here visitors enjoy off the beaten path travel, the laid back village vibes, and experience local authenticity instead of touristy resort towns.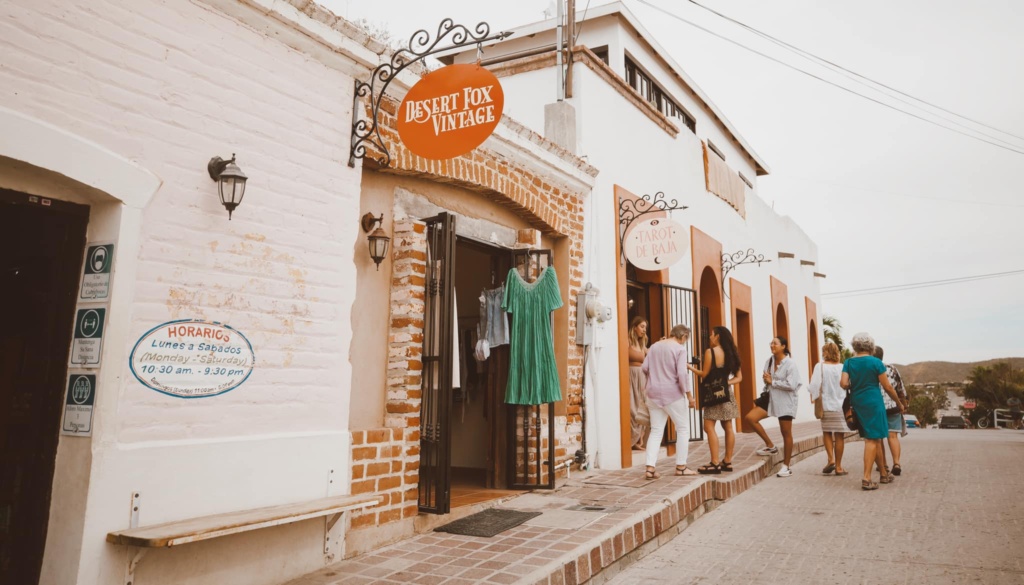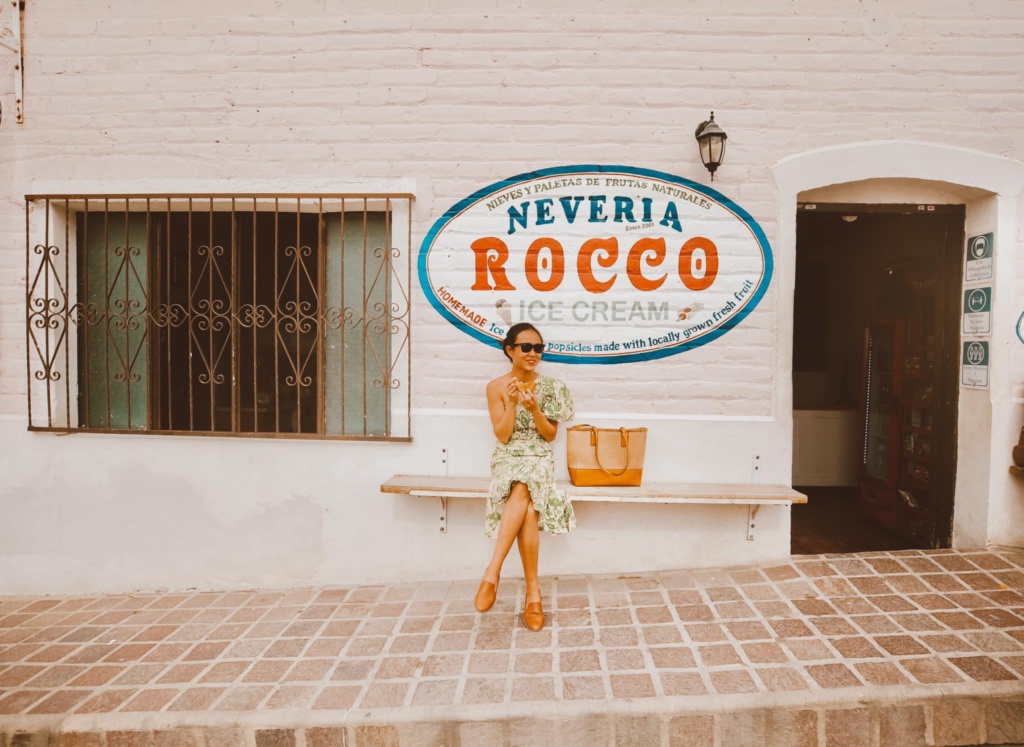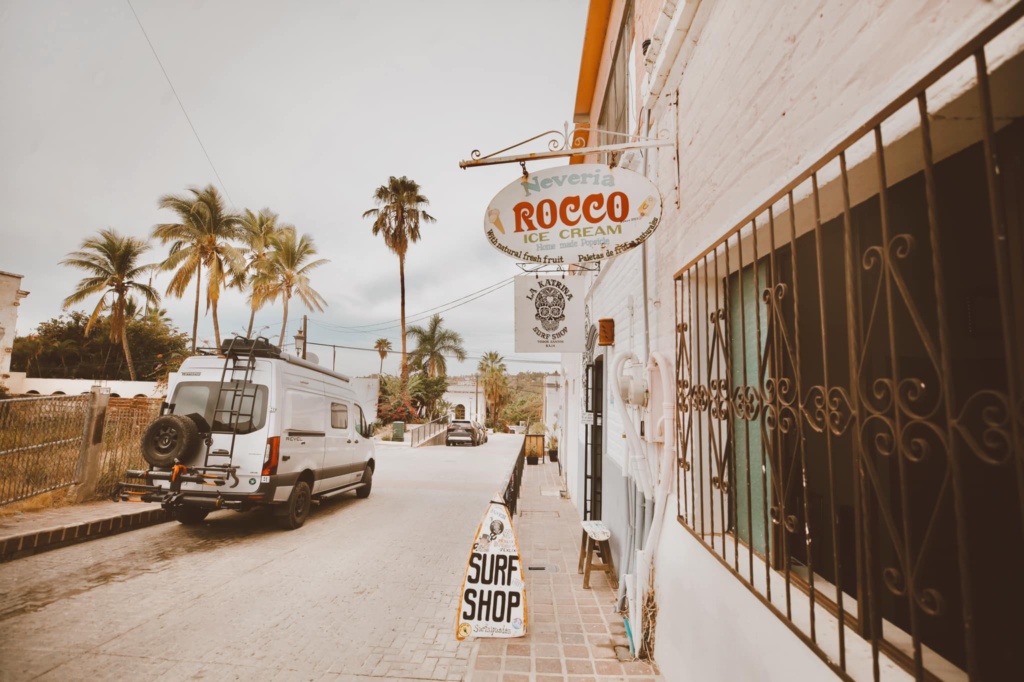 We stopped by Villa Santa Cruz for a quick lunch. The boutique hotel, located on the beaches of Todos Santos, is literally a little slice of heaven in Baja Sur. Everything from the picturesque guest villa to the relaxing pool to the stunning beach location makes for an enchanting visit for us.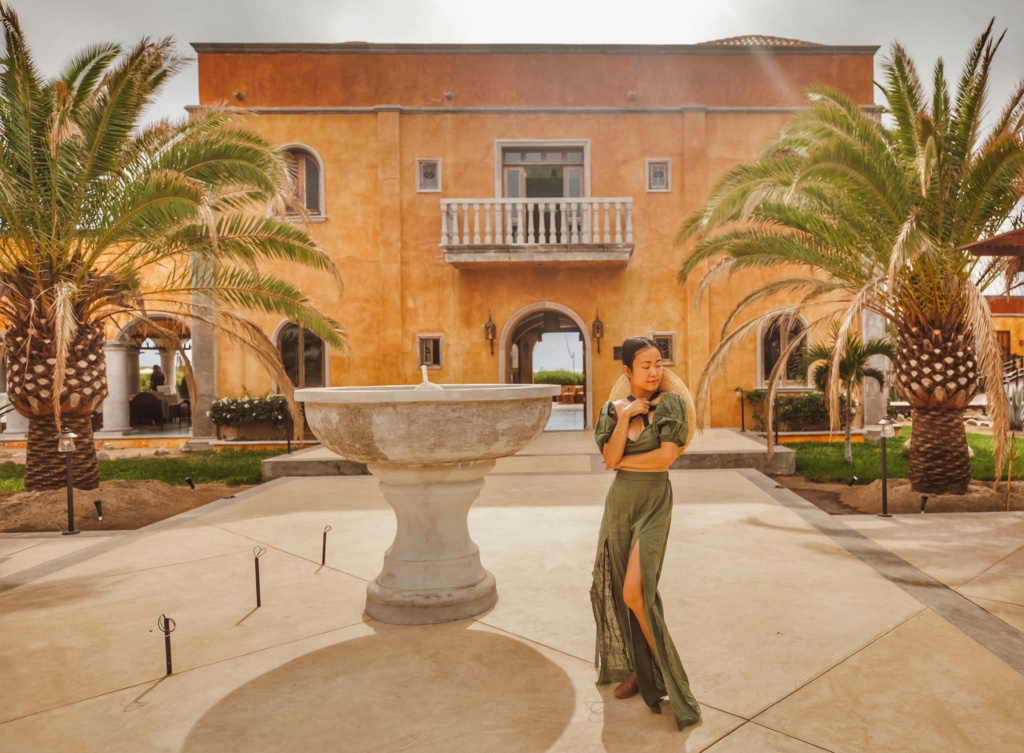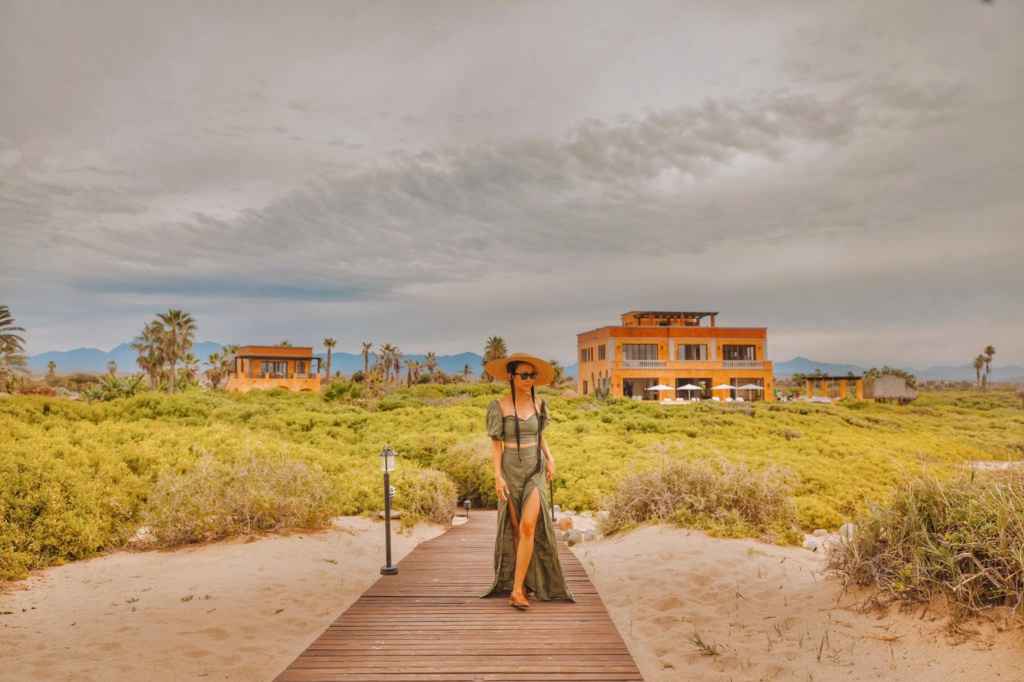 One of our favorite cafes in this town is Caffe Todos Santos. This cafe is everything you are looking for in an authentic small town establishment from the interior decor to the menu painted on the rustic wall!
Day 17: Todos Santos – El Pescadero (8 miles – 15 mins)
One of the highlights of our Baja roadtrip was our visit to Hierbabuena in El Pescadero.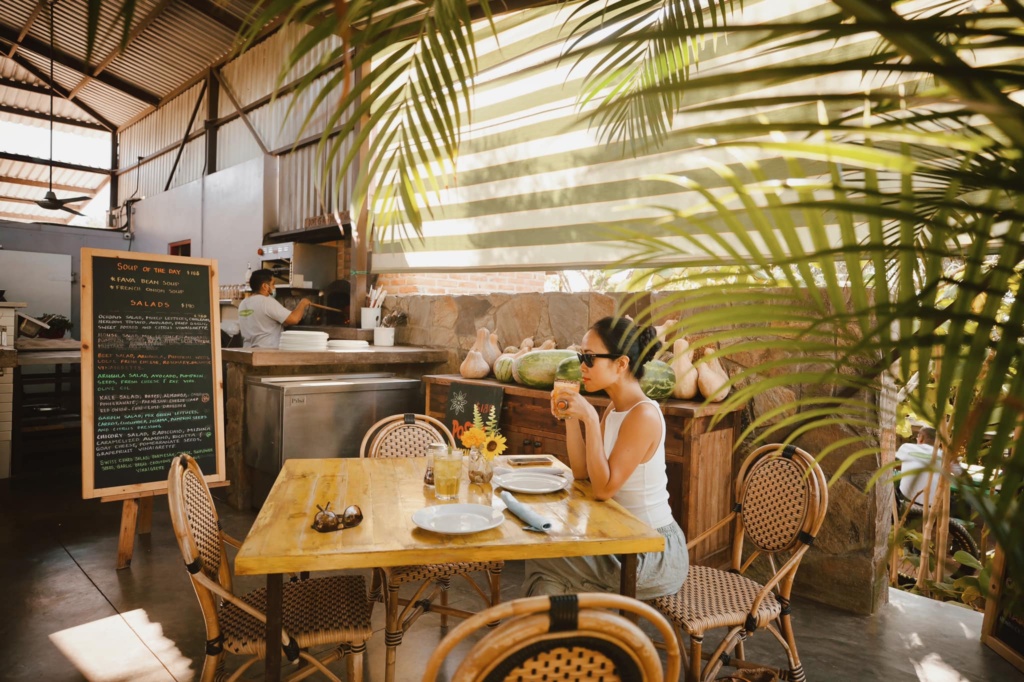 Off of a dirt road in the farmlands of the sleepy village of Pescadero is Hierbabuena – a restaurant set within a lush vegetable garden that exhibits farm-to-table dining at its finest. It is an absolute must when you're in Todos Santos!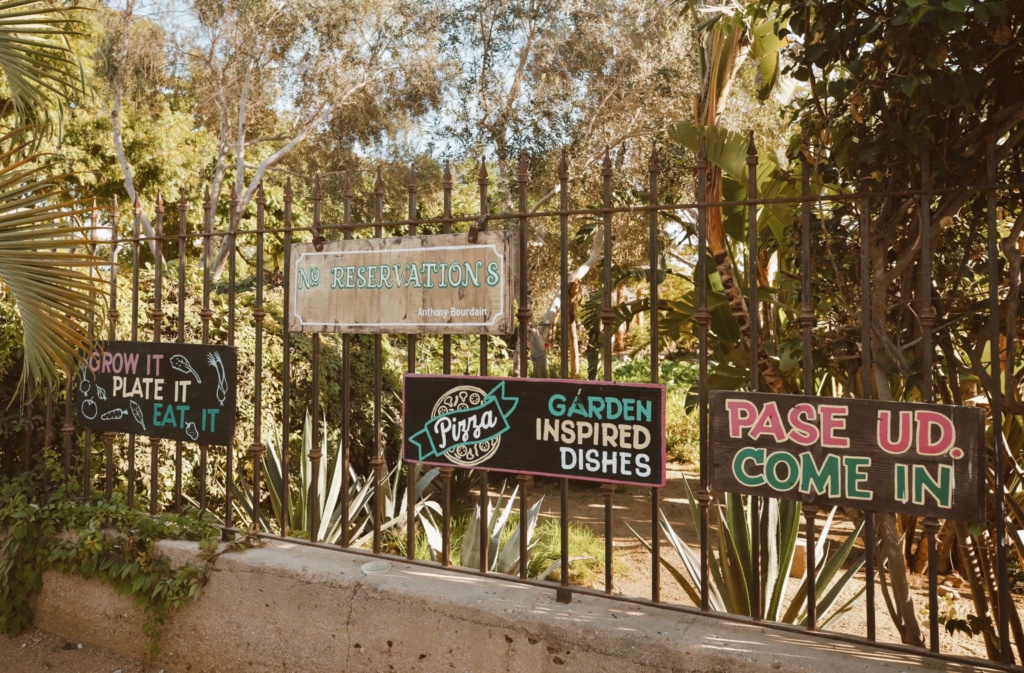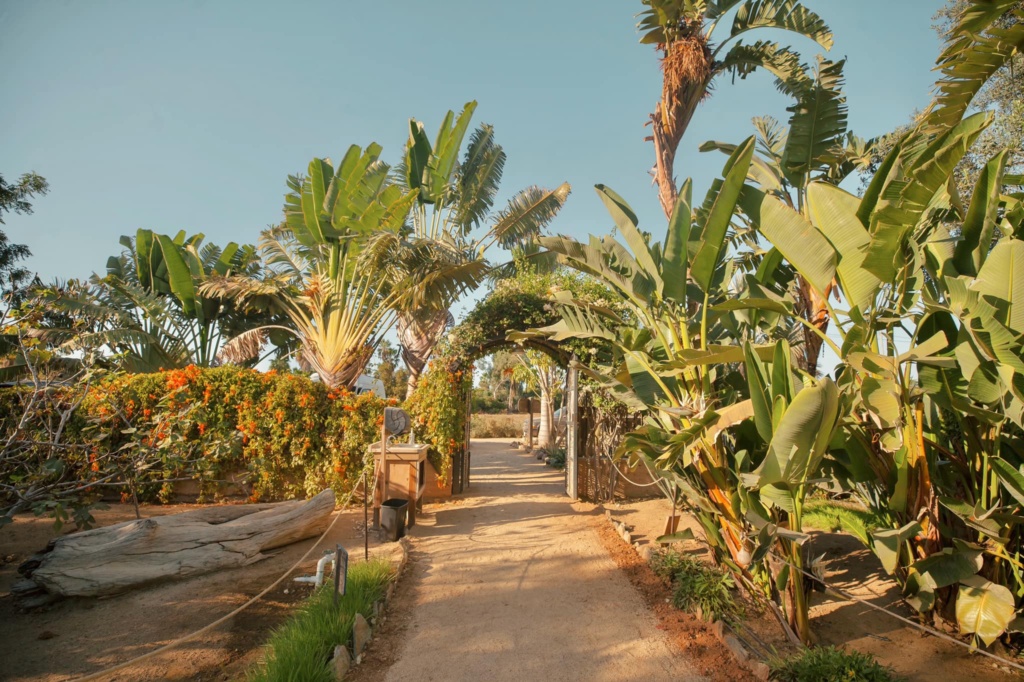 Pass through the gates to @ranchohierbabuena and you'll walk right into the gardens, which provide not only the ingredients for the food, but also a beautiful backdrop for the restaurant. The whole restaurant is completely open air, making you feel like you're eating in nature. Their garden-inspired menu changes with what's in season; we can look out from our table and see the garden where the veggies are grown.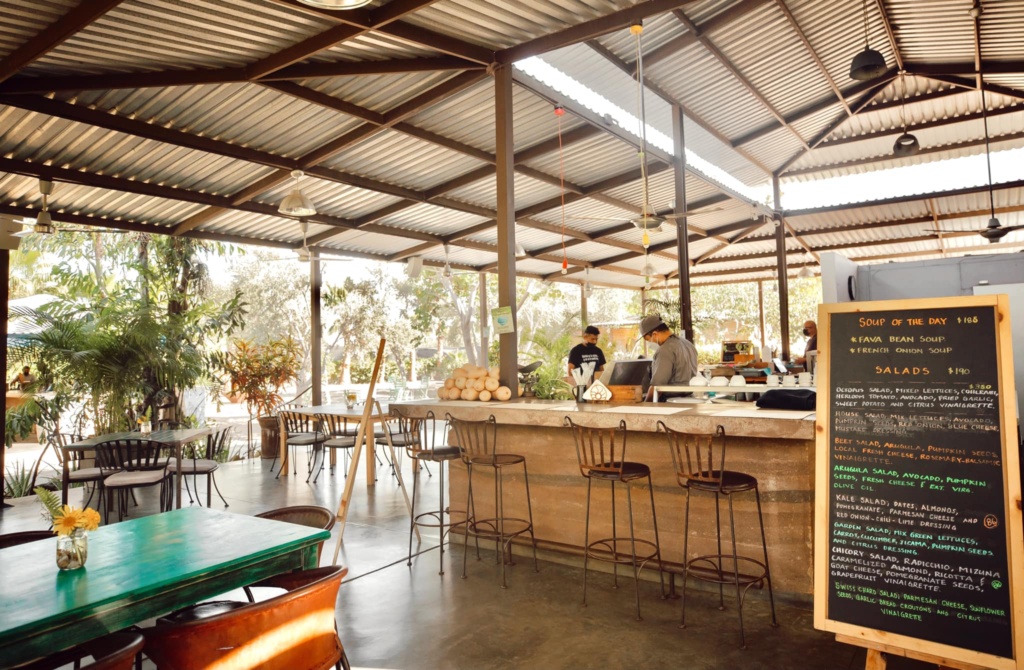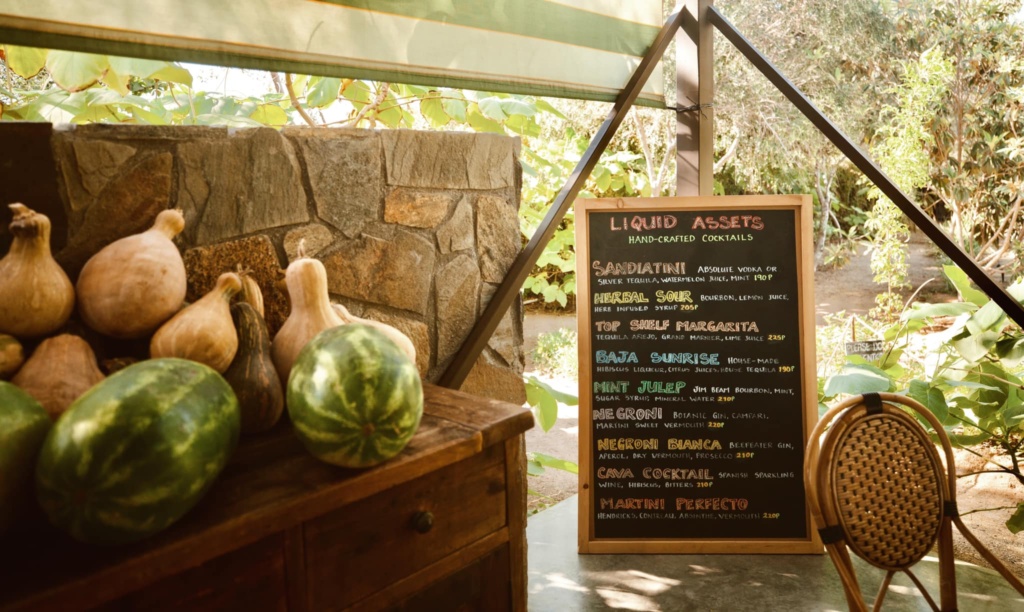 We chose a table right on the edge of the herb garden with the scent of rosemary, basil, and thyme making our mouth water while the friendly staff get our order ready. And we can see the farmers prepare our meal right in front of us from the open kitchen. The menu features excellent salads based on the garden's daily bounty, and wood-fired pizzas made from fresh ingredients from the gardens that are mixed to create unique flavors. They also sell vegetables and herbs that have been picked from the gardens so you can take a little bit of the fresh flavors with you.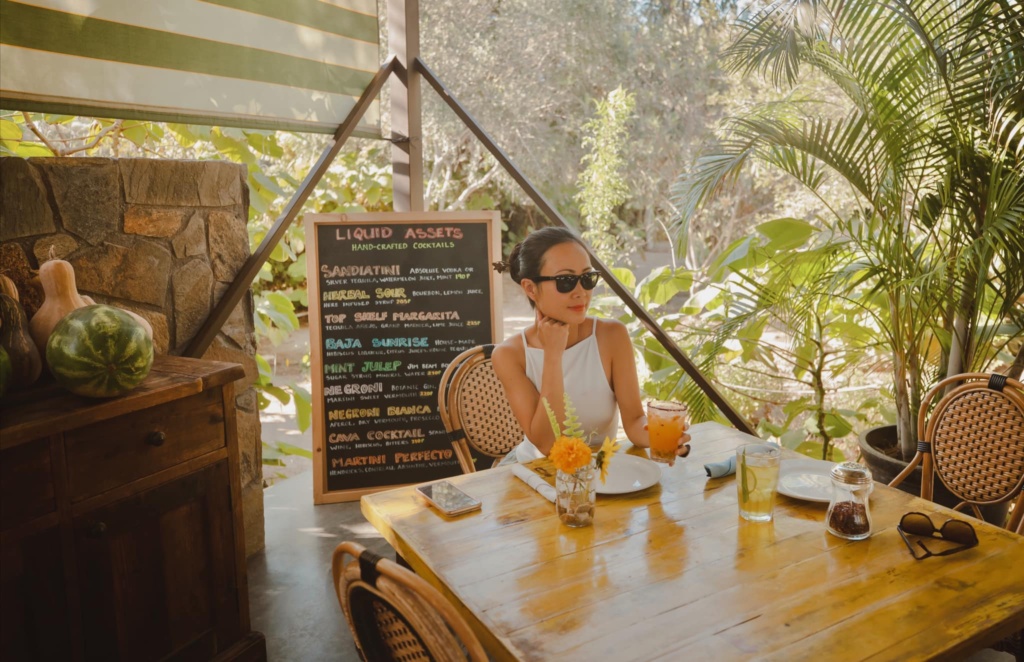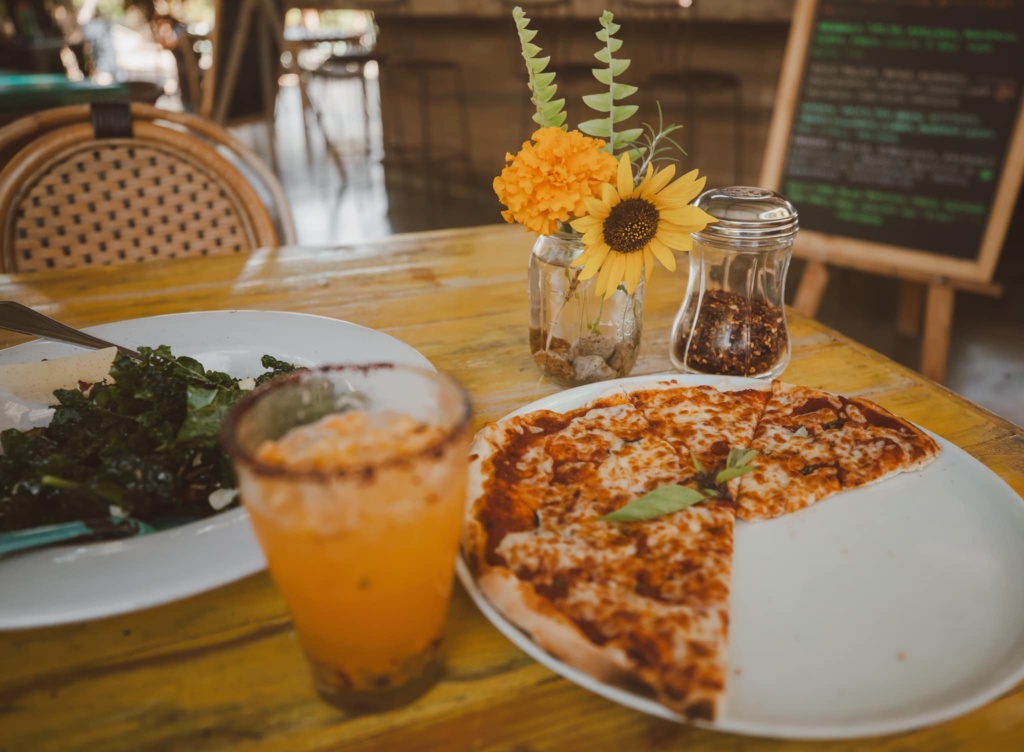 The restaurant's motto is clearly printed on the staff's t-shirt: "Gástalo en la cocina y no en medicina" (Spend your money in the kitchen and not on medicine)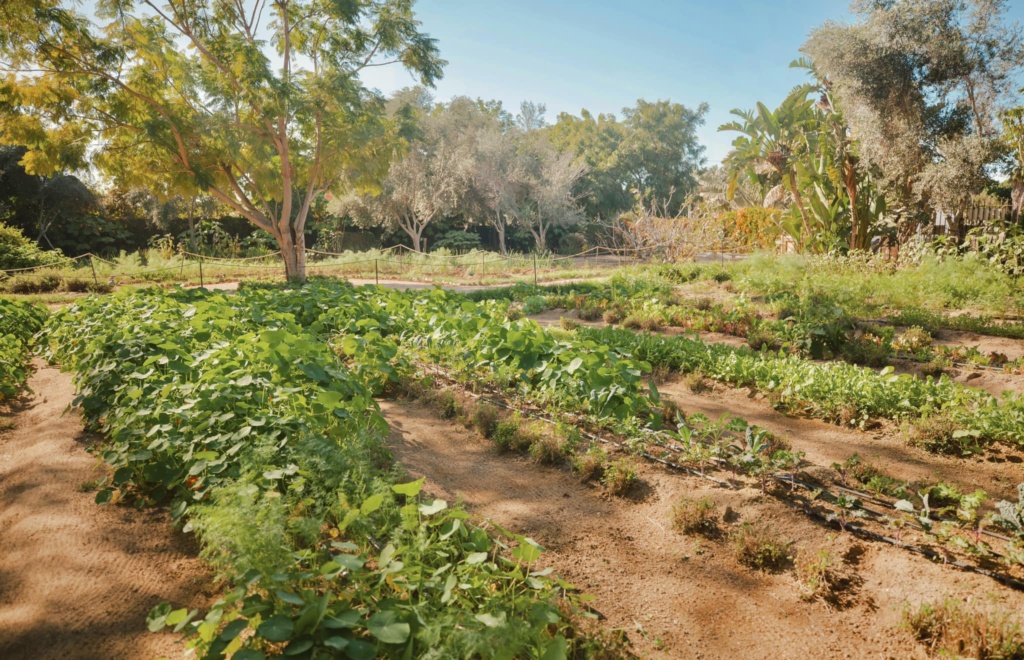 We spent the night at Playa Cerritos, only 10 minutes south of El Pescadero. Playa Cerritos is a world of its own, with surf lessons, local artisans selling trinkets, massages on the beach, and horse-riding lessons.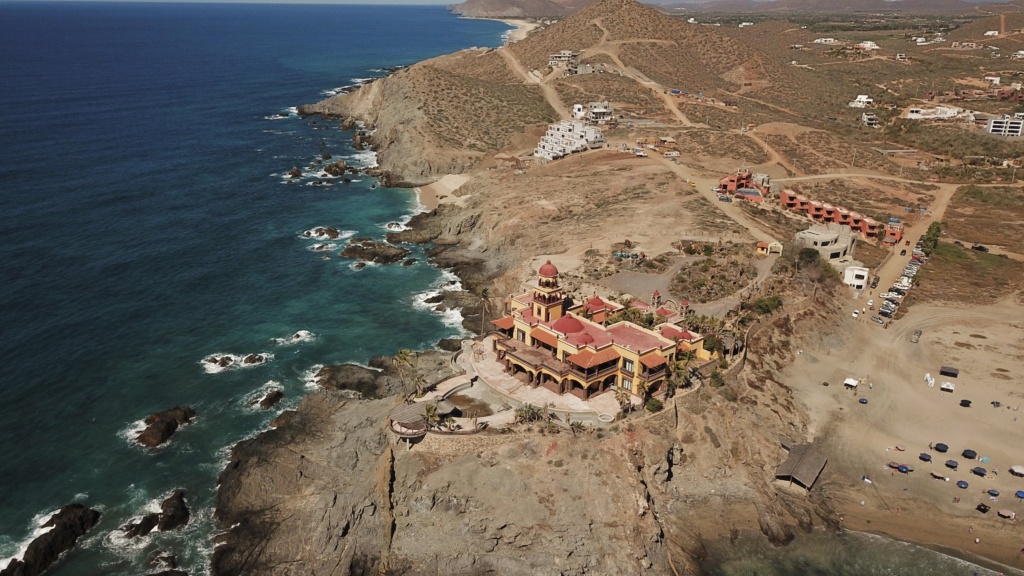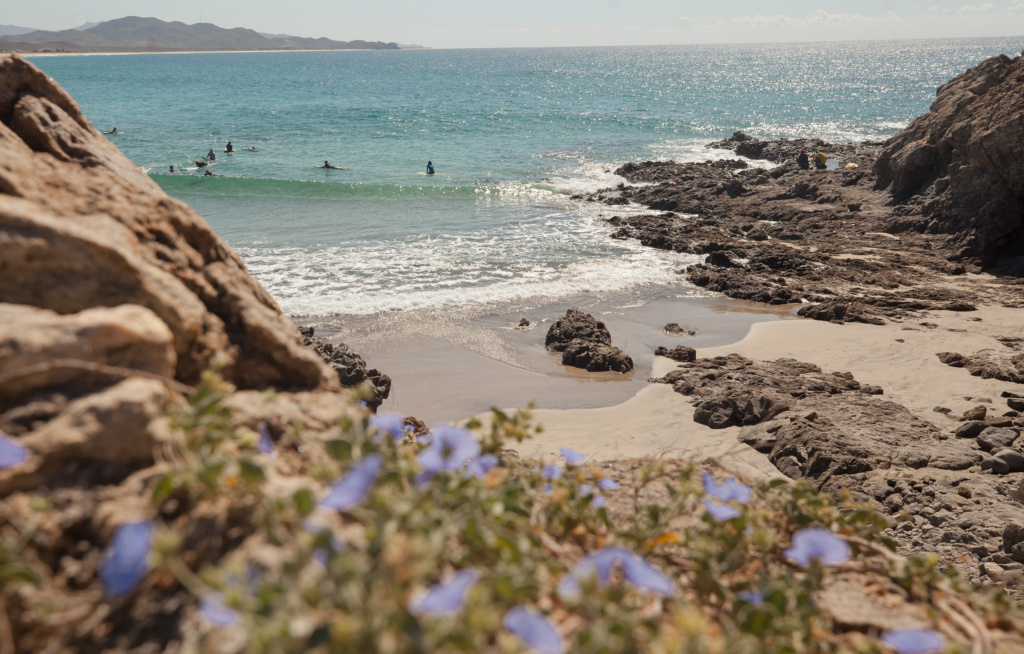 Day 18: El Pescadero – Los Cabos (41 miles – 56 mins)
We visited Los Cabos about 10 years ago and did all the touristy things one is supposed to do when visiting this world famous destination: El Arco, Land's End, Lovers' Beach, Divorce Beach, Camel Ride, Baja Outback Adventure, all-inclusive resorts,….(you can view my detailed blog for what to do in Los Cabos here). But on this trip (as we are older now) we find Los Cabos a bit too crowded and touristy for us; moreover, this city is not really vanlifer friendly since all the beaches are occupied with massive resorts/hotels. There is no boondocking spot for us. So we just stayed one night at Playa Santa Maria and moved to San Jose del Cabo the next day.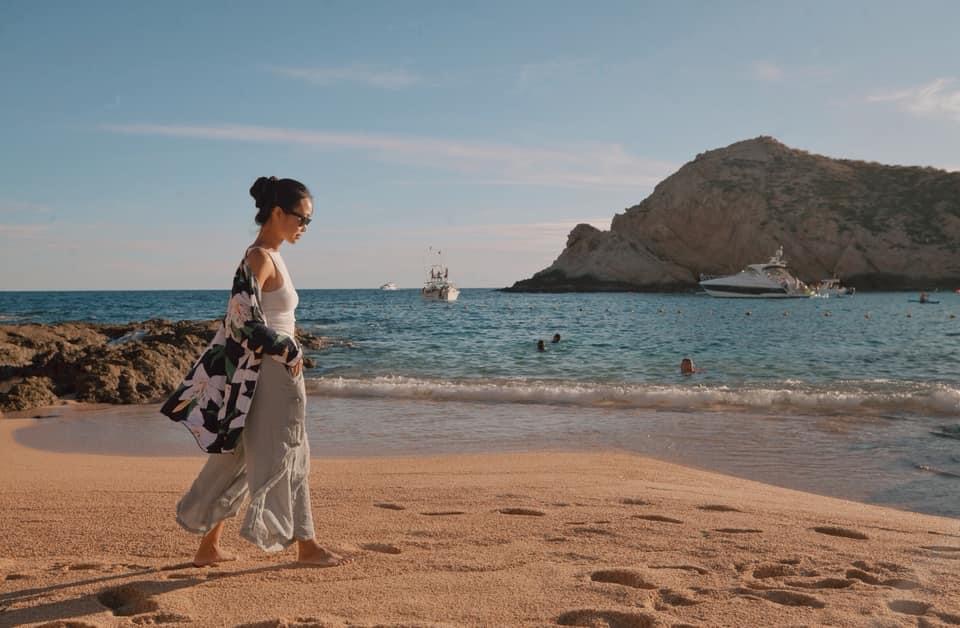 Day 19: Los Cabos -San Jose del Cabo (21 miles – 39 mins)
After one month and a half of roadtripping through Baja Mexico, we finally reached the tip of the Baja Peninsula where the Pacific meets the Cortez.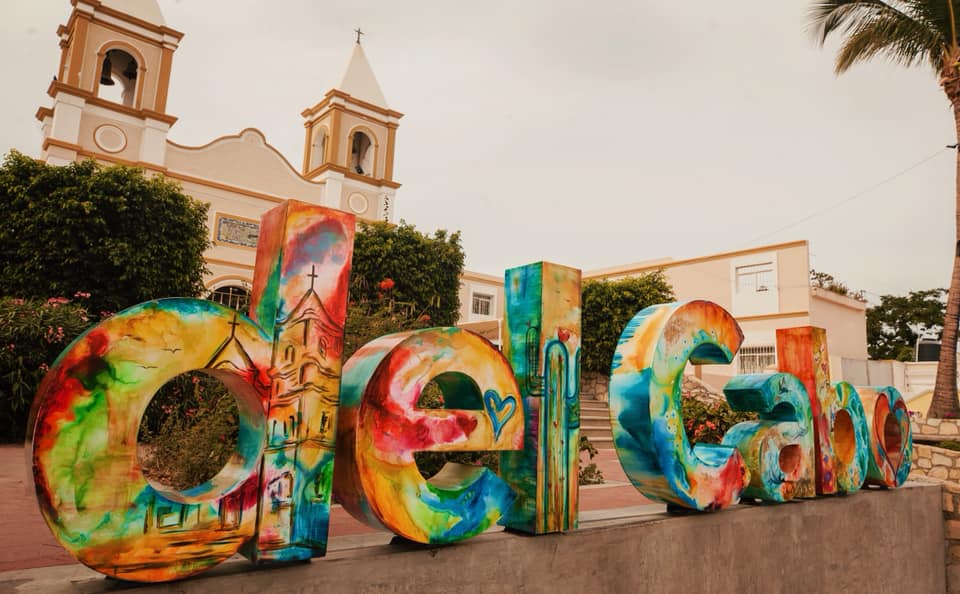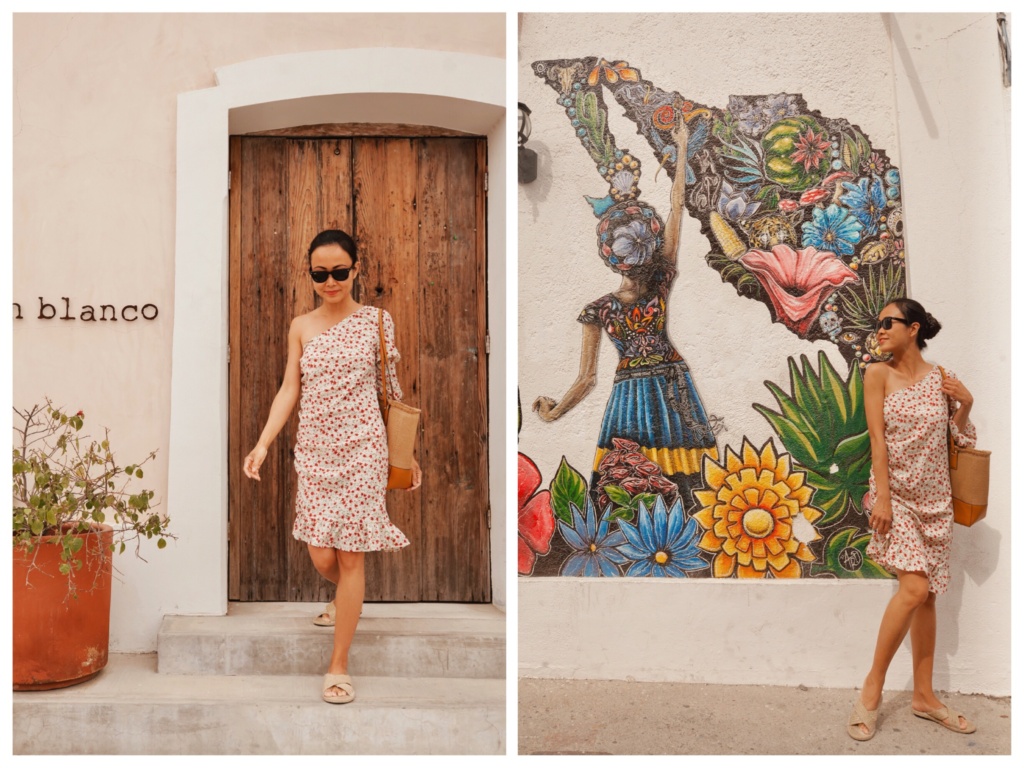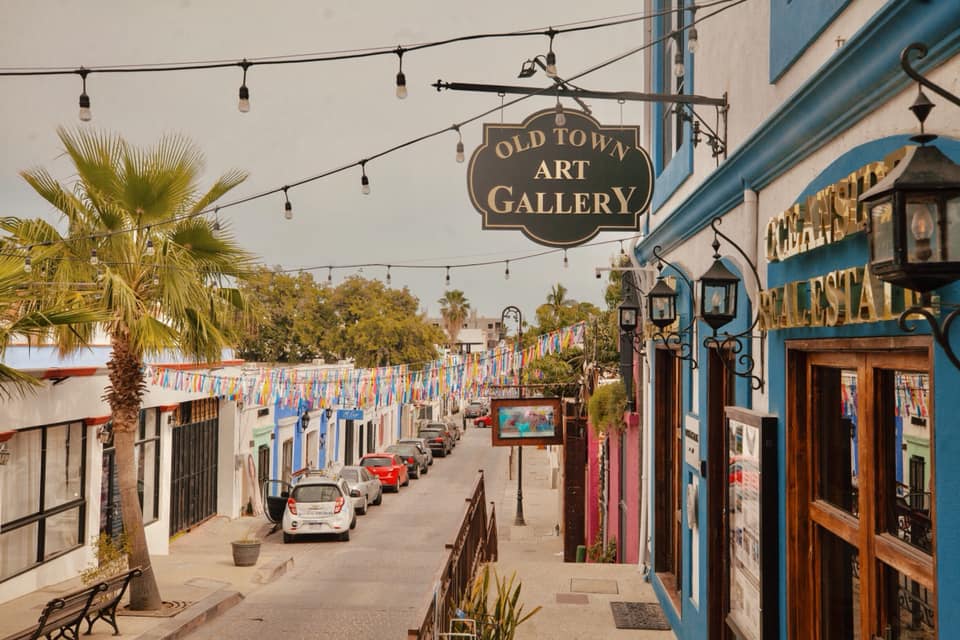 People don't often think of San Jose del Cabo as its own town, but rather one half of Cabo or Los Cabos, along with its neighboring town Cabo San Lucas . When Cabo San Lucas is known as a party town, San Jose del Cabo is a more sleepy colorful colonial town with cobblestone streets lined with street vendors, stylish boutiques, art galleries, Bohemian storefronts, breweries,…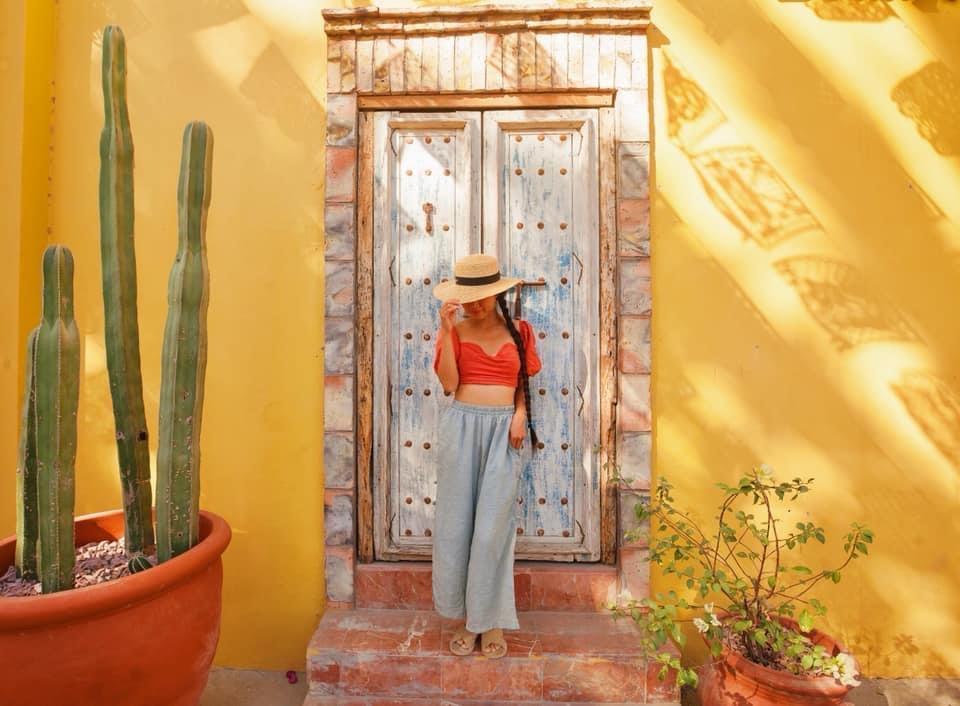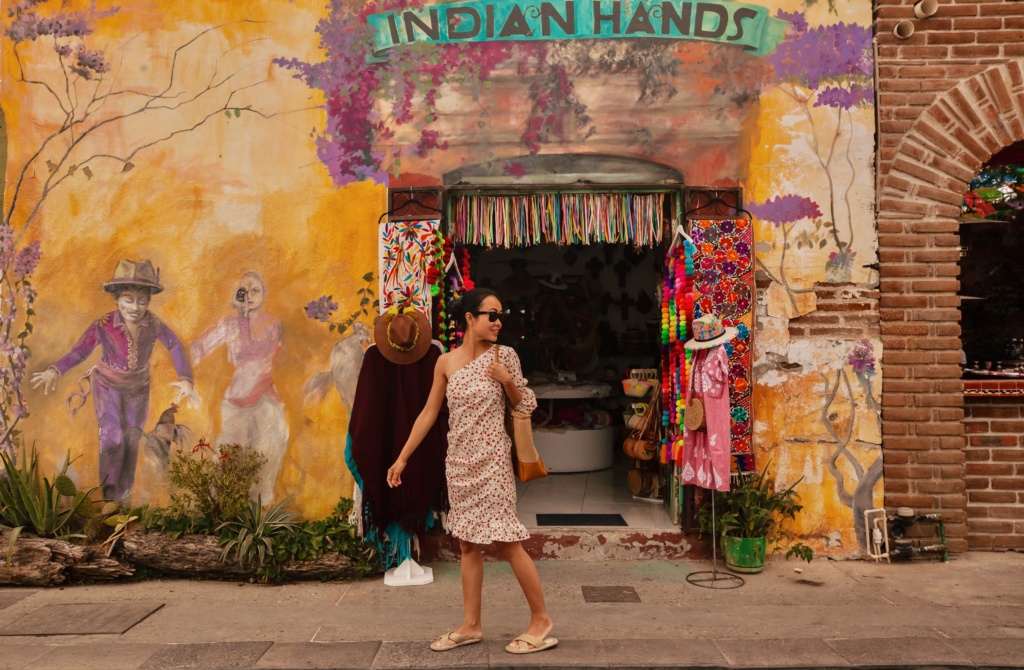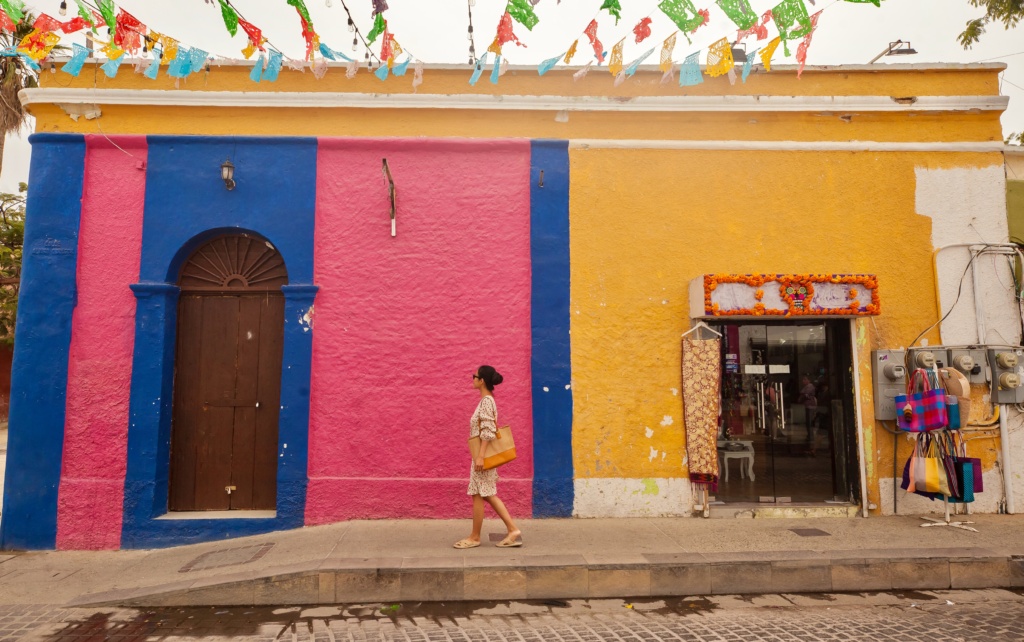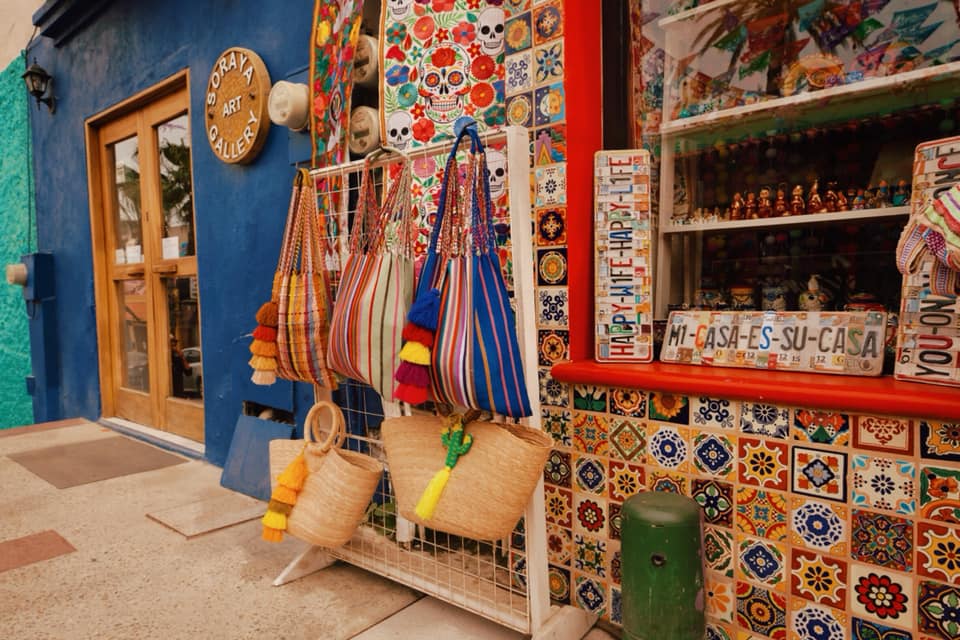 One of the first things you should do in San Jose del Cabo is just to walk around and explore the town!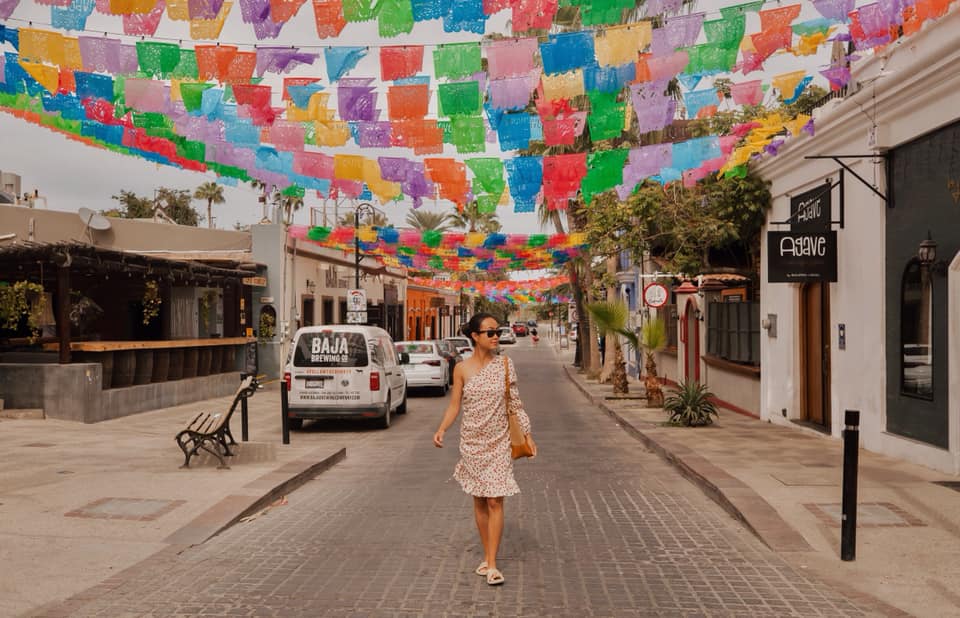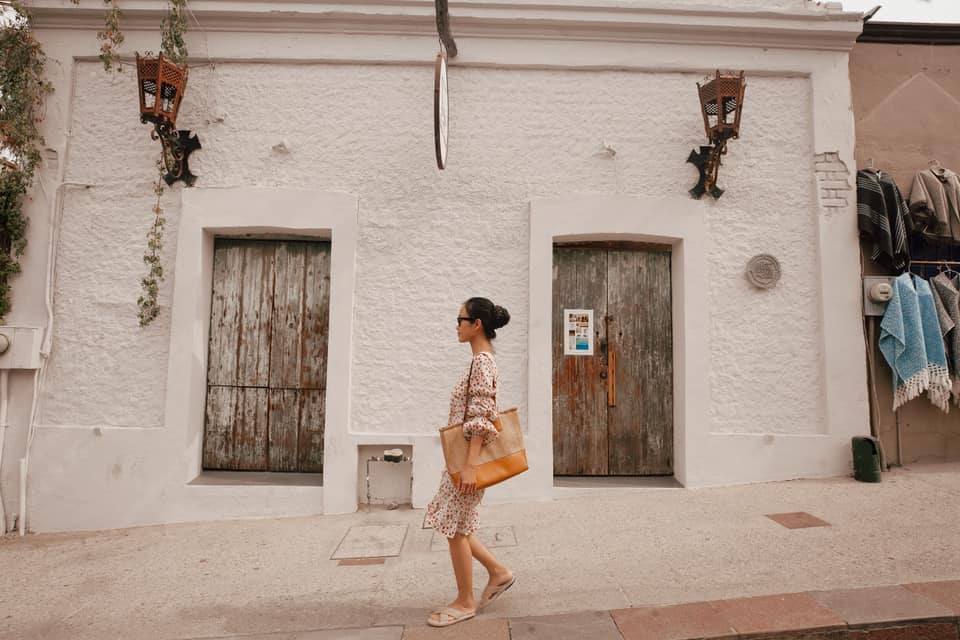 When tired from all the walking, you should stop by Ruba's Bakery for some delicious pastries and Cafe Cochimi for some yummy coffee and waffles with ice cream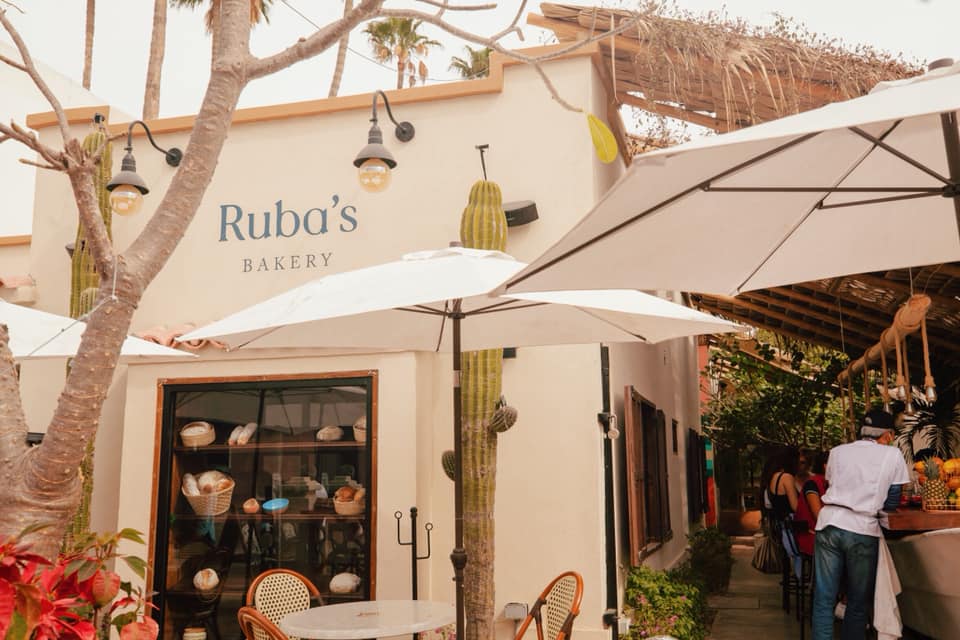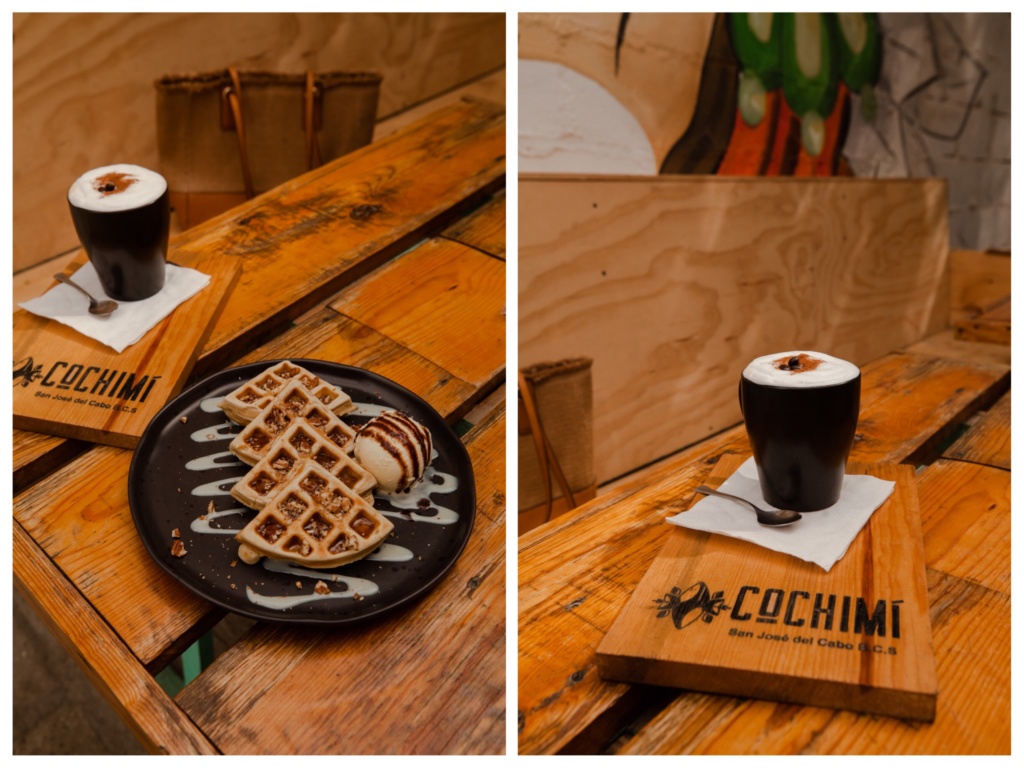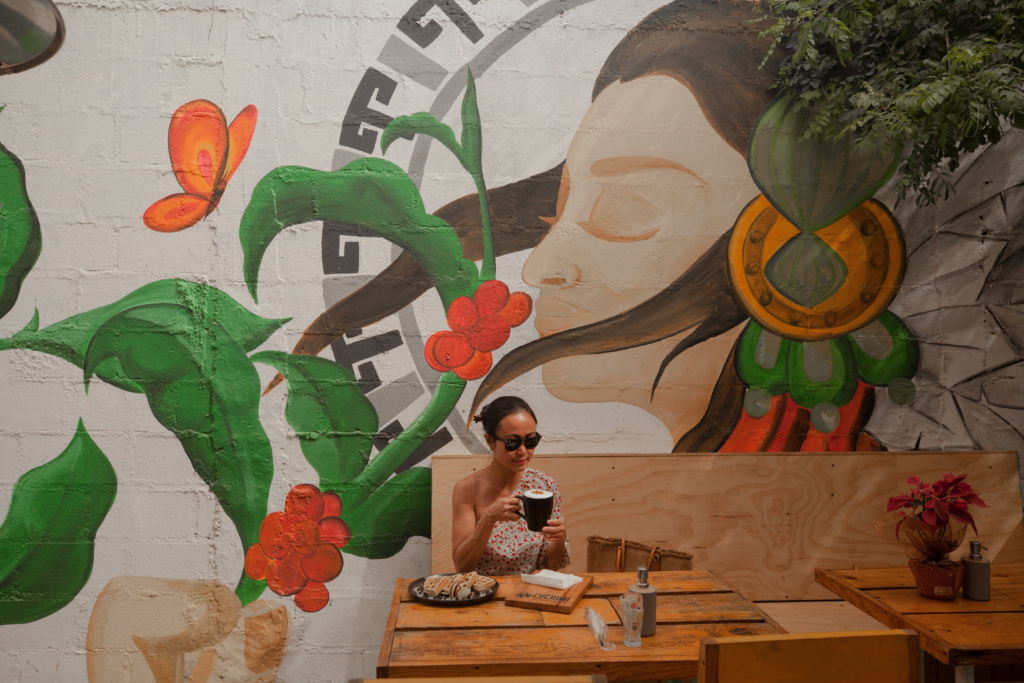 Day 20: San Jose Del Cabo – Santiago (26 miles – 42 mins)
Baja California Sur has some hidden gems when it comes to divine geysers and natural thermal springs that bubble up from the earth to fill pools and ponds, making natural hot tubs that you can visit and relax in. The water is soft and enhanced by minerals, which feels much different than your average chlorinated hot tub.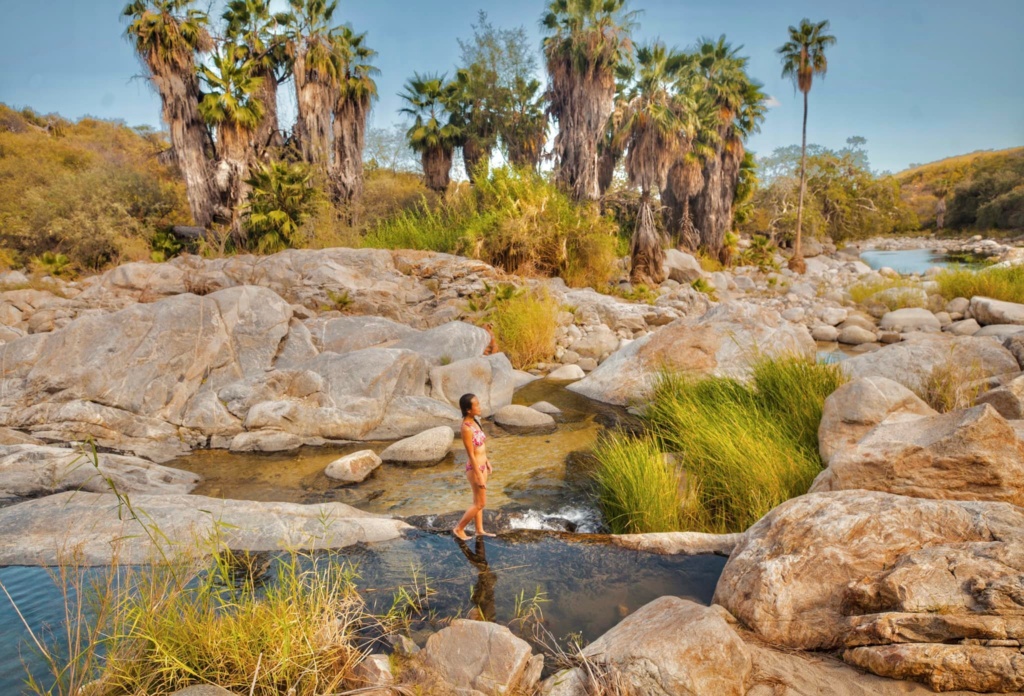 It's in the Sierra La Laguna reserve, where you'll be able to find these amazing thermal springs. This special place is a mountain range and a Biosphere Reserve. It's located between the municipalities of La Paz and Los Cabos. This region is a reserve protected by the Mexican Government. The reserve is open to visitors, but some areas are off limits to the public. Because of that, many of the hot springs in the area are inaccessible. But not to worry, there are still a few hot springs that are easy to find.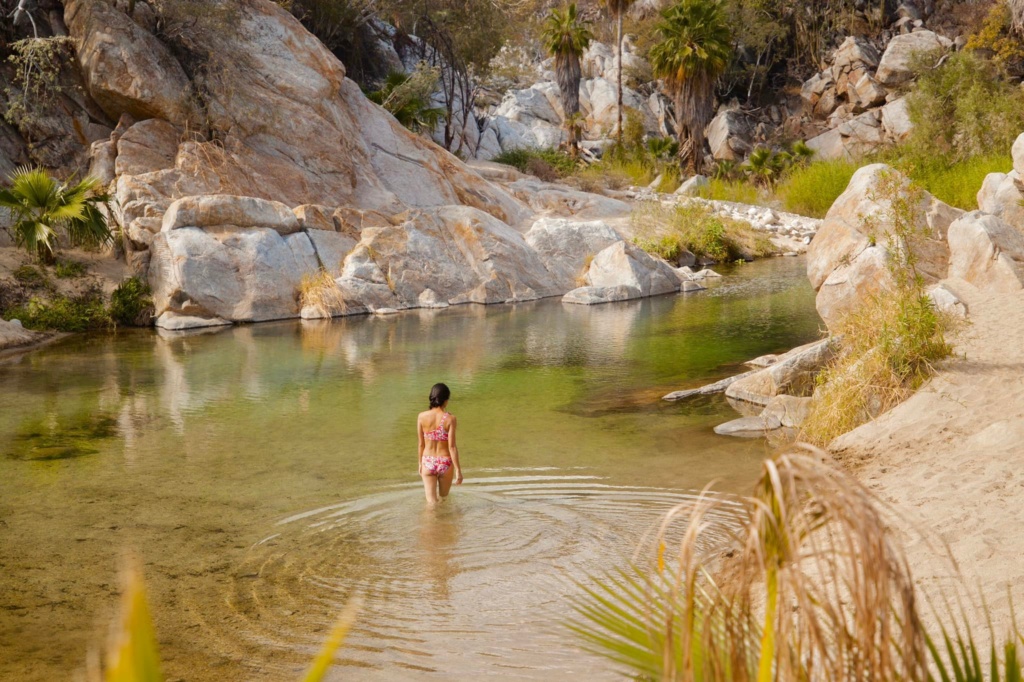 One of them is the Santa Rita Hot Spring! The water comes down the canyon into many scenic pools with different temperatures.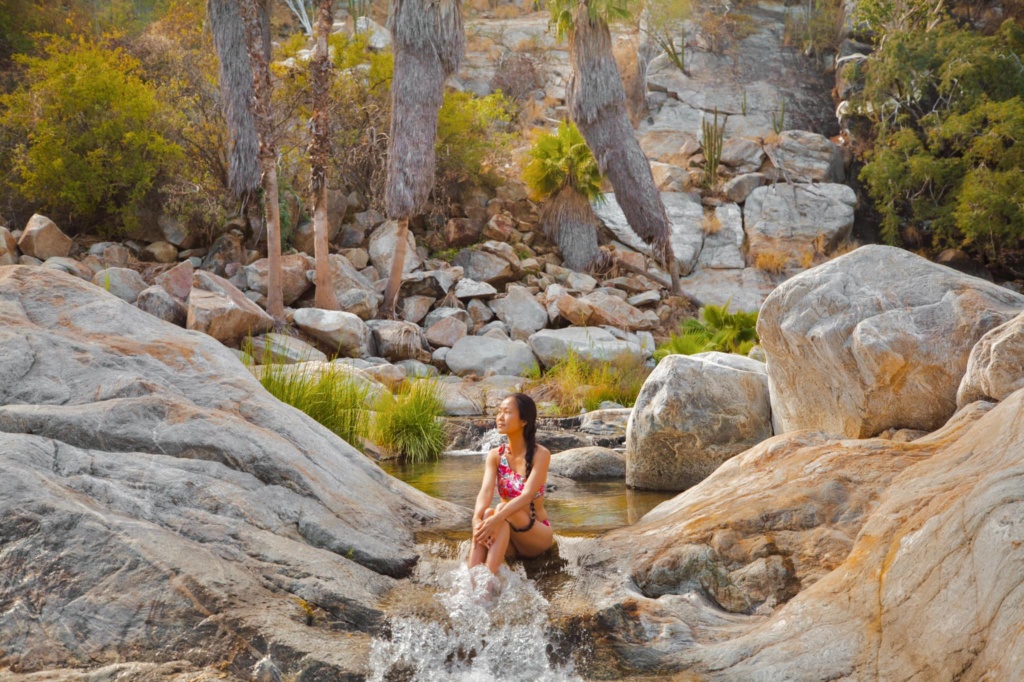 Picture this: clear, warm, hidden thermal spring pools nestled in between tall white rocks, green palm trees, and a sprinkling of cacti within the lush green grass….Step into the thermal spring and we felt immediately a wave of healing energy pass through us.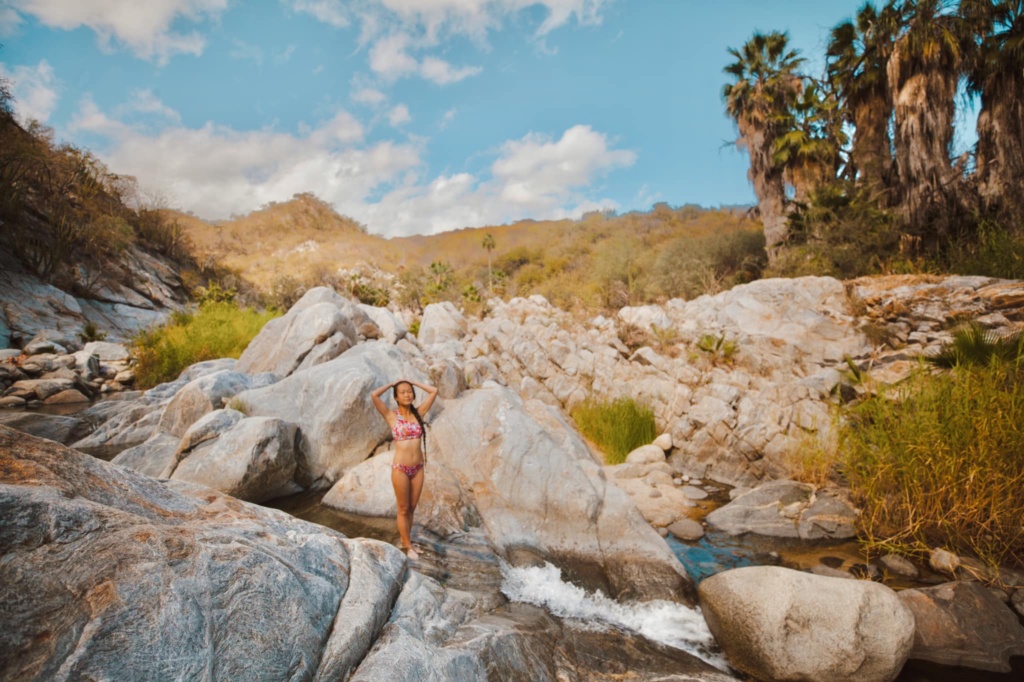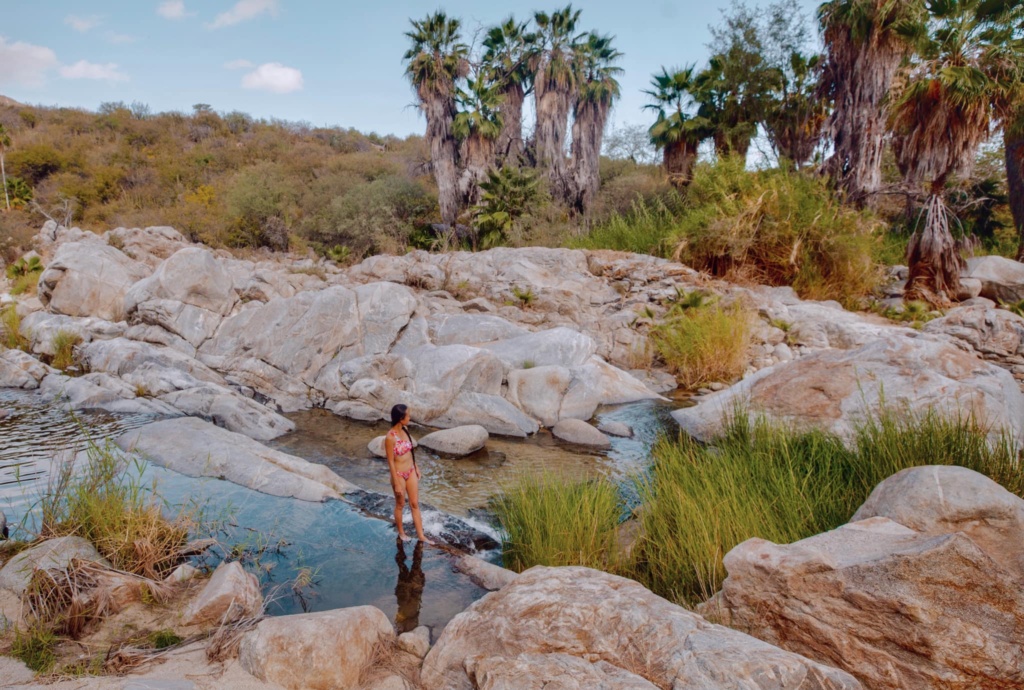 Day 21: Santiago – La Ventana (75 miles – 1 hour 45 mins)
We love a good day at spa but man-made hot tubs and modern massage therapy just don't cut it for us. The natural pampering and soothing sensations provided by natural hot springs are still the best. And what's even better than thermal hot springs? That's hot spring mixed with sea water.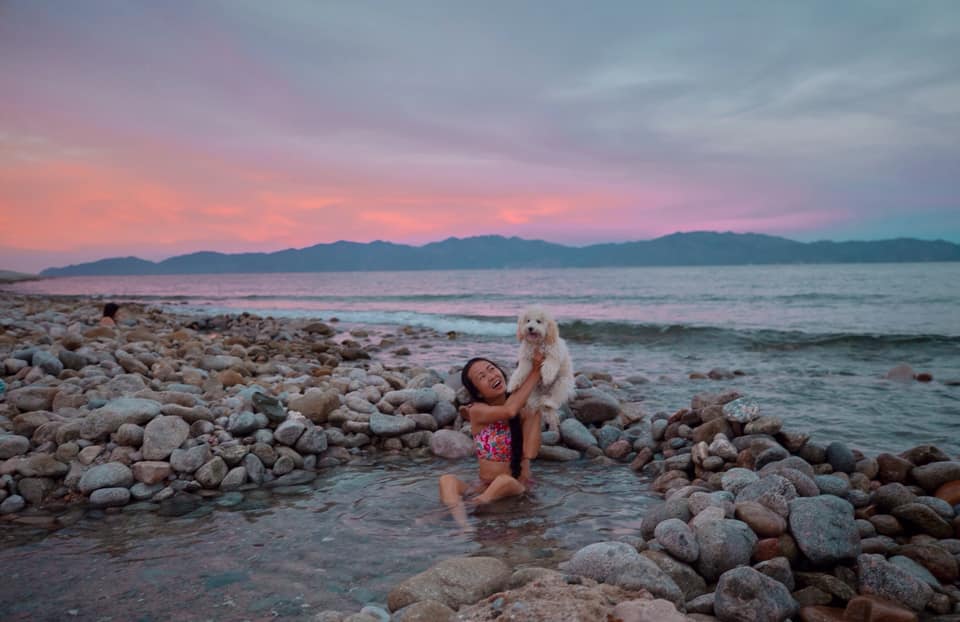 A hot water spring on the beach might be one of the strangest phenomena in the world! To find it, you'll be traveling to a totally different area of Baja California Sur: La Ventana/El Sargento shores. The volcanic activity in this area created geysers and springs that bubble up from the earth; the maximum temperature that they've observed on the beach was 68 C (155 F)!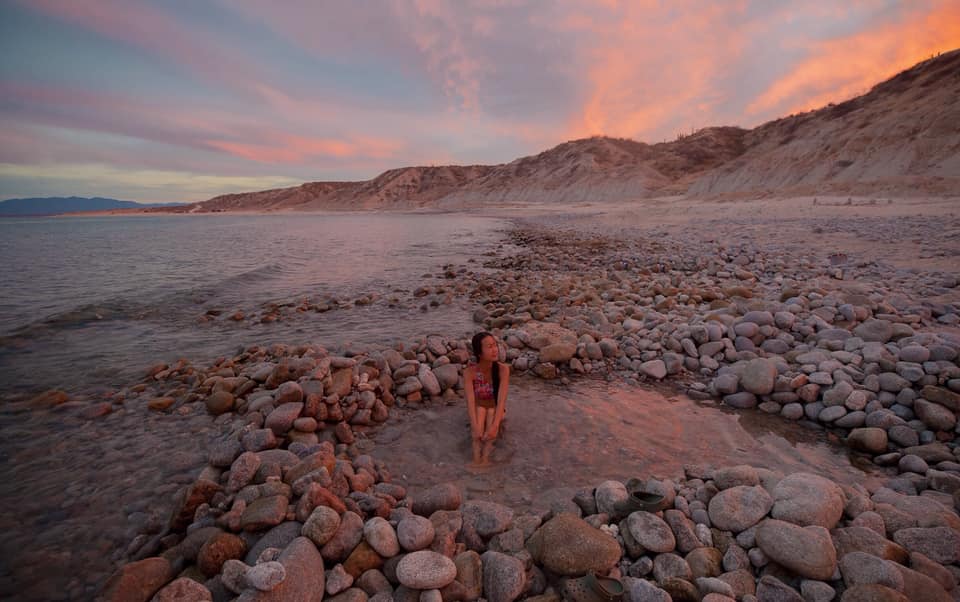 When you get to Hot Springs Beach (Playa Agua Caliente is the actual name of this beach), you'll see a normal stretch of sand, but there are actually hot springs hidden underneath. Look a little closer, and you'll notice holes and displaced rocks spotting the shore. Do like the locals do and make yourself your own private hot tub. Bring some small sand shovels and start digging. You can hop back and forth from the cool ocean waters and your personal hot spring. Our skin felt so good after a bath of thermal hot spring mixed with sea salt water.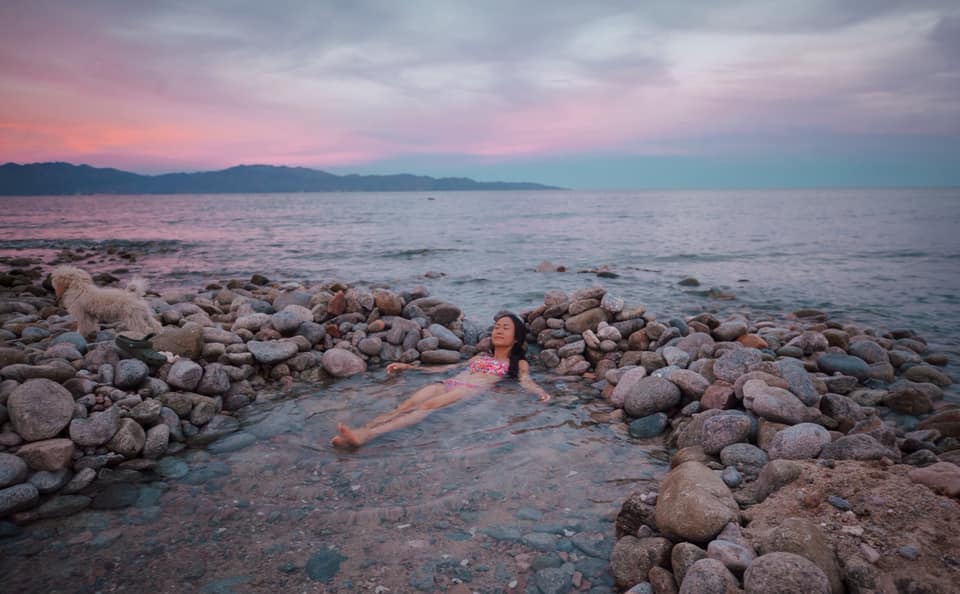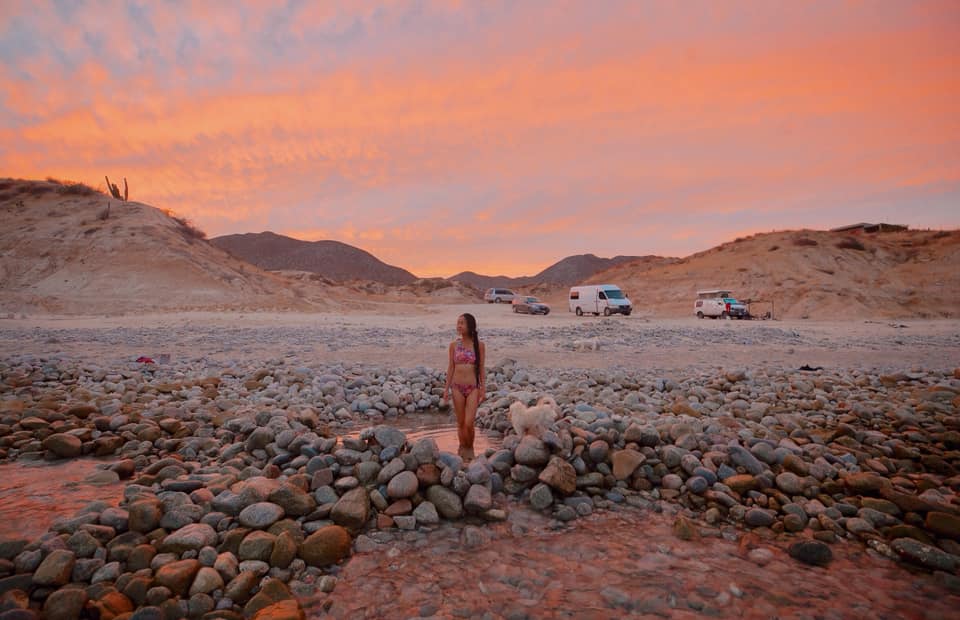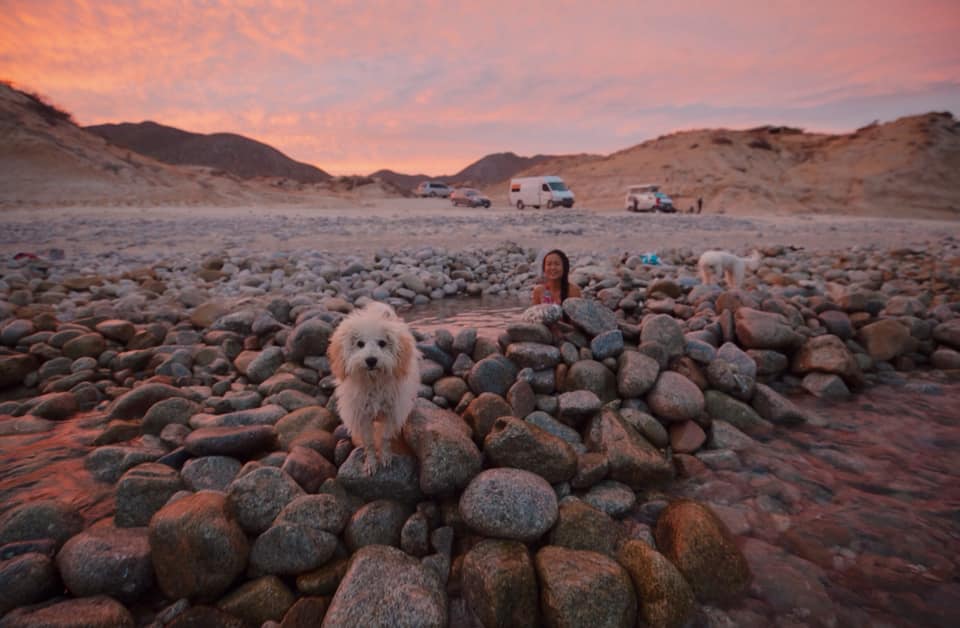 Day 22: La Ventana – La Paz (30 miles – 42 mins)
So after La Ventana you will find that our itinerary just repeats itself and see again most of the stops that we did in the first 20 days. Basically we just made a loop around the tip of the peninsula and the only difference is at Chapala, where there is the fork of highway 1 and highway 5. Instead of taking the 1 back to Tijuana we took the 5 and headed towards San Felipe and crossed border in Mexicali.
So we spent another week in La Paz just to refresh and get ready for the long trip back up north. Here we spent quiet times in La Paz for reading, cooking, and watersports.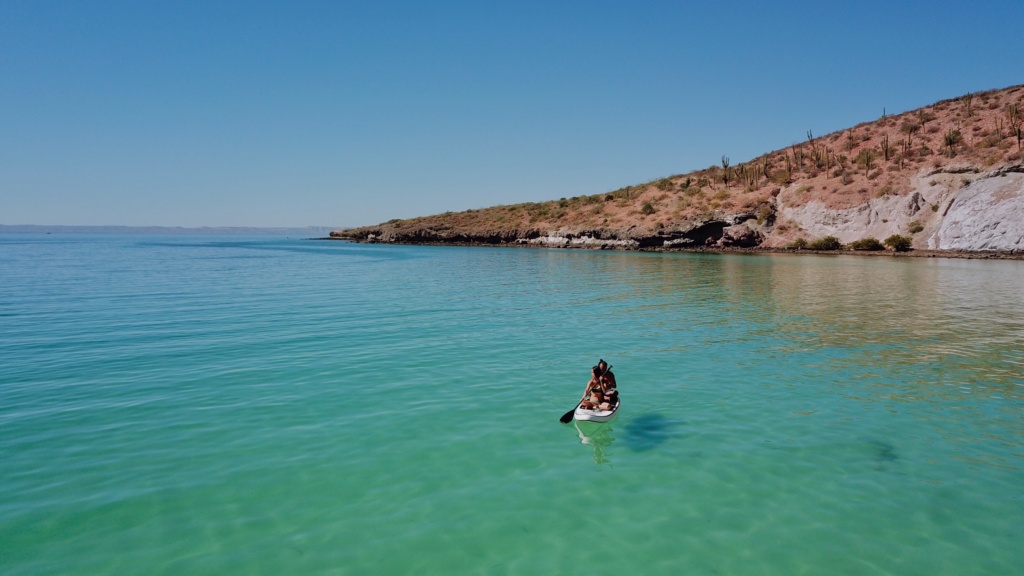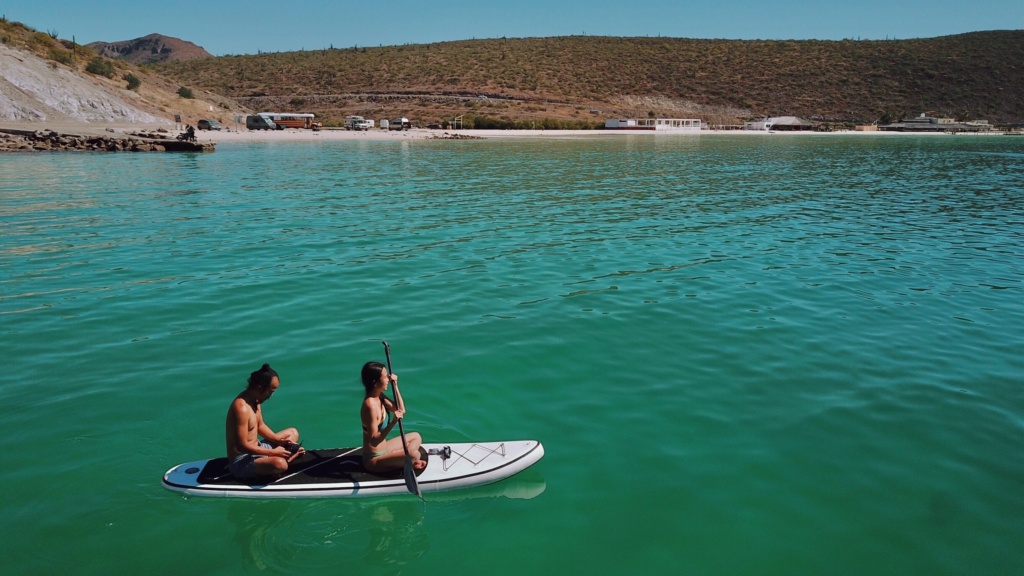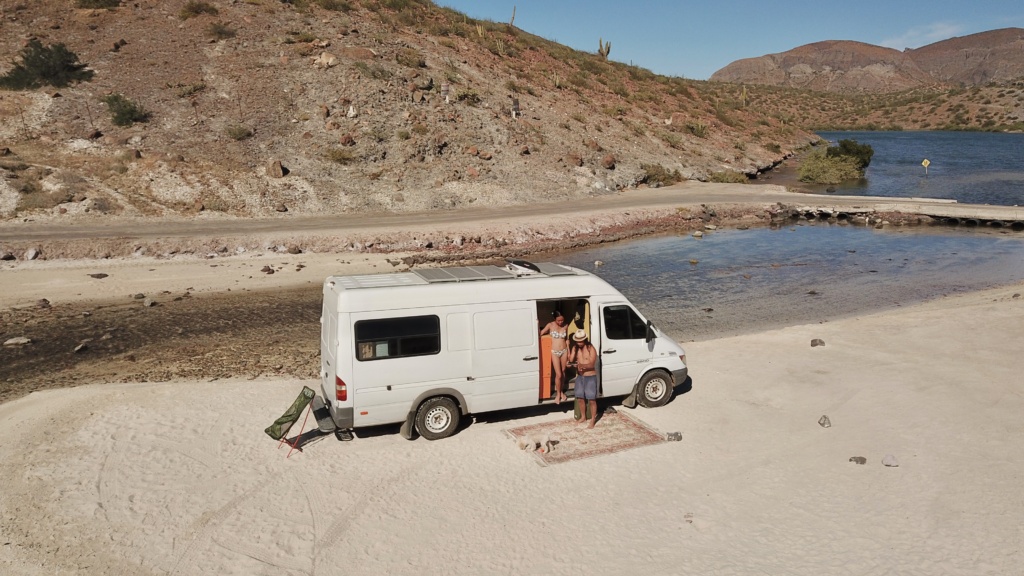 But for the purpose of this itinerary which is created for fellow vanlifers who have a limited budget of time to roadtrip through Baja, just pretend that we only spent one day back in La Paz and back on the road the next day. Let's move on to Day 23.
Day 23: From La Paz to Playa Los Cocos in Mulegé (287 miles – 6 hours)
Mulegé is our number one favorite in this entire trip so we were planning to spend a few days here to relax after such a long trip from La Paz to Mulegé. Our plan was to visit all of the beaches in Bahia de Concepción that are famous in the Baja vanlife community. When we first stopped here, we were able to visit a few like Playa El Requeson, Playa Santispac,…We saved some of other famous beaches for visiting on the way back like Playa El Coyote; unfortunately Playa El Coyote was super crowded when we were there. There were rows and rows of long-term RVers/motorhomes who seemed to root down here for at least 1-2 months. And it didn't look as picturesque as in the pictures I saw on Instagram; this strip of beach is quite narrow, and now even more tiny with that many campervans. So we decided to move on to the next beach: Playa Los Cocos. This beach was much more quiet compared to Playa El Coyote with so many palapas available for rental for only 150 pesos/night.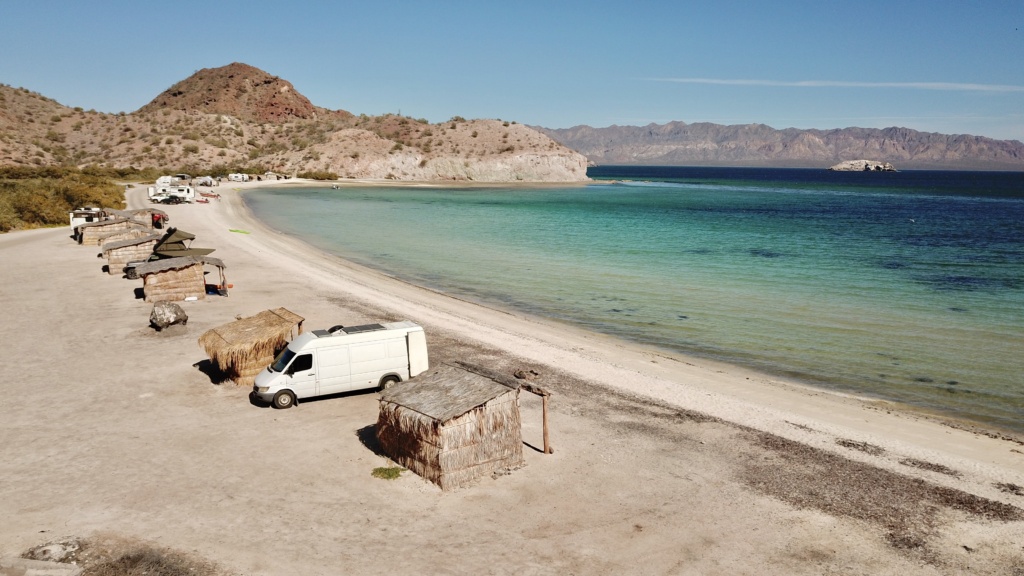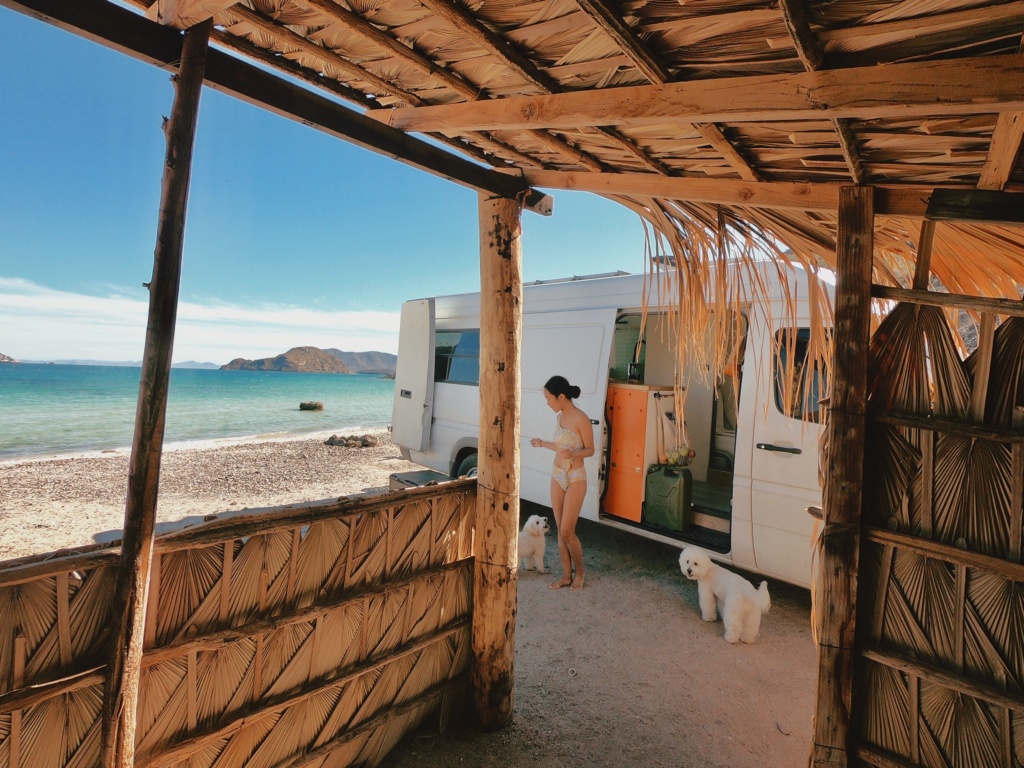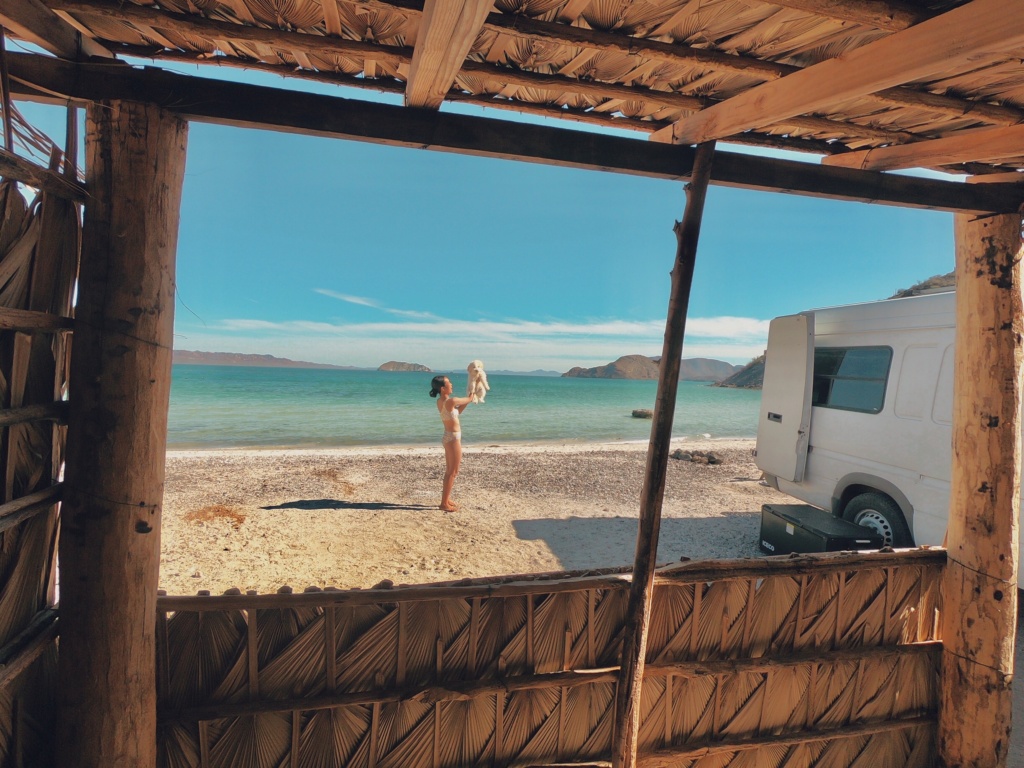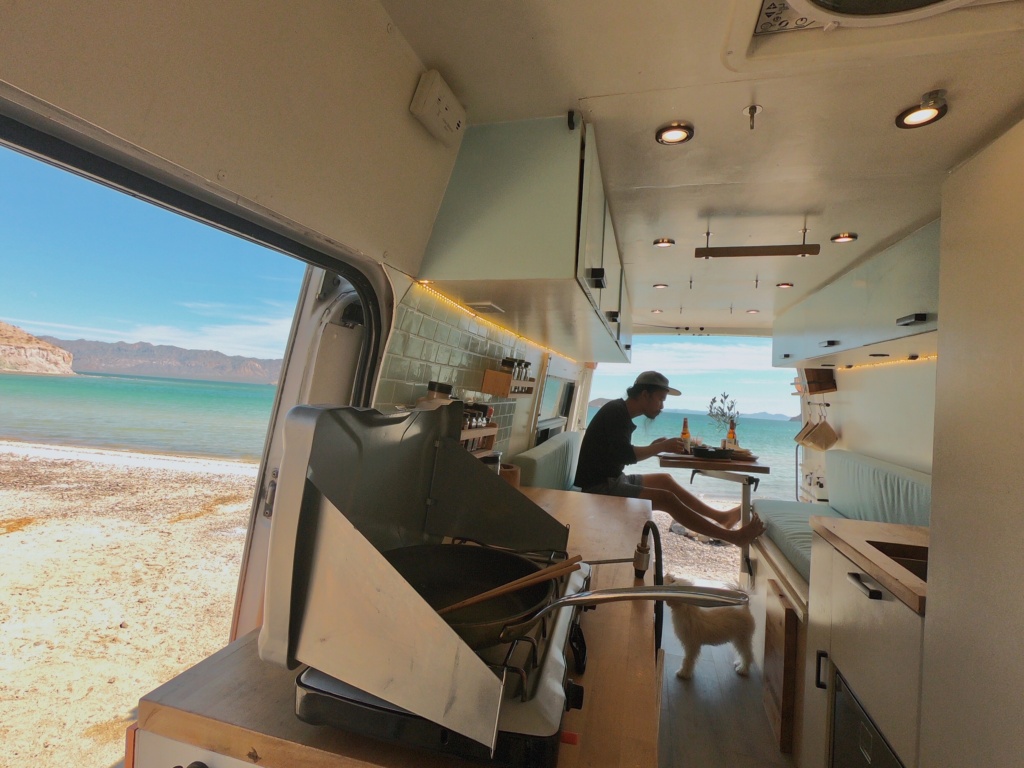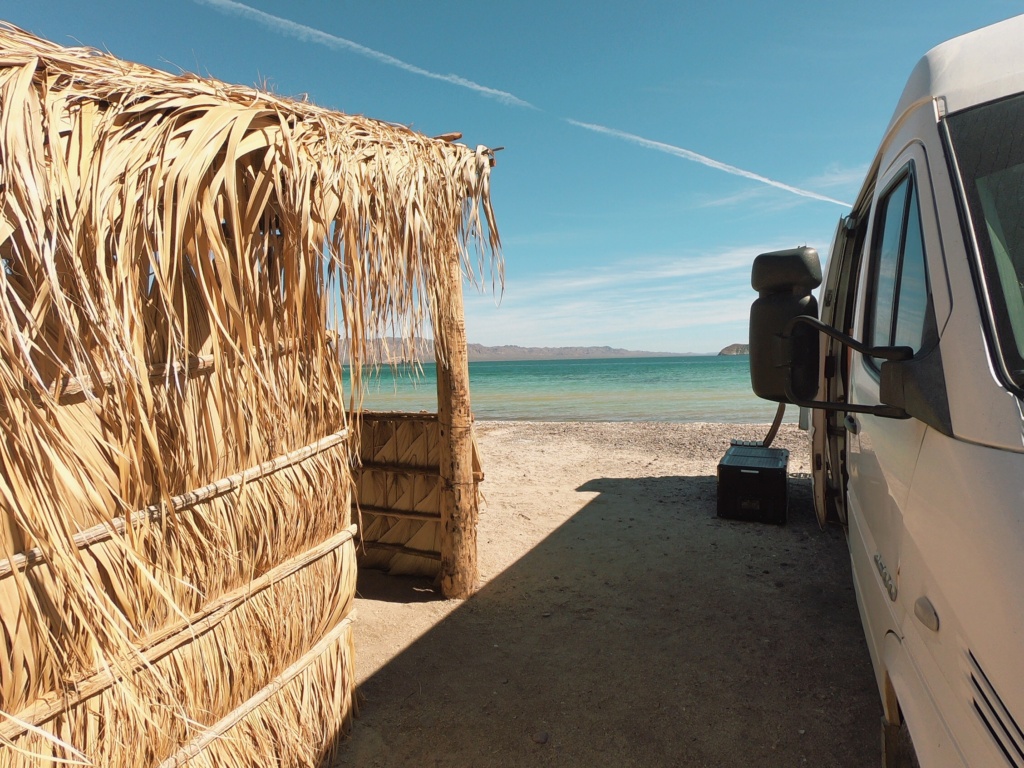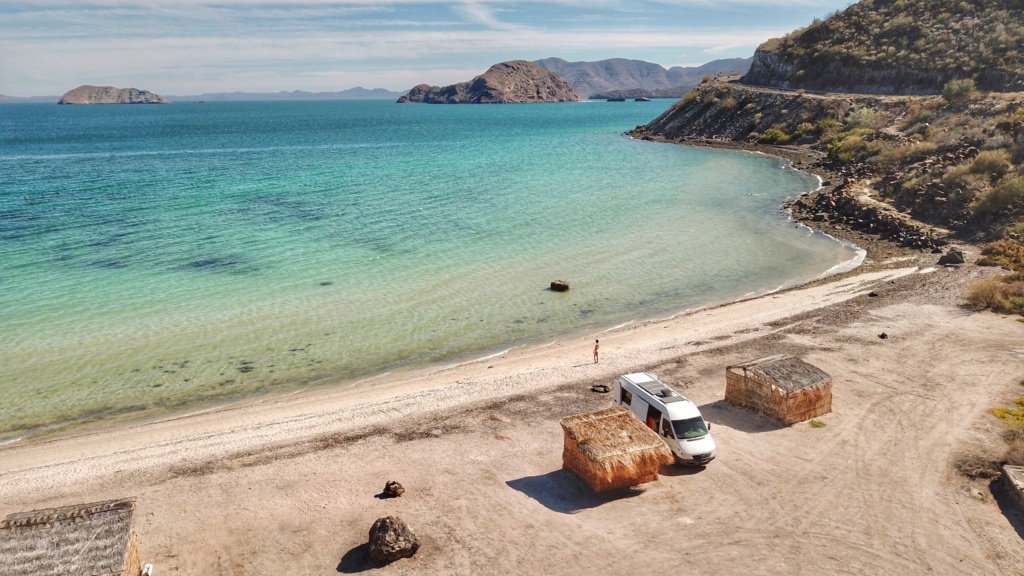 Day 24: From Playa Los Cocos to Playa La Escondida (3.2 mile – 6 mins)
One of the shots that I had been wanting to take was the view of the turquoise sparkling water with the cactus in the backdrop (just so symbolic of Baja) and the only beach with a marked trail leading up to the nearby hill to take this kind of shot is Playa La Escondida.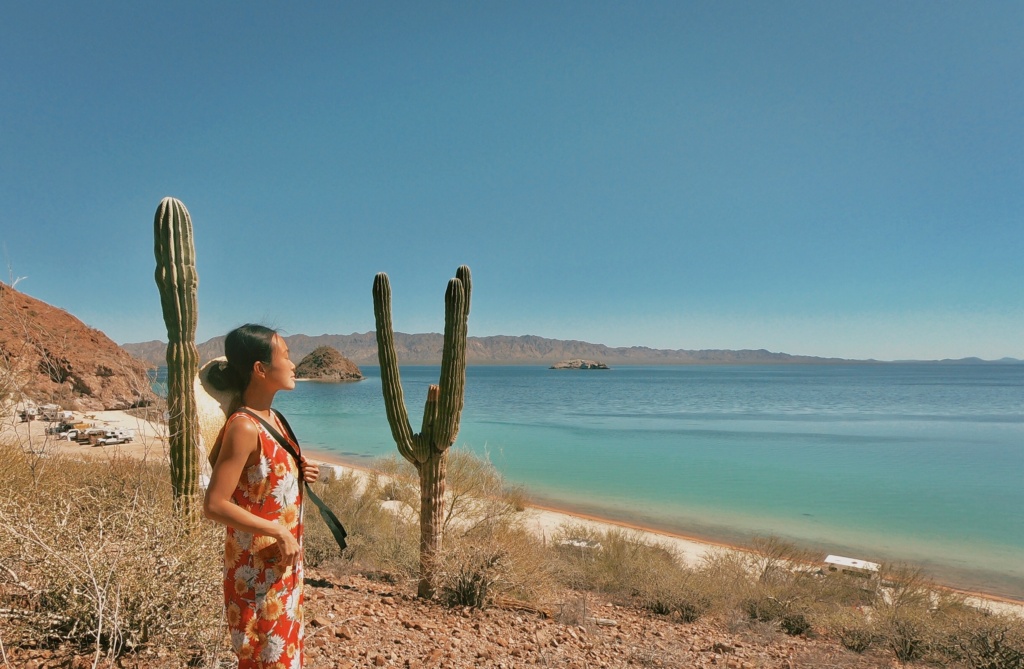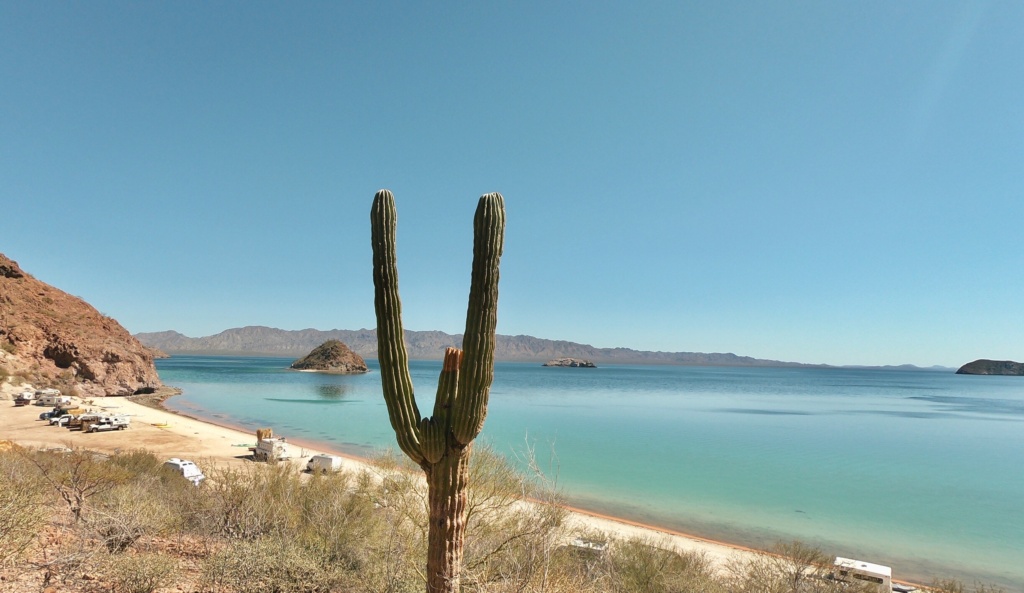 Here we were also witnessing the phenomenon of marine bioluminescence. It's a mesmerizing sight that has drawn spectators to beaches in Mulegé after sundown to watch as red waves turn a neon blue hue, lighting up the dark ocean with glowing whitewash on beaches. At night, when the phytoplankton are agitated by waves they emit a dazzling neon blue glow. During the day, the phytoplankton swim toward the surface where they concentrate, resulting in the intensified coloration of the water – and the reason for the term 'red tide.'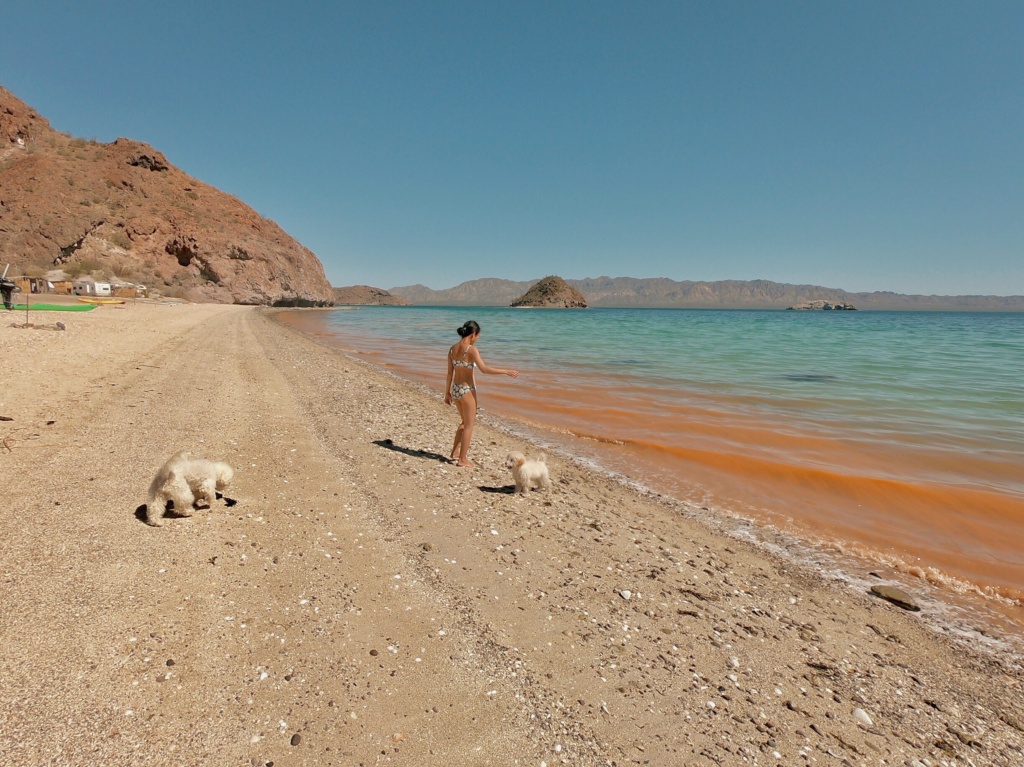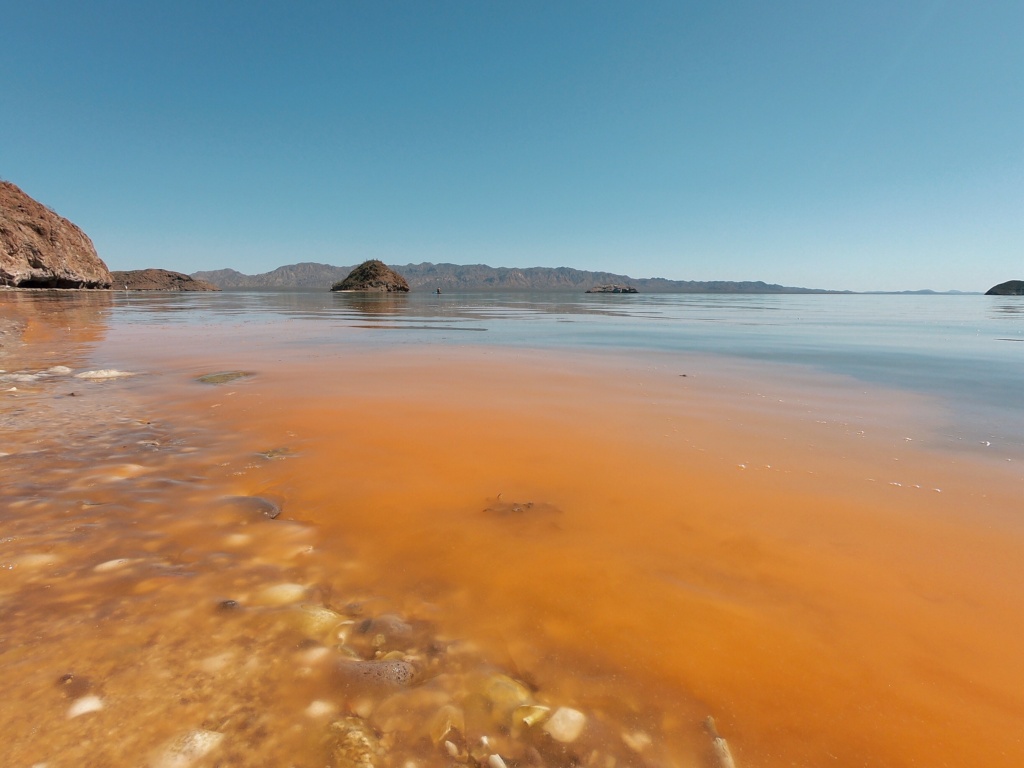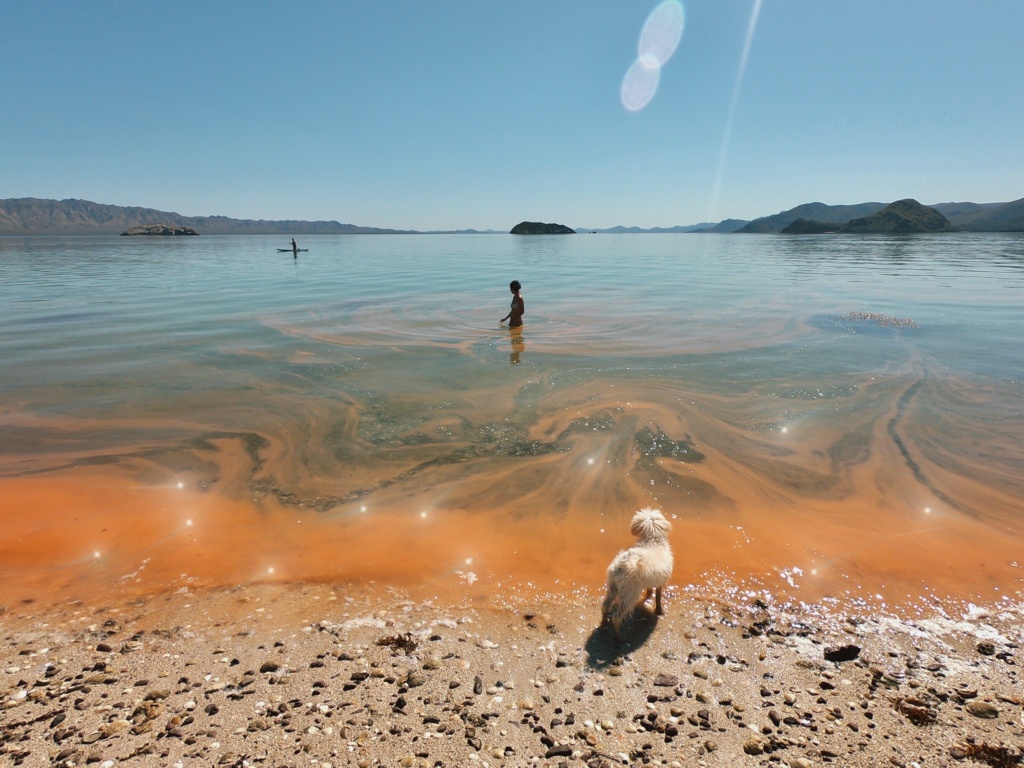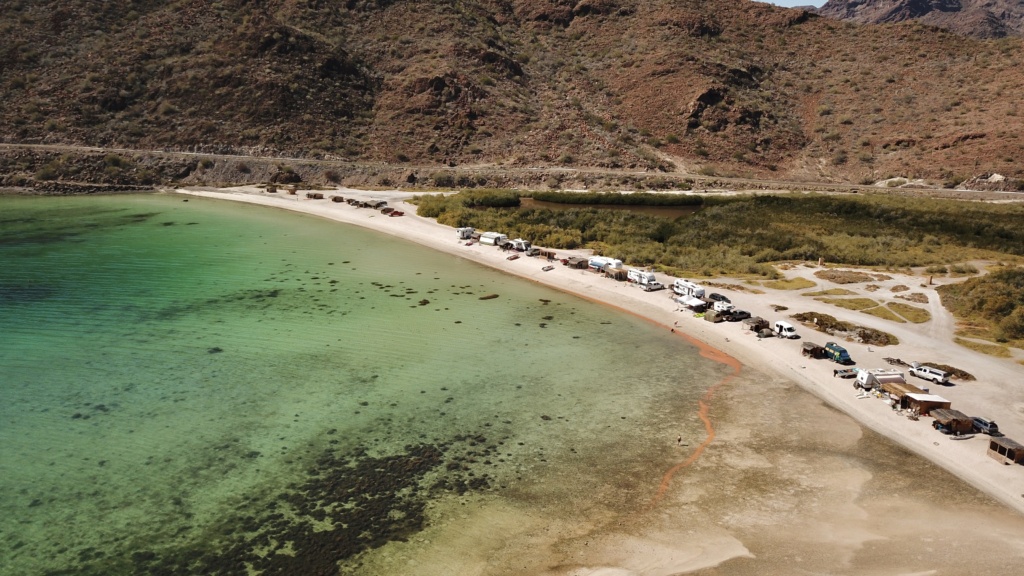 Day 25: From Playa La Escondida to San Ignacio (100 miles – 2 hours)
Here we camped at "Camping y Ecotours Los Petates" again. This campground is absolutely the best in town; super clean and much more spacious than the famous Don Chon RV Park next door.
Day 26: From San Ignacio to Guerrero Negro (93miles – 2 hours)
Thanks to the iOverlander app we found a boondocking spot right next to beautiful sand dunes and ocean. Just look for the spot named "sand dunes" on the app; it's right next to a military base and the local airport.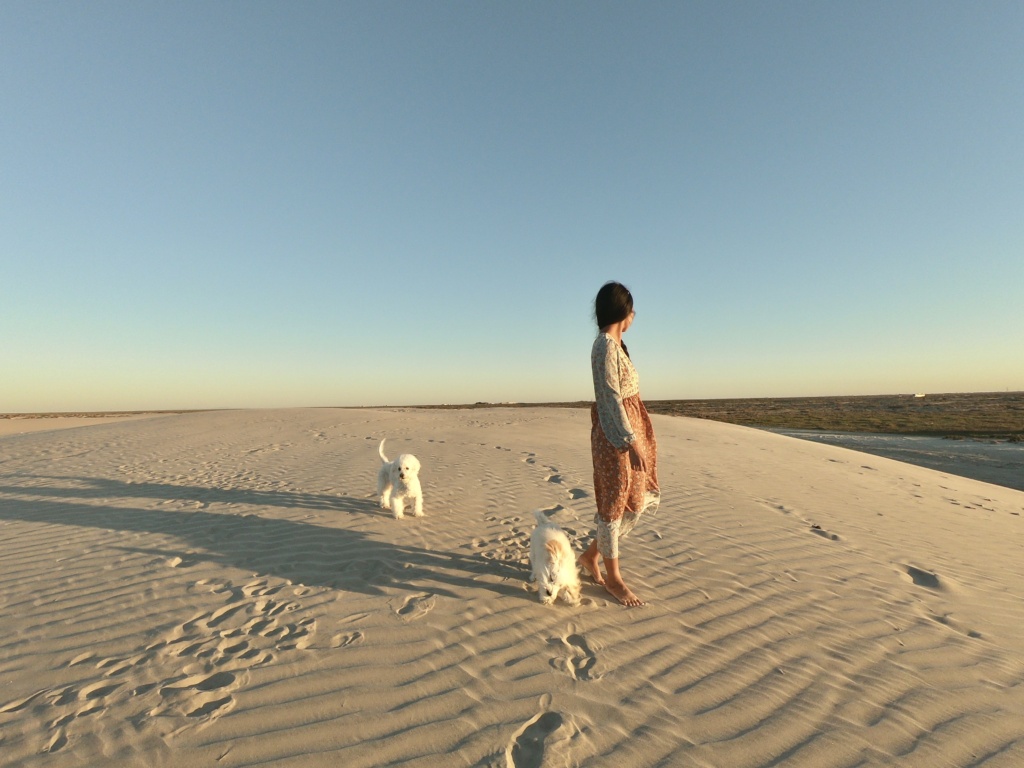 Day 27: From Guerrero Negro to Puertecitos Hot Springs (200 miles – 5hours)
This was one of the spots that we were looking forward to visit the most on the way back. The last Baja hot springs before we said goodbye to Mexico.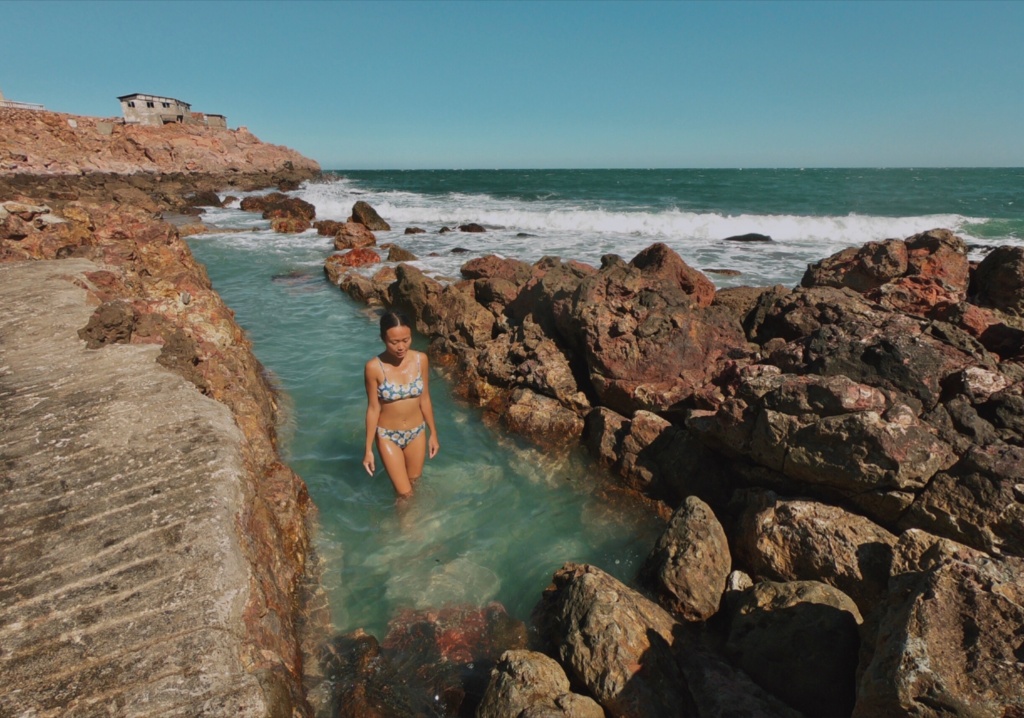 The price was very steep: day use fee – 500 pesos per car and overnight camping fee is 600 pesos per night. So the best and most logical option is to stay the night and get as many hours in soaking as possible to make up for the pricey price tag. After spending 2 months in Baja where everything was inexpensive or free, Puertecitos Hot Springs' price tag might "shock" many vanlifers; but after visiting the campground we totally understood why. And when you continue your journey to San Felipe on the way back to the states, you will see many campgrounds with price tags from $30-$40 (US price) with little to no amenities (minus hot springs), you will come to appreciate this little spot.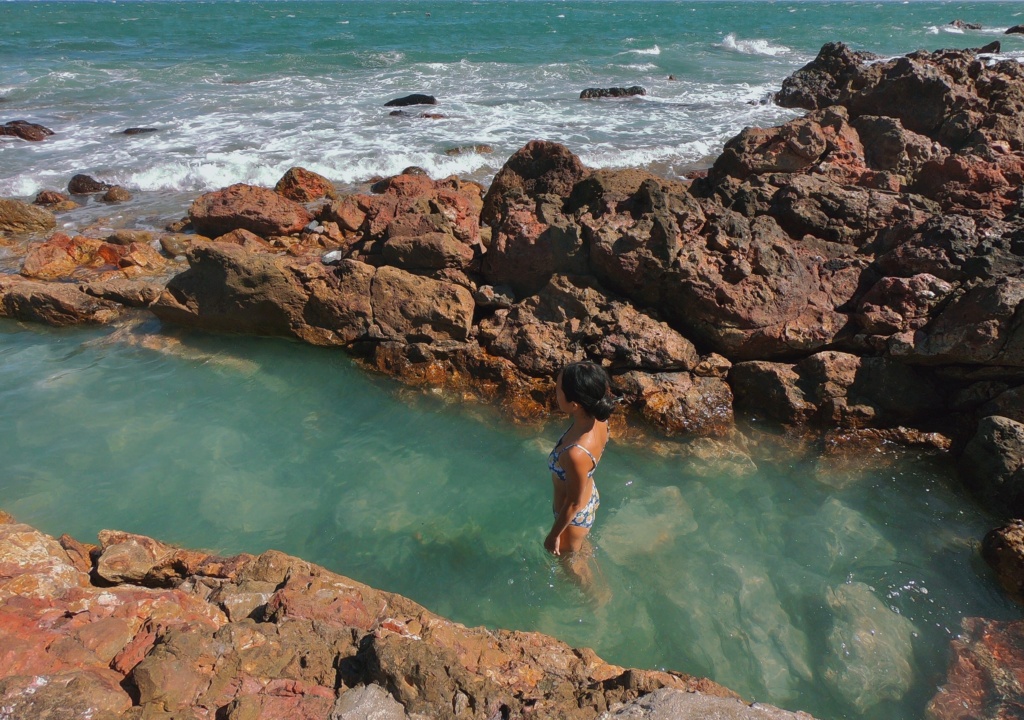 As we turned right into the town of Puertecitos, it felt like we arrived at an abandoned town. It has remnants of a gas station, the runway and airplane hangars, a water/desensitization treatment facility, and vacation cabins remains. This town obviously had its glorious days of vacation homes, boutique hotels, supermarkets, and restaurants blooming but those days seem long passed. As we headed down the end of the main road, we expected to see many signs to show us where the hot spring is (no cell reception in this area) since it's the main attraction of the whole town but we can't find any. We had expected to see tourists'/locals' cars coming and going since this spot is just so famous; but we were the only car driving this lonely road. As we reached the end of the road we noticed a little sign stated, " Camping. Tours. Lodging…." and there it is, "hot springs.."…such tiny timid words ..like the hot spring is nothing special, just something complimentary to the campsite.
As we drove through the campsite, we found that the price was justified since the owner has kept this waterfront property clean and tidy. Plus we understood that the price we paid was mostly for this unique hot spring. The campsites are close together along the shore; each with a palapa, a picnic table, a grill, a tank of water with spout for rinsing, light, and an electrical outlet for charging devices. We had the whole place to ourselves.
A short uphill drive took us through the community, from our campsite to the hot springs. People for years have bought properties and built little structures on them for the purpose of enjoying these natural hot springs that become submerged in high tide but much too hot in low tide. If you time it just right, or get lucky like us, it is an amazing spot to be.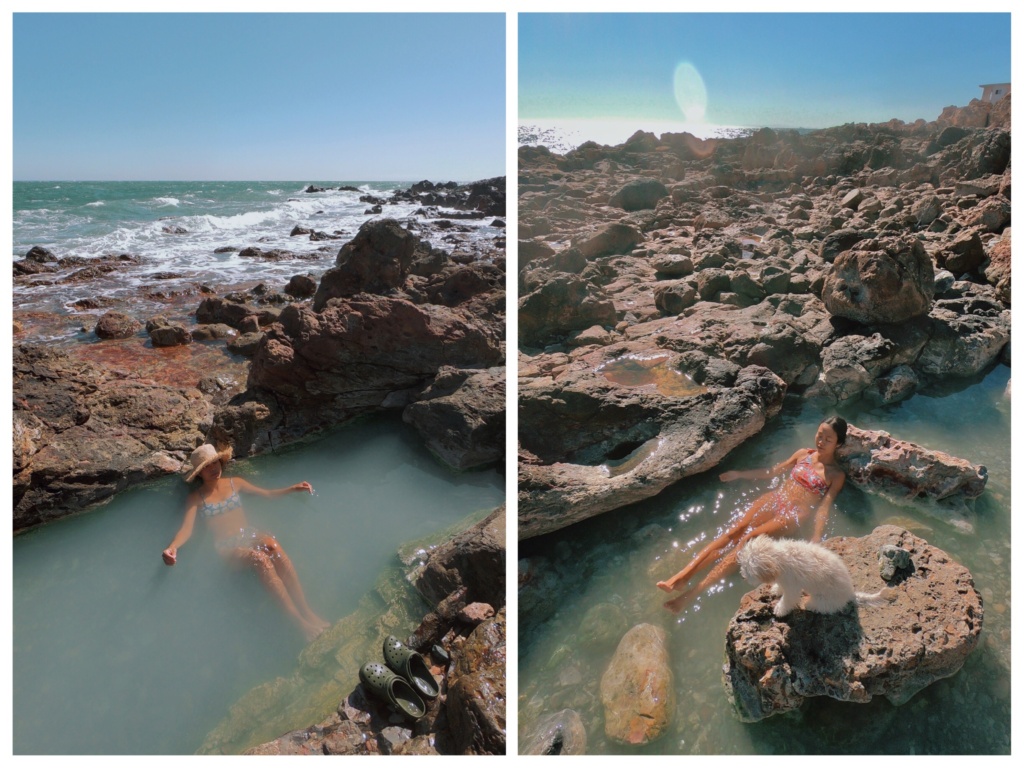 The Puertecitos hot springs are unique because they are nestled amongst the rocks along the coast of the Gulf of California. The cool salty water from the Sea of Cortez gently overflows into the rocky pools of boiling geothermal pools – producing a perfect temperature for soaking up the healing qualities of the springs.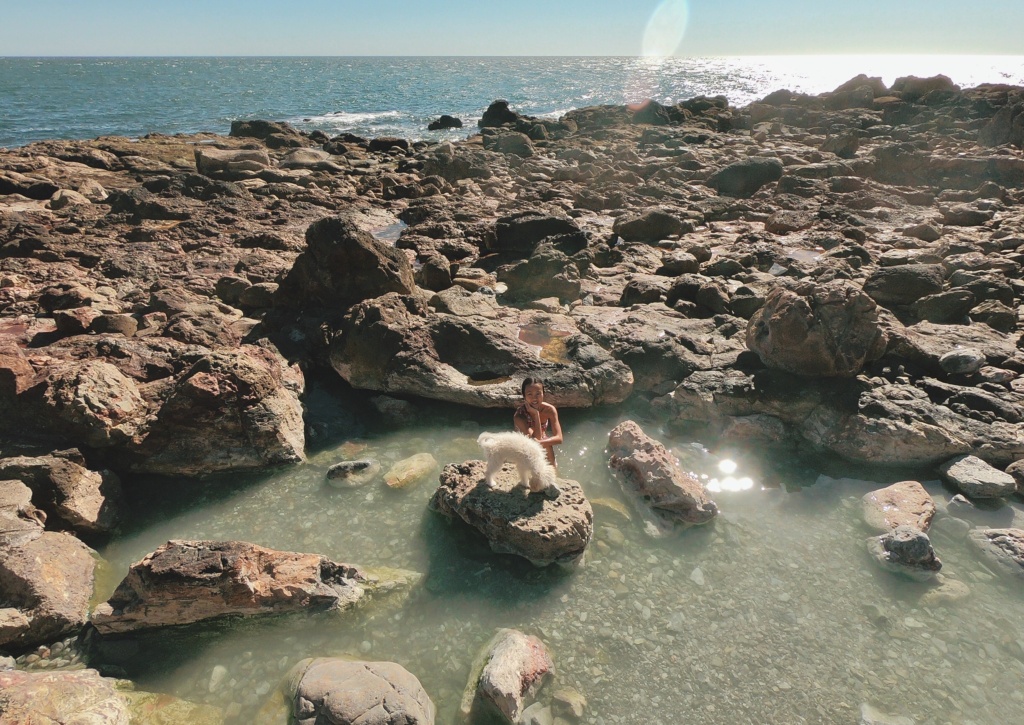 The rising tide fills the hot spring pools with enough cold water to make them the perfect temperature to soak in and enjoy the stunning views of the rocky coastline. As the tide goes out, pools grow warmer, but you move from one to the next (the one closest to the sea being the least warm), till you find your ideal sitting spot.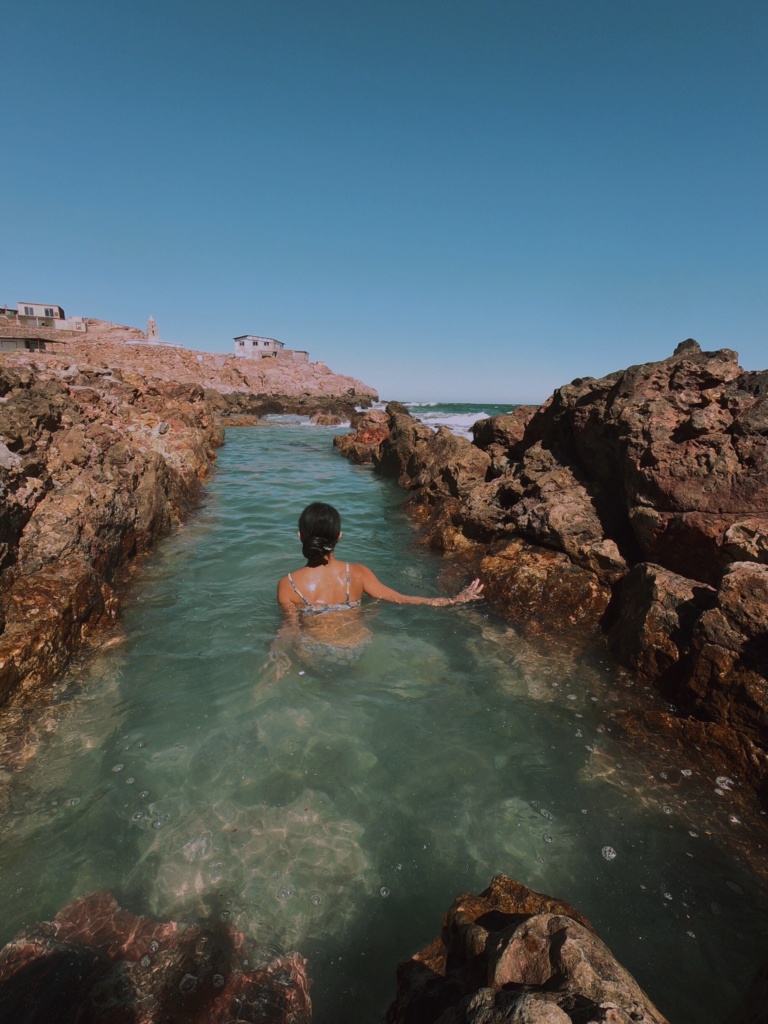 Our advice for those who are interested in this hot spring is in order to get the best experience and make the high cost worth it, you should show up at the campsite as early as possible, and enjoy the hot springs throughout the day, the sunset, and the night , and take another long dip in the morning before you leave (2pm is the check out time). We checked in at 9am and check out at 2pm the next day; it felt like we got the two whole days just enjoying this secluded hot spring. You might find it very disappointing if you just have a few hours to visit this spot, pay 500 pesos just to realize that the pools are only accessible at different tide levels. This hotspring is totally worth staying overnight!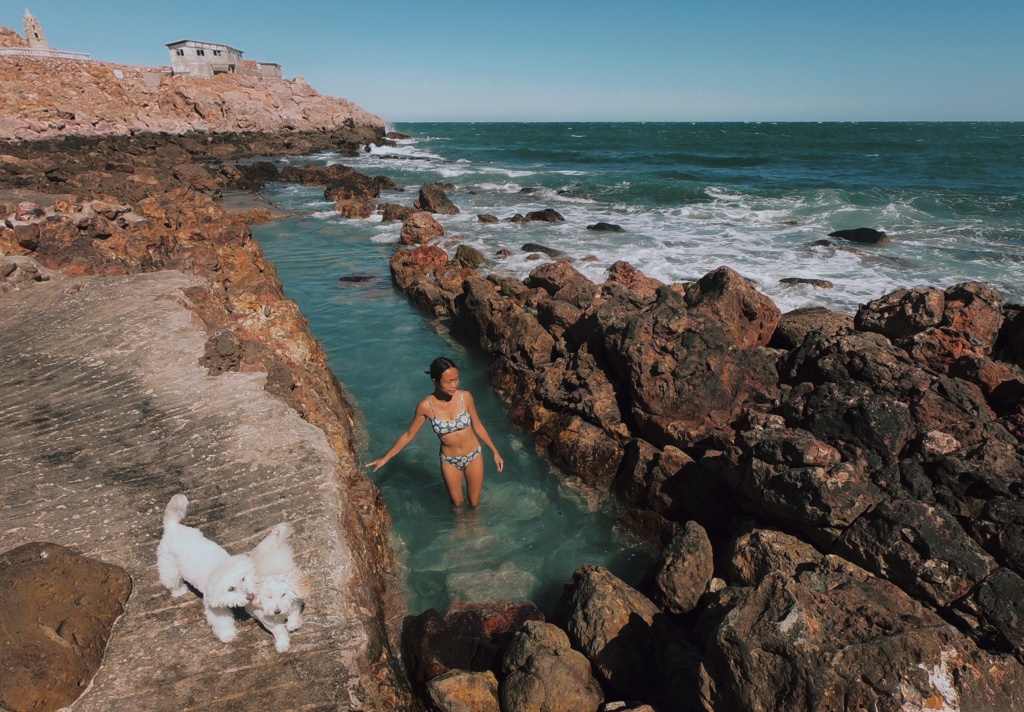 Day 28: From Puertecitos Hot Springs to Mexicali (174 miles – 3 hours 20 mins)
Before crossing the border, we decided to take our campervan to a reliable, reputable, and trustworthy mechanic in Mexicali to fix a variety of issues with our van. We had been told that it's cheaper to have our car fixed here. And we chose AUTOMATIC TRANSMISSION CENTRAL (address: Calzada Cuauhtémoc 1230, Sta María, 21240 Mexicali, B.C., Mexico). They have been in business for more than 40 years and have great reviews on Google. They have very reliable service and their personnel are helpful and professional. We highly recommend this autoshop for any vanlifer who's looking for a cheaper and reliable alternative to those in the states. After 7 days they handed back our car in great conditions and it felt like we are driving a totally new van now! It would have cost us twice as much if we had these services done in the states.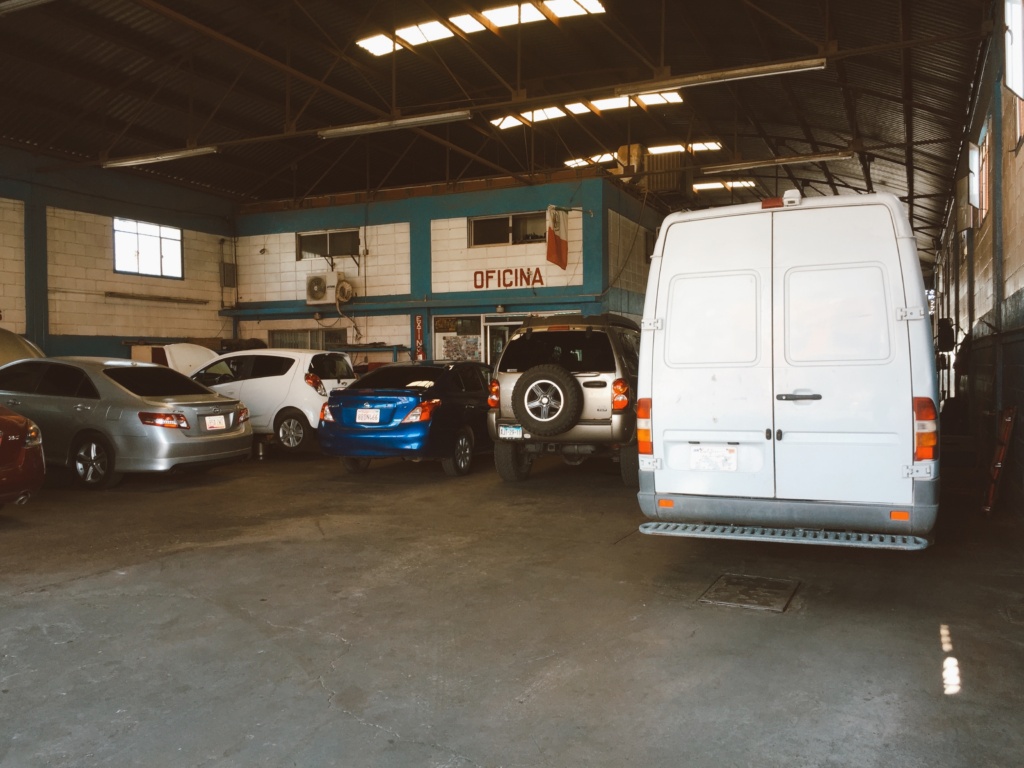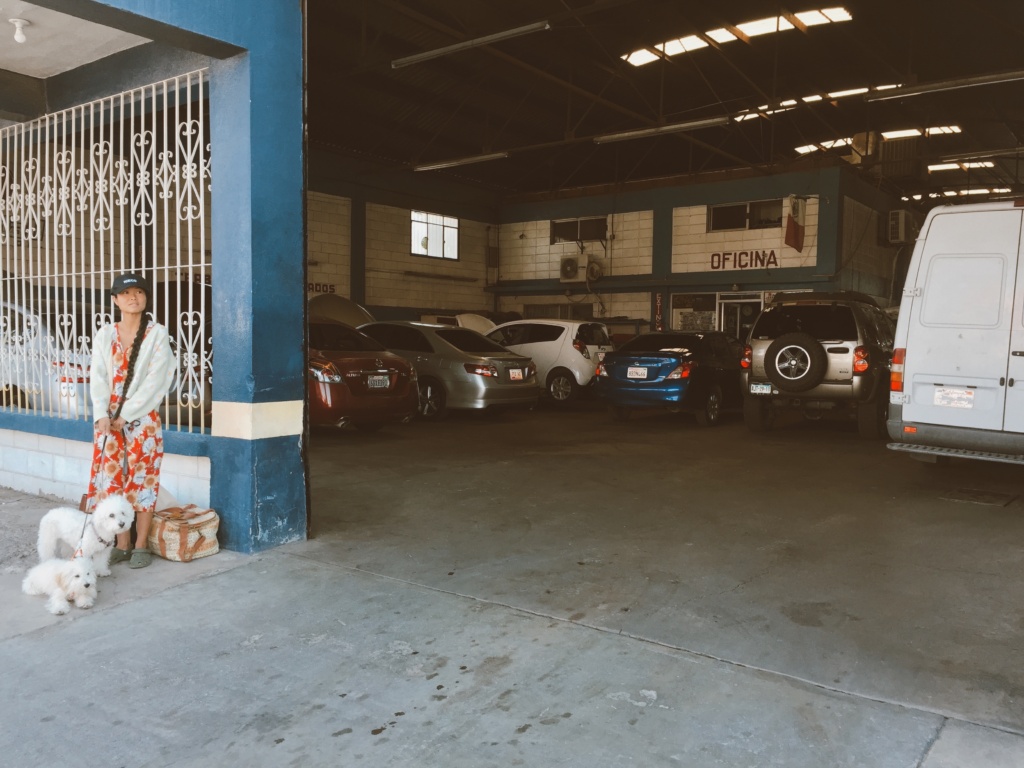 Plus in Mexicali it's very easy to find nice and affordable airbnbs to stay while waiting for your car to be fixed. We rented a beautiful 2-story house in a nice gated community for only $500 for 7 days. Click here to book this airbnb.
And that's my guide for taking a Baja California road trip. Hopefully I covered most things, but let me know in the comments if I've forgotten anything.