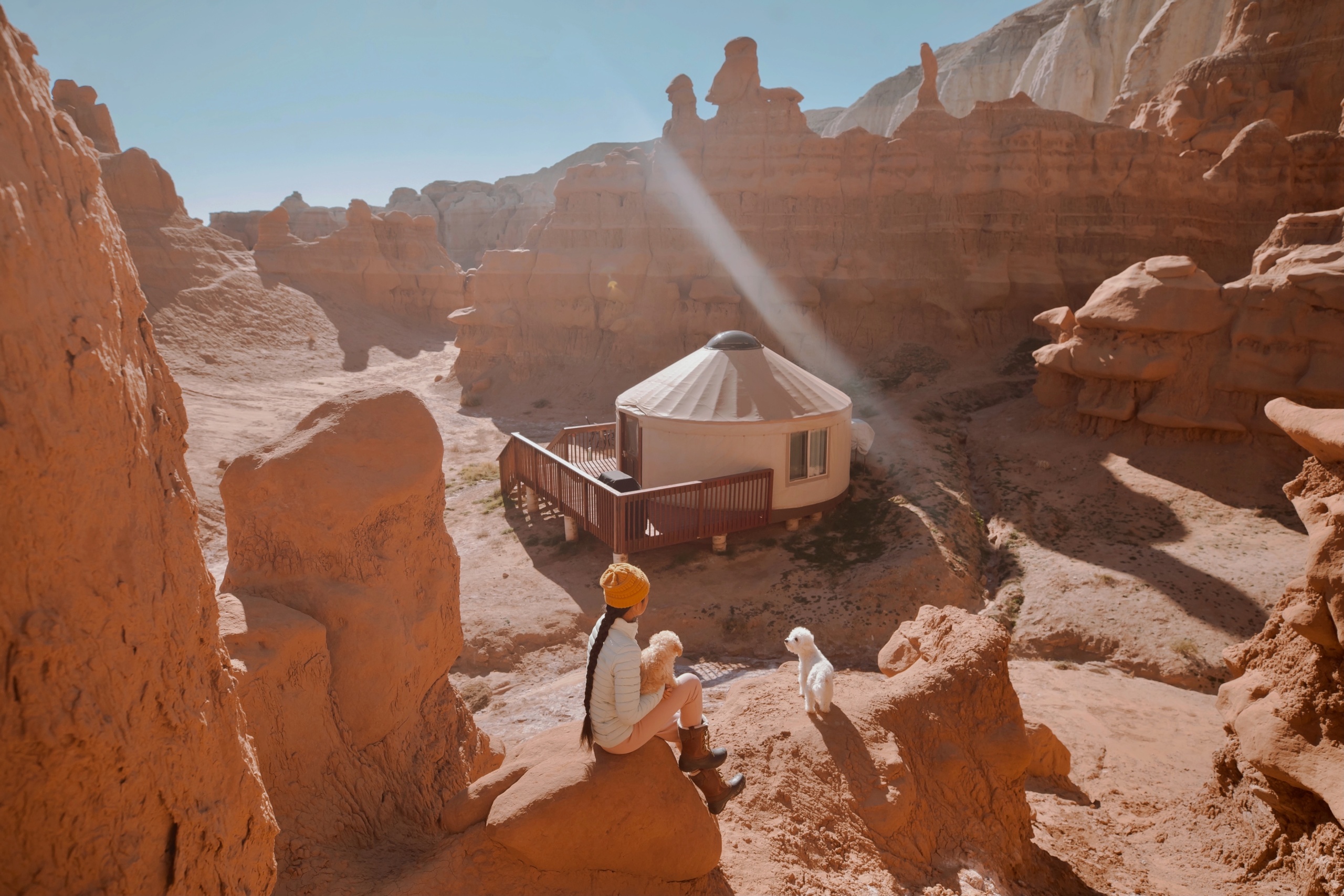 OUR 30-DAY CALIFORNIA-IDAHO-UTAH-ARIZONA CAMPERVAN ROAD TRIP ITINERARY
This is probably the longest campervan roadtrip itinerary that I have ever written. We did the following itinerary in 3 months (October-December/2021). One of #vanlife perks is that we get to choose our own adventure, no pressure – see as many or as few of the sights as we like. Skip some landmarks and make the trip shorter, add some and make it longer – it's totally up to us. We love cruising along, wind in our hair, not a care in the world,… But we understand that not all road trips are created equal. Maybe you have less time. So I redesigned and condensed my 2021 roadtrip itinerary through California-Idaho-Utah-Arizona from 3 months to 30 days. That way it's more practical and applicable for most of my fellow travelers and vanlifers who are not traveling full time.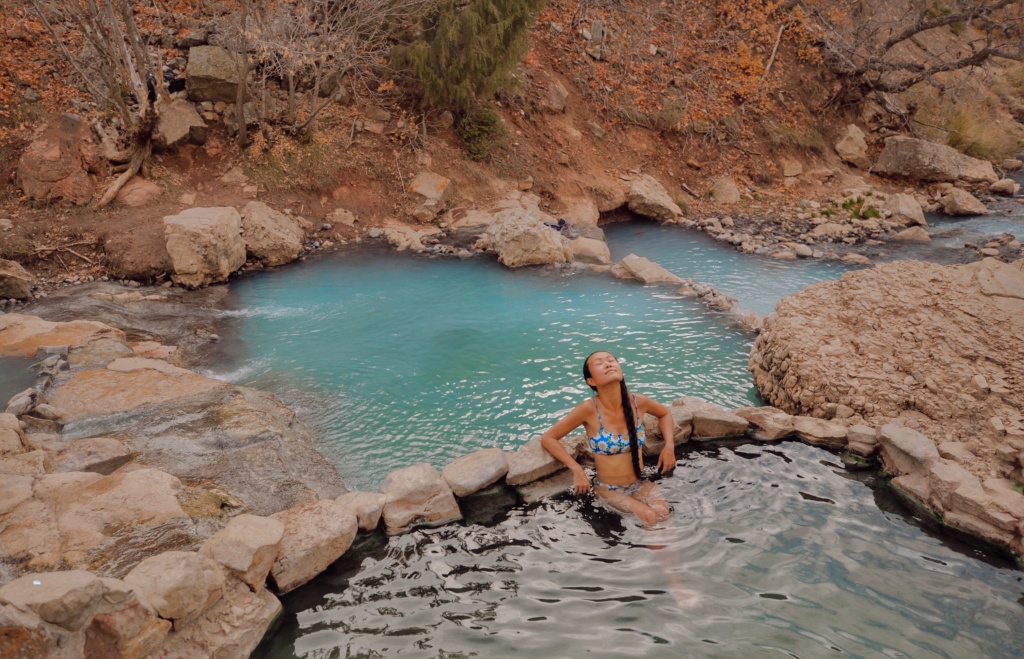 If you are familiar with my blogging style, I often write my campervan itineraries as a list of the highlights or the must-visit spots to give you some ideas and inspirations how to plan your own roadtrips. It's up to you to do some more in-depth researches in order to reach these places. Some of the stops on my roadtrips can be quite tricky; it requires you to watch other Youtubers' vlogs/videos or read other hikers' blogs (that's what I did to design my itinerary) who go into details of each of my mentioned locations. For example, I mentioned Subway Cave in this blog, but you should read as many reviews on AllTrails app to learn from other experienced hikers whose remarks will be very useful to make your Subway expedition successful.
Day 1: From Los Angeles to Red Rock Canyon State Park (120 miles – 2 hours)
First stop on this road trip is Red Rock Canyon State Park. This park features scenic desert cliffs and dramatic rock formations in spectacularly vivid colors.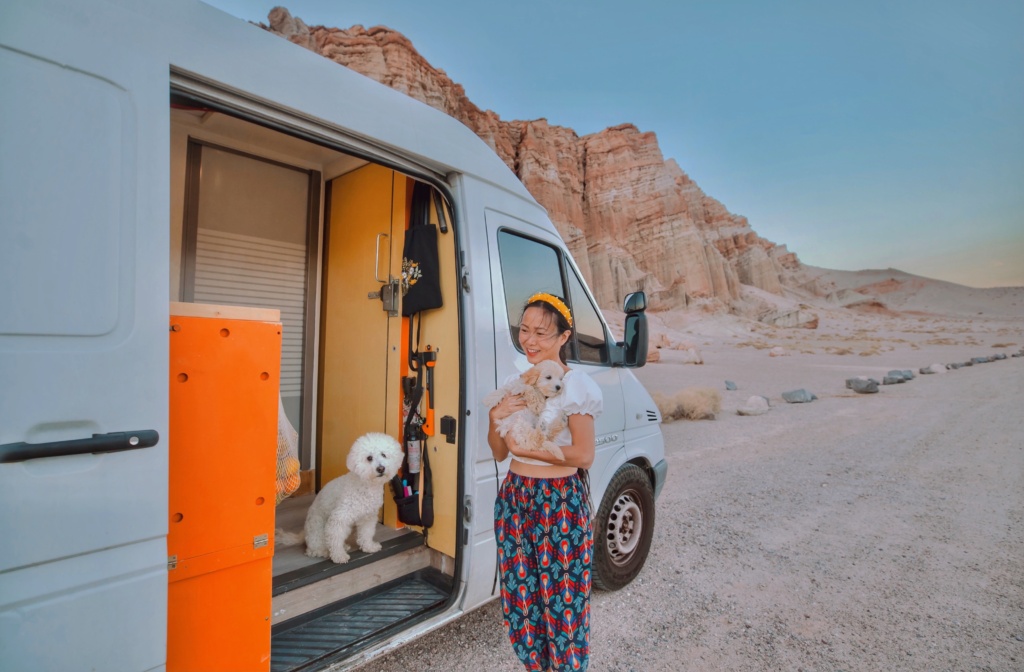 Apart from the deep-colored rock formations that give the park its name, it's especially well-known for being a superb place to stargaze. The park is open from sunrise to sunset for day use however the campground is open 24 hours.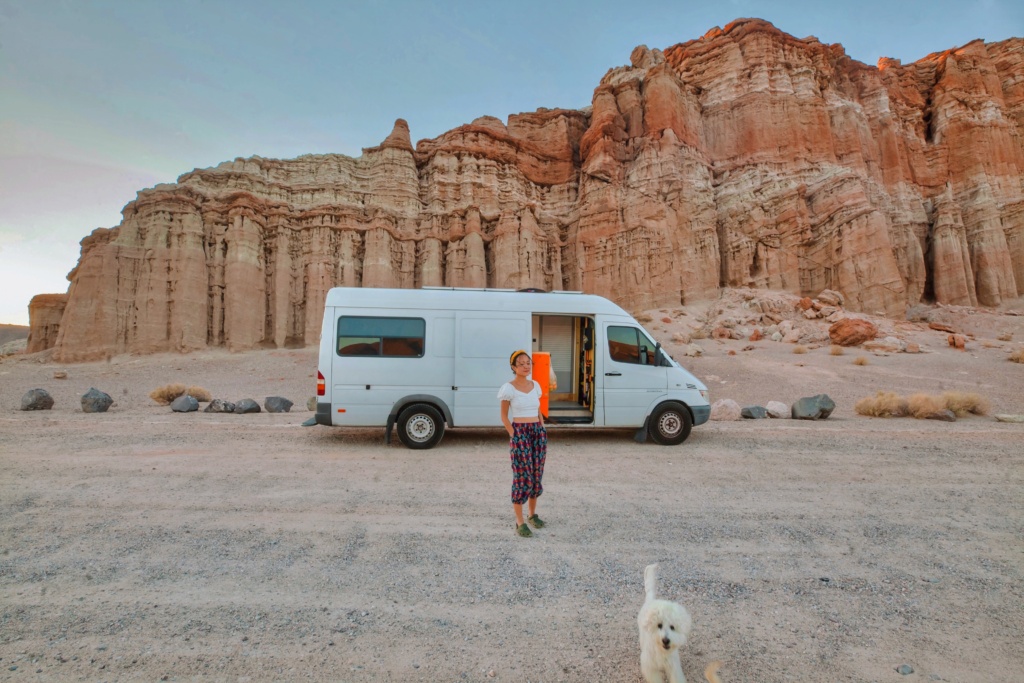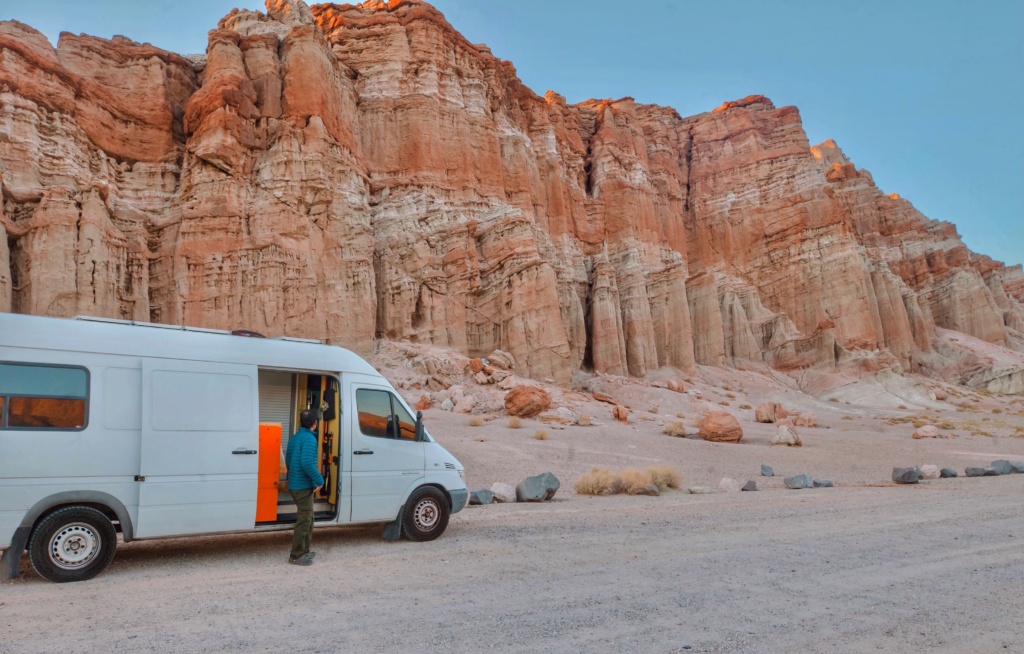 Day 2: From Red Rock Canyon State Park to Bishop (145 miles -2 hours)
A short journey of no more than 20 miles west of Bishop on US Highway 168 will take you well into the rugged high country.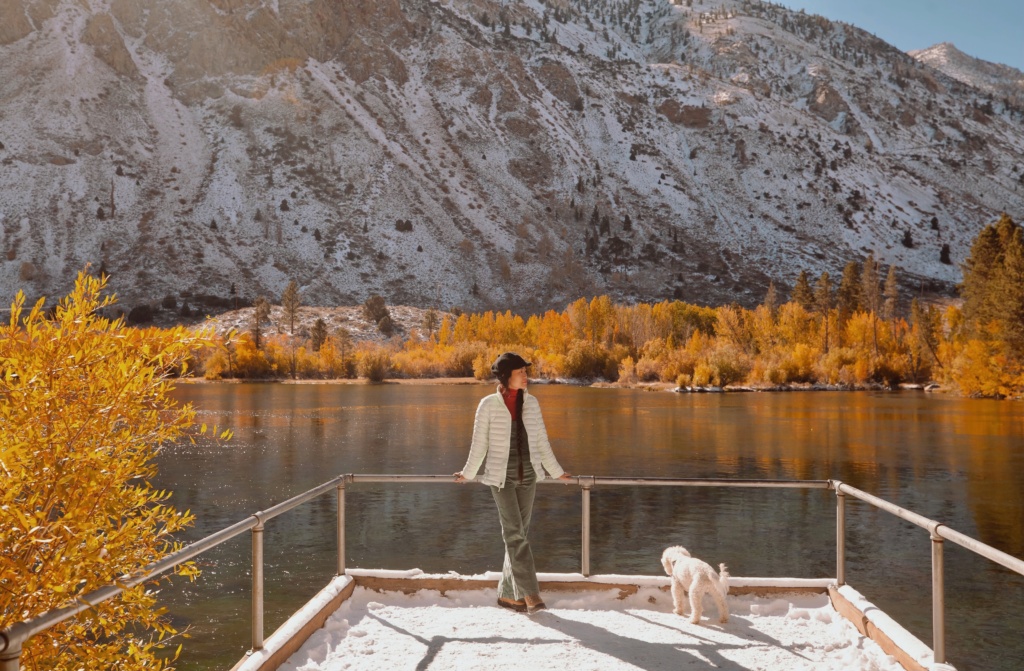 The Bishop area is home to three stunning lakes that are popular fall destinations: South Lake, North Lake and Sabrina Lake. Visit each of the lakes in early to mid-September and spend time in the groves that line the roads to these lakes. Exploration on foot from any of the turnouts and trailheads will take you deep into the explosion of color.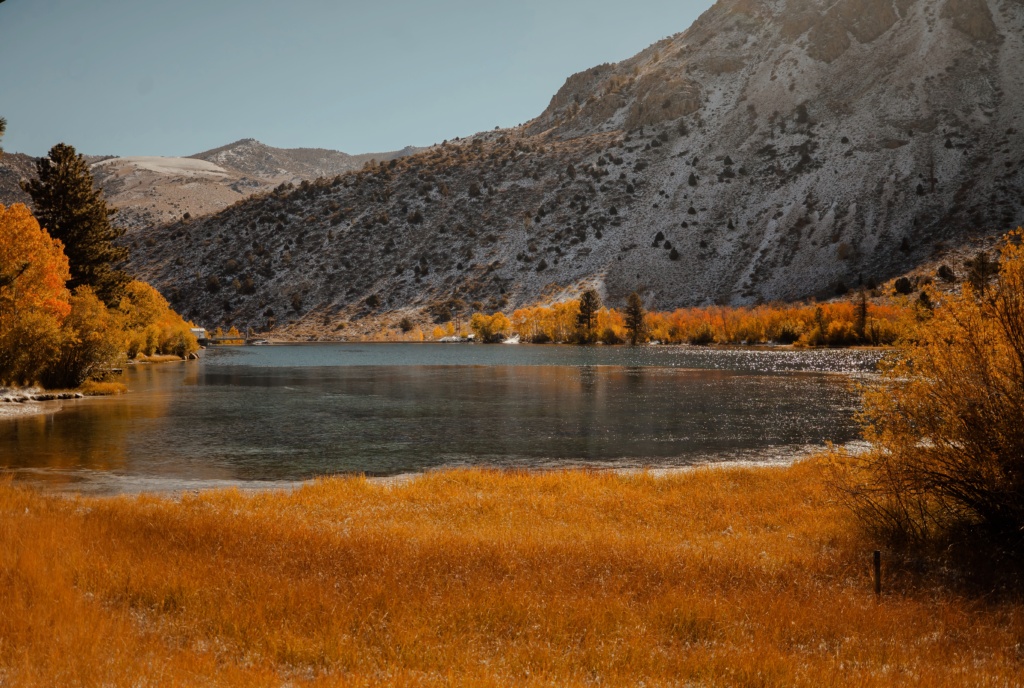 We commit to make it our #vanlifefamily tradition to go on leaf peeping trips in the Eastern Sierra every fall season and this year we got puppy Pepper to join us.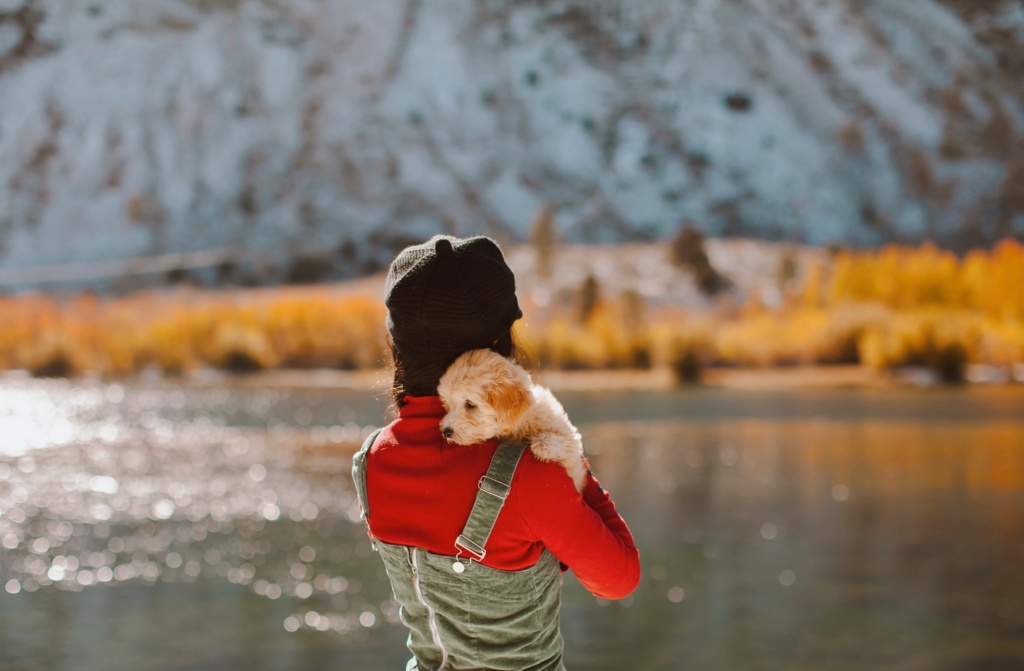 These pictures were taken along the Bishop Creek Canyon. This area got a heavy amount of snow during our visit so we got a very unique scenery – golden leaves on white snow.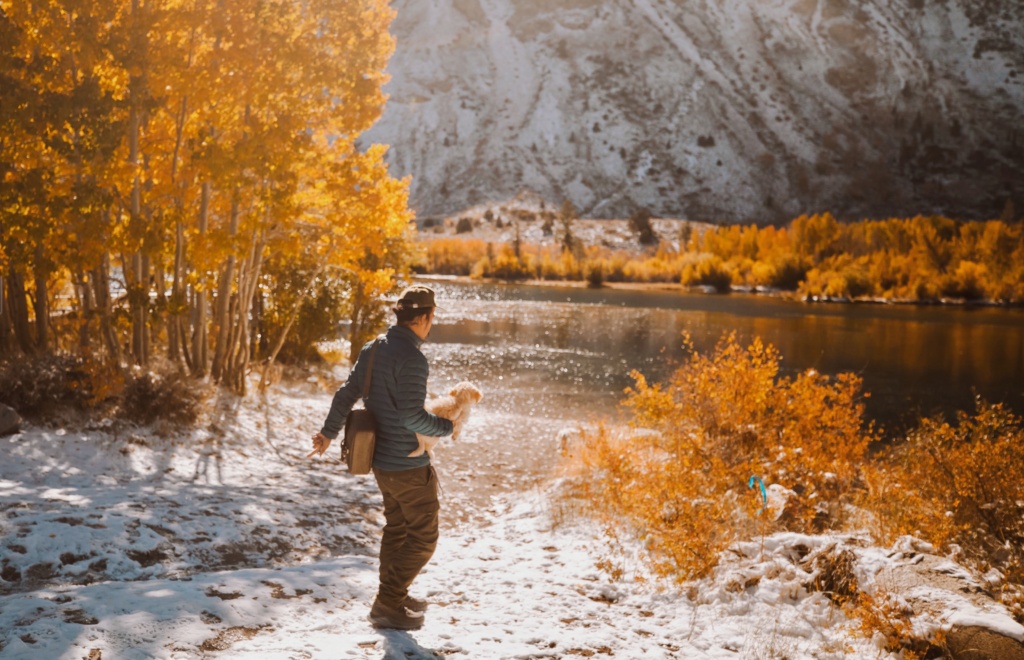 If you want to explore some of the best spots for Eastern Sierra fall colors, I wrote a more detailed blog here.
Day 3: From Bishop to Mammoth Lakes (42 miles – 45mins)
I have to say Mammoth Lakes really has the best natural hot springs that I have ever seen! All of these hot springs are small pools that are the size of a hot tub or jacuzzi with water temperatures ranging from 95 F to 105 F.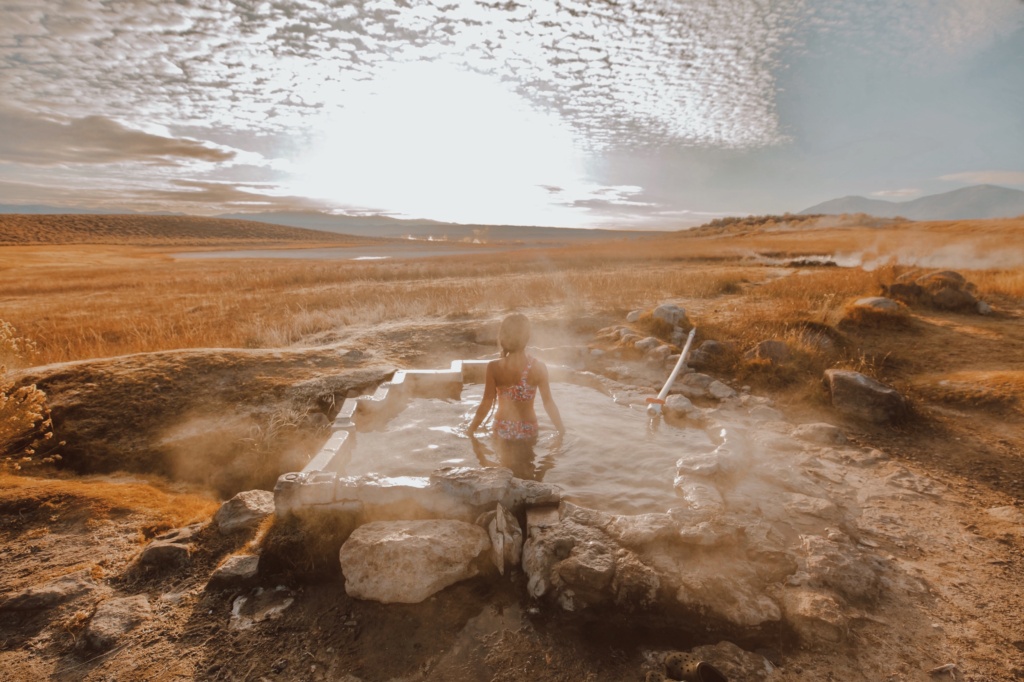 They are the result of an ancient volcano's explosion and mostly concentrate in the area between Bridgeport and Mammoth Lakes itself.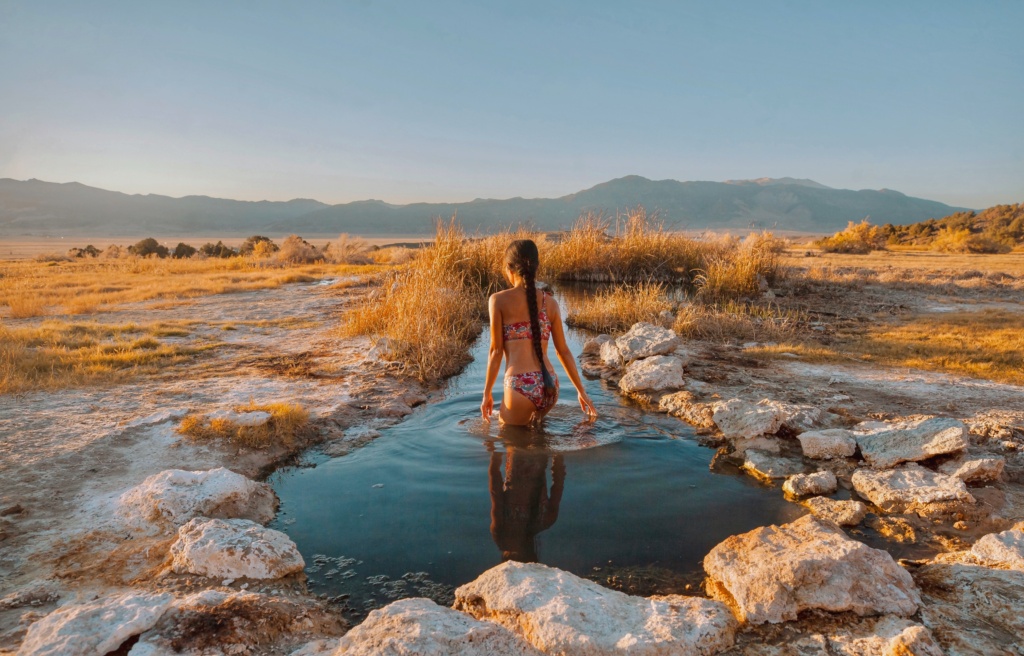 Soaking in a natural hot spring out in nature is one of the most soothing and incredible experiences. I had quite a bit of fun searching for and soaking in a number of hot springs near Mammoth Lakes!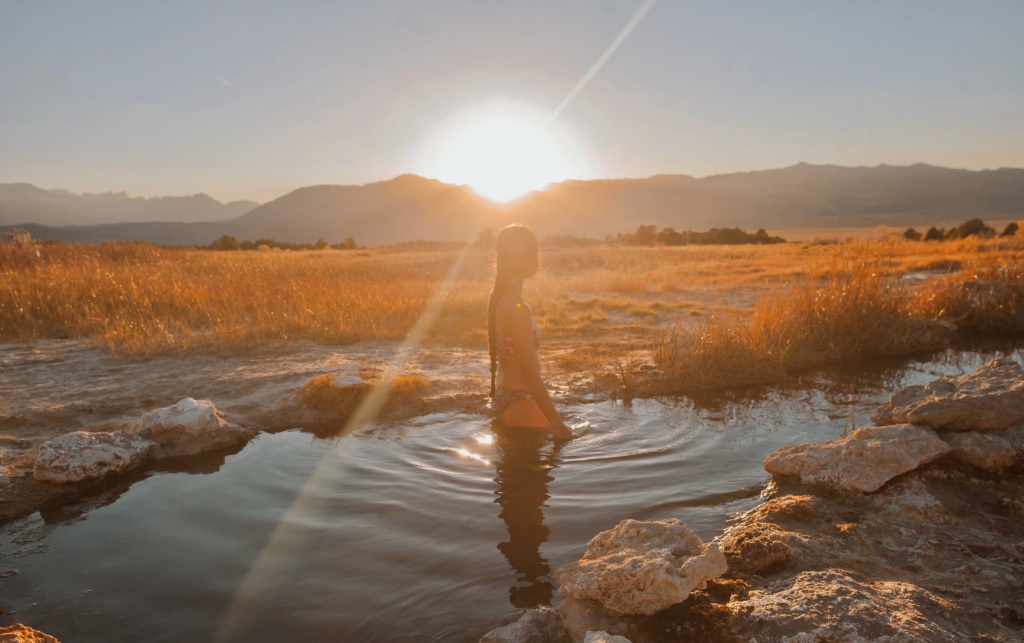 Some hot springs are easier to find than others. The ones that are easier to find are of course, more popular and more crowded, like Wild Willy's Hot Springs. We have visited Wild Willy's so many times in our previous road trips so this time we decided to explore a new one – the Shepherd Hot Spring.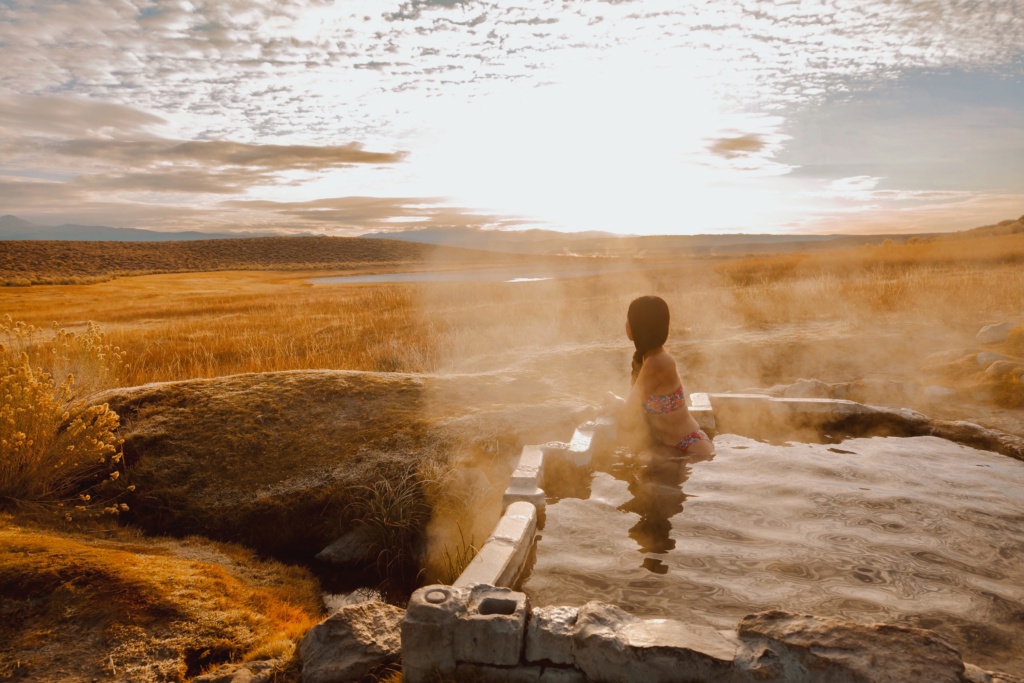 It's any vanlifer's dream to find a place with abundant boondocking spots that's right next to natural hot springs and Mammoth offers just that. There are so many wild dispersed camping spots in this area that makes Mammoth our number one choice of roadtrip destinations.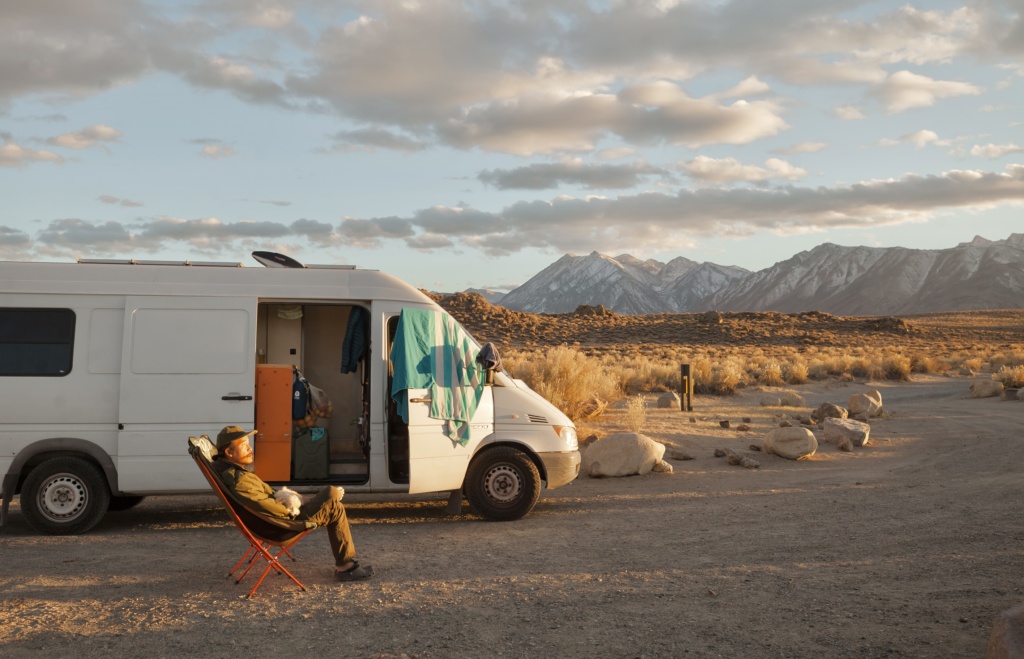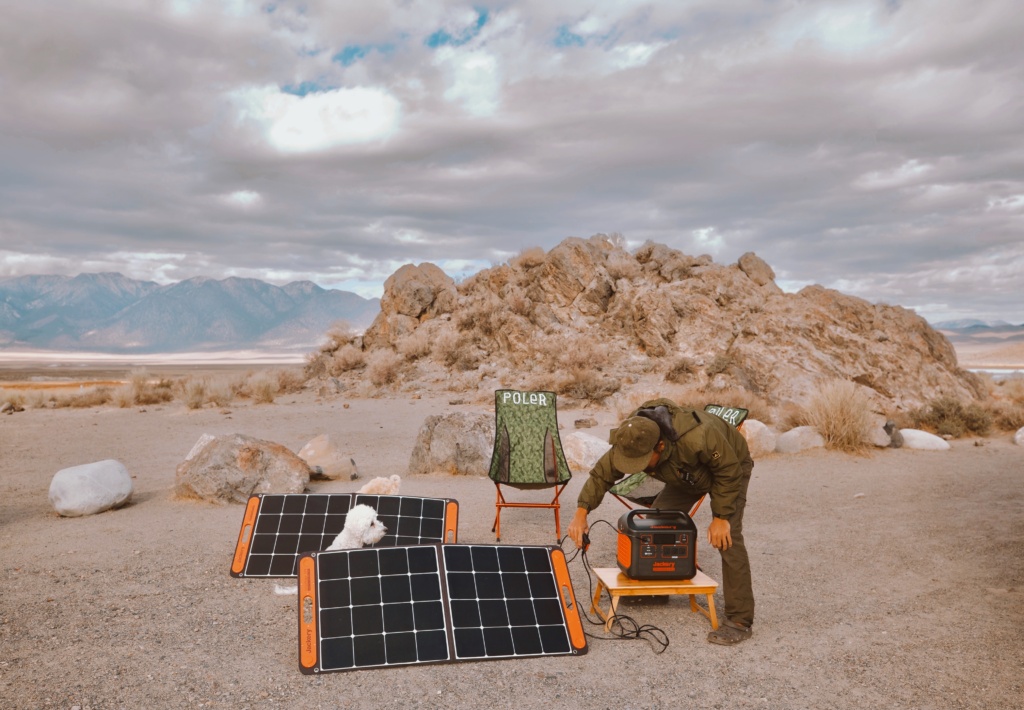 If you are interested in exploring the natural hot springs in Mammoth Lakes, I wrote a more detailed blog here. If you visit Wild Willy's, make sure to stop by and check out Convict Lake (only 10 mins drive from Wild Willy's to Convict).
Convict Lake was originally carved out by glaciers, and at up to 140' deep in some places, it's one of the deepest lakes in the region. The oblong-shaped lake is filled with water as clear as glass.
We recommend that you definitely include Convict Lake on your road trip. It has all the charms of any Sierra Nevada alpine lake with hiking, fishing, and camping.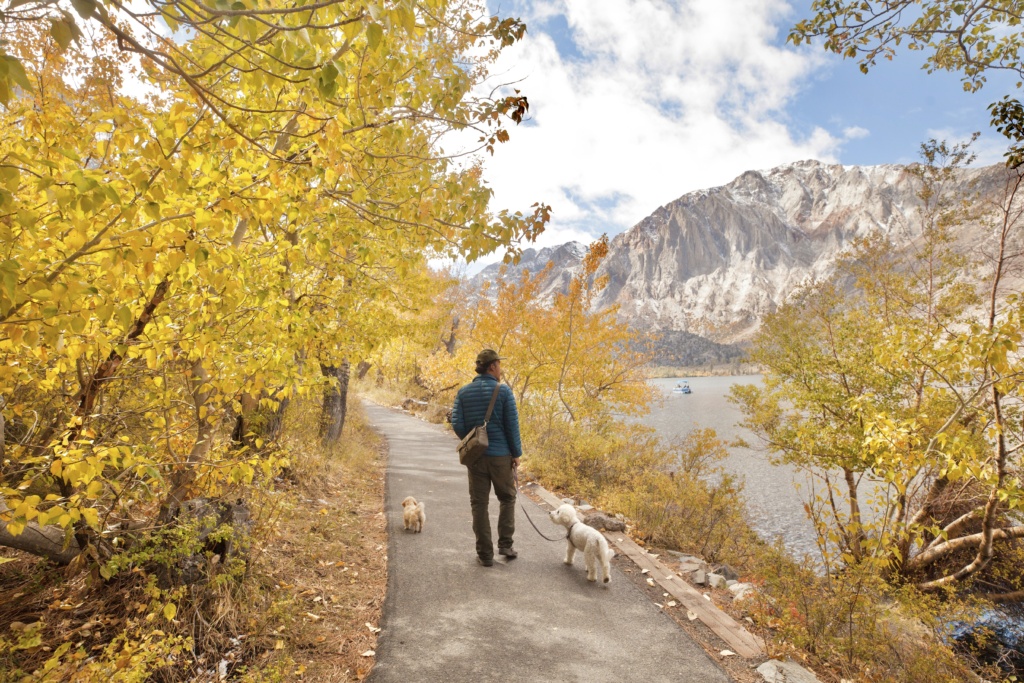 Another lake that's on our must-visit list for this trip is Lake Crowley. One of the attractions that I'm interested to see at this lake is the stone columns.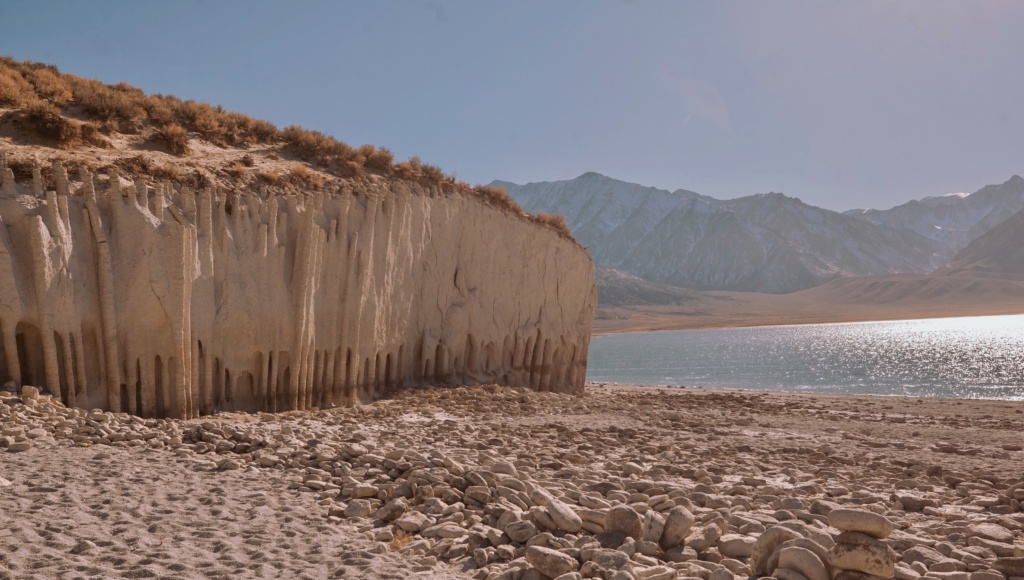 I remember seeing a random picture of the lake on the Instagram's Explore Page and it immediately caught my attention. I was so curious to see those unique rock formations since they reminded me so much of Parc Guell that we had a chance to visit in our 2013 Barcelona trip.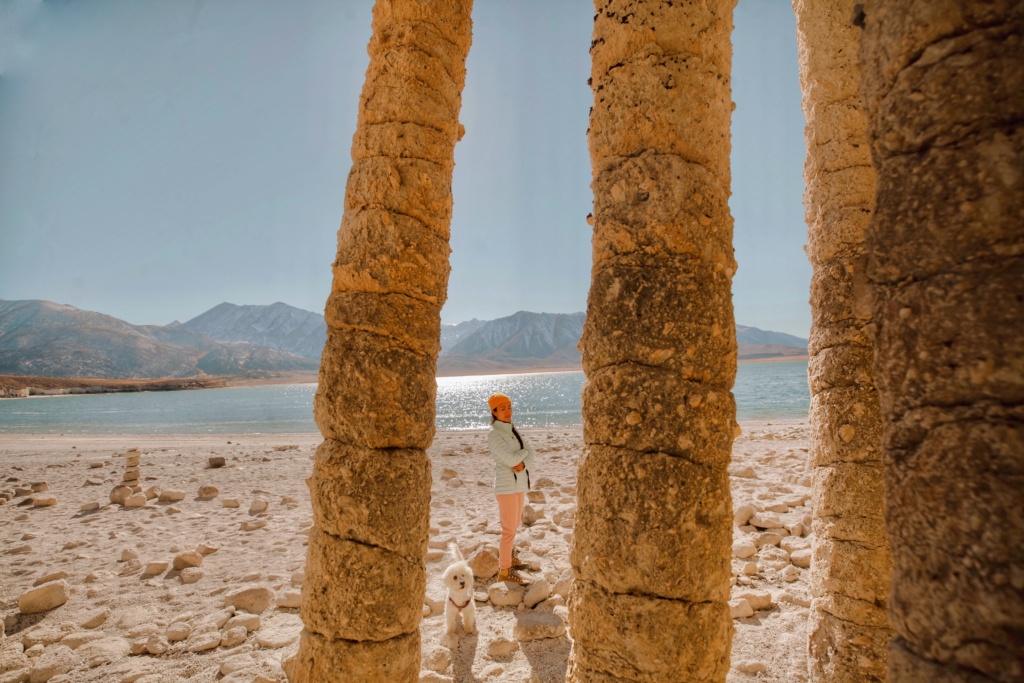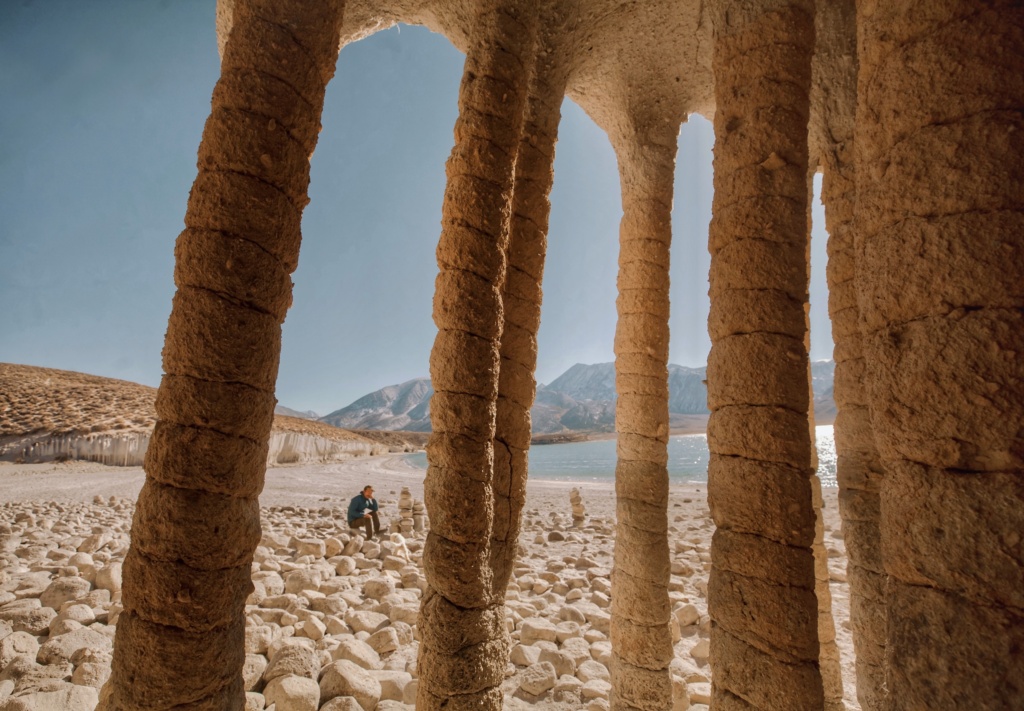 The hike from the dirt parking lot to the stone columns is very scenic, easy, and mostly flat (about 3.5 miles round trip).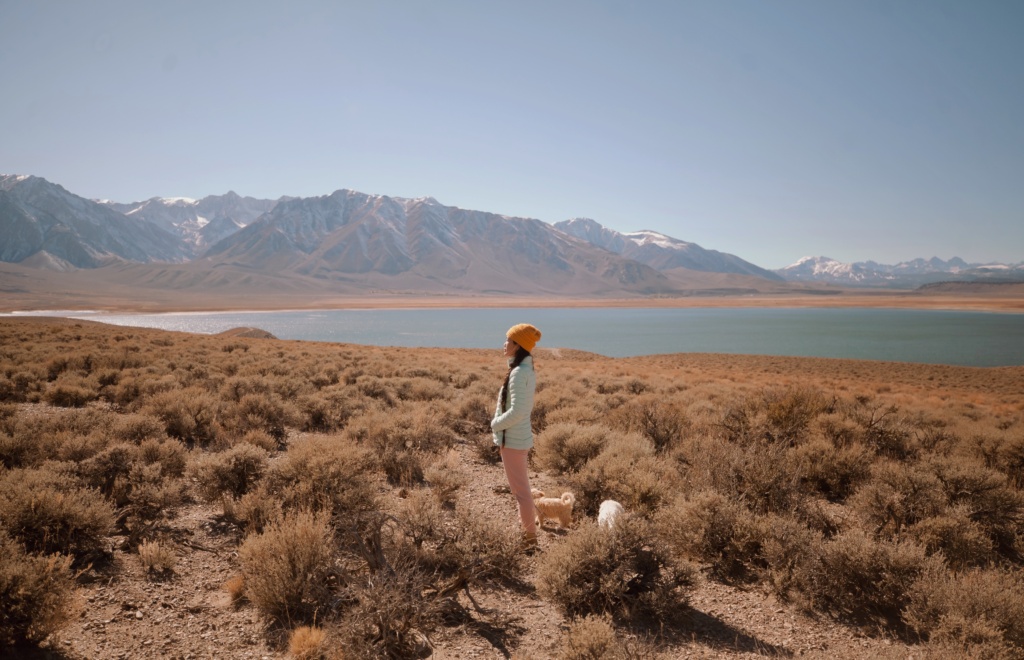 Day 4: From Mammoth Lakes to June Lake Loop (20 mi – 23 mins)
In a region full of stunning scenic drives, the June Lake Loop is arguably the most scenic. If you have the time to do only one detour as you drive SR395, this should be the one! June Lake Loop is the name of the 16 mile road that loops around June Lake.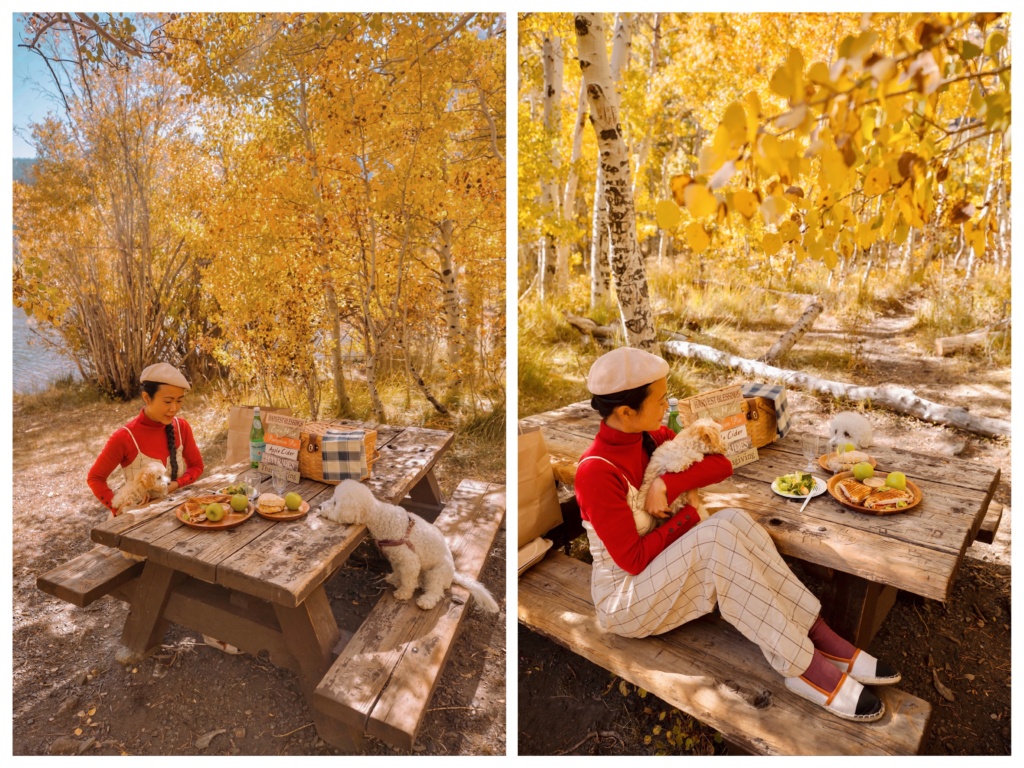 June Lake Loop is beautiful year-round, and locals called it "Little Switzerland." In the fall months, June Lake is one of the best places to see fall colors. There are 4 lakes along the loop: June Lake, Gull Lake, Silver Lake, and Grant Lake. Silver Lake was my favorite lake on this trip.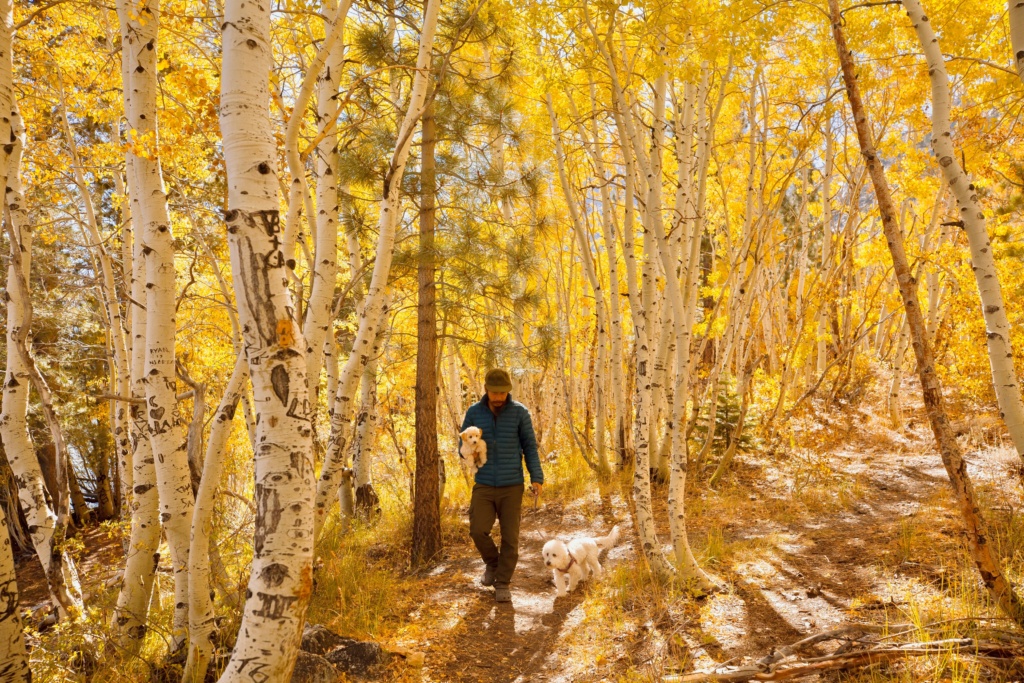 It was pretty easy to spot where to park to experience the yellow alpine trees in Silver Lake. The parking lot was pretty large. Once you park, you can easily experience the different paths through the yellow trees. You can gaze over an endless sea of colorful trees rimming high alpine lakes.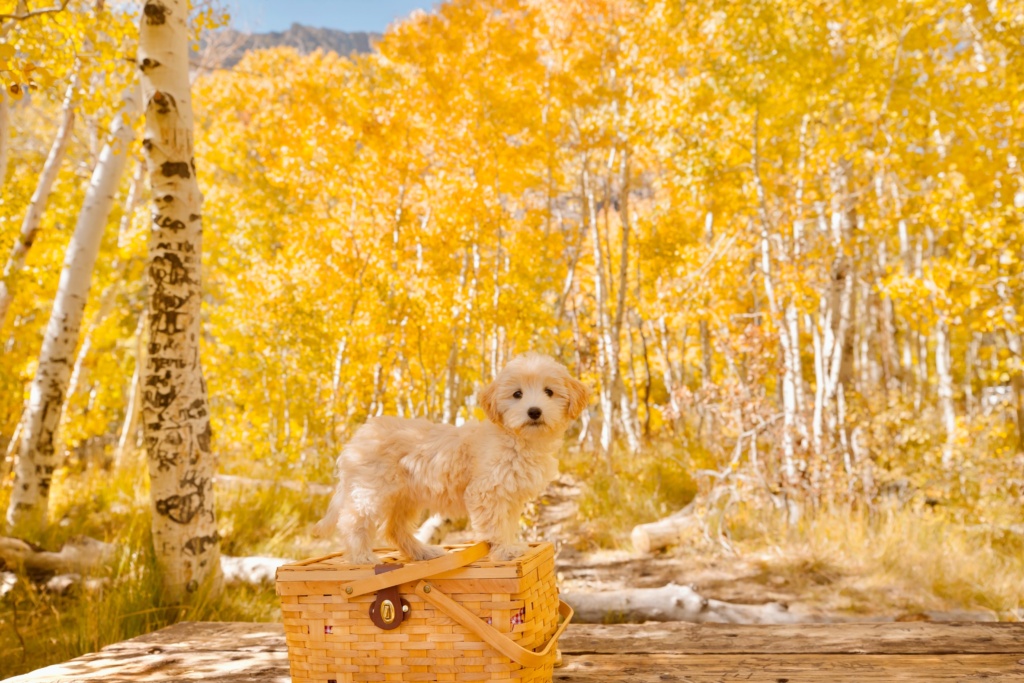 Here we fully immersed ourselves and set up a little lunch picnic.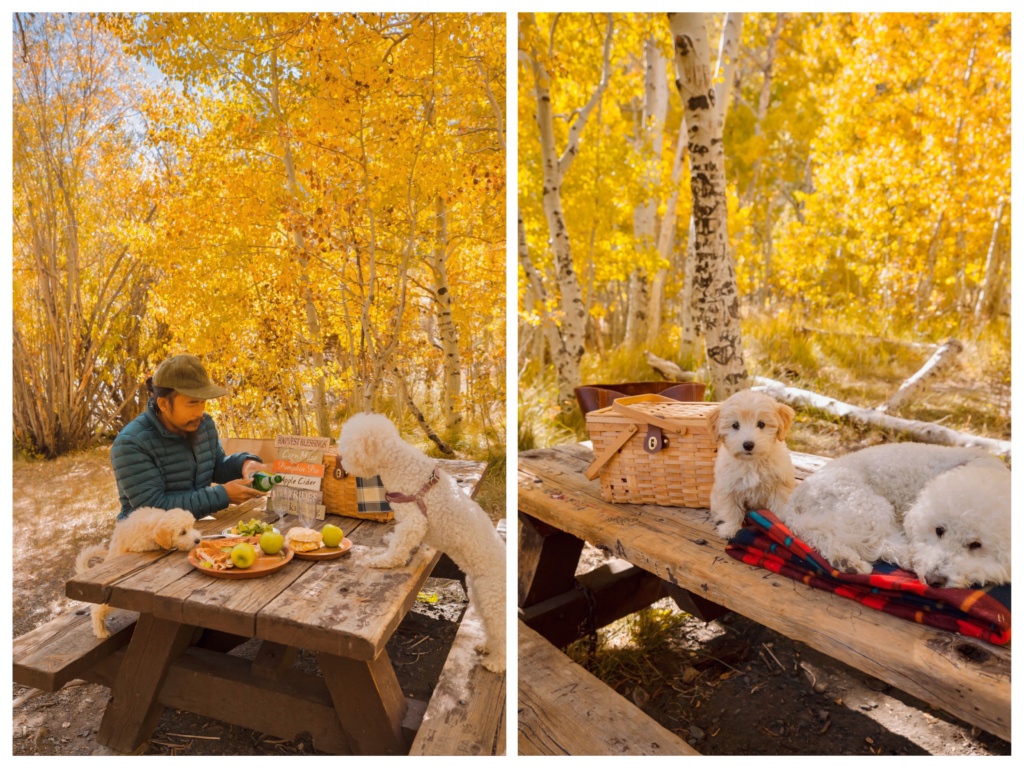 If you want to explore some of the best spots for Eastern Sierra fall colors, I wrote a more detailed blog here.
Day 5: From June Lake Loop to Hope Valley (124 miles – 2 hours 11 mins)
Lovers of fall foliage are likely to be overwhelmed by Hope Valley, an unspoiled region located about a half-hour drive south of South Lake Tahoe.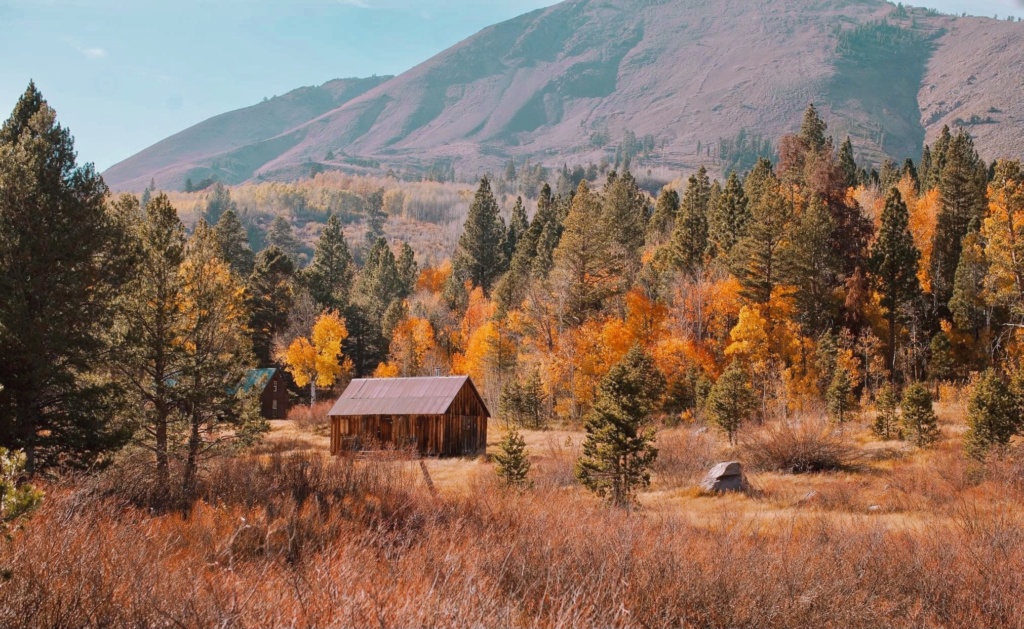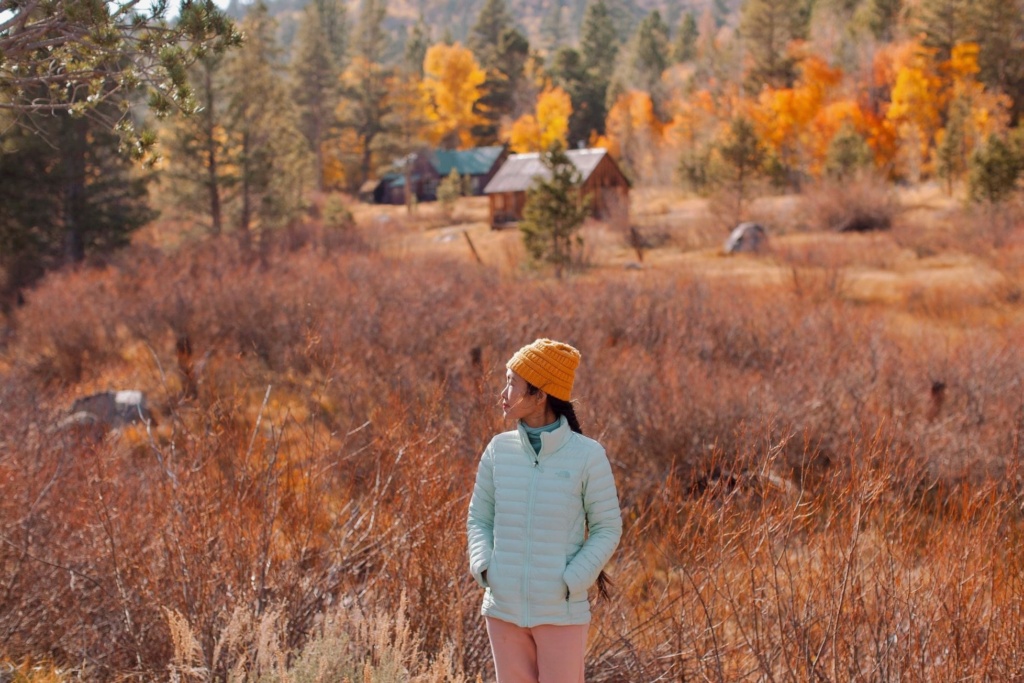 This is our second time being in Hope Valley and it was great! Being from Southern California, you really can't get this type of air and scenery.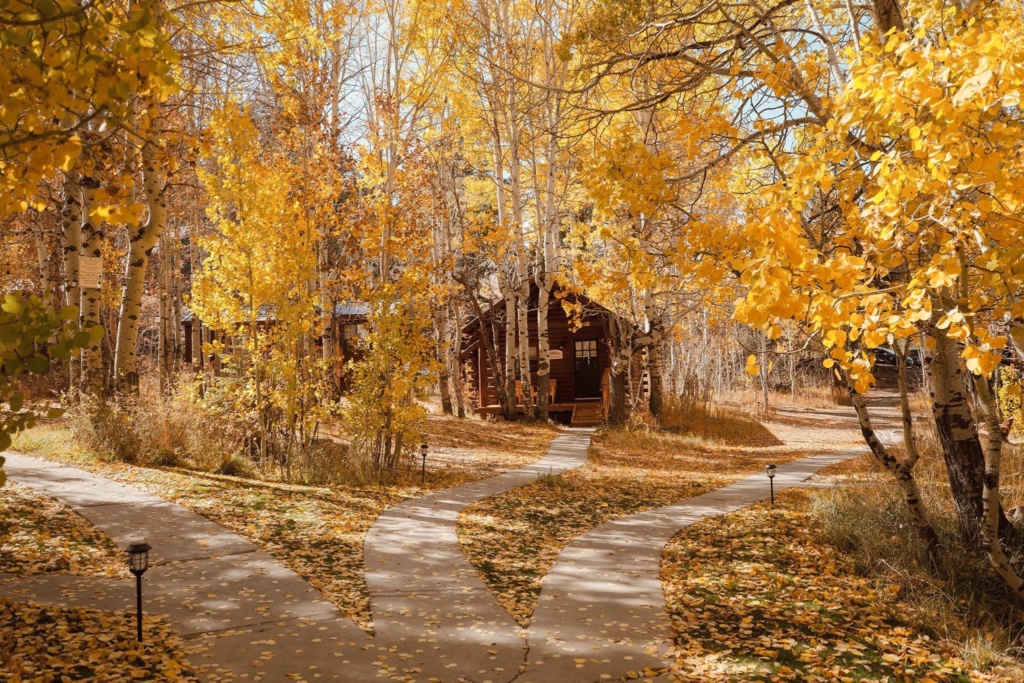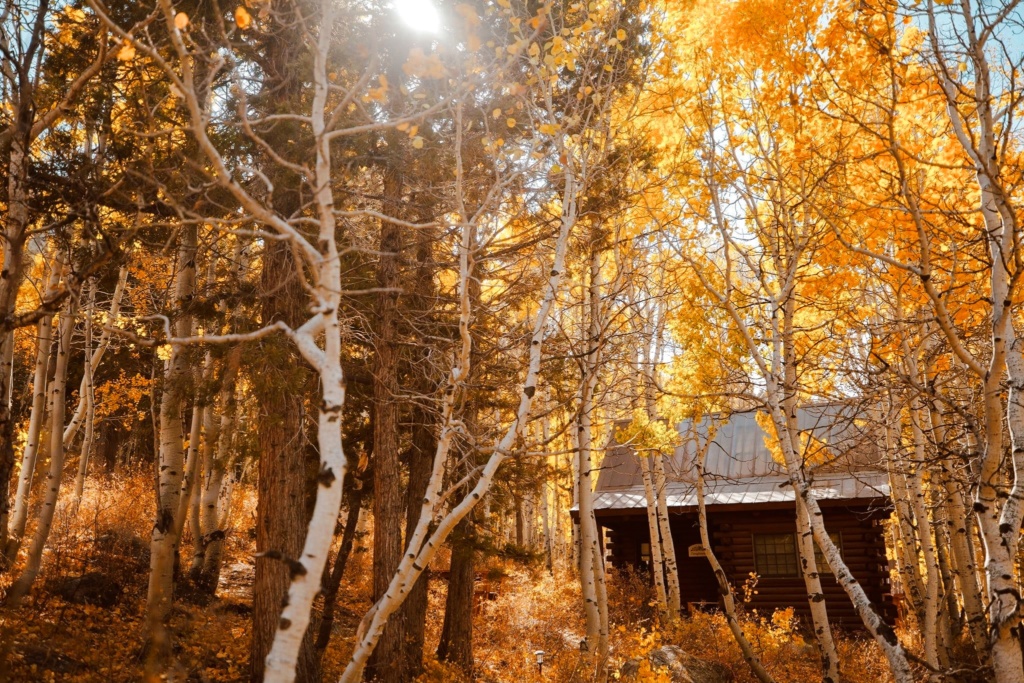 Every fall around mid September Hope Valley comes alive with vibrant aspen colors of yellow, orange and red set against the dark green of the surrounding forest trees. It's well worth the drive to see these quaking aspen turn color as fall sets in.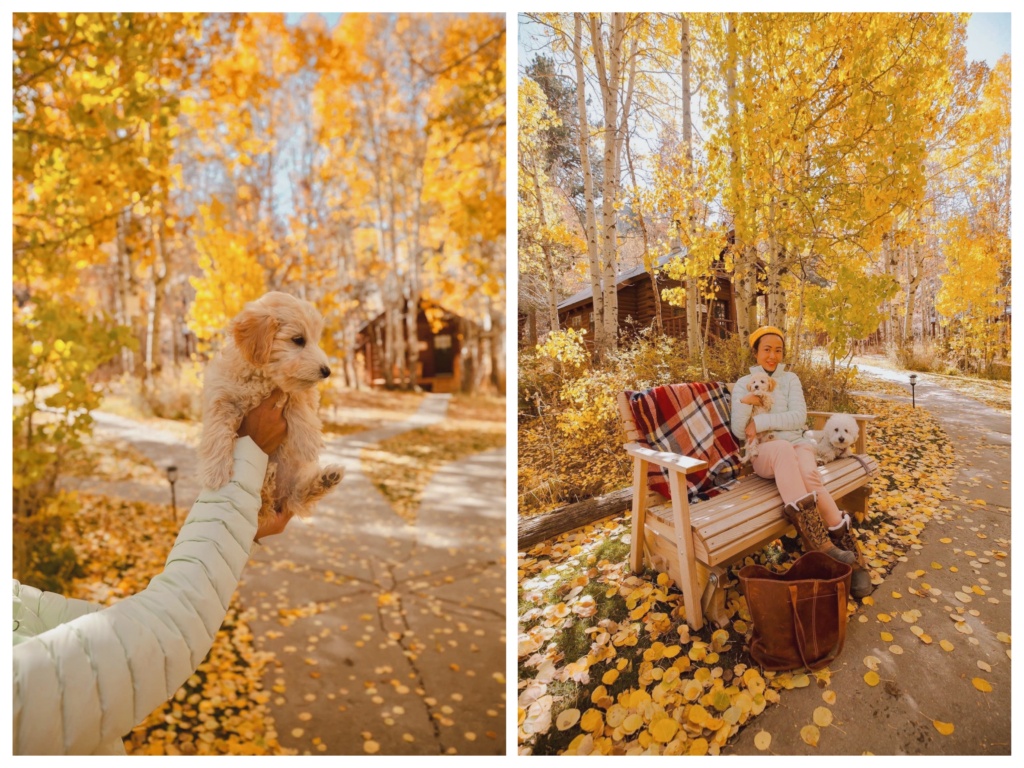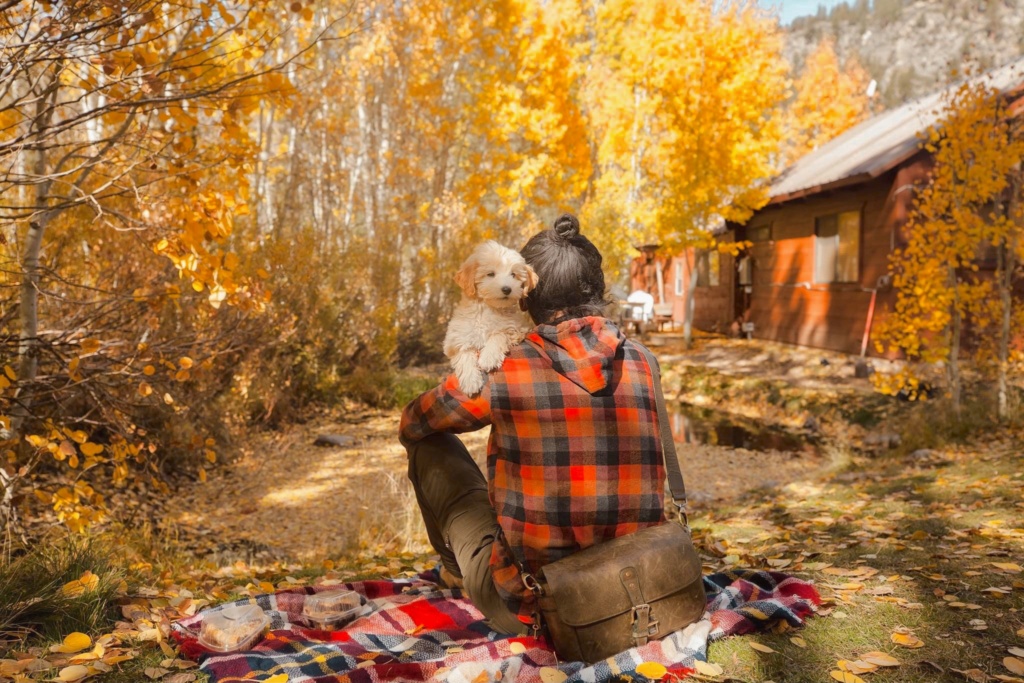 Make sure that you stop by the Wylder Hope Valley Resort to try their famous fresh baked daily homemade pies.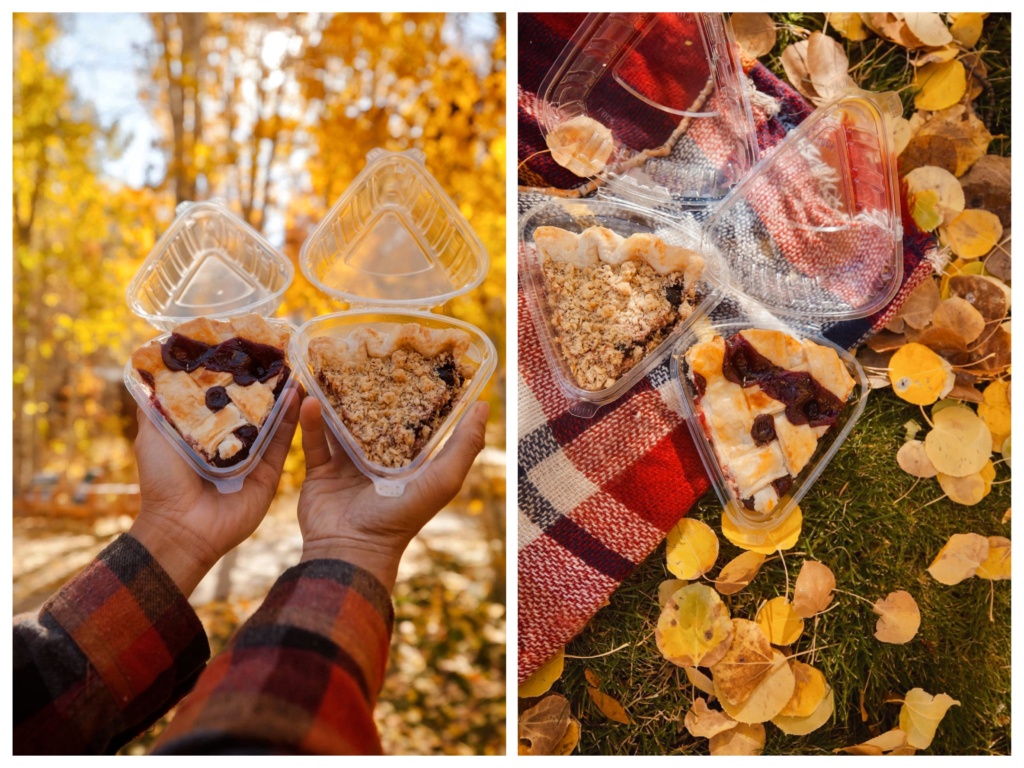 Click here to read about my stay at Wylder Hope Valley Resort.
Day 6: From Hope Valley to South Lake Tahoe (42 miles – 1hour)
"The air up there in the clouds is very pure and fine, bracing and delicious. And why shouldn't it be? — it is the same the angels breathe." – Mark Twain, writing about Lake Tahoe in Roughing It.
There are so many places to explore and things to do in Lake Tahoe. For a more detailed itinerary of Lake Tahoe, click here.
During our visit the region of South Lake Tahoe got a severe snow storm. So we decided to rent an airbnb and just stay cozy indoor until the storm passed.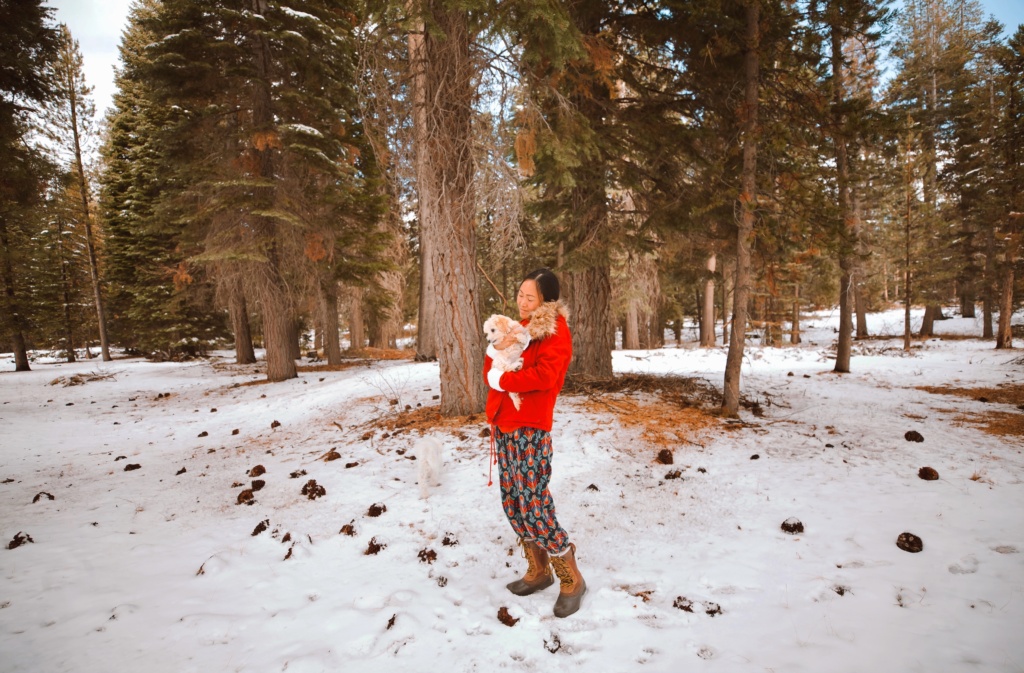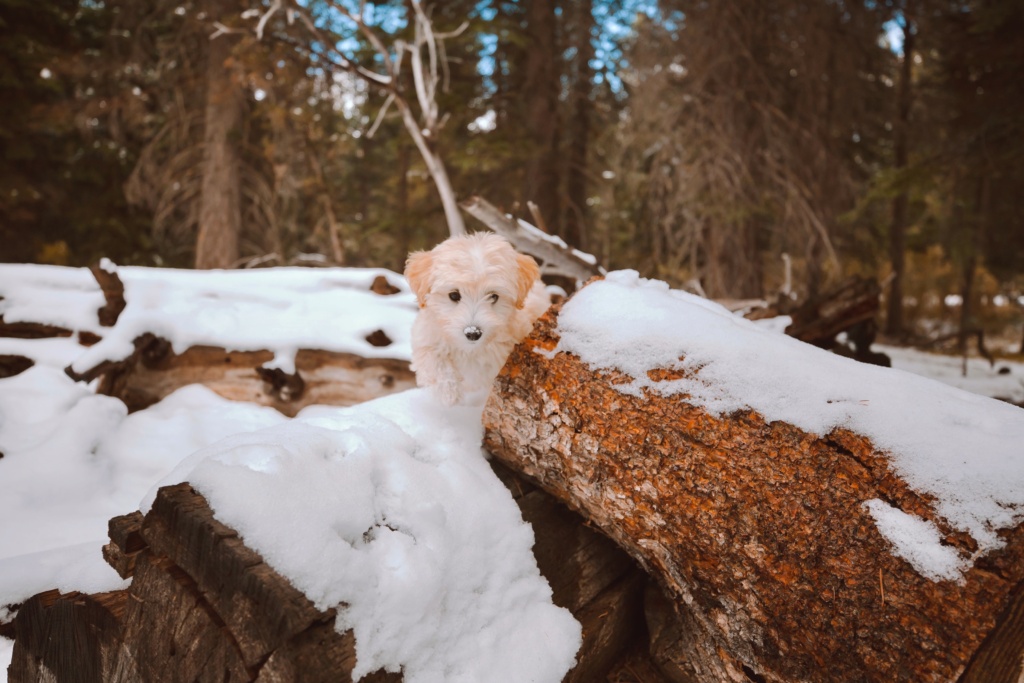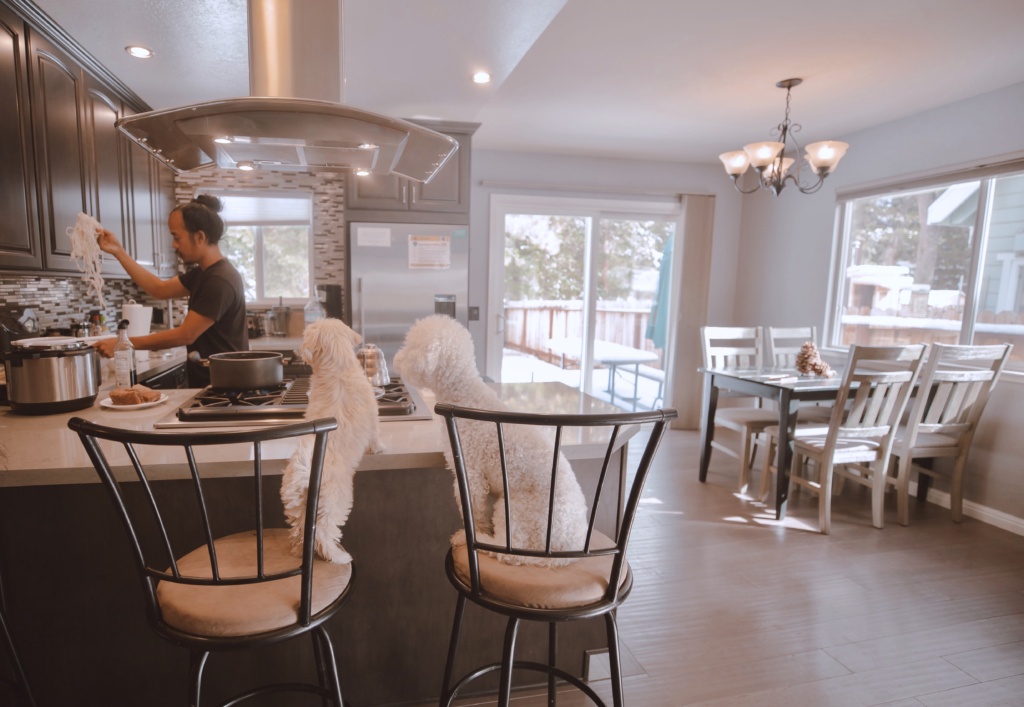 Day 7: From Lake Tahoe to Boise (456 miles-7 hours)
In reality we did this route in 2 days with 2 stops: one stop at Winnemucca and the second stop at Jordan Valley. This route is pretty boring (nothing to see, really!!!) and if you have a limited amount of time, it's a good idea just to get this boring drive over and go straight to Boise.
While we recommend staying in Boise for longer, we just passed by this city.There are many things to do in Boise and the city is perfect for outdoor adventure-minded travelers. Boise has it all: sprawling parks, a bustling downtown, a foodie's paradise, and more. We stopped by the Boise Fry Company to try their Idaho-famous potatoes!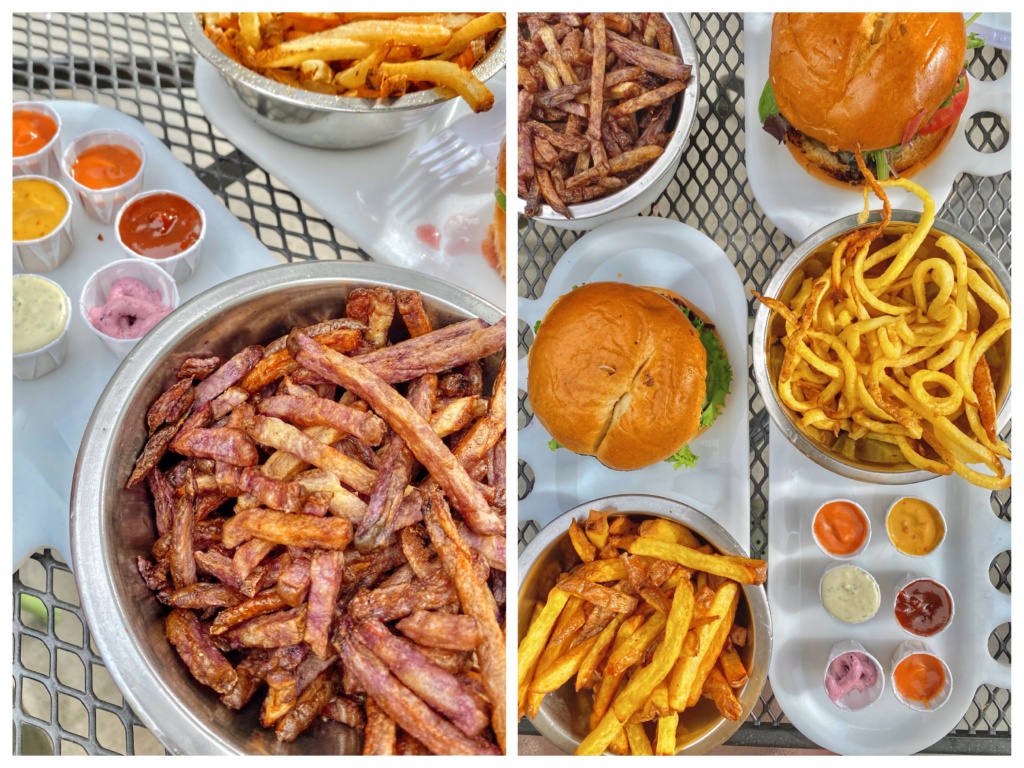 French fries are not only a specialty, but they are the main course. In fact, at this unique restaurant in Idaho, hamburgers are served on the side! When ordering from Boise Fry Company, you better be prepared to make some hard choices. You first must decide what type of potato you desire. Russet, Gold, Red, Yam, Sweet, or Purple Brussels Sprouts are just a few of the options on the menu.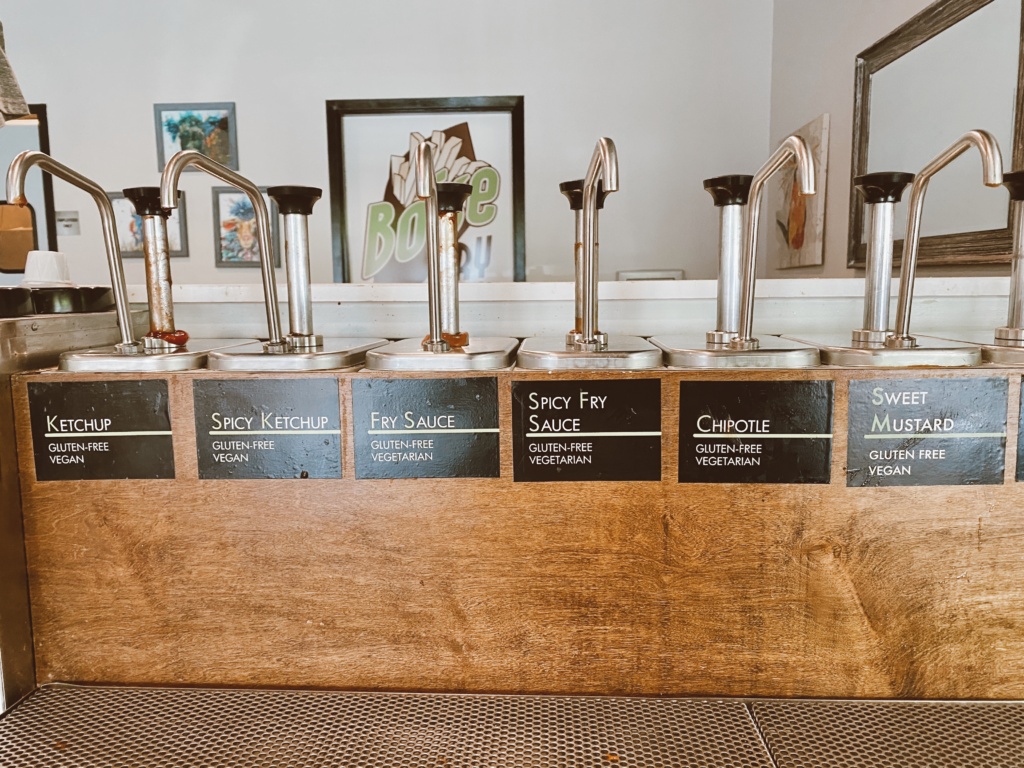 It also has a whopping nine different homemade dipping sauces and a variety of seasonings (my favorite is their blueberry ketchup).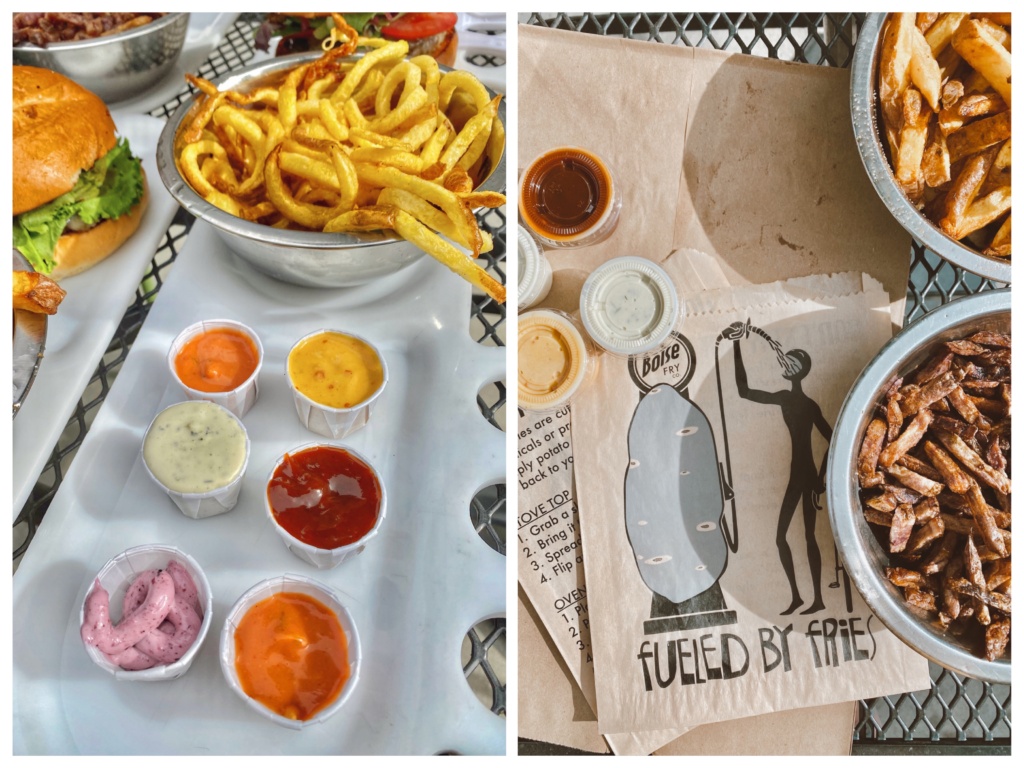 Day 8: From Boise to Pine Flat Hot Springs (69 miles – 1 hour 30mins)
Pine Flats Hot Springs is a natural geothermal pool that lies along the beautiful banks of the Payette River. Not only does Pine Flats Hot Springs boast scenic views across the river, but it also features a waterfall that cascades warm water into the pool.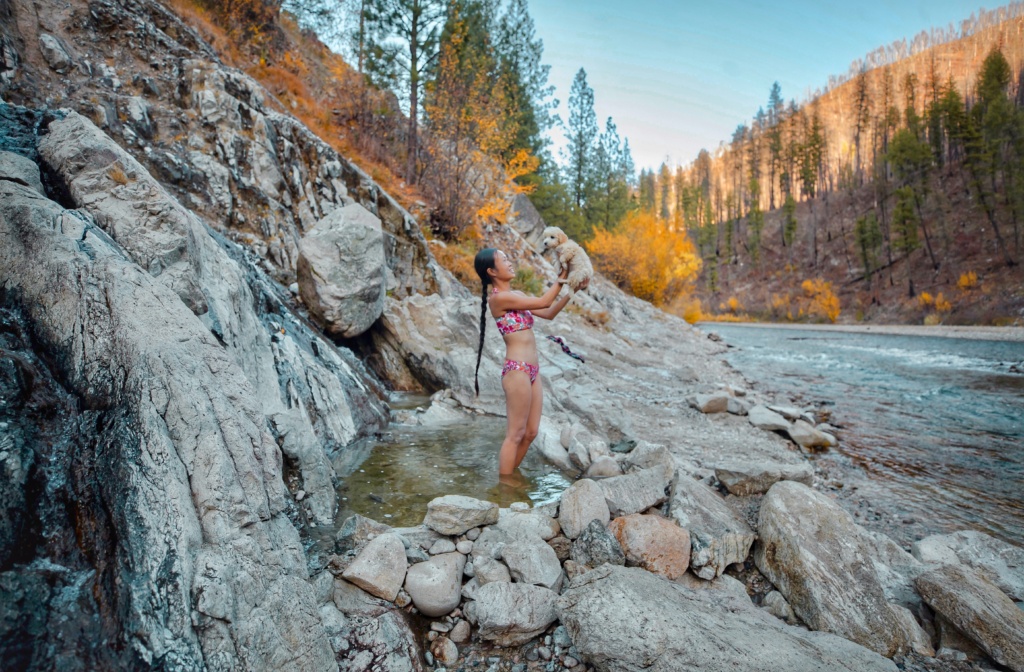 Pine Flats Hot Springs is open year-round. The Banks-Lowman Highway remains open for the Garden Valley and Lowman communities, which makes this an accessible Idaho hot springs even in the winter.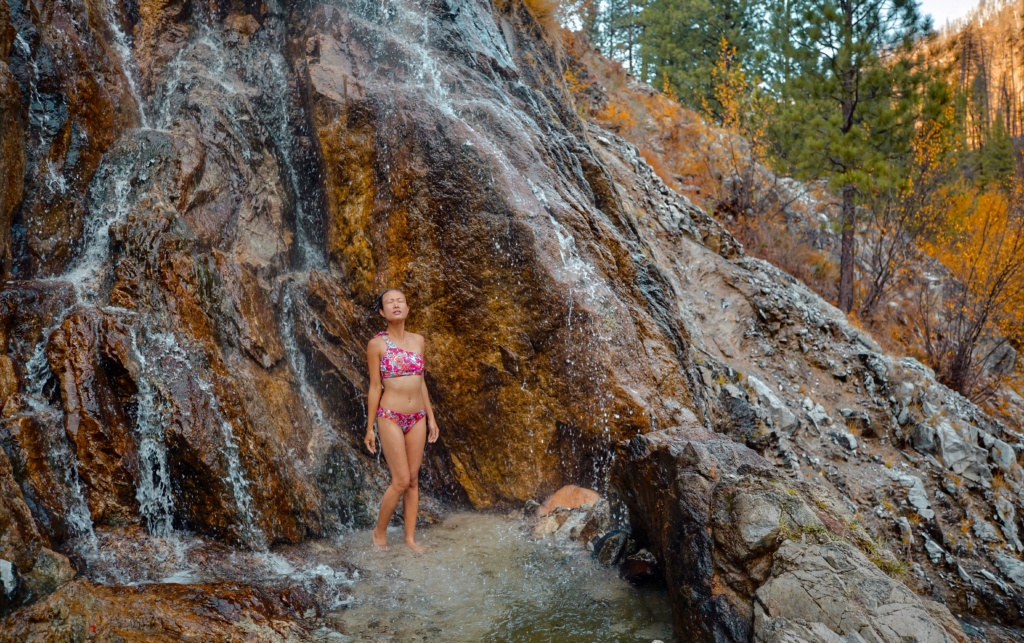 If you want to explore more natural hot springs near Boise and in Stanley area, I wrote a more detailed blog here.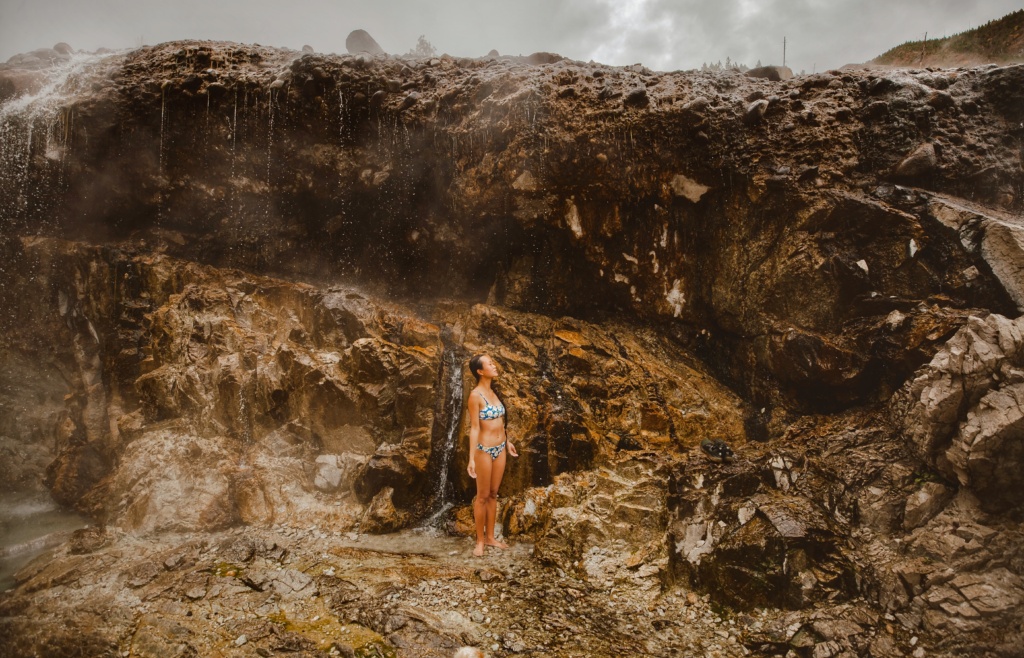 Day 9: From Pine Flat Hot Springs to Bonneville Hot Spring (35 mins – 25 miles)
Bonneville was quiet, but it also felt as wild and rural as any hot spring we visited in Idaho this time of year! In the winter all of the campsites are closed, which is probably why it was so quiet anywhere we visited.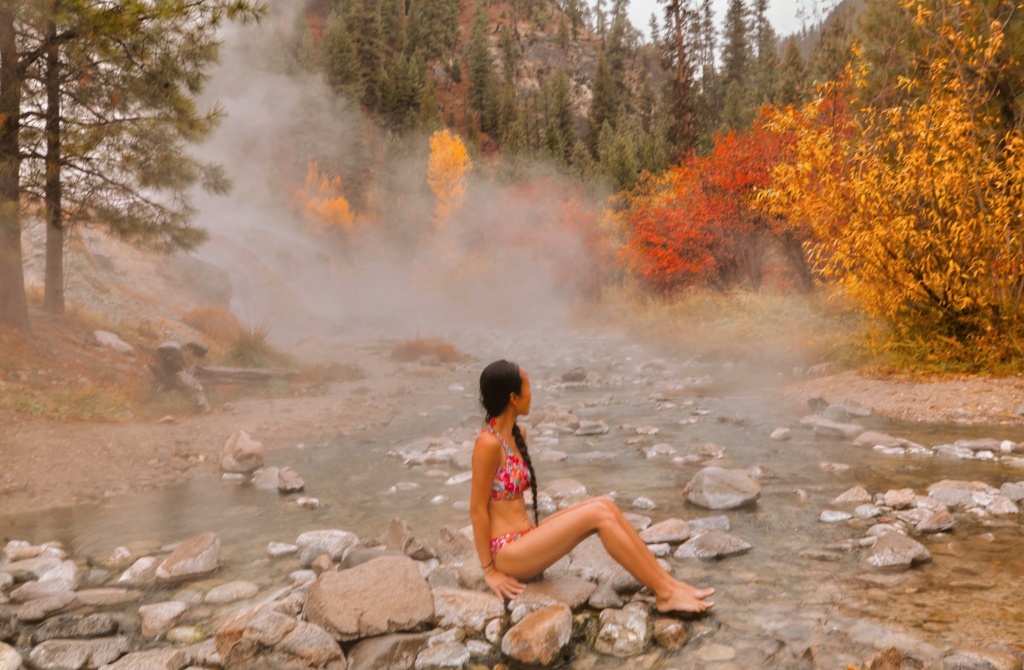 When we were there (end of October), although the campsite was closed, the gate to the campsite was still open to public (they just locked all the restrooms and trash cans). So if you are equipped to so some primitive camping, this is the perfect time to go (no crowd).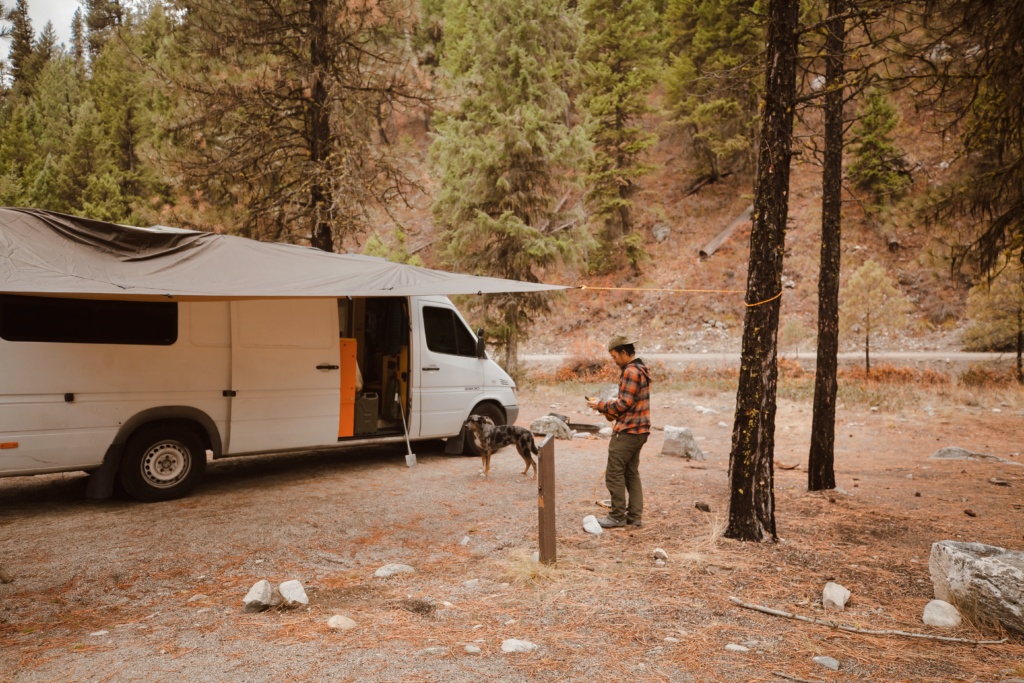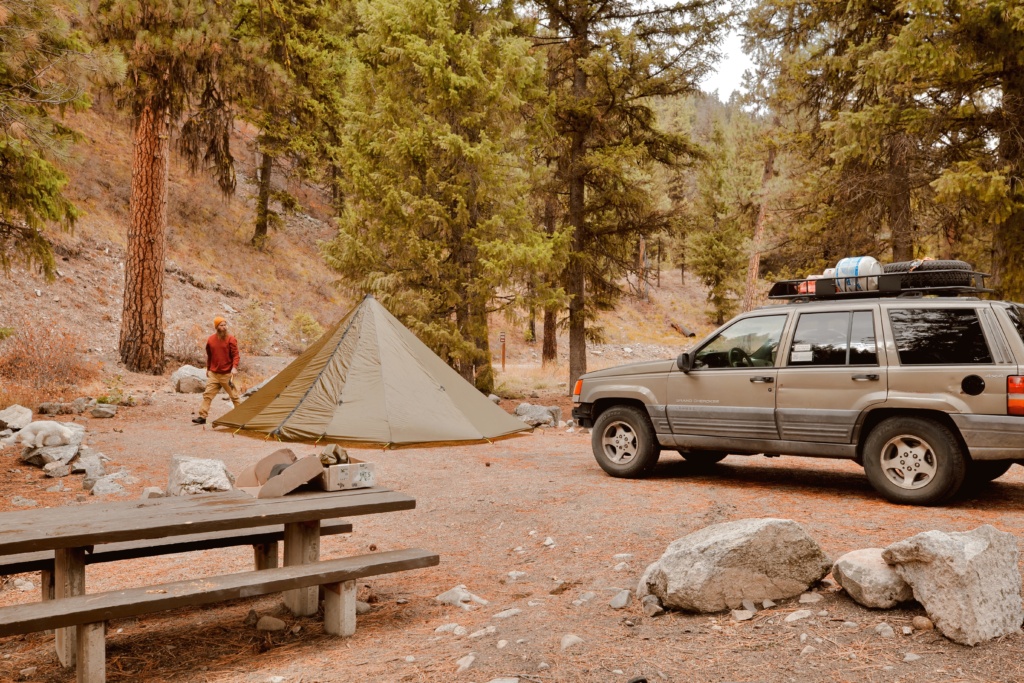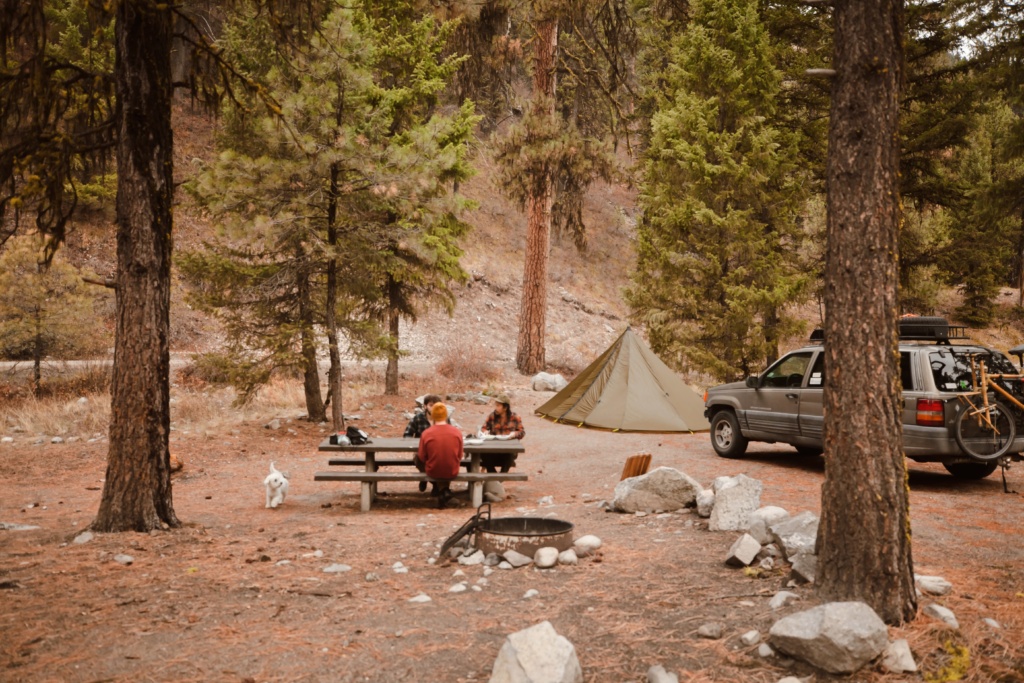 Bonneville Hot Springs seeps out of the hillside and cascades down to Warm Springs Creek. The source is 120 degrees. There are several pools set beside a fast flowing river. It was so relaxing listening to the sounds of the rushing water, the wind, and that sense of being transported far away from the rest of the world.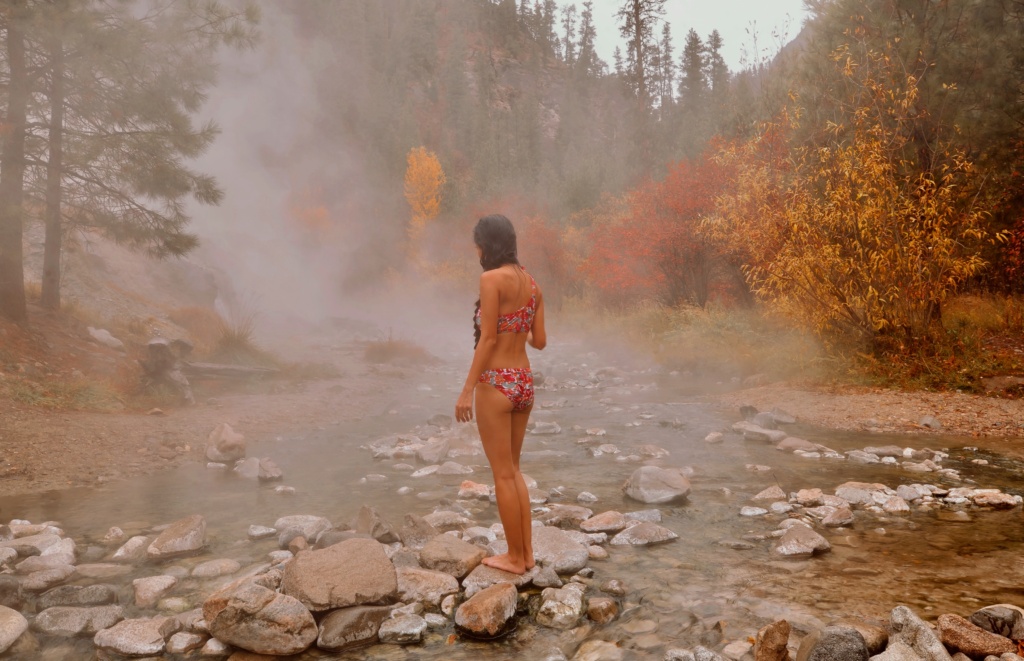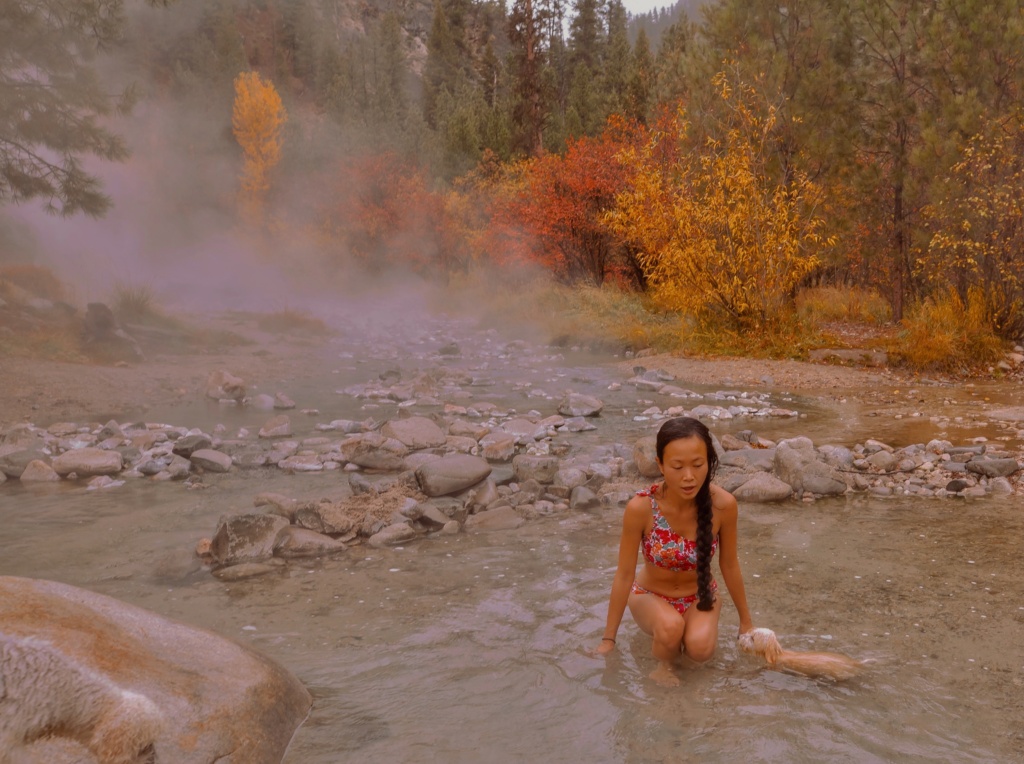 There's also a private wooden soak shack at the top of the hill with a bath tub and a pipe that's constantly refilling the tub.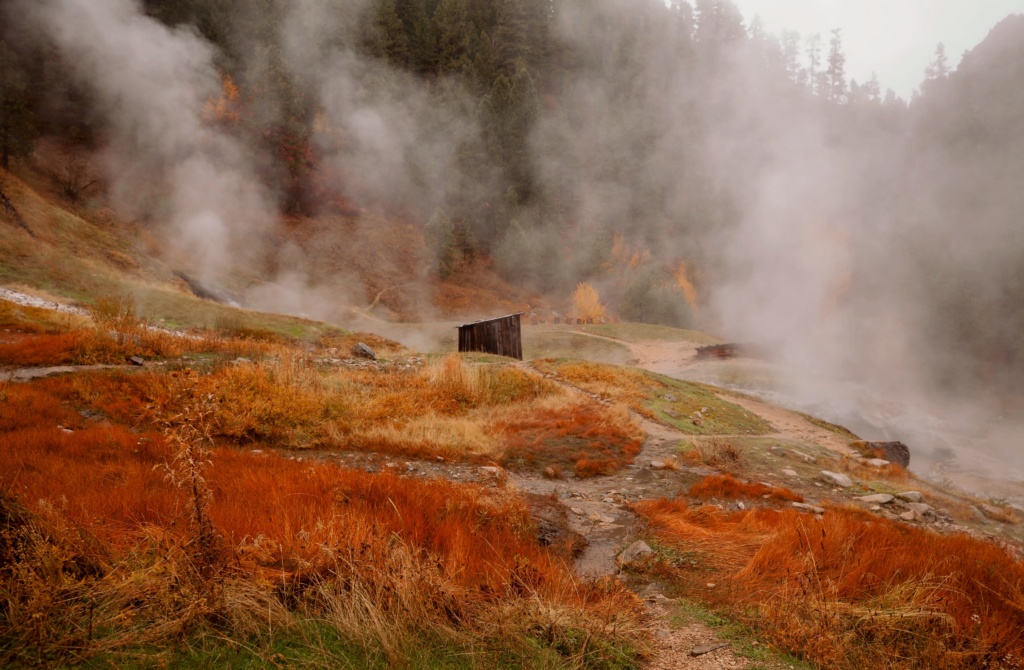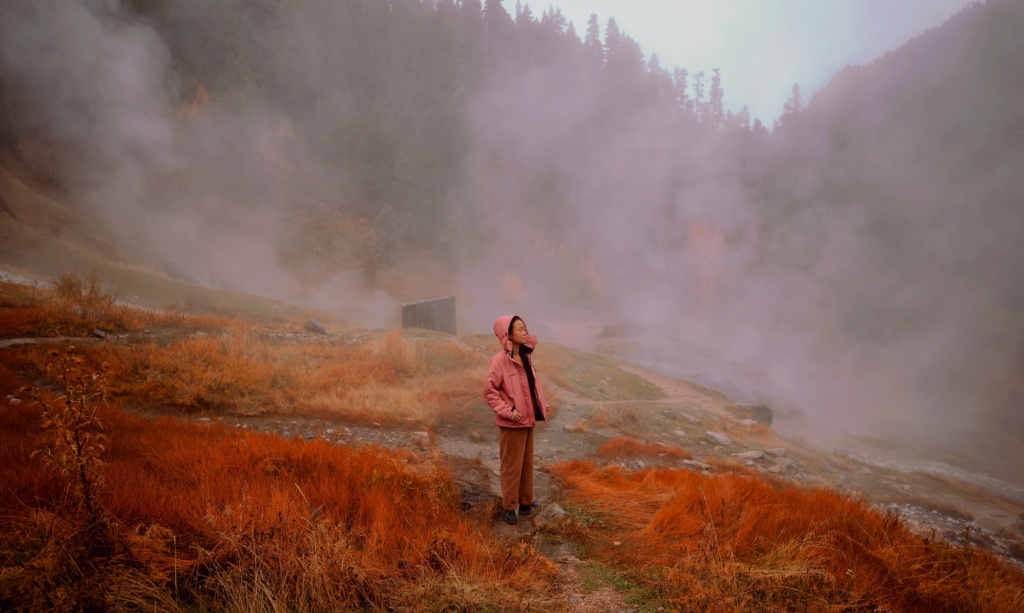 If you want to explore more natural hot springs near Boise and in Stanley area, I wrote a more detailed blog here.
Day 10: Bonneville – Stanley (40 miles – 1 hour)
We spent our days in Stanley just relaxing at Boat Box Hot Springs. Boat Box Hot Springs is located about 5 minutes outside Stanley, right off Highway 75. The pull-off can only fit about two or three cars and is easy to miss, so be on the lookout for steam rising from the direction of the river.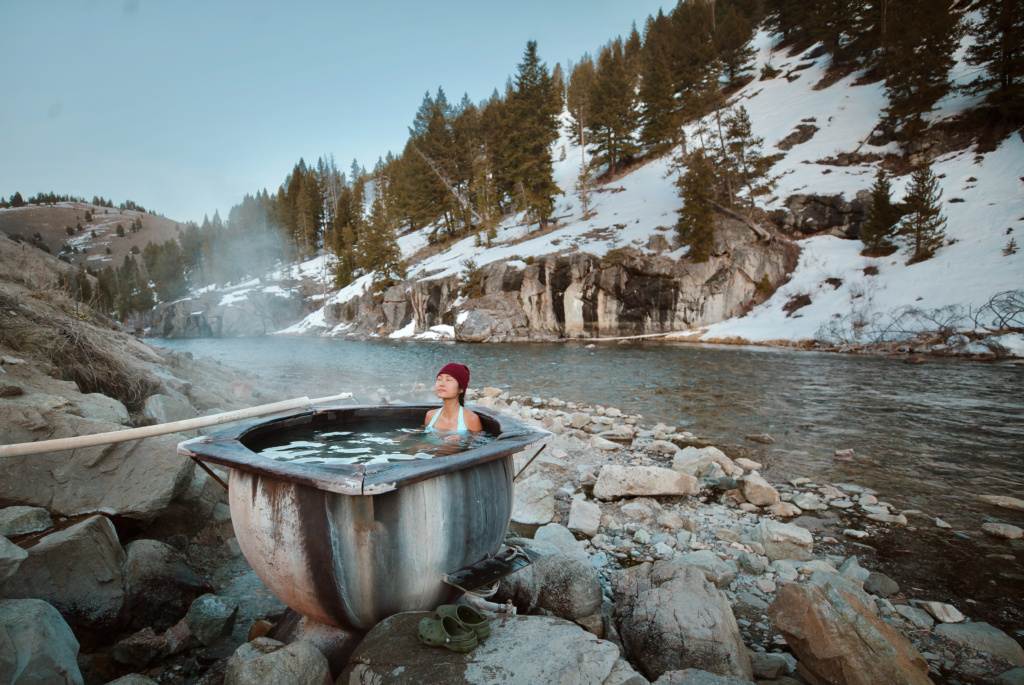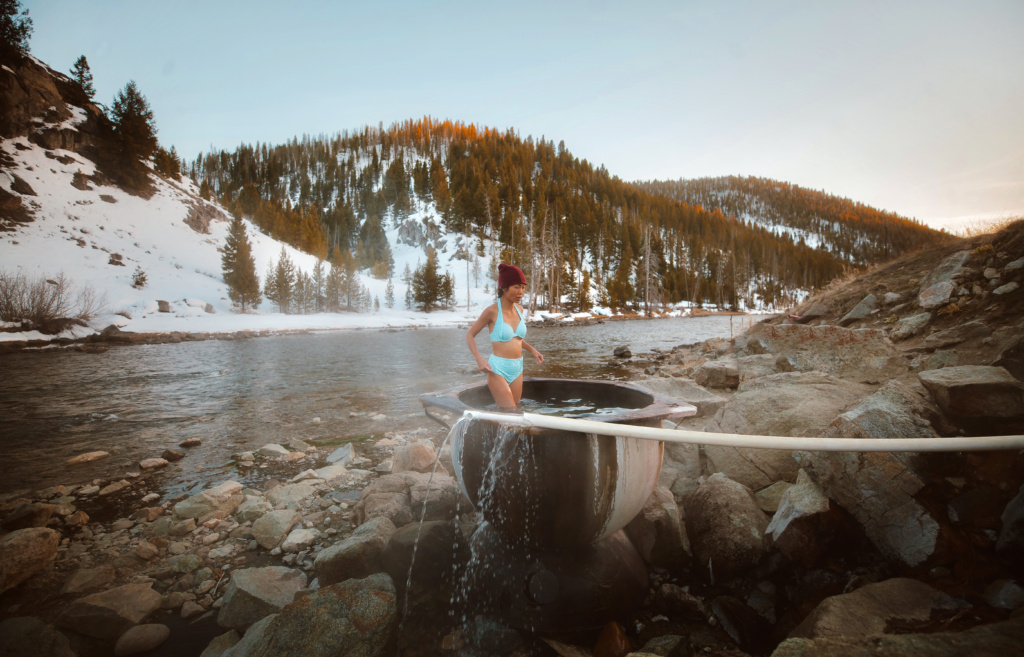 If you want to explore more natural hot springs near Boise and in Stanley area, I wrote a more detailed blog here.
Day 11: Stanley – Twin Falls (143 miles – 2 hours 45 mins)
After a week of snow storm and rainy weather in Sawtooth National Forest, we arrived at Twin Falls. We rented a lovely AirBnb to refresh, check on our van's engine, doing laundry, and just taking it slow here. Click here to book this airbnb.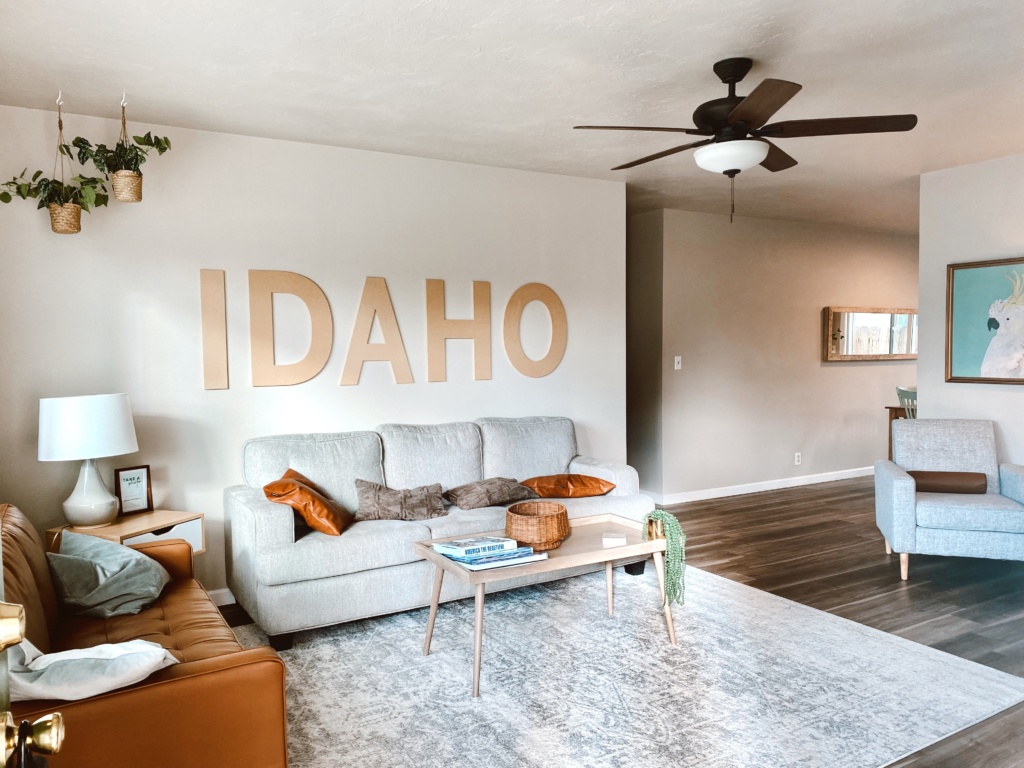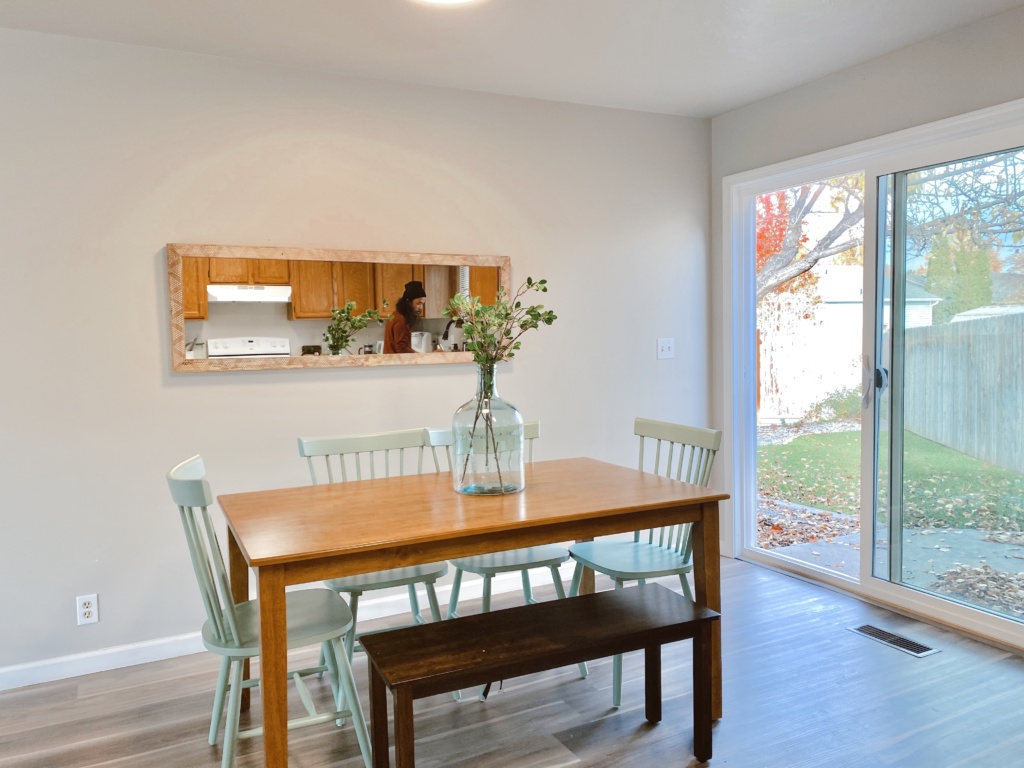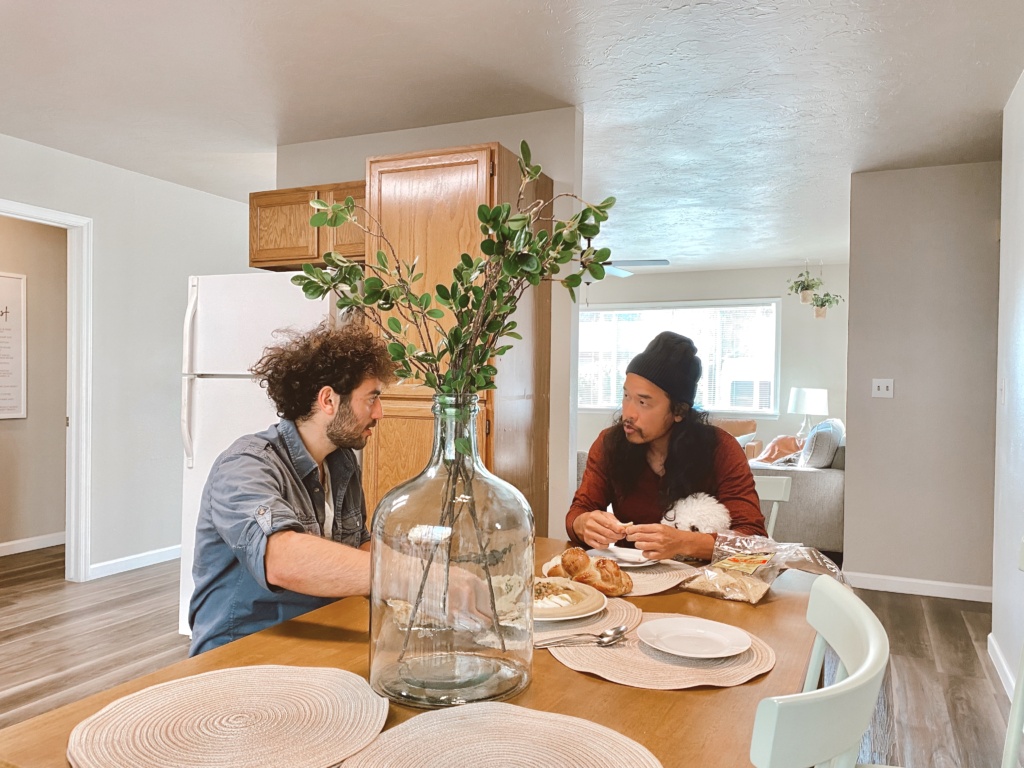 Our Airbnb is right next to College of Southern Idaho and everyday we took a walk around the campus and enjoyed the grand finale of the fall foliage here when everything burst with its last beauty.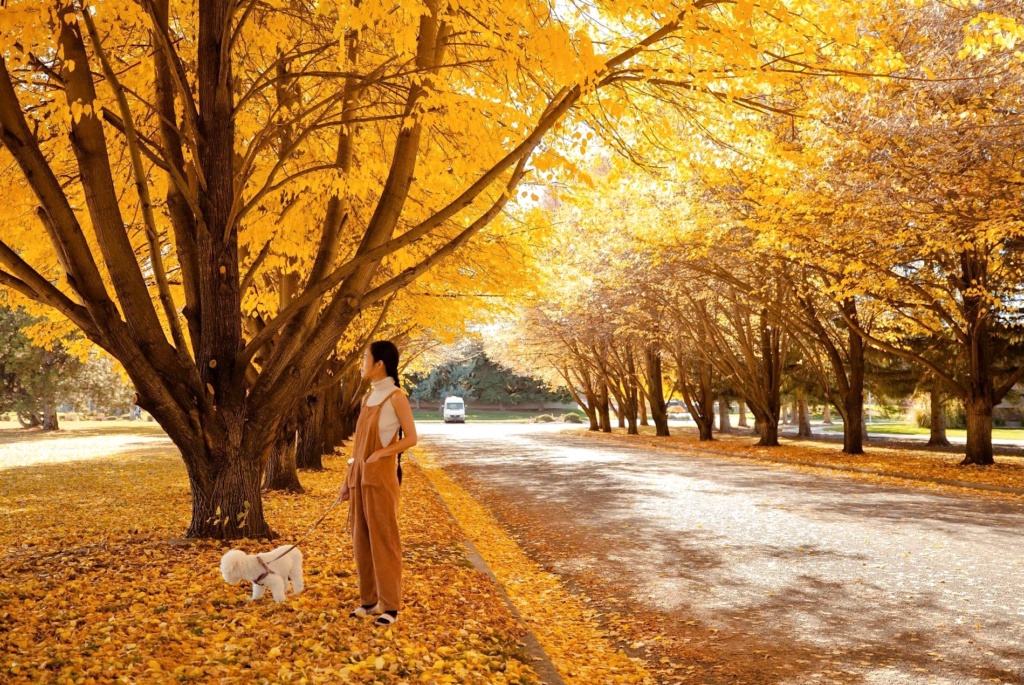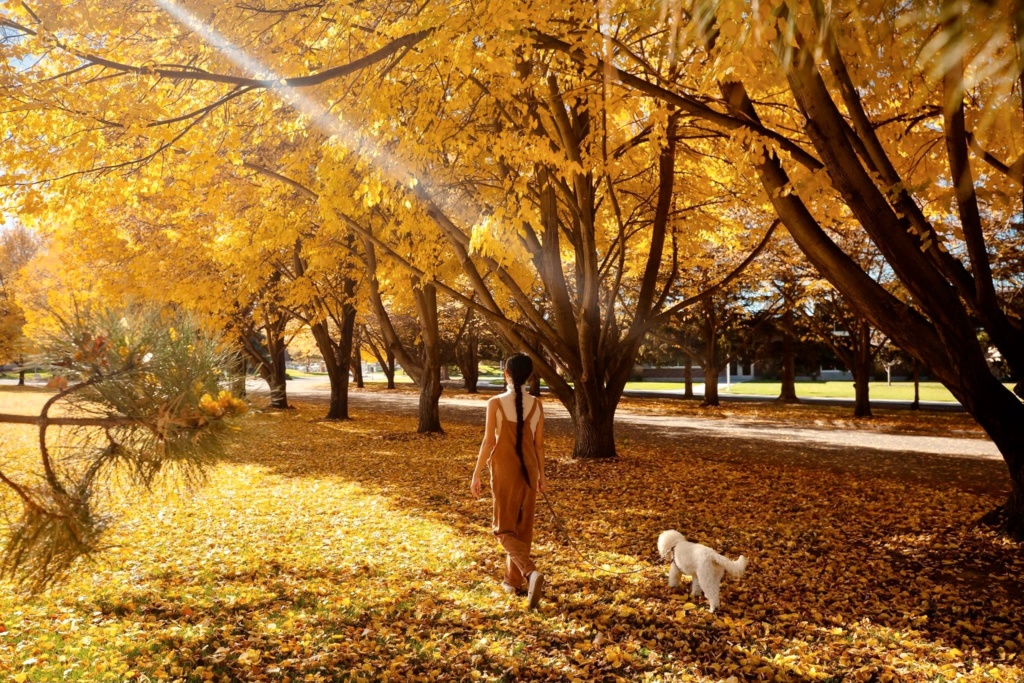 Here we spent our days visiting local parks and farmer markets, making some new friends, baking, cooking, and just lived in the melancholy and nostalgia of true autumn days.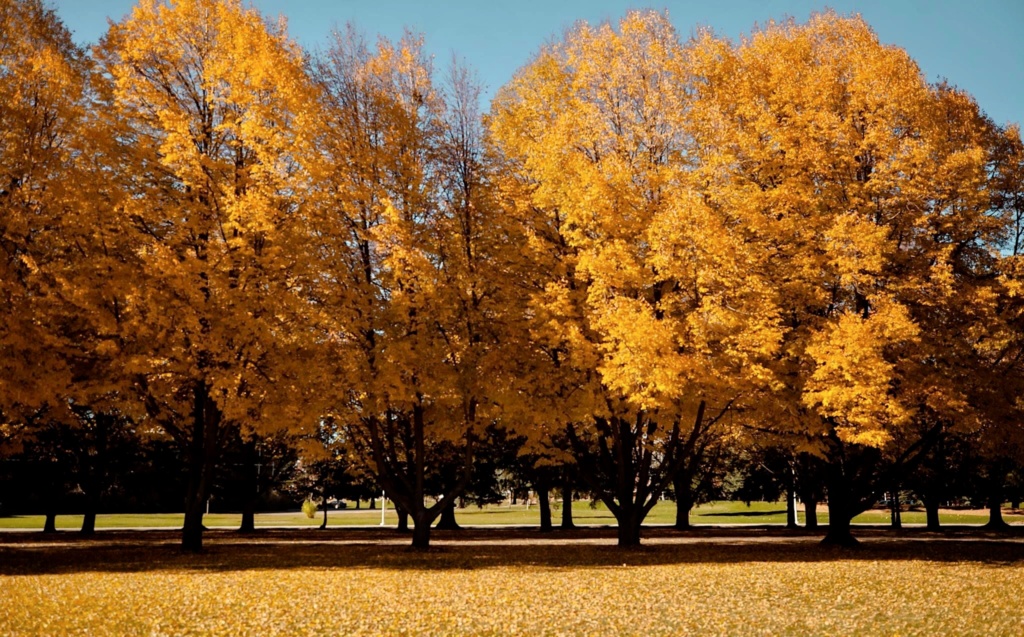 Day 12: Explore Twin Falls
One day when Derek and I were checking out one of the local coffee shops, we saw a handsome wise-looking gentleman riding his bike with his 2 poodles in a little wagon. He saw us, turned his bike around, and said hi. A casual "hello" led to dinner and more meaningful conversations when we learnt so many interesting things about Art Hoag – a talented woodturning artist. He has had many exciting cross-country biking adventures (he rode his bike from Idaho to New York when he was 72 and he is planning to do it again for his 80th birthday). He sold everything he had when his wife got cancer and dedicated his time to build a park in memory of her – Mary Alice Park. Art turned a vacant land into a wonderland right in the heart of Twin Falls.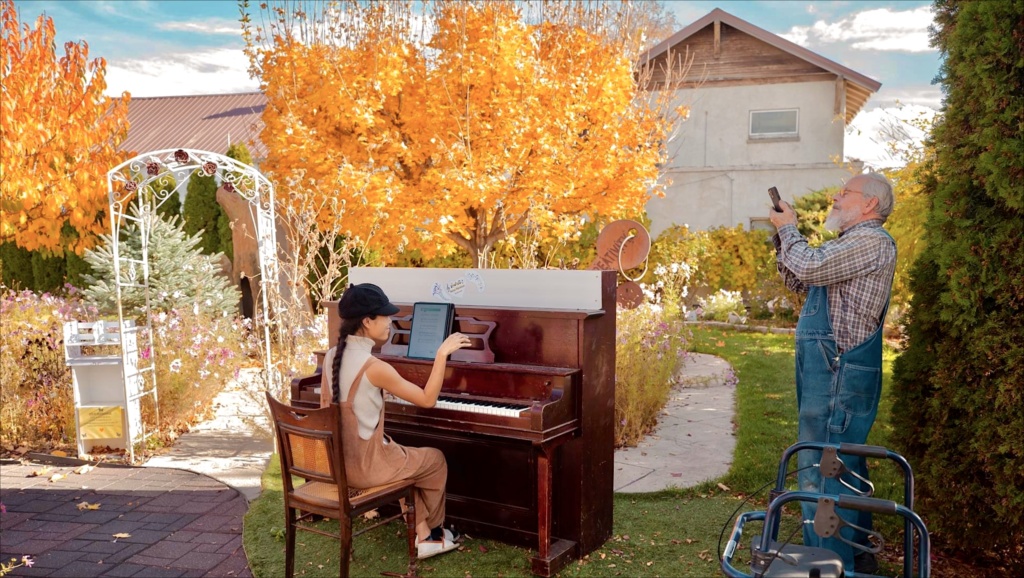 When Art invited us to visit his park, my first thought was "maybe it's just a very big garden that he built in memory of his wife!" But when I arrived at Mary Alice Park, I was surprised at how marvelous this place is… it's truly a park! A public park. I asked Art, "Where is your staff? You must have a very big team to up keep with all the landscaping and cleaning?" Art smiled, "No, it's just me!"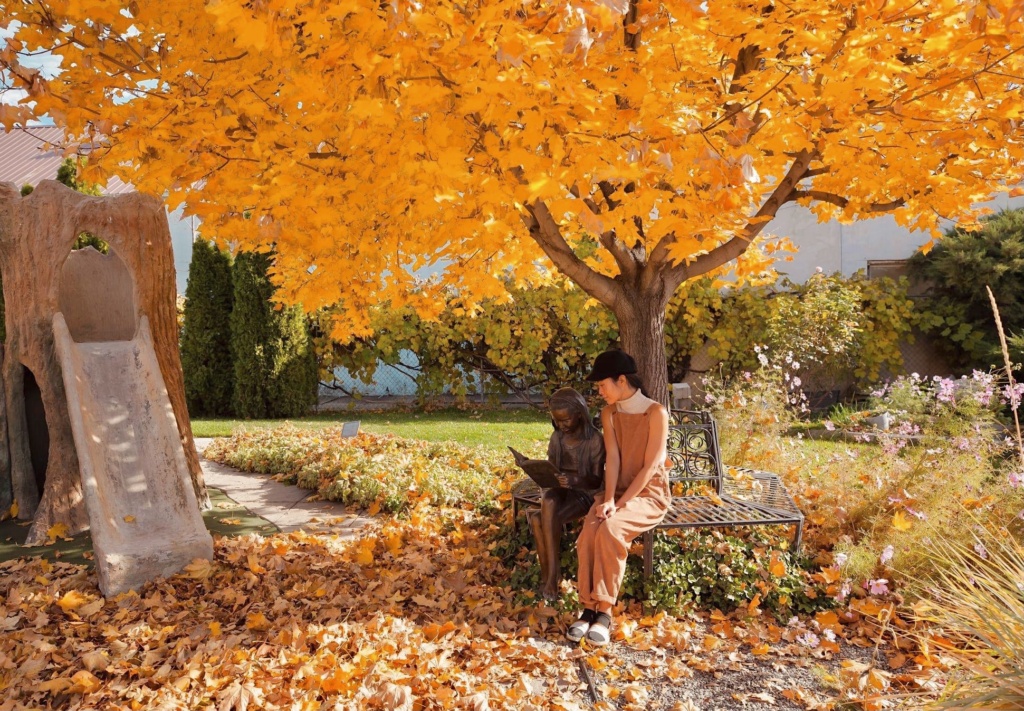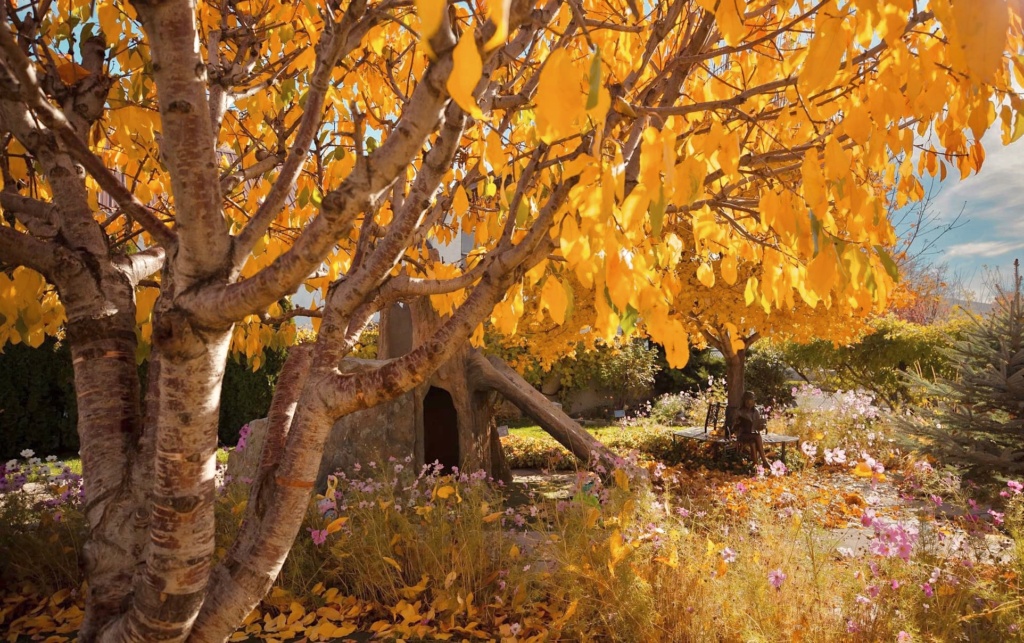 It's only him and a shovel that laid down every brick, every grass, every plant,…. turning a barren land into a hidden gem right in the heart of Twin Falls. And now it's still only him who sweeps the leaves, picks up the trash, opens the gate for the public every morning and closes the gate at night time. His wife was there to see how everything came together. During her last 2 years Mary and Art spent their time doing things that they loved and these memories are treasured in every corner of this beautiful park til today.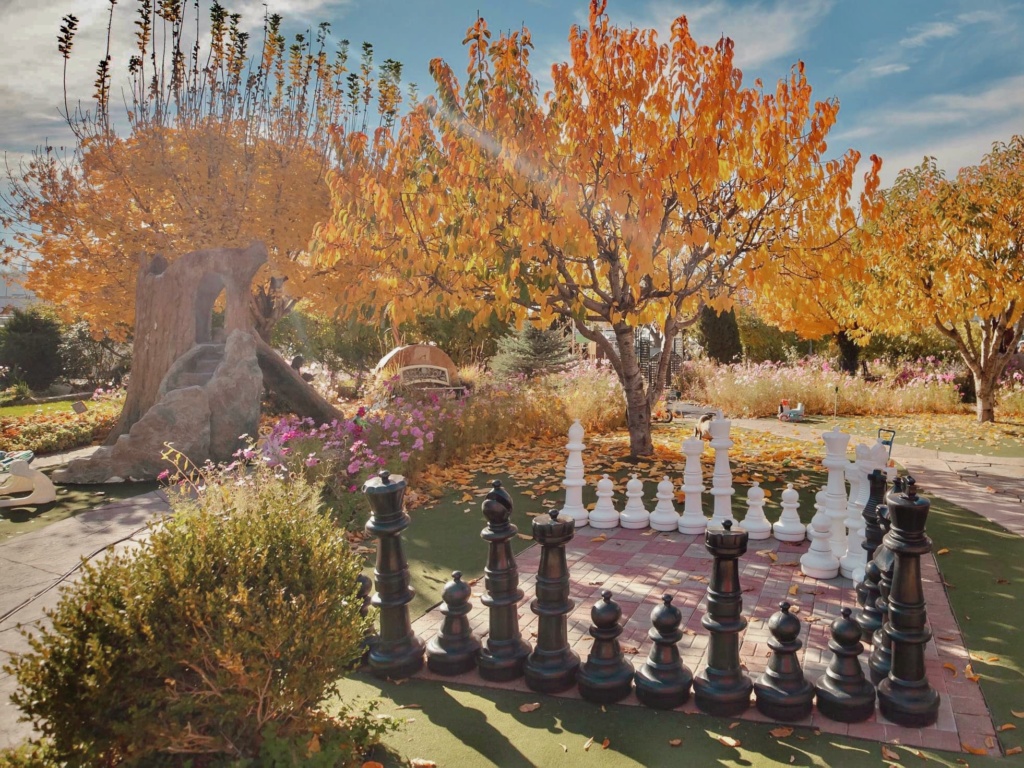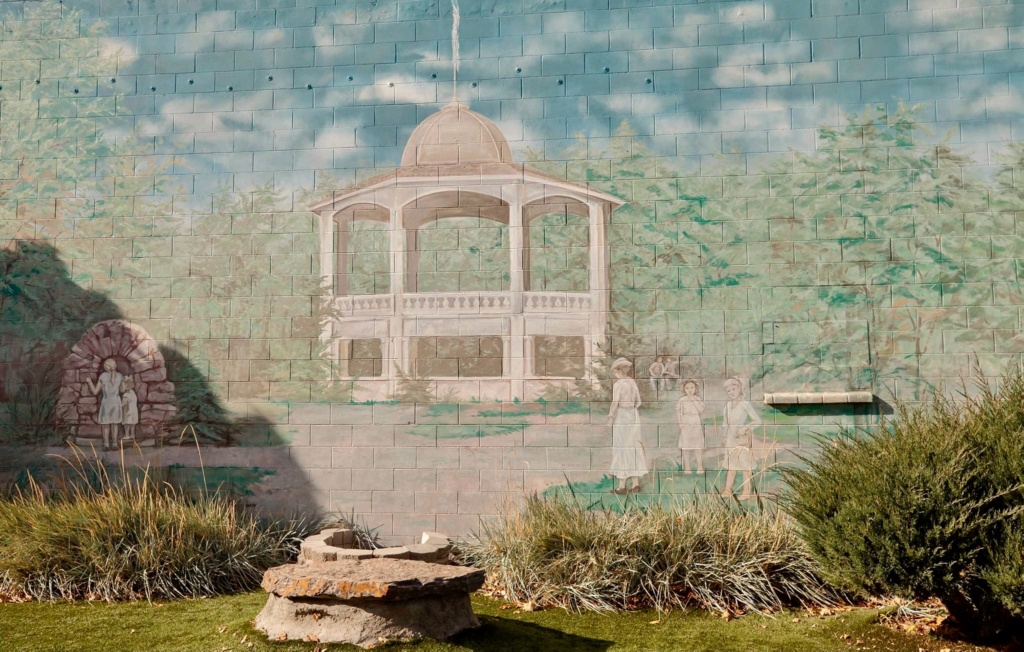 One of the things we love to do when exploring a new city is visiting their local farmer market. From savoring produce at the peak of freshness to meeting the people who grow your food, there are countless reasons to support farmers markets. So we decided to visit Blue Rock Farm Market to get some fresh produce.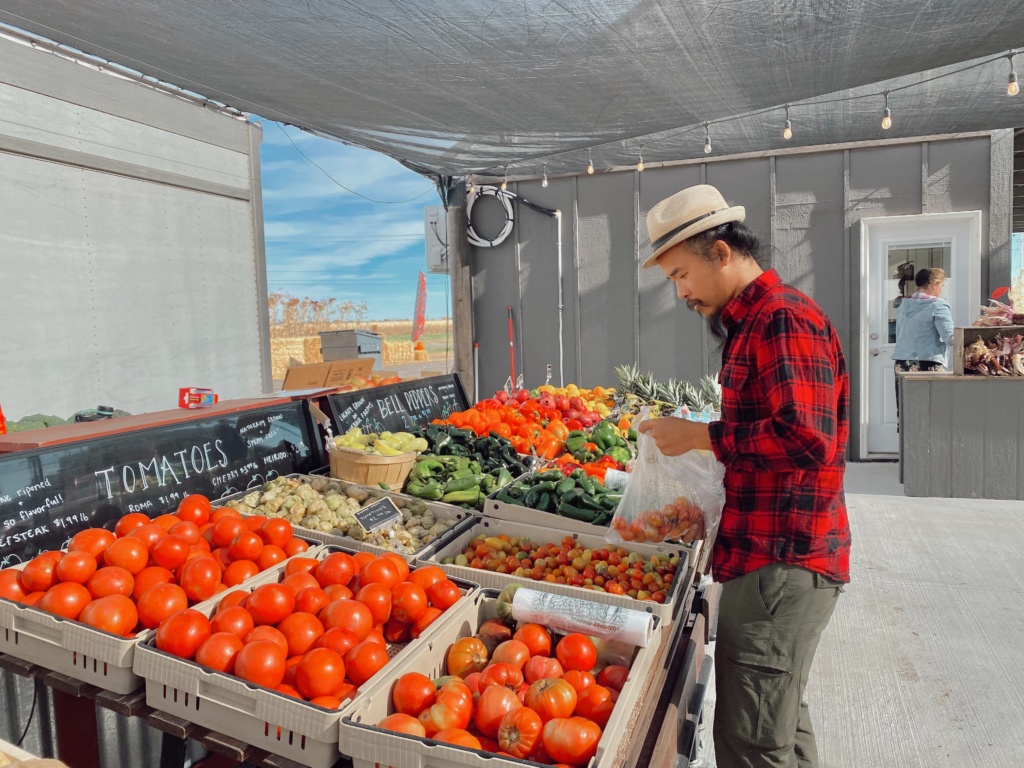 One great thing about farmer market is that the food you buy here is seasonal. It is fresh and delicious and reflects the truest flavors. And we love the fall goodies at Blue Rock : pies, caramel apples, pumpkins, fall crop cauliflower (vibrant beautiful colors of green, purple and yellow), fresh pressed apple cider, fall mums,….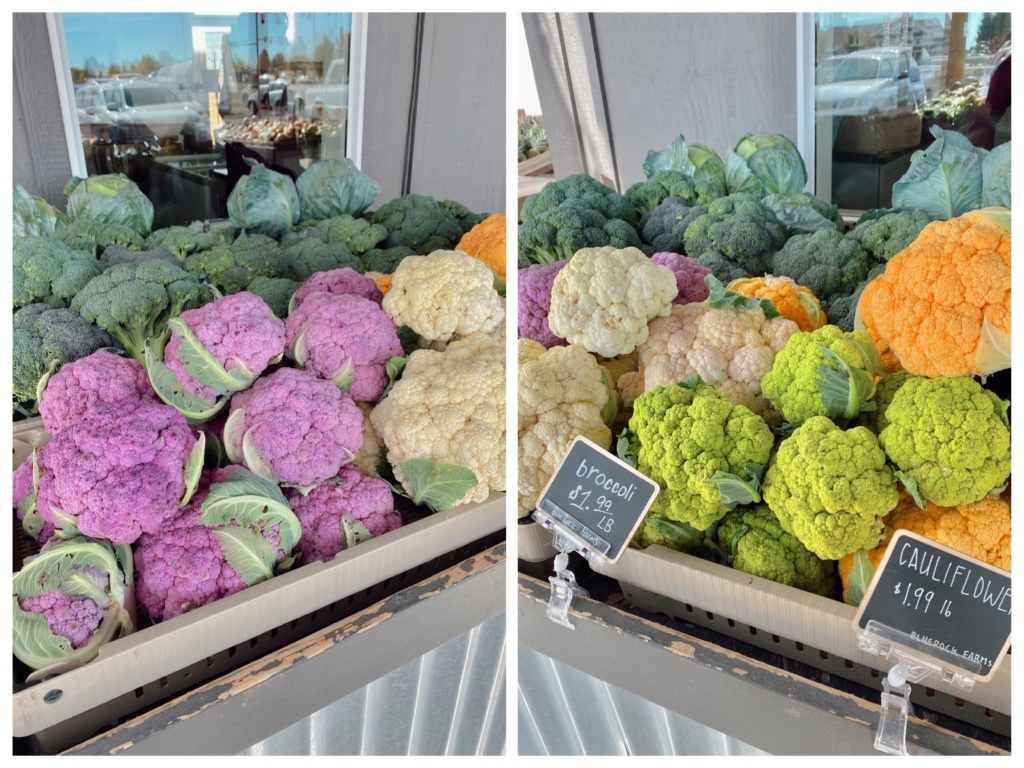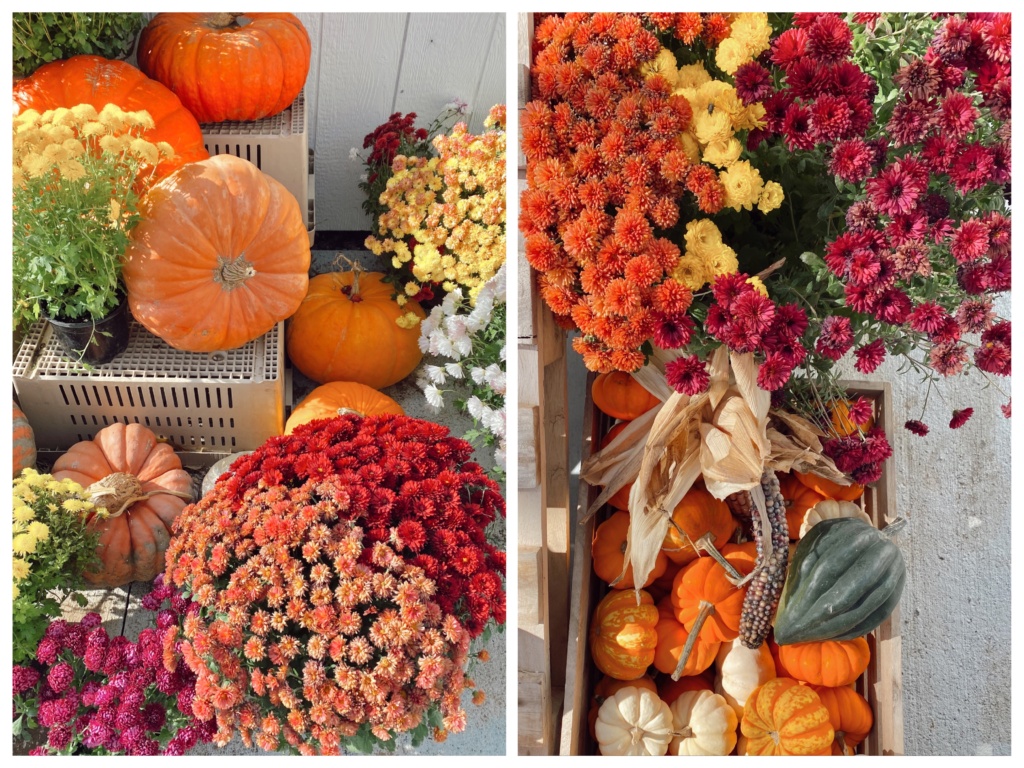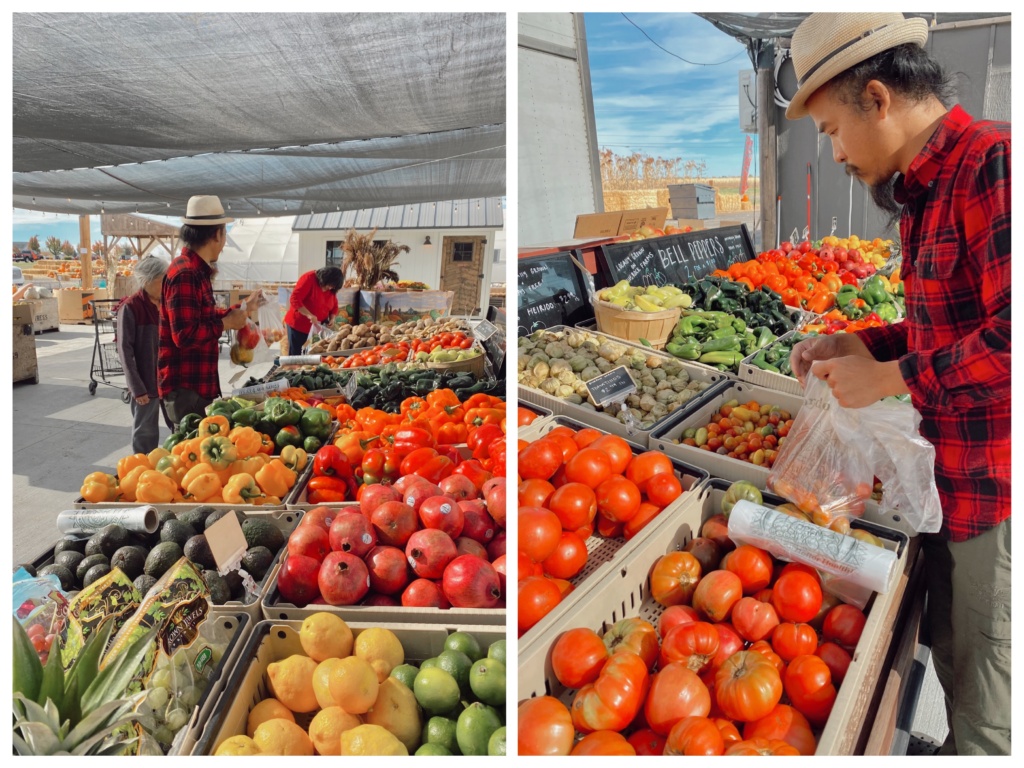 Not only they have an amazing array of produce that you don't see in your average supermarket (red carrots, a rainbow of heirloom tomatoes, winter squash, Indian corn,…) they also display their goods so beautifully.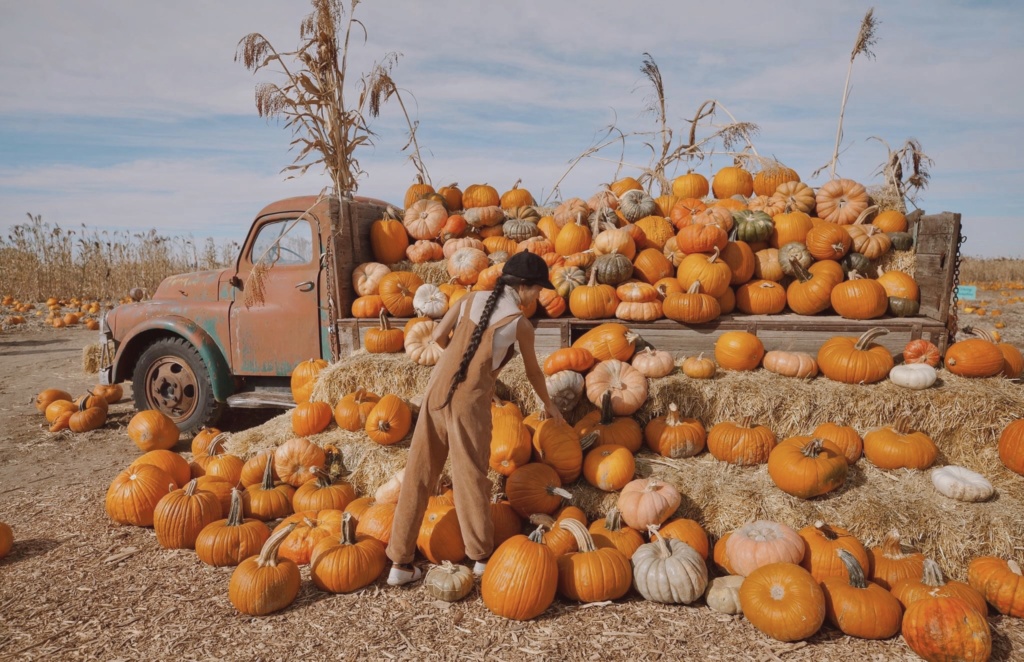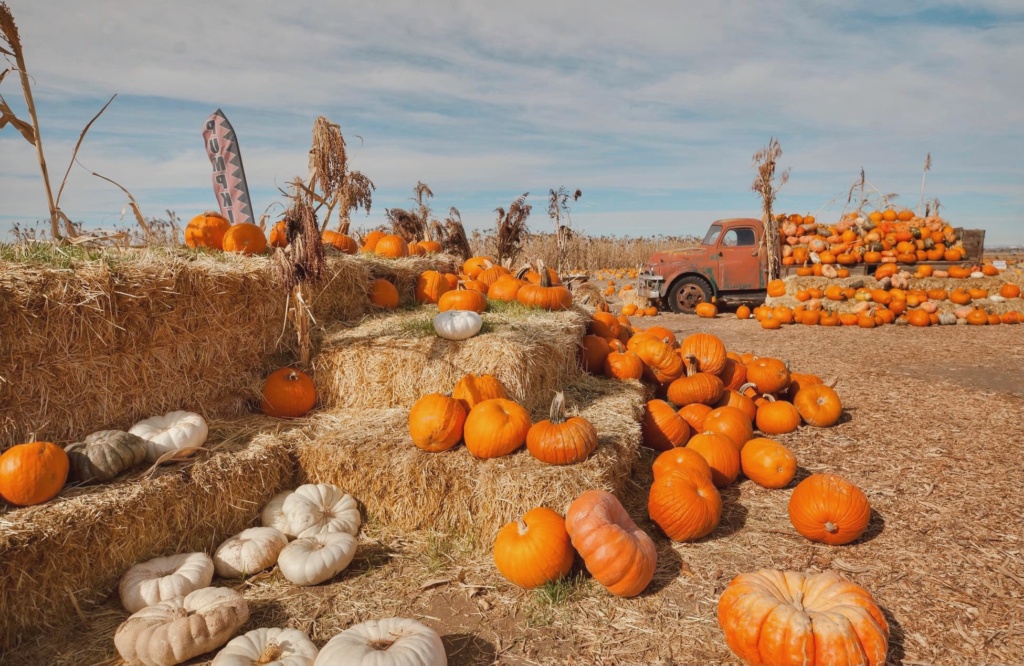 Their pumpkin patch is the most beautiful I've ever seen with old trucks, wagons, pumpkin chess table, corn pits,… (if this farmer market were in SoCal it would definitely be the most popular Instagrammable spot!)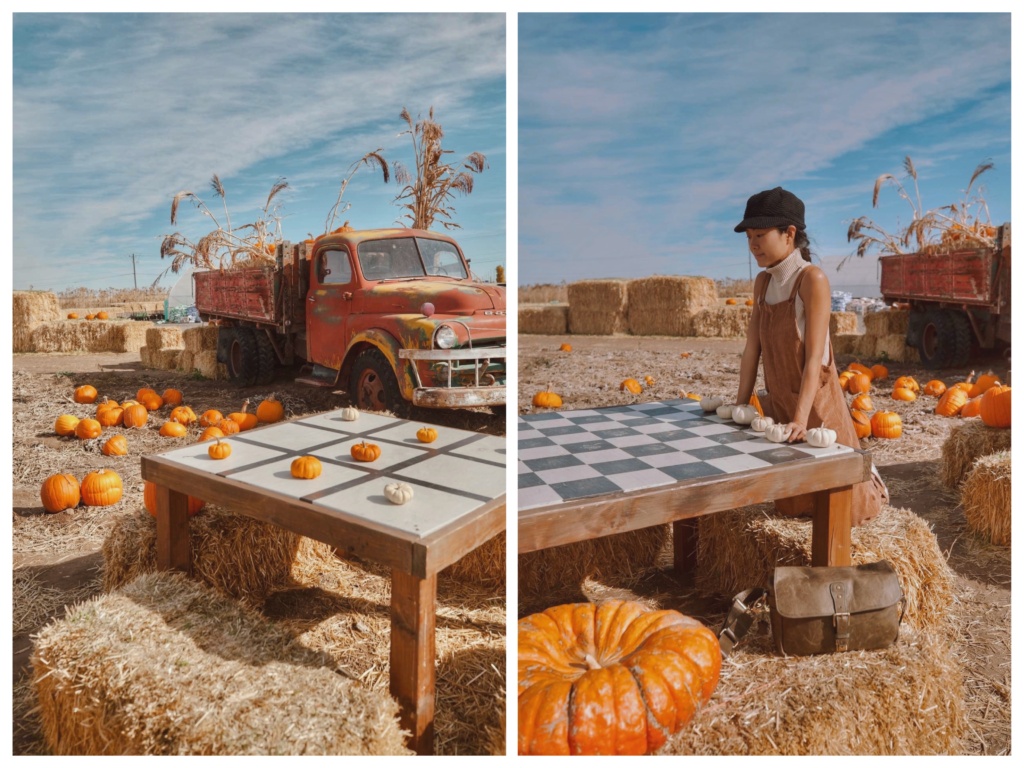 Small family farms have a hard time competing in the food marketplace. And many of our farmers go to great lengths to grow the most nutritious produce possible by using sustainable techniques, picking produce right before the market, and growing heirloom varieties. So when we buy directly from farmers we help giving them a better return for their produce. Plus, strolling amidst outdoor stalls of fresh produce on a sunny autumn day and getting a taste of small-town life are much better than shopping indoor at a grocery store with artificial lights and music.
Day 13: Twin Falls to Provo (261 miles – 3 hour 45 mins)
When the leaves in Utah start to turn, the Wasatch mountain turns into a blaze of rich color. And Provo Canyon is a perfect stop to observe the fall palette of red, orange, and yellow that Utah is famous for.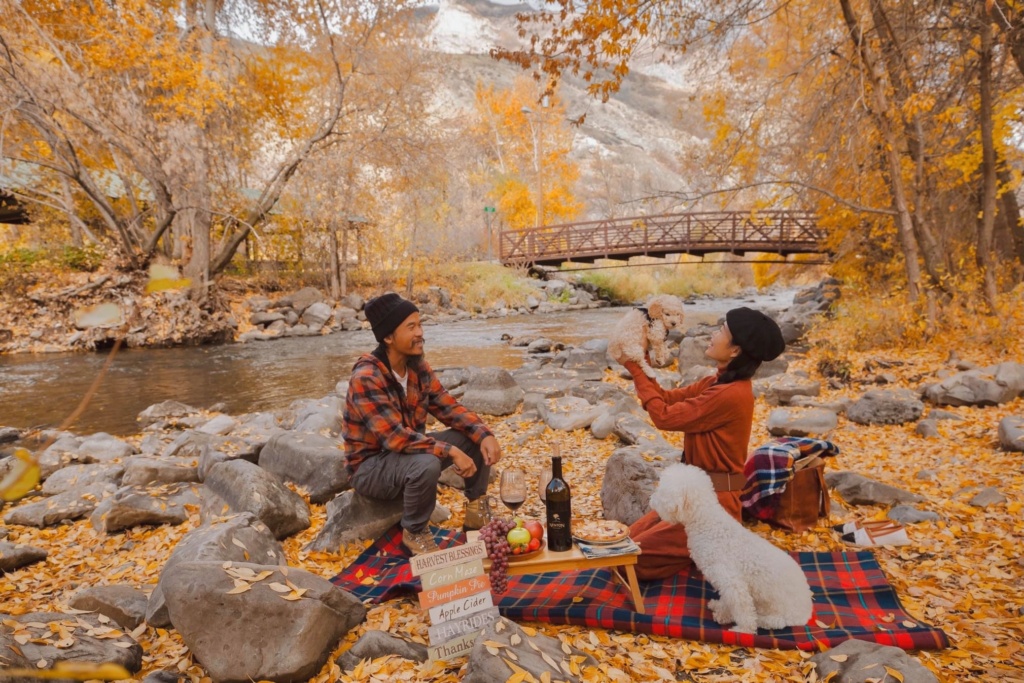 The kaleidoscope of fall colors seen throughout the valley and up Provo Canyon is just breathtaking. There are so many beautiful mountain views, scenic byways, and places to enjoy the abundant and colorful fall foliage.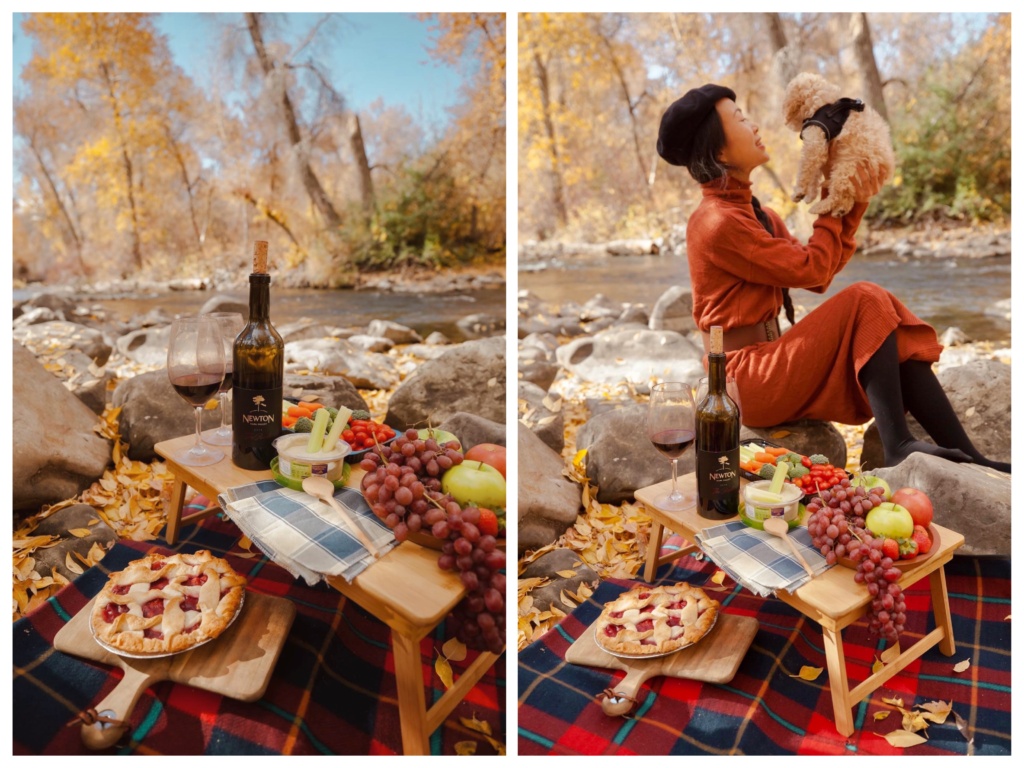 This is the perfect season to go on an adventurous hiking trip, or have a fall picnic in Provo.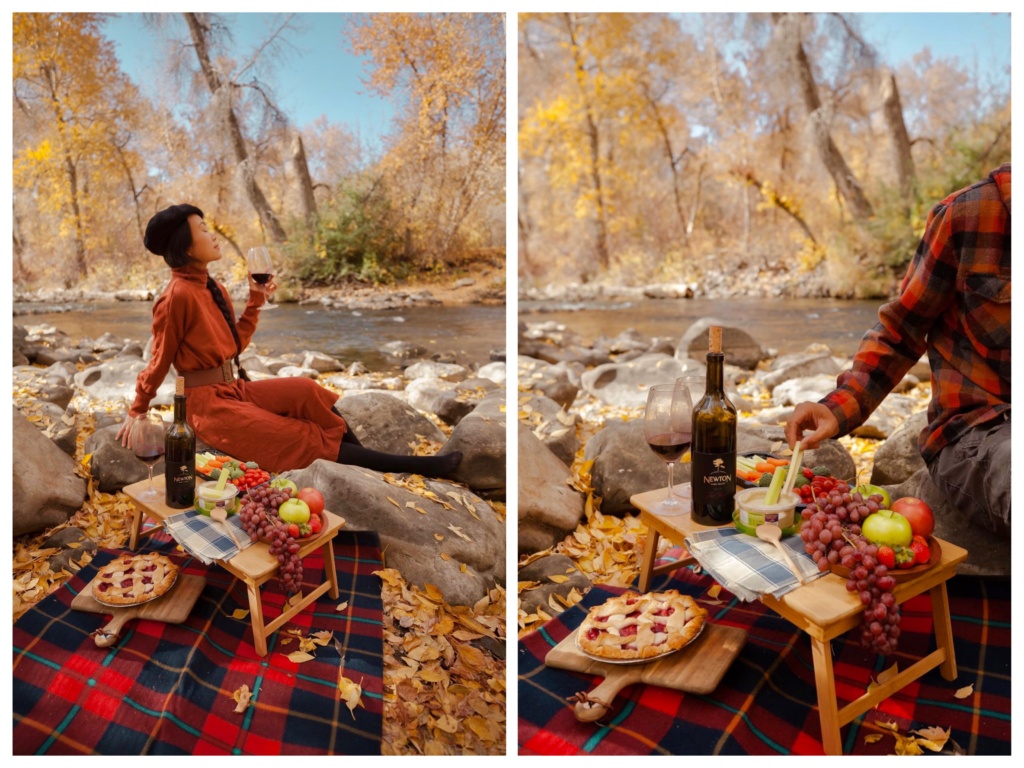 Day 14: Provo to Spanish Fork (9 miles – 13 mins)
One particular attraction in this area that I was dreaming to visit is the Diamond Fork Hot Spring, or Fifth Water Hot Spring. Multiple pools with enticing blue water, a stunning canyon encompassed by red rock cliffs, and a lovely riverside hike to boot? That's what I was looking forward to do most on this roadtrip.
Access requires a 2.5 mile hike each way, but the reward is a fabulous natural hot spring in a very forested and beautiful setting.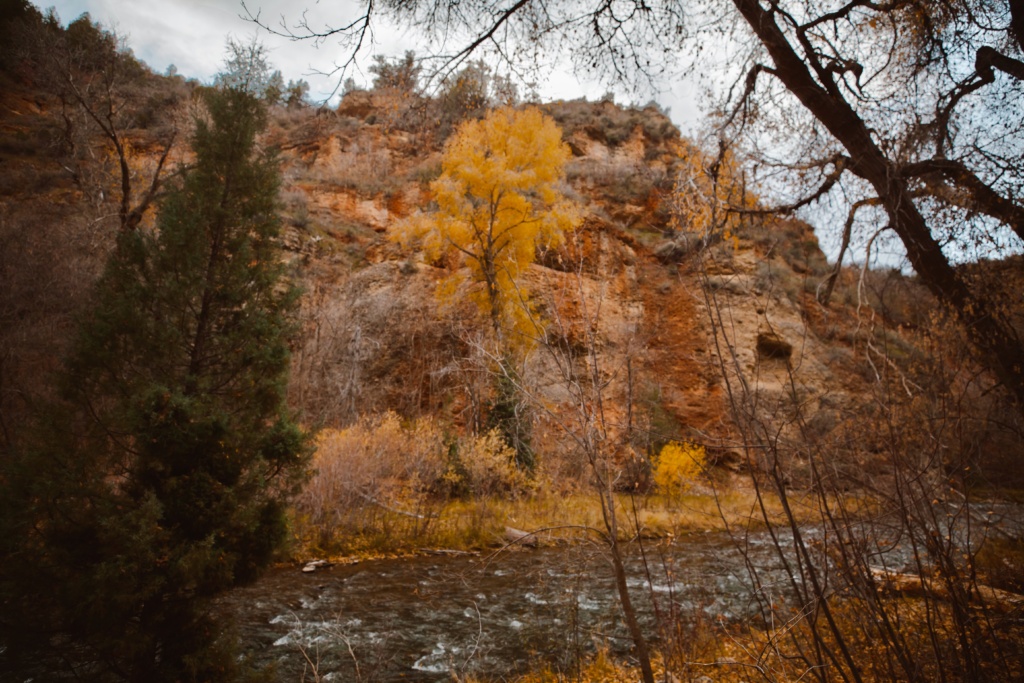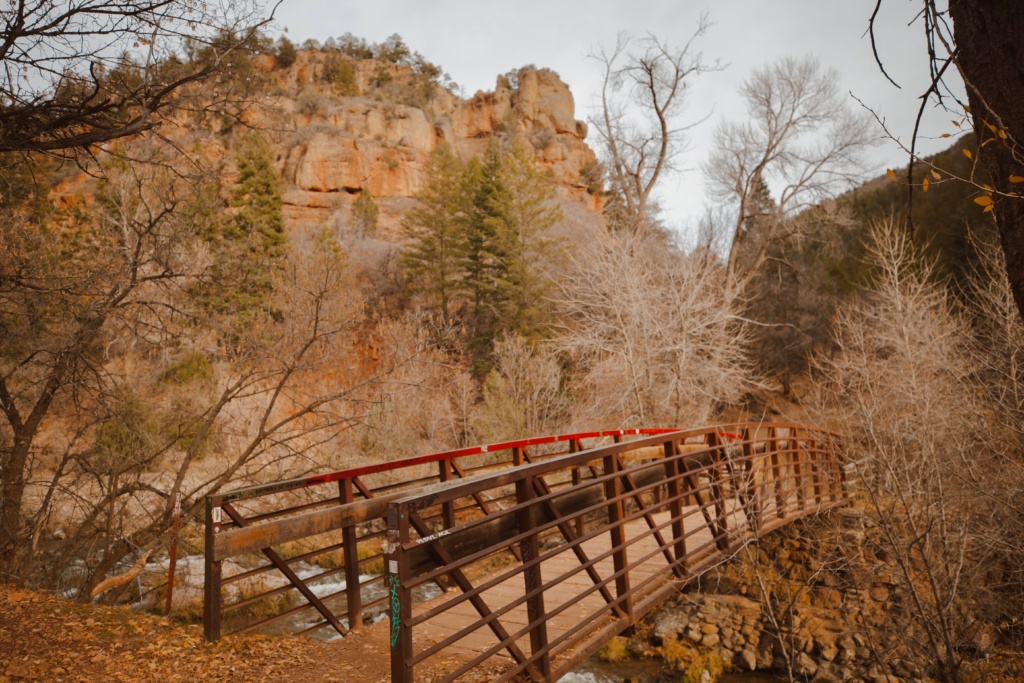 Temperatures of the pools can range up to 108 F, with several great soaking pools in a variety of cooler temps. The upper pools are the hottest.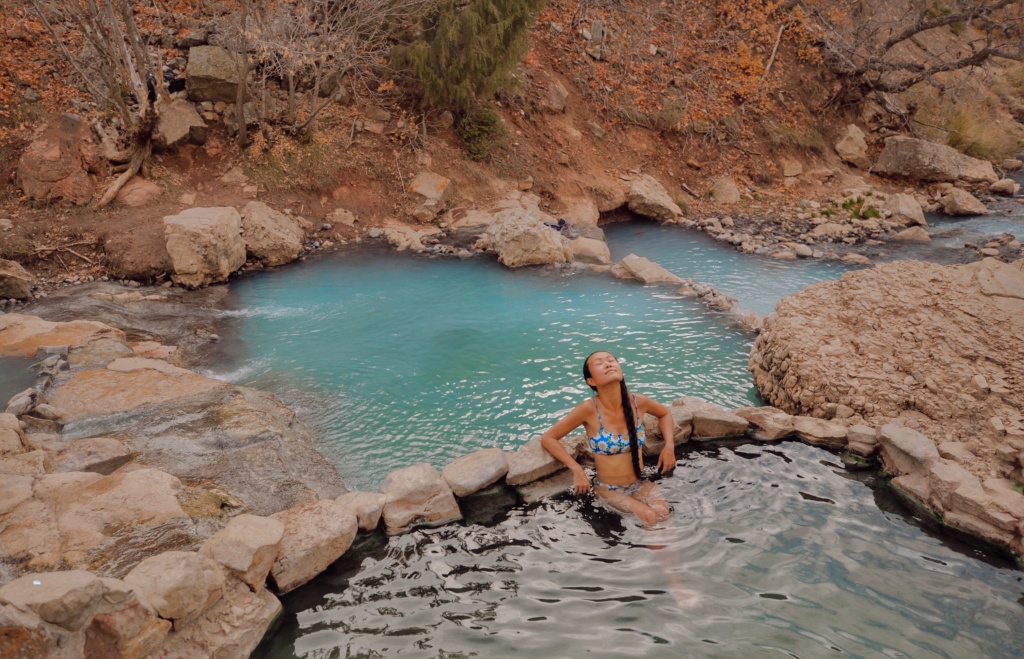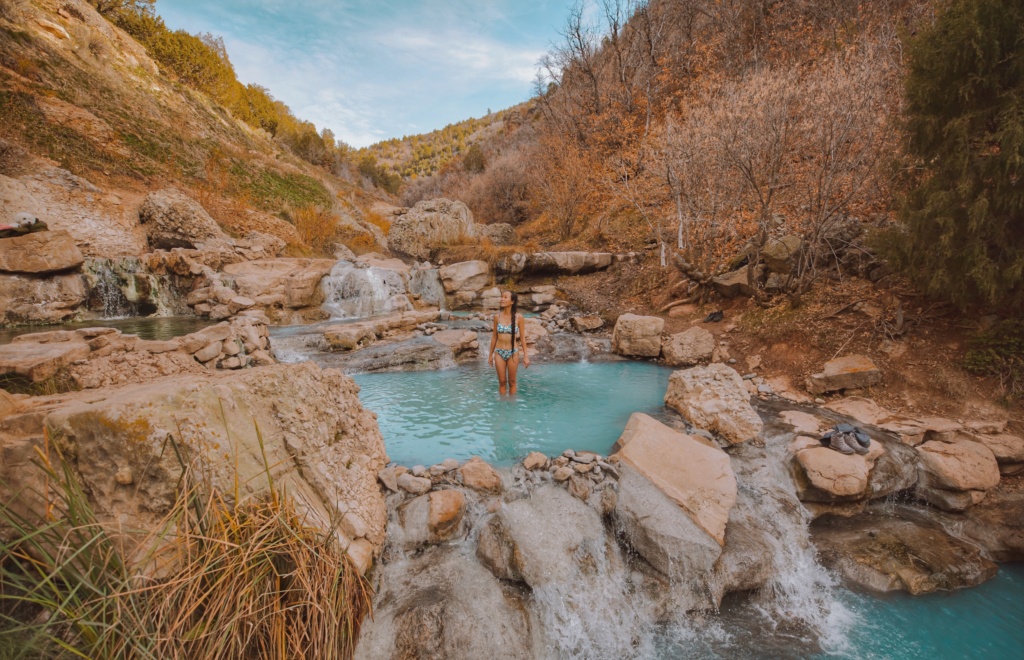 Day 15: Spanish Fork to Fillmore (94 miles – 1 hour 20 mins)
Here we visited one of our favorite hot springs in Utah where we got to park our van right next to the hot spring.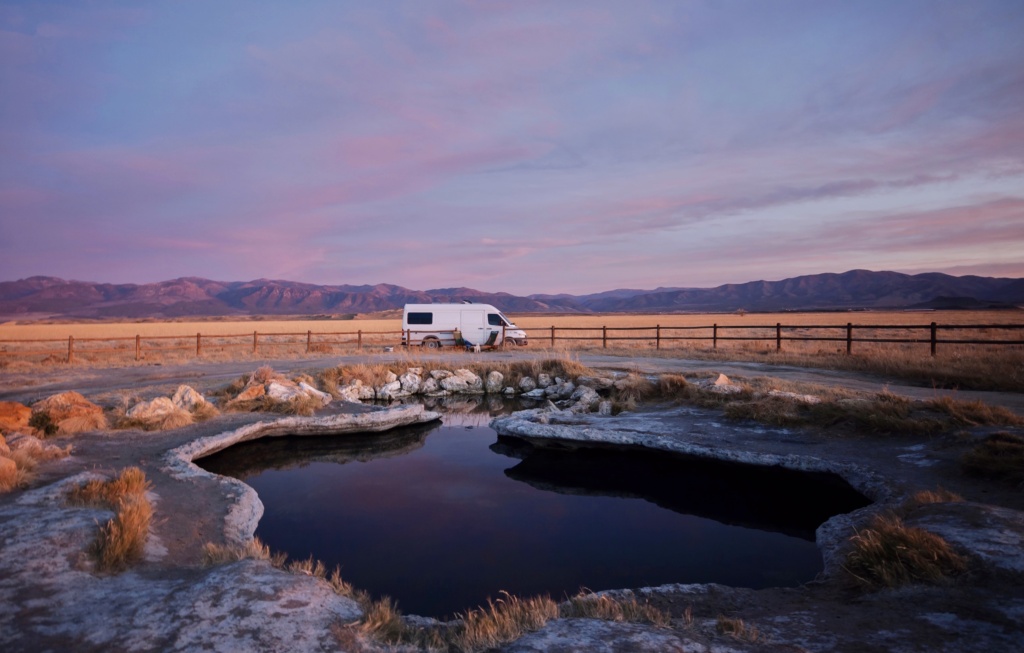 The Meadow Fields Hot Springs are located in a private property, but the owners are nice enough to let locals/tourists enjoy these hot springs without charging any fee.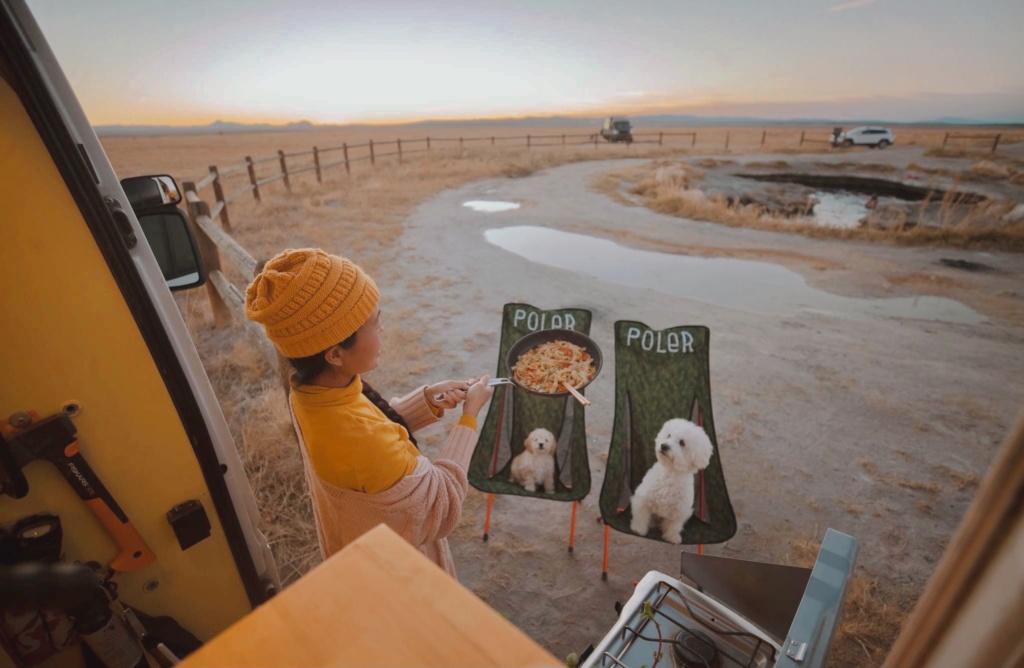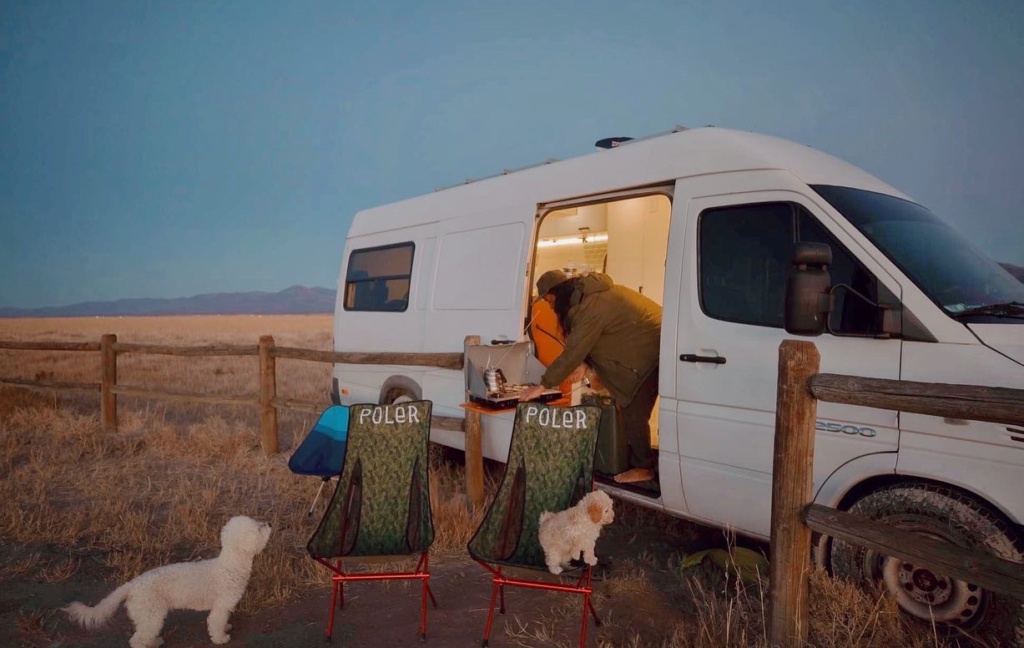 The property has been improved with fences, designated trash cans, and a nicely graded walking path that connects three different pools.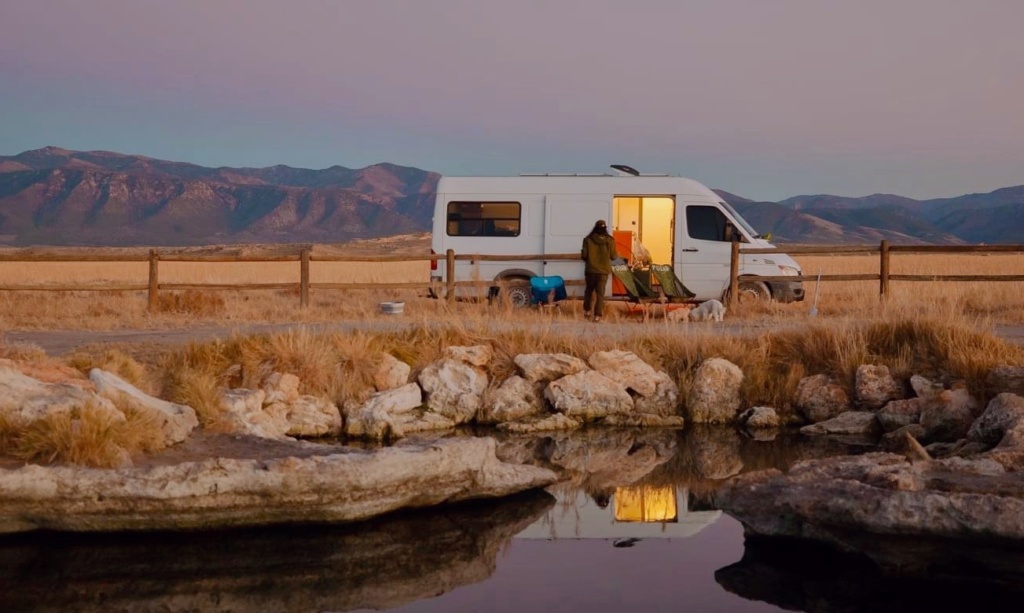 The water is clear and deep with temperatures hovering at about 100 degrees Fahrenheit. It is accessible year round and dog-friendly.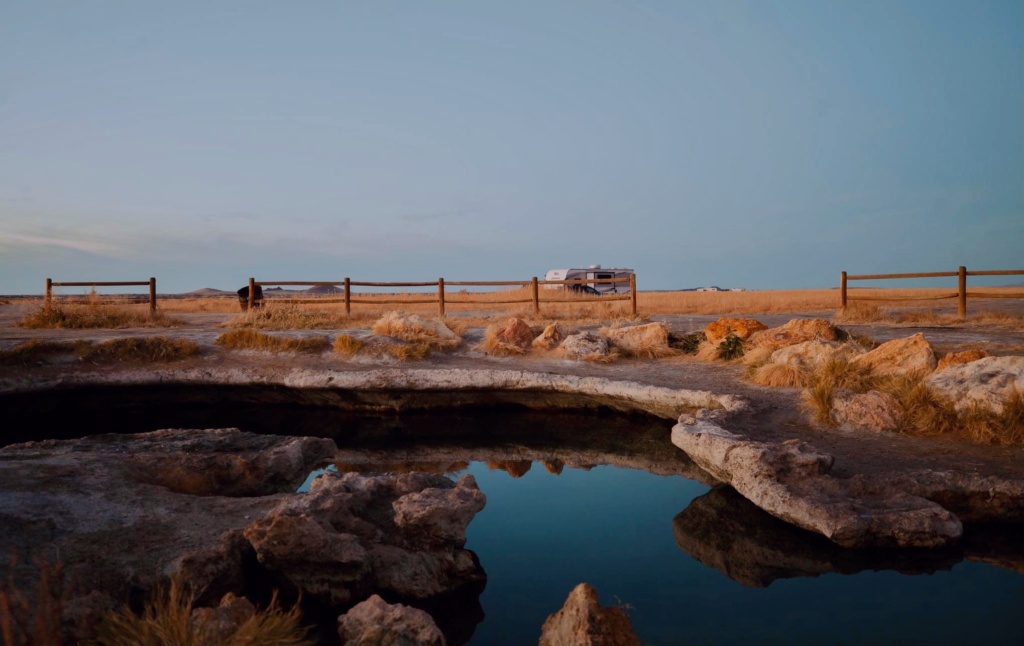 Day 16: From Fillmore to Monroe (65 miles – 1 hour)
I had seen pictures of these quirky bathtub hot springs called Mystic Hot Springs all over Pinterest and Instagram for awhile. They looked out of this world and I had been longing to visit this gem for so long.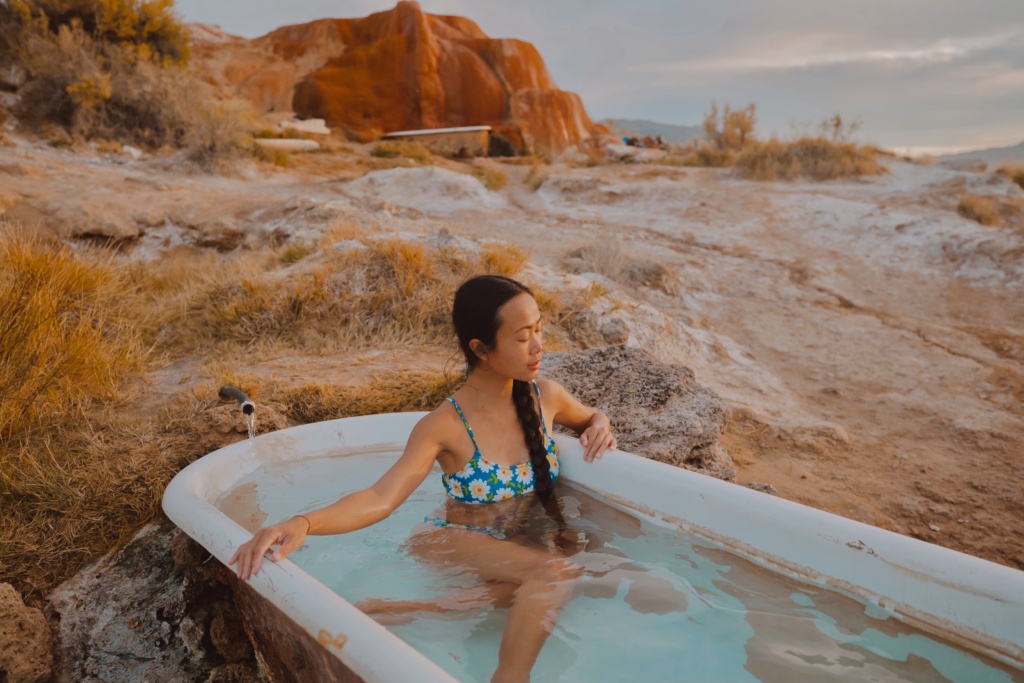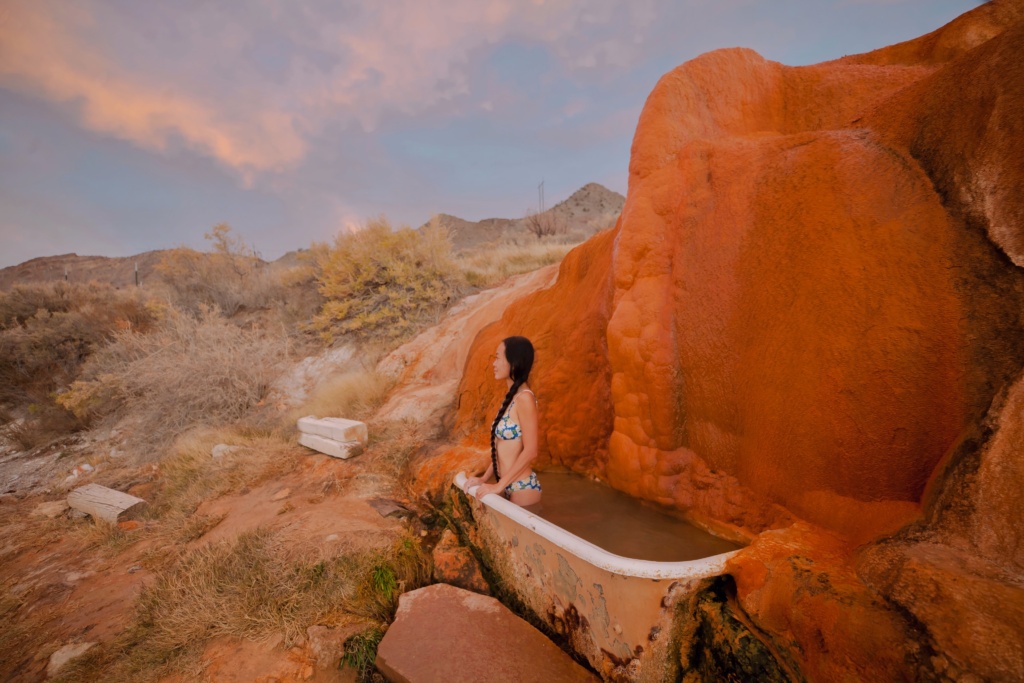 They were always booked so far in advance that we were roadtripping near Monroe so many times but never succeeded in booking the soaking passes. Fortunately, this time we got our slots and it was right around sunset hours. Sunset soaking helps us understand why this hotspring is called "Mystic"!
Be sure to make a reservation in advance when planning your visit to Mystic Hot Springs because they book up fast. A couple of weeks in advance should be enough time to secure a spot. The booking gives you a two hour time slot ($25/person).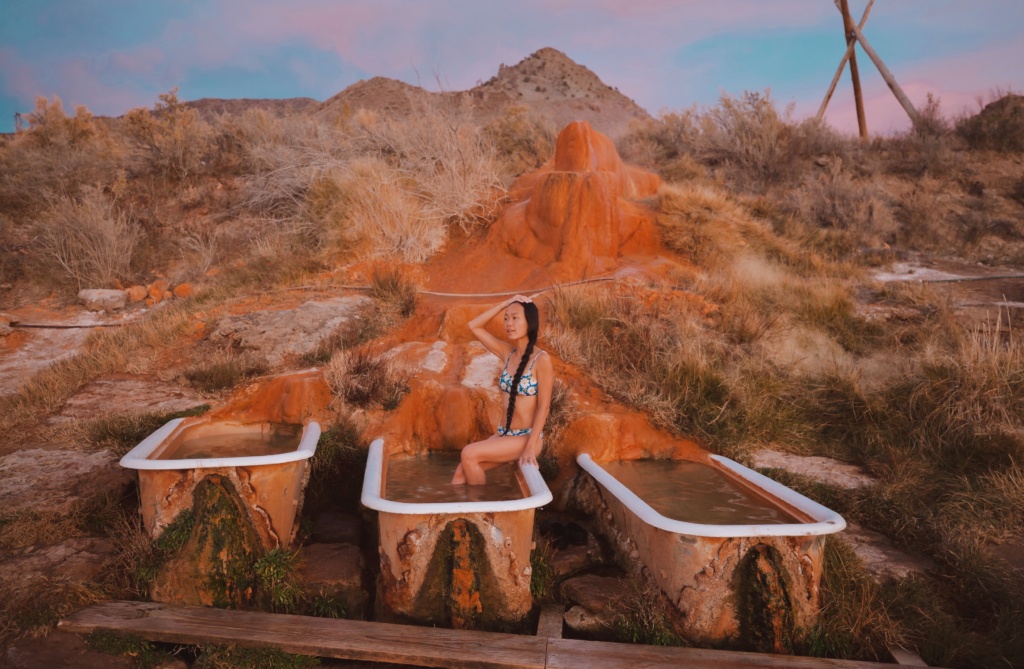 The resort has two concrete pools and six vintage cast iron bathtubs. Most of them sit around 99 -110 degrees Fahrenheit.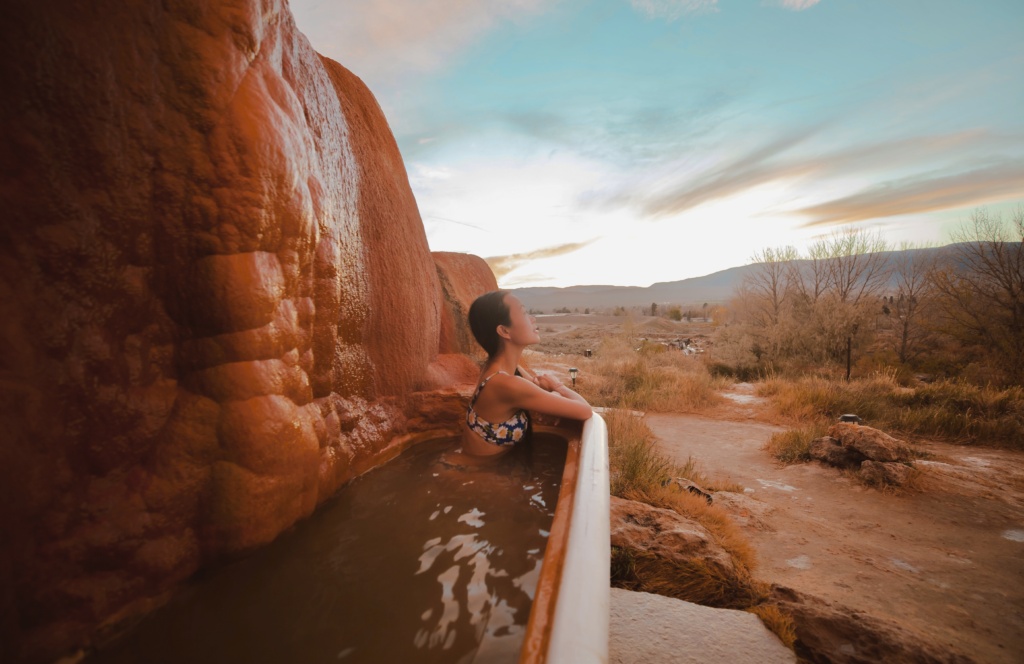 Mystic Hot Springs is a family owned business and I love its uniqueness. It truly is a one-of-a-kind hot spring and experience. I 100% recommend it if you are in the Utah area.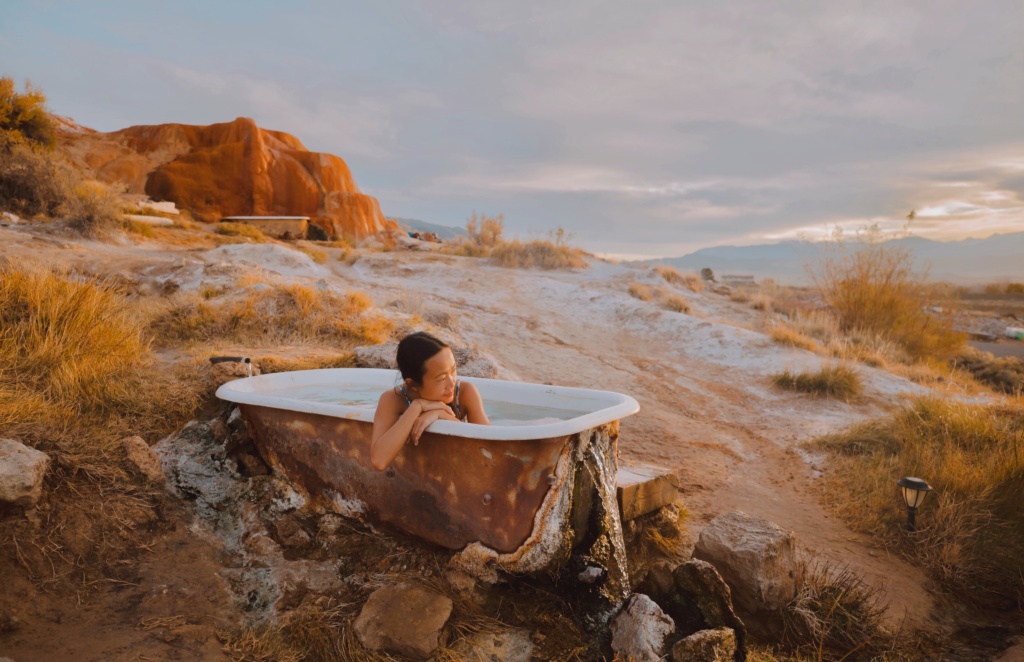 Day 17: From Monroe to Goblin Valley State Park (157 miles – 2 hours 30 mins)
This drive is the most scenic drive on our roadtrips with so many viewpoints and rest areas. If you are doing vanlife full time, you can do this route for as many days as you wish since there are so many boondocking spots along Interstate 70: Salt Wash View Area, Black Dragon Canyon View Point, San Rafael Reef View Area,….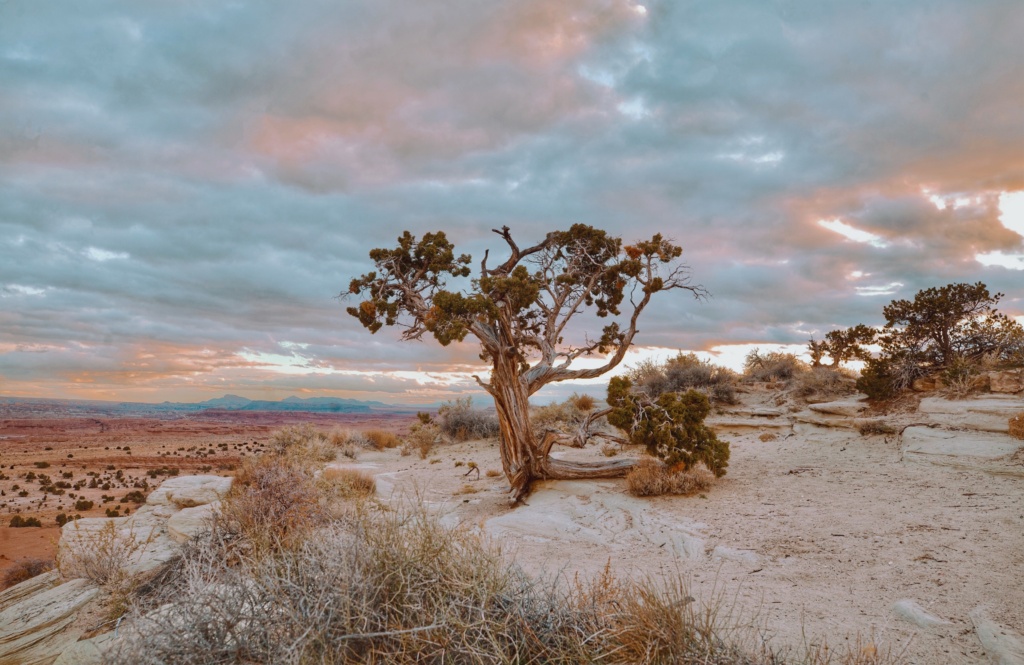 The drive is running through fascinating landscapes and winding through the spacious Spotted Wolf Canyon for truly mesmerizing views. The route reveals vast deserts, deep canyons, sheer cliffs, and unique rock formations.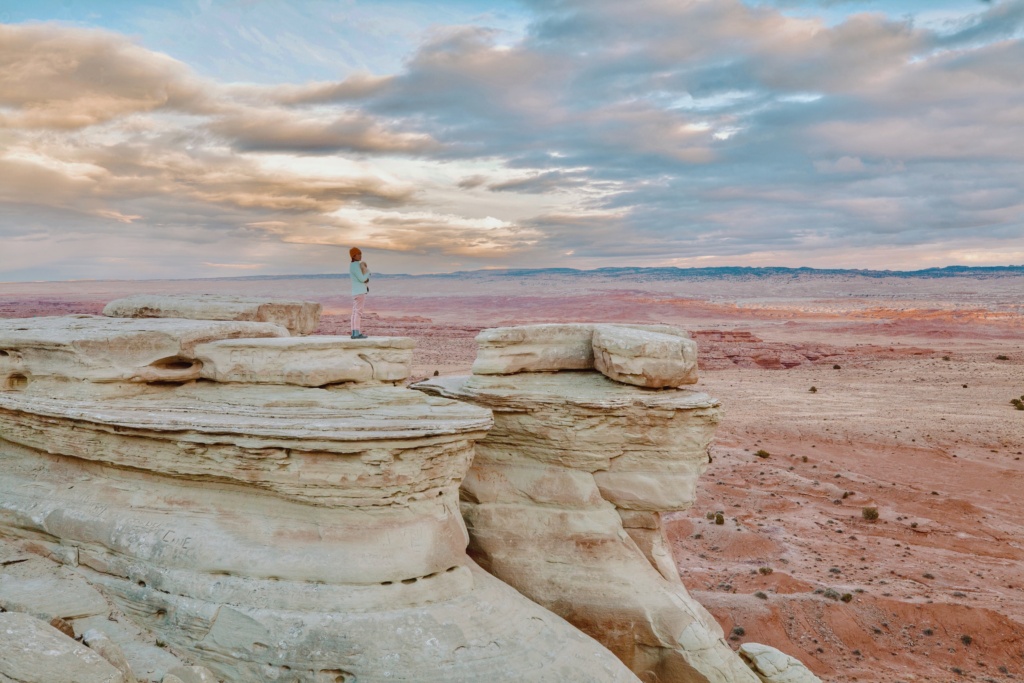 Day 18: Explore Goblin Valley State Park
If you're looking for a unique and rugged land filled with goblins, gnomes and mushroom shaped desert creatures, then don't miss Goblin Valley State Park, one of the coolest places to visit in Utah!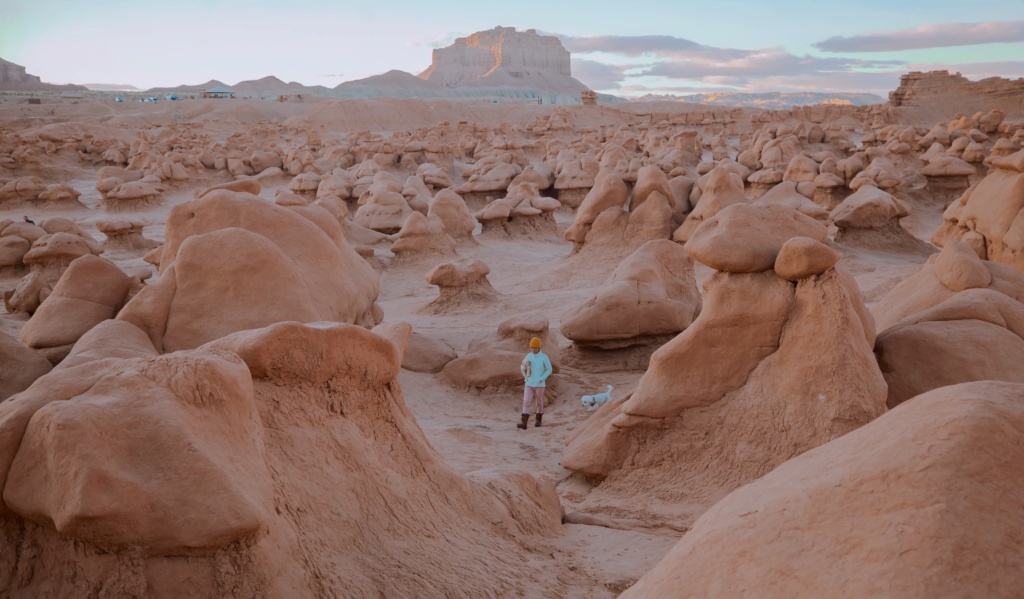 As you wander through the valley of unusually shaped red rocks called goblins, you'll quickly feel like you've been transported to another planet.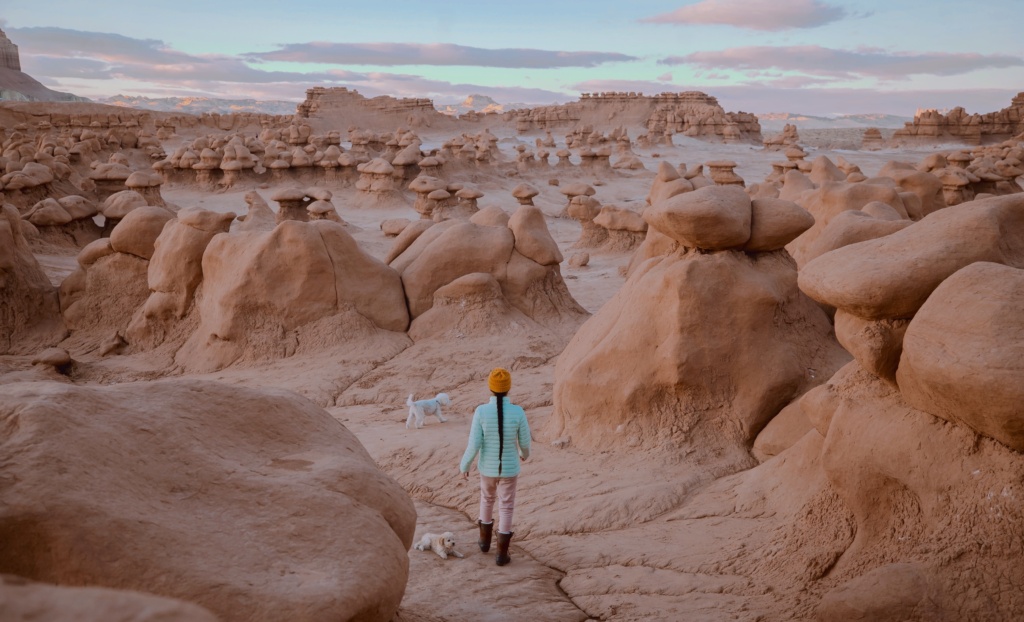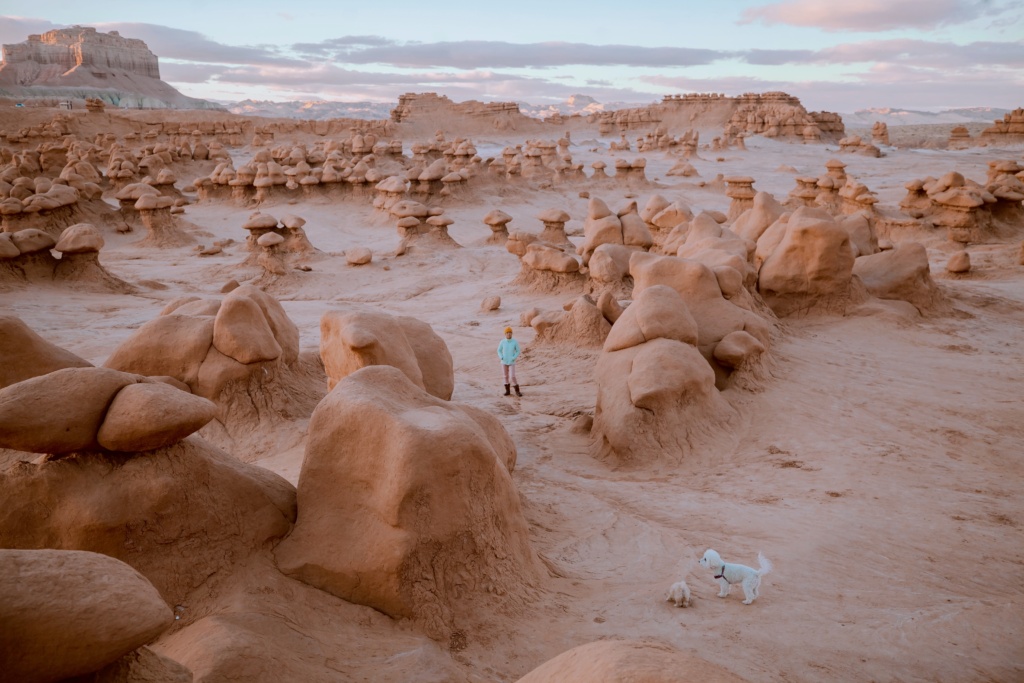 I think Spring and Fall are the best times to visit Goblin Valley. The days are often sunny and warm while the nights are cool and the sky is clear.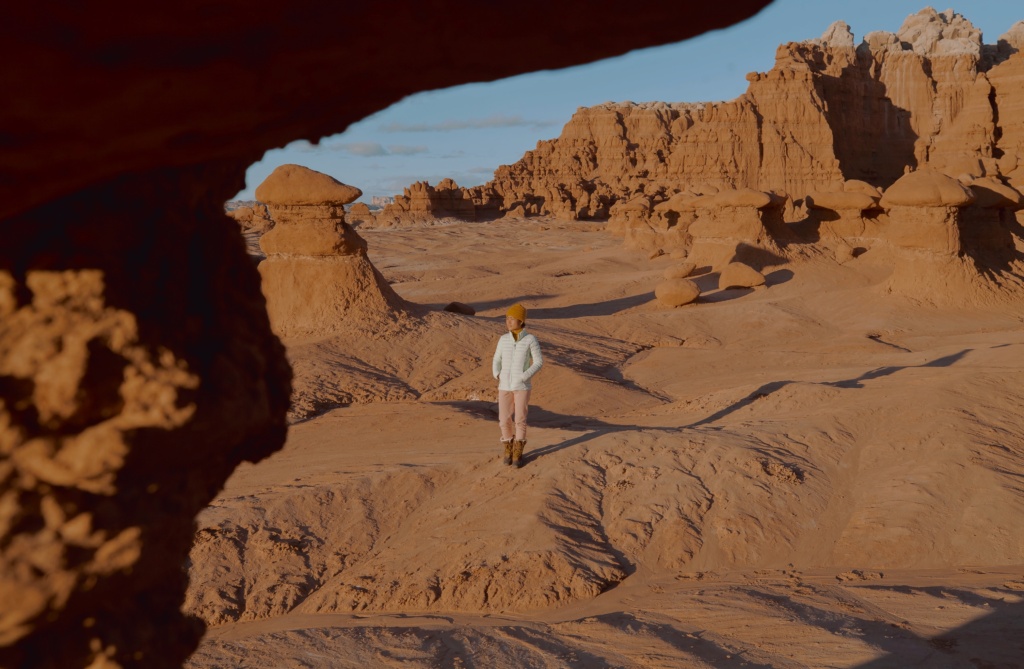 The Valley of Goblins is the most popular and well-known area in the park. This is a free-roaming area of the park that spans roughly 3 square miles! Beginning at Observation Point, you can hike wherever you want through the valley. There are no designated trails. If you only have an hour or two in the park, this is the area that you should explore.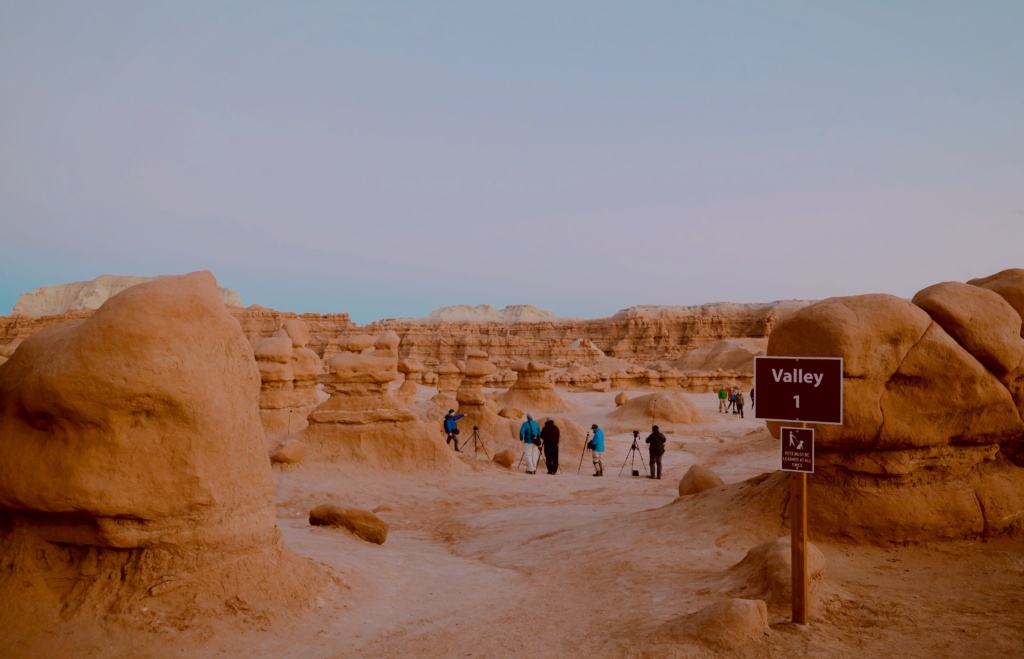 If you are determined to stay near Goblin Valley State Park, then the Goblin Valley Campground is a great option. Plus, there are Yurts to rent!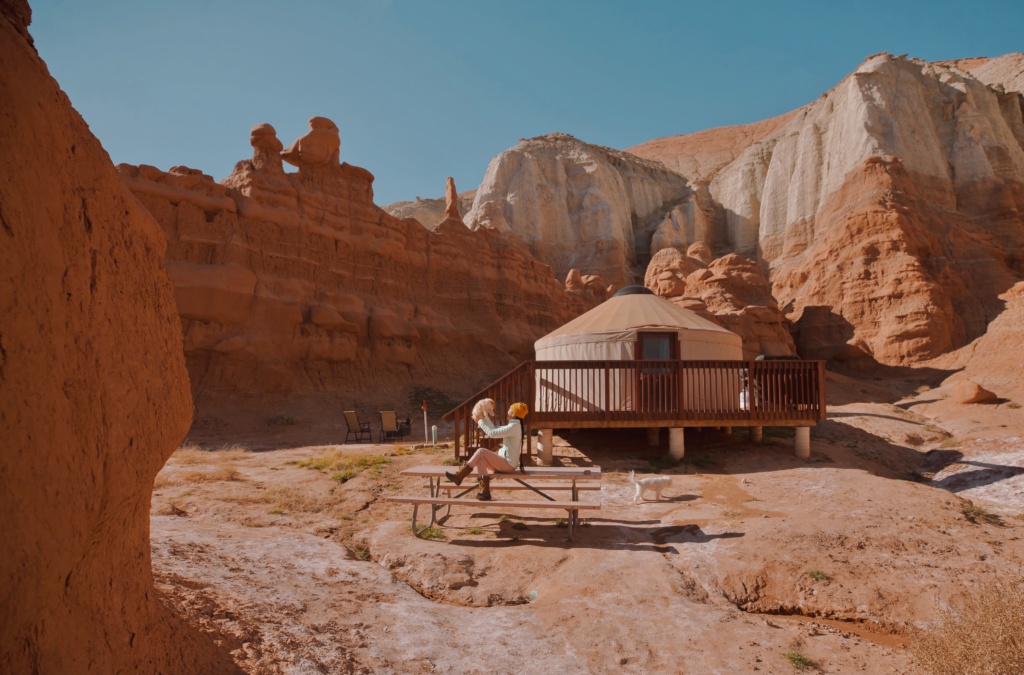 The campground at Goblin Valley State Park has 25 sites and two yurts.The campsites are divided into 10 walk-in tent pads, 14 RV spaces, and one group site that can accommodate up to 35 people.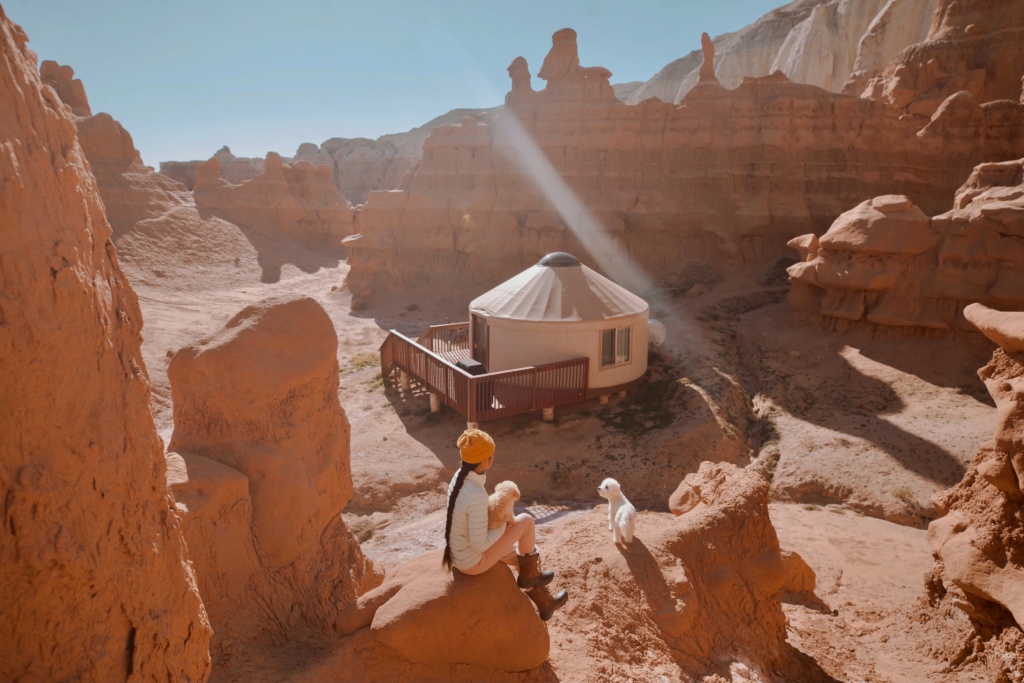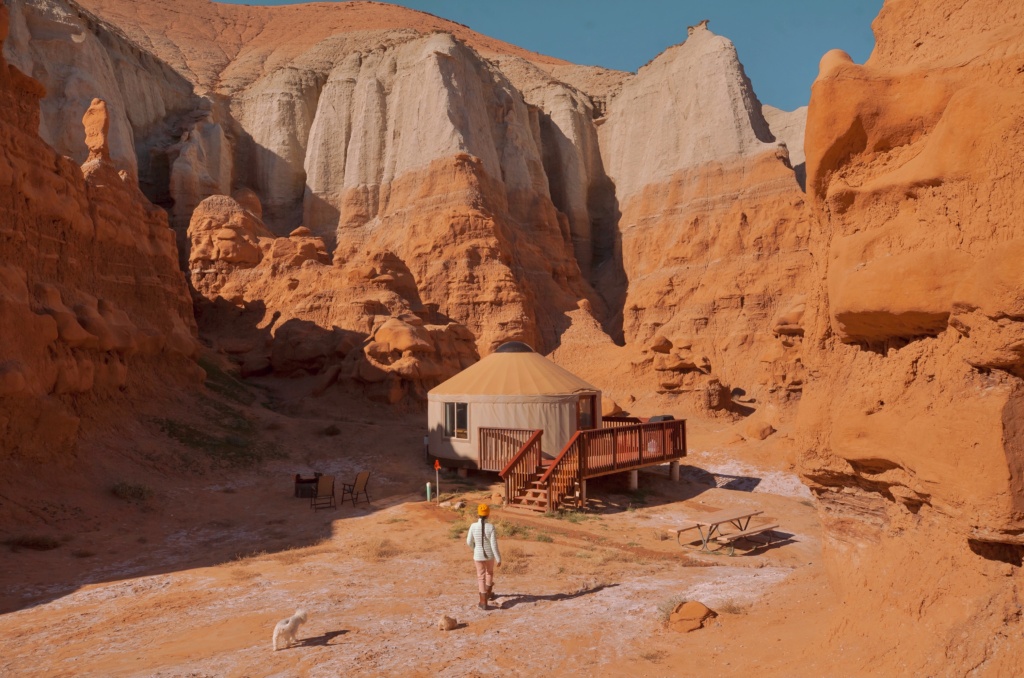 It cost $35/night for the main campground. This camping charge includes the park's entry fee. And it cost $100/night for the yurts.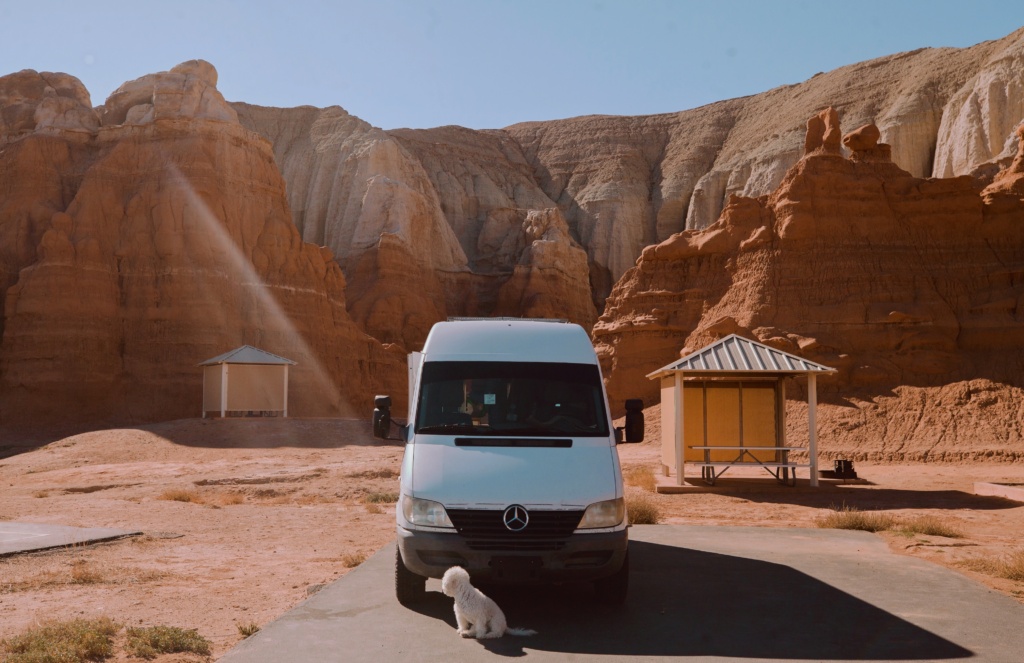 The yurts are modeled after traditional nomadic tent dwellings of Central Asia.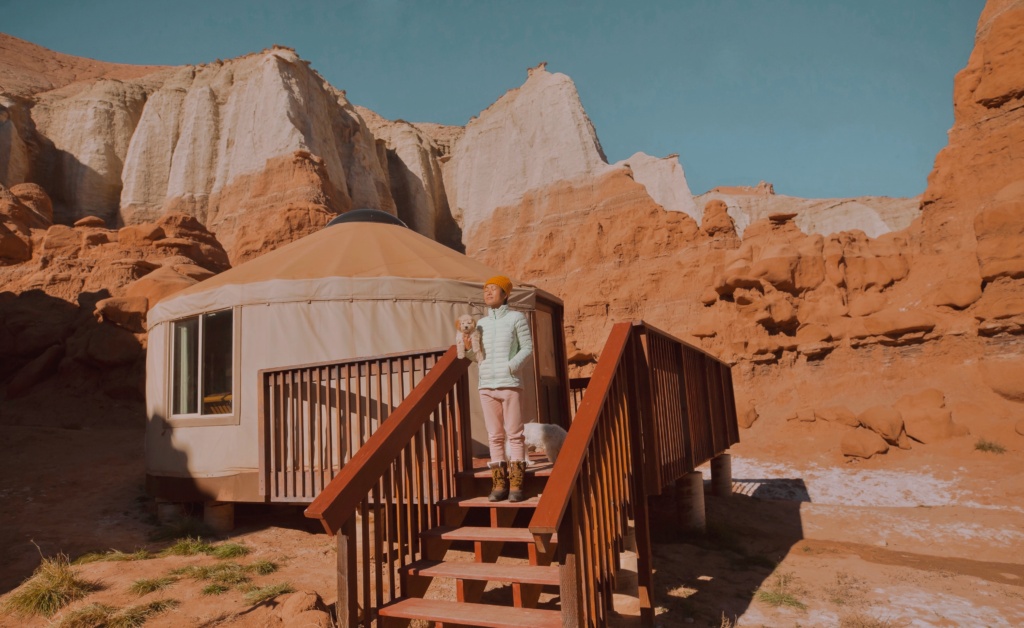 Day 19: From Goblin Valley State Park to Moab (100 miles – 1 hour 40 mins)
We have visited Moab area so many times in our previous trips. For more things to do in this area click here.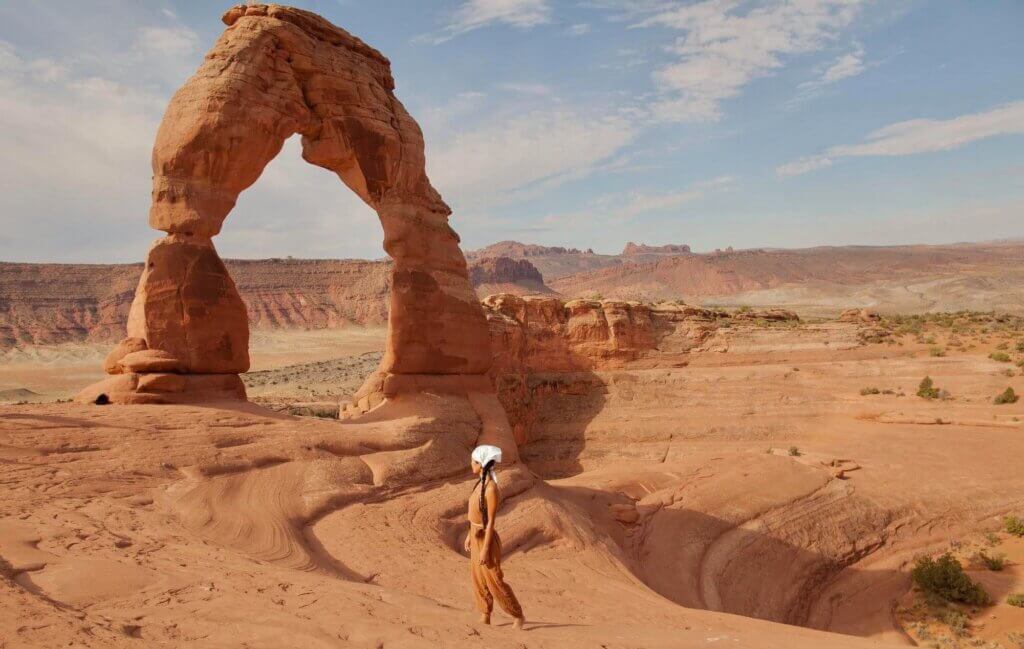 We just stopped by the town to do some laundry and explore some of the locals' lunch spots. We visited the Moab Food Truck Park.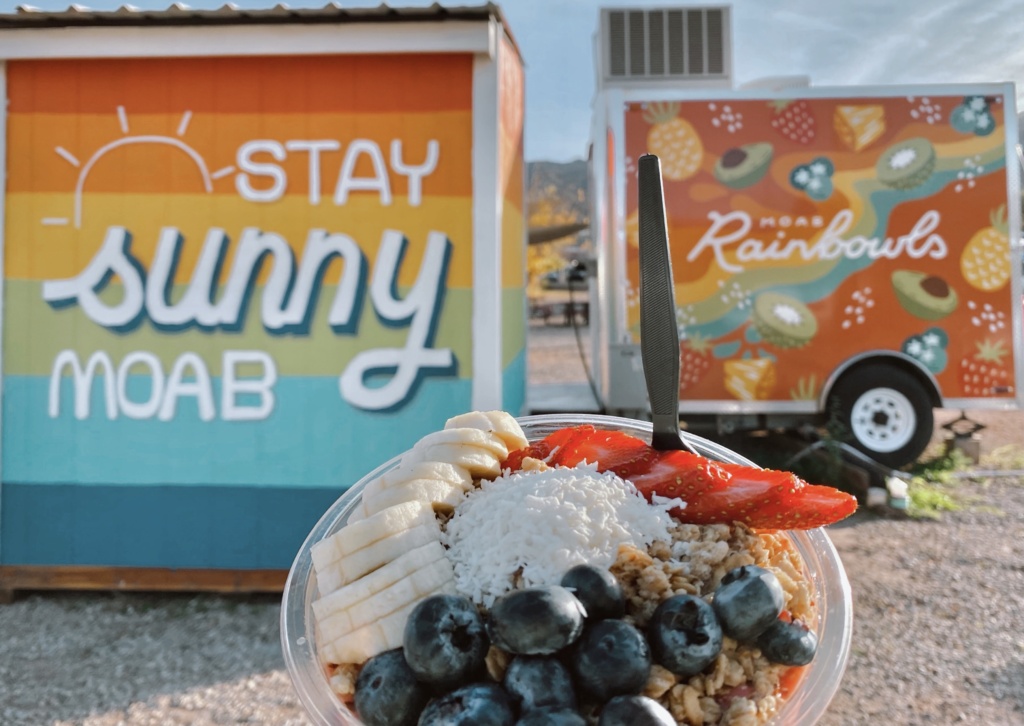 The Moab Food Truck Park is not to be missed, especially if you're part of a group that has a tough time settling on one place to please all palates. With a wide variety of mouth-watering food truck fare such as Red Wok Chinese Express, Tacos El Gordo, Hokulia Shave Ice, Downtown Dawgs, Delicate Donuts, The Krusty Crab, and Big Don's Pizza,…there's truly something for everybody.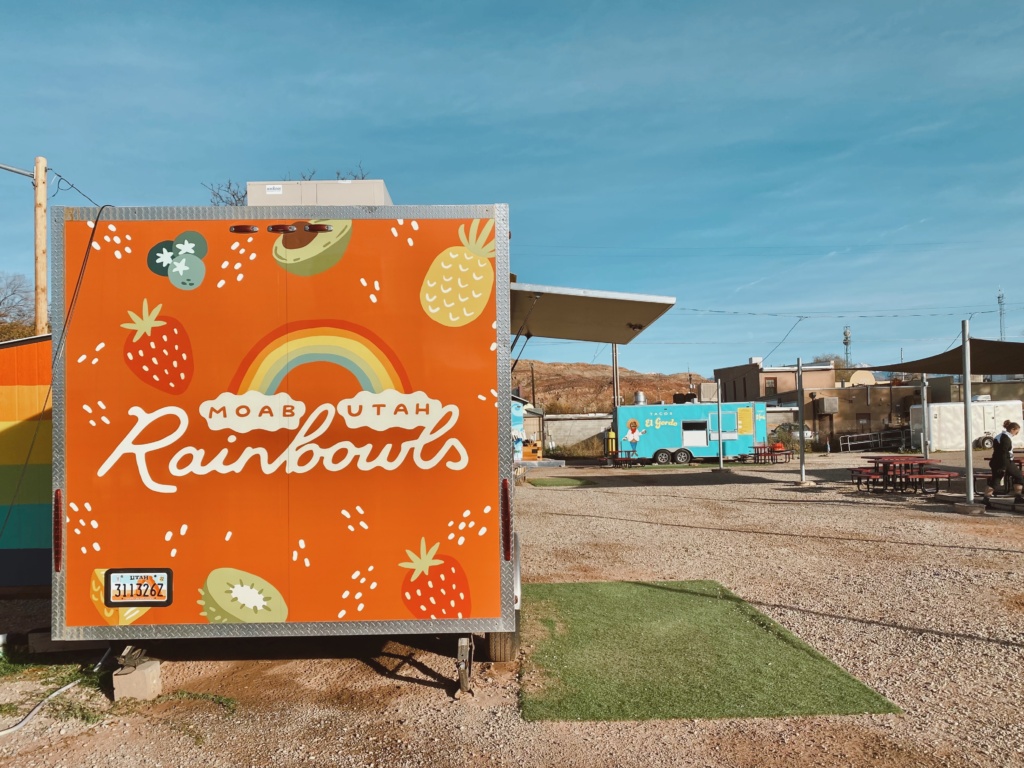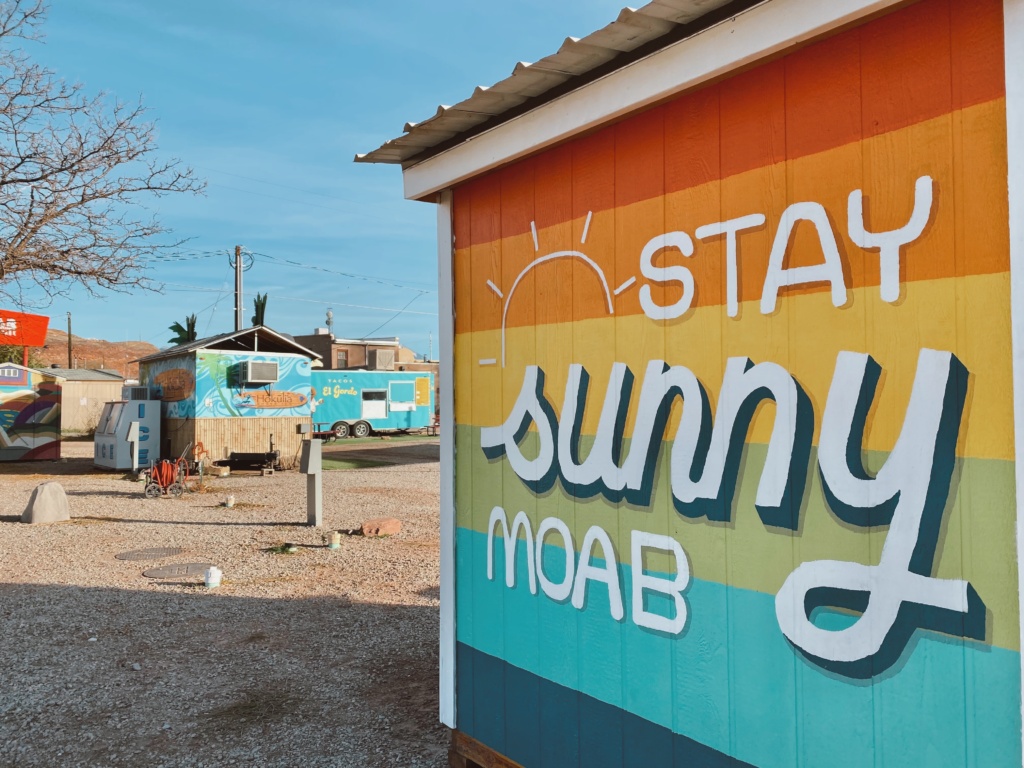 Or if you want some fresh and flavorful Thai food, visit Arches Thai.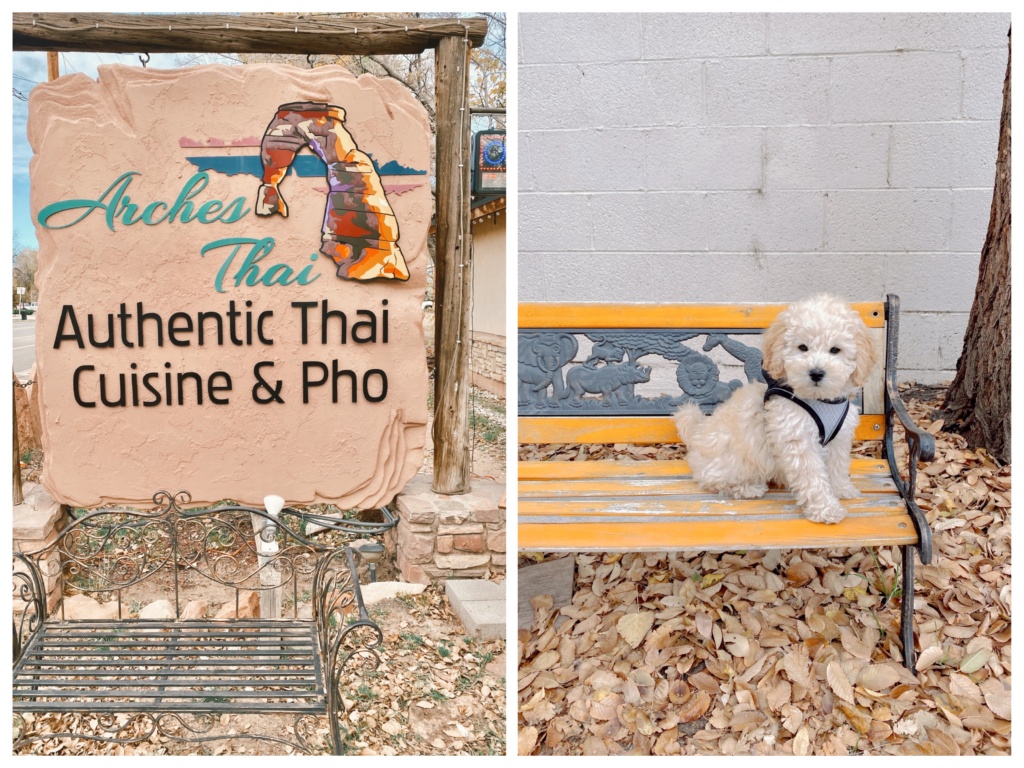 One of my favorite coffee spots in Moab is the Garage Co. It's super easy to pop in while walking around town. Stop here for their delicious coffee and waffles.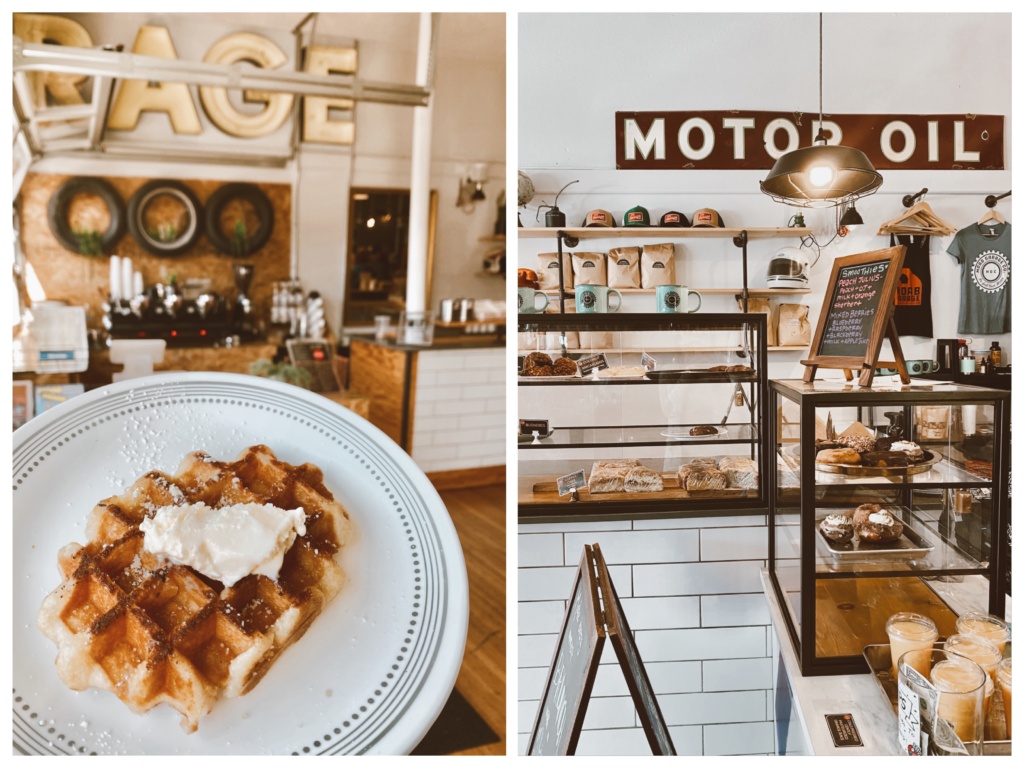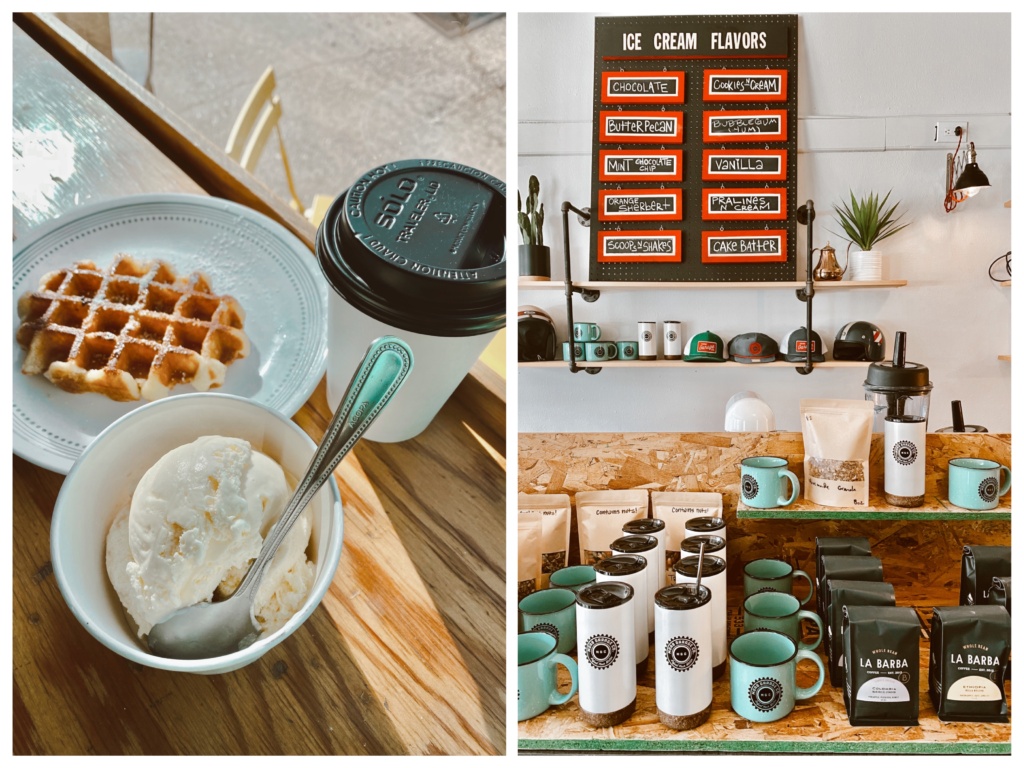 Right next to the Garage is the Moab Coffee Roasters. All coffee drinks here are made from organic beans roasted fresh.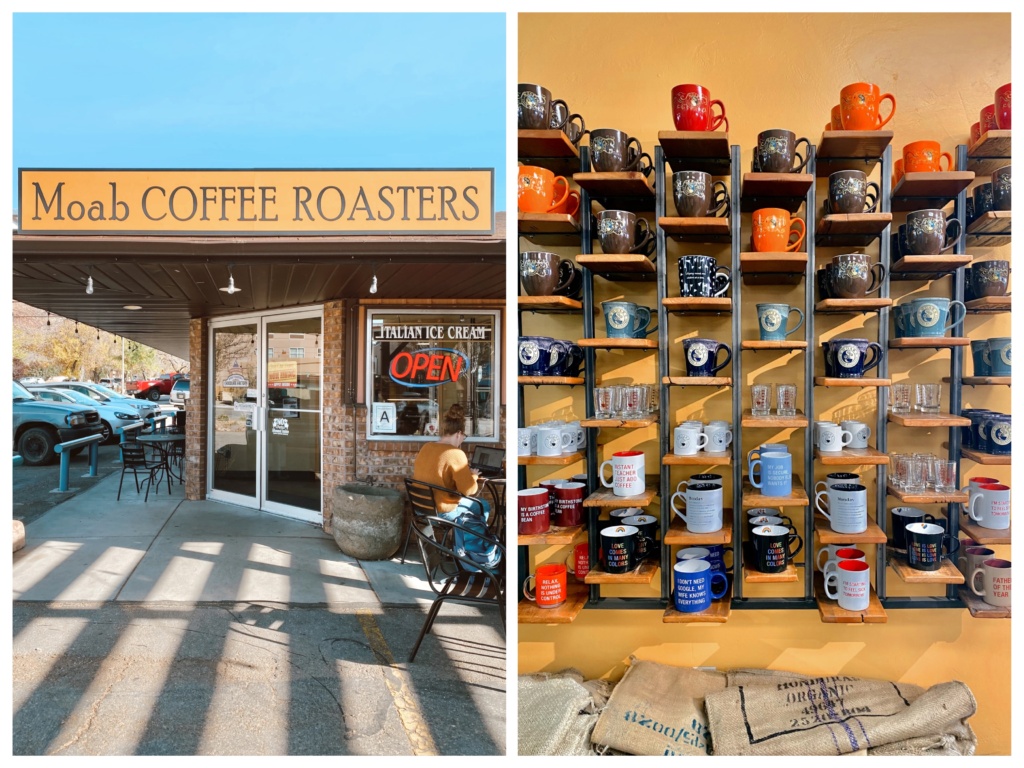 Day 20: From Moab to Valley of the Gods (122 miles – 2 hours 24 mins)
Valley of the Gods is a scenic backcountry area in Southeastern Utah, near Mexican Hat. Visiting Valley of the Gods is usually done by driving the 17-mile road that takes visitors past the main formations within the valley. The road is unpaved but well maintained.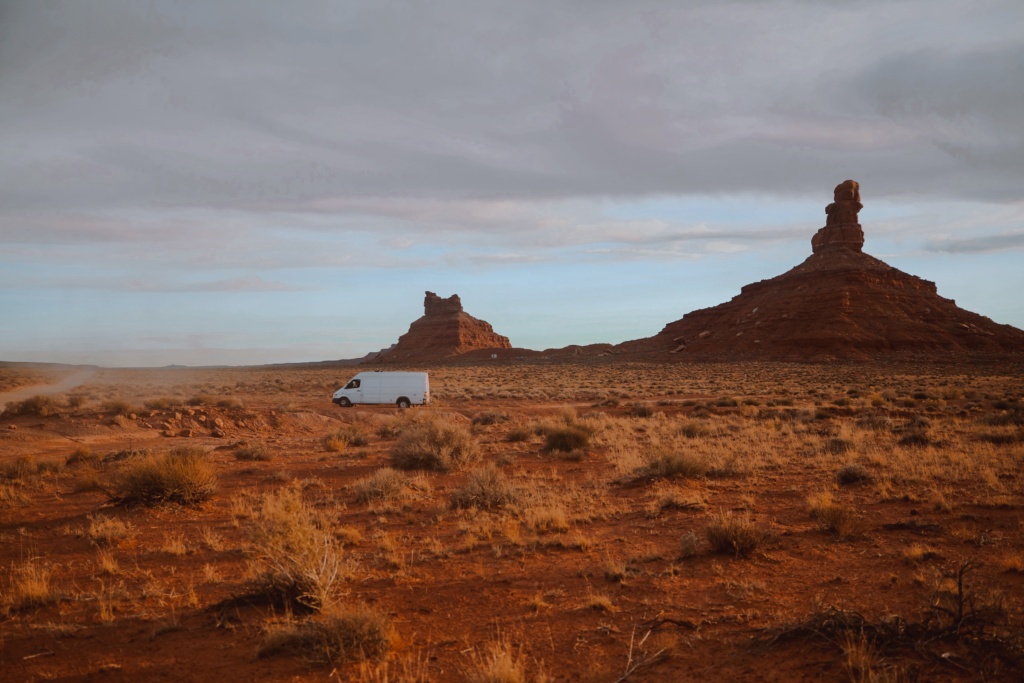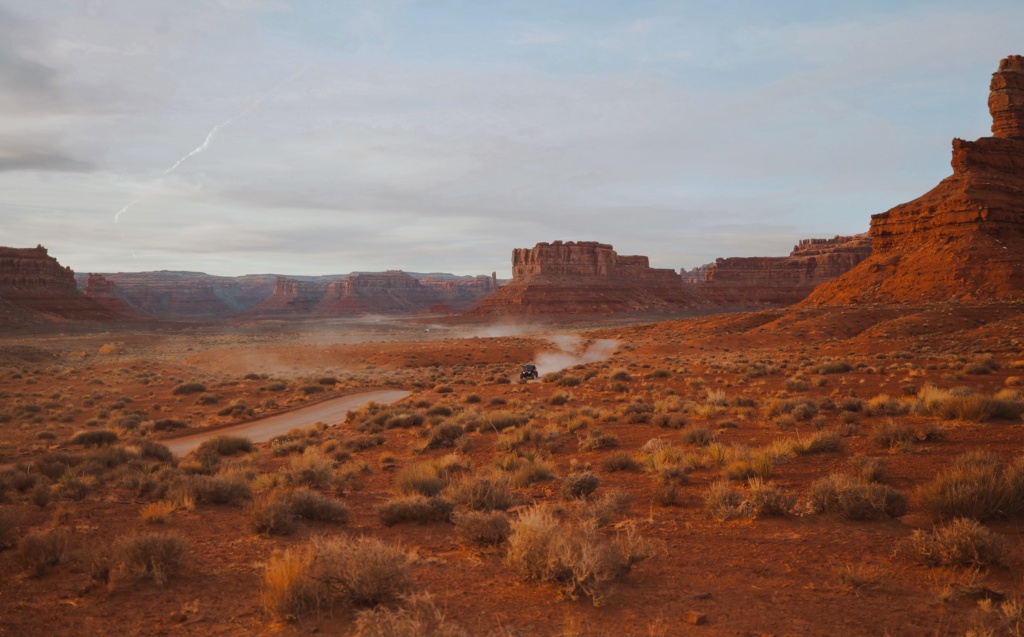 Valley of the Gods is often referred to as a "miniature version of Monument Valley" (without the fees or tourists).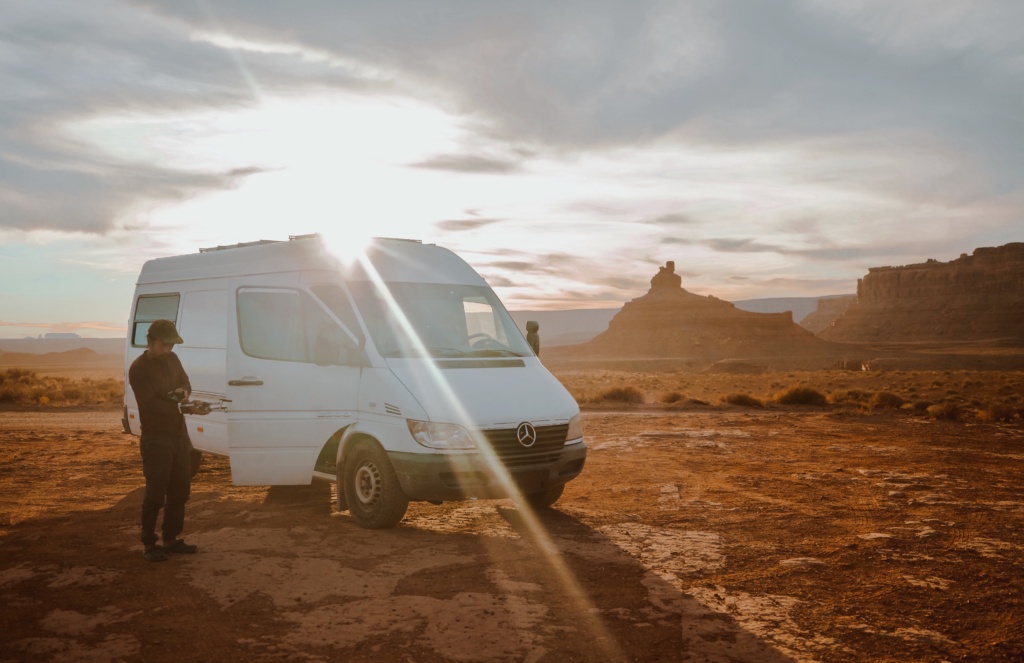 Because of its isolation, people exploring and driving through Valley of the Gods need to be well prepared and self-sufficient and carry emergency supplies. Have a full tank of gas and plenty of water at the minimum.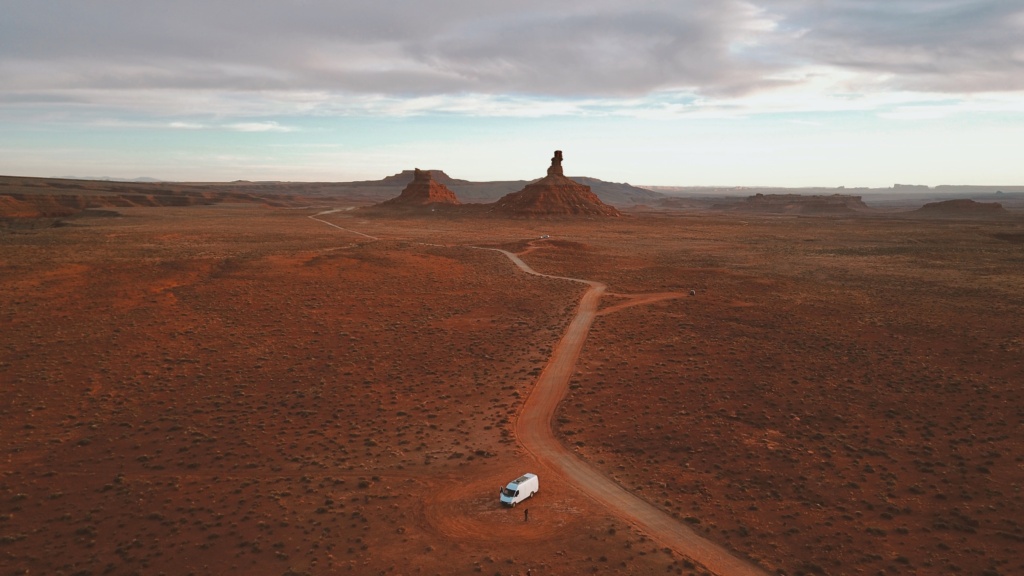 Day 21: From Valley of the Gods to Gooseneck State Park (14 miles – 33 mins)
After driving through Valley of the Gods, we headed down to Gooseneck State Park. The main feature of this park is the phenomenal views of the Goosenecks, a fabulous canyon carved by the San Juan River (reminiscent of Horseshoe Bend in Arizona).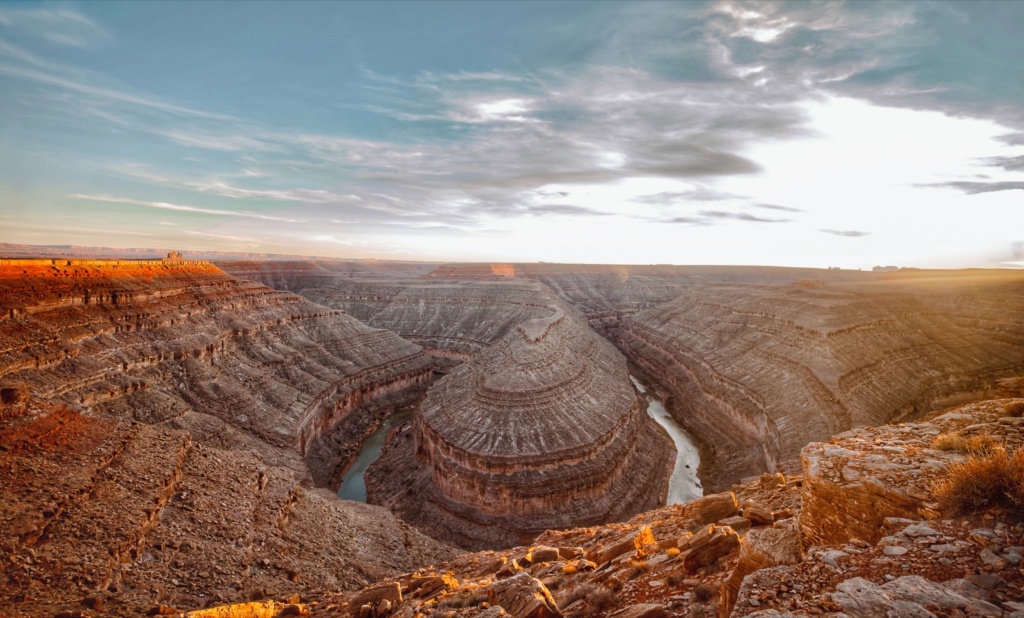 Unlike the National Park Service's Horseshoe Bend, which is overrun with thousands of international tourists there was hardly anyone at Gooseneck.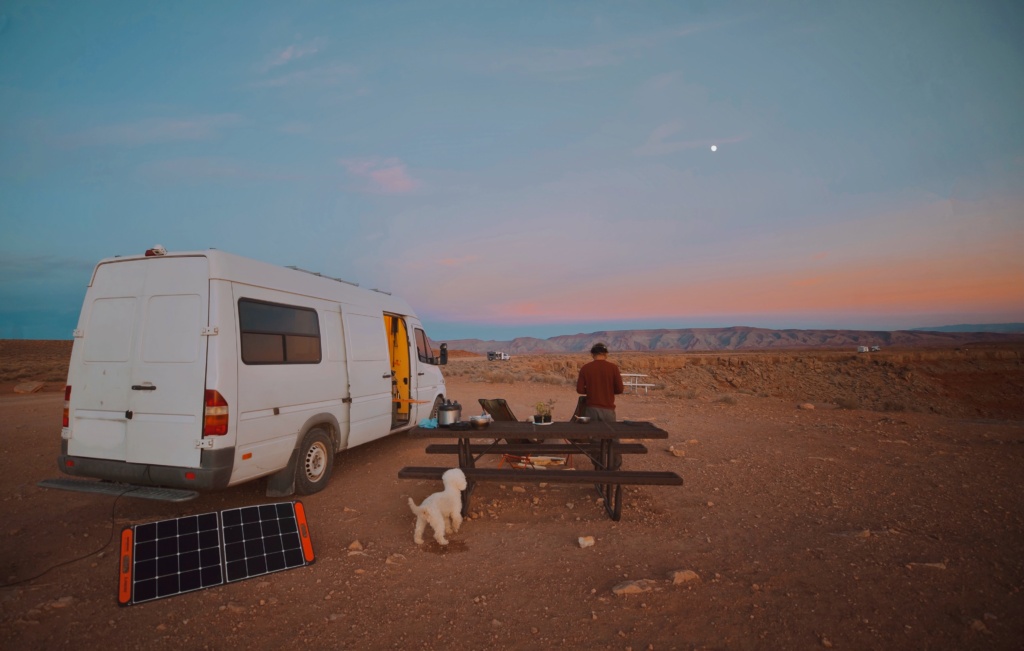 There is a $5 per vehicle entrance fee. The park offers covered picnic tables, vault toilets, and primitive camping ($10/night, first come/first serve).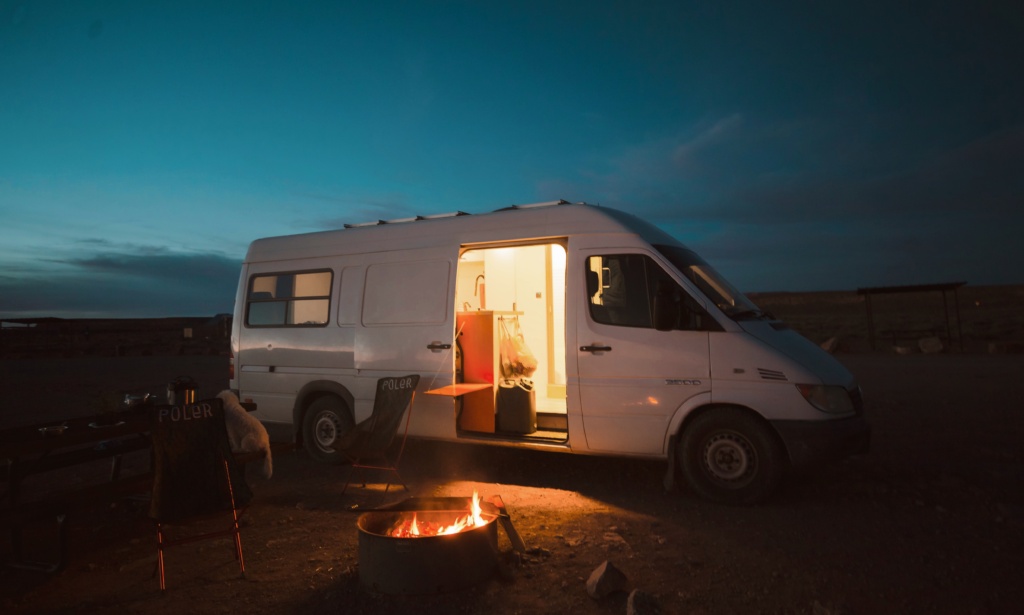 Camping is more "dispersed" rather than at designated sites. We decided to set up our home right along the rim of one of the goosenecks.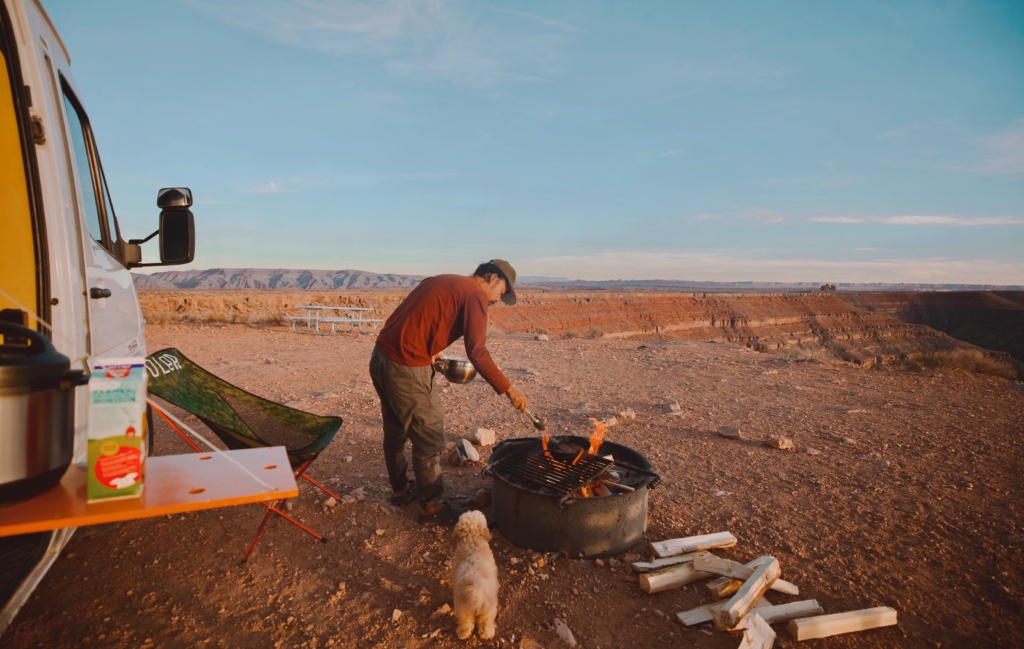 We loved enjoying the morning from our camp chairs right at the edge of the overlook. How cool is that!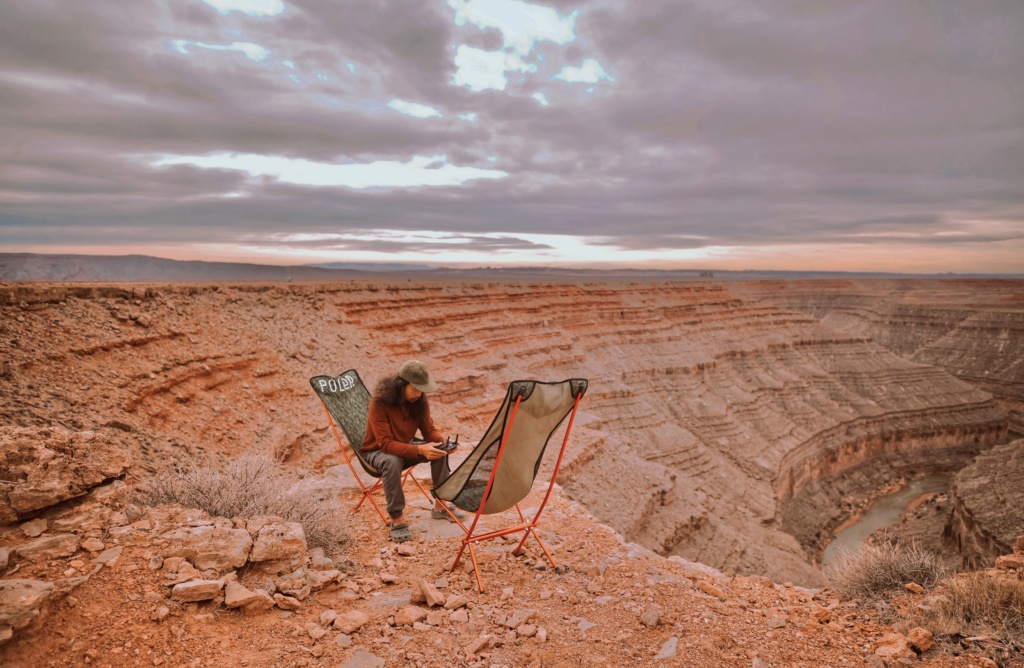 Day 22: From Gooseneck State Park to Flagstaff, Arizona (200 miles – 3 hours 20 mins)
We just stopped in Flagstaff to take a break from the long drive. We didn't do any sightseeing here. One cool thing about this area is there are so many free dispersed camping spots.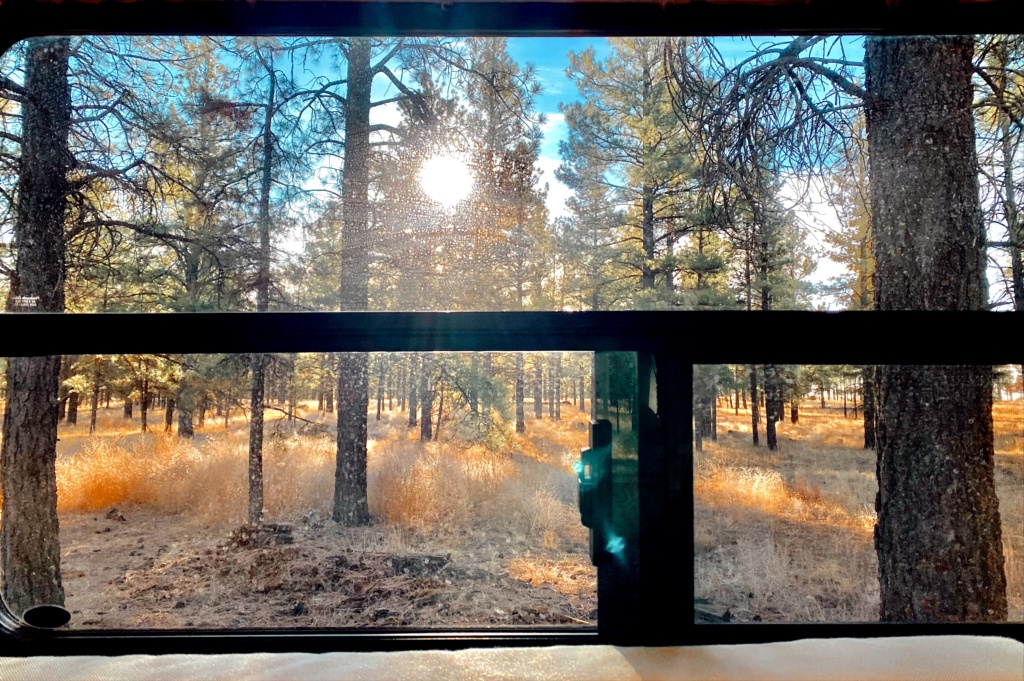 Skip the campgrounds and head into the Coconino National Forest to camp among the ponderosa pines.
Day 23: From Flagstaff to Sedona (29 miles – 45 mins)
Sedona is listed as one of USA Weekend's "Most Beautiful Places in America." Nearly three million people visit Sedona each year for its vibrant red rocks and spectacular landscape. These soaring red rocks and dramatic formations carved out over centuries by mother nature are inspiring and happen to be incredibly photogenic, making Sedona an incredibly popular destination for both photographers and adventurers.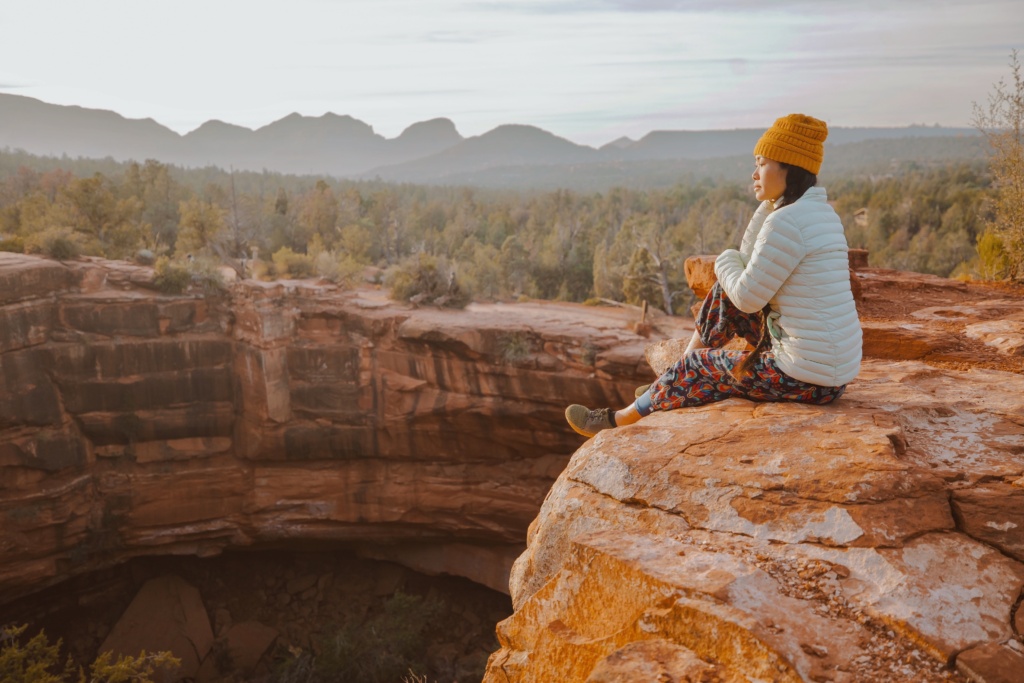 One of our favorite hikes in Sedona is the Subway Cave. Getting to the subway cave isn't that difficult – it's a trip off a well maintained trail, Boynton Canyon. You just need to know where to step off the main trail. From there it's pretty easy just to follow the path of the others that have come before you.
Day 24: Explore Sedona
On our second day in Sedona, we did the most popular hike -the Soldier Pass. There are 3 main attractions on this trail: the Devil's Kitchen Sinkhole, the Seven Sacred Pools, and the Soldier Pass Cave.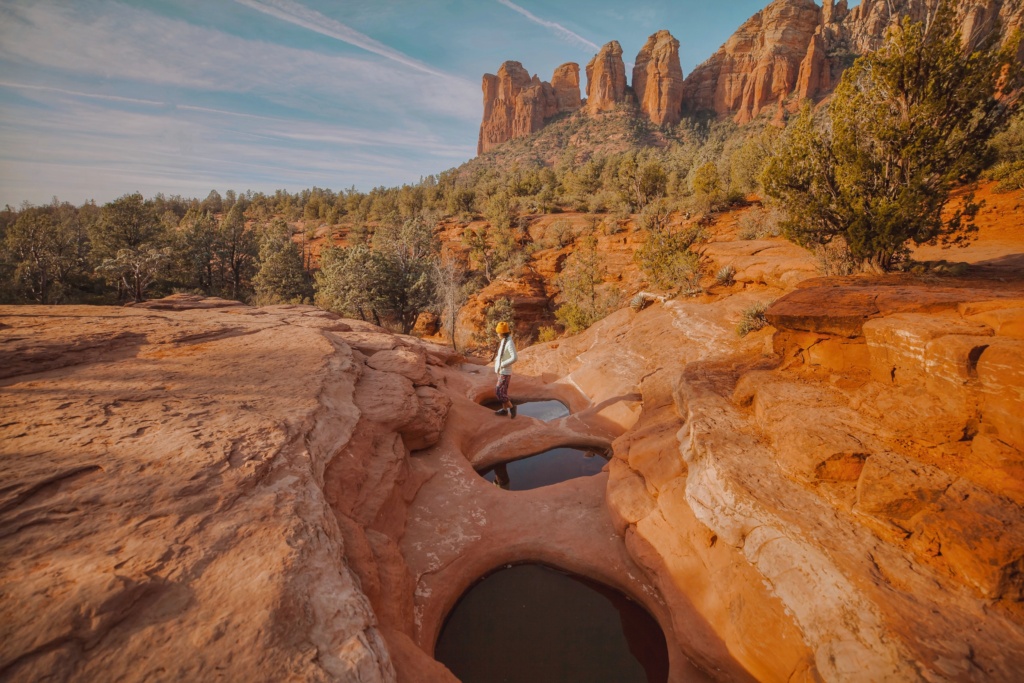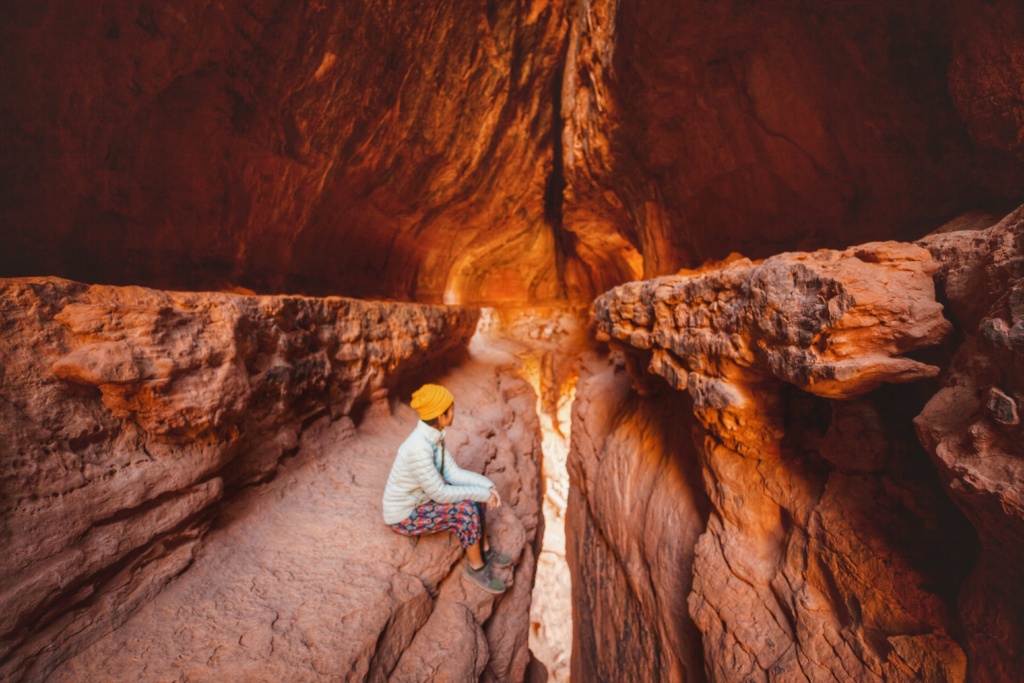 One of the main attractions in Sedona downtown is the Tlaquepaque Arts and Shopping Village. This village claims to be the "Art and Soul" of Sedona.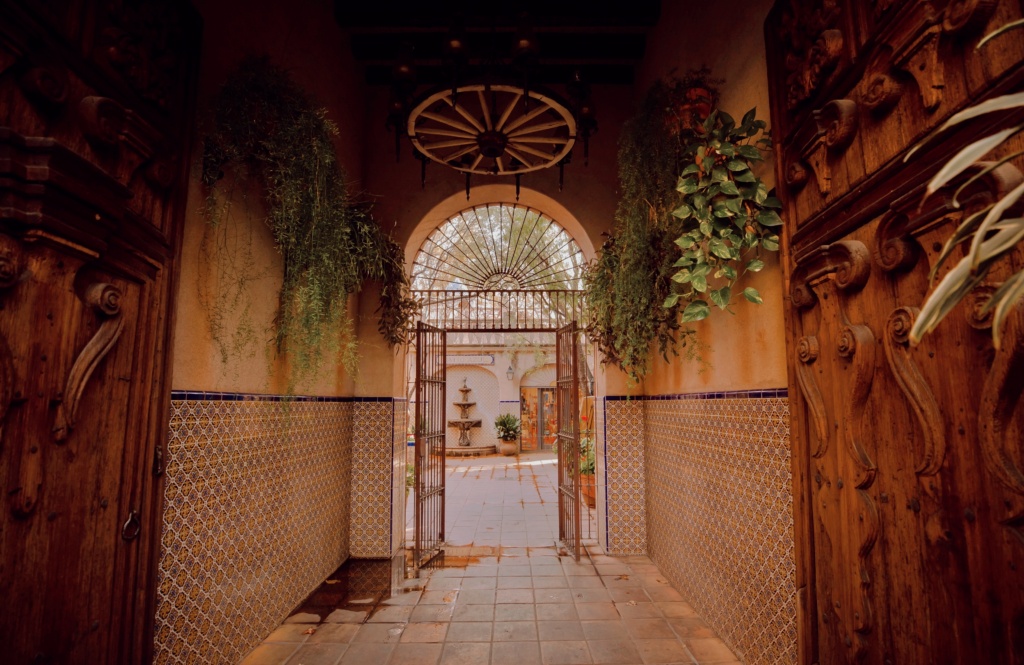 Modeled after a Mexican village and with a name that translates to the 'best of everything,' Tlaquepaque truly feels like an old-world village, where you can find fine art, shops, and restaurants tucked between vine-covered walls, archways, and fountains.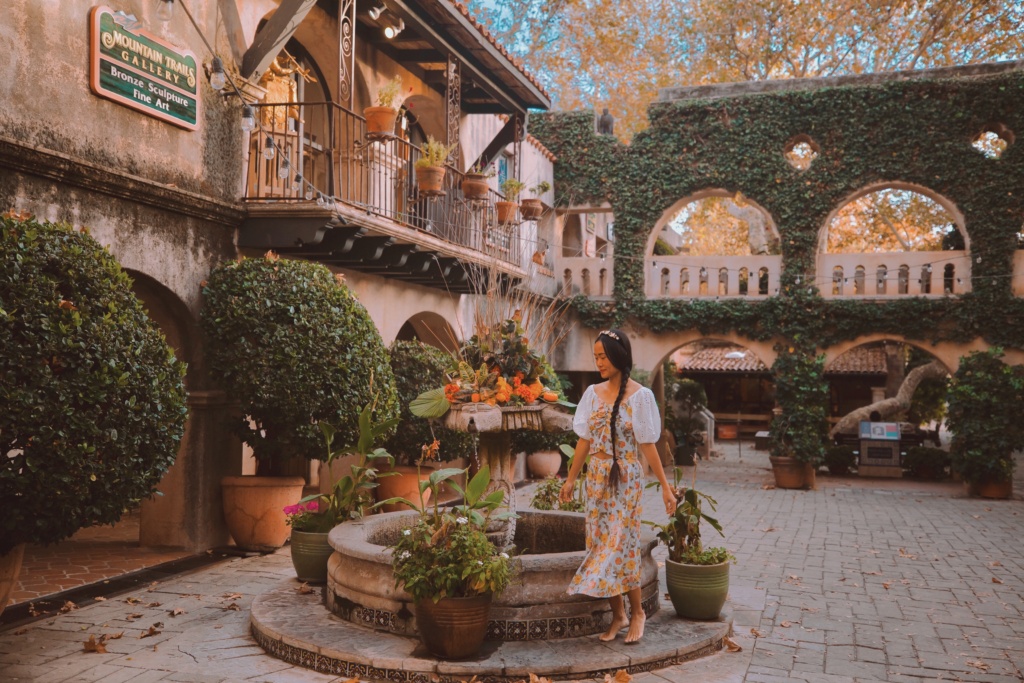 The cobblestone streets and mosaic fountains provide an inviting old-fashioned atmosphere and lots of shade. Tasteful galleries and unique shops live in harmony with its lush natural environment.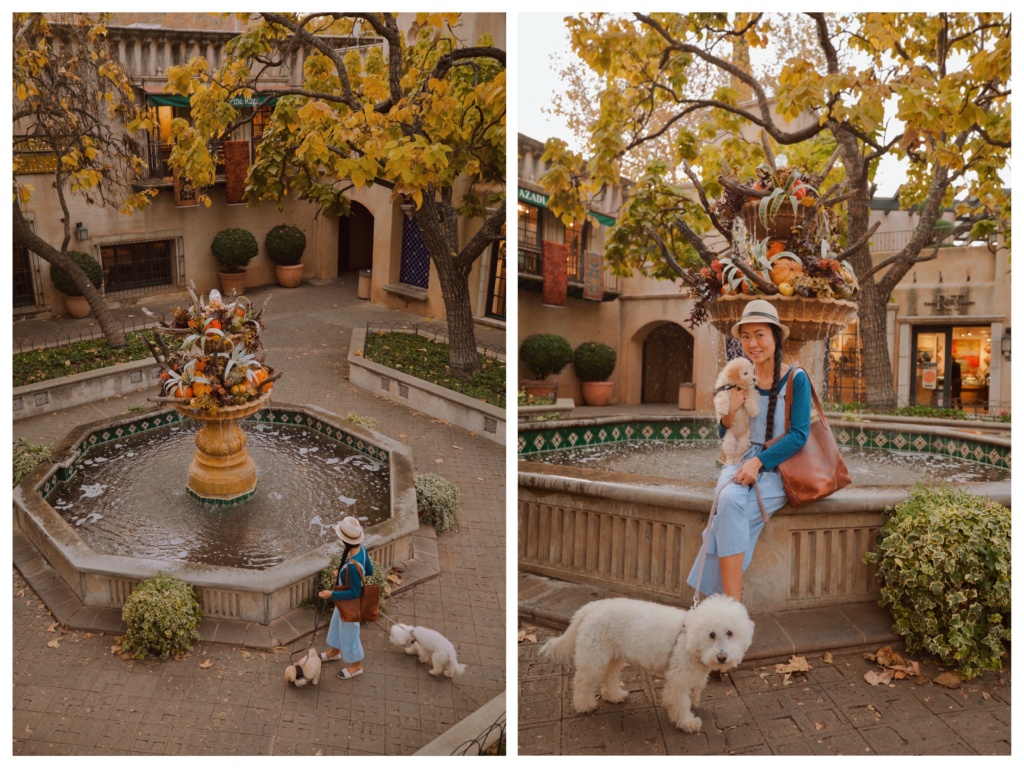 One of my go-to spots is the Chai Spot. A magical chai lounge where you will find the most unique and delicious Chai drinks you've ever had.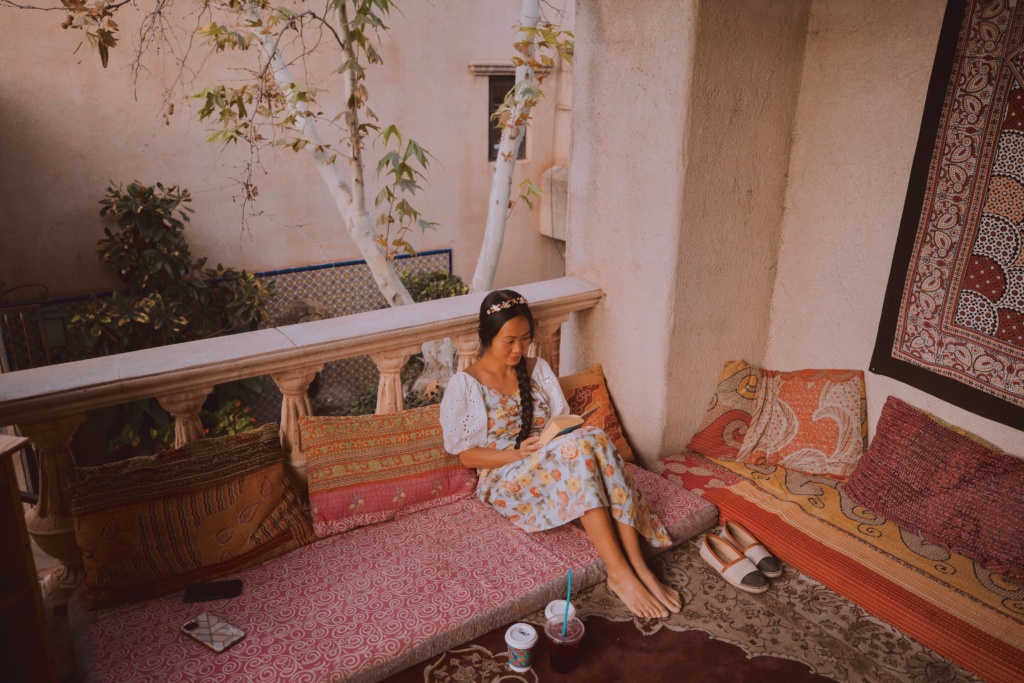 Also make sure to stop by Tamaliza Cafe for an authentic homestyle Mexican cuisine and gourmet tamales.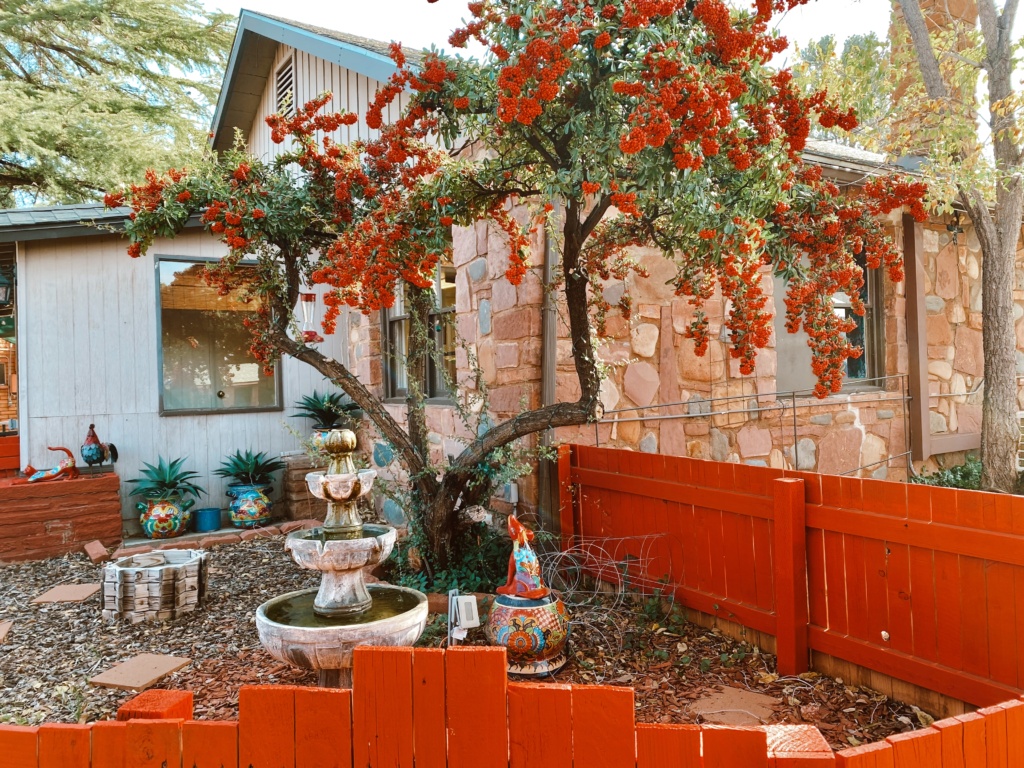 Their tamales are made fresh daily with non GMO organic corn flour masa, and full of delicious filling.
Fore more things to do in Sedona, check out my blog "Top 8 Instagrammable Spots in Sedona, Arizona"!
Day 25: From Sedona to Phoenix (117 miles – 2 hours)
Here in Phoenix we rented a lovely Airbnb – a historic home in the heart of Phoenix. Click here to book this airbnb.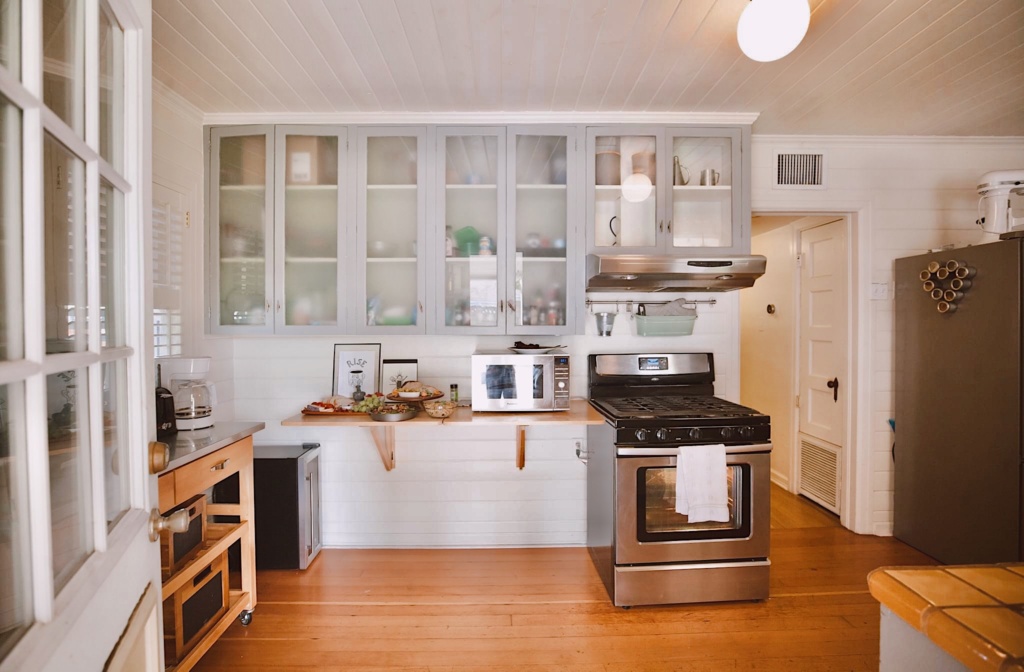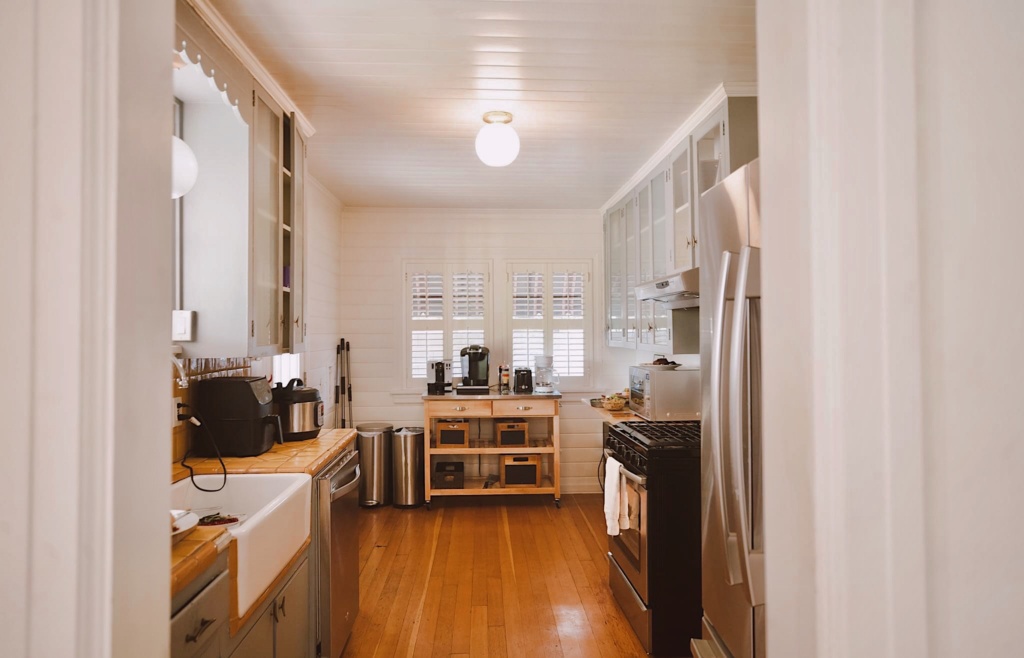 We just spent our days here enjoying the Thanksgiving weekend and taking a break from all the driving.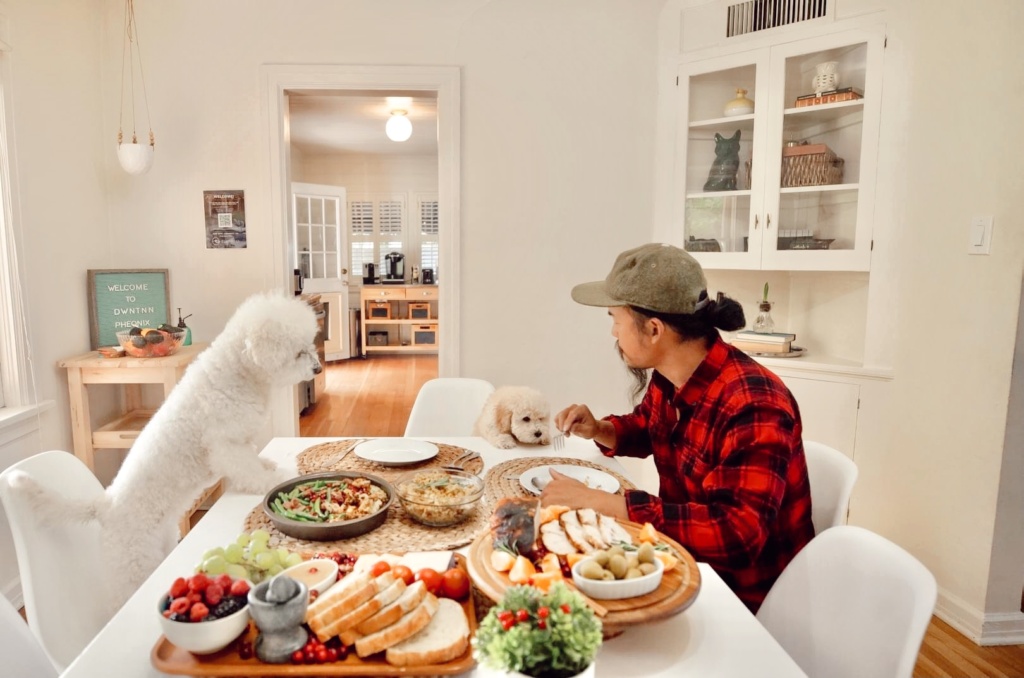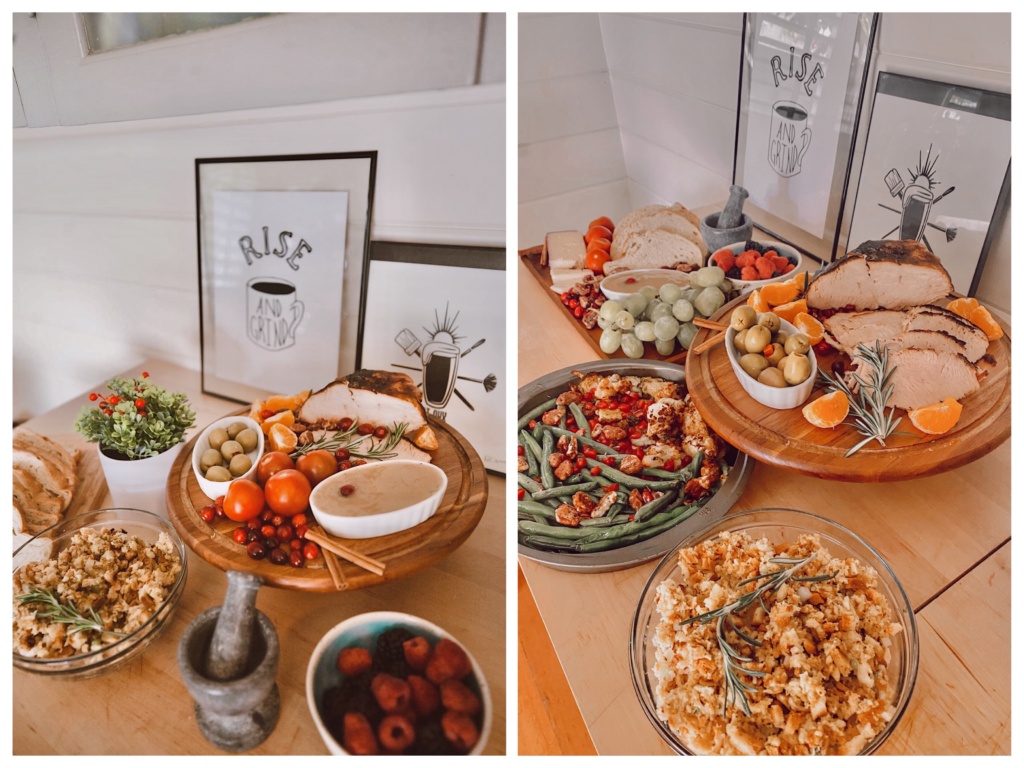 Day 26: From Phoenix to Tucson (113 miles – 1 hour 40 mins)
Situated in the middle of the Sonoran Desert, the vibrantly bustling city of Tucson was once a quaint and sleepy desert town. Whereas many might think the desert is dull, those who appreciate the wild landscape will find so much to love and things to do in this gorgeous town.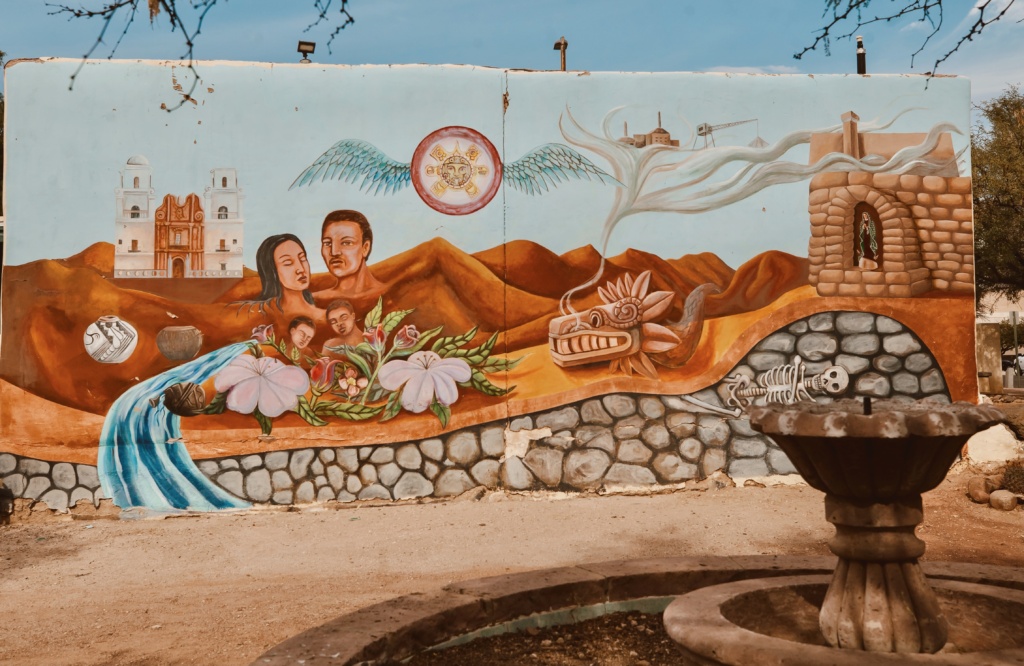 Tucson is a city of artists, dreamers and free spirits unlike any other. There's more to it than just a pretty space. Artistic expression is a key part of its cultural heritage. With its eye-catching murals, adobe homes, historic streets, and desert landscapes there are so many instagrammble spots tucked away in this desert oasis.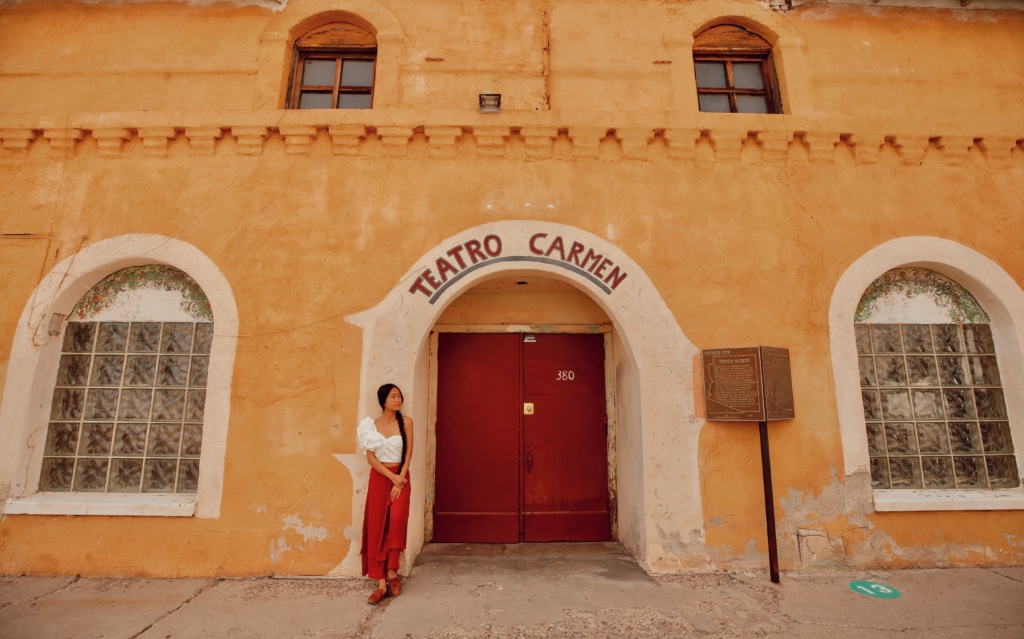 Day 27: Explore Tucson
Saguaro National Park has two sections, East – Rincon Mountain District and West – Tucson Mountain District. The two parts of the park are located on either side of Tucson, about a 45-60 minute drive apart.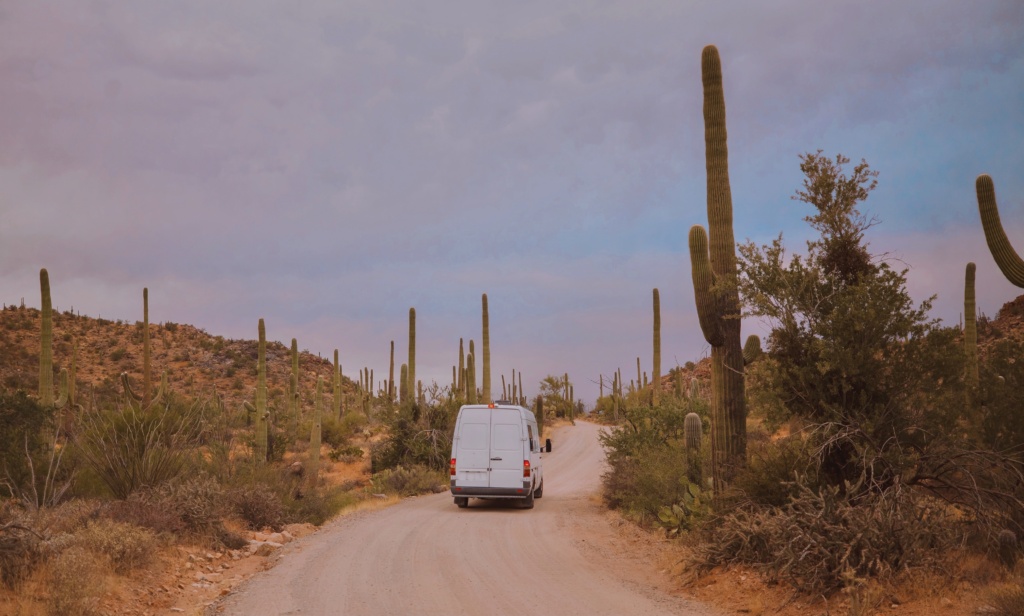 One of the easiest ways to start your visit at Saguaro is by doing the Desert Discovery Nature trail. This short, half-mile trail is flat, paved, and a great place to take some up-close and personal pictures with the giant saguaros.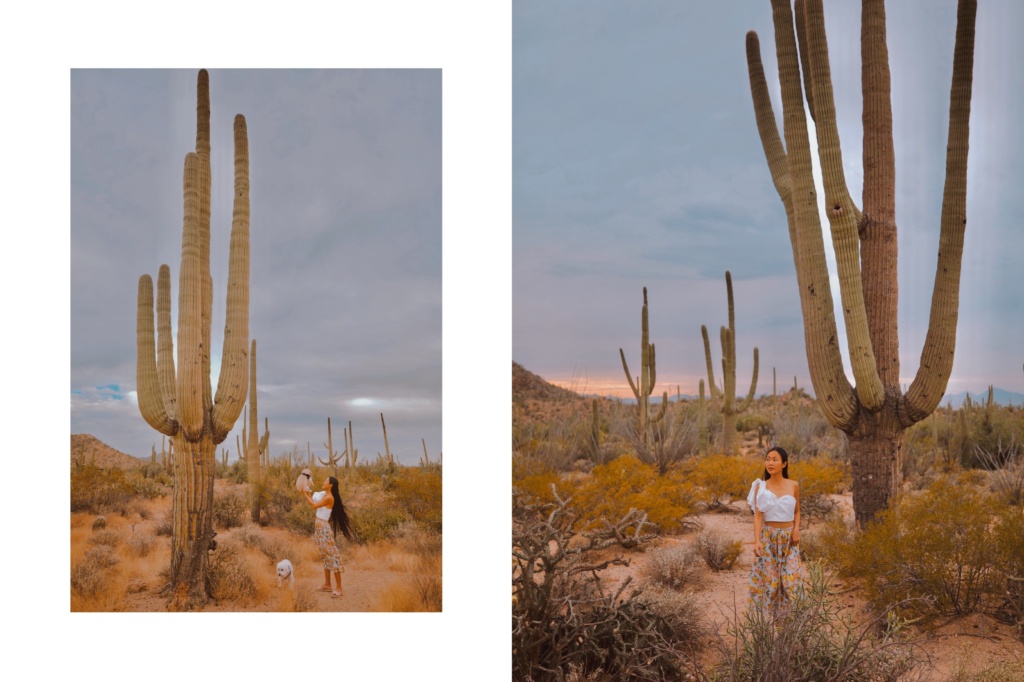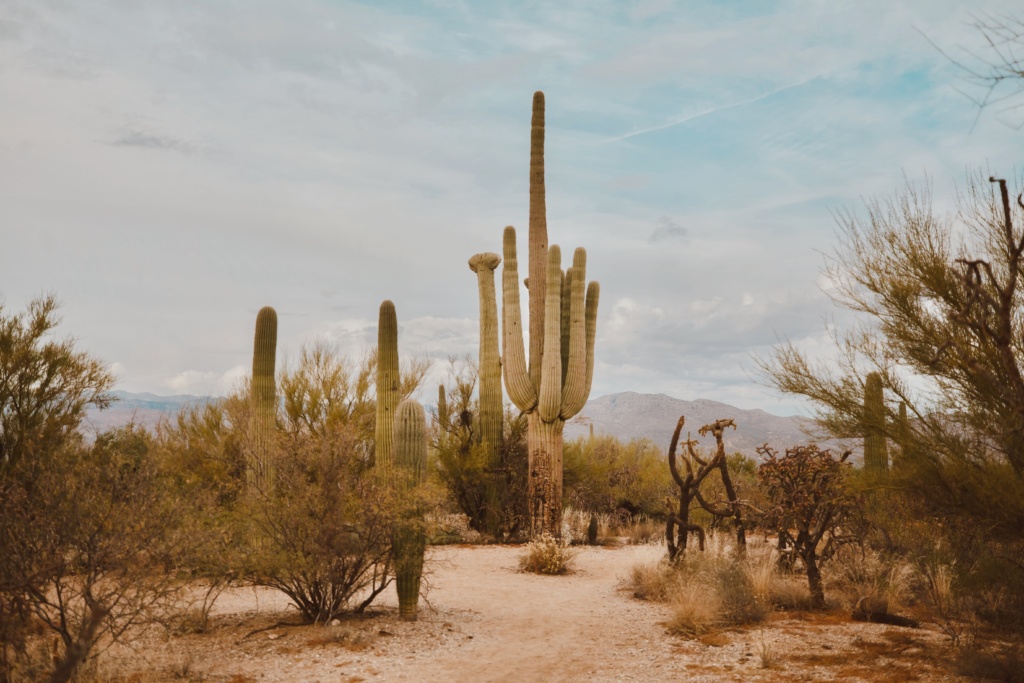 After a day hiking among the giant saguaros, we spent our afternoons exploring some of Tucson's old neighborhoods. Our favorite is Barrio Viejo. This old neighborhood is packed with 19th century homes. The barrio boasted a colorful street life that reminded some of old Mexico.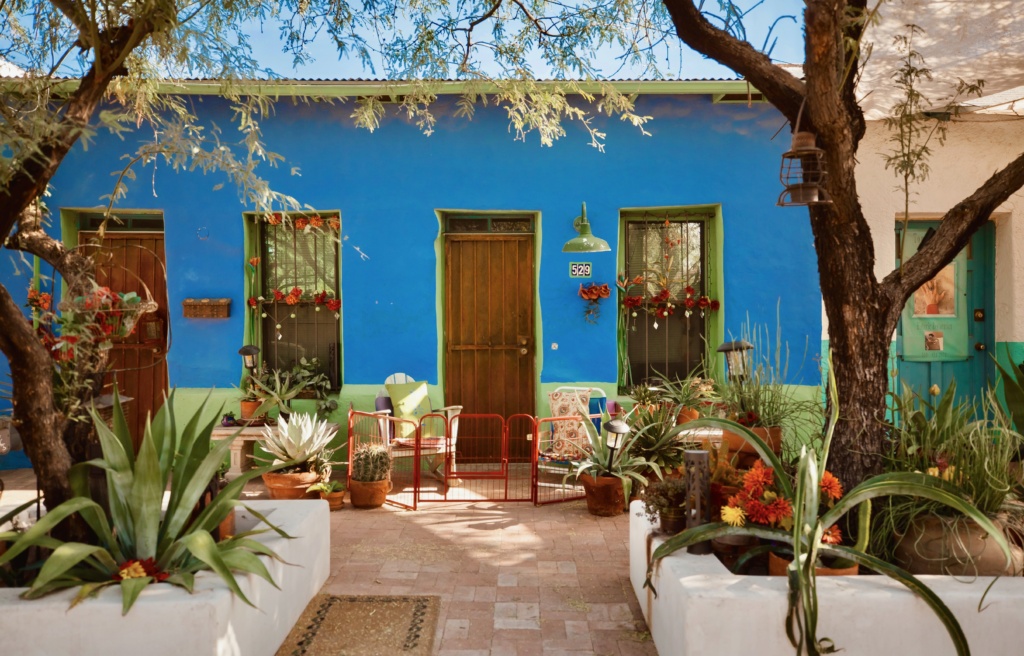 Vibrantly colorful walls, rustic doorways, and thriving cacti all play into the charm that makes this neighborhood a top location for pictures.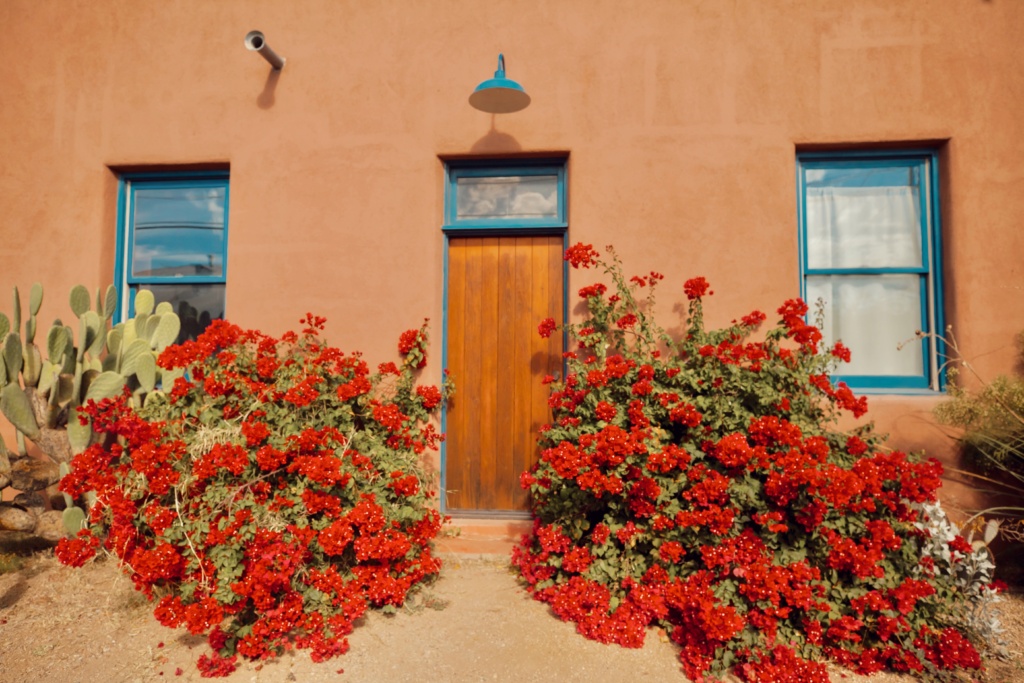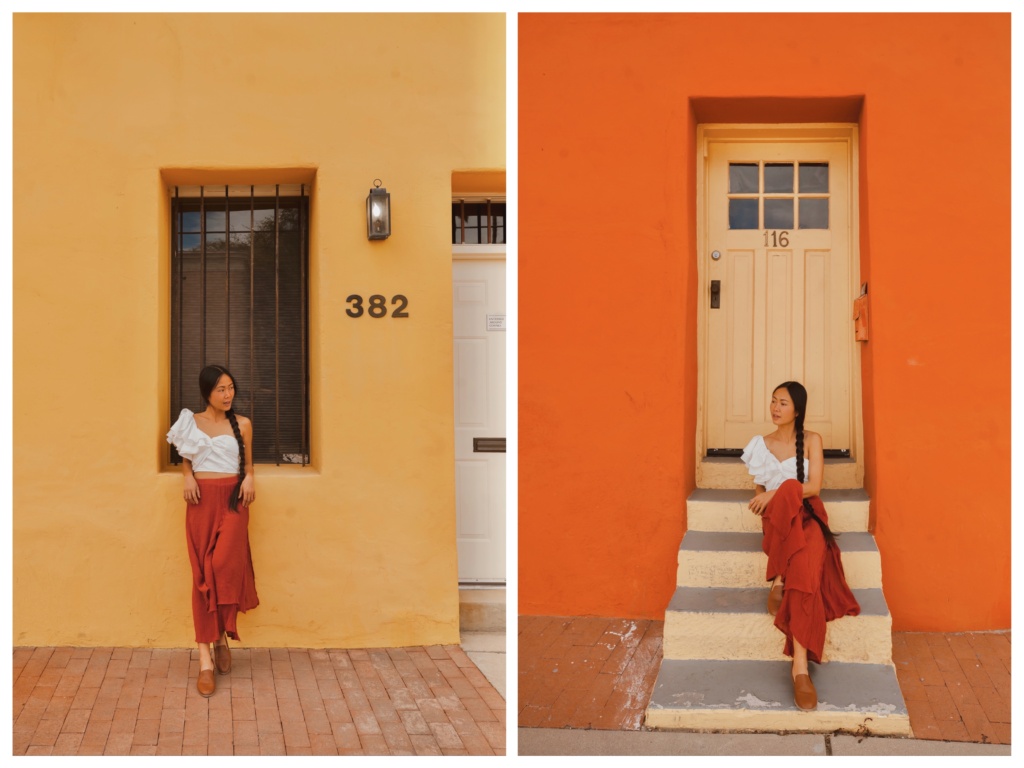 For more what to do in Tucson, check out my blog "MOST INSTAGRAMMABLE SPOTS IN TUCSON"!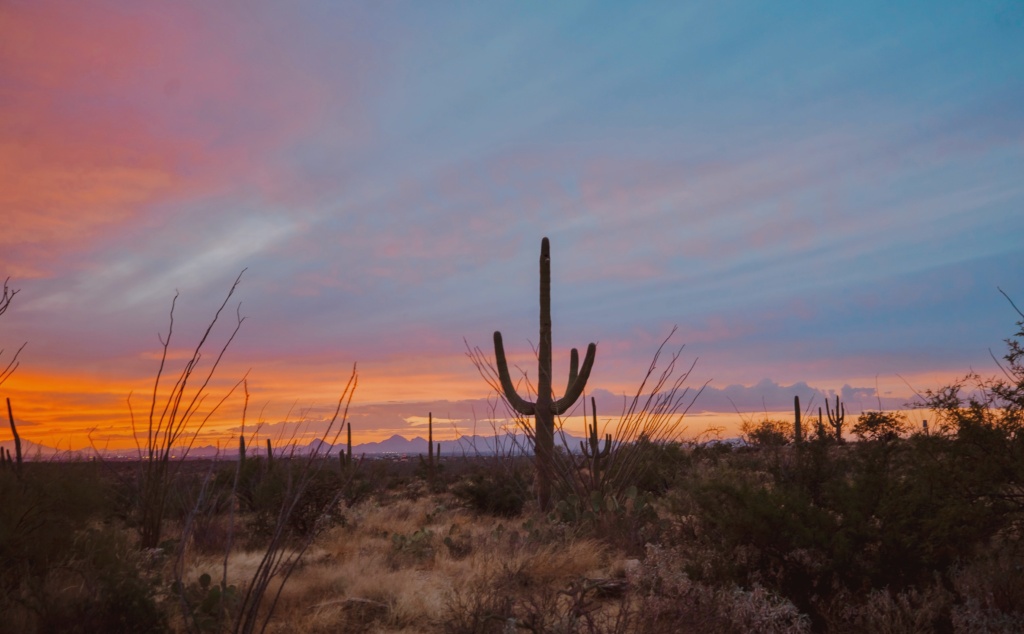 Day 28: From Tucson to Quartzsite (242 miles 3 hours 25 mins)
Out in the middle of nowhere—between Phoenix and the California border—you'll find a quirky little desert town named Quartzsite.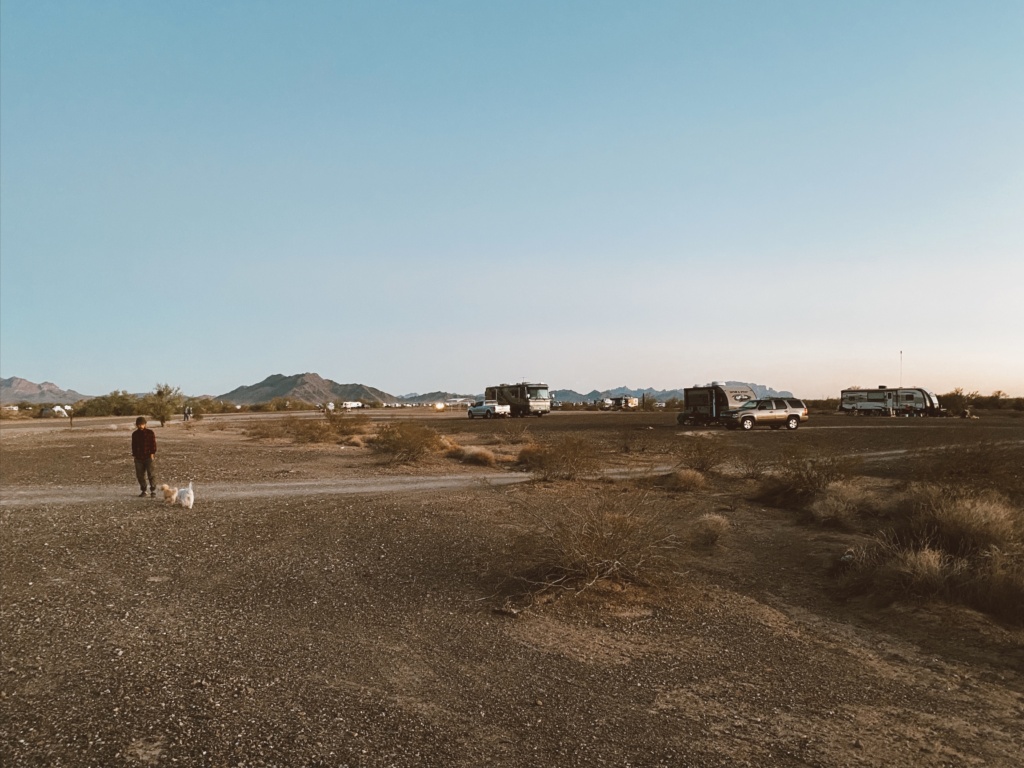 This town remains as the perfect pit-stop for RVers and vanlifers looking for peaceful respite in the quiet of the Southwestern desert. Visitors stay several weeks or several months—enjoying activities such as rock hounding, off-road ATV riding, shopping at the Quartzsite RV. There are multiple RV parks around the town, but many visitors take advantage of the abundant free or low-cost bureau of land management (BLM) camping areas.
Day 29: From Quartzsite to Joshua Tree (163 miles – 2 hours 30 mins)
We stopped by Joshua Tree to visit Serenity Escape. Our family has been a long time guest of Serenity . It has been 4-5 years since our first stay at Serenity. Since then it's our family tradition to come back to Serenity for winter getaways every year. And every year Serenity got a new upgrade: a new patio, a new tub, a kitchen renovation, a new something…the property just gets newer and newer over time. That tells a lot about the thoughts and efforts that the owner has invested in his property.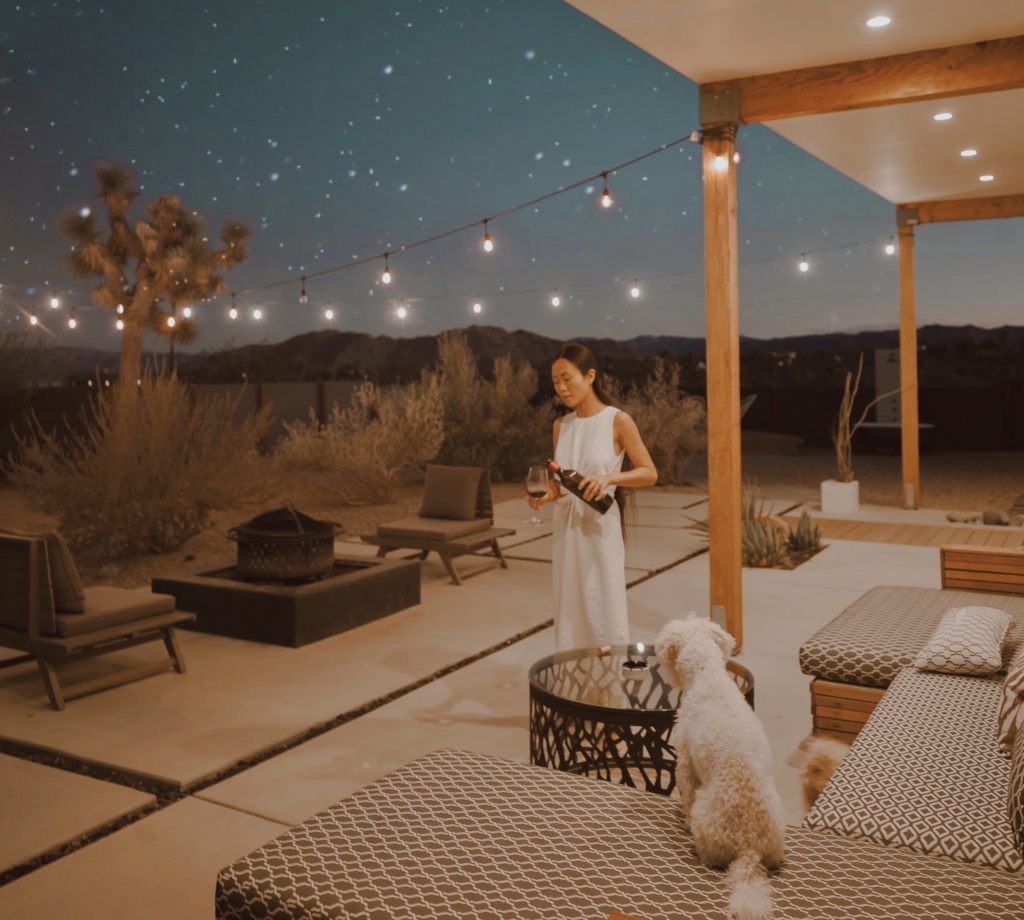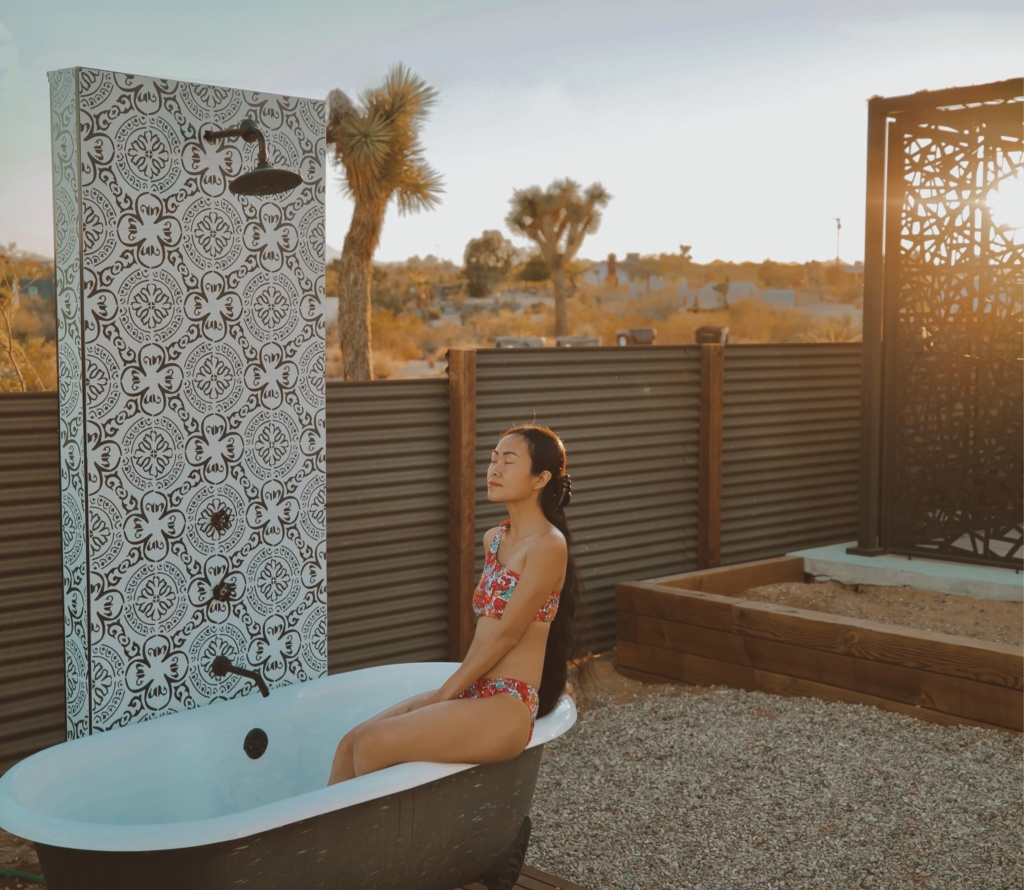 It felt like we are coming back to our home away from home, not just any Airbnb. It's the kind of Airbnb that you want to keep coming back with your loved ones!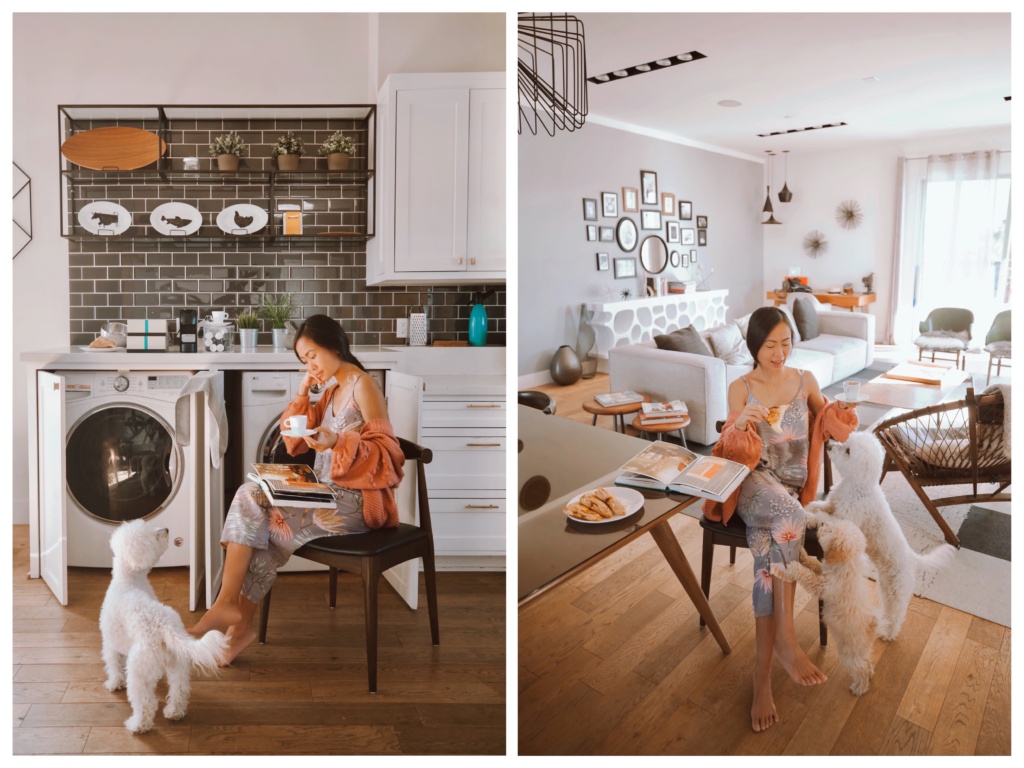 When we walked into Serenity, there's the soft smell of fresh linen, comfy couches to sink into, and a feeling similar to the one we get when we come home after a long day. Just a home waiting to welcome us for however long we happen to be in JoshuaTree. To feel like home you need to know where things are, how things work and what is expected of you. And for Serenity we know exactly where things are from the organic virgin olive oil bottle in the kitchen cabinet to the board games. We have easy access to anything we need when we need it.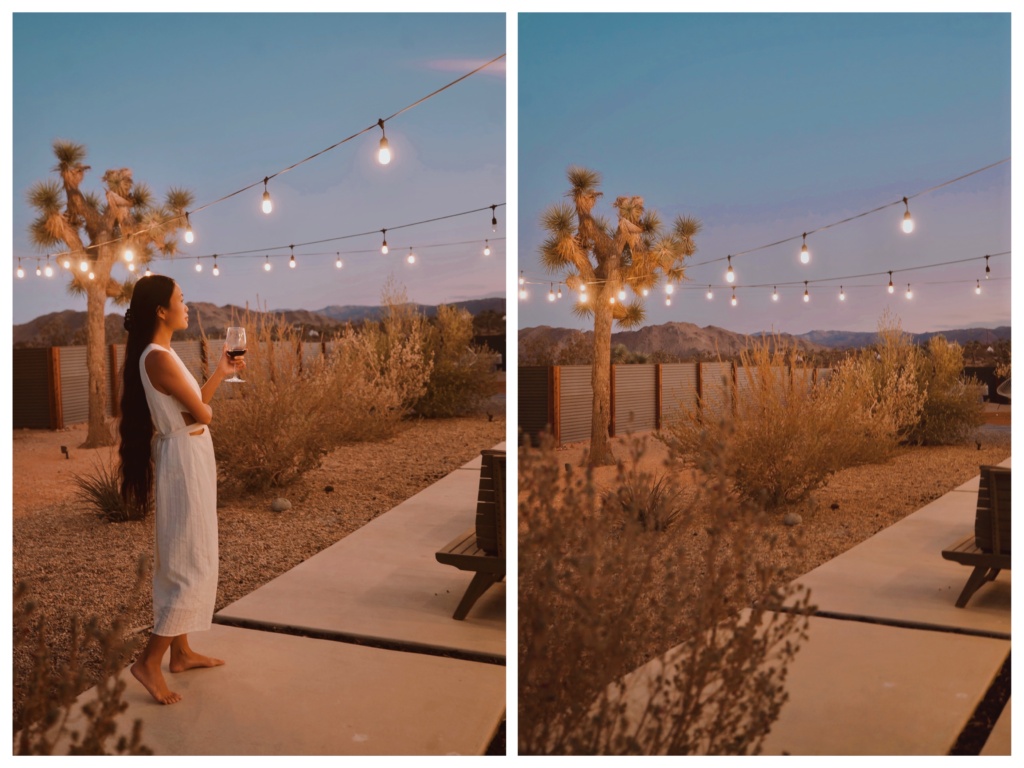 Every time I visit Serenity I feel nostalgic. It's not just a relationship between a renter and an Airbnb – it's more than that. "A house is just a space, but a home is where you belong. "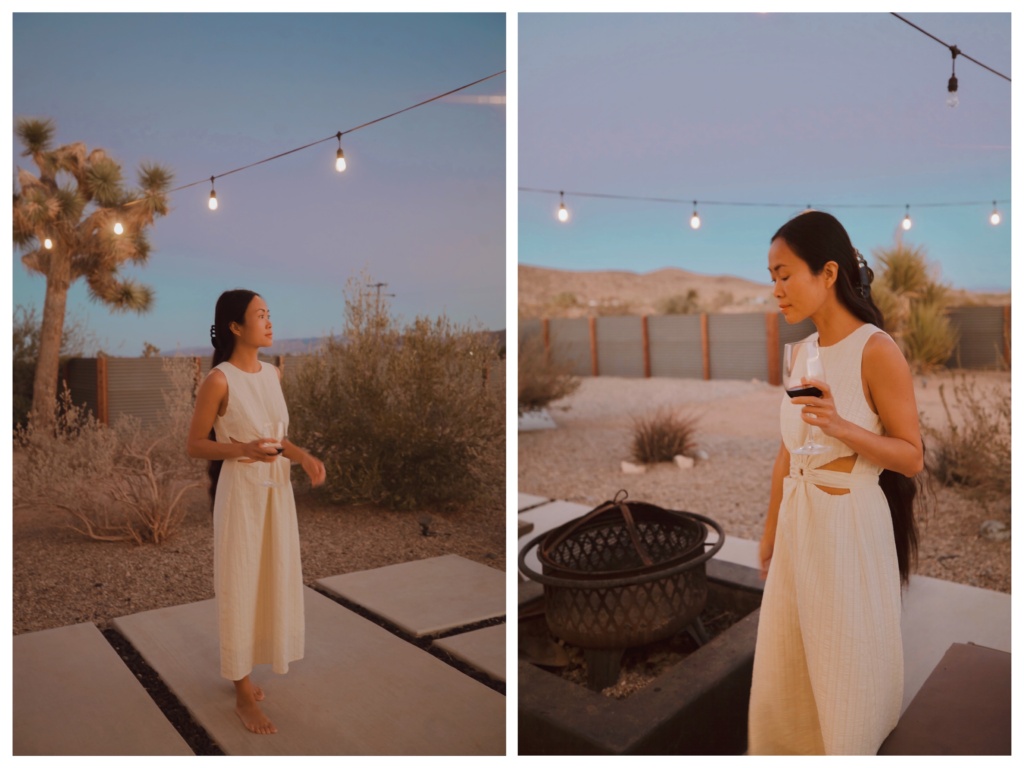 For a full review of our stay at Serenity, click here.
Day 30: From Joshua Tree to Palm Springs (34 miles – 45 mins)
For years Palm Springs has been a California desert retreat, known for its modern and chic style. Palm Springs is one of the best places to visit all year long, whether you're coming to party at Coachella or just want to relax by the pool in the sunshine.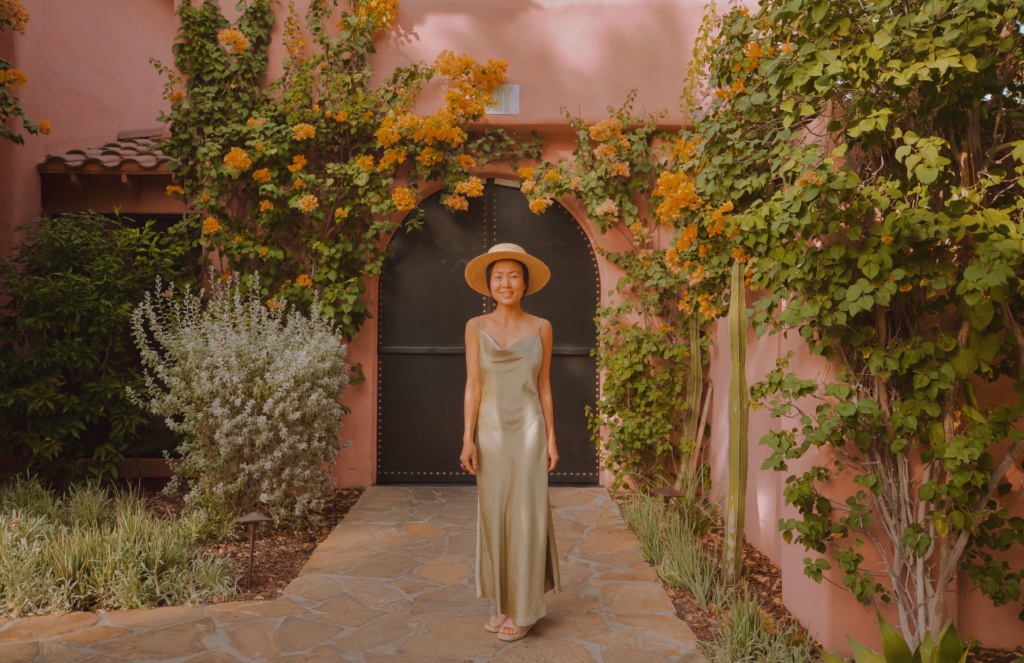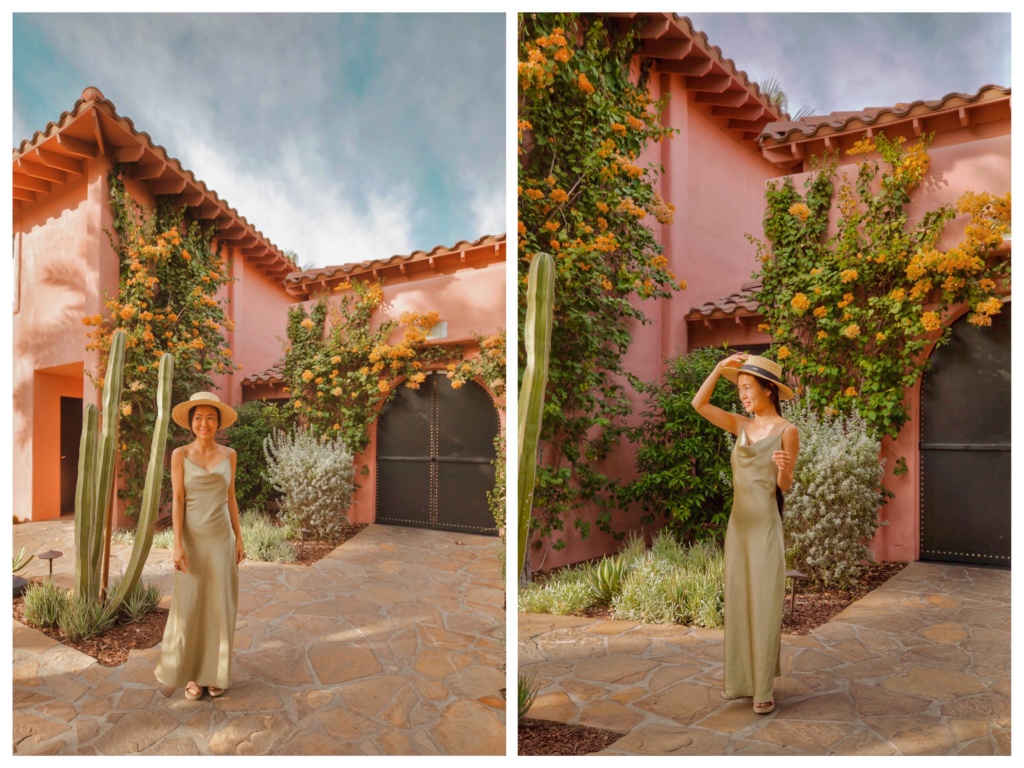 It's a lifestyle photographer's dream location with so many Insta-worthy photo spots, restaurants, and neighborhoods. This time we visited The Pink Cabana for some quick bites.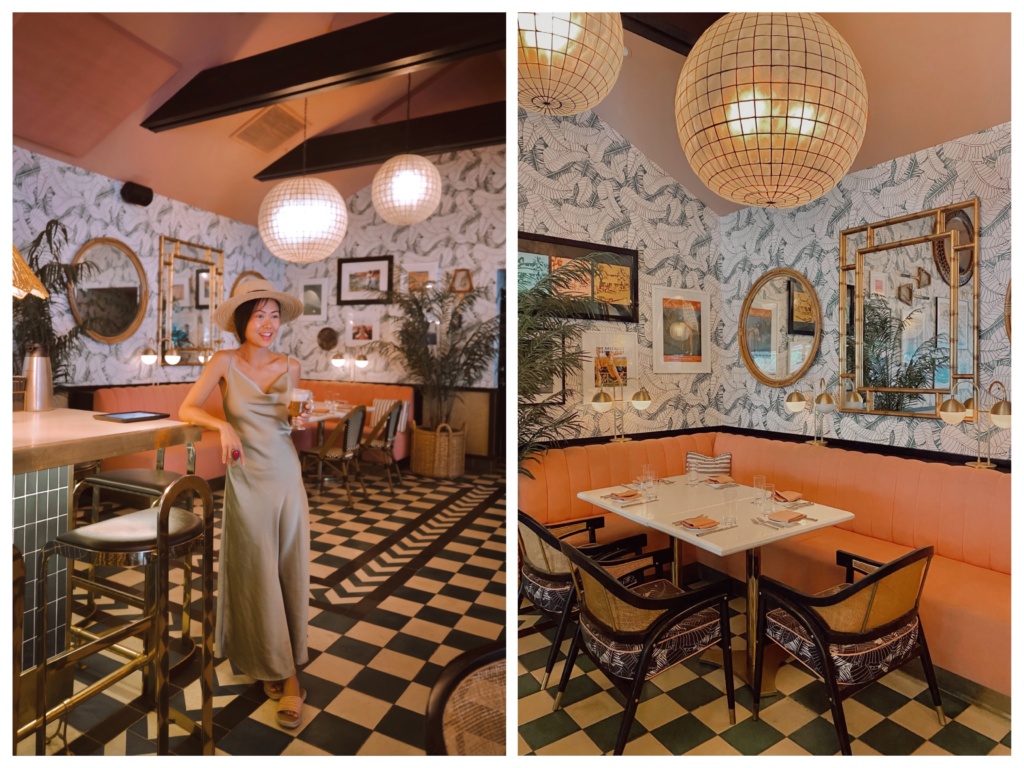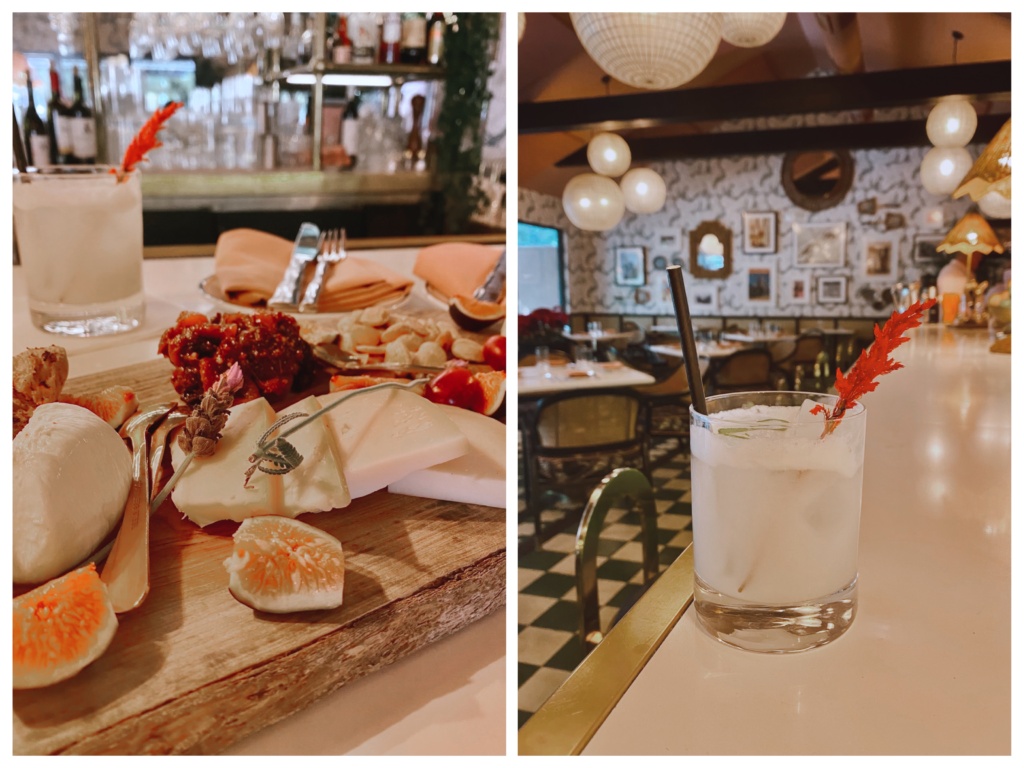 The Pink Cabana is a restaurant located at the Sands Hotel & Spa in Indian Wells, a short drive from Palm Springs. Walk into the Pink Cabana and you'll be in awe of how gorgeous it is. Tropical wallpaper, pink accents, gold bar, and pretty cocktails.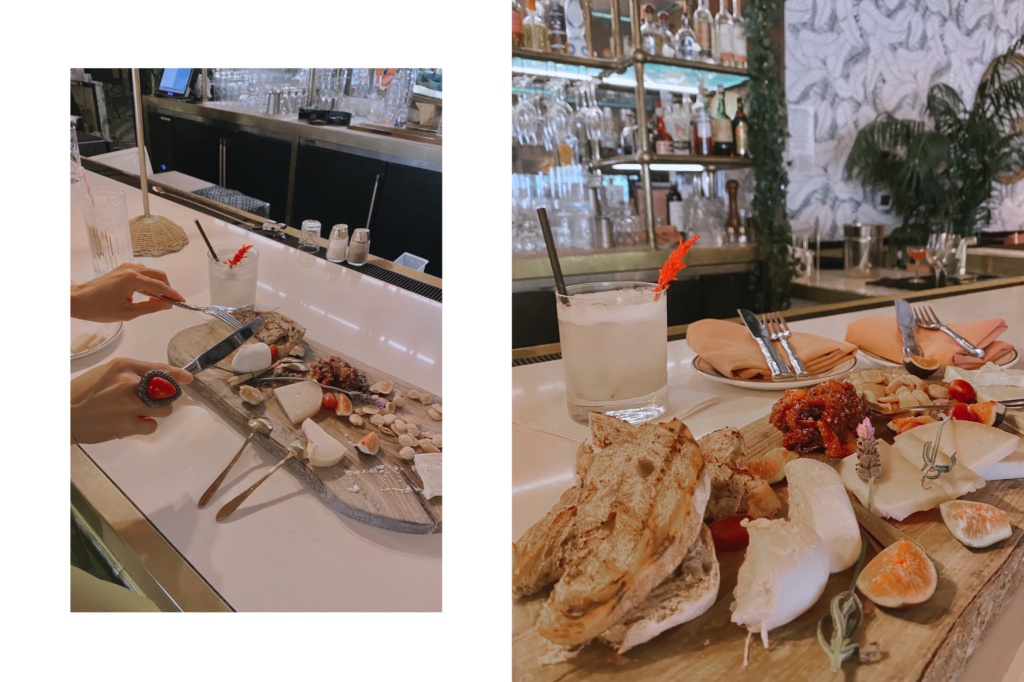 The decor is totally dreamy and so Instagrammable! A delightful blend of Moroccan art and Mid-Century glam graces the lobby, grounds, pool area, and restaurants.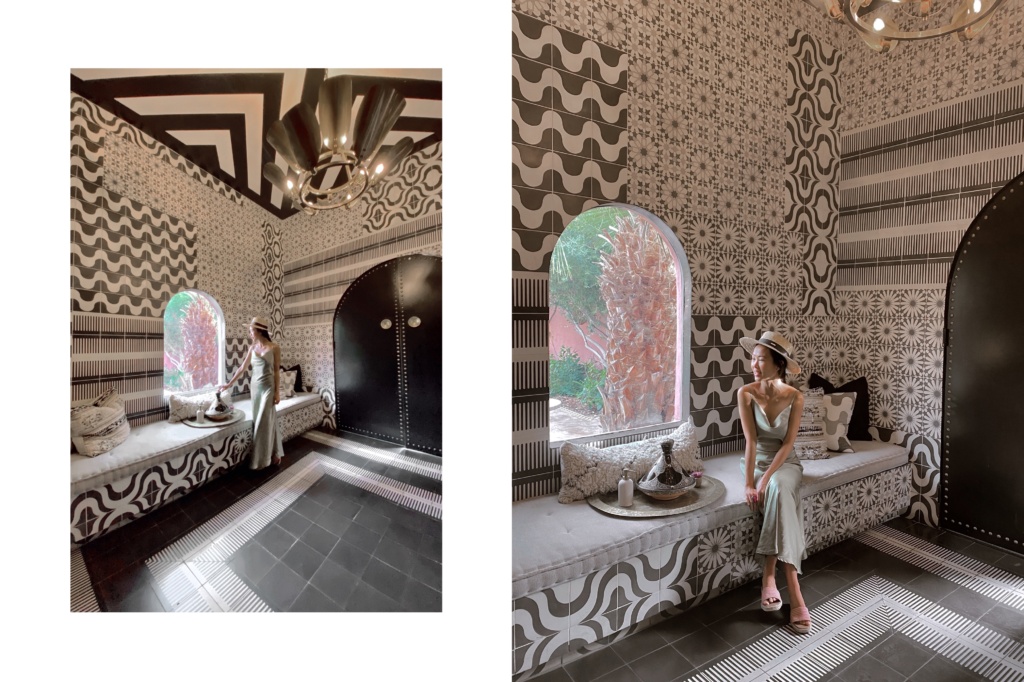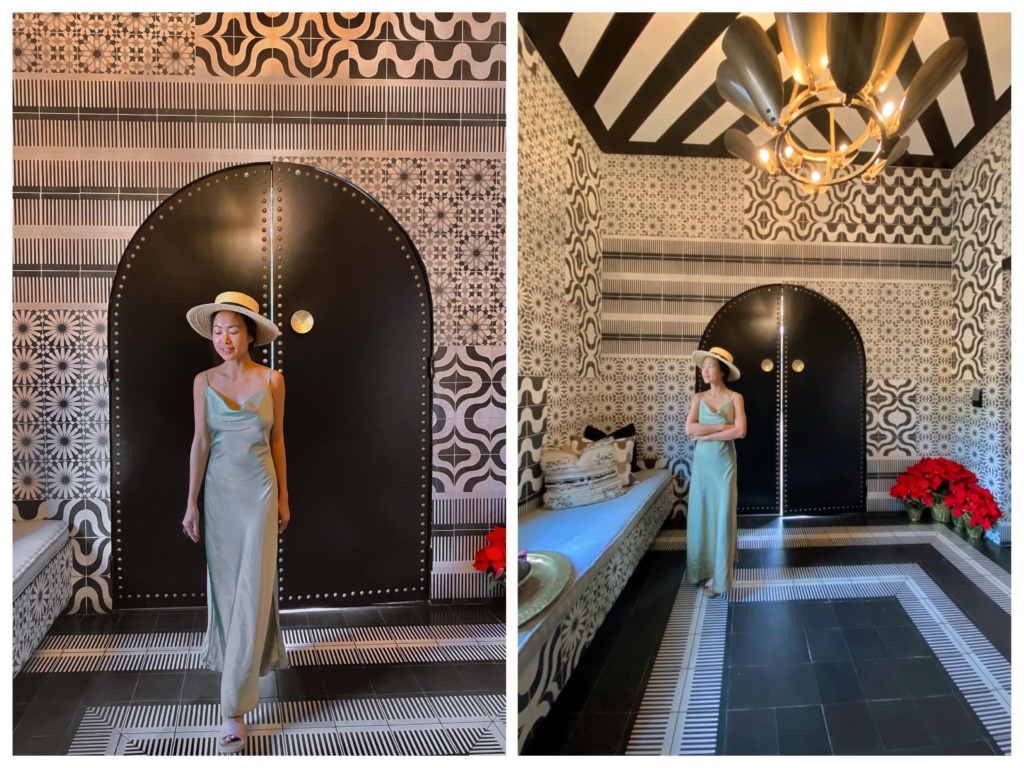 For more things to do in Palm Springs area, check out my blog "DISCOVER INSTAGRAM-WORTHY SPOTS IN PALM SPRINGS, CALIFORNIA"
PHEWWWW…..With Palm Springs as the last stop on our 3-month road trip itinerary, I concluded the longest blog I have ever written! Happy roadtripping!