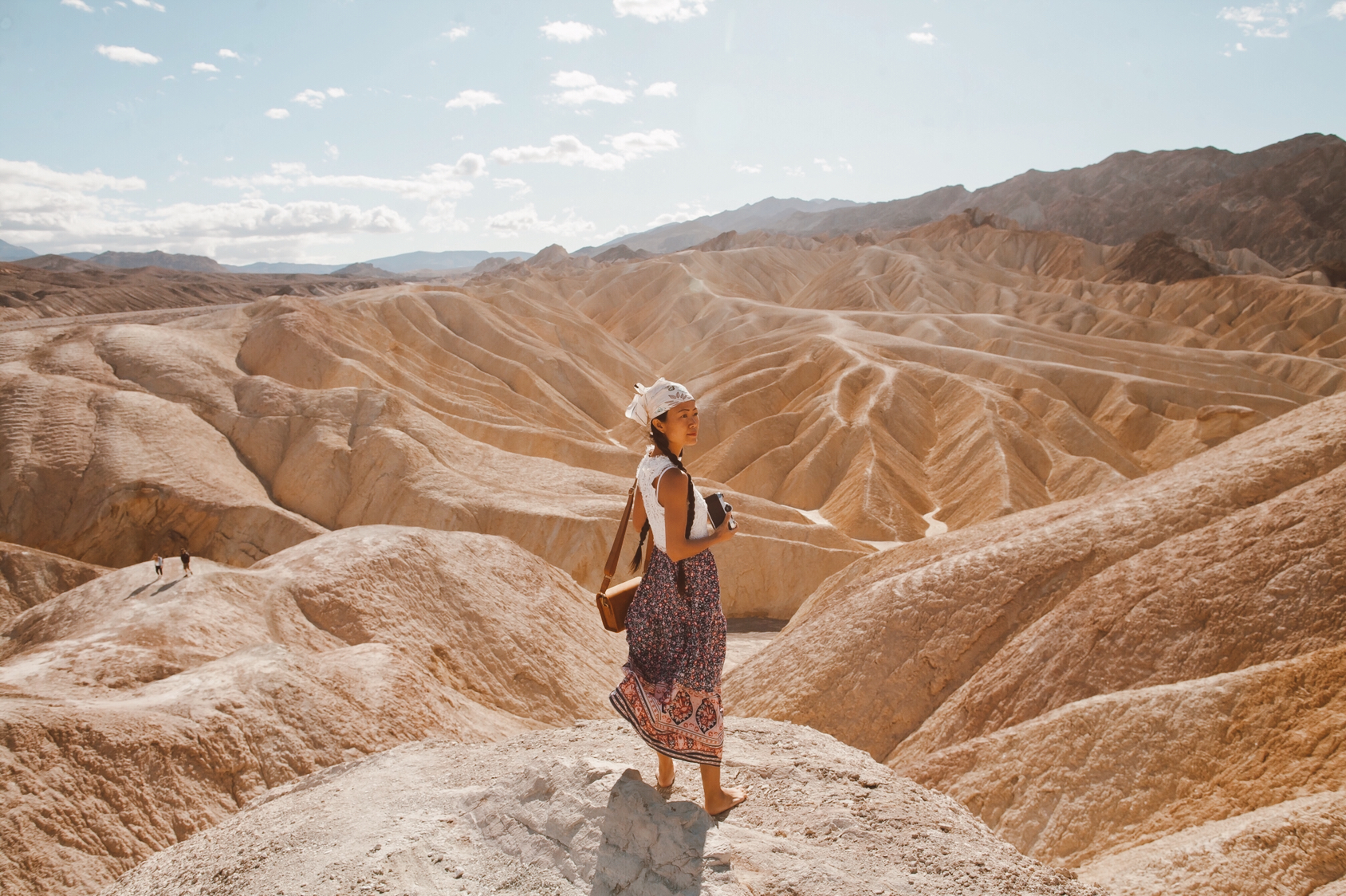 Death Valley Photo Spots
I had been wanting to visit Death Valley for a long time, and this year I seized the chance to visit this unique national park (only 2 hours from Las Vegas) on my Nevada roadtrip. You might think that Death Valley is dull and boring (by the name of it); nope, Death Valley National Park is vibrant and colorful. Thanks to its unusually dry weather conditions, cold winters and extremely hot summers, the park goes through a number of transformations throughout the year. And such changes can be observed in many of its rich and diverse landscapes.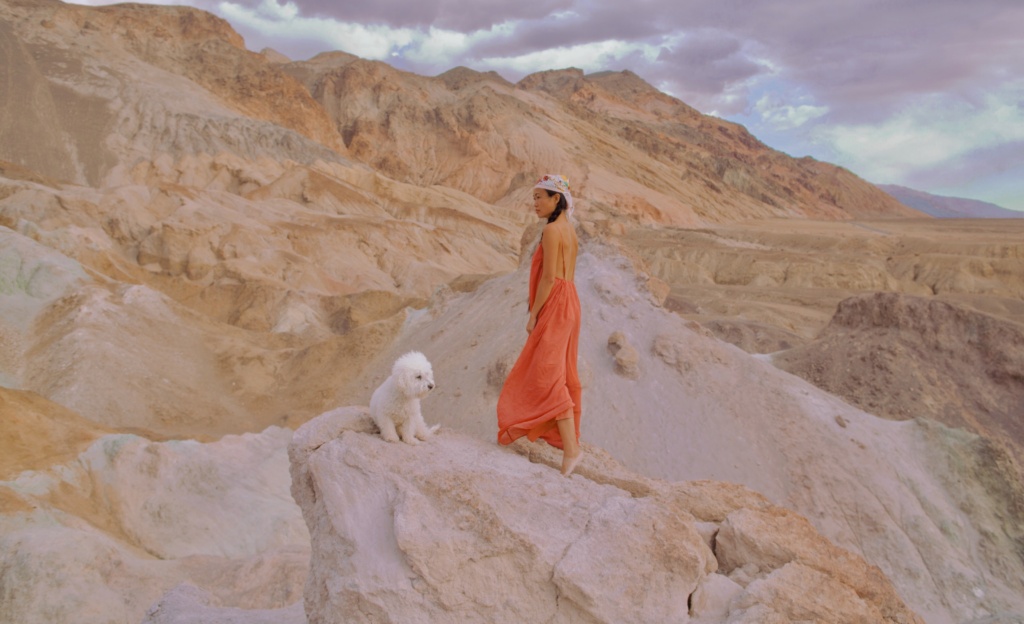 I visited the park during mid November and the weather was mild and pleasant (day: 70F, night: 50F). Visiting from late May through to early September can be a big mistake – both in terms of access to remote areas in the extreme heat (can soar as high as 130F), as well as the position of the sun for those classic "golden hour" shots. You should plan your visit around spring and early autumn when you can find pleasant temperatures in the day, cool breezes at night, and photographic opportunities all around. In this blog I cover some of my favorite photo spots in Death Valley National Park. Whether you're visiting Death Valley for a day or a week, definitely check these out!
Bad Water Basin Salt Flats
If you are in a hurry (maybe to return to Vegas) and only have time to explore one spot, then Badwater Basin is the spot to move to the top of your list. You cannot come to Death Valley and not get an Instagram shot of you at the lowest point in North America (282 feet below sea level).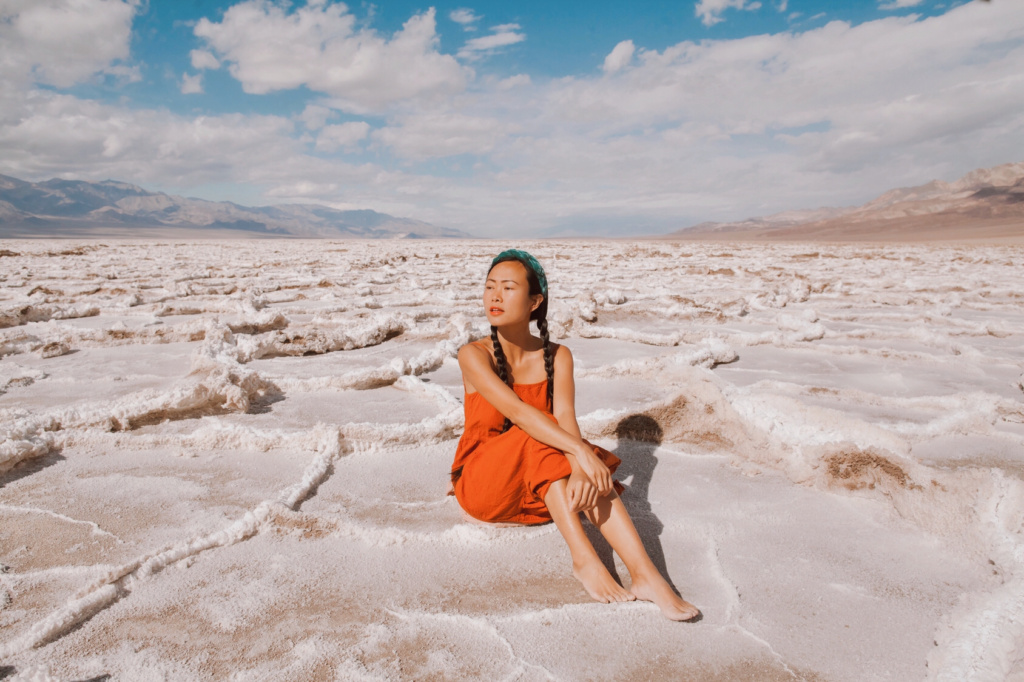 The texture of the landscape here is so unique, and with 360 degree mountain views it can't be beat.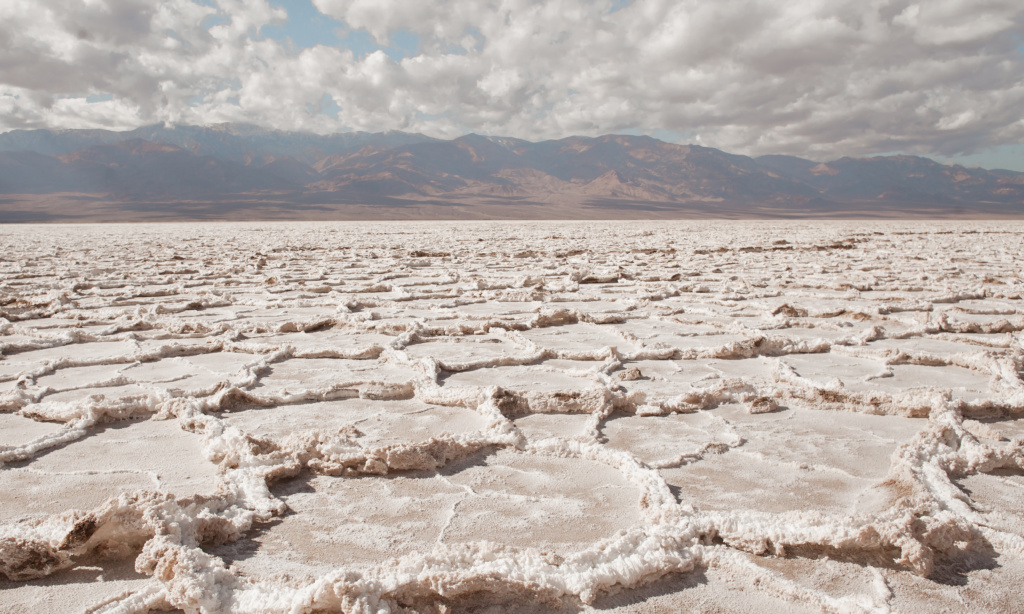 In the basin, a repeated cycle of freeze, thaw, and evaporate has transformed a crust of thin salt into a geometric pattern in the shape of these giant hexagonal shapes (like a honeycomb).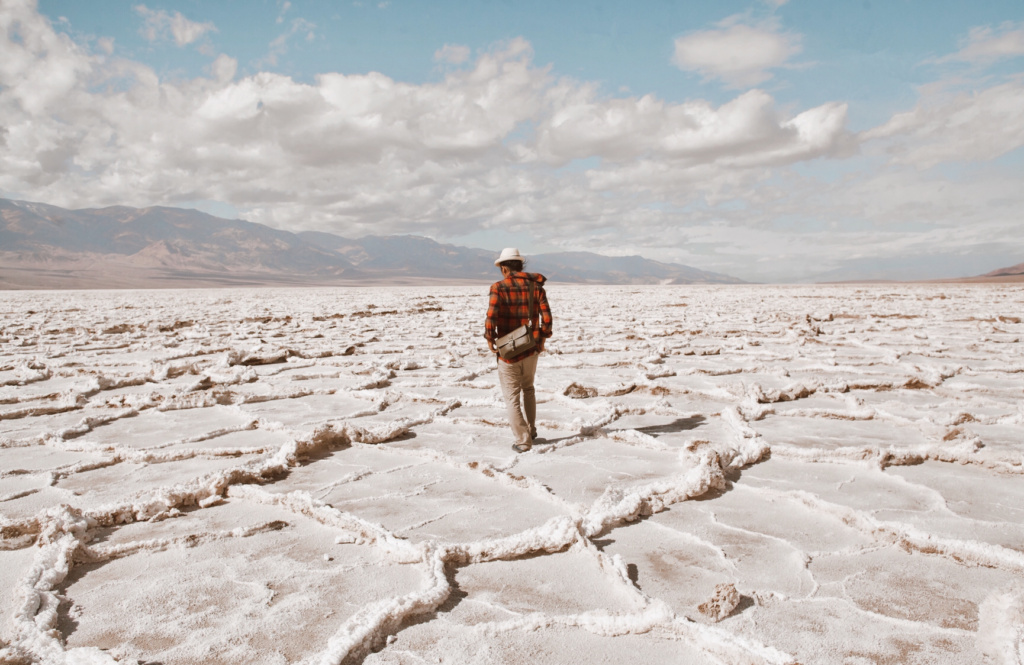 While you can start seeing the salt flats from the parking lot, to get to the most picturesque part of them you should walk about 20 minutes (it's a flat and easy walk!) If there are crowds just keep walking until you find a spot for yourselves.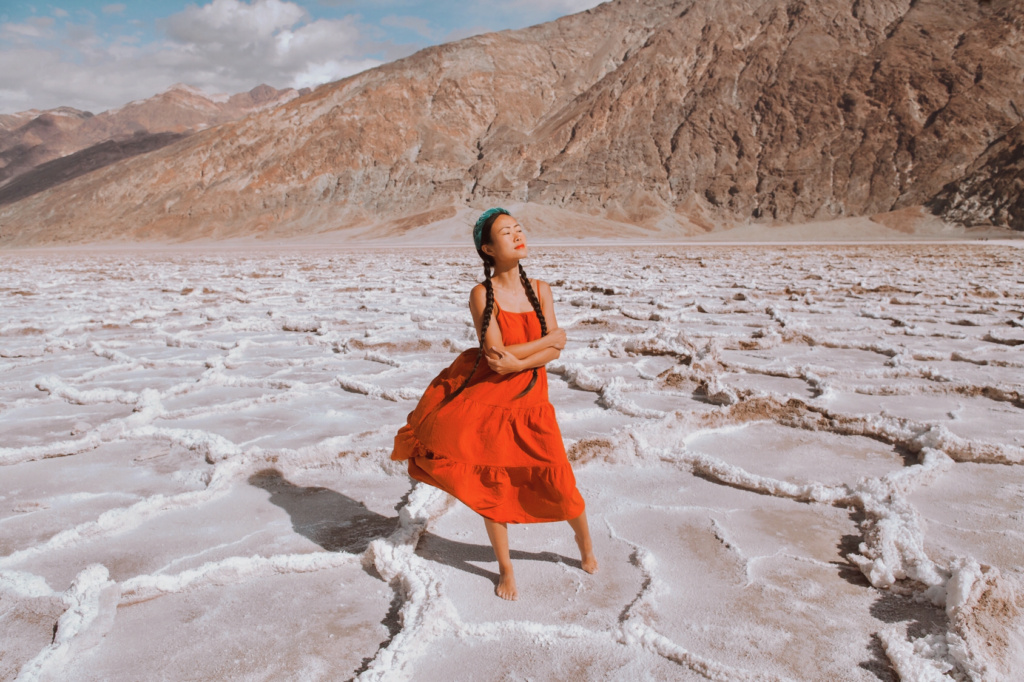 Getting up-close and low down to the salt deposits gives you an amazing insight into how these incredible structures are formed.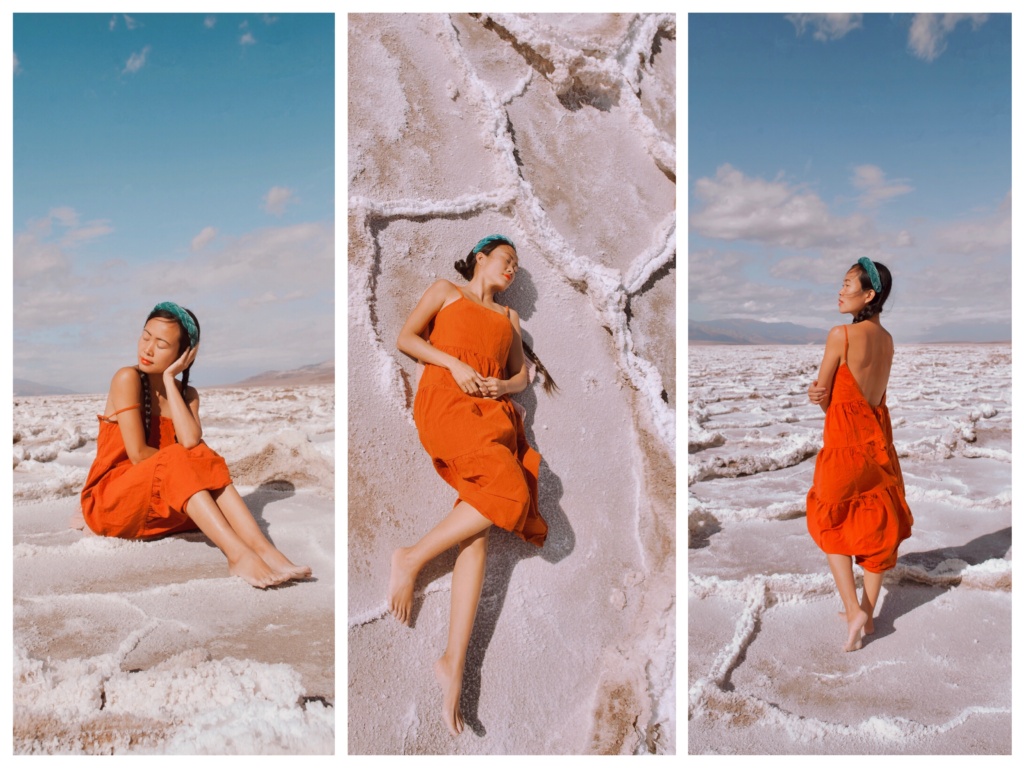 Artist's Palette
A really cool place to check out on your way to Badwater Basin is the Artists Drive. Artist's Drive is just what it sounds like – a scenic drive through part of Death Valley. The soil is colored thanks to being rich in metals and minerals. This gives the hills a variety of colors all mixed together.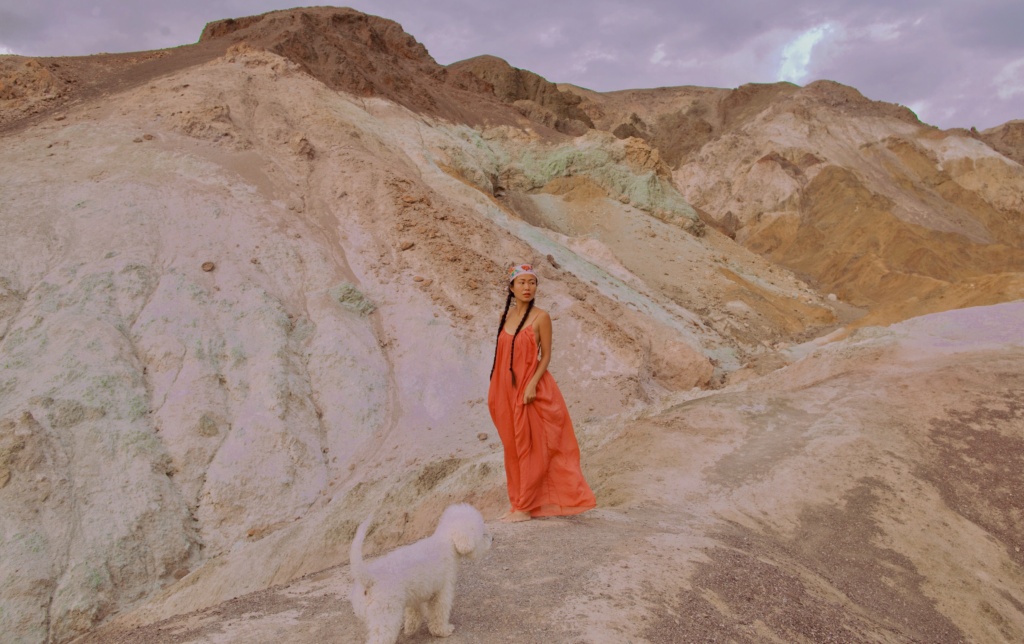 Artist's Drive is a 9 mile drive that loops back to the road. The road is one way for the entire drive. There are some spots to pull over and enjoy a view. And our favorite spot on this drive is Artist's Palette.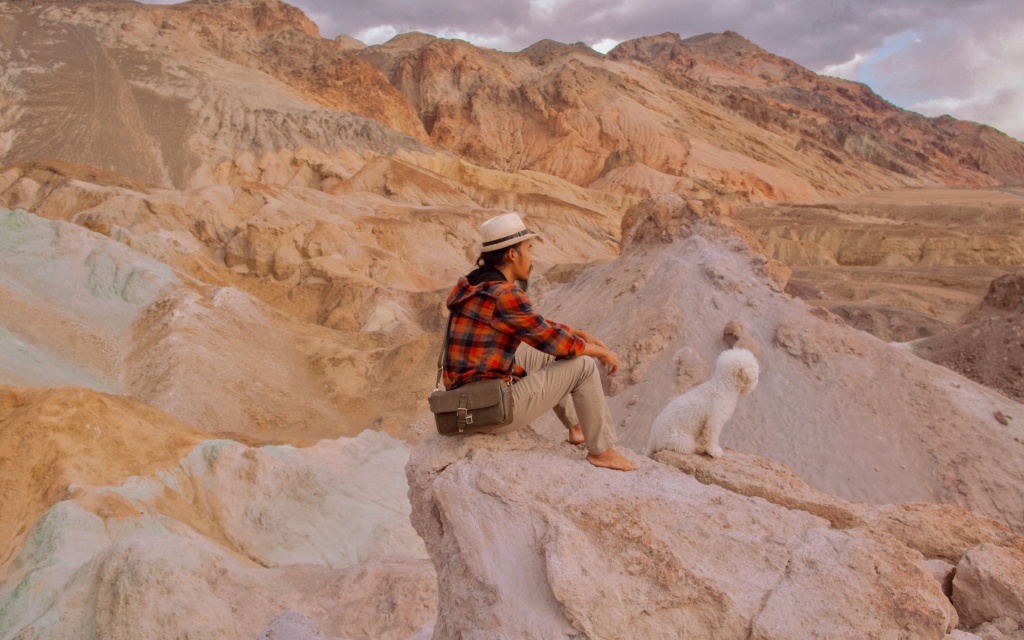 About 5 miles into the drive you will find Artist's Palette. From the parking lot follow the trail down, hike up a bit, and you'll find plenty of colorful photo spots!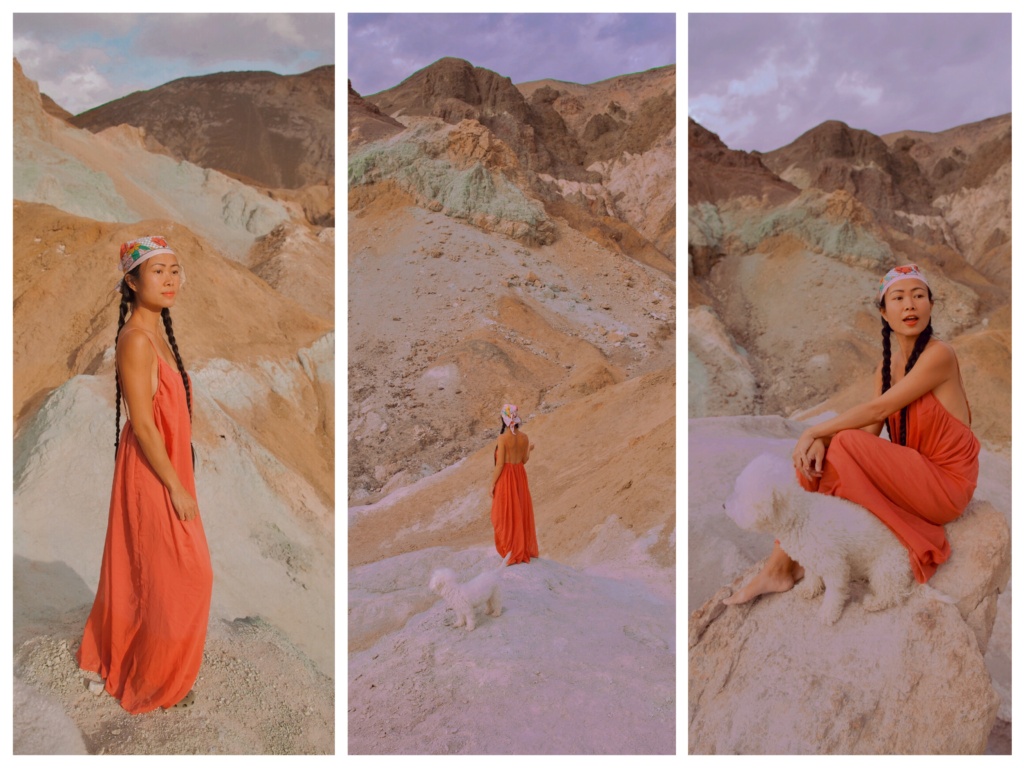 Mesquite Flat Sand Dunes
Mesquite Sand Dunes is another prime spot for photography and for a good reason – the beautiful sand formations, along with the surreal mountain rangers surrounding the dunes give a lot of different photographic opportunities.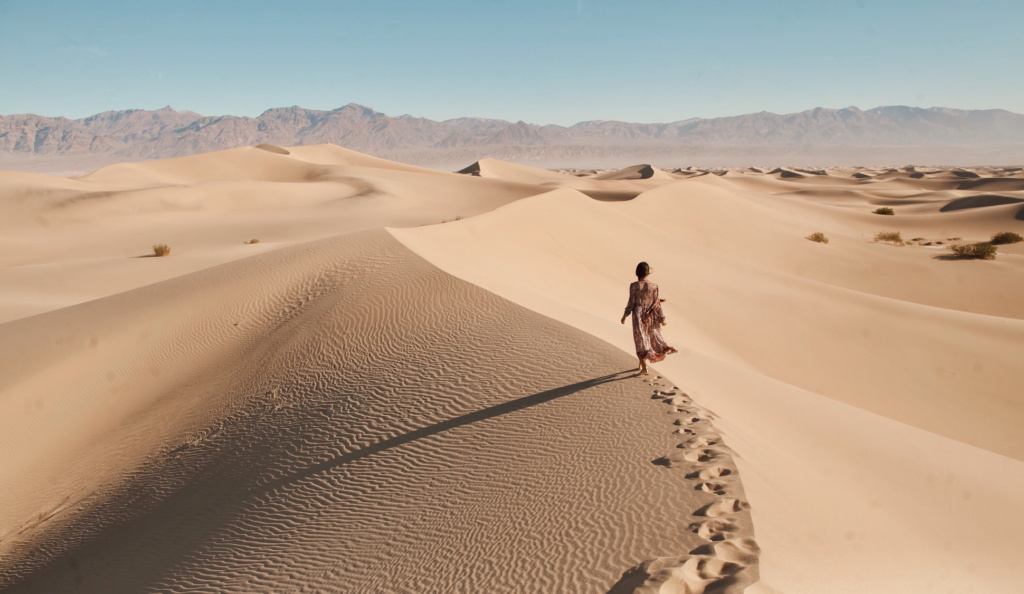 Park your car next to the sand dunes and bring your camera. The further you walk from the car park, the fewer foot steps will cover the sand dunes. Depending how much time you have, you can get the perfect Instagram shot by walking out to the more distant dunes.
This trek is a little bit more strenuous since you have to hike through sand and go up and over dunes, but it's so worth it! Walking up and down these giant hills with no grip underfoot can be exhausting, so take LOTS of water!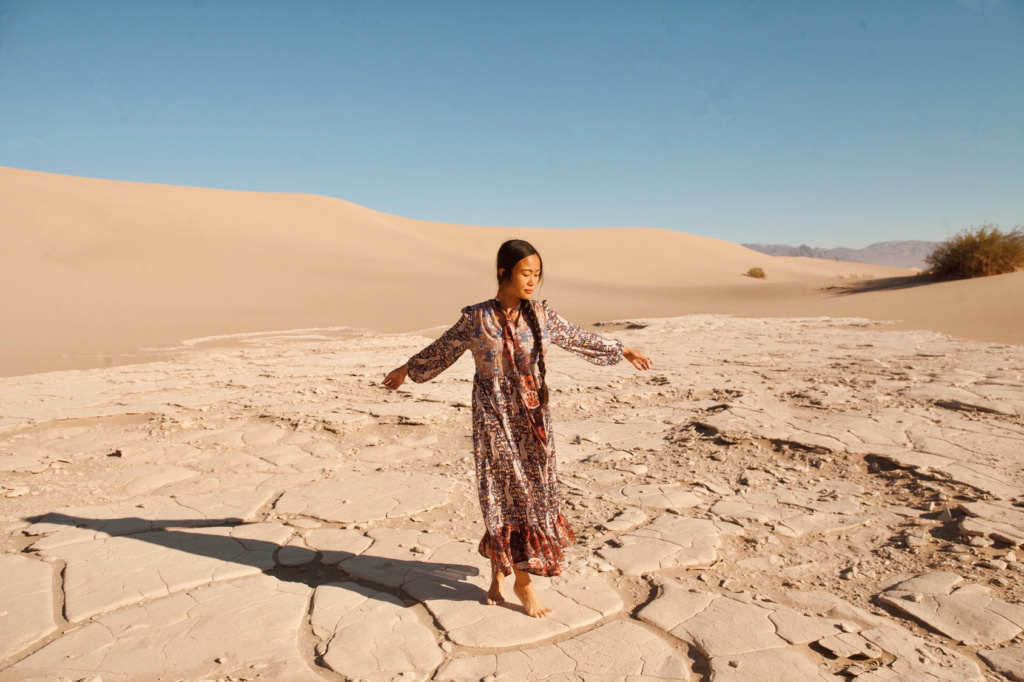 You can literally photograph there from every angle!
Zabriskie Point
Zabriskie Point is one of the most popular spots in Death Valley, thanks to the unusual beauty and the glorious views it offers.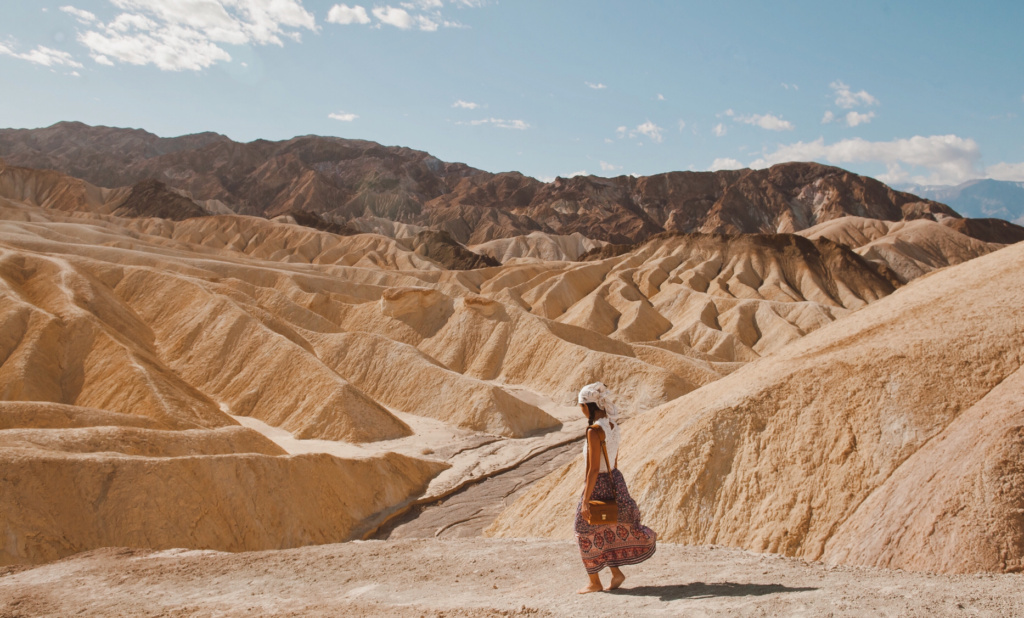 Zabriskie Point can easily be accessed by parking your car in the nearby car park. There is then just a short walk up a paved path to reach the Zabriskie look out point. From there you can take photos of the incredible Death Valley landscape.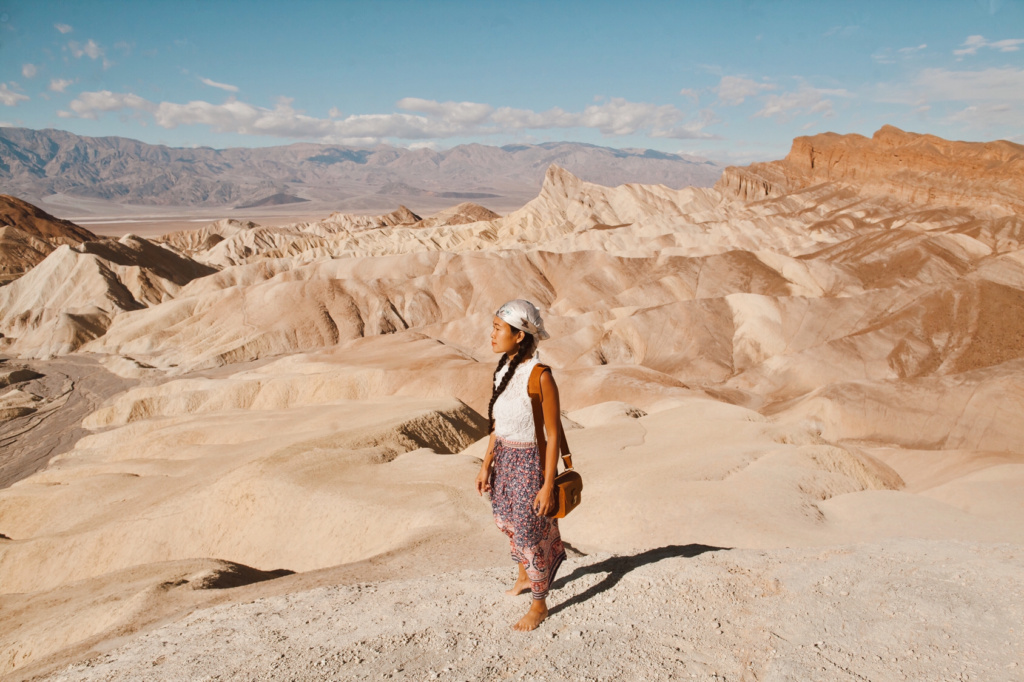 The best time to go is supposed to be sunrise as the light plays on the colorful hills.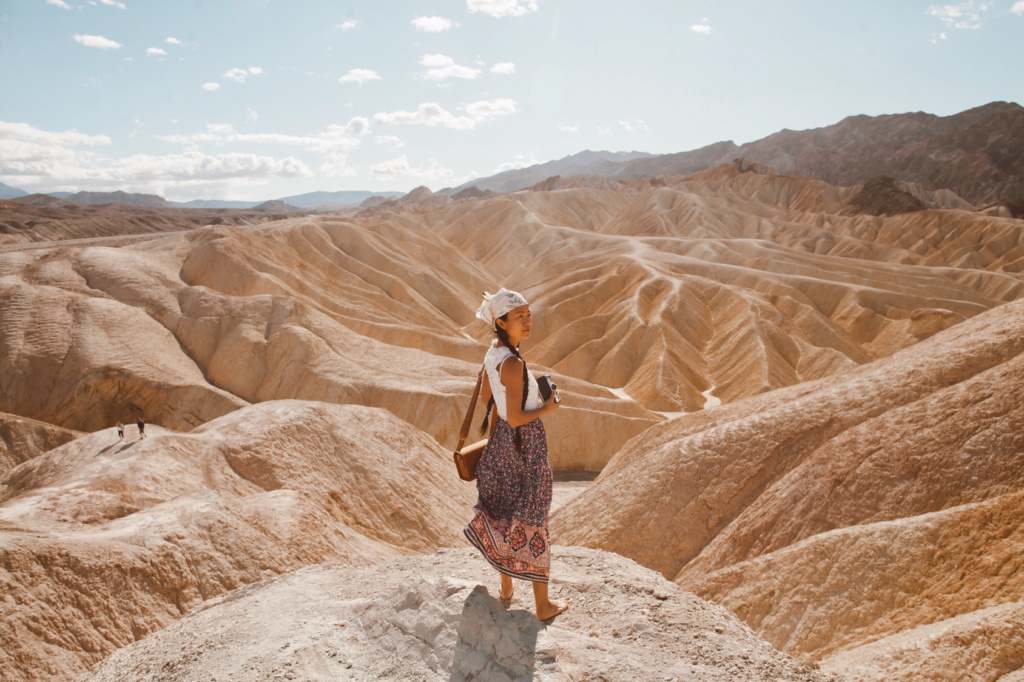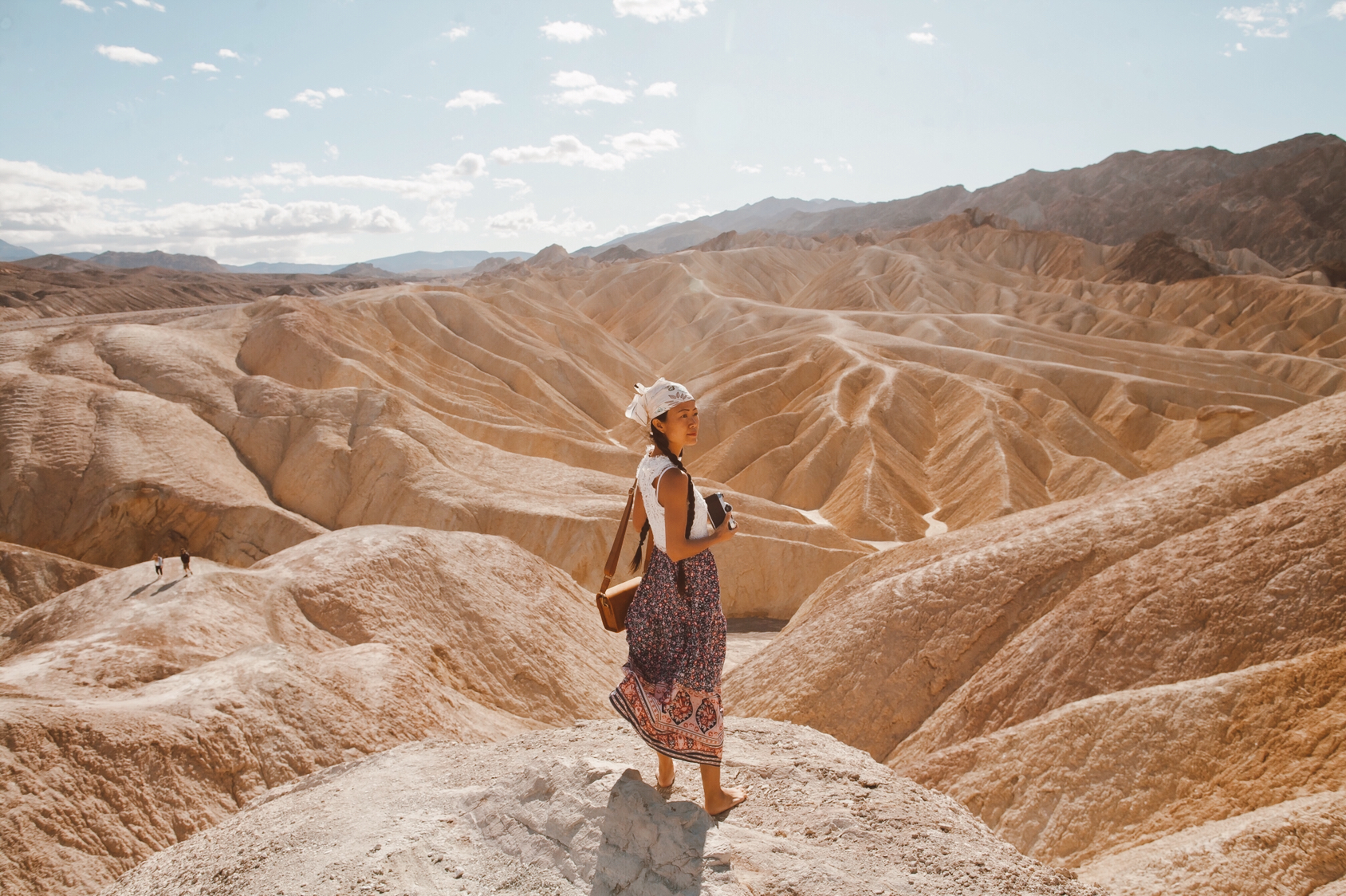 Zabriskie Point is a crazy spot in Death Valley that made us feel like we were on mars! Stood within these awesome rock formations, it's like the earth has opened up in front of us. To me, these giant structures are what make Death Valley.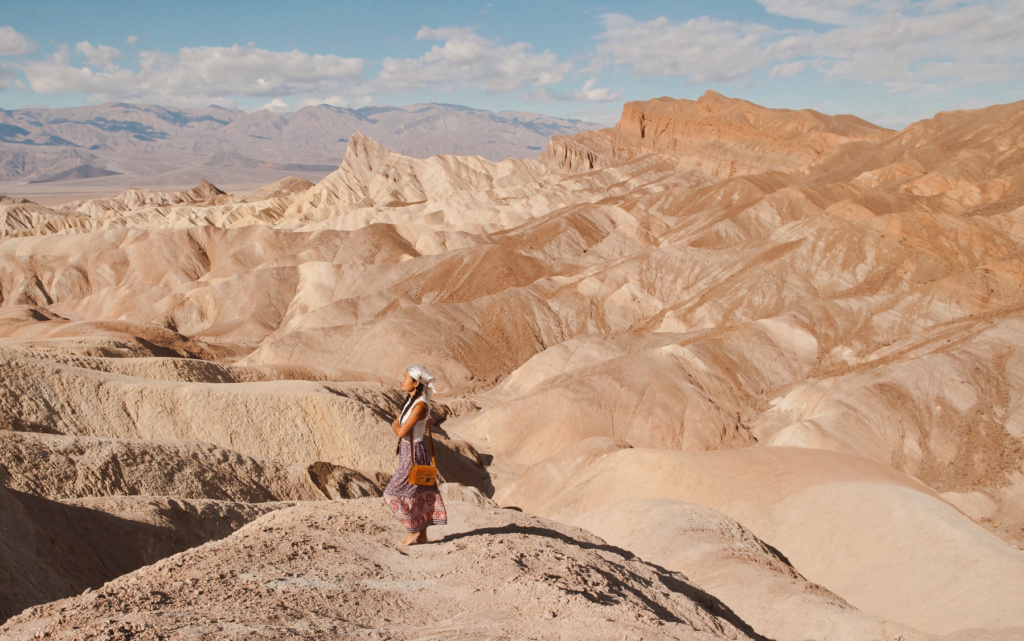 I hope you enjoyed this article, along with the photographs of Death Valley. If you have a chance to visit the park, I hope you can use this article as a guide to help you find some amazing locations.
Have you been inspired to take your camera to Death Valley national park?